[ ]
Genuine leather outsole imported from Italy
Recycled insole board
Ortholite bio based impressions sock padding wiht latex
100% post consumer plastic
CARE
Outsole can be cleaned with a soft cloth and water
Upper can be gently wipped with a damp cloth
Runs true to size
Heel height: 80mm / 3.25 inches
COMFORT
Leather outsole and scored insole for flexibility
Dual density & bio foam sock cushion
We offer free express shipping, exchanges and returns on all US domestic orders
[ "Materials & Care" , "Fit & Comfort" , "Delivery & Returns" ]
Sustainable Style
It's all in the details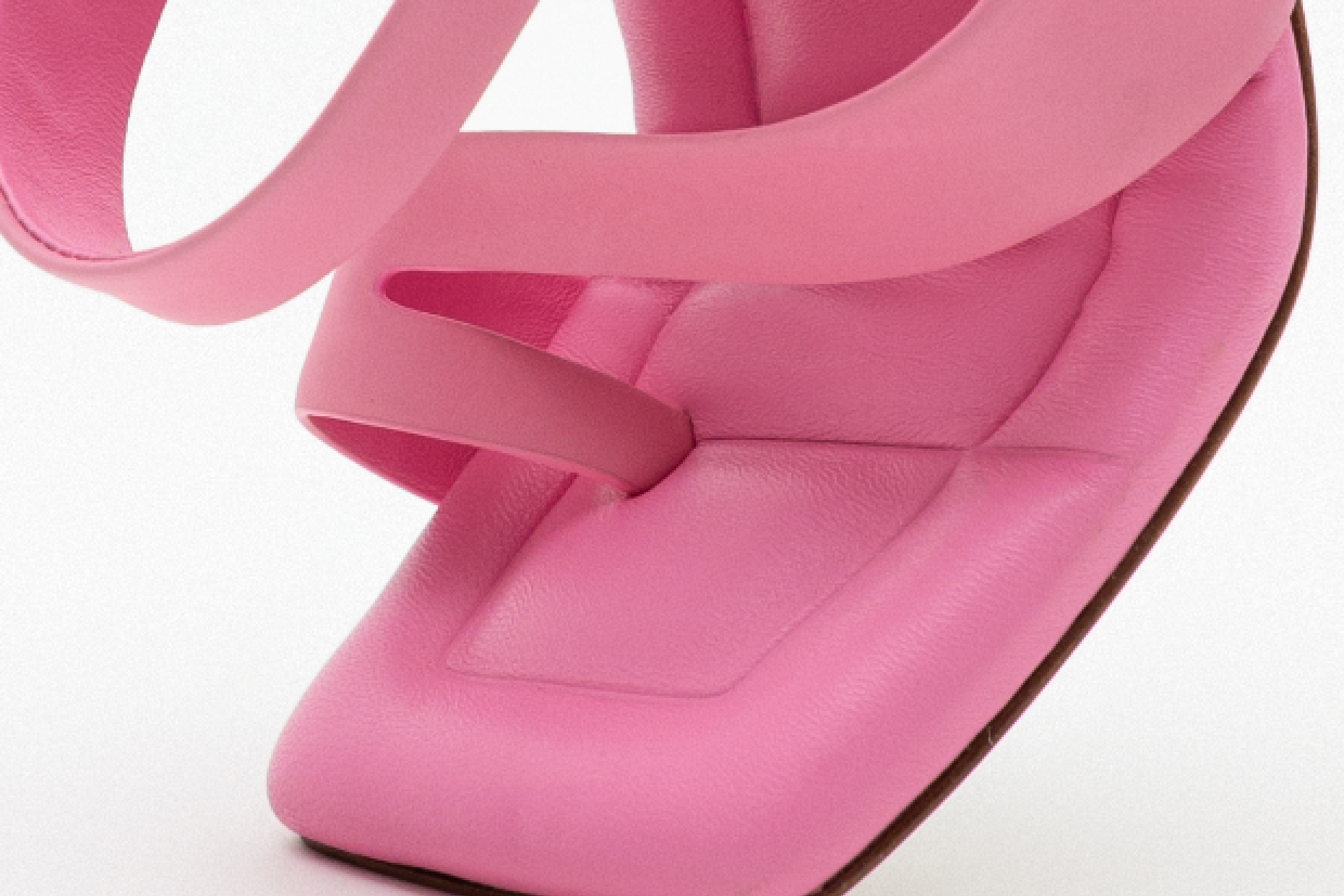 BIO BASED MEMORY FOAM
Utilizing Ortholite ® Bio Base memory foam made from castor oil and recycled rubber, the plant based oil not only provides amazing comfort but reduces the impact to the environment. The renewable product uses less water to produce and does not compete with other plant life.
READ MORE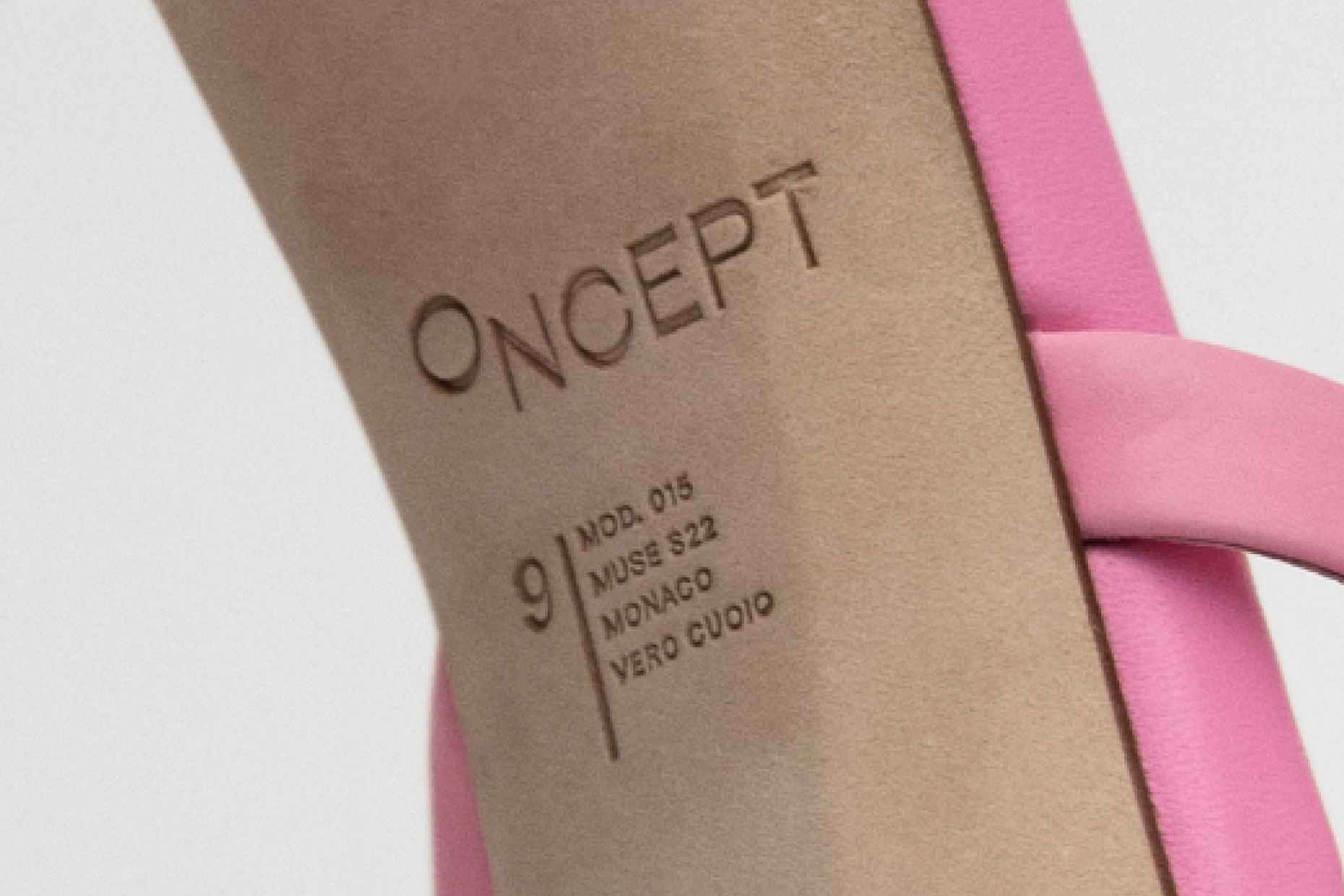 GENUINE LEATHER OUTSOLE
Our all natural leather outsole is import from Italy. Quality, comfort and flexibility are the key! We use a recycled insole board as an internal component which keeps the natural shape.
READ MORE
{"id":6759176896717,"title":"CAPRI","handle":"capri","description":"\u003cp\u003eThe CAPRI our the Summer Toe Thong is ready for your much needed vacation.  Featuring an ultra light and flexible recycled EVA bottom it is the perfect sandal that is ready to pack and go.  Always elevated you will feel like you are walking on a bed of clouds.\u003c\/p\u003e\n\u003cp\u003e \u003c\/p\u003e","published_at":"2023-02-24T12:04:10-05:00","created_at":"2021-09-09T16:40:49-04:00","vendor":"Oncept","type":"Footwear","tags":["CASUAL","sandal","thong"],"price":25000,"price_min":25000,"price_max":25000,"available":true,"price_varies":false,"compare_at_price":null,"compare_at_price_min":0,"compare_at_price_max":0,"compare_at_price_varies":false,"variants":[{"id":40706613149901,"title":"OAK \/ 6 \/ ELITE CALF","option1":"OAK","option2":"6","option3":"ELITE CALF","sku":"840237308735","requires_shipping":true,"taxable":true,"featured_image":{"id":30632609972429,"product_id":6759176896717,"position":1,"created_at":"2022-08-26T13:28:23-04:00","updated_at":"2022-08-26T13:31:51-04:00","alt":"0","width":2960,"height":3700,"src":"\/\/oncept.nyc\/cdn\/shop\/products\/CAPRI-SIDE-OAK-min.jpg?v=1661535111","variant_ids":[40706613149901,40706613248205,40706613346509,40706613444813,40706613543117,40706613641421,40706613739725,40706613838029,40706613936333]},"available":true,"name":"CAPRI - OAK \/ 6 \/ ELITE CALF","public_title":"OAK \/ 6 \/ ELITE CALF","options":["OAK","6","ELITE CALF"],"price":25000,"weight":0,"compare_at_price":null,"inventory_management":"shopify","barcode":"840237308735","featured_media":{"alt":"0","id":22913681948877,"position":1,"preview_image":{"aspect_ratio":0.8,"height":3700,"width":2960,"src":"\/\/oncept.nyc\/cdn\/shop\/products\/CAPRI-SIDE-OAK-min.jpg?v=1661535111"}},"requires_selling_plan":false,"selling_plan_allocations":[]},{"id":40706613182669,"title":"OFF WHITE \/ 6 \/ ELITE CALF","option1":"OFF WHITE","option2":"6","option3":"ELITE CALF","sku":"840237308643","requires_shipping":true,"taxable":true,"featured_image":{"id":30632610332877,"product_id":6759176896717,"position":7,"created_at":"2022-08-26T13:28:23-04:00","updated_at":"2022-08-26T13:31:51-04:00","alt":"1","width":2960,"height":3700,"src":"\/\/oncept.nyc\/cdn\/shop\/products\/CAPRI-SIDE-IVORY-min.jpg?v=1661535111","variant_ids":[40706613182669,40706613280973,40706613379277,40706613477581,40706613575885,40706613674189,40706613772493,40706613870797,40706613969101]},"available":false,"name":"CAPRI - OFF WHITE \/ 6 \/ ELITE CALF","public_title":"OFF WHITE \/ 6 \/ ELITE CALF","options":["OFF WHITE","6","ELITE CALF"],"price":25000,"weight":0,"compare_at_price":null,"inventory_management":"shopify","barcode":"840237308643","featured_media":{"alt":"1","id":22913681916109,"position":7,"preview_image":{"aspect_ratio":0.8,"height":3700,"width":2960,"src":"\/\/oncept.nyc\/cdn\/shop\/products\/CAPRI-SIDE-IVORY-min.jpg?v=1661535111"}},"requires_selling_plan":false,"selling_plan_allocations":[]},{"id":40706613215437,"title":"BLACK \/ 6 \/ ELITE CALF","option1":"BLACK","option2":"6","option3":"ELITE CALF","sku":"840237308551","requires_shipping":true,"taxable":true,"featured_image":{"id":30632610201805,"product_id":6759176896717,"position":13,"created_at":"2022-08-26T13:28:23-04:00","updated_at":"2023-01-05T15:49:11-05:00","alt":"2","width":2960,"height":3700,"src":"\/\/oncept.nyc\/cdn\/shop\/products\/CAPRI-SIDE-BLACK-min.jpg?v=1672951751","variant_ids":[40706613215437,40706613313741,40706613412045,40706613510349,40706613608653,40706613706957,40706613805261,40706613903565,40706614001869]},"available":false,"name":"CAPRI - BLACK \/ 6 \/ ELITE CALF","public_title":"BLACK \/ 6 \/ ELITE CALF","options":["BLACK","6","ELITE CALF"],"price":25000,"weight":0,"compare_at_price":null,"inventory_management":"shopify","barcode":"840237308551","featured_media":{"alt":"2","id":22913681883341,"position":13,"preview_image":{"aspect_ratio":0.8,"height":3700,"width":2960,"src":"\/\/oncept.nyc\/cdn\/shop\/products\/CAPRI-SIDE-BLACK-min.jpg?v=1672951751"}},"requires_selling_plan":false,"selling_plan_allocations":[]},{"id":40706613248205,"title":"OAK \/ 6.5 \/ ELITE CALF","option1":"OAK","option2":"6.5","option3":"ELITE CALF","sku":"840237308742","requires_shipping":true,"taxable":true,"featured_image":{"id":30632609972429,"product_id":6759176896717,"position":1,"created_at":"2022-08-26T13:28:23-04:00","updated_at":"2022-08-26T13:31:51-04:00","alt":"0","width":2960,"height":3700,"src":"\/\/oncept.nyc\/cdn\/shop\/products\/CAPRI-SIDE-OAK-min.jpg?v=1661535111","variant_ids":[40706613149901,40706613248205,40706613346509,40706613444813,40706613543117,40706613641421,40706613739725,40706613838029,40706613936333]},"available":false,"name":"CAPRI - OAK \/ 6.5 \/ ELITE CALF","public_title":"OAK \/ 6.5 \/ ELITE CALF","options":["OAK","6.5","ELITE CALF"],"price":25000,"weight":0,"compare_at_price":null,"inventory_management":"shopify","barcode":"840237308742","featured_media":{"alt":"0","id":22913681948877,"position":1,"preview_image":{"aspect_ratio":0.8,"height":3700,"width":2960,"src":"\/\/oncept.nyc\/cdn\/shop\/products\/CAPRI-SIDE-OAK-min.jpg?v=1661535111"}},"requires_selling_plan":false,"selling_plan_allocations":[]},{"id":40706613280973,"title":"OFF WHITE \/ 6.5 \/ ELITE CALF","option1":"OFF WHITE","option2":"6.5","option3":"ELITE CALF","sku":"840237308650","requires_shipping":true,"taxable":true,"featured_image":{"id":30632610332877,"product_id":6759176896717,"position":7,"created_at":"2022-08-26T13:28:23-04:00","updated_at":"2022-08-26T13:31:51-04:00","alt":"1","width":2960,"height":3700,"src":"\/\/oncept.nyc\/cdn\/shop\/products\/CAPRI-SIDE-IVORY-min.jpg?v=1661535111","variant_ids":[40706613182669,40706613280973,40706613379277,40706613477581,40706613575885,40706613674189,40706613772493,40706613870797,40706613969101]},"available":false,"name":"CAPRI - OFF WHITE \/ 6.5 \/ ELITE CALF","public_title":"OFF WHITE \/ 6.5 \/ ELITE CALF","options":["OFF WHITE","6.5","ELITE CALF"],"price":25000,"weight":0,"compare_at_price":null,"inventory_management":"shopify","barcode":"840237308650","featured_media":{"alt":"1","id":22913681916109,"position":7,"preview_image":{"aspect_ratio":0.8,"height":3700,"width":2960,"src":"\/\/oncept.nyc\/cdn\/shop\/products\/CAPRI-SIDE-IVORY-min.jpg?v=1661535111"}},"requires_selling_plan":false,"selling_plan_allocations":[]},{"id":40706613313741,"title":"BLACK \/ 6.5 \/ ELITE CALF","option1":"BLACK","option2":"6.5","option3":"ELITE CALF","sku":"840237308568","requires_shipping":true,"taxable":true,"featured_image":{"id":30632610201805,"product_id":6759176896717,"position":13,"created_at":"2022-08-26T13:28:23-04:00","updated_at":"2023-01-05T15:49:11-05:00","alt":"2","width":2960,"height":3700,"src":"\/\/oncept.nyc\/cdn\/shop\/products\/CAPRI-SIDE-BLACK-min.jpg?v=1672951751","variant_ids":[40706613215437,40706613313741,40706613412045,40706613510349,40706613608653,40706613706957,40706613805261,40706613903565,40706614001869]},"available":false,"name":"CAPRI - BLACK \/ 6.5 \/ ELITE CALF","public_title":"BLACK \/ 6.5 \/ ELITE CALF","options":["BLACK","6.5","ELITE CALF"],"price":25000,"weight":0,"compare_at_price":null,"inventory_management":"shopify","barcode":"840237308568","featured_media":{"alt":"2","id":22913681883341,"position":13,"preview_image":{"aspect_ratio":0.8,"height":3700,"width":2960,"src":"\/\/oncept.nyc\/cdn\/shop\/products\/CAPRI-SIDE-BLACK-min.jpg?v=1672951751"}},"requires_selling_plan":false,"selling_plan_allocations":[]},{"id":40706613346509,"title":"OAK \/ 7 \/ ELITE CALF","option1":"OAK","option2":"7","option3":"ELITE CALF","sku":"840237308759","requires_shipping":true,"taxable":true,"featured_image":{"id":30632609972429,"product_id":6759176896717,"position":1,"created_at":"2022-08-26T13:28:23-04:00","updated_at":"2022-08-26T13:31:51-04:00","alt":"0","width":2960,"height":3700,"src":"\/\/oncept.nyc\/cdn\/shop\/products\/CAPRI-SIDE-OAK-min.jpg?v=1661535111","variant_ids":[40706613149901,40706613248205,40706613346509,40706613444813,40706613543117,40706613641421,40706613739725,40706613838029,40706613936333]},"available":false,"name":"CAPRI - OAK \/ 7 \/ ELITE CALF","public_title":"OAK \/ 7 \/ ELITE CALF","options":["OAK","7","ELITE CALF"],"price":25000,"weight":0,"compare_at_price":null,"inventory_management":"shopify","barcode":"840237308759","featured_media":{"alt":"0","id":22913681948877,"position":1,"preview_image":{"aspect_ratio":0.8,"height":3700,"width":2960,"src":"\/\/oncept.nyc\/cdn\/shop\/products\/CAPRI-SIDE-OAK-min.jpg?v=1661535111"}},"requires_selling_plan":false,"selling_plan_allocations":[]},{"id":40706613379277,"title":"OFF WHITE \/ 7 \/ ELITE CALF","option1":"OFF WHITE","option2":"7","option3":"ELITE CALF","sku":"840237308667","requires_shipping":true,"taxable":true,"featured_image":{"id":30632610332877,"product_id":6759176896717,"position":7,"created_at":"2022-08-26T13:28:23-04:00","updated_at":"2022-08-26T13:31:51-04:00","alt":"1","width":2960,"height":3700,"src":"\/\/oncept.nyc\/cdn\/shop\/products\/CAPRI-SIDE-IVORY-min.jpg?v=1661535111","variant_ids":[40706613182669,40706613280973,40706613379277,40706613477581,40706613575885,40706613674189,40706613772493,40706613870797,40706613969101]},"available":false,"name":"CAPRI - OFF WHITE \/ 7 \/ ELITE CALF","public_title":"OFF WHITE \/ 7 \/ ELITE CALF","options":["OFF WHITE","7","ELITE CALF"],"price":25000,"weight":0,"compare_at_price":null,"inventory_management":"shopify","barcode":"840237308667","featured_media":{"alt":"1","id":22913681916109,"position":7,"preview_image":{"aspect_ratio":0.8,"height":3700,"width":2960,"src":"\/\/oncept.nyc\/cdn\/shop\/products\/CAPRI-SIDE-IVORY-min.jpg?v=1661535111"}},"requires_selling_plan":false,"selling_plan_allocations":[]},{"id":40706613412045,"title":"BLACK \/ 7 \/ ELITE CALF","option1":"BLACK","option2":"7","option3":"ELITE CALF","sku":"840237308575","requires_shipping":true,"taxable":true,"featured_image":{"id":30632610201805,"product_id":6759176896717,"position":13,"created_at":"2022-08-26T13:28:23-04:00","updated_at":"2023-01-05T15:49:11-05:00","alt":"2","width":2960,"height":3700,"src":"\/\/oncept.nyc\/cdn\/shop\/products\/CAPRI-SIDE-BLACK-min.jpg?v=1672951751","variant_ids":[40706613215437,40706613313741,40706613412045,40706613510349,40706613608653,40706613706957,40706613805261,40706613903565,40706614001869]},"available":false,"name":"CAPRI - BLACK \/ 7 \/ ELITE CALF","public_title":"BLACK \/ 7 \/ ELITE CALF","options":["BLACK","7","ELITE CALF"],"price":25000,"weight":0,"compare_at_price":null,"inventory_management":"shopify","barcode":"840237308575","featured_media":{"alt":"2","id":22913681883341,"position":13,"preview_image":{"aspect_ratio":0.8,"height":3700,"width":2960,"src":"\/\/oncept.nyc\/cdn\/shop\/products\/CAPRI-SIDE-BLACK-min.jpg?v=1672951751"}},"requires_selling_plan":false,"selling_plan_allocations":[]},{"id":40706613444813,"title":"OAK \/ 7.5 \/ ELITE CALF","option1":"OAK","option2":"7.5","option3":"ELITE CALF","sku":"840237308766","requires_shipping":true,"taxable":true,"featured_image":{"id":30632609972429,"product_id":6759176896717,"position":1,"created_at":"2022-08-26T13:28:23-04:00","updated_at":"2022-08-26T13:31:51-04:00","alt":"0","width":2960,"height":3700,"src":"\/\/oncept.nyc\/cdn\/shop\/products\/CAPRI-SIDE-OAK-min.jpg?v=1661535111","variant_ids":[40706613149901,40706613248205,40706613346509,40706613444813,40706613543117,40706613641421,40706613739725,40706613838029,40706613936333]},"available":false,"name":"CAPRI - OAK \/ 7.5 \/ ELITE CALF","public_title":"OAK \/ 7.5 \/ ELITE CALF","options":["OAK","7.5","ELITE CALF"],"price":25000,"weight":0,"compare_at_price":null,"inventory_management":"shopify","barcode":"840237308766","featured_media":{"alt":"0","id":22913681948877,"position":1,"preview_image":{"aspect_ratio":0.8,"height":3700,"width":2960,"src":"\/\/oncept.nyc\/cdn\/shop\/products\/CAPRI-SIDE-OAK-min.jpg?v=1661535111"}},"requires_selling_plan":false,"selling_plan_allocations":[]},{"id":40706613477581,"title":"OFF WHITE \/ 7.5 \/ ELITE CALF","option1":"OFF WHITE","option2":"7.5","option3":"ELITE CALF","sku":"840237308674","requires_shipping":true,"taxable":true,"featured_image":{"id":30632610332877,"product_id":6759176896717,"position":7,"created_at":"2022-08-26T13:28:23-04:00","updated_at":"2022-08-26T13:31:51-04:00","alt":"1","width":2960,"height":3700,"src":"\/\/oncept.nyc\/cdn\/shop\/products\/CAPRI-SIDE-IVORY-min.jpg?v=1661535111","variant_ids":[40706613182669,40706613280973,40706613379277,40706613477581,40706613575885,40706613674189,40706613772493,40706613870797,40706613969101]},"available":false,"name":"CAPRI - OFF WHITE \/ 7.5 \/ ELITE CALF","public_title":"OFF WHITE \/ 7.5 \/ ELITE CALF","options":["OFF WHITE","7.5","ELITE CALF"],"price":25000,"weight":0,"compare_at_price":null,"inventory_management":"shopify","barcode":"840237308674","featured_media":{"alt":"1","id":22913681916109,"position":7,"preview_image":{"aspect_ratio":0.8,"height":3700,"width":2960,"src":"\/\/oncept.nyc\/cdn\/shop\/products\/CAPRI-SIDE-IVORY-min.jpg?v=1661535111"}},"requires_selling_plan":false,"selling_plan_allocations":[]},{"id":40706613510349,"title":"BLACK \/ 7.5 \/ ELITE CALF","option1":"BLACK","option2":"7.5","option3":"ELITE CALF","sku":"840237308582","requires_shipping":true,"taxable":true,"featured_image":{"id":30632610201805,"product_id":6759176896717,"position":13,"created_at":"2022-08-26T13:28:23-04:00","updated_at":"2023-01-05T15:49:11-05:00","alt":"2","width":2960,"height":3700,"src":"\/\/oncept.nyc\/cdn\/shop\/products\/CAPRI-SIDE-BLACK-min.jpg?v=1672951751","variant_ids":[40706613215437,40706613313741,40706613412045,40706613510349,40706613608653,40706613706957,40706613805261,40706613903565,40706614001869]},"available":true,"name":"CAPRI - BLACK \/ 7.5 \/ ELITE CALF","public_title":"BLACK \/ 7.5 \/ ELITE CALF","options":["BLACK","7.5","ELITE CALF"],"price":25000,"weight":0,"compare_at_price":null,"inventory_management":"shopify","barcode":"840237308582","featured_media":{"alt":"2","id":22913681883341,"position":13,"preview_image":{"aspect_ratio":0.8,"height":3700,"width":2960,"src":"\/\/oncept.nyc\/cdn\/shop\/products\/CAPRI-SIDE-BLACK-min.jpg?v=1672951751"}},"requires_selling_plan":false,"selling_plan_allocations":[]},{"id":40706613543117,"title":"OAK \/ 8 \/ ELITE CALF","option1":"OAK","option2":"8","option3":"ELITE CALF","sku":"840237308773","requires_shipping":true,"taxable":true,"featured_image":{"id":30632609972429,"product_id":6759176896717,"position":1,"created_at":"2022-08-26T13:28:23-04:00","updated_at":"2022-08-26T13:31:51-04:00","alt":"0","width":2960,"height":3700,"src":"\/\/oncept.nyc\/cdn\/shop\/products\/CAPRI-SIDE-OAK-min.jpg?v=1661535111","variant_ids":[40706613149901,40706613248205,40706613346509,40706613444813,40706613543117,40706613641421,40706613739725,40706613838029,40706613936333]},"available":false,"name":"CAPRI - OAK \/ 8 \/ ELITE CALF","public_title":"OAK \/ 8 \/ ELITE CALF","options":["OAK","8","ELITE CALF"],"price":25000,"weight":0,"compare_at_price":null,"inventory_management":"shopify","barcode":"840237308773","featured_media":{"alt":"0","id":22913681948877,"position":1,"preview_image":{"aspect_ratio":0.8,"height":3700,"width":2960,"src":"\/\/oncept.nyc\/cdn\/shop\/products\/CAPRI-SIDE-OAK-min.jpg?v=1661535111"}},"requires_selling_plan":false,"selling_plan_allocations":[]},{"id":40706613575885,"title":"OFF WHITE \/ 8 \/ ELITE CALF","option1":"OFF WHITE","option2":"8","option3":"ELITE CALF","sku":"840237308681","requires_shipping":true,"taxable":true,"featured_image":{"id":30632610332877,"product_id":6759176896717,"position":7,"created_at":"2022-08-26T13:28:23-04:00","updated_at":"2022-08-26T13:31:51-04:00","alt":"1","width":2960,"height":3700,"src":"\/\/oncept.nyc\/cdn\/shop\/products\/CAPRI-SIDE-IVORY-min.jpg?v=1661535111","variant_ids":[40706613182669,40706613280973,40706613379277,40706613477581,40706613575885,40706613674189,40706613772493,40706613870797,40706613969101]},"available":false,"name":"CAPRI - OFF WHITE \/ 8 \/ ELITE CALF","public_title":"OFF WHITE \/ 8 \/ ELITE CALF","options":["OFF WHITE","8","ELITE CALF"],"price":25000,"weight":0,"compare_at_price":null,"inventory_management":"shopify","barcode":"840237308681","featured_media":{"alt":"1","id":22913681916109,"position":7,"preview_image":{"aspect_ratio":0.8,"height":3700,"width":2960,"src":"\/\/oncept.nyc\/cdn\/shop\/products\/CAPRI-SIDE-IVORY-min.jpg?v=1661535111"}},"requires_selling_plan":false,"selling_plan_allocations":[]},{"id":40706613608653,"title":"BLACK \/ 8 \/ ELITE CALF","option1":"BLACK","option2":"8","option3":"ELITE CALF","sku":"840237308599","requires_shipping":true,"taxable":true,"featured_image":{"id":30632610201805,"product_id":6759176896717,"position":13,"created_at":"2022-08-26T13:28:23-04:00","updated_at":"2023-01-05T15:49:11-05:00","alt":"2","width":2960,"height":3700,"src":"\/\/oncept.nyc\/cdn\/shop\/products\/CAPRI-SIDE-BLACK-min.jpg?v=1672951751","variant_ids":[40706613215437,40706613313741,40706613412045,40706613510349,40706613608653,40706613706957,40706613805261,40706613903565,40706614001869]},"available":false,"name":"CAPRI - BLACK \/ 8 \/ ELITE CALF","public_title":"BLACK \/ 8 \/ ELITE CALF","options":["BLACK","8","ELITE CALF"],"price":25000,"weight":0,"compare_at_price":null,"inventory_management":"shopify","barcode":"840237308599","featured_media":{"alt":"2","id":22913681883341,"position":13,"preview_image":{"aspect_ratio":0.8,"height":3700,"width":2960,"src":"\/\/oncept.nyc\/cdn\/shop\/products\/CAPRI-SIDE-BLACK-min.jpg?v=1672951751"}},"requires_selling_plan":false,"selling_plan_allocations":[]},{"id":40706613641421,"title":"OAK \/ 8.5 \/ ELITE CALF","option1":"OAK","option2":"8.5","option3":"ELITE CALF","sku":"840237308780","requires_shipping":true,"taxable":true,"featured_image":{"id":30632609972429,"product_id":6759176896717,"position":1,"created_at":"2022-08-26T13:28:23-04:00","updated_at":"2022-08-26T13:31:51-04:00","alt":"0","width":2960,"height":3700,"src":"\/\/oncept.nyc\/cdn\/shop\/products\/CAPRI-SIDE-OAK-min.jpg?v=1661535111","variant_ids":[40706613149901,40706613248205,40706613346509,40706613444813,40706613543117,40706613641421,40706613739725,40706613838029,40706613936333]},"available":true,"name":"CAPRI - OAK \/ 8.5 \/ ELITE CALF","public_title":"OAK \/ 8.5 \/ ELITE CALF","options":["OAK","8.5","ELITE CALF"],"price":25000,"weight":0,"compare_at_price":null,"inventory_management":"shopify","barcode":"840237308780","featured_media":{"alt":"0","id":22913681948877,"position":1,"preview_image":{"aspect_ratio":0.8,"height":3700,"width":2960,"src":"\/\/oncept.nyc\/cdn\/shop\/products\/CAPRI-SIDE-OAK-min.jpg?v=1661535111"}},"requires_selling_plan":false,"selling_plan_allocations":[]},{"id":40706613674189,"title":"OFF WHITE \/ 8.5 \/ ELITE CALF","option1":"OFF WHITE","option2":"8.5","option3":"ELITE CALF","sku":"840237308698","requires_shipping":true,"taxable":true,"featured_image":{"id":30632610332877,"product_id":6759176896717,"position":7,"created_at":"2022-08-26T13:28:23-04:00","updated_at":"2022-08-26T13:31:51-04:00","alt":"1","width":2960,"height":3700,"src":"\/\/oncept.nyc\/cdn\/shop\/products\/CAPRI-SIDE-IVORY-min.jpg?v=1661535111","variant_ids":[40706613182669,40706613280973,40706613379277,40706613477581,40706613575885,40706613674189,40706613772493,40706613870797,40706613969101]},"available":true,"name":"CAPRI - OFF WHITE \/ 8.5 \/ ELITE CALF","public_title":"OFF WHITE \/ 8.5 \/ ELITE CALF","options":["OFF WHITE","8.5","ELITE CALF"],"price":25000,"weight":0,"compare_at_price":null,"inventory_management":"shopify","barcode":"840237308698","featured_media":{"alt":"1","id":22913681916109,"position":7,"preview_image":{"aspect_ratio":0.8,"height":3700,"width":2960,"src":"\/\/oncept.nyc\/cdn\/shop\/products\/CAPRI-SIDE-IVORY-min.jpg?v=1661535111"}},"requires_selling_plan":false,"selling_plan_allocations":[]},{"id":40706613706957,"title":"BLACK \/ 8.5 \/ ELITE CALF","option1":"BLACK","option2":"8.5","option3":"ELITE CALF","sku":"840237308605","requires_shipping":true,"taxable":true,"featured_image":{"id":30632610201805,"product_id":6759176896717,"position":13,"created_at":"2022-08-26T13:28:23-04:00","updated_at":"2023-01-05T15:49:11-05:00","alt":"2","width":2960,"height":3700,"src":"\/\/oncept.nyc\/cdn\/shop\/products\/CAPRI-SIDE-BLACK-min.jpg?v=1672951751","variant_ids":[40706613215437,40706613313741,40706613412045,40706613510349,40706613608653,40706613706957,40706613805261,40706613903565,40706614001869]},"available":true,"name":"CAPRI - BLACK \/ 8.5 \/ ELITE CALF","public_title":"BLACK \/ 8.5 \/ ELITE CALF","options":["BLACK","8.5","ELITE CALF"],"price":25000,"weight":0,"compare_at_price":null,"inventory_management":"shopify","barcode":"840237308605","featured_media":{"alt":"2","id":22913681883341,"position":13,"preview_image":{"aspect_ratio":0.8,"height":3700,"width":2960,"src":"\/\/oncept.nyc\/cdn\/shop\/products\/CAPRI-SIDE-BLACK-min.jpg?v=1672951751"}},"requires_selling_plan":false,"selling_plan_allocations":[]},{"id":40706613739725,"title":"OAK \/ 9 \/ ELITE CALF","option1":"OAK","option2":"9","option3":"ELITE CALF","sku":"840237308797","requires_shipping":true,"taxable":true,"featured_image":{"id":30632609972429,"product_id":6759176896717,"position":1,"created_at":"2022-08-26T13:28:23-04:00","updated_at":"2022-08-26T13:31:51-04:00","alt":"0","width":2960,"height":3700,"src":"\/\/oncept.nyc\/cdn\/shop\/products\/CAPRI-SIDE-OAK-min.jpg?v=1661535111","variant_ids":[40706613149901,40706613248205,40706613346509,40706613444813,40706613543117,40706613641421,40706613739725,40706613838029,40706613936333]},"available":false,"name":"CAPRI - OAK \/ 9 \/ ELITE CALF","public_title":"OAK \/ 9 \/ ELITE CALF","options":["OAK","9","ELITE CALF"],"price":25000,"weight":0,"compare_at_price":null,"inventory_management":"shopify","barcode":"840237308797","featured_media":{"alt":"0","id":22913681948877,"position":1,"preview_image":{"aspect_ratio":0.8,"height":3700,"width":2960,"src":"\/\/oncept.nyc\/cdn\/shop\/products\/CAPRI-SIDE-OAK-min.jpg?v=1661535111"}},"requires_selling_plan":false,"selling_plan_allocations":[]},{"id":40706613772493,"title":"OFF WHITE \/ 9 \/ ELITE CALF","option1":"OFF WHITE","option2":"9","option3":"ELITE CALF","sku":"840237308704","requires_shipping":true,"taxable":true,"featured_image":{"id":30632610332877,"product_id":6759176896717,"position":7,"created_at":"2022-08-26T13:28:23-04:00","updated_at":"2022-08-26T13:31:51-04:00","alt":"1","width":2960,"height":3700,"src":"\/\/oncept.nyc\/cdn\/shop\/products\/CAPRI-SIDE-IVORY-min.jpg?v=1661535111","variant_ids":[40706613182669,40706613280973,40706613379277,40706613477581,40706613575885,40706613674189,40706613772493,40706613870797,40706613969101]},"available":false,"name":"CAPRI - OFF WHITE \/ 9 \/ ELITE CALF","public_title":"OFF WHITE \/ 9 \/ ELITE CALF","options":["OFF WHITE","9","ELITE CALF"],"price":25000,"weight":0,"compare_at_price":null,"inventory_management":"shopify","barcode":"840237308704","featured_media":{"alt":"1","id":22913681916109,"position":7,"preview_image":{"aspect_ratio":0.8,"height":3700,"width":2960,"src":"\/\/oncept.nyc\/cdn\/shop\/products\/CAPRI-SIDE-IVORY-min.jpg?v=1661535111"}},"requires_selling_plan":false,"selling_plan_allocations":[]},{"id":40706613805261,"title":"BLACK \/ 9 \/ ELITE CALF","option1":"BLACK","option2":"9","option3":"ELITE CALF","sku":"840237308612","requires_shipping":true,"taxable":true,"featured_image":{"id":30632610201805,"product_id":6759176896717,"position":13,"created_at":"2022-08-26T13:28:23-04:00","updated_at":"2023-01-05T15:49:11-05:00","alt":"2","width":2960,"height":3700,"src":"\/\/oncept.nyc\/cdn\/shop\/products\/CAPRI-SIDE-BLACK-min.jpg?v=1672951751","variant_ids":[40706613215437,40706613313741,40706613412045,40706613510349,40706613608653,40706613706957,40706613805261,40706613903565,40706614001869]},"available":false,"name":"CAPRI - BLACK \/ 9 \/ ELITE CALF","public_title":"BLACK \/ 9 \/ ELITE CALF","options":["BLACK","9","ELITE CALF"],"price":25000,"weight":0,"compare_at_price":null,"inventory_management":"shopify","barcode":"840237308612","featured_media":{"alt":"2","id":22913681883341,"position":13,"preview_image":{"aspect_ratio":0.8,"height":3700,"width":2960,"src":"\/\/oncept.nyc\/cdn\/shop\/products\/CAPRI-SIDE-BLACK-min.jpg?v=1672951751"}},"requires_selling_plan":false,"selling_plan_allocations":[]},{"id":40706613838029,"title":"OAK \/ 9.5 \/ ELITE CALF","option1":"OAK","option2":"9.5","option3":"ELITE CALF","sku":"840237308803","requires_shipping":true,"taxable":true,"featured_image":{"id":30632609972429,"product_id":6759176896717,"position":1,"created_at":"2022-08-26T13:28:23-04:00","updated_at":"2022-08-26T13:31:51-04:00","alt":"0","width":2960,"height":3700,"src":"\/\/oncept.nyc\/cdn\/shop\/products\/CAPRI-SIDE-OAK-min.jpg?v=1661535111","variant_ids":[40706613149901,40706613248205,40706613346509,40706613444813,40706613543117,40706613641421,40706613739725,40706613838029,40706613936333]},"available":false,"name":"CAPRI - OAK \/ 9.5 \/ ELITE CALF","public_title":"OAK \/ 9.5 \/ ELITE CALF","options":["OAK","9.5","ELITE CALF"],"price":25000,"weight":0,"compare_at_price":null,"inventory_management":"shopify","barcode":"840237308803","featured_media":{"alt":"0","id":22913681948877,"position":1,"preview_image":{"aspect_ratio":0.8,"height":3700,"width":2960,"src":"\/\/oncept.nyc\/cdn\/shop\/products\/CAPRI-SIDE-OAK-min.jpg?v=1661535111"}},"requires_selling_plan":false,"selling_plan_allocations":[]},{"id":40706613870797,"title":"OFF WHITE \/ 9.5 \/ ELITE CALF","option1":"OFF WHITE","option2":"9.5","option3":"ELITE CALF","sku":"840237308711","requires_shipping":true,"taxable":true,"featured_image":{"id":30632610332877,"product_id":6759176896717,"position":7,"created_at":"2022-08-26T13:28:23-04:00","updated_at":"2022-08-26T13:31:51-04:00","alt":"1","width":2960,"height":3700,"src":"\/\/oncept.nyc\/cdn\/shop\/products\/CAPRI-SIDE-IVORY-min.jpg?v=1661535111","variant_ids":[40706613182669,40706613280973,40706613379277,40706613477581,40706613575885,40706613674189,40706613772493,40706613870797,40706613969101]},"available":false,"name":"CAPRI - OFF WHITE \/ 9.5 \/ ELITE CALF","public_title":"OFF WHITE \/ 9.5 \/ ELITE CALF","options":["OFF WHITE","9.5","ELITE CALF"],"price":25000,"weight":0,"compare_at_price":null,"inventory_management":"shopify","barcode":"840237308711","featured_media":{"alt":"1","id":22913681916109,"position":7,"preview_image":{"aspect_ratio":0.8,"height":3700,"width":2960,"src":"\/\/oncept.nyc\/cdn\/shop\/products\/CAPRI-SIDE-IVORY-min.jpg?v=1661535111"}},"requires_selling_plan":false,"selling_plan_allocations":[]},{"id":40706613903565,"title":"BLACK \/ 9.5 \/ ELITE CALF","option1":"BLACK","option2":"9.5","option3":"ELITE CALF","sku":"840237308629","requires_shipping":true,"taxable":true,"featured_image":{"id":30632610201805,"product_id":6759176896717,"position":13,"created_at":"2022-08-26T13:28:23-04:00","updated_at":"2023-01-05T15:49:11-05:00","alt":"2","width":2960,"height":3700,"src":"\/\/oncept.nyc\/cdn\/shop\/products\/CAPRI-SIDE-BLACK-min.jpg?v=1672951751","variant_ids":[40706613215437,40706613313741,40706613412045,40706613510349,40706613608653,40706613706957,40706613805261,40706613903565,40706614001869]},"available":false,"name":"CAPRI - BLACK \/ 9.5 \/ ELITE CALF","public_title":"BLACK \/ 9.5 \/ ELITE CALF","options":["BLACK","9.5","ELITE CALF"],"price":25000,"weight":0,"compare_at_price":null,"inventory_management":"shopify","barcode":"840237308629","featured_media":{"alt":"2","id":22913681883341,"position":13,"preview_image":{"aspect_ratio":0.8,"height":3700,"width":2960,"src":"\/\/oncept.nyc\/cdn\/shop\/products\/CAPRI-SIDE-BLACK-min.jpg?v=1672951751"}},"requires_selling_plan":false,"selling_plan_allocations":[]},{"id":40706613936333,"title":"OAK \/ 10 \/ ELITE CALF","option1":"OAK","option2":"10","option3":"ELITE CALF","sku":"840237308810","requires_shipping":true,"taxable":true,"featured_image":{"id":30632609972429,"product_id":6759176896717,"position":1,"created_at":"2022-08-26T13:28:23-04:00","updated_at":"2022-08-26T13:31:51-04:00","alt":"0","width":2960,"height":3700,"src":"\/\/oncept.nyc\/cdn\/shop\/products\/CAPRI-SIDE-OAK-min.jpg?v=1661535111","variant_ids":[40706613149901,40706613248205,40706613346509,40706613444813,40706613543117,40706613641421,40706613739725,40706613838029,40706613936333]},"available":false,"name":"CAPRI - OAK \/ 10 \/ ELITE CALF","public_title":"OAK \/ 10 \/ ELITE CALF","options":["OAK","10","ELITE CALF"],"price":25000,"weight":0,"compare_at_price":null,"inventory_management":"shopify","barcode":"840237308810","featured_media":{"alt":"0","id":22913681948877,"position":1,"preview_image":{"aspect_ratio":0.8,"height":3700,"width":2960,"src":"\/\/oncept.nyc\/cdn\/shop\/products\/CAPRI-SIDE-OAK-min.jpg?v=1661535111"}},"requires_selling_plan":false,"selling_plan_allocations":[]},{"id":40706613969101,"title":"OFF WHITE \/ 10 \/ ELITE CALF","option1":"OFF WHITE","option2":"10","option3":"ELITE CALF","sku":"840237308728","requires_shipping":true,"taxable":true,"featured_image":{"id":30632610332877,"product_id":6759176896717,"position":7,"created_at":"2022-08-26T13:28:23-04:00","updated_at":"2022-08-26T13:31:51-04:00","alt":"1","width":2960,"height":3700,"src":"\/\/oncept.nyc\/cdn\/shop\/products\/CAPRI-SIDE-IVORY-min.jpg?v=1661535111","variant_ids":[40706613182669,40706613280973,40706613379277,40706613477581,40706613575885,40706613674189,40706613772493,40706613870797,40706613969101]},"available":false,"name":"CAPRI - OFF WHITE \/ 10 \/ ELITE CALF","public_title":"OFF WHITE \/ 10 \/ ELITE CALF","options":["OFF WHITE","10","ELITE CALF"],"price":25000,"weight":0,"compare_at_price":null,"inventory_management":"shopify","barcode":"840237308728","featured_media":{"alt":"1","id":22913681916109,"position":7,"preview_image":{"aspect_ratio":0.8,"height":3700,"width":2960,"src":"\/\/oncept.nyc\/cdn\/shop\/products\/CAPRI-SIDE-IVORY-min.jpg?v=1661535111"}},"requires_selling_plan":false,"selling_plan_allocations":[]},{"id":40706614001869,"title":"BLACK \/ 10 \/ ELITE CALF","option1":"BLACK","option2":"10","option3":"ELITE CALF","sku":"840237308636","requires_shipping":true,"taxable":true,"featured_image":{"id":30632610201805,"product_id":6759176896717,"position":13,"created_at":"2022-08-26T13:28:23-04:00","updated_at":"2023-01-05T15:49:11-05:00","alt":"2","width":2960,"height":3700,"src":"\/\/oncept.nyc\/cdn\/shop\/products\/CAPRI-SIDE-BLACK-min.jpg?v=1672951751","variant_ids":[40706613215437,40706613313741,40706613412045,40706613510349,40706613608653,40706613706957,40706613805261,40706613903565,40706614001869]},"available":false,"name":"CAPRI - BLACK \/ 10 \/ ELITE CALF","public_title":"BLACK \/ 10 \/ ELITE CALF","options":["BLACK","10","ELITE CALF"],"price":25000,"weight":0,"compare_at_price":null,"inventory_management":"shopify","barcode":"840237308636","featured_media":{"alt":"2","id":22913681883341,"position":13,"preview_image":{"aspect_ratio":0.8,"height":3700,"width":2960,"src":"\/\/oncept.nyc\/cdn\/shop\/products\/CAPRI-SIDE-BLACK-min.jpg?v=1672951751"}},"requires_selling_plan":false,"selling_plan_allocations":[]}],"images":["\/\/oncept.nyc\/cdn\/shop\/products\/CAPRI-SIDE-OAK-min.jpg?v=1661535111","\/\/oncept.nyc\/cdn\/shop\/products\/CAPRI-TOP-OAK-min.jpg?v=1661535111","\/\/oncept.nyc\/cdn\/shop\/products\/CAPRI-BACK-OAK-min.jpg?v=1661535111","\/\/oncept.nyc\/cdn\/shop\/products\/CAPRI-OUTSOLE-OAK-min.jpg?v=1661535111","\/\/oncept.nyc\/cdn\/shop\/products\/CAPRI-SOFTNESS-OAK-min.jpg?v=1661535111","\/\/oncept.nyc\/cdn\/shop\/products\/CAPRI-ONFOOT-OAK-min.jpg?v=1661535111","\/\/oncept.nyc\/cdn\/shop\/products\/CAPRI-SIDE-IVORY-min.jpg?v=1661535111","\/\/oncept.nyc\/cdn\/shop\/products\/CAPRI-TOP-IVORY-min.jpg?v=1661535111","\/\/oncept.nyc\/cdn\/shop\/products\/CAPRI-SOFTNESS-IVORY-min.jpg?v=1661535111","\/\/oncept.nyc\/cdn\/shop\/products\/CAPRI-ONFOOT-IVORY-min.jpg?v=1661535111","\/\/oncept.nyc\/cdn\/shop\/products\/CAPRI-OUTSOLE-IVORY-min.jpg?v=1661535111","\/\/oncept.nyc\/cdn\/shop\/products\/CAPRI-BACK-IVORY-min.jpg?v=1661535111","\/\/oncept.nyc\/cdn\/shop\/products\/CAPRI-SIDE-BLACK-min.jpg?v=1672951751","\/\/oncept.nyc\/cdn\/shop\/products\/CAPRI-TOP-BLACK-min.jpg?v=1672951751","\/\/oncept.nyc\/cdn\/shop\/products\/CAPRI-BACK-BLACK-min.jpg?v=1661535111","\/\/oncept.nyc\/cdn\/shop\/products\/CAPRI-OUTSOLE-BLACK-min.jpg?v=1661535572","\/\/oncept.nyc\/cdn\/shop\/products\/CAPRI-SOFTNESS-BLACK-min.jpg?v=1661535572","\/\/oncept.nyc\/cdn\/shop\/products\/CAPRI-ONFOOT-BLACK-min.jpg?v=1661535572"],"featured_image":"\/\/oncept.nyc\/cdn\/shop\/products\/CAPRI-SIDE-OAK-min.jpg?v=1661535111","options":["Color","Size","Material"],"media":[{"alt":"0","id":22913681948877,"position":1,"preview_image":{"aspect_ratio":0.8,"height":3700,"width":2960,"src":"\/\/oncept.nyc\/cdn\/shop\/products\/CAPRI-SIDE-OAK-min.jpg?v=1661535111"},"aspect_ratio":0.8,"height":3700,"media_type":"image","src":"\/\/oncept.nyc\/cdn\/shop\/products\/CAPRI-SIDE-OAK-min.jpg?v=1661535111","width":2960},{"alt":"0","id":22913682145485,"position":2,"preview_image":{"aspect_ratio":0.8,"height":3700,"width":2960,"src":"\/\/oncept.nyc\/cdn\/shop\/products\/CAPRI-TOP-OAK-min.jpg?v=1661535111"},"aspect_ratio":0.8,"height":3700,"media_type":"image","src":"\/\/oncept.nyc\/cdn\/shop\/products\/CAPRI-TOP-OAK-min.jpg?v=1661535111","width":2960},{"alt":"0","id":22913681686733,"position":3,"preview_image":{"aspect_ratio":0.8,"height":3700,"width":2960,"src":"\/\/oncept.nyc\/cdn\/shop\/products\/CAPRI-BACK-OAK-min.jpg?v=1661535111"},"aspect_ratio":0.8,"height":3700,"media_type":"image","src":"\/\/oncept.nyc\/cdn\/shop\/products\/CAPRI-BACK-OAK-min.jpg?v=1661535111","width":2960},{"alt":"0","id":22913681850573,"position":4,"preview_image":{"aspect_ratio":0.8,"height":3700,"width":2960,"src":"\/\/oncept.nyc\/cdn\/shop\/products\/CAPRI-OUTSOLE-OAK-min.jpg?v=1661535111"},"aspect_ratio":0.8,"height":3700,"media_type":"image","src":"\/\/oncept.nyc\/cdn\/shop\/products\/CAPRI-OUTSOLE-OAK-min.jpg?v=1661535111","width":2960},{"alt":"0","id":22913682047181,"position":5,"preview_image":{"aspect_ratio":0.8,"height":3700,"width":2960,"src":"\/\/oncept.nyc\/cdn\/shop\/products\/CAPRI-SOFTNESS-OAK-min.jpg?v=1661535111"},"aspect_ratio":0.8,"height":3700,"media_type":"image","src":"\/\/oncept.nyc\/cdn\/shop\/products\/CAPRI-SOFTNESS-OAK-min.jpg?v=1661535111","width":2960},{"alt":"0","id":22913681785037,"position":6,"preview_image":{"aspect_ratio":0.8,"height":3700,"width":2960,"src":"\/\/oncept.nyc\/cdn\/shop\/products\/CAPRI-ONFOOT-OAK-min.jpg?v=1661535111"},"aspect_ratio":0.8,"height":3700,"media_type":"image","src":"\/\/oncept.nyc\/cdn\/shop\/products\/CAPRI-ONFOOT-OAK-min.jpg?v=1661535111","width":2960},{"alt":"1","id":22913681916109,"position":7,"preview_image":{"aspect_ratio":0.8,"height":3700,"width":2960,"src":"\/\/oncept.nyc\/cdn\/shop\/products\/CAPRI-SIDE-IVORY-min.jpg?v=1661535111"},"aspect_ratio":0.8,"height":3700,"media_type":"image","src":"\/\/oncept.nyc\/cdn\/shop\/products\/CAPRI-SIDE-IVORY-min.jpg?v=1661535111","width":2960},{"alt":"1","id":22913682112717,"position":8,"preview_image":{"aspect_ratio":0.8,"height":3700,"width":2960,"src":"\/\/oncept.nyc\/cdn\/shop\/products\/CAPRI-TOP-IVORY-min.jpg?v=1661535111"},"aspect_ratio":0.8,"height":3700,"media_type":"image","src":"\/\/oncept.nyc\/cdn\/shop\/products\/CAPRI-TOP-IVORY-min.jpg?v=1661535111","width":2960},{"alt":"1","id":22913682014413,"position":9,"preview_image":{"aspect_ratio":0.8,"height":3700,"width":2960,"src":"\/\/oncept.nyc\/cdn\/shop\/products\/CAPRI-SOFTNESS-IVORY-min.jpg?v=1661535111"},"aspect_ratio":0.8,"height":3700,"media_type":"image","src":"\/\/oncept.nyc\/cdn\/shop\/products\/CAPRI-SOFTNESS-IVORY-min.jpg?v=1661535111","width":2960},{"alt":"1","id":22913681752269,"position":10,"preview_image":{"aspect_ratio":0.8,"height":3700,"width":2960,"src":"\/\/oncept.nyc\/cdn\/shop\/products\/CAPRI-ONFOOT-IVORY-min.jpg?v=1661535111"},"aspect_ratio":0.8,"height":3700,"media_type":"image","src":"\/\/oncept.nyc\/cdn\/shop\/products\/CAPRI-ONFOOT-IVORY-min.jpg?v=1661535111","width":2960},{"alt":"1","id":22913681817805,"position":11,"preview_image":{"aspect_ratio":0.8,"height":3700,"width":2960,"src":"\/\/oncept.nyc\/cdn\/shop\/products\/CAPRI-OUTSOLE-IVORY-min.jpg?v=1661535111"},"aspect_ratio":0.8,"height":3700,"media_type":"image","src":"\/\/oncept.nyc\/cdn\/shop\/products\/CAPRI-OUTSOLE-IVORY-min.jpg?v=1661535111","width":2960},{"alt":"1","id":22913681653965,"position":12,"preview_image":{"aspect_ratio":0.8,"height":3700,"width":2960,"src":"\/\/oncept.nyc\/cdn\/shop\/products\/CAPRI-BACK-IVORY-min.jpg?v=1661535111"},"aspect_ratio":0.8,"height":3700,"media_type":"image","src":"\/\/oncept.nyc\/cdn\/shop\/products\/CAPRI-BACK-IVORY-min.jpg?v=1661535111","width":2960},{"alt":"2","id":22913681883341,"position":13,"preview_image":{"aspect_ratio":0.8,"height":3700,"width":2960,"src":"\/\/oncept.nyc\/cdn\/shop\/products\/CAPRI-SIDE-BLACK-min.jpg?v=1672951751"},"aspect_ratio":0.8,"height":3700,"media_type":"image","src":"\/\/oncept.nyc\/cdn\/shop\/products\/CAPRI-SIDE-BLACK-min.jpg?v=1672951751","width":2960},{"alt":"2","id":22913682079949,"position":14,"preview_image":{"aspect_ratio":0.8,"height":3700,"width":2960,"src":"\/\/oncept.nyc\/cdn\/shop\/products\/CAPRI-TOP-BLACK-min.jpg?v=1672951751"},"aspect_ratio":0.8,"height":3700,"media_type":"image","src":"\/\/oncept.nyc\/cdn\/shop\/products\/CAPRI-TOP-BLACK-min.jpg?v=1672951751","width":2960},{"alt":"2","id":22913681621197,"position":15,"preview_image":{"aspect_ratio":0.8,"height":3700,"width":2960,"src":"\/\/oncept.nyc\/cdn\/shop\/products\/CAPRI-BACK-BLACK-min.jpg?v=1661535111"},"aspect_ratio":0.8,"height":3700,"media_type":"image","src":"\/\/oncept.nyc\/cdn\/shop\/products\/CAPRI-BACK-BLACK-min.jpg?v=1661535111","width":2960},{"alt":"2","id":22913725890765,"position":16,"preview_image":{"aspect_ratio":0.8,"height":3700,"width":2960,"src":"\/\/oncept.nyc\/cdn\/shop\/products\/CAPRI-OUTSOLE-BLACK-min.jpg?v=1661535572"},"aspect_ratio":0.8,"height":3700,"media_type":"image","src":"\/\/oncept.nyc\/cdn\/shop\/products\/CAPRI-OUTSOLE-BLACK-min.jpg?v=1661535572","width":2960},{"alt":"2","id":22913681981645,"position":17,"preview_image":{"aspect_ratio":0.8,"height":3700,"width":2960,"src":"\/\/oncept.nyc\/cdn\/shop\/products\/CAPRI-SOFTNESS-BLACK-min.jpg?v=1661535572"},"aspect_ratio":0.8,"height":3700,"media_type":"image","src":"\/\/oncept.nyc\/cdn\/shop\/products\/CAPRI-SOFTNESS-BLACK-min.jpg?v=1661535572","width":2960},{"alt":"2","id":22913681719501,"position":18,"preview_image":{"aspect_ratio":0.8,"height":3700,"width":2960,"src":"\/\/oncept.nyc\/cdn\/shop\/products\/CAPRI-ONFOOT-BLACK-min.jpg?v=1661535572"},"aspect_ratio":0.8,"height":3700,"media_type":"image","src":"\/\/oncept.nyc\/cdn\/shop\/products\/CAPRI-ONFOOT-BLACK-min.jpg?v=1661535572","width":2960}],"requires_selling_plan":false,"selling_plan_groups":[],"content":"\u003cp\u003eThe CAPRI our the Summer Toe Thong is ready for your much needed vacation.  Featuring an ultra light and flexible recycled EVA bottom it is the perfect sandal that is ready to pack and go.  Always elevated you will feel like you are walking on a bed of clouds.\u003c\/p\u003e\n\u003cp\u003e \u003c\/p\u003e"} { "options": [ { "title": "Color", "values": [ { "value": "OAK", "url": "/products/capri?variant=40706613149901" }, { "value": "OFF WHITE", "url": "/products/capri?variant=40706613182669" }, { "value": "BLACK", "url": "/products/capri?variant=40706613215437" } ] }, { "title": "Size", "values": [ { "value": "6", "url": "/products/capri?variant=40706613149901" }, { "value": "6.5", "url": "/products/capri?variant=40706613248205" }, { "value": "7", "url": "/products/capri?variant=40706613346509" }, { "value": "7.5", "url": "/products/capri?variant=40706613444813" }, { "value": "8", "url": "/products/capri?variant=40706613543117" }, { "value": "8.5", "url": "/products/capri?variant=40706613641421" }, { "value": "9", "url": "/products/capri?variant=40706613739725" }, { "value": "9.5", "url": "/products/capri?variant=40706613838029" }, { "value": "10", "url": "/products/capri?variant=40706613936333" } ] }, { "title": "Material", "values": [ { "value": "ELITE CALF", "url": "/products/capri?variant=40706613149901" } ] } ] }
{"id":6759103922381,"title":"LAGUNA","handle":"laguna","description":"\u003cp\u003e\u003cmeta charset=\"utf-8\"\u003e\u003cspan data-mce-fragment=\"1\"\u003eEasy as 1-2-3 … the LAGUNA on-the-go sneaker is an essential wardrobe piece with ease to slip on. No hassle, no fuss, just great style!  \u003c\/span\u003eWith ultra-soft calf leather or re-nylon uppers, citrus orange details, and a re-speckled flex outsole, our two-tone molded bottom is sleek and comfortable. With style in mind, the rubber flex outsole is durable, while the upper is soft and packable, making this timeless sneaker ready for anything.\u003cbr\u003e\u003c\/p\u003e","published_at":"2022-02-24T17:30:01-05:00","created_at":"2021-09-09T14:29:44-04:00","vendor":"Oncept","type":"Footwear","tags":["SNEAKER","SPORT"],"price":25000,"price_min":25000,"price_max":25000,"available":true,"price_varies":false,"compare_at_price":null,"compare_at_price_min":0,"compare_at_price_max":0,"compare_at_price_varies":false,"variants":[{"id":40188334342349,"title":"LATTE \/ 6 \/ SOFT CALF LEATHER","option1":"LATTE","option2":"6","option3":"SOFT CALF LEATHER","sku":"840237307851","requires_shipping":true,"taxable":true,"featured_image":{"id":30632638251213,"product_id":6759103922381,"position":1,"created_at":"2022-08-26T13:35:04-04:00","updated_at":"2022-08-26T13:36:33-04:00","alt":"0","width":2960,"height":3700,"src":"\/\/oncept.nyc\/cdn\/shop\/products\/LAGUNA-SIDE-LATTE-min.jpg?v=1661535393","variant_ids":[40188334342349,40188334473421,40188334571725,40188334670029,40188334768333,40188334866637,40188334964941,40188335096013,40188335194317]},"available":true,"name":"LAGUNA - LATTE \/ 6 \/ SOFT CALF LEATHER","public_title":"LATTE \/ 6 \/ SOFT CALF LEATHER","options":["LATTE","6","SOFT CALF LEATHER"],"price":25000,"weight":0,"compare_at_price":null,"inventory_management":"shopify","barcode":"840237307851","featured_media":{"alt":"0","id":22913710457037,"position":1,"preview_image":{"aspect_ratio":0.8,"height":3700,"width":2960,"src":"\/\/oncept.nyc\/cdn\/shop\/products\/LAGUNA-SIDE-LATTE-min.jpg?v=1661535393"}},"requires_selling_plan":false,"selling_plan_allocations":[]},{"id":40188334473421,"title":"LATTE \/ 6.5 \/ SOFT CALF LEATHER","option1":"LATTE","option2":"6.5","option3":"SOFT CALF LEATHER","sku":"840237307868","requires_shipping":true,"taxable":true,"featured_image":{"id":30632638251213,"product_id":6759103922381,"position":1,"created_at":"2022-08-26T13:35:04-04:00","updated_at":"2022-08-26T13:36:33-04:00","alt":"0","width":2960,"height":3700,"src":"\/\/oncept.nyc\/cdn\/shop\/products\/LAGUNA-SIDE-LATTE-min.jpg?v=1661535393","variant_ids":[40188334342349,40188334473421,40188334571725,40188334670029,40188334768333,40188334866637,40188334964941,40188335096013,40188335194317]},"available":true,"name":"LAGUNA - LATTE \/ 6.5 \/ SOFT CALF LEATHER","public_title":"LATTE \/ 6.5 \/ SOFT CALF LEATHER","options":["LATTE","6.5","SOFT CALF LEATHER"],"price":25000,"weight":0,"compare_at_price":null,"inventory_management":"shopify","barcode":"840237307868","featured_media":{"alt":"0","id":22913710457037,"position":1,"preview_image":{"aspect_ratio":0.8,"height":3700,"width":2960,"src":"\/\/oncept.nyc\/cdn\/shop\/products\/LAGUNA-SIDE-LATTE-min.jpg?v=1661535393"}},"requires_selling_plan":false,"selling_plan_allocations":[]},{"id":40188334571725,"title":"LATTE \/ 7 \/ SOFT CALF LEATHER","option1":"LATTE","option2":"7","option3":"SOFT CALF LEATHER","sku":"840237307875","requires_shipping":true,"taxable":true,"featured_image":{"id":30632638251213,"product_id":6759103922381,"position":1,"created_at":"2022-08-26T13:35:04-04:00","updated_at":"2022-08-26T13:36:33-04:00","alt":"0","width":2960,"height":3700,"src":"\/\/oncept.nyc\/cdn\/shop\/products\/LAGUNA-SIDE-LATTE-min.jpg?v=1661535393","variant_ids":[40188334342349,40188334473421,40188334571725,40188334670029,40188334768333,40188334866637,40188334964941,40188335096013,40188335194317]},"available":true,"name":"LAGUNA - LATTE \/ 7 \/ SOFT CALF LEATHER","public_title":"LATTE \/ 7 \/ SOFT CALF LEATHER","options":["LATTE","7","SOFT CALF LEATHER"],"price":25000,"weight":0,"compare_at_price":null,"inventory_management":"shopify","barcode":"840237307875","featured_media":{"alt":"0","id":22913710457037,"position":1,"preview_image":{"aspect_ratio":0.8,"height":3700,"width":2960,"src":"\/\/oncept.nyc\/cdn\/shop\/products\/LAGUNA-SIDE-LATTE-min.jpg?v=1661535393"}},"requires_selling_plan":false,"selling_plan_allocations":[]},{"id":40188334670029,"title":"LATTE \/ 7.5 \/ SOFT CALF LEATHER","option1":"LATTE","option2":"7.5","option3":"SOFT CALF LEATHER","sku":"840237307882","requires_shipping":true,"taxable":true,"featured_image":{"id":30632638251213,"product_id":6759103922381,"position":1,"created_at":"2022-08-26T13:35:04-04:00","updated_at":"2022-08-26T13:36:33-04:00","alt":"0","width":2960,"height":3700,"src":"\/\/oncept.nyc\/cdn\/shop\/products\/LAGUNA-SIDE-LATTE-min.jpg?v=1661535393","variant_ids":[40188334342349,40188334473421,40188334571725,40188334670029,40188334768333,40188334866637,40188334964941,40188335096013,40188335194317]},"available":true,"name":"LAGUNA - LATTE \/ 7.5 \/ SOFT CALF LEATHER","public_title":"LATTE \/ 7.5 \/ SOFT CALF LEATHER","options":["LATTE","7.5","SOFT CALF LEATHER"],"price":25000,"weight":0,"compare_at_price":null,"inventory_management":"shopify","barcode":"840237307882","featured_media":{"alt":"0","id":22913710457037,"position":1,"preview_image":{"aspect_ratio":0.8,"height":3700,"width":2960,"src":"\/\/oncept.nyc\/cdn\/shop\/products\/LAGUNA-SIDE-LATTE-min.jpg?v=1661535393"}},"requires_selling_plan":false,"selling_plan_allocations":[]},{"id":40188334768333,"title":"LATTE \/ 8 \/ SOFT CALF LEATHER","option1":"LATTE","option2":"8","option3":"SOFT CALF LEATHER","sku":"840237307899","requires_shipping":true,"taxable":true,"featured_image":{"id":30632638251213,"product_id":6759103922381,"position":1,"created_at":"2022-08-26T13:35:04-04:00","updated_at":"2022-08-26T13:36:33-04:00","alt":"0","width":2960,"height":3700,"src":"\/\/oncept.nyc\/cdn\/shop\/products\/LAGUNA-SIDE-LATTE-min.jpg?v=1661535393","variant_ids":[40188334342349,40188334473421,40188334571725,40188334670029,40188334768333,40188334866637,40188334964941,40188335096013,40188335194317]},"available":true,"name":"LAGUNA - LATTE \/ 8 \/ SOFT CALF LEATHER","public_title":"LATTE \/ 8 \/ SOFT CALF LEATHER","options":["LATTE","8","SOFT CALF LEATHER"],"price":25000,"weight":0,"compare_at_price":null,"inventory_management":"shopify","barcode":"840237307899","featured_media":{"alt":"0","id":22913710457037,"position":1,"preview_image":{"aspect_ratio":0.8,"height":3700,"width":2960,"src":"\/\/oncept.nyc\/cdn\/shop\/products\/LAGUNA-SIDE-LATTE-min.jpg?v=1661535393"}},"requires_selling_plan":false,"selling_plan_allocations":[]},{"id":40188334866637,"title":"LATTE \/ 8.5 \/ SOFT CALF LEATHER","option1":"LATTE","option2":"8.5","option3":"SOFT CALF LEATHER","sku":"840237307905","requires_shipping":true,"taxable":true,"featured_image":{"id":30632638251213,"product_id":6759103922381,"position":1,"created_at":"2022-08-26T13:35:04-04:00","updated_at":"2022-08-26T13:36:33-04:00","alt":"0","width":2960,"height":3700,"src":"\/\/oncept.nyc\/cdn\/shop\/products\/LAGUNA-SIDE-LATTE-min.jpg?v=1661535393","variant_ids":[40188334342349,40188334473421,40188334571725,40188334670029,40188334768333,40188334866637,40188334964941,40188335096013,40188335194317]},"available":true,"name":"LAGUNA - LATTE \/ 8.5 \/ SOFT CALF LEATHER","public_title":"LATTE \/ 8.5 \/ SOFT CALF LEATHER","options":["LATTE","8.5","SOFT CALF LEATHER"],"price":25000,"weight":0,"compare_at_price":null,"inventory_management":"shopify","barcode":"840237307905","featured_media":{"alt":"0","id":22913710457037,"position":1,"preview_image":{"aspect_ratio":0.8,"height":3700,"width":2960,"src":"\/\/oncept.nyc\/cdn\/shop\/products\/LAGUNA-SIDE-LATTE-min.jpg?v=1661535393"}},"requires_selling_plan":false,"selling_plan_allocations":[]},{"id":40188334964941,"title":"LATTE \/ 9 \/ SOFT CALF LEATHER","option1":"LATTE","option2":"9","option3":"SOFT CALF LEATHER","sku":"840237307912","requires_shipping":true,"taxable":true,"featured_image":{"id":30632638251213,"product_id":6759103922381,"position":1,"created_at":"2022-08-26T13:35:04-04:00","updated_at":"2022-08-26T13:36:33-04:00","alt":"0","width":2960,"height":3700,"src":"\/\/oncept.nyc\/cdn\/shop\/products\/LAGUNA-SIDE-LATTE-min.jpg?v=1661535393","variant_ids":[40188334342349,40188334473421,40188334571725,40188334670029,40188334768333,40188334866637,40188334964941,40188335096013,40188335194317]},"available":true,"name":"LAGUNA - LATTE \/ 9 \/ SOFT CALF LEATHER","public_title":"LATTE \/ 9 \/ SOFT CALF LEATHER","options":["LATTE","9","SOFT CALF LEATHER"],"price":25000,"weight":0,"compare_at_price":null,"inventory_management":"shopify","barcode":"840237307912","featured_media":{"alt":"0","id":22913710457037,"position":1,"preview_image":{"aspect_ratio":0.8,"height":3700,"width":2960,"src":"\/\/oncept.nyc\/cdn\/shop\/products\/LAGUNA-SIDE-LATTE-min.jpg?v=1661535393"}},"requires_selling_plan":false,"selling_plan_allocations":[]},{"id":40188335096013,"title":"LATTE \/ 9.5 \/ SOFT CALF LEATHER","option1":"LATTE","option2":"9.5","option3":"SOFT CALF LEATHER","sku":"840237307929","requires_shipping":true,"taxable":true,"featured_image":{"id":30632638251213,"product_id":6759103922381,"position":1,"created_at":"2022-08-26T13:35:04-04:00","updated_at":"2022-08-26T13:36:33-04:00","alt":"0","width":2960,"height":3700,"src":"\/\/oncept.nyc\/cdn\/shop\/products\/LAGUNA-SIDE-LATTE-min.jpg?v=1661535393","variant_ids":[40188334342349,40188334473421,40188334571725,40188334670029,40188334768333,40188334866637,40188334964941,40188335096013,40188335194317]},"available":true,"name":"LAGUNA - LATTE \/ 9.5 \/ SOFT CALF LEATHER","public_title":"LATTE \/ 9.5 \/ SOFT CALF LEATHER","options":["LATTE","9.5","SOFT CALF LEATHER"],"price":25000,"weight":0,"compare_at_price":null,"inventory_management":"shopify","barcode":"840237307929","featured_media":{"alt":"0","id":22913710457037,"position":1,"preview_image":{"aspect_ratio":0.8,"height":3700,"width":2960,"src":"\/\/oncept.nyc\/cdn\/shop\/products\/LAGUNA-SIDE-LATTE-min.jpg?v=1661535393"}},"requires_selling_plan":false,"selling_plan_allocations":[]},{"id":40188335194317,"title":"LATTE \/ 10 \/ SOFT CALF LEATHER","option1":"LATTE","option2":"10","option3":"SOFT CALF LEATHER","sku":"840237307936","requires_shipping":true,"taxable":true,"featured_image":{"id":30632638251213,"product_id":6759103922381,"position":1,"created_at":"2022-08-26T13:35:04-04:00","updated_at":"2022-08-26T13:36:33-04:00","alt":"0","width":2960,"height":3700,"src":"\/\/oncept.nyc\/cdn\/shop\/products\/LAGUNA-SIDE-LATTE-min.jpg?v=1661535393","variant_ids":[40188334342349,40188334473421,40188334571725,40188334670029,40188334768333,40188334866637,40188334964941,40188335096013,40188335194317]},"available":true,"name":"LAGUNA - LATTE \/ 10 \/ SOFT CALF LEATHER","public_title":"LATTE \/ 10 \/ SOFT CALF LEATHER","options":["LATTE","10","SOFT CALF LEATHER"],"price":25000,"weight":0,"compare_at_price":null,"inventory_management":"shopify","barcode":"840237307936","featured_media":{"alt":"0","id":22913710457037,"position":1,"preview_image":{"aspect_ratio":0.8,"height":3700,"width":2960,"src":"\/\/oncept.nyc\/cdn\/shop\/products\/LAGUNA-SIDE-LATTE-min.jpg?v=1661535393"}},"requires_selling_plan":false,"selling_plan_allocations":[]},{"id":40188318023885,"title":"WHITE CLOUD \/ 6 \/ SOFT CALF LEATHER","option1":"WHITE CLOUD","option2":"6","option3":"SOFT CALF LEATHER","sku":"840237307653","requires_shipping":true,"taxable":true,"featured_image":{"id":30632638152909,"product_id":6759103922381,"position":6,"created_at":"2022-08-26T13:35:04-04:00","updated_at":"2022-08-26T13:36:33-04:00","alt":"1","width":2960,"height":3700,"src":"\/\/oncept.nyc\/cdn\/shop\/products\/LAGUNA-SIDE-WHITECLOUD-min.jpg?v=1661535393","variant_ids":[40188318023885,40188334407885,40188334506189,40188334604493,40188334702797,40188334801101,40188334899405,40188334997709,40188335128781]},"available":true,"name":"LAGUNA - WHITE CLOUD \/ 6 \/ SOFT CALF LEATHER","public_title":"WHITE CLOUD \/ 6 \/ SOFT CALF LEATHER","options":["WHITE CLOUD","6","SOFT CALF LEATHER"],"price":25000,"weight":0,"compare_at_price":null,"inventory_management":"shopify","barcode":"840237307653","featured_media":{"alt":"1","id":22913710588109,"position":6,"preview_image":{"aspect_ratio":0.8,"height":3700,"width":2960,"src":"\/\/oncept.nyc\/cdn\/shop\/products\/LAGUNA-SIDE-WHITECLOUD-min.jpg?v=1661535393"}},"requires_selling_plan":false,"selling_plan_allocations":[]},{"id":40188334407885,"title":"WHITE CLOUD \/ 6.5 \/ SOFT CALF LEATHER","option1":"WHITE CLOUD","option2":"6.5","option3":"SOFT CALF LEATHER","sku":"840237307660","requires_shipping":true,"taxable":true,"featured_image":{"id":30632638152909,"product_id":6759103922381,"position":6,"created_at":"2022-08-26T13:35:04-04:00","updated_at":"2022-08-26T13:36:33-04:00","alt":"1","width":2960,"height":3700,"src":"\/\/oncept.nyc\/cdn\/shop\/products\/LAGUNA-SIDE-WHITECLOUD-min.jpg?v=1661535393","variant_ids":[40188318023885,40188334407885,40188334506189,40188334604493,40188334702797,40188334801101,40188334899405,40188334997709,40188335128781]},"available":true,"name":"LAGUNA - WHITE CLOUD \/ 6.5 \/ SOFT CALF LEATHER","public_title":"WHITE CLOUD \/ 6.5 \/ SOFT CALF LEATHER","options":["WHITE CLOUD","6.5","SOFT CALF LEATHER"],"price":25000,"weight":0,"compare_at_price":null,"inventory_management":"shopify","barcode":"840237307660","featured_media":{"alt":"1","id":22913710588109,"position":6,"preview_image":{"aspect_ratio":0.8,"height":3700,"width":2960,"src":"\/\/oncept.nyc\/cdn\/shop\/products\/LAGUNA-SIDE-WHITECLOUD-min.jpg?v=1661535393"}},"requires_selling_plan":false,"selling_plan_allocations":[]},{"id":40188334506189,"title":"WHITE CLOUD \/ 7 \/ SOFT CALF LEATHER","option1":"WHITE CLOUD","option2":"7","option3":"SOFT CALF LEATHER","sku":"840237307677","requires_shipping":true,"taxable":true,"featured_image":{"id":30632638152909,"product_id":6759103922381,"position":6,"created_at":"2022-08-26T13:35:04-04:00","updated_at":"2022-08-26T13:36:33-04:00","alt":"1","width":2960,"height":3700,"src":"\/\/oncept.nyc\/cdn\/shop\/products\/LAGUNA-SIDE-WHITECLOUD-min.jpg?v=1661535393","variant_ids":[40188318023885,40188334407885,40188334506189,40188334604493,40188334702797,40188334801101,40188334899405,40188334997709,40188335128781]},"available":true,"name":"LAGUNA - WHITE CLOUD \/ 7 \/ SOFT CALF LEATHER","public_title":"WHITE CLOUD \/ 7 \/ SOFT CALF LEATHER","options":["WHITE CLOUD","7","SOFT CALF LEATHER"],"price":25000,"weight":0,"compare_at_price":null,"inventory_management":"shopify","barcode":"840237307677","featured_media":{"alt":"1","id":22913710588109,"position":6,"preview_image":{"aspect_ratio":0.8,"height":3700,"width":2960,"src":"\/\/oncept.nyc\/cdn\/shop\/products\/LAGUNA-SIDE-WHITECLOUD-min.jpg?v=1661535393"}},"requires_selling_plan":false,"selling_plan_allocations":[]},{"id":40188334604493,"title":"WHITE CLOUD \/ 7.5 \/ SOFT CALF LEATHER","option1":"WHITE CLOUD","option2":"7.5","option3":"SOFT CALF LEATHER","sku":"840237307684","requires_shipping":true,"taxable":true,"featured_image":{"id":30632638152909,"product_id":6759103922381,"position":6,"created_at":"2022-08-26T13:35:04-04:00","updated_at":"2022-08-26T13:36:33-04:00","alt":"1","width":2960,"height":3700,"src":"\/\/oncept.nyc\/cdn\/shop\/products\/LAGUNA-SIDE-WHITECLOUD-min.jpg?v=1661535393","variant_ids":[40188318023885,40188334407885,40188334506189,40188334604493,40188334702797,40188334801101,40188334899405,40188334997709,40188335128781]},"available":true,"name":"LAGUNA - WHITE CLOUD \/ 7.5 \/ SOFT CALF LEATHER","public_title":"WHITE CLOUD \/ 7.5 \/ SOFT CALF LEATHER","options":["WHITE CLOUD","7.5","SOFT CALF LEATHER"],"price":25000,"weight":0,"compare_at_price":null,"inventory_management":"shopify","barcode":"840237307684","featured_media":{"alt":"1","id":22913710588109,"position":6,"preview_image":{"aspect_ratio":0.8,"height":3700,"width":2960,"src":"\/\/oncept.nyc\/cdn\/shop\/products\/LAGUNA-SIDE-WHITECLOUD-min.jpg?v=1661535393"}},"requires_selling_plan":false,"selling_plan_allocations":[]},{"id":40188334702797,"title":"WHITE CLOUD \/ 8 \/ SOFT CALF LEATHER","option1":"WHITE CLOUD","option2":"8","option3":"SOFT CALF LEATHER","sku":"840237307691","requires_shipping":true,"taxable":true,"featured_image":{"id":30632638152909,"product_id":6759103922381,"position":6,"created_at":"2022-08-26T13:35:04-04:00","updated_at":"2022-08-26T13:36:33-04:00","alt":"1","width":2960,"height":3700,"src":"\/\/oncept.nyc\/cdn\/shop\/products\/LAGUNA-SIDE-WHITECLOUD-min.jpg?v=1661535393","variant_ids":[40188318023885,40188334407885,40188334506189,40188334604493,40188334702797,40188334801101,40188334899405,40188334997709,40188335128781]},"available":true,"name":"LAGUNA - WHITE CLOUD \/ 8 \/ SOFT CALF LEATHER","public_title":"WHITE CLOUD \/ 8 \/ SOFT CALF LEATHER","options":["WHITE CLOUD","8","SOFT CALF LEATHER"],"price":25000,"weight":0,"compare_at_price":null,"inventory_management":"shopify","barcode":"840237307691","featured_media":{"alt":"1","id":22913710588109,"position":6,"preview_image":{"aspect_ratio":0.8,"height":3700,"width":2960,"src":"\/\/oncept.nyc\/cdn\/shop\/products\/LAGUNA-SIDE-WHITECLOUD-min.jpg?v=1661535393"}},"requires_selling_plan":false,"selling_plan_allocations":[]},{"id":40188334801101,"title":"WHITE CLOUD \/ 8.5 \/ SOFT CALF LEATHER","option1":"WHITE CLOUD","option2":"8.5","option3":"SOFT CALF LEATHER","sku":"840237307707","requires_shipping":true,"taxable":true,"featured_image":{"id":30632638152909,"product_id":6759103922381,"position":6,"created_at":"2022-08-26T13:35:04-04:00","updated_at":"2022-08-26T13:36:33-04:00","alt":"1","width":2960,"height":3700,"src":"\/\/oncept.nyc\/cdn\/shop\/products\/LAGUNA-SIDE-WHITECLOUD-min.jpg?v=1661535393","variant_ids":[40188318023885,40188334407885,40188334506189,40188334604493,40188334702797,40188334801101,40188334899405,40188334997709,40188335128781]},"available":true,"name":"LAGUNA - WHITE CLOUD \/ 8.5 \/ SOFT CALF LEATHER","public_title":"WHITE CLOUD \/ 8.5 \/ SOFT CALF LEATHER","options":["WHITE CLOUD","8.5","SOFT CALF LEATHER"],"price":25000,"weight":0,"compare_at_price":null,"inventory_management":"shopify","barcode":"840237307707","featured_media":{"alt":"1","id":22913710588109,"position":6,"preview_image":{"aspect_ratio":0.8,"height":3700,"width":2960,"src":"\/\/oncept.nyc\/cdn\/shop\/products\/LAGUNA-SIDE-WHITECLOUD-min.jpg?v=1661535393"}},"requires_selling_plan":false,"selling_plan_allocations":[]},{"id":40188334899405,"title":"WHITE CLOUD \/ 9 \/ SOFT CALF LEATHER","option1":"WHITE CLOUD","option2":"9","option3":"SOFT CALF LEATHER","sku":"840237307714","requires_shipping":true,"taxable":true,"featured_image":{"id":30632638152909,"product_id":6759103922381,"position":6,"created_at":"2022-08-26T13:35:04-04:00","updated_at":"2022-08-26T13:36:33-04:00","alt":"1","width":2960,"height":3700,"src":"\/\/oncept.nyc\/cdn\/shop\/products\/LAGUNA-SIDE-WHITECLOUD-min.jpg?v=1661535393","variant_ids":[40188318023885,40188334407885,40188334506189,40188334604493,40188334702797,40188334801101,40188334899405,40188334997709,40188335128781]},"available":true,"name":"LAGUNA - WHITE CLOUD \/ 9 \/ SOFT CALF LEATHER","public_title":"WHITE CLOUD \/ 9 \/ SOFT CALF LEATHER","options":["WHITE CLOUD","9","SOFT CALF LEATHER"],"price":25000,"weight":0,"compare_at_price":null,"inventory_management":"shopify","barcode":"840237307714","featured_media":{"alt":"1","id":22913710588109,"position":6,"preview_image":{"aspect_ratio":0.8,"height":3700,"width":2960,"src":"\/\/oncept.nyc\/cdn\/shop\/products\/LAGUNA-SIDE-WHITECLOUD-min.jpg?v=1661535393"}},"requires_selling_plan":false,"selling_plan_allocations":[]},{"id":40188334997709,"title":"WHITE CLOUD \/ 9.5 \/ SOFT CALF LEATHER","option1":"WHITE CLOUD","option2":"9.5","option3":"SOFT CALF LEATHER","sku":"840237307721","requires_shipping":true,"taxable":true,"featured_image":{"id":30632638152909,"product_id":6759103922381,"position":6,"created_at":"2022-08-26T13:35:04-04:00","updated_at":"2022-08-26T13:36:33-04:00","alt":"1","width":2960,"height":3700,"src":"\/\/oncept.nyc\/cdn\/shop\/products\/LAGUNA-SIDE-WHITECLOUD-min.jpg?v=1661535393","variant_ids":[40188318023885,40188334407885,40188334506189,40188334604493,40188334702797,40188334801101,40188334899405,40188334997709,40188335128781]},"available":true,"name":"LAGUNA - WHITE CLOUD \/ 9.5 \/ SOFT CALF LEATHER","public_title":"WHITE CLOUD \/ 9.5 \/ SOFT CALF LEATHER","options":["WHITE CLOUD","9.5","SOFT CALF LEATHER"],"price":25000,"weight":0,"compare_at_price":null,"inventory_management":"shopify","barcode":"840237307721","featured_media":{"alt":"1","id":22913710588109,"position":6,"preview_image":{"aspect_ratio":0.8,"height":3700,"width":2960,"src":"\/\/oncept.nyc\/cdn\/shop\/products\/LAGUNA-SIDE-WHITECLOUD-min.jpg?v=1661535393"}},"requires_selling_plan":false,"selling_plan_allocations":[]},{"id":40188335128781,"title":"WHITE CLOUD \/ 10 \/ SOFT CALF LEATHER","option1":"WHITE CLOUD","option2":"10","option3":"SOFT CALF LEATHER","sku":"840237307738","requires_shipping":true,"taxable":true,"featured_image":{"id":30632638152909,"product_id":6759103922381,"position":6,"created_at":"2022-08-26T13:35:04-04:00","updated_at":"2022-08-26T13:36:33-04:00","alt":"1","width":2960,"height":3700,"src":"\/\/oncept.nyc\/cdn\/shop\/products\/LAGUNA-SIDE-WHITECLOUD-min.jpg?v=1661535393","variant_ids":[40188318023885,40188334407885,40188334506189,40188334604493,40188334702797,40188334801101,40188334899405,40188334997709,40188335128781]},"available":true,"name":"LAGUNA - WHITE CLOUD \/ 10 \/ SOFT CALF LEATHER","public_title":"WHITE CLOUD \/ 10 \/ SOFT CALF LEATHER","options":["WHITE CLOUD","10","SOFT CALF LEATHER"],"price":25000,"weight":0,"compare_at_price":null,"inventory_management":"shopify","barcode":"840237307738","featured_media":{"alt":"1","id":22913710588109,"position":6,"preview_image":{"aspect_ratio":0.8,"height":3700,"width":2960,"src":"\/\/oncept.nyc\/cdn\/shop\/products\/LAGUNA-SIDE-WHITECLOUD-min.jpg?v=1661535393"}},"requires_selling_plan":false,"selling_plan_allocations":[]},{"id":40188334309581,"title":"MOONSTONE \/ 6 \/ SOFT CALF LEATHER","option1":"MOONSTONE","option2":"6","option3":"SOFT CALF LEATHER","sku":"840237307752","requires_shipping":true,"taxable":true,"featured_image":{"id":30632638021837,"product_id":6759103922381,"position":11,"created_at":"2022-08-26T13:35:04-04:00","updated_at":"2022-09-06T10:49:57-04:00","alt":"2","width":2960,"height":3700,"src":"\/\/oncept.nyc\/cdn\/shop\/products\/LAGUNA-SIDE-MOONSTONE-min.jpg?v=1662475797","variant_ids":[40188334309581,40188334440653,40188334538957,40188334637261,40188334735565,40188334833869,40188334932173,40188335030477,40188335161549]},"available":true,"name":"LAGUNA - MOONSTONE \/ 6 \/ SOFT CALF LEATHER","public_title":"MOONSTONE \/ 6 \/ SOFT CALF LEATHER","options":["MOONSTONE","6","SOFT CALF LEATHER"],"price":25000,"weight":0,"compare_at_price":null,"inventory_management":"shopify","barcode":"840237307752","featured_media":{"alt":"2","id":22913710555341,"position":11,"preview_image":{"aspect_ratio":0.8,"height":3700,"width":2960,"src":"\/\/oncept.nyc\/cdn\/shop\/products\/LAGUNA-SIDE-MOONSTONE-min.jpg?v=1662475797"}},"requires_selling_plan":false,"selling_plan_allocations":[]},{"id":40188334440653,"title":"MOONSTONE \/ 6.5 \/ SOFT CALF LEATHER","option1":"MOONSTONE","option2":"6.5","option3":"SOFT CALF LEATHER","sku":"840237307769","requires_shipping":true,"taxable":true,"featured_image":{"id":30632638021837,"product_id":6759103922381,"position":11,"created_at":"2022-08-26T13:35:04-04:00","updated_at":"2022-09-06T10:49:57-04:00","alt":"2","width":2960,"height":3700,"src":"\/\/oncept.nyc\/cdn\/shop\/products\/LAGUNA-SIDE-MOONSTONE-min.jpg?v=1662475797","variant_ids":[40188334309581,40188334440653,40188334538957,40188334637261,40188334735565,40188334833869,40188334932173,40188335030477,40188335161549]},"available":true,"name":"LAGUNA - MOONSTONE \/ 6.5 \/ SOFT CALF LEATHER","public_title":"MOONSTONE \/ 6.5 \/ SOFT CALF LEATHER","options":["MOONSTONE","6.5","SOFT CALF LEATHER"],"price":25000,"weight":0,"compare_at_price":null,"inventory_management":"shopify","barcode":"840237307769","featured_media":{"alt":"2","id":22913710555341,"position":11,"preview_image":{"aspect_ratio":0.8,"height":3700,"width":2960,"src":"\/\/oncept.nyc\/cdn\/shop\/products\/LAGUNA-SIDE-MOONSTONE-min.jpg?v=1662475797"}},"requires_selling_plan":false,"selling_plan_allocations":[]},{"id":40188334538957,"title":"MOONSTONE \/ 7 \/ SOFT CALF LEATHER","option1":"MOONSTONE","option2":"7","option3":"SOFT CALF LEATHER","sku":"840237307776","requires_shipping":true,"taxable":true,"featured_image":{"id":30632638021837,"product_id":6759103922381,"position":11,"created_at":"2022-08-26T13:35:04-04:00","updated_at":"2022-09-06T10:49:57-04:00","alt":"2","width":2960,"height":3700,"src":"\/\/oncept.nyc\/cdn\/shop\/products\/LAGUNA-SIDE-MOONSTONE-min.jpg?v=1662475797","variant_ids":[40188334309581,40188334440653,40188334538957,40188334637261,40188334735565,40188334833869,40188334932173,40188335030477,40188335161549]},"available":false,"name":"LAGUNA - MOONSTONE \/ 7 \/ SOFT CALF LEATHER","public_title":"MOONSTONE \/ 7 \/ SOFT CALF LEATHER","options":["MOONSTONE","7","SOFT CALF LEATHER"],"price":25000,"weight":0,"compare_at_price":null,"inventory_management":"shopify","barcode":"840237307776","featured_media":{"alt":"2","id":22913710555341,"position":11,"preview_image":{"aspect_ratio":0.8,"height":3700,"width":2960,"src":"\/\/oncept.nyc\/cdn\/shop\/products\/LAGUNA-SIDE-MOONSTONE-min.jpg?v=1662475797"}},"requires_selling_plan":false,"selling_plan_allocations":[]},{"id":40188334637261,"title":"MOONSTONE \/ 7.5 \/ SOFT CALF LEATHER","option1":"MOONSTONE","option2":"7.5","option3":"SOFT CALF LEATHER","sku":"840237307783","requires_shipping":true,"taxable":true,"featured_image":{"id":30632638021837,"product_id":6759103922381,"position":11,"created_at":"2022-08-26T13:35:04-04:00","updated_at":"2022-09-06T10:49:57-04:00","alt":"2","width":2960,"height":3700,"src":"\/\/oncept.nyc\/cdn\/shop\/products\/LAGUNA-SIDE-MOONSTONE-min.jpg?v=1662475797","variant_ids":[40188334309581,40188334440653,40188334538957,40188334637261,40188334735565,40188334833869,40188334932173,40188335030477,40188335161549]},"available":true,"name":"LAGUNA - MOONSTONE \/ 7.5 \/ SOFT CALF LEATHER","public_title":"MOONSTONE \/ 7.5 \/ SOFT CALF LEATHER","options":["MOONSTONE","7.5","SOFT CALF LEATHER"],"price":25000,"weight":0,"compare_at_price":null,"inventory_management":"shopify","barcode":"840237307783","featured_media":{"alt":"2","id":22913710555341,"position":11,"preview_image":{"aspect_ratio":0.8,"height":3700,"width":2960,"src":"\/\/oncept.nyc\/cdn\/shop\/products\/LAGUNA-SIDE-MOONSTONE-min.jpg?v=1662475797"}},"requires_selling_plan":false,"selling_plan_allocations":[]},{"id":40188334735565,"title":"MOONSTONE \/ 8 \/ SOFT CALF LEATHER","option1":"MOONSTONE","option2":"8","option3":"SOFT CALF LEATHER","sku":"840237307790","requires_shipping":true,"taxable":true,"featured_image":{"id":30632638021837,"product_id":6759103922381,"position":11,"created_at":"2022-08-26T13:35:04-04:00","updated_at":"2022-09-06T10:49:57-04:00","alt":"2","width":2960,"height":3700,"src":"\/\/oncept.nyc\/cdn\/shop\/products\/LAGUNA-SIDE-MOONSTONE-min.jpg?v=1662475797","variant_ids":[40188334309581,40188334440653,40188334538957,40188334637261,40188334735565,40188334833869,40188334932173,40188335030477,40188335161549]},"available":true,"name":"LAGUNA - MOONSTONE \/ 8 \/ SOFT CALF LEATHER","public_title":"MOONSTONE \/ 8 \/ SOFT CALF LEATHER","options":["MOONSTONE","8","SOFT CALF LEATHER"],"price":25000,"weight":0,"compare_at_price":null,"inventory_management":"shopify","barcode":"840237307790","featured_media":{"alt":"2","id":22913710555341,"position":11,"preview_image":{"aspect_ratio":0.8,"height":3700,"width":2960,"src":"\/\/oncept.nyc\/cdn\/shop\/products\/LAGUNA-SIDE-MOONSTONE-min.jpg?v=1662475797"}},"requires_selling_plan":false,"selling_plan_allocations":[]},{"id":40188334833869,"title":"MOONSTONE \/ 8.5 \/ SOFT CALF LEATHER","option1":"MOONSTONE","option2":"8.5","option3":"SOFT CALF LEATHER","sku":"840237307806","requires_shipping":true,"taxable":true,"featured_image":{"id":30632638021837,"product_id":6759103922381,"position":11,"created_at":"2022-08-26T13:35:04-04:00","updated_at":"2022-09-06T10:49:57-04:00","alt":"2","width":2960,"height":3700,"src":"\/\/oncept.nyc\/cdn\/shop\/products\/LAGUNA-SIDE-MOONSTONE-min.jpg?v=1662475797","variant_ids":[40188334309581,40188334440653,40188334538957,40188334637261,40188334735565,40188334833869,40188334932173,40188335030477,40188335161549]},"available":true,"name":"LAGUNA - MOONSTONE \/ 8.5 \/ SOFT CALF LEATHER","public_title":"MOONSTONE \/ 8.5 \/ SOFT CALF LEATHER","options":["MOONSTONE","8.5","SOFT CALF LEATHER"],"price":25000,"weight":0,"compare_at_price":null,"inventory_management":"shopify","barcode":"840237307806","featured_media":{"alt":"2","id":22913710555341,"position":11,"preview_image":{"aspect_ratio":0.8,"height":3700,"width":2960,"src":"\/\/oncept.nyc\/cdn\/shop\/products\/LAGUNA-SIDE-MOONSTONE-min.jpg?v=1662475797"}},"requires_selling_plan":false,"selling_plan_allocations":[]},{"id":40188334932173,"title":"MOONSTONE \/ 9 \/ SOFT CALF LEATHER","option1":"MOONSTONE","option2":"9","option3":"SOFT CALF LEATHER","sku":"840237307813","requires_shipping":true,"taxable":true,"featured_image":{"id":30632638021837,"product_id":6759103922381,"position":11,"created_at":"2022-08-26T13:35:04-04:00","updated_at":"2022-09-06T10:49:57-04:00","alt":"2","width":2960,"height":3700,"src":"\/\/oncept.nyc\/cdn\/shop\/products\/LAGUNA-SIDE-MOONSTONE-min.jpg?v=1662475797","variant_ids":[40188334309581,40188334440653,40188334538957,40188334637261,40188334735565,40188334833869,40188334932173,40188335030477,40188335161549]},"available":true,"name":"LAGUNA - MOONSTONE \/ 9 \/ SOFT CALF LEATHER","public_title":"MOONSTONE \/ 9 \/ SOFT CALF LEATHER","options":["MOONSTONE","9","SOFT CALF LEATHER"],"price":25000,"weight":0,"compare_at_price":null,"inventory_management":"shopify","barcode":"840237307813","featured_media":{"alt":"2","id":22913710555341,"position":11,"preview_image":{"aspect_ratio":0.8,"height":3700,"width":2960,"src":"\/\/oncept.nyc\/cdn\/shop\/products\/LAGUNA-SIDE-MOONSTONE-min.jpg?v=1662475797"}},"requires_selling_plan":false,"selling_plan_allocations":[]},{"id":40188335030477,"title":"MOONSTONE \/ 9.5 \/ SOFT CALF LEATHER","option1":"MOONSTONE","option2":"9.5","option3":"SOFT CALF LEATHER","sku":"840237307820","requires_shipping":true,"taxable":true,"featured_image":{"id":30632638021837,"product_id":6759103922381,"position":11,"created_at":"2022-08-26T13:35:04-04:00","updated_at":"2022-09-06T10:49:57-04:00","alt":"2","width":2960,"height":3700,"src":"\/\/oncept.nyc\/cdn\/shop\/products\/LAGUNA-SIDE-MOONSTONE-min.jpg?v=1662475797","variant_ids":[40188334309581,40188334440653,40188334538957,40188334637261,40188334735565,40188334833869,40188334932173,40188335030477,40188335161549]},"available":true,"name":"LAGUNA - MOONSTONE \/ 9.5 \/ SOFT CALF LEATHER","public_title":"MOONSTONE \/ 9.5 \/ SOFT CALF LEATHER","options":["MOONSTONE","9.5","SOFT CALF LEATHER"],"price":25000,"weight":0,"compare_at_price":null,"inventory_management":"shopify","barcode":"840237307820","featured_media":{"alt":"2","id":22913710555341,"position":11,"preview_image":{"aspect_ratio":0.8,"height":3700,"width":2960,"src":"\/\/oncept.nyc\/cdn\/shop\/products\/LAGUNA-SIDE-MOONSTONE-min.jpg?v=1662475797"}},"requires_selling_plan":false,"selling_plan_allocations":[]},{"id":40188335161549,"title":"MOONSTONE \/ 10 \/ SOFT CALF LEATHER","option1":"MOONSTONE","option2":"10","option3":"SOFT CALF LEATHER","sku":"840237307837","requires_shipping":true,"taxable":true,"featured_image":{"id":30632638021837,"product_id":6759103922381,"position":11,"created_at":"2022-08-26T13:35:04-04:00","updated_at":"2022-09-06T10:49:57-04:00","alt":"2","width":2960,"height":3700,"src":"\/\/oncept.nyc\/cdn\/shop\/products\/LAGUNA-SIDE-MOONSTONE-min.jpg?v=1662475797","variant_ids":[40188334309581,40188334440653,40188334538957,40188334637261,40188334735565,40188334833869,40188334932173,40188335030477,40188335161549]},"available":true,"name":"LAGUNA - MOONSTONE \/ 10 \/ SOFT CALF LEATHER","public_title":"MOONSTONE \/ 10 \/ SOFT CALF LEATHER","options":["MOONSTONE","10","SOFT CALF LEATHER"],"price":25000,"weight":0,"compare_at_price":null,"inventory_management":"shopify","barcode":"840237307837","featured_media":{"alt":"2","id":22913710555341,"position":11,"preview_image":{"aspect_ratio":0.8,"height":3700,"width":2960,"src":"\/\/oncept.nyc\/cdn\/shop\/products\/LAGUNA-SIDE-MOONSTONE-min.jpg?v=1662475797"}},"requires_selling_plan":false,"selling_plan_allocations":[]}],"images":["\/\/oncept.nyc\/cdn\/shop\/products\/LAGUNA-SIDE-LATTE-min.jpg?v=1661535393","\/\/oncept.nyc\/cdn\/shop\/products\/LAGUNA-CLOSEUP-LATTE.jpg?v=1661535393","\/\/oncept.nyc\/cdn\/shop\/products\/LAGUNA-OUTSOLE-LATTE.jpg?v=1661535393","\/\/oncept.nyc\/cdn\/shop\/products\/LAGUNA-SOFTNESS-LATTE-min.jpg?v=1661535393","\/\/oncept.nyc\/cdn\/shop\/products\/LAGUNA-ONFOOT-LATTE-min.jpg?v=1661535393","\/\/oncept.nyc\/cdn\/shop\/products\/LAGUNA-SIDE-WHITECLOUD-min.jpg?v=1661535393","\/\/oncept.nyc\/cdn\/shop\/products\/LAGUNA-CLOSEUP-WHITECLOUD.jpg?v=1661535393","\/\/oncept.nyc\/cdn\/shop\/products\/LAGUNA-OUTSOLE-WHITECLOUD.jpg?v=1662475797","\/\/oncept.nyc\/cdn\/shop\/products\/LAGUNA-SOFTNESS-WHITECLOUD.jpg?v=1662475797","\/\/oncept.nyc\/cdn\/shop\/products\/Frame41-min.jpg?v=1662475797","\/\/oncept.nyc\/cdn\/shop\/products\/LAGUNA-SIDE-MOONSTONE-min.jpg?v=1662475797","\/\/oncept.nyc\/cdn\/shop\/products\/LAGUNA-CLOSEUP-MOONSTONE.jpg?v=1662475797","\/\/oncept.nyc\/cdn\/shop\/products\/LAGUNA-OUTSOLE-MOONSTONE.jpg?v=1662475797","\/\/oncept.nyc\/cdn\/shop\/products\/LAGUNA-SOFTNESS-MOONSTONE.jpg?v=1662475797","\/\/oncept.nyc\/cdn\/shop\/products\/LAGUANA-ONFOOT-MOONSTONE-min.jpg?v=1662475797"],"featured_image":"\/\/oncept.nyc\/cdn\/shop\/products\/LAGUNA-SIDE-LATTE-min.jpg?v=1661535393","options":["Color","Size","Material"],"media":[{"alt":"0","id":22913710457037,"position":1,"preview_image":{"aspect_ratio":0.8,"height":3700,"width":2960,"src":"\/\/oncept.nyc\/cdn\/shop\/products\/LAGUNA-SIDE-LATTE-min.jpg?v=1661535393"},"aspect_ratio":0.8,"height":3700,"media_type":"image","src":"\/\/oncept.nyc\/cdn\/shop\/products\/LAGUNA-SIDE-LATTE-min.jpg?v=1661535393","width":2960},{"alt":"0","id":22108859564237,"position":2,"preview_image":{"aspect_ratio":0.8,"height":1500,"width":1200,"src":"\/\/oncept.nyc\/cdn\/shop\/products\/LAGUNA-CLOSEUP-LATTE.jpg?v=1661535393"},"aspect_ratio":0.8,"height":1500,"media_type":"image","src":"\/\/oncept.nyc\/cdn\/shop\/products\/LAGUNA-CLOSEUP-LATTE.jpg?v=1661535393","width":1200},{"alt":"0","id":22108859760845,"position":3,"preview_image":{"aspect_ratio":0.8,"height":1500,"width":1200,"src":"\/\/oncept.nyc\/cdn\/shop\/products\/LAGUNA-OUTSOLE-LATTE.jpg?v=1661535393"},"aspect_ratio":0.8,"height":1500,"media_type":"image","src":"\/\/oncept.nyc\/cdn\/shop\/products\/LAGUNA-OUTSOLE-LATTE.jpg?v=1661535393","width":1200},{"alt":"0","id":22913710620877,"position":4,"preview_image":{"aspect_ratio":0.8,"height":3700,"width":2960,"src":"\/\/oncept.nyc\/cdn\/shop\/products\/LAGUNA-SOFTNESS-LATTE-min.jpg?v=1661535393"},"aspect_ratio":0.8,"height":3700,"media_type":"image","src":"\/\/oncept.nyc\/cdn\/shop\/products\/LAGUNA-SOFTNESS-LATTE-min.jpg?v=1661535393","width":2960},{"alt":"0","id":22913710358733,"position":5,"preview_image":{"aspect_ratio":0.8,"height":3700,"width":2960,"src":"\/\/oncept.nyc\/cdn\/shop\/products\/LAGUNA-ONFOOT-LATTE-min.jpg?v=1661535393"},"aspect_ratio":0.8,"height":3700,"media_type":"image","src":"\/\/oncept.nyc\/cdn\/shop\/products\/LAGUNA-ONFOOT-LATTE-min.jpg?v=1661535393","width":2960},{"alt":"1","id":22913710588109,"position":6,"preview_image":{"aspect_ratio":0.8,"height":3700,"width":2960,"src":"\/\/oncept.nyc\/cdn\/shop\/products\/LAGUNA-SIDE-WHITECLOUD-min.jpg?v=1661535393"},"aspect_ratio":0.8,"height":3700,"media_type":"image","src":"\/\/oncept.nyc\/cdn\/shop\/products\/LAGUNA-SIDE-WHITECLOUD-min.jpg?v=1661535393","width":2960},{"alt":"1","id":22108859695309,"position":7,"preview_image":{"aspect_ratio":0.8,"height":1500,"width":1200,"src":"\/\/oncept.nyc\/cdn\/shop\/products\/LAGUNA-CLOSEUP-WHITECLOUD.jpg?v=1661535393"},"aspect_ratio":0.8,"height":1500,"media_type":"image","src":"\/\/oncept.nyc\/cdn\/shop\/products\/LAGUNA-CLOSEUP-WHITECLOUD.jpg?v=1661535393","width":1200},{"alt":"1","id":22108859859149,"position":8,"preview_image":{"aspect_ratio":0.8,"height":1500,"width":1200,"src":"\/\/oncept.nyc\/cdn\/shop\/products\/LAGUNA-OUTSOLE-WHITECLOUD.jpg?v=1662475797"},"aspect_ratio":0.8,"height":1500,"media_type":"image","src":"\/\/oncept.nyc\/cdn\/shop\/products\/LAGUNA-OUTSOLE-WHITECLOUD.jpg?v=1662475797","width":1200},{"alt":"1","id":22108860186829,"position":9,"preview_image":{"aspect_ratio":0.8,"height":1500,"width":1200,"src":"\/\/oncept.nyc\/cdn\/shop\/products\/LAGUNA-SOFTNESS-WHITECLOUD.jpg?v=1662475797"},"aspect_ratio":0.8,"height":1500,"media_type":"image","src":"\/\/oncept.nyc\/cdn\/shop\/products\/LAGUNA-SOFTNESS-WHITECLOUD.jpg?v=1662475797","width":1200},{"alt":"1","id":22774692446413,"position":10,"preview_image":{"aspect_ratio":0.8,"height":3700,"width":2960,"src":"\/\/oncept.nyc\/cdn\/shop\/products\/Frame41-min.jpg?v=1662475797"},"aspect_ratio":0.8,"height":3700,"media_type":"image","src":"\/\/oncept.nyc\/cdn\/shop\/products\/Frame41-min.jpg?v=1662475797","width":2960},{"alt":"2","id":22913710555341,"position":11,"preview_image":{"aspect_ratio":0.8,"height":3700,"width":2960,"src":"\/\/oncept.nyc\/cdn\/shop\/products\/LAGUNA-SIDE-MOONSTONE-min.jpg?v=1662475797"},"aspect_ratio":0.8,"height":3700,"media_type":"image","src":"\/\/oncept.nyc\/cdn\/shop\/products\/LAGUNA-SIDE-MOONSTONE-min.jpg?v=1662475797","width":2960},{"alt":"2","id":22108859662541,"position":12,"preview_image":{"aspect_ratio":0.8,"height":1500,"width":1200,"src":"\/\/oncept.nyc\/cdn\/shop\/products\/LAGUNA-CLOSEUP-MOONSTONE.jpg?v=1662475797"},"aspect_ratio":0.8,"height":1500,"media_type":"image","src":"\/\/oncept.nyc\/cdn\/shop\/products\/LAGUNA-CLOSEUP-MOONSTONE.jpg?v=1662475797","width":1200},{"alt":"2","id":22108859826381,"position":13,"preview_image":{"aspect_ratio":0.8,"height":1500,"width":1200,"src":"\/\/oncept.nyc\/cdn\/shop\/products\/LAGUNA-OUTSOLE-MOONSTONE.jpg?v=1662475797"},"aspect_ratio":0.8,"height":1500,"media_type":"image","src":"\/\/oncept.nyc\/cdn\/shop\/products\/LAGUNA-OUTSOLE-MOONSTONE.jpg?v=1662475797","width":1200},{"alt":"2","id":22108860154061,"position":14,"preview_image":{"aspect_ratio":0.8,"height":1500,"width":1200,"src":"\/\/oncept.nyc\/cdn\/shop\/products\/LAGUNA-SOFTNESS-MOONSTONE.jpg?v=1662475797"},"aspect_ratio":0.8,"height":1500,"media_type":"image","src":"\/\/oncept.nyc\/cdn\/shop\/products\/LAGUNA-SOFTNESS-MOONSTONE.jpg?v=1662475797","width":1200},{"alt":"2","id":22913710325965,"position":15,"preview_image":{"aspect_ratio":0.8,"height":3700,"width":2960,"src":"\/\/oncept.nyc\/cdn\/shop\/products\/LAGUANA-ONFOOT-MOONSTONE-min.jpg?v=1662475797"},"aspect_ratio":0.8,"height":3700,"media_type":"image","src":"\/\/oncept.nyc\/cdn\/shop\/products\/LAGUANA-ONFOOT-MOONSTONE-min.jpg?v=1662475797","width":2960}],"requires_selling_plan":false,"selling_plan_groups":[],"content":"\u003cp\u003e\u003cmeta charset=\"utf-8\"\u003e\u003cspan data-mce-fragment=\"1\"\u003eEasy as 1-2-3 … the LAGUNA on-the-go sneaker is an essential wardrobe piece with ease to slip on. No hassle, no fuss, just great style!  \u003c\/span\u003eWith ultra-soft calf leather or re-nylon uppers, citrus orange details, and a re-speckled flex outsole, our two-tone molded bottom is sleek and comfortable. With style in mind, the rubber flex outsole is durable, while the upper is soft and packable, making this timeless sneaker ready for anything.\u003cbr\u003e\u003c\/p\u003e"} { "options": [ { "title": "Color", "values": [ { "value": "LATTE", "url": "/products/laguna?variant=40188334342349" }, { "value": "WHITE CLOUD", "url": "/products/laguna?variant=40188318023885" }, { "value": "MOONSTONE", "url": "/products/laguna?variant=40188334309581" } ] }, { "title": "Size", "values": [ { "value": "6", "url": "/products/laguna?variant=40188334342349" }, { "value": "6.5", "url": "/products/laguna?variant=40188334473421" }, { "value": "7", "url": "/products/laguna?variant=40188334571725" }, { "value": "7.5", "url": "/products/laguna?variant=40188334670029" }, { "value": "8", "url": "/products/laguna?variant=40188334768333" }, { "value": "8.5", "url": "/products/laguna?variant=40188334866637" }, { "value": "9", "url": "/products/laguna?variant=40188334964941" }, { "value": "9.5", "url": "/products/laguna?variant=40188335096013" }, { "value": "10", "url": "/products/laguna?variant=40188335194317" } ] }, { "title": "Material", "values": [ { "value": "SOFT CALF LEATHER", "url": "/products/laguna?variant=40188334342349" } ] } ] }
{"id":6650580697293,"title":"LISBON","handle":"lisbon","description":"\u003cspan style=\"font-weight: 400;\" data-mce-fragment=\"1\" data-mce-style=\"font-weight: 400;\"\u003eElevated and sporty, the LISBON is your \u003c\/span\u003eclassic hightop\u003cspan style=\"font-weight: 400;\" data-mce-fragment=\"1\" data-mce-style=\"font-weight: 400;\"\u003e. With ultra-soft calf leather, citrus orange details, and a re-speckled flex outsole, our two-tone molded bottom is sleek and comfortable.  Added mud guard detail gives style and extra protection from the elements.  Utilizing the same durable flex outsole as the LONDON makes this timeless high top ready for anything.\u003c\/span\u003e","published_at":"2022-03-03T01:38:01-05:00","created_at":"2021-06-22T03:38:21-04:00","vendor":"Oncept","type":"Footwear","tags":["FLAT","SNEAKER","SPORT"],"price":37500,"price_min":37500,"price_max":37500,"available":true,"price_varies":false,"compare_at_price":null,"compare_at_price_min":0,"compare_at_price_max":0,"compare_at_price_varies":false,"variants":[{"id":39745120239821,"title":"WHITE CLOUD - CAPPUCCINO \/ 6 \/ RELAXED CALF\/SUEDE\/SHEEP","option1":"WHITE CLOUD - CAPPUCCINO","option2":"6","option3":"RELAXED CALF\/SUEDE\/SHEEP","sku":"840237303716","requires_shipping":true,"taxable":true,"featured_image":{"id":30506338222285,"product_id":6650580697293,"position":1,"created_at":"2022-08-04T11:51:26-04:00","updated_at":"2022-08-04T11:52:07-04:00","alt":"0","width":2960,"height":3700,"src":"\/\/oncept.nyc\/cdn\/shop\/products\/LISBON-SIDE-WHITECAP-min.jpg?v=1659628327","variant_ids":[39745120239821,39745120272589,39745120305357,39745120338125,39745120370893,39745120403661,39745120436429,39745120469197,39745120501965]},"available":true,"name":"LISBON - WHITE CLOUD - CAPPUCCINO \/ 6 \/ RELAXED CALF\/SUEDE\/SHEEP","public_title":"WHITE CLOUD - CAPPUCCINO \/ 6 \/ RELAXED CALF\/SUEDE\/SHEEP","options":["WHITE CLOUD - CAPPUCCINO","6","RELAXED CALF\/SUEDE\/SHEEP"],"price":37500,"weight":0,"compare_at_price":null,"inventory_management":"shopify","barcode":"840237303716","featured_media":{"alt":"0","id":22786182414541,"position":1,"preview_image":{"aspect_ratio":0.8,"height":3700,"width":2960,"src":"\/\/oncept.nyc\/cdn\/shop\/products\/LISBON-SIDE-WHITECAP-min.jpg?v=1659628327"}},"requires_selling_plan":false,"selling_plan_allocations":[]},{"id":39745120272589,"title":"WHITE CLOUD - CAPPUCCINO \/ 6.5 \/ RELAXED CALF\/SUEDE\/SHEEP","option1":"WHITE CLOUD - CAPPUCCINO","option2":"6.5","option3":"RELAXED CALF\/SUEDE\/SHEEP","sku":"840237303723","requires_shipping":true,"taxable":true,"featured_image":{"id":30506338222285,"product_id":6650580697293,"position":1,"created_at":"2022-08-04T11:51:26-04:00","updated_at":"2022-08-04T11:52:07-04:00","alt":"0","width":2960,"height":3700,"src":"\/\/oncept.nyc\/cdn\/shop\/products\/LISBON-SIDE-WHITECAP-min.jpg?v=1659628327","variant_ids":[39745120239821,39745120272589,39745120305357,39745120338125,39745120370893,39745120403661,39745120436429,39745120469197,39745120501965]},"available":true,"name":"LISBON - WHITE CLOUD - CAPPUCCINO \/ 6.5 \/ RELAXED CALF\/SUEDE\/SHEEP","public_title":"WHITE CLOUD - CAPPUCCINO \/ 6.5 \/ RELAXED CALF\/SUEDE\/SHEEP","options":["WHITE CLOUD - CAPPUCCINO","6.5","RELAXED CALF\/SUEDE\/SHEEP"],"price":37500,"weight":0,"compare_at_price":null,"inventory_management":"shopify","barcode":"840237303723","featured_media":{"alt":"0","id":22786182414541,"position":1,"preview_image":{"aspect_ratio":0.8,"height":3700,"width":2960,"src":"\/\/oncept.nyc\/cdn\/shop\/products\/LISBON-SIDE-WHITECAP-min.jpg?v=1659628327"}},"requires_selling_plan":false,"selling_plan_allocations":[]},{"id":39745120305357,"title":"WHITE CLOUD - CAPPUCCINO \/ 7 \/ RELAXED CALF\/SUEDE\/SHEEP","option1":"WHITE CLOUD - CAPPUCCINO","option2":"7","option3":"RELAXED CALF\/SUEDE\/SHEEP","sku":"840237303730","requires_shipping":true,"taxable":true,"featured_image":{"id":30506338222285,"product_id":6650580697293,"position":1,"created_at":"2022-08-04T11:51:26-04:00","updated_at":"2022-08-04T11:52:07-04:00","alt":"0","width":2960,"height":3700,"src":"\/\/oncept.nyc\/cdn\/shop\/products\/LISBON-SIDE-WHITECAP-min.jpg?v=1659628327","variant_ids":[39745120239821,39745120272589,39745120305357,39745120338125,39745120370893,39745120403661,39745120436429,39745120469197,39745120501965]},"available":true,"name":"LISBON - WHITE CLOUD - CAPPUCCINO \/ 7 \/ RELAXED CALF\/SUEDE\/SHEEP","public_title":"WHITE CLOUD - CAPPUCCINO \/ 7 \/ RELAXED CALF\/SUEDE\/SHEEP","options":["WHITE CLOUD - CAPPUCCINO","7","RELAXED CALF\/SUEDE\/SHEEP"],"price":37500,"weight":0,"compare_at_price":null,"inventory_management":"shopify","barcode":"840237303730","featured_media":{"alt":"0","id":22786182414541,"position":1,"preview_image":{"aspect_ratio":0.8,"height":3700,"width":2960,"src":"\/\/oncept.nyc\/cdn\/shop\/products\/LISBON-SIDE-WHITECAP-min.jpg?v=1659628327"}},"requires_selling_plan":false,"selling_plan_allocations":[]},{"id":39745120338125,"title":"WHITE CLOUD - CAPPUCCINO \/ 7.5 \/ RELAXED CALF\/SUEDE\/SHEEP","option1":"WHITE CLOUD - CAPPUCCINO","option2":"7.5","option3":"RELAXED CALF\/SUEDE\/SHEEP","sku":"840237303747","requires_shipping":true,"taxable":true,"featured_image":{"id":30506338222285,"product_id":6650580697293,"position":1,"created_at":"2022-08-04T11:51:26-04:00","updated_at":"2022-08-04T11:52:07-04:00","alt":"0","width":2960,"height":3700,"src":"\/\/oncept.nyc\/cdn\/shop\/products\/LISBON-SIDE-WHITECAP-min.jpg?v=1659628327","variant_ids":[39745120239821,39745120272589,39745120305357,39745120338125,39745120370893,39745120403661,39745120436429,39745120469197,39745120501965]},"available":true,"name":"LISBON - WHITE CLOUD - CAPPUCCINO \/ 7.5 \/ RELAXED CALF\/SUEDE\/SHEEP","public_title":"WHITE CLOUD - CAPPUCCINO \/ 7.5 \/ RELAXED CALF\/SUEDE\/SHEEP","options":["WHITE CLOUD - CAPPUCCINO","7.5","RELAXED CALF\/SUEDE\/SHEEP"],"price":37500,"weight":0,"compare_at_price":null,"inventory_management":"shopify","barcode":"840237303747","featured_media":{"alt":"0","id":22786182414541,"position":1,"preview_image":{"aspect_ratio":0.8,"height":3700,"width":2960,"src":"\/\/oncept.nyc\/cdn\/shop\/products\/LISBON-SIDE-WHITECAP-min.jpg?v=1659628327"}},"requires_selling_plan":false,"selling_plan_allocations":[]},{"id":39745120370893,"title":"WHITE CLOUD - CAPPUCCINO \/ 8 \/ RELAXED CALF\/SUEDE\/SHEEP","option1":"WHITE CLOUD - CAPPUCCINO","option2":"8","option3":"RELAXED CALF\/SUEDE\/SHEEP","sku":"840237303754","requires_shipping":true,"taxable":true,"featured_image":{"id":30506338222285,"product_id":6650580697293,"position":1,"created_at":"2022-08-04T11:51:26-04:00","updated_at":"2022-08-04T11:52:07-04:00","alt":"0","width":2960,"height":3700,"src":"\/\/oncept.nyc\/cdn\/shop\/products\/LISBON-SIDE-WHITECAP-min.jpg?v=1659628327","variant_ids":[39745120239821,39745120272589,39745120305357,39745120338125,39745120370893,39745120403661,39745120436429,39745120469197,39745120501965]},"available":true,"name":"LISBON - WHITE CLOUD - CAPPUCCINO \/ 8 \/ RELAXED CALF\/SUEDE\/SHEEP","public_title":"WHITE CLOUD - CAPPUCCINO \/ 8 \/ RELAXED CALF\/SUEDE\/SHEEP","options":["WHITE CLOUD - CAPPUCCINO","8","RELAXED CALF\/SUEDE\/SHEEP"],"price":37500,"weight":0,"compare_at_price":null,"inventory_management":"shopify","barcode":"840237303754","featured_media":{"alt":"0","id":22786182414541,"position":1,"preview_image":{"aspect_ratio":0.8,"height":3700,"width":2960,"src":"\/\/oncept.nyc\/cdn\/shop\/products\/LISBON-SIDE-WHITECAP-min.jpg?v=1659628327"}},"requires_selling_plan":false,"selling_plan_allocations":[]},{"id":39745120403661,"title":"WHITE CLOUD - CAPPUCCINO \/ 8.5 \/ RELAXED CALF\/SUEDE\/SHEEP","option1":"WHITE CLOUD - CAPPUCCINO","option2":"8.5","option3":"RELAXED CALF\/SUEDE\/SHEEP","sku":"840237303761","requires_shipping":true,"taxable":true,"featured_image":{"id":30506338222285,"product_id":6650580697293,"position":1,"created_at":"2022-08-04T11:51:26-04:00","updated_at":"2022-08-04T11:52:07-04:00","alt":"0","width":2960,"height":3700,"src":"\/\/oncept.nyc\/cdn\/shop\/products\/LISBON-SIDE-WHITECAP-min.jpg?v=1659628327","variant_ids":[39745120239821,39745120272589,39745120305357,39745120338125,39745120370893,39745120403661,39745120436429,39745120469197,39745120501965]},"available":true,"name":"LISBON - WHITE CLOUD - CAPPUCCINO \/ 8.5 \/ RELAXED CALF\/SUEDE\/SHEEP","public_title":"WHITE CLOUD - CAPPUCCINO \/ 8.5 \/ RELAXED CALF\/SUEDE\/SHEEP","options":["WHITE CLOUD - CAPPUCCINO","8.5","RELAXED CALF\/SUEDE\/SHEEP"],"price":37500,"weight":0,"compare_at_price":null,"inventory_management":"shopify","barcode":"840237303761","featured_media":{"alt":"0","id":22786182414541,"position":1,"preview_image":{"aspect_ratio":0.8,"height":3700,"width":2960,"src":"\/\/oncept.nyc\/cdn\/shop\/products\/LISBON-SIDE-WHITECAP-min.jpg?v=1659628327"}},"requires_selling_plan":false,"selling_plan_allocations":[]},{"id":39745120436429,"title":"WHITE CLOUD - CAPPUCCINO \/ 9 \/ RELAXED CALF\/SUEDE\/SHEEP","option1":"WHITE CLOUD - CAPPUCCINO","option2":"9","option3":"RELAXED CALF\/SUEDE\/SHEEP","sku":"840237303778","requires_shipping":true,"taxable":true,"featured_image":{"id":30506338222285,"product_id":6650580697293,"position":1,"created_at":"2022-08-04T11:51:26-04:00","updated_at":"2022-08-04T11:52:07-04:00","alt":"0","width":2960,"height":3700,"src":"\/\/oncept.nyc\/cdn\/shop\/products\/LISBON-SIDE-WHITECAP-min.jpg?v=1659628327","variant_ids":[39745120239821,39745120272589,39745120305357,39745120338125,39745120370893,39745120403661,39745120436429,39745120469197,39745120501965]},"available":true,"name":"LISBON - WHITE CLOUD - CAPPUCCINO \/ 9 \/ RELAXED CALF\/SUEDE\/SHEEP","public_title":"WHITE CLOUD - CAPPUCCINO \/ 9 \/ RELAXED CALF\/SUEDE\/SHEEP","options":["WHITE CLOUD - CAPPUCCINO","9","RELAXED CALF\/SUEDE\/SHEEP"],"price":37500,"weight":0,"compare_at_price":null,"inventory_management":"shopify","barcode":"840237303778","featured_media":{"alt":"0","id":22786182414541,"position":1,"preview_image":{"aspect_ratio":0.8,"height":3700,"width":2960,"src":"\/\/oncept.nyc\/cdn\/shop\/products\/LISBON-SIDE-WHITECAP-min.jpg?v=1659628327"}},"requires_selling_plan":false,"selling_plan_allocations":[]},{"id":39745120469197,"title":"WHITE CLOUD - CAPPUCCINO \/ 9.5 \/ RELAXED CALF\/SUEDE\/SHEEP","option1":"WHITE CLOUD - CAPPUCCINO","option2":"9.5","option3":"RELAXED CALF\/SUEDE\/SHEEP","sku":"840237303785","requires_shipping":true,"taxable":true,"featured_image":{"id":30506338222285,"product_id":6650580697293,"position":1,"created_at":"2022-08-04T11:51:26-04:00","updated_at":"2022-08-04T11:52:07-04:00","alt":"0","width":2960,"height":3700,"src":"\/\/oncept.nyc\/cdn\/shop\/products\/LISBON-SIDE-WHITECAP-min.jpg?v=1659628327","variant_ids":[39745120239821,39745120272589,39745120305357,39745120338125,39745120370893,39745120403661,39745120436429,39745120469197,39745120501965]},"available":true,"name":"LISBON - WHITE CLOUD - CAPPUCCINO \/ 9.5 \/ RELAXED CALF\/SUEDE\/SHEEP","public_title":"WHITE CLOUD - CAPPUCCINO \/ 9.5 \/ RELAXED CALF\/SUEDE\/SHEEP","options":["WHITE CLOUD - CAPPUCCINO","9.5","RELAXED CALF\/SUEDE\/SHEEP"],"price":37500,"weight":0,"compare_at_price":null,"inventory_management":"shopify","barcode":"840237303785","featured_media":{"alt":"0","id":22786182414541,"position":1,"preview_image":{"aspect_ratio":0.8,"height":3700,"width":2960,"src":"\/\/oncept.nyc\/cdn\/shop\/products\/LISBON-SIDE-WHITECAP-min.jpg?v=1659628327"}},"requires_selling_plan":false,"selling_plan_allocations":[]},{"id":39745120501965,"title":"WHITE CLOUD - CAPPUCCINO \/ 10 \/ RELAXED CALF\/SUEDE\/SHEEP","option1":"WHITE CLOUD - CAPPUCCINO","option2":"10","option3":"RELAXED CALF\/SUEDE\/SHEEP","sku":"840237303792","requires_shipping":true,"taxable":true,"featured_image":{"id":30506338222285,"product_id":6650580697293,"position":1,"created_at":"2022-08-04T11:51:26-04:00","updated_at":"2022-08-04T11:52:07-04:00","alt":"0","width":2960,"height":3700,"src":"\/\/oncept.nyc\/cdn\/shop\/products\/LISBON-SIDE-WHITECAP-min.jpg?v=1659628327","variant_ids":[39745120239821,39745120272589,39745120305357,39745120338125,39745120370893,39745120403661,39745120436429,39745120469197,39745120501965]},"available":true,"name":"LISBON - WHITE CLOUD - CAPPUCCINO \/ 10 \/ RELAXED CALF\/SUEDE\/SHEEP","public_title":"WHITE CLOUD - CAPPUCCINO \/ 10 \/ RELAXED CALF\/SUEDE\/SHEEP","options":["WHITE CLOUD - CAPPUCCINO","10","RELAXED CALF\/SUEDE\/SHEEP"],"price":37500,"weight":0,"compare_at_price":null,"inventory_management":"shopify","barcode":"840237303792","featured_media":{"alt":"0","id":22786182414541,"position":1,"preview_image":{"aspect_ratio":0.8,"height":3700,"width":2960,"src":"\/\/oncept.nyc\/cdn\/shop\/products\/LISBON-SIDE-WHITECAP-min.jpg?v=1659628327"}},"requires_selling_plan":false,"selling_plan_allocations":[]}],"images":["\/\/oncept.nyc\/cdn\/shop\/products\/LISBON-SIDE-WHITECAP-min.jpg?v=1659628327","\/\/oncept.nyc\/cdn\/shop\/products\/LISBON-TOP-WHITECAP-min.jpg?v=1659628327","\/\/oncept.nyc\/cdn\/shop\/products\/LISBON-BACK-WHITECAP-min.jpg?v=1659628327","\/\/oncept.nyc\/cdn\/shop\/products\/LISBON-OUTSOLE-WHITECAP-min.jpg?v=1659628327","\/\/oncept.nyc\/cdn\/shop\/products\/LISBON-SOFT-WHITECAP-min.jpg?v=1659628327","\/\/oncept.nyc\/cdn\/shop\/products\/LISBON-ONFOOT-WHITECAP-min.jpg?v=1659628327"],"featured_image":"\/\/oncept.nyc\/cdn\/shop\/products\/LISBON-SIDE-WHITECAP-min.jpg?v=1659628327","options":["Color","Size","Material"],"media":[{"alt":"0","id":22786182414541,"position":1,"preview_image":{"aspect_ratio":0.8,"height":3700,"width":2960,"src":"\/\/oncept.nyc\/cdn\/shop\/products\/LISBON-SIDE-WHITECAP-min.jpg?v=1659628327"},"aspect_ratio":0.8,"height":3700,"media_type":"image","src":"\/\/oncept.nyc\/cdn\/shop\/products\/LISBON-SIDE-WHITECAP-min.jpg?v=1659628327","width":2960},{"alt":"0","id":22786182480077,"position":2,"preview_image":{"aspect_ratio":0.8,"height":3700,"width":2960,"src":"\/\/oncept.nyc\/cdn\/shop\/products\/LISBON-TOP-WHITECAP-min.jpg?v=1659628327"},"aspect_ratio":0.8,"height":3700,"media_type":"image","src":"\/\/oncept.nyc\/cdn\/shop\/products\/LISBON-TOP-WHITECAP-min.jpg?v=1659628327","width":2960},{"alt":"0","id":22786182316237,"position":3,"preview_image":{"aspect_ratio":0.8,"height":3700,"width":2960,"src":"\/\/oncept.nyc\/cdn\/shop\/products\/LISBON-BACK-WHITECAP-min.jpg?v=1659628327"},"aspect_ratio":0.8,"height":3700,"media_type":"image","src":"\/\/oncept.nyc\/cdn\/shop\/products\/LISBON-BACK-WHITECAP-min.jpg?v=1659628327","width":2960},{"alt":"0","id":22786182381773,"position":4,"preview_image":{"aspect_ratio":0.8,"height":3700,"width":2960,"src":"\/\/oncept.nyc\/cdn\/shop\/products\/LISBON-OUTSOLE-WHITECAP-min.jpg?v=1659628327"},"aspect_ratio":0.8,"height":3700,"media_type":"image","src":"\/\/oncept.nyc\/cdn\/shop\/products\/LISBON-OUTSOLE-WHITECAP-min.jpg?v=1659628327","width":2960},{"alt":"0","id":22786182447309,"position":5,"preview_image":{"aspect_ratio":0.8,"height":3700,"width":2960,"src":"\/\/oncept.nyc\/cdn\/shop\/products\/LISBON-SOFT-WHITECAP-min.jpg?v=1659628327"},"aspect_ratio":0.8,"height":3700,"media_type":"image","src":"\/\/oncept.nyc\/cdn\/shop\/products\/LISBON-SOFT-WHITECAP-min.jpg?v=1659628327","width":2960},{"alt":"0","id":22786182349005,"position":6,"preview_image":{"aspect_ratio":0.8,"height":3700,"width":2960,"src":"\/\/oncept.nyc\/cdn\/shop\/products\/LISBON-ONFOOT-WHITECAP-min.jpg?v=1659628327"},"aspect_ratio":0.8,"height":3700,"media_type":"image","src":"\/\/oncept.nyc\/cdn\/shop\/products\/LISBON-ONFOOT-WHITECAP-min.jpg?v=1659628327","width":2960}],"requires_selling_plan":false,"selling_plan_groups":[],"content":"\u003cspan style=\"font-weight: 400;\" data-mce-fragment=\"1\" data-mce-style=\"font-weight: 400;\"\u003eElevated and sporty, the LISBON is your \u003c\/span\u003eclassic hightop\u003cspan style=\"font-weight: 400;\" data-mce-fragment=\"1\" data-mce-style=\"font-weight: 400;\"\u003e. With ultra-soft calf leather, citrus orange details, and a re-speckled flex outsole, our two-tone molded bottom is sleek and comfortable.  Added mud guard detail gives style and extra protection from the elements.  Utilizing the same durable flex outsole as the LONDON makes this timeless high top ready for anything.\u003c\/span\u003e"} { "options": [ { "title": "Color", "values": [ { "value": "WHITE CLOUD - CAPPUCCINO", "url": "/products/lisbon?variant=39745120239821" } ] }, { "title": "Size", "values": [ { "value": "6", "url": "/products/lisbon?variant=39745120239821" }, { "value": "6.5", "url": "/products/lisbon?variant=39745120272589" }, { "value": "7", "url": "/products/lisbon?variant=39745120305357" }, { "value": "7.5", "url": "/products/lisbon?variant=39745120338125" }, { "value": "8", "url": "/products/lisbon?variant=39745120370893" }, { "value": "8.5", "url": "/products/lisbon?variant=39745120403661" }, { "value": "9", "url": "/products/lisbon?variant=39745120436429" }, { "value": "9.5", "url": "/products/lisbon?variant=39745120469197" }, { "value": "10", "url": "/products/lisbon?variant=39745120501965" } ] }, { "title": "Material", "values": [ { "value": "RELAXED CALF/SUEDE/SHEEP", "url": "/products/lisbon?variant=39745120239821" } ] } ] }
var product_title = "MONACO"; var product_variants = [{"id":40188104704205,"title":"OAK \/ 6 \/ ELITE CALF","option1":"OAK","option2":"6","option3":"ELITE CALF","sku":"840237306663","requires_shipping":true,"taxable":true,"featured_image":{"id":29839809413325,"product_id":6759108051149,"position":1,"created_at":"2022-02-25T11:41:59-05:00","updated_at":"2022-08-19T00:58:57-04:00","alt":"0","width":1480,"height":1850,"src":"\/\/oncept.nyc\/cdn\/shop\/products\/MONACO-SIDE-OAK.jpg?v=1660885137","variant_ids":[40188104704205,40188104868045,40188105031885,40188105195725,40188105359565,40188105523405,40188105687245,40188105883853,40188106014925]},"available":true,"name":"MONACO - OAK \/ 6 \/ ELITE CALF","public_title":"OAK \/ 6 \/ ELITE CALF","options":["OAK","6","ELITE CALF"],"price":30000,"weight":0,"compare_at_price":null,"inventory_management":"shopify","barcode":"840237306663","featured_media":{"alt":"0","id":22111857344717,"position":1,"preview_image":{"aspect_ratio":0.8,"height":1850,"width":1480,"src":"\/\/oncept.nyc\/cdn\/shop\/products\/MONACO-SIDE-OAK.jpg?v=1660885137"}},"requires_selling_plan":false,"selling_plan_allocations":[]},{"id":40188104868045,"title":"OAK \/ 6.5 \/ ELITE CALF","option1":"OAK","option2":"6.5","option3":"ELITE CALF","sku":"840237306670","requires_shipping":true,"taxable":true,"featured_image":{"id":29839809413325,"product_id":6759108051149,"position":1,"created_at":"2022-02-25T11:41:59-05:00","updated_at":"2022-08-19T00:58:57-04:00","alt":"0","width":1480,"height":1850,"src":"\/\/oncept.nyc\/cdn\/shop\/products\/MONACO-SIDE-OAK.jpg?v=1660885137","variant_ids":[40188104704205,40188104868045,40188105031885,40188105195725,40188105359565,40188105523405,40188105687245,40188105883853,40188106014925]},"available":true,"name":"MONACO - OAK \/ 6.5 \/ ELITE CALF","public_title":"OAK \/ 6.5 \/ ELITE CALF","options":["OAK","6.5","ELITE CALF"],"price":30000,"weight":0,"compare_at_price":null,"inventory_management":"shopify","barcode":"840237306670","featured_media":{"alt":"0","id":22111857344717,"position":1,"preview_image":{"aspect_ratio":0.8,"height":1850,"width":1480,"src":"\/\/oncept.nyc\/cdn\/shop\/products\/MONACO-SIDE-OAK.jpg?v=1660885137"}},"requires_selling_plan":false,"selling_plan_allocations":[]},{"id":40188105031885,"title":"OAK \/ 7 \/ ELITE CALF","option1":"OAK","option2":"7","option3":"ELITE CALF","sku":"840237306687","requires_shipping":true,"taxable":true,"featured_image":{"id":29839809413325,"product_id":6759108051149,"position":1,"created_at":"2022-02-25T11:41:59-05:00","updated_at":"2022-08-19T00:58:57-04:00","alt":"0","width":1480,"height":1850,"src":"\/\/oncept.nyc\/cdn\/shop\/products\/MONACO-SIDE-OAK.jpg?v=1660885137","variant_ids":[40188104704205,40188104868045,40188105031885,40188105195725,40188105359565,40188105523405,40188105687245,40188105883853,40188106014925]},"available":true,"name":"MONACO - OAK \/ 7 \/ ELITE CALF","public_title":"OAK \/ 7 \/ ELITE CALF","options":["OAK","7","ELITE CALF"],"price":30000,"weight":0,"compare_at_price":null,"inventory_management":"shopify","barcode":"840237306687","featured_media":{"alt":"0","id":22111857344717,"position":1,"preview_image":{"aspect_ratio":0.8,"height":1850,"width":1480,"src":"\/\/oncept.nyc\/cdn\/shop\/products\/MONACO-SIDE-OAK.jpg?v=1660885137"}},"requires_selling_plan":false,"selling_plan_allocations":[]},{"id":40188105195725,"title":"OAK \/ 7.5 \/ ELITE CALF","option1":"OAK","option2":"7.5","option3":"ELITE CALF","sku":"840237306694","requires_shipping":true,"taxable":true,"featured_image":{"id":29839809413325,"product_id":6759108051149,"position":1,"created_at":"2022-02-25T11:41:59-05:00","updated_at":"2022-08-19T00:58:57-04:00","alt":"0","width":1480,"height":1850,"src":"\/\/oncept.nyc\/cdn\/shop\/products\/MONACO-SIDE-OAK.jpg?v=1660885137","variant_ids":[40188104704205,40188104868045,40188105031885,40188105195725,40188105359565,40188105523405,40188105687245,40188105883853,40188106014925]},"available":true,"name":"MONACO - OAK \/ 7.5 \/ ELITE CALF","public_title":"OAK \/ 7.5 \/ ELITE CALF","options":["OAK","7.5","ELITE CALF"],"price":30000,"weight":0,"compare_at_price":null,"inventory_management":"shopify","barcode":"840237306694","featured_media":{"alt":"0","id":22111857344717,"position":1,"preview_image":{"aspect_ratio":0.8,"height":1850,"width":1480,"src":"\/\/oncept.nyc\/cdn\/shop\/products\/MONACO-SIDE-OAK.jpg?v=1660885137"}},"requires_selling_plan":false,"selling_plan_allocations":[]},{"id":40188105359565,"title":"OAK \/ 8 \/ ELITE CALF","option1":"OAK","option2":"8","option3":"ELITE CALF","sku":"840237306700","requires_shipping":true,"taxable":true,"featured_image":{"id":29839809413325,"product_id":6759108051149,"position":1,"created_at":"2022-02-25T11:41:59-05:00","updated_at":"2022-08-19T00:58:57-04:00","alt":"0","width":1480,"height":1850,"src":"\/\/oncept.nyc\/cdn\/shop\/products\/MONACO-SIDE-OAK.jpg?v=1660885137","variant_ids":[40188104704205,40188104868045,40188105031885,40188105195725,40188105359565,40188105523405,40188105687245,40188105883853,40188106014925]},"available":true,"name":"MONACO - OAK \/ 8 \/ ELITE CALF","public_title":"OAK \/ 8 \/ ELITE CALF","options":["OAK","8","ELITE CALF"],"price":30000,"weight":0,"compare_at_price":null,"inventory_management":"shopify","barcode":"840237306700","featured_media":{"alt":"0","id":22111857344717,"position":1,"preview_image":{"aspect_ratio":0.8,"height":1850,"width":1480,"src":"\/\/oncept.nyc\/cdn\/shop\/products\/MONACO-SIDE-OAK.jpg?v=1660885137"}},"requires_selling_plan":false,"selling_plan_allocations":[]},{"id":40188105523405,"title":"OAK \/ 8.5 \/ ELITE CALF","option1":"OAK","option2":"8.5","option3":"ELITE CALF","sku":"840237306717","requires_shipping":true,"taxable":true,"featured_image":{"id":29839809413325,"product_id":6759108051149,"position":1,"created_at":"2022-02-25T11:41:59-05:00","updated_at":"2022-08-19T00:58:57-04:00","alt":"0","width":1480,"height":1850,"src":"\/\/oncept.nyc\/cdn\/shop\/products\/MONACO-SIDE-OAK.jpg?v=1660885137","variant_ids":[40188104704205,40188104868045,40188105031885,40188105195725,40188105359565,40188105523405,40188105687245,40188105883853,40188106014925]},"available":true,"name":"MONACO - OAK \/ 8.5 \/ ELITE CALF","public_title":"OAK \/ 8.5 \/ ELITE CALF","options":["OAK","8.5","ELITE CALF"],"price":30000,"weight":0,"compare_at_price":null,"inventory_management":"shopify","barcode":"840237306717","featured_media":{"alt":"0","id":22111857344717,"position":1,"preview_image":{"aspect_ratio":0.8,"height":1850,"width":1480,"src":"\/\/oncept.nyc\/cdn\/shop\/products\/MONACO-SIDE-OAK.jpg?v=1660885137"}},"requires_selling_plan":false,"selling_plan_allocations":[]},{"id":40188105687245,"title":"OAK \/ 9 \/ ELITE CALF","option1":"OAK","option2":"9","option3":"ELITE CALF","sku":"840237306724","requires_shipping":true,"taxable":true,"featured_image":{"id":29839809413325,"product_id":6759108051149,"position":1,"created_at":"2022-02-25T11:41:59-05:00","updated_at":"2022-08-19T00:58:57-04:00","alt":"0","width":1480,"height":1850,"src":"\/\/oncept.nyc\/cdn\/shop\/products\/MONACO-SIDE-OAK.jpg?v=1660885137","variant_ids":[40188104704205,40188104868045,40188105031885,40188105195725,40188105359565,40188105523405,40188105687245,40188105883853,40188106014925]},"available":true,"name":"MONACO - OAK \/ 9 \/ ELITE CALF","public_title":"OAK \/ 9 \/ ELITE CALF","options":["OAK","9","ELITE CALF"],"price":30000,"weight":0,"compare_at_price":null,"inventory_management":"shopify","barcode":"840237306724","featured_media":{"alt":"0","id":22111857344717,"position":1,"preview_image":{"aspect_ratio":0.8,"height":1850,"width":1480,"src":"\/\/oncept.nyc\/cdn\/shop\/products\/MONACO-SIDE-OAK.jpg?v=1660885137"}},"requires_selling_plan":false,"selling_plan_allocations":[]},{"id":40188105883853,"title":"OAK \/ 9.5 \/ ELITE CALF","option1":"OAK","option2":"9.5","option3":"ELITE CALF","sku":"840237306731","requires_shipping":true,"taxable":true,"featured_image":{"id":29839809413325,"product_id":6759108051149,"position":1,"created_at":"2022-02-25T11:41:59-05:00","updated_at":"2022-08-19T00:58:57-04:00","alt":"0","width":1480,"height":1850,"src":"\/\/oncept.nyc\/cdn\/shop\/products\/MONACO-SIDE-OAK.jpg?v=1660885137","variant_ids":[40188104704205,40188104868045,40188105031885,40188105195725,40188105359565,40188105523405,40188105687245,40188105883853,40188106014925]},"available":true,"name":"MONACO - OAK \/ 9.5 \/ ELITE CALF","public_title":"OAK \/ 9.5 \/ ELITE CALF","options":["OAK","9.5","ELITE CALF"],"price":30000,"weight":0,"compare_at_price":null,"inventory_management":"shopify","barcode":"840237306731","featured_media":{"alt":"0","id":22111857344717,"position":1,"preview_image":{"aspect_ratio":0.8,"height":1850,"width":1480,"src":"\/\/oncept.nyc\/cdn\/shop\/products\/MONACO-SIDE-OAK.jpg?v=1660885137"}},"requires_selling_plan":false,"selling_plan_allocations":[]},{"id":40188106014925,"title":"OAK \/ 10 \/ ELITE CALF","option1":"OAK","option2":"10","option3":"ELITE CALF","sku":"840237306748","requires_shipping":true,"taxable":true,"featured_image":{"id":29839809413325,"product_id":6759108051149,"position":1,"created_at":"2022-02-25T11:41:59-05:00","updated_at":"2022-08-19T00:58:57-04:00","alt":"0","width":1480,"height":1850,"src":"\/\/oncept.nyc\/cdn\/shop\/products\/MONACO-SIDE-OAK.jpg?v=1660885137","variant_ids":[40188104704205,40188104868045,40188105031885,40188105195725,40188105359565,40188105523405,40188105687245,40188105883853,40188106014925]},"available":true,"name":"MONACO - OAK \/ 10 \/ ELITE CALF","public_title":"OAK \/ 10 \/ ELITE CALF","options":["OAK","10","ELITE CALF"],"price":30000,"weight":0,"compare_at_price":null,"inventory_management":"shopify","barcode":"840237306748","featured_media":{"alt":"0","id":22111857344717,"position":1,"preview_image":{"aspect_ratio":0.8,"height":1850,"width":1480,"src":"\/\/oncept.nyc\/cdn\/shop\/products\/MONACO-SIDE-OAK.jpg?v=1660885137"}},"requires_selling_plan":false,"selling_plan_allocations":[]},{"id":40188104671437,"title":"BLACK \/ 6 \/ ELITE CALF","option1":"BLACK","option2":"6","option3":"ELITE CALF","sku":"840237306755","requires_shipping":true,"taxable":true,"featured_image":{"id":29839809577165,"product_id":6759108051149,"position":7,"created_at":"2022-02-25T11:41:59-05:00","updated_at":"2022-08-19T00:58:57-04:00","alt":"1","width":1480,"height":1850,"src":"\/\/oncept.nyc\/cdn\/shop\/products\/MONACO-SIDE-BLACK.jpg?v=1660885137","variant_ids":[40188104671437,40188104835277,40188104999117,40188105162957,40188105326797,40188105490637,40188105654477,40188105851085,40188105982157]},"available":true,"name":"MONACO - BLACK \/ 6 \/ ELITE CALF","public_title":"BLACK \/ 6 \/ ELITE CALF","options":["BLACK","6","ELITE CALF"],"price":30000,"weight":0,"compare_at_price":null,"inventory_management":"shopify","barcode":"840237306755","featured_media":{"alt":"1","id":22111857279181,"position":7,"preview_image":{"aspect_ratio":0.8,"height":1850,"width":1480,"src":"\/\/oncept.nyc\/cdn\/shop\/products\/MONACO-SIDE-BLACK.jpg?v=1660885137"}},"requires_selling_plan":false,"selling_plan_allocations":[]},{"id":40188104835277,"title":"BLACK \/ 6.5 \/ ELITE CALF","option1":"BLACK","option2":"6.5","option3":"ELITE CALF","sku":"840237306762","requires_shipping":true,"taxable":true,"featured_image":{"id":29839809577165,"product_id":6759108051149,"position":7,"created_at":"2022-02-25T11:41:59-05:00","updated_at":"2022-08-19T00:58:57-04:00","alt":"1","width":1480,"height":1850,"src":"\/\/oncept.nyc\/cdn\/shop\/products\/MONACO-SIDE-BLACK.jpg?v=1660885137","variant_ids":[40188104671437,40188104835277,40188104999117,40188105162957,40188105326797,40188105490637,40188105654477,40188105851085,40188105982157]},"available":true,"name":"MONACO - BLACK \/ 6.5 \/ ELITE CALF","public_title":"BLACK \/ 6.5 \/ ELITE CALF","options":["BLACK","6.5","ELITE CALF"],"price":30000,"weight":0,"compare_at_price":null,"inventory_management":"shopify","barcode":"840237306762","featured_media":{"alt":"1","id":22111857279181,"position":7,"preview_image":{"aspect_ratio":0.8,"height":1850,"width":1480,"src":"\/\/oncept.nyc\/cdn\/shop\/products\/MONACO-SIDE-BLACK.jpg?v=1660885137"}},"requires_selling_plan":false,"selling_plan_allocations":[]},{"id":40188104999117,"title":"BLACK \/ 7 \/ ELITE CALF","option1":"BLACK","option2":"7","option3":"ELITE CALF","sku":"840237306779","requires_shipping":true,"taxable":true,"featured_image":{"id":29839809577165,"product_id":6759108051149,"position":7,"created_at":"2022-02-25T11:41:59-05:00","updated_at":"2022-08-19T00:58:57-04:00","alt":"1","width":1480,"height":1850,"src":"\/\/oncept.nyc\/cdn\/shop\/products\/MONACO-SIDE-BLACK.jpg?v=1660885137","variant_ids":[40188104671437,40188104835277,40188104999117,40188105162957,40188105326797,40188105490637,40188105654477,40188105851085,40188105982157]},"available":true,"name":"MONACO - BLACK \/ 7 \/ ELITE CALF","public_title":"BLACK \/ 7 \/ ELITE CALF","options":["BLACK","7","ELITE CALF"],"price":30000,"weight":0,"compare_at_price":null,"inventory_management":"shopify","barcode":"840237306779","featured_media":{"alt":"1","id":22111857279181,"position":7,"preview_image":{"aspect_ratio":0.8,"height":1850,"width":1480,"src":"\/\/oncept.nyc\/cdn\/shop\/products\/MONACO-SIDE-BLACK.jpg?v=1660885137"}},"requires_selling_plan":false,"selling_plan_allocations":[]},{"id":40188105162957,"title":"BLACK \/ 7.5 \/ ELITE CALF","option1":"BLACK","option2":"7.5","option3":"ELITE CALF","sku":"840237306786","requires_shipping":true,"taxable":true,"featured_image":{"id":29839809577165,"product_id":6759108051149,"position":7,"created_at":"2022-02-25T11:41:59-05:00","updated_at":"2022-08-19T00:58:57-04:00","alt":"1","width":1480,"height":1850,"src":"\/\/oncept.nyc\/cdn\/shop\/products\/MONACO-SIDE-BLACK.jpg?v=1660885137","variant_ids":[40188104671437,40188104835277,40188104999117,40188105162957,40188105326797,40188105490637,40188105654477,40188105851085,40188105982157]},"available":true,"name":"MONACO - BLACK \/ 7.5 \/ ELITE CALF","public_title":"BLACK \/ 7.5 \/ ELITE CALF","options":["BLACK","7.5","ELITE CALF"],"price":30000,"weight":0,"compare_at_price":null,"inventory_management":"shopify","barcode":"840237306786","featured_media":{"alt":"1","id":22111857279181,"position":7,"preview_image":{"aspect_ratio":0.8,"height":1850,"width":1480,"src":"\/\/oncept.nyc\/cdn\/shop\/products\/MONACO-SIDE-BLACK.jpg?v=1660885137"}},"requires_selling_plan":false,"selling_plan_allocations":[]},{"id":40188105326797,"title":"BLACK \/ 8 \/ ELITE CALF","option1":"BLACK","option2":"8","option3":"ELITE CALF","sku":"840237306793","requires_shipping":true,"taxable":true,"featured_image":{"id":29839809577165,"product_id":6759108051149,"position":7,"created_at":"2022-02-25T11:41:59-05:00","updated_at":"2022-08-19T00:58:57-04:00","alt":"1","width":1480,"height":1850,"src":"\/\/oncept.nyc\/cdn\/shop\/products\/MONACO-SIDE-BLACK.jpg?v=1660885137","variant_ids":[40188104671437,40188104835277,40188104999117,40188105162957,40188105326797,40188105490637,40188105654477,40188105851085,40188105982157]},"available":true,"name":"MONACO - BLACK \/ 8 \/ ELITE CALF","public_title":"BLACK \/ 8 \/ ELITE CALF","options":["BLACK","8","ELITE CALF"],"price":30000,"weight":0,"compare_at_price":null,"inventory_management":"shopify","barcode":"840237306793","featured_media":{"alt":"1","id":22111857279181,"position":7,"preview_image":{"aspect_ratio":0.8,"height":1850,"width":1480,"src":"\/\/oncept.nyc\/cdn\/shop\/products\/MONACO-SIDE-BLACK.jpg?v=1660885137"}},"requires_selling_plan":false,"selling_plan_allocations":[]},{"id":40188105490637,"title":"BLACK \/ 8.5 \/ ELITE CALF","option1":"BLACK","option2":"8.5","option3":"ELITE CALF","sku":"840237306809","requires_shipping":true,"taxable":true,"featured_image":{"id":29839809577165,"product_id":6759108051149,"position":7,"created_at":"2022-02-25T11:41:59-05:00","updated_at":"2022-08-19T00:58:57-04:00","alt":"1","width":1480,"height":1850,"src":"\/\/oncept.nyc\/cdn\/shop\/products\/MONACO-SIDE-BLACK.jpg?v=1660885137","variant_ids":[40188104671437,40188104835277,40188104999117,40188105162957,40188105326797,40188105490637,40188105654477,40188105851085,40188105982157]},"available":true,"name":"MONACO - BLACK \/ 8.5 \/ ELITE CALF","public_title":"BLACK \/ 8.5 \/ ELITE CALF","options":["BLACK","8.5","ELITE CALF"],"price":30000,"weight":0,"compare_at_price":null,"inventory_management":"shopify","barcode":"840237306809","featured_media":{"alt":"1","id":22111857279181,"position":7,"preview_image":{"aspect_ratio":0.8,"height":1850,"width":1480,"src":"\/\/oncept.nyc\/cdn\/shop\/products\/MONACO-SIDE-BLACK.jpg?v=1660885137"}},"requires_selling_plan":false,"selling_plan_allocations":[]},{"id":40188105654477,"title":"BLACK \/ 9 \/ ELITE CALF","option1":"BLACK","option2":"9","option3":"ELITE CALF","sku":"840237306816","requires_shipping":true,"taxable":true,"featured_image":{"id":29839809577165,"product_id":6759108051149,"position":7,"created_at":"2022-02-25T11:41:59-05:00","updated_at":"2022-08-19T00:58:57-04:00","alt":"1","width":1480,"height":1850,"src":"\/\/oncept.nyc\/cdn\/shop\/products\/MONACO-SIDE-BLACK.jpg?v=1660885137","variant_ids":[40188104671437,40188104835277,40188104999117,40188105162957,40188105326797,40188105490637,40188105654477,40188105851085,40188105982157]},"available":true,"name":"MONACO - BLACK \/ 9 \/ ELITE CALF","public_title":"BLACK \/ 9 \/ ELITE CALF","options":["BLACK","9","ELITE CALF"],"price":30000,"weight":0,"compare_at_price":null,"inventory_management":"shopify","barcode":"840237306816","featured_media":{"alt":"1","id":22111857279181,"position":7,"preview_image":{"aspect_ratio":0.8,"height":1850,"width":1480,"src":"\/\/oncept.nyc\/cdn\/shop\/products\/MONACO-SIDE-BLACK.jpg?v=1660885137"}},"requires_selling_plan":false,"selling_plan_allocations":[]},{"id":40188105851085,"title":"BLACK \/ 9.5 \/ ELITE CALF","option1":"BLACK","option2":"9.5","option3":"ELITE CALF","sku":"840237306823","requires_shipping":true,"taxable":true,"featured_image":{"id":29839809577165,"product_id":6759108051149,"position":7,"created_at":"2022-02-25T11:41:59-05:00","updated_at":"2022-08-19T00:58:57-04:00","alt":"1","width":1480,"height":1850,"src":"\/\/oncept.nyc\/cdn\/shop\/products\/MONACO-SIDE-BLACK.jpg?v=1660885137","variant_ids":[40188104671437,40188104835277,40188104999117,40188105162957,40188105326797,40188105490637,40188105654477,40188105851085,40188105982157]},"available":true,"name":"MONACO - BLACK \/ 9.5 \/ ELITE CALF","public_title":"BLACK \/ 9.5 \/ ELITE CALF","options":["BLACK","9.5","ELITE CALF"],"price":30000,"weight":0,"compare_at_price":null,"inventory_management":"shopify","barcode":"840237306823","featured_media":{"alt":"1","id":22111857279181,"position":7,"preview_image":{"aspect_ratio":0.8,"height":1850,"width":1480,"src":"\/\/oncept.nyc\/cdn\/shop\/products\/MONACO-SIDE-BLACK.jpg?v=1660885137"}},"requires_selling_plan":false,"selling_plan_allocations":[]},{"id":40188105982157,"title":"BLACK \/ 10 \/ ELITE CALF","option1":"BLACK","option2":"10","option3":"ELITE CALF","sku":"840237306830","requires_shipping":true,"taxable":true,"featured_image":{"id":29839809577165,"product_id":6759108051149,"position":7,"created_at":"2022-02-25T11:41:59-05:00","updated_at":"2022-08-19T00:58:57-04:00","alt":"1","width":1480,"height":1850,"src":"\/\/oncept.nyc\/cdn\/shop\/products\/MONACO-SIDE-BLACK.jpg?v=1660885137","variant_ids":[40188104671437,40188104835277,40188104999117,40188105162957,40188105326797,40188105490637,40188105654477,40188105851085,40188105982157]},"available":true,"name":"MONACO - BLACK \/ 10 \/ ELITE CALF","public_title":"BLACK \/ 10 \/ ELITE CALF","options":["BLACK","10","ELITE CALF"],"price":30000,"weight":0,"compare_at_price":null,"inventory_management":"shopify","barcode":"840237306830","featured_media":{"alt":"1","id":22111857279181,"position":7,"preview_image":{"aspect_ratio":0.8,"height":1850,"width":1480,"src":"\/\/oncept.nyc\/cdn\/shop\/products\/MONACO-SIDE-BLACK.jpg?v=1660885137"}},"requires_selling_plan":false,"selling_plan_allocations":[]},{"id":40188104736973,"title":"PRISM PINK \/ 6 \/ ELITE CALF","option1":"PRISM PINK","option2":"6","option3":"ELITE CALF","sku":"840237306939","requires_shipping":true,"taxable":true,"featured_image":{"id":29839809118413,"product_id":6759108051149,"position":13,"created_at":"2022-02-25T11:41:59-05:00","updated_at":"2022-08-26T13:17:39-04:00","alt":"2","width":1480,"height":1850,"src":"\/\/oncept.nyc\/cdn\/shop\/products\/MONACO-SIDE-PRISMPINK.jpg?v=1661534259","variant_ids":[40188104736973,40188104900813,40188105064653,40188105228493,40188105392333,40188105556173,40188105720013,40188105916621,40188106047693]},"available":true,"name":"MONACO - PRISM PINK \/ 6 \/ ELITE CALF","public_title":"PRISM PINK \/ 6 \/ ELITE CALF","options":["PRISM PINK","6","ELITE CALF"],"price":30000,"weight":0,"compare_at_price":null,"inventory_management":"shopify","barcode":"840237306939","featured_media":{"alt":"2","id":22111857377485,"position":13,"preview_image":{"aspect_ratio":0.8,"height":1850,"width":1480,"src":"\/\/oncept.nyc\/cdn\/shop\/products\/MONACO-SIDE-PRISMPINK.jpg?v=1661534259"}},"requires_selling_plan":false,"selling_plan_allocations":[]},{"id":40188104900813,"title":"PRISM PINK \/ 6.5 \/ ELITE CALF","option1":"PRISM PINK","option2":"6.5","option3":"ELITE CALF","sku":"840237306946","requires_shipping":true,"taxable":true,"featured_image":{"id":29839809118413,"product_id":6759108051149,"position":13,"created_at":"2022-02-25T11:41:59-05:00","updated_at":"2022-08-26T13:17:39-04:00","alt":"2","width":1480,"height":1850,"src":"\/\/oncept.nyc\/cdn\/shop\/products\/MONACO-SIDE-PRISMPINK.jpg?v=1661534259","variant_ids":[40188104736973,40188104900813,40188105064653,40188105228493,40188105392333,40188105556173,40188105720013,40188105916621,40188106047693]},"available":true,"name":"MONACO - PRISM PINK \/ 6.5 \/ ELITE CALF","public_title":"PRISM PINK \/ 6.5 \/ ELITE CALF","options":["PRISM PINK","6.5","ELITE CALF"],"price":30000,"weight":0,"compare_at_price":null,"inventory_management":"shopify","barcode":"840237306946","featured_media":{"alt":"2","id":22111857377485,"position":13,"preview_image":{"aspect_ratio":0.8,"height":1850,"width":1480,"src":"\/\/oncept.nyc\/cdn\/shop\/products\/MONACO-SIDE-PRISMPINK.jpg?v=1661534259"}},"requires_selling_plan":false,"selling_plan_allocations":[]},{"id":40188105064653,"title":"PRISM PINK \/ 7 \/ ELITE CALF","option1":"PRISM PINK","option2":"7","option3":"ELITE CALF","sku":"840237306953","requires_shipping":true,"taxable":true,"featured_image":{"id":29839809118413,"product_id":6759108051149,"position":13,"created_at":"2022-02-25T11:41:59-05:00","updated_at":"2022-08-26T13:17:39-04:00","alt":"2","width":1480,"height":1850,"src":"\/\/oncept.nyc\/cdn\/shop\/products\/MONACO-SIDE-PRISMPINK.jpg?v=1661534259","variant_ids":[40188104736973,40188104900813,40188105064653,40188105228493,40188105392333,40188105556173,40188105720013,40188105916621,40188106047693]},"available":true,"name":"MONACO - PRISM PINK \/ 7 \/ ELITE CALF","public_title":"PRISM PINK \/ 7 \/ ELITE CALF","options":["PRISM PINK","7","ELITE CALF"],"price":30000,"weight":0,"compare_at_price":null,"inventory_management":"shopify","barcode":"840237306953","featured_media":{"alt":"2","id":22111857377485,"position":13,"preview_image":{"aspect_ratio":0.8,"height":1850,"width":1480,"src":"\/\/oncept.nyc\/cdn\/shop\/products\/MONACO-SIDE-PRISMPINK.jpg?v=1661534259"}},"requires_selling_plan":false,"selling_plan_allocations":[]},{"id":40188105228493,"title":"PRISM PINK \/ 7.5 \/ ELITE CALF","option1":"PRISM PINK","option2":"7.5","option3":"ELITE CALF","sku":"840237306960","requires_shipping":true,"taxable":true,"featured_image":{"id":29839809118413,"product_id":6759108051149,"position":13,"created_at":"2022-02-25T11:41:59-05:00","updated_at":"2022-08-26T13:17:39-04:00","alt":"2","width":1480,"height":1850,"src":"\/\/oncept.nyc\/cdn\/shop\/products\/MONACO-SIDE-PRISMPINK.jpg?v=1661534259","variant_ids":[40188104736973,40188104900813,40188105064653,40188105228493,40188105392333,40188105556173,40188105720013,40188105916621,40188106047693]},"available":true,"name":"MONACO - PRISM PINK \/ 7.5 \/ ELITE CALF","public_title":"PRISM PINK \/ 7.5 \/ ELITE CALF","options":["PRISM PINK","7.5","ELITE CALF"],"price":30000,"weight":0,"compare_at_price":null,"inventory_management":"shopify","barcode":"840237306960","featured_media":{"alt":"2","id":22111857377485,"position":13,"preview_image":{"aspect_ratio":0.8,"height":1850,"width":1480,"src":"\/\/oncept.nyc\/cdn\/shop\/products\/MONACO-SIDE-PRISMPINK.jpg?v=1661534259"}},"requires_selling_plan":false,"selling_plan_allocations":[]},{"id":40188105392333,"title":"PRISM PINK \/ 8 \/ ELITE CALF","option1":"PRISM PINK","option2":"8","option3":"ELITE CALF","sku":"840237306977","requires_shipping":true,"taxable":true,"featured_image":{"id":29839809118413,"product_id":6759108051149,"position":13,"created_at":"2022-02-25T11:41:59-05:00","updated_at":"2022-08-26T13:17:39-04:00","alt":"2","width":1480,"height":1850,"src":"\/\/oncept.nyc\/cdn\/shop\/products\/MONACO-SIDE-PRISMPINK.jpg?v=1661534259","variant_ids":[40188104736973,40188104900813,40188105064653,40188105228493,40188105392333,40188105556173,40188105720013,40188105916621,40188106047693]},"available":true,"name":"MONACO - PRISM PINK \/ 8 \/ ELITE CALF","public_title":"PRISM PINK \/ 8 \/ ELITE CALF","options":["PRISM PINK","8","ELITE CALF"],"price":30000,"weight":0,"compare_at_price":null,"inventory_management":"shopify","barcode":"840237306977","featured_media":{"alt":"2","id":22111857377485,"position":13,"preview_image":{"aspect_ratio":0.8,"height":1850,"width":1480,"src":"\/\/oncept.nyc\/cdn\/shop\/products\/MONACO-SIDE-PRISMPINK.jpg?v=1661534259"}},"requires_selling_plan":false,"selling_plan_allocations":[]},{"id":40188105556173,"title":"PRISM PINK \/ 8.5 \/ ELITE CALF","option1":"PRISM PINK","option2":"8.5","option3":"ELITE CALF","sku":"840237306984","requires_shipping":true,"taxable":true,"featured_image":{"id":29839809118413,"product_id":6759108051149,"position":13,"created_at":"2022-02-25T11:41:59-05:00","updated_at":"2022-08-26T13:17:39-04:00","alt":"2","width":1480,"height":1850,"src":"\/\/oncept.nyc\/cdn\/shop\/products\/MONACO-SIDE-PRISMPINK.jpg?v=1661534259","variant_ids":[40188104736973,40188104900813,40188105064653,40188105228493,40188105392333,40188105556173,40188105720013,40188105916621,40188106047693]},"available":true,"name":"MONACO - PRISM PINK \/ 8.5 \/ ELITE CALF","public_title":"PRISM PINK \/ 8.5 \/ ELITE CALF","options":["PRISM PINK","8.5","ELITE CALF"],"price":30000,"weight":0,"compare_at_price":null,"inventory_management":"shopify","barcode":"840237306984","featured_media":{"alt":"2","id":22111857377485,"position":13,"preview_image":{"aspect_ratio":0.8,"height":1850,"width":1480,"src":"\/\/oncept.nyc\/cdn\/shop\/products\/MONACO-SIDE-PRISMPINK.jpg?v=1661534259"}},"requires_selling_plan":false,"selling_plan_allocations":[]},{"id":40188105720013,"title":"PRISM PINK \/ 9 \/ ELITE CALF","option1":"PRISM PINK","option2":"9","option3":"ELITE CALF","sku":"840237306991","requires_shipping":true,"taxable":true,"featured_image":{"id":29839809118413,"product_id":6759108051149,"position":13,"created_at":"2022-02-25T11:41:59-05:00","updated_at":"2022-08-26T13:17:39-04:00","alt":"2","width":1480,"height":1850,"src":"\/\/oncept.nyc\/cdn\/shop\/products\/MONACO-SIDE-PRISMPINK.jpg?v=1661534259","variant_ids":[40188104736973,40188104900813,40188105064653,40188105228493,40188105392333,40188105556173,40188105720013,40188105916621,40188106047693]},"available":true,"name":"MONACO - PRISM PINK \/ 9 \/ ELITE CALF","public_title":"PRISM PINK \/ 9 \/ ELITE CALF","options":["PRISM PINK","9","ELITE CALF"],"price":30000,"weight":0,"compare_at_price":null,"inventory_management":"shopify","barcode":"840237306991","featured_media":{"alt":"2","id":22111857377485,"position":13,"preview_image":{"aspect_ratio":0.8,"height":1850,"width":1480,"src":"\/\/oncept.nyc\/cdn\/shop\/products\/MONACO-SIDE-PRISMPINK.jpg?v=1661534259"}},"requires_selling_plan":false,"selling_plan_allocations":[]},{"id":40188105916621,"title":"PRISM PINK \/ 9.5 \/ ELITE CALF","option1":"PRISM PINK","option2":"9.5","option3":"ELITE CALF","sku":"840237307004","requires_shipping":true,"taxable":true,"featured_image":{"id":29839809118413,"product_id":6759108051149,"position":13,"created_at":"2022-02-25T11:41:59-05:00","updated_at":"2022-08-26T13:17:39-04:00","alt":"2","width":1480,"height":1850,"src":"\/\/oncept.nyc\/cdn\/shop\/products\/MONACO-SIDE-PRISMPINK.jpg?v=1661534259","variant_ids":[40188104736973,40188104900813,40188105064653,40188105228493,40188105392333,40188105556173,40188105720013,40188105916621,40188106047693]},"available":true,"name":"MONACO - PRISM PINK \/ 9.5 \/ ELITE CALF","public_title":"PRISM PINK \/ 9.5 \/ ELITE CALF","options":["PRISM PINK","9.5","ELITE CALF"],"price":30000,"weight":0,"compare_at_price":null,"inventory_management":"shopify","barcode":"840237307004","featured_media":{"alt":"2","id":22111857377485,"position":13,"preview_image":{"aspect_ratio":0.8,"height":1850,"width":1480,"src":"\/\/oncept.nyc\/cdn\/shop\/products\/MONACO-SIDE-PRISMPINK.jpg?v=1661534259"}},"requires_selling_plan":false,"selling_plan_allocations":[]},{"id":40188106047693,"title":"PRISM PINK \/ 10 \/ ELITE CALF","option1":"PRISM PINK","option2":"10","option3":"ELITE CALF","sku":"840237307011","requires_shipping":true,"taxable":true,"featured_image":{"id":29839809118413,"product_id":6759108051149,"position":13,"created_at":"2022-02-25T11:41:59-05:00","updated_at":"2022-08-26T13:17:39-04:00","alt":"2","width":1480,"height":1850,"src":"\/\/oncept.nyc\/cdn\/shop\/products\/MONACO-SIDE-PRISMPINK.jpg?v=1661534259","variant_ids":[40188104736973,40188104900813,40188105064653,40188105228493,40188105392333,40188105556173,40188105720013,40188105916621,40188106047693]},"available":true,"name":"MONACO - PRISM PINK \/ 10 \/ ELITE CALF","public_title":"PRISM PINK \/ 10 \/ ELITE CALF","options":["PRISM PINK","10","ELITE CALF"],"price":30000,"weight":0,"compare_at_price":null,"inventory_management":"shopify","barcode":"840237307011","featured_media":{"alt":"2","id":22111857377485,"position":13,"preview_image":{"aspect_ratio":0.8,"height":1850,"width":1480,"src":"\/\/oncept.nyc\/cdn\/shop\/products\/MONACO-SIDE-PRISMPINK.jpg?v=1661534259"}},"requires_selling_plan":false,"selling_plan_allocations":[]},{"id":40188104638669,"title":"WHITE CLOUD \/ 6 \/ ELITE CALF","option1":"WHITE CLOUD","option2":"6","option3":"ELITE CALF","sku":"840237306847","requires_shipping":true,"taxable":true,"featured_image":{"id":29839809872077,"product_id":6759108051149,"position":19,"created_at":"2022-02-25T11:41:59-05:00","updated_at":"2022-08-26T13:17:39-04:00","alt":"3","width":1480,"height":1850,"src":"\/\/oncept.nyc\/cdn\/shop\/products\/MONACO-SIDE-WHITECLOUD.jpg?v=1661534259","variant_ids":[40188104638669,40188104802509,40188104966349,40188105130189,40188105294029,40188105457869,40188105621709,40188105818317,40691529777357]},"available":true,"name":"MONACO - WHITE CLOUD \/ 6 \/ ELITE CALF","public_title":"WHITE CLOUD \/ 6 \/ ELITE CALF","options":["WHITE CLOUD","6","ELITE CALF"],"price":30000,"weight":0,"compare_at_price":null,"inventory_management":"shopify","barcode":"840237306847","featured_media":{"alt":"3","id":22111857410253,"position":19,"preview_image":{"aspect_ratio":0.8,"height":1850,"width":1480,"src":"\/\/oncept.nyc\/cdn\/shop\/products\/MONACO-SIDE-WHITECLOUD.jpg?v=1661534259"}},"requires_selling_plan":false,"selling_plan_allocations":[]},{"id":40188104802509,"title":"WHITE CLOUD \/ 6.5 \/ ELITE CALF","option1":"WHITE CLOUD","option2":"6.5","option3":"ELITE CALF","sku":"840237306854","requires_shipping":true,"taxable":true,"featured_image":{"id":29839809872077,"product_id":6759108051149,"position":19,"created_at":"2022-02-25T11:41:59-05:00","updated_at":"2022-08-26T13:17:39-04:00","alt":"3","width":1480,"height":1850,"src":"\/\/oncept.nyc\/cdn\/shop\/products\/MONACO-SIDE-WHITECLOUD.jpg?v=1661534259","variant_ids":[40188104638669,40188104802509,40188104966349,40188105130189,40188105294029,40188105457869,40188105621709,40188105818317,40691529777357]},"available":true,"name":"MONACO - WHITE CLOUD \/ 6.5 \/ ELITE CALF","public_title":"WHITE CLOUD \/ 6.5 \/ ELITE CALF","options":["WHITE CLOUD","6.5","ELITE CALF"],"price":30000,"weight":0,"compare_at_price":null,"inventory_management":"shopify","barcode":"840237306854","featured_media":{"alt":"3","id":22111857410253,"position":19,"preview_image":{"aspect_ratio":0.8,"height":1850,"width":1480,"src":"\/\/oncept.nyc\/cdn\/shop\/products\/MONACO-SIDE-WHITECLOUD.jpg?v=1661534259"}},"requires_selling_plan":false,"selling_plan_allocations":[]},{"id":40188104966349,"title":"WHITE CLOUD \/ 7 \/ ELITE CALF","option1":"WHITE CLOUD","option2":"7","option3":"ELITE CALF","sku":"840237306861","requires_shipping":true,"taxable":true,"featured_image":{"id":29839809872077,"product_id":6759108051149,"position":19,"created_at":"2022-02-25T11:41:59-05:00","updated_at":"2022-08-26T13:17:39-04:00","alt":"3","width":1480,"height":1850,"src":"\/\/oncept.nyc\/cdn\/shop\/products\/MONACO-SIDE-WHITECLOUD.jpg?v=1661534259","variant_ids":[40188104638669,40188104802509,40188104966349,40188105130189,40188105294029,40188105457869,40188105621709,40188105818317,40691529777357]},"available":true,"name":"MONACO - WHITE CLOUD \/ 7 \/ ELITE CALF","public_title":"WHITE CLOUD \/ 7 \/ ELITE CALF","options":["WHITE CLOUD","7","ELITE CALF"],"price":30000,"weight":0,"compare_at_price":null,"inventory_management":"shopify","barcode":"840237306861","featured_media":{"alt":"3","id":22111857410253,"position":19,"preview_image":{"aspect_ratio":0.8,"height":1850,"width":1480,"src":"\/\/oncept.nyc\/cdn\/shop\/products\/MONACO-SIDE-WHITECLOUD.jpg?v=1661534259"}},"requires_selling_plan":false,"selling_plan_allocations":[]},{"id":40188105130189,"title":"WHITE CLOUD \/ 7.5 \/ ELITE CALF","option1":"WHITE CLOUD","option2":"7.5","option3":"ELITE CALF","sku":"840237306878","requires_shipping":true,"taxable":true,"featured_image":{"id":29839809872077,"product_id":6759108051149,"position":19,"created_at":"2022-02-25T11:41:59-05:00","updated_at":"2022-08-26T13:17:39-04:00","alt":"3","width":1480,"height":1850,"src":"\/\/oncept.nyc\/cdn\/shop\/products\/MONACO-SIDE-WHITECLOUD.jpg?v=1661534259","variant_ids":[40188104638669,40188104802509,40188104966349,40188105130189,40188105294029,40188105457869,40188105621709,40188105818317,40691529777357]},"available":true,"name":"MONACO - WHITE CLOUD \/ 7.5 \/ ELITE CALF","public_title":"WHITE CLOUD \/ 7.5 \/ ELITE CALF","options":["WHITE CLOUD","7.5","ELITE CALF"],"price":30000,"weight":0,"compare_at_price":null,"inventory_management":"shopify","barcode":"840237306878","featured_media":{"alt":"3","id":22111857410253,"position":19,"preview_image":{"aspect_ratio":0.8,"height":1850,"width":1480,"src":"\/\/oncept.nyc\/cdn\/shop\/products\/MONACO-SIDE-WHITECLOUD.jpg?v=1661534259"}},"requires_selling_plan":false,"selling_plan_allocations":[]},{"id":40188105294029,"title":"WHITE CLOUD \/ 8 \/ ELITE CALF","option1":"WHITE CLOUD","option2":"8","option3":"ELITE CALF","sku":"840237306885","requires_shipping":true,"taxable":true,"featured_image":{"id":29839809872077,"product_id":6759108051149,"position":19,"created_at":"2022-02-25T11:41:59-05:00","updated_at":"2022-08-26T13:17:39-04:00","alt":"3","width":1480,"height":1850,"src":"\/\/oncept.nyc\/cdn\/shop\/products\/MONACO-SIDE-WHITECLOUD.jpg?v=1661534259","variant_ids":[40188104638669,40188104802509,40188104966349,40188105130189,40188105294029,40188105457869,40188105621709,40188105818317,40691529777357]},"available":true,"name":"MONACO - WHITE CLOUD \/ 8 \/ ELITE CALF","public_title":"WHITE CLOUD \/ 8 \/ ELITE CALF","options":["WHITE CLOUD","8","ELITE CALF"],"price":30000,"weight":0,"compare_at_price":null,"inventory_management":"shopify","barcode":"840237306885","featured_media":{"alt":"3","id":22111857410253,"position":19,"preview_image":{"aspect_ratio":0.8,"height":1850,"width":1480,"src":"\/\/oncept.nyc\/cdn\/shop\/products\/MONACO-SIDE-WHITECLOUD.jpg?v=1661534259"}},"requires_selling_plan":false,"selling_plan_allocations":[]},{"id":40188105457869,"title":"WHITE CLOUD \/ 8.5 \/ ELITE CALF","option1":"WHITE CLOUD","option2":"8.5","option3":"ELITE CALF","sku":"840237306892","requires_shipping":true,"taxable":true,"featured_image":{"id":29839809872077,"product_id":6759108051149,"position":19,"created_at":"2022-02-25T11:41:59-05:00","updated_at":"2022-08-26T13:17:39-04:00","alt":"3","width":1480,"height":1850,"src":"\/\/oncept.nyc\/cdn\/shop\/products\/MONACO-SIDE-WHITECLOUD.jpg?v=1661534259","variant_ids":[40188104638669,40188104802509,40188104966349,40188105130189,40188105294029,40188105457869,40188105621709,40188105818317,40691529777357]},"available":true,"name":"MONACO - WHITE CLOUD \/ 8.5 \/ ELITE CALF","public_title":"WHITE CLOUD \/ 8.5 \/ ELITE CALF","options":["WHITE CLOUD","8.5","ELITE CALF"],"price":30000,"weight":0,"compare_at_price":null,"inventory_management":"shopify","barcode":"840237306892","featured_media":{"alt":"3","id":22111857410253,"position":19,"preview_image":{"aspect_ratio":0.8,"height":1850,"width":1480,"src":"\/\/oncept.nyc\/cdn\/shop\/products\/MONACO-SIDE-WHITECLOUD.jpg?v=1661534259"}},"requires_selling_plan":false,"selling_plan_allocations":[]},{"id":40188105621709,"title":"WHITE CLOUD \/ 9 \/ ELITE CALF","option1":"WHITE CLOUD","option2":"9","option3":"ELITE CALF","sku":"840237306908","requires_shipping":true,"taxable":true,"featured_image":{"id":29839809872077,"product_id":6759108051149,"position":19,"created_at":"2022-02-25T11:41:59-05:00","updated_at":"2022-08-26T13:17:39-04:00","alt":"3","width":1480,"height":1850,"src":"\/\/oncept.nyc\/cdn\/shop\/products\/MONACO-SIDE-WHITECLOUD.jpg?v=1661534259","variant_ids":[40188104638669,40188104802509,40188104966349,40188105130189,40188105294029,40188105457869,40188105621709,40188105818317,40691529777357]},"available":true,"name":"MONACO - WHITE CLOUD \/ 9 \/ ELITE CALF","public_title":"WHITE CLOUD \/ 9 \/ ELITE CALF","options":["WHITE CLOUD","9","ELITE CALF"],"price":30000,"weight":0,"compare_at_price":null,"inventory_management":"shopify","barcode":"840237306908","featured_media":{"alt":"3","id":22111857410253,"position":19,"preview_image":{"aspect_ratio":0.8,"height":1850,"width":1480,"src":"\/\/oncept.nyc\/cdn\/shop\/products\/MONACO-SIDE-WHITECLOUD.jpg?v=1661534259"}},"requires_selling_plan":false,"selling_plan_allocations":[]},{"id":40188105818317,"title":"WHITE CLOUD \/ 9.5 \/ ELITE CALF","option1":"WHITE CLOUD","option2":"9.5","option3":"ELITE CALF","sku":"840237306915","requires_shipping":true,"taxable":true,"featured_image":{"id":29839809872077,"product_id":6759108051149,"position":19,"created_at":"2022-02-25T11:41:59-05:00","updated_at":"2022-08-26T13:17:39-04:00","alt":"3","width":1480,"height":1850,"src":"\/\/oncept.nyc\/cdn\/shop\/products\/MONACO-SIDE-WHITECLOUD.jpg?v=1661534259","variant_ids":[40188104638669,40188104802509,40188104966349,40188105130189,40188105294029,40188105457869,40188105621709,40188105818317,40691529777357]},"available":true,"name":"MONACO - WHITE CLOUD \/ 9.5 \/ ELITE CALF","public_title":"WHITE CLOUD \/ 9.5 \/ ELITE CALF","options":["WHITE CLOUD","9.5","ELITE CALF"],"price":30000,"weight":0,"compare_at_price":null,"inventory_management":"shopify","barcode":"840237306915","featured_media":{"alt":"3","id":22111857410253,"position":19,"preview_image":{"aspect_ratio":0.8,"height":1850,"width":1480,"src":"\/\/oncept.nyc\/cdn\/shop\/products\/MONACO-SIDE-WHITECLOUD.jpg?v=1661534259"}},"requires_selling_plan":false,"selling_plan_allocations":[]},{"id":40691529777357,"title":"WHITE CLOUD \/ 10 \/ ELITE CALF","option1":"WHITE CLOUD","option2":"10","option3":"ELITE CALF","sku":"840237306922","requires_shipping":true,"taxable":true,"featured_image":{"id":29839809872077,"product_id":6759108051149,"position":19,"created_at":"2022-02-25T11:41:59-05:00","updated_at":"2022-08-26T13:17:39-04:00","alt":"3","width":1480,"height":1850,"src":"\/\/oncept.nyc\/cdn\/shop\/products\/MONACO-SIDE-WHITECLOUD.jpg?v=1661534259","variant_ids":[40188104638669,40188104802509,40188104966349,40188105130189,40188105294029,40188105457869,40188105621709,40188105818317,40691529777357]},"available":true,"name":"MONACO - WHITE CLOUD \/ 10 \/ ELITE CALF","public_title":"WHITE CLOUD \/ 10 \/ ELITE CALF","options":["WHITE CLOUD","10","ELITE CALF"],"price":30000,"weight":0,"compare_at_price":null,"inventory_management":"shopify","barcode":"840237306922","featured_media":{"alt":"3","id":22111857410253,"position":19,"preview_image":{"aspect_ratio":0.8,"height":1850,"width":1480,"src":"\/\/oncept.nyc\/cdn\/shop\/products\/MONACO-SIDE-WHITECLOUD.jpg?v=1661534259"}},"requires_selling_plan":false,"selling_plan_allocations":[]},{"id":40324418765005,"title":"JADE \/ 6 \/ ELITE CALF","option1":"JADE","option2":"6","option3":"ELITE CALF","sku":"840237307110","requires_shipping":true,"taxable":true,"featured_image":{"id":29839809315021,"product_id":6759108051149,"position":25,"created_at":"2022-02-25T11:41:59-05:00","updated_at":"2022-08-26T13:17:39-04:00","alt":"4","width":1480,"height":1850,"src":"\/\/oncept.nyc\/cdn\/shop\/products\/MONACO-SIDE-JADE.jpg?v=1661534259","variant_ids":[40324418765005,40324418797773,40324418830541,40324418863309,40324418896077,40324418928845,40324418961613,40324418994381,40324419027149]},"available":true,"name":"MONACO - JADE \/ 6 \/ ELITE CALF","public_title":"JADE \/ 6 \/ ELITE CALF","options":["JADE","6","ELITE CALF"],"price":30000,"weight":0,"compare_at_price":null,"inventory_management":"shopify","barcode":"840237307110","featured_media":{"alt":"4","id":22111857311949,"position":25,"preview_image":{"aspect_ratio":0.8,"height":1850,"width":1480,"src":"\/\/oncept.nyc\/cdn\/shop\/products\/MONACO-SIDE-JADE.jpg?v=1661534259"}},"requires_selling_plan":false,"selling_plan_allocations":[]},{"id":40324418797773,"title":"JADE \/ 6.5 \/ ELITE CALF","option1":"JADE","option2":"6.5","option3":"ELITE CALF","sku":"840237307127","requires_shipping":true,"taxable":true,"featured_image":{"id":29839809315021,"product_id":6759108051149,"position":25,"created_at":"2022-02-25T11:41:59-05:00","updated_at":"2022-08-26T13:17:39-04:00","alt":"4","width":1480,"height":1850,"src":"\/\/oncept.nyc\/cdn\/shop\/products\/MONACO-SIDE-JADE.jpg?v=1661534259","variant_ids":[40324418765005,40324418797773,40324418830541,40324418863309,40324418896077,40324418928845,40324418961613,40324418994381,40324419027149]},"available":true,"name":"MONACO - JADE \/ 6.5 \/ ELITE CALF","public_title":"JADE \/ 6.5 \/ ELITE CALF","options":["JADE","6.5","ELITE CALF"],"price":30000,"weight":0,"compare_at_price":null,"inventory_management":"shopify","barcode":"840237307127","featured_media":{"alt":"4","id":22111857311949,"position":25,"preview_image":{"aspect_ratio":0.8,"height":1850,"width":1480,"src":"\/\/oncept.nyc\/cdn\/shop\/products\/MONACO-SIDE-JADE.jpg?v=1661534259"}},"requires_selling_plan":false,"selling_plan_allocations":[]},{"id":40324418830541,"title":"JADE \/ 7 \/ ELITE CALF","option1":"JADE","option2":"7","option3":"ELITE CALF","sku":"840237307134","requires_shipping":true,"taxable":true,"featured_image":{"id":29839809315021,"product_id":6759108051149,"position":25,"created_at":"2022-02-25T11:41:59-05:00","updated_at":"2022-08-26T13:17:39-04:00","alt":"4","width":1480,"height":1850,"src":"\/\/oncept.nyc\/cdn\/shop\/products\/MONACO-SIDE-JADE.jpg?v=1661534259","variant_ids":[40324418765005,40324418797773,40324418830541,40324418863309,40324418896077,40324418928845,40324418961613,40324418994381,40324419027149]},"available":true,"name":"MONACO - JADE \/ 7 \/ ELITE CALF","public_title":"JADE \/ 7 \/ ELITE CALF","options":["JADE","7","ELITE CALF"],"price":30000,"weight":0,"compare_at_price":null,"inventory_management":"shopify","barcode":"840237307134","featured_media":{"alt":"4","id":22111857311949,"position":25,"preview_image":{"aspect_ratio":0.8,"height":1850,"width":1480,"src":"\/\/oncept.nyc\/cdn\/shop\/products\/MONACO-SIDE-JADE.jpg?v=1661534259"}},"requires_selling_plan":false,"selling_plan_allocations":[]},{"id":40324418863309,"title":"JADE \/ 7.5 \/ ELITE CALF","option1":"JADE","option2":"7.5","option3":"ELITE CALF","sku":"840237307141","requires_shipping":true,"taxable":true,"featured_image":{"id":29839809315021,"product_id":6759108051149,"position":25,"created_at":"2022-02-25T11:41:59-05:00","updated_at":"2022-08-26T13:17:39-04:00","alt":"4","width":1480,"height":1850,"src":"\/\/oncept.nyc\/cdn\/shop\/products\/MONACO-SIDE-JADE.jpg?v=1661534259","variant_ids":[40324418765005,40324418797773,40324418830541,40324418863309,40324418896077,40324418928845,40324418961613,40324418994381,40324419027149]},"available":true,"name":"MONACO - JADE \/ 7.5 \/ ELITE CALF","public_title":"JADE \/ 7.5 \/ ELITE CALF","options":["JADE","7.5","ELITE CALF"],"price":30000,"weight":0,"compare_at_price":null,"inventory_management":"shopify","barcode":"840237307141","featured_media":{"alt":"4","id":22111857311949,"position":25,"preview_image":{"aspect_ratio":0.8,"height":1850,"width":1480,"src":"\/\/oncept.nyc\/cdn\/shop\/products\/MONACO-SIDE-JADE.jpg?v=1661534259"}},"requires_selling_plan":false,"selling_plan_allocations":[]},{"id":40324418896077,"title":"JADE \/ 8 \/ ELITE CALF","option1":"JADE","option2":"8","option3":"ELITE CALF","sku":"840237307158","requires_shipping":true,"taxable":true,"featured_image":{"id":29839809315021,"product_id":6759108051149,"position":25,"created_at":"2022-02-25T11:41:59-05:00","updated_at":"2022-08-26T13:17:39-04:00","alt":"4","width":1480,"height":1850,"src":"\/\/oncept.nyc\/cdn\/shop\/products\/MONACO-SIDE-JADE.jpg?v=1661534259","variant_ids":[40324418765005,40324418797773,40324418830541,40324418863309,40324418896077,40324418928845,40324418961613,40324418994381,40324419027149]},"available":true,"name":"MONACO - JADE \/ 8 \/ ELITE CALF","public_title":"JADE \/ 8 \/ ELITE CALF","options":["JADE","8","ELITE CALF"],"price":30000,"weight":0,"compare_at_price":null,"inventory_management":"shopify","barcode":"840237307158","featured_media":{"alt":"4","id":22111857311949,"position":25,"preview_image":{"aspect_ratio":0.8,"height":1850,"width":1480,"src":"\/\/oncept.nyc\/cdn\/shop\/products\/MONACO-SIDE-JADE.jpg?v=1661534259"}},"requires_selling_plan":false,"selling_plan_allocations":[]},{"id":40324418928845,"title":"JADE \/ 8.5 \/ ELITE CALF","option1":"JADE","option2":"8.5","option3":"ELITE CALF","sku":"840237307165","requires_shipping":true,"taxable":true,"featured_image":{"id":29839809315021,"product_id":6759108051149,"position":25,"created_at":"2022-02-25T11:41:59-05:00","updated_at":"2022-08-26T13:17:39-04:00","alt":"4","width":1480,"height":1850,"src":"\/\/oncept.nyc\/cdn\/shop\/products\/MONACO-SIDE-JADE.jpg?v=1661534259","variant_ids":[40324418765005,40324418797773,40324418830541,40324418863309,40324418896077,40324418928845,40324418961613,40324418994381,40324419027149]},"available":true,"name":"MONACO - JADE \/ 8.5 \/ ELITE CALF","public_title":"JADE \/ 8.5 \/ ELITE CALF","options":["JADE","8.5","ELITE CALF"],"price":30000,"weight":0,"compare_at_price":null,"inventory_management":"shopify","barcode":"840237307165","featured_media":{"alt":"4","id":22111857311949,"position":25,"preview_image":{"aspect_ratio":0.8,"height":1850,"width":1480,"src":"\/\/oncept.nyc\/cdn\/shop\/products\/MONACO-SIDE-JADE.jpg?v=1661534259"}},"requires_selling_plan":false,"selling_plan_allocations":[]},{"id":40324418961613,"title":"JADE \/ 9 \/ ELITE CALF","option1":"JADE","option2":"9","option3":"ELITE CALF","sku":"840237307172","requires_shipping":true,"taxable":true,"featured_image":{"id":29839809315021,"product_id":6759108051149,"position":25,"created_at":"2022-02-25T11:41:59-05:00","updated_at":"2022-08-26T13:17:39-04:00","alt":"4","width":1480,"height":1850,"src":"\/\/oncept.nyc\/cdn\/shop\/products\/MONACO-SIDE-JADE.jpg?v=1661534259","variant_ids":[40324418765005,40324418797773,40324418830541,40324418863309,40324418896077,40324418928845,40324418961613,40324418994381,40324419027149]},"available":true,"name":"MONACO - JADE \/ 9 \/ ELITE CALF","public_title":"JADE \/ 9 \/ ELITE CALF","options":["JADE","9","ELITE CALF"],"price":30000,"weight":0,"compare_at_price":null,"inventory_management":"shopify","barcode":"840237307172","featured_media":{"alt":"4","id":22111857311949,"position":25,"preview_image":{"aspect_ratio":0.8,"height":1850,"width":1480,"src":"\/\/oncept.nyc\/cdn\/shop\/products\/MONACO-SIDE-JADE.jpg?v=1661534259"}},"requires_selling_plan":false,"selling_plan_allocations":[]},{"id":40324418994381,"title":"JADE \/ 9.5 \/ ELITE CALF","option1":"JADE","option2":"9.5","option3":"ELITE CALF","sku":"840237307189","requires_shipping":true,"taxable":true,"featured_image":{"id":29839809315021,"product_id":6759108051149,"position":25,"created_at":"2022-02-25T11:41:59-05:00","updated_at":"2022-08-26T13:17:39-04:00","alt":"4","width":1480,"height":1850,"src":"\/\/oncept.nyc\/cdn\/shop\/products\/MONACO-SIDE-JADE.jpg?v=1661534259","variant_ids":[40324418765005,40324418797773,40324418830541,40324418863309,40324418896077,40324418928845,40324418961613,40324418994381,40324419027149]},"available":true,"name":"MONACO - JADE \/ 9.5 \/ ELITE CALF","public_title":"JADE \/ 9.5 \/ ELITE CALF","options":["JADE","9.5","ELITE CALF"],"price":30000,"weight":0,"compare_at_price":null,"inventory_management":"shopify","barcode":"840237307189","featured_media":{"alt":"4","id":22111857311949,"position":25,"preview_image":{"aspect_ratio":0.8,"height":1850,"width":1480,"src":"\/\/oncept.nyc\/cdn\/shop\/products\/MONACO-SIDE-JADE.jpg?v=1661534259"}},"requires_selling_plan":false,"selling_plan_allocations":[]},{"id":40324419027149,"title":"JADE \/ 10 \/ ELITE CALF","option1":"JADE","option2":"10","option3":"ELITE CALF","sku":"840237307196","requires_shipping":true,"taxable":true,"featured_image":{"id":29839809315021,"product_id":6759108051149,"position":25,"created_at":"2022-02-25T11:41:59-05:00","updated_at":"2022-08-26T13:17:39-04:00","alt":"4","width":1480,"height":1850,"src":"\/\/oncept.nyc\/cdn\/shop\/products\/MONACO-SIDE-JADE.jpg?v=1661534259","variant_ids":[40324418765005,40324418797773,40324418830541,40324418863309,40324418896077,40324418928845,40324418961613,40324418994381,40324419027149]},"available":true,"name":"MONACO - JADE \/ 10 \/ ELITE CALF","public_title":"JADE \/ 10 \/ ELITE CALF","options":["JADE","10","ELITE CALF"],"price":30000,"weight":0,"compare_at_price":null,"inventory_management":"shopify","barcode":"840237307196","featured_media":{"alt":"4","id":22111857311949,"position":25,"preview_image":{"aspect_ratio":0.8,"height":1850,"width":1480,"src":"\/\/oncept.nyc\/cdn\/shop\/products\/MONACO-SIDE-JADE.jpg?v=1661534259"}},"requires_selling_plan":false,"selling_plan_allocations":[]}]; var product_options = ["Color","Size","Material"]; var size_option_titles = ['Taglia', 'Size', 'Misura']; var size_option_index = -1; var sizes_in_stock = {}; // var product_brand = "Oncept"; var product_brand = "oncept"; var product_model = product_title; for (var i = 0; i < product_options.length; i++) { var found = false; for (var y = 0; y < size_option_titles.length; y++) { if (product_options[i] === size_option_titles[y]) { found = true; swatch_index = i size_option_index = 'option'+(++i) break; } } if (found) break; } for (var i = 0; i < product_variants.length; i++) { var size = product_variants[i][size_option_index] var stock = product_variants[i].available ? 1 : 0 if (sizes_in_stock.hasOwnProperty(size)) { if (sizes_in_stock[size] < stock) { sizes_in_stock[size] = stock } } else { sizes_in_stock[size] = stock } } function wait_for_jquery(method) { if (window.jQuery) { method(); } else { setTimeout(function() { wait_for_jquery(method) }, 50); } } function waitForElements(method) { let size_selector = document.querySelectorAll('.flex.w-full.flex-wrap')[1]; if (size_selector && window.EasySize) { method(); } else { console.log('still waiting') setTimeout(function() { waitForElements(method) }, 50); } } var easysize_attributes = { "shop_id": "97a1d9a934", "placeholder": ".sizes", "size_selector": ".sizes", "order_button_id": '.button[role="Add to Cart"]', "product_type": "Footwear", "product_model": product_model, "product_brand": product_brand, "product_gender": "f", "product_id": "6759108051149", "user_id": " -1 ", "image_url": "https://oncept.nyc/cdn/shop/products/MONACO-SIDE-OAK_large.jpg?v=1660885137", "size_update_function": function(size) { var size_element = Array.from(document.querySelectorAll('.sizes .tile')) .filter(function(val) { return val.innerText === size })[0]; if (size_element) { size_element.click(); return true; } return false; }, "loaded": function() { let easysize_button = document.getElementById('easysize_button'); if (easysize_button) { easysize_button.style.display = 'none'; } }, "sizes_in_stock": sizes_in_stock }; waitForElements(function() { console.log("Wait for elements"); if (window.ESStarted) { return; } let size_selector = document.querySelectorAll('.flex.w-full.flex-wrap')[1]; if (!size_selector.className.includes('sizes')) { size_selector.className += ' sizes'; } var easy_size = new EasySize(easysize_attributes); easysize_attributes['placeholder'] = '.sizes'; easysize_attributes['size_selector'] = '.sizes'; easy_size.start(); console.log("ES started" ) window.ESStarted = true; let fit = document.querySelector('.easysize'); if (!fit) { return; } else { fit.style.cursor = 'pointer'; fit.addEventListener('click', function() { document.getElementById('easysize_button').click(); }) } }); wait_for_jquery(function() { jQuery('.sizes .tile').on('click', function() { easy_size.sizeChangedTo($(this).attr('innerText')); }); });
{ "desktopImg": "//oncept.nyc/cdn/shop/files/ONC-Size_Guide-220721-v2_4f753765-00f0-43de-a4e8-769673d6f443.png?v=1693310772", "mobileImg": "//oncept.nyc/cdn/shop/files/ONC-Size_Guide-220721-v12_62596961-cac9-488c-8395-409e383787ee.png?v=1693310784" }