[ ]
Recycled canvas upper, soft calf leather details & chrome free suede trim
Tencel® pulp based twill lining
Leather sock
Bio-density molded footbed made with recycled materials
Re-speckled bottoms
CARE
Outsole can be cleaned with a soft cloth and water
Use waterproof protection spray on upper ****
COMFORT
Refined groove design offers extreme flexibility
Molded removable sock footbed
We offer free express shipping, exchanges and returns on all US domestic orders
[ "Materials & Care" , "Fit & Comfort" , "Delivery & Returns" ]
Sustainable Style
It's all in the details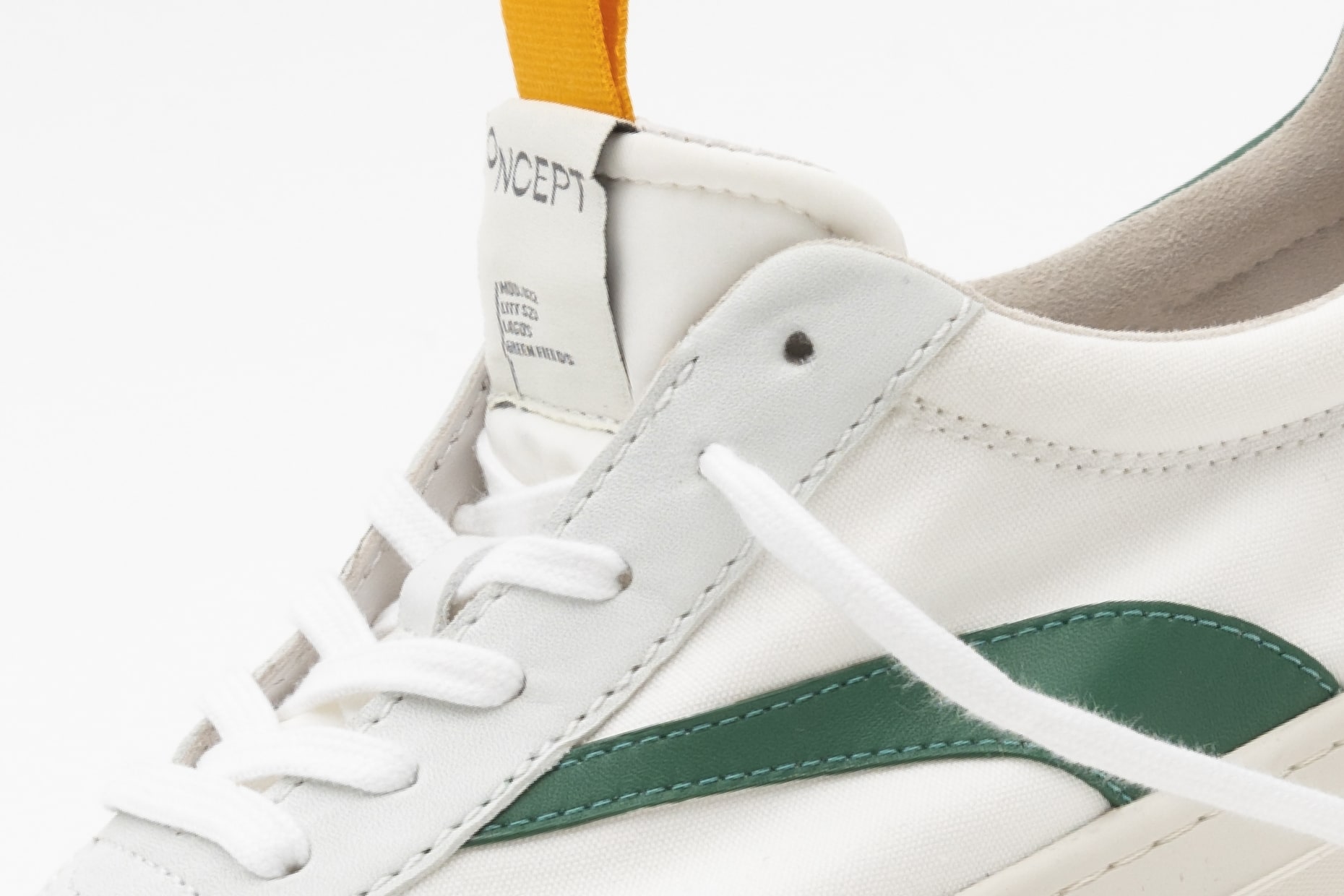 RE-FABRICATION COMPONENTS
GRS certified recycled components include: re-canvas upper, organic cotton laces, re-nylon tongue and sport tags.
READ MORE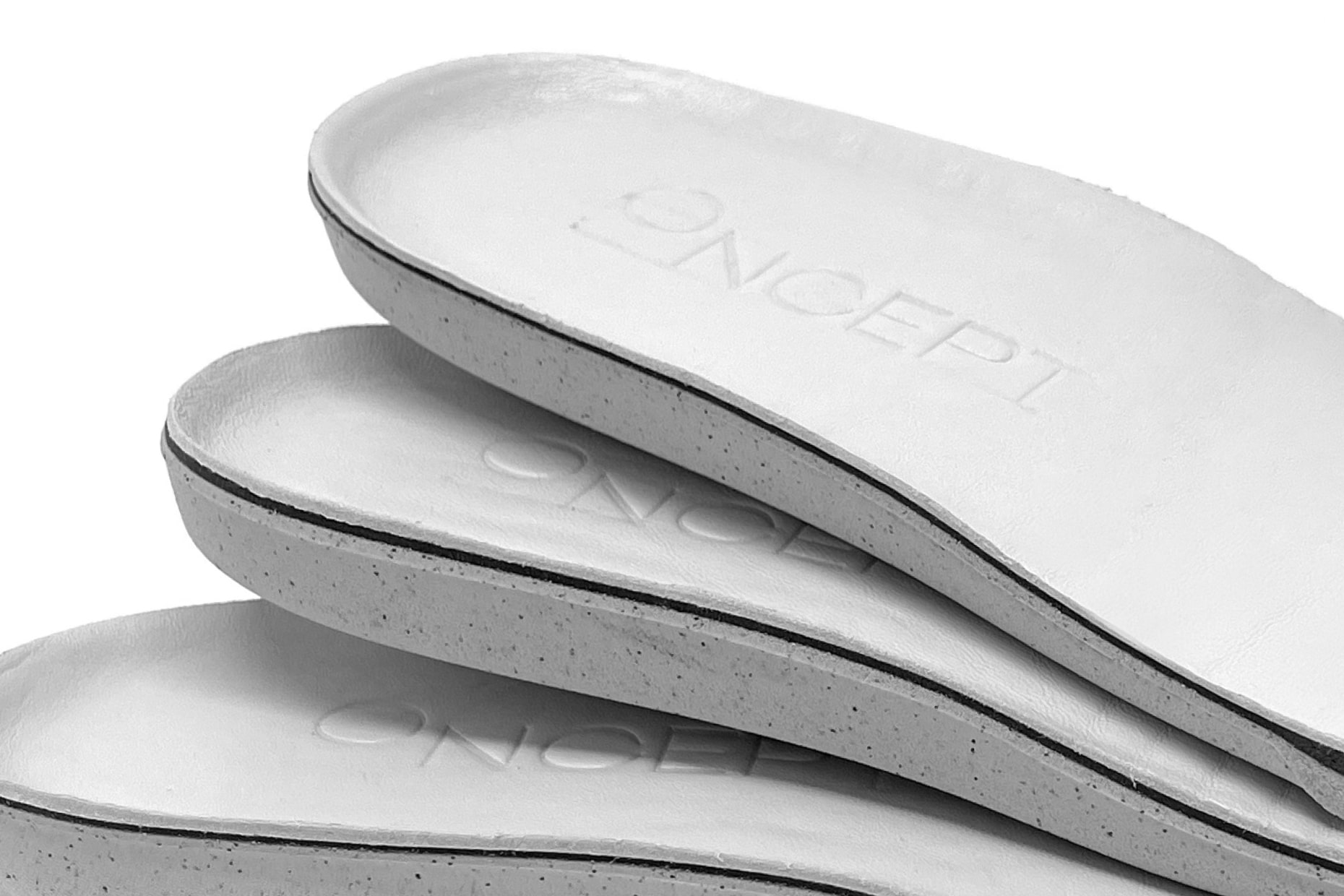 RECYCLED MEMORY FOAM FOOTBED
Utilizing memory foam made from castor oil and recycled rubber, the plant based oil not only provides amazing comfort but reduces the impact to the environment. We combine this memory foam with our contoured anatomical footbed for the ultimate in comfort.
READ MORE
{"id":7024171647181,"title":"TAIPEI","handle":"taipei","description":"\u003cp data-mce-fragment=\"1\"\u003e\u003cspan style=\"font-weight: 400;\" data-mce-fragment=\"1\" data-mce-style=\"font-weight: 400;\"\u003eMeet the TAIPEI, sister to our iconic Tokyo trainer.  All of the style and comfort that you love but in our signature ultra–butter calf leather.  The white calf base with accent colors gives an elevated and chic look that is easy to pair with any outfit. All the style and made with sustainable components that you expect in your Oncept shoes.\u003c\/span\u003e\u003c\/p\u003e","published_at":"2023-02-08T11:58:48-05:00","created_at":"2022-08-04T17:54:56-04:00","vendor":"Oncept","type":"","tags":[],"price":30000,"price_min":30000,"price_max":30000,"available":true,"price_varies":false,"compare_at_price":null,"compare_at_price_min":0,"compare_at_price_max":0,"compare_at_price_varies":false,"variants":[{"id":41006973976781,"title":"TIGERLILY \/ 6 \/ SOFT CALF LEATHER","option1":"TIGERLILY","option2":"6","option3":"SOFT CALF LEATHER","sku":"840237315504","requires_shipping":true,"taxable":true,"featured_image":{"id":31451974566093,"product_id":7024171647181,"position":1,"created_at":"2023-02-08T11:50:48-05:00","updated_at":"2023-06-19T13:00:03-04:00","alt":"0","width":2960,"height":3700,"src":"\/\/oncept.nyc\/cdn\/shop\/products\/TAIPEI-SIDE-min.jpg?v=1687194003","variant_ids":[41006973976781,41006974009549,41006974042317,41006974075085,41006974107853,41006974140621,41006974173389,41006974206157,41006974238925]},"available":true,"name":"TAIPEI - TIGERLILY \/ 6 \/ SOFT CALF LEATHER","public_title":"TIGERLILY \/ 6 \/ SOFT CALF LEATHER","options":["TIGERLILY","6","SOFT CALF LEATHER"],"price":30000,"weight":0,"compare_at_price":null,"inventory_management":"shopify","barcode":"840237315504","featured_media":{"alt":"0","id":23741248209101,"position":1,"preview_image":{"aspect_ratio":0.8,"height":3700,"width":2960,"src":"\/\/oncept.nyc\/cdn\/shop\/products\/TAIPEI-SIDE-min.jpg?v=1687194003"}},"requires_selling_plan":false,"selling_plan_allocations":[]},{"id":41006974009549,"title":"TIGERLILY \/ 6.5 \/ SOFT CALF LEATHER","option1":"TIGERLILY","option2":"6.5","option3":"SOFT CALF LEATHER","sku":"840237315511","requires_shipping":true,"taxable":true,"featured_image":{"id":31451974566093,"product_id":7024171647181,"position":1,"created_at":"2023-02-08T11:50:48-05:00","updated_at":"2023-06-19T13:00:03-04:00","alt":"0","width":2960,"height":3700,"src":"\/\/oncept.nyc\/cdn\/shop\/products\/TAIPEI-SIDE-min.jpg?v=1687194003","variant_ids":[41006973976781,41006974009549,41006974042317,41006974075085,41006974107853,41006974140621,41006974173389,41006974206157,41006974238925]},"available":true,"name":"TAIPEI - TIGERLILY \/ 6.5 \/ SOFT CALF LEATHER","public_title":"TIGERLILY \/ 6.5 \/ SOFT CALF LEATHER","options":["TIGERLILY","6.5","SOFT CALF LEATHER"],"price":30000,"weight":0,"compare_at_price":null,"inventory_management":"shopify","barcode":"840237315511","featured_media":{"alt":"0","id":23741248209101,"position":1,"preview_image":{"aspect_ratio":0.8,"height":3700,"width":2960,"src":"\/\/oncept.nyc\/cdn\/shop\/products\/TAIPEI-SIDE-min.jpg?v=1687194003"}},"requires_selling_plan":false,"selling_plan_allocations":[]},{"id":41006974042317,"title":"TIGERLILY \/ 7 \/ SOFT CALF LEATHER","option1":"TIGERLILY","option2":"7","option3":"SOFT CALF LEATHER","sku":"840237315528","requires_shipping":true,"taxable":true,"featured_image":{"id":31451974566093,"product_id":7024171647181,"position":1,"created_at":"2023-02-08T11:50:48-05:00","updated_at":"2023-06-19T13:00:03-04:00","alt":"0","width":2960,"height":3700,"src":"\/\/oncept.nyc\/cdn\/shop\/products\/TAIPEI-SIDE-min.jpg?v=1687194003","variant_ids":[41006973976781,41006974009549,41006974042317,41006974075085,41006974107853,41006974140621,41006974173389,41006974206157,41006974238925]},"available":true,"name":"TAIPEI - TIGERLILY \/ 7 \/ SOFT CALF LEATHER","public_title":"TIGERLILY \/ 7 \/ SOFT CALF LEATHER","options":["TIGERLILY","7","SOFT CALF LEATHER"],"price":30000,"weight":0,"compare_at_price":null,"inventory_management":"shopify","barcode":"840237315528","featured_media":{"alt":"0","id":23741248209101,"position":1,"preview_image":{"aspect_ratio":0.8,"height":3700,"width":2960,"src":"\/\/oncept.nyc\/cdn\/shop\/products\/TAIPEI-SIDE-min.jpg?v=1687194003"}},"requires_selling_plan":false,"selling_plan_allocations":[]},{"id":41006974075085,"title":"TIGERLILY \/ 7.5 \/ SOFT CALF LEATHER","option1":"TIGERLILY","option2":"7.5","option3":"SOFT CALF LEATHER","sku":"840237315535","requires_shipping":true,"taxable":true,"featured_image":{"id":31451974566093,"product_id":7024171647181,"position":1,"created_at":"2023-02-08T11:50:48-05:00","updated_at":"2023-06-19T13:00:03-04:00","alt":"0","width":2960,"height":3700,"src":"\/\/oncept.nyc\/cdn\/shop\/products\/TAIPEI-SIDE-min.jpg?v=1687194003","variant_ids":[41006973976781,41006974009549,41006974042317,41006974075085,41006974107853,41006974140621,41006974173389,41006974206157,41006974238925]},"available":true,"name":"TAIPEI - TIGERLILY \/ 7.5 \/ SOFT CALF LEATHER","public_title":"TIGERLILY \/ 7.5 \/ SOFT CALF LEATHER","options":["TIGERLILY","7.5","SOFT CALF LEATHER"],"price":30000,"weight":0,"compare_at_price":null,"inventory_management":"shopify","barcode":"840237315535","featured_media":{"alt":"0","id":23741248209101,"position":1,"preview_image":{"aspect_ratio":0.8,"height":3700,"width":2960,"src":"\/\/oncept.nyc\/cdn\/shop\/products\/TAIPEI-SIDE-min.jpg?v=1687194003"}},"requires_selling_plan":false,"selling_plan_allocations":[]},{"id":41006974107853,"title":"TIGERLILY \/ 8 \/ SOFT CALF LEATHER","option1":"TIGERLILY","option2":"8","option3":"SOFT CALF LEATHER","sku":"840237315542","requires_shipping":true,"taxable":true,"featured_image":{"id":31451974566093,"product_id":7024171647181,"position":1,"created_at":"2023-02-08T11:50:48-05:00","updated_at":"2023-06-19T13:00:03-04:00","alt":"0","width":2960,"height":3700,"src":"\/\/oncept.nyc\/cdn\/shop\/products\/TAIPEI-SIDE-min.jpg?v=1687194003","variant_ids":[41006973976781,41006974009549,41006974042317,41006974075085,41006974107853,41006974140621,41006974173389,41006974206157,41006974238925]},"available":true,"name":"TAIPEI - TIGERLILY \/ 8 \/ SOFT CALF LEATHER","public_title":"TIGERLILY \/ 8 \/ SOFT CALF LEATHER","options":["TIGERLILY","8","SOFT CALF LEATHER"],"price":30000,"weight":0,"compare_at_price":null,"inventory_management":"shopify","barcode":"840237315542","featured_media":{"alt":"0","id":23741248209101,"position":1,"preview_image":{"aspect_ratio":0.8,"height":3700,"width":2960,"src":"\/\/oncept.nyc\/cdn\/shop\/products\/TAIPEI-SIDE-min.jpg?v=1687194003"}},"requires_selling_plan":false,"selling_plan_allocations":[]},{"id":41006974140621,"title":"TIGERLILY \/ 8.5 \/ SOFT CALF LEATHER","option1":"TIGERLILY","option2":"8.5","option3":"SOFT CALF LEATHER","sku":"840237315559","requires_shipping":true,"taxable":true,"featured_image":{"id":31451974566093,"product_id":7024171647181,"position":1,"created_at":"2023-02-08T11:50:48-05:00","updated_at":"2023-06-19T13:00:03-04:00","alt":"0","width":2960,"height":3700,"src":"\/\/oncept.nyc\/cdn\/shop\/products\/TAIPEI-SIDE-min.jpg?v=1687194003","variant_ids":[41006973976781,41006974009549,41006974042317,41006974075085,41006974107853,41006974140621,41006974173389,41006974206157,41006974238925]},"available":true,"name":"TAIPEI - TIGERLILY \/ 8.5 \/ SOFT CALF LEATHER","public_title":"TIGERLILY \/ 8.5 \/ SOFT CALF LEATHER","options":["TIGERLILY","8.5","SOFT CALF LEATHER"],"price":30000,"weight":0,"compare_at_price":null,"inventory_management":"shopify","barcode":"840237315559","featured_media":{"alt":"0","id":23741248209101,"position":1,"preview_image":{"aspect_ratio":0.8,"height":3700,"width":2960,"src":"\/\/oncept.nyc\/cdn\/shop\/products\/TAIPEI-SIDE-min.jpg?v=1687194003"}},"requires_selling_plan":false,"selling_plan_allocations":[]},{"id":41006974173389,"title":"TIGERLILY \/ 9 \/ SOFT CALF LEATHER","option1":"TIGERLILY","option2":"9","option3":"SOFT CALF LEATHER","sku":"840237315566","requires_shipping":true,"taxable":true,"featured_image":{"id":31451974566093,"product_id":7024171647181,"position":1,"created_at":"2023-02-08T11:50:48-05:00","updated_at":"2023-06-19T13:00:03-04:00","alt":"0","width":2960,"height":3700,"src":"\/\/oncept.nyc\/cdn\/shop\/products\/TAIPEI-SIDE-min.jpg?v=1687194003","variant_ids":[41006973976781,41006974009549,41006974042317,41006974075085,41006974107853,41006974140621,41006974173389,41006974206157,41006974238925]},"available":true,"name":"TAIPEI - TIGERLILY \/ 9 \/ SOFT CALF LEATHER","public_title":"TIGERLILY \/ 9 \/ SOFT CALF LEATHER","options":["TIGERLILY","9","SOFT CALF LEATHER"],"price":30000,"weight":0,"compare_at_price":null,"inventory_management":"shopify","barcode":"840237315566","featured_media":{"alt":"0","id":23741248209101,"position":1,"preview_image":{"aspect_ratio":0.8,"height":3700,"width":2960,"src":"\/\/oncept.nyc\/cdn\/shop\/products\/TAIPEI-SIDE-min.jpg?v=1687194003"}},"requires_selling_plan":false,"selling_plan_allocations":[]},{"id":41006974206157,"title":"TIGERLILY \/ 9.5 \/ SOFT CALF LEATHER","option1":"TIGERLILY","option2":"9.5","option3":"SOFT CALF LEATHER","sku":"840237315573","requires_shipping":true,"taxable":true,"featured_image":{"id":31451974566093,"product_id":7024171647181,"position":1,"created_at":"2023-02-08T11:50:48-05:00","updated_at":"2023-06-19T13:00:03-04:00","alt":"0","width":2960,"height":3700,"src":"\/\/oncept.nyc\/cdn\/shop\/products\/TAIPEI-SIDE-min.jpg?v=1687194003","variant_ids":[41006973976781,41006974009549,41006974042317,41006974075085,41006974107853,41006974140621,41006974173389,41006974206157,41006974238925]},"available":true,"name":"TAIPEI - TIGERLILY \/ 9.5 \/ SOFT CALF LEATHER","public_title":"TIGERLILY \/ 9.5 \/ SOFT CALF LEATHER","options":["TIGERLILY","9.5","SOFT CALF LEATHER"],"price":30000,"weight":0,"compare_at_price":null,"inventory_management":"shopify","barcode":"840237315573","featured_media":{"alt":"0","id":23741248209101,"position":1,"preview_image":{"aspect_ratio":0.8,"height":3700,"width":2960,"src":"\/\/oncept.nyc\/cdn\/shop\/products\/TAIPEI-SIDE-min.jpg?v=1687194003"}},"requires_selling_plan":false,"selling_plan_allocations":[]},{"id":41006974238925,"title":"TIGERLILY \/ 10 \/ SOFT CALF LEATHER","option1":"TIGERLILY","option2":"10","option3":"SOFT CALF LEATHER","sku":"840237315580","requires_shipping":true,"taxable":true,"featured_image":{"id":31451974566093,"product_id":7024171647181,"position":1,"created_at":"2023-02-08T11:50:48-05:00","updated_at":"2023-06-19T13:00:03-04:00","alt":"0","width":2960,"height":3700,"src":"\/\/oncept.nyc\/cdn\/shop\/products\/TAIPEI-SIDE-min.jpg?v=1687194003","variant_ids":[41006973976781,41006974009549,41006974042317,41006974075085,41006974107853,41006974140621,41006974173389,41006974206157,41006974238925]},"available":true,"name":"TAIPEI - TIGERLILY \/ 10 \/ SOFT CALF LEATHER","public_title":"TIGERLILY \/ 10 \/ SOFT CALF LEATHER","options":["TIGERLILY","10","SOFT CALF LEATHER"],"price":30000,"weight":0,"compare_at_price":null,"inventory_management":"shopify","barcode":"840237315580","featured_media":{"alt":"0","id":23741248209101,"position":1,"preview_image":{"aspect_ratio":0.8,"height":3700,"width":2960,"src":"\/\/oncept.nyc\/cdn\/shop\/products\/TAIPEI-SIDE-min.jpg?v=1687194003"}},"requires_selling_plan":false,"selling_plan_allocations":[]},{"id":41006974271693,"title":"COASTAL MULTI \/ 6 \/ SOFT CALF LEATHER","option1":"COASTAL MULTI","option2":"6","option3":"SOFT CALF LEATHER","sku":"840237315597","requires_shipping":true,"taxable":true,"featured_image":{"id":31451982856397,"product_id":7024171647181,"position":7,"created_at":"2023-02-08T11:53:33-05:00","updated_at":"2023-06-19T13:00:03-04:00","alt":"1","width":2960,"height":3700,"src":"\/\/oncept.nyc\/cdn\/shop\/products\/TAIPEI-SIDE-min_091038ed-a8e5-4232-b64c-b1347a66742a.jpg?v=1687194003","variant_ids":[41006974271693,41006974304461,41006974337229,41006974369997,41006974402765,41006974435533,41006974468301,41006974501069,41006974533837]},"available":false,"name":"TAIPEI - COASTAL MULTI \/ 6 \/ SOFT CALF LEATHER","public_title":"COASTAL MULTI \/ 6 \/ SOFT CALF LEATHER","options":["COASTAL MULTI","6","SOFT CALF LEATHER"],"price":30000,"weight":0,"compare_at_price":null,"inventory_management":"shopify","barcode":"840237315597","featured_media":{"alt":"1","id":23741256794317,"position":7,"preview_image":{"aspect_ratio":0.8,"height":3700,"width":2960,"src":"\/\/oncept.nyc\/cdn\/shop\/products\/TAIPEI-SIDE-min_091038ed-a8e5-4232-b64c-b1347a66742a.jpg?v=1687194003"}},"requires_selling_plan":false,"selling_plan_allocations":[]},{"id":41006974304461,"title":"COASTAL MULTI \/ 6.5 \/ SOFT CALF LEATHER","option1":"COASTAL MULTI","option2":"6.5","option3":"SOFT CALF LEATHER","sku":"840237315603","requires_shipping":true,"taxable":true,"featured_image":{"id":31451982856397,"product_id":7024171647181,"position":7,"created_at":"2023-02-08T11:53:33-05:00","updated_at":"2023-06-19T13:00:03-04:00","alt":"1","width":2960,"height":3700,"src":"\/\/oncept.nyc\/cdn\/shop\/products\/TAIPEI-SIDE-min_091038ed-a8e5-4232-b64c-b1347a66742a.jpg?v=1687194003","variant_ids":[41006974271693,41006974304461,41006974337229,41006974369997,41006974402765,41006974435533,41006974468301,41006974501069,41006974533837]},"available":true,"name":"TAIPEI - COASTAL MULTI \/ 6.5 \/ SOFT CALF LEATHER","public_title":"COASTAL MULTI \/ 6.5 \/ SOFT CALF LEATHER","options":["COASTAL MULTI","6.5","SOFT CALF LEATHER"],"price":30000,"weight":0,"compare_at_price":null,"inventory_management":"shopify","barcode":"840237315603","featured_media":{"alt":"1","id":23741256794317,"position":7,"preview_image":{"aspect_ratio":0.8,"height":3700,"width":2960,"src":"\/\/oncept.nyc\/cdn\/shop\/products\/TAIPEI-SIDE-min_091038ed-a8e5-4232-b64c-b1347a66742a.jpg?v=1687194003"}},"requires_selling_plan":false,"selling_plan_allocations":[]},{"id":41006974337229,"title":"COASTAL MULTI \/ 7 \/ SOFT CALF LEATHER","option1":"COASTAL MULTI","option2":"7","option3":"SOFT CALF LEATHER","sku":"840237315610","requires_shipping":true,"taxable":true,"featured_image":{"id":31451982856397,"product_id":7024171647181,"position":7,"created_at":"2023-02-08T11:53:33-05:00","updated_at":"2023-06-19T13:00:03-04:00","alt":"1","width":2960,"height":3700,"src":"\/\/oncept.nyc\/cdn\/shop\/products\/TAIPEI-SIDE-min_091038ed-a8e5-4232-b64c-b1347a66742a.jpg?v=1687194003","variant_ids":[41006974271693,41006974304461,41006974337229,41006974369997,41006974402765,41006974435533,41006974468301,41006974501069,41006974533837]},"available":true,"name":"TAIPEI - COASTAL MULTI \/ 7 \/ SOFT CALF LEATHER","public_title":"COASTAL MULTI \/ 7 \/ SOFT CALF LEATHER","options":["COASTAL MULTI","7","SOFT CALF LEATHER"],"price":30000,"weight":0,"compare_at_price":null,"inventory_management":"shopify","barcode":"840237315610","featured_media":{"alt":"1","id":23741256794317,"position":7,"preview_image":{"aspect_ratio":0.8,"height":3700,"width":2960,"src":"\/\/oncept.nyc\/cdn\/shop\/products\/TAIPEI-SIDE-min_091038ed-a8e5-4232-b64c-b1347a66742a.jpg?v=1687194003"}},"requires_selling_plan":false,"selling_plan_allocations":[]},{"id":41006974369997,"title":"COASTAL MULTI \/ 7.5 \/ SOFT CALF LEATHER","option1":"COASTAL MULTI","option2":"7.5","option3":"SOFT CALF LEATHER","sku":"840237315627","requires_shipping":true,"taxable":true,"featured_image":{"id":31451982856397,"product_id":7024171647181,"position":7,"created_at":"2023-02-08T11:53:33-05:00","updated_at":"2023-06-19T13:00:03-04:00","alt":"1","width":2960,"height":3700,"src":"\/\/oncept.nyc\/cdn\/shop\/products\/TAIPEI-SIDE-min_091038ed-a8e5-4232-b64c-b1347a66742a.jpg?v=1687194003","variant_ids":[41006974271693,41006974304461,41006974337229,41006974369997,41006974402765,41006974435533,41006974468301,41006974501069,41006974533837]},"available":true,"name":"TAIPEI - COASTAL MULTI \/ 7.5 \/ SOFT CALF LEATHER","public_title":"COASTAL MULTI \/ 7.5 \/ SOFT CALF LEATHER","options":["COASTAL MULTI","7.5","SOFT CALF LEATHER"],"price":30000,"weight":0,"compare_at_price":null,"inventory_management":"shopify","barcode":"840237315627","featured_media":{"alt":"1","id":23741256794317,"position":7,"preview_image":{"aspect_ratio":0.8,"height":3700,"width":2960,"src":"\/\/oncept.nyc\/cdn\/shop\/products\/TAIPEI-SIDE-min_091038ed-a8e5-4232-b64c-b1347a66742a.jpg?v=1687194003"}},"requires_selling_plan":false,"selling_plan_allocations":[]},{"id":41006974402765,"title":"COASTAL MULTI \/ 8 \/ SOFT CALF LEATHER","option1":"COASTAL MULTI","option2":"8","option3":"SOFT CALF LEATHER","sku":"840237315634","requires_shipping":true,"taxable":true,"featured_image":{"id":31451982856397,"product_id":7024171647181,"position":7,"created_at":"2023-02-08T11:53:33-05:00","updated_at":"2023-06-19T13:00:03-04:00","alt":"1","width":2960,"height":3700,"src":"\/\/oncept.nyc\/cdn\/shop\/products\/TAIPEI-SIDE-min_091038ed-a8e5-4232-b64c-b1347a66742a.jpg?v=1687194003","variant_ids":[41006974271693,41006974304461,41006974337229,41006974369997,41006974402765,41006974435533,41006974468301,41006974501069,41006974533837]},"available":true,"name":"TAIPEI - COASTAL MULTI \/ 8 \/ SOFT CALF LEATHER","public_title":"COASTAL MULTI \/ 8 \/ SOFT CALF LEATHER","options":["COASTAL MULTI","8","SOFT CALF LEATHER"],"price":30000,"weight":0,"compare_at_price":null,"inventory_management":"shopify","barcode":"840237315634","featured_media":{"alt":"1","id":23741256794317,"position":7,"preview_image":{"aspect_ratio":0.8,"height":3700,"width":2960,"src":"\/\/oncept.nyc\/cdn\/shop\/products\/TAIPEI-SIDE-min_091038ed-a8e5-4232-b64c-b1347a66742a.jpg?v=1687194003"}},"requires_selling_plan":false,"selling_plan_allocations":[]},{"id":41006974435533,"title":"COASTAL MULTI \/ 8.5 \/ SOFT CALF LEATHER","option1":"COASTAL MULTI","option2":"8.5","option3":"SOFT CALF LEATHER","sku":"840237315641","requires_shipping":true,"taxable":true,"featured_image":{"id":31451982856397,"product_id":7024171647181,"position":7,"created_at":"2023-02-08T11:53:33-05:00","updated_at":"2023-06-19T13:00:03-04:00","alt":"1","width":2960,"height":3700,"src":"\/\/oncept.nyc\/cdn\/shop\/products\/TAIPEI-SIDE-min_091038ed-a8e5-4232-b64c-b1347a66742a.jpg?v=1687194003","variant_ids":[41006974271693,41006974304461,41006974337229,41006974369997,41006974402765,41006974435533,41006974468301,41006974501069,41006974533837]},"available":true,"name":"TAIPEI - COASTAL MULTI \/ 8.5 \/ SOFT CALF LEATHER","public_title":"COASTAL MULTI \/ 8.5 \/ SOFT CALF LEATHER","options":["COASTAL MULTI","8.5","SOFT CALF LEATHER"],"price":30000,"weight":0,"compare_at_price":null,"inventory_management":"shopify","barcode":"840237315641","featured_media":{"alt":"1","id":23741256794317,"position":7,"preview_image":{"aspect_ratio":0.8,"height":3700,"width":2960,"src":"\/\/oncept.nyc\/cdn\/shop\/products\/TAIPEI-SIDE-min_091038ed-a8e5-4232-b64c-b1347a66742a.jpg?v=1687194003"}},"requires_selling_plan":false,"selling_plan_allocations":[]},{"id":41006974468301,"title":"COASTAL MULTI \/ 9 \/ SOFT CALF LEATHER","option1":"COASTAL MULTI","option2":"9","option3":"SOFT CALF LEATHER","sku":"840237315658","requires_shipping":true,"taxable":true,"featured_image":{"id":31451982856397,"product_id":7024171647181,"position":7,"created_at":"2023-02-08T11:53:33-05:00","updated_at":"2023-06-19T13:00:03-04:00","alt":"1","width":2960,"height":3700,"src":"\/\/oncept.nyc\/cdn\/shop\/products\/TAIPEI-SIDE-min_091038ed-a8e5-4232-b64c-b1347a66742a.jpg?v=1687194003","variant_ids":[41006974271693,41006974304461,41006974337229,41006974369997,41006974402765,41006974435533,41006974468301,41006974501069,41006974533837]},"available":true,"name":"TAIPEI - COASTAL MULTI \/ 9 \/ SOFT CALF LEATHER","public_title":"COASTAL MULTI \/ 9 \/ SOFT CALF LEATHER","options":["COASTAL MULTI","9","SOFT CALF LEATHER"],"price":30000,"weight":0,"compare_at_price":null,"inventory_management":"shopify","barcode":"840237315658","featured_media":{"alt":"1","id":23741256794317,"position":7,"preview_image":{"aspect_ratio":0.8,"height":3700,"width":2960,"src":"\/\/oncept.nyc\/cdn\/shop\/products\/TAIPEI-SIDE-min_091038ed-a8e5-4232-b64c-b1347a66742a.jpg?v=1687194003"}},"requires_selling_plan":false,"selling_plan_allocations":[]},{"id":41006974501069,"title":"COASTAL MULTI \/ 9.5 \/ SOFT CALF LEATHER","option1":"COASTAL MULTI","option2":"9.5","option3":"SOFT CALF LEATHER","sku":"840237315665","requires_shipping":true,"taxable":true,"featured_image":{"id":31451982856397,"product_id":7024171647181,"position":7,"created_at":"2023-02-08T11:53:33-05:00","updated_at":"2023-06-19T13:00:03-04:00","alt":"1","width":2960,"height":3700,"src":"\/\/oncept.nyc\/cdn\/shop\/products\/TAIPEI-SIDE-min_091038ed-a8e5-4232-b64c-b1347a66742a.jpg?v=1687194003","variant_ids":[41006974271693,41006974304461,41006974337229,41006974369997,41006974402765,41006974435533,41006974468301,41006974501069,41006974533837]},"available":true,"name":"TAIPEI - COASTAL MULTI \/ 9.5 \/ SOFT CALF LEATHER","public_title":"COASTAL MULTI \/ 9.5 \/ SOFT CALF LEATHER","options":["COASTAL MULTI","9.5","SOFT CALF LEATHER"],"price":30000,"weight":0,"compare_at_price":null,"inventory_management":"shopify","barcode":"840237315665","featured_media":{"alt":"1","id":23741256794317,"position":7,"preview_image":{"aspect_ratio":0.8,"height":3700,"width":2960,"src":"\/\/oncept.nyc\/cdn\/shop\/products\/TAIPEI-SIDE-min_091038ed-a8e5-4232-b64c-b1347a66742a.jpg?v=1687194003"}},"requires_selling_plan":false,"selling_plan_allocations":[]},{"id":41006974533837,"title":"COASTAL MULTI \/ 10 \/ SOFT CALF LEATHER","option1":"COASTAL MULTI","option2":"10","option3":"SOFT CALF LEATHER","sku":"840237315672","requires_shipping":true,"taxable":true,"featured_image":{"id":31451982856397,"product_id":7024171647181,"position":7,"created_at":"2023-02-08T11:53:33-05:00","updated_at":"2023-06-19T13:00:03-04:00","alt":"1","width":2960,"height":3700,"src":"\/\/oncept.nyc\/cdn\/shop\/products\/TAIPEI-SIDE-min_091038ed-a8e5-4232-b64c-b1347a66742a.jpg?v=1687194003","variant_ids":[41006974271693,41006974304461,41006974337229,41006974369997,41006974402765,41006974435533,41006974468301,41006974501069,41006974533837]},"available":true,"name":"TAIPEI - COASTAL MULTI \/ 10 \/ SOFT CALF LEATHER","public_title":"COASTAL MULTI \/ 10 \/ SOFT CALF LEATHER","options":["COASTAL MULTI","10","SOFT CALF LEATHER"],"price":30000,"weight":0,"compare_at_price":null,"inventory_management":"shopify","barcode":"840237315672","featured_media":{"alt":"1","id":23741256794317,"position":7,"preview_image":{"aspect_ratio":0.8,"height":3700,"width":2960,"src":"\/\/oncept.nyc\/cdn\/shop\/products\/TAIPEI-SIDE-min_091038ed-a8e5-4232-b64c-b1347a66742a.jpg?v=1687194003"}},"requires_selling_plan":false,"selling_plan_allocations":[]},{"id":41006973681869,"title":"CITRUS MULTI \/ 6 \/ SOFT CALF LEATHER","option1":"CITRUS MULTI","option2":"6","option3":"SOFT CALF LEATHER","sku":"840237315412","requires_shipping":true,"taxable":true,"featured_image":{"id":31451983315149,"product_id":7024171647181,"position":13,"created_at":"2023-02-08T11:53:41-05:00","updated_at":"2023-02-20T11:59:25-05:00","alt":"2","width":2960,"height":3700,"src":"\/\/oncept.nyc\/cdn\/shop\/products\/TAIPEI-SIDE-min_0e269b2e-633d-4f85-947e-c0fb1628e443.jpg?v=1676912365","variant_ids":[41006973681869,41006973714637,41006973747405,41006973780173,41006973812941,41006973845709,41006973878477,41006973911245,41006973944013]},"available":true,"name":"TAIPEI - CITRUS MULTI \/ 6 \/ SOFT CALF LEATHER","public_title":"CITRUS MULTI \/ 6 \/ SOFT CALF LEATHER","options":["CITRUS MULTI","6","SOFT CALF LEATHER"],"price":30000,"weight":0,"compare_at_price":null,"inventory_management":"shopify","barcode":"840237315412","featured_media":{"alt":"2","id":23741257449677,"position":13,"preview_image":{"aspect_ratio":0.8,"height":3700,"width":2960,"src":"\/\/oncept.nyc\/cdn\/shop\/products\/TAIPEI-SIDE-min_0e269b2e-633d-4f85-947e-c0fb1628e443.jpg?v=1676912365"}},"requires_selling_plan":false,"selling_plan_allocations":[]},{"id":41006973714637,"title":"CITRUS MULTI \/ 6.5 \/ SOFT CALF LEATHER","option1":"CITRUS MULTI","option2":"6.5","option3":"SOFT CALF LEATHER","sku":"840237315429","requires_shipping":true,"taxable":true,"featured_image":{"id":31451983315149,"product_id":7024171647181,"position":13,"created_at":"2023-02-08T11:53:41-05:00","updated_at":"2023-02-20T11:59:25-05:00","alt":"2","width":2960,"height":3700,"src":"\/\/oncept.nyc\/cdn\/shop\/products\/TAIPEI-SIDE-min_0e269b2e-633d-4f85-947e-c0fb1628e443.jpg?v=1676912365","variant_ids":[41006973681869,41006973714637,41006973747405,41006973780173,41006973812941,41006973845709,41006973878477,41006973911245,41006973944013]},"available":true,"name":"TAIPEI - CITRUS MULTI \/ 6.5 \/ SOFT CALF LEATHER","public_title":"CITRUS MULTI \/ 6.5 \/ SOFT CALF LEATHER","options":["CITRUS MULTI","6.5","SOFT CALF LEATHER"],"price":30000,"weight":0,"compare_at_price":null,"inventory_management":"shopify","barcode":"840237315429","featured_media":{"alt":"2","id":23741257449677,"position":13,"preview_image":{"aspect_ratio":0.8,"height":3700,"width":2960,"src":"\/\/oncept.nyc\/cdn\/shop\/products\/TAIPEI-SIDE-min_0e269b2e-633d-4f85-947e-c0fb1628e443.jpg?v=1676912365"}},"requires_selling_plan":false,"selling_plan_allocations":[]},{"id":41006973747405,"title":"CITRUS MULTI \/ 7 \/ SOFT CALF LEATHER","option1":"CITRUS MULTI","option2":"7","option3":"SOFT CALF LEATHER","sku":"840237315436","requires_shipping":true,"taxable":true,"featured_image":{"id":31451983315149,"product_id":7024171647181,"position":13,"created_at":"2023-02-08T11:53:41-05:00","updated_at":"2023-02-20T11:59:25-05:00","alt":"2","width":2960,"height":3700,"src":"\/\/oncept.nyc\/cdn\/shop\/products\/TAIPEI-SIDE-min_0e269b2e-633d-4f85-947e-c0fb1628e443.jpg?v=1676912365","variant_ids":[41006973681869,41006973714637,41006973747405,41006973780173,41006973812941,41006973845709,41006973878477,41006973911245,41006973944013]},"available":true,"name":"TAIPEI - CITRUS MULTI \/ 7 \/ SOFT CALF LEATHER","public_title":"CITRUS MULTI \/ 7 \/ SOFT CALF LEATHER","options":["CITRUS MULTI","7","SOFT CALF LEATHER"],"price":30000,"weight":0,"compare_at_price":null,"inventory_management":"shopify","barcode":"840237315436","featured_media":{"alt":"2","id":23741257449677,"position":13,"preview_image":{"aspect_ratio":0.8,"height":3700,"width":2960,"src":"\/\/oncept.nyc\/cdn\/shop\/products\/TAIPEI-SIDE-min_0e269b2e-633d-4f85-947e-c0fb1628e443.jpg?v=1676912365"}},"requires_selling_plan":false,"selling_plan_allocations":[]},{"id":41006973780173,"title":"CITRUS MULTI \/ 7.5 \/ SOFT CALF LEATHER","option1":"CITRUS MULTI","option2":"7.5","option3":"SOFT CALF LEATHER","sku":"840237315443","requires_shipping":true,"taxable":true,"featured_image":{"id":31451983315149,"product_id":7024171647181,"position":13,"created_at":"2023-02-08T11:53:41-05:00","updated_at":"2023-02-20T11:59:25-05:00","alt":"2","width":2960,"height":3700,"src":"\/\/oncept.nyc\/cdn\/shop\/products\/TAIPEI-SIDE-min_0e269b2e-633d-4f85-947e-c0fb1628e443.jpg?v=1676912365","variant_ids":[41006973681869,41006973714637,41006973747405,41006973780173,41006973812941,41006973845709,41006973878477,41006973911245,41006973944013]},"available":true,"name":"TAIPEI - CITRUS MULTI \/ 7.5 \/ SOFT CALF LEATHER","public_title":"CITRUS MULTI \/ 7.5 \/ SOFT CALF LEATHER","options":["CITRUS MULTI","7.5","SOFT CALF LEATHER"],"price":30000,"weight":0,"compare_at_price":null,"inventory_management":"shopify","barcode":"840237315443","featured_media":{"alt":"2","id":23741257449677,"position":13,"preview_image":{"aspect_ratio":0.8,"height":3700,"width":2960,"src":"\/\/oncept.nyc\/cdn\/shop\/products\/TAIPEI-SIDE-min_0e269b2e-633d-4f85-947e-c0fb1628e443.jpg?v=1676912365"}},"requires_selling_plan":false,"selling_plan_allocations":[]},{"id":41006973812941,"title":"CITRUS MULTI \/ 8 \/ SOFT CALF LEATHER","option1":"CITRUS MULTI","option2":"8","option3":"SOFT CALF LEATHER","sku":"840237315450","requires_shipping":true,"taxable":true,"featured_image":{"id":31451983315149,"product_id":7024171647181,"position":13,"created_at":"2023-02-08T11:53:41-05:00","updated_at":"2023-02-20T11:59:25-05:00","alt":"2","width":2960,"height":3700,"src":"\/\/oncept.nyc\/cdn\/shop\/products\/TAIPEI-SIDE-min_0e269b2e-633d-4f85-947e-c0fb1628e443.jpg?v=1676912365","variant_ids":[41006973681869,41006973714637,41006973747405,41006973780173,41006973812941,41006973845709,41006973878477,41006973911245,41006973944013]},"available":true,"name":"TAIPEI - CITRUS MULTI \/ 8 \/ SOFT CALF LEATHER","public_title":"CITRUS MULTI \/ 8 \/ SOFT CALF LEATHER","options":["CITRUS MULTI","8","SOFT CALF LEATHER"],"price":30000,"weight":0,"compare_at_price":null,"inventory_management":"shopify","barcode":"840237315450","featured_media":{"alt":"2","id":23741257449677,"position":13,"preview_image":{"aspect_ratio":0.8,"height":3700,"width":2960,"src":"\/\/oncept.nyc\/cdn\/shop\/products\/TAIPEI-SIDE-min_0e269b2e-633d-4f85-947e-c0fb1628e443.jpg?v=1676912365"}},"requires_selling_plan":false,"selling_plan_allocations":[]},{"id":41006973845709,"title":"CITRUS MULTI \/ 8.5 \/ SOFT CALF LEATHER","option1":"CITRUS MULTI","option2":"8.5","option3":"SOFT CALF LEATHER","sku":"840237315467","requires_shipping":true,"taxable":true,"featured_image":{"id":31451983315149,"product_id":7024171647181,"position":13,"created_at":"2023-02-08T11:53:41-05:00","updated_at":"2023-02-20T11:59:25-05:00","alt":"2","width":2960,"height":3700,"src":"\/\/oncept.nyc\/cdn\/shop\/products\/TAIPEI-SIDE-min_0e269b2e-633d-4f85-947e-c0fb1628e443.jpg?v=1676912365","variant_ids":[41006973681869,41006973714637,41006973747405,41006973780173,41006973812941,41006973845709,41006973878477,41006973911245,41006973944013]},"available":true,"name":"TAIPEI - CITRUS MULTI \/ 8.5 \/ SOFT CALF LEATHER","public_title":"CITRUS MULTI \/ 8.5 \/ SOFT CALF LEATHER","options":["CITRUS MULTI","8.5","SOFT CALF LEATHER"],"price":30000,"weight":0,"compare_at_price":null,"inventory_management":"shopify","barcode":"840237315467","featured_media":{"alt":"2","id":23741257449677,"position":13,"preview_image":{"aspect_ratio":0.8,"height":3700,"width":2960,"src":"\/\/oncept.nyc\/cdn\/shop\/products\/TAIPEI-SIDE-min_0e269b2e-633d-4f85-947e-c0fb1628e443.jpg?v=1676912365"}},"requires_selling_plan":false,"selling_plan_allocations":[]},{"id":41006973878477,"title":"CITRUS MULTI \/ 9 \/ SOFT CALF LEATHER","option1":"CITRUS MULTI","option2":"9","option3":"SOFT CALF LEATHER","sku":"840237315474","requires_shipping":true,"taxable":true,"featured_image":{"id":31451983315149,"product_id":7024171647181,"position":13,"created_at":"2023-02-08T11:53:41-05:00","updated_at":"2023-02-20T11:59:25-05:00","alt":"2","width":2960,"height":3700,"src":"\/\/oncept.nyc\/cdn\/shop\/products\/TAIPEI-SIDE-min_0e269b2e-633d-4f85-947e-c0fb1628e443.jpg?v=1676912365","variant_ids":[41006973681869,41006973714637,41006973747405,41006973780173,41006973812941,41006973845709,41006973878477,41006973911245,41006973944013]},"available":true,"name":"TAIPEI - CITRUS MULTI \/ 9 \/ SOFT CALF LEATHER","public_title":"CITRUS MULTI \/ 9 \/ SOFT CALF LEATHER","options":["CITRUS MULTI","9","SOFT CALF LEATHER"],"price":30000,"weight":0,"compare_at_price":null,"inventory_management":"shopify","barcode":"840237315474","featured_media":{"alt":"2","id":23741257449677,"position":13,"preview_image":{"aspect_ratio":0.8,"height":3700,"width":2960,"src":"\/\/oncept.nyc\/cdn\/shop\/products\/TAIPEI-SIDE-min_0e269b2e-633d-4f85-947e-c0fb1628e443.jpg?v=1676912365"}},"requires_selling_plan":false,"selling_plan_allocations":[]},{"id":41006973911245,"title":"CITRUS MULTI \/ 9.5 \/ SOFT CALF LEATHER","option1":"CITRUS MULTI","option2":"9.5","option3":"SOFT CALF LEATHER","sku":"840237315481","requires_shipping":true,"taxable":true,"featured_image":{"id":31451983315149,"product_id":7024171647181,"position":13,"created_at":"2023-02-08T11:53:41-05:00","updated_at":"2023-02-20T11:59:25-05:00","alt":"2","width":2960,"height":3700,"src":"\/\/oncept.nyc\/cdn\/shop\/products\/TAIPEI-SIDE-min_0e269b2e-633d-4f85-947e-c0fb1628e443.jpg?v=1676912365","variant_ids":[41006973681869,41006973714637,41006973747405,41006973780173,41006973812941,41006973845709,41006973878477,41006973911245,41006973944013]},"available":true,"name":"TAIPEI - CITRUS MULTI \/ 9.5 \/ SOFT CALF LEATHER","public_title":"CITRUS MULTI \/ 9.5 \/ SOFT CALF LEATHER","options":["CITRUS MULTI","9.5","SOFT CALF LEATHER"],"price":30000,"weight":0,"compare_at_price":null,"inventory_management":"shopify","barcode":"840237315481","featured_media":{"alt":"2","id":23741257449677,"position":13,"preview_image":{"aspect_ratio":0.8,"height":3700,"width":2960,"src":"\/\/oncept.nyc\/cdn\/shop\/products\/TAIPEI-SIDE-min_0e269b2e-633d-4f85-947e-c0fb1628e443.jpg?v=1676912365"}},"requires_selling_plan":false,"selling_plan_allocations":[]},{"id":41006973944013,"title":"CITRUS MULTI \/ 10 \/ SOFT CALF LEATHER","option1":"CITRUS MULTI","option2":"10","option3":"SOFT CALF LEATHER","sku":"840237315498","requires_shipping":true,"taxable":true,"featured_image":{"id":31451983315149,"product_id":7024171647181,"position":13,"created_at":"2023-02-08T11:53:41-05:00","updated_at":"2023-02-20T11:59:25-05:00","alt":"2","width":2960,"height":3700,"src":"\/\/oncept.nyc\/cdn\/shop\/products\/TAIPEI-SIDE-min_0e269b2e-633d-4f85-947e-c0fb1628e443.jpg?v=1676912365","variant_ids":[41006973681869,41006973714637,41006973747405,41006973780173,41006973812941,41006973845709,41006973878477,41006973911245,41006973944013]},"available":true,"name":"TAIPEI - CITRUS MULTI \/ 10 \/ SOFT CALF LEATHER","public_title":"CITRUS MULTI \/ 10 \/ SOFT CALF LEATHER","options":["CITRUS MULTI","10","SOFT CALF LEATHER"],"price":30000,"weight":0,"compare_at_price":null,"inventory_management":"shopify","barcode":"840237315498","featured_media":{"alt":"2","id":23741257449677,"position":13,"preview_image":{"aspect_ratio":0.8,"height":3700,"width":2960,"src":"\/\/oncept.nyc\/cdn\/shop\/products\/TAIPEI-SIDE-min_0e269b2e-633d-4f85-947e-c0fb1628e443.jpg?v=1676912365"}},"requires_selling_plan":false,"selling_plan_allocations":[]}],"images":["\/\/oncept.nyc\/cdn\/shop\/products\/TAIPEI-SIDE-min.jpg?v=1687194003","\/\/oncept.nyc\/cdn\/shop\/products\/TAIPEI-TOP-min.jpg?v=1687194003","\/\/oncept.nyc\/cdn\/shop\/products\/TAIPEI-BACK-min-2.jpg?v=1687194003","\/\/oncept.nyc\/cdn\/shop\/products\/TAIPEI-OUTSOLE-min.jpg?v=1687194003","\/\/oncept.nyc\/cdn\/shop\/products\/TAIPEI-SOFT-min.jpg?v=1687194003","\/\/oncept.nyc\/cdn\/shop\/products\/Frame33-min.jpg?v=1687194003","\/\/oncept.nyc\/cdn\/shop\/products\/TAIPEI-SIDE-min_091038ed-a8e5-4232-b64c-b1347a66742a.jpg?v=1687194003","\/\/oncept.nyc\/cdn\/shop\/products\/TAIPEI-TOP-min_acd0daea-30f9-4d03-ae66-38fa0a384ae3.jpg?v=1687194003","\/\/oncept.nyc\/cdn\/shop\/products\/TAIPEI-BACK-min_09a1d18e-8314-4339-825c-085d79313b1e.jpg?v=1687194003","\/\/oncept.nyc\/cdn\/shop\/products\/TAIPEI-OUTSOLE-min_accae03e-4fb4-4ef4-91ce-a519e1c72fd6.jpg?v=1687194003","\/\/oncept.nyc\/cdn\/shop\/products\/TAIPEI-SOFT-min_33ed7dbc-1073-4dad-bd7f-b20939b24fe7.jpg?v=1687194003","\/\/oncept.nyc\/cdn\/shop\/products\/Frame35-min.jpg?v=1687194003","\/\/oncept.nyc\/cdn\/shop\/products\/TAIPEI-SIDE-min_0e269b2e-633d-4f85-947e-c0fb1628e443.jpg?v=1676912365","\/\/oncept.nyc\/cdn\/shop\/products\/TAIPEI-TOP-min_51743032-b615-4d9c-9402-709d64de9b77.jpg?v=1676912365","\/\/oncept.nyc\/cdn\/shop\/products\/TAIPEI-BACK-min_24d6c71c-55e8-4e87-bfb2-4511ef1fc251.jpg?v=1676912365","\/\/oncept.nyc\/cdn\/shop\/products\/TAIPEI-OUTSOLE-min_b1a5d895-6cf2-4848-8ef1-3244066f70b2.jpg?v=1676912365","\/\/oncept.nyc\/cdn\/shop\/products\/TAIPEI-SOFT-min_4b94d778-7bb7-4e33-8c90-6631fec230c1.jpg?v=1677162825","\/\/oncept.nyc\/cdn\/shop\/products\/TAIPEI-CITRUSMULTI-ONFOOT-min.png?v=1677162825"],"featured_image":"\/\/oncept.nyc\/cdn\/shop\/products\/TAIPEI-SIDE-min.jpg?v=1687194003","options":["Color","Size","Material"],"media":[{"alt":"0","id":23741248209101,"position":1,"preview_image":{"aspect_ratio":0.8,"height":3700,"width":2960,"src":"\/\/oncept.nyc\/cdn\/shop\/products\/TAIPEI-SIDE-min.jpg?v=1687194003"},"aspect_ratio":0.8,"height":3700,"media_type":"image","src":"\/\/oncept.nyc\/cdn\/shop\/products\/TAIPEI-SIDE-min.jpg?v=1687194003","width":2960},{"alt":"0","id":23741248274637,"position":2,"preview_image":{"aspect_ratio":0.8,"height":3700,"width":2960,"src":"\/\/oncept.nyc\/cdn\/shop\/products\/TAIPEI-TOP-min.jpg?v=1687194003"},"aspect_ratio":0.8,"height":3700,"media_type":"image","src":"\/\/oncept.nyc\/cdn\/shop\/products\/TAIPEI-TOP-min.jpg?v=1687194003","width":2960},{"alt":"0","id":23741269868749,"position":3,"preview_image":{"aspect_ratio":0.8,"height":3700,"width":2960,"src":"\/\/oncept.nyc\/cdn\/shop\/products\/TAIPEI-BACK-min-2.jpg?v=1687194003"},"aspect_ratio":0.8,"height":3700,"media_type":"image","src":"\/\/oncept.nyc\/cdn\/shop\/products\/TAIPEI-BACK-min-2.jpg?v=1687194003","width":2960},{"alt":"0","id":23741248176333,"position":4,"preview_image":{"aspect_ratio":0.8,"height":3700,"width":2960,"src":"\/\/oncept.nyc\/cdn\/shop\/products\/TAIPEI-OUTSOLE-min.jpg?v=1687194003"},"aspect_ratio":0.8,"height":3700,"media_type":"image","src":"\/\/oncept.nyc\/cdn\/shop\/products\/TAIPEI-OUTSOLE-min.jpg?v=1687194003","width":2960},{"alt":"0","id":23741248241869,"position":5,"preview_image":{"aspect_ratio":0.8,"height":3700,"width":2960,"src":"\/\/oncept.nyc\/cdn\/shop\/products\/TAIPEI-SOFT-min.jpg?v=1687194003"},"aspect_ratio":0.8,"height":3700,"media_type":"image","src":"\/\/oncept.nyc\/cdn\/shop\/products\/TAIPEI-SOFT-min.jpg?v=1687194003","width":2960},{"alt":"0","id":23781285069005,"position":6,"preview_image":{"aspect_ratio":0.8,"height":3700,"width":2960,"src":"\/\/oncept.nyc\/cdn\/shop\/products\/Frame33-min.jpg?v=1687194003"},"aspect_ratio":0.8,"height":3700,"media_type":"image","src":"\/\/oncept.nyc\/cdn\/shop\/products\/Frame33-min.jpg?v=1687194003","width":2960},{"alt":"1","id":23741256794317,"position":7,"preview_image":{"aspect_ratio":0.8,"height":3700,"width":2960,"src":"\/\/oncept.nyc\/cdn\/shop\/products\/TAIPEI-SIDE-min_091038ed-a8e5-4232-b64c-b1347a66742a.jpg?v=1687194003"},"aspect_ratio":0.8,"height":3700,"media_type":"image","src":"\/\/oncept.nyc\/cdn\/shop\/products\/TAIPEI-SIDE-min_091038ed-a8e5-4232-b64c-b1347a66742a.jpg?v=1687194003","width":2960},{"alt":"1","id":23741256925389,"position":8,"preview_image":{"aspect_ratio":0.8,"height":3700,"width":2960,"src":"\/\/oncept.nyc\/cdn\/shop\/products\/TAIPEI-TOP-min_acd0daea-30f9-4d03-ae66-38fa0a384ae3.jpg?v=1687194003"},"aspect_ratio":0.8,"height":3700,"media_type":"image","src":"\/\/oncept.nyc\/cdn\/shop\/products\/TAIPEI-TOP-min_acd0daea-30f9-4d03-ae66-38fa0a384ae3.jpg?v=1687194003","width":2960},{"alt":"1","id":23741256663245,"position":9,"preview_image":{"aspect_ratio":0.8,"height":3700,"width":2960,"src":"\/\/oncept.nyc\/cdn\/shop\/products\/TAIPEI-BACK-min_09a1d18e-8314-4339-825c-085d79313b1e.jpg?v=1687194003"},"aspect_ratio":0.8,"height":3700,"media_type":"image","src":"\/\/oncept.nyc\/cdn\/shop\/products\/TAIPEI-BACK-min_09a1d18e-8314-4339-825c-085d79313b1e.jpg?v=1687194003","width":2960},{"alt":"1","id":23741256696013,"position":10,"preview_image":{"aspect_ratio":0.8,"height":3700,"width":2960,"src":"\/\/oncept.nyc\/cdn\/shop\/products\/TAIPEI-OUTSOLE-min_accae03e-4fb4-4ef4-91ce-a519e1c72fd6.jpg?v=1687194003"},"aspect_ratio":0.8,"height":3700,"media_type":"image","src":"\/\/oncept.nyc\/cdn\/shop\/products\/TAIPEI-OUTSOLE-min_accae03e-4fb4-4ef4-91ce-a519e1c72fd6.jpg?v=1687194003","width":2960},{"alt":"1","id":23741256859853,"position":11,"preview_image":{"aspect_ratio":0.8,"height":3700,"width":2960,"src":"\/\/oncept.nyc\/cdn\/shop\/products\/TAIPEI-SOFT-min_33ed7dbc-1073-4dad-bd7f-b20939b24fe7.jpg?v=1687194003"},"aspect_ratio":0.8,"height":3700,"media_type":"image","src":"\/\/oncept.nyc\/cdn\/shop\/products\/TAIPEI-SOFT-min_33ed7dbc-1073-4dad-bd7f-b20939b24fe7.jpg?v=1687194003","width":2960},{"alt":"1","id":23781285101773,"position":12,"preview_image":{"aspect_ratio":0.8,"height":3700,"width":2960,"src":"\/\/oncept.nyc\/cdn\/shop\/products\/Frame35-min.jpg?v=1687194003"},"aspect_ratio":0.8,"height":3700,"media_type":"image","src":"\/\/oncept.nyc\/cdn\/shop\/products\/Frame35-min.jpg?v=1687194003","width":2960},{"alt":"2","id":23741257449677,"position":13,"preview_image":{"aspect_ratio":0.8,"height":3700,"width":2960,"src":"\/\/oncept.nyc\/cdn\/shop\/products\/TAIPEI-SIDE-min_0e269b2e-633d-4f85-947e-c0fb1628e443.jpg?v=1676912365"},"aspect_ratio":0.8,"height":3700,"media_type":"image","src":"\/\/oncept.nyc\/cdn\/shop\/products\/TAIPEI-SIDE-min_0e269b2e-633d-4f85-947e-c0fb1628e443.jpg?v=1676912365","width":2960},{"alt":"2","id":23741257515213,"position":14,"preview_image":{"aspect_ratio":0.8,"height":3700,"width":2960,"src":"\/\/oncept.nyc\/cdn\/shop\/products\/TAIPEI-TOP-min_51743032-b615-4d9c-9402-709d64de9b77.jpg?v=1676912365"},"aspect_ratio":0.8,"height":3700,"media_type":"image","src":"\/\/oncept.nyc\/cdn\/shop\/products\/TAIPEI-TOP-min_51743032-b615-4d9c-9402-709d64de9b77.jpg?v=1676912365","width":2960},{"alt":"2","id":23741257384141,"position":15,"preview_image":{"aspect_ratio":0.8,"height":3700,"width":2960,"src":"\/\/oncept.nyc\/cdn\/shop\/products\/TAIPEI-BACK-min_24d6c71c-55e8-4e87-bfb2-4511ef1fc251.jpg?v=1676912365"},"aspect_ratio":0.8,"height":3700,"media_type":"image","src":"\/\/oncept.nyc\/cdn\/shop\/products\/TAIPEI-BACK-min_24d6c71c-55e8-4e87-bfb2-4511ef1fc251.jpg?v=1676912365","width":2960},{"alt":"2","id":23741257416909,"position":16,"preview_image":{"aspect_ratio":0.8,"height":3700,"width":2960,"src":"\/\/oncept.nyc\/cdn\/shop\/products\/TAIPEI-OUTSOLE-min_b1a5d895-6cf2-4848-8ef1-3244066f70b2.jpg?v=1676912365"},"aspect_ratio":0.8,"height":3700,"media_type":"image","src":"\/\/oncept.nyc\/cdn\/shop\/products\/TAIPEI-OUTSOLE-min_b1a5d895-6cf2-4848-8ef1-3244066f70b2.jpg?v=1676912365","width":2960},{"alt":"2","id":23741257482445,"position":17,"preview_image":{"aspect_ratio":0.8,"height":3700,"width":2960,"src":"\/\/oncept.nyc\/cdn\/shop\/products\/TAIPEI-SOFT-min_4b94d778-7bb7-4e33-8c90-6631fec230c1.jpg?v=1677162825"},"aspect_ratio":0.8,"height":3700,"media_type":"image","src":"\/\/oncept.nyc\/cdn\/shop\/products\/TAIPEI-SOFT-min_4b94d778-7bb7-4e33-8c90-6631fec230c1.jpg?v=1677162825","width":2960},{"alt":"2","id":23781285134541,"position":18,"preview_image":{"aspect_ratio":0.8,"height":3700,"width":2960,"src":"\/\/oncept.nyc\/cdn\/shop\/products\/TAIPEI-CITRUSMULTI-ONFOOT-min.png?v=1677162825"},"aspect_ratio":0.8,"height":3700,"media_type":"image","src":"\/\/oncept.nyc\/cdn\/shop\/products\/TAIPEI-CITRUSMULTI-ONFOOT-min.png?v=1677162825","width":2960}],"requires_selling_plan":false,"selling_plan_groups":[],"content":"\u003cp data-mce-fragment=\"1\"\u003e\u003cspan style=\"font-weight: 400;\" data-mce-fragment=\"1\" data-mce-style=\"font-weight: 400;\"\u003eMeet the TAIPEI, sister to our iconic Tokyo trainer.  All of the style and comfort that you love but in our signature ultra–butter calf leather.  The white calf base with accent colors gives an elevated and chic look that is easy to pair with any outfit. All the style and made with sustainable components that you expect in your Oncept shoes.\u003c\/span\u003e\u003c\/p\u003e"} { "options": [ { "title": "Color", "values": [ { "value": "TIGERLILY", "url": "/products/taipei?variant=41006973976781" }, { "value": "COASTAL MULTI", "url": "/products/taipei?variant=41006974271693" }, { "value": "CITRUS MULTI", "url": "/products/taipei?variant=41006973681869" } ] }, { "title": "Size", "values": [ { "value": "6", "url": "/products/taipei?variant=41006973976781" }, { "value": "6.5", "url": "/products/taipei?variant=41006974009549" }, { "value": "7", "url": "/products/taipei?variant=41006974042317" }, { "value": "7.5", "url": "/products/taipei?variant=41006974075085" }, { "value": "8", "url": "/products/taipei?variant=41006974107853" }, { "value": "8.5", "url": "/products/taipei?variant=41006974140621" }, { "value": "9", "url": "/products/taipei?variant=41006974173389" }, { "value": "9.5", "url": "/products/taipei?variant=41006974206157" }, { "value": "10", "url": "/products/taipei?variant=41006974238925" } ] }, { "title": "Material", "values": [ { "value": "SOFT CALF LEATHER", "url": "/products/taipei?variant=41006973976781" } ] } ] }
{"id":7024872227021,"title":"LONDON","handle":"copy-of-london","description":"\u003cspan data-mce-fragment=\"1\"\u003eElevated and sporty, the LONDON is your seasonless sneaker. With ultra-soft calf leather, citrus orange details, and a re-speckled flex outsole, our two-tone molded bottom is sleek and comfortable. With style in mind, the rubber flex outsole is durable, while the upper is soft and packable, making this timeless sneaker ready for anything.\u003c\/span\u003e","published_at":"2023-02-08T15:23:03-05:00","created_at":"2022-08-05T13:29:06-04:00","vendor":"Oncept","type":"Footwear","tags":["SNEAKER","SPORT"],"price":27500,"price_min":27500,"price_max":27500,"available":true,"price_varies":false,"compare_at_price":null,"compare_at_price_min":0,"compare_at_price_max":0,"compare_at_price_varies":false,"variants":[{"id":41008667459789,"title":"WHITE - CITRINE \/ 6 \/ SOFT CALF LEATHER","option1":"WHITE - CITRINE","option2":"6","option3":"SOFT CALF LEATHER","sku":"840237317300","requires_shipping":true,"taxable":true,"featured_image":{"id":31444391329997,"product_id":7024872227021,"position":1,"created_at":"2023-02-06T14:49:55-05:00","updated_at":"2023-06-19T13:04:46-04:00","alt":"0","width":2960,"height":3700,"src":"\/\/oncept.nyc\/cdn\/shop\/products\/LONDON-SIDE-min.jpg?v=1687194286","variant_ids":[41008667459789,41008667492557,41008667525325,41008667558093,41008667590861,41008667623629,41008667656397,41008667689165,41008667721933]},"available":true,"name":"LONDON - WHITE - CITRINE \/ 6 \/ SOFT CALF LEATHER","public_title":"WHITE - CITRINE \/ 6 \/ SOFT CALF LEATHER","options":["WHITE - CITRINE","6","SOFT CALF LEATHER"],"price":27500,"weight":0,"compare_at_price":null,"inventory_management":"shopify","barcode":"840237317300","featured_media":{"alt":"0","id":23733589803213,"position":1,"preview_image":{"aspect_ratio":0.8,"height":3700,"width":2960,"src":"\/\/oncept.nyc\/cdn\/shop\/products\/LONDON-SIDE-min.jpg?v=1687194286"}},"requires_selling_plan":false,"selling_plan_allocations":[]},{"id":41008667492557,"title":"WHITE - CITRINE \/ 6.5 \/ SOFT CALF LEATHER","option1":"WHITE - CITRINE","option2":"6.5","option3":"SOFT CALF LEATHER","sku":"840237317317","requires_shipping":true,"taxable":true,"featured_image":{"id":31444391329997,"product_id":7024872227021,"position":1,"created_at":"2023-02-06T14:49:55-05:00","updated_at":"2023-06-19T13:04:46-04:00","alt":"0","width":2960,"height":3700,"src":"\/\/oncept.nyc\/cdn\/shop\/products\/LONDON-SIDE-min.jpg?v=1687194286","variant_ids":[41008667459789,41008667492557,41008667525325,41008667558093,41008667590861,41008667623629,41008667656397,41008667689165,41008667721933]},"available":true,"name":"LONDON - WHITE - CITRINE \/ 6.5 \/ SOFT CALF LEATHER","public_title":"WHITE - CITRINE \/ 6.5 \/ SOFT CALF LEATHER","options":["WHITE - CITRINE","6.5","SOFT CALF LEATHER"],"price":27500,"weight":0,"compare_at_price":null,"inventory_management":"shopify","barcode":"840237317317","featured_media":{"alt":"0","id":23733589803213,"position":1,"preview_image":{"aspect_ratio":0.8,"height":3700,"width":2960,"src":"\/\/oncept.nyc\/cdn\/shop\/products\/LONDON-SIDE-min.jpg?v=1687194286"}},"requires_selling_plan":false,"selling_plan_allocations":[]},{"id":41008667525325,"title":"WHITE - CITRINE \/ 7 \/ SOFT CALF LEATHER","option1":"WHITE - CITRINE","option2":"7","option3":"SOFT CALF LEATHER","sku":"840237317324","requires_shipping":true,"taxable":true,"featured_image":{"id":31444391329997,"product_id":7024872227021,"position":1,"created_at":"2023-02-06T14:49:55-05:00","updated_at":"2023-06-19T13:04:46-04:00","alt":"0","width":2960,"height":3700,"src":"\/\/oncept.nyc\/cdn\/shop\/products\/LONDON-SIDE-min.jpg?v=1687194286","variant_ids":[41008667459789,41008667492557,41008667525325,41008667558093,41008667590861,41008667623629,41008667656397,41008667689165,41008667721933]},"available":true,"name":"LONDON - WHITE - CITRINE \/ 7 \/ SOFT CALF LEATHER","public_title":"WHITE - CITRINE \/ 7 \/ SOFT CALF LEATHER","options":["WHITE - CITRINE","7","SOFT CALF LEATHER"],"price":27500,"weight":0,"compare_at_price":null,"inventory_management":"shopify","barcode":"840237317324","featured_media":{"alt":"0","id":23733589803213,"position":1,"preview_image":{"aspect_ratio":0.8,"height":3700,"width":2960,"src":"\/\/oncept.nyc\/cdn\/shop\/products\/LONDON-SIDE-min.jpg?v=1687194286"}},"requires_selling_plan":false,"selling_plan_allocations":[]},{"id":41008667558093,"title":"WHITE - CITRINE \/ 7.5 \/ SOFT CALF LEATHER","option1":"WHITE - CITRINE","option2":"7.5","option3":"SOFT CALF LEATHER","sku":"840237317331","requires_shipping":true,"taxable":true,"featured_image":{"id":31444391329997,"product_id":7024872227021,"position":1,"created_at":"2023-02-06T14:49:55-05:00","updated_at":"2023-06-19T13:04:46-04:00","alt":"0","width":2960,"height":3700,"src":"\/\/oncept.nyc\/cdn\/shop\/products\/LONDON-SIDE-min.jpg?v=1687194286","variant_ids":[41008667459789,41008667492557,41008667525325,41008667558093,41008667590861,41008667623629,41008667656397,41008667689165,41008667721933]},"available":true,"name":"LONDON - WHITE - CITRINE \/ 7.5 \/ SOFT CALF LEATHER","public_title":"WHITE - CITRINE \/ 7.5 \/ SOFT CALF LEATHER","options":["WHITE - CITRINE","7.5","SOFT CALF LEATHER"],"price":27500,"weight":0,"compare_at_price":null,"inventory_management":"shopify","barcode":"840237317331","featured_media":{"alt":"0","id":23733589803213,"position":1,"preview_image":{"aspect_ratio":0.8,"height":3700,"width":2960,"src":"\/\/oncept.nyc\/cdn\/shop\/products\/LONDON-SIDE-min.jpg?v=1687194286"}},"requires_selling_plan":false,"selling_plan_allocations":[]},{"id":41008667590861,"title":"WHITE - CITRINE \/ 8 \/ SOFT CALF LEATHER","option1":"WHITE - CITRINE","option2":"8","option3":"SOFT CALF LEATHER","sku":"840237317348","requires_shipping":true,"taxable":true,"featured_image":{"id":31444391329997,"product_id":7024872227021,"position":1,"created_at":"2023-02-06T14:49:55-05:00","updated_at":"2023-06-19T13:04:46-04:00","alt":"0","width":2960,"height":3700,"src":"\/\/oncept.nyc\/cdn\/shop\/products\/LONDON-SIDE-min.jpg?v=1687194286","variant_ids":[41008667459789,41008667492557,41008667525325,41008667558093,41008667590861,41008667623629,41008667656397,41008667689165,41008667721933]},"available":true,"name":"LONDON - WHITE - CITRINE \/ 8 \/ SOFT CALF LEATHER","public_title":"WHITE - CITRINE \/ 8 \/ SOFT CALF LEATHER","options":["WHITE - CITRINE","8","SOFT CALF LEATHER"],"price":27500,"weight":0,"compare_at_price":null,"inventory_management":"shopify","barcode":"840237317348","featured_media":{"alt":"0","id":23733589803213,"position":1,"preview_image":{"aspect_ratio":0.8,"height":3700,"width":2960,"src":"\/\/oncept.nyc\/cdn\/shop\/products\/LONDON-SIDE-min.jpg?v=1687194286"}},"requires_selling_plan":false,"selling_plan_allocations":[]},{"id":41008667623629,"title":"WHITE - CITRINE \/ 8.5 \/ SOFT CALF LEATHER","option1":"WHITE - CITRINE","option2":"8.5","option3":"SOFT CALF LEATHER","sku":"840237317355","requires_shipping":true,"taxable":true,"featured_image":{"id":31444391329997,"product_id":7024872227021,"position":1,"created_at":"2023-02-06T14:49:55-05:00","updated_at":"2023-06-19T13:04:46-04:00","alt":"0","width":2960,"height":3700,"src":"\/\/oncept.nyc\/cdn\/shop\/products\/LONDON-SIDE-min.jpg?v=1687194286","variant_ids":[41008667459789,41008667492557,41008667525325,41008667558093,41008667590861,41008667623629,41008667656397,41008667689165,41008667721933]},"available":true,"name":"LONDON - WHITE - CITRINE \/ 8.5 \/ SOFT CALF LEATHER","public_title":"WHITE - CITRINE \/ 8.5 \/ SOFT CALF LEATHER","options":["WHITE - CITRINE","8.5","SOFT CALF LEATHER"],"price":27500,"weight":0,"compare_at_price":null,"inventory_management":"shopify","barcode":"840237317355","featured_media":{"alt":"0","id":23733589803213,"position":1,"preview_image":{"aspect_ratio":0.8,"height":3700,"width":2960,"src":"\/\/oncept.nyc\/cdn\/shop\/products\/LONDON-SIDE-min.jpg?v=1687194286"}},"requires_selling_plan":false,"selling_plan_allocations":[]},{"id":41008667656397,"title":"WHITE - CITRINE \/ 9 \/ SOFT CALF LEATHER","option1":"WHITE - CITRINE","option2":"9","option3":"SOFT CALF LEATHER","sku":"840237317362","requires_shipping":true,"taxable":true,"featured_image":{"id":31444391329997,"product_id":7024872227021,"position":1,"created_at":"2023-02-06T14:49:55-05:00","updated_at":"2023-06-19T13:04:46-04:00","alt":"0","width":2960,"height":3700,"src":"\/\/oncept.nyc\/cdn\/shop\/products\/LONDON-SIDE-min.jpg?v=1687194286","variant_ids":[41008667459789,41008667492557,41008667525325,41008667558093,41008667590861,41008667623629,41008667656397,41008667689165,41008667721933]},"available":true,"name":"LONDON - WHITE - CITRINE \/ 9 \/ SOFT CALF LEATHER","public_title":"WHITE - CITRINE \/ 9 \/ SOFT CALF LEATHER","options":["WHITE - CITRINE","9","SOFT CALF LEATHER"],"price":27500,"weight":0,"compare_at_price":null,"inventory_management":"shopify","barcode":"840237317362","featured_media":{"alt":"0","id":23733589803213,"position":1,"preview_image":{"aspect_ratio":0.8,"height":3700,"width":2960,"src":"\/\/oncept.nyc\/cdn\/shop\/products\/LONDON-SIDE-min.jpg?v=1687194286"}},"requires_selling_plan":false,"selling_plan_allocations":[]},{"id":41008667689165,"title":"WHITE - CITRINE \/ 9.5 \/ SOFT CALF LEATHER","option1":"WHITE - CITRINE","option2":"9.5","option3":"SOFT CALF LEATHER","sku":"840237317379","requires_shipping":true,"taxable":true,"featured_image":{"id":31444391329997,"product_id":7024872227021,"position":1,"created_at":"2023-02-06T14:49:55-05:00","updated_at":"2023-06-19T13:04:46-04:00","alt":"0","width":2960,"height":3700,"src":"\/\/oncept.nyc\/cdn\/shop\/products\/LONDON-SIDE-min.jpg?v=1687194286","variant_ids":[41008667459789,41008667492557,41008667525325,41008667558093,41008667590861,41008667623629,41008667656397,41008667689165,41008667721933]},"available":true,"name":"LONDON - WHITE - CITRINE \/ 9.5 \/ SOFT CALF LEATHER","public_title":"WHITE - CITRINE \/ 9.5 \/ SOFT CALF LEATHER","options":["WHITE - CITRINE","9.5","SOFT CALF LEATHER"],"price":27500,"weight":0,"compare_at_price":null,"inventory_management":"shopify","barcode":"840237317379","featured_media":{"alt":"0","id":23733589803213,"position":1,"preview_image":{"aspect_ratio":0.8,"height":3700,"width":2960,"src":"\/\/oncept.nyc\/cdn\/shop\/products\/LONDON-SIDE-min.jpg?v=1687194286"}},"requires_selling_plan":false,"selling_plan_allocations":[]},{"id":41008667721933,"title":"WHITE - CITRINE \/ 10 \/ SOFT CALF LEATHER","option1":"WHITE - CITRINE","option2":"10","option3":"SOFT CALF LEATHER","sku":"840237317386","requires_shipping":true,"taxable":true,"featured_image":{"id":31444391329997,"product_id":7024872227021,"position":1,"created_at":"2023-02-06T14:49:55-05:00","updated_at":"2023-06-19T13:04:46-04:00","alt":"0","width":2960,"height":3700,"src":"\/\/oncept.nyc\/cdn\/shop\/products\/LONDON-SIDE-min.jpg?v=1687194286","variant_ids":[41008667459789,41008667492557,41008667525325,41008667558093,41008667590861,41008667623629,41008667656397,41008667689165,41008667721933]},"available":true,"name":"LONDON - WHITE - CITRINE \/ 10 \/ SOFT CALF LEATHER","public_title":"WHITE - CITRINE \/ 10 \/ SOFT CALF LEATHER","options":["WHITE - CITRINE","10","SOFT CALF LEATHER"],"price":27500,"weight":0,"compare_at_price":null,"inventory_management":"shopify","barcode":"840237317386","featured_media":{"alt":"0","id":23733589803213,"position":1,"preview_image":{"aspect_ratio":0.8,"height":3700,"width":2960,"src":"\/\/oncept.nyc\/cdn\/shop\/products\/LONDON-SIDE-min.jpg?v=1687194286"}},"requires_selling_plan":false,"selling_plan_allocations":[]},{"id":41008667164877,"title":"COASTAL MULTI \/ 6 \/ SOFT CALF LEATHER","option1":"COASTAL MULTI","option2":"6","option3":"SOFT CALF LEATHER","sku":"840237317393","requires_shipping":true,"taxable":true,"featured_image":{"id":31444391854285,"product_id":7024872227021,"position":7,"created_at":"2023-02-06T14:50:09-05:00","updated_at":"2023-06-19T13:04:46-04:00","alt":"1","width":2960,"height":3700,"src":"\/\/oncept.nyc\/cdn\/shop\/products\/LONDON-SIDE-min_c9e3c161-b035-44d9-977d-2fb115807c4b.jpg?v=1687194286","variant_ids":[41008667164877,41008667197645,41008667230413,41008667263181,41008667295949,41008667328717,41008667361485,41008667394253,41008667427021]},"available":true,"name":"LONDON - COASTAL MULTI \/ 6 \/ SOFT CALF LEATHER","public_title":"COASTAL MULTI \/ 6 \/ SOFT CALF LEATHER","options":["COASTAL MULTI","6","SOFT CALF LEATHER"],"price":27500,"weight":0,"compare_at_price":null,"inventory_management":"shopify","barcode":"840237317393","featured_media":{"alt":"1","id":23733590393037,"position":7,"preview_image":{"aspect_ratio":0.8,"height":3700,"width":2960,"src":"\/\/oncept.nyc\/cdn\/shop\/products\/LONDON-SIDE-min_c9e3c161-b035-44d9-977d-2fb115807c4b.jpg?v=1687194286"}},"requires_selling_plan":false,"selling_plan_allocations":[]},{"id":41008667197645,"title":"COASTAL MULTI \/ 6.5 \/ SOFT CALF LEATHER","option1":"COASTAL MULTI","option2":"6.5","option3":"SOFT CALF LEATHER","sku":"840237317409","requires_shipping":true,"taxable":true,"featured_image":{"id":31444391854285,"product_id":7024872227021,"position":7,"created_at":"2023-02-06T14:50:09-05:00","updated_at":"2023-06-19T13:04:46-04:00","alt":"1","width":2960,"height":3700,"src":"\/\/oncept.nyc\/cdn\/shop\/products\/LONDON-SIDE-min_c9e3c161-b035-44d9-977d-2fb115807c4b.jpg?v=1687194286","variant_ids":[41008667164877,41008667197645,41008667230413,41008667263181,41008667295949,41008667328717,41008667361485,41008667394253,41008667427021]},"available":true,"name":"LONDON - COASTAL MULTI \/ 6.5 \/ SOFT CALF LEATHER","public_title":"COASTAL MULTI \/ 6.5 \/ SOFT CALF LEATHER","options":["COASTAL MULTI","6.5","SOFT CALF LEATHER"],"price":27500,"weight":0,"compare_at_price":null,"inventory_management":"shopify","barcode":"840237317409","featured_media":{"alt":"1","id":23733590393037,"position":7,"preview_image":{"aspect_ratio":0.8,"height":3700,"width":2960,"src":"\/\/oncept.nyc\/cdn\/shop\/products\/LONDON-SIDE-min_c9e3c161-b035-44d9-977d-2fb115807c4b.jpg?v=1687194286"}},"requires_selling_plan":false,"selling_plan_allocations":[]},{"id":41008667230413,"title":"COASTAL MULTI \/ 7 \/ SOFT CALF LEATHER","option1":"COASTAL MULTI","option2":"7","option3":"SOFT CALF LEATHER","sku":"840237317416","requires_shipping":true,"taxable":true,"featured_image":{"id":31444391854285,"product_id":7024872227021,"position":7,"created_at":"2023-02-06T14:50:09-05:00","updated_at":"2023-06-19T13:04:46-04:00","alt":"1","width":2960,"height":3700,"src":"\/\/oncept.nyc\/cdn\/shop\/products\/LONDON-SIDE-min_c9e3c161-b035-44d9-977d-2fb115807c4b.jpg?v=1687194286","variant_ids":[41008667164877,41008667197645,41008667230413,41008667263181,41008667295949,41008667328717,41008667361485,41008667394253,41008667427021]},"available":true,"name":"LONDON - COASTAL MULTI \/ 7 \/ SOFT CALF LEATHER","public_title":"COASTAL MULTI \/ 7 \/ SOFT CALF LEATHER","options":["COASTAL MULTI","7","SOFT CALF LEATHER"],"price":27500,"weight":0,"compare_at_price":null,"inventory_management":"shopify","barcode":"840237317416","featured_media":{"alt":"1","id":23733590393037,"position":7,"preview_image":{"aspect_ratio":0.8,"height":3700,"width":2960,"src":"\/\/oncept.nyc\/cdn\/shop\/products\/LONDON-SIDE-min_c9e3c161-b035-44d9-977d-2fb115807c4b.jpg?v=1687194286"}},"requires_selling_plan":false,"selling_plan_allocations":[]},{"id":41008667263181,"title":"COASTAL MULTI \/ 7.5 \/ SOFT CALF LEATHER","option1":"COASTAL MULTI","option2":"7.5","option3":"SOFT CALF LEATHER","sku":"840237317423","requires_shipping":true,"taxable":true,"featured_image":{"id":31444391854285,"product_id":7024872227021,"position":7,"created_at":"2023-02-06T14:50:09-05:00","updated_at":"2023-06-19T13:04:46-04:00","alt":"1","width":2960,"height":3700,"src":"\/\/oncept.nyc\/cdn\/shop\/products\/LONDON-SIDE-min_c9e3c161-b035-44d9-977d-2fb115807c4b.jpg?v=1687194286","variant_ids":[41008667164877,41008667197645,41008667230413,41008667263181,41008667295949,41008667328717,41008667361485,41008667394253,41008667427021]},"available":true,"name":"LONDON - COASTAL MULTI \/ 7.5 \/ SOFT CALF LEATHER","public_title":"COASTAL MULTI \/ 7.5 \/ SOFT CALF LEATHER","options":["COASTAL MULTI","7.5","SOFT CALF LEATHER"],"price":27500,"weight":0,"compare_at_price":null,"inventory_management":"shopify","barcode":"840237317423","featured_media":{"alt":"1","id":23733590393037,"position":7,"preview_image":{"aspect_ratio":0.8,"height":3700,"width":2960,"src":"\/\/oncept.nyc\/cdn\/shop\/products\/LONDON-SIDE-min_c9e3c161-b035-44d9-977d-2fb115807c4b.jpg?v=1687194286"}},"requires_selling_plan":false,"selling_plan_allocations":[]},{"id":41008667295949,"title":"COASTAL MULTI \/ 8 \/ SOFT CALF LEATHER","option1":"COASTAL MULTI","option2":"8","option3":"SOFT CALF LEATHER","sku":"840237317430","requires_shipping":true,"taxable":true,"featured_image":{"id":31444391854285,"product_id":7024872227021,"position":7,"created_at":"2023-02-06T14:50:09-05:00","updated_at":"2023-06-19T13:04:46-04:00","alt":"1","width":2960,"height":3700,"src":"\/\/oncept.nyc\/cdn\/shop\/products\/LONDON-SIDE-min_c9e3c161-b035-44d9-977d-2fb115807c4b.jpg?v=1687194286","variant_ids":[41008667164877,41008667197645,41008667230413,41008667263181,41008667295949,41008667328717,41008667361485,41008667394253,41008667427021]},"available":true,"name":"LONDON - COASTAL MULTI \/ 8 \/ SOFT CALF LEATHER","public_title":"COASTAL MULTI \/ 8 \/ SOFT CALF LEATHER","options":["COASTAL MULTI","8","SOFT CALF LEATHER"],"price":27500,"weight":0,"compare_at_price":null,"inventory_management":"shopify","barcode":"840237317430","featured_media":{"alt":"1","id":23733590393037,"position":7,"preview_image":{"aspect_ratio":0.8,"height":3700,"width":2960,"src":"\/\/oncept.nyc\/cdn\/shop\/products\/LONDON-SIDE-min_c9e3c161-b035-44d9-977d-2fb115807c4b.jpg?v=1687194286"}},"requires_selling_plan":false,"selling_plan_allocations":[]},{"id":41008667328717,"title":"COASTAL MULTI \/ 8.5 \/ SOFT CALF LEATHER","option1":"COASTAL MULTI","option2":"8.5","option3":"SOFT CALF LEATHER","sku":"840237317447","requires_shipping":true,"taxable":true,"featured_image":{"id":31444391854285,"product_id":7024872227021,"position":7,"created_at":"2023-02-06T14:50:09-05:00","updated_at":"2023-06-19T13:04:46-04:00","alt":"1","width":2960,"height":3700,"src":"\/\/oncept.nyc\/cdn\/shop\/products\/LONDON-SIDE-min_c9e3c161-b035-44d9-977d-2fb115807c4b.jpg?v=1687194286","variant_ids":[41008667164877,41008667197645,41008667230413,41008667263181,41008667295949,41008667328717,41008667361485,41008667394253,41008667427021]},"available":true,"name":"LONDON - COASTAL MULTI \/ 8.5 \/ SOFT CALF LEATHER","public_title":"COASTAL MULTI \/ 8.5 \/ SOFT CALF LEATHER","options":["COASTAL MULTI","8.5","SOFT CALF LEATHER"],"price":27500,"weight":0,"compare_at_price":null,"inventory_management":"shopify","barcode":"840237317447","featured_media":{"alt":"1","id":23733590393037,"position":7,"preview_image":{"aspect_ratio":0.8,"height":3700,"width":2960,"src":"\/\/oncept.nyc\/cdn\/shop\/products\/LONDON-SIDE-min_c9e3c161-b035-44d9-977d-2fb115807c4b.jpg?v=1687194286"}},"requires_selling_plan":false,"selling_plan_allocations":[]},{"id":41008667361485,"title":"COASTAL MULTI \/ 9 \/ SOFT CALF LEATHER","option1":"COASTAL MULTI","option2":"9","option3":"SOFT CALF LEATHER","sku":"840237317454","requires_shipping":true,"taxable":true,"featured_image":{"id":31444391854285,"product_id":7024872227021,"position":7,"created_at":"2023-02-06T14:50:09-05:00","updated_at":"2023-06-19T13:04:46-04:00","alt":"1","width":2960,"height":3700,"src":"\/\/oncept.nyc\/cdn\/shop\/products\/LONDON-SIDE-min_c9e3c161-b035-44d9-977d-2fb115807c4b.jpg?v=1687194286","variant_ids":[41008667164877,41008667197645,41008667230413,41008667263181,41008667295949,41008667328717,41008667361485,41008667394253,41008667427021]},"available":true,"name":"LONDON - COASTAL MULTI \/ 9 \/ SOFT CALF LEATHER","public_title":"COASTAL MULTI \/ 9 \/ SOFT CALF LEATHER","options":["COASTAL MULTI","9","SOFT CALF LEATHER"],"price":27500,"weight":0,"compare_at_price":null,"inventory_management":"shopify","barcode":"840237317454","featured_media":{"alt":"1","id":23733590393037,"position":7,"preview_image":{"aspect_ratio":0.8,"height":3700,"width":2960,"src":"\/\/oncept.nyc\/cdn\/shop\/products\/LONDON-SIDE-min_c9e3c161-b035-44d9-977d-2fb115807c4b.jpg?v=1687194286"}},"requires_selling_plan":false,"selling_plan_allocations":[]},{"id":41008667394253,"title":"COASTAL MULTI \/ 9.5 \/ SOFT CALF LEATHER","option1":"COASTAL MULTI","option2":"9.5","option3":"SOFT CALF LEATHER","sku":"840237317461","requires_shipping":true,"taxable":true,"featured_image":{"id":31444391854285,"product_id":7024872227021,"position":7,"created_at":"2023-02-06T14:50:09-05:00","updated_at":"2023-06-19T13:04:46-04:00","alt":"1","width":2960,"height":3700,"src":"\/\/oncept.nyc\/cdn\/shop\/products\/LONDON-SIDE-min_c9e3c161-b035-44d9-977d-2fb115807c4b.jpg?v=1687194286","variant_ids":[41008667164877,41008667197645,41008667230413,41008667263181,41008667295949,41008667328717,41008667361485,41008667394253,41008667427021]},"available":true,"name":"LONDON - COASTAL MULTI \/ 9.5 \/ SOFT CALF LEATHER","public_title":"COASTAL MULTI \/ 9.5 \/ SOFT CALF LEATHER","options":["COASTAL MULTI","9.5","SOFT CALF LEATHER"],"price":27500,"weight":0,"compare_at_price":null,"inventory_management":"shopify","barcode":"840237317461","featured_media":{"alt":"1","id":23733590393037,"position":7,"preview_image":{"aspect_ratio":0.8,"height":3700,"width":2960,"src":"\/\/oncept.nyc\/cdn\/shop\/products\/LONDON-SIDE-min_c9e3c161-b035-44d9-977d-2fb115807c4b.jpg?v=1687194286"}},"requires_selling_plan":false,"selling_plan_allocations":[]},{"id":41008667427021,"title":"COASTAL MULTI \/ 10 \/ SOFT CALF LEATHER","option1":"COASTAL MULTI","option2":"10","option3":"SOFT CALF LEATHER","sku":"840237317478","requires_shipping":true,"taxable":true,"featured_image":{"id":31444391854285,"product_id":7024872227021,"position":7,"created_at":"2023-02-06T14:50:09-05:00","updated_at":"2023-06-19T13:04:46-04:00","alt":"1","width":2960,"height":3700,"src":"\/\/oncept.nyc\/cdn\/shop\/products\/LONDON-SIDE-min_c9e3c161-b035-44d9-977d-2fb115807c4b.jpg?v=1687194286","variant_ids":[41008667164877,41008667197645,41008667230413,41008667263181,41008667295949,41008667328717,41008667361485,41008667394253,41008667427021]},"available":true,"name":"LONDON - COASTAL MULTI \/ 10 \/ SOFT CALF LEATHER","public_title":"COASTAL MULTI \/ 10 \/ SOFT CALF LEATHER","options":["COASTAL MULTI","10","SOFT CALF LEATHER"],"price":27500,"weight":0,"compare_at_price":null,"inventory_management":"shopify","barcode":"840237317478","featured_media":{"alt":"1","id":23733590393037,"position":7,"preview_image":{"aspect_ratio":0.8,"height":3700,"width":2960,"src":"\/\/oncept.nyc\/cdn\/shop\/products\/LONDON-SIDE-min_c9e3c161-b035-44d9-977d-2fb115807c4b.jpg?v=1687194286"}},"requires_selling_plan":false,"selling_plan_allocations":[]},{"id":41008665231565,"title":"WHITE CLOUD \/ 6 \/ SOFT CALF LEATHER","option1":"WHITE CLOUD","option2":"6","option3":"SOFT CALF LEATHER","sku":"840237301446","requires_shipping":true,"taxable":true,"featured_image":{"id":30510407975117,"product_id":7024872227021,"position":13,"created_at":"2022-08-05T13:29:49-04:00","updated_at":"2023-02-20T11:38:22-05:00","alt":"2","width":1600,"height":2000,"src":"\/\/oncept.nyc\/cdn\/shop\/products\/LONDON_WHITE_CLOUD_SIDE_557b752f-f29d-47ab-b7c2-b75f2359b5c9.jpg?v=1676911102","variant_ids":[41008665231565,41008665264333,41008665297101,41008665329869,41008665362637,41008665395405,41008665428173,41008665460941,41008665493709]},"available":true,"name":"LONDON - WHITE CLOUD \/ 6 \/ SOFT CALF LEATHER","public_title":"WHITE CLOUD \/ 6 \/ SOFT CALF LEATHER","options":["WHITE CLOUD","6","SOFT CALF LEATHER"],"price":27500,"weight":0,"compare_at_price":null,"inventory_management":"shopify","barcode":"840237301446","featured_media":{"alt":"2","id":22790318981325,"position":13,"preview_image":{"aspect_ratio":0.8,"height":2000,"width":1600,"src":"\/\/oncept.nyc\/cdn\/shop\/products\/LONDON_WHITE_CLOUD_SIDE_557b752f-f29d-47ab-b7c2-b75f2359b5c9.jpg?v=1676911102"}},"requires_selling_plan":false,"selling_plan_allocations":[]},{"id":41008665264333,"title":"WHITE CLOUD \/ 6.5 \/ SOFT CALF LEATHER","option1":"WHITE CLOUD","option2":"6.5","option3":"SOFT CALF LEATHER","sku":"840237301453","requires_shipping":true,"taxable":true,"featured_image":{"id":30510407975117,"product_id":7024872227021,"position":13,"created_at":"2022-08-05T13:29:49-04:00","updated_at":"2023-02-20T11:38:22-05:00","alt":"2","width":1600,"height":2000,"src":"\/\/oncept.nyc\/cdn\/shop\/products\/LONDON_WHITE_CLOUD_SIDE_557b752f-f29d-47ab-b7c2-b75f2359b5c9.jpg?v=1676911102","variant_ids":[41008665231565,41008665264333,41008665297101,41008665329869,41008665362637,41008665395405,41008665428173,41008665460941,41008665493709]},"available":true,"name":"LONDON - WHITE CLOUD \/ 6.5 \/ SOFT CALF LEATHER","public_title":"WHITE CLOUD \/ 6.5 \/ SOFT CALF LEATHER","options":["WHITE CLOUD","6.5","SOFT CALF LEATHER"],"price":27500,"weight":0,"compare_at_price":null,"inventory_management":"shopify","barcode":"840237301453","featured_media":{"alt":"2","id":22790318981325,"position":13,"preview_image":{"aspect_ratio":0.8,"height":2000,"width":1600,"src":"\/\/oncept.nyc\/cdn\/shop\/products\/LONDON_WHITE_CLOUD_SIDE_557b752f-f29d-47ab-b7c2-b75f2359b5c9.jpg?v=1676911102"}},"requires_selling_plan":false,"selling_plan_allocations":[]},{"id":41008665297101,"title":"WHITE CLOUD \/ 7 \/ SOFT CALF LEATHER","option1":"WHITE CLOUD","option2":"7","option3":"SOFT CALF LEATHER","sku":"840237301460","requires_shipping":true,"taxable":true,"featured_image":{"id":30510407975117,"product_id":7024872227021,"position":13,"created_at":"2022-08-05T13:29:49-04:00","updated_at":"2023-02-20T11:38:22-05:00","alt":"2","width":1600,"height":2000,"src":"\/\/oncept.nyc\/cdn\/shop\/products\/LONDON_WHITE_CLOUD_SIDE_557b752f-f29d-47ab-b7c2-b75f2359b5c9.jpg?v=1676911102","variant_ids":[41008665231565,41008665264333,41008665297101,41008665329869,41008665362637,41008665395405,41008665428173,41008665460941,41008665493709]},"available":true,"name":"LONDON - WHITE CLOUD \/ 7 \/ SOFT CALF LEATHER","public_title":"WHITE CLOUD \/ 7 \/ SOFT CALF LEATHER","options":["WHITE CLOUD","7","SOFT CALF LEATHER"],"price":27500,"weight":0,"compare_at_price":null,"inventory_management":"shopify","barcode":"840237301460","featured_media":{"alt":"2","id":22790318981325,"position":13,"preview_image":{"aspect_ratio":0.8,"height":2000,"width":1600,"src":"\/\/oncept.nyc\/cdn\/shop\/products\/LONDON_WHITE_CLOUD_SIDE_557b752f-f29d-47ab-b7c2-b75f2359b5c9.jpg?v=1676911102"}},"requires_selling_plan":false,"selling_plan_allocations":[]},{"id":41008665329869,"title":"WHITE CLOUD \/ 7.5 \/ SOFT CALF LEATHER","option1":"WHITE CLOUD","option2":"7.5","option3":"SOFT CALF LEATHER","sku":"840237301477","requires_shipping":true,"taxable":true,"featured_image":{"id":30510407975117,"product_id":7024872227021,"position":13,"created_at":"2022-08-05T13:29:49-04:00","updated_at":"2023-02-20T11:38:22-05:00","alt":"2","width":1600,"height":2000,"src":"\/\/oncept.nyc\/cdn\/shop\/products\/LONDON_WHITE_CLOUD_SIDE_557b752f-f29d-47ab-b7c2-b75f2359b5c9.jpg?v=1676911102","variant_ids":[41008665231565,41008665264333,41008665297101,41008665329869,41008665362637,41008665395405,41008665428173,41008665460941,41008665493709]},"available":true,"name":"LONDON - WHITE CLOUD \/ 7.5 \/ SOFT CALF LEATHER","public_title":"WHITE CLOUD \/ 7.5 \/ SOFT CALF LEATHER","options":["WHITE CLOUD","7.5","SOFT CALF LEATHER"],"price":27500,"weight":0,"compare_at_price":null,"inventory_management":"shopify","barcode":"840237301477","featured_media":{"alt":"2","id":22790318981325,"position":13,"preview_image":{"aspect_ratio":0.8,"height":2000,"width":1600,"src":"\/\/oncept.nyc\/cdn\/shop\/products\/LONDON_WHITE_CLOUD_SIDE_557b752f-f29d-47ab-b7c2-b75f2359b5c9.jpg?v=1676911102"}},"requires_selling_plan":false,"selling_plan_allocations":[]},{"id":41008665362637,"title":"WHITE CLOUD \/ 8 \/ SOFT CALF LEATHER","option1":"WHITE CLOUD","option2":"8","option3":"SOFT CALF LEATHER","sku":"840237301484","requires_shipping":true,"taxable":true,"featured_image":{"id":30510407975117,"product_id":7024872227021,"position":13,"created_at":"2022-08-05T13:29:49-04:00","updated_at":"2023-02-20T11:38:22-05:00","alt":"2","width":1600,"height":2000,"src":"\/\/oncept.nyc\/cdn\/shop\/products\/LONDON_WHITE_CLOUD_SIDE_557b752f-f29d-47ab-b7c2-b75f2359b5c9.jpg?v=1676911102","variant_ids":[41008665231565,41008665264333,41008665297101,41008665329869,41008665362637,41008665395405,41008665428173,41008665460941,41008665493709]},"available":true,"name":"LONDON - WHITE CLOUD \/ 8 \/ SOFT CALF LEATHER","public_title":"WHITE CLOUD \/ 8 \/ SOFT CALF LEATHER","options":["WHITE CLOUD","8","SOFT CALF LEATHER"],"price":27500,"weight":0,"compare_at_price":null,"inventory_management":"shopify","barcode":"840237301484","featured_media":{"alt":"2","id":22790318981325,"position":13,"preview_image":{"aspect_ratio":0.8,"height":2000,"width":1600,"src":"\/\/oncept.nyc\/cdn\/shop\/products\/LONDON_WHITE_CLOUD_SIDE_557b752f-f29d-47ab-b7c2-b75f2359b5c9.jpg?v=1676911102"}},"requires_selling_plan":false,"selling_plan_allocations":[]},{"id":41008665395405,"title":"WHITE CLOUD \/ 8.5 \/ SOFT CALF LEATHER","option1":"WHITE CLOUD","option2":"8.5","option3":"SOFT CALF LEATHER","sku":"840237301491","requires_shipping":true,"taxable":true,"featured_image":{"id":30510407975117,"product_id":7024872227021,"position":13,"created_at":"2022-08-05T13:29:49-04:00","updated_at":"2023-02-20T11:38:22-05:00","alt":"2","width":1600,"height":2000,"src":"\/\/oncept.nyc\/cdn\/shop\/products\/LONDON_WHITE_CLOUD_SIDE_557b752f-f29d-47ab-b7c2-b75f2359b5c9.jpg?v=1676911102","variant_ids":[41008665231565,41008665264333,41008665297101,41008665329869,41008665362637,41008665395405,41008665428173,41008665460941,41008665493709]},"available":true,"name":"LONDON - WHITE CLOUD \/ 8.5 \/ SOFT CALF LEATHER","public_title":"WHITE CLOUD \/ 8.5 \/ SOFT CALF LEATHER","options":["WHITE CLOUD","8.5","SOFT CALF LEATHER"],"price":27500,"weight":0,"compare_at_price":null,"inventory_management":"shopify","barcode":"840237301491","featured_media":{"alt":"2","id":22790318981325,"position":13,"preview_image":{"aspect_ratio":0.8,"height":2000,"width":1600,"src":"\/\/oncept.nyc\/cdn\/shop\/products\/LONDON_WHITE_CLOUD_SIDE_557b752f-f29d-47ab-b7c2-b75f2359b5c9.jpg?v=1676911102"}},"requires_selling_plan":false,"selling_plan_allocations":[]},{"id":41008665428173,"title":"WHITE CLOUD \/ 9 \/ SOFT CALF LEATHER","option1":"WHITE CLOUD","option2":"9","option3":"SOFT CALF LEATHER","sku":"840237301507","requires_shipping":true,"taxable":true,"featured_image":{"id":30510407975117,"product_id":7024872227021,"position":13,"created_at":"2022-08-05T13:29:49-04:00","updated_at":"2023-02-20T11:38:22-05:00","alt":"2","width":1600,"height":2000,"src":"\/\/oncept.nyc\/cdn\/shop\/products\/LONDON_WHITE_CLOUD_SIDE_557b752f-f29d-47ab-b7c2-b75f2359b5c9.jpg?v=1676911102","variant_ids":[41008665231565,41008665264333,41008665297101,41008665329869,41008665362637,41008665395405,41008665428173,41008665460941,41008665493709]},"available":true,"name":"LONDON - WHITE CLOUD \/ 9 \/ SOFT CALF LEATHER","public_title":"WHITE CLOUD \/ 9 \/ SOFT CALF LEATHER","options":["WHITE CLOUD","9","SOFT CALF LEATHER"],"price":27500,"weight":0,"compare_at_price":null,"inventory_management":"shopify","barcode":"840237301507","featured_media":{"alt":"2","id":22790318981325,"position":13,"preview_image":{"aspect_ratio":0.8,"height":2000,"width":1600,"src":"\/\/oncept.nyc\/cdn\/shop\/products\/LONDON_WHITE_CLOUD_SIDE_557b752f-f29d-47ab-b7c2-b75f2359b5c9.jpg?v=1676911102"}},"requires_selling_plan":false,"selling_plan_allocations":[]},{"id":41008665460941,"title":"WHITE CLOUD \/ 9.5 \/ SOFT CALF LEATHER","option1":"WHITE CLOUD","option2":"9.5","option3":"SOFT CALF LEATHER","sku":"840237301514","requires_shipping":true,"taxable":true,"featured_image":{"id":30510407975117,"product_id":7024872227021,"position":13,"created_at":"2022-08-05T13:29:49-04:00","updated_at":"2023-02-20T11:38:22-05:00","alt":"2","width":1600,"height":2000,"src":"\/\/oncept.nyc\/cdn\/shop\/products\/LONDON_WHITE_CLOUD_SIDE_557b752f-f29d-47ab-b7c2-b75f2359b5c9.jpg?v=1676911102","variant_ids":[41008665231565,41008665264333,41008665297101,41008665329869,41008665362637,41008665395405,41008665428173,41008665460941,41008665493709]},"available":true,"name":"LONDON - WHITE CLOUD \/ 9.5 \/ SOFT CALF LEATHER","public_title":"WHITE CLOUD \/ 9.5 \/ SOFT CALF LEATHER","options":["WHITE CLOUD","9.5","SOFT CALF LEATHER"],"price":27500,"weight":0,"compare_at_price":null,"inventory_management":"shopify","barcode":"840237301514","featured_media":{"alt":"2","id":22790318981325,"position":13,"preview_image":{"aspect_ratio":0.8,"height":2000,"width":1600,"src":"\/\/oncept.nyc\/cdn\/shop\/products\/LONDON_WHITE_CLOUD_SIDE_557b752f-f29d-47ab-b7c2-b75f2359b5c9.jpg?v=1676911102"}},"requires_selling_plan":false,"selling_plan_allocations":[]},{"id":41008665493709,"title":"WHITE CLOUD \/ 10 \/ SOFT CALF LEATHER","option1":"WHITE CLOUD","option2":"10","option3":"SOFT CALF LEATHER","sku":"840237301521","requires_shipping":true,"taxable":true,"featured_image":{"id":30510407975117,"product_id":7024872227021,"position":13,"created_at":"2022-08-05T13:29:49-04:00","updated_at":"2023-02-20T11:38:22-05:00","alt":"2","width":1600,"height":2000,"src":"\/\/oncept.nyc\/cdn\/shop\/products\/LONDON_WHITE_CLOUD_SIDE_557b752f-f29d-47ab-b7c2-b75f2359b5c9.jpg?v=1676911102","variant_ids":[41008665231565,41008665264333,41008665297101,41008665329869,41008665362637,41008665395405,41008665428173,41008665460941,41008665493709]},"available":true,"name":"LONDON - WHITE CLOUD \/ 10 \/ SOFT CALF LEATHER","public_title":"WHITE CLOUD \/ 10 \/ SOFT CALF LEATHER","options":["WHITE CLOUD","10","SOFT CALF LEATHER"],"price":27500,"weight":0,"compare_at_price":null,"inventory_management":"shopify","barcode":"840237301521","featured_media":{"alt":"2","id":22790318981325,"position":13,"preview_image":{"aspect_ratio":0.8,"height":2000,"width":1600,"src":"\/\/oncept.nyc\/cdn\/shop\/products\/LONDON_WHITE_CLOUD_SIDE_557b752f-f29d-47ab-b7c2-b75f2359b5c9.jpg?v=1676911102"}},"requires_selling_plan":false,"selling_plan_allocations":[]},{"id":41008664641741,"title":"WHITE - MINT \/ 6 \/ SOFT CALF LEATHER","option1":"WHITE - MINT","option2":"6","option3":"SOFT CALF LEATHER","sku":"840237306120","requires_shipping":true,"taxable":true,"featured_image":{"id":30510407286989,"product_id":7024872227021,"position":19,"created_at":"2022-08-05T13:29:46-04:00","updated_at":"2023-02-20T11:38:22-05:00","alt":"3","width":1200,"height":1500,"src":"\/\/oncept.nyc\/cdn\/shop\/products\/LONDON-SIDE-WHITE-MINT_0a2cb75a-e838-4657-a79a-e82a0831a050.jpg?v=1676911102","variant_ids":[41008664641741,41008664674509,41008664707277,41008664740045,41008664772813,41008664805581,41008664838349,41008664871117,41008664903885]},"available":false,"name":"LONDON - WHITE - MINT \/ 6 \/ SOFT CALF LEATHER","public_title":"WHITE - MINT \/ 6 \/ SOFT CALF LEATHER","options":["WHITE - MINT","6","SOFT CALF LEATHER"],"price":27500,"weight":0,"compare_at_price":null,"inventory_management":"shopify","barcode":"840237306120","featured_media":{"alt":"3","id":22790318227661,"position":19,"preview_image":{"aspect_ratio":0.8,"height":1500,"width":1200,"src":"\/\/oncept.nyc\/cdn\/shop\/products\/LONDON-SIDE-WHITE-MINT_0a2cb75a-e838-4657-a79a-e82a0831a050.jpg?v=1676911102"}},"requires_selling_plan":false,"selling_plan_allocations":[]},{"id":41008664674509,"title":"WHITE - MINT \/ 6.5 \/ SOFT CALF LEATHER","option1":"WHITE - MINT","option2":"6.5","option3":"SOFT CALF LEATHER","sku":"840237306137","requires_shipping":true,"taxable":true,"featured_image":{"id":30510407286989,"product_id":7024872227021,"position":19,"created_at":"2022-08-05T13:29:46-04:00","updated_at":"2023-02-20T11:38:22-05:00","alt":"3","width":1200,"height":1500,"src":"\/\/oncept.nyc\/cdn\/shop\/products\/LONDON-SIDE-WHITE-MINT_0a2cb75a-e838-4657-a79a-e82a0831a050.jpg?v=1676911102","variant_ids":[41008664641741,41008664674509,41008664707277,41008664740045,41008664772813,41008664805581,41008664838349,41008664871117,41008664903885]},"available":true,"name":"LONDON - WHITE - MINT \/ 6.5 \/ SOFT CALF LEATHER","public_title":"WHITE - MINT \/ 6.5 \/ SOFT CALF LEATHER","options":["WHITE - MINT","6.5","SOFT CALF LEATHER"],"price":27500,"weight":0,"compare_at_price":null,"inventory_management":"shopify","barcode":"840237306137","featured_media":{"alt":"3","id":22790318227661,"position":19,"preview_image":{"aspect_ratio":0.8,"height":1500,"width":1200,"src":"\/\/oncept.nyc\/cdn\/shop\/products\/LONDON-SIDE-WHITE-MINT_0a2cb75a-e838-4657-a79a-e82a0831a050.jpg?v=1676911102"}},"requires_selling_plan":false,"selling_plan_allocations":[]},{"id":41008664707277,"title":"WHITE - MINT \/ 7 \/ SOFT CALF LEATHER","option1":"WHITE - MINT","option2":"7","option3":"SOFT CALF LEATHER","sku":"840237306144","requires_shipping":true,"taxable":true,"featured_image":{"id":30510407286989,"product_id":7024872227021,"position":19,"created_at":"2022-08-05T13:29:46-04:00","updated_at":"2023-02-20T11:38:22-05:00","alt":"3","width":1200,"height":1500,"src":"\/\/oncept.nyc\/cdn\/shop\/products\/LONDON-SIDE-WHITE-MINT_0a2cb75a-e838-4657-a79a-e82a0831a050.jpg?v=1676911102","variant_ids":[41008664641741,41008664674509,41008664707277,41008664740045,41008664772813,41008664805581,41008664838349,41008664871117,41008664903885]},"available":false,"name":"LONDON - WHITE - MINT \/ 7 \/ SOFT CALF LEATHER","public_title":"WHITE - MINT \/ 7 \/ SOFT CALF LEATHER","options":["WHITE - MINT","7","SOFT CALF LEATHER"],"price":27500,"weight":0,"compare_at_price":null,"inventory_management":"shopify","barcode":"840237306144","featured_media":{"alt":"3","id":22790318227661,"position":19,"preview_image":{"aspect_ratio":0.8,"height":1500,"width":1200,"src":"\/\/oncept.nyc\/cdn\/shop\/products\/LONDON-SIDE-WHITE-MINT_0a2cb75a-e838-4657-a79a-e82a0831a050.jpg?v=1676911102"}},"requires_selling_plan":false,"selling_plan_allocations":[]},{"id":41008664740045,"title":"WHITE - MINT \/ 7.5 \/ SOFT CALF LEATHER","option1":"WHITE - MINT","option2":"7.5","option3":"SOFT CALF LEATHER","sku":"840237306151","requires_shipping":true,"taxable":true,"featured_image":{"id":30510407286989,"product_id":7024872227021,"position":19,"created_at":"2022-08-05T13:29:46-04:00","updated_at":"2023-02-20T11:38:22-05:00","alt":"3","width":1200,"height":1500,"src":"\/\/oncept.nyc\/cdn\/shop\/products\/LONDON-SIDE-WHITE-MINT_0a2cb75a-e838-4657-a79a-e82a0831a050.jpg?v=1676911102","variant_ids":[41008664641741,41008664674509,41008664707277,41008664740045,41008664772813,41008664805581,41008664838349,41008664871117,41008664903885]},"available":false,"name":"LONDON - WHITE - MINT \/ 7.5 \/ SOFT CALF LEATHER","public_title":"WHITE - MINT \/ 7.5 \/ SOFT CALF LEATHER","options":["WHITE - MINT","7.5","SOFT CALF LEATHER"],"price":27500,"weight":0,"compare_at_price":null,"inventory_management":"shopify","barcode":"840237306151","featured_media":{"alt":"3","id":22790318227661,"position":19,"preview_image":{"aspect_ratio":0.8,"height":1500,"width":1200,"src":"\/\/oncept.nyc\/cdn\/shop\/products\/LONDON-SIDE-WHITE-MINT_0a2cb75a-e838-4657-a79a-e82a0831a050.jpg?v=1676911102"}},"requires_selling_plan":false,"selling_plan_allocations":[]},{"id":41008664772813,"title":"WHITE - MINT \/ 8 \/ SOFT CALF LEATHER","option1":"WHITE - MINT","option2":"8","option3":"SOFT CALF LEATHER","sku":"840237306168","requires_shipping":true,"taxable":true,"featured_image":{"id":30510407286989,"product_id":7024872227021,"position":19,"created_at":"2022-08-05T13:29:46-04:00","updated_at":"2023-02-20T11:38:22-05:00","alt":"3","width":1200,"height":1500,"src":"\/\/oncept.nyc\/cdn\/shop\/products\/LONDON-SIDE-WHITE-MINT_0a2cb75a-e838-4657-a79a-e82a0831a050.jpg?v=1676911102","variant_ids":[41008664641741,41008664674509,41008664707277,41008664740045,41008664772813,41008664805581,41008664838349,41008664871117,41008664903885]},"available":false,"name":"LONDON - WHITE - MINT \/ 8 \/ SOFT CALF LEATHER","public_title":"WHITE - MINT \/ 8 \/ SOFT CALF LEATHER","options":["WHITE - MINT","8","SOFT CALF LEATHER"],"price":27500,"weight":0,"compare_at_price":null,"inventory_management":"shopify","barcode":"840237306168","featured_media":{"alt":"3","id":22790318227661,"position":19,"preview_image":{"aspect_ratio":0.8,"height":1500,"width":1200,"src":"\/\/oncept.nyc\/cdn\/shop\/products\/LONDON-SIDE-WHITE-MINT_0a2cb75a-e838-4657-a79a-e82a0831a050.jpg?v=1676911102"}},"requires_selling_plan":false,"selling_plan_allocations":[]},{"id":41008664805581,"title":"WHITE - MINT \/ 8.5 \/ SOFT CALF LEATHER","option1":"WHITE - MINT","option2":"8.5","option3":"SOFT CALF LEATHER","sku":"840237306175","requires_shipping":true,"taxable":true,"featured_image":{"id":30510407286989,"product_id":7024872227021,"position":19,"created_at":"2022-08-05T13:29:46-04:00","updated_at":"2023-02-20T11:38:22-05:00","alt":"3","width":1200,"height":1500,"src":"\/\/oncept.nyc\/cdn\/shop\/products\/LONDON-SIDE-WHITE-MINT_0a2cb75a-e838-4657-a79a-e82a0831a050.jpg?v=1676911102","variant_ids":[41008664641741,41008664674509,41008664707277,41008664740045,41008664772813,41008664805581,41008664838349,41008664871117,41008664903885]},"available":false,"name":"LONDON - WHITE - MINT \/ 8.5 \/ SOFT CALF LEATHER","public_title":"WHITE - MINT \/ 8.5 \/ SOFT CALF LEATHER","options":["WHITE - MINT","8.5","SOFT CALF LEATHER"],"price":27500,"weight":0,"compare_at_price":null,"inventory_management":"shopify","barcode":"840237306175","featured_media":{"alt":"3","id":22790318227661,"position":19,"preview_image":{"aspect_ratio":0.8,"height":1500,"width":1200,"src":"\/\/oncept.nyc\/cdn\/shop\/products\/LONDON-SIDE-WHITE-MINT_0a2cb75a-e838-4657-a79a-e82a0831a050.jpg?v=1676911102"}},"requires_selling_plan":false,"selling_plan_allocations":[]},{"id":41008664838349,"title":"WHITE - MINT \/ 9 \/ SOFT CALF LEATHER","option1":"WHITE - MINT","option2":"9","option3":"SOFT CALF LEATHER","sku":"840237306182","requires_shipping":true,"taxable":true,"featured_image":{"id":30510407286989,"product_id":7024872227021,"position":19,"created_at":"2022-08-05T13:29:46-04:00","updated_at":"2023-02-20T11:38:22-05:00","alt":"3","width":1200,"height":1500,"src":"\/\/oncept.nyc\/cdn\/shop\/products\/LONDON-SIDE-WHITE-MINT_0a2cb75a-e838-4657-a79a-e82a0831a050.jpg?v=1676911102","variant_ids":[41008664641741,41008664674509,41008664707277,41008664740045,41008664772813,41008664805581,41008664838349,41008664871117,41008664903885]},"available":false,"name":"LONDON - WHITE - MINT \/ 9 \/ SOFT CALF LEATHER","public_title":"WHITE - MINT \/ 9 \/ SOFT CALF LEATHER","options":["WHITE - MINT","9","SOFT CALF LEATHER"],"price":27500,"weight":0,"compare_at_price":null,"inventory_management":"shopify","barcode":"840237306182","featured_media":{"alt":"3","id":22790318227661,"position":19,"preview_image":{"aspect_ratio":0.8,"height":1500,"width":1200,"src":"\/\/oncept.nyc\/cdn\/shop\/products\/LONDON-SIDE-WHITE-MINT_0a2cb75a-e838-4657-a79a-e82a0831a050.jpg?v=1676911102"}},"requires_selling_plan":false,"selling_plan_allocations":[]},{"id":41008664871117,"title":"WHITE - MINT \/ 9.5 \/ SOFT CALF LEATHER","option1":"WHITE - MINT","option2":"9.5","option3":"SOFT CALF LEATHER","sku":"840237306199","requires_shipping":true,"taxable":true,"featured_image":{"id":30510407286989,"product_id":7024872227021,"position":19,"created_at":"2022-08-05T13:29:46-04:00","updated_at":"2023-02-20T11:38:22-05:00","alt":"3","width":1200,"height":1500,"src":"\/\/oncept.nyc\/cdn\/shop\/products\/LONDON-SIDE-WHITE-MINT_0a2cb75a-e838-4657-a79a-e82a0831a050.jpg?v=1676911102","variant_ids":[41008664641741,41008664674509,41008664707277,41008664740045,41008664772813,41008664805581,41008664838349,41008664871117,41008664903885]},"available":false,"name":"LONDON - WHITE - MINT \/ 9.5 \/ SOFT CALF LEATHER","public_title":"WHITE - MINT \/ 9.5 \/ SOFT CALF LEATHER","options":["WHITE - MINT","9.5","SOFT CALF LEATHER"],"price":27500,"weight":0,"compare_at_price":null,"inventory_management":"shopify","barcode":"840237306199","featured_media":{"alt":"3","id":22790318227661,"position":19,"preview_image":{"aspect_ratio":0.8,"height":1500,"width":1200,"src":"\/\/oncept.nyc\/cdn\/shop\/products\/LONDON-SIDE-WHITE-MINT_0a2cb75a-e838-4657-a79a-e82a0831a050.jpg?v=1676911102"}},"requires_selling_plan":false,"selling_plan_allocations":[]},{"id":41008664903885,"title":"WHITE - MINT \/ 10 \/ SOFT CALF LEATHER","option1":"WHITE - MINT","option2":"10","option3":"SOFT CALF LEATHER","sku":"840237306205","requires_shipping":true,"taxable":true,"featured_image":{"id":30510407286989,"product_id":7024872227021,"position":19,"created_at":"2022-08-05T13:29:46-04:00","updated_at":"2023-02-20T11:38:22-05:00","alt":"3","width":1200,"height":1500,"src":"\/\/oncept.nyc\/cdn\/shop\/products\/LONDON-SIDE-WHITE-MINT_0a2cb75a-e838-4657-a79a-e82a0831a050.jpg?v=1676911102","variant_ids":[41008664641741,41008664674509,41008664707277,41008664740045,41008664772813,41008664805581,41008664838349,41008664871117,41008664903885]},"available":true,"name":"LONDON - WHITE - MINT \/ 10 \/ SOFT CALF LEATHER","public_title":"WHITE - MINT \/ 10 \/ SOFT CALF LEATHER","options":["WHITE - MINT","10","SOFT CALF LEATHER"],"price":27500,"weight":0,"compare_at_price":null,"inventory_management":"shopify","barcode":"840237306205","featured_media":{"alt":"3","id":22790318227661,"position":19,"preview_image":{"aspect_ratio":0.8,"height":1500,"width":1200,"src":"\/\/oncept.nyc\/cdn\/shop\/products\/LONDON-SIDE-WHITE-MINT_0a2cb75a-e838-4657-a79a-e82a0831a050.jpg?v=1676911102"}},"requires_selling_plan":false,"selling_plan_allocations":[]},{"id":41008664936653,"title":"WHITE - BLUE MIST \/ 6 \/ SOFT CALF LEATHER","option1":"WHITE - BLUE MIST","option2":"6","option3":"SOFT CALF LEATHER","sku":"840237306038","requires_shipping":true,"taxable":true,"featured_image":{"id":30510407516365,"product_id":7024872227021,"position":25,"created_at":"2022-08-05T13:29:48-04:00","updated_at":"2023-02-20T11:38:22-05:00","alt":"4","width":1200,"height":1500,"src":"\/\/oncept.nyc\/cdn\/shop\/products\/LONDON-SIDE-WHITE-BLUEMIST_e918751a-09bb-4905-8a08-c3fe38a5f5da.jpg?v=1676911102","variant_ids":[41008664936653,41008664969421,41008665002189,41008665034957,41008665067725,41008665100493,41008665133261,41008665166029,41008665198797]},"available":true,"name":"LONDON - WHITE - BLUE MIST \/ 6 \/ SOFT CALF LEATHER","public_title":"WHITE - BLUE MIST \/ 6 \/ SOFT CALF LEATHER","options":["WHITE - BLUE MIST","6","SOFT CALF LEATHER"],"price":27500,"weight":0,"compare_at_price":null,"inventory_management":"shopify","barcode":"840237306038","featured_media":{"alt":"4","id":22790318522573,"position":25,"preview_image":{"aspect_ratio":0.8,"height":1500,"width":1200,"src":"\/\/oncept.nyc\/cdn\/shop\/products\/LONDON-SIDE-WHITE-BLUEMIST_e918751a-09bb-4905-8a08-c3fe38a5f5da.jpg?v=1676911102"}},"requires_selling_plan":false,"selling_plan_allocations":[]},{"id":41008664969421,"title":"WHITE - BLUE MIST \/ 6.5 \/ SOFT CALF LEATHER","option1":"WHITE - BLUE MIST","option2":"6.5","option3":"SOFT CALF LEATHER","sku":"840237306045","requires_shipping":true,"taxable":true,"featured_image":{"id":30510407516365,"product_id":7024872227021,"position":25,"created_at":"2022-08-05T13:29:48-04:00","updated_at":"2023-02-20T11:38:22-05:00","alt":"4","width":1200,"height":1500,"src":"\/\/oncept.nyc\/cdn\/shop\/products\/LONDON-SIDE-WHITE-BLUEMIST_e918751a-09bb-4905-8a08-c3fe38a5f5da.jpg?v=1676911102","variant_ids":[41008664936653,41008664969421,41008665002189,41008665034957,41008665067725,41008665100493,41008665133261,41008665166029,41008665198797]},"available":true,"name":"LONDON - WHITE - BLUE MIST \/ 6.5 \/ SOFT CALF LEATHER","public_title":"WHITE - BLUE MIST \/ 6.5 \/ SOFT CALF LEATHER","options":["WHITE - BLUE MIST","6.5","SOFT CALF LEATHER"],"price":27500,"weight":0,"compare_at_price":null,"inventory_management":"shopify","barcode":"840237306045","featured_media":{"alt":"4","id":22790318522573,"position":25,"preview_image":{"aspect_ratio":0.8,"height":1500,"width":1200,"src":"\/\/oncept.nyc\/cdn\/shop\/products\/LONDON-SIDE-WHITE-BLUEMIST_e918751a-09bb-4905-8a08-c3fe38a5f5da.jpg?v=1676911102"}},"requires_selling_plan":false,"selling_plan_allocations":[]},{"id":41008665002189,"title":"WHITE - BLUE MIST \/ 7 \/ SOFT CALF LEATHER","option1":"WHITE - BLUE MIST","option2":"7","option3":"SOFT CALF LEATHER","sku":"840237306052","requires_shipping":true,"taxable":true,"featured_image":{"id":30510407516365,"product_id":7024872227021,"position":25,"created_at":"2022-08-05T13:29:48-04:00","updated_at":"2023-02-20T11:38:22-05:00","alt":"4","width":1200,"height":1500,"src":"\/\/oncept.nyc\/cdn\/shop\/products\/LONDON-SIDE-WHITE-BLUEMIST_e918751a-09bb-4905-8a08-c3fe38a5f5da.jpg?v=1676911102","variant_ids":[41008664936653,41008664969421,41008665002189,41008665034957,41008665067725,41008665100493,41008665133261,41008665166029,41008665198797]},"available":true,"name":"LONDON - WHITE - BLUE MIST \/ 7 \/ SOFT CALF LEATHER","public_title":"WHITE - BLUE MIST \/ 7 \/ SOFT CALF LEATHER","options":["WHITE - BLUE MIST","7","SOFT CALF LEATHER"],"price":27500,"weight":0,"compare_at_price":null,"inventory_management":"shopify","barcode":"840237306052","featured_media":{"alt":"4","id":22790318522573,"position":25,"preview_image":{"aspect_ratio":0.8,"height":1500,"width":1200,"src":"\/\/oncept.nyc\/cdn\/shop\/products\/LONDON-SIDE-WHITE-BLUEMIST_e918751a-09bb-4905-8a08-c3fe38a5f5da.jpg?v=1676911102"}},"requires_selling_plan":false,"selling_plan_allocations":[]},{"id":41008665034957,"title":"WHITE - BLUE MIST \/ 7.5 \/ SOFT CALF LEATHER","option1":"WHITE - BLUE MIST","option2":"7.5","option3":"SOFT CALF LEATHER","sku":"840237306069","requires_shipping":true,"taxable":true,"featured_image":{"id":30510407516365,"product_id":7024872227021,"position":25,"created_at":"2022-08-05T13:29:48-04:00","updated_at":"2023-02-20T11:38:22-05:00","alt":"4","width":1200,"height":1500,"src":"\/\/oncept.nyc\/cdn\/shop\/products\/LONDON-SIDE-WHITE-BLUEMIST_e918751a-09bb-4905-8a08-c3fe38a5f5da.jpg?v=1676911102","variant_ids":[41008664936653,41008664969421,41008665002189,41008665034957,41008665067725,41008665100493,41008665133261,41008665166029,41008665198797]},"available":false,"name":"LONDON - WHITE - BLUE MIST \/ 7.5 \/ SOFT CALF LEATHER","public_title":"WHITE - BLUE MIST \/ 7.5 \/ SOFT CALF LEATHER","options":["WHITE - BLUE MIST","7.5","SOFT CALF LEATHER"],"price":27500,"weight":0,"compare_at_price":null,"inventory_management":"shopify","barcode":"840237306069","featured_media":{"alt":"4","id":22790318522573,"position":25,"preview_image":{"aspect_ratio":0.8,"height":1500,"width":1200,"src":"\/\/oncept.nyc\/cdn\/shop\/products\/LONDON-SIDE-WHITE-BLUEMIST_e918751a-09bb-4905-8a08-c3fe38a5f5da.jpg?v=1676911102"}},"requires_selling_plan":false,"selling_plan_allocations":[]},{"id":41008665067725,"title":"WHITE - BLUE MIST \/ 8 \/ SOFT CALF LEATHER","option1":"WHITE - BLUE MIST","option2":"8","option3":"SOFT CALF LEATHER","sku":"840237306076","requires_shipping":true,"taxable":true,"featured_image":{"id":30510407516365,"product_id":7024872227021,"position":25,"created_at":"2022-08-05T13:29:48-04:00","updated_at":"2023-02-20T11:38:22-05:00","alt":"4","width":1200,"height":1500,"src":"\/\/oncept.nyc\/cdn\/shop\/products\/LONDON-SIDE-WHITE-BLUEMIST_e918751a-09bb-4905-8a08-c3fe38a5f5da.jpg?v=1676911102","variant_ids":[41008664936653,41008664969421,41008665002189,41008665034957,41008665067725,41008665100493,41008665133261,41008665166029,41008665198797]},"available":true,"name":"LONDON - WHITE - BLUE MIST \/ 8 \/ SOFT CALF LEATHER","public_title":"WHITE - BLUE MIST \/ 8 \/ SOFT CALF LEATHER","options":["WHITE - BLUE MIST","8","SOFT CALF LEATHER"],"price":27500,"weight":0,"compare_at_price":null,"inventory_management":"shopify","barcode":"840237306076","featured_media":{"alt":"4","id":22790318522573,"position":25,"preview_image":{"aspect_ratio":0.8,"height":1500,"width":1200,"src":"\/\/oncept.nyc\/cdn\/shop\/products\/LONDON-SIDE-WHITE-BLUEMIST_e918751a-09bb-4905-8a08-c3fe38a5f5da.jpg?v=1676911102"}},"requires_selling_plan":false,"selling_plan_allocations":[]},{"id":41008665100493,"title":"WHITE - BLUE MIST \/ 8.5 \/ SOFT CALF LEATHER","option1":"WHITE - BLUE MIST","option2":"8.5","option3":"SOFT CALF LEATHER","sku":"840237306083","requires_shipping":true,"taxable":true,"featured_image":{"id":30510407516365,"product_id":7024872227021,"position":25,"created_at":"2022-08-05T13:29:48-04:00","updated_at":"2023-02-20T11:38:22-05:00","alt":"4","width":1200,"height":1500,"src":"\/\/oncept.nyc\/cdn\/shop\/products\/LONDON-SIDE-WHITE-BLUEMIST_e918751a-09bb-4905-8a08-c3fe38a5f5da.jpg?v=1676911102","variant_ids":[41008664936653,41008664969421,41008665002189,41008665034957,41008665067725,41008665100493,41008665133261,41008665166029,41008665198797]},"available":false,"name":"LONDON - WHITE - BLUE MIST \/ 8.5 \/ SOFT CALF LEATHER","public_title":"WHITE - BLUE MIST \/ 8.5 \/ SOFT CALF LEATHER","options":["WHITE - BLUE MIST","8.5","SOFT CALF LEATHER"],"price":27500,"weight":0,"compare_at_price":null,"inventory_management":"shopify","barcode":"840237306083","featured_media":{"alt":"4","id":22790318522573,"position":25,"preview_image":{"aspect_ratio":0.8,"height":1500,"width":1200,"src":"\/\/oncept.nyc\/cdn\/shop\/products\/LONDON-SIDE-WHITE-BLUEMIST_e918751a-09bb-4905-8a08-c3fe38a5f5da.jpg?v=1676911102"}},"requires_selling_plan":false,"selling_plan_allocations":[]},{"id":41008665133261,"title":"WHITE - BLUE MIST \/ 9 \/ SOFT CALF LEATHER","option1":"WHITE - BLUE MIST","option2":"9","option3":"SOFT CALF LEATHER","sku":"840237306090","requires_shipping":true,"taxable":true,"featured_image":{"id":30510407516365,"product_id":7024872227021,"position":25,"created_at":"2022-08-05T13:29:48-04:00","updated_at":"2023-02-20T11:38:22-05:00","alt":"4","width":1200,"height":1500,"src":"\/\/oncept.nyc\/cdn\/shop\/products\/LONDON-SIDE-WHITE-BLUEMIST_e918751a-09bb-4905-8a08-c3fe38a5f5da.jpg?v=1676911102","variant_ids":[41008664936653,41008664969421,41008665002189,41008665034957,41008665067725,41008665100493,41008665133261,41008665166029,41008665198797]},"available":true,"name":"LONDON - WHITE - BLUE MIST \/ 9 \/ SOFT CALF LEATHER","public_title":"WHITE - BLUE MIST \/ 9 \/ SOFT CALF LEATHER","options":["WHITE - BLUE MIST","9","SOFT CALF LEATHER"],"price":27500,"weight":0,"compare_at_price":null,"inventory_management":"shopify","barcode":"840237306090","featured_media":{"alt":"4","id":22790318522573,"position":25,"preview_image":{"aspect_ratio":0.8,"height":1500,"width":1200,"src":"\/\/oncept.nyc\/cdn\/shop\/products\/LONDON-SIDE-WHITE-BLUEMIST_e918751a-09bb-4905-8a08-c3fe38a5f5da.jpg?v=1676911102"}},"requires_selling_plan":false,"selling_plan_allocations":[]},{"id":41008665166029,"title":"WHITE - BLUE MIST \/ 9.5 \/ SOFT CALF LEATHER","option1":"WHITE - BLUE MIST","option2":"9.5","option3":"SOFT CALF LEATHER","sku":"840237306106","requires_shipping":true,"taxable":true,"featured_image":{"id":30510407516365,"product_id":7024872227021,"position":25,"created_at":"2022-08-05T13:29:48-04:00","updated_at":"2023-02-20T11:38:22-05:00","alt":"4","width":1200,"height":1500,"src":"\/\/oncept.nyc\/cdn\/shop\/products\/LONDON-SIDE-WHITE-BLUEMIST_e918751a-09bb-4905-8a08-c3fe38a5f5da.jpg?v=1676911102","variant_ids":[41008664936653,41008664969421,41008665002189,41008665034957,41008665067725,41008665100493,41008665133261,41008665166029,41008665198797]},"available":true,"name":"LONDON - WHITE - BLUE MIST \/ 9.5 \/ SOFT CALF LEATHER","public_title":"WHITE - BLUE MIST \/ 9.5 \/ SOFT CALF LEATHER","options":["WHITE - BLUE MIST","9.5","SOFT CALF LEATHER"],"price":27500,"weight":0,"compare_at_price":null,"inventory_management":"shopify","barcode":"840237306106","featured_media":{"alt":"4","id":22790318522573,"position":25,"preview_image":{"aspect_ratio":0.8,"height":1500,"width":1200,"src":"\/\/oncept.nyc\/cdn\/shop\/products\/LONDON-SIDE-WHITE-BLUEMIST_e918751a-09bb-4905-8a08-c3fe38a5f5da.jpg?v=1676911102"}},"requires_selling_plan":false,"selling_plan_allocations":[]},{"id":41008665198797,"title":"WHITE - BLUE MIST \/ 10 \/ SOFT CALF LEATHER","option1":"WHITE - BLUE MIST","option2":"10","option3":"SOFT CALF LEATHER","sku":"840237306113","requires_shipping":true,"taxable":true,"featured_image":{"id":30510407516365,"product_id":7024872227021,"position":25,"created_at":"2022-08-05T13:29:48-04:00","updated_at":"2023-02-20T11:38:22-05:00","alt":"4","width":1200,"height":1500,"src":"\/\/oncept.nyc\/cdn\/shop\/products\/LONDON-SIDE-WHITE-BLUEMIST_e918751a-09bb-4905-8a08-c3fe38a5f5da.jpg?v=1676911102","variant_ids":[41008664936653,41008664969421,41008665002189,41008665034957,41008665067725,41008665100493,41008665133261,41008665166029,41008665198797]},"available":true,"name":"LONDON - WHITE - BLUE MIST \/ 10 \/ SOFT CALF LEATHER","public_title":"WHITE - BLUE MIST \/ 10 \/ SOFT CALF LEATHER","options":["WHITE - BLUE MIST","10","SOFT CALF LEATHER"],"price":27500,"weight":0,"compare_at_price":null,"inventory_management":"shopify","barcode":"840237306113","featured_media":{"alt":"4","id":22790318522573,"position":25,"preview_image":{"aspect_ratio":0.8,"height":1500,"width":1200,"src":"\/\/oncept.nyc\/cdn\/shop\/products\/LONDON-SIDE-WHITE-BLUEMIST_e918751a-09bb-4905-8a08-c3fe38a5f5da.jpg?v=1676911102"}},"requires_selling_plan":false,"selling_plan_allocations":[]},{"id":41008665526477,"title":"MOONSTONE \/ 6 \/ SOFT CALF LEATHER","option1":"MOONSTONE","option2":"6","option3":"SOFT CALF LEATHER","sku":"840237301330","requires_shipping":true,"taxable":true,"featured_image":{"id":30510408237261,"product_id":7024872227021,"position":31,"created_at":"2022-08-05T13:29:51-04:00","updated_at":"2023-02-20T11:38:22-05:00","alt":"5","width":1600,"height":2000,"src":"\/\/oncept.nyc\/cdn\/shop\/products\/LONDON_MOONSTONE_SIDE_e91c0606-1dec-48bd-9f2c-dc9ed8cd5f48.jpg?v=1676911102","variant_ids":[41008665526477,41008665559245,41008665592013,41008665624781,41008665657549,41008665690317,41008665723085,41008665755853,41008665788621]},"available":true,"name":"LONDON - MOONSTONE \/ 6 \/ SOFT CALF LEATHER","public_title":"MOONSTONE \/ 6 \/ SOFT CALF LEATHER","options":["MOONSTONE","6","SOFT CALF LEATHER"],"price":27500,"weight":0,"compare_at_price":null,"inventory_management":"shopify","barcode":"840237301330","featured_media":{"alt":"5","id":22790319210701,"position":31,"preview_image":{"aspect_ratio":0.8,"height":2000,"width":1600,"src":"\/\/oncept.nyc\/cdn\/shop\/products\/LONDON_MOONSTONE_SIDE_e91c0606-1dec-48bd-9f2c-dc9ed8cd5f48.jpg?v=1676911102"}},"requires_selling_plan":false,"selling_plan_allocations":[]},{"id":41008665559245,"title":"MOONSTONE \/ 6.5 \/ SOFT CALF LEATHER","option1":"MOONSTONE","option2":"6.5","option3":"SOFT CALF LEATHER","sku":"840237301347","requires_shipping":true,"taxable":true,"featured_image":{"id":30510408237261,"product_id":7024872227021,"position":31,"created_at":"2022-08-05T13:29:51-04:00","updated_at":"2023-02-20T11:38:22-05:00","alt":"5","width":1600,"height":2000,"src":"\/\/oncept.nyc\/cdn\/shop\/products\/LONDON_MOONSTONE_SIDE_e91c0606-1dec-48bd-9f2c-dc9ed8cd5f48.jpg?v=1676911102","variant_ids":[41008665526477,41008665559245,41008665592013,41008665624781,41008665657549,41008665690317,41008665723085,41008665755853,41008665788621]},"available":true,"name":"LONDON - MOONSTONE \/ 6.5 \/ SOFT CALF LEATHER","public_title":"MOONSTONE \/ 6.5 \/ SOFT CALF LEATHER","options":["MOONSTONE","6.5","SOFT CALF LEATHER"],"price":27500,"weight":0,"compare_at_price":null,"inventory_management":"shopify","barcode":"840237301347","featured_media":{"alt":"5","id":22790319210701,"position":31,"preview_image":{"aspect_ratio":0.8,"height":2000,"width":1600,"src":"\/\/oncept.nyc\/cdn\/shop\/products\/LONDON_MOONSTONE_SIDE_e91c0606-1dec-48bd-9f2c-dc9ed8cd5f48.jpg?v=1676911102"}},"requires_selling_plan":false,"selling_plan_allocations":[]},{"id":41008665592013,"title":"MOONSTONE \/ 7 \/ SOFT CALF LEATHER","option1":"MOONSTONE","option2":"7","option3":"SOFT CALF LEATHER","sku":"840237301354","requires_shipping":true,"taxable":true,"featured_image":{"id":30510408237261,"product_id":7024872227021,"position":31,"created_at":"2022-08-05T13:29:51-04:00","updated_at":"2023-02-20T11:38:22-05:00","alt":"5","width":1600,"height":2000,"src":"\/\/oncept.nyc\/cdn\/shop\/products\/LONDON_MOONSTONE_SIDE_e91c0606-1dec-48bd-9f2c-dc9ed8cd5f48.jpg?v=1676911102","variant_ids":[41008665526477,41008665559245,41008665592013,41008665624781,41008665657549,41008665690317,41008665723085,41008665755853,41008665788621]},"available":true,"name":"LONDON - MOONSTONE \/ 7 \/ SOFT CALF LEATHER","public_title":"MOONSTONE \/ 7 \/ SOFT CALF LEATHER","options":["MOONSTONE","7","SOFT CALF LEATHER"],"price":27500,"weight":0,"compare_at_price":null,"inventory_management":"shopify","barcode":"840237301354","featured_media":{"alt":"5","id":22790319210701,"position":31,"preview_image":{"aspect_ratio":0.8,"height":2000,"width":1600,"src":"\/\/oncept.nyc\/cdn\/shop\/products\/LONDON_MOONSTONE_SIDE_e91c0606-1dec-48bd-9f2c-dc9ed8cd5f48.jpg?v=1676911102"}},"requires_selling_plan":false,"selling_plan_allocations":[]},{"id":41008665624781,"title":"MOONSTONE \/ 7.5 \/ SOFT CALF LEATHER","option1":"MOONSTONE","option2":"7.5","option3":"SOFT CALF LEATHER","sku":"840237301361","requires_shipping":true,"taxable":true,"featured_image":{"id":30510408237261,"product_id":7024872227021,"position":31,"created_at":"2022-08-05T13:29:51-04:00","updated_at":"2023-02-20T11:38:22-05:00","alt":"5","width":1600,"height":2000,"src":"\/\/oncept.nyc\/cdn\/shop\/products\/LONDON_MOONSTONE_SIDE_e91c0606-1dec-48bd-9f2c-dc9ed8cd5f48.jpg?v=1676911102","variant_ids":[41008665526477,41008665559245,41008665592013,41008665624781,41008665657549,41008665690317,41008665723085,41008665755853,41008665788621]},"available":true,"name":"LONDON - MOONSTONE \/ 7.5 \/ SOFT CALF LEATHER","public_title":"MOONSTONE \/ 7.5 \/ SOFT CALF LEATHER","options":["MOONSTONE","7.5","SOFT CALF LEATHER"],"price":27500,"weight":0,"compare_at_price":null,"inventory_management":"shopify","barcode":"840237301361","featured_media":{"alt":"5","id":22790319210701,"position":31,"preview_image":{"aspect_ratio":0.8,"height":2000,"width":1600,"src":"\/\/oncept.nyc\/cdn\/shop\/products\/LONDON_MOONSTONE_SIDE_e91c0606-1dec-48bd-9f2c-dc9ed8cd5f48.jpg?v=1676911102"}},"requires_selling_plan":false,"selling_plan_allocations":[]},{"id":41008665657549,"title":"MOONSTONE \/ 8 \/ SOFT CALF LEATHER","option1":"MOONSTONE","option2":"8","option3":"SOFT CALF LEATHER","sku":"840237301378","requires_shipping":true,"taxable":true,"featured_image":{"id":30510408237261,"product_id":7024872227021,"position":31,"created_at":"2022-08-05T13:29:51-04:00","updated_at":"2023-02-20T11:38:22-05:00","alt":"5","width":1600,"height":2000,"src":"\/\/oncept.nyc\/cdn\/shop\/products\/LONDON_MOONSTONE_SIDE_e91c0606-1dec-48bd-9f2c-dc9ed8cd5f48.jpg?v=1676911102","variant_ids":[41008665526477,41008665559245,41008665592013,41008665624781,41008665657549,41008665690317,41008665723085,41008665755853,41008665788621]},"available":false,"name":"LONDON - MOONSTONE \/ 8 \/ SOFT CALF LEATHER","public_title":"MOONSTONE \/ 8 \/ SOFT CALF LEATHER","options":["MOONSTONE","8","SOFT CALF LEATHER"],"price":27500,"weight":0,"compare_at_price":null,"inventory_management":"shopify","barcode":"840237301378","featured_media":{"alt":"5","id":22790319210701,"position":31,"preview_image":{"aspect_ratio":0.8,"height":2000,"width":1600,"src":"\/\/oncept.nyc\/cdn\/shop\/products\/LONDON_MOONSTONE_SIDE_e91c0606-1dec-48bd-9f2c-dc9ed8cd5f48.jpg?v=1676911102"}},"requires_selling_plan":false,"selling_plan_allocations":[]},{"id":41008665690317,"title":"MOONSTONE \/ 8.5 \/ SOFT CALF LEATHER","option1":"MOONSTONE","option2":"8.5","option3":"SOFT CALF LEATHER","sku":"840237301385","requires_shipping":true,"taxable":true,"featured_image":{"id":30510408237261,"product_id":7024872227021,"position":31,"created_at":"2022-08-05T13:29:51-04:00","updated_at":"2023-02-20T11:38:22-05:00","alt":"5","width":1600,"height":2000,"src":"\/\/oncept.nyc\/cdn\/shop\/products\/LONDON_MOONSTONE_SIDE_e91c0606-1dec-48bd-9f2c-dc9ed8cd5f48.jpg?v=1676911102","variant_ids":[41008665526477,41008665559245,41008665592013,41008665624781,41008665657549,41008665690317,41008665723085,41008665755853,41008665788621]},"available":true,"name":"LONDON - MOONSTONE \/ 8.5 \/ SOFT CALF LEATHER","public_title":"MOONSTONE \/ 8.5 \/ SOFT CALF LEATHER","options":["MOONSTONE","8.5","SOFT CALF LEATHER"],"price":27500,"weight":0,"compare_at_price":null,"inventory_management":"shopify","barcode":"840237301385","featured_media":{"alt":"5","id":22790319210701,"position":31,"preview_image":{"aspect_ratio":0.8,"height":2000,"width":1600,"src":"\/\/oncept.nyc\/cdn\/shop\/products\/LONDON_MOONSTONE_SIDE_e91c0606-1dec-48bd-9f2c-dc9ed8cd5f48.jpg?v=1676911102"}},"requires_selling_plan":false,"selling_plan_allocations":[]},{"id":41008665723085,"title":"MOONSTONE \/ 9 \/ SOFT CALF LEATHER","option1":"MOONSTONE","option2":"9","option3":"SOFT CALF LEATHER","sku":"840237301392","requires_shipping":true,"taxable":true,"featured_image":{"id":30510408237261,"product_id":7024872227021,"position":31,"created_at":"2022-08-05T13:29:51-04:00","updated_at":"2023-02-20T11:38:22-05:00","alt":"5","width":1600,"height":2000,"src":"\/\/oncept.nyc\/cdn\/shop\/products\/LONDON_MOONSTONE_SIDE_e91c0606-1dec-48bd-9f2c-dc9ed8cd5f48.jpg?v=1676911102","variant_ids":[41008665526477,41008665559245,41008665592013,41008665624781,41008665657549,41008665690317,41008665723085,41008665755853,41008665788621]},"available":false,"name":"LONDON - MOONSTONE \/ 9 \/ SOFT CALF LEATHER","public_title":"MOONSTONE \/ 9 \/ SOFT CALF LEATHER","options":["MOONSTONE","9","SOFT CALF LEATHER"],"price":27500,"weight":0,"compare_at_price":null,"inventory_management":"shopify","barcode":"840237301392","featured_media":{"alt":"5","id":22790319210701,"position":31,"preview_image":{"aspect_ratio":0.8,"height":2000,"width":1600,"src":"\/\/oncept.nyc\/cdn\/shop\/products\/LONDON_MOONSTONE_SIDE_e91c0606-1dec-48bd-9f2c-dc9ed8cd5f48.jpg?v=1676911102"}},"requires_selling_plan":false,"selling_plan_allocations":[]},{"id":41008665755853,"title":"MOONSTONE \/ 9.5 \/ SOFT CALF LEATHER","option1":"MOONSTONE","option2":"9.5","option3":"SOFT CALF LEATHER","sku":"840237301408","requires_shipping":true,"taxable":true,"featured_image":{"id":30510408237261,"product_id":7024872227021,"position":31,"created_at":"2022-08-05T13:29:51-04:00","updated_at":"2023-02-20T11:38:22-05:00","alt":"5","width":1600,"height":2000,"src":"\/\/oncept.nyc\/cdn\/shop\/products\/LONDON_MOONSTONE_SIDE_e91c0606-1dec-48bd-9f2c-dc9ed8cd5f48.jpg?v=1676911102","variant_ids":[41008665526477,41008665559245,41008665592013,41008665624781,41008665657549,41008665690317,41008665723085,41008665755853,41008665788621]},"available":true,"name":"LONDON - MOONSTONE \/ 9.5 \/ SOFT CALF LEATHER","public_title":"MOONSTONE \/ 9.5 \/ SOFT CALF LEATHER","options":["MOONSTONE","9.5","SOFT CALF LEATHER"],"price":27500,"weight":0,"compare_at_price":null,"inventory_management":"shopify","barcode":"840237301408","featured_media":{"alt":"5","id":22790319210701,"position":31,"preview_image":{"aspect_ratio":0.8,"height":2000,"width":1600,"src":"\/\/oncept.nyc\/cdn\/shop\/products\/LONDON_MOONSTONE_SIDE_e91c0606-1dec-48bd-9f2c-dc9ed8cd5f48.jpg?v=1676911102"}},"requires_selling_plan":false,"selling_plan_allocations":[]},{"id":41008665788621,"title":"MOONSTONE \/ 10 \/ SOFT CALF LEATHER","option1":"MOONSTONE","option2":"10","option3":"SOFT CALF LEATHER","sku":"840237301415","requires_shipping":true,"taxable":true,"featured_image":{"id":30510408237261,"product_id":7024872227021,"position":31,"created_at":"2022-08-05T13:29:51-04:00","updated_at":"2023-02-20T11:38:22-05:00","alt":"5","width":1600,"height":2000,"src":"\/\/oncept.nyc\/cdn\/shop\/products\/LONDON_MOONSTONE_SIDE_e91c0606-1dec-48bd-9f2c-dc9ed8cd5f48.jpg?v=1676911102","variant_ids":[41008665526477,41008665559245,41008665592013,41008665624781,41008665657549,41008665690317,41008665723085,41008665755853,41008665788621]},"available":false,"name":"LONDON - MOONSTONE \/ 10 \/ SOFT CALF LEATHER","public_title":"MOONSTONE \/ 10 \/ SOFT CALF LEATHER","options":["MOONSTONE","10","SOFT CALF LEATHER"],"price":27500,"weight":0,"compare_at_price":null,"inventory_management":"shopify","barcode":"840237301415","featured_media":{"alt":"5","id":22790319210701,"position":31,"preview_image":{"aspect_ratio":0.8,"height":2000,"width":1600,"src":"\/\/oncept.nyc\/cdn\/shop\/products\/LONDON_MOONSTONE_SIDE_e91c0606-1dec-48bd-9f2c-dc9ed8cd5f48.jpg?v=1676911102"}},"requires_selling_plan":false,"selling_plan_allocations":[]},{"id":41008665821389,"title":"LATTE \/ 6 \/ SOFT CALF LEATHER","option1":"LATTE","option2":"6","option3":"SOFT CALF LEATHER","sku":"840237301224","requires_shipping":true,"taxable":true,"featured_image":{"id":30510408499405,"product_id":7024872227021,"position":37,"created_at":"2022-08-05T13:29:52-04:00","updated_at":"2023-02-20T11:38:22-05:00","alt":"6","width":1600,"height":2000,"src":"\/\/oncept.nyc\/cdn\/shop\/products\/LONDON_LATTE_SIDE_9a17c3d6-a225-441b-9f92-3a040e01611c.jpg?v=1676911102","variant_ids":[41008665821389,41008665854157,41008665886925,41008665919693,41008665952461,41008665985229,41008666017997,41008666050765,41008666083533]},"available":true,"name":"LONDON - LATTE \/ 6 \/ SOFT CALF LEATHER","public_title":"LATTE \/ 6 \/ SOFT CALF LEATHER","options":["LATTE","6","SOFT CALF LEATHER"],"price":27500,"weight":0,"compare_at_price":null,"inventory_management":"shopify","barcode":"840237301224","featured_media":{"alt":"6","id":22790319472845,"position":37,"preview_image":{"aspect_ratio":0.8,"height":2000,"width":1600,"src":"\/\/oncept.nyc\/cdn\/shop\/products\/LONDON_LATTE_SIDE_9a17c3d6-a225-441b-9f92-3a040e01611c.jpg?v=1676911102"}},"requires_selling_plan":false,"selling_plan_allocations":[]},{"id":41008665854157,"title":"LATTE \/ 6.5 \/ SOFT CALF LEATHER","option1":"LATTE","option2":"6.5","option3":"SOFT CALF LEATHER","sku":"840237301231","requires_shipping":true,"taxable":true,"featured_image":{"id":30510408499405,"product_id":7024872227021,"position":37,"created_at":"2022-08-05T13:29:52-04:00","updated_at":"2023-02-20T11:38:22-05:00","alt":"6","width":1600,"height":2000,"src":"\/\/oncept.nyc\/cdn\/shop\/products\/LONDON_LATTE_SIDE_9a17c3d6-a225-441b-9f92-3a040e01611c.jpg?v=1676911102","variant_ids":[41008665821389,41008665854157,41008665886925,41008665919693,41008665952461,41008665985229,41008666017997,41008666050765,41008666083533]},"available":true,"name":"LONDON - LATTE \/ 6.5 \/ SOFT CALF LEATHER","public_title":"LATTE \/ 6.5 \/ SOFT CALF LEATHER","options":["LATTE","6.5","SOFT CALF LEATHER"],"price":27500,"weight":0,"compare_at_price":null,"inventory_management":"shopify","barcode":"840237301231","featured_media":{"alt":"6","id":22790319472845,"position":37,"preview_image":{"aspect_ratio":0.8,"height":2000,"width":1600,"src":"\/\/oncept.nyc\/cdn\/shop\/products\/LONDON_LATTE_SIDE_9a17c3d6-a225-441b-9f92-3a040e01611c.jpg?v=1676911102"}},"requires_selling_plan":false,"selling_plan_allocations":[]},{"id":41008665886925,"title":"LATTE \/ 7 \/ SOFT CALF LEATHER","option1":"LATTE","option2":"7","option3":"SOFT CALF LEATHER","sku":"840237301248","requires_shipping":true,"taxable":true,"featured_image":{"id":30510408499405,"product_id":7024872227021,"position":37,"created_at":"2022-08-05T13:29:52-04:00","updated_at":"2023-02-20T11:38:22-05:00","alt":"6","width":1600,"height":2000,"src":"\/\/oncept.nyc\/cdn\/shop\/products\/LONDON_LATTE_SIDE_9a17c3d6-a225-441b-9f92-3a040e01611c.jpg?v=1676911102","variant_ids":[41008665821389,41008665854157,41008665886925,41008665919693,41008665952461,41008665985229,41008666017997,41008666050765,41008666083533]},"available":true,"name":"LONDON - LATTE \/ 7 \/ SOFT CALF LEATHER","public_title":"LATTE \/ 7 \/ SOFT CALF LEATHER","options":["LATTE","7","SOFT CALF LEATHER"],"price":27500,"weight":0,"compare_at_price":null,"inventory_management":"shopify","barcode":"840237301248","featured_media":{"alt":"6","id":22790319472845,"position":37,"preview_image":{"aspect_ratio":0.8,"height":2000,"width":1600,"src":"\/\/oncept.nyc\/cdn\/shop\/products\/LONDON_LATTE_SIDE_9a17c3d6-a225-441b-9f92-3a040e01611c.jpg?v=1676911102"}},"requires_selling_plan":false,"selling_plan_allocations":[]},{"id":41008665919693,"title":"LATTE \/ 7.5 \/ SOFT CALF LEATHER","option1":"LATTE","option2":"7.5","option3":"SOFT CALF LEATHER","sku":"840237301255","requires_shipping":true,"taxable":true,"featured_image":{"id":30510408499405,"product_id":7024872227021,"position":37,"created_at":"2022-08-05T13:29:52-04:00","updated_at":"2023-02-20T11:38:22-05:00","alt":"6","width":1600,"height":2000,"src":"\/\/oncept.nyc\/cdn\/shop\/products\/LONDON_LATTE_SIDE_9a17c3d6-a225-441b-9f92-3a040e01611c.jpg?v=1676911102","variant_ids":[41008665821389,41008665854157,41008665886925,41008665919693,41008665952461,41008665985229,41008666017997,41008666050765,41008666083533]},"available":true,"name":"LONDON - LATTE \/ 7.5 \/ SOFT CALF LEATHER","public_title":"LATTE \/ 7.5 \/ SOFT CALF LEATHER","options":["LATTE","7.5","SOFT CALF LEATHER"],"price":27500,"weight":0,"compare_at_price":null,"inventory_management":"shopify","barcode":"840237301255","featured_media":{"alt":"6","id":22790319472845,"position":37,"preview_image":{"aspect_ratio":0.8,"height":2000,"width":1600,"src":"\/\/oncept.nyc\/cdn\/shop\/products\/LONDON_LATTE_SIDE_9a17c3d6-a225-441b-9f92-3a040e01611c.jpg?v=1676911102"}},"requires_selling_plan":false,"selling_plan_allocations":[]},{"id":41008665952461,"title":"LATTE \/ 8 \/ SOFT CALF LEATHER","option1":"LATTE","option2":"8","option3":"SOFT CALF LEATHER","sku":"840237301262","requires_shipping":true,"taxable":true,"featured_image":{"id":30510408499405,"product_id":7024872227021,"position":37,"created_at":"2022-08-05T13:29:52-04:00","updated_at":"2023-02-20T11:38:22-05:00","alt":"6","width":1600,"height":2000,"src":"\/\/oncept.nyc\/cdn\/shop\/products\/LONDON_LATTE_SIDE_9a17c3d6-a225-441b-9f92-3a040e01611c.jpg?v=1676911102","variant_ids":[41008665821389,41008665854157,41008665886925,41008665919693,41008665952461,41008665985229,41008666017997,41008666050765,41008666083533]},"available":true,"name":"LONDON - LATTE \/ 8 \/ SOFT CALF LEATHER","public_title":"LATTE \/ 8 \/ SOFT CALF LEATHER","options":["LATTE","8","SOFT CALF LEATHER"],"price":27500,"weight":0,"compare_at_price":null,"inventory_management":"shopify","barcode":"840237301262","featured_media":{"alt":"6","id":22790319472845,"position":37,"preview_image":{"aspect_ratio":0.8,"height":2000,"width":1600,"src":"\/\/oncept.nyc\/cdn\/shop\/products\/LONDON_LATTE_SIDE_9a17c3d6-a225-441b-9f92-3a040e01611c.jpg?v=1676911102"}},"requires_selling_plan":false,"selling_plan_allocations":[]},{"id":41008665985229,"title":"LATTE \/ 8.5 \/ SOFT CALF LEATHER","option1":"LATTE","option2":"8.5","option3":"SOFT CALF LEATHER","sku":"840237301279","requires_shipping":true,"taxable":true,"featured_image":{"id":30510408499405,"product_id":7024872227021,"position":37,"created_at":"2022-08-05T13:29:52-04:00","updated_at":"2023-02-20T11:38:22-05:00","alt":"6","width":1600,"height":2000,"src":"\/\/oncept.nyc\/cdn\/shop\/products\/LONDON_LATTE_SIDE_9a17c3d6-a225-441b-9f92-3a040e01611c.jpg?v=1676911102","variant_ids":[41008665821389,41008665854157,41008665886925,41008665919693,41008665952461,41008665985229,41008666017997,41008666050765,41008666083533]},"available":true,"name":"LONDON - LATTE \/ 8.5 \/ SOFT CALF LEATHER","public_title":"LATTE \/ 8.5 \/ SOFT CALF LEATHER","options":["LATTE","8.5","SOFT CALF LEATHER"],"price":27500,"weight":0,"compare_at_price":null,"inventory_management":"shopify","barcode":"840237301279","featured_media":{"alt":"6","id":22790319472845,"position":37,"preview_image":{"aspect_ratio":0.8,"height":2000,"width":1600,"src":"\/\/oncept.nyc\/cdn\/shop\/products\/LONDON_LATTE_SIDE_9a17c3d6-a225-441b-9f92-3a040e01611c.jpg?v=1676911102"}},"requires_selling_plan":false,"selling_plan_allocations":[]},{"id":41008666017997,"title":"LATTE \/ 9 \/ SOFT CALF LEATHER","option1":"LATTE","option2":"9","option3":"SOFT CALF LEATHER","sku":"840237301286","requires_shipping":true,"taxable":true,"featured_image":{"id":30510408499405,"product_id":7024872227021,"position":37,"created_at":"2022-08-05T13:29:52-04:00","updated_at":"2023-02-20T11:38:22-05:00","alt":"6","width":1600,"height":2000,"src":"\/\/oncept.nyc\/cdn\/shop\/products\/LONDON_LATTE_SIDE_9a17c3d6-a225-441b-9f92-3a040e01611c.jpg?v=1676911102","variant_ids":[41008665821389,41008665854157,41008665886925,41008665919693,41008665952461,41008665985229,41008666017997,41008666050765,41008666083533]},"available":true,"name":"LONDON - LATTE \/ 9 \/ SOFT CALF LEATHER","public_title":"LATTE \/ 9 \/ SOFT CALF LEATHER","options":["LATTE","9","SOFT CALF LEATHER"],"price":27500,"weight":0,"compare_at_price":null,"inventory_management":"shopify","barcode":"840237301286","featured_media":{"alt":"6","id":22790319472845,"position":37,"preview_image":{"aspect_ratio":0.8,"height":2000,"width":1600,"src":"\/\/oncept.nyc\/cdn\/shop\/products\/LONDON_LATTE_SIDE_9a17c3d6-a225-441b-9f92-3a040e01611c.jpg?v=1676911102"}},"requires_selling_plan":false,"selling_plan_allocations":[]},{"id":41008666050765,"title":"LATTE \/ 9.5 \/ SOFT CALF LEATHER","option1":"LATTE","option2":"9.5","option3":"SOFT CALF LEATHER","sku":"840237301293","requires_shipping":true,"taxable":true,"featured_image":{"id":30510408499405,"product_id":7024872227021,"position":37,"created_at":"2022-08-05T13:29:52-04:00","updated_at":"2023-02-20T11:38:22-05:00","alt":"6","width":1600,"height":2000,"src":"\/\/oncept.nyc\/cdn\/shop\/products\/LONDON_LATTE_SIDE_9a17c3d6-a225-441b-9f92-3a040e01611c.jpg?v=1676911102","variant_ids":[41008665821389,41008665854157,41008665886925,41008665919693,41008665952461,41008665985229,41008666017997,41008666050765,41008666083533]},"available":true,"name":"LONDON - LATTE \/ 9.5 \/ SOFT CALF LEATHER","public_title":"LATTE \/ 9.5 \/ SOFT CALF LEATHER","options":["LATTE","9.5","SOFT CALF LEATHER"],"price":27500,"weight":0,"compare_at_price":null,"inventory_management":"shopify","barcode":"840237301293","featured_media":{"alt":"6","id":22790319472845,"position":37,"preview_image":{"aspect_ratio":0.8,"height":2000,"width":1600,"src":"\/\/oncept.nyc\/cdn\/shop\/products\/LONDON_LATTE_SIDE_9a17c3d6-a225-441b-9f92-3a040e01611c.jpg?v=1676911102"}},"requires_selling_plan":false,"selling_plan_allocations":[]},{"id":41008666083533,"title":"LATTE \/ 10 \/ SOFT CALF LEATHER","option1":"LATTE","option2":"10","option3":"SOFT CALF LEATHER","sku":"840237301309","requires_shipping":true,"taxable":true,"featured_image":{"id":30510408499405,"product_id":7024872227021,"position":37,"created_at":"2022-08-05T13:29:52-04:00","updated_at":"2023-02-20T11:38:22-05:00","alt":"6","width":1600,"height":2000,"src":"\/\/oncept.nyc\/cdn\/shop\/products\/LONDON_LATTE_SIDE_9a17c3d6-a225-441b-9f92-3a040e01611c.jpg?v=1676911102","variant_ids":[41008665821389,41008665854157,41008665886925,41008665919693,41008665952461,41008665985229,41008666017997,41008666050765,41008666083533]},"available":true,"name":"LONDON - LATTE \/ 10 \/ SOFT CALF LEATHER","public_title":"LATTE \/ 10 \/ SOFT CALF LEATHER","options":["LATTE","10","SOFT CALF LEATHER"],"price":27500,"weight":0,"compare_at_price":null,"inventory_management":"shopify","barcode":"840237301309","featured_media":{"alt":"6","id":22790319472845,"position":37,"preview_image":{"aspect_ratio":0.8,"height":2000,"width":1600,"src":"\/\/oncept.nyc\/cdn\/shop\/products\/LONDON_LATTE_SIDE_9a17c3d6-a225-441b-9f92-3a040e01611c.jpg?v=1676911102"}},"requires_selling_plan":false,"selling_plan_allocations":[]},{"id":41575002341581,"title":"WHITE - CAPPUCCINO \/ 6 \/ SOFT CALF LEATHER","option1":"WHITE - CAPPUCCINO","option2":"6","option3":"SOFT CALF LEATHER","sku":"840237309633","requires_shipping":true,"taxable":true,"featured_image":null,"available":true,"name":"LONDON - WHITE - CAPPUCCINO \/ 6 \/ SOFT CALF LEATHER","public_title":"WHITE - CAPPUCCINO \/ 6 \/ SOFT CALF LEATHER","options":["WHITE - CAPPUCCINO","6","SOFT CALF LEATHER"],"price":27500,"weight":0,"compare_at_price":null,"inventory_management":"shopify","barcode":"840237309633","requires_selling_plan":false,"selling_plan_allocations":[]},{"id":41575002374349,"title":"WHITE - CAPPUCCINO \/ 6.5 \/ SOFT CALF LEATHER","option1":"WHITE - CAPPUCCINO","option2":"6.5","option3":"SOFT CALF LEATHER","sku":"840237309640","requires_shipping":true,"taxable":true,"featured_image":null,"available":true,"name":"LONDON - WHITE - CAPPUCCINO \/ 6.5 \/ SOFT CALF LEATHER","public_title":"WHITE - CAPPUCCINO \/ 6.5 \/ SOFT CALF LEATHER","options":["WHITE - CAPPUCCINO","6.5","SOFT CALF LEATHER"],"price":27500,"weight":0,"compare_at_price":null,"inventory_management":"shopify","barcode":"840237309640","requires_selling_plan":false,"selling_plan_allocations":[]},{"id":41575002407117,"title":"WHITE - CAPPUCCINO \/ 7 \/ SOFT CALF LEATHER","option1":"WHITE - CAPPUCCINO","option2":"7","option3":"SOFT CALF LEATHER","sku":"840237309657","requires_shipping":true,"taxable":true,"featured_image":null,"available":true,"name":"LONDON - WHITE - CAPPUCCINO \/ 7 \/ SOFT CALF LEATHER","public_title":"WHITE - CAPPUCCINO \/ 7 \/ SOFT CALF LEATHER","options":["WHITE - CAPPUCCINO","7","SOFT CALF LEATHER"],"price":27500,"weight":0,"compare_at_price":null,"inventory_management":"shopify","barcode":"840237309657","requires_selling_plan":false,"selling_plan_allocations":[]},{"id":41575002439885,"title":"WHITE - CAPPUCCINO \/ 7.5 \/ SOFT CALF LEATHER","option1":"WHITE - CAPPUCCINO","option2":"7.5","option3":"SOFT CALF LEATHER","sku":"840237309664","requires_shipping":true,"taxable":true,"featured_image":null,"available":true,"name":"LONDON - WHITE - CAPPUCCINO \/ 7.5 \/ SOFT CALF LEATHER","public_title":"WHITE - CAPPUCCINO \/ 7.5 \/ SOFT CALF LEATHER","options":["WHITE - CAPPUCCINO","7.5","SOFT CALF LEATHER"],"price":27500,"weight":0,"compare_at_price":null,"inventory_management":"shopify","barcode":"840237309664","requires_selling_plan":false,"selling_plan_allocations":[]},{"id":41575002472653,"title":"WHITE - CAPPUCCINO \/ 8 \/ SOFT CALF LEATHER","option1":"WHITE - CAPPUCCINO","option2":"8","option3":"SOFT CALF LEATHER","sku":"840237309671","requires_shipping":true,"taxable":true,"featured_image":null,"available":false,"name":"LONDON - WHITE - CAPPUCCINO \/ 8 \/ SOFT CALF LEATHER","public_title":"WHITE - CAPPUCCINO \/ 8 \/ SOFT CALF LEATHER","options":["WHITE - CAPPUCCINO","8","SOFT CALF LEATHER"],"price":27500,"weight":0,"compare_at_price":null,"inventory_management":"shopify","barcode":"840237309671","requires_selling_plan":false,"selling_plan_allocations":[]},{"id":41575002505421,"title":"WHITE - CAPPUCCINO \/ 8.5 \/ SOFT CALF LEATHER","option1":"WHITE - CAPPUCCINO","option2":"8.5","option3":"SOFT CALF LEATHER","sku":"840237309688","requires_shipping":true,"taxable":true,"featured_image":null,"available":true,"name":"LONDON - WHITE - CAPPUCCINO \/ 8.5 \/ SOFT CALF LEATHER","public_title":"WHITE - CAPPUCCINO \/ 8.5 \/ SOFT CALF LEATHER","options":["WHITE - CAPPUCCINO","8.5","SOFT CALF LEATHER"],"price":27500,"weight":0,"compare_at_price":null,"inventory_management":"shopify","barcode":"840237309688","requires_selling_plan":false,"selling_plan_allocations":[]},{"id":41575002538189,"title":"WHITE - CAPPUCCINO \/ 9 \/ SOFT CALF LEATHER","option1":"WHITE - CAPPUCCINO","option2":"9","option3":"SOFT CALF LEATHER","sku":"840237309695","requires_shipping":true,"taxable":true,"featured_image":null,"available":false,"name":"LONDON - WHITE - CAPPUCCINO \/ 9 \/ SOFT CALF LEATHER","public_title":"WHITE - CAPPUCCINO \/ 9 \/ SOFT CALF LEATHER","options":["WHITE - CAPPUCCINO","9","SOFT CALF LEATHER"],"price":27500,"weight":0,"compare_at_price":null,"inventory_management":"shopify","barcode":"840237309695","requires_selling_plan":false,"selling_plan_allocations":[]},{"id":41575002570957,"title":"WHITE - CAPPUCCINO \/ 9.5 \/ SOFT CALF LEATHER","option1":"WHITE - CAPPUCCINO","option2":"9.5","option3":"SOFT CALF LEATHER","sku":"840237309701","requires_shipping":true,"taxable":true,"featured_image":null,"available":true,"name":"LONDON - WHITE - CAPPUCCINO \/ 9.5 \/ SOFT CALF LEATHER","public_title":"WHITE - CAPPUCCINO \/ 9.5 \/ SOFT CALF LEATHER","options":["WHITE - CAPPUCCINO","9.5","SOFT CALF LEATHER"],"price":27500,"weight":0,"compare_at_price":null,"inventory_management":"shopify","barcode":"840237309701","requires_selling_plan":false,"selling_plan_allocations":[]},{"id":41575002603725,"title":"WHITE - CAPPUCCINO \/ 10 \/ SOFT CALF LEATHER","option1":"WHITE - CAPPUCCINO","option2":"10","option3":"SOFT CALF LEATHER","sku":"840237309718","requires_shipping":true,"taxable":true,"featured_image":null,"available":true,"name":"LONDON - WHITE - CAPPUCCINO \/ 10 \/ SOFT CALF LEATHER","public_title":"WHITE - CAPPUCCINO \/ 10 \/ SOFT CALF LEATHER","options":["WHITE - CAPPUCCINO","10","SOFT CALF LEATHER"],"price":27500,"weight":0,"compare_at_price":null,"inventory_management":"shopify","barcode":"840237309718","requires_selling_plan":false,"selling_plan_allocations":[]}],"images":["\/\/oncept.nyc\/cdn\/shop\/products\/LONDON-SIDE-min.jpg?v=1687194286","\/\/oncept.nyc\/cdn\/shop\/products\/LONDON-TOP.jpg?v=1687194286","\/\/oncept.nyc\/cdn\/shop\/products\/LONDON-BACK-min.jpg?v=1687194286","\/\/oncept.nyc\/cdn\/shop\/products\/LONDON-OUTSOLE-min.jpg?v=1687194286","\/\/oncept.nyc\/cdn\/shop\/products\/LONDON-SOFTNESS-min.jpg?v=1687194286","\/\/oncept.nyc\/cdn\/shop\/products\/Frame18-min.jpg?v=1687194286","\/\/oncept.nyc\/cdn\/shop\/products\/LONDON-SIDE-min_c9e3c161-b035-44d9-977d-2fb115807c4b.jpg?v=1687194286","\/\/oncept.nyc\/cdn\/shop\/products\/LONDON-TOP-min_37c7828e-aed2-435f-863f-e00c66cb7fa0.jpg?v=1687194286","\/\/oncept.nyc\/cdn\/shop\/products\/LONDON-BACK-min_53ca4874-b560-4f63-a676-cdca4248f97f.jpg?v=1687194286","\/\/oncept.nyc\/cdn\/shop\/products\/LONDON-OUTSOLE-min_9a5eeddc-e20b-4bf3-aeff-ad0c8784e120.jpg?v=1687194286","\/\/oncept.nyc\/cdn\/shop\/products\/LONDON-SOFTNESS-min_0245edae-489b-4f2d-9ebb-652e86855c7f.jpg?v=1687194286","\/\/oncept.nyc\/cdn\/shop\/products\/Frame19-min.jpg?v=1687194286","\/\/oncept.nyc\/cdn\/shop\/products\/LONDON_WHITE_CLOUD_SIDE_557b752f-f29d-47ab-b7c2-b75f2359b5c9.jpg?v=1676911102","\/\/oncept.nyc\/cdn\/shop\/products\/ONCEPT-LONDON-TOP-WHITECLOUD_ff98cb81-228b-4982-8b43-e9b1c9f813d0.jpg?v=1676911102","\/\/oncept.nyc\/cdn\/shop\/products\/ONCEPT-LONDON-BACK-WHITECLOUD_83d443bc-7247-4cf7-8656-893769542172.jpg?v=1676911102","\/\/oncept.nyc\/cdn\/shop\/products\/ONCEPT-LONDON-OUTSOLE-WHITECLOUD_593bee51-6b85-4ba9-93b3-4947915caec5.jpg?v=1676911102","\/\/oncept.nyc\/cdn\/shop\/products\/ONCEPT-LONDON-SOFTNESS-WHITECLOUD_9c4f893d-13fa-4ded-a1fd-7f99699d315c.jpg?v=1676911102","\/\/oncept.nyc\/cdn\/shop\/products\/LONDON_WHITE_CLOUD_ONFOOT_a6f87298-470e-49a2-be80-6cc2253e3d1b.jpg?v=1676911102","\/\/oncept.nyc\/cdn\/shop\/products\/LONDON-SIDE-WHITE-MINT_0a2cb75a-e838-4657-a79a-e82a0831a050.jpg?v=1676911102","\/\/oncept.nyc\/cdn\/shop\/products\/LONDON-TOP-WHITE-MINT_0e0f1a49-a49d-455f-b8b7-b8c95ac72b1c.jpg?v=1676911102","\/\/oncept.nyc\/cdn\/shop\/products\/LONDON-BACK-WHITE-MINT_0a891582-3ff2-4caf-89d9-8d1bdb94829e.jpg?v=1676911102","\/\/oncept.nyc\/cdn\/shop\/products\/LONDON-OUTSOLE-WHITE-MINT_fb1c8a7f-9cbd-4dca-beeb-dcf5c33d82bc.jpg?v=1676911102","\/\/oncept.nyc\/cdn\/shop\/products\/LONDON-SOFTNESS-WHITE-MINT_128ebf0c-cb40-41ec-ba67-7a10fad6fa7a.jpg?v=1676911102","\/\/oncept.nyc\/cdn\/shop\/products\/LONDON-ONFOOT-WHITE-BLUEMIST_93c24f82-a17d-4fe6-a2ed-a3749109c7b1.jpg?v=1676911102","\/\/oncept.nyc\/cdn\/shop\/products\/LONDON-SIDE-WHITE-BLUEMIST_e918751a-09bb-4905-8a08-c3fe38a5f5da.jpg?v=1676911102","\/\/oncept.nyc\/cdn\/shop\/products\/LONDON-TOP-WHITE-BLUEMIST_019c2484-0824-463b-8bed-015cab85a74d.jpg?v=1676911102","\/\/oncept.nyc\/cdn\/shop\/products\/LONDON-BACK-WHITE-BLUEMIST_37221040-ed84-462f-87b9-411e30f8ba47.jpg?v=1676911102","\/\/oncept.nyc\/cdn\/shop\/products\/LONDON-OUTSOLE-WHITE-BLUEMIST_68869f0b-4b05-4167-ab28-93299bdba830.jpg?v=1676911102","\/\/oncept.nyc\/cdn\/shop\/products\/LONDON-SOFTNESS-WHITE-BLUEMIST_75b69157-ae20-4154-8715-2ca89d34d6d1.jpg?v=1676911102","\/\/oncept.nyc\/cdn\/shop\/products\/LONDON-ONFOOT-WHITE-MINT_e5354ba7-c3d7-4648-a898-c5796f8f30d5.jpg?v=1676911102","\/\/oncept.nyc\/cdn\/shop\/products\/LONDON_MOONSTONE_SIDE_e91c0606-1dec-48bd-9f2c-dc9ed8cd5f48.jpg?v=1676911102","\/\/oncept.nyc\/cdn\/shop\/products\/ONCEPT-LONDON-TOP-MOONSTONEGREY_46252eed-21dd-4ef8-9c89-f27e68a763ae.jpg?v=1676911102","\/\/oncept.nyc\/cdn\/shop\/products\/ONCEPT-LONDON-BACK-MOONSTONEGREY_c5e7e961-b1fb-477a-a6fc-29596e042cba.jpg?v=1676911102","\/\/oncept.nyc\/cdn\/shop\/products\/ONCEPT-LONDON-OUTSOLE-MOONSTONEGREY_5c11e16f-2a00-4efd-9311-40617162a1a7.jpg?v=1676911102","\/\/oncept.nyc\/cdn\/shop\/products\/ONCEPT-LONDON-SOFTNESS-BLUEVAPOR_5f1e432b-a6fd-4e6f-bfc8-860d843f3a1d.jpg?v=1676911102","\/\/oncept.nyc\/cdn\/shop\/products\/ONCEPT-LONDON-ONFOOT-MOONSTONEGREY2_4e17e5d1-e6d0-44ec-92a7-53d01707b537.jpg?v=1676911102","\/\/oncept.nyc\/cdn\/shop\/products\/LONDON_LATTE_SIDE_9a17c3d6-a225-441b-9f92-3a040e01611c.jpg?v=1676911102","\/\/oncept.nyc\/cdn\/shop\/products\/ONCEPT-LONDON-TOP-LATTE_a63beab3-1c81-4a5e-9a4d-fea872fea77b.jpg?v=1676911102","\/\/oncept.nyc\/cdn\/shop\/products\/ONCEPT-LONDON-BACK-LATTE_161d8152-1f2a-418d-b8c4-2a48395ebabc.jpg?v=1676911102","\/\/oncept.nyc\/cdn\/shop\/products\/ONCEPT-LONDON-OUTSOLE-LATTE_672b0e40-725b-4aea-bc68-8411b5657d40.jpg?v=1676911102","\/\/oncept.nyc\/cdn\/shop\/products\/ONCEPT-LONDON-SOFTNESS-LATTE_2b1b295c-baea-434e-ae01-2dabed72a8a2.jpg?v=1676911102","\/\/oncept.nyc\/cdn\/shop\/products\/LONDON-SIDE-WHITECAPPUCINO-min_2.jpg?v=1681333894","\/\/oncept.nyc\/cdn\/shop\/products\/LONDON-TOP-WHITECAPPUCINO-min_1.jpg?v=1681333894","\/\/oncept.nyc\/cdn\/shop\/products\/LONDON-BACK-WHITE_CAPPICINNO-min_2.jpg?v=1681333894","\/\/oncept.nyc\/cdn\/shop\/products\/LONDON-OUTSOLE-WHITECAPPUCINO-min_1.jpg?v=1681333894","\/\/oncept.nyc\/cdn\/shop\/products\/LONDON-SOFTNESS-WHITE_CAPPUCINNO-min_1.jpg?v=1681333894","\/\/oncept.nyc\/cdn\/shop\/products\/LONDON-WHITE_CAPPUCINNO-ONFOOT-min_ca181ce9-6ca9-46e6-ad8b-863cf8d88928.jpg?v=1681333894"],"featured_image":"\/\/oncept.nyc\/cdn\/shop\/products\/LONDON-SIDE-min.jpg?v=1687194286","options":["Color","Size","Material"],"media":[{"alt":"0","id":23733589803213,"position":1,"preview_image":{"aspect_ratio":0.8,"height":3700,"width":2960,"src":"\/\/oncept.nyc\/cdn\/shop\/products\/LONDON-SIDE-min.jpg?v=1687194286"},"aspect_ratio":0.8,"height":3700,"media_type":"image","src":"\/\/oncept.nyc\/cdn\/shop\/products\/LONDON-SIDE-min.jpg?v=1687194286","width":2960},{"alt":"0","id":23733624438989,"position":2,"preview_image":{"aspect_ratio":0.8,"height":3700,"width":2960,"src":"\/\/oncept.nyc\/cdn\/shop\/products\/LONDON-TOP.jpg?v=1687194286"},"aspect_ratio":0.8,"height":3700,"media_type":"image","src":"\/\/oncept.nyc\/cdn\/shop\/products\/LONDON-TOP.jpg?v=1687194286","width":2960},{"alt":"0","id":23733589737677,"position":3,"preview_image":{"aspect_ratio":0.8,"height":3700,"width":2960,"src":"\/\/oncept.nyc\/cdn\/shop\/products\/LONDON-BACK-min.jpg?v=1687194286"},"aspect_ratio":0.8,"height":3700,"media_type":"image","src":"\/\/oncept.nyc\/cdn\/shop\/products\/LONDON-BACK-min.jpg?v=1687194286","width":2960},{"alt":"0","id":23733589770445,"position":4,"preview_image":{"aspect_ratio":0.8,"height":3700,"width":2960,"src":"\/\/oncept.nyc\/cdn\/shop\/products\/LONDON-OUTSOLE-min.jpg?v=1687194286"},"aspect_ratio":0.8,"height":3700,"media_type":"image","src":"\/\/oncept.nyc\/cdn\/shop\/products\/LONDON-OUTSOLE-min.jpg?v=1687194286","width":2960},{"alt":"0","id":23733589835981,"position":5,"preview_image":{"aspect_ratio":0.8,"height":3700,"width":2960,"src":"\/\/oncept.nyc\/cdn\/shop\/products\/LONDON-SOFTNESS-min.jpg?v=1687194286"},"aspect_ratio":0.8,"height":3700,"media_type":"image","src":"\/\/oncept.nyc\/cdn\/shop\/products\/LONDON-SOFTNESS-min.jpg?v=1687194286","width":2960},{"alt":"0","id":23781256822989,"position":6,"preview_image":{"aspect_ratio":0.8,"height":3700,"width":2960,"src":"\/\/oncept.nyc\/cdn\/shop\/products\/Frame18-min.jpg?v=1687194286"},"aspect_ratio":0.8,"height":3700,"media_type":"image","src":"\/\/oncept.nyc\/cdn\/shop\/products\/Frame18-min.jpg?v=1687194286","width":2960},{"alt":"1","id":23733590393037,"position":7,"preview_image":{"aspect_ratio":0.8,"height":3700,"width":2960,"src":"\/\/oncept.nyc\/cdn\/shop\/products\/LONDON-SIDE-min_c9e3c161-b035-44d9-977d-2fb115807c4b.jpg?v=1687194286"},"aspect_ratio":0.8,"height":3700,"media_type":"image","src":"\/\/oncept.nyc\/cdn\/shop\/products\/LONDON-SIDE-min_c9e3c161-b035-44d9-977d-2fb115807c4b.jpg?v=1687194286","width":2960},{"alt":"1","id":23733590458573,"position":8,"preview_image":{"aspect_ratio":0.8,"height":3700,"width":2960,"src":"\/\/oncept.nyc\/cdn\/shop\/products\/LONDON-TOP-min_37c7828e-aed2-435f-863f-e00c66cb7fa0.jpg?v=1687194286"},"aspect_ratio":0.8,"height":3700,"media_type":"image","src":"\/\/oncept.nyc\/cdn\/shop\/products\/LONDON-TOP-min_37c7828e-aed2-435f-863f-e00c66cb7fa0.jpg?v=1687194286","width":2960},{"alt":"1","id":23733590327501,"position":9,"preview_image":{"aspect_ratio":0.8,"height":3700,"width":2960,"src":"\/\/oncept.nyc\/cdn\/shop\/products\/LONDON-BACK-min_53ca4874-b560-4f63-a676-cdca4248f97f.jpg?v=1687194286"},"aspect_ratio":0.8,"height":3700,"media_type":"image","src":"\/\/oncept.nyc\/cdn\/shop\/products\/LONDON-BACK-min_53ca4874-b560-4f63-a676-cdca4248f97f.jpg?v=1687194286","width":2960},{"alt":"1","id":23733590360269,"position":10,"preview_image":{"aspect_ratio":0.8,"height":3700,"width":2960,"src":"\/\/oncept.nyc\/cdn\/shop\/products\/LONDON-OUTSOLE-min_9a5eeddc-e20b-4bf3-aeff-ad0c8784e120.jpg?v=1687194286"},"aspect_ratio":0.8,"height":3700,"media_type":"image","src":"\/\/oncept.nyc\/cdn\/shop\/products\/LONDON-OUTSOLE-min_9a5eeddc-e20b-4bf3-aeff-ad0c8784e120.jpg?v=1687194286","width":2960},{"alt":"1","id":23733590425805,"position":11,"preview_image":{"aspect_ratio":0.8,"height":3700,"width":2960,"src":"\/\/oncept.nyc\/cdn\/shop\/products\/LONDON-SOFTNESS-min_0245edae-489b-4f2d-9ebb-652e86855c7f.jpg?v=1687194286"},"aspect_ratio":0.8,"height":3700,"media_type":"image","src":"\/\/oncept.nyc\/cdn\/shop\/products\/LONDON-SOFTNESS-min_0245edae-489b-4f2d-9ebb-652e86855c7f.jpg?v=1687194286","width":2960},{"alt":"1","id":23781256855757,"position":12,"preview_image":{"aspect_ratio":0.8,"height":3700,"width":2960,"src":"\/\/oncept.nyc\/cdn\/shop\/products\/Frame19-min.jpg?v=1687194286"},"aspect_ratio":0.8,"height":3700,"media_type":"image","src":"\/\/oncept.nyc\/cdn\/shop\/products\/Frame19-min.jpg?v=1687194286","width":2960},{"alt":"2","id":22790318981325,"position":13,"preview_image":{"aspect_ratio":0.8,"height":2000,"width":1600,"src":"\/\/oncept.nyc\/cdn\/shop\/products\/LONDON_WHITE_CLOUD_SIDE_557b752f-f29d-47ab-b7c2-b75f2359b5c9.jpg?v=1676911102"},"aspect_ratio":0.8,"height":2000,"media_type":"image","src":"\/\/oncept.nyc\/cdn\/shop\/products\/LONDON_WHITE_CLOUD_SIDE_557b752f-f29d-47ab-b7c2-b75f2359b5c9.jpg?v=1676911102","width":1600},{"alt":"2","id":22790319046861,"position":14,"preview_image":{"aspect_ratio":0.8,"height":1723,"width":1379,"src":"\/\/oncept.nyc\/cdn\/shop\/products\/ONCEPT-LONDON-TOP-WHITECLOUD_ff98cb81-228b-4982-8b43-e9b1c9f813d0.jpg?v=1676911102"},"aspect_ratio":0.8,"height":1723,"media_type":"image","src":"\/\/oncept.nyc\/cdn\/shop\/products\/ONCEPT-LONDON-TOP-WHITECLOUD_ff98cb81-228b-4982-8b43-e9b1c9f813d0.jpg?v=1676911102","width":1379},{"alt":"2","id":22790319079629,"position":15,"preview_image":{"aspect_ratio":0.8,"height":1723,"width":1379,"src":"\/\/oncept.nyc\/cdn\/shop\/products\/ONCEPT-LONDON-BACK-WHITECLOUD_83d443bc-7247-4cf7-8656-893769542172.jpg?v=1676911102"},"aspect_ratio":0.8,"height":1723,"media_type":"image","src":"\/\/oncept.nyc\/cdn\/shop\/products\/ONCEPT-LONDON-BACK-WHITECLOUD_83d443bc-7247-4cf7-8656-893769542172.jpg?v=1676911102","width":1379},{"alt":"2","id":22790319112397,"position":16,"preview_image":{"aspect_ratio":0.8,"height":1723,"width":1379,"src":"\/\/oncept.nyc\/cdn\/shop\/products\/ONCEPT-LONDON-OUTSOLE-WHITECLOUD_593bee51-6b85-4ba9-93b3-4947915caec5.jpg?v=1676911102"},"aspect_ratio":0.8,"height":1723,"media_type":"image","src":"\/\/oncept.nyc\/cdn\/shop\/products\/ONCEPT-LONDON-OUTSOLE-WHITECLOUD_593bee51-6b85-4ba9-93b3-4947915caec5.jpg?v=1676911102","width":1379},{"alt":"2","id":22790319145165,"position":17,"preview_image":{"aspect_ratio":0.801,"height":1723,"width":1380,"src":"\/\/oncept.nyc\/cdn\/shop\/products\/ONCEPT-LONDON-SOFTNESS-WHITECLOUD_9c4f893d-13fa-4ded-a1fd-7f99699d315c.jpg?v=1676911102"},"aspect_ratio":0.801,"height":1723,"media_type":"image","src":"\/\/oncept.nyc\/cdn\/shop\/products\/ONCEPT-LONDON-SOFTNESS-WHITECLOUD_9c4f893d-13fa-4ded-a1fd-7f99699d315c.jpg?v=1676911102","width":1380},{"alt":"2","id":22790319177933,"position":18,"preview_image":{"aspect_ratio":0.8,"height":2000,"width":1600,"src":"\/\/oncept.nyc\/cdn\/shop\/products\/LONDON_WHITE_CLOUD_ONFOOT_a6f87298-470e-49a2-be80-6cc2253e3d1b.jpg?v=1676911102"},"aspect_ratio":0.8,"height":2000,"media_type":"image","src":"\/\/oncept.nyc\/cdn\/shop\/products\/LONDON_WHITE_CLOUD_ONFOOT_a6f87298-470e-49a2-be80-6cc2253e3d1b.jpg?v=1676911102","width":1600},{"alt":"3","id":22790318227661,"position":19,"preview_image":{"aspect_ratio":0.8,"height":1500,"width":1200,"src":"\/\/oncept.nyc\/cdn\/shop\/products\/LONDON-SIDE-WHITE-MINT_0a2cb75a-e838-4657-a79a-e82a0831a050.jpg?v=1676911102"},"aspect_ratio":0.8,"height":1500,"media_type":"image","src":"\/\/oncept.nyc\/cdn\/shop\/products\/LONDON-SIDE-WHITE-MINT_0a2cb75a-e838-4657-a79a-e82a0831a050.jpg?v=1676911102","width":1200},{"alt":"3","id":22790318325965,"position":20,"preview_image":{"aspect_ratio":0.8,"height":1500,"width":1200,"src":"\/\/oncept.nyc\/cdn\/shop\/products\/LONDON-TOP-WHITE-MINT_0e0f1a49-a49d-455f-b8b7-b8c95ac72b1c.jpg?v=1676911102"},"aspect_ratio":0.8,"height":1500,"media_type":"image","src":"\/\/oncept.nyc\/cdn\/shop\/products\/LONDON-TOP-WHITE-MINT_0e0f1a49-a49d-455f-b8b7-b8c95ac72b1c.jpg?v=1676911102","width":1200},{"alt":"3","id":22790318391501,"position":21,"preview_image":{"aspect_ratio":0.8,"height":1500,"width":1200,"src":"\/\/oncept.nyc\/cdn\/shop\/products\/LONDON-BACK-WHITE-MINT_0a891582-3ff2-4caf-89d9-8d1bdb94829e.jpg?v=1676911102"},"aspect_ratio":0.8,"height":1500,"media_type":"image","src":"\/\/oncept.nyc\/cdn\/shop\/products\/LONDON-BACK-WHITE-MINT_0a891582-3ff2-4caf-89d9-8d1bdb94829e.jpg?v=1676911102","width":1200},{"alt":"3","id":22790318424269,"position":22,"preview_image":{"aspect_ratio":0.8,"height":1500,"width":1200,"src":"\/\/oncept.nyc\/cdn\/shop\/products\/LONDON-OUTSOLE-WHITE-MINT_fb1c8a7f-9cbd-4dca-beeb-dcf5c33d82bc.jpg?v=1676911102"},"aspect_ratio":0.8,"height":1500,"media_type":"image","src":"\/\/oncept.nyc\/cdn\/shop\/products\/LONDON-OUTSOLE-WHITE-MINT_fb1c8a7f-9cbd-4dca-beeb-dcf5c33d82bc.jpg?v=1676911102","width":1200},{"alt":"3","id":22790318457037,"position":23,"preview_image":{"aspect_ratio":0.8,"height":1500,"width":1200,"src":"\/\/oncept.nyc\/cdn\/shop\/products\/LONDON-SOFTNESS-WHITE-MINT_128ebf0c-cb40-41ec-ba67-7a10fad6fa7a.jpg?v=1676911102"},"aspect_ratio":0.8,"height":1500,"media_type":"image","src":"\/\/oncept.nyc\/cdn\/shop\/products\/LONDON-SOFTNESS-WHITE-MINT_128ebf0c-cb40-41ec-ba67-7a10fad6fa7a.jpg?v=1676911102","width":1200},{"alt":"3","id":22790318489805,"position":24,"preview_image":{"aspect_ratio":0.8,"height":925,"width":740,"src":"\/\/oncept.nyc\/cdn\/shop\/products\/LONDON-ONFOOT-WHITE-BLUEMIST_93c24f82-a17d-4fe6-a2ed-a3749109c7b1.jpg?v=1676911102"},"aspect_ratio":0.8,"height":925,"media_type":"image","src":"\/\/oncept.nyc\/cdn\/shop\/products\/LONDON-ONFOOT-WHITE-BLUEMIST_93c24f82-a17d-4fe6-a2ed-a3749109c7b1.jpg?v=1676911102","width":740},{"alt":"4","id":22790318522573,"position":25,"preview_image":{"aspect_ratio":0.8,"height":1500,"width":1200,"src":"\/\/oncept.nyc\/cdn\/shop\/products\/LONDON-SIDE-WHITE-BLUEMIST_e918751a-09bb-4905-8a08-c3fe38a5f5da.jpg?v=1676911102"},"aspect_ratio":0.8,"height":1500,"media_type":"image","src":"\/\/oncept.nyc\/cdn\/shop\/products\/LONDON-SIDE-WHITE-BLUEMIST_e918751a-09bb-4905-8a08-c3fe38a5f5da.jpg?v=1676911102","width":1200},{"alt":"4","id":22790318588109,"position":26,"preview_image":{"aspect_ratio":0.8,"height":1500,"width":1200,"src":"\/\/oncept.nyc\/cdn\/shop\/products\/LONDON-TOP-WHITE-BLUEMIST_019c2484-0824-463b-8bed-015cab85a74d.jpg?v=1676911102"},"aspect_ratio":0.8,"height":1500,"media_type":"image","src":"\/\/oncept.nyc\/cdn\/shop\/products\/LONDON-TOP-WHITE-BLUEMIST_019c2484-0824-463b-8bed-015cab85a74d.jpg?v=1676911102","width":1200},{"alt":"4","id":22790318620877,"position":27,"preview_image":{"aspect_ratio":0.8,"height":1500,"width":1200,"src":"\/\/oncept.nyc\/cdn\/shop\/products\/LONDON-BACK-WHITE-BLUEMIST_37221040-ed84-462f-87b9-411e30f8ba47.jpg?v=1676911102"},"aspect_ratio":0.8,"height":1500,"media_type":"image","src":"\/\/oncept.nyc\/cdn\/shop\/products\/LONDON-BACK-WHITE-BLUEMIST_37221040-ed84-462f-87b9-411e30f8ba47.jpg?v=1676911102","width":1200},{"alt":"4","id":22790318686413,"position":28,"preview_image":{"aspect_ratio":0.8,"height":1500,"width":1200,"src":"\/\/oncept.nyc\/cdn\/shop\/products\/LONDON-OUTSOLE-WHITE-BLUEMIST_68869f0b-4b05-4167-ab28-93299bdba830.jpg?v=1676911102"},"aspect_ratio":0.8,"height":1500,"media_type":"image","src":"\/\/oncept.nyc\/cdn\/shop\/products\/LONDON-OUTSOLE-WHITE-BLUEMIST_68869f0b-4b05-4167-ab28-93299bdba830.jpg?v=1676911102","width":1200},{"alt":"4","id":22790318719181,"position":29,"preview_image":{"aspect_ratio":0.8,"height":1500,"width":1200,"src":"\/\/oncept.nyc\/cdn\/shop\/products\/LONDON-SOFTNESS-WHITE-BLUEMIST_75b69157-ae20-4154-8715-2ca89d34d6d1.jpg?v=1676911102"},"aspect_ratio":0.8,"height":1500,"media_type":"image","src":"\/\/oncept.nyc\/cdn\/shop\/products\/LONDON-SOFTNESS-WHITE-BLUEMIST_75b69157-ae20-4154-8715-2ca89d34d6d1.jpg?v=1676911102","width":1200},{"alt":"4","id":22790318915789,"position":30,"preview_image":{"aspect_ratio":0.8,"height":925,"width":740,"src":"\/\/oncept.nyc\/cdn\/shop\/products\/LONDON-ONFOOT-WHITE-MINT_e5354ba7-c3d7-4648-a898-c5796f8f30d5.jpg?v=1676911102"},"aspect_ratio":0.8,"height":925,"media_type":"image","src":"\/\/oncept.nyc\/cdn\/shop\/products\/LONDON-ONFOOT-WHITE-MINT_e5354ba7-c3d7-4648-a898-c5796f8f30d5.jpg?v=1676911102","width":740},{"alt":"5","id":22790319210701,"position":31,"preview_image":{"aspect_ratio":0.8,"height":2000,"width":1600,"src":"\/\/oncept.nyc\/cdn\/shop\/products\/LONDON_MOONSTONE_SIDE_e91c0606-1dec-48bd-9f2c-dc9ed8cd5f48.jpg?v=1676911102"},"aspect_ratio":0.8,"height":2000,"media_type":"image","src":"\/\/oncept.nyc\/cdn\/shop\/products\/LONDON_MOONSTONE_SIDE_e91c0606-1dec-48bd-9f2c-dc9ed8cd5f48.jpg?v=1676911102","width":1600},{"alt":"5","id":22790319276237,"position":32,"preview_image":{"aspect_ratio":0.8,"height":1723,"width":1379,"src":"\/\/oncept.nyc\/cdn\/shop\/products\/ONCEPT-LONDON-TOP-MOONSTONEGREY_46252eed-21dd-4ef8-9c89-f27e68a763ae.jpg?v=1676911102"},"aspect_ratio":0.8,"height":1723,"media_type":"image","src":"\/\/oncept.nyc\/cdn\/shop\/products\/ONCEPT-LONDON-TOP-MOONSTONEGREY_46252eed-21dd-4ef8-9c89-f27e68a763ae.jpg?v=1676911102","width":1379},{"alt":"5","id":22790319309005,"position":33,"preview_image":{"aspect_ratio":0.801,"height":1723,"width":1380,"src":"\/\/oncept.nyc\/cdn\/shop\/products\/ONCEPT-LONDON-BACK-MOONSTONEGREY_c5e7e961-b1fb-477a-a6fc-29596e042cba.jpg?v=1676911102"},"aspect_ratio":0.801,"height":1723,"media_type":"image","src":"\/\/oncept.nyc\/cdn\/shop\/products\/ONCEPT-LONDON-BACK-MOONSTONEGREY_c5e7e961-b1fb-477a-a6fc-29596e042cba.jpg?v=1676911102","width":1380},{"alt":"5","id":22790319374541,"position":34,"preview_image":{"aspect_ratio":0.8,"height":1723,"width":1379,"src":"\/\/oncept.nyc\/cdn\/shop\/products\/ONCEPT-LONDON-OUTSOLE-MOONSTONEGREY_5c11e16f-2a00-4efd-9311-40617162a1a7.jpg?v=1676911102"},"aspect_ratio":0.8,"height":1723,"media_type":"image","src":"\/\/oncept.nyc\/cdn\/shop\/products\/ONCEPT-LONDON-OUTSOLE-MOONSTONEGREY_5c11e16f-2a00-4efd-9311-40617162a1a7.jpg?v=1676911102","width":1379},{"alt":"5","id":22790319407309,"position":35,"preview_image":{"aspect_ratio":0.8,"height":1723,"width":1379,"src":"\/\/oncept.nyc\/cdn\/shop\/products\/ONCEPT-LONDON-SOFTNESS-BLUEVAPOR_5f1e432b-a6fd-4e6f-bfc8-860d843f3a1d.jpg?v=1676911102"},"aspect_ratio":0.8,"height":1723,"media_type":"image","src":"\/\/oncept.nyc\/cdn\/shop\/products\/ONCEPT-LONDON-SOFTNESS-BLUEVAPOR_5f1e432b-a6fd-4e6f-bfc8-860d843f3a1d.jpg?v=1676911102","width":1379},{"alt":"5","id":22790319440077,"position":36,"preview_image":{"aspect_ratio":0.8,"height":1723,"width":1379,"src":"\/\/oncept.nyc\/cdn\/shop\/products\/ONCEPT-LONDON-ONFOOT-MOONSTONEGREY2_4e17e5d1-e6d0-44ec-92a7-53d01707b537.jpg?v=1676911102"},"aspect_ratio":0.8,"height":1723,"media_type":"image","src":"\/\/oncept.nyc\/cdn\/shop\/products\/ONCEPT-LONDON-ONFOOT-MOONSTONEGREY2_4e17e5d1-e6d0-44ec-92a7-53d01707b537.jpg?v=1676911102","width":1379},{"alt":"6","id":22790319472845,"position":37,"preview_image":{"aspect_ratio":0.8,"height":2000,"width":1600,"src":"\/\/oncept.nyc\/cdn\/shop\/products\/LONDON_LATTE_SIDE_9a17c3d6-a225-441b-9f92-3a040e01611c.jpg?v=1676911102"},"aspect_ratio":0.8,"height":2000,"media_type":"image","src":"\/\/oncept.nyc\/cdn\/shop\/products\/LONDON_LATTE_SIDE_9a17c3d6-a225-441b-9f92-3a040e01611c.jpg?v=1676911102","width":1600},{"alt":"6","id":22790319505613,"position":38,"preview_image":{"aspect_ratio":0.8,"height":1723,"width":1379,"src":"\/\/oncept.nyc\/cdn\/shop\/products\/ONCEPT-LONDON-TOP-LATTE_a63beab3-1c81-4a5e-9a4d-fea872fea77b.jpg?v=1676911102"},"aspect_ratio":0.8,"height":1723,"media_type":"image","src":"\/\/oncept.nyc\/cdn\/shop\/products\/ONCEPT-LONDON-TOP-LATTE_a63beab3-1c81-4a5e-9a4d-fea872fea77b.jpg?v=1676911102","width":1379},{"alt":"6","id":22790319538381,"position":39,"preview_image":{"aspect_ratio":0.8,"height":1723,"width":1379,"src":"\/\/oncept.nyc\/cdn\/shop\/products\/ONCEPT-LONDON-BACK-LATTE_161d8152-1f2a-418d-b8c4-2a48395ebabc.jpg?v=1676911102"},"aspect_ratio":0.8,"height":1723,"media_type":"image","src":"\/\/oncept.nyc\/cdn\/shop\/products\/ONCEPT-LONDON-BACK-LATTE_161d8152-1f2a-418d-b8c4-2a48395ebabc.jpg?v=1676911102","width":1379},{"alt":"6","id":22790319571149,"position":40,"preview_image":{"aspect_ratio":0.8,"height":1723,"width":1379,"src":"\/\/oncept.nyc\/cdn\/shop\/products\/ONCEPT-LONDON-OUTSOLE-LATTE_672b0e40-725b-4aea-bc68-8411b5657d40.jpg?v=1676911102"},"aspect_ratio":0.8,"height":1723,"media_type":"image","src":"\/\/oncept.nyc\/cdn\/shop\/products\/ONCEPT-LONDON-OUTSOLE-LATTE_672b0e40-725b-4aea-bc68-8411b5657d40.jpg?v=1676911102","width":1379},{"alt":"6","id":22790319603917,"position":41,"preview_image":{"aspect_ratio":0.801,"height":1723,"width":1380,"src":"\/\/oncept.nyc\/cdn\/shop\/products\/ONCEPT-LONDON-SOFTNESS-LATTE_2b1b295c-baea-434e-ae01-2dabed72a8a2.jpg?v=1676911102"},"aspect_ratio":0.801,"height":1723,"media_type":"image","src":"\/\/oncept.nyc\/cdn\/shop\/products\/ONCEPT-LONDON-SOFTNESS-LATTE_2b1b295c-baea-434e-ae01-2dabed72a8a2.jpg?v=1676911102","width":1380},{"alt":"7","id":23948034343117,"position":42,"preview_image":{"aspect_ratio":0.8,"height":3700,"width":2960,"src":"\/\/oncept.nyc\/cdn\/shop\/products\/LONDON-SIDE-WHITECAPPUCINO-min_2.jpg?v=1681333894"},"aspect_ratio":0.8,"height":3700,"media_type":"image","src":"\/\/oncept.nyc\/cdn\/shop\/products\/LONDON-SIDE-WHITECAPPUCINO-min_2.jpg?v=1681333894","width":2960},{"alt":"7","id":23948034310349,"position":43,"preview_image":{"aspect_ratio":0.8,"height":3700,"width":2960,"src":"\/\/oncept.nyc\/cdn\/shop\/products\/LONDON-TOP-WHITECAPPUCINO-min_1.jpg?v=1681333894"},"aspect_ratio":0.8,"height":3700,"media_type":"image","src":"\/\/oncept.nyc\/cdn\/shop\/products\/LONDON-TOP-WHITECAPPUCINO-min_1.jpg?v=1681333894","width":2960},{"alt":"7","id":23948034277581,"position":44,"preview_image":{"aspect_ratio":0.8,"height":3700,"width":2960,"src":"\/\/oncept.nyc\/cdn\/shop\/products\/LONDON-BACK-WHITE_CAPPICINNO-min_2.jpg?v=1681333894"},"aspect_ratio":0.8,"height":3700,"media_type":"image","src":"\/\/oncept.nyc\/cdn\/shop\/products\/LONDON-BACK-WHITE_CAPPICINNO-min_2.jpg?v=1681333894","width":2960},{"alt":"7","id":23948034244813,"position":45,"preview_image":{"aspect_ratio":0.8,"height":3700,"width":2960,"src":"\/\/oncept.nyc\/cdn\/shop\/products\/LONDON-OUTSOLE-WHITECAPPUCINO-min_1.jpg?v=1681333894"},"aspect_ratio":0.8,"height":3700,"media_type":"image","src":"\/\/oncept.nyc\/cdn\/shop\/products\/LONDON-OUTSOLE-WHITECAPPUCINO-min_1.jpg?v=1681333894","width":2960},{"alt":"7","id":23948034212045,"position":46,"preview_image":{"aspect_ratio":0.8,"height":3700,"width":2960,"src":"\/\/oncept.nyc\/cdn\/shop\/products\/LONDON-SOFTNESS-WHITE_CAPPUCINNO-min_1.jpg?v=1681333894"},"aspect_ratio":0.8,"height":3700,"media_type":"image","src":"\/\/oncept.nyc\/cdn\/shop\/products\/LONDON-SOFTNESS-WHITE_CAPPUCINNO-min_1.jpg?v=1681333894","width":2960},{"alt":"7","id":23948034179277,"position":47,"preview_image":{"aspect_ratio":0.8,"height":3700,"width":2960,"src":"\/\/oncept.nyc\/cdn\/shop\/products\/LONDON-WHITE_CAPPUCINNO-ONFOOT-min_ca181ce9-6ca9-46e6-ad8b-863cf8d88928.jpg?v=1681333894"},"aspect_ratio":0.8,"height":3700,"media_type":"image","src":"\/\/oncept.nyc\/cdn\/shop\/products\/LONDON-WHITE_CAPPUCINNO-ONFOOT-min_ca181ce9-6ca9-46e6-ad8b-863cf8d88928.jpg?v=1681333894","width":2960}],"requires_selling_plan":false,"selling_plan_groups":[],"content":"\u003cspan data-mce-fragment=\"1\"\u003eElevated and sporty, the LONDON is your seasonless sneaker. With ultra-soft calf leather, citrus orange details, and a re-speckled flex outsole, our two-tone molded bottom is sleek and comfortable. With style in mind, the rubber flex outsole is durable, while the upper is soft and packable, making this timeless sneaker ready for anything.\u003c\/span\u003e"} { "options": [ { "title": "Color", "values": [ { "value": "WHITE - CITRINE", "url": "/products/copy-of-london?variant=41008667459789" }, { "value": "COASTAL MULTI", "url": "/products/copy-of-london?variant=41008667164877" }, { "value": "WHITE CLOUD", "url": "/products/copy-of-london?variant=41008665231565" }, { "value": "WHITE - MINT", "url": "/products/copy-of-london?variant=41008664641741" }, { "value": "WHITE - BLUE MIST", "url": "/products/copy-of-london?variant=41008664936653" }, { "value": "MOONSTONE", "url": "/products/copy-of-london?variant=41008665526477" }, { "value": "LATTE", "url": "/products/copy-of-london?variant=41008665821389" }, { "value": "WHITE - CAPPUCCINO", "url": "/products/copy-of-london?variant=41575002341581" } ] }, { "title": "Size", "values": [ { "value": "6", "url": "/products/copy-of-london?variant=41008667459789" }, { "value": "6.5", "url": "/products/copy-of-london?variant=41008667492557" }, { "value": "7", "url": "/products/copy-of-london?variant=41008667525325" }, { "value": "7.5", "url": "/products/copy-of-london?variant=41008667558093" }, { "value": "8", "url": "/products/copy-of-london?variant=41008667590861" }, { "value": "8.5", "url": "/products/copy-of-london?variant=41008667623629" }, { "value": "9", "url": "/products/copy-of-london?variant=41008667656397" }, { "value": "9.5", "url": "/products/copy-of-london?variant=41008667689165" }, { "value": "10", "url": "/products/copy-of-london?variant=41008667721933" } ] }, { "title": "Material", "values": [ { "value": "SOFT CALF LEATHER", "url": "/products/copy-of-london?variant=41008667459789" } ] } ] }
{"id":7150644854989,"title":"PHOENIX","handle":"phoenix-2","description":"\u003cmeta charset=\"utf-8\"\u003e\n\u003cp data-mce-fragment=\"1\"\u003e\u003cspan data-mce-fragment=\"1\"\u003eMeet the Phoenix, the courtside sneaker designed to take you from the sidewalk to the street with effortless cool. We've updated this retro style of the early '90's with sleek lines and ultra-soft material for a timeless new look. Featuring five modern colorways, organic cotton laces,\u003c\/span\u003e\u003cspan data-mce-fragment=\"1\"\u003e luxe butter leather \u003c\/span\u003e\u003cspan data-mce-fragment=\"1\"\u003eand our signature re-speckled soles. \u003c\/span\u003e\u003c\/p\u003e","published_at":"2023-02-08T15:27:01-05:00","created_at":"2022-12-29T18:56:41-05:00","vendor":"Oncept","type":"Footwear","tags":[],"price":27500,"price_min":27500,"price_max":27500,"available":true,"price_varies":false,"compare_at_price":null,"compare_at_price_min":0,"compare_at_price_max":0,"compare_at_price_varies":false,"variants":[{"id":41444634198221,"title":"RETRO RED \/ 6 \/ SOFT CALF LEATHER","option1":"RETRO RED","option2":"6","option3":"SOFT CALF LEATHER","sku":"840237311636","requires_shipping":true,"taxable":true,"featured_image":{"id":31444580991181,"product_id":7150644854989,"position":1,"created_at":"2023-02-06T16:02:03-05:00","updated_at":"2023-08-03T11:51:05-04:00","alt":"0","width":2960,"height":3700,"src":"\/\/oncept.nyc\/cdn\/shop\/products\/PHOENIX-SIDE-RETRORED-min_81251e46-1cb4-4666-80b8-ac76c0e41ab8.jpg?v=1691077865","variant_ids":[41444634198221,41444634230989,41444634263757,41444634296525,41444634329293,41444634362061,41444634394829,41444634427597,41444634460365]},"available":true,"name":"PHOENIX - RETRO RED \/ 6 \/ SOFT CALF LEATHER","public_title":"RETRO RED \/ 6 \/ SOFT CALF LEATHER","options":["RETRO RED","6","SOFT CALF LEATHER"],"price":27500,"weight":0,"compare_at_price":null,"inventory_management":"shopify","barcode":"840237311636","featured_media":{"alt":"0","id":23733781070029,"position":1,"preview_image":{"aspect_ratio":0.8,"height":3700,"width":2960,"src":"\/\/oncept.nyc\/cdn\/shop\/products\/PHOENIX-SIDE-RETRORED-min_81251e46-1cb4-4666-80b8-ac76c0e41ab8.jpg?v=1691077865"}},"requires_selling_plan":false,"selling_plan_allocations":[]},{"id":41444634230989,"title":"RETRO RED \/ 6.5 \/ SOFT CALF LEATHER","option1":"RETRO RED","option2":"6.5","option3":"SOFT CALF LEATHER","sku":"840237311643","requires_shipping":true,"taxable":true,"featured_image":{"id":31444580991181,"product_id":7150644854989,"position":1,"created_at":"2023-02-06T16:02:03-05:00","updated_at":"2023-08-03T11:51:05-04:00","alt":"0","width":2960,"height":3700,"src":"\/\/oncept.nyc\/cdn\/shop\/products\/PHOENIX-SIDE-RETRORED-min_81251e46-1cb4-4666-80b8-ac76c0e41ab8.jpg?v=1691077865","variant_ids":[41444634198221,41444634230989,41444634263757,41444634296525,41444634329293,41444634362061,41444634394829,41444634427597,41444634460365]},"available":true,"name":"PHOENIX - RETRO RED \/ 6.5 \/ SOFT CALF LEATHER","public_title":"RETRO RED \/ 6.5 \/ SOFT CALF LEATHER","options":["RETRO RED","6.5","SOFT CALF LEATHER"],"price":27500,"weight":0,"compare_at_price":null,"inventory_management":"shopify","barcode":"840237311643","featured_media":{"alt":"0","id":23733781070029,"position":1,"preview_image":{"aspect_ratio":0.8,"height":3700,"width":2960,"src":"\/\/oncept.nyc\/cdn\/shop\/products\/PHOENIX-SIDE-RETRORED-min_81251e46-1cb4-4666-80b8-ac76c0e41ab8.jpg?v=1691077865"}},"requires_selling_plan":false,"selling_plan_allocations":[]},{"id":41444634263757,"title":"RETRO RED \/ 7 \/ SOFT CALF LEATHER","option1":"RETRO RED","option2":"7","option3":"SOFT CALF LEATHER","sku":"840237311650","requires_shipping":true,"taxable":true,"featured_image":{"id":31444580991181,"product_id":7150644854989,"position":1,"created_at":"2023-02-06T16:02:03-05:00","updated_at":"2023-08-03T11:51:05-04:00","alt":"0","width":2960,"height":3700,"src":"\/\/oncept.nyc\/cdn\/shop\/products\/PHOENIX-SIDE-RETRORED-min_81251e46-1cb4-4666-80b8-ac76c0e41ab8.jpg?v=1691077865","variant_ids":[41444634198221,41444634230989,41444634263757,41444634296525,41444634329293,41444634362061,41444634394829,41444634427597,41444634460365]},"available":true,"name":"PHOENIX - RETRO RED \/ 7 \/ SOFT CALF LEATHER","public_title":"RETRO RED \/ 7 \/ SOFT CALF LEATHER","options":["RETRO RED","7","SOFT CALF LEATHER"],"price":27500,"weight":0,"compare_at_price":null,"inventory_management":"shopify","barcode":"840237311650","featured_media":{"alt":"0","id":23733781070029,"position":1,"preview_image":{"aspect_ratio":0.8,"height":3700,"width":2960,"src":"\/\/oncept.nyc\/cdn\/shop\/products\/PHOENIX-SIDE-RETRORED-min_81251e46-1cb4-4666-80b8-ac76c0e41ab8.jpg?v=1691077865"}},"requires_selling_plan":false,"selling_plan_allocations":[]},{"id":41444634296525,"title":"RETRO RED \/ 7.5 \/ SOFT CALF LEATHER","option1":"RETRO RED","option2":"7.5","option3":"SOFT CALF LEATHER","sku":"840237311667","requires_shipping":true,"taxable":true,"featured_image":{"id":31444580991181,"product_id":7150644854989,"position":1,"created_at":"2023-02-06T16:02:03-05:00","updated_at":"2023-08-03T11:51:05-04:00","alt":"0","width":2960,"height":3700,"src":"\/\/oncept.nyc\/cdn\/shop\/products\/PHOENIX-SIDE-RETRORED-min_81251e46-1cb4-4666-80b8-ac76c0e41ab8.jpg?v=1691077865","variant_ids":[41444634198221,41444634230989,41444634263757,41444634296525,41444634329293,41444634362061,41444634394829,41444634427597,41444634460365]},"available":true,"name":"PHOENIX - RETRO RED \/ 7.5 \/ SOFT CALF LEATHER","public_title":"RETRO RED \/ 7.5 \/ SOFT CALF LEATHER","options":["RETRO RED","7.5","SOFT CALF LEATHER"],"price":27500,"weight":0,"compare_at_price":null,"inventory_management":"shopify","barcode":"840237311667","featured_media":{"alt":"0","id":23733781070029,"position":1,"preview_image":{"aspect_ratio":0.8,"height":3700,"width":2960,"src":"\/\/oncept.nyc\/cdn\/shop\/products\/PHOENIX-SIDE-RETRORED-min_81251e46-1cb4-4666-80b8-ac76c0e41ab8.jpg?v=1691077865"}},"requires_selling_plan":false,"selling_plan_allocations":[]},{"id":41444634329293,"title":"RETRO RED \/ 8 \/ SOFT CALF LEATHER","option1":"RETRO RED","option2":"8","option3":"SOFT CALF LEATHER","sku":"840237311674","requires_shipping":true,"taxable":true,"featured_image":{"id":31444580991181,"product_id":7150644854989,"position":1,"created_at":"2023-02-06T16:02:03-05:00","updated_at":"2023-08-03T11:51:05-04:00","alt":"0","width":2960,"height":3700,"src":"\/\/oncept.nyc\/cdn\/shop\/products\/PHOENIX-SIDE-RETRORED-min_81251e46-1cb4-4666-80b8-ac76c0e41ab8.jpg?v=1691077865","variant_ids":[41444634198221,41444634230989,41444634263757,41444634296525,41444634329293,41444634362061,41444634394829,41444634427597,41444634460365]},"available":true,"name":"PHOENIX - RETRO RED \/ 8 \/ SOFT CALF LEATHER","public_title":"RETRO RED \/ 8 \/ SOFT CALF LEATHER","options":["RETRO RED","8","SOFT CALF LEATHER"],"price":27500,"weight":0,"compare_at_price":null,"inventory_management":"shopify","barcode":"840237311674","featured_media":{"alt":"0","id":23733781070029,"position":1,"preview_image":{"aspect_ratio":0.8,"height":3700,"width":2960,"src":"\/\/oncept.nyc\/cdn\/shop\/products\/PHOENIX-SIDE-RETRORED-min_81251e46-1cb4-4666-80b8-ac76c0e41ab8.jpg?v=1691077865"}},"requires_selling_plan":false,"selling_plan_allocations":[]},{"id":41444634362061,"title":"RETRO RED \/ 8.5 \/ SOFT CALF LEATHER","option1":"RETRO RED","option2":"8.5","option3":"SOFT CALF LEATHER","sku":"840237311681","requires_shipping":true,"taxable":true,"featured_image":{"id":31444580991181,"product_id":7150644854989,"position":1,"created_at":"2023-02-06T16:02:03-05:00","updated_at":"2023-08-03T11:51:05-04:00","alt":"0","width":2960,"height":3700,"src":"\/\/oncept.nyc\/cdn\/shop\/products\/PHOENIX-SIDE-RETRORED-min_81251e46-1cb4-4666-80b8-ac76c0e41ab8.jpg?v=1691077865","variant_ids":[41444634198221,41444634230989,41444634263757,41444634296525,41444634329293,41444634362061,41444634394829,41444634427597,41444634460365]},"available":true,"name":"PHOENIX - RETRO RED \/ 8.5 \/ SOFT CALF LEATHER","public_title":"RETRO RED \/ 8.5 \/ SOFT CALF LEATHER","options":["RETRO RED","8.5","SOFT CALF LEATHER"],"price":27500,"weight":0,"compare_at_price":null,"inventory_management":"shopify","barcode":"840237311681","featured_media":{"alt":"0","id":23733781070029,"position":1,"preview_image":{"aspect_ratio":0.8,"height":3700,"width":2960,"src":"\/\/oncept.nyc\/cdn\/shop\/products\/PHOENIX-SIDE-RETRORED-min_81251e46-1cb4-4666-80b8-ac76c0e41ab8.jpg?v=1691077865"}},"requires_selling_plan":false,"selling_plan_allocations":[]},{"id":41444634394829,"title":"RETRO RED \/ 9 \/ SOFT CALF LEATHER","option1":"RETRO RED","option2":"9","option3":"SOFT CALF LEATHER","sku":"840237311698","requires_shipping":true,"taxable":true,"featured_image":{"id":31444580991181,"product_id":7150644854989,"position":1,"created_at":"2023-02-06T16:02:03-05:00","updated_at":"2023-08-03T11:51:05-04:00","alt":"0","width":2960,"height":3700,"src":"\/\/oncept.nyc\/cdn\/shop\/products\/PHOENIX-SIDE-RETRORED-min_81251e46-1cb4-4666-80b8-ac76c0e41ab8.jpg?v=1691077865","variant_ids":[41444634198221,41444634230989,41444634263757,41444634296525,41444634329293,41444634362061,41444634394829,41444634427597,41444634460365]},"available":true,"name":"PHOENIX - RETRO RED \/ 9 \/ SOFT CALF LEATHER","public_title":"RETRO RED \/ 9 \/ SOFT CALF LEATHER","options":["RETRO RED","9","SOFT CALF LEATHER"],"price":27500,"weight":0,"compare_at_price":null,"inventory_management":"shopify","barcode":"840237311698","featured_media":{"alt":"0","id":23733781070029,"position":1,"preview_image":{"aspect_ratio":0.8,"height":3700,"width":2960,"src":"\/\/oncept.nyc\/cdn\/shop\/products\/PHOENIX-SIDE-RETRORED-min_81251e46-1cb4-4666-80b8-ac76c0e41ab8.jpg?v=1691077865"}},"requires_selling_plan":false,"selling_plan_allocations":[]},{"id":41444634427597,"title":"RETRO RED \/ 9.5 \/ SOFT CALF LEATHER","option1":"RETRO RED","option2":"9.5","option3":"SOFT CALF LEATHER","sku":"840237311704","requires_shipping":true,"taxable":true,"featured_image":{"id":31444580991181,"product_id":7150644854989,"position":1,"created_at":"2023-02-06T16:02:03-05:00","updated_at":"2023-08-03T11:51:05-04:00","alt":"0","width":2960,"height":3700,"src":"\/\/oncept.nyc\/cdn\/shop\/products\/PHOENIX-SIDE-RETRORED-min_81251e46-1cb4-4666-80b8-ac76c0e41ab8.jpg?v=1691077865","variant_ids":[41444634198221,41444634230989,41444634263757,41444634296525,41444634329293,41444634362061,41444634394829,41444634427597,41444634460365]},"available":true,"name":"PHOENIX - RETRO RED \/ 9.5 \/ SOFT CALF LEATHER","public_title":"RETRO RED \/ 9.5 \/ SOFT CALF LEATHER","options":["RETRO RED","9.5","SOFT CALF LEATHER"],"price":27500,"weight":0,"compare_at_price":null,"inventory_management":"shopify","barcode":"840237311704","featured_media":{"alt":"0","id":23733781070029,"position":1,"preview_image":{"aspect_ratio":0.8,"height":3700,"width":2960,"src":"\/\/oncept.nyc\/cdn\/shop\/products\/PHOENIX-SIDE-RETRORED-min_81251e46-1cb4-4666-80b8-ac76c0e41ab8.jpg?v=1691077865"}},"requires_selling_plan":false,"selling_plan_allocations":[]},{"id":41444634460365,"title":"RETRO RED \/ 10 \/ SOFT CALF LEATHER","option1":"RETRO RED","option2":"10","option3":"SOFT CALF LEATHER","sku":"840237311711","requires_shipping":true,"taxable":true,"featured_image":{"id":31444580991181,"product_id":7150644854989,"position":1,"created_at":"2023-02-06T16:02:03-05:00","updated_at":"2023-08-03T11:51:05-04:00","alt":"0","width":2960,"height":3700,"src":"\/\/oncept.nyc\/cdn\/shop\/products\/PHOENIX-SIDE-RETRORED-min_81251e46-1cb4-4666-80b8-ac76c0e41ab8.jpg?v=1691077865","variant_ids":[41444634198221,41444634230989,41444634263757,41444634296525,41444634329293,41444634362061,41444634394829,41444634427597,41444634460365]},"available":true,"name":"PHOENIX - RETRO RED \/ 10 \/ SOFT CALF LEATHER","public_title":"RETRO RED \/ 10 \/ SOFT CALF LEATHER","options":["RETRO RED","10","SOFT CALF LEATHER"],"price":27500,"weight":0,"compare_at_price":null,"inventory_management":"shopify","barcode":"840237311711","featured_media":{"alt":"0","id":23733781070029,"position":1,"preview_image":{"aspect_ratio":0.8,"height":3700,"width":2960,"src":"\/\/oncept.nyc\/cdn\/shop\/products\/PHOENIX-SIDE-RETRORED-min_81251e46-1cb4-4666-80b8-ac76c0e41ab8.jpg?v=1691077865"}},"requires_selling_plan":false,"selling_plan_allocations":[]},{"id":41444635082957,"title":"STORM GREY \/ 6 \/ SOFT CALF LEATHER","option1":"STORM GREY","option2":"6","option3":"SOFT CALF LEATHER","sku":"840237311070","requires_shipping":true,"taxable":true,"featured_image":{"id":31444581056717,"product_id":7150644854989,"position":7,"created_at":"2023-02-06T16:02:03-05:00","updated_at":"2023-08-03T11:51:05-04:00","alt":"1","width":2960,"height":3700,"src":"\/\/oncept.nyc\/cdn\/shop\/products\/PHOENIX-SIDE-ANTRACITE-min_9483613d-d371-4518-ad25-2b26e68fda03.jpg?v=1691077865","variant_ids":[41444635082957,41444635115725,41444635148493,41444635181261,41444635214029,41444635246797,41444635279565,41444635312333,41444635345101]},"available":true,"name":"PHOENIX - STORM GREY \/ 6 \/ SOFT CALF LEATHER","public_title":"STORM GREY \/ 6 \/ SOFT CALF LEATHER","options":["STORM GREY","6","SOFT CALF LEATHER"],"price":27500,"weight":0,"compare_at_price":null,"inventory_management":"shopify","barcode":"840237311070","featured_media":{"alt":"1","id":23733780644045,"position":7,"preview_image":{"aspect_ratio":0.8,"height":3700,"width":2960,"src":"\/\/oncept.nyc\/cdn\/shop\/products\/PHOENIX-SIDE-ANTRACITE-min_9483613d-d371-4518-ad25-2b26e68fda03.jpg?v=1691077865"}},"requires_selling_plan":false,"selling_plan_allocations":[]},{"id":41444635115725,"title":"STORM GREY \/ 6.5 \/ SOFT CALF LEATHER","option1":"STORM GREY","option2":"6.5","option3":"SOFT CALF LEATHER","sku":"840237311087","requires_shipping":true,"taxable":true,"featured_image":{"id":31444581056717,"product_id":7150644854989,"position":7,"created_at":"2023-02-06T16:02:03-05:00","updated_at":"2023-08-03T11:51:05-04:00","alt":"1","width":2960,"height":3700,"src":"\/\/oncept.nyc\/cdn\/shop\/products\/PHOENIX-SIDE-ANTRACITE-min_9483613d-d371-4518-ad25-2b26e68fda03.jpg?v=1691077865","variant_ids":[41444635082957,41444635115725,41444635148493,41444635181261,41444635214029,41444635246797,41444635279565,41444635312333,41444635345101]},"available":true,"name":"PHOENIX - STORM GREY \/ 6.5 \/ SOFT CALF LEATHER","public_title":"STORM GREY \/ 6.5 \/ SOFT CALF LEATHER","options":["STORM GREY","6.5","SOFT CALF LEATHER"],"price":27500,"weight":0,"compare_at_price":null,"inventory_management":"shopify","barcode":"840237311087","featured_media":{"alt":"1","id":23733780644045,"position":7,"preview_image":{"aspect_ratio":0.8,"height":3700,"width":2960,"src":"\/\/oncept.nyc\/cdn\/shop\/products\/PHOENIX-SIDE-ANTRACITE-min_9483613d-d371-4518-ad25-2b26e68fda03.jpg?v=1691077865"}},"requires_selling_plan":false,"selling_plan_allocations":[]},{"id":41444635148493,"title":"STORM GREY \/ 7 \/ SOFT CALF LEATHER","option1":"STORM GREY","option2":"7","option3":"SOFT CALF LEATHER","sku":"840237311094","requires_shipping":true,"taxable":true,"featured_image":{"id":31444581056717,"product_id":7150644854989,"position":7,"created_at":"2023-02-06T16:02:03-05:00","updated_at":"2023-08-03T11:51:05-04:00","alt":"1","width":2960,"height":3700,"src":"\/\/oncept.nyc\/cdn\/shop\/products\/PHOENIX-SIDE-ANTRACITE-min_9483613d-d371-4518-ad25-2b26e68fda03.jpg?v=1691077865","variant_ids":[41444635082957,41444635115725,41444635148493,41444635181261,41444635214029,41444635246797,41444635279565,41444635312333,41444635345101]},"available":true,"name":"PHOENIX - STORM GREY \/ 7 \/ SOFT CALF LEATHER","public_title":"STORM GREY \/ 7 \/ SOFT CALF LEATHER","options":["STORM GREY","7","SOFT CALF LEATHER"],"price":27500,"weight":0,"compare_at_price":null,"inventory_management":"shopify","barcode":"840237311094","featured_media":{"alt":"1","id":23733780644045,"position":7,"preview_image":{"aspect_ratio":0.8,"height":3700,"width":2960,"src":"\/\/oncept.nyc\/cdn\/shop\/products\/PHOENIX-SIDE-ANTRACITE-min_9483613d-d371-4518-ad25-2b26e68fda03.jpg?v=1691077865"}},"requires_selling_plan":false,"selling_plan_allocations":[]},{"id":41444635181261,"title":"STORM GREY \/ 7.5 \/ SOFT CALF LEATHER","option1":"STORM GREY","option2":"7.5","option3":"SOFT CALF LEATHER","sku":"840237311100","requires_shipping":true,"taxable":true,"featured_image":{"id":31444581056717,"product_id":7150644854989,"position":7,"created_at":"2023-02-06T16:02:03-05:00","updated_at":"2023-08-03T11:51:05-04:00","alt":"1","width":2960,"height":3700,"src":"\/\/oncept.nyc\/cdn\/shop\/products\/PHOENIX-SIDE-ANTRACITE-min_9483613d-d371-4518-ad25-2b26e68fda03.jpg?v=1691077865","variant_ids":[41444635082957,41444635115725,41444635148493,41444635181261,41444635214029,41444635246797,41444635279565,41444635312333,41444635345101]},"available":true,"name":"PHOENIX - STORM GREY \/ 7.5 \/ SOFT CALF LEATHER","public_title":"STORM GREY \/ 7.5 \/ SOFT CALF LEATHER","options":["STORM GREY","7.5","SOFT CALF LEATHER"],"price":27500,"weight":0,"compare_at_price":null,"inventory_management":"shopify","barcode":"840237311100","featured_media":{"alt":"1","id":23733780644045,"position":7,"preview_image":{"aspect_ratio":0.8,"height":3700,"width":2960,"src":"\/\/oncept.nyc\/cdn\/shop\/products\/PHOENIX-SIDE-ANTRACITE-min_9483613d-d371-4518-ad25-2b26e68fda03.jpg?v=1691077865"}},"requires_selling_plan":false,"selling_plan_allocations":[]},{"id":41444635214029,"title":"STORM GREY \/ 8 \/ SOFT CALF LEATHER","option1":"STORM GREY","option2":"8","option3":"SOFT CALF LEATHER","sku":"840237311117","requires_shipping":true,"taxable":true,"featured_image":{"id":31444581056717,"product_id":7150644854989,"position":7,"created_at":"2023-02-06T16:02:03-05:00","updated_at":"2023-08-03T11:51:05-04:00","alt":"1","width":2960,"height":3700,"src":"\/\/oncept.nyc\/cdn\/shop\/products\/PHOENIX-SIDE-ANTRACITE-min_9483613d-d371-4518-ad25-2b26e68fda03.jpg?v=1691077865","variant_ids":[41444635082957,41444635115725,41444635148493,41444635181261,41444635214029,41444635246797,41444635279565,41444635312333,41444635345101]},"available":true,"name":"PHOENIX - STORM GREY \/ 8 \/ SOFT CALF LEATHER","public_title":"STORM GREY \/ 8 \/ SOFT CALF LEATHER","options":["STORM GREY","8","SOFT CALF LEATHER"],"price":27500,"weight":0,"compare_at_price":null,"inventory_management":"shopify","barcode":"840237311117","featured_media":{"alt":"1","id":23733780644045,"position":7,"preview_image":{"aspect_ratio":0.8,"height":3700,"width":2960,"src":"\/\/oncept.nyc\/cdn\/shop\/products\/PHOENIX-SIDE-ANTRACITE-min_9483613d-d371-4518-ad25-2b26e68fda03.jpg?v=1691077865"}},"requires_selling_plan":false,"selling_plan_allocations":[]},{"id":41444635246797,"title":"STORM GREY \/ 8.5 \/ SOFT CALF LEATHER","option1":"STORM GREY","option2":"8.5","option3":"SOFT CALF LEATHER","sku":"840237311124","requires_shipping":true,"taxable":true,"featured_image":{"id":31444581056717,"product_id":7150644854989,"position":7,"created_at":"2023-02-06T16:02:03-05:00","updated_at":"2023-08-03T11:51:05-04:00","alt":"1","width":2960,"height":3700,"src":"\/\/oncept.nyc\/cdn\/shop\/products\/PHOENIX-SIDE-ANTRACITE-min_9483613d-d371-4518-ad25-2b26e68fda03.jpg?v=1691077865","variant_ids":[41444635082957,41444635115725,41444635148493,41444635181261,41444635214029,41444635246797,41444635279565,41444635312333,41444635345101]},"available":true,"name":"PHOENIX - STORM GREY \/ 8.5 \/ SOFT CALF LEATHER","public_title":"STORM GREY \/ 8.5 \/ SOFT CALF LEATHER","options":["STORM GREY","8.5","SOFT CALF LEATHER"],"price":27500,"weight":0,"compare_at_price":null,"inventory_management":"shopify","barcode":"840237311124","featured_media":{"alt":"1","id":23733780644045,"position":7,"preview_image":{"aspect_ratio":0.8,"height":3700,"width":2960,"src":"\/\/oncept.nyc\/cdn\/shop\/products\/PHOENIX-SIDE-ANTRACITE-min_9483613d-d371-4518-ad25-2b26e68fda03.jpg?v=1691077865"}},"requires_selling_plan":false,"selling_plan_allocations":[]},{"id":41444635279565,"title":"STORM GREY \/ 9 \/ SOFT CALF LEATHER","option1":"STORM GREY","option2":"9","option3":"SOFT CALF LEATHER","sku":"840237311131","requires_shipping":true,"taxable":true,"featured_image":{"id":31444581056717,"product_id":7150644854989,"position":7,"created_at":"2023-02-06T16:02:03-05:00","updated_at":"2023-08-03T11:51:05-04:00","alt":"1","width":2960,"height":3700,"src":"\/\/oncept.nyc\/cdn\/shop\/products\/PHOENIX-SIDE-ANTRACITE-min_9483613d-d371-4518-ad25-2b26e68fda03.jpg?v=1691077865","variant_ids":[41444635082957,41444635115725,41444635148493,41444635181261,41444635214029,41444635246797,41444635279565,41444635312333,41444635345101]},"available":true,"name":"PHOENIX - STORM GREY \/ 9 \/ SOFT CALF LEATHER","public_title":"STORM GREY \/ 9 \/ SOFT CALF LEATHER","options":["STORM GREY","9","SOFT CALF LEATHER"],"price":27500,"weight":0,"compare_at_price":null,"inventory_management":"shopify","barcode":"840237311131","featured_media":{"alt":"1","id":23733780644045,"position":7,"preview_image":{"aspect_ratio":0.8,"height":3700,"width":2960,"src":"\/\/oncept.nyc\/cdn\/shop\/products\/PHOENIX-SIDE-ANTRACITE-min_9483613d-d371-4518-ad25-2b26e68fda03.jpg?v=1691077865"}},"requires_selling_plan":false,"selling_plan_allocations":[]},{"id":41444635312333,"title":"STORM GREY \/ 9.5 \/ SOFT CALF LEATHER","option1":"STORM GREY","option2":"9.5","option3":"SOFT CALF LEATHER","sku":"840237311148","requires_shipping":true,"taxable":true,"featured_image":{"id":31444581056717,"product_id":7150644854989,"position":7,"created_at":"2023-02-06T16:02:03-05:00","updated_at":"2023-08-03T11:51:05-04:00","alt":"1","width":2960,"height":3700,"src":"\/\/oncept.nyc\/cdn\/shop\/products\/PHOENIX-SIDE-ANTRACITE-min_9483613d-d371-4518-ad25-2b26e68fda03.jpg?v=1691077865","variant_ids":[41444635082957,41444635115725,41444635148493,41444635181261,41444635214029,41444635246797,41444635279565,41444635312333,41444635345101]},"available":true,"name":"PHOENIX - STORM GREY \/ 9.5 \/ SOFT CALF LEATHER","public_title":"STORM GREY \/ 9.5 \/ SOFT CALF LEATHER","options":["STORM GREY","9.5","SOFT CALF LEATHER"],"price":27500,"weight":0,"compare_at_price":null,"inventory_management":"shopify","barcode":"840237311148","featured_media":{"alt":"1","id":23733780644045,"position":7,"preview_image":{"aspect_ratio":0.8,"height":3700,"width":2960,"src":"\/\/oncept.nyc\/cdn\/shop\/products\/PHOENIX-SIDE-ANTRACITE-min_9483613d-d371-4518-ad25-2b26e68fda03.jpg?v=1691077865"}},"requires_selling_plan":false,"selling_plan_allocations":[]},{"id":41444635345101,"title":"STORM GREY \/ 10 \/ SOFT CALF LEATHER","option1":"STORM GREY","option2":"10","option3":"SOFT CALF LEATHER","sku":"840237311155","requires_shipping":true,"taxable":true,"featured_image":{"id":31444581056717,"product_id":7150644854989,"position":7,"created_at":"2023-02-06T16:02:03-05:00","updated_at":"2023-08-03T11:51:05-04:00","alt":"1","width":2960,"height":3700,"src":"\/\/oncept.nyc\/cdn\/shop\/products\/PHOENIX-SIDE-ANTRACITE-min_9483613d-d371-4518-ad25-2b26e68fda03.jpg?v=1691077865","variant_ids":[41444635082957,41444635115725,41444635148493,41444635181261,41444635214029,41444635246797,41444635279565,41444635312333,41444635345101]},"available":true,"name":"PHOENIX - STORM GREY \/ 10 \/ SOFT CALF LEATHER","public_title":"STORM GREY \/ 10 \/ SOFT CALF LEATHER","options":["STORM GREY","10","SOFT CALF LEATHER"],"price":27500,"weight":0,"compare_at_price":null,"inventory_management":"shopify","barcode":"840237311155","featured_media":{"alt":"1","id":23733780644045,"position":7,"preview_image":{"aspect_ratio":0.8,"height":3700,"width":2960,"src":"\/\/oncept.nyc\/cdn\/shop\/products\/PHOENIX-SIDE-ANTRACITE-min_9483613d-d371-4518-ad25-2b26e68fda03.jpg?v=1691077865"}},"requires_selling_plan":false,"selling_plan_allocations":[]},{"id":41444634493133,"title":"GREEN FIELDS \/ 6 \/ SOFT CALF LEATHER","option1":"GREEN FIELDS","option2":"6","option3":"SOFT CALF LEATHER","sku":"840237310899","requires_shipping":true,"taxable":true,"featured_image":{"id":31444581548237,"product_id":7150644854989,"position":13,"created_at":"2023-02-06T16:02:03-05:00","updated_at":"2023-08-03T11:51:05-04:00","alt":"2","width":2960,"height":3700,"src":"\/\/oncept.nyc\/cdn\/shop\/products\/PHOENIX-SIDE-FIELDGREENS-min_53f6bd2a-3942-4c6d-a223-458253c97aa2.jpg?v=1691077865","variant_ids":[41444634493133,41444634525901,41444634558669,41444634591437,41444634624205,41444634656973,41444634689741,41444634722509,41444634755277]},"available":true,"name":"PHOENIX - GREEN FIELDS \/ 6 \/ SOFT CALF LEATHER","public_title":"GREEN FIELDS \/ 6 \/ SOFT CALF LEATHER","options":["GREEN FIELDS","6","SOFT CALF LEATHER"],"price":27500,"weight":0,"compare_at_price":null,"inventory_management":"shopify","barcode":"840237310899","featured_media":{"alt":"2","id":23733781266637,"position":13,"preview_image":{"aspect_ratio":0.8,"height":3700,"width":2960,"src":"\/\/oncept.nyc\/cdn\/shop\/products\/PHOENIX-SIDE-FIELDGREENS-min_53f6bd2a-3942-4c6d-a223-458253c97aa2.jpg?v=1691077865"}},"requires_selling_plan":false,"selling_plan_allocations":[]},{"id":41444634525901,"title":"GREEN FIELDS \/ 6.5 \/ SOFT CALF LEATHER","option1":"GREEN FIELDS","option2":"6.5","option3":"SOFT CALF LEATHER","sku":"840237310905","requires_shipping":true,"taxable":true,"featured_image":{"id":31444581548237,"product_id":7150644854989,"position":13,"created_at":"2023-02-06T16:02:03-05:00","updated_at":"2023-08-03T11:51:05-04:00","alt":"2","width":2960,"height":3700,"src":"\/\/oncept.nyc\/cdn\/shop\/products\/PHOENIX-SIDE-FIELDGREENS-min_53f6bd2a-3942-4c6d-a223-458253c97aa2.jpg?v=1691077865","variant_ids":[41444634493133,41444634525901,41444634558669,41444634591437,41444634624205,41444634656973,41444634689741,41444634722509,41444634755277]},"available":true,"name":"PHOENIX - GREEN FIELDS \/ 6.5 \/ SOFT CALF LEATHER","public_title":"GREEN FIELDS \/ 6.5 \/ SOFT CALF LEATHER","options":["GREEN FIELDS","6.5","SOFT CALF LEATHER"],"price":27500,"weight":0,"compare_at_price":null,"inventory_management":"shopify","barcode":"840237310905","featured_media":{"alt":"2","id":23733781266637,"position":13,"preview_image":{"aspect_ratio":0.8,"height":3700,"width":2960,"src":"\/\/oncept.nyc\/cdn\/shop\/products\/PHOENIX-SIDE-FIELDGREENS-min_53f6bd2a-3942-4c6d-a223-458253c97aa2.jpg?v=1691077865"}},"requires_selling_plan":false,"selling_plan_allocations":[]},{"id":41444634558669,"title":"GREEN FIELDS \/ 7 \/ SOFT CALF LEATHER","option1":"GREEN FIELDS","option2":"7","option3":"SOFT CALF LEATHER","sku":"840237310912","requires_shipping":true,"taxable":true,"featured_image":{"id":31444581548237,"product_id":7150644854989,"position":13,"created_at":"2023-02-06T16:02:03-05:00","updated_at":"2023-08-03T11:51:05-04:00","alt":"2","width":2960,"height":3700,"src":"\/\/oncept.nyc\/cdn\/shop\/products\/PHOENIX-SIDE-FIELDGREENS-min_53f6bd2a-3942-4c6d-a223-458253c97aa2.jpg?v=1691077865","variant_ids":[41444634493133,41444634525901,41444634558669,41444634591437,41444634624205,41444634656973,41444634689741,41444634722509,41444634755277]},"available":true,"name":"PHOENIX - GREEN FIELDS \/ 7 \/ SOFT CALF LEATHER","public_title":"GREEN FIELDS \/ 7 \/ SOFT CALF LEATHER","options":["GREEN FIELDS","7","SOFT CALF LEATHER"],"price":27500,"weight":0,"compare_at_price":null,"inventory_management":"shopify","barcode":"840237310912","featured_media":{"alt":"2","id":23733781266637,"position":13,"preview_image":{"aspect_ratio":0.8,"height":3700,"width":2960,"src":"\/\/oncept.nyc\/cdn\/shop\/products\/PHOENIX-SIDE-FIELDGREENS-min_53f6bd2a-3942-4c6d-a223-458253c97aa2.jpg?v=1691077865"}},"requires_selling_plan":false,"selling_plan_allocations":[]},{"id":41444634591437,"title":"GREEN FIELDS \/ 7.5 \/ SOFT CALF LEATHER","option1":"GREEN FIELDS","option2":"7.5","option3":"SOFT CALF LEATHER","sku":"840237310929","requires_shipping":true,"taxable":true,"featured_image":{"id":31444581548237,"product_id":7150644854989,"position":13,"created_at":"2023-02-06T16:02:03-05:00","updated_at":"2023-08-03T11:51:05-04:00","alt":"2","width":2960,"height":3700,"src":"\/\/oncept.nyc\/cdn\/shop\/products\/PHOENIX-SIDE-FIELDGREENS-min_53f6bd2a-3942-4c6d-a223-458253c97aa2.jpg?v=1691077865","variant_ids":[41444634493133,41444634525901,41444634558669,41444634591437,41444634624205,41444634656973,41444634689741,41444634722509,41444634755277]},"available":true,"name":"PHOENIX - GREEN FIELDS \/ 7.5 \/ SOFT CALF LEATHER","public_title":"GREEN FIELDS \/ 7.5 \/ SOFT CALF LEATHER","options":["GREEN FIELDS","7.5","SOFT CALF LEATHER"],"price":27500,"weight":0,"compare_at_price":null,"inventory_management":"shopify","barcode":"840237310929","featured_media":{"alt":"2","id":23733781266637,"position":13,"preview_image":{"aspect_ratio":0.8,"height":3700,"width":2960,"src":"\/\/oncept.nyc\/cdn\/shop\/products\/PHOENIX-SIDE-FIELDGREENS-min_53f6bd2a-3942-4c6d-a223-458253c97aa2.jpg?v=1691077865"}},"requires_selling_plan":false,"selling_plan_allocations":[]},{"id":41444634624205,"title":"GREEN FIELDS \/ 8 \/ SOFT CALF LEATHER","option1":"GREEN FIELDS","option2":"8","option3":"SOFT CALF LEATHER","sku":"840237310936","requires_shipping":true,"taxable":true,"featured_image":{"id":31444581548237,"product_id":7150644854989,"position":13,"created_at":"2023-02-06T16:02:03-05:00","updated_at":"2023-08-03T11:51:05-04:00","alt":"2","width":2960,"height":3700,"src":"\/\/oncept.nyc\/cdn\/shop\/products\/PHOENIX-SIDE-FIELDGREENS-min_53f6bd2a-3942-4c6d-a223-458253c97aa2.jpg?v=1691077865","variant_ids":[41444634493133,41444634525901,41444634558669,41444634591437,41444634624205,41444634656973,41444634689741,41444634722509,41444634755277]},"available":true,"name":"PHOENIX - GREEN FIELDS \/ 8 \/ SOFT CALF LEATHER","public_title":"GREEN FIELDS \/ 8 \/ SOFT CALF LEATHER","options":["GREEN FIELDS","8","SOFT CALF LEATHER"],"price":27500,"weight":0,"compare_at_price":null,"inventory_management":"shopify","barcode":"840237310936","featured_media":{"alt":"2","id":23733781266637,"position":13,"preview_image":{"aspect_ratio":0.8,"height":3700,"width":2960,"src":"\/\/oncept.nyc\/cdn\/shop\/products\/PHOENIX-SIDE-FIELDGREENS-min_53f6bd2a-3942-4c6d-a223-458253c97aa2.jpg?v=1691077865"}},"requires_selling_plan":false,"selling_plan_allocations":[]},{"id":41444634656973,"title":"GREEN FIELDS \/ 8.5 \/ SOFT CALF LEATHER","option1":"GREEN FIELDS","option2":"8.5","option3":"SOFT CALF LEATHER","sku":"840237310943","requires_shipping":true,"taxable":true,"featured_image":{"id":31444581548237,"product_id":7150644854989,"position":13,"created_at":"2023-02-06T16:02:03-05:00","updated_at":"2023-08-03T11:51:05-04:00","alt":"2","width":2960,"height":3700,"src":"\/\/oncept.nyc\/cdn\/shop\/products\/PHOENIX-SIDE-FIELDGREENS-min_53f6bd2a-3942-4c6d-a223-458253c97aa2.jpg?v=1691077865","variant_ids":[41444634493133,41444634525901,41444634558669,41444634591437,41444634624205,41444634656973,41444634689741,41444634722509,41444634755277]},"available":true,"name":"PHOENIX - GREEN FIELDS \/ 8.5 \/ SOFT CALF LEATHER","public_title":"GREEN FIELDS \/ 8.5 \/ SOFT CALF LEATHER","options":["GREEN FIELDS","8.5","SOFT CALF LEATHER"],"price":27500,"weight":0,"compare_at_price":null,"inventory_management":"shopify","barcode":"840237310943","featured_media":{"alt":"2","id":23733781266637,"position":13,"preview_image":{"aspect_ratio":0.8,"height":3700,"width":2960,"src":"\/\/oncept.nyc\/cdn\/shop\/products\/PHOENIX-SIDE-FIELDGREENS-min_53f6bd2a-3942-4c6d-a223-458253c97aa2.jpg?v=1691077865"}},"requires_selling_plan":false,"selling_plan_allocations":[]},{"id":41444634689741,"title":"GREEN FIELDS \/ 9 \/ SOFT CALF LEATHER","option1":"GREEN FIELDS","option2":"9","option3":"SOFT CALF LEATHER","sku":"840237310950","requires_shipping":true,"taxable":true,"featured_image":{"id":31444581548237,"product_id":7150644854989,"position":13,"created_at":"2023-02-06T16:02:03-05:00","updated_at":"2023-08-03T11:51:05-04:00","alt":"2","width":2960,"height":3700,"src":"\/\/oncept.nyc\/cdn\/shop\/products\/PHOENIX-SIDE-FIELDGREENS-min_53f6bd2a-3942-4c6d-a223-458253c97aa2.jpg?v=1691077865","variant_ids":[41444634493133,41444634525901,41444634558669,41444634591437,41444634624205,41444634656973,41444634689741,41444634722509,41444634755277]},"available":true,"name":"PHOENIX - GREEN FIELDS \/ 9 \/ SOFT CALF LEATHER","public_title":"GREEN FIELDS \/ 9 \/ SOFT CALF LEATHER","options":["GREEN FIELDS","9","SOFT CALF LEATHER"],"price":27500,"weight":0,"compare_at_price":null,"inventory_management":"shopify","barcode":"840237310950","featured_media":{"alt":"2","id":23733781266637,"position":13,"preview_image":{"aspect_ratio":0.8,"height":3700,"width":2960,"src":"\/\/oncept.nyc\/cdn\/shop\/products\/PHOENIX-SIDE-FIELDGREENS-min_53f6bd2a-3942-4c6d-a223-458253c97aa2.jpg?v=1691077865"}},"requires_selling_plan":false,"selling_plan_allocations":[]},{"id":41444634722509,"title":"GREEN FIELDS \/ 9.5 \/ SOFT CALF LEATHER","option1":"GREEN FIELDS","option2":"9.5","option3":"SOFT CALF LEATHER","sku":"840237310967","requires_shipping":true,"taxable":true,"featured_image":{"id":31444581548237,"product_id":7150644854989,"position":13,"created_at":"2023-02-06T16:02:03-05:00","updated_at":"2023-08-03T11:51:05-04:00","alt":"2","width":2960,"height":3700,"src":"\/\/oncept.nyc\/cdn\/shop\/products\/PHOENIX-SIDE-FIELDGREENS-min_53f6bd2a-3942-4c6d-a223-458253c97aa2.jpg?v=1691077865","variant_ids":[41444634493133,41444634525901,41444634558669,41444634591437,41444634624205,41444634656973,41444634689741,41444634722509,41444634755277]},"available":true,"name":"PHOENIX - GREEN FIELDS \/ 9.5 \/ SOFT CALF LEATHER","public_title":"GREEN FIELDS \/ 9.5 \/ SOFT CALF LEATHER","options":["GREEN FIELDS","9.5","SOFT CALF LEATHER"],"price":27500,"weight":0,"compare_at_price":null,"inventory_management":"shopify","barcode":"840237310967","featured_media":{"alt":"2","id":23733781266637,"position":13,"preview_image":{"aspect_ratio":0.8,"height":3700,"width":2960,"src":"\/\/oncept.nyc\/cdn\/shop\/products\/PHOENIX-SIDE-FIELDGREENS-min_53f6bd2a-3942-4c6d-a223-458253c97aa2.jpg?v=1691077865"}},"requires_selling_plan":false,"selling_plan_allocations":[]},{"id":41444634755277,"title":"GREEN FIELDS \/ 10 \/ SOFT CALF LEATHER","option1":"GREEN FIELDS","option2":"10","option3":"SOFT CALF LEATHER","sku":"840237310974","requires_shipping":true,"taxable":true,"featured_image":{"id":31444581548237,"product_id":7150644854989,"position":13,"created_at":"2023-02-06T16:02:03-05:00","updated_at":"2023-08-03T11:51:05-04:00","alt":"2","width":2960,"height":3700,"src":"\/\/oncept.nyc\/cdn\/shop\/products\/PHOENIX-SIDE-FIELDGREENS-min_53f6bd2a-3942-4c6d-a223-458253c97aa2.jpg?v=1691077865","variant_ids":[41444634493133,41444634525901,41444634558669,41444634591437,41444634624205,41444634656973,41444634689741,41444634722509,41444634755277]},"available":true,"name":"PHOENIX - GREEN FIELDS \/ 10 \/ SOFT CALF LEATHER","public_title":"GREEN FIELDS \/ 10 \/ SOFT CALF LEATHER","options":["GREEN FIELDS","10","SOFT CALF LEATHER"],"price":27500,"weight":0,"compare_at_price":null,"inventory_management":"shopify","barcode":"840237310974","featured_media":{"alt":"2","id":23733781266637,"position":13,"preview_image":{"aspect_ratio":0.8,"height":3700,"width":2960,"src":"\/\/oncept.nyc\/cdn\/shop\/products\/PHOENIX-SIDE-FIELDGREENS-min_53f6bd2a-3942-4c6d-a223-458253c97aa2.jpg?v=1691077865"}},"requires_selling_plan":false,"selling_plan_allocations":[]},{"id":41444634788045,"title":"OAK MULTI \/ 6 \/ SOFT CALF LEATHER","option1":"OAK MULTI","option2":"6","option3":"SOFT CALF LEATHER","sku":"840237310981","requires_shipping":true,"taxable":true,"featured_image":{"id":31444580434125,"product_id":7150644854989,"position":19,"created_at":"2023-02-06T16:02:03-05:00","updated_at":"2023-08-03T11:51:05-04:00","alt":"3","width":2960,"height":3700,"src":"\/\/oncept.nyc\/cdn\/shop\/products\/PHOENIX-SIDE-OAK-min_598cf4f7-4e11-4d52-a8e5-623674efe30f.jpg?v=1691077865","variant_ids":[41444634788045,41444634820813,41444634853581,41444634886349,41444634919117,41444634951885,41444634984653,41444635017421,41444635050189]},"available":true,"name":"PHOENIX - OAK MULTI \/ 6 \/ SOFT CALF LEATHER","public_title":"OAK MULTI \/ 6 \/ SOFT CALF LEATHER","options":["OAK MULTI","6","SOFT CALF LEATHER"],"price":27500,"weight":0,"compare_at_price":null,"inventory_management":"shopify","barcode":"840237310981","featured_media":{"alt":"3","id":23733780873421,"position":19,"preview_image":{"aspect_ratio":0.8,"height":3700,"width":2960,"src":"\/\/oncept.nyc\/cdn\/shop\/products\/PHOENIX-SIDE-OAK-min_598cf4f7-4e11-4d52-a8e5-623674efe30f.jpg?v=1691077865"}},"requires_selling_plan":false,"selling_plan_allocations":[]},{"id":41444634820813,"title":"OAK MULTI \/ 6.5 \/ SOFT CALF LEATHER","option1":"OAK MULTI","option2":"6.5","option3":"SOFT CALF LEATHER","sku":"840237310998","requires_shipping":true,"taxable":true,"featured_image":{"id":31444580434125,"product_id":7150644854989,"position":19,"created_at":"2023-02-06T16:02:03-05:00","updated_at":"2023-08-03T11:51:05-04:00","alt":"3","width":2960,"height":3700,"src":"\/\/oncept.nyc\/cdn\/shop\/products\/PHOENIX-SIDE-OAK-min_598cf4f7-4e11-4d52-a8e5-623674efe30f.jpg?v=1691077865","variant_ids":[41444634788045,41444634820813,41444634853581,41444634886349,41444634919117,41444634951885,41444634984653,41444635017421,41444635050189]},"available":true,"name":"PHOENIX - OAK MULTI \/ 6.5 \/ SOFT CALF LEATHER","public_title":"OAK MULTI \/ 6.5 \/ SOFT CALF LEATHER","options":["OAK MULTI","6.5","SOFT CALF LEATHER"],"price":27500,"weight":0,"compare_at_price":null,"inventory_management":"shopify","barcode":"840237310998","featured_media":{"alt":"3","id":23733780873421,"position":19,"preview_image":{"aspect_ratio":0.8,"height":3700,"width":2960,"src":"\/\/oncept.nyc\/cdn\/shop\/products\/PHOENIX-SIDE-OAK-min_598cf4f7-4e11-4d52-a8e5-623674efe30f.jpg?v=1691077865"}},"requires_selling_plan":false,"selling_plan_allocations":[]},{"id":41444634853581,"title":"OAK MULTI \/ 7 \/ SOFT CALF LEATHER","option1":"OAK MULTI","option2":"7","option3":"SOFT CALF LEATHER","sku":"840237311001","requires_shipping":true,"taxable":true,"featured_image":{"id":31444580434125,"product_id":7150644854989,"position":19,"created_at":"2023-02-06T16:02:03-05:00","updated_at":"2023-08-03T11:51:05-04:00","alt":"3","width":2960,"height":3700,"src":"\/\/oncept.nyc\/cdn\/shop\/products\/PHOENIX-SIDE-OAK-min_598cf4f7-4e11-4d52-a8e5-623674efe30f.jpg?v=1691077865","variant_ids":[41444634788045,41444634820813,41444634853581,41444634886349,41444634919117,41444634951885,41444634984653,41444635017421,41444635050189]},"available":true,"name":"PHOENIX - OAK MULTI \/ 7 \/ SOFT CALF LEATHER","public_title":"OAK MULTI \/ 7 \/ SOFT CALF LEATHER","options":["OAK MULTI","7","SOFT CALF LEATHER"],"price":27500,"weight":0,"compare_at_price":null,"inventory_management":"shopify","barcode":"840237311001","featured_media":{"alt":"3","id":23733780873421,"position":19,"preview_image":{"aspect_ratio":0.8,"height":3700,"width":2960,"src":"\/\/oncept.nyc\/cdn\/shop\/products\/PHOENIX-SIDE-OAK-min_598cf4f7-4e11-4d52-a8e5-623674efe30f.jpg?v=1691077865"}},"requires_selling_plan":false,"selling_plan_allocations":[]},{"id":41444634886349,"title":"OAK MULTI \/ 7.5 \/ SOFT CALF LEATHER","option1":"OAK MULTI","option2":"7.5","option3":"SOFT CALF LEATHER","sku":"840237311018","requires_shipping":true,"taxable":true,"featured_image":{"id":31444580434125,"product_id":7150644854989,"position":19,"created_at":"2023-02-06T16:02:03-05:00","updated_at":"2023-08-03T11:51:05-04:00","alt":"3","width":2960,"height":3700,"src":"\/\/oncept.nyc\/cdn\/shop\/products\/PHOENIX-SIDE-OAK-min_598cf4f7-4e11-4d52-a8e5-623674efe30f.jpg?v=1691077865","variant_ids":[41444634788045,41444634820813,41444634853581,41444634886349,41444634919117,41444634951885,41444634984653,41444635017421,41444635050189]},"available":true,"name":"PHOENIX - OAK MULTI \/ 7.5 \/ SOFT CALF LEATHER","public_title":"OAK MULTI \/ 7.5 \/ SOFT CALF LEATHER","options":["OAK MULTI","7.5","SOFT CALF LEATHER"],"price":27500,"weight":0,"compare_at_price":null,"inventory_management":"shopify","barcode":"840237311018","featured_media":{"alt":"3","id":23733780873421,"position":19,"preview_image":{"aspect_ratio":0.8,"height":3700,"width":2960,"src":"\/\/oncept.nyc\/cdn\/shop\/products\/PHOENIX-SIDE-OAK-min_598cf4f7-4e11-4d52-a8e5-623674efe30f.jpg?v=1691077865"}},"requires_selling_plan":false,"selling_plan_allocations":[]},{"id":41444634919117,"title":"OAK MULTI \/ 8 \/ SOFT CALF LEATHER","option1":"OAK MULTI","option2":"8","option3":"SOFT CALF LEATHER","sku":"840237311025","requires_shipping":true,"taxable":true,"featured_image":{"id":31444580434125,"product_id":7150644854989,"position":19,"created_at":"2023-02-06T16:02:03-05:00","updated_at":"2023-08-03T11:51:05-04:00","alt":"3","width":2960,"height":3700,"src":"\/\/oncept.nyc\/cdn\/shop\/products\/PHOENIX-SIDE-OAK-min_598cf4f7-4e11-4d52-a8e5-623674efe30f.jpg?v=1691077865","variant_ids":[41444634788045,41444634820813,41444634853581,41444634886349,41444634919117,41444634951885,41444634984653,41444635017421,41444635050189]},"available":true,"name":"PHOENIX - OAK MULTI \/ 8 \/ SOFT CALF LEATHER","public_title":"OAK MULTI \/ 8 \/ SOFT CALF LEATHER","options":["OAK MULTI","8","SOFT CALF LEATHER"],"price":27500,"weight":0,"compare_at_price":null,"inventory_management":"shopify","barcode":"840237311025","featured_media":{"alt":"3","id":23733780873421,"position":19,"preview_image":{"aspect_ratio":0.8,"height":3700,"width":2960,"src":"\/\/oncept.nyc\/cdn\/shop\/products\/PHOENIX-SIDE-OAK-min_598cf4f7-4e11-4d52-a8e5-623674efe30f.jpg?v=1691077865"}},"requires_selling_plan":false,"selling_plan_allocations":[]},{"id":41444634951885,"title":"OAK MULTI \/ 8.5 \/ SOFT CALF LEATHER","option1":"OAK MULTI","option2":"8.5","option3":"SOFT CALF LEATHER","sku":"840237311032","requires_shipping":true,"taxable":true,"featured_image":{"id":31444580434125,"product_id":7150644854989,"position":19,"created_at":"2023-02-06T16:02:03-05:00","updated_at":"2023-08-03T11:51:05-04:00","alt":"3","width":2960,"height":3700,"src":"\/\/oncept.nyc\/cdn\/shop\/products\/PHOENIX-SIDE-OAK-min_598cf4f7-4e11-4d52-a8e5-623674efe30f.jpg?v=1691077865","variant_ids":[41444634788045,41444634820813,41444634853581,41444634886349,41444634919117,41444634951885,41444634984653,41444635017421,41444635050189]},"available":true,"name":"PHOENIX - OAK MULTI \/ 8.5 \/ SOFT CALF LEATHER","public_title":"OAK MULTI \/ 8.5 \/ SOFT CALF LEATHER","options":["OAK MULTI","8.5","SOFT CALF LEATHER"],"price":27500,"weight":0,"compare_at_price":null,"inventory_management":"shopify","barcode":"840237311032","featured_media":{"alt":"3","id":23733780873421,"position":19,"preview_image":{"aspect_ratio":0.8,"height":3700,"width":2960,"src":"\/\/oncept.nyc\/cdn\/shop\/products\/PHOENIX-SIDE-OAK-min_598cf4f7-4e11-4d52-a8e5-623674efe30f.jpg?v=1691077865"}},"requires_selling_plan":false,"selling_plan_allocations":[]},{"id":41444634984653,"title":"OAK MULTI \/ 9 \/ SOFT CALF LEATHER","option1":"OAK MULTI","option2":"9","option3":"SOFT CALF LEATHER","sku":"840237311049","requires_shipping":true,"taxable":true,"featured_image":{"id":31444580434125,"product_id":7150644854989,"position":19,"created_at":"2023-02-06T16:02:03-05:00","updated_at":"2023-08-03T11:51:05-04:00","alt":"3","width":2960,"height":3700,"src":"\/\/oncept.nyc\/cdn\/shop\/products\/PHOENIX-SIDE-OAK-min_598cf4f7-4e11-4d52-a8e5-623674efe30f.jpg?v=1691077865","variant_ids":[41444634788045,41444634820813,41444634853581,41444634886349,41444634919117,41444634951885,41444634984653,41444635017421,41444635050189]},"available":true,"name":"PHOENIX - OAK MULTI \/ 9 \/ SOFT CALF LEATHER","public_title":"OAK MULTI \/ 9 \/ SOFT CALF LEATHER","options":["OAK MULTI","9","SOFT CALF LEATHER"],"price":27500,"weight":0,"compare_at_price":null,"inventory_management":"shopify","barcode":"840237311049","featured_media":{"alt":"3","id":23733780873421,"position":19,"preview_image":{"aspect_ratio":0.8,"height":3700,"width":2960,"src":"\/\/oncept.nyc\/cdn\/shop\/products\/PHOENIX-SIDE-OAK-min_598cf4f7-4e11-4d52-a8e5-623674efe30f.jpg?v=1691077865"}},"requires_selling_plan":false,"selling_plan_allocations":[]},{"id":41444635017421,"title":"OAK MULTI \/ 9.5 \/ SOFT CALF LEATHER","option1":"OAK MULTI","option2":"9.5","option3":"SOFT CALF LEATHER","sku":"840237311056","requires_shipping":true,"taxable":true,"featured_image":{"id":31444580434125,"product_id":7150644854989,"position":19,"created_at":"2023-02-06T16:02:03-05:00","updated_at":"2023-08-03T11:51:05-04:00","alt":"3","width":2960,"height":3700,"src":"\/\/oncept.nyc\/cdn\/shop\/products\/PHOENIX-SIDE-OAK-min_598cf4f7-4e11-4d52-a8e5-623674efe30f.jpg?v=1691077865","variant_ids":[41444634788045,41444634820813,41444634853581,41444634886349,41444634919117,41444634951885,41444634984653,41444635017421,41444635050189]},"available":true,"name":"PHOENIX - OAK MULTI \/ 9.5 \/ SOFT CALF LEATHER","public_title":"OAK MULTI \/ 9.5 \/ SOFT CALF LEATHER","options":["OAK MULTI","9.5","SOFT CALF LEATHER"],"price":27500,"weight":0,"compare_at_price":null,"inventory_management":"shopify","barcode":"840237311056","featured_media":{"alt":"3","id":23733780873421,"position":19,"preview_image":{"aspect_ratio":0.8,"height":3700,"width":2960,"src":"\/\/oncept.nyc\/cdn\/shop\/products\/PHOENIX-SIDE-OAK-min_598cf4f7-4e11-4d52-a8e5-623674efe30f.jpg?v=1691077865"}},"requires_selling_plan":false,"selling_plan_allocations":[]},{"id":41444635050189,"title":"OAK MULTI \/ 10 \/ SOFT CALF LEATHER","option1":"OAK MULTI","option2":"10","option3":"SOFT CALF LEATHER","sku":"840237311063","requires_shipping":true,"taxable":true,"featured_image":{"id":31444580434125,"product_id":7150644854989,"position":19,"created_at":"2023-02-06T16:02:03-05:00","updated_at":"2023-08-03T11:51:05-04:00","alt":"3","width":2960,"height":3700,"src":"\/\/oncept.nyc\/cdn\/shop\/products\/PHOENIX-SIDE-OAK-min_598cf4f7-4e11-4d52-a8e5-623674efe30f.jpg?v=1691077865","variant_ids":[41444634788045,41444634820813,41444634853581,41444634886349,41444634919117,41444634951885,41444634984653,41444635017421,41444635050189]},"available":true,"name":"PHOENIX - OAK MULTI \/ 10 \/ SOFT CALF LEATHER","public_title":"OAK MULTI \/ 10 \/ SOFT CALF LEATHER","options":["OAK MULTI","10","SOFT CALF LEATHER"],"price":27500,"weight":0,"compare_at_price":null,"inventory_management":"shopify","barcode":"840237311063","featured_media":{"alt":"3","id":23733780873421,"position":19,"preview_image":{"aspect_ratio":0.8,"height":3700,"width":2960,"src":"\/\/oncept.nyc\/cdn\/shop\/products\/PHOENIX-SIDE-OAK-min_598cf4f7-4e11-4d52-a8e5-623674efe30f.jpg?v=1691077865"}},"requires_selling_plan":false,"selling_plan_allocations":[]},{"id":41444639211725,"title":"COASTAL MULTI \/ 6 \/ SOFT CALF LEATHER","option1":"COASTAL MULTI","option2":"6","option3":"SOFT CALF LEATHER","sku":"840237317669","requires_shipping":true,"taxable":true,"featured_image":{"id":31483256209613,"product_id":7150644854989,"position":25,"created_at":"2023-02-17T16:53:32-05:00","updated_at":"2023-08-03T11:51:05-04:00","alt":"4","width":2960,"height":3700,"src":"\/\/oncept.nyc\/cdn\/shop\/products\/PHOENIX-SIDE-COASTALMULTI-min.jpg?v=1691077865","variant_ids":[41444639211725,41444639244493,41444639277261,41444639310029,41444639342797,41444639375565,41444639408333,41444639441101,41444639473869]},"available":true,"name":"PHOENIX - COASTAL MULTI \/ 6 \/ SOFT CALF LEATHER","public_title":"COASTAL MULTI \/ 6 \/ SOFT CALF LEATHER","options":["COASTAL MULTI","6","SOFT CALF LEATHER"],"price":27500,"weight":0,"compare_at_price":null,"inventory_management":"shopify","barcode":"840237317669","featured_media":{"alt":"4","id":23772797927629,"position":25,"preview_image":{"aspect_ratio":0.8,"height":3700,"width":2960,"src":"\/\/oncept.nyc\/cdn\/shop\/products\/PHOENIX-SIDE-COASTALMULTI-min.jpg?v=1691077865"}},"requires_selling_plan":false,"selling_plan_allocations":[]},{"id":41444639244493,"title":"COASTAL MULTI \/ 6.5 \/ SOFT CALF LEATHER","option1":"COASTAL MULTI","option2":"6.5","option3":"SOFT CALF LEATHER","sku":"840237317676","requires_shipping":true,"taxable":true,"featured_image":{"id":31483256209613,"product_id":7150644854989,"position":25,"created_at":"2023-02-17T16:53:32-05:00","updated_at":"2023-08-03T11:51:05-04:00","alt":"4","width":2960,"height":3700,"src":"\/\/oncept.nyc\/cdn\/shop\/products\/PHOENIX-SIDE-COASTALMULTI-min.jpg?v=1691077865","variant_ids":[41444639211725,41444639244493,41444639277261,41444639310029,41444639342797,41444639375565,41444639408333,41444639441101,41444639473869]},"available":false,"name":"PHOENIX - COASTAL MULTI \/ 6.5 \/ SOFT CALF LEATHER","public_title":"COASTAL MULTI \/ 6.5 \/ SOFT CALF LEATHER","options":["COASTAL MULTI","6.5","SOFT CALF LEATHER"],"price":27500,"weight":0,"compare_at_price":null,"inventory_management":"shopify","barcode":"840237317676","featured_media":{"alt":"4","id":23772797927629,"position":25,"preview_image":{"aspect_ratio":0.8,"height":3700,"width":2960,"src":"\/\/oncept.nyc\/cdn\/shop\/products\/PHOENIX-SIDE-COASTALMULTI-min.jpg?v=1691077865"}},"requires_selling_plan":false,"selling_plan_allocations":[]},{"id":41444639277261,"title":"COASTAL MULTI \/ 7 \/ SOFT CALF LEATHER","option1":"COASTAL MULTI","option2":"7","option3":"SOFT CALF LEATHER","sku":"840237317683","requires_shipping":true,"taxable":true,"featured_image":{"id":31483256209613,"product_id":7150644854989,"position":25,"created_at":"2023-02-17T16:53:32-05:00","updated_at":"2023-08-03T11:51:05-04:00","alt":"4","width":2960,"height":3700,"src":"\/\/oncept.nyc\/cdn\/shop\/products\/PHOENIX-SIDE-COASTALMULTI-min.jpg?v=1691077865","variant_ids":[41444639211725,41444639244493,41444639277261,41444639310029,41444639342797,41444639375565,41444639408333,41444639441101,41444639473869]},"available":false,"name":"PHOENIX - COASTAL MULTI \/ 7 \/ SOFT CALF LEATHER","public_title":"COASTAL MULTI \/ 7 \/ SOFT CALF LEATHER","options":["COASTAL MULTI","7","SOFT CALF LEATHER"],"price":27500,"weight":0,"compare_at_price":null,"inventory_management":"shopify","barcode":"840237317683","featured_media":{"alt":"4","id":23772797927629,"position":25,"preview_image":{"aspect_ratio":0.8,"height":3700,"width":2960,"src":"\/\/oncept.nyc\/cdn\/shop\/products\/PHOENIX-SIDE-COASTALMULTI-min.jpg?v=1691077865"}},"requires_selling_plan":false,"selling_plan_allocations":[]},{"id":41444639310029,"title":"COASTAL MULTI \/ 7.5 \/ SOFT CALF LEATHER","option1":"COASTAL MULTI","option2":"7.5","option3":"SOFT CALF LEATHER","sku":"840237317690","requires_shipping":true,"taxable":true,"featured_image":{"id":31483256209613,"product_id":7150644854989,"position":25,"created_at":"2023-02-17T16:53:32-05:00","updated_at":"2023-08-03T11:51:05-04:00","alt":"4","width":2960,"height":3700,"src":"\/\/oncept.nyc\/cdn\/shop\/products\/PHOENIX-SIDE-COASTALMULTI-min.jpg?v=1691077865","variant_ids":[41444639211725,41444639244493,41444639277261,41444639310029,41444639342797,41444639375565,41444639408333,41444639441101,41444639473869]},"available":true,"name":"PHOENIX - COASTAL MULTI \/ 7.5 \/ SOFT CALF LEATHER","public_title":"COASTAL MULTI \/ 7.5 \/ SOFT CALF LEATHER","options":["COASTAL MULTI","7.5","SOFT CALF LEATHER"],"price":27500,"weight":0,"compare_at_price":null,"inventory_management":"shopify","barcode":"840237317690","featured_media":{"alt":"4","id":23772797927629,"position":25,"preview_image":{"aspect_ratio":0.8,"height":3700,"width":2960,"src":"\/\/oncept.nyc\/cdn\/shop\/products\/PHOENIX-SIDE-COASTALMULTI-min.jpg?v=1691077865"}},"requires_selling_plan":false,"selling_plan_allocations":[]},{"id":41444639342797,"title":"COASTAL MULTI \/ 8 \/ SOFT CALF LEATHER","option1":"COASTAL MULTI","option2":"8","option3":"SOFT CALF LEATHER","sku":"840237317706","requires_shipping":true,"taxable":true,"featured_image":{"id":31483256209613,"product_id":7150644854989,"position":25,"created_at":"2023-02-17T16:53:32-05:00","updated_at":"2023-08-03T11:51:05-04:00","alt":"4","width":2960,"height":3700,"src":"\/\/oncept.nyc\/cdn\/shop\/products\/PHOENIX-SIDE-COASTALMULTI-min.jpg?v=1691077865","variant_ids":[41444639211725,41444639244493,41444639277261,41444639310029,41444639342797,41444639375565,41444639408333,41444639441101,41444639473869]},"available":false,"name":"PHOENIX - COASTAL MULTI \/ 8 \/ SOFT CALF LEATHER","public_title":"COASTAL MULTI \/ 8 \/ SOFT CALF LEATHER","options":["COASTAL MULTI","8","SOFT CALF LEATHER"],"price":27500,"weight":0,"compare_at_price":null,"inventory_management":"shopify","barcode":"840237317706","featured_media":{"alt":"4","id":23772797927629,"position":25,"preview_image":{"aspect_ratio":0.8,"height":3700,"width":2960,"src":"\/\/oncept.nyc\/cdn\/shop\/products\/PHOENIX-SIDE-COASTALMULTI-min.jpg?v=1691077865"}},"requires_selling_plan":false,"selling_plan_allocations":[]},{"id":41444639375565,"title":"COASTAL MULTI \/ 8.5 \/ SOFT CALF LEATHER","option1":"COASTAL MULTI","option2":"8.5","option3":"SOFT CALF LEATHER","sku":"840237317713","requires_shipping":true,"taxable":true,"featured_image":{"id":31483256209613,"product_id":7150644854989,"position":25,"created_at":"2023-02-17T16:53:32-05:00","updated_at":"2023-08-03T11:51:05-04:00","alt":"4","width":2960,"height":3700,"src":"\/\/oncept.nyc\/cdn\/shop\/products\/PHOENIX-SIDE-COASTALMULTI-min.jpg?v=1691077865","variant_ids":[41444639211725,41444639244493,41444639277261,41444639310029,41444639342797,41444639375565,41444639408333,41444639441101,41444639473869]},"available":true,"name":"PHOENIX - COASTAL MULTI \/ 8.5 \/ SOFT CALF LEATHER","public_title":"COASTAL MULTI \/ 8.5 \/ SOFT CALF LEATHER","options":["COASTAL MULTI","8.5","SOFT CALF LEATHER"],"price":27500,"weight":0,"compare_at_price":null,"inventory_management":"shopify","barcode":"840237317713","featured_media":{"alt":"4","id":23772797927629,"position":25,"preview_image":{"aspect_ratio":0.8,"height":3700,"width":2960,"src":"\/\/oncept.nyc\/cdn\/shop\/products\/PHOENIX-SIDE-COASTALMULTI-min.jpg?v=1691077865"}},"requires_selling_plan":false,"selling_plan_allocations":[]},{"id":41444639408333,"title":"COASTAL MULTI \/ 9 \/ SOFT CALF LEATHER","option1":"COASTAL MULTI","option2":"9","option3":"SOFT CALF LEATHER","sku":"840237317720","requires_shipping":true,"taxable":true,"featured_image":{"id":31483256209613,"product_id":7150644854989,"position":25,"created_at":"2023-02-17T16:53:32-05:00","updated_at":"2023-08-03T11:51:05-04:00","alt":"4","width":2960,"height":3700,"src":"\/\/oncept.nyc\/cdn\/shop\/products\/PHOENIX-SIDE-COASTALMULTI-min.jpg?v=1691077865","variant_ids":[41444639211725,41444639244493,41444639277261,41444639310029,41444639342797,41444639375565,41444639408333,41444639441101,41444639473869]},"available":false,"name":"PHOENIX - COASTAL MULTI \/ 9 \/ SOFT CALF LEATHER","public_title":"COASTAL MULTI \/ 9 \/ SOFT CALF LEATHER","options":["COASTAL MULTI","9","SOFT CALF LEATHER"],"price":27500,"weight":0,"compare_at_price":null,"inventory_management":"shopify","barcode":"840237317720","featured_media":{"alt":"4","id":23772797927629,"position":25,"preview_image":{"aspect_ratio":0.8,"height":3700,"width":2960,"src":"\/\/oncept.nyc\/cdn\/shop\/products\/PHOENIX-SIDE-COASTALMULTI-min.jpg?v=1691077865"}},"requires_selling_plan":false,"selling_plan_allocations":[]},{"id":41444639441101,"title":"COASTAL MULTI \/ 9.5 \/ SOFT CALF LEATHER","option1":"COASTAL MULTI","option2":"9.5","option3":"SOFT CALF LEATHER","sku":"840237317737","requires_shipping":true,"taxable":true,"featured_image":{"id":31483256209613,"product_id":7150644854989,"position":25,"created_at":"2023-02-17T16:53:32-05:00","updated_at":"2023-08-03T11:51:05-04:00","alt":"4","width":2960,"height":3700,"src":"\/\/oncept.nyc\/cdn\/shop\/products\/PHOENIX-SIDE-COASTALMULTI-min.jpg?v=1691077865","variant_ids":[41444639211725,41444639244493,41444639277261,41444639310029,41444639342797,41444639375565,41444639408333,41444639441101,41444639473869]},"available":true,"name":"PHOENIX - COASTAL MULTI \/ 9.5 \/ SOFT CALF LEATHER","public_title":"COASTAL MULTI \/ 9.5 \/ SOFT CALF LEATHER","options":["COASTAL MULTI","9.5","SOFT CALF LEATHER"],"price":27500,"weight":0,"compare_at_price":null,"inventory_management":"shopify","barcode":"840237317737","featured_media":{"alt":"4","id":23772797927629,"position":25,"preview_image":{"aspect_ratio":0.8,"height":3700,"width":2960,"src":"\/\/oncept.nyc\/cdn\/shop\/products\/PHOENIX-SIDE-COASTALMULTI-min.jpg?v=1691077865"}},"requires_selling_plan":false,"selling_plan_allocations":[]},{"id":41444639473869,"title":"COASTAL MULTI \/ 10 \/ SOFT CALF LEATHER","option1":"COASTAL MULTI","option2":"10","option3":"SOFT CALF LEATHER","sku":"840237317744","requires_shipping":true,"taxable":true,"featured_image":{"id":31483256209613,"product_id":7150644854989,"position":25,"created_at":"2023-02-17T16:53:32-05:00","updated_at":"2023-08-03T11:51:05-04:00","alt":"4","width":2960,"height":3700,"src":"\/\/oncept.nyc\/cdn\/shop\/products\/PHOENIX-SIDE-COASTALMULTI-min.jpg?v=1691077865","variant_ids":[41444639211725,41444639244493,41444639277261,41444639310029,41444639342797,41444639375565,41444639408333,41444639441101,41444639473869]},"available":false,"name":"PHOENIX - COASTAL MULTI \/ 10 \/ SOFT CALF LEATHER","public_title":"COASTAL MULTI \/ 10 \/ SOFT CALF LEATHER","options":["COASTAL MULTI","10","SOFT CALF LEATHER"],"price":27500,"weight":0,"compare_at_price":null,"inventory_management":"shopify","barcode":"840237317744","featured_media":{"alt":"4","id":23772797927629,"position":25,"preview_image":{"aspect_ratio":0.8,"height":3700,"width":2960,"src":"\/\/oncept.nyc\/cdn\/shop\/products\/PHOENIX-SIDE-COASTALMULTI-min.jpg?v=1691077865"}},"requires_selling_plan":false,"selling_plan_allocations":[]},{"id":41444639801549,"title":"BLUE VAPOR \/ 6 \/ SOFT CALF LEATHER","option1":"BLUE VAPOR","option2":"6","option3":"SOFT CALF LEATHER","sku":"840237317577","requires_shipping":true,"taxable":true,"featured_image":{"id":31444492648653,"product_id":7150644854989,"position":31,"created_at":"2023-02-06T15:35:13-05:00","updated_at":"2023-08-03T11:51:05-04:00","alt":"5","width":2960,"height":3700,"src":"\/\/oncept.nyc\/cdn\/shop\/products\/PHOENIX-SIDE-min_d90801df-ffda-4804-953c-17962d5ddb81.jpg?v=1691077865","variant_ids":[41444639801549,41444639834317,41444639867085,41444639899853,41444639932621,41444639965389,41444639998157,41444640030925,41444640063693]},"available":true,"name":"PHOENIX - BLUE VAPOR \/ 6 \/ SOFT CALF LEATHER","public_title":"BLUE VAPOR \/ 6 \/ SOFT CALF LEATHER","options":["BLUE VAPOR","6","SOFT CALF LEATHER"],"price":27500,"weight":0,"compare_at_price":null,"inventory_management":"shopify","barcode":"840237317577","featured_media":{"alt":"5","id":23733691678925,"position":31,"preview_image":{"aspect_ratio":0.8,"height":3700,"width":2960,"src":"\/\/oncept.nyc\/cdn\/shop\/products\/PHOENIX-SIDE-min_d90801df-ffda-4804-953c-17962d5ddb81.jpg?v=1691077865"}},"requires_selling_plan":false,"selling_plan_allocations":[]},{"id":41444639834317,"title":"BLUE VAPOR \/ 6.5 \/ SOFT CALF LEATHER","option1":"BLUE VAPOR","option2":"6.5","option3":"SOFT CALF LEATHER","sku":"840237317584","requires_shipping":true,"taxable":true,"featured_image":{"id":31444492648653,"product_id":7150644854989,"position":31,"created_at":"2023-02-06T15:35:13-05:00","updated_at":"2023-08-03T11:51:05-04:00","alt":"5","width":2960,"height":3700,"src":"\/\/oncept.nyc\/cdn\/shop\/products\/PHOENIX-SIDE-min_d90801df-ffda-4804-953c-17962d5ddb81.jpg?v=1691077865","variant_ids":[41444639801549,41444639834317,41444639867085,41444639899853,41444639932621,41444639965389,41444639998157,41444640030925,41444640063693]},"available":true,"name":"PHOENIX - BLUE VAPOR \/ 6.5 \/ SOFT CALF LEATHER","public_title":"BLUE VAPOR \/ 6.5 \/ SOFT CALF LEATHER","options":["BLUE VAPOR","6.5","SOFT CALF LEATHER"],"price":27500,"weight":0,"compare_at_price":null,"inventory_management":"shopify","barcode":"840237317584","featured_media":{"alt":"5","id":23733691678925,"position":31,"preview_image":{"aspect_ratio":0.8,"height":3700,"width":2960,"src":"\/\/oncept.nyc\/cdn\/shop\/products\/PHOENIX-SIDE-min_d90801df-ffda-4804-953c-17962d5ddb81.jpg?v=1691077865"}},"requires_selling_plan":false,"selling_plan_allocations":[]},{"id":41444639867085,"title":"BLUE VAPOR \/ 7 \/ SOFT CALF LEATHER","option1":"BLUE VAPOR","option2":"7","option3":"SOFT CALF LEATHER","sku":"840237317591","requires_shipping":true,"taxable":true,"featured_image":{"id":31444492648653,"product_id":7150644854989,"position":31,"created_at":"2023-02-06T15:35:13-05:00","updated_at":"2023-08-03T11:51:05-04:00","alt":"5","width":2960,"height":3700,"src":"\/\/oncept.nyc\/cdn\/shop\/products\/PHOENIX-SIDE-min_d90801df-ffda-4804-953c-17962d5ddb81.jpg?v=1691077865","variant_ids":[41444639801549,41444639834317,41444639867085,41444639899853,41444639932621,41444639965389,41444639998157,41444640030925,41444640063693]},"available":true,"name":"PHOENIX - BLUE VAPOR \/ 7 \/ SOFT CALF LEATHER","public_title":"BLUE VAPOR \/ 7 \/ SOFT CALF LEATHER","options":["BLUE VAPOR","7","SOFT CALF LEATHER"],"price":27500,"weight":0,"compare_at_price":null,"inventory_management":"shopify","barcode":"840237317591","featured_media":{"alt":"5","id":23733691678925,"position":31,"preview_image":{"aspect_ratio":0.8,"height":3700,"width":2960,"src":"\/\/oncept.nyc\/cdn\/shop\/products\/PHOENIX-SIDE-min_d90801df-ffda-4804-953c-17962d5ddb81.jpg?v=1691077865"}},"requires_selling_plan":false,"selling_plan_allocations":[]},{"id":41444639899853,"title":"BLUE VAPOR \/ 7.5 \/ SOFT CALF LEATHER","option1":"BLUE VAPOR","option2":"7.5","option3":"SOFT CALF LEATHER","sku":"840237317607","requires_shipping":true,"taxable":true,"featured_image":{"id":31444492648653,"product_id":7150644854989,"position":31,"created_at":"2023-02-06T15:35:13-05:00","updated_at":"2023-08-03T11:51:05-04:00","alt":"5","width":2960,"height":3700,"src":"\/\/oncept.nyc\/cdn\/shop\/products\/PHOENIX-SIDE-min_d90801df-ffda-4804-953c-17962d5ddb81.jpg?v=1691077865","variant_ids":[41444639801549,41444639834317,41444639867085,41444639899853,41444639932621,41444639965389,41444639998157,41444640030925,41444640063693]},"available":true,"name":"PHOENIX - BLUE VAPOR \/ 7.5 \/ SOFT CALF LEATHER","public_title":"BLUE VAPOR \/ 7.5 \/ SOFT CALF LEATHER","options":["BLUE VAPOR","7.5","SOFT CALF LEATHER"],"price":27500,"weight":0,"compare_at_price":null,"inventory_management":"shopify","barcode":"840237317607","featured_media":{"alt":"5","id":23733691678925,"position":31,"preview_image":{"aspect_ratio":0.8,"height":3700,"width":2960,"src":"\/\/oncept.nyc\/cdn\/shop\/products\/PHOENIX-SIDE-min_d90801df-ffda-4804-953c-17962d5ddb81.jpg?v=1691077865"}},"requires_selling_plan":false,"selling_plan_allocations":[]},{"id":41444639932621,"title":"BLUE VAPOR \/ 8 \/ SOFT CALF LEATHER","option1":"BLUE VAPOR","option2":"8","option3":"SOFT CALF LEATHER","sku":"840237317614","requires_shipping":true,"taxable":true,"featured_image":{"id":31444492648653,"product_id":7150644854989,"position":31,"created_at":"2023-02-06T15:35:13-05:00","updated_at":"2023-08-03T11:51:05-04:00","alt":"5","width":2960,"height":3700,"src":"\/\/oncept.nyc\/cdn\/shop\/products\/PHOENIX-SIDE-min_d90801df-ffda-4804-953c-17962d5ddb81.jpg?v=1691077865","variant_ids":[41444639801549,41444639834317,41444639867085,41444639899853,41444639932621,41444639965389,41444639998157,41444640030925,41444640063693]},"available":true,"name":"PHOENIX - BLUE VAPOR \/ 8 \/ SOFT CALF LEATHER","public_title":"BLUE VAPOR \/ 8 \/ SOFT CALF LEATHER","options":["BLUE VAPOR","8","SOFT CALF LEATHER"],"price":27500,"weight":0,"compare_at_price":null,"inventory_management":"shopify","barcode":"840237317614","featured_media":{"alt":"5","id":23733691678925,"position":31,"preview_image":{"aspect_ratio":0.8,"height":3700,"width":2960,"src":"\/\/oncept.nyc\/cdn\/shop\/products\/PHOENIX-SIDE-min_d90801df-ffda-4804-953c-17962d5ddb81.jpg?v=1691077865"}},"requires_selling_plan":false,"selling_plan_allocations":[]},{"id":41444639965389,"title":"BLUE VAPOR \/ 8.5 \/ SOFT CALF LEATHER","option1":"BLUE VAPOR","option2":"8.5","option3":"SOFT CALF LEATHER","sku":"840237317621","requires_shipping":true,"taxable":true,"featured_image":{"id":31444492648653,"product_id":7150644854989,"position":31,"created_at":"2023-02-06T15:35:13-05:00","updated_at":"2023-08-03T11:51:05-04:00","alt":"5","width":2960,"height":3700,"src":"\/\/oncept.nyc\/cdn\/shop\/products\/PHOENIX-SIDE-min_d90801df-ffda-4804-953c-17962d5ddb81.jpg?v=1691077865","variant_ids":[41444639801549,41444639834317,41444639867085,41444639899853,41444639932621,41444639965389,41444639998157,41444640030925,41444640063693]},"available":true,"name":"PHOENIX - BLUE VAPOR \/ 8.5 \/ SOFT CALF LEATHER","public_title":"BLUE VAPOR \/ 8.5 \/ SOFT CALF LEATHER","options":["BLUE VAPOR","8.5","SOFT CALF LEATHER"],"price":27500,"weight":0,"compare_at_price":null,"inventory_management":"shopify","barcode":"840237317621","featured_media":{"alt":"5","id":23733691678925,"position":31,"preview_image":{"aspect_ratio":0.8,"height":3700,"width":2960,"src":"\/\/oncept.nyc\/cdn\/shop\/products\/PHOENIX-SIDE-min_d90801df-ffda-4804-953c-17962d5ddb81.jpg?v=1691077865"}},"requires_selling_plan":false,"selling_plan_allocations":[]},{"id":41444639998157,"title":"BLUE VAPOR \/ 9 \/ SOFT CALF LEATHER","option1":"BLUE VAPOR","option2":"9","option3":"SOFT CALF LEATHER","sku":"840237317638","requires_shipping":true,"taxable":true,"featured_image":{"id":31444492648653,"product_id":7150644854989,"position":31,"created_at":"2023-02-06T15:35:13-05:00","updated_at":"2023-08-03T11:51:05-04:00","alt":"5","width":2960,"height":3700,"src":"\/\/oncept.nyc\/cdn\/shop\/products\/PHOENIX-SIDE-min_d90801df-ffda-4804-953c-17962d5ddb81.jpg?v=1691077865","variant_ids":[41444639801549,41444639834317,41444639867085,41444639899853,41444639932621,41444639965389,41444639998157,41444640030925,41444640063693]},"available":true,"name":"PHOENIX - BLUE VAPOR \/ 9 \/ SOFT CALF LEATHER","public_title":"BLUE VAPOR \/ 9 \/ SOFT CALF LEATHER","options":["BLUE VAPOR","9","SOFT CALF LEATHER"],"price":27500,"weight":0,"compare_at_price":null,"inventory_management":"shopify","barcode":"840237317638","featured_media":{"alt":"5","id":23733691678925,"position":31,"preview_image":{"aspect_ratio":0.8,"height":3700,"width":2960,"src":"\/\/oncept.nyc\/cdn\/shop\/products\/PHOENIX-SIDE-min_d90801df-ffda-4804-953c-17962d5ddb81.jpg?v=1691077865"}},"requires_selling_plan":false,"selling_plan_allocations":[]},{"id":41444640030925,"title":"BLUE VAPOR \/ 9.5 \/ SOFT CALF LEATHER","option1":"BLUE VAPOR","option2":"9.5","option3":"SOFT CALF LEATHER","sku":"840237317645","requires_shipping":true,"taxable":true,"featured_image":{"id":31444492648653,"product_id":7150644854989,"position":31,"created_at":"2023-02-06T15:35:13-05:00","updated_at":"2023-08-03T11:51:05-04:00","alt":"5","width":2960,"height":3700,"src":"\/\/oncept.nyc\/cdn\/shop\/products\/PHOENIX-SIDE-min_d90801df-ffda-4804-953c-17962d5ddb81.jpg?v=1691077865","variant_ids":[41444639801549,41444639834317,41444639867085,41444639899853,41444639932621,41444639965389,41444639998157,41444640030925,41444640063693]},"available":true,"name":"PHOENIX - BLUE VAPOR \/ 9.5 \/ SOFT CALF LEATHER","public_title":"BLUE VAPOR \/ 9.5 \/ SOFT CALF LEATHER","options":["BLUE VAPOR","9.5","SOFT CALF LEATHER"],"price":27500,"weight":0,"compare_at_price":null,"inventory_management":"shopify","barcode":"840237317645","featured_media":{"alt":"5","id":23733691678925,"position":31,"preview_image":{"aspect_ratio":0.8,"height":3700,"width":2960,"src":"\/\/oncept.nyc\/cdn\/shop\/products\/PHOENIX-SIDE-min_d90801df-ffda-4804-953c-17962d5ddb81.jpg?v=1691077865"}},"requires_selling_plan":false,"selling_plan_allocations":[]},{"id":41444640063693,"title":"BLUE VAPOR \/ 10 \/ SOFT CALF LEATHER","option1":"BLUE VAPOR","option2":"10","option3":"SOFT CALF LEATHER","sku":"840237317652","requires_shipping":true,"taxable":true,"featured_image":{"id":31444492648653,"product_id":7150644854989,"position":31,"created_at":"2023-02-06T15:35:13-05:00","updated_at":"2023-08-03T11:51:05-04:00","alt":"5","width":2960,"height":3700,"src":"\/\/oncept.nyc\/cdn\/shop\/products\/PHOENIX-SIDE-min_d90801df-ffda-4804-953c-17962d5ddb81.jpg?v=1691077865","variant_ids":[41444639801549,41444639834317,41444639867085,41444639899853,41444639932621,41444639965389,41444639998157,41444640030925,41444640063693]},"available":true,"name":"PHOENIX - BLUE VAPOR \/ 10 \/ SOFT CALF LEATHER","public_title":"BLUE VAPOR \/ 10 \/ SOFT CALF LEATHER","options":["BLUE VAPOR","10","SOFT CALF LEATHER"],"price":27500,"weight":0,"compare_at_price":null,"inventory_management":"shopify","barcode":"840237317652","featured_media":{"alt":"5","id":23733691678925,"position":31,"preview_image":{"aspect_ratio":0.8,"height":3700,"width":2960,"src":"\/\/oncept.nyc\/cdn\/shop\/products\/PHOENIX-SIDE-min_d90801df-ffda-4804-953c-17962d5ddb81.jpg?v=1691077865"}},"requires_selling_plan":false,"selling_plan_allocations":[]},{"id":41444639506637,"title":"LILAC \/ 6 \/ SOFT CALF LEATHER","option1":"LILAC","option2":"6","option3":"SOFT CALF LEATHER","sku":"840237317485","requires_shipping":true,"taxable":true,"featured_image":{"id":31444491206861,"product_id":7150644854989,"position":37,"created_at":"2023-02-06T15:35:01-05:00","updated_at":"2023-08-03T11:51:05-04:00","alt":"6","width":2960,"height":3700,"src":"\/\/oncept.nyc\/cdn\/shop\/products\/PHOENIX-SIDE-min.jpg?v=1691077865","variant_ids":[41444639506637,41444639539405,41444639572173,41444639604941,41444639637709,41444639670477,41444639703245,41444639736013,41444639768781]},"available":false,"name":"PHOENIX - LILAC \/ 6 \/ SOFT CALF LEATHER","public_title":"LILAC \/ 6 \/ SOFT CALF LEATHER","options":["LILAC","6","SOFT CALF LEATHER"],"price":27500,"weight":0,"compare_at_price":null,"inventory_management":"shopify","barcode":"840237317485","featured_media":{"alt":"6","id":23733690728653,"position":37,"preview_image":{"aspect_ratio":0.8,"height":3700,"width":2960,"src":"\/\/oncept.nyc\/cdn\/shop\/products\/PHOENIX-SIDE-min.jpg?v=1691077865"}},"requires_selling_plan":false,"selling_plan_allocations":[]},{"id":41444639539405,"title":"LILAC \/ 6.5 \/ SOFT CALF LEATHER","option1":"LILAC","option2":"6.5","option3":"SOFT CALF LEATHER","sku":"840237317492","requires_shipping":true,"taxable":true,"featured_image":{"id":31444491206861,"product_id":7150644854989,"position":37,"created_at":"2023-02-06T15:35:01-05:00","updated_at":"2023-08-03T11:51:05-04:00","alt":"6","width":2960,"height":3700,"src":"\/\/oncept.nyc\/cdn\/shop\/products\/PHOENIX-SIDE-min.jpg?v=1691077865","variant_ids":[41444639506637,41444639539405,41444639572173,41444639604941,41444639637709,41444639670477,41444639703245,41444639736013,41444639768781]},"available":false,"name":"PHOENIX - LILAC \/ 6.5 \/ SOFT CALF LEATHER","public_title":"LILAC \/ 6.5 \/ SOFT CALF LEATHER","options":["LILAC","6.5","SOFT CALF LEATHER"],"price":27500,"weight":0,"compare_at_price":null,"inventory_management":"shopify","barcode":"840237317492","featured_media":{"alt":"6","id":23733690728653,"position":37,"preview_image":{"aspect_ratio":0.8,"height":3700,"width":2960,"src":"\/\/oncept.nyc\/cdn\/shop\/products\/PHOENIX-SIDE-min.jpg?v=1691077865"}},"requires_selling_plan":false,"selling_plan_allocations":[]},{"id":41444639572173,"title":"LILAC \/ 7 \/ SOFT CALF LEATHER","option1":"LILAC","option2":"7","option3":"SOFT CALF LEATHER","sku":"840237317508","requires_shipping":true,"taxable":true,"featured_image":{"id":31444491206861,"product_id":7150644854989,"position":37,"created_at":"2023-02-06T15:35:01-05:00","updated_at":"2023-08-03T11:51:05-04:00","alt":"6","width":2960,"height":3700,"src":"\/\/oncept.nyc\/cdn\/shop\/products\/PHOENIX-SIDE-min.jpg?v=1691077865","variant_ids":[41444639506637,41444639539405,41444639572173,41444639604941,41444639637709,41444639670477,41444639703245,41444639736013,41444639768781]},"available":true,"name":"PHOENIX - LILAC \/ 7 \/ SOFT CALF LEATHER","public_title":"LILAC \/ 7 \/ SOFT CALF LEATHER","options":["LILAC","7","SOFT CALF LEATHER"],"price":27500,"weight":0,"compare_at_price":null,"inventory_management":"shopify","barcode":"840237317508","featured_media":{"alt":"6","id":23733690728653,"position":37,"preview_image":{"aspect_ratio":0.8,"height":3700,"width":2960,"src":"\/\/oncept.nyc\/cdn\/shop\/products\/PHOENIX-SIDE-min.jpg?v=1691077865"}},"requires_selling_plan":false,"selling_plan_allocations":[]},{"id":41444639604941,"title":"LILAC \/ 7.5 \/ SOFT CALF LEATHER","option1":"LILAC","option2":"7.5","option3":"SOFT CALF LEATHER","sku":"840237317515","requires_shipping":true,"taxable":true,"featured_image":{"id":31444491206861,"product_id":7150644854989,"position":37,"created_at":"2023-02-06T15:35:01-05:00","updated_at":"2023-08-03T11:51:05-04:00","alt":"6","width":2960,"height":3700,"src":"\/\/oncept.nyc\/cdn\/shop\/products\/PHOENIX-SIDE-min.jpg?v=1691077865","variant_ids":[41444639506637,41444639539405,41444639572173,41444639604941,41444639637709,41444639670477,41444639703245,41444639736013,41444639768781]},"available":true,"name":"PHOENIX - LILAC \/ 7.5 \/ SOFT CALF LEATHER","public_title":"LILAC \/ 7.5 \/ SOFT CALF LEATHER","options":["LILAC","7.5","SOFT CALF LEATHER"],"price":27500,"weight":0,"compare_at_price":null,"inventory_management":"shopify","barcode":"840237317515","featured_media":{"alt":"6","id":23733690728653,"position":37,"preview_image":{"aspect_ratio":0.8,"height":3700,"width":2960,"src":"\/\/oncept.nyc\/cdn\/shop\/products\/PHOENIX-SIDE-min.jpg?v=1691077865"}},"requires_selling_plan":false,"selling_plan_allocations":[]},{"id":41444639637709,"title":"LILAC \/ 8 \/ SOFT CALF LEATHER","option1":"LILAC","option2":"8","option3":"SOFT CALF LEATHER","sku":"840237317522","requires_shipping":true,"taxable":true,"featured_image":{"id":31444491206861,"product_id":7150644854989,"position":37,"created_at":"2023-02-06T15:35:01-05:00","updated_at":"2023-08-03T11:51:05-04:00","alt":"6","width":2960,"height":3700,"src":"\/\/oncept.nyc\/cdn\/shop\/products\/PHOENIX-SIDE-min.jpg?v=1691077865","variant_ids":[41444639506637,41444639539405,41444639572173,41444639604941,41444639637709,41444639670477,41444639703245,41444639736013,41444639768781]},"available":false,"name":"PHOENIX - LILAC \/ 8 \/ SOFT CALF LEATHER","public_title":"LILAC \/ 8 \/ SOFT CALF LEATHER","options":["LILAC","8","SOFT CALF LEATHER"],"price":27500,"weight":0,"compare_at_price":null,"inventory_management":"shopify","barcode":"840237317522","featured_media":{"alt":"6","id":23733690728653,"position":37,"preview_image":{"aspect_ratio":0.8,"height":3700,"width":2960,"src":"\/\/oncept.nyc\/cdn\/shop\/products\/PHOENIX-SIDE-min.jpg?v=1691077865"}},"requires_selling_plan":false,"selling_plan_allocations":[]},{"id":41444639670477,"title":"LILAC \/ 8.5 \/ SOFT CALF LEATHER","option1":"LILAC","option2":"8.5","option3":"SOFT CALF LEATHER","sku":"840237317539","requires_shipping":true,"taxable":true,"featured_image":{"id":31444491206861,"product_id":7150644854989,"position":37,"created_at":"2023-02-06T15:35:01-05:00","updated_at":"2023-08-03T11:51:05-04:00","alt":"6","width":2960,"height":3700,"src":"\/\/oncept.nyc\/cdn\/shop\/products\/PHOENIX-SIDE-min.jpg?v=1691077865","variant_ids":[41444639506637,41444639539405,41444639572173,41444639604941,41444639637709,41444639670477,41444639703245,41444639736013,41444639768781]},"available":true,"name":"PHOENIX - LILAC \/ 8.5 \/ SOFT CALF LEATHER","public_title":"LILAC \/ 8.5 \/ SOFT CALF LEATHER","options":["LILAC","8.5","SOFT CALF LEATHER"],"price":27500,"weight":0,"compare_at_price":null,"inventory_management":"shopify","barcode":"840237317539","featured_media":{"alt":"6","id":23733690728653,"position":37,"preview_image":{"aspect_ratio":0.8,"height":3700,"width":2960,"src":"\/\/oncept.nyc\/cdn\/shop\/products\/PHOENIX-SIDE-min.jpg?v=1691077865"}},"requires_selling_plan":false,"selling_plan_allocations":[]},{"id":41444639703245,"title":"LILAC \/ 9 \/ SOFT CALF LEATHER","option1":"LILAC","option2":"9","option3":"SOFT CALF LEATHER","sku":"840237317546","requires_shipping":true,"taxable":true,"featured_image":{"id":31444491206861,"product_id":7150644854989,"position":37,"created_at":"2023-02-06T15:35:01-05:00","updated_at":"2023-08-03T11:51:05-04:00","alt":"6","width":2960,"height":3700,"src":"\/\/oncept.nyc\/cdn\/shop\/products\/PHOENIX-SIDE-min.jpg?v=1691077865","variant_ids":[41444639506637,41444639539405,41444639572173,41444639604941,41444639637709,41444639670477,41444639703245,41444639736013,41444639768781]},"available":false,"name":"PHOENIX - LILAC \/ 9 \/ SOFT CALF LEATHER","public_title":"LILAC \/ 9 \/ SOFT CALF LEATHER","options":["LILAC","9","SOFT CALF LEATHER"],"price":27500,"weight":0,"compare_at_price":null,"inventory_management":"shopify","barcode":"840237317546","featured_media":{"alt":"6","id":23733690728653,"position":37,"preview_image":{"aspect_ratio":0.8,"height":3700,"width":2960,"src":"\/\/oncept.nyc\/cdn\/shop\/products\/PHOENIX-SIDE-min.jpg?v=1691077865"}},"requires_selling_plan":false,"selling_plan_allocations":[]},{"id":41444639736013,"title":"LILAC \/ 9.5 \/ SOFT CALF LEATHER","option1":"LILAC","option2":"9.5","option3":"SOFT CALF LEATHER","sku":"840237317553","requires_shipping":true,"taxable":true,"featured_image":{"id":31444491206861,"product_id":7150644854989,"position":37,"created_at":"2023-02-06T15:35:01-05:00","updated_at":"2023-08-03T11:51:05-04:00","alt":"6","width":2960,"height":3700,"src":"\/\/oncept.nyc\/cdn\/shop\/products\/PHOENIX-SIDE-min.jpg?v=1691077865","variant_ids":[41444639506637,41444639539405,41444639572173,41444639604941,41444639637709,41444639670477,41444639703245,41444639736013,41444639768781]},"available":false,"name":"PHOENIX - LILAC \/ 9.5 \/ SOFT CALF LEATHER","public_title":"LILAC \/ 9.5 \/ SOFT CALF LEATHER","options":["LILAC","9.5","SOFT CALF LEATHER"],"price":27500,"weight":0,"compare_at_price":null,"inventory_management":"shopify","barcode":"840237317553","featured_media":{"alt":"6","id":23733690728653,"position":37,"preview_image":{"aspect_ratio":0.8,"height":3700,"width":2960,"src":"\/\/oncept.nyc\/cdn\/shop\/products\/PHOENIX-SIDE-min.jpg?v=1691077865"}},"requires_selling_plan":false,"selling_plan_allocations":[]},{"id":41444639768781,"title":"LILAC \/ 10 \/ SOFT CALF LEATHER","option1":"LILAC","option2":"10","option3":"SOFT CALF LEATHER","sku":"840237317560","requires_shipping":true,"taxable":true,"featured_image":{"id":31444491206861,"product_id":7150644854989,"position":37,"created_at":"2023-02-06T15:35:01-05:00","updated_at":"2023-08-03T11:51:05-04:00","alt":"6","width":2960,"height":3700,"src":"\/\/oncept.nyc\/cdn\/shop\/products\/PHOENIX-SIDE-min.jpg?v=1691077865","variant_ids":[41444639506637,41444639539405,41444639572173,41444639604941,41444639637709,41444639670477,41444639703245,41444639736013,41444639768781]},"available":false,"name":"PHOENIX - LILAC \/ 10 \/ SOFT CALF LEATHER","public_title":"LILAC \/ 10 \/ SOFT CALF LEATHER","options":["LILAC","10","SOFT CALF LEATHER"],"price":27500,"weight":0,"compare_at_price":null,"inventory_management":"shopify","barcode":"840237317560","featured_media":{"alt":"6","id":23733690728653,"position":37,"preview_image":{"aspect_ratio":0.8,"height":3700,"width":2960,"src":"\/\/oncept.nyc\/cdn\/shop\/products\/PHOENIX-SIDE-min.jpg?v=1691077865"}},"requires_selling_plan":false,"selling_plan_allocations":[]},{"id":41444633903309,"title":"WHITE CLOUD \/ 6 \/ SOFT CALF LEATHER","option1":"WHITE CLOUD","option2":"6","option3":"SOFT CALF LEATHER","sku":"840237310806","requires_shipping":true,"taxable":true,"featured_image":{"id":31444580597965,"product_id":7150644854989,"position":43,"created_at":"2023-02-06T16:02:03-05:00","updated_at":"2023-08-03T11:51:05-04:00","alt":"7","width":2960,"height":3700,"src":"\/\/oncept.nyc\/cdn\/shop\/products\/PHOENIX-SIDE-WHITECLOUD-min_cc930612-998c-4a02-bdde-5d154c910cad.jpg?v=1691077865","variant_ids":[41444633903309,41444633936077,41444633968845,41444634001613,41444634034381,41444634067149,41444634099917,41444634132685,41444634165453]},"available":true,"name":"PHOENIX - WHITE CLOUD \/ 6 \/ SOFT CALF LEATHER","public_title":"WHITE CLOUD \/ 6 \/ SOFT CALF LEATHER","options":["WHITE CLOUD","6","SOFT CALF LEATHER"],"price":27500,"weight":0,"compare_at_price":null,"inventory_management":"shopify","barcode":"840237310806","featured_media":{"alt":"7","id":23733780447437,"position":43,"preview_image":{"aspect_ratio":0.8,"height":3700,"width":2960,"src":"\/\/oncept.nyc\/cdn\/shop\/products\/PHOENIX-SIDE-WHITECLOUD-min_cc930612-998c-4a02-bdde-5d154c910cad.jpg?v=1691077865"}},"requires_selling_plan":false,"selling_plan_allocations":[]},{"id":41444633936077,"title":"WHITE CLOUD \/ 6.5 \/ SOFT CALF LEATHER","option1":"WHITE CLOUD","option2":"6.5","option3":"SOFT CALF LEATHER","sku":"840237310813","requires_shipping":true,"taxable":true,"featured_image":{"id":31444580597965,"product_id":7150644854989,"position":43,"created_at":"2023-02-06T16:02:03-05:00","updated_at":"2023-08-03T11:51:05-04:00","alt":"7","width":2960,"height":3700,"src":"\/\/oncept.nyc\/cdn\/shop\/products\/PHOENIX-SIDE-WHITECLOUD-min_cc930612-998c-4a02-bdde-5d154c910cad.jpg?v=1691077865","variant_ids":[41444633903309,41444633936077,41444633968845,41444634001613,41444634034381,41444634067149,41444634099917,41444634132685,41444634165453]},"available":true,"name":"PHOENIX - WHITE CLOUD \/ 6.5 \/ SOFT CALF LEATHER","public_title":"WHITE CLOUD \/ 6.5 \/ SOFT CALF LEATHER","options":["WHITE CLOUD","6.5","SOFT CALF LEATHER"],"price":27500,"weight":0,"compare_at_price":null,"inventory_management":"shopify","barcode":"840237310813","featured_media":{"alt":"7","id":23733780447437,"position":43,"preview_image":{"aspect_ratio":0.8,"height":3700,"width":2960,"src":"\/\/oncept.nyc\/cdn\/shop\/products\/PHOENIX-SIDE-WHITECLOUD-min_cc930612-998c-4a02-bdde-5d154c910cad.jpg?v=1691077865"}},"requires_selling_plan":false,"selling_plan_allocations":[]},{"id":41444633968845,"title":"WHITE CLOUD \/ 7 \/ SOFT CALF LEATHER","option1":"WHITE CLOUD","option2":"7","option3":"SOFT CALF LEATHER","sku":"840237310820","requires_shipping":true,"taxable":true,"featured_image":{"id":31444580597965,"product_id":7150644854989,"position":43,"created_at":"2023-02-06T16:02:03-05:00","updated_at":"2023-08-03T11:51:05-04:00","alt":"7","width":2960,"height":3700,"src":"\/\/oncept.nyc\/cdn\/shop\/products\/PHOENIX-SIDE-WHITECLOUD-min_cc930612-998c-4a02-bdde-5d154c910cad.jpg?v=1691077865","variant_ids":[41444633903309,41444633936077,41444633968845,41444634001613,41444634034381,41444634067149,41444634099917,41444634132685,41444634165453]},"available":true,"name":"PHOENIX - WHITE CLOUD \/ 7 \/ SOFT CALF LEATHER","public_title":"WHITE CLOUD \/ 7 \/ SOFT CALF LEATHER","options":["WHITE CLOUD","7","SOFT CALF LEATHER"],"price":27500,"weight":0,"compare_at_price":null,"inventory_management":"shopify","barcode":"840237310820","featured_media":{"alt":"7","id":23733780447437,"position":43,"preview_image":{"aspect_ratio":0.8,"height":3700,"width":2960,"src":"\/\/oncept.nyc\/cdn\/shop\/products\/PHOENIX-SIDE-WHITECLOUD-min_cc930612-998c-4a02-bdde-5d154c910cad.jpg?v=1691077865"}},"requires_selling_plan":false,"selling_plan_allocations":[]},{"id":41444634001613,"title":"WHITE CLOUD \/ 7.5 \/ SOFT CALF LEATHER","option1":"WHITE CLOUD","option2":"7.5","option3":"SOFT CALF LEATHER","sku":"840237310837","requires_shipping":true,"taxable":true,"featured_image":{"id":31444580597965,"product_id":7150644854989,"position":43,"created_at":"2023-02-06T16:02:03-05:00","updated_at":"2023-08-03T11:51:05-04:00","alt":"7","width":2960,"height":3700,"src":"\/\/oncept.nyc\/cdn\/shop\/products\/PHOENIX-SIDE-WHITECLOUD-min_cc930612-998c-4a02-bdde-5d154c910cad.jpg?v=1691077865","variant_ids":[41444633903309,41444633936077,41444633968845,41444634001613,41444634034381,41444634067149,41444634099917,41444634132685,41444634165453]},"available":true,"name":"PHOENIX - WHITE CLOUD \/ 7.5 \/ SOFT CALF LEATHER","public_title":"WHITE CLOUD \/ 7.5 \/ SOFT CALF LEATHER","options":["WHITE CLOUD","7.5","SOFT CALF LEATHER"],"price":27500,"weight":0,"compare_at_price":null,"inventory_management":"shopify","barcode":"840237310837","featured_media":{"alt":"7","id":23733780447437,"position":43,"preview_image":{"aspect_ratio":0.8,"height":3700,"width":2960,"src":"\/\/oncept.nyc\/cdn\/shop\/products\/PHOENIX-SIDE-WHITECLOUD-min_cc930612-998c-4a02-bdde-5d154c910cad.jpg?v=1691077865"}},"requires_selling_plan":false,"selling_plan_allocations":[]},{"id":41444634034381,"title":"WHITE CLOUD \/ 8 \/ SOFT CALF LEATHER","option1":"WHITE CLOUD","option2":"8","option3":"SOFT CALF LEATHER","sku":"840237310844","requires_shipping":true,"taxable":true,"featured_image":{"id":31444580597965,"product_id":7150644854989,"position":43,"created_at":"2023-02-06T16:02:03-05:00","updated_at":"2023-08-03T11:51:05-04:00","alt":"7","width":2960,"height":3700,"src":"\/\/oncept.nyc\/cdn\/shop\/products\/PHOENIX-SIDE-WHITECLOUD-min_cc930612-998c-4a02-bdde-5d154c910cad.jpg?v=1691077865","variant_ids":[41444633903309,41444633936077,41444633968845,41444634001613,41444634034381,41444634067149,41444634099917,41444634132685,41444634165453]},"available":true,"name":"PHOENIX - WHITE CLOUD \/ 8 \/ SOFT CALF LEATHER","public_title":"WHITE CLOUD \/ 8 \/ SOFT CALF LEATHER","options":["WHITE CLOUD","8","SOFT CALF LEATHER"],"price":27500,"weight":0,"compare_at_price":null,"inventory_management":"shopify","barcode":"840237310844","featured_media":{"alt":"7","id":23733780447437,"position":43,"preview_image":{"aspect_ratio":0.8,"height":3700,"width":2960,"src":"\/\/oncept.nyc\/cdn\/shop\/products\/PHOENIX-SIDE-WHITECLOUD-min_cc930612-998c-4a02-bdde-5d154c910cad.jpg?v=1691077865"}},"requires_selling_plan":false,"selling_plan_allocations":[]},{"id":41444634067149,"title":"WHITE CLOUD \/ 8.5 \/ SOFT CALF LEATHER","option1":"WHITE CLOUD","option2":"8.5","option3":"SOFT CALF LEATHER","sku":"840237310851","requires_shipping":true,"taxable":true,"featured_image":{"id":31444580597965,"product_id":7150644854989,"position":43,"created_at":"2023-02-06T16:02:03-05:00","updated_at":"2023-08-03T11:51:05-04:00","alt":"7","width":2960,"height":3700,"src":"\/\/oncept.nyc\/cdn\/shop\/products\/PHOENIX-SIDE-WHITECLOUD-min_cc930612-998c-4a02-bdde-5d154c910cad.jpg?v=1691077865","variant_ids":[41444633903309,41444633936077,41444633968845,41444634001613,41444634034381,41444634067149,41444634099917,41444634132685,41444634165453]},"available":true,"name":"PHOENIX - WHITE CLOUD \/ 8.5 \/ SOFT CALF LEATHER","public_title":"WHITE CLOUD \/ 8.5 \/ SOFT CALF LEATHER","options":["WHITE CLOUD","8.5","SOFT CALF LEATHER"],"price":27500,"weight":0,"compare_at_price":null,"inventory_management":"shopify","barcode":"840237310851","featured_media":{"alt":"7","id":23733780447437,"position":43,"preview_image":{"aspect_ratio":0.8,"height":3700,"width":2960,"src":"\/\/oncept.nyc\/cdn\/shop\/products\/PHOENIX-SIDE-WHITECLOUD-min_cc930612-998c-4a02-bdde-5d154c910cad.jpg?v=1691077865"}},"requires_selling_plan":false,"selling_plan_allocations":[]},{"id":41444634099917,"title":"WHITE CLOUD \/ 9 \/ SOFT CALF LEATHER","option1":"WHITE CLOUD","option2":"9","option3":"SOFT CALF LEATHER","sku":"840237310868","requires_shipping":true,"taxable":true,"featured_image":{"id":31444580597965,"product_id":7150644854989,"position":43,"created_at":"2023-02-06T16:02:03-05:00","updated_at":"2023-08-03T11:51:05-04:00","alt":"7","width":2960,"height":3700,"src":"\/\/oncept.nyc\/cdn\/shop\/products\/PHOENIX-SIDE-WHITECLOUD-min_cc930612-998c-4a02-bdde-5d154c910cad.jpg?v=1691077865","variant_ids":[41444633903309,41444633936077,41444633968845,41444634001613,41444634034381,41444634067149,41444634099917,41444634132685,41444634165453]},"available":true,"name":"PHOENIX - WHITE CLOUD \/ 9 \/ SOFT CALF LEATHER","public_title":"WHITE CLOUD \/ 9 \/ SOFT CALF LEATHER","options":["WHITE CLOUD","9","SOFT CALF LEATHER"],"price":27500,"weight":0,"compare_at_price":null,"inventory_management":"shopify","barcode":"840237310868","featured_media":{"alt":"7","id":23733780447437,"position":43,"preview_image":{"aspect_ratio":0.8,"height":3700,"width":2960,"src":"\/\/oncept.nyc\/cdn\/shop\/products\/PHOENIX-SIDE-WHITECLOUD-min_cc930612-998c-4a02-bdde-5d154c910cad.jpg?v=1691077865"}},"requires_selling_plan":false,"selling_plan_allocations":[]},{"id":41444634132685,"title":"WHITE CLOUD \/ 9.5 \/ SOFT CALF LEATHER","option1":"WHITE CLOUD","option2":"9.5","option3":"SOFT CALF LEATHER","sku":"840237310875","requires_shipping":true,"taxable":true,"featured_image":{"id":31444580597965,"product_id":7150644854989,"position":43,"created_at":"2023-02-06T16:02:03-05:00","updated_at":"2023-08-03T11:51:05-04:00","alt":"7","width":2960,"height":3700,"src":"\/\/oncept.nyc\/cdn\/shop\/products\/PHOENIX-SIDE-WHITECLOUD-min_cc930612-998c-4a02-bdde-5d154c910cad.jpg?v=1691077865","variant_ids":[41444633903309,41444633936077,41444633968845,41444634001613,41444634034381,41444634067149,41444634099917,41444634132685,41444634165453]},"available":true,"name":"PHOENIX - WHITE CLOUD \/ 9.5 \/ SOFT CALF LEATHER","public_title":"WHITE CLOUD \/ 9.5 \/ SOFT CALF LEATHER","options":["WHITE CLOUD","9.5","SOFT CALF LEATHER"],"price":27500,"weight":0,"compare_at_price":null,"inventory_management":"shopify","barcode":"840237310875","featured_media":{"alt":"7","id":23733780447437,"position":43,"preview_image":{"aspect_ratio":0.8,"height":3700,"width":2960,"src":"\/\/oncept.nyc\/cdn\/shop\/products\/PHOENIX-SIDE-WHITECLOUD-min_cc930612-998c-4a02-bdde-5d154c910cad.jpg?v=1691077865"}},"requires_selling_plan":false,"selling_plan_allocations":[]},{"id":41444634165453,"title":"WHITE CLOUD \/ 10 \/ SOFT CALF LEATHER","option1":"WHITE CLOUD","option2":"10","option3":"SOFT CALF LEATHER","sku":"840237310882","requires_shipping":true,"taxable":true,"featured_image":{"id":31444580597965,"product_id":7150644854989,"position":43,"created_at":"2023-02-06T16:02:03-05:00","updated_at":"2023-08-03T11:51:05-04:00","alt":"7","width":2960,"height":3700,"src":"\/\/oncept.nyc\/cdn\/shop\/products\/PHOENIX-SIDE-WHITECLOUD-min_cc930612-998c-4a02-bdde-5d154c910cad.jpg?v=1691077865","variant_ids":[41444633903309,41444633936077,41444633968845,41444634001613,41444634034381,41444634067149,41444634099917,41444634132685,41444634165453]},"available":true,"name":"PHOENIX - WHITE CLOUD \/ 10 \/ SOFT CALF LEATHER","public_title":"WHITE CLOUD \/ 10 \/ SOFT CALF LEATHER","options":["WHITE CLOUD","10","SOFT CALF LEATHER"],"price":27500,"weight":0,"compare_at_price":null,"inventory_management":"shopify","barcode":"840237310882","featured_media":{"alt":"7","id":23733780447437,"position":43,"preview_image":{"aspect_ratio":0.8,"height":3700,"width":2960,"src":"\/\/oncept.nyc\/cdn\/shop\/products\/PHOENIX-SIDE-WHITECLOUD-min_cc930612-998c-4a02-bdde-5d154c910cad.jpg?v=1691077865"}},"requires_selling_plan":false,"selling_plan_allocations":[]}],"images":["\/\/oncept.nyc\/cdn\/shop\/products\/PHOENIX-SIDE-RETRORED-min_81251e46-1cb4-4666-80b8-ac76c0e41ab8.jpg?v=1691077865","\/\/oncept.nyc\/cdn\/shop\/products\/PHOENIX-TOP-RETRORED-min_0d3c973f-6438-4d77-b2c1-2e1b7d25bddd.jpg?v=1691077865","\/\/oncept.nyc\/cdn\/shop\/products\/PHOENIX-BACK-RETRORED-min_29d56905-ac77-47a1-af29-9940fff3c1af.jpg?v=1691077865","\/\/oncept.nyc\/cdn\/shop\/products\/PHOENIX-OUTSOLE-RETRORED-min_d5dd49fd-b807-4017-96a3-90bc12b93026.jpg?v=1691077865","\/\/oncept.nyc\/cdn\/shop\/products\/PHOENIX-SOFT-RETRORED_1_-min_fe0e85fd-9f66-4e46-b97d-83b29e2b2dde.jpg?v=1691077865","\/\/oncept.nyc\/cdn\/shop\/products\/PHOENIX-RETRORED-ONFOOT-min_aed44bfd-af07-4914-8f77-ab39a0bec047.jpg?v=1691077865","\/\/oncept.nyc\/cdn\/shop\/products\/PHOENIX-SIDE-ANTRACITE-min_9483613d-d371-4518-ad25-2b26e68fda03.jpg?v=1691077865","\/\/oncept.nyc\/cdn\/shop\/products\/PHOENIX-TOP-ANTHRACITE-min_213693ab-452a-47a5-a680-77b2807d2470.jpg?v=1691077865","\/\/oncept.nyc\/cdn\/shop\/products\/PHOENIX-BACK-ANTHRACITE-min_87017dfd-974b-45ca-aeb6-a6428af0e6d5.jpg?v=1691077865","\/\/oncept.nyc\/cdn\/shop\/products\/PHOENIX-OUTSOLE-ANTHRACITE-min_989d288d-953d-4907-b5e7-4799f22b7bf5.jpg?v=1691077865","\/\/oncept.nyc\/cdn\/shop\/products\/PHOENIX-SOFT-ANTHRACITE-min_3082a1bb-bf57-4718-b541-77e58273af49.jpg?v=1691077865","\/\/oncept.nyc\/cdn\/shop\/products\/PHOENIX-ANTRACITE-ONFOOT-min_1dc27204-5412-4db5-9eef-90ba8ecc70e2.jpg?v=1691077865","\/\/oncept.nyc\/cdn\/shop\/products\/PHOENIX-SIDE-FIELDGREENS-min_53f6bd2a-3942-4c6d-a223-458253c97aa2.jpg?v=1691077865","\/\/oncept.nyc\/cdn\/shop\/products\/PHOENIX-TOP-FIELDGREENS-min_502dd4cc-55ba-45b9-930b-def13f3564a0.jpg?v=1691077865","\/\/oncept.nyc\/cdn\/shop\/products\/PHOENIX-BACK-FIELDGREENS-min_83442c22-781d-48de-be9e-1164dccb0e26.jpg?v=1691077865","\/\/oncept.nyc\/cdn\/shop\/products\/PHOENIX-OUTSOLE-FIELDGREENS-min_2f3af971-268a-4485-bdc8-a4e808c42ce5.jpg?v=1692218065","\/\/oncept.nyc\/cdn\/shop\/products\/PHOENIX-SOFT-FIELDGREENS-min_31cb82d1-3dbd-4028-9cb3-6acc5ac57a83.jpg?v=1692218065","\/\/oncept.nyc\/cdn\/shop\/products\/PHOENIX-GREENFIELDS-ONFOOT-min_a5b06941-5fd8-4948-a2c1-b59bc90c0601.jpg?v=1691077865","\/\/oncept.nyc\/cdn\/shop\/products\/PHOENIX-SIDE-OAK-min_598cf4f7-4e11-4d52-a8e5-623674efe30f.jpg?v=1691077865","\/\/oncept.nyc\/cdn\/shop\/products\/PHOENIX-TOP-OAK-min_3fdda049-f0dc-4d40-94a6-5d3353943ac8.jpg?v=1691077865","\/\/oncept.nyc\/cdn\/shop\/products\/PHOENIX-BACK-OAK-min_fc83d369-f989-43df-88db-912b44ec3ef6.jpg?v=1691077865","\/\/oncept.nyc\/cdn\/shop\/products\/PHOENIX-OUTSOLE-FIELDGREENS-min_1.jpg?v=1691077865","\/\/oncept.nyc\/cdn\/shop\/products\/PHOENIX-SOFT-OAK-min_464afea5-75e9-401c-accd-35495baac670.jpg?v=1691077865","\/\/oncept.nyc\/cdn\/shop\/products\/PHOENIX-OAK-ON-FOOT-min_700737fe-79c9-4ede-8873-fb455f75fc46.jpg?v=1691077865","\/\/oncept.nyc\/cdn\/shop\/products\/PHOENIX-SIDE-COASTALMULTI-min.jpg?v=1691077865","\/\/oncept.nyc\/cdn\/shop\/products\/PHOENIX-TOP-min.jpg?v=1691077865","\/\/oncept.nyc\/cdn\/shop\/products\/PHOENIX-BACK-min.jpg?v=1691077865","\/\/oncept.nyc\/cdn\/shop\/products\/PHOENIX-OUTSOLE-min.jpg?v=1691077865","\/\/oncept.nyc\/cdn\/shop\/products\/PHOENIX-SOFTNESS-min.jpg?v=1691077865","\/\/oncept.nyc\/cdn\/shop\/products\/Frame37-min.jpg?v=1691077865","\/\/oncept.nyc\/cdn\/shop\/products\/PHOENIX-SIDE-min_d90801df-ffda-4804-953c-17962d5ddb81.jpg?v=1691077865","\/\/oncept.nyc\/cdn\/shop\/products\/PHOENIX-TOP-min_5e81a69b-e621-43c6-a7e6-86bb07709a67.jpg?v=1691077865","\/\/oncept.nyc\/cdn\/shop\/products\/PHOENIX-BACK-min_4ea675f0-0d11-45ea-ae2a-ae7f95e8226e.jpg?v=1691077865","\/\/oncept.nyc\/cdn\/shop\/products\/PHOENIX-OUTSOLE-min_8f249e4b-4a1b-4186-8793-ba172dd28648.jpg?v=1691077865","\/\/oncept.nyc\/cdn\/shop\/products\/PHOENIX-SOFTNESS-min_4f3a75b9-73dd-488f-941f-a94669c08ae4.jpg?v=1691077865","\/\/oncept.nyc\/cdn\/shop\/products\/Frame42-min.jpg?v=1691077865","\/\/oncept.nyc\/cdn\/shop\/products\/PHOENIX-SIDE-min.jpg?v=1691077865","\/\/oncept.nyc\/cdn\/shop\/products\/PHOENIX-TOP-min_7c9dffc4-9132-44ba-9d8a-747eb360df8b.jpg?v=1691077865","\/\/oncept.nyc\/cdn\/shop\/products\/PHOENIX-BACK-min_76b2f739-c731-4691-8b7c-09e2a618de9d.jpg?v=1691077865","\/\/oncept.nyc\/cdn\/shop\/products\/PHOENIX-OUTSOLE-min_f4a03f24-3852-402c-832d-5c7875f60881.jpg?v=1691077865","\/\/oncept.nyc\/cdn\/shop\/products\/PHOENIX-SOFTNESS-min_58ada01e-3854-411a-ab2c-661bbf224491.jpg?v=1691077865","\/\/oncept.nyc\/cdn\/shop\/products\/Frame46-min.jpg?v=1691077865","\/\/oncept.nyc\/cdn\/shop\/products\/PHOENIX-SIDE-WHITECLOUD-min_cc930612-998c-4a02-bdde-5d154c910cad.jpg?v=1691077865","\/\/oncept.nyc\/cdn\/shop\/products\/PHOENIX-TOP-WHITECLOUD-min_6f5c0ece-6e04-497a-a64a-bbd0791b71b0.jpg?v=1691077865","\/\/oncept.nyc\/cdn\/shop\/products\/PHOENIX-BACK-WHITECLOUD-min_3c66b16e-c8df-4d92-a91e-2e88ad45e260.jpg?v=1691077865","\/\/oncept.nyc\/cdn\/shop\/products\/PHOENIX-OUTSOLE-WHITECLOUD-min_36ebf069-7320-4e7f-b4f6-144c4143ad0d.jpg?v=1691077865","\/\/oncept.nyc\/cdn\/shop\/products\/PHOENIX-SOFT-WHITECLOUD-min_5cc41df3-2972-4dc6-bb75-e51568904f6c.jpg?v=1691077865","\/\/oncept.nyc\/cdn\/shop\/products\/PHOENIX-WHITECLOUD-ONFOOT-min_355d1d01-adbb-4757-86d0-19a76a25034c.jpg?v=1691077865"],"featured_image":"\/\/oncept.nyc\/cdn\/shop\/products\/PHOENIX-SIDE-RETRORED-min_81251e46-1cb4-4666-80b8-ac76c0e41ab8.jpg?v=1691077865","options":["Color","Size","Material"],"media":[{"alt":"0","id":23733781070029,"position":1,"preview_image":{"aspect_ratio":0.8,"height":3700,"width":2960,"src":"\/\/oncept.nyc\/cdn\/shop\/products\/PHOENIX-SIDE-RETRORED-min_81251e46-1cb4-4666-80b8-ac76c0e41ab8.jpg?v=1691077865"},"aspect_ratio":0.8,"height":3700,"media_type":"image","src":"\/\/oncept.nyc\/cdn\/shop\/products\/PHOENIX-SIDE-RETRORED-min_81251e46-1cb4-4666-80b8-ac76c0e41ab8.jpg?v=1691077865","width":2960},{"alt":"0","id":23733781037261,"position":2,"preview_image":{"aspect_ratio":0.8,"height":3700,"width":2960,"src":"\/\/oncept.nyc\/cdn\/shop\/products\/PHOENIX-TOP-RETRORED-min_0d3c973f-6438-4d77-b2c1-2e1b7d25bddd.jpg?v=1691077865"},"aspect_ratio":0.8,"height":3700,"media_type":"image","src":"\/\/oncept.nyc\/cdn\/shop\/products\/PHOENIX-TOP-RETRORED-min_0d3c973f-6438-4d77-b2c1-2e1b7d25bddd.jpg?v=1691077865","width":2960},{"alt":"0","id":23733781004493,"position":3,"preview_image":{"aspect_ratio":0.8,"height":3700,"width":2960,"src":"\/\/oncept.nyc\/cdn\/shop\/products\/PHOENIX-BACK-RETRORED-min_29d56905-ac77-47a1-af29-9940fff3c1af.jpg?v=1691077865"},"aspect_ratio":0.8,"height":3700,"media_type":"image","src":"\/\/oncept.nyc\/cdn\/shop\/products\/PHOENIX-BACK-RETRORED-min_29d56905-ac77-47a1-af29-9940fff3c1af.jpg?v=1691077865","width":2960},{"alt":"0","id":23733780971725,"position":4,"preview_image":{"aspect_ratio":0.8,"height":3700,"width":2960,"src":"\/\/oncept.nyc\/cdn\/shop\/products\/PHOENIX-OUTSOLE-RETRORED-min_d5dd49fd-b807-4017-96a3-90bc12b93026.jpg?v=1691077865"},"aspect_ratio":0.8,"height":3700,"media_type":"image","src":"\/\/oncept.nyc\/cdn\/shop\/products\/PHOENIX-OUTSOLE-RETRORED-min_d5dd49fd-b807-4017-96a3-90bc12b93026.jpg?v=1691077865","width":2960},{"alt":"0","id":23733780938957,"position":5,"preview_image":{"aspect_ratio":0.8,"height":3700,"width":2960,"src":"\/\/oncept.nyc\/cdn\/shop\/products\/PHOENIX-SOFT-RETRORED_1_-min_fe0e85fd-9f66-4e46-b97d-83b29e2b2dde.jpg?v=1691077865"},"aspect_ratio":0.8,"height":3700,"media_type":"image","src":"\/\/oncept.nyc\/cdn\/shop\/products\/PHOENIX-SOFT-RETRORED_1_-min_fe0e85fd-9f66-4e46-b97d-83b29e2b2dde.jpg?v=1691077865","width":2960},{"alt":"0","id":23733780906189,"position":6,"preview_image":{"aspect_ratio":0.8,"height":3700,"width":2960,"src":"\/\/oncept.nyc\/cdn\/shop\/products\/PHOENIX-RETRORED-ONFOOT-min_aed44bfd-af07-4914-8f77-ab39a0bec047.jpg?v=1691077865"},"aspect_ratio":0.8,"height":3700,"media_type":"image","src":"\/\/oncept.nyc\/cdn\/shop\/products\/PHOENIX-RETRORED-ONFOOT-min_aed44bfd-af07-4914-8f77-ab39a0bec047.jpg?v=1691077865","width":2960},{"alt":"1","id":23733780644045,"position":7,"preview_image":{"aspect_ratio":0.8,"height":3700,"width":2960,"src":"\/\/oncept.nyc\/cdn\/shop\/products\/PHOENIX-SIDE-ANTRACITE-min_9483613d-d371-4518-ad25-2b26e68fda03.jpg?v=1691077865"},"aspect_ratio":0.8,"height":3700,"media_type":"image","src":"\/\/oncept.nyc\/cdn\/shop\/products\/PHOENIX-SIDE-ANTRACITE-min_9483613d-d371-4518-ad25-2b26e68fda03.jpg?v=1691077865","width":2960},{"alt":"1","id":23733780611277,"position":8,"preview_image":{"aspect_ratio":0.8,"height":3700,"width":2960,"src":"\/\/oncept.nyc\/cdn\/shop\/products\/PHOENIX-TOP-ANTHRACITE-min_213693ab-452a-47a5-a680-77b2807d2470.jpg?v=1691077865"},"aspect_ratio":0.8,"height":3700,"media_type":"image","src":"\/\/oncept.nyc\/cdn\/shop\/products\/PHOENIX-TOP-ANTHRACITE-min_213693ab-452a-47a5-a680-77b2807d2470.jpg?v=1691077865","width":2960},{"alt":"1","id":23733780578509,"position":9,"preview_image":{"aspect_ratio":0.8,"height":3700,"width":2960,"src":"\/\/oncept.nyc\/cdn\/shop\/products\/PHOENIX-BACK-ANTHRACITE-min_87017dfd-974b-45ca-aeb6-a6428af0e6d5.jpg?v=1691077865"},"aspect_ratio":0.8,"height":3700,"media_type":"image","src":"\/\/oncept.nyc\/cdn\/shop\/products\/PHOENIX-BACK-ANTHRACITE-min_87017dfd-974b-45ca-aeb6-a6428af0e6d5.jpg?v=1691077865","width":2960},{"alt":"1","id":23733780545741,"position":10,"preview_image":{"aspect_ratio":0.8,"height":3700,"width":2960,"src":"\/\/oncept.nyc\/cdn\/shop\/products\/PHOENIX-OUTSOLE-ANTHRACITE-min_989d288d-953d-4907-b5e7-4799f22b7bf5.jpg?v=1691077865"},"aspect_ratio":0.8,"height":3700,"media_type":"image","src":"\/\/oncept.nyc\/cdn\/shop\/products\/PHOENIX-OUTSOLE-ANTHRACITE-min_989d288d-953d-4907-b5e7-4799f22b7bf5.jpg?v=1691077865","width":2960},{"alt":"1","id":23733780512973,"position":11,"preview_image":{"aspect_ratio":0.8,"height":3700,"width":2960,"src":"\/\/oncept.nyc\/cdn\/shop\/products\/PHOENIX-SOFT-ANTHRACITE-min_3082a1bb-bf57-4718-b541-77e58273af49.jpg?v=1691077865"},"aspect_ratio":0.8,"height":3700,"media_type":"image","src":"\/\/oncept.nyc\/cdn\/shop\/products\/PHOENIX-SOFT-ANTHRACITE-min_3082a1bb-bf57-4718-b541-77e58273af49.jpg?v=1691077865","width":2960},{"alt":"1","id":23733780480205,"position":12,"preview_image":{"aspect_ratio":0.8,"height":3700,"width":2960,"src":"\/\/oncept.nyc\/cdn\/shop\/products\/PHOENIX-ANTRACITE-ONFOOT-min_1dc27204-5412-4db5-9eef-90ba8ecc70e2.jpg?v=1691077865"},"aspect_ratio":0.8,"height":3700,"media_type":"image","src":"\/\/oncept.nyc\/cdn\/shop\/products\/PHOENIX-ANTRACITE-ONFOOT-min_1dc27204-5412-4db5-9eef-90ba8ecc70e2.jpg?v=1691077865","width":2960},{"alt":"2","id":23733781266637,"position":13,"preview_image":{"aspect_ratio":0.8,"height":3700,"width":2960,"src":"\/\/oncept.nyc\/cdn\/shop\/products\/PHOENIX-SIDE-FIELDGREENS-min_53f6bd2a-3942-4c6d-a223-458253c97aa2.jpg?v=1691077865"},"aspect_ratio":0.8,"height":3700,"media_type":"image","src":"\/\/oncept.nyc\/cdn\/shop\/products\/PHOENIX-SIDE-FIELDGREENS-min_53f6bd2a-3942-4c6d-a223-458253c97aa2.jpg?v=1691077865","width":2960},{"alt":"2","id":23733781233869,"position":14,"preview_image":{"aspect_ratio":0.8,"height":3700,"width":2960,"src":"\/\/oncept.nyc\/cdn\/shop\/products\/PHOENIX-TOP-FIELDGREENS-min_502dd4cc-55ba-45b9-930b-def13f3564a0.jpg?v=1691077865"},"aspect_ratio":0.8,"height":3700,"media_type":"image","src":"\/\/oncept.nyc\/cdn\/shop\/products\/PHOENIX-TOP-FIELDGREENS-min_502dd4cc-55ba-45b9-930b-def13f3564a0.jpg?v=1691077865","width":2960},{"alt":"2","id":23733781201101,"position":15,"preview_image":{"aspect_ratio":0.8,"height":3700,"width":2960,"src":"\/\/oncept.nyc\/cdn\/shop\/products\/PHOENIX-BACK-FIELDGREENS-min_83442c22-781d-48de-be9e-1164dccb0e26.jpg?v=1691077865"},"aspect_ratio":0.8,"height":3700,"media_type":"image","src":"\/\/oncept.nyc\/cdn\/shop\/products\/PHOENIX-BACK-FIELDGREENS-min_83442c22-781d-48de-be9e-1164dccb0e26.jpg?v=1691077865","width":2960},{"alt":"2","id":23733781168333,"position":16,"preview_image":{"aspect_ratio":0.8,"height":3700,"width":2960,"src":"\/\/oncept.nyc\/cdn\/shop\/products\/PHOENIX-OUTSOLE-FIELDGREENS-min_2f3af971-268a-4485-bdc8-a4e808c42ce5.jpg?v=1692218065"},"aspect_ratio":0.8,"height":3700,"media_type":"image","src":"\/\/oncept.nyc\/cdn\/shop\/products\/PHOENIX-OUTSOLE-FIELDGREENS-min_2f3af971-268a-4485-bdc8-a4e808c42ce5.jpg?v=1692218065","width":2960},{"alt":"2","id":23733781135565,"position":17,"preview_image":{"aspect_ratio":0.8,"height":3700,"width":2960,"src":"\/\/oncept.nyc\/cdn\/shop\/products\/PHOENIX-SOFT-FIELDGREENS-min_31cb82d1-3dbd-4028-9cb3-6acc5ac57a83.jpg?v=1692218065"},"aspect_ratio":0.8,"height":3700,"media_type":"image","src":"\/\/oncept.nyc\/cdn\/shop\/products\/PHOENIX-SOFT-FIELDGREENS-min_31cb82d1-3dbd-4028-9cb3-6acc5ac57a83.jpg?v=1692218065","width":2960},{"alt":"2","id":23733781102797,"position":18,"preview_image":{"aspect_ratio":0.8,"height":3700,"width":2960,"src":"\/\/oncept.nyc\/cdn\/shop\/products\/PHOENIX-GREENFIELDS-ONFOOT-min_a5b06941-5fd8-4948-a2c1-b59bc90c0601.jpg?v=1691077865"},"aspect_ratio":0.8,"height":3700,"media_type":"image","src":"\/\/oncept.nyc\/cdn\/shop\/products\/PHOENIX-GREENFIELDS-ONFOOT-min_a5b06941-5fd8-4948-a2c1-b59bc90c0601.jpg?v=1691077865","width":2960},{"alt":"3","id":23733780873421,"position":19,"preview_image":{"aspect_ratio":0.8,"height":3700,"width":2960,"src":"\/\/oncept.nyc\/cdn\/shop\/products\/PHOENIX-SIDE-OAK-min_598cf4f7-4e11-4d52-a8e5-623674efe30f.jpg?v=1691077865"},"aspect_ratio":0.8,"height":3700,"media_type":"image","src":"\/\/oncept.nyc\/cdn\/shop\/products\/PHOENIX-SIDE-OAK-min_598cf4f7-4e11-4d52-a8e5-623674efe30f.jpg?v=1691077865","width":2960},{"alt":"3","id":23733780840653,"position":20,"preview_image":{"aspect_ratio":0.8,"height":3700,"width":2960,"src":"\/\/oncept.nyc\/cdn\/shop\/products\/PHOENIX-TOP-OAK-min_3fdda049-f0dc-4d40-94a6-5d3353943ac8.jpg?v=1691077865"},"aspect_ratio":0.8,"height":3700,"media_type":"image","src":"\/\/oncept.nyc\/cdn\/shop\/products\/PHOENIX-TOP-OAK-min_3fdda049-f0dc-4d40-94a6-5d3353943ac8.jpg?v=1691077865","width":2960},{"alt":"3","id":23733780775117,"position":21,"preview_image":{"aspect_ratio":0.8,"height":3700,"width":2960,"src":"\/\/oncept.nyc\/cdn\/shop\/products\/PHOENIX-BACK-OAK-min_fc83d369-f989-43df-88db-912b44ec3ef6.jpg?v=1691077865"},"aspect_ratio":0.8,"height":3700,"media_type":"image","src":"\/\/oncept.nyc\/cdn\/shop\/products\/PHOENIX-BACK-OAK-min_fc83d369-f989-43df-88db-912b44ec3ef6.jpg?v=1691077865","width":2960},{"alt":"3","id":23733780742349,"position":22,"preview_image":{"aspect_ratio":0.8,"height":3700,"width":2960,"src":"\/\/oncept.nyc\/cdn\/shop\/products\/PHOENIX-OUTSOLE-FIELDGREENS-min_1.jpg?v=1691077865"},"aspect_ratio":0.8,"height":3700,"media_type":"image","src":"\/\/oncept.nyc\/cdn\/shop\/products\/PHOENIX-OUTSOLE-FIELDGREENS-min_1.jpg?v=1691077865","width":2960},{"alt":"3","id":23733780709581,"position":23,"preview_image":{"aspect_ratio":0.8,"height":3700,"width":2960,"src":"\/\/oncept.nyc\/cdn\/shop\/products\/PHOENIX-SOFT-OAK-min_464afea5-75e9-401c-accd-35495baac670.jpg?v=1691077865"},"aspect_ratio":0.8,"height":3700,"media_type":"image","src":"\/\/oncept.nyc\/cdn\/shop\/products\/PHOENIX-SOFT-OAK-min_464afea5-75e9-401c-accd-35495baac670.jpg?v=1691077865","width":2960},{"alt":"3","id":23733780676813,"position":24,"preview_image":{"aspect_ratio":0.8,"height":3700,"width":2960,"src":"\/\/oncept.nyc\/cdn\/shop\/products\/PHOENIX-OAK-ON-FOOT-min_700737fe-79c9-4ede-8873-fb455f75fc46.jpg?v=1691077865"},"aspect_ratio":0.8,"height":3700,"media_type":"image","src":"\/\/oncept.nyc\/cdn\/shop\/products\/PHOENIX-OAK-ON-FOOT-min_700737fe-79c9-4ede-8873-fb455f75fc46.jpg?v=1691077865","width":2960},{"alt":"4","id":23772797927629,"position":25,"preview_image":{"aspect_ratio":0.8,"height":3700,"width":2960,"src":"\/\/oncept.nyc\/cdn\/shop\/products\/PHOENIX-SIDE-COASTALMULTI-min.jpg?v=1691077865"},"aspect_ratio":0.8,"height":3700,"media_type":"image","src":"\/\/oncept.nyc\/cdn\/shop\/products\/PHOENIX-SIDE-COASTALMULTI-min.jpg?v=1691077865","width":2960},{"alt":"4","id":23733690269901,"position":26,"preview_image":{"aspect_ratio":0.8,"height":3700,"width":2960,"src":"\/\/oncept.nyc\/cdn\/shop\/products\/PHOENIX-TOP-min.jpg?v=1691077865"},"aspect_ratio":0.8,"height":3700,"media_type":"image","src":"\/\/oncept.nyc\/cdn\/shop\/products\/PHOENIX-TOP-min.jpg?v=1691077865","width":2960},{"alt":"4","id":23733690171597,"position":27,"preview_image":{"aspect_ratio":0.8,"height":3700,"width":2960,"src":"\/\/oncept.nyc\/cdn\/shop\/products\/PHOENIX-BACK-min.jpg?v=1691077865"},"aspect_ratio":0.8,"height":3700,"media_type":"image","src":"\/\/oncept.nyc\/cdn\/shop\/products\/PHOENIX-BACK-min.jpg?v=1691077865","width":2960},{"alt":"4","id":23733690204365,"position":28,"preview_image":{"aspect_ratio":0.8,"height":3700,"width":2960,"src":"\/\/oncept.nyc\/cdn\/shop\/products\/PHOENIX-OUTSOLE-min.jpg?v=1691077865"},"aspect_ratio":0.8,"height":3700,"media_type":"image","src":"\/\/oncept.nyc\/cdn\/shop\/products\/PHOENIX-OUTSOLE-min.jpg?v=1691077865","width":2960},{"alt":"4","id":23733690237133,"position":29,"preview_image":{"aspect_ratio":0.8,"height":3700,"width":2960,"src":"\/\/oncept.nyc\/cdn\/shop\/products\/PHOENIX-SOFTNESS-min.jpg?v=1691077865"},"aspect_ratio":0.8,"height":3700,"media_type":"image","src":"\/\/oncept.nyc\/cdn\/shop\/products\/PHOENIX-SOFTNESS-min.jpg?v=1691077865","width":2960},{"alt":"4","id":23781281202381,"position":30,"preview_image":{"aspect_ratio":0.8,"height":3700,"width":2960,"src":"\/\/oncept.nyc\/cdn\/shop\/products\/Frame37-min.jpg?v=1691077865"},"aspect_ratio":0.8,"height":3700,"media_type":"image","src":"\/\/oncept.nyc\/cdn\/shop\/products\/Frame37-min.jpg?v=1691077865","width":2960},{"alt":"5","id":23733691678925,"position":31,"preview_image":{"aspect_ratio":0.8,"height":3700,"width":2960,"src":"\/\/oncept.nyc\/cdn\/shop\/products\/PHOENIX-SIDE-min_d90801df-ffda-4804-953c-17962d5ddb81.jpg?v=1691077865"},"aspect_ratio":0.8,"height":3700,"media_type":"image","src":"\/\/oncept.nyc\/cdn\/shop\/products\/PHOENIX-SIDE-min_d90801df-ffda-4804-953c-17962d5ddb81.jpg?v=1691077865","width":2960},{"alt":"5","id":23733691744461,"position":32,"preview_image":{"aspect_ratio":0.8,"height":3700,"width":2960,"src":"\/\/oncept.nyc\/cdn\/shop\/products\/PHOENIX-TOP-min_5e81a69b-e621-43c6-a7e6-86bb07709a67.jpg?v=1691077865"},"aspect_ratio":0.8,"height":3700,"media_type":"image","src":"\/\/oncept.nyc\/cdn\/shop\/products\/PHOENIX-TOP-min_5e81a69b-e621-43c6-a7e6-86bb07709a67.jpg?v=1691077865","width":2960},{"alt":"5","id":23733691613389,"position":33,"preview_image":{"aspect_ratio":0.8,"height":3700,"width":2960,"src":"\/\/oncept.nyc\/cdn\/shop\/products\/PHOENIX-BACK-min_4ea675f0-0d11-45ea-ae2a-ae7f95e8226e.jpg?v=1691077865"},"aspect_ratio":0.8,"height":3700,"media_type":"image","src":"\/\/oncept.nyc\/cdn\/shop\/products\/PHOENIX-BACK-min_4ea675f0-0d11-45ea-ae2a-ae7f95e8226e.jpg?v=1691077865","width":2960},{"alt":"5","id":23733691646157,"position":34,"preview_image":{"aspect_ratio":0.8,"height":3700,"width":2960,"src":"\/\/oncept.nyc\/cdn\/shop\/products\/PHOENIX-OUTSOLE-min_8f249e4b-4a1b-4186-8793-ba172dd28648.jpg?v=1691077865"},"aspect_ratio":0.8,"height":3700,"media_type":"image","src":"\/\/oncept.nyc\/cdn\/shop\/products\/PHOENIX-OUTSOLE-min_8f249e4b-4a1b-4186-8793-ba172dd28648.jpg?v=1691077865","width":2960},{"alt":"5","id":23733691711693,"position":35,"preview_image":{"aspect_ratio":0.8,"height":3700,"width":2960,"src":"\/\/oncept.nyc\/cdn\/shop\/products\/PHOENIX-SOFTNESS-min_4f3a75b9-73dd-488f-941f-a94669c08ae4.jpg?v=1691077865"},"aspect_ratio":0.8,"height":3700,"media_type":"image","src":"\/\/oncept.nyc\/cdn\/shop\/products\/PHOENIX-SOFTNESS-min_4f3a75b9-73dd-488f-941f-a94669c08ae4.jpg?v=1691077865","width":2960},{"alt":"5","id":23781281235149,"position":36,"preview_image":{"aspect_ratio":0.8,"height":3700,"width":2960,"src":"\/\/oncept.nyc\/cdn\/shop\/products\/Frame42-min.jpg?v=1691077865"},"aspect_ratio":0.8,"height":3700,"media_type":"image","src":"\/\/oncept.nyc\/cdn\/shop\/products\/Frame42-min.jpg?v=1691077865","width":2960},{"alt":"6","id":23733690728653,"position":37,"preview_image":{"aspect_ratio":0.8,"height":3700,"width":2960,"src":"\/\/oncept.nyc\/cdn\/shop\/products\/PHOENIX-SIDE-min.jpg?v=1691077865"},"aspect_ratio":0.8,"height":3700,"media_type":"image","src":"\/\/oncept.nyc\/cdn\/shop\/products\/PHOENIX-SIDE-min.jpg?v=1691077865","width":2960},{"alt":"6","id":23733690794189,"position":38,"preview_image":{"aspect_ratio":0.8,"height":3700,"width":2960,"src":"\/\/oncept.nyc\/cdn\/shop\/products\/PHOENIX-TOP-min_7c9dffc4-9132-44ba-9d8a-747eb360df8b.jpg?v=1691077865"},"aspect_ratio":0.8,"height":3700,"media_type":"image","src":"\/\/oncept.nyc\/cdn\/shop\/products\/PHOENIX-TOP-min_7c9dffc4-9132-44ba-9d8a-747eb360df8b.jpg?v=1691077865","width":2960},{"alt":"6","id":23733690663117,"position":39,"preview_image":{"aspect_ratio":0.8,"height":3700,"width":2960,"src":"\/\/oncept.nyc\/cdn\/shop\/products\/PHOENIX-BACK-min_76b2f739-c731-4691-8b7c-09e2a618de9d.jpg?v=1691077865"},"aspect_ratio":0.8,"height":3700,"media_type":"image","src":"\/\/oncept.nyc\/cdn\/shop\/products\/PHOENIX-BACK-min_76b2f739-c731-4691-8b7c-09e2a618de9d.jpg?v=1691077865","width":2960},{"alt":"6","id":23733690695885,"position":40,"preview_image":{"aspect_ratio":0.8,"height":3700,"width":2960,"src":"\/\/oncept.nyc\/cdn\/shop\/products\/PHOENIX-OUTSOLE-min_f4a03f24-3852-402c-832d-5c7875f60881.jpg?v=1691077865"},"aspect_ratio":0.8,"height":3700,"media_type":"image","src":"\/\/oncept.nyc\/cdn\/shop\/products\/PHOENIX-OUTSOLE-min_f4a03f24-3852-402c-832d-5c7875f60881.jpg?v=1691077865","width":2960},{"alt":"6","id":23733690761421,"position":41,"preview_image":{"aspect_ratio":0.8,"height":3700,"width":2960,"src":"\/\/oncept.nyc\/cdn\/shop\/products\/PHOENIX-SOFTNESS-min_58ada01e-3854-411a-ab2c-661bbf224491.jpg?v=1691077865"},"aspect_ratio":0.8,"height":3700,"media_type":"image","src":"\/\/oncept.nyc\/cdn\/shop\/products\/PHOENIX-SOFTNESS-min_58ada01e-3854-411a-ab2c-661bbf224491.jpg?v=1691077865","width":2960},{"alt":"6","id":23781281267917,"position":42,"preview_image":{"aspect_ratio":0.8,"height":3700,"width":2960,"src":"\/\/oncept.nyc\/cdn\/shop\/products\/Frame46-min.jpg?v=1691077865"},"aspect_ratio":0.8,"height":3700,"media_type":"image","src":"\/\/oncept.nyc\/cdn\/shop\/products\/Frame46-min.jpg?v=1691077865","width":2960},{"alt":"7","id":23733780447437,"position":43,"preview_image":{"aspect_ratio":0.8,"height":3700,"width":2960,"src":"\/\/oncept.nyc\/cdn\/shop\/products\/PHOENIX-SIDE-WHITECLOUD-min_cc930612-998c-4a02-bdde-5d154c910cad.jpg?v=1691077865"},"aspect_ratio":0.8,"height":3700,"media_type":"image","src":"\/\/oncept.nyc\/cdn\/shop\/products\/PHOENIX-SIDE-WHITECLOUD-min_cc930612-998c-4a02-bdde-5d154c910cad.jpg?v=1691077865","width":2960},{"alt":"7","id":23733780414669,"position":44,"preview_image":{"aspect_ratio":0.8,"height":3700,"width":2960,"src":"\/\/oncept.nyc\/cdn\/shop\/products\/PHOENIX-TOP-WHITECLOUD-min_6f5c0ece-6e04-497a-a64a-bbd0791b71b0.jpg?v=1691077865"},"aspect_ratio":0.8,"height":3700,"media_type":"image","src":"\/\/oncept.nyc\/cdn\/shop\/products\/PHOENIX-TOP-WHITECLOUD-min_6f5c0ece-6e04-497a-a64a-bbd0791b71b0.jpg?v=1691077865","width":2960},{"alt":"7","id":23733780349133,"position":45,"preview_image":{"aspect_ratio":0.8,"height":3700,"width":2960,"src":"\/\/oncept.nyc\/cdn\/shop\/products\/PHOENIX-BACK-WHITECLOUD-min_3c66b16e-c8df-4d92-a91e-2e88ad45e260.jpg?v=1691077865"},"aspect_ratio":0.8,"height":3700,"media_type":"image","src":"\/\/oncept.nyc\/cdn\/shop\/products\/PHOENIX-BACK-WHITECLOUD-min_3c66b16e-c8df-4d92-a91e-2e88ad45e260.jpg?v=1691077865","width":2960},{"alt":"7","id":23733780316365,"position":46,"preview_image":{"aspect_ratio":0.8,"height":3700,"width":2960,"src":"\/\/oncept.nyc\/cdn\/shop\/products\/PHOENIX-OUTSOLE-WHITECLOUD-min_36ebf069-7320-4e7f-b4f6-144c4143ad0d.jpg?v=1691077865"},"aspect_ratio":0.8,"height":3700,"media_type":"image","src":"\/\/oncept.nyc\/cdn\/shop\/products\/PHOENIX-OUTSOLE-WHITECLOUD-min_36ebf069-7320-4e7f-b4f6-144c4143ad0d.jpg?v=1691077865","width":2960},{"alt":"7","id":23733780283597,"position":47,"preview_image":{"aspect_ratio":0.8,"height":3700,"width":2960,"src":"\/\/oncept.nyc\/cdn\/shop\/products\/PHOENIX-SOFT-WHITECLOUD-min_5cc41df3-2972-4dc6-bb75-e51568904f6c.jpg?v=1691077865"},"aspect_ratio":0.8,"height":3700,"media_type":"image","src":"\/\/oncept.nyc\/cdn\/shop\/products\/PHOENIX-SOFT-WHITECLOUD-min_5cc41df3-2972-4dc6-bb75-e51568904f6c.jpg?v=1691077865","width":2960},{"alt":"7","id":23733780250829,"position":48,"preview_image":{"aspect_ratio":0.8,"height":3700,"width":2960,"src":"\/\/oncept.nyc\/cdn\/shop\/products\/PHOENIX-WHITECLOUD-ONFOOT-min_355d1d01-adbb-4757-86d0-19a76a25034c.jpg?v=1691077865"},"aspect_ratio":0.8,"height":3700,"media_type":"image","src":"\/\/oncept.nyc\/cdn\/shop\/products\/PHOENIX-WHITECLOUD-ONFOOT-min_355d1d01-adbb-4757-86d0-19a76a25034c.jpg?v=1691077865","width":2960}],"requires_selling_plan":false,"selling_plan_groups":[],"content":"\u003cmeta charset=\"utf-8\"\u003e\n\u003cp data-mce-fragment=\"1\"\u003e\u003cspan data-mce-fragment=\"1\"\u003eMeet the Phoenix, the courtside sneaker designed to take you from the sidewalk to the street with effortless cool. We've updated this retro style of the early '90's with sleek lines and ultra-soft material for a timeless new look. Featuring five modern colorways, organic cotton laces,\u003c\/span\u003e\u003cspan data-mce-fragment=\"1\"\u003e luxe butter leather \u003c\/span\u003e\u003cspan data-mce-fragment=\"1\"\u003eand our signature re-speckled soles. \u003c\/span\u003e\u003c\/p\u003e"} { "options": [ { "title": "Color", "values": [ { "value": "RETRO RED", "url": "/products/phoenix-2?variant=41444634198221" }, { "value": "STORM GREY", "url": "/products/phoenix-2?variant=41444635082957" }, { "value": "GREEN FIELDS", "url": "/products/phoenix-2?variant=41444634493133" }, { "value": "OAK MULTI", "url": "/products/phoenix-2?variant=41444634788045" }, { "value": "COASTAL MULTI", "url": "/products/phoenix-2?variant=41444639211725" }, { "value": "BLUE VAPOR", "url": "/products/phoenix-2?variant=41444639801549" }, { "value": "LILAC", "url": "/products/phoenix-2?variant=41444639506637" }, { "value": "WHITE CLOUD", "url": "/products/phoenix-2?variant=41444633903309" } ] }, { "title": "Size", "values": [ { "value": "6", "url": "/products/phoenix-2?variant=41444634198221" }, { "value": "6.5", "url": "/products/phoenix-2?variant=41444634230989" }, { "value": "7", "url": "/products/phoenix-2?variant=41444634263757" }, { "value": "7.5", "url": "/products/phoenix-2?variant=41444634296525" }, { "value": "8", "url": "/products/phoenix-2?variant=41444634329293" }, { "value": "8.5", "url": "/products/phoenix-2?variant=41444634362061" }, { "value": "9", "url": "/products/phoenix-2?variant=41444634394829" }, { "value": "9.5", "url": "/products/phoenix-2?variant=41444634427597" }, { "value": "10", "url": "/products/phoenix-2?variant=41444634460365" } ] }, { "title": "Material", "values": [ { "value": "SOFT CALF LEATHER", "url": "/products/phoenix-2?variant=41444634198221" } ] } ] }
{"id":7024162406605,"title":"PHILLY","handle":"philly","description":"\u003cp data-mce-fragment=\"1\"\u003e\u003cspan style=\"font-weight: 400;\" data-mce-fragment=\"1\" data-mce-style=\"font-weight: 400;\"\u003ePhilly mid–top sneaker, our MVP of style!  The courtside look is the perfect pairing for this seasons street style.  Utilizing our signature re-speckled two color outsoles, which are eco–friendly and provide excellent support and comfort.  The mid–top height is the latest in chic versatility, easily styled with denim to leggings, shorts and dresses.\u003c\/span\u003e\u003c\/p\u003e","published_at":"2023-02-08T12:22:01-05:00","created_at":"2022-08-04T17:09:43-04:00","vendor":"Oncept","type":"Footwear","tags":[],"price":35000,"price_min":35000,"price_max":35000,"available":true,"price_varies":false,"compare_at_price":null,"compare_at_price_min":0,"compare_at_price_max":0,"compare_at_price_varies":false,"variants":[{"id":41006940782797,"title":"SEAFOAM \/ 6 \/ BUTTER NUBUK","option1":"SEAFOAM","option2":"6","option3":"BUTTER NUBUK","sku":"840237315863","requires_shipping":true,"taxable":true,"featured_image":{"id":31452022243533,"product_id":7024162406605,"position":1,"created_at":"2023-02-08T12:11:49-05:00","updated_at":"2023-02-08T12:13:01-05:00","alt":"0","width":2960,"height":3700,"src":"\/\/oncept.nyc\/cdn\/shop\/products\/PHILLY-SIDE-min.jpg?v=1675876381","variant_ids":[41006940782797,41006940815565,41006940848333,41006940881101,41006940913869,41006940946637,41006940979405,41006941012173,41006941044941]},"available":true,"name":"PHILLY - SEAFOAM \/ 6 \/ BUTTER NUBUK","public_title":"SEAFOAM \/ 6 \/ BUTTER NUBUK","options":["SEAFOAM","6","BUTTER NUBUK"],"price":35000,"weight":0,"compare_at_price":null,"inventory_management":"shopify","barcode":"840237315863","featured_media":{"alt":"0","id":23741297098957,"position":1,"preview_image":{"aspect_ratio":0.8,"height":3700,"width":2960,"src":"\/\/oncept.nyc\/cdn\/shop\/products\/PHILLY-SIDE-min.jpg?v=1675876381"}},"requires_selling_plan":false,"selling_plan_allocations":[]},{"id":41006940815565,"title":"SEAFOAM \/ 6.5 \/ BUTTER NUBUK","option1":"SEAFOAM","option2":"6.5","option3":"BUTTER NUBUK","sku":"840237315870","requires_shipping":true,"taxable":true,"featured_image":{"id":31452022243533,"product_id":7024162406605,"position":1,"created_at":"2023-02-08T12:11:49-05:00","updated_at":"2023-02-08T12:13:01-05:00","alt":"0","width":2960,"height":3700,"src":"\/\/oncept.nyc\/cdn\/shop\/products\/PHILLY-SIDE-min.jpg?v=1675876381","variant_ids":[41006940782797,41006940815565,41006940848333,41006940881101,41006940913869,41006940946637,41006940979405,41006941012173,41006941044941]},"available":false,"name":"PHILLY - SEAFOAM \/ 6.5 \/ BUTTER NUBUK","public_title":"SEAFOAM \/ 6.5 \/ BUTTER NUBUK","options":["SEAFOAM","6.5","BUTTER NUBUK"],"price":35000,"weight":0,"compare_at_price":null,"inventory_management":"shopify","barcode":"840237315870","featured_media":{"alt":"0","id":23741297098957,"position":1,"preview_image":{"aspect_ratio":0.8,"height":3700,"width":2960,"src":"\/\/oncept.nyc\/cdn\/shop\/products\/PHILLY-SIDE-min.jpg?v=1675876381"}},"requires_selling_plan":false,"selling_plan_allocations":[]},{"id":41006940848333,"title":"SEAFOAM \/ 7 \/ BUTTER NUBUK","option1":"SEAFOAM","option2":"7","option3":"BUTTER NUBUK","sku":"840237315887","requires_shipping":true,"taxable":true,"featured_image":{"id":31452022243533,"product_id":7024162406605,"position":1,"created_at":"2023-02-08T12:11:49-05:00","updated_at":"2023-02-08T12:13:01-05:00","alt":"0","width":2960,"height":3700,"src":"\/\/oncept.nyc\/cdn\/shop\/products\/PHILLY-SIDE-min.jpg?v=1675876381","variant_ids":[41006940782797,41006940815565,41006940848333,41006940881101,41006940913869,41006940946637,41006940979405,41006941012173,41006941044941]},"available":true,"name":"PHILLY - SEAFOAM \/ 7 \/ BUTTER NUBUK","public_title":"SEAFOAM \/ 7 \/ BUTTER NUBUK","options":["SEAFOAM","7","BUTTER NUBUK"],"price":35000,"weight":0,"compare_at_price":null,"inventory_management":"shopify","barcode":"840237315887","featured_media":{"alt":"0","id":23741297098957,"position":1,"preview_image":{"aspect_ratio":0.8,"height":3700,"width":2960,"src":"\/\/oncept.nyc\/cdn\/shop\/products\/PHILLY-SIDE-min.jpg?v=1675876381"}},"requires_selling_plan":false,"selling_plan_allocations":[]},{"id":41006940881101,"title":"SEAFOAM \/ 7.5 \/ BUTTER NUBUK","option1":"SEAFOAM","option2":"7.5","option3":"BUTTER NUBUK","sku":"840237315894","requires_shipping":true,"taxable":true,"featured_image":{"id":31452022243533,"product_id":7024162406605,"position":1,"created_at":"2023-02-08T12:11:49-05:00","updated_at":"2023-02-08T12:13:01-05:00","alt":"0","width":2960,"height":3700,"src":"\/\/oncept.nyc\/cdn\/shop\/products\/PHILLY-SIDE-min.jpg?v=1675876381","variant_ids":[41006940782797,41006940815565,41006940848333,41006940881101,41006940913869,41006940946637,41006940979405,41006941012173,41006941044941]},"available":false,"name":"PHILLY - SEAFOAM \/ 7.5 \/ BUTTER NUBUK","public_title":"SEAFOAM \/ 7.5 \/ BUTTER NUBUK","options":["SEAFOAM","7.5","BUTTER NUBUK"],"price":35000,"weight":0,"compare_at_price":null,"inventory_management":"shopify","barcode":"840237315894","featured_media":{"alt":"0","id":23741297098957,"position":1,"preview_image":{"aspect_ratio":0.8,"height":3700,"width":2960,"src":"\/\/oncept.nyc\/cdn\/shop\/products\/PHILLY-SIDE-min.jpg?v=1675876381"}},"requires_selling_plan":false,"selling_plan_allocations":[]},{"id":41006940913869,"title":"SEAFOAM \/ 8 \/ BUTTER NUBUK","option1":"SEAFOAM","option2":"8","option3":"BUTTER NUBUK","sku":"840237315900","requires_shipping":true,"taxable":true,"featured_image":{"id":31452022243533,"product_id":7024162406605,"position":1,"created_at":"2023-02-08T12:11:49-05:00","updated_at":"2023-02-08T12:13:01-05:00","alt":"0","width":2960,"height":3700,"src":"\/\/oncept.nyc\/cdn\/shop\/products\/PHILLY-SIDE-min.jpg?v=1675876381","variant_ids":[41006940782797,41006940815565,41006940848333,41006940881101,41006940913869,41006940946637,41006940979405,41006941012173,41006941044941]},"available":false,"name":"PHILLY - SEAFOAM \/ 8 \/ BUTTER NUBUK","public_title":"SEAFOAM \/ 8 \/ BUTTER NUBUK","options":["SEAFOAM","8","BUTTER NUBUK"],"price":35000,"weight":0,"compare_at_price":null,"inventory_management":"shopify","barcode":"840237315900","featured_media":{"alt":"0","id":23741297098957,"position":1,"preview_image":{"aspect_ratio":0.8,"height":3700,"width":2960,"src":"\/\/oncept.nyc\/cdn\/shop\/products\/PHILLY-SIDE-min.jpg?v=1675876381"}},"requires_selling_plan":false,"selling_plan_allocations":[]},{"id":41006940946637,"title":"SEAFOAM \/ 8.5 \/ BUTTER NUBUK","option1":"SEAFOAM","option2":"8.5","option3":"BUTTER NUBUK","sku":"840237315917","requires_shipping":true,"taxable":true,"featured_image":{"id":31452022243533,"product_id":7024162406605,"position":1,"created_at":"2023-02-08T12:11:49-05:00","updated_at":"2023-02-08T12:13:01-05:00","alt":"0","width":2960,"height":3700,"src":"\/\/oncept.nyc\/cdn\/shop\/products\/PHILLY-SIDE-min.jpg?v=1675876381","variant_ids":[41006940782797,41006940815565,41006940848333,41006940881101,41006940913869,41006940946637,41006940979405,41006941012173,41006941044941]},"available":true,"name":"PHILLY - SEAFOAM \/ 8.5 \/ BUTTER NUBUK","public_title":"SEAFOAM \/ 8.5 \/ BUTTER NUBUK","options":["SEAFOAM","8.5","BUTTER NUBUK"],"price":35000,"weight":0,"compare_at_price":null,"inventory_management":"shopify","barcode":"840237315917","featured_media":{"alt":"0","id":23741297098957,"position":1,"preview_image":{"aspect_ratio":0.8,"height":3700,"width":2960,"src":"\/\/oncept.nyc\/cdn\/shop\/products\/PHILLY-SIDE-min.jpg?v=1675876381"}},"requires_selling_plan":false,"selling_plan_allocations":[]},{"id":41006940979405,"title":"SEAFOAM \/ 9 \/ BUTTER NUBUK","option1":"SEAFOAM","option2":"9","option3":"BUTTER NUBUK","sku":"840237315924","requires_shipping":true,"taxable":true,"featured_image":{"id":31452022243533,"product_id":7024162406605,"position":1,"created_at":"2023-02-08T12:11:49-05:00","updated_at":"2023-02-08T12:13:01-05:00","alt":"0","width":2960,"height":3700,"src":"\/\/oncept.nyc\/cdn\/shop\/products\/PHILLY-SIDE-min.jpg?v=1675876381","variant_ids":[41006940782797,41006940815565,41006940848333,41006940881101,41006940913869,41006940946637,41006940979405,41006941012173,41006941044941]},"available":true,"name":"PHILLY - SEAFOAM \/ 9 \/ BUTTER NUBUK","public_title":"SEAFOAM \/ 9 \/ BUTTER NUBUK","options":["SEAFOAM","9","BUTTER NUBUK"],"price":35000,"weight":0,"compare_at_price":null,"inventory_management":"shopify","barcode":"840237315924","featured_media":{"alt":"0","id":23741297098957,"position":1,"preview_image":{"aspect_ratio":0.8,"height":3700,"width":2960,"src":"\/\/oncept.nyc\/cdn\/shop\/products\/PHILLY-SIDE-min.jpg?v=1675876381"}},"requires_selling_plan":false,"selling_plan_allocations":[]},{"id":41006941012173,"title":"SEAFOAM \/ 9.5 \/ BUTTER NUBUK","option1":"SEAFOAM","option2":"9.5","option3":"BUTTER NUBUK","sku":"840237315931","requires_shipping":true,"taxable":true,"featured_image":{"id":31452022243533,"product_id":7024162406605,"position":1,"created_at":"2023-02-08T12:11:49-05:00","updated_at":"2023-02-08T12:13:01-05:00","alt":"0","width":2960,"height":3700,"src":"\/\/oncept.nyc\/cdn\/shop\/products\/PHILLY-SIDE-min.jpg?v=1675876381","variant_ids":[41006940782797,41006940815565,41006940848333,41006940881101,41006940913869,41006940946637,41006940979405,41006941012173,41006941044941]},"available":true,"name":"PHILLY - SEAFOAM \/ 9.5 \/ BUTTER NUBUK","public_title":"SEAFOAM \/ 9.5 \/ BUTTER NUBUK","options":["SEAFOAM","9.5","BUTTER NUBUK"],"price":35000,"weight":0,"compare_at_price":null,"inventory_management":"shopify","barcode":"840237315931","featured_media":{"alt":"0","id":23741297098957,"position":1,"preview_image":{"aspect_ratio":0.8,"height":3700,"width":2960,"src":"\/\/oncept.nyc\/cdn\/shop\/products\/PHILLY-SIDE-min.jpg?v=1675876381"}},"requires_selling_plan":false,"selling_plan_allocations":[]},{"id":41006941044941,"title":"SEAFOAM \/ 10 \/ BUTTER NUBUK","option1":"SEAFOAM","option2":"10","option3":"BUTTER NUBUK","sku":"840237315948","requires_shipping":true,"taxable":true,"featured_image":{"id":31452022243533,"product_id":7024162406605,"position":1,"created_at":"2023-02-08T12:11:49-05:00","updated_at":"2023-02-08T12:13:01-05:00","alt":"0","width":2960,"height":3700,"src":"\/\/oncept.nyc\/cdn\/shop\/products\/PHILLY-SIDE-min.jpg?v=1675876381","variant_ids":[41006940782797,41006940815565,41006940848333,41006940881101,41006940913869,41006940946637,41006940979405,41006941012173,41006941044941]},"available":true,"name":"PHILLY - SEAFOAM \/ 10 \/ BUTTER NUBUK","public_title":"SEAFOAM \/ 10 \/ BUTTER NUBUK","options":["SEAFOAM","10","BUTTER NUBUK"],"price":35000,"weight":0,"compare_at_price":null,"inventory_management":"shopify","barcode":"840237315948","featured_media":{"alt":"0","id":23741297098957,"position":1,"preview_image":{"aspect_ratio":0.8,"height":3700,"width":2960,"src":"\/\/oncept.nyc\/cdn\/shop\/products\/PHILLY-SIDE-min.jpg?v=1675876381"}},"requires_selling_plan":false,"selling_plan_allocations":[]},{"id":41006941372621,"title":"WHITE CLOUD MULTI \/ 6 \/ SOFT CALF LEATHER","option1":"WHITE CLOUD MULTI","option2":"6","option3":"SOFT CALF LEATHER","sku":"840237315771","requires_shipping":true,"taxable":true,"featured_image":{"id":31452022800589,"product_id":7024162406605,"position":7,"created_at":"2023-02-08T12:12:01-05:00","updated_at":"2023-02-20T11:54:52-05:00","alt":"1","width":2960,"height":3700,"src":"\/\/oncept.nyc\/cdn\/shop\/products\/PHILLY-SIDE-min_58aec33d-9fc4-42b5-94d7-48839e95e011.jpg?v=1676912092","variant_ids":[41006941372621,41006941405389,41006941438157,41006941470925,41006941503693,41006941536461,41006941569229,41006941601997,41006941634765]},"available":true,"name":"PHILLY - WHITE CLOUD MULTI \/ 6 \/ SOFT CALF LEATHER","public_title":"WHITE CLOUD MULTI \/ 6 \/ SOFT CALF LEATHER","options":["WHITE CLOUD MULTI","6","SOFT CALF LEATHER"],"price":35000,"weight":0,"compare_at_price":null,"inventory_management":"shopify","barcode":"840237315771","featured_media":{"alt":"1","id":23741297557709,"position":7,"preview_image":{"aspect_ratio":0.8,"height":3700,"width":2960,"src":"\/\/oncept.nyc\/cdn\/shop\/products\/PHILLY-SIDE-min_58aec33d-9fc4-42b5-94d7-48839e95e011.jpg?v=1676912092"}},"requires_selling_plan":false,"selling_plan_allocations":[]},{"id":41006941405389,"title":"WHITE CLOUD MULTI \/ 6.5 \/ SOFT CALF LEATHER","option1":"WHITE CLOUD MULTI","option2":"6.5","option3":"SOFT CALF LEATHER","sku":"840237315788","requires_shipping":true,"taxable":true,"featured_image":{"id":31452022800589,"product_id":7024162406605,"position":7,"created_at":"2023-02-08T12:12:01-05:00","updated_at":"2023-02-20T11:54:52-05:00","alt":"1","width":2960,"height":3700,"src":"\/\/oncept.nyc\/cdn\/shop\/products\/PHILLY-SIDE-min_58aec33d-9fc4-42b5-94d7-48839e95e011.jpg?v=1676912092","variant_ids":[41006941372621,41006941405389,41006941438157,41006941470925,41006941503693,41006941536461,41006941569229,41006941601997,41006941634765]},"available":true,"name":"PHILLY - WHITE CLOUD MULTI \/ 6.5 \/ SOFT CALF LEATHER","public_title":"WHITE CLOUD MULTI \/ 6.5 \/ SOFT CALF LEATHER","options":["WHITE CLOUD MULTI","6.5","SOFT CALF LEATHER"],"price":35000,"weight":0,"compare_at_price":null,"inventory_management":"shopify","barcode":"840237315788","featured_media":{"alt":"1","id":23741297557709,"position":7,"preview_image":{"aspect_ratio":0.8,"height":3700,"width":2960,"src":"\/\/oncept.nyc\/cdn\/shop\/products\/PHILLY-SIDE-min_58aec33d-9fc4-42b5-94d7-48839e95e011.jpg?v=1676912092"}},"requires_selling_plan":false,"selling_plan_allocations":[]},{"id":41006941438157,"title":"WHITE CLOUD MULTI \/ 7 \/ SOFT CALF LEATHER","option1":"WHITE CLOUD MULTI","option2":"7","option3":"SOFT CALF LEATHER","sku":"840237315795","requires_shipping":true,"taxable":true,"featured_image":{"id":31452022800589,"product_id":7024162406605,"position":7,"created_at":"2023-02-08T12:12:01-05:00","updated_at":"2023-02-20T11:54:52-05:00","alt":"1","width":2960,"height":3700,"src":"\/\/oncept.nyc\/cdn\/shop\/products\/PHILLY-SIDE-min_58aec33d-9fc4-42b5-94d7-48839e95e011.jpg?v=1676912092","variant_ids":[41006941372621,41006941405389,41006941438157,41006941470925,41006941503693,41006941536461,41006941569229,41006941601997,41006941634765]},"available":true,"name":"PHILLY - WHITE CLOUD MULTI \/ 7 \/ SOFT CALF LEATHER","public_title":"WHITE CLOUD MULTI \/ 7 \/ SOFT CALF LEATHER","options":["WHITE CLOUD MULTI","7","SOFT CALF LEATHER"],"price":35000,"weight":0,"compare_at_price":null,"inventory_management":"shopify","barcode":"840237315795","featured_media":{"alt":"1","id":23741297557709,"position":7,"preview_image":{"aspect_ratio":0.8,"height":3700,"width":2960,"src":"\/\/oncept.nyc\/cdn\/shop\/products\/PHILLY-SIDE-min_58aec33d-9fc4-42b5-94d7-48839e95e011.jpg?v=1676912092"}},"requires_selling_plan":false,"selling_plan_allocations":[]},{"id":41006941470925,"title":"WHITE CLOUD MULTI \/ 7.5 \/ SOFT CALF LEATHER","option1":"WHITE CLOUD MULTI","option2":"7.5","option3":"SOFT CALF LEATHER","sku":"840237315801","requires_shipping":true,"taxable":true,"featured_image":{"id":31452022800589,"product_id":7024162406605,"position":7,"created_at":"2023-02-08T12:12:01-05:00","updated_at":"2023-02-20T11:54:52-05:00","alt":"1","width":2960,"height":3700,"src":"\/\/oncept.nyc\/cdn\/shop\/products\/PHILLY-SIDE-min_58aec33d-9fc4-42b5-94d7-48839e95e011.jpg?v=1676912092","variant_ids":[41006941372621,41006941405389,41006941438157,41006941470925,41006941503693,41006941536461,41006941569229,41006941601997,41006941634765]},"available":true,"name":"PHILLY - WHITE CLOUD MULTI \/ 7.5 \/ SOFT CALF LEATHER","public_title":"WHITE CLOUD MULTI \/ 7.5 \/ SOFT CALF LEATHER","options":["WHITE CLOUD MULTI","7.5","SOFT CALF LEATHER"],"price":35000,"weight":0,"compare_at_price":null,"inventory_management":"shopify","barcode":"840237315801","featured_media":{"alt":"1","id":23741297557709,"position":7,"preview_image":{"aspect_ratio":0.8,"height":3700,"width":2960,"src":"\/\/oncept.nyc\/cdn\/shop\/products\/PHILLY-SIDE-min_58aec33d-9fc4-42b5-94d7-48839e95e011.jpg?v=1676912092"}},"requires_selling_plan":false,"selling_plan_allocations":[]},{"id":41006941503693,"title":"WHITE CLOUD MULTI \/ 8 \/ SOFT CALF LEATHER","option1":"WHITE CLOUD MULTI","option2":"8","option3":"SOFT CALF LEATHER","sku":"840237315818","requires_shipping":true,"taxable":true,"featured_image":{"id":31452022800589,"product_id":7024162406605,"position":7,"created_at":"2023-02-08T12:12:01-05:00","updated_at":"2023-02-20T11:54:52-05:00","alt":"1","width":2960,"height":3700,"src":"\/\/oncept.nyc\/cdn\/shop\/products\/PHILLY-SIDE-min_58aec33d-9fc4-42b5-94d7-48839e95e011.jpg?v=1676912092","variant_ids":[41006941372621,41006941405389,41006941438157,41006941470925,41006941503693,41006941536461,41006941569229,41006941601997,41006941634765]},"available":true,"name":"PHILLY - WHITE CLOUD MULTI \/ 8 \/ SOFT CALF LEATHER","public_title":"WHITE CLOUD MULTI \/ 8 \/ SOFT CALF LEATHER","options":["WHITE CLOUD MULTI","8","SOFT CALF LEATHER"],"price":35000,"weight":0,"compare_at_price":null,"inventory_management":"shopify","barcode":"840237315818","featured_media":{"alt":"1","id":23741297557709,"position":7,"preview_image":{"aspect_ratio":0.8,"height":3700,"width":2960,"src":"\/\/oncept.nyc\/cdn\/shop\/products\/PHILLY-SIDE-min_58aec33d-9fc4-42b5-94d7-48839e95e011.jpg?v=1676912092"}},"requires_selling_plan":false,"selling_plan_allocations":[]},{"id":41006941536461,"title":"WHITE CLOUD MULTI \/ 8.5 \/ SOFT CALF LEATHER","option1":"WHITE CLOUD MULTI","option2":"8.5","option3":"SOFT CALF LEATHER","sku":"840237315825","requires_shipping":true,"taxable":true,"featured_image":{"id":31452022800589,"product_id":7024162406605,"position":7,"created_at":"2023-02-08T12:12:01-05:00","updated_at":"2023-02-20T11:54:52-05:00","alt":"1","width":2960,"height":3700,"src":"\/\/oncept.nyc\/cdn\/shop\/products\/PHILLY-SIDE-min_58aec33d-9fc4-42b5-94d7-48839e95e011.jpg?v=1676912092","variant_ids":[41006941372621,41006941405389,41006941438157,41006941470925,41006941503693,41006941536461,41006941569229,41006941601997,41006941634765]},"available":true,"name":"PHILLY - WHITE CLOUD MULTI \/ 8.5 \/ SOFT CALF LEATHER","public_title":"WHITE CLOUD MULTI \/ 8.5 \/ SOFT CALF LEATHER","options":["WHITE CLOUD MULTI","8.5","SOFT CALF LEATHER"],"price":35000,"weight":0,"compare_at_price":null,"inventory_management":"shopify","barcode":"840237315825","featured_media":{"alt":"1","id":23741297557709,"position":7,"preview_image":{"aspect_ratio":0.8,"height":3700,"width":2960,"src":"\/\/oncept.nyc\/cdn\/shop\/products\/PHILLY-SIDE-min_58aec33d-9fc4-42b5-94d7-48839e95e011.jpg?v=1676912092"}},"requires_selling_plan":false,"selling_plan_allocations":[]},{"id":41006941569229,"title":"WHITE CLOUD MULTI \/ 9 \/ SOFT CALF LEATHER","option1":"WHITE CLOUD MULTI","option2":"9","option3":"SOFT CALF LEATHER","sku":"840237315832","requires_shipping":true,"taxable":true,"featured_image":{"id":31452022800589,"product_id":7024162406605,"position":7,"created_at":"2023-02-08T12:12:01-05:00","updated_at":"2023-02-20T11:54:52-05:00","alt":"1","width":2960,"height":3700,"src":"\/\/oncept.nyc\/cdn\/shop\/products\/PHILLY-SIDE-min_58aec33d-9fc4-42b5-94d7-48839e95e011.jpg?v=1676912092","variant_ids":[41006941372621,41006941405389,41006941438157,41006941470925,41006941503693,41006941536461,41006941569229,41006941601997,41006941634765]},"available":true,"name":"PHILLY - WHITE CLOUD MULTI \/ 9 \/ SOFT CALF LEATHER","public_title":"WHITE CLOUD MULTI \/ 9 \/ SOFT CALF LEATHER","options":["WHITE CLOUD MULTI","9","SOFT CALF LEATHER"],"price":35000,"weight":0,"compare_at_price":null,"inventory_management":"shopify","barcode":"840237315832","featured_media":{"alt":"1","id":23741297557709,"position":7,"preview_image":{"aspect_ratio":0.8,"height":3700,"width":2960,"src":"\/\/oncept.nyc\/cdn\/shop\/products\/PHILLY-SIDE-min_58aec33d-9fc4-42b5-94d7-48839e95e011.jpg?v=1676912092"}},"requires_selling_plan":false,"selling_plan_allocations":[]},{"id":41006941601997,"title":"WHITE CLOUD MULTI \/ 9.5 \/ SOFT CALF LEATHER","option1":"WHITE CLOUD MULTI","option2":"9.5","option3":"SOFT CALF LEATHER","sku":"840237315849","requires_shipping":true,"taxable":true,"featured_image":{"id":31452022800589,"product_id":7024162406605,"position":7,"created_at":"2023-02-08T12:12:01-05:00","updated_at":"2023-02-20T11:54:52-05:00","alt":"1","width":2960,"height":3700,"src":"\/\/oncept.nyc\/cdn\/shop\/products\/PHILLY-SIDE-min_58aec33d-9fc4-42b5-94d7-48839e95e011.jpg?v=1676912092","variant_ids":[41006941372621,41006941405389,41006941438157,41006941470925,41006941503693,41006941536461,41006941569229,41006941601997,41006941634765]},"available":true,"name":"PHILLY - WHITE CLOUD MULTI \/ 9.5 \/ SOFT CALF LEATHER","public_title":"WHITE CLOUD MULTI \/ 9.5 \/ SOFT CALF LEATHER","options":["WHITE CLOUD MULTI","9.5","SOFT CALF LEATHER"],"price":35000,"weight":0,"compare_at_price":null,"inventory_management":"shopify","barcode":"840237315849","featured_media":{"alt":"1","id":23741297557709,"position":7,"preview_image":{"aspect_ratio":0.8,"height":3700,"width":2960,"src":"\/\/oncept.nyc\/cdn\/shop\/products\/PHILLY-SIDE-min_58aec33d-9fc4-42b5-94d7-48839e95e011.jpg?v=1676912092"}},"requires_selling_plan":false,"selling_plan_allocations":[]},{"id":41006941634765,"title":"WHITE CLOUD MULTI \/ 10 \/ SOFT CALF LEATHER","option1":"WHITE CLOUD MULTI","option2":"10","option3":"SOFT CALF LEATHER","sku":"840237315856","requires_shipping":true,"taxable":true,"featured_image":{"id":31452022800589,"product_id":7024162406605,"position":7,"created_at":"2023-02-08T12:12:01-05:00","updated_at":"2023-02-20T11:54:52-05:00","alt":"1","width":2960,"height":3700,"src":"\/\/oncept.nyc\/cdn\/shop\/products\/PHILLY-SIDE-min_58aec33d-9fc4-42b5-94d7-48839e95e011.jpg?v=1676912092","variant_ids":[41006941372621,41006941405389,41006941438157,41006941470925,41006941503693,41006941536461,41006941569229,41006941601997,41006941634765]},"available":true,"name":"PHILLY - WHITE CLOUD MULTI \/ 10 \/ SOFT CALF LEATHER","public_title":"WHITE CLOUD MULTI \/ 10 \/ SOFT CALF LEATHER","options":["WHITE CLOUD MULTI","10","SOFT CALF LEATHER"],"price":35000,"weight":0,"compare_at_price":null,"inventory_management":"shopify","barcode":"840237315856","featured_media":{"alt":"1","id":23741297557709,"position":7,"preview_image":{"aspect_ratio":0.8,"height":3700,"width":2960,"src":"\/\/oncept.nyc\/cdn\/shop\/products\/PHILLY-SIDE-min_58aec33d-9fc4-42b5-94d7-48839e95e011.jpg?v=1676912092"}},"requires_selling_plan":false,"selling_plan_allocations":[]},{"id":41006941077709,"title":"CORAL ROSE \/ 6 \/ BUTTER NUBUK","option1":"CORAL ROSE","option2":"6","option3":"BUTTER NUBUK","sku":"840237315955","requires_shipping":true,"taxable":true,"featured_image":{"id":31452023259341,"product_id":7024162406605,"position":13,"created_at":"2023-02-08T12:12:14-05:00","updated_at":"2023-02-20T11:54:52-05:00","alt":"2","width":2960,"height":3700,"src":"\/\/oncept.nyc\/cdn\/shop\/products\/PHILLY-SIDE-min_4ab2d160-d8ee-4886-8244-8ec36fa9604f.jpg?v=1676912092","variant_ids":[41006941077709,41006941110477,41006941143245,41006941176013,41006941208781,41006941241549,41006941274317,41006941307085,41006941339853]},"available":true,"name":"PHILLY - CORAL ROSE \/ 6 \/ BUTTER NUBUK","public_title":"CORAL ROSE \/ 6 \/ BUTTER NUBUK","options":["CORAL ROSE","6","BUTTER NUBUK"],"price":35000,"weight":0,"compare_at_price":null,"inventory_management":"shopify","barcode":"840237315955","featured_media":{"alt":"2","id":23741298081997,"position":13,"preview_image":{"aspect_ratio":0.8,"height":3700,"width":2960,"src":"\/\/oncept.nyc\/cdn\/shop\/products\/PHILLY-SIDE-min_4ab2d160-d8ee-4886-8244-8ec36fa9604f.jpg?v=1676912092"}},"requires_selling_plan":false,"selling_plan_allocations":[]},{"id":41006941110477,"title":"CORAL ROSE \/ 6.5 \/ BUTTER NUBUK","option1":"CORAL ROSE","option2":"6.5","option3":"BUTTER NUBUK","sku":"840237315962","requires_shipping":true,"taxable":true,"featured_image":{"id":31452023259341,"product_id":7024162406605,"position":13,"created_at":"2023-02-08T12:12:14-05:00","updated_at":"2023-02-20T11:54:52-05:00","alt":"2","width":2960,"height":3700,"src":"\/\/oncept.nyc\/cdn\/shop\/products\/PHILLY-SIDE-min_4ab2d160-d8ee-4886-8244-8ec36fa9604f.jpg?v=1676912092","variant_ids":[41006941077709,41006941110477,41006941143245,41006941176013,41006941208781,41006941241549,41006941274317,41006941307085,41006941339853]},"available":false,"name":"PHILLY - CORAL ROSE \/ 6.5 \/ BUTTER NUBUK","public_title":"CORAL ROSE \/ 6.5 \/ BUTTER NUBUK","options":["CORAL ROSE","6.5","BUTTER NUBUK"],"price":35000,"weight":0,"compare_at_price":null,"inventory_management":"shopify","barcode":"840237315962","featured_media":{"alt":"2","id":23741298081997,"position":13,"preview_image":{"aspect_ratio":0.8,"height":3700,"width":2960,"src":"\/\/oncept.nyc\/cdn\/shop\/products\/PHILLY-SIDE-min_4ab2d160-d8ee-4886-8244-8ec36fa9604f.jpg?v=1676912092"}},"requires_selling_plan":false,"selling_plan_allocations":[]},{"id":41006941143245,"title":"CORAL ROSE \/ 7 \/ BUTTER NUBUK","option1":"CORAL ROSE","option2":"7","option3":"BUTTER NUBUK","sku":"840237315979","requires_shipping":true,"taxable":true,"featured_image":{"id":31452023259341,"product_id":7024162406605,"position":13,"created_at":"2023-02-08T12:12:14-05:00","updated_at":"2023-02-20T11:54:52-05:00","alt":"2","width":2960,"height":3700,"src":"\/\/oncept.nyc\/cdn\/shop\/products\/PHILLY-SIDE-min_4ab2d160-d8ee-4886-8244-8ec36fa9604f.jpg?v=1676912092","variant_ids":[41006941077709,41006941110477,41006941143245,41006941176013,41006941208781,41006941241549,41006941274317,41006941307085,41006941339853]},"available":true,"name":"PHILLY - CORAL ROSE \/ 7 \/ BUTTER NUBUK","public_title":"CORAL ROSE \/ 7 \/ BUTTER NUBUK","options":["CORAL ROSE","7","BUTTER NUBUK"],"price":35000,"weight":0,"compare_at_price":null,"inventory_management":"shopify","barcode":"840237315979","featured_media":{"alt":"2","id":23741298081997,"position":13,"preview_image":{"aspect_ratio":0.8,"height":3700,"width":2960,"src":"\/\/oncept.nyc\/cdn\/shop\/products\/PHILLY-SIDE-min_4ab2d160-d8ee-4886-8244-8ec36fa9604f.jpg?v=1676912092"}},"requires_selling_plan":false,"selling_plan_allocations":[]},{"id":41006941176013,"title":"CORAL ROSE \/ 7.5 \/ BUTTER NUBUK","option1":"CORAL ROSE","option2":"7.5","option3":"BUTTER NUBUK","sku":"840237315986","requires_shipping":true,"taxable":true,"featured_image":{"id":31452023259341,"product_id":7024162406605,"position":13,"created_at":"2023-02-08T12:12:14-05:00","updated_at":"2023-02-20T11:54:52-05:00","alt":"2","width":2960,"height":3700,"src":"\/\/oncept.nyc\/cdn\/shop\/products\/PHILLY-SIDE-min_4ab2d160-d8ee-4886-8244-8ec36fa9604f.jpg?v=1676912092","variant_ids":[41006941077709,41006941110477,41006941143245,41006941176013,41006941208781,41006941241549,41006941274317,41006941307085,41006941339853]},"available":false,"name":"PHILLY - CORAL ROSE \/ 7.5 \/ BUTTER NUBUK","public_title":"CORAL ROSE \/ 7.5 \/ BUTTER NUBUK","options":["CORAL ROSE","7.5","BUTTER NUBUK"],"price":35000,"weight":0,"compare_at_price":null,"inventory_management":"shopify","barcode":"840237315986","featured_media":{"alt":"2","id":23741298081997,"position":13,"preview_image":{"aspect_ratio":0.8,"height":3700,"width":2960,"src":"\/\/oncept.nyc\/cdn\/shop\/products\/PHILLY-SIDE-min_4ab2d160-d8ee-4886-8244-8ec36fa9604f.jpg?v=1676912092"}},"requires_selling_plan":false,"selling_plan_allocations":[]},{"id":41006941208781,"title":"CORAL ROSE \/ 8 \/ BUTTER NUBUK","option1":"CORAL ROSE","option2":"8","option3":"BUTTER NUBUK","sku":"840237315993","requires_shipping":true,"taxable":true,"featured_image":{"id":31452023259341,"product_id":7024162406605,"position":13,"created_at":"2023-02-08T12:12:14-05:00","updated_at":"2023-02-20T11:54:52-05:00","alt":"2","width":2960,"height":3700,"src":"\/\/oncept.nyc\/cdn\/shop\/products\/PHILLY-SIDE-min_4ab2d160-d8ee-4886-8244-8ec36fa9604f.jpg?v=1676912092","variant_ids":[41006941077709,41006941110477,41006941143245,41006941176013,41006941208781,41006941241549,41006941274317,41006941307085,41006941339853]},"available":false,"name":"PHILLY - CORAL ROSE \/ 8 \/ BUTTER NUBUK","public_title":"CORAL ROSE \/ 8 \/ BUTTER NUBUK","options":["CORAL ROSE","8","BUTTER NUBUK"],"price":35000,"weight":0,"compare_at_price":null,"inventory_management":"shopify","barcode":"840237315993","featured_media":{"alt":"2","id":23741298081997,"position":13,"preview_image":{"aspect_ratio":0.8,"height":3700,"width":2960,"src":"\/\/oncept.nyc\/cdn\/shop\/products\/PHILLY-SIDE-min_4ab2d160-d8ee-4886-8244-8ec36fa9604f.jpg?v=1676912092"}},"requires_selling_plan":false,"selling_plan_allocations":[]},{"id":41006941241549,"title":"CORAL ROSE \/ 8.5 \/ BUTTER NUBUK","option1":"CORAL ROSE","option2":"8.5","option3":"BUTTER NUBUK","sku":"840237316006","requires_shipping":true,"taxable":true,"featured_image":{"id":31452023259341,"product_id":7024162406605,"position":13,"created_at":"2023-02-08T12:12:14-05:00","updated_at":"2023-02-20T11:54:52-05:00","alt":"2","width":2960,"height":3700,"src":"\/\/oncept.nyc\/cdn\/shop\/products\/PHILLY-SIDE-min_4ab2d160-d8ee-4886-8244-8ec36fa9604f.jpg?v=1676912092","variant_ids":[41006941077709,41006941110477,41006941143245,41006941176013,41006941208781,41006941241549,41006941274317,41006941307085,41006941339853]},"available":false,"name":"PHILLY - CORAL ROSE \/ 8.5 \/ BUTTER NUBUK","public_title":"CORAL ROSE \/ 8.5 \/ BUTTER NUBUK","options":["CORAL ROSE","8.5","BUTTER NUBUK"],"price":35000,"weight":0,"compare_at_price":null,"inventory_management":"shopify","barcode":"840237316006","featured_media":{"alt":"2","id":23741298081997,"position":13,"preview_image":{"aspect_ratio":0.8,"height":3700,"width":2960,"src":"\/\/oncept.nyc\/cdn\/shop\/products\/PHILLY-SIDE-min_4ab2d160-d8ee-4886-8244-8ec36fa9604f.jpg?v=1676912092"}},"requires_selling_plan":false,"selling_plan_allocations":[]},{"id":41006941274317,"title":"CORAL ROSE \/ 9 \/ BUTTER NUBUK","option1":"CORAL ROSE","option2":"9","option3":"BUTTER NUBUK","sku":"840237316013","requires_shipping":true,"taxable":true,"featured_image":{"id":31452023259341,"product_id":7024162406605,"position":13,"created_at":"2023-02-08T12:12:14-05:00","updated_at":"2023-02-20T11:54:52-05:00","alt":"2","width":2960,"height":3700,"src":"\/\/oncept.nyc\/cdn\/shop\/products\/PHILLY-SIDE-min_4ab2d160-d8ee-4886-8244-8ec36fa9604f.jpg?v=1676912092","variant_ids":[41006941077709,41006941110477,41006941143245,41006941176013,41006941208781,41006941241549,41006941274317,41006941307085,41006941339853]},"available":true,"name":"PHILLY - CORAL ROSE \/ 9 \/ BUTTER NUBUK","public_title":"CORAL ROSE \/ 9 \/ BUTTER NUBUK","options":["CORAL ROSE","9","BUTTER NUBUK"],"price":35000,"weight":0,"compare_at_price":null,"inventory_management":"shopify","barcode":"840237316013","featured_media":{"alt":"2","id":23741298081997,"position":13,"preview_image":{"aspect_ratio":0.8,"height":3700,"width":2960,"src":"\/\/oncept.nyc\/cdn\/shop\/products\/PHILLY-SIDE-min_4ab2d160-d8ee-4886-8244-8ec36fa9604f.jpg?v=1676912092"}},"requires_selling_plan":false,"selling_plan_allocations":[]},{"id":41006941307085,"title":"CORAL ROSE \/ 9.5 \/ BUTTER NUBUK","option1":"CORAL ROSE","option2":"9.5","option3":"BUTTER NUBUK","sku":"840237316020","requires_shipping":true,"taxable":true,"featured_image":{"id":31452023259341,"product_id":7024162406605,"position":13,"created_at":"2023-02-08T12:12:14-05:00","updated_at":"2023-02-20T11:54:52-05:00","alt":"2","width":2960,"height":3700,"src":"\/\/oncept.nyc\/cdn\/shop\/products\/PHILLY-SIDE-min_4ab2d160-d8ee-4886-8244-8ec36fa9604f.jpg?v=1676912092","variant_ids":[41006941077709,41006941110477,41006941143245,41006941176013,41006941208781,41006941241549,41006941274317,41006941307085,41006941339853]},"available":true,"name":"PHILLY - CORAL ROSE \/ 9.5 \/ BUTTER NUBUK","public_title":"CORAL ROSE \/ 9.5 \/ BUTTER NUBUK","options":["CORAL ROSE","9.5","BUTTER NUBUK"],"price":35000,"weight":0,"compare_at_price":null,"inventory_management":"shopify","barcode":"840237316020","featured_media":{"alt":"2","id":23741298081997,"position":13,"preview_image":{"aspect_ratio":0.8,"height":3700,"width":2960,"src":"\/\/oncept.nyc\/cdn\/shop\/products\/PHILLY-SIDE-min_4ab2d160-d8ee-4886-8244-8ec36fa9604f.jpg?v=1676912092"}},"requires_selling_plan":false,"selling_plan_allocations":[]},{"id":41006941339853,"title":"CORAL ROSE \/ 10 \/ BUTTER NUBUK","option1":"CORAL ROSE","option2":"10","option3":"BUTTER NUBUK","sku":"840237316037","requires_shipping":true,"taxable":true,"featured_image":{"id":31452023259341,"product_id":7024162406605,"position":13,"created_at":"2023-02-08T12:12:14-05:00","updated_at":"2023-02-20T11:54:52-05:00","alt":"2","width":2960,"height":3700,"src":"\/\/oncept.nyc\/cdn\/shop\/products\/PHILLY-SIDE-min_4ab2d160-d8ee-4886-8244-8ec36fa9604f.jpg?v=1676912092","variant_ids":[41006941077709,41006941110477,41006941143245,41006941176013,41006941208781,41006941241549,41006941274317,41006941307085,41006941339853]},"available":false,"name":"PHILLY - CORAL ROSE \/ 10 \/ BUTTER NUBUK","public_title":"CORAL ROSE \/ 10 \/ BUTTER NUBUK","options":["CORAL ROSE","10","BUTTER NUBUK"],"price":35000,"weight":0,"compare_at_price":null,"inventory_management":"shopify","barcode":"840237316037","featured_media":{"alt":"2","id":23741298081997,"position":13,"preview_image":{"aspect_ratio":0.8,"height":3700,"width":2960,"src":"\/\/oncept.nyc\/cdn\/shop\/products\/PHILLY-SIDE-min_4ab2d160-d8ee-4886-8244-8ec36fa9604f.jpg?v=1676912092"}},"requires_selling_plan":false,"selling_plan_allocations":[]},{"id":41006941667533,"title":"COASTAL MULTI \/ 6 \/ SOFT CALF LEATHER","option1":"COASTAL MULTI","option2":"6","option3":"SOFT CALF LEATHER","sku":"840237315689","requires_shipping":true,"taxable":true,"featured_image":{"id":31452023718093,"product_id":7024162406605,"position":18,"created_at":"2023-02-08T12:12:23-05:00","updated_at":"2023-02-20T11:54:52-05:00","alt":"3","width":2960,"height":3700,"src":"\/\/oncept.nyc\/cdn\/shop\/products\/PHILLY-SIDE-min_ad9e6ec1-f90d-43ca-99f8-2655ccf6d84e.jpg?v=1676912092","variant_ids":[41006941667533,41006941700301,41006941733069,41006941765837,41006941798605,41006941831373,41006941864141,41006941896909,41006941929677]},"available":true,"name":"PHILLY - COASTAL MULTI \/ 6 \/ SOFT CALF LEATHER","public_title":"COASTAL MULTI \/ 6 \/ SOFT CALF LEATHER","options":["COASTAL MULTI","6","SOFT CALF LEATHER"],"price":35000,"weight":0,"compare_at_price":null,"inventory_management":"shopify","barcode":"840237315689","featured_media":{"alt":"3","id":23741298409677,"position":18,"preview_image":{"aspect_ratio":0.8,"height":3700,"width":2960,"src":"\/\/oncept.nyc\/cdn\/shop\/products\/PHILLY-SIDE-min_ad9e6ec1-f90d-43ca-99f8-2655ccf6d84e.jpg?v=1676912092"}},"requires_selling_plan":false,"selling_plan_allocations":[]},{"id":41006941700301,"title":"COASTAL MULTI \/ 6.5 \/ SOFT CALF LEATHER","option1":"COASTAL MULTI","option2":"6.5","option3":"SOFT CALF LEATHER","sku":"840237315696","requires_shipping":true,"taxable":true,"featured_image":{"id":31452023718093,"product_id":7024162406605,"position":18,"created_at":"2023-02-08T12:12:23-05:00","updated_at":"2023-02-20T11:54:52-05:00","alt":"3","width":2960,"height":3700,"src":"\/\/oncept.nyc\/cdn\/shop\/products\/PHILLY-SIDE-min_ad9e6ec1-f90d-43ca-99f8-2655ccf6d84e.jpg?v=1676912092","variant_ids":[41006941667533,41006941700301,41006941733069,41006941765837,41006941798605,41006941831373,41006941864141,41006941896909,41006941929677]},"available":true,"name":"PHILLY - COASTAL MULTI \/ 6.5 \/ SOFT CALF LEATHER","public_title":"COASTAL MULTI \/ 6.5 \/ SOFT CALF LEATHER","options":["COASTAL MULTI","6.5","SOFT CALF LEATHER"],"price":35000,"weight":0,"compare_at_price":null,"inventory_management":"shopify","barcode":"840237315696","featured_media":{"alt":"3","id":23741298409677,"position":18,"preview_image":{"aspect_ratio":0.8,"height":3700,"width":2960,"src":"\/\/oncept.nyc\/cdn\/shop\/products\/PHILLY-SIDE-min_ad9e6ec1-f90d-43ca-99f8-2655ccf6d84e.jpg?v=1676912092"}},"requires_selling_plan":false,"selling_plan_allocations":[]},{"id":41006941733069,"title":"COASTAL MULTI \/ 7 \/ SOFT CALF LEATHER","option1":"COASTAL MULTI","option2":"7","option3":"SOFT CALF LEATHER","sku":"840237315702","requires_shipping":true,"taxable":true,"featured_image":{"id":31452023718093,"product_id":7024162406605,"position":18,"created_at":"2023-02-08T12:12:23-05:00","updated_at":"2023-02-20T11:54:52-05:00","alt":"3","width":2960,"height":3700,"src":"\/\/oncept.nyc\/cdn\/shop\/products\/PHILLY-SIDE-min_ad9e6ec1-f90d-43ca-99f8-2655ccf6d84e.jpg?v=1676912092","variant_ids":[41006941667533,41006941700301,41006941733069,41006941765837,41006941798605,41006941831373,41006941864141,41006941896909,41006941929677]},"available":true,"name":"PHILLY - COASTAL MULTI \/ 7 \/ SOFT CALF LEATHER","public_title":"COASTAL MULTI \/ 7 \/ SOFT CALF LEATHER","options":["COASTAL MULTI","7","SOFT CALF LEATHER"],"price":35000,"weight":0,"compare_at_price":null,"inventory_management":"shopify","barcode":"840237315702","featured_media":{"alt":"3","id":23741298409677,"position":18,"preview_image":{"aspect_ratio":0.8,"height":3700,"width":2960,"src":"\/\/oncept.nyc\/cdn\/shop\/products\/PHILLY-SIDE-min_ad9e6ec1-f90d-43ca-99f8-2655ccf6d84e.jpg?v=1676912092"}},"requires_selling_plan":false,"selling_plan_allocations":[]},{"id":41006941765837,"title":"COASTAL MULTI \/ 7.5 \/ SOFT CALF LEATHER","option1":"COASTAL MULTI","option2":"7.5","option3":"SOFT CALF LEATHER","sku":"840237315719","requires_shipping":true,"taxable":true,"featured_image":{"id":31452023718093,"product_id":7024162406605,"position":18,"created_at":"2023-02-08T12:12:23-05:00","updated_at":"2023-02-20T11:54:52-05:00","alt":"3","width":2960,"height":3700,"src":"\/\/oncept.nyc\/cdn\/shop\/products\/PHILLY-SIDE-min_ad9e6ec1-f90d-43ca-99f8-2655ccf6d84e.jpg?v=1676912092","variant_ids":[41006941667533,41006941700301,41006941733069,41006941765837,41006941798605,41006941831373,41006941864141,41006941896909,41006941929677]},"available":true,"name":"PHILLY - COASTAL MULTI \/ 7.5 \/ SOFT CALF LEATHER","public_title":"COASTAL MULTI \/ 7.5 \/ SOFT CALF LEATHER","options":["COASTAL MULTI","7.5","SOFT CALF LEATHER"],"price":35000,"weight":0,"compare_at_price":null,"inventory_management":"shopify","barcode":"840237315719","featured_media":{"alt":"3","id":23741298409677,"position":18,"preview_image":{"aspect_ratio":0.8,"height":3700,"width":2960,"src":"\/\/oncept.nyc\/cdn\/shop\/products\/PHILLY-SIDE-min_ad9e6ec1-f90d-43ca-99f8-2655ccf6d84e.jpg?v=1676912092"}},"requires_selling_plan":false,"selling_plan_allocations":[]},{"id":41006941798605,"title":"COASTAL MULTI \/ 8 \/ SOFT CALF LEATHER","option1":"COASTAL MULTI","option2":"8","option3":"SOFT CALF LEATHER","sku":"840237315726","requires_shipping":true,"taxable":true,"featured_image":{"id":31452023718093,"product_id":7024162406605,"position":18,"created_at":"2023-02-08T12:12:23-05:00","updated_at":"2023-02-20T11:54:52-05:00","alt":"3","width":2960,"height":3700,"src":"\/\/oncept.nyc\/cdn\/shop\/products\/PHILLY-SIDE-min_ad9e6ec1-f90d-43ca-99f8-2655ccf6d84e.jpg?v=1676912092","variant_ids":[41006941667533,41006941700301,41006941733069,41006941765837,41006941798605,41006941831373,41006941864141,41006941896909,41006941929677]},"available":true,"name":"PHILLY - COASTAL MULTI \/ 8 \/ SOFT CALF LEATHER","public_title":"COASTAL MULTI \/ 8 \/ SOFT CALF LEATHER","options":["COASTAL MULTI","8","SOFT CALF LEATHER"],"price":35000,"weight":0,"compare_at_price":null,"inventory_management":"shopify","barcode":"840237315726","featured_media":{"alt":"3","id":23741298409677,"position":18,"preview_image":{"aspect_ratio":0.8,"height":3700,"width":2960,"src":"\/\/oncept.nyc\/cdn\/shop\/products\/PHILLY-SIDE-min_ad9e6ec1-f90d-43ca-99f8-2655ccf6d84e.jpg?v=1676912092"}},"requires_selling_plan":false,"selling_plan_allocations":[]},{"id":41006941831373,"title":"COASTAL MULTI \/ 8.5 \/ SOFT CALF LEATHER","option1":"COASTAL MULTI","option2":"8.5","option3":"SOFT CALF LEATHER","sku":"840237315733","requires_shipping":true,"taxable":true,"featured_image":{"id":31452023718093,"product_id":7024162406605,"position":18,"created_at":"2023-02-08T12:12:23-05:00","updated_at":"2023-02-20T11:54:52-05:00","alt":"3","width":2960,"height":3700,"src":"\/\/oncept.nyc\/cdn\/shop\/products\/PHILLY-SIDE-min_ad9e6ec1-f90d-43ca-99f8-2655ccf6d84e.jpg?v=1676912092","variant_ids":[41006941667533,41006941700301,41006941733069,41006941765837,41006941798605,41006941831373,41006941864141,41006941896909,41006941929677]},"available":true,"name":"PHILLY - COASTAL MULTI \/ 8.5 \/ SOFT CALF LEATHER","public_title":"COASTAL MULTI \/ 8.5 \/ SOFT CALF LEATHER","options":["COASTAL MULTI","8.5","SOFT CALF LEATHER"],"price":35000,"weight":0,"compare_at_price":null,"inventory_management":"shopify","barcode":"840237315733","featured_media":{"alt":"3","id":23741298409677,"position":18,"preview_image":{"aspect_ratio":0.8,"height":3700,"width":2960,"src":"\/\/oncept.nyc\/cdn\/shop\/products\/PHILLY-SIDE-min_ad9e6ec1-f90d-43ca-99f8-2655ccf6d84e.jpg?v=1676912092"}},"requires_selling_plan":false,"selling_plan_allocations":[]},{"id":41006941864141,"title":"COASTAL MULTI \/ 9 \/ SOFT CALF LEATHER","option1":"COASTAL MULTI","option2":"9","option3":"SOFT CALF LEATHER","sku":"840237315740","requires_shipping":true,"taxable":true,"featured_image":{"id":31452023718093,"product_id":7024162406605,"position":18,"created_at":"2023-02-08T12:12:23-05:00","updated_at":"2023-02-20T11:54:52-05:00","alt":"3","width":2960,"height":3700,"src":"\/\/oncept.nyc\/cdn\/shop\/products\/PHILLY-SIDE-min_ad9e6ec1-f90d-43ca-99f8-2655ccf6d84e.jpg?v=1676912092","variant_ids":[41006941667533,41006941700301,41006941733069,41006941765837,41006941798605,41006941831373,41006941864141,41006941896909,41006941929677]},"available":true,"name":"PHILLY - COASTAL MULTI \/ 9 \/ SOFT CALF LEATHER","public_title":"COASTAL MULTI \/ 9 \/ SOFT CALF LEATHER","options":["COASTAL MULTI","9","SOFT CALF LEATHER"],"price":35000,"weight":0,"compare_at_price":null,"inventory_management":"shopify","barcode":"840237315740","featured_media":{"alt":"3","id":23741298409677,"position":18,"preview_image":{"aspect_ratio":0.8,"height":3700,"width":2960,"src":"\/\/oncept.nyc\/cdn\/shop\/products\/PHILLY-SIDE-min_ad9e6ec1-f90d-43ca-99f8-2655ccf6d84e.jpg?v=1676912092"}},"requires_selling_plan":false,"selling_plan_allocations":[]},{"id":41006941896909,"title":"COASTAL MULTI \/ 9.5 \/ SOFT CALF LEATHER","option1":"COASTAL MULTI","option2":"9.5","option3":"SOFT CALF LEATHER","sku":"840237315757","requires_shipping":true,"taxable":true,"featured_image":{"id":31452023718093,"product_id":7024162406605,"position":18,"created_at":"2023-02-08T12:12:23-05:00","updated_at":"2023-02-20T11:54:52-05:00","alt":"3","width":2960,"height":3700,"src":"\/\/oncept.nyc\/cdn\/shop\/products\/PHILLY-SIDE-min_ad9e6ec1-f90d-43ca-99f8-2655ccf6d84e.jpg?v=1676912092","variant_ids":[41006941667533,41006941700301,41006941733069,41006941765837,41006941798605,41006941831373,41006941864141,41006941896909,41006941929677]},"available":true,"name":"PHILLY - COASTAL MULTI \/ 9.5 \/ SOFT CALF LEATHER","public_title":"COASTAL MULTI \/ 9.5 \/ SOFT CALF LEATHER","options":["COASTAL MULTI","9.5","SOFT CALF LEATHER"],"price":35000,"weight":0,"compare_at_price":null,"inventory_management":"shopify","barcode":"840237315757","featured_media":{"alt":"3","id":23741298409677,"position":18,"preview_image":{"aspect_ratio":0.8,"height":3700,"width":2960,"src":"\/\/oncept.nyc\/cdn\/shop\/products\/PHILLY-SIDE-min_ad9e6ec1-f90d-43ca-99f8-2655ccf6d84e.jpg?v=1676912092"}},"requires_selling_plan":false,"selling_plan_allocations":[]},{"id":41006941929677,"title":"COASTAL MULTI \/ 10 \/ SOFT CALF LEATHER","option1":"COASTAL MULTI","option2":"10","option3":"SOFT CALF LEATHER","sku":"840237315764","requires_shipping":true,"taxable":true,"featured_image":{"id":31452023718093,"product_id":7024162406605,"position":18,"created_at":"2023-02-08T12:12:23-05:00","updated_at":"2023-02-20T11:54:52-05:00","alt":"3","width":2960,"height":3700,"src":"\/\/oncept.nyc\/cdn\/shop\/products\/PHILLY-SIDE-min_ad9e6ec1-f90d-43ca-99f8-2655ccf6d84e.jpg?v=1676912092","variant_ids":[41006941667533,41006941700301,41006941733069,41006941765837,41006941798605,41006941831373,41006941864141,41006941896909,41006941929677]},"available":true,"name":"PHILLY - COASTAL MULTI \/ 10 \/ SOFT CALF LEATHER","public_title":"COASTAL MULTI \/ 10 \/ SOFT CALF LEATHER","options":["COASTAL MULTI","10","SOFT CALF LEATHER"],"price":35000,"weight":0,"compare_at_price":null,"inventory_management":"shopify","barcode":"840237315764","featured_media":{"alt":"3","id":23741298409677,"position":18,"preview_image":{"aspect_ratio":0.8,"height":3700,"width":2960,"src":"\/\/oncept.nyc\/cdn\/shop\/products\/PHILLY-SIDE-min_ad9e6ec1-f90d-43ca-99f8-2655ccf6d84e.jpg?v=1676912092"}},"requires_selling_plan":false,"selling_plan_allocations":[]}],"images":["\/\/oncept.nyc\/cdn\/shop\/products\/PHILLY-SIDE-min.jpg?v=1675876381","\/\/oncept.nyc\/cdn\/shop\/products\/PHILLY-TOP-min.jpg?v=1675876381","\/\/oncept.nyc\/cdn\/shop\/products\/PHILLY-BACK-min.jpg?v=1675876381","\/\/oncept.nyc\/cdn\/shop\/products\/PHILLY-OUTSOLE-min.jpg?v=1675876381","\/\/oncept.nyc\/cdn\/shop\/products\/PHILLY-SOFT-min.jpg?v=1675876381","\/\/oncept.nyc\/cdn\/shop\/products\/Frame25-min.jpg?v=1676912092","\/\/oncept.nyc\/cdn\/shop\/products\/PHILLY-SIDE-min_58aec33d-9fc4-42b5-94d7-48839e95e011.jpg?v=1676912092","\/\/oncept.nyc\/cdn\/shop\/products\/PHILLY-TOP-min_8d0daa97-eb61-4737-a54d-c51fc37bbc9f.jpg?v=1676912092","\/\/oncept.nyc\/cdn\/shop\/products\/PHILLY-BACK-min_3e975152-40b1-4767-a889-957cfd0bd0de.jpg?v=1676912092","\/\/oncept.nyc\/cdn\/shop\/products\/PHILLY-OUTSOLE-min_088321a7-9610-4a51-9ab3-f6d58f3f6c3a.jpg?v=1676912092","\/\/oncept.nyc\/cdn\/shop\/products\/PHILLY-SOFT-min_cc697890-f8b6-45b3-b722-3e62d58b52f1.jpg?v=1676912092","\/\/oncept.nyc\/cdn\/shop\/products\/Frame24-min.jpg?v=1676912092","\/\/oncept.nyc\/cdn\/shop\/products\/PHILLY-SIDE-min_4ab2d160-d8ee-4886-8244-8ec36fa9604f.jpg?v=1676912092","\/\/oncept.nyc\/cdn\/shop\/products\/PHILLY-TOP-min_028aa0e9-9ca1-46e5-955a-a60ca109939a.jpg?v=1676912092","\/\/oncept.nyc\/cdn\/shop\/products\/PHILLY-BACK-min_38373f88-6b61-4529-9d88-2fb81747c46e.jpg?v=1676912092","\/\/oncept.nyc\/cdn\/shop\/products\/PHILLY-OUTSOLE-min_97f7d4ad-5ada-4102-9f83-03719c8237d6.jpg?v=1676912092","\/\/oncept.nyc\/cdn\/shop\/products\/PHILLY-SOFT-min_24ce211c-8023-450f-8f85-43ee2a974738.jpg?v=1676912092","\/\/oncept.nyc\/cdn\/shop\/products\/PHILLY-SIDE-min_ad9e6ec1-f90d-43ca-99f8-2655ccf6d84e.jpg?v=1676912092","\/\/oncept.nyc\/cdn\/shop\/products\/PHILLY-TOP-min_92ee2066-27fa-40d0-abf4-69b66f8b17f3.jpg?v=1676912092","\/\/oncept.nyc\/cdn\/shop\/products\/PHILLY-BACK-min_685b1490-0053-4bd1-b3a0-5358f4748ed7.jpg?v=1676912092","\/\/oncept.nyc\/cdn\/shop\/products\/PHILLY-OUTSOLE-min_6fd0b894-cff1-469a-bd48-de8270816055.jpg?v=1676912092","\/\/oncept.nyc\/cdn\/shop\/products\/PHILLY-SOFT-min_78306169-bcdf-4cbc-8efa-2a979406f251.jpg?v=1677090878","\/\/oncept.nyc\/cdn\/shop\/products\/PHILLY-COASTALMULTI-ONFOOT-min.jpg?v=1677090878"],"featured_image":"\/\/oncept.nyc\/cdn\/shop\/products\/PHILLY-SIDE-min.jpg?v=1675876381","options":["Color","Size","Material"],"media":[{"alt":"0","id":23741297098957,"position":1,"preview_image":{"aspect_ratio":0.8,"height":3700,"width":2960,"src":"\/\/oncept.nyc\/cdn\/shop\/products\/PHILLY-SIDE-min.jpg?v=1675876381"},"aspect_ratio":0.8,"height":3700,"media_type":"image","src":"\/\/oncept.nyc\/cdn\/shop\/products\/PHILLY-SIDE-min.jpg?v=1675876381","width":2960},{"alt":"0","id":23741297164493,"position":2,"preview_image":{"aspect_ratio":0.8,"height":3700,"width":2960,"src":"\/\/oncept.nyc\/cdn\/shop\/products\/PHILLY-TOP-min.jpg?v=1675876381"},"aspect_ratio":0.8,"height":3700,"media_type":"image","src":"\/\/oncept.nyc\/cdn\/shop\/products\/PHILLY-TOP-min.jpg?v=1675876381","width":2960},{"alt":"0","id":23741297033421,"position":3,"preview_image":{"aspect_ratio":0.8,"height":3700,"width":2960,"src":"\/\/oncept.nyc\/cdn\/shop\/products\/PHILLY-BACK-min.jpg?v=1675876381"},"aspect_ratio":0.8,"height":3700,"media_type":"image","src":"\/\/oncept.nyc\/cdn\/shop\/products\/PHILLY-BACK-min.jpg?v=1675876381","width":2960},{"alt":"0","id":23741297066189,"position":4,"preview_image":{"aspect_ratio":0.8,"height":3700,"width":2960,"src":"\/\/oncept.nyc\/cdn\/shop\/products\/PHILLY-OUTSOLE-min.jpg?v=1675876381"},"aspect_ratio":0.8,"height":3700,"media_type":"image","src":"\/\/oncept.nyc\/cdn\/shop\/products\/PHILLY-OUTSOLE-min.jpg?v=1675876381","width":2960},{"alt":"0","id":23741297131725,"position":5,"preview_image":{"aspect_ratio":0.8,"height":3700,"width":2960,"src":"\/\/oncept.nyc\/cdn\/shop\/products\/PHILLY-SOFT-min.jpg?v=1675876381"},"aspect_ratio":0.8,"height":3700,"media_type":"image","src":"\/\/oncept.nyc\/cdn\/shop\/products\/PHILLY-SOFT-min.jpg?v=1675876381","width":2960},{"alt":"0","id":23781279760589,"position":6,"preview_image":{"aspect_ratio":0.8,"height":3700,"width":2960,"src":"\/\/oncept.nyc\/cdn\/shop\/products\/Frame25-min.jpg?v=1676912092"},"aspect_ratio":0.8,"height":3700,"media_type":"image","src":"\/\/oncept.nyc\/cdn\/shop\/products\/Frame25-min.jpg?v=1676912092","width":2960},{"alt":"1","id":23741297557709,"position":7,"preview_image":{"aspect_ratio":0.8,"height":3700,"width":2960,"src":"\/\/oncept.nyc\/cdn\/shop\/products\/PHILLY-SIDE-min_58aec33d-9fc4-42b5-94d7-48839e95e011.jpg?v=1676912092"},"aspect_ratio":0.8,"height":3700,"media_type":"image","src":"\/\/oncept.nyc\/cdn\/shop\/products\/PHILLY-SIDE-min_58aec33d-9fc4-42b5-94d7-48839e95e011.jpg?v=1676912092","width":2960},{"alt":"1","id":23741297623245,"position":8,"preview_image":{"aspect_ratio":0.8,"height":3700,"width":2960,"src":"\/\/oncept.nyc\/cdn\/shop\/products\/PHILLY-TOP-min_8d0daa97-eb61-4737-a54d-c51fc37bbc9f.jpg?v=1676912092"},"aspect_ratio":0.8,"height":3700,"media_type":"image","src":"\/\/oncept.nyc\/cdn\/shop\/products\/PHILLY-TOP-min_8d0daa97-eb61-4737-a54d-c51fc37bbc9f.jpg?v=1676912092","width":2960},{"alt":"1","id":23741297393869,"position":9,"preview_image":{"aspect_ratio":0.8,"height":3700,"width":2960,"src":"\/\/oncept.nyc\/cdn\/shop\/products\/PHILLY-BACK-min_3e975152-40b1-4767-a889-957cfd0bd0de.jpg?v=1676912092"},"aspect_ratio":0.8,"height":3700,"media_type":"image","src":"\/\/oncept.nyc\/cdn\/shop\/products\/PHILLY-BACK-min_3e975152-40b1-4767-a889-957cfd0bd0de.jpg?v=1676912092","width":2960},{"alt":"1","id":23741297459405,"position":10,"preview_image":{"aspect_ratio":0.8,"height":3700,"width":2960,"src":"\/\/oncept.nyc\/cdn\/shop\/products\/PHILLY-OUTSOLE-min_088321a7-9610-4a51-9ab3-f6d58f3f6c3a.jpg?v=1676912092"},"aspect_ratio":0.8,"height":3700,"media_type":"image","src":"\/\/oncept.nyc\/cdn\/shop\/products\/PHILLY-OUTSOLE-min_088321a7-9610-4a51-9ab3-f6d58f3f6c3a.jpg?v=1676912092","width":2960},{"alt":"1","id":23741297590477,"position":11,"preview_image":{"aspect_ratio":0.8,"height":3700,"width":2960,"src":"\/\/oncept.nyc\/cdn\/shop\/products\/PHILLY-SOFT-min_cc697890-f8b6-45b3-b722-3e62d58b52f1.jpg?v=1676912092"},"aspect_ratio":0.8,"height":3700,"media_type":"image","src":"\/\/oncept.nyc\/cdn\/shop\/products\/PHILLY-SOFT-min_cc697890-f8b6-45b3-b722-3e62d58b52f1.jpg?v=1676912092","width":2960},{"alt":"1","id":23781279727821,"position":12,"preview_image":{"aspect_ratio":0.8,"height":3700,"width":2960,"src":"\/\/oncept.nyc\/cdn\/shop\/products\/Frame24-min.jpg?v=1676912092"},"aspect_ratio":0.8,"height":3700,"media_type":"image","src":"\/\/oncept.nyc\/cdn\/shop\/products\/Frame24-min.jpg?v=1676912092","width":2960},{"alt":"2","id":23741298081997,"position":13,"preview_image":{"aspect_ratio":0.8,"height":3700,"width":2960,"src":"\/\/oncept.nyc\/cdn\/shop\/products\/PHILLY-SIDE-min_4ab2d160-d8ee-4886-8244-8ec36fa9604f.jpg?v=1676912092"},"aspect_ratio":0.8,"height":3700,"media_type":"image","src":"\/\/oncept.nyc\/cdn\/shop\/products\/PHILLY-SIDE-min_4ab2d160-d8ee-4886-8244-8ec36fa9604f.jpg?v=1676912092","width":2960},{"alt":"2","id":23741298147533,"position":14,"preview_image":{"aspect_ratio":0.8,"height":3700,"width":2960,"src":"\/\/oncept.nyc\/cdn\/shop\/products\/PHILLY-TOP-min_028aa0e9-9ca1-46e5-955a-a60ca109939a.jpg?v=1676912092"},"aspect_ratio":0.8,"height":3700,"media_type":"image","src":"\/\/oncept.nyc\/cdn\/shop\/products\/PHILLY-TOP-min_028aa0e9-9ca1-46e5-955a-a60ca109939a.jpg?v=1676912092","width":2960},{"alt":"2","id":23741298016461,"position":15,"preview_image":{"aspect_ratio":0.8,"height":3700,"width":2960,"src":"\/\/oncept.nyc\/cdn\/shop\/products\/PHILLY-BACK-min_38373f88-6b61-4529-9d88-2fb81747c46e.jpg?v=1676912092"},"aspect_ratio":0.8,"height":3700,"media_type":"image","src":"\/\/oncept.nyc\/cdn\/shop\/products\/PHILLY-BACK-min_38373f88-6b61-4529-9d88-2fb81747c46e.jpg?v=1676912092","width":2960},{"alt":"2","id":23741298049229,"position":16,"preview_image":{"aspect_ratio":0.8,"height":3700,"width":2960,"src":"\/\/oncept.nyc\/cdn\/shop\/products\/PHILLY-OUTSOLE-min_97f7d4ad-5ada-4102-9f83-03719c8237d6.jpg?v=1676912092"},"aspect_ratio":0.8,"height":3700,"media_type":"image","src":"\/\/oncept.nyc\/cdn\/shop\/products\/PHILLY-OUTSOLE-min_97f7d4ad-5ada-4102-9f83-03719c8237d6.jpg?v=1676912092","width":2960},{"alt":"2","id":23741298114765,"position":17,"preview_image":{"aspect_ratio":0.8,"height":3700,"width":2960,"src":"\/\/oncept.nyc\/cdn\/shop\/products\/PHILLY-SOFT-min_24ce211c-8023-450f-8f85-43ee2a974738.jpg?v=1676912092"},"aspect_ratio":0.8,"height":3700,"media_type":"image","src":"\/\/oncept.nyc\/cdn\/shop\/products\/PHILLY-SOFT-min_24ce211c-8023-450f-8f85-43ee2a974738.jpg?v=1676912092","width":2960},{"alt":"3","id":23741298409677,"position":18,"preview_image":{"aspect_ratio":0.8,"height":3700,"width":2960,"src":"\/\/oncept.nyc\/cdn\/shop\/products\/PHILLY-SIDE-min_ad9e6ec1-f90d-43ca-99f8-2655ccf6d84e.jpg?v=1676912092"},"aspect_ratio":0.8,"height":3700,"media_type":"image","src":"\/\/oncept.nyc\/cdn\/shop\/products\/PHILLY-SIDE-min_ad9e6ec1-f90d-43ca-99f8-2655ccf6d84e.jpg?v=1676912092","width":2960},{"alt":"3","id":23741298475213,"position":19,"preview_image":{"aspect_ratio":0.8,"height":3700,"width":2960,"src":"\/\/oncept.nyc\/cdn\/shop\/products\/PHILLY-TOP-min_92ee2066-27fa-40d0-abf4-69b66f8b17f3.jpg?v=1676912092"},"aspect_ratio":0.8,"height":3700,"media_type":"image","src":"\/\/oncept.nyc\/cdn\/shop\/products\/PHILLY-TOP-min_92ee2066-27fa-40d0-abf4-69b66f8b17f3.jpg?v=1676912092","width":2960},{"alt":"3","id":23741298344141,"position":20,"preview_image":{"aspect_ratio":0.8,"height":3700,"width":2960,"src":"\/\/oncept.nyc\/cdn\/shop\/products\/PHILLY-BACK-min_685b1490-0053-4bd1-b3a0-5358f4748ed7.jpg?v=1676912092"},"aspect_ratio":0.8,"height":3700,"media_type":"image","src":"\/\/oncept.nyc\/cdn\/shop\/products\/PHILLY-BACK-min_685b1490-0053-4bd1-b3a0-5358f4748ed7.jpg?v=1676912092","width":2960},{"alt":"3","id":23741298376909,"position":21,"preview_image":{"aspect_ratio":0.8,"height":3700,"width":2960,"src":"\/\/oncept.nyc\/cdn\/shop\/products\/PHILLY-OUTSOLE-min_6fd0b894-cff1-469a-bd48-de8270816055.jpg?v=1676912092"},"aspect_ratio":0.8,"height":3700,"media_type":"image","src":"\/\/oncept.nyc\/cdn\/shop\/products\/PHILLY-OUTSOLE-min_6fd0b894-cff1-469a-bd48-de8270816055.jpg?v=1676912092","width":2960},{"alt":"3","id":23741298442445,"position":22,"preview_image":{"aspect_ratio":0.8,"height":3700,"width":2960,"src":"\/\/oncept.nyc\/cdn\/shop\/products\/PHILLY-SOFT-min_78306169-bcdf-4cbc-8efa-2a979406f251.jpg?v=1677090878"},"aspect_ratio":0.8,"height":3700,"media_type":"image","src":"\/\/oncept.nyc\/cdn\/shop\/products\/PHILLY-SOFT-min_78306169-bcdf-4cbc-8efa-2a979406f251.jpg?v=1677090878","width":2960},{"alt":"3","id":23781279793357,"position":23,"preview_image":{"aspect_ratio":0.8,"height":3700,"width":2960,"src":"\/\/oncept.nyc\/cdn\/shop\/products\/PHILLY-COASTALMULTI-ONFOOT-min.jpg?v=1677090878"},"aspect_ratio":0.8,"height":3700,"media_type":"image","src":"\/\/oncept.nyc\/cdn\/shop\/products\/PHILLY-COASTALMULTI-ONFOOT-min.jpg?v=1677090878","width":2960}],"requires_selling_plan":false,"selling_plan_groups":[],"content":"\u003cp data-mce-fragment=\"1\"\u003e\u003cspan style=\"font-weight: 400;\" data-mce-fragment=\"1\" data-mce-style=\"font-weight: 400;\"\u003ePhilly mid–top sneaker, our MVP of style!  The courtside look is the perfect pairing for this seasons street style.  Utilizing our signature re-speckled two color outsoles, which are eco–friendly and provide excellent support and comfort.  The mid–top height is the latest in chic versatility, easily styled with denim to leggings, shorts and dresses.\u003c\/span\u003e\u003c\/p\u003e"} { "options": [ { "title": "Color", "values": [ { "value": "SEAFOAM", "url": "/products/philly?variant=41006940782797" }, { "value": "WHITE CLOUD MULTI", "url": "/products/philly?variant=41006941372621" }, { "value": "CORAL ROSE", "url": "/products/philly?variant=41006941077709" }, { "value": "COASTAL MULTI", "url": "/products/philly?variant=41006941667533" } ] }, { "title": "Size", "values": [ { "value": "6", "url": "/products/philly?variant=41006940782797" }, { "value": "6.5", "url": "/products/philly?variant=41006940815565" }, { "value": "7", "url": "/products/philly?variant=41006940848333" }, { "value": "7.5", "url": "/products/philly?variant=41006940881101" }, { "value": "8", "url": "/products/philly?variant=41006940913869" }, { "value": "8.5", "url": "/products/philly?variant=41006940946637" }, { "value": "9", "url": "/products/philly?variant=41006940979405" }, { "value": "9.5", "url": "/products/philly?variant=41006941012173" }, { "value": "10", "url": "/products/philly?variant=41006941044941" } ] }, { "title": "Material", "values": [ { "value": "BUTTER NUBUK", "url": "/products/philly?variant=41006940782797" }, { "value": "SOFT CALF LEATHER", "url": "/products/philly?variant=41006941372621" } ] } ] }
{ "desktopImg": "//oncept.nyc/cdn/shop/files/ONC-Size_Guide-220721-v2_4f753765-00f0-43de-a4e8-769673d6f443.png?v=1693310772", "mobileImg": "//oncept.nyc/cdn/shop/files/ONC-Size_Guide-220721-v12_62596961-cac9-488c-8395-409e383787ee.png?v=1693310784" }