[ ]
Re-Splash nylon upper, chrome free suede
Tencel® pulp based twill lining + leather sock
Bio-density recycled molded footbed
Re-speckled EVA bottoms
Saturn Re-Nylon or organic cotton laces
Water resistant
CARE
Outsole can be cleaned with a soft cloth and water
Upper can be gently wiped with a damp cloth****
COMFORT
Refined groove design offers extreme flexibility
Molded removable sock footbed
We offer free express shipping, exchanges and returns on all US domestic orders
[ "Materials & Care" , "Fit & Comfort" , "DSelivery & Returns" ]
Sustainable Style
It's all in the details.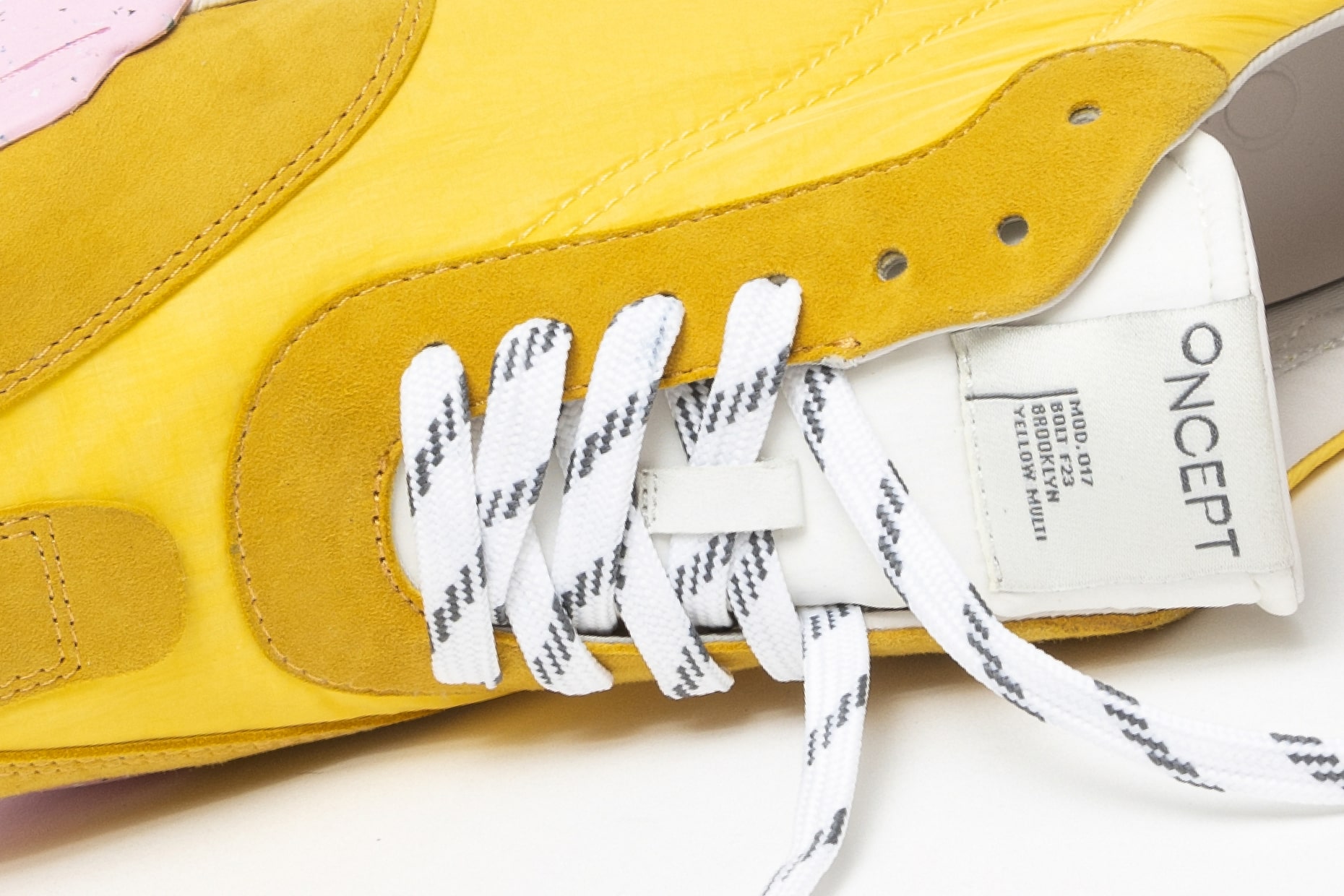 ECO - Comppnmnmet
We use a host of sustainable components in the making of the BROOKLYN. Tencel ® pulp based twill, recycled nylon, bio-density molded foam footbed, organic cotton laces and recycled sport tags all work in conjunction to create a sustainable trainer.
READ MORE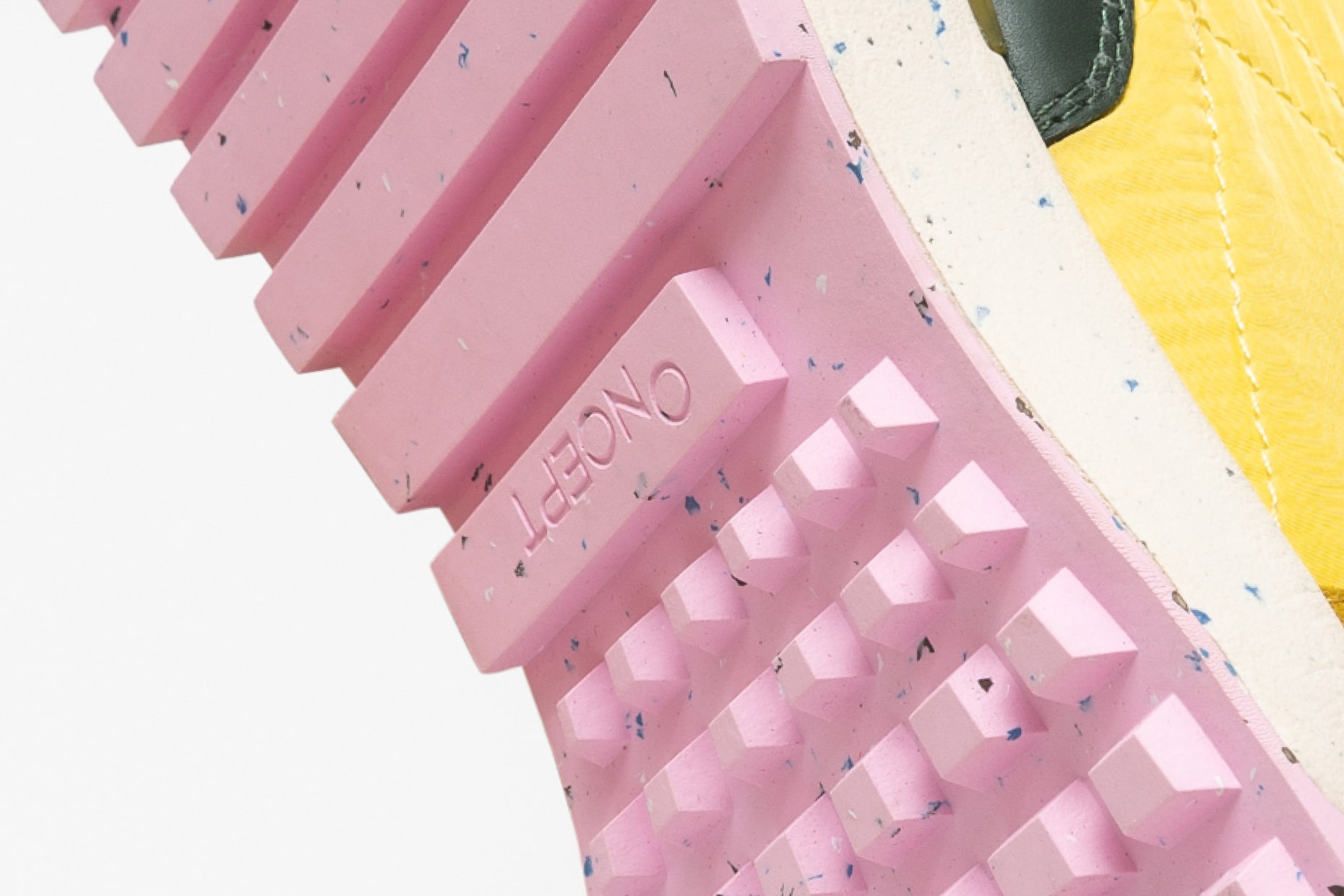 RE-SPECKLED RUBBER OUTSOLES
The recycled rubber outsole uses leftover and excess rubber from the factory reducing waste and the use of new resources. This process keeps hundreds of tons of waste from landfills. You will notice the speckle in the bottom which gives it a signature look.
READ MORE
{"id":7208650277069,"title":"TOKYO GLIDE","handle":"tokyo-glide","description":"\u003cp data-mce-fragment=\"1\"\u003e\u003cspan style=\"font-weight: 400;\" data-mce-fragment=\"1\" data-mce-style=\"font-weight: 400;\"\u003eLight as a feather, the TOKYO – GLIDE is your understated \u003c\/span\u003etravel companion with a new twist\u003cspan style=\"font-weight: 400;\" data-mce-fragment=\"1\" data-mce-style=\"font-weight: 400;\"\u003e. Retro styling and updated mutli color side panel continue the evolution for the modern muse on the go. Featuring plush ripstop nylon, chrome-free suede, re-speckled midsole, and Tencel twill linings, this is our most sustainable style yet! You are ready to explore the world while not hurting it in the process.\u003c\/span\u003e\u003c\/p\u003e","published_at":"2023-08-17T21:46:02-04:00","created_at":"2023-04-12T11:20:08-04:00","vendor":"Oncept","type":"Footwear","tags":[],"price":25000,"price_min":25000,"price_max":25000,"available":true,"price_varies":false,"compare_at_price":null,"compare_at_price_min":0,"compare_at_price_max":0,"compare_at_price_varies":false,"variants":[{"id":41574578192589,"title":"SUNSHINE MULTI \/ 6 \/ CALF SUEDE - NYLON","option1":"SUNSHINE MULTI","option2":"6","option3":"CALF SUEDE - NYLON","sku":"840237321895","requires_shipping":true,"taxable":true,"featured_image":{"id":32047529885901,"product_id":7208650277069,"position":1,"created_at":"2023-08-17T21:43:25-04:00","updated_at":"2023-08-17T21:43:27-04:00","alt":"0","width":2960,"height":3700,"src":"\/\/oncept.nyc\/cdn\/shop\/files\/TOKYO_GLIDE-SIDE-SUNSHINEMULTI-min.jpg?v=1692323007","variant_ids":[41574578192589,41574578225357,41574578258125,41574578290893,41574578323661,41574578356429,41574578389197,41574578421965,41574578454733]},"available":true,"name":"TOKYO GLIDE - SUNSHINE MULTI \/ 6 \/ CALF SUEDE - NYLON","public_title":"SUNSHINE MULTI \/ 6 \/ CALF SUEDE - NYLON","options":["SUNSHINE MULTI","6","CALF SUEDE - NYLON"],"price":25000,"weight":0,"compare_at_price":null,"inventory_management":"shopify","barcode":"840237321895","featured_media":{"alt":"0","id":24341622423757,"position":1,"preview_image":{"aspect_ratio":0.8,"height":3700,"width":2960,"src":"\/\/oncept.nyc\/cdn\/shop\/files\/TOKYO_GLIDE-SIDE-SUNSHINEMULTI-min.jpg?v=1692323007"}},"requires_selling_plan":false,"selling_plan_allocations":[]},{"id":41574578225357,"title":"SUNSHINE MULTI \/ 6.5 \/ CALF SUEDE - NYLON","option1":"SUNSHINE MULTI","option2":"6.5","option3":"CALF SUEDE - NYLON","sku":"840237321901","requires_shipping":true,"taxable":true,"featured_image":{"id":32047529885901,"product_id":7208650277069,"position":1,"created_at":"2023-08-17T21:43:25-04:00","updated_at":"2023-08-17T21:43:27-04:00","alt":"0","width":2960,"height":3700,"src":"\/\/oncept.nyc\/cdn\/shop\/files\/TOKYO_GLIDE-SIDE-SUNSHINEMULTI-min.jpg?v=1692323007","variant_ids":[41574578192589,41574578225357,41574578258125,41574578290893,41574578323661,41574578356429,41574578389197,41574578421965,41574578454733]},"available":true,"name":"TOKYO GLIDE - SUNSHINE MULTI \/ 6.5 \/ CALF SUEDE - NYLON","public_title":"SUNSHINE MULTI \/ 6.5 \/ CALF SUEDE - NYLON","options":["SUNSHINE MULTI","6.5","CALF SUEDE - NYLON"],"price":25000,"weight":0,"compare_at_price":null,"inventory_management":"shopify","barcode":"840237321901","featured_media":{"alt":"0","id":24341622423757,"position":1,"preview_image":{"aspect_ratio":0.8,"height":3700,"width":2960,"src":"\/\/oncept.nyc\/cdn\/shop\/files\/TOKYO_GLIDE-SIDE-SUNSHINEMULTI-min.jpg?v=1692323007"}},"requires_selling_plan":false,"selling_plan_allocations":[]},{"id":41574578258125,"title":"SUNSHINE MULTI \/ 7 \/ CALF SUEDE - NYLON","option1":"SUNSHINE MULTI","option2":"7","option3":"CALF SUEDE - NYLON","sku":"840237321918","requires_shipping":true,"taxable":true,"featured_image":{"id":32047529885901,"product_id":7208650277069,"position":1,"created_at":"2023-08-17T21:43:25-04:00","updated_at":"2023-08-17T21:43:27-04:00","alt":"0","width":2960,"height":3700,"src":"\/\/oncept.nyc\/cdn\/shop\/files\/TOKYO_GLIDE-SIDE-SUNSHINEMULTI-min.jpg?v=1692323007","variant_ids":[41574578192589,41574578225357,41574578258125,41574578290893,41574578323661,41574578356429,41574578389197,41574578421965,41574578454733]},"available":true,"name":"TOKYO GLIDE - SUNSHINE MULTI \/ 7 \/ CALF SUEDE - NYLON","public_title":"SUNSHINE MULTI \/ 7 \/ CALF SUEDE - NYLON","options":["SUNSHINE MULTI","7","CALF SUEDE - NYLON"],"price":25000,"weight":0,"compare_at_price":null,"inventory_management":"shopify","barcode":"840237321918","featured_media":{"alt":"0","id":24341622423757,"position":1,"preview_image":{"aspect_ratio":0.8,"height":3700,"width":2960,"src":"\/\/oncept.nyc\/cdn\/shop\/files\/TOKYO_GLIDE-SIDE-SUNSHINEMULTI-min.jpg?v=1692323007"}},"requires_selling_plan":false,"selling_plan_allocations":[]},{"id":41574578290893,"title":"SUNSHINE MULTI \/ 7.5 \/ CALF SUEDE - NYLON","option1":"SUNSHINE MULTI","option2":"7.5","option3":"CALF SUEDE - NYLON","sku":"840237321925","requires_shipping":true,"taxable":true,"featured_image":{"id":32047529885901,"product_id":7208650277069,"position":1,"created_at":"2023-08-17T21:43:25-04:00","updated_at":"2023-08-17T21:43:27-04:00","alt":"0","width":2960,"height":3700,"src":"\/\/oncept.nyc\/cdn\/shop\/files\/TOKYO_GLIDE-SIDE-SUNSHINEMULTI-min.jpg?v=1692323007","variant_ids":[41574578192589,41574578225357,41574578258125,41574578290893,41574578323661,41574578356429,41574578389197,41574578421965,41574578454733]},"available":true,"name":"TOKYO GLIDE - SUNSHINE MULTI \/ 7.5 \/ CALF SUEDE - NYLON","public_title":"SUNSHINE MULTI \/ 7.5 \/ CALF SUEDE - NYLON","options":["SUNSHINE MULTI","7.5","CALF SUEDE - NYLON"],"price":25000,"weight":0,"compare_at_price":null,"inventory_management":"shopify","barcode":"840237321925","featured_media":{"alt":"0","id":24341622423757,"position":1,"preview_image":{"aspect_ratio":0.8,"height":3700,"width":2960,"src":"\/\/oncept.nyc\/cdn\/shop\/files\/TOKYO_GLIDE-SIDE-SUNSHINEMULTI-min.jpg?v=1692323007"}},"requires_selling_plan":false,"selling_plan_allocations":[]},{"id":41574578323661,"title":"SUNSHINE MULTI \/ 8 \/ CALF SUEDE - NYLON","option1":"SUNSHINE MULTI","option2":"8","option3":"CALF SUEDE - NYLON","sku":"840237321932","requires_shipping":true,"taxable":true,"featured_image":{"id":32047529885901,"product_id":7208650277069,"position":1,"created_at":"2023-08-17T21:43:25-04:00","updated_at":"2023-08-17T21:43:27-04:00","alt":"0","width":2960,"height":3700,"src":"\/\/oncept.nyc\/cdn\/shop\/files\/TOKYO_GLIDE-SIDE-SUNSHINEMULTI-min.jpg?v=1692323007","variant_ids":[41574578192589,41574578225357,41574578258125,41574578290893,41574578323661,41574578356429,41574578389197,41574578421965,41574578454733]},"available":true,"name":"TOKYO GLIDE - SUNSHINE MULTI \/ 8 \/ CALF SUEDE - NYLON","public_title":"SUNSHINE MULTI \/ 8 \/ CALF SUEDE - NYLON","options":["SUNSHINE MULTI","8","CALF SUEDE - NYLON"],"price":25000,"weight":0,"compare_at_price":null,"inventory_management":"shopify","barcode":"840237321932","featured_media":{"alt":"0","id":24341622423757,"position":1,"preview_image":{"aspect_ratio":0.8,"height":3700,"width":2960,"src":"\/\/oncept.nyc\/cdn\/shop\/files\/TOKYO_GLIDE-SIDE-SUNSHINEMULTI-min.jpg?v=1692323007"}},"requires_selling_plan":false,"selling_plan_allocations":[]},{"id":41574578356429,"title":"SUNSHINE MULTI \/ 8.5 \/ CALF SUEDE - NYLON","option1":"SUNSHINE MULTI","option2":"8.5","option3":"CALF SUEDE - NYLON","sku":"840237321949","requires_shipping":true,"taxable":true,"featured_image":{"id":32047529885901,"product_id":7208650277069,"position":1,"created_at":"2023-08-17T21:43:25-04:00","updated_at":"2023-08-17T21:43:27-04:00","alt":"0","width":2960,"height":3700,"src":"\/\/oncept.nyc\/cdn\/shop\/files\/TOKYO_GLIDE-SIDE-SUNSHINEMULTI-min.jpg?v=1692323007","variant_ids":[41574578192589,41574578225357,41574578258125,41574578290893,41574578323661,41574578356429,41574578389197,41574578421965,41574578454733]},"available":true,"name":"TOKYO GLIDE - SUNSHINE MULTI \/ 8.5 \/ CALF SUEDE - NYLON","public_title":"SUNSHINE MULTI \/ 8.5 \/ CALF SUEDE - NYLON","options":["SUNSHINE MULTI","8.5","CALF SUEDE - NYLON"],"price":25000,"weight":0,"compare_at_price":null,"inventory_management":"shopify","barcode":"840237321949","featured_media":{"alt":"0","id":24341622423757,"position":1,"preview_image":{"aspect_ratio":0.8,"height":3700,"width":2960,"src":"\/\/oncept.nyc\/cdn\/shop\/files\/TOKYO_GLIDE-SIDE-SUNSHINEMULTI-min.jpg?v=1692323007"}},"requires_selling_plan":false,"selling_plan_allocations":[]},{"id":41574578389197,"title":"SUNSHINE MULTI \/ 9 \/ CALF SUEDE - NYLON","option1":"SUNSHINE MULTI","option2":"9","option3":"CALF SUEDE - NYLON","sku":"840237321956","requires_shipping":true,"taxable":true,"featured_image":{"id":32047529885901,"product_id":7208650277069,"position":1,"created_at":"2023-08-17T21:43:25-04:00","updated_at":"2023-08-17T21:43:27-04:00","alt":"0","width":2960,"height":3700,"src":"\/\/oncept.nyc\/cdn\/shop\/files\/TOKYO_GLIDE-SIDE-SUNSHINEMULTI-min.jpg?v=1692323007","variant_ids":[41574578192589,41574578225357,41574578258125,41574578290893,41574578323661,41574578356429,41574578389197,41574578421965,41574578454733]},"available":true,"name":"TOKYO GLIDE - SUNSHINE MULTI \/ 9 \/ CALF SUEDE - NYLON","public_title":"SUNSHINE MULTI \/ 9 \/ CALF SUEDE - NYLON","options":["SUNSHINE MULTI","9","CALF SUEDE - NYLON"],"price":25000,"weight":0,"compare_at_price":null,"inventory_management":"shopify","barcode":"840237321956","featured_media":{"alt":"0","id":24341622423757,"position":1,"preview_image":{"aspect_ratio":0.8,"height":3700,"width":2960,"src":"\/\/oncept.nyc\/cdn\/shop\/files\/TOKYO_GLIDE-SIDE-SUNSHINEMULTI-min.jpg?v=1692323007"}},"requires_selling_plan":false,"selling_plan_allocations":[]},{"id":41574578421965,"title":"SUNSHINE MULTI \/ 9.5 \/ CALF SUEDE - NYLON","option1":"SUNSHINE MULTI","option2":"9.5","option3":"CALF SUEDE - NYLON","sku":"840237321963","requires_shipping":true,"taxable":true,"featured_image":{"id":32047529885901,"product_id":7208650277069,"position":1,"created_at":"2023-08-17T21:43:25-04:00","updated_at":"2023-08-17T21:43:27-04:00","alt":"0","width":2960,"height":3700,"src":"\/\/oncept.nyc\/cdn\/shop\/files\/TOKYO_GLIDE-SIDE-SUNSHINEMULTI-min.jpg?v=1692323007","variant_ids":[41574578192589,41574578225357,41574578258125,41574578290893,41574578323661,41574578356429,41574578389197,41574578421965,41574578454733]},"available":true,"name":"TOKYO GLIDE - SUNSHINE MULTI \/ 9.5 \/ CALF SUEDE - NYLON","public_title":"SUNSHINE MULTI \/ 9.5 \/ CALF SUEDE - NYLON","options":["SUNSHINE MULTI","9.5","CALF SUEDE - NYLON"],"price":25000,"weight":0,"compare_at_price":null,"inventory_management":"shopify","barcode":"840237321963","featured_media":{"alt":"0","id":24341622423757,"position":1,"preview_image":{"aspect_ratio":0.8,"height":3700,"width":2960,"src":"\/\/oncept.nyc\/cdn\/shop\/files\/TOKYO_GLIDE-SIDE-SUNSHINEMULTI-min.jpg?v=1692323007"}},"requires_selling_plan":false,"selling_plan_allocations":[]},{"id":41574578454733,"title":"SUNSHINE MULTI \/ 10 \/ CALF SUEDE - NYLON","option1":"SUNSHINE MULTI","option2":"10","option3":"CALF SUEDE - NYLON","sku":"840237321970","requires_shipping":true,"taxable":true,"featured_image":{"id":32047529885901,"product_id":7208650277069,"position":1,"created_at":"2023-08-17T21:43:25-04:00","updated_at":"2023-08-17T21:43:27-04:00","alt":"0","width":2960,"height":3700,"src":"\/\/oncept.nyc\/cdn\/shop\/files\/TOKYO_GLIDE-SIDE-SUNSHINEMULTI-min.jpg?v=1692323007","variant_ids":[41574578192589,41574578225357,41574578258125,41574578290893,41574578323661,41574578356429,41574578389197,41574578421965,41574578454733]},"available":true,"name":"TOKYO GLIDE - SUNSHINE MULTI \/ 10 \/ CALF SUEDE - NYLON","public_title":"SUNSHINE MULTI \/ 10 \/ CALF SUEDE - NYLON","options":["SUNSHINE MULTI","10","CALF SUEDE - NYLON"],"price":25000,"weight":0,"compare_at_price":null,"inventory_management":"shopify","barcode":"840237321970","featured_media":{"alt":"0","id":24341622423757,"position":1,"preview_image":{"aspect_ratio":0.8,"height":3700,"width":2960,"src":"\/\/oncept.nyc\/cdn\/shop\/files\/TOKYO_GLIDE-SIDE-SUNSHINEMULTI-min.jpg?v=1692323007"}},"requires_selling_plan":false,"selling_plan_allocations":[]},{"id":41574577897677,"title":"STARDUST MULTI \/ 6 \/ CALF SUEDE - NYLON","option1":"STARDUST MULTI","option2":"6","option3":"CALF SUEDE - NYLON","sku":"840237321802","requires_shipping":true,"taxable":true,"featured_image":{"id":32047530016973,"product_id":7208650277069,"position":7,"created_at":"2023-08-17T21:43:25-04:00","updated_at":"2023-08-18T14:15:34-04:00","alt":"1","width":2960,"height":3700,"src":"\/\/oncept.nyc\/cdn\/shop\/files\/TOKYO_GLIDE-SIDE-STARDUSTMULTI-min.jpg?v=1692382534","variant_ids":[41574577897677,41574577930445,41574577963213,41574577995981,41574578028749,41574578061517,41574578094285,41574578127053,41574578159821]},"available":true,"name":"TOKYO GLIDE - STARDUST MULTI \/ 6 \/ CALF SUEDE - NYLON","public_title":"STARDUST MULTI \/ 6 \/ CALF SUEDE - NYLON","options":["STARDUST MULTI","6","CALF SUEDE - NYLON"],"price":25000,"weight":0,"compare_at_price":null,"inventory_management":"shopify","barcode":"840237321802","featured_media":{"alt":"1","id":24341622456525,"position":7,"preview_image":{"aspect_ratio":0.8,"height":3700,"width":2960,"src":"\/\/oncept.nyc\/cdn\/shop\/files\/TOKYO_GLIDE-SIDE-STARDUSTMULTI-min.jpg?v=1692382534"}},"requires_selling_plan":false,"selling_plan_allocations":[]},{"id":41574577930445,"title":"STARDUST MULTI \/ 6.5 \/ CALF SUEDE - NYLON","option1":"STARDUST MULTI","option2":"6.5","option3":"CALF SUEDE - NYLON","sku":"840237321819","requires_shipping":true,"taxable":true,"featured_image":{"id":32047530016973,"product_id":7208650277069,"position":7,"created_at":"2023-08-17T21:43:25-04:00","updated_at":"2023-08-18T14:15:34-04:00","alt":"1","width":2960,"height":3700,"src":"\/\/oncept.nyc\/cdn\/shop\/files\/TOKYO_GLIDE-SIDE-STARDUSTMULTI-min.jpg?v=1692382534","variant_ids":[41574577897677,41574577930445,41574577963213,41574577995981,41574578028749,41574578061517,41574578094285,41574578127053,41574578159821]},"available":true,"name":"TOKYO GLIDE - STARDUST MULTI \/ 6.5 \/ CALF SUEDE - NYLON","public_title":"STARDUST MULTI \/ 6.5 \/ CALF SUEDE - NYLON","options":["STARDUST MULTI","6.5","CALF SUEDE - NYLON"],"price":25000,"weight":0,"compare_at_price":null,"inventory_management":"shopify","barcode":"840237321819","featured_media":{"alt":"1","id":24341622456525,"position":7,"preview_image":{"aspect_ratio":0.8,"height":3700,"width":2960,"src":"\/\/oncept.nyc\/cdn\/shop\/files\/TOKYO_GLIDE-SIDE-STARDUSTMULTI-min.jpg?v=1692382534"}},"requires_selling_plan":false,"selling_plan_allocations":[]},{"id":41574577963213,"title":"STARDUST MULTI \/ 7 \/ CALF SUEDE - NYLON","option1":"STARDUST MULTI","option2":"7","option3":"CALF SUEDE - NYLON","sku":"840237321826","requires_shipping":true,"taxable":true,"featured_image":{"id":32047530016973,"product_id":7208650277069,"position":7,"created_at":"2023-08-17T21:43:25-04:00","updated_at":"2023-08-18T14:15:34-04:00","alt":"1","width":2960,"height":3700,"src":"\/\/oncept.nyc\/cdn\/shop\/files\/TOKYO_GLIDE-SIDE-STARDUSTMULTI-min.jpg?v=1692382534","variant_ids":[41574577897677,41574577930445,41574577963213,41574577995981,41574578028749,41574578061517,41574578094285,41574578127053,41574578159821]},"available":true,"name":"TOKYO GLIDE - STARDUST MULTI \/ 7 \/ CALF SUEDE - NYLON","public_title":"STARDUST MULTI \/ 7 \/ CALF SUEDE - NYLON","options":["STARDUST MULTI","7","CALF SUEDE - NYLON"],"price":25000,"weight":0,"compare_at_price":null,"inventory_management":"shopify","barcode":"840237321826","featured_media":{"alt":"1","id":24341622456525,"position":7,"preview_image":{"aspect_ratio":0.8,"height":3700,"width":2960,"src":"\/\/oncept.nyc\/cdn\/shop\/files\/TOKYO_GLIDE-SIDE-STARDUSTMULTI-min.jpg?v=1692382534"}},"requires_selling_plan":false,"selling_plan_allocations":[]},{"id":41574577995981,"title":"STARDUST MULTI \/ 7.5 \/ CALF SUEDE - NYLON","option1":"STARDUST MULTI","option2":"7.5","option3":"CALF SUEDE - NYLON","sku":"840237321833","requires_shipping":true,"taxable":true,"featured_image":{"id":32047530016973,"product_id":7208650277069,"position":7,"created_at":"2023-08-17T21:43:25-04:00","updated_at":"2023-08-18T14:15:34-04:00","alt":"1","width":2960,"height":3700,"src":"\/\/oncept.nyc\/cdn\/shop\/files\/TOKYO_GLIDE-SIDE-STARDUSTMULTI-min.jpg?v=1692382534","variant_ids":[41574577897677,41574577930445,41574577963213,41574577995981,41574578028749,41574578061517,41574578094285,41574578127053,41574578159821]},"available":true,"name":"TOKYO GLIDE - STARDUST MULTI \/ 7.5 \/ CALF SUEDE - NYLON","public_title":"STARDUST MULTI \/ 7.5 \/ CALF SUEDE - NYLON","options":["STARDUST MULTI","7.5","CALF SUEDE - NYLON"],"price":25000,"weight":0,"compare_at_price":null,"inventory_management":"shopify","barcode":"840237321833","featured_media":{"alt":"1","id":24341622456525,"position":7,"preview_image":{"aspect_ratio":0.8,"height":3700,"width":2960,"src":"\/\/oncept.nyc\/cdn\/shop\/files\/TOKYO_GLIDE-SIDE-STARDUSTMULTI-min.jpg?v=1692382534"}},"requires_selling_plan":false,"selling_plan_allocations":[]},{"id":41574578028749,"title":"STARDUST MULTI \/ 8 \/ CALF SUEDE - NYLON","option1":"STARDUST MULTI","option2":"8","option3":"CALF SUEDE - NYLON","sku":"840237321840","requires_shipping":true,"taxable":true,"featured_image":{"id":32047530016973,"product_id":7208650277069,"position":7,"created_at":"2023-08-17T21:43:25-04:00","updated_at":"2023-08-18T14:15:34-04:00","alt":"1","width":2960,"height":3700,"src":"\/\/oncept.nyc\/cdn\/shop\/files\/TOKYO_GLIDE-SIDE-STARDUSTMULTI-min.jpg?v=1692382534","variant_ids":[41574577897677,41574577930445,41574577963213,41574577995981,41574578028749,41574578061517,41574578094285,41574578127053,41574578159821]},"available":true,"name":"TOKYO GLIDE - STARDUST MULTI \/ 8 \/ CALF SUEDE - NYLON","public_title":"STARDUST MULTI \/ 8 \/ CALF SUEDE - NYLON","options":["STARDUST MULTI","8","CALF SUEDE - NYLON"],"price":25000,"weight":0,"compare_at_price":null,"inventory_management":"shopify","barcode":"840237321840","featured_media":{"alt":"1","id":24341622456525,"position":7,"preview_image":{"aspect_ratio":0.8,"height":3700,"width":2960,"src":"\/\/oncept.nyc\/cdn\/shop\/files\/TOKYO_GLIDE-SIDE-STARDUSTMULTI-min.jpg?v=1692382534"}},"requires_selling_plan":false,"selling_plan_allocations":[]},{"id":41574578061517,"title":"STARDUST MULTI \/ 8.5 \/ CALF SUEDE - NYLON","option1":"STARDUST MULTI","option2":"8.5","option3":"CALF SUEDE - NYLON","sku":"840237321857","requires_shipping":true,"taxable":true,"featured_image":{"id":32047530016973,"product_id":7208650277069,"position":7,"created_at":"2023-08-17T21:43:25-04:00","updated_at":"2023-08-18T14:15:34-04:00","alt":"1","width":2960,"height":3700,"src":"\/\/oncept.nyc\/cdn\/shop\/files\/TOKYO_GLIDE-SIDE-STARDUSTMULTI-min.jpg?v=1692382534","variant_ids":[41574577897677,41574577930445,41574577963213,41574577995981,41574578028749,41574578061517,41574578094285,41574578127053,41574578159821]},"available":true,"name":"TOKYO GLIDE - STARDUST MULTI \/ 8.5 \/ CALF SUEDE - NYLON","public_title":"STARDUST MULTI \/ 8.5 \/ CALF SUEDE - NYLON","options":["STARDUST MULTI","8.5","CALF SUEDE - NYLON"],"price":25000,"weight":0,"compare_at_price":null,"inventory_management":"shopify","barcode":"840237321857","featured_media":{"alt":"1","id":24341622456525,"position":7,"preview_image":{"aspect_ratio":0.8,"height":3700,"width":2960,"src":"\/\/oncept.nyc\/cdn\/shop\/files\/TOKYO_GLIDE-SIDE-STARDUSTMULTI-min.jpg?v=1692382534"}},"requires_selling_plan":false,"selling_plan_allocations":[]},{"id":41574578094285,"title":"STARDUST MULTI \/ 9 \/ CALF SUEDE - NYLON","option1":"STARDUST MULTI","option2":"9","option3":"CALF SUEDE - NYLON","sku":"840237321864","requires_shipping":true,"taxable":true,"featured_image":{"id":32047530016973,"product_id":7208650277069,"position":7,"created_at":"2023-08-17T21:43:25-04:00","updated_at":"2023-08-18T14:15:34-04:00","alt":"1","width":2960,"height":3700,"src":"\/\/oncept.nyc\/cdn\/shop\/files\/TOKYO_GLIDE-SIDE-STARDUSTMULTI-min.jpg?v=1692382534","variant_ids":[41574577897677,41574577930445,41574577963213,41574577995981,41574578028749,41574578061517,41574578094285,41574578127053,41574578159821]},"available":true,"name":"TOKYO GLIDE - STARDUST MULTI \/ 9 \/ CALF SUEDE - NYLON","public_title":"STARDUST MULTI \/ 9 \/ CALF SUEDE - NYLON","options":["STARDUST MULTI","9","CALF SUEDE - NYLON"],"price":25000,"weight":0,"compare_at_price":null,"inventory_management":"shopify","barcode":"840237321864","featured_media":{"alt":"1","id":24341622456525,"position":7,"preview_image":{"aspect_ratio":0.8,"height":3700,"width":2960,"src":"\/\/oncept.nyc\/cdn\/shop\/files\/TOKYO_GLIDE-SIDE-STARDUSTMULTI-min.jpg?v=1692382534"}},"requires_selling_plan":false,"selling_plan_allocations":[]},{"id":41574578127053,"title":"STARDUST MULTI \/ 9.5 \/ CALF SUEDE - NYLON","option1":"STARDUST MULTI","option2":"9.5","option3":"CALF SUEDE - NYLON","sku":"840237321871","requires_shipping":true,"taxable":true,"featured_image":{"id":32047530016973,"product_id":7208650277069,"position":7,"created_at":"2023-08-17T21:43:25-04:00","updated_at":"2023-08-18T14:15:34-04:00","alt":"1","width":2960,"height":3700,"src":"\/\/oncept.nyc\/cdn\/shop\/files\/TOKYO_GLIDE-SIDE-STARDUSTMULTI-min.jpg?v=1692382534","variant_ids":[41574577897677,41574577930445,41574577963213,41574577995981,41574578028749,41574578061517,41574578094285,41574578127053,41574578159821]},"available":true,"name":"TOKYO GLIDE - STARDUST MULTI \/ 9.5 \/ CALF SUEDE - NYLON","public_title":"STARDUST MULTI \/ 9.5 \/ CALF SUEDE - NYLON","options":["STARDUST MULTI","9.5","CALF SUEDE - NYLON"],"price":25000,"weight":0,"compare_at_price":null,"inventory_management":"shopify","barcode":"840237321871","featured_media":{"alt":"1","id":24341622456525,"position":7,"preview_image":{"aspect_ratio":0.8,"height":3700,"width":2960,"src":"\/\/oncept.nyc\/cdn\/shop\/files\/TOKYO_GLIDE-SIDE-STARDUSTMULTI-min.jpg?v=1692382534"}},"requires_selling_plan":false,"selling_plan_allocations":[]},{"id":41574578159821,"title":"STARDUST MULTI \/ 10 \/ CALF SUEDE - NYLON","option1":"STARDUST MULTI","option2":"10","option3":"CALF SUEDE - NYLON","sku":"840237321888","requires_shipping":true,"taxable":true,"featured_image":{"id":32047530016973,"product_id":7208650277069,"position":7,"created_at":"2023-08-17T21:43:25-04:00","updated_at":"2023-08-18T14:15:34-04:00","alt":"1","width":2960,"height":3700,"src":"\/\/oncept.nyc\/cdn\/shop\/files\/TOKYO_GLIDE-SIDE-STARDUSTMULTI-min.jpg?v=1692382534","variant_ids":[41574577897677,41574577930445,41574577963213,41574577995981,41574578028749,41574578061517,41574578094285,41574578127053,41574578159821]},"available":true,"name":"TOKYO GLIDE - STARDUST MULTI \/ 10 \/ CALF SUEDE - NYLON","public_title":"STARDUST MULTI \/ 10 \/ CALF SUEDE - NYLON","options":["STARDUST MULTI","10","CALF SUEDE - NYLON"],"price":25000,"weight":0,"compare_at_price":null,"inventory_management":"shopify","barcode":"840237321888","featured_media":{"alt":"1","id":24341622456525,"position":7,"preview_image":{"aspect_ratio":0.8,"height":3700,"width":2960,"src":"\/\/oncept.nyc\/cdn\/shop\/files\/TOKYO_GLIDE-SIDE-STARDUSTMULTI-min.jpg?v=1692382534"}},"requires_selling_plan":false,"selling_plan_allocations":[]}],"images":["\/\/oncept.nyc\/cdn\/shop\/files\/TOKYO_GLIDE-SIDE-SUNSHINEMULTI-min.jpg?v=1692323007","\/\/oncept.nyc\/cdn\/shop\/files\/TOKYO_GLIDE-TOP-SUNSHINEMULTI-min.jpg?v=1692323035","\/\/oncept.nyc\/cdn\/shop\/files\/TOKYO_GLIDE-BACK-SUNSHINEMULTI-min.jpg?v=1692323035","\/\/oncept.nyc\/cdn\/shop\/files\/TOKYO_GLIDE-SOFTNESS-SUNSHINEMULTI-min.jpg?v=1692323035","\/\/oncept.nyc\/cdn\/shop\/files\/TOKYO_GLIDE-OUTSOLE-SUNSHINEMULTI-min.jpg?v=1692323035","\/\/oncept.nyc\/cdn\/shop\/files\/ONFOOT-TOKYOGLIDE-SUNSHINEMULTI-min.jpg?v=1692382534","\/\/oncept.nyc\/cdn\/shop\/files\/TOKYO_GLIDE-SIDE-STARDUSTMULTI-min.jpg?v=1692382534","\/\/oncept.nyc\/cdn\/shop\/files\/TOKYO_GLIDE-TOP-STARDUSTMULTI-min.jpg?v=1692382534","\/\/oncept.nyc\/cdn\/shop\/files\/TOKYO_GLIDE-BACK-STARDUSTMULTI-min.jpg?v=1692382534","\/\/oncept.nyc\/cdn\/shop\/files\/TOKYO_GLIDE-SOFTNESS-STARDUSTMULTI-min.jpg?v=1692382534","\/\/oncept.nyc\/cdn\/shop\/files\/TOKYO_GLIDE-OUTSOLE-STARDUSTMULTI-min.jpg?v=1692382534","\/\/oncept.nyc\/cdn\/shop\/files\/ONFOOT-TOKYOGLIDE-STARDUSTMULTI-min.jpg?v=1692382533"],"featured_image":"\/\/oncept.nyc\/cdn\/shop\/files\/TOKYO_GLIDE-SIDE-SUNSHINEMULTI-min.jpg?v=1692323007","options":["Color","Size","Material"],"media":[{"alt":"0","id":24341622423757,"position":1,"preview_image":{"aspect_ratio":0.8,"height":3700,"width":2960,"src":"\/\/oncept.nyc\/cdn\/shop\/files\/TOKYO_GLIDE-SIDE-SUNSHINEMULTI-min.jpg?v=1692323007"},"aspect_ratio":0.8,"height":3700,"media_type":"image","src":"\/\/oncept.nyc\/cdn\/shop\/files\/TOKYO_GLIDE-SIDE-SUNSHINEMULTI-min.jpg?v=1692323007","width":2960},{"alt":"0","id":24341622489293,"position":2,"preview_image":{"aspect_ratio":0.8,"height":3700,"width":2960,"src":"\/\/oncept.nyc\/cdn\/shop\/files\/TOKYO_GLIDE-TOP-SUNSHINEMULTI-min.jpg?v=1692323035"},"aspect_ratio":0.8,"height":3700,"media_type":"image","src":"\/\/oncept.nyc\/cdn\/shop\/files\/TOKYO_GLIDE-TOP-SUNSHINEMULTI-min.jpg?v=1692323035","width":2960},{"alt":"0","id":24341622554829,"position":3,"preview_image":{"aspect_ratio":0.8,"height":3700,"width":2960,"src":"\/\/oncept.nyc\/cdn\/shop\/files\/TOKYO_GLIDE-BACK-SUNSHINEMULTI-min.jpg?v=1692323035"},"aspect_ratio":0.8,"height":3700,"media_type":"image","src":"\/\/oncept.nyc\/cdn\/shop\/files\/TOKYO_GLIDE-BACK-SUNSHINEMULTI-min.jpg?v=1692323035","width":2960},{"alt":"0","id":24341622620365,"position":4,"preview_image":{"aspect_ratio":0.8,"height":3700,"width":2960,"src":"\/\/oncept.nyc\/cdn\/shop\/files\/TOKYO_GLIDE-SOFTNESS-SUNSHINEMULTI-min.jpg?v=1692323035"},"aspect_ratio":0.8,"height":3700,"media_type":"image","src":"\/\/oncept.nyc\/cdn\/shop\/files\/TOKYO_GLIDE-SOFTNESS-SUNSHINEMULTI-min.jpg?v=1692323035","width":2960},{"alt":"0","id":24341622685901,"position":5,"preview_image":{"aspect_ratio":0.8,"height":3700,"width":2960,"src":"\/\/oncept.nyc\/cdn\/shop\/files\/TOKYO_GLIDE-OUTSOLE-SUNSHINEMULTI-min.jpg?v=1692323035"},"aspect_ratio":0.8,"height":3700,"media_type":"image","src":"\/\/oncept.nyc\/cdn\/shop\/files\/TOKYO_GLIDE-OUTSOLE-SUNSHINEMULTI-min.jpg?v=1692323035","width":2960},{"alt":"0","id":24346724466893,"position":6,"preview_image":{"aspect_ratio":0.8,"height":3700,"width":2960,"src":"\/\/oncept.nyc\/cdn\/shop\/files\/ONFOOT-TOKYOGLIDE-SUNSHINEMULTI-min.jpg?v=1692382534"},"aspect_ratio":0.8,"height":3700,"media_type":"image","src":"\/\/oncept.nyc\/cdn\/shop\/files\/ONFOOT-TOKYOGLIDE-SUNSHINEMULTI-min.jpg?v=1692382534","width":2960},{"alt":"1","id":24341622456525,"position":7,"preview_image":{"aspect_ratio":0.8,"height":3700,"width":2960,"src":"\/\/oncept.nyc\/cdn\/shop\/files\/TOKYO_GLIDE-SIDE-STARDUSTMULTI-min.jpg?v=1692382534"},"aspect_ratio":0.8,"height":3700,"media_type":"image","src":"\/\/oncept.nyc\/cdn\/shop\/files\/TOKYO_GLIDE-SIDE-STARDUSTMULTI-min.jpg?v=1692382534","width":2960},{"alt":"1","id":24341622522061,"position":8,"preview_image":{"aspect_ratio":0.8,"height":3700,"width":2960,"src":"\/\/oncept.nyc\/cdn\/shop\/files\/TOKYO_GLIDE-TOP-STARDUSTMULTI-min.jpg?v=1692382534"},"aspect_ratio":0.8,"height":3700,"media_type":"image","src":"\/\/oncept.nyc\/cdn\/shop\/files\/TOKYO_GLIDE-TOP-STARDUSTMULTI-min.jpg?v=1692382534","width":2960},{"alt":"1","id":24341622587597,"position":9,"preview_image":{"aspect_ratio":0.8,"height":3700,"width":2960,"src":"\/\/oncept.nyc\/cdn\/shop\/files\/TOKYO_GLIDE-BACK-STARDUSTMULTI-min.jpg?v=1692382534"},"aspect_ratio":0.8,"height":3700,"media_type":"image","src":"\/\/oncept.nyc\/cdn\/shop\/files\/TOKYO_GLIDE-BACK-STARDUSTMULTI-min.jpg?v=1692382534","width":2960},{"alt":"1","id":24341622653133,"position":10,"preview_image":{"aspect_ratio":0.8,"height":3700,"width":2960,"src":"\/\/oncept.nyc\/cdn\/shop\/files\/TOKYO_GLIDE-SOFTNESS-STARDUSTMULTI-min.jpg?v=1692382534"},"aspect_ratio":0.8,"height":3700,"media_type":"image","src":"\/\/oncept.nyc\/cdn\/shop\/files\/TOKYO_GLIDE-SOFTNESS-STARDUSTMULTI-min.jpg?v=1692382534","width":2960},{"alt":"1","id":24341622718669,"position":11,"preview_image":{"aspect_ratio":0.8,"height":3700,"width":2960,"src":"\/\/oncept.nyc\/cdn\/shop\/files\/TOKYO_GLIDE-OUTSOLE-STARDUSTMULTI-min.jpg?v=1692382534"},"aspect_ratio":0.8,"height":3700,"media_type":"image","src":"\/\/oncept.nyc\/cdn\/shop\/files\/TOKYO_GLIDE-OUTSOLE-STARDUSTMULTI-min.jpg?v=1692382534","width":2960},{"alt":"1","id":24346724499661,"position":12,"preview_image":{"aspect_ratio":0.8,"height":3700,"width":2960,"src":"\/\/oncept.nyc\/cdn\/shop\/files\/ONFOOT-TOKYOGLIDE-STARDUSTMULTI-min.jpg?v=1692382533"},"aspect_ratio":0.8,"height":3700,"media_type":"image","src":"\/\/oncept.nyc\/cdn\/shop\/files\/ONFOOT-TOKYOGLIDE-STARDUSTMULTI-min.jpg?v=1692382533","width":2960}],"requires_selling_plan":false,"selling_plan_groups":[],"content":"\u003cp data-mce-fragment=\"1\"\u003e\u003cspan style=\"font-weight: 400;\" data-mce-fragment=\"1\" data-mce-style=\"font-weight: 400;\"\u003eLight as a feather, the TOKYO – GLIDE is your understated \u003c\/span\u003etravel companion with a new twist\u003cspan style=\"font-weight: 400;\" data-mce-fragment=\"1\" data-mce-style=\"font-weight: 400;\"\u003e. Retro styling and updated mutli color side panel continue the evolution for the modern muse on the go. Featuring plush ripstop nylon, chrome-free suede, re-speckled midsole, and Tencel twill linings, this is our most sustainable style yet! You are ready to explore the world while not hurting it in the process.\u003c\/span\u003e\u003c\/p\u003e"} { "options": [ { "title": "Color", "values": [ { "value": "SUNSHINE MULTI", "url": "/products/tokyo-glide?variant=41574578192589" }, { "value": "STARDUST MULTI", "url": "/products/tokyo-glide?variant=41574577897677" } ] }, { "title": "Size", "values": [ { "value": "6", "url": "/products/tokyo-glide?variant=41574578192589" }, { "value": "6.5", "url": "/products/tokyo-glide?variant=41574578225357" }, { "value": "7", "url": "/products/tokyo-glide?variant=41574578258125" }, { "value": "7.5", "url": "/products/tokyo-glide?variant=41574578290893" }, { "value": "8", "url": "/products/tokyo-glide?variant=41574578323661" }, { "value": "8.5", "url": "/products/tokyo-glide?variant=41574578356429" }, { "value": "9", "url": "/products/tokyo-glide?variant=41574578389197" }, { "value": "9.5", "url": "/products/tokyo-glide?variant=41574578421965" }, { "value": "10", "url": "/products/tokyo-glide?variant=41574578454733" } ] }, { "title": "Material", "values": [ { "value": "CALF SUEDE - NYLON", "url": "/products/tokyo-glide?variant=41574578192589" } ] } ] }
{"id":7150659076301,"title":"PRAGUE","handle":"prague","description":"\u003cmeta charset=\"utf-8\"\u003eMeet the PRAGUE a fresh new platform silhouette. This classic court style is engineered with our signature refined groove system for ultra flexibility.  Utilizing\u003cspan data-mce-fragment=\"1\"\u003e soft calf leather, citrus orange details, and a re-rubber flex outsole, our platform molded bottom is sleek and comfortable. \u003cmeta charset=\"utf-8\"\u003eGive your sneaker style an elevated look, as we provide all the height while never weighing you down. \u003c\/span\u003e\u003cbr data-mce-fragment=\"1\"\u003e\u003cbr\u003e","published_at":"2023-08-17T17:02:34-04:00","created_at":"2022-12-29T19:33:35-05:00","vendor":"onceptnyc","type":"Footwear","tags":[],"price":27500,"price_min":27500,"price_max":27500,"available":true,"price_varies":false,"compare_at_price":null,"compare_at_price_min":0,"compare_at_price_max":0,"compare_at_price_varies":false,"variants":[{"id":41444657594573,"title":"NIGHT \/ 6 \/ ELITE CALF","option1":"NIGHT","option2":"6","option3":"ELITE CALF","sku":"840237321352","requires_shipping":true,"taxable":true,"featured_image":{"id":32047350644941,"product_id":7150659076301,"position":1,"created_at":"2023-08-17T15:53:11-04:00","updated_at":"2023-08-17T15:53:14-04:00","alt":"0","width":2960,"height":3700,"src":"\/\/oncept.nyc\/cdn\/shop\/files\/PRAGUE-SIDE-NIGHT-min.jpg?v=1692301994","variant_ids":[41444657594573,41444657627341,41444657660109,41444657692877,41444657725645,41444657758413,41444657791181,41444657823949,41444657856717]},"available":true,"name":"PRAGUE - NIGHT \/ 6 \/ ELITE CALF","public_title":"NIGHT \/ 6 \/ ELITE CALF","options":["NIGHT","6","ELITE CALF"],"price":27500,"weight":0,"compare_at_price":null,"inventory_management":"shopify","barcode":"840237321352","featured_media":{"alt":"0","id":24341437907149,"position":1,"preview_image":{"aspect_ratio":0.8,"height":3700,"width":2960,"src":"\/\/oncept.nyc\/cdn\/shop\/files\/PRAGUE-SIDE-NIGHT-min.jpg?v=1692301994"}},"requires_selling_plan":false,"selling_plan_allocations":[]},{"id":41444657627341,"title":"NIGHT \/ 6.5 \/ ELITE CALF","option1":"NIGHT","option2":"6.5","option3":"ELITE CALF","sku":"840237321369","requires_shipping":true,"taxable":true,"featured_image":{"id":32047350644941,"product_id":7150659076301,"position":1,"created_at":"2023-08-17T15:53:11-04:00","updated_at":"2023-08-17T15:53:14-04:00","alt":"0","width":2960,"height":3700,"src":"\/\/oncept.nyc\/cdn\/shop\/files\/PRAGUE-SIDE-NIGHT-min.jpg?v=1692301994","variant_ids":[41444657594573,41444657627341,41444657660109,41444657692877,41444657725645,41444657758413,41444657791181,41444657823949,41444657856717]},"available":true,"name":"PRAGUE - NIGHT \/ 6.5 \/ ELITE CALF","public_title":"NIGHT \/ 6.5 \/ ELITE CALF","options":["NIGHT","6.5","ELITE CALF"],"price":27500,"weight":0,"compare_at_price":null,"inventory_management":"shopify","barcode":"840237321369","featured_media":{"alt":"0","id":24341437907149,"position":1,"preview_image":{"aspect_ratio":0.8,"height":3700,"width":2960,"src":"\/\/oncept.nyc\/cdn\/shop\/files\/PRAGUE-SIDE-NIGHT-min.jpg?v=1692301994"}},"requires_selling_plan":false,"selling_plan_allocations":[]},{"id":41444657660109,"title":"NIGHT \/ 7 \/ ELITE CALF","option1":"NIGHT","option2":"7","option3":"ELITE CALF","sku":"840237321376","requires_shipping":true,"taxable":true,"featured_image":{"id":32047350644941,"product_id":7150659076301,"position":1,"created_at":"2023-08-17T15:53:11-04:00","updated_at":"2023-08-17T15:53:14-04:00","alt":"0","width":2960,"height":3700,"src":"\/\/oncept.nyc\/cdn\/shop\/files\/PRAGUE-SIDE-NIGHT-min.jpg?v=1692301994","variant_ids":[41444657594573,41444657627341,41444657660109,41444657692877,41444657725645,41444657758413,41444657791181,41444657823949,41444657856717]},"available":true,"name":"PRAGUE - NIGHT \/ 7 \/ ELITE CALF","public_title":"NIGHT \/ 7 \/ ELITE CALF","options":["NIGHT","7","ELITE CALF"],"price":27500,"weight":0,"compare_at_price":null,"inventory_management":"shopify","barcode":"840237321376","featured_media":{"alt":"0","id":24341437907149,"position":1,"preview_image":{"aspect_ratio":0.8,"height":3700,"width":2960,"src":"\/\/oncept.nyc\/cdn\/shop\/files\/PRAGUE-SIDE-NIGHT-min.jpg?v=1692301994"}},"requires_selling_plan":false,"selling_plan_allocations":[]},{"id":41444657692877,"title":"NIGHT \/ 7.5 \/ ELITE CALF","option1":"NIGHT","option2":"7.5","option3":"ELITE CALF","sku":"840237321383","requires_shipping":true,"taxable":true,"featured_image":{"id":32047350644941,"product_id":7150659076301,"position":1,"created_at":"2023-08-17T15:53:11-04:00","updated_at":"2023-08-17T15:53:14-04:00","alt":"0","width":2960,"height":3700,"src":"\/\/oncept.nyc\/cdn\/shop\/files\/PRAGUE-SIDE-NIGHT-min.jpg?v=1692301994","variant_ids":[41444657594573,41444657627341,41444657660109,41444657692877,41444657725645,41444657758413,41444657791181,41444657823949,41444657856717]},"available":true,"name":"PRAGUE - NIGHT \/ 7.5 \/ ELITE CALF","public_title":"NIGHT \/ 7.5 \/ ELITE CALF","options":["NIGHT","7.5","ELITE CALF"],"price":27500,"weight":0,"compare_at_price":null,"inventory_management":"shopify","barcode":"840237321383","featured_media":{"alt":"0","id":24341437907149,"position":1,"preview_image":{"aspect_ratio":0.8,"height":3700,"width":2960,"src":"\/\/oncept.nyc\/cdn\/shop\/files\/PRAGUE-SIDE-NIGHT-min.jpg?v=1692301994"}},"requires_selling_plan":false,"selling_plan_allocations":[]},{"id":41444657725645,"title":"NIGHT \/ 8 \/ ELITE CALF","option1":"NIGHT","option2":"8","option3":"ELITE CALF","sku":"840237321390","requires_shipping":true,"taxable":true,"featured_image":{"id":32047350644941,"product_id":7150659076301,"position":1,"created_at":"2023-08-17T15:53:11-04:00","updated_at":"2023-08-17T15:53:14-04:00","alt":"0","width":2960,"height":3700,"src":"\/\/oncept.nyc\/cdn\/shop\/files\/PRAGUE-SIDE-NIGHT-min.jpg?v=1692301994","variant_ids":[41444657594573,41444657627341,41444657660109,41444657692877,41444657725645,41444657758413,41444657791181,41444657823949,41444657856717]},"available":true,"name":"PRAGUE - NIGHT \/ 8 \/ ELITE CALF","public_title":"NIGHT \/ 8 \/ ELITE CALF","options":["NIGHT","8","ELITE CALF"],"price":27500,"weight":0,"compare_at_price":null,"inventory_management":"shopify","barcode":"840237321390","featured_media":{"alt":"0","id":24341437907149,"position":1,"preview_image":{"aspect_ratio":0.8,"height":3700,"width":2960,"src":"\/\/oncept.nyc\/cdn\/shop\/files\/PRAGUE-SIDE-NIGHT-min.jpg?v=1692301994"}},"requires_selling_plan":false,"selling_plan_allocations":[]},{"id":41444657758413,"title":"NIGHT \/ 8.5 \/ ELITE CALF","option1":"NIGHT","option2":"8.5","option3":"ELITE CALF","sku":"840237321406","requires_shipping":true,"taxable":true,"featured_image":{"id":32047350644941,"product_id":7150659076301,"position":1,"created_at":"2023-08-17T15:53:11-04:00","updated_at":"2023-08-17T15:53:14-04:00","alt":"0","width":2960,"height":3700,"src":"\/\/oncept.nyc\/cdn\/shop\/files\/PRAGUE-SIDE-NIGHT-min.jpg?v=1692301994","variant_ids":[41444657594573,41444657627341,41444657660109,41444657692877,41444657725645,41444657758413,41444657791181,41444657823949,41444657856717]},"available":true,"name":"PRAGUE - NIGHT \/ 8.5 \/ ELITE CALF","public_title":"NIGHT \/ 8.5 \/ ELITE CALF","options":["NIGHT","8.5","ELITE CALF"],"price":27500,"weight":0,"compare_at_price":null,"inventory_management":"shopify","barcode":"840237321406","featured_media":{"alt":"0","id":24341437907149,"position":1,"preview_image":{"aspect_ratio":0.8,"height":3700,"width":2960,"src":"\/\/oncept.nyc\/cdn\/shop\/files\/PRAGUE-SIDE-NIGHT-min.jpg?v=1692301994"}},"requires_selling_plan":false,"selling_plan_allocations":[]},{"id":41444657791181,"title":"NIGHT \/ 9 \/ ELITE CALF","option1":"NIGHT","option2":"9","option3":"ELITE CALF","sku":"840237321413","requires_shipping":true,"taxable":true,"featured_image":{"id":32047350644941,"product_id":7150659076301,"position":1,"created_at":"2023-08-17T15:53:11-04:00","updated_at":"2023-08-17T15:53:14-04:00","alt":"0","width":2960,"height":3700,"src":"\/\/oncept.nyc\/cdn\/shop\/files\/PRAGUE-SIDE-NIGHT-min.jpg?v=1692301994","variant_ids":[41444657594573,41444657627341,41444657660109,41444657692877,41444657725645,41444657758413,41444657791181,41444657823949,41444657856717]},"available":true,"name":"PRAGUE - NIGHT \/ 9 \/ ELITE CALF","public_title":"NIGHT \/ 9 \/ ELITE CALF","options":["NIGHT","9","ELITE CALF"],"price":27500,"weight":0,"compare_at_price":null,"inventory_management":"shopify","barcode":"840237321413","featured_media":{"alt":"0","id":24341437907149,"position":1,"preview_image":{"aspect_ratio":0.8,"height":3700,"width":2960,"src":"\/\/oncept.nyc\/cdn\/shop\/files\/PRAGUE-SIDE-NIGHT-min.jpg?v=1692301994"}},"requires_selling_plan":false,"selling_plan_allocations":[]},{"id":41444657823949,"title":"NIGHT \/ 9.5 \/ ELITE CALF","option1":"NIGHT","option2":"9.5","option3":"ELITE CALF","sku":"840237321420","requires_shipping":true,"taxable":true,"featured_image":{"id":32047350644941,"product_id":7150659076301,"position":1,"created_at":"2023-08-17T15:53:11-04:00","updated_at":"2023-08-17T15:53:14-04:00","alt":"0","width":2960,"height":3700,"src":"\/\/oncept.nyc\/cdn\/shop\/files\/PRAGUE-SIDE-NIGHT-min.jpg?v=1692301994","variant_ids":[41444657594573,41444657627341,41444657660109,41444657692877,41444657725645,41444657758413,41444657791181,41444657823949,41444657856717]},"available":true,"name":"PRAGUE - NIGHT \/ 9.5 \/ ELITE CALF","public_title":"NIGHT \/ 9.5 \/ ELITE CALF","options":["NIGHT","9.5","ELITE CALF"],"price":27500,"weight":0,"compare_at_price":null,"inventory_management":"shopify","barcode":"840237321420","featured_media":{"alt":"0","id":24341437907149,"position":1,"preview_image":{"aspect_ratio":0.8,"height":3700,"width":2960,"src":"\/\/oncept.nyc\/cdn\/shop\/files\/PRAGUE-SIDE-NIGHT-min.jpg?v=1692301994"}},"requires_selling_plan":false,"selling_plan_allocations":[]},{"id":41444657856717,"title":"NIGHT \/ 10 \/ ELITE CALF","option1":"NIGHT","option2":"10","option3":"ELITE CALF","sku":"840237321437","requires_shipping":true,"taxable":true,"featured_image":{"id":32047350644941,"product_id":7150659076301,"position":1,"created_at":"2023-08-17T15:53:11-04:00","updated_at":"2023-08-17T15:53:14-04:00","alt":"0","width":2960,"height":3700,"src":"\/\/oncept.nyc\/cdn\/shop\/files\/PRAGUE-SIDE-NIGHT-min.jpg?v=1692301994","variant_ids":[41444657594573,41444657627341,41444657660109,41444657692877,41444657725645,41444657758413,41444657791181,41444657823949,41444657856717]},"available":true,"name":"PRAGUE - NIGHT \/ 10 \/ ELITE CALF","public_title":"NIGHT \/ 10 \/ ELITE CALF","options":["NIGHT","10","ELITE CALF"],"price":27500,"weight":0,"compare_at_price":null,"inventory_management":"shopify","barcode":"840237321437","featured_media":{"alt":"0","id":24341437907149,"position":1,"preview_image":{"aspect_ratio":0.8,"height":3700,"width":2960,"src":"\/\/oncept.nyc\/cdn\/shop\/files\/PRAGUE-SIDE-NIGHT-min.jpg?v=1692301994"}},"requires_selling_plan":false,"selling_plan_allocations":[]},{"id":41444656775373,"title":"RETRO RED \/ 6 \/ ELITE CALF","option1":"RETRO RED","option2":"6","option3":"ELITE CALF","sku":"840237321444","requires_shipping":true,"taxable":true,"featured_image":{"id":32047350513869,"product_id":7150659076301,"position":7,"created_at":"2023-08-17T15:53:11-04:00","updated_at":"2023-08-18T14:13:36-04:00","alt":"1","width":2960,"height":3700,"src":"\/\/oncept.nyc\/cdn\/shop\/files\/PRAGUE-SIDE-RETRORED-min.jpg?v=1692382416","variant_ids":[41444656775373,41444656808141,41444656840909,41444656873677,41444656906445,41444656939213,41444656971981,41444657004749,41444657037517]},"available":true,"name":"PRAGUE - RETRO RED \/ 6 \/ ELITE CALF","public_title":"RETRO RED \/ 6 \/ ELITE CALF","options":["RETRO RED","6","ELITE CALF"],"price":27500,"weight":0,"compare_at_price":null,"inventory_management":"shopify","barcode":"840237321444","featured_media":{"alt":"1","id":24341437972685,"position":7,"preview_image":{"aspect_ratio":0.8,"height":3700,"width":2960,"src":"\/\/oncept.nyc\/cdn\/shop\/files\/PRAGUE-SIDE-RETRORED-min.jpg?v=1692382416"}},"requires_selling_plan":false,"selling_plan_allocations":[]},{"id":41444656808141,"title":"RETRO RED \/ 6.5 \/ ELITE CALF","option1":"RETRO RED","option2":"6.5","option3":"ELITE CALF","sku":"840237321451","requires_shipping":true,"taxable":true,"featured_image":{"id":32047350513869,"product_id":7150659076301,"position":7,"created_at":"2023-08-17T15:53:11-04:00","updated_at":"2023-08-18T14:13:36-04:00","alt":"1","width":2960,"height":3700,"src":"\/\/oncept.nyc\/cdn\/shop\/files\/PRAGUE-SIDE-RETRORED-min.jpg?v=1692382416","variant_ids":[41444656775373,41444656808141,41444656840909,41444656873677,41444656906445,41444656939213,41444656971981,41444657004749,41444657037517]},"available":true,"name":"PRAGUE - RETRO RED \/ 6.5 \/ ELITE CALF","public_title":"RETRO RED \/ 6.5 \/ ELITE CALF","options":["RETRO RED","6.5","ELITE CALF"],"price":27500,"weight":0,"compare_at_price":null,"inventory_management":"shopify","barcode":"840237321451","featured_media":{"alt":"1","id":24341437972685,"position":7,"preview_image":{"aspect_ratio":0.8,"height":3700,"width":2960,"src":"\/\/oncept.nyc\/cdn\/shop\/files\/PRAGUE-SIDE-RETRORED-min.jpg?v=1692382416"}},"requires_selling_plan":false,"selling_plan_allocations":[]},{"id":41444656840909,"title":"RETRO RED \/ 7 \/ ELITE CALF","option1":"RETRO RED","option2":"7","option3":"ELITE CALF","sku":"840237321468","requires_shipping":true,"taxable":true,"featured_image":{"id":32047350513869,"product_id":7150659076301,"position":7,"created_at":"2023-08-17T15:53:11-04:00","updated_at":"2023-08-18T14:13:36-04:00","alt":"1","width":2960,"height":3700,"src":"\/\/oncept.nyc\/cdn\/shop\/files\/PRAGUE-SIDE-RETRORED-min.jpg?v=1692382416","variant_ids":[41444656775373,41444656808141,41444656840909,41444656873677,41444656906445,41444656939213,41444656971981,41444657004749,41444657037517]},"available":true,"name":"PRAGUE - RETRO RED \/ 7 \/ ELITE CALF","public_title":"RETRO RED \/ 7 \/ ELITE CALF","options":["RETRO RED","7","ELITE CALF"],"price":27500,"weight":0,"compare_at_price":null,"inventory_management":"shopify","barcode":"840237321468","featured_media":{"alt":"1","id":24341437972685,"position":7,"preview_image":{"aspect_ratio":0.8,"height":3700,"width":2960,"src":"\/\/oncept.nyc\/cdn\/shop\/files\/PRAGUE-SIDE-RETRORED-min.jpg?v=1692382416"}},"requires_selling_plan":false,"selling_plan_allocations":[]},{"id":41444656873677,"title":"RETRO RED \/ 7.5 \/ ELITE CALF","option1":"RETRO RED","option2":"7.5","option3":"ELITE CALF","sku":"840237321475","requires_shipping":true,"taxable":true,"featured_image":{"id":32047350513869,"product_id":7150659076301,"position":7,"created_at":"2023-08-17T15:53:11-04:00","updated_at":"2023-08-18T14:13:36-04:00","alt":"1","width":2960,"height":3700,"src":"\/\/oncept.nyc\/cdn\/shop\/files\/PRAGUE-SIDE-RETRORED-min.jpg?v=1692382416","variant_ids":[41444656775373,41444656808141,41444656840909,41444656873677,41444656906445,41444656939213,41444656971981,41444657004749,41444657037517]},"available":true,"name":"PRAGUE - RETRO RED \/ 7.5 \/ ELITE CALF","public_title":"RETRO RED \/ 7.5 \/ ELITE CALF","options":["RETRO RED","7.5","ELITE CALF"],"price":27500,"weight":0,"compare_at_price":null,"inventory_management":"shopify","barcode":"840237321475","featured_media":{"alt":"1","id":24341437972685,"position":7,"preview_image":{"aspect_ratio":0.8,"height":3700,"width":2960,"src":"\/\/oncept.nyc\/cdn\/shop\/files\/PRAGUE-SIDE-RETRORED-min.jpg?v=1692382416"}},"requires_selling_plan":false,"selling_plan_allocations":[]},{"id":41444656906445,"title":"RETRO RED \/ 8 \/ ELITE CALF","option1":"RETRO RED","option2":"8","option3":"ELITE CALF","sku":"840237321482","requires_shipping":true,"taxable":true,"featured_image":{"id":32047350513869,"product_id":7150659076301,"position":7,"created_at":"2023-08-17T15:53:11-04:00","updated_at":"2023-08-18T14:13:36-04:00","alt":"1","width":2960,"height":3700,"src":"\/\/oncept.nyc\/cdn\/shop\/files\/PRAGUE-SIDE-RETRORED-min.jpg?v=1692382416","variant_ids":[41444656775373,41444656808141,41444656840909,41444656873677,41444656906445,41444656939213,41444656971981,41444657004749,41444657037517]},"available":true,"name":"PRAGUE - RETRO RED \/ 8 \/ ELITE CALF","public_title":"RETRO RED \/ 8 \/ ELITE CALF","options":["RETRO RED","8","ELITE CALF"],"price":27500,"weight":0,"compare_at_price":null,"inventory_management":"shopify","barcode":"840237321482","featured_media":{"alt":"1","id":24341437972685,"position":7,"preview_image":{"aspect_ratio":0.8,"height":3700,"width":2960,"src":"\/\/oncept.nyc\/cdn\/shop\/files\/PRAGUE-SIDE-RETRORED-min.jpg?v=1692382416"}},"requires_selling_plan":false,"selling_plan_allocations":[]},{"id":41444656939213,"title":"RETRO RED \/ 8.5 \/ ELITE CALF","option1":"RETRO RED","option2":"8.5","option3":"ELITE CALF","sku":"840237321499","requires_shipping":true,"taxable":true,"featured_image":{"id":32047350513869,"product_id":7150659076301,"position":7,"created_at":"2023-08-17T15:53:11-04:00","updated_at":"2023-08-18T14:13:36-04:00","alt":"1","width":2960,"height":3700,"src":"\/\/oncept.nyc\/cdn\/shop\/files\/PRAGUE-SIDE-RETRORED-min.jpg?v=1692382416","variant_ids":[41444656775373,41444656808141,41444656840909,41444656873677,41444656906445,41444656939213,41444656971981,41444657004749,41444657037517]},"available":true,"name":"PRAGUE - RETRO RED \/ 8.5 \/ ELITE CALF","public_title":"RETRO RED \/ 8.5 \/ ELITE CALF","options":["RETRO RED","8.5","ELITE CALF"],"price":27500,"weight":0,"compare_at_price":null,"inventory_management":"shopify","barcode":"840237321499","featured_media":{"alt":"1","id":24341437972685,"position":7,"preview_image":{"aspect_ratio":0.8,"height":3700,"width":2960,"src":"\/\/oncept.nyc\/cdn\/shop\/files\/PRAGUE-SIDE-RETRORED-min.jpg?v=1692382416"}},"requires_selling_plan":false,"selling_plan_allocations":[]},{"id":41444656971981,"title":"RETRO RED \/ 9 \/ ELITE CALF","option1":"RETRO RED","option2":"9","option3":"ELITE CALF","sku":"840237321505","requires_shipping":true,"taxable":true,"featured_image":{"id":32047350513869,"product_id":7150659076301,"position":7,"created_at":"2023-08-17T15:53:11-04:00","updated_at":"2023-08-18T14:13:36-04:00","alt":"1","width":2960,"height":3700,"src":"\/\/oncept.nyc\/cdn\/shop\/files\/PRAGUE-SIDE-RETRORED-min.jpg?v=1692382416","variant_ids":[41444656775373,41444656808141,41444656840909,41444656873677,41444656906445,41444656939213,41444656971981,41444657004749,41444657037517]},"available":true,"name":"PRAGUE - RETRO RED \/ 9 \/ ELITE CALF","public_title":"RETRO RED \/ 9 \/ ELITE CALF","options":["RETRO RED","9","ELITE CALF"],"price":27500,"weight":0,"compare_at_price":null,"inventory_management":"shopify","barcode":"840237321505","featured_media":{"alt":"1","id":24341437972685,"position":7,"preview_image":{"aspect_ratio":0.8,"height":3700,"width":2960,"src":"\/\/oncept.nyc\/cdn\/shop\/files\/PRAGUE-SIDE-RETRORED-min.jpg?v=1692382416"}},"requires_selling_plan":false,"selling_plan_allocations":[]},{"id":41444657004749,"title":"RETRO RED \/ 9.5 \/ ELITE CALF","option1":"RETRO RED","option2":"9.5","option3":"ELITE CALF","sku":"840237321512","requires_shipping":true,"taxable":true,"featured_image":{"id":32047350513869,"product_id":7150659076301,"position":7,"created_at":"2023-08-17T15:53:11-04:00","updated_at":"2023-08-18T14:13:36-04:00","alt":"1","width":2960,"height":3700,"src":"\/\/oncept.nyc\/cdn\/shop\/files\/PRAGUE-SIDE-RETRORED-min.jpg?v=1692382416","variant_ids":[41444656775373,41444656808141,41444656840909,41444656873677,41444656906445,41444656939213,41444656971981,41444657004749,41444657037517]},"available":true,"name":"PRAGUE - RETRO RED \/ 9.5 \/ ELITE CALF","public_title":"RETRO RED \/ 9.5 \/ ELITE CALF","options":["RETRO RED","9.5","ELITE CALF"],"price":27500,"weight":0,"compare_at_price":null,"inventory_management":"shopify","barcode":"840237321512","featured_media":{"alt":"1","id":24341437972685,"position":7,"preview_image":{"aspect_ratio":0.8,"height":3700,"width":2960,"src":"\/\/oncept.nyc\/cdn\/shop\/files\/PRAGUE-SIDE-RETRORED-min.jpg?v=1692382416"}},"requires_selling_plan":false,"selling_plan_allocations":[]},{"id":41444657037517,"title":"RETRO RED \/ 10 \/ ELITE CALF","option1":"RETRO RED","option2":"10","option3":"ELITE CALF","sku":"840237321529","requires_shipping":true,"taxable":true,"featured_image":{"id":32047350513869,"product_id":7150659076301,"position":7,"created_at":"2023-08-17T15:53:11-04:00","updated_at":"2023-08-18T14:13:36-04:00","alt":"1","width":2960,"height":3700,"src":"\/\/oncept.nyc\/cdn\/shop\/files\/PRAGUE-SIDE-RETRORED-min.jpg?v=1692382416","variant_ids":[41444656775373,41444656808141,41444656840909,41444656873677,41444656906445,41444656939213,41444656971981,41444657004749,41444657037517]},"available":true,"name":"PRAGUE - RETRO RED \/ 10 \/ ELITE CALF","public_title":"RETRO RED \/ 10 \/ ELITE CALF","options":["RETRO RED","10","ELITE CALF"],"price":27500,"weight":0,"compare_at_price":null,"inventory_management":"shopify","barcode":"840237321529","featured_media":{"alt":"1","id":24341437972685,"position":7,"preview_image":{"aspect_ratio":0.8,"height":3700,"width":2960,"src":"\/\/oncept.nyc\/cdn\/shop\/files\/PRAGUE-SIDE-RETRORED-min.jpg?v=1692382416"}},"requires_selling_plan":false,"selling_plan_allocations":[]},{"id":41444656480461,"title":"WHITE CLOUD \/ 6 \/ ELITE CALF","option1":"WHITE CLOUD","option2":"6","option3":"ELITE CALF","sku":"840237321536","requires_shipping":true,"taxable":true,"featured_image":{"id":32047350448333,"product_id":7150659076301,"position":13,"created_at":"2023-08-17T15:53:11-04:00","updated_at":"2023-08-18T14:13:36-04:00","alt":"2","width":2960,"height":3700,"src":"\/\/oncept.nyc\/cdn\/shop\/files\/PRAGUE-SIDE-WHITECLOUD-min.jpg?v=1692382416","variant_ids":[41444656480461,41444656513229,41444656545997,41444656578765,41444656611533,41444656644301,41444656677069,41444656709837,41444656742605]},"available":true,"name":"PRAGUE - WHITE CLOUD \/ 6 \/ ELITE CALF","public_title":"WHITE CLOUD \/ 6 \/ ELITE CALF","options":["WHITE CLOUD","6","ELITE CALF"],"price":27500,"weight":0,"compare_at_price":null,"inventory_management":"shopify","barcode":"840237321536","featured_media":{"alt":"2","id":24341437939917,"position":13,"preview_image":{"aspect_ratio":0.8,"height":3700,"width":2960,"src":"\/\/oncept.nyc\/cdn\/shop\/files\/PRAGUE-SIDE-WHITECLOUD-min.jpg?v=1692382416"}},"requires_selling_plan":false,"selling_plan_allocations":[]},{"id":41444656513229,"title":"WHITE CLOUD \/ 6.5 \/ ELITE CALF","option1":"WHITE CLOUD","option2":"6.5","option3":"ELITE CALF","sku":"840237321543","requires_shipping":true,"taxable":true,"featured_image":{"id":32047350448333,"product_id":7150659076301,"position":13,"created_at":"2023-08-17T15:53:11-04:00","updated_at":"2023-08-18T14:13:36-04:00","alt":"2","width":2960,"height":3700,"src":"\/\/oncept.nyc\/cdn\/shop\/files\/PRAGUE-SIDE-WHITECLOUD-min.jpg?v=1692382416","variant_ids":[41444656480461,41444656513229,41444656545997,41444656578765,41444656611533,41444656644301,41444656677069,41444656709837,41444656742605]},"available":true,"name":"PRAGUE - WHITE CLOUD \/ 6.5 \/ ELITE CALF","public_title":"WHITE CLOUD \/ 6.5 \/ ELITE CALF","options":["WHITE CLOUD","6.5","ELITE CALF"],"price":27500,"weight":0,"compare_at_price":null,"inventory_management":"shopify","barcode":"840237321543","featured_media":{"alt":"2","id":24341437939917,"position":13,"preview_image":{"aspect_ratio":0.8,"height":3700,"width":2960,"src":"\/\/oncept.nyc\/cdn\/shop\/files\/PRAGUE-SIDE-WHITECLOUD-min.jpg?v=1692382416"}},"requires_selling_plan":false,"selling_plan_allocations":[]},{"id":41444656545997,"title":"WHITE CLOUD \/ 7 \/ ELITE CALF","option1":"WHITE CLOUD","option2":"7","option3":"ELITE CALF","sku":"840237321550","requires_shipping":true,"taxable":true,"featured_image":{"id":32047350448333,"product_id":7150659076301,"position":13,"created_at":"2023-08-17T15:53:11-04:00","updated_at":"2023-08-18T14:13:36-04:00","alt":"2","width":2960,"height":3700,"src":"\/\/oncept.nyc\/cdn\/shop\/files\/PRAGUE-SIDE-WHITECLOUD-min.jpg?v=1692382416","variant_ids":[41444656480461,41444656513229,41444656545997,41444656578765,41444656611533,41444656644301,41444656677069,41444656709837,41444656742605]},"available":true,"name":"PRAGUE - WHITE CLOUD \/ 7 \/ ELITE CALF","public_title":"WHITE CLOUD \/ 7 \/ ELITE CALF","options":["WHITE CLOUD","7","ELITE CALF"],"price":27500,"weight":0,"compare_at_price":null,"inventory_management":"shopify","barcode":"840237321550","featured_media":{"alt":"2","id":24341437939917,"position":13,"preview_image":{"aspect_ratio":0.8,"height":3700,"width":2960,"src":"\/\/oncept.nyc\/cdn\/shop\/files\/PRAGUE-SIDE-WHITECLOUD-min.jpg?v=1692382416"}},"requires_selling_plan":false,"selling_plan_allocations":[]},{"id":41444656578765,"title":"WHITE CLOUD \/ 7.5 \/ ELITE CALF","option1":"WHITE CLOUD","option2":"7.5","option3":"ELITE CALF","sku":"840237321567","requires_shipping":true,"taxable":true,"featured_image":{"id":32047350448333,"product_id":7150659076301,"position":13,"created_at":"2023-08-17T15:53:11-04:00","updated_at":"2023-08-18T14:13:36-04:00","alt":"2","width":2960,"height":3700,"src":"\/\/oncept.nyc\/cdn\/shop\/files\/PRAGUE-SIDE-WHITECLOUD-min.jpg?v=1692382416","variant_ids":[41444656480461,41444656513229,41444656545997,41444656578765,41444656611533,41444656644301,41444656677069,41444656709837,41444656742605]},"available":true,"name":"PRAGUE - WHITE CLOUD \/ 7.5 \/ ELITE CALF","public_title":"WHITE CLOUD \/ 7.5 \/ ELITE CALF","options":["WHITE CLOUD","7.5","ELITE CALF"],"price":27500,"weight":0,"compare_at_price":null,"inventory_management":"shopify","barcode":"840237321567","featured_media":{"alt":"2","id":24341437939917,"position":13,"preview_image":{"aspect_ratio":0.8,"height":3700,"width":2960,"src":"\/\/oncept.nyc\/cdn\/shop\/files\/PRAGUE-SIDE-WHITECLOUD-min.jpg?v=1692382416"}},"requires_selling_plan":false,"selling_plan_allocations":[]},{"id":41444656611533,"title":"WHITE CLOUD \/ 8 \/ ELITE CALF","option1":"WHITE CLOUD","option2":"8","option3":"ELITE CALF","sku":"840237321574","requires_shipping":true,"taxable":true,"featured_image":{"id":32047350448333,"product_id":7150659076301,"position":13,"created_at":"2023-08-17T15:53:11-04:00","updated_at":"2023-08-18T14:13:36-04:00","alt":"2","width":2960,"height":3700,"src":"\/\/oncept.nyc\/cdn\/shop\/files\/PRAGUE-SIDE-WHITECLOUD-min.jpg?v=1692382416","variant_ids":[41444656480461,41444656513229,41444656545997,41444656578765,41444656611533,41444656644301,41444656677069,41444656709837,41444656742605]},"available":true,"name":"PRAGUE - WHITE CLOUD \/ 8 \/ ELITE CALF","public_title":"WHITE CLOUD \/ 8 \/ ELITE CALF","options":["WHITE CLOUD","8","ELITE CALF"],"price":27500,"weight":0,"compare_at_price":null,"inventory_management":"shopify","barcode":"840237321574","featured_media":{"alt":"2","id":24341437939917,"position":13,"preview_image":{"aspect_ratio":0.8,"height":3700,"width":2960,"src":"\/\/oncept.nyc\/cdn\/shop\/files\/PRAGUE-SIDE-WHITECLOUD-min.jpg?v=1692382416"}},"requires_selling_plan":false,"selling_plan_allocations":[]},{"id":41444656644301,"title":"WHITE CLOUD \/ 8.5 \/ ELITE CALF","option1":"WHITE CLOUD","option2":"8.5","option3":"ELITE CALF","sku":"840237321581","requires_shipping":true,"taxable":true,"featured_image":{"id":32047350448333,"product_id":7150659076301,"position":13,"created_at":"2023-08-17T15:53:11-04:00","updated_at":"2023-08-18T14:13:36-04:00","alt":"2","width":2960,"height":3700,"src":"\/\/oncept.nyc\/cdn\/shop\/files\/PRAGUE-SIDE-WHITECLOUD-min.jpg?v=1692382416","variant_ids":[41444656480461,41444656513229,41444656545997,41444656578765,41444656611533,41444656644301,41444656677069,41444656709837,41444656742605]},"available":true,"name":"PRAGUE - WHITE CLOUD \/ 8.5 \/ ELITE CALF","public_title":"WHITE CLOUD \/ 8.5 \/ ELITE CALF","options":["WHITE CLOUD","8.5","ELITE CALF"],"price":27500,"weight":0,"compare_at_price":null,"inventory_management":"shopify","barcode":"840237321581","featured_media":{"alt":"2","id":24341437939917,"position":13,"preview_image":{"aspect_ratio":0.8,"height":3700,"width":2960,"src":"\/\/oncept.nyc\/cdn\/shop\/files\/PRAGUE-SIDE-WHITECLOUD-min.jpg?v=1692382416"}},"requires_selling_plan":false,"selling_plan_allocations":[]},{"id":41444656677069,"title":"WHITE CLOUD \/ 9 \/ ELITE CALF","option1":"WHITE CLOUD","option2":"9","option3":"ELITE CALF","sku":"840237321598","requires_shipping":true,"taxable":true,"featured_image":{"id":32047350448333,"product_id":7150659076301,"position":13,"created_at":"2023-08-17T15:53:11-04:00","updated_at":"2023-08-18T14:13:36-04:00","alt":"2","width":2960,"height":3700,"src":"\/\/oncept.nyc\/cdn\/shop\/files\/PRAGUE-SIDE-WHITECLOUD-min.jpg?v=1692382416","variant_ids":[41444656480461,41444656513229,41444656545997,41444656578765,41444656611533,41444656644301,41444656677069,41444656709837,41444656742605]},"available":true,"name":"PRAGUE - WHITE CLOUD \/ 9 \/ ELITE CALF","public_title":"WHITE CLOUD \/ 9 \/ ELITE CALF","options":["WHITE CLOUD","9","ELITE CALF"],"price":27500,"weight":0,"compare_at_price":null,"inventory_management":"shopify","barcode":"840237321598","featured_media":{"alt":"2","id":24341437939917,"position":13,"preview_image":{"aspect_ratio":0.8,"height":3700,"width":2960,"src":"\/\/oncept.nyc\/cdn\/shop\/files\/PRAGUE-SIDE-WHITECLOUD-min.jpg?v=1692382416"}},"requires_selling_plan":false,"selling_plan_allocations":[]},{"id":41444656709837,"title":"WHITE CLOUD \/ 9.5 \/ ELITE CALF","option1":"WHITE CLOUD","option2":"9.5","option3":"ELITE CALF","sku":"840237321604","requires_shipping":true,"taxable":true,"featured_image":{"id":32047350448333,"product_id":7150659076301,"position":13,"created_at":"2023-08-17T15:53:11-04:00","updated_at":"2023-08-18T14:13:36-04:00","alt":"2","width":2960,"height":3700,"src":"\/\/oncept.nyc\/cdn\/shop\/files\/PRAGUE-SIDE-WHITECLOUD-min.jpg?v=1692382416","variant_ids":[41444656480461,41444656513229,41444656545997,41444656578765,41444656611533,41444656644301,41444656677069,41444656709837,41444656742605]},"available":true,"name":"PRAGUE - WHITE CLOUD \/ 9.5 \/ ELITE CALF","public_title":"WHITE CLOUD \/ 9.5 \/ ELITE CALF","options":["WHITE CLOUD","9.5","ELITE CALF"],"price":27500,"weight":0,"compare_at_price":null,"inventory_management":"shopify","barcode":"840237321604","featured_media":{"alt":"2","id":24341437939917,"position":13,"preview_image":{"aspect_ratio":0.8,"height":3700,"width":2960,"src":"\/\/oncept.nyc\/cdn\/shop\/files\/PRAGUE-SIDE-WHITECLOUD-min.jpg?v=1692382416"}},"requires_selling_plan":false,"selling_plan_allocations":[]},{"id":41444656742605,"title":"WHITE CLOUD \/ 10 \/ ELITE CALF","option1":"WHITE CLOUD","option2":"10","option3":"ELITE CALF","sku":"840237321611","requires_shipping":true,"taxable":true,"featured_image":{"id":32047350448333,"product_id":7150659076301,"position":13,"created_at":"2023-08-17T15:53:11-04:00","updated_at":"2023-08-18T14:13:36-04:00","alt":"2","width":2960,"height":3700,"src":"\/\/oncept.nyc\/cdn\/shop\/files\/PRAGUE-SIDE-WHITECLOUD-min.jpg?v=1692382416","variant_ids":[41444656480461,41444656513229,41444656545997,41444656578765,41444656611533,41444656644301,41444656677069,41444656709837,41444656742605]},"available":true,"name":"PRAGUE - WHITE CLOUD \/ 10 \/ ELITE CALF","public_title":"WHITE CLOUD \/ 10 \/ ELITE CALF","options":["WHITE CLOUD","10","ELITE CALF"],"price":27500,"weight":0,"compare_at_price":null,"inventory_management":"shopify","barcode":"840237321611","featured_media":{"alt":"2","id":24341437939917,"position":13,"preview_image":{"aspect_ratio":0.8,"height":3700,"width":2960,"src":"\/\/oncept.nyc\/cdn\/shop\/files\/PRAGUE-SIDE-WHITECLOUD-min.jpg?v=1692382416"}},"requires_selling_plan":false,"selling_plan_allocations":[]}],"images":["\/\/oncept.nyc\/cdn\/shop\/files\/PRAGUE-SIDE-NIGHT-min.jpg?v=1692301994","\/\/oncept.nyc\/cdn\/shop\/files\/PRAGUE-TOP-NIGHT-min.jpg?v=1692302265","\/\/oncept.nyc\/cdn\/shop\/files\/PRAGUE-BK-NIGHT-min.jpg?v=1692302265","\/\/oncept.nyc\/cdn\/shop\/files\/PRAGUE-CLOSEUP-NIGHT-min.jpg?v=1692302265","\/\/oncept.nyc\/cdn\/shop\/files\/PRAGUE-OUTSOLE-NIGHT-min.jpg?v=1692302265","\/\/oncept.nyc\/cdn\/shop\/files\/ONFOOT-PRAGUE-NIGHT-min.jpg?v=1692382416","\/\/oncept.nyc\/cdn\/shop\/files\/PRAGUE-SIDE-RETRORED-min.jpg?v=1692382416","\/\/oncept.nyc\/cdn\/shop\/files\/PRAGUE-TOP-RETRORED-min.jpg?v=1692382416","\/\/oncept.nyc\/cdn\/shop\/files\/PRAGUE-BK-RETRORED-min.jpg?v=1692382416","\/\/oncept.nyc\/cdn\/shop\/files\/PRAGUE-CLOSEUP-RETRORED-min.jpg?v=1692382416","\/\/oncept.nyc\/cdn\/shop\/files\/PRAGUE-OUTSOLE-RETRORED-min.jpg?v=1692382416","\/\/oncept.nyc\/cdn\/shop\/files\/ONFOOT-PRAGUE-RETRORED-min.jpg?v=1692382416","\/\/oncept.nyc\/cdn\/shop\/files\/PRAGUE-SIDE-WHITECLOUD-min.jpg?v=1692382416","\/\/oncept.nyc\/cdn\/shop\/files\/PRAGUE-TOP-WHITECLOUD-min.jpg?v=1692382416","\/\/oncept.nyc\/cdn\/shop\/files\/PRAGUE-BK-WHITECLOUD-min.jpg?v=1692382416","\/\/oncept.nyc\/cdn\/shop\/files\/PRAGUE-CLOSEUP-WHITECLOUD-min.jpg?v=1692382416","\/\/oncept.nyc\/cdn\/shop\/files\/PRAGUE-OUTSOLE-WHITECLOUD-min.jpg?v=1692382416","\/\/oncept.nyc\/cdn\/shop\/files\/ONFOOT-PRAGUE-WHITECLOUD-min.jpg?v=1692382416"],"featured_image":"\/\/oncept.nyc\/cdn\/shop\/files\/PRAGUE-SIDE-NIGHT-min.jpg?v=1692301994","options":["Color","Size","Material"],"media":[{"alt":"0","id":24341437907149,"position":1,"preview_image":{"aspect_ratio":0.8,"height":3700,"width":2960,"src":"\/\/oncept.nyc\/cdn\/shop\/files\/PRAGUE-SIDE-NIGHT-min.jpg?v=1692301994"},"aspect_ratio":0.8,"height":3700,"media_type":"image","src":"\/\/oncept.nyc\/cdn\/shop\/files\/PRAGUE-SIDE-NIGHT-min.jpg?v=1692301994","width":2960},{"alt":"0","id":24341438005453,"position":2,"preview_image":{"aspect_ratio":0.8,"height":3700,"width":2960,"src":"\/\/oncept.nyc\/cdn\/shop\/files\/PRAGUE-TOP-NIGHT-min.jpg?v=1692302265"},"aspect_ratio":0.8,"height":3700,"media_type":"image","src":"\/\/oncept.nyc\/cdn\/shop\/files\/PRAGUE-TOP-NIGHT-min.jpg?v=1692302265","width":2960},{"alt":"0","id":24341438136525,"position":3,"preview_image":{"aspect_ratio":0.8,"height":3700,"width":2960,"src":"\/\/oncept.nyc\/cdn\/shop\/files\/PRAGUE-BK-NIGHT-min.jpg?v=1692302265"},"aspect_ratio":0.8,"height":3700,"media_type":"image","src":"\/\/oncept.nyc\/cdn\/shop\/files\/PRAGUE-BK-NIGHT-min.jpg?v=1692302265","width":2960},{"alt":"0","id":24341438267597,"position":4,"preview_image":{"aspect_ratio":0.8,"height":3700,"width":2960,"src":"\/\/oncept.nyc\/cdn\/shop\/files\/PRAGUE-CLOSEUP-NIGHT-min.jpg?v=1692302265"},"aspect_ratio":0.8,"height":3700,"media_type":"image","src":"\/\/oncept.nyc\/cdn\/shop\/files\/PRAGUE-CLOSEUP-NIGHT-min.jpg?v=1692302265","width":2960},{"alt":"0","id":24341438333133,"position":5,"preview_image":{"aspect_ratio":0.8,"height":3700,"width":2960,"src":"\/\/oncept.nyc\/cdn\/shop\/files\/PRAGUE-OUTSOLE-NIGHT-min.jpg?v=1692302265"},"aspect_ratio":0.8,"height":3700,"media_type":"image","src":"\/\/oncept.nyc\/cdn\/shop\/files\/PRAGUE-OUTSOLE-NIGHT-min.jpg?v=1692302265","width":2960},{"alt":"0","id":24346724171981,"position":6,"preview_image":{"aspect_ratio":0.8,"height":3700,"width":2960,"src":"\/\/oncept.nyc\/cdn\/shop\/files\/ONFOOT-PRAGUE-NIGHT-min.jpg?v=1692382416"},"aspect_ratio":0.8,"height":3700,"media_type":"image","src":"\/\/oncept.nyc\/cdn\/shop\/files\/ONFOOT-PRAGUE-NIGHT-min.jpg?v=1692382416","width":2960},{"alt":"1","id":24341437972685,"position":7,"preview_image":{"aspect_ratio":0.8,"height":3700,"width":2960,"src":"\/\/oncept.nyc\/cdn\/shop\/files\/PRAGUE-SIDE-RETRORED-min.jpg?v=1692382416"},"aspect_ratio":0.8,"height":3700,"media_type":"image","src":"\/\/oncept.nyc\/cdn\/shop\/files\/PRAGUE-SIDE-RETRORED-min.jpg?v=1692382416","width":2960},{"alt":"1","id":24341438070989,"position":8,"preview_image":{"aspect_ratio":0.8,"height":3700,"width":2960,"src":"\/\/oncept.nyc\/cdn\/shop\/files\/PRAGUE-TOP-RETRORED-min.jpg?v=1692382416"},"aspect_ratio":0.8,"height":3700,"media_type":"image","src":"\/\/oncept.nyc\/cdn\/shop\/files\/PRAGUE-TOP-RETRORED-min.jpg?v=1692382416","width":2960},{"alt":"1","id":24341438169293,"position":9,"preview_image":{"aspect_ratio":0.8,"height":3700,"width":2960,"src":"\/\/oncept.nyc\/cdn\/shop\/files\/PRAGUE-BK-RETRORED-min.jpg?v=1692382416"},"aspect_ratio":0.8,"height":3700,"media_type":"image","src":"\/\/oncept.nyc\/cdn\/shop\/files\/PRAGUE-BK-RETRORED-min.jpg?v=1692382416","width":2960},{"alt":"1","id":24341438234829,"position":10,"preview_image":{"aspect_ratio":0.8,"height":3700,"width":2960,"src":"\/\/oncept.nyc\/cdn\/shop\/files\/PRAGUE-CLOSEUP-RETRORED-min.jpg?v=1692382416"},"aspect_ratio":0.8,"height":3700,"media_type":"image","src":"\/\/oncept.nyc\/cdn\/shop\/files\/PRAGUE-CLOSEUP-RETRORED-min.jpg?v=1692382416","width":2960},{"alt":"1","id":24341438365901,"position":11,"preview_image":{"aspect_ratio":0.8,"height":3700,"width":2960,"src":"\/\/oncept.nyc\/cdn\/shop\/files\/PRAGUE-OUTSOLE-RETRORED-min.jpg?v=1692382416"},"aspect_ratio":0.8,"height":3700,"media_type":"image","src":"\/\/oncept.nyc\/cdn\/shop\/files\/PRAGUE-OUTSOLE-RETRORED-min.jpg?v=1692382416","width":2960},{"alt":"1","id":24346724106445,"position":12,"preview_image":{"aspect_ratio":0.8,"height":3700,"width":2960,"src":"\/\/oncept.nyc\/cdn\/shop\/files\/ONFOOT-PRAGUE-RETRORED-min.jpg?v=1692382416"},"aspect_ratio":0.8,"height":3700,"media_type":"image","src":"\/\/oncept.nyc\/cdn\/shop\/files\/ONFOOT-PRAGUE-RETRORED-min.jpg?v=1692382416","width":2960},{"alt":"2","id":24341437939917,"position":13,"preview_image":{"aspect_ratio":0.8,"height":3700,"width":2960,"src":"\/\/oncept.nyc\/cdn\/shop\/files\/PRAGUE-SIDE-WHITECLOUD-min.jpg?v=1692382416"},"aspect_ratio":0.8,"height":3700,"media_type":"image","src":"\/\/oncept.nyc\/cdn\/shop\/files\/PRAGUE-SIDE-WHITECLOUD-min.jpg?v=1692382416","width":2960},{"alt":"2","id":24341438038221,"position":14,"preview_image":{"aspect_ratio":0.8,"height":3700,"width":2960,"src":"\/\/oncept.nyc\/cdn\/shop\/files\/PRAGUE-TOP-WHITECLOUD-min.jpg?v=1692382416"},"aspect_ratio":0.8,"height":3700,"media_type":"image","src":"\/\/oncept.nyc\/cdn\/shop\/files\/PRAGUE-TOP-WHITECLOUD-min.jpg?v=1692382416","width":2960},{"alt":"2","id":24341438103757,"position":15,"preview_image":{"aspect_ratio":0.8,"height":3700,"width":2960,"src":"\/\/oncept.nyc\/cdn\/shop\/files\/PRAGUE-BK-WHITECLOUD-min.jpg?v=1692382416"},"aspect_ratio":0.8,"height":3700,"media_type":"image","src":"\/\/oncept.nyc\/cdn\/shop\/files\/PRAGUE-BK-WHITECLOUD-min.jpg?v=1692382416","width":2960},{"alt":"2","id":24341438202061,"position":16,"preview_image":{"aspect_ratio":0.8,"height":3700,"width":2960,"src":"\/\/oncept.nyc\/cdn\/shop\/files\/PRAGUE-CLOSEUP-WHITECLOUD-min.jpg?v=1692382416"},"aspect_ratio":0.8,"height":3700,"media_type":"image","src":"\/\/oncept.nyc\/cdn\/shop\/files\/PRAGUE-CLOSEUP-WHITECLOUD-min.jpg?v=1692382416","width":2960},{"alt":"2","id":24341438300365,"position":17,"preview_image":{"aspect_ratio":0.8,"height":3700,"width":2960,"src":"\/\/oncept.nyc\/cdn\/shop\/files\/PRAGUE-OUTSOLE-WHITECLOUD-min.jpg?v=1692382416"},"aspect_ratio":0.8,"height":3700,"media_type":"image","src":"\/\/oncept.nyc\/cdn\/shop\/files\/PRAGUE-OUTSOLE-WHITECLOUD-min.jpg?v=1692382416","width":2960},{"alt":"2","id":24346724139213,"position":18,"preview_image":{"aspect_ratio":0.8,"height":3700,"width":2960,"src":"\/\/oncept.nyc\/cdn\/shop\/files\/ONFOOT-PRAGUE-WHITECLOUD-min.jpg?v=1692382416"},"aspect_ratio":0.8,"height":3700,"media_type":"image","src":"\/\/oncept.nyc\/cdn\/shop\/files\/ONFOOT-PRAGUE-WHITECLOUD-min.jpg?v=1692382416","width":2960}],"requires_selling_plan":false,"selling_plan_groups":[],"content":"\u003cmeta charset=\"utf-8\"\u003eMeet the PRAGUE a fresh new platform silhouette. This classic court style is engineered with our signature refined groove system for ultra flexibility.  Utilizing\u003cspan data-mce-fragment=\"1\"\u003e soft calf leather, citrus orange details, and a re-rubber flex outsole, our platform molded bottom is sleek and comfortable. \u003cmeta charset=\"utf-8\"\u003eGive your sneaker style an elevated look, as we provide all the height while never weighing you down. \u003c\/span\u003e\u003cbr data-mce-fragment=\"1\"\u003e\u003cbr\u003e"} { "options": [ { "title": "Color", "values": [ { "value": "NIGHT", "url": "/products/prague?variant=41444657594573" }, { "value": "RETRO RED", "url": "/products/prague?variant=41444656775373" }, { "value": "WHITE CLOUD", "url": "/products/prague?variant=41444656480461" } ] }, { "title": "Size", "values": [ { "value": "6", "url": "/products/prague?variant=41444657594573" }, { "value": "6.5", "url": "/products/prague?variant=41444657627341" }, { "value": "7", "url": "/products/prague?variant=41444657660109" }, { "value": "7.5", "url": "/products/prague?variant=41444657692877" }, { "value": "8", "url": "/products/prague?variant=41444657725645" }, { "value": "8.5", "url": "/products/prague?variant=41444657758413" }, { "value": "9", "url": "/products/prague?variant=41444657791181" }, { "value": "9.5", "url": "/products/prague?variant=41444657823949" }, { "value": "10", "url": "/products/prague?variant=41444657856717" } ] }, { "title": "Material", "values": [ { "value": "ELITE CALF", "url": "/products/prague?variant=41444657594573" } ] } ] }
{"id":7150656913613,"title":"PARIS","handle":"paris","description":"\u003cmeta charset=\"utf-8\"\u003e\n\u003cp data-mce-fragment=\"1\"\u003eThis season, we're taking our sneakers to the next level – introducing the PARIS skater. Perfect for everyday wear and made from luxurious leather and recycled mesh. Always with Oncept's signature ultra comfort features, memory foam footbed, with a padded tongue and counter provide even more pillow comfort. Inspired by skate park vibes but refined and elevated for all of your adventures.\u003c\/p\u003e\n\u003cbr\u003e","published_at":"2023-08-17T17:03:05-04:00","created_at":"2022-12-29T19:28:46-05:00","vendor":"onceptnyc","type":"Footwear","tags":[],"price":30000,"price_min":30000,"price_max":30000,"available":true,"price_varies":false,"compare_at_price":null,"compare_at_price_min":0,"compare_at_price_max":0,"compare_at_price_varies":false,"variants":[{"id":41444653367501,"title":"ORCHID MULTI \/ 6 \/ ELITE CALF","option1":"ORCHID MULTI","option2":"6","option3":"ELITE CALF","sku":"840237320546","requires_shipping":true,"taxable":true,"featured_image":{"id":32047290384589,"product_id":7150656913613,"position":1,"created_at":"2023-08-17T14:45:40-04:00","updated_at":"2023-08-17T14:45:44-04:00","alt":"0","width":2960,"height":3700,"src":"\/\/oncept.nyc\/cdn\/shop\/files\/PARIS-SIDE-ORCHIDMULTI-min.jpg?v=1692297944","variant_ids":[41444653367501,41444653400269,41444653433037,41444653465805,41444653498573,41444653531341,41444653564109,41444653596877,41444653629645]},"available":true,"name":"PARIS - ORCHID MULTI \/ 6 \/ ELITE CALF","public_title":"ORCHID MULTI \/ 6 \/ ELITE CALF","options":["ORCHID MULTI","6","ELITE CALF"],"price":30000,"weight":0,"compare_at_price":null,"inventory_management":"shopify","barcode":"840237320546","featured_media":{"alt":"0","id":24341376532685,"position":1,"preview_image":{"aspect_ratio":0.8,"height":3700,"width":2960,"src":"\/\/oncept.nyc\/cdn\/shop\/files\/PARIS-SIDE-ORCHIDMULTI-min.jpg?v=1692297944"}},"requires_selling_plan":false,"selling_plan_allocations":[]},{"id":41444653400269,"title":"ORCHID MULTI \/ 6.5 \/ ELITE CALF","option1":"ORCHID MULTI","option2":"6.5","option3":"ELITE CALF","sku":"840237320553","requires_shipping":true,"taxable":true,"featured_image":{"id":32047290384589,"product_id":7150656913613,"position":1,"created_at":"2023-08-17T14:45:40-04:00","updated_at":"2023-08-17T14:45:44-04:00","alt":"0","width":2960,"height":3700,"src":"\/\/oncept.nyc\/cdn\/shop\/files\/PARIS-SIDE-ORCHIDMULTI-min.jpg?v=1692297944","variant_ids":[41444653367501,41444653400269,41444653433037,41444653465805,41444653498573,41444653531341,41444653564109,41444653596877,41444653629645]},"available":true,"name":"PARIS - ORCHID MULTI \/ 6.5 \/ ELITE CALF","public_title":"ORCHID MULTI \/ 6.5 \/ ELITE CALF","options":["ORCHID MULTI","6.5","ELITE CALF"],"price":30000,"weight":0,"compare_at_price":null,"inventory_management":"shopify","barcode":"840237320553","featured_media":{"alt":"0","id":24341376532685,"position":1,"preview_image":{"aspect_ratio":0.8,"height":3700,"width":2960,"src":"\/\/oncept.nyc\/cdn\/shop\/files\/PARIS-SIDE-ORCHIDMULTI-min.jpg?v=1692297944"}},"requires_selling_plan":false,"selling_plan_allocations":[]},{"id":41444653433037,"title":"ORCHID MULTI \/ 7 \/ ELITE CALF","option1":"ORCHID MULTI","option2":"7","option3":"ELITE CALF","sku":"840237320560","requires_shipping":true,"taxable":true,"featured_image":{"id":32047290384589,"product_id":7150656913613,"position":1,"created_at":"2023-08-17T14:45:40-04:00","updated_at":"2023-08-17T14:45:44-04:00","alt":"0","width":2960,"height":3700,"src":"\/\/oncept.nyc\/cdn\/shop\/files\/PARIS-SIDE-ORCHIDMULTI-min.jpg?v=1692297944","variant_ids":[41444653367501,41444653400269,41444653433037,41444653465805,41444653498573,41444653531341,41444653564109,41444653596877,41444653629645]},"available":false,"name":"PARIS - ORCHID MULTI \/ 7 \/ ELITE CALF","public_title":"ORCHID MULTI \/ 7 \/ ELITE CALF","options":["ORCHID MULTI","7","ELITE CALF"],"price":30000,"weight":0,"compare_at_price":null,"inventory_management":"shopify","barcode":"840237320560","featured_media":{"alt":"0","id":24341376532685,"position":1,"preview_image":{"aspect_ratio":0.8,"height":3700,"width":2960,"src":"\/\/oncept.nyc\/cdn\/shop\/files\/PARIS-SIDE-ORCHIDMULTI-min.jpg?v=1692297944"}},"requires_selling_plan":false,"selling_plan_allocations":[]},{"id":41444653465805,"title":"ORCHID MULTI \/ 7.5 \/ ELITE CALF","option1":"ORCHID MULTI","option2":"7.5","option3":"ELITE CALF","sku":"840237320577","requires_shipping":true,"taxable":true,"featured_image":{"id":32047290384589,"product_id":7150656913613,"position":1,"created_at":"2023-08-17T14:45:40-04:00","updated_at":"2023-08-17T14:45:44-04:00","alt":"0","width":2960,"height":3700,"src":"\/\/oncept.nyc\/cdn\/shop\/files\/PARIS-SIDE-ORCHIDMULTI-min.jpg?v=1692297944","variant_ids":[41444653367501,41444653400269,41444653433037,41444653465805,41444653498573,41444653531341,41444653564109,41444653596877,41444653629645]},"available":true,"name":"PARIS - ORCHID MULTI \/ 7.5 \/ ELITE CALF","public_title":"ORCHID MULTI \/ 7.5 \/ ELITE CALF","options":["ORCHID MULTI","7.5","ELITE CALF"],"price":30000,"weight":0,"compare_at_price":null,"inventory_management":"shopify","barcode":"840237320577","featured_media":{"alt":"0","id":24341376532685,"position":1,"preview_image":{"aspect_ratio":0.8,"height":3700,"width":2960,"src":"\/\/oncept.nyc\/cdn\/shop\/files\/PARIS-SIDE-ORCHIDMULTI-min.jpg?v=1692297944"}},"requires_selling_plan":false,"selling_plan_allocations":[]},{"id":41444653498573,"title":"ORCHID MULTI \/ 8 \/ ELITE CALF","option1":"ORCHID MULTI","option2":"8","option3":"ELITE CALF","sku":"840237320584","requires_shipping":true,"taxable":true,"featured_image":{"id":32047290384589,"product_id":7150656913613,"position":1,"created_at":"2023-08-17T14:45:40-04:00","updated_at":"2023-08-17T14:45:44-04:00","alt":"0","width":2960,"height":3700,"src":"\/\/oncept.nyc\/cdn\/shop\/files\/PARIS-SIDE-ORCHIDMULTI-min.jpg?v=1692297944","variant_ids":[41444653367501,41444653400269,41444653433037,41444653465805,41444653498573,41444653531341,41444653564109,41444653596877,41444653629645]},"available":true,"name":"PARIS - ORCHID MULTI \/ 8 \/ ELITE CALF","public_title":"ORCHID MULTI \/ 8 \/ ELITE CALF","options":["ORCHID MULTI","8","ELITE CALF"],"price":30000,"weight":0,"compare_at_price":null,"inventory_management":"shopify","barcode":"840237320584","featured_media":{"alt":"0","id":24341376532685,"position":1,"preview_image":{"aspect_ratio":0.8,"height":3700,"width":2960,"src":"\/\/oncept.nyc\/cdn\/shop\/files\/PARIS-SIDE-ORCHIDMULTI-min.jpg?v=1692297944"}},"requires_selling_plan":false,"selling_plan_allocations":[]},{"id":41444653531341,"title":"ORCHID MULTI \/ 8.5 \/ ELITE CALF","option1":"ORCHID MULTI","option2":"8.5","option3":"ELITE CALF","sku":"840237320591","requires_shipping":true,"taxable":true,"featured_image":{"id":32047290384589,"product_id":7150656913613,"position":1,"created_at":"2023-08-17T14:45:40-04:00","updated_at":"2023-08-17T14:45:44-04:00","alt":"0","width":2960,"height":3700,"src":"\/\/oncept.nyc\/cdn\/shop\/files\/PARIS-SIDE-ORCHIDMULTI-min.jpg?v=1692297944","variant_ids":[41444653367501,41444653400269,41444653433037,41444653465805,41444653498573,41444653531341,41444653564109,41444653596877,41444653629645]},"available":true,"name":"PARIS - ORCHID MULTI \/ 8.5 \/ ELITE CALF","public_title":"ORCHID MULTI \/ 8.5 \/ ELITE CALF","options":["ORCHID MULTI","8.5","ELITE CALF"],"price":30000,"weight":0,"compare_at_price":null,"inventory_management":"shopify","barcode":"840237320591","featured_media":{"alt":"0","id":24341376532685,"position":1,"preview_image":{"aspect_ratio":0.8,"height":3700,"width":2960,"src":"\/\/oncept.nyc\/cdn\/shop\/files\/PARIS-SIDE-ORCHIDMULTI-min.jpg?v=1692297944"}},"requires_selling_plan":false,"selling_plan_allocations":[]},{"id":41444653564109,"title":"ORCHID MULTI \/ 9 \/ ELITE CALF","option1":"ORCHID MULTI","option2":"9","option3":"ELITE CALF","sku":"840237320607","requires_shipping":true,"taxable":true,"featured_image":{"id":32047290384589,"product_id":7150656913613,"position":1,"created_at":"2023-08-17T14:45:40-04:00","updated_at":"2023-08-17T14:45:44-04:00","alt":"0","width":2960,"height":3700,"src":"\/\/oncept.nyc\/cdn\/shop\/files\/PARIS-SIDE-ORCHIDMULTI-min.jpg?v=1692297944","variant_ids":[41444653367501,41444653400269,41444653433037,41444653465805,41444653498573,41444653531341,41444653564109,41444653596877,41444653629645]},"available":false,"name":"PARIS - ORCHID MULTI \/ 9 \/ ELITE CALF","public_title":"ORCHID MULTI \/ 9 \/ ELITE CALF","options":["ORCHID MULTI","9","ELITE CALF"],"price":30000,"weight":0,"compare_at_price":null,"inventory_management":"shopify","barcode":"840237320607","featured_media":{"alt":"0","id":24341376532685,"position":1,"preview_image":{"aspect_ratio":0.8,"height":3700,"width":2960,"src":"\/\/oncept.nyc\/cdn\/shop\/files\/PARIS-SIDE-ORCHIDMULTI-min.jpg?v=1692297944"}},"requires_selling_plan":false,"selling_plan_allocations":[]},{"id":41444653596877,"title":"ORCHID MULTI \/ 9.5 \/ ELITE CALF","option1":"ORCHID MULTI","option2":"9.5","option3":"ELITE CALF","sku":"840237320614","requires_shipping":true,"taxable":true,"featured_image":{"id":32047290384589,"product_id":7150656913613,"position":1,"created_at":"2023-08-17T14:45:40-04:00","updated_at":"2023-08-17T14:45:44-04:00","alt":"0","width":2960,"height":3700,"src":"\/\/oncept.nyc\/cdn\/shop\/files\/PARIS-SIDE-ORCHIDMULTI-min.jpg?v=1692297944","variant_ids":[41444653367501,41444653400269,41444653433037,41444653465805,41444653498573,41444653531341,41444653564109,41444653596877,41444653629645]},"available":true,"name":"PARIS - ORCHID MULTI \/ 9.5 \/ ELITE CALF","public_title":"ORCHID MULTI \/ 9.5 \/ ELITE CALF","options":["ORCHID MULTI","9.5","ELITE CALF"],"price":30000,"weight":0,"compare_at_price":null,"inventory_management":"shopify","barcode":"840237320614","featured_media":{"alt":"0","id":24341376532685,"position":1,"preview_image":{"aspect_ratio":0.8,"height":3700,"width":2960,"src":"\/\/oncept.nyc\/cdn\/shop\/files\/PARIS-SIDE-ORCHIDMULTI-min.jpg?v=1692297944"}},"requires_selling_plan":false,"selling_plan_allocations":[]},{"id":41444653629645,"title":"ORCHID MULTI \/ 10 \/ ELITE CALF","option1":"ORCHID MULTI","option2":"10","option3":"ELITE CALF","sku":"840237320621","requires_shipping":true,"taxable":true,"featured_image":{"id":32047290384589,"product_id":7150656913613,"position":1,"created_at":"2023-08-17T14:45:40-04:00","updated_at":"2023-08-17T14:45:44-04:00","alt":"0","width":2960,"height":3700,"src":"\/\/oncept.nyc\/cdn\/shop\/files\/PARIS-SIDE-ORCHIDMULTI-min.jpg?v=1692297944","variant_ids":[41444653367501,41444653400269,41444653433037,41444653465805,41444653498573,41444653531341,41444653564109,41444653596877,41444653629645]},"available":true,"name":"PARIS - ORCHID MULTI \/ 10 \/ ELITE CALF","public_title":"ORCHID MULTI \/ 10 \/ ELITE CALF","options":["ORCHID MULTI","10","ELITE CALF"],"price":30000,"weight":0,"compare_at_price":null,"inventory_management":"shopify","barcode":"840237320621","featured_media":{"alt":"0","id":24341376532685,"position":1,"preview_image":{"aspect_ratio":0.8,"height":3700,"width":2960,"src":"\/\/oncept.nyc\/cdn\/shop\/files\/PARIS-SIDE-ORCHIDMULTI-min.jpg?v=1692297944"}},"requires_selling_plan":false,"selling_plan_allocations":[]},{"id":41444652777677,"title":"IVORY - GREEN \/ 6 \/ ELITE CALF","option1":"IVORY - GREEN","option2":"6","option3":"ELITE CALF","sku":"840237320454","requires_shipping":true,"taxable":true,"featured_image":{"id":32047290122445,"product_id":7150656913613,"position":7,"created_at":"2023-08-17T14:45:40-04:00","updated_at":"2023-08-28T10:03:03-04:00","alt":"1","width":2960,"height":3700,"src":"\/\/oncept.nyc\/cdn\/shop\/files\/PARIS-SIDE-IVORYGREEN-min.jpg?v=1693231383","variant_ids":[41444652777677,41444652810445,41444652843213,41444652875981,41444652908749,41444652941517,41444652974285,41444653007053,41444653039821]},"available":true,"name":"PARIS - IVORY - GREEN \/ 6 \/ ELITE CALF","public_title":"IVORY - GREEN \/ 6 \/ ELITE CALF","options":["IVORY - GREEN","6","ELITE CALF"],"price":30000,"weight":0,"compare_at_price":null,"inventory_management":"shopify","barcode":"840237320454","featured_media":{"alt":"1","id":24341376565453,"position":7,"preview_image":{"aspect_ratio":0.8,"height":3700,"width":2960,"src":"\/\/oncept.nyc\/cdn\/shop\/files\/PARIS-SIDE-IVORYGREEN-min.jpg?v=1693231383"}},"requires_selling_plan":false,"selling_plan_allocations":[]},{"id":41444652810445,"title":"IVORY - GREEN \/ 6.5 \/ ELITE CALF","option1":"IVORY - GREEN","option2":"6.5","option3":"ELITE CALF","sku":"840237320461","requires_shipping":true,"taxable":true,"featured_image":{"id":32047290122445,"product_id":7150656913613,"position":7,"created_at":"2023-08-17T14:45:40-04:00","updated_at":"2023-08-28T10:03:03-04:00","alt":"1","width":2960,"height":3700,"src":"\/\/oncept.nyc\/cdn\/shop\/files\/PARIS-SIDE-IVORYGREEN-min.jpg?v=1693231383","variant_ids":[41444652777677,41444652810445,41444652843213,41444652875981,41444652908749,41444652941517,41444652974285,41444653007053,41444653039821]},"available":true,"name":"PARIS - IVORY - GREEN \/ 6.5 \/ ELITE CALF","public_title":"IVORY - GREEN \/ 6.5 \/ ELITE CALF","options":["IVORY - GREEN","6.5","ELITE CALF"],"price":30000,"weight":0,"compare_at_price":null,"inventory_management":"shopify","barcode":"840237320461","featured_media":{"alt":"1","id":24341376565453,"position":7,"preview_image":{"aspect_ratio":0.8,"height":3700,"width":2960,"src":"\/\/oncept.nyc\/cdn\/shop\/files\/PARIS-SIDE-IVORYGREEN-min.jpg?v=1693231383"}},"requires_selling_plan":false,"selling_plan_allocations":[]},{"id":41444652843213,"title":"IVORY - GREEN \/ 7 \/ ELITE CALF","option1":"IVORY - GREEN","option2":"7","option3":"ELITE CALF","sku":"840237320478","requires_shipping":true,"taxable":true,"featured_image":{"id":32047290122445,"product_id":7150656913613,"position":7,"created_at":"2023-08-17T14:45:40-04:00","updated_at":"2023-08-28T10:03:03-04:00","alt":"1","width":2960,"height":3700,"src":"\/\/oncept.nyc\/cdn\/shop\/files\/PARIS-SIDE-IVORYGREEN-min.jpg?v=1693231383","variant_ids":[41444652777677,41444652810445,41444652843213,41444652875981,41444652908749,41444652941517,41444652974285,41444653007053,41444653039821]},"available":true,"name":"PARIS - IVORY - GREEN \/ 7 \/ ELITE CALF","public_title":"IVORY - GREEN \/ 7 \/ ELITE CALF","options":["IVORY - GREEN","7","ELITE CALF"],"price":30000,"weight":0,"compare_at_price":null,"inventory_management":"shopify","barcode":"840237320478","featured_media":{"alt":"1","id":24341376565453,"position":7,"preview_image":{"aspect_ratio":0.8,"height":3700,"width":2960,"src":"\/\/oncept.nyc\/cdn\/shop\/files\/PARIS-SIDE-IVORYGREEN-min.jpg?v=1693231383"}},"requires_selling_plan":false,"selling_plan_allocations":[]},{"id":41444652875981,"title":"IVORY - GREEN \/ 7.5 \/ ELITE CALF","option1":"IVORY - GREEN","option2":"7.5","option3":"ELITE CALF","sku":"840237320485","requires_shipping":true,"taxable":true,"featured_image":{"id":32047290122445,"product_id":7150656913613,"position":7,"created_at":"2023-08-17T14:45:40-04:00","updated_at":"2023-08-28T10:03:03-04:00","alt":"1","width":2960,"height":3700,"src":"\/\/oncept.nyc\/cdn\/shop\/files\/PARIS-SIDE-IVORYGREEN-min.jpg?v=1693231383","variant_ids":[41444652777677,41444652810445,41444652843213,41444652875981,41444652908749,41444652941517,41444652974285,41444653007053,41444653039821]},"available":true,"name":"PARIS - IVORY - GREEN \/ 7.5 \/ ELITE CALF","public_title":"IVORY - GREEN \/ 7.5 \/ ELITE CALF","options":["IVORY - GREEN","7.5","ELITE CALF"],"price":30000,"weight":0,"compare_at_price":null,"inventory_management":"shopify","barcode":"840237320485","featured_media":{"alt":"1","id":24341376565453,"position":7,"preview_image":{"aspect_ratio":0.8,"height":3700,"width":2960,"src":"\/\/oncept.nyc\/cdn\/shop\/files\/PARIS-SIDE-IVORYGREEN-min.jpg?v=1693231383"}},"requires_selling_plan":false,"selling_plan_allocations":[]},{"id":41444652908749,"title":"IVORY - GREEN \/ 8 \/ ELITE CALF","option1":"IVORY - GREEN","option2":"8","option3":"ELITE CALF","sku":"840237320492","requires_shipping":true,"taxable":true,"featured_image":{"id":32047290122445,"product_id":7150656913613,"position":7,"created_at":"2023-08-17T14:45:40-04:00","updated_at":"2023-08-28T10:03:03-04:00","alt":"1","width":2960,"height":3700,"src":"\/\/oncept.nyc\/cdn\/shop\/files\/PARIS-SIDE-IVORYGREEN-min.jpg?v=1693231383","variant_ids":[41444652777677,41444652810445,41444652843213,41444652875981,41444652908749,41444652941517,41444652974285,41444653007053,41444653039821]},"available":true,"name":"PARIS - IVORY - GREEN \/ 8 \/ ELITE CALF","public_title":"IVORY - GREEN \/ 8 \/ ELITE CALF","options":["IVORY - GREEN","8","ELITE CALF"],"price":30000,"weight":0,"compare_at_price":null,"inventory_management":"shopify","barcode":"840237320492","featured_media":{"alt":"1","id":24341376565453,"position":7,"preview_image":{"aspect_ratio":0.8,"height":3700,"width":2960,"src":"\/\/oncept.nyc\/cdn\/shop\/files\/PARIS-SIDE-IVORYGREEN-min.jpg?v=1693231383"}},"requires_selling_plan":false,"selling_plan_allocations":[]},{"id":41444652941517,"title":"IVORY - GREEN \/ 8.5 \/ ELITE CALF","option1":"IVORY - GREEN","option2":"8.5","option3":"ELITE CALF","sku":"840237320508","requires_shipping":true,"taxable":true,"featured_image":{"id":32047290122445,"product_id":7150656913613,"position":7,"created_at":"2023-08-17T14:45:40-04:00","updated_at":"2023-08-28T10:03:03-04:00","alt":"1","width":2960,"height":3700,"src":"\/\/oncept.nyc\/cdn\/shop\/files\/PARIS-SIDE-IVORYGREEN-min.jpg?v=1693231383","variant_ids":[41444652777677,41444652810445,41444652843213,41444652875981,41444652908749,41444652941517,41444652974285,41444653007053,41444653039821]},"available":true,"name":"PARIS - IVORY - GREEN \/ 8.5 \/ ELITE CALF","public_title":"IVORY - GREEN \/ 8.5 \/ ELITE CALF","options":["IVORY - GREEN","8.5","ELITE CALF"],"price":30000,"weight":0,"compare_at_price":null,"inventory_management":"shopify","barcode":"840237320508","featured_media":{"alt":"1","id":24341376565453,"position":7,"preview_image":{"aspect_ratio":0.8,"height":3700,"width":2960,"src":"\/\/oncept.nyc\/cdn\/shop\/files\/PARIS-SIDE-IVORYGREEN-min.jpg?v=1693231383"}},"requires_selling_plan":false,"selling_plan_allocations":[]},{"id":41444652974285,"title":"IVORY - GREEN \/ 9 \/ ELITE CALF","option1":"IVORY - GREEN","option2":"9","option3":"ELITE CALF","sku":"840237320515","requires_shipping":true,"taxable":true,"featured_image":{"id":32047290122445,"product_id":7150656913613,"position":7,"created_at":"2023-08-17T14:45:40-04:00","updated_at":"2023-08-28T10:03:03-04:00","alt":"1","width":2960,"height":3700,"src":"\/\/oncept.nyc\/cdn\/shop\/files\/PARIS-SIDE-IVORYGREEN-min.jpg?v=1693231383","variant_ids":[41444652777677,41444652810445,41444652843213,41444652875981,41444652908749,41444652941517,41444652974285,41444653007053,41444653039821]},"available":true,"name":"PARIS - IVORY - GREEN \/ 9 \/ ELITE CALF","public_title":"IVORY - GREEN \/ 9 \/ ELITE CALF","options":["IVORY - GREEN","9","ELITE CALF"],"price":30000,"weight":0,"compare_at_price":null,"inventory_management":"shopify","barcode":"840237320515","featured_media":{"alt":"1","id":24341376565453,"position":7,"preview_image":{"aspect_ratio":0.8,"height":3700,"width":2960,"src":"\/\/oncept.nyc\/cdn\/shop\/files\/PARIS-SIDE-IVORYGREEN-min.jpg?v=1693231383"}},"requires_selling_plan":false,"selling_plan_allocations":[]},{"id":41444653007053,"title":"IVORY - GREEN \/ 9.5 \/ ELITE CALF","option1":"IVORY - GREEN","option2":"9.5","option3":"ELITE CALF","sku":"840237320522","requires_shipping":true,"taxable":true,"featured_image":{"id":32047290122445,"product_id":7150656913613,"position":7,"created_at":"2023-08-17T14:45:40-04:00","updated_at":"2023-08-28T10:03:03-04:00","alt":"1","width":2960,"height":3700,"src":"\/\/oncept.nyc\/cdn\/shop\/files\/PARIS-SIDE-IVORYGREEN-min.jpg?v=1693231383","variant_ids":[41444652777677,41444652810445,41444652843213,41444652875981,41444652908749,41444652941517,41444652974285,41444653007053,41444653039821]},"available":true,"name":"PARIS - IVORY - GREEN \/ 9.5 \/ ELITE CALF","public_title":"IVORY - GREEN \/ 9.5 \/ ELITE CALF","options":["IVORY - GREEN","9.5","ELITE CALF"],"price":30000,"weight":0,"compare_at_price":null,"inventory_management":"shopify","barcode":"840237320522","featured_media":{"alt":"1","id":24341376565453,"position":7,"preview_image":{"aspect_ratio":0.8,"height":3700,"width":2960,"src":"\/\/oncept.nyc\/cdn\/shop\/files\/PARIS-SIDE-IVORYGREEN-min.jpg?v=1693231383"}},"requires_selling_plan":false,"selling_plan_allocations":[]},{"id":41444653039821,"title":"IVORY - GREEN \/ 10 \/ ELITE CALF","option1":"IVORY - GREEN","option2":"10","option3":"ELITE CALF","sku":"840237320539","requires_shipping":true,"taxable":true,"featured_image":{"id":32047290122445,"product_id":7150656913613,"position":7,"created_at":"2023-08-17T14:45:40-04:00","updated_at":"2023-08-28T10:03:03-04:00","alt":"1","width":2960,"height":3700,"src":"\/\/oncept.nyc\/cdn\/shop\/files\/PARIS-SIDE-IVORYGREEN-min.jpg?v=1693231383","variant_ids":[41444652777677,41444652810445,41444652843213,41444652875981,41444652908749,41444652941517,41444652974285,41444653007053,41444653039821]},"available":true,"name":"PARIS - IVORY - GREEN \/ 10 \/ ELITE CALF","public_title":"IVORY - GREEN \/ 10 \/ ELITE CALF","options":["IVORY - GREEN","10","ELITE CALF"],"price":30000,"weight":0,"compare_at_price":null,"inventory_management":"shopify","barcode":"840237320539","featured_media":{"alt":"1","id":24341376565453,"position":7,"preview_image":{"aspect_ratio":0.8,"height":3700,"width":2960,"src":"\/\/oncept.nyc\/cdn\/shop\/files\/PARIS-SIDE-IVORYGREEN-min.jpg?v=1693231383"}},"requires_selling_plan":false,"selling_plan_allocations":[]},{"id":41444652482765,"title":"VARSITY WHITE \/ 6 \/ ELITE CALF","option1":"VARSITY WHITE","option2":"6","option3":"ELITE CALF","sku":"840237320638","requires_shipping":true,"taxable":true,"featured_image":{"id":32047290155213,"product_id":7150656913613,"position":13,"created_at":"2023-08-17T14:45:40-04:00","updated_at":"2023-08-31T09:53:22-04:00","alt":"2","width":2960,"height":3700,"src":"\/\/oncept.nyc\/cdn\/shop\/files\/PARIS-SIDE-VARSITYWHITE-min.jpg?v=1693490002","variant_ids":[41444652482765,41444652515533,41444652548301,41444652581069,41444652613837,41444652646605,41444652679373,41444652712141,41444652744909]},"available":true,"name":"PARIS - VARSITY WHITE \/ 6 \/ ELITE CALF","public_title":"VARSITY WHITE \/ 6 \/ ELITE CALF","options":["VARSITY WHITE","6","ELITE CALF"],"price":30000,"weight":0,"compare_at_price":null,"inventory_management":"shopify","barcode":"840237320638","featured_media":{"alt":"2","id":24341376598221,"position":13,"preview_image":{"aspect_ratio":0.8,"height":3700,"width":2960,"src":"\/\/oncept.nyc\/cdn\/shop\/files\/PARIS-SIDE-VARSITYWHITE-min.jpg?v=1693490002"}},"requires_selling_plan":false,"selling_plan_allocations":[]},{"id":41444652515533,"title":"VARSITY WHITE \/ 6.5 \/ ELITE CALF","option1":"VARSITY WHITE","option2":"6.5","option3":"ELITE CALF","sku":"840237320645","requires_shipping":true,"taxable":true,"featured_image":{"id":32047290155213,"product_id":7150656913613,"position":13,"created_at":"2023-08-17T14:45:40-04:00","updated_at":"2023-08-31T09:53:22-04:00","alt":"2","width":2960,"height":3700,"src":"\/\/oncept.nyc\/cdn\/shop\/files\/PARIS-SIDE-VARSITYWHITE-min.jpg?v=1693490002","variant_ids":[41444652482765,41444652515533,41444652548301,41444652581069,41444652613837,41444652646605,41444652679373,41444652712141,41444652744909]},"available":true,"name":"PARIS - VARSITY WHITE \/ 6.5 \/ ELITE CALF","public_title":"VARSITY WHITE \/ 6.5 \/ ELITE CALF","options":["VARSITY WHITE","6.5","ELITE CALF"],"price":30000,"weight":0,"compare_at_price":null,"inventory_management":"shopify","barcode":"840237320645","featured_media":{"alt":"2","id":24341376598221,"position":13,"preview_image":{"aspect_ratio":0.8,"height":3700,"width":2960,"src":"\/\/oncept.nyc\/cdn\/shop\/files\/PARIS-SIDE-VARSITYWHITE-min.jpg?v=1693490002"}},"requires_selling_plan":false,"selling_plan_allocations":[]},{"id":41444652548301,"title":"VARSITY WHITE \/ 7 \/ ELITE CALF","option1":"VARSITY WHITE","option2":"7","option3":"ELITE CALF","sku":"840237320652","requires_shipping":true,"taxable":true,"featured_image":{"id":32047290155213,"product_id":7150656913613,"position":13,"created_at":"2023-08-17T14:45:40-04:00","updated_at":"2023-08-31T09:53:22-04:00","alt":"2","width":2960,"height":3700,"src":"\/\/oncept.nyc\/cdn\/shop\/files\/PARIS-SIDE-VARSITYWHITE-min.jpg?v=1693490002","variant_ids":[41444652482765,41444652515533,41444652548301,41444652581069,41444652613837,41444652646605,41444652679373,41444652712141,41444652744909]},"available":true,"name":"PARIS - VARSITY WHITE \/ 7 \/ ELITE CALF","public_title":"VARSITY WHITE \/ 7 \/ ELITE CALF","options":["VARSITY WHITE","7","ELITE CALF"],"price":30000,"weight":0,"compare_at_price":null,"inventory_management":"shopify","barcode":"840237320652","featured_media":{"alt":"2","id":24341376598221,"position":13,"preview_image":{"aspect_ratio":0.8,"height":3700,"width":2960,"src":"\/\/oncept.nyc\/cdn\/shop\/files\/PARIS-SIDE-VARSITYWHITE-min.jpg?v=1693490002"}},"requires_selling_plan":false,"selling_plan_allocations":[]},{"id":41444652581069,"title":"VARSITY WHITE \/ 7.5 \/ ELITE CALF","option1":"VARSITY WHITE","option2":"7.5","option3":"ELITE CALF","sku":"840237320669","requires_shipping":true,"taxable":true,"featured_image":{"id":32047290155213,"product_id":7150656913613,"position":13,"created_at":"2023-08-17T14:45:40-04:00","updated_at":"2023-08-31T09:53:22-04:00","alt":"2","width":2960,"height":3700,"src":"\/\/oncept.nyc\/cdn\/shop\/files\/PARIS-SIDE-VARSITYWHITE-min.jpg?v=1693490002","variant_ids":[41444652482765,41444652515533,41444652548301,41444652581069,41444652613837,41444652646605,41444652679373,41444652712141,41444652744909]},"available":true,"name":"PARIS - VARSITY WHITE \/ 7.5 \/ ELITE CALF","public_title":"VARSITY WHITE \/ 7.5 \/ ELITE CALF","options":["VARSITY WHITE","7.5","ELITE CALF"],"price":30000,"weight":0,"compare_at_price":null,"inventory_management":"shopify","barcode":"840237320669","featured_media":{"alt":"2","id":24341376598221,"position":13,"preview_image":{"aspect_ratio":0.8,"height":3700,"width":2960,"src":"\/\/oncept.nyc\/cdn\/shop\/files\/PARIS-SIDE-VARSITYWHITE-min.jpg?v=1693490002"}},"requires_selling_plan":false,"selling_plan_allocations":[]},{"id":41444652613837,"title":"VARSITY WHITE \/ 8 \/ ELITE CALF","option1":"VARSITY WHITE","option2":"8","option3":"ELITE CALF","sku":"840237320676","requires_shipping":true,"taxable":true,"featured_image":{"id":32047290155213,"product_id":7150656913613,"position":13,"created_at":"2023-08-17T14:45:40-04:00","updated_at":"2023-08-31T09:53:22-04:00","alt":"2","width":2960,"height":3700,"src":"\/\/oncept.nyc\/cdn\/shop\/files\/PARIS-SIDE-VARSITYWHITE-min.jpg?v=1693490002","variant_ids":[41444652482765,41444652515533,41444652548301,41444652581069,41444652613837,41444652646605,41444652679373,41444652712141,41444652744909]},"available":true,"name":"PARIS - VARSITY WHITE \/ 8 \/ ELITE CALF","public_title":"VARSITY WHITE \/ 8 \/ ELITE CALF","options":["VARSITY WHITE","8","ELITE CALF"],"price":30000,"weight":0,"compare_at_price":null,"inventory_management":"shopify","barcode":"840237320676","featured_media":{"alt":"2","id":24341376598221,"position":13,"preview_image":{"aspect_ratio":0.8,"height":3700,"width":2960,"src":"\/\/oncept.nyc\/cdn\/shop\/files\/PARIS-SIDE-VARSITYWHITE-min.jpg?v=1693490002"}},"requires_selling_plan":false,"selling_plan_allocations":[]},{"id":41444652646605,"title":"VARSITY WHITE \/ 8.5 \/ ELITE CALF","option1":"VARSITY WHITE","option2":"8.5","option3":"ELITE CALF","sku":"840237320683","requires_shipping":true,"taxable":true,"featured_image":{"id":32047290155213,"product_id":7150656913613,"position":13,"created_at":"2023-08-17T14:45:40-04:00","updated_at":"2023-08-31T09:53:22-04:00","alt":"2","width":2960,"height":3700,"src":"\/\/oncept.nyc\/cdn\/shop\/files\/PARIS-SIDE-VARSITYWHITE-min.jpg?v=1693490002","variant_ids":[41444652482765,41444652515533,41444652548301,41444652581069,41444652613837,41444652646605,41444652679373,41444652712141,41444652744909]},"available":true,"name":"PARIS - VARSITY WHITE \/ 8.5 \/ ELITE CALF","public_title":"VARSITY WHITE \/ 8.5 \/ ELITE CALF","options":["VARSITY WHITE","8.5","ELITE CALF"],"price":30000,"weight":0,"compare_at_price":null,"inventory_management":"shopify","barcode":"840237320683","featured_media":{"alt":"2","id":24341376598221,"position":13,"preview_image":{"aspect_ratio":0.8,"height":3700,"width":2960,"src":"\/\/oncept.nyc\/cdn\/shop\/files\/PARIS-SIDE-VARSITYWHITE-min.jpg?v=1693490002"}},"requires_selling_plan":false,"selling_plan_allocations":[]},{"id":41444652679373,"title":"VARSITY WHITE \/ 9 \/ ELITE CALF","option1":"VARSITY WHITE","option2":"9","option3":"ELITE CALF","sku":"840237320690","requires_shipping":true,"taxable":true,"featured_image":{"id":32047290155213,"product_id":7150656913613,"position":13,"created_at":"2023-08-17T14:45:40-04:00","updated_at":"2023-08-31T09:53:22-04:00","alt":"2","width":2960,"height":3700,"src":"\/\/oncept.nyc\/cdn\/shop\/files\/PARIS-SIDE-VARSITYWHITE-min.jpg?v=1693490002","variant_ids":[41444652482765,41444652515533,41444652548301,41444652581069,41444652613837,41444652646605,41444652679373,41444652712141,41444652744909]},"available":true,"name":"PARIS - VARSITY WHITE \/ 9 \/ ELITE CALF","public_title":"VARSITY WHITE \/ 9 \/ ELITE CALF","options":["VARSITY WHITE","9","ELITE CALF"],"price":30000,"weight":0,"compare_at_price":null,"inventory_management":"shopify","barcode":"840237320690","featured_media":{"alt":"2","id":24341376598221,"position":13,"preview_image":{"aspect_ratio":0.8,"height":3700,"width":2960,"src":"\/\/oncept.nyc\/cdn\/shop\/files\/PARIS-SIDE-VARSITYWHITE-min.jpg?v=1693490002"}},"requires_selling_plan":false,"selling_plan_allocations":[]},{"id":41444652712141,"title":"VARSITY WHITE \/ 9.5 \/ ELITE CALF","option1":"VARSITY WHITE","option2":"9.5","option3":"ELITE CALF","sku":"840237320706","requires_shipping":true,"taxable":true,"featured_image":{"id":32047290155213,"product_id":7150656913613,"position":13,"created_at":"2023-08-17T14:45:40-04:00","updated_at":"2023-08-31T09:53:22-04:00","alt":"2","width":2960,"height":3700,"src":"\/\/oncept.nyc\/cdn\/shop\/files\/PARIS-SIDE-VARSITYWHITE-min.jpg?v=1693490002","variant_ids":[41444652482765,41444652515533,41444652548301,41444652581069,41444652613837,41444652646605,41444652679373,41444652712141,41444652744909]},"available":true,"name":"PARIS - VARSITY WHITE \/ 9.5 \/ ELITE CALF","public_title":"VARSITY WHITE \/ 9.5 \/ ELITE CALF","options":["VARSITY WHITE","9.5","ELITE CALF"],"price":30000,"weight":0,"compare_at_price":null,"inventory_management":"shopify","barcode":"840237320706","featured_media":{"alt":"2","id":24341376598221,"position":13,"preview_image":{"aspect_ratio":0.8,"height":3700,"width":2960,"src":"\/\/oncept.nyc\/cdn\/shop\/files\/PARIS-SIDE-VARSITYWHITE-min.jpg?v=1693490002"}},"requires_selling_plan":false,"selling_plan_allocations":[]},{"id":41444652744909,"title":"VARSITY WHITE \/ 10 \/ ELITE CALF","option1":"VARSITY WHITE","option2":"10","option3":"ELITE CALF","sku":"840237320713","requires_shipping":true,"taxable":true,"featured_image":{"id":32047290155213,"product_id":7150656913613,"position":13,"created_at":"2023-08-17T14:45:40-04:00","updated_at":"2023-08-31T09:53:22-04:00","alt":"2","width":2960,"height":3700,"src":"\/\/oncept.nyc\/cdn\/shop\/files\/PARIS-SIDE-VARSITYWHITE-min.jpg?v=1693490002","variant_ids":[41444652482765,41444652515533,41444652548301,41444652581069,41444652613837,41444652646605,41444652679373,41444652712141,41444652744909]},"available":true,"name":"PARIS - VARSITY WHITE \/ 10 \/ ELITE CALF","public_title":"VARSITY WHITE \/ 10 \/ ELITE CALF","options":["VARSITY WHITE","10","ELITE CALF"],"price":30000,"weight":0,"compare_at_price":null,"inventory_management":"shopify","barcode":"840237320713","featured_media":{"alt":"2","id":24341376598221,"position":13,"preview_image":{"aspect_ratio":0.8,"height":3700,"width":2960,"src":"\/\/oncept.nyc\/cdn\/shop\/files\/PARIS-SIDE-VARSITYWHITE-min.jpg?v=1693490002"}},"requires_selling_plan":false,"selling_plan_allocations":[]}],"images":["\/\/oncept.nyc\/cdn\/shop\/files\/PARIS-SIDE-ORCHIDMULTI-min.jpg?v=1692297944","\/\/oncept.nyc\/cdn\/shop\/files\/PARIS-TOP-ORCHIDMULTI-min.jpg?v=1692297974","\/\/oncept.nyc\/cdn\/shop\/files\/PARIS-BK-ORCHID-min.jpg?v=1692891636","\/\/oncept.nyc\/cdn\/shop\/files\/PARIS-closeup-ORCHIDMULTI-min.jpg?v=1692891636","\/\/oncept.nyc\/cdn\/shop\/files\/PARIS-outsole-ORCHIDMULTI-min.jpg?v=1692891636","\/\/oncept.nyc\/cdn\/shop\/files\/ONFOOT-PARIS-ORCHIDMULTI-min.jpg?v=1693231383","\/\/oncept.nyc\/cdn\/shop\/files\/PARIS-SIDE-IVORYGREEN-min.jpg?v=1693231383","\/\/oncept.nyc\/cdn\/shop\/files\/PARIS-TOP-IVORYGREEN-min.jpg?v=1693231383","\/\/oncept.nyc\/cdn\/shop\/files\/PARIS-BK-IVORYGREEN-min.jpg?v=1693231383","\/\/oncept.nyc\/cdn\/shop\/files\/PARIS-closeup-IVERYGREEN-min.jpg?v=1693231383","\/\/oncept.nyc\/cdn\/shop\/files\/PARIS-outsole-IVORYGREEN-min.jpg?v=1693231383","\/\/oncept.nyc\/cdn\/shop\/files\/ONFOOT-PARIS-IVORY_GREEN.jpg?v=1693490002","\/\/oncept.nyc\/cdn\/shop\/files\/PARIS-SIDE-VARSITYWHITE-min.jpg?v=1693490002","\/\/oncept.nyc\/cdn\/shop\/files\/PARIS-TOP-VARSITYWHITE-min.jpg?v=1693490002","\/\/oncept.nyc\/cdn\/shop\/files\/PARIS-BK-VARSITYBLUE-min.jpg?v=1693490002","\/\/oncept.nyc\/cdn\/shop\/files\/PARIS-closeup-VARSITYWHITE-min.jpg?v=1693490002","\/\/oncept.nyc\/cdn\/shop\/files\/PARIS-outsole-VARSITYWHITE-min.jpg?v=1693490002","\/\/oncept.nyc\/cdn\/shop\/files\/ONFOOT-PARIS-VARSITYWHITE.jpg?v=1693490002"],"featured_image":"\/\/oncept.nyc\/cdn\/shop\/files\/PARIS-SIDE-ORCHIDMULTI-min.jpg?v=1692297944","options":["Color","Size","Material"],"media":[{"alt":"0","id":24341376532685,"position":1,"preview_image":{"aspect_ratio":0.8,"height":3700,"width":2960,"src":"\/\/oncept.nyc\/cdn\/shop\/files\/PARIS-SIDE-ORCHIDMULTI-min.jpg?v=1692297944"},"aspect_ratio":0.8,"height":3700,"media_type":"image","src":"\/\/oncept.nyc\/cdn\/shop\/files\/PARIS-SIDE-ORCHIDMULTI-min.jpg?v=1692297944","width":2960},{"alt":"0","id":24341376630989,"position":2,"preview_image":{"aspect_ratio":0.8,"height":3700,"width":2960,"src":"\/\/oncept.nyc\/cdn\/shop\/files\/PARIS-TOP-ORCHIDMULTI-min.jpg?v=1692297974"},"aspect_ratio":0.8,"height":3700,"media_type":"image","src":"\/\/oncept.nyc\/cdn\/shop\/files\/PARIS-TOP-ORCHIDMULTI-min.jpg?v=1692297974","width":2960},{"alt":"0","id":24371560153293,"position":3,"preview_image":{"aspect_ratio":0.8,"height":3700,"width":2960,"src":"\/\/oncept.nyc\/cdn\/shop\/files\/PARIS-BK-ORCHID-min.jpg?v=1692891636"},"aspect_ratio":0.8,"height":3700,"media_type":"image","src":"\/\/oncept.nyc\/cdn\/shop\/files\/PARIS-BK-ORCHID-min.jpg?v=1692891636","width":2960},{"alt":"0","id":24341376893133,"position":4,"preview_image":{"aspect_ratio":0.8,"height":3700,"width":2960,"src":"\/\/oncept.nyc\/cdn\/shop\/files\/PARIS-closeup-ORCHIDMULTI-min.jpg?v=1692891636"},"aspect_ratio":0.8,"height":3700,"media_type":"image","src":"\/\/oncept.nyc\/cdn\/shop\/files\/PARIS-closeup-ORCHIDMULTI-min.jpg?v=1692891636","width":2960},{"alt":"0","id":24341376991437,"position":5,"preview_image":{"aspect_ratio":0.8,"height":3700,"width":2960,"src":"\/\/oncept.nyc\/cdn\/shop\/files\/PARIS-outsole-ORCHIDMULTI-min.jpg?v=1692891636"},"aspect_ratio":0.8,"height":3700,"media_type":"image","src":"\/\/oncept.nyc\/cdn\/shop\/files\/PARIS-outsole-ORCHIDMULTI-min.jpg?v=1692891636","width":2960},{"alt":"0","id":24393738977485,"position":6,"preview_image":{"aspect_ratio":0.8,"height":3000,"width":2400,"src":"\/\/oncept.nyc\/cdn\/shop\/files\/ONFOOT-PARIS-ORCHIDMULTI-min.jpg?v=1693231383"},"aspect_ratio":0.8,"height":3000,"media_type":"image","src":"\/\/oncept.nyc\/cdn\/shop\/files\/ONFOOT-PARIS-ORCHIDMULTI-min.jpg?v=1693231383","width":2400},{"alt":"1","id":24341376565453,"position":7,"preview_image":{"aspect_ratio":0.8,"height":3700,"width":2960,"src":"\/\/oncept.nyc\/cdn\/shop\/files\/PARIS-SIDE-IVORYGREEN-min.jpg?v=1693231383"},"aspect_ratio":0.8,"height":3700,"media_type":"image","src":"\/\/oncept.nyc\/cdn\/shop\/files\/PARIS-SIDE-IVORYGREEN-min.jpg?v=1693231383","width":2960},{"alt":"1","id":24341376663757,"position":8,"preview_image":{"aspect_ratio":0.8,"height":3700,"width":2960,"src":"\/\/oncept.nyc\/cdn\/shop\/files\/PARIS-TOP-IVORYGREEN-min.jpg?v=1693231383"},"aspect_ratio":0.8,"height":3700,"media_type":"image","src":"\/\/oncept.nyc\/cdn\/shop\/files\/PARIS-TOP-IVORYGREEN-min.jpg?v=1693231383","width":2960},{"alt":"1","id":24371560120525,"position":9,"preview_image":{"aspect_ratio":0.8,"height":3700,"width":2960,"src":"\/\/oncept.nyc\/cdn\/shop\/files\/PARIS-BK-IVORYGREEN-min.jpg?v=1693231383"},"aspect_ratio":0.8,"height":3700,"media_type":"image","src":"\/\/oncept.nyc\/cdn\/shop\/files\/PARIS-BK-IVORYGREEN-min.jpg?v=1693231383","width":2960},{"alt":"1","id":24341376860365,"position":10,"preview_image":{"aspect_ratio":0.8,"height":3700,"width":2960,"src":"\/\/oncept.nyc\/cdn\/shop\/files\/PARIS-closeup-IVERYGREEN-min.jpg?v=1693231383"},"aspect_ratio":0.8,"height":3700,"media_type":"image","src":"\/\/oncept.nyc\/cdn\/shop\/files\/PARIS-closeup-IVERYGREEN-min.jpg?v=1693231383","width":2960},{"alt":"1","id":24341376958669,"position":11,"preview_image":{"aspect_ratio":0.8,"height":3700,"width":2960,"src":"\/\/oncept.nyc\/cdn\/shop\/files\/PARIS-outsole-IVORYGREEN-min.jpg?v=1693231383"},"aspect_ratio":0.8,"height":3700,"media_type":"image","src":"\/\/oncept.nyc\/cdn\/shop\/files\/PARIS-outsole-IVORYGREEN-min.jpg?v=1693231383","width":2960},{"alt":"1","id":24416390643917,"position":12,"preview_image":{"aspect_ratio":0.8,"height":2000,"width":1600,"src":"\/\/oncept.nyc\/cdn\/shop\/files\/ONFOOT-PARIS-IVORY_GREEN.jpg?v=1693490002"},"aspect_ratio":0.8,"height":2000,"media_type":"image","src":"\/\/oncept.nyc\/cdn\/shop\/files\/ONFOOT-PARIS-IVORY_GREEN.jpg?v=1693490002","width":1600},{"alt":"2","id":24341376598221,"position":13,"preview_image":{"aspect_ratio":0.8,"height":3700,"width":2960,"src":"\/\/oncept.nyc\/cdn\/shop\/files\/PARIS-SIDE-VARSITYWHITE-min.jpg?v=1693490002"},"aspect_ratio":0.8,"height":3700,"media_type":"image","src":"\/\/oncept.nyc\/cdn\/shop\/files\/PARIS-SIDE-VARSITYWHITE-min.jpg?v=1693490002","width":2960},{"alt":"2","id":24341376696525,"position":14,"preview_image":{"aspect_ratio":0.8,"height":3700,"width":2960,"src":"\/\/oncept.nyc\/cdn\/shop\/files\/PARIS-TOP-VARSITYWHITE-min.jpg?v=1693490002"},"aspect_ratio":0.8,"height":3700,"media_type":"image","src":"\/\/oncept.nyc\/cdn\/shop\/files\/PARIS-TOP-VARSITYWHITE-min.jpg?v=1693490002","width":2960},{"alt":"2","id":24371560087757,"position":15,"preview_image":{"aspect_ratio":0.8,"height":3700,"width":2960,"src":"\/\/oncept.nyc\/cdn\/shop\/files\/PARIS-BK-VARSITYBLUE-min.jpg?v=1693490002"},"aspect_ratio":0.8,"height":3700,"media_type":"image","src":"\/\/oncept.nyc\/cdn\/shop\/files\/PARIS-BK-VARSITYBLUE-min.jpg?v=1693490002","width":2960},{"alt":"2","id":24341376827597,"position":16,"preview_image":{"aspect_ratio":0.8,"height":3700,"width":2960,"src":"\/\/oncept.nyc\/cdn\/shop\/files\/PARIS-closeup-VARSITYWHITE-min.jpg?v=1693490002"},"aspect_ratio":0.8,"height":3700,"media_type":"image","src":"\/\/oncept.nyc\/cdn\/shop\/files\/PARIS-closeup-VARSITYWHITE-min.jpg?v=1693490002","width":2960},{"alt":"2","id":24341376925901,"position":17,"preview_image":{"aspect_ratio":0.8,"height":3700,"width":2960,"src":"\/\/oncept.nyc\/cdn\/shop\/files\/PARIS-outsole-VARSITYWHITE-min.jpg?v=1693490002"},"aspect_ratio":0.8,"height":3700,"media_type":"image","src":"\/\/oncept.nyc\/cdn\/shop\/files\/PARIS-outsole-VARSITYWHITE-min.jpg?v=1693490002","width":2960},{"alt":"2","id":24416390611149,"position":18,"preview_image":{"aspect_ratio":0.8,"height":2000,"width":1600,"src":"\/\/oncept.nyc\/cdn\/shop\/files\/ONFOOT-PARIS-VARSITYWHITE.jpg?v=1693490002"},"aspect_ratio":0.8,"height":2000,"media_type":"image","src":"\/\/oncept.nyc\/cdn\/shop\/files\/ONFOOT-PARIS-VARSITYWHITE.jpg?v=1693490002","width":1600}],"requires_selling_plan":false,"selling_plan_groups":[],"content":"\u003cmeta charset=\"utf-8\"\u003e\n\u003cp data-mce-fragment=\"1\"\u003eThis season, we're taking our sneakers to the next level – introducing the PARIS skater. Perfect for everyday wear and made from luxurious leather and recycled mesh. Always with Oncept's signature ultra comfort features, memory foam footbed, with a padded tongue and counter provide even more pillow comfort. Inspired by skate park vibes but refined and elevated for all of your adventures.\u003c\/p\u003e\n\u003cbr\u003e"} { "options": [ { "title": "Color", "values": [ { "value": "ORCHID MULTI", "url": "/products/paris?variant=41444653367501" }, { "value": "IVORY - GREEN", "url": "/products/paris?variant=41444652777677" }, { "value": "VARSITY WHITE", "url": "/products/paris?variant=41444652482765" } ] }, { "title": "Size", "values": [ { "value": "6", "url": "/products/paris?variant=41444653367501" }, { "value": "6.5", "url": "/products/paris?variant=41444653400269" }, { "value": "7", "url": "/products/paris?variant=41444653433037" }, { "value": "7.5", "url": "/products/paris?variant=41444653465805" }, { "value": "8", "url": "/products/paris?variant=41444653498573" }, { "value": "8.5", "url": "/products/paris?variant=41444653531341" }, { "value": "9", "url": "/products/paris?variant=41444653564109" }, { "value": "9.5", "url": "/products/paris?variant=41444653596877" }, { "value": "10", "url": "/products/paris?variant=41444653629645" } ] }, { "title": "Material", "values": [ { "value": "ELITE CALF", "url": "/products/paris?variant=41444653367501" } ] } ] }
{"id":7191160357069,"title":"PANAMA","handle":"panama","description":"\u003cp\u003e\u003cspan\u003eThe PANAMA stadium low top has arrived. Designed to take you from the turf to the street with effortless cool. We've updated this retro style with two–tone bottoms and ultra-soft lux leather for a timeless new look. Featuring six fresh colors, re–nylon spiral laces,\u003c\/span\u003e\u003cspan\u003e butter nubuk \u003c\/span\u003e\u003cspan\u003eand our signature re-speckled soles. \u003c\/span\u003e\u003c\/p\u003e\n\u003cbr style=\"font-weight: 400;\"\u003e","published_at":"2023-08-17T17:02:07-04:00","created_at":"2023-03-14T18:13:52-04:00","vendor":"Oncept","type":"Footwear","tags":[],"price":27500,"price_min":27500,"price_max":27500,"available":true,"price_varies":false,"compare_at_price":null,"compare_at_price_min":0,"compare_at_price_max":0,"compare_at_price_varies":false,"variants":[{"id":41539445424333,"title":"ORCHID \/ 6 \/ SOFT CALF LEATHER","option1":"ORCHID","option2":"6","option3":"SOFT CALF LEATHER","sku":"840237320096","requires_shipping":true,"taxable":true,"featured_image":{"id":32042011066573,"product_id":7191160357069,"position":1,"created_at":"2023-08-16T23:55:15-04:00","updated_at":"2023-08-16T23:58:17-04:00","alt":"0","width":2960,"height":3700,"src":"\/\/oncept.nyc\/cdn\/shop\/files\/PANAMA-SIDE-ORCHID-min.jpg?v=1692244697","variant_ids":[41539445424333,41539445457101,41539445489869,41539445522637,41539445555405,41539445588173,41539445620941,41539445653709,41539445686477]},"available":true,"name":"PANAMA - ORCHID \/ 6 \/ SOFT CALF LEATHER","public_title":"ORCHID \/ 6 \/ SOFT CALF LEATHER","options":["ORCHID","6","SOFT CALF LEATHER"],"price":27500,"weight":0,"compare_at_price":null,"inventory_management":"shopify","barcode":"840237320096","featured_media":{"alt":"0","id":24336081944781,"position":1,"preview_image":{"aspect_ratio":0.8,"height":3700,"width":2960,"src":"\/\/oncept.nyc\/cdn\/shop\/files\/PANAMA-SIDE-ORCHID-min.jpg?v=1692244697"}},"requires_selling_plan":false,"selling_plan_allocations":[]},{"id":41539445457101,"title":"ORCHID \/ 6.5 \/ SOFT CALF LEATHER","option1":"ORCHID","option2":"6.5","option3":"SOFT CALF LEATHER","sku":"840237320102","requires_shipping":true,"taxable":true,"featured_image":{"id":32042011066573,"product_id":7191160357069,"position":1,"created_at":"2023-08-16T23:55:15-04:00","updated_at":"2023-08-16T23:58:17-04:00","alt":"0","width":2960,"height":3700,"src":"\/\/oncept.nyc\/cdn\/shop\/files\/PANAMA-SIDE-ORCHID-min.jpg?v=1692244697","variant_ids":[41539445424333,41539445457101,41539445489869,41539445522637,41539445555405,41539445588173,41539445620941,41539445653709,41539445686477]},"available":true,"name":"PANAMA - ORCHID \/ 6.5 \/ SOFT CALF LEATHER","public_title":"ORCHID \/ 6.5 \/ SOFT CALF LEATHER","options":["ORCHID","6.5","SOFT CALF LEATHER"],"price":27500,"weight":0,"compare_at_price":null,"inventory_management":"shopify","barcode":"840237320102","featured_media":{"alt":"0","id":24336081944781,"position":1,"preview_image":{"aspect_ratio":0.8,"height":3700,"width":2960,"src":"\/\/oncept.nyc\/cdn\/shop\/files\/PANAMA-SIDE-ORCHID-min.jpg?v=1692244697"}},"requires_selling_plan":false,"selling_plan_allocations":[]},{"id":41539445489869,"title":"ORCHID \/ 7 \/ SOFT CALF LEATHER","option1":"ORCHID","option2":"7","option3":"SOFT CALF LEATHER","sku":"840237320119","requires_shipping":true,"taxable":true,"featured_image":{"id":32042011066573,"product_id":7191160357069,"position":1,"created_at":"2023-08-16T23:55:15-04:00","updated_at":"2023-08-16T23:58:17-04:00","alt":"0","width":2960,"height":3700,"src":"\/\/oncept.nyc\/cdn\/shop\/files\/PANAMA-SIDE-ORCHID-min.jpg?v=1692244697","variant_ids":[41539445424333,41539445457101,41539445489869,41539445522637,41539445555405,41539445588173,41539445620941,41539445653709,41539445686477]},"available":true,"name":"PANAMA - ORCHID \/ 7 \/ SOFT CALF LEATHER","public_title":"ORCHID \/ 7 \/ SOFT CALF LEATHER","options":["ORCHID","7","SOFT CALF LEATHER"],"price":27500,"weight":0,"compare_at_price":null,"inventory_management":"shopify","barcode":"840237320119","featured_media":{"alt":"0","id":24336081944781,"position":1,"preview_image":{"aspect_ratio":0.8,"height":3700,"width":2960,"src":"\/\/oncept.nyc\/cdn\/shop\/files\/PANAMA-SIDE-ORCHID-min.jpg?v=1692244697"}},"requires_selling_plan":false,"selling_plan_allocations":[]},{"id":41539445522637,"title":"ORCHID \/ 7.5 \/ SOFT CALF LEATHER","option1":"ORCHID","option2":"7.5","option3":"SOFT CALF LEATHER","sku":"840237320126","requires_shipping":true,"taxable":true,"featured_image":{"id":32042011066573,"product_id":7191160357069,"position":1,"created_at":"2023-08-16T23:55:15-04:00","updated_at":"2023-08-16T23:58:17-04:00","alt":"0","width":2960,"height":3700,"src":"\/\/oncept.nyc\/cdn\/shop\/files\/PANAMA-SIDE-ORCHID-min.jpg?v=1692244697","variant_ids":[41539445424333,41539445457101,41539445489869,41539445522637,41539445555405,41539445588173,41539445620941,41539445653709,41539445686477]},"available":true,"name":"PANAMA - ORCHID \/ 7.5 \/ SOFT CALF LEATHER","public_title":"ORCHID \/ 7.5 \/ SOFT CALF LEATHER","options":["ORCHID","7.5","SOFT CALF LEATHER"],"price":27500,"weight":0,"compare_at_price":null,"inventory_management":"shopify","barcode":"840237320126","featured_media":{"alt":"0","id":24336081944781,"position":1,"preview_image":{"aspect_ratio":0.8,"height":3700,"width":2960,"src":"\/\/oncept.nyc\/cdn\/shop\/files\/PANAMA-SIDE-ORCHID-min.jpg?v=1692244697"}},"requires_selling_plan":false,"selling_plan_allocations":[]},{"id":41539445555405,"title":"ORCHID \/ 8 \/ SOFT CALF LEATHER","option1":"ORCHID","option2":"8","option3":"SOFT CALF LEATHER","sku":"840237320133","requires_shipping":true,"taxable":true,"featured_image":{"id":32042011066573,"product_id":7191160357069,"position":1,"created_at":"2023-08-16T23:55:15-04:00","updated_at":"2023-08-16T23:58:17-04:00","alt":"0","width":2960,"height":3700,"src":"\/\/oncept.nyc\/cdn\/shop\/files\/PANAMA-SIDE-ORCHID-min.jpg?v=1692244697","variant_ids":[41539445424333,41539445457101,41539445489869,41539445522637,41539445555405,41539445588173,41539445620941,41539445653709,41539445686477]},"available":true,"name":"PANAMA - ORCHID \/ 8 \/ SOFT CALF LEATHER","public_title":"ORCHID \/ 8 \/ SOFT CALF LEATHER","options":["ORCHID","8","SOFT CALF LEATHER"],"price":27500,"weight":0,"compare_at_price":null,"inventory_management":"shopify","barcode":"840237320133","featured_media":{"alt":"0","id":24336081944781,"position":1,"preview_image":{"aspect_ratio":0.8,"height":3700,"width":2960,"src":"\/\/oncept.nyc\/cdn\/shop\/files\/PANAMA-SIDE-ORCHID-min.jpg?v=1692244697"}},"requires_selling_plan":false,"selling_plan_allocations":[]},{"id":41539445588173,"title":"ORCHID \/ 8.5 \/ SOFT CALF LEATHER","option1":"ORCHID","option2":"8.5","option3":"SOFT CALF LEATHER","sku":"840237320140","requires_shipping":true,"taxable":true,"featured_image":{"id":32042011066573,"product_id":7191160357069,"position":1,"created_at":"2023-08-16T23:55:15-04:00","updated_at":"2023-08-16T23:58:17-04:00","alt":"0","width":2960,"height":3700,"src":"\/\/oncept.nyc\/cdn\/shop\/files\/PANAMA-SIDE-ORCHID-min.jpg?v=1692244697","variant_ids":[41539445424333,41539445457101,41539445489869,41539445522637,41539445555405,41539445588173,41539445620941,41539445653709,41539445686477]},"available":true,"name":"PANAMA - ORCHID \/ 8.5 \/ SOFT CALF LEATHER","public_title":"ORCHID \/ 8.5 \/ SOFT CALF LEATHER","options":["ORCHID","8.5","SOFT CALF LEATHER"],"price":27500,"weight":0,"compare_at_price":null,"inventory_management":"shopify","barcode":"840237320140","featured_media":{"alt":"0","id":24336081944781,"position":1,"preview_image":{"aspect_ratio":0.8,"height":3700,"width":2960,"src":"\/\/oncept.nyc\/cdn\/shop\/files\/PANAMA-SIDE-ORCHID-min.jpg?v=1692244697"}},"requires_selling_plan":false,"selling_plan_allocations":[]},{"id":41539445620941,"title":"ORCHID \/ 9 \/ SOFT CALF LEATHER","option1":"ORCHID","option2":"9","option3":"SOFT CALF LEATHER","sku":"840237320157","requires_shipping":true,"taxable":true,"featured_image":{"id":32042011066573,"product_id":7191160357069,"position":1,"created_at":"2023-08-16T23:55:15-04:00","updated_at":"2023-08-16T23:58:17-04:00","alt":"0","width":2960,"height":3700,"src":"\/\/oncept.nyc\/cdn\/shop\/files\/PANAMA-SIDE-ORCHID-min.jpg?v=1692244697","variant_ids":[41539445424333,41539445457101,41539445489869,41539445522637,41539445555405,41539445588173,41539445620941,41539445653709,41539445686477]},"available":true,"name":"PANAMA - ORCHID \/ 9 \/ SOFT CALF LEATHER","public_title":"ORCHID \/ 9 \/ SOFT CALF LEATHER","options":["ORCHID","9","SOFT CALF LEATHER"],"price":27500,"weight":0,"compare_at_price":null,"inventory_management":"shopify","barcode":"840237320157","featured_media":{"alt":"0","id":24336081944781,"position":1,"preview_image":{"aspect_ratio":0.8,"height":3700,"width":2960,"src":"\/\/oncept.nyc\/cdn\/shop\/files\/PANAMA-SIDE-ORCHID-min.jpg?v=1692244697"}},"requires_selling_plan":false,"selling_plan_allocations":[]},{"id":41539445653709,"title":"ORCHID \/ 9.5 \/ SOFT CALF LEATHER","option1":"ORCHID","option2":"9.5","option3":"SOFT CALF LEATHER","sku":"840237320164","requires_shipping":true,"taxable":true,"featured_image":{"id":32042011066573,"product_id":7191160357069,"position":1,"created_at":"2023-08-16T23:55:15-04:00","updated_at":"2023-08-16T23:58:17-04:00","alt":"0","width":2960,"height":3700,"src":"\/\/oncept.nyc\/cdn\/shop\/files\/PANAMA-SIDE-ORCHID-min.jpg?v=1692244697","variant_ids":[41539445424333,41539445457101,41539445489869,41539445522637,41539445555405,41539445588173,41539445620941,41539445653709,41539445686477]},"available":true,"name":"PANAMA - ORCHID \/ 9.5 \/ SOFT CALF LEATHER","public_title":"ORCHID \/ 9.5 \/ SOFT CALF LEATHER","options":["ORCHID","9.5","SOFT CALF LEATHER"],"price":27500,"weight":0,"compare_at_price":null,"inventory_management":"shopify","barcode":"840237320164","featured_media":{"alt":"0","id":24336081944781,"position":1,"preview_image":{"aspect_ratio":0.8,"height":3700,"width":2960,"src":"\/\/oncept.nyc\/cdn\/shop\/files\/PANAMA-SIDE-ORCHID-min.jpg?v=1692244697"}},"requires_selling_plan":false,"selling_plan_allocations":[]},{"id":41539445686477,"title":"ORCHID \/ 10 \/ SOFT CALF LEATHER","option1":"ORCHID","option2":"10","option3":"SOFT CALF LEATHER","sku":"840237320171","requires_shipping":true,"taxable":true,"featured_image":{"id":32042011066573,"product_id":7191160357069,"position":1,"created_at":"2023-08-16T23:55:15-04:00","updated_at":"2023-08-16T23:58:17-04:00","alt":"0","width":2960,"height":3700,"src":"\/\/oncept.nyc\/cdn\/shop\/files\/PANAMA-SIDE-ORCHID-min.jpg?v=1692244697","variant_ids":[41539445424333,41539445457101,41539445489869,41539445522637,41539445555405,41539445588173,41539445620941,41539445653709,41539445686477]},"available":true,"name":"PANAMA - ORCHID \/ 10 \/ SOFT CALF LEATHER","public_title":"ORCHID \/ 10 \/ SOFT CALF LEATHER","options":["ORCHID","10","SOFT CALF LEATHER"],"price":27500,"weight":0,"compare_at_price":null,"inventory_management":"shopify","barcode":"840237320171","featured_media":{"alt":"0","id":24336081944781,"position":1,"preview_image":{"aspect_ratio":0.8,"height":3700,"width":2960,"src":"\/\/oncept.nyc\/cdn\/shop\/files\/PANAMA-SIDE-ORCHID-min.jpg?v=1692244697"}},"requires_selling_plan":false,"selling_plan_allocations":[]},{"id":41539445719245,"title":"YELLOW MAIZE \/ 6 \/ SOFT CALF LEATHER","option1":"YELLOW MAIZE","option2":"6","option3":"SOFT CALF LEATHER","sku":"840237320362","requires_shipping":true,"taxable":true,"featured_image":{"id":32042010869965,"product_id":7191160357069,"position":7,"created_at":"2023-08-16T23:55:15-04:00","updated_at":"2023-08-24T11:32:42-04:00","alt":"1","width":2960,"height":3700,"src":"\/\/oncept.nyc\/cdn\/shop\/files\/PANAMA-SIDE-YELLOWMAIZE-min.jpg?v=1692891162","variant_ids":[41539445719245,41539445752013,41539445784781,41539445817549,41539445850317,41539445883085,41539445915853,41539445948621,41539445981389]},"available":true,"name":"PANAMA - YELLOW MAIZE \/ 6 \/ SOFT CALF LEATHER","public_title":"YELLOW MAIZE \/ 6 \/ SOFT CALF LEATHER","options":["YELLOW MAIZE","6","SOFT CALF LEATHER"],"price":27500,"weight":0,"compare_at_price":null,"inventory_management":"shopify","barcode":"840237320362","featured_media":{"alt":"1","id":24336082043085,"position":7,"preview_image":{"aspect_ratio":0.8,"height":3700,"width":2960,"src":"\/\/oncept.nyc\/cdn\/shop\/files\/PANAMA-SIDE-YELLOWMAIZE-min.jpg?v=1692891162"}},"requires_selling_plan":false,"selling_plan_allocations":[]},{"id":41539445752013,"title":"YELLOW MAIZE \/ 6.5 \/ SOFT CALF LEATHER","option1":"YELLOW MAIZE","option2":"6.5","option3":"SOFT CALF LEATHER","sku":"840237320379","requires_shipping":true,"taxable":true,"featured_image":{"id":32042010869965,"product_id":7191160357069,"position":7,"created_at":"2023-08-16T23:55:15-04:00","updated_at":"2023-08-24T11:32:42-04:00","alt":"1","width":2960,"height":3700,"src":"\/\/oncept.nyc\/cdn\/shop\/files\/PANAMA-SIDE-YELLOWMAIZE-min.jpg?v=1692891162","variant_ids":[41539445719245,41539445752013,41539445784781,41539445817549,41539445850317,41539445883085,41539445915853,41539445948621,41539445981389]},"available":true,"name":"PANAMA - YELLOW MAIZE \/ 6.5 \/ SOFT CALF LEATHER","public_title":"YELLOW MAIZE \/ 6.5 \/ SOFT CALF LEATHER","options":["YELLOW MAIZE","6.5","SOFT CALF LEATHER"],"price":27500,"weight":0,"compare_at_price":null,"inventory_management":"shopify","barcode":"840237320379","featured_media":{"alt":"1","id":24336082043085,"position":7,"preview_image":{"aspect_ratio":0.8,"height":3700,"width":2960,"src":"\/\/oncept.nyc\/cdn\/shop\/files\/PANAMA-SIDE-YELLOWMAIZE-min.jpg?v=1692891162"}},"requires_selling_plan":false,"selling_plan_allocations":[]},{"id":41539445784781,"title":"YELLOW MAIZE \/ 7 \/ SOFT CALF LEATHER","option1":"YELLOW MAIZE","option2":"7","option3":"SOFT CALF LEATHER","sku":"840237320386","requires_shipping":true,"taxable":true,"featured_image":{"id":32042010869965,"product_id":7191160357069,"position":7,"created_at":"2023-08-16T23:55:15-04:00","updated_at":"2023-08-24T11:32:42-04:00","alt":"1","width":2960,"height":3700,"src":"\/\/oncept.nyc\/cdn\/shop\/files\/PANAMA-SIDE-YELLOWMAIZE-min.jpg?v=1692891162","variant_ids":[41539445719245,41539445752013,41539445784781,41539445817549,41539445850317,41539445883085,41539445915853,41539445948621,41539445981389]},"available":true,"name":"PANAMA - YELLOW MAIZE \/ 7 \/ SOFT CALF LEATHER","public_title":"YELLOW MAIZE \/ 7 \/ SOFT CALF LEATHER","options":["YELLOW MAIZE","7","SOFT CALF LEATHER"],"price":27500,"weight":0,"compare_at_price":null,"inventory_management":"shopify","barcode":"840237320386","featured_media":{"alt":"1","id":24336082043085,"position":7,"preview_image":{"aspect_ratio":0.8,"height":3700,"width":2960,"src":"\/\/oncept.nyc\/cdn\/shop\/files\/PANAMA-SIDE-YELLOWMAIZE-min.jpg?v=1692891162"}},"requires_selling_plan":false,"selling_plan_allocations":[]},{"id":41539445817549,"title":"YELLOW MAIZE \/ 7.5 \/ SOFT CALF LEATHER","option1":"YELLOW MAIZE","option2":"7.5","option3":"SOFT CALF LEATHER","sku":"840237320393","requires_shipping":true,"taxable":true,"featured_image":{"id":32042010869965,"product_id":7191160357069,"position":7,"created_at":"2023-08-16T23:55:15-04:00","updated_at":"2023-08-24T11:32:42-04:00","alt":"1","width":2960,"height":3700,"src":"\/\/oncept.nyc\/cdn\/shop\/files\/PANAMA-SIDE-YELLOWMAIZE-min.jpg?v=1692891162","variant_ids":[41539445719245,41539445752013,41539445784781,41539445817549,41539445850317,41539445883085,41539445915853,41539445948621,41539445981389]},"available":true,"name":"PANAMA - YELLOW MAIZE \/ 7.5 \/ SOFT CALF LEATHER","public_title":"YELLOW MAIZE \/ 7.5 \/ SOFT CALF LEATHER","options":["YELLOW MAIZE","7.5","SOFT CALF LEATHER"],"price":27500,"weight":0,"compare_at_price":null,"inventory_management":"shopify","barcode":"840237320393","featured_media":{"alt":"1","id":24336082043085,"position":7,"preview_image":{"aspect_ratio":0.8,"height":3700,"width":2960,"src":"\/\/oncept.nyc\/cdn\/shop\/files\/PANAMA-SIDE-YELLOWMAIZE-min.jpg?v=1692891162"}},"requires_selling_plan":false,"selling_plan_allocations":[]},{"id":41539445850317,"title":"YELLOW MAIZE \/ 8 \/ SOFT CALF LEATHER","option1":"YELLOW MAIZE","option2":"8","option3":"SOFT CALF LEATHER","sku":"840237320409","requires_shipping":true,"taxable":true,"featured_image":{"id":32042010869965,"product_id":7191160357069,"position":7,"created_at":"2023-08-16T23:55:15-04:00","updated_at":"2023-08-24T11:32:42-04:00","alt":"1","width":2960,"height":3700,"src":"\/\/oncept.nyc\/cdn\/shop\/files\/PANAMA-SIDE-YELLOWMAIZE-min.jpg?v=1692891162","variant_ids":[41539445719245,41539445752013,41539445784781,41539445817549,41539445850317,41539445883085,41539445915853,41539445948621,41539445981389]},"available":true,"name":"PANAMA - YELLOW MAIZE \/ 8 \/ SOFT CALF LEATHER","public_title":"YELLOW MAIZE \/ 8 \/ SOFT CALF LEATHER","options":["YELLOW MAIZE","8","SOFT CALF LEATHER"],"price":27500,"weight":0,"compare_at_price":null,"inventory_management":"shopify","barcode":"840237320409","featured_media":{"alt":"1","id":24336082043085,"position":7,"preview_image":{"aspect_ratio":0.8,"height":3700,"width":2960,"src":"\/\/oncept.nyc\/cdn\/shop\/files\/PANAMA-SIDE-YELLOWMAIZE-min.jpg?v=1692891162"}},"requires_selling_plan":false,"selling_plan_allocations":[]},{"id":41539445883085,"title":"YELLOW MAIZE \/ 8.5 \/ SOFT CALF LEATHER","option1":"YELLOW MAIZE","option2":"8.5","option3":"SOFT CALF LEATHER","sku":"840237320416","requires_shipping":true,"taxable":true,"featured_image":{"id":32042010869965,"product_id":7191160357069,"position":7,"created_at":"2023-08-16T23:55:15-04:00","updated_at":"2023-08-24T11:32:42-04:00","alt":"1","width":2960,"height":3700,"src":"\/\/oncept.nyc\/cdn\/shop\/files\/PANAMA-SIDE-YELLOWMAIZE-min.jpg?v=1692891162","variant_ids":[41539445719245,41539445752013,41539445784781,41539445817549,41539445850317,41539445883085,41539445915853,41539445948621,41539445981389]},"available":true,"name":"PANAMA - YELLOW MAIZE \/ 8.5 \/ SOFT CALF LEATHER","public_title":"YELLOW MAIZE \/ 8.5 \/ SOFT CALF LEATHER","options":["YELLOW MAIZE","8.5","SOFT CALF LEATHER"],"price":27500,"weight":0,"compare_at_price":null,"inventory_management":"shopify","barcode":"840237320416","featured_media":{"alt":"1","id":24336082043085,"position":7,"preview_image":{"aspect_ratio":0.8,"height":3700,"width":2960,"src":"\/\/oncept.nyc\/cdn\/shop\/files\/PANAMA-SIDE-YELLOWMAIZE-min.jpg?v=1692891162"}},"requires_selling_plan":false,"selling_plan_allocations":[]},{"id":41539445915853,"title":"YELLOW MAIZE \/ 9 \/ SOFT CALF LEATHER","option1":"YELLOW MAIZE","option2":"9","option3":"SOFT CALF LEATHER","sku":"840237320423","requires_shipping":true,"taxable":true,"featured_image":{"id":32042010869965,"product_id":7191160357069,"position":7,"created_at":"2023-08-16T23:55:15-04:00","updated_at":"2023-08-24T11:32:42-04:00","alt":"1","width":2960,"height":3700,"src":"\/\/oncept.nyc\/cdn\/shop\/files\/PANAMA-SIDE-YELLOWMAIZE-min.jpg?v=1692891162","variant_ids":[41539445719245,41539445752013,41539445784781,41539445817549,41539445850317,41539445883085,41539445915853,41539445948621,41539445981389]},"available":true,"name":"PANAMA - YELLOW MAIZE \/ 9 \/ SOFT CALF LEATHER","public_title":"YELLOW MAIZE \/ 9 \/ SOFT CALF LEATHER","options":["YELLOW MAIZE","9","SOFT CALF LEATHER"],"price":27500,"weight":0,"compare_at_price":null,"inventory_management":"shopify","barcode":"840237320423","featured_media":{"alt":"1","id":24336082043085,"position":7,"preview_image":{"aspect_ratio":0.8,"height":3700,"width":2960,"src":"\/\/oncept.nyc\/cdn\/shop\/files\/PANAMA-SIDE-YELLOWMAIZE-min.jpg?v=1692891162"}},"requires_selling_plan":false,"selling_plan_allocations":[]},{"id":41539445948621,"title":"YELLOW MAIZE \/ 9.5 \/ SOFT CALF LEATHER","option1":"YELLOW MAIZE","option2":"9.5","option3":"SOFT CALF LEATHER","sku":"840237320430","requires_shipping":true,"taxable":true,"featured_image":{"id":32042010869965,"product_id":7191160357069,"position":7,"created_at":"2023-08-16T23:55:15-04:00","updated_at":"2023-08-24T11:32:42-04:00","alt":"1","width":2960,"height":3700,"src":"\/\/oncept.nyc\/cdn\/shop\/files\/PANAMA-SIDE-YELLOWMAIZE-min.jpg?v=1692891162","variant_ids":[41539445719245,41539445752013,41539445784781,41539445817549,41539445850317,41539445883085,41539445915853,41539445948621,41539445981389]},"available":true,"name":"PANAMA - YELLOW MAIZE \/ 9.5 \/ SOFT CALF LEATHER","public_title":"YELLOW MAIZE \/ 9.5 \/ SOFT CALF LEATHER","options":["YELLOW MAIZE","9.5","SOFT CALF LEATHER"],"price":27500,"weight":0,"compare_at_price":null,"inventory_management":"shopify","barcode":"840237320430","featured_media":{"alt":"1","id":24336082043085,"position":7,"preview_image":{"aspect_ratio":0.8,"height":3700,"width":2960,"src":"\/\/oncept.nyc\/cdn\/shop\/files\/PANAMA-SIDE-YELLOWMAIZE-min.jpg?v=1692891162"}},"requires_selling_plan":false,"selling_plan_allocations":[]},{"id":41539445981389,"title":"YELLOW MAIZE \/ 10 \/ SOFT CALF LEATHER","option1":"YELLOW MAIZE","option2":"10","option3":"SOFT CALF LEATHER","sku":"840237320447","requires_shipping":true,"taxable":true,"featured_image":{"id":32042010869965,"product_id":7191160357069,"position":7,"created_at":"2023-08-16T23:55:15-04:00","updated_at":"2023-08-24T11:32:42-04:00","alt":"1","width":2960,"height":3700,"src":"\/\/oncept.nyc\/cdn\/shop\/files\/PANAMA-SIDE-YELLOWMAIZE-min.jpg?v=1692891162","variant_ids":[41539445719245,41539445752013,41539445784781,41539445817549,41539445850317,41539445883085,41539445915853,41539445948621,41539445981389]},"available":true,"name":"PANAMA - YELLOW MAIZE \/ 10 \/ SOFT CALF LEATHER","public_title":"YELLOW MAIZE \/ 10 \/ SOFT CALF LEATHER","options":["YELLOW MAIZE","10","SOFT CALF LEATHER"],"price":27500,"weight":0,"compare_at_price":null,"inventory_management":"shopify","barcode":"840237320447","featured_media":{"alt":"1","id":24336082043085,"position":7,"preview_image":{"aspect_ratio":0.8,"height":3700,"width":2960,"src":"\/\/oncept.nyc\/cdn\/shop\/files\/PANAMA-SIDE-YELLOWMAIZE-min.jpg?v=1692891162"}},"requires_selling_plan":false,"selling_plan_allocations":[]},{"id":41539446014157,"title":"BLUE VAPOR \/ 6 \/ SOFT CALF LEATHER","option1":"BLUE VAPOR","option2":"6","option3":"SOFT CALF LEATHER","sku":"840237319915","requires_shipping":true,"taxable":true,"featured_image":{"id":32042010443981,"product_id":7191160357069,"position":13,"created_at":"2023-08-16T23:55:15-04:00","updated_at":"2023-08-28T12:59:58-04:00","alt":"2","width":2960,"height":3700,"src":"\/\/oncept.nyc\/cdn\/shop\/files\/PANAMA-SIDE-VAPORBLUE-min.jpg?v=1693241998","variant_ids":[41539446014157,41539446046925,41539446079693,41539446112461,41539446145229,41539446177997,41539446210765,41539446243533,41539446276301]},"available":true,"name":"PANAMA - BLUE VAPOR \/ 6 \/ SOFT CALF LEATHER","public_title":"BLUE VAPOR \/ 6 \/ SOFT CALF LEATHER","options":["BLUE VAPOR","6","SOFT CALF LEATHER"],"price":27500,"weight":0,"compare_at_price":null,"inventory_management":"shopify","barcode":"840237319915","featured_media":{"alt":"2","id":24336082075853,"position":13,"preview_image":{"aspect_ratio":0.8,"height":3700,"width":2960,"src":"\/\/oncept.nyc\/cdn\/shop\/files\/PANAMA-SIDE-VAPORBLUE-min.jpg?v=1693241998"}},"requires_selling_plan":false,"selling_plan_allocations":[]},{"id":41539446046925,"title":"BLUE VAPOR \/ 6.5 \/ SOFT CALF LEATHER","option1":"BLUE VAPOR","option2":"6.5","option3":"SOFT CALF LEATHER","sku":"840237319922","requires_shipping":true,"taxable":true,"featured_image":{"id":32042010443981,"product_id":7191160357069,"position":13,"created_at":"2023-08-16T23:55:15-04:00","updated_at":"2023-08-28T12:59:58-04:00","alt":"2","width":2960,"height":3700,"src":"\/\/oncept.nyc\/cdn\/shop\/files\/PANAMA-SIDE-VAPORBLUE-min.jpg?v=1693241998","variant_ids":[41539446014157,41539446046925,41539446079693,41539446112461,41539446145229,41539446177997,41539446210765,41539446243533,41539446276301]},"available":true,"name":"PANAMA - BLUE VAPOR \/ 6.5 \/ SOFT CALF LEATHER","public_title":"BLUE VAPOR \/ 6.5 \/ SOFT CALF LEATHER","options":["BLUE VAPOR","6.5","SOFT CALF LEATHER"],"price":27500,"weight":0,"compare_at_price":null,"inventory_management":"shopify","barcode":"840237319922","featured_media":{"alt":"2","id":24336082075853,"position":13,"preview_image":{"aspect_ratio":0.8,"height":3700,"width":2960,"src":"\/\/oncept.nyc\/cdn\/shop\/files\/PANAMA-SIDE-VAPORBLUE-min.jpg?v=1693241998"}},"requires_selling_plan":false,"selling_plan_allocations":[]},{"id":41539446079693,"title":"BLUE VAPOR \/ 7 \/ SOFT CALF LEATHER","option1":"BLUE VAPOR","option2":"7","option3":"SOFT CALF LEATHER","sku":"840237319939","requires_shipping":true,"taxable":true,"featured_image":{"id":32042010443981,"product_id":7191160357069,"position":13,"created_at":"2023-08-16T23:55:15-04:00","updated_at":"2023-08-28T12:59:58-04:00","alt":"2","width":2960,"height":3700,"src":"\/\/oncept.nyc\/cdn\/shop\/files\/PANAMA-SIDE-VAPORBLUE-min.jpg?v=1693241998","variant_ids":[41539446014157,41539446046925,41539446079693,41539446112461,41539446145229,41539446177997,41539446210765,41539446243533,41539446276301]},"available":true,"name":"PANAMA - BLUE VAPOR \/ 7 \/ SOFT CALF LEATHER","public_title":"BLUE VAPOR \/ 7 \/ SOFT CALF LEATHER","options":["BLUE VAPOR","7","SOFT CALF LEATHER"],"price":27500,"weight":0,"compare_at_price":null,"inventory_management":"shopify","barcode":"840237319939","featured_media":{"alt":"2","id":24336082075853,"position":13,"preview_image":{"aspect_ratio":0.8,"height":3700,"width":2960,"src":"\/\/oncept.nyc\/cdn\/shop\/files\/PANAMA-SIDE-VAPORBLUE-min.jpg?v=1693241998"}},"requires_selling_plan":false,"selling_plan_allocations":[]},{"id":41539446112461,"title":"BLUE VAPOR \/ 7.5 \/ SOFT CALF LEATHER","option1":"BLUE VAPOR","option2":"7.5","option3":"SOFT CALF LEATHER","sku":"840237319946","requires_shipping":true,"taxable":true,"featured_image":{"id":32042010443981,"product_id":7191160357069,"position":13,"created_at":"2023-08-16T23:55:15-04:00","updated_at":"2023-08-28T12:59:58-04:00","alt":"2","width":2960,"height":3700,"src":"\/\/oncept.nyc\/cdn\/shop\/files\/PANAMA-SIDE-VAPORBLUE-min.jpg?v=1693241998","variant_ids":[41539446014157,41539446046925,41539446079693,41539446112461,41539446145229,41539446177997,41539446210765,41539446243533,41539446276301]},"available":true,"name":"PANAMA - BLUE VAPOR \/ 7.5 \/ SOFT CALF LEATHER","public_title":"BLUE VAPOR \/ 7.5 \/ SOFT CALF LEATHER","options":["BLUE VAPOR","7.5","SOFT CALF LEATHER"],"price":27500,"weight":0,"compare_at_price":null,"inventory_management":"shopify","barcode":"840237319946","featured_media":{"alt":"2","id":24336082075853,"position":13,"preview_image":{"aspect_ratio":0.8,"height":3700,"width":2960,"src":"\/\/oncept.nyc\/cdn\/shop\/files\/PANAMA-SIDE-VAPORBLUE-min.jpg?v=1693241998"}},"requires_selling_plan":false,"selling_plan_allocations":[]},{"id":41539446145229,"title":"BLUE VAPOR \/ 8 \/ SOFT CALF LEATHER","option1":"BLUE VAPOR","option2":"8","option3":"SOFT CALF LEATHER","sku":"840237319953","requires_shipping":true,"taxable":true,"featured_image":{"id":32042010443981,"product_id":7191160357069,"position":13,"created_at":"2023-08-16T23:55:15-04:00","updated_at":"2023-08-28T12:59:58-04:00","alt":"2","width":2960,"height":3700,"src":"\/\/oncept.nyc\/cdn\/shop\/files\/PANAMA-SIDE-VAPORBLUE-min.jpg?v=1693241998","variant_ids":[41539446014157,41539446046925,41539446079693,41539446112461,41539446145229,41539446177997,41539446210765,41539446243533,41539446276301]},"available":true,"name":"PANAMA - BLUE VAPOR \/ 8 \/ SOFT CALF LEATHER","public_title":"BLUE VAPOR \/ 8 \/ SOFT CALF LEATHER","options":["BLUE VAPOR","8","SOFT CALF LEATHER"],"price":27500,"weight":0,"compare_at_price":null,"inventory_management":"shopify","barcode":"840237319953","featured_media":{"alt":"2","id":24336082075853,"position":13,"preview_image":{"aspect_ratio":0.8,"height":3700,"width":2960,"src":"\/\/oncept.nyc\/cdn\/shop\/files\/PANAMA-SIDE-VAPORBLUE-min.jpg?v=1693241998"}},"requires_selling_plan":false,"selling_plan_allocations":[]},{"id":41539446177997,"title":"BLUE VAPOR \/ 8.5 \/ SOFT CALF LEATHER","option1":"BLUE VAPOR","option2":"8.5","option3":"SOFT CALF LEATHER","sku":"840237319960","requires_shipping":true,"taxable":true,"featured_image":{"id":32042010443981,"product_id":7191160357069,"position":13,"created_at":"2023-08-16T23:55:15-04:00","updated_at":"2023-08-28T12:59:58-04:00","alt":"2","width":2960,"height":3700,"src":"\/\/oncept.nyc\/cdn\/shop\/files\/PANAMA-SIDE-VAPORBLUE-min.jpg?v=1693241998","variant_ids":[41539446014157,41539446046925,41539446079693,41539446112461,41539446145229,41539446177997,41539446210765,41539446243533,41539446276301]},"available":true,"name":"PANAMA - BLUE VAPOR \/ 8.5 \/ SOFT CALF LEATHER","public_title":"BLUE VAPOR \/ 8.5 \/ SOFT CALF LEATHER","options":["BLUE VAPOR","8.5","SOFT CALF LEATHER"],"price":27500,"weight":0,"compare_at_price":null,"inventory_management":"shopify","barcode":"840237319960","featured_media":{"alt":"2","id":24336082075853,"position":13,"preview_image":{"aspect_ratio":0.8,"height":3700,"width":2960,"src":"\/\/oncept.nyc\/cdn\/shop\/files\/PANAMA-SIDE-VAPORBLUE-min.jpg?v=1693241998"}},"requires_selling_plan":false,"selling_plan_allocations":[]},{"id":41539446210765,"title":"BLUE VAPOR \/ 9 \/ SOFT CALF LEATHER","option1":"BLUE VAPOR","option2":"9","option3":"SOFT CALF LEATHER","sku":"840237319977","requires_shipping":true,"taxable":true,"featured_image":{"id":32042010443981,"product_id":7191160357069,"position":13,"created_at":"2023-08-16T23:55:15-04:00","updated_at":"2023-08-28T12:59:58-04:00","alt":"2","width":2960,"height":3700,"src":"\/\/oncept.nyc\/cdn\/shop\/files\/PANAMA-SIDE-VAPORBLUE-min.jpg?v=1693241998","variant_ids":[41539446014157,41539446046925,41539446079693,41539446112461,41539446145229,41539446177997,41539446210765,41539446243533,41539446276301]},"available":true,"name":"PANAMA - BLUE VAPOR \/ 9 \/ SOFT CALF LEATHER","public_title":"BLUE VAPOR \/ 9 \/ SOFT CALF LEATHER","options":["BLUE VAPOR","9","SOFT CALF LEATHER"],"price":27500,"weight":0,"compare_at_price":null,"inventory_management":"shopify","barcode":"840237319977","featured_media":{"alt":"2","id":24336082075853,"position":13,"preview_image":{"aspect_ratio":0.8,"height":3700,"width":2960,"src":"\/\/oncept.nyc\/cdn\/shop\/files\/PANAMA-SIDE-VAPORBLUE-min.jpg?v=1693241998"}},"requires_selling_plan":false,"selling_plan_allocations":[]},{"id":41539446243533,"title":"BLUE VAPOR \/ 9.5 \/ SOFT CALF LEATHER","option1":"BLUE VAPOR","option2":"9.5","option3":"SOFT CALF LEATHER","sku":"840237319984","requires_shipping":true,"taxable":true,"featured_image":{"id":32042010443981,"product_id":7191160357069,"position":13,"created_at":"2023-08-16T23:55:15-04:00","updated_at":"2023-08-28T12:59:58-04:00","alt":"2","width":2960,"height":3700,"src":"\/\/oncept.nyc\/cdn\/shop\/files\/PANAMA-SIDE-VAPORBLUE-min.jpg?v=1693241998","variant_ids":[41539446014157,41539446046925,41539446079693,41539446112461,41539446145229,41539446177997,41539446210765,41539446243533,41539446276301]},"available":true,"name":"PANAMA - BLUE VAPOR \/ 9.5 \/ SOFT CALF LEATHER","public_title":"BLUE VAPOR \/ 9.5 \/ SOFT CALF LEATHER","options":["BLUE VAPOR","9.5","SOFT CALF LEATHER"],"price":27500,"weight":0,"compare_at_price":null,"inventory_management":"shopify","barcode":"840237319984","featured_media":{"alt":"2","id":24336082075853,"position":13,"preview_image":{"aspect_ratio":0.8,"height":3700,"width":2960,"src":"\/\/oncept.nyc\/cdn\/shop\/files\/PANAMA-SIDE-VAPORBLUE-min.jpg?v=1693241998"}},"requires_selling_plan":false,"selling_plan_allocations":[]},{"id":41539446276301,"title":"BLUE VAPOR \/ 10 \/ SOFT CALF LEATHER","option1":"BLUE VAPOR","option2":"10","option3":"SOFT CALF LEATHER","sku":"840237319991","requires_shipping":true,"taxable":true,"featured_image":{"id":32042010443981,"product_id":7191160357069,"position":13,"created_at":"2023-08-16T23:55:15-04:00","updated_at":"2023-08-28T12:59:58-04:00","alt":"2","width":2960,"height":3700,"src":"\/\/oncept.nyc\/cdn\/shop\/files\/PANAMA-SIDE-VAPORBLUE-min.jpg?v=1693241998","variant_ids":[41539446014157,41539446046925,41539446079693,41539446112461,41539446145229,41539446177997,41539446210765,41539446243533,41539446276301]},"available":true,"name":"PANAMA - BLUE VAPOR \/ 10 \/ SOFT CALF LEATHER","public_title":"BLUE VAPOR \/ 10 \/ SOFT CALF LEATHER","options":["BLUE VAPOR","10","SOFT CALF LEATHER"],"price":27500,"weight":0,"compare_at_price":null,"inventory_management":"shopify","barcode":"840237319991","featured_media":{"alt":"2","id":24336082075853,"position":13,"preview_image":{"aspect_ratio":0.8,"height":3700,"width":2960,"src":"\/\/oncept.nyc\/cdn\/shop\/files\/PANAMA-SIDE-VAPORBLUE-min.jpg?v=1693241998"}},"requires_selling_plan":false,"selling_plan_allocations":[]},{"id":41539446309069,"title":"INDIGO \/ 6 \/ SOFT CALF LEATHER","option1":"INDIGO","option2":"6","option3":"SOFT CALF LEATHER","sku":"840237320003","requires_shipping":true,"taxable":true,"featured_image":{"id":32042010345677,"product_id":7191160357069,"position":19,"created_at":"2023-08-16T23:55:15-04:00","updated_at":"2023-08-28T12:59:58-04:00","alt":"3","width":2960,"height":3700,"src":"\/\/oncept.nyc\/cdn\/shop\/files\/PANAMA-SIDE.-INDIGO-min.jpg?v=1693241998","variant_ids":[41539446309069,41539446341837,41539446374605,41539446407373,41539446440141,41539446472909,41539446505677,41539446538445,41539446571213]},"available":true,"name":"PANAMA - INDIGO \/ 6 \/ SOFT CALF LEATHER","public_title":"INDIGO \/ 6 \/ SOFT CALF LEATHER","options":["INDIGO","6","SOFT CALF LEATHER"],"price":27500,"weight":0,"compare_at_price":null,"inventory_management":"shopify","barcode":"840237320003","featured_media":{"alt":"3","id":24336082010317,"position":19,"preview_image":{"aspect_ratio":0.8,"height":3700,"width":2960,"src":"\/\/oncept.nyc\/cdn\/shop\/files\/PANAMA-SIDE.-INDIGO-min.jpg?v=1693241998"}},"requires_selling_plan":false,"selling_plan_allocations":[]},{"id":41539446341837,"title":"INDIGO \/ 6.5 \/ SOFT CALF LEATHER","option1":"INDIGO","option2":"6.5","option3":"SOFT CALF LEATHER","sku":"840237320010","requires_shipping":true,"taxable":true,"featured_image":{"id":32042010345677,"product_id":7191160357069,"position":19,"created_at":"2023-08-16T23:55:15-04:00","updated_at":"2023-08-28T12:59:58-04:00","alt":"3","width":2960,"height":3700,"src":"\/\/oncept.nyc\/cdn\/shop\/files\/PANAMA-SIDE.-INDIGO-min.jpg?v=1693241998","variant_ids":[41539446309069,41539446341837,41539446374605,41539446407373,41539446440141,41539446472909,41539446505677,41539446538445,41539446571213]},"available":true,"name":"PANAMA - INDIGO \/ 6.5 \/ SOFT CALF LEATHER","public_title":"INDIGO \/ 6.5 \/ SOFT CALF LEATHER","options":["INDIGO","6.5","SOFT CALF LEATHER"],"price":27500,"weight":0,"compare_at_price":null,"inventory_management":"shopify","barcode":"840237320010","featured_media":{"alt":"3","id":24336082010317,"position":19,"preview_image":{"aspect_ratio":0.8,"height":3700,"width":2960,"src":"\/\/oncept.nyc\/cdn\/shop\/files\/PANAMA-SIDE.-INDIGO-min.jpg?v=1693241998"}},"requires_selling_plan":false,"selling_plan_allocations":[]},{"id":41539446374605,"title":"INDIGO \/ 7 \/ SOFT CALF LEATHER","option1":"INDIGO","option2":"7","option3":"SOFT CALF LEATHER","sku":"840237320027","requires_shipping":true,"taxable":true,"featured_image":{"id":32042010345677,"product_id":7191160357069,"position":19,"created_at":"2023-08-16T23:55:15-04:00","updated_at":"2023-08-28T12:59:58-04:00","alt":"3","width":2960,"height":3700,"src":"\/\/oncept.nyc\/cdn\/shop\/files\/PANAMA-SIDE.-INDIGO-min.jpg?v=1693241998","variant_ids":[41539446309069,41539446341837,41539446374605,41539446407373,41539446440141,41539446472909,41539446505677,41539446538445,41539446571213]},"available":true,"name":"PANAMA - INDIGO \/ 7 \/ SOFT CALF LEATHER","public_title":"INDIGO \/ 7 \/ SOFT CALF LEATHER","options":["INDIGO","7","SOFT CALF LEATHER"],"price":27500,"weight":0,"compare_at_price":null,"inventory_management":"shopify","barcode":"840237320027","featured_media":{"alt":"3","id":24336082010317,"position":19,"preview_image":{"aspect_ratio":0.8,"height":3700,"width":2960,"src":"\/\/oncept.nyc\/cdn\/shop\/files\/PANAMA-SIDE.-INDIGO-min.jpg?v=1693241998"}},"requires_selling_plan":false,"selling_plan_allocations":[]},{"id":41539446407373,"title":"INDIGO \/ 7.5 \/ SOFT CALF LEATHER","option1":"INDIGO","option2":"7.5","option3":"SOFT CALF LEATHER","sku":"840237320034","requires_shipping":true,"taxable":true,"featured_image":{"id":32042010345677,"product_id":7191160357069,"position":19,"created_at":"2023-08-16T23:55:15-04:00","updated_at":"2023-08-28T12:59:58-04:00","alt":"3","width":2960,"height":3700,"src":"\/\/oncept.nyc\/cdn\/shop\/files\/PANAMA-SIDE.-INDIGO-min.jpg?v=1693241998","variant_ids":[41539446309069,41539446341837,41539446374605,41539446407373,41539446440141,41539446472909,41539446505677,41539446538445,41539446571213]},"available":true,"name":"PANAMA - INDIGO \/ 7.5 \/ SOFT CALF LEATHER","public_title":"INDIGO \/ 7.5 \/ SOFT CALF LEATHER","options":["INDIGO","7.5","SOFT CALF LEATHER"],"price":27500,"weight":0,"compare_at_price":null,"inventory_management":"shopify","barcode":"840237320034","featured_media":{"alt":"3","id":24336082010317,"position":19,"preview_image":{"aspect_ratio":0.8,"height":3700,"width":2960,"src":"\/\/oncept.nyc\/cdn\/shop\/files\/PANAMA-SIDE.-INDIGO-min.jpg?v=1693241998"}},"requires_selling_plan":false,"selling_plan_allocations":[]},{"id":41539446440141,"title":"INDIGO \/ 8 \/ SOFT CALF LEATHER","option1":"INDIGO","option2":"8","option3":"SOFT CALF LEATHER","sku":"840237320041","requires_shipping":true,"taxable":true,"featured_image":{"id":32042010345677,"product_id":7191160357069,"position":19,"created_at":"2023-08-16T23:55:15-04:00","updated_at":"2023-08-28T12:59:58-04:00","alt":"3","width":2960,"height":3700,"src":"\/\/oncept.nyc\/cdn\/shop\/files\/PANAMA-SIDE.-INDIGO-min.jpg?v=1693241998","variant_ids":[41539446309069,41539446341837,41539446374605,41539446407373,41539446440141,41539446472909,41539446505677,41539446538445,41539446571213]},"available":true,"name":"PANAMA - INDIGO \/ 8 \/ SOFT CALF LEATHER","public_title":"INDIGO \/ 8 \/ SOFT CALF LEATHER","options":["INDIGO","8","SOFT CALF LEATHER"],"price":27500,"weight":0,"compare_at_price":null,"inventory_management":"shopify","barcode":"840237320041","featured_media":{"alt":"3","id":24336082010317,"position":19,"preview_image":{"aspect_ratio":0.8,"height":3700,"width":2960,"src":"\/\/oncept.nyc\/cdn\/shop\/files\/PANAMA-SIDE.-INDIGO-min.jpg?v=1693241998"}},"requires_selling_plan":false,"selling_plan_allocations":[]},{"id":41539446472909,"title":"INDIGO \/ 8.5 \/ SOFT CALF LEATHER","option1":"INDIGO","option2":"8.5","option3":"SOFT CALF LEATHER","sku":"840237320058","requires_shipping":true,"taxable":true,"featured_image":{"id":32042010345677,"product_id":7191160357069,"position":19,"created_at":"2023-08-16T23:55:15-04:00","updated_at":"2023-08-28T12:59:58-04:00","alt":"3","width":2960,"height":3700,"src":"\/\/oncept.nyc\/cdn\/shop\/files\/PANAMA-SIDE.-INDIGO-min.jpg?v=1693241998","variant_ids":[41539446309069,41539446341837,41539446374605,41539446407373,41539446440141,41539446472909,41539446505677,41539446538445,41539446571213]},"available":true,"name":"PANAMA - INDIGO \/ 8.5 \/ SOFT CALF LEATHER","public_title":"INDIGO \/ 8.5 \/ SOFT CALF LEATHER","options":["INDIGO","8.5","SOFT CALF LEATHER"],"price":27500,"weight":0,"compare_at_price":null,"inventory_management":"shopify","barcode":"840237320058","featured_media":{"alt":"3","id":24336082010317,"position":19,"preview_image":{"aspect_ratio":0.8,"height":3700,"width":2960,"src":"\/\/oncept.nyc\/cdn\/shop\/files\/PANAMA-SIDE.-INDIGO-min.jpg?v=1693241998"}},"requires_selling_plan":false,"selling_plan_allocations":[]},{"id":41539446505677,"title":"INDIGO \/ 9 \/ SOFT CALF LEATHER","option1":"INDIGO","option2":"9","option3":"SOFT CALF LEATHER","sku":"840237320065","requires_shipping":true,"taxable":true,"featured_image":{"id":32042010345677,"product_id":7191160357069,"position":19,"created_at":"2023-08-16T23:55:15-04:00","updated_at":"2023-08-28T12:59:58-04:00","alt":"3","width":2960,"height":3700,"src":"\/\/oncept.nyc\/cdn\/shop\/files\/PANAMA-SIDE.-INDIGO-min.jpg?v=1693241998","variant_ids":[41539446309069,41539446341837,41539446374605,41539446407373,41539446440141,41539446472909,41539446505677,41539446538445,41539446571213]},"available":true,"name":"PANAMA - INDIGO \/ 9 \/ SOFT CALF LEATHER","public_title":"INDIGO \/ 9 \/ SOFT CALF LEATHER","options":["INDIGO","9","SOFT CALF LEATHER"],"price":27500,"weight":0,"compare_at_price":null,"inventory_management":"shopify","barcode":"840237320065","featured_media":{"alt":"3","id":24336082010317,"position":19,"preview_image":{"aspect_ratio":0.8,"height":3700,"width":2960,"src":"\/\/oncept.nyc\/cdn\/shop\/files\/PANAMA-SIDE.-INDIGO-min.jpg?v=1693241998"}},"requires_selling_plan":false,"selling_plan_allocations":[]},{"id":41539446538445,"title":"INDIGO \/ 9.5 \/ SOFT CALF LEATHER","option1":"INDIGO","option2":"9.5","option3":"SOFT CALF LEATHER","sku":"840237320072","requires_shipping":true,"taxable":true,"featured_image":{"id":32042010345677,"product_id":7191160357069,"position":19,"created_at":"2023-08-16T23:55:15-04:00","updated_at":"2023-08-28T12:59:58-04:00","alt":"3","width":2960,"height":3700,"src":"\/\/oncept.nyc\/cdn\/shop\/files\/PANAMA-SIDE.-INDIGO-min.jpg?v=1693241998","variant_ids":[41539446309069,41539446341837,41539446374605,41539446407373,41539446440141,41539446472909,41539446505677,41539446538445,41539446571213]},"available":true,"name":"PANAMA - INDIGO \/ 9.5 \/ SOFT CALF LEATHER","public_title":"INDIGO \/ 9.5 \/ SOFT CALF LEATHER","options":["INDIGO","9.5","SOFT CALF LEATHER"],"price":27500,"weight":0,"compare_at_price":null,"inventory_management":"shopify","barcode":"840237320072","featured_media":{"alt":"3","id":24336082010317,"position":19,"preview_image":{"aspect_ratio":0.8,"height":3700,"width":2960,"src":"\/\/oncept.nyc\/cdn\/shop\/files\/PANAMA-SIDE.-INDIGO-min.jpg?v=1693241998"}},"requires_selling_plan":false,"selling_plan_allocations":[]},{"id":41539446571213,"title":"INDIGO \/ 10 \/ SOFT CALF LEATHER","option1":"INDIGO","option2":"10","option3":"SOFT CALF LEATHER","sku":"840237320089","requires_shipping":true,"taxable":true,"featured_image":{"id":32042010345677,"product_id":7191160357069,"position":19,"created_at":"2023-08-16T23:55:15-04:00","updated_at":"2023-08-28T12:59:58-04:00","alt":"3","width":2960,"height":3700,"src":"\/\/oncept.nyc\/cdn\/shop\/files\/PANAMA-SIDE.-INDIGO-min.jpg?v=1693241998","variant_ids":[41539446309069,41539446341837,41539446374605,41539446407373,41539446440141,41539446472909,41539446505677,41539446538445,41539446571213]},"available":true,"name":"PANAMA - INDIGO \/ 10 \/ SOFT CALF LEATHER","public_title":"INDIGO \/ 10 \/ SOFT CALF LEATHER","options":["INDIGO","10","SOFT CALF LEATHER"],"price":27500,"weight":0,"compare_at_price":null,"inventory_management":"shopify","barcode":"840237320089","featured_media":{"alt":"3","id":24336082010317,"position":19,"preview_image":{"aspect_ratio":0.8,"height":3700,"width":2960,"src":"\/\/oncept.nyc\/cdn\/shop\/files\/PANAMA-SIDE.-INDIGO-min.jpg?v=1693241998"}},"requires_selling_plan":false,"selling_plan_allocations":[]},{"id":41539446603981,"title":"RETRO WHITE \/ 6 \/ SOFT CALF LEATHER","option1":"RETRO WHITE","option2":"6","option3":"SOFT CALF LEATHER","sku":"840237320188","requires_shipping":true,"taxable":true,"featured_image":{"id":32042010378445,"product_id":7191160357069,"position":25,"created_at":"2023-08-16T23:55:15-04:00","updated_at":"2023-08-28T12:59:58-04:00","alt":"4","width":2960,"height":3700,"src":"\/\/oncept.nyc\/cdn\/shop\/files\/PANAMA-SIDE-RETROWHITE-min.jpg?v=1693241998","variant_ids":[41539446603981,41539446636749,41539446669517,41539446702285,41539446735053,41539446767821,41539446800589,41539446833357,41539446866125]},"available":true,"name":"PANAMA - RETRO WHITE \/ 6 \/ SOFT CALF LEATHER","public_title":"RETRO WHITE \/ 6 \/ SOFT CALF LEATHER","options":["RETRO WHITE","6","SOFT CALF LEATHER"],"price":27500,"weight":0,"compare_at_price":null,"inventory_management":"shopify","barcode":"840237320188","featured_media":{"alt":"4","id":24336081977549,"position":25,"preview_image":{"aspect_ratio":0.8,"height":3700,"width":2960,"src":"\/\/oncept.nyc\/cdn\/shop\/files\/PANAMA-SIDE-RETROWHITE-min.jpg?v=1693241998"}},"requires_selling_plan":false,"selling_plan_allocations":[]},{"id":41539446636749,"title":"RETRO WHITE \/ 6.5 \/ SOFT CALF LEATHER","option1":"RETRO WHITE","option2":"6.5","option3":"SOFT CALF LEATHER","sku":"840237320195","requires_shipping":true,"taxable":true,"featured_image":{"id":32042010378445,"product_id":7191160357069,"position":25,"created_at":"2023-08-16T23:55:15-04:00","updated_at":"2023-08-28T12:59:58-04:00","alt":"4","width":2960,"height":3700,"src":"\/\/oncept.nyc\/cdn\/shop\/files\/PANAMA-SIDE-RETROWHITE-min.jpg?v=1693241998","variant_ids":[41539446603981,41539446636749,41539446669517,41539446702285,41539446735053,41539446767821,41539446800589,41539446833357,41539446866125]},"available":true,"name":"PANAMA - RETRO WHITE \/ 6.5 \/ SOFT CALF LEATHER","public_title":"RETRO WHITE \/ 6.5 \/ SOFT CALF LEATHER","options":["RETRO WHITE","6.5","SOFT CALF LEATHER"],"price":27500,"weight":0,"compare_at_price":null,"inventory_management":"shopify","barcode":"840237320195","featured_media":{"alt":"4","id":24336081977549,"position":25,"preview_image":{"aspect_ratio":0.8,"height":3700,"width":2960,"src":"\/\/oncept.nyc\/cdn\/shop\/files\/PANAMA-SIDE-RETROWHITE-min.jpg?v=1693241998"}},"requires_selling_plan":false,"selling_plan_allocations":[]},{"id":41539446669517,"title":"RETRO WHITE \/ 7 \/ SOFT CALF LEATHER","option1":"RETRO WHITE","option2":"7","option3":"SOFT CALF LEATHER","sku":"840237320201","requires_shipping":true,"taxable":true,"featured_image":{"id":32042010378445,"product_id":7191160357069,"position":25,"created_at":"2023-08-16T23:55:15-04:00","updated_at":"2023-08-28T12:59:58-04:00","alt":"4","width":2960,"height":3700,"src":"\/\/oncept.nyc\/cdn\/shop\/files\/PANAMA-SIDE-RETROWHITE-min.jpg?v=1693241998","variant_ids":[41539446603981,41539446636749,41539446669517,41539446702285,41539446735053,41539446767821,41539446800589,41539446833357,41539446866125]},"available":true,"name":"PANAMA - RETRO WHITE \/ 7 \/ SOFT CALF LEATHER","public_title":"RETRO WHITE \/ 7 \/ SOFT CALF LEATHER","options":["RETRO WHITE","7","SOFT CALF LEATHER"],"price":27500,"weight":0,"compare_at_price":null,"inventory_management":"shopify","barcode":"840237320201","featured_media":{"alt":"4","id":24336081977549,"position":25,"preview_image":{"aspect_ratio":0.8,"height":3700,"width":2960,"src":"\/\/oncept.nyc\/cdn\/shop\/files\/PANAMA-SIDE-RETROWHITE-min.jpg?v=1693241998"}},"requires_selling_plan":false,"selling_plan_allocations":[]},{"id":41539446702285,"title":"RETRO WHITE \/ 7.5 \/ SOFT CALF LEATHER","option1":"RETRO WHITE","option2":"7.5","option3":"SOFT CALF LEATHER","sku":"840237320218","requires_shipping":true,"taxable":true,"featured_image":{"id":32042010378445,"product_id":7191160357069,"position":25,"created_at":"2023-08-16T23:55:15-04:00","updated_at":"2023-08-28T12:59:58-04:00","alt":"4","width":2960,"height":3700,"src":"\/\/oncept.nyc\/cdn\/shop\/files\/PANAMA-SIDE-RETROWHITE-min.jpg?v=1693241998","variant_ids":[41539446603981,41539446636749,41539446669517,41539446702285,41539446735053,41539446767821,41539446800589,41539446833357,41539446866125]},"available":true,"name":"PANAMA - RETRO WHITE \/ 7.5 \/ SOFT CALF LEATHER","public_title":"RETRO WHITE \/ 7.5 \/ SOFT CALF LEATHER","options":["RETRO WHITE","7.5","SOFT CALF LEATHER"],"price":27500,"weight":0,"compare_at_price":null,"inventory_management":"shopify","barcode":"840237320218","featured_media":{"alt":"4","id":24336081977549,"position":25,"preview_image":{"aspect_ratio":0.8,"height":3700,"width":2960,"src":"\/\/oncept.nyc\/cdn\/shop\/files\/PANAMA-SIDE-RETROWHITE-min.jpg?v=1693241998"}},"requires_selling_plan":false,"selling_plan_allocations":[]},{"id":41539446735053,"title":"RETRO WHITE \/ 8 \/ SOFT CALF LEATHER","option1":"RETRO WHITE","option2":"8","option3":"SOFT CALF LEATHER","sku":"840237320225","requires_shipping":true,"taxable":true,"featured_image":{"id":32042010378445,"product_id":7191160357069,"position":25,"created_at":"2023-08-16T23:55:15-04:00","updated_at":"2023-08-28T12:59:58-04:00","alt":"4","width":2960,"height":3700,"src":"\/\/oncept.nyc\/cdn\/shop\/files\/PANAMA-SIDE-RETROWHITE-min.jpg?v=1693241998","variant_ids":[41539446603981,41539446636749,41539446669517,41539446702285,41539446735053,41539446767821,41539446800589,41539446833357,41539446866125]},"available":true,"name":"PANAMA - RETRO WHITE \/ 8 \/ SOFT CALF LEATHER","public_title":"RETRO WHITE \/ 8 \/ SOFT CALF LEATHER","options":["RETRO WHITE","8","SOFT CALF LEATHER"],"price":27500,"weight":0,"compare_at_price":null,"inventory_management":"shopify","barcode":"840237320225","featured_media":{"alt":"4","id":24336081977549,"position":25,"preview_image":{"aspect_ratio":0.8,"height":3700,"width":2960,"src":"\/\/oncept.nyc\/cdn\/shop\/files\/PANAMA-SIDE-RETROWHITE-min.jpg?v=1693241998"}},"requires_selling_plan":false,"selling_plan_allocations":[]},{"id":41539446767821,"title":"RETRO WHITE \/ 8.5 \/ SOFT CALF LEATHER","option1":"RETRO WHITE","option2":"8.5","option3":"SOFT CALF LEATHER","sku":"840237320232","requires_shipping":true,"taxable":true,"featured_image":{"id":32042010378445,"product_id":7191160357069,"position":25,"created_at":"2023-08-16T23:55:15-04:00","updated_at":"2023-08-28T12:59:58-04:00","alt":"4","width":2960,"height":3700,"src":"\/\/oncept.nyc\/cdn\/shop\/files\/PANAMA-SIDE-RETROWHITE-min.jpg?v=1693241998","variant_ids":[41539446603981,41539446636749,41539446669517,41539446702285,41539446735053,41539446767821,41539446800589,41539446833357,41539446866125]},"available":true,"name":"PANAMA - RETRO WHITE \/ 8.5 \/ SOFT CALF LEATHER","public_title":"RETRO WHITE \/ 8.5 \/ SOFT CALF LEATHER","options":["RETRO WHITE","8.5","SOFT CALF LEATHER"],"price":27500,"weight":0,"compare_at_price":null,"inventory_management":"shopify","barcode":"840237320232","featured_media":{"alt":"4","id":24336081977549,"position":25,"preview_image":{"aspect_ratio":0.8,"height":3700,"width":2960,"src":"\/\/oncept.nyc\/cdn\/shop\/files\/PANAMA-SIDE-RETROWHITE-min.jpg?v=1693241998"}},"requires_selling_plan":false,"selling_plan_allocations":[]},{"id":41539446800589,"title":"RETRO WHITE \/ 9 \/ SOFT CALF LEATHER","option1":"RETRO WHITE","option2":"9","option3":"SOFT CALF LEATHER","sku":"840237320249","requires_shipping":true,"taxable":true,"featured_image":{"id":32042010378445,"product_id":7191160357069,"position":25,"created_at":"2023-08-16T23:55:15-04:00","updated_at":"2023-08-28T12:59:58-04:00","alt":"4","width":2960,"height":3700,"src":"\/\/oncept.nyc\/cdn\/shop\/files\/PANAMA-SIDE-RETROWHITE-min.jpg?v=1693241998","variant_ids":[41539446603981,41539446636749,41539446669517,41539446702285,41539446735053,41539446767821,41539446800589,41539446833357,41539446866125]},"available":true,"name":"PANAMA - RETRO WHITE \/ 9 \/ SOFT CALF LEATHER","public_title":"RETRO WHITE \/ 9 \/ SOFT CALF LEATHER","options":["RETRO WHITE","9","SOFT CALF LEATHER"],"price":27500,"weight":0,"compare_at_price":null,"inventory_management":"shopify","barcode":"840237320249","featured_media":{"alt":"4","id":24336081977549,"position":25,"preview_image":{"aspect_ratio":0.8,"height":3700,"width":2960,"src":"\/\/oncept.nyc\/cdn\/shop\/files\/PANAMA-SIDE-RETROWHITE-min.jpg?v=1693241998"}},"requires_selling_plan":false,"selling_plan_allocations":[]},{"id":41539446833357,"title":"RETRO WHITE \/ 9.5 \/ SOFT CALF LEATHER","option1":"RETRO WHITE","option2":"9.5","option3":"SOFT CALF LEATHER","sku":"840237320256","requires_shipping":true,"taxable":true,"featured_image":{"id":32042010378445,"product_id":7191160357069,"position":25,"created_at":"2023-08-16T23:55:15-04:00","updated_at":"2023-08-28T12:59:58-04:00","alt":"4","width":2960,"height":3700,"src":"\/\/oncept.nyc\/cdn\/shop\/files\/PANAMA-SIDE-RETROWHITE-min.jpg?v=1693241998","variant_ids":[41539446603981,41539446636749,41539446669517,41539446702285,41539446735053,41539446767821,41539446800589,41539446833357,41539446866125]},"available":true,"name":"PANAMA - RETRO WHITE \/ 9.5 \/ SOFT CALF LEATHER","public_title":"RETRO WHITE \/ 9.5 \/ SOFT CALF LEATHER","options":["RETRO WHITE","9.5","SOFT CALF LEATHER"],"price":27500,"weight":0,"compare_at_price":null,"inventory_management":"shopify","barcode":"840237320256","featured_media":{"alt":"4","id":24336081977549,"position":25,"preview_image":{"aspect_ratio":0.8,"height":3700,"width":2960,"src":"\/\/oncept.nyc\/cdn\/shop\/files\/PANAMA-SIDE-RETROWHITE-min.jpg?v=1693241998"}},"requires_selling_plan":false,"selling_plan_allocations":[]},{"id":41539446866125,"title":"RETRO WHITE \/ 10 \/ SOFT CALF LEATHER","option1":"RETRO WHITE","option2":"10","option3":"SOFT CALF LEATHER","sku":"840237320263","requires_shipping":true,"taxable":true,"featured_image":{"id":32042010378445,"product_id":7191160357069,"position":25,"created_at":"2023-08-16T23:55:15-04:00","updated_at":"2023-08-28T12:59:58-04:00","alt":"4","width":2960,"height":3700,"src":"\/\/oncept.nyc\/cdn\/shop\/files\/PANAMA-SIDE-RETROWHITE-min.jpg?v=1693241998","variant_ids":[41539446603981,41539446636749,41539446669517,41539446702285,41539446735053,41539446767821,41539446800589,41539446833357,41539446866125]},"available":true,"name":"PANAMA - RETRO WHITE \/ 10 \/ SOFT CALF LEATHER","public_title":"RETRO WHITE \/ 10 \/ SOFT CALF LEATHER","options":["RETRO WHITE","10","SOFT CALF LEATHER"],"price":27500,"weight":0,"compare_at_price":null,"inventory_management":"shopify","barcode":"840237320263","featured_media":{"alt":"4","id":24336081977549,"position":25,"preview_image":{"aspect_ratio":0.8,"height":3700,"width":2960,"src":"\/\/oncept.nyc\/cdn\/shop\/files\/PANAMA-SIDE-RETROWHITE-min.jpg?v=1693241998"}},"requires_selling_plan":false,"selling_plan_allocations":[]},{"id":41544633516237,"title":"RETRO RED \/ 6 \/ SOFT CALF LEATHER","option1":"RETRO RED","option2":"6","option3":"SOFT CALF LEATHER","sku":"840237320270","requires_shipping":true,"taxable":true,"featured_image":{"id":32042010509517,"product_id":7191160357069,"position":31,"created_at":"2023-08-16T23:55:15-04:00","updated_at":"2023-08-24T11:32:42-04:00","alt":"5","width":2960,"height":3700,"src":"\/\/oncept.nyc\/cdn\/shop\/files\/PANAMA-SIDE-RETRORED-min.jpg?v=1692891162","variant_ids":[41544633516237,41544633549005,41544633581773,41544633614541,41544633647309,41544633680077,41544633712845,41544633745613,41544633778381]},"available":true,"name":"PANAMA - RETRO RED \/ 6 \/ SOFT CALF LEATHER","public_title":"RETRO RED \/ 6 \/ SOFT CALF LEATHER","options":["RETRO RED","6","SOFT CALF LEATHER"],"price":27500,"weight":0,"compare_at_price":null,"inventory_management":"shopify","barcode":"840237320270","featured_media":{"alt":"5","id":24336081912013,"position":31,"preview_image":{"aspect_ratio":0.8,"height":3700,"width":2960,"src":"\/\/oncept.nyc\/cdn\/shop\/files\/PANAMA-SIDE-RETRORED-min.jpg?v=1692891162"}},"requires_selling_plan":false,"selling_plan_allocations":[]},{"id":41544633549005,"title":"RETRO RED \/ 6.5 \/ SOFT CALF LEATHER","option1":"RETRO RED","option2":"6.5","option3":"SOFT CALF LEATHER","sku":"840237320287","requires_shipping":true,"taxable":true,"featured_image":{"id":32042010509517,"product_id":7191160357069,"position":31,"created_at":"2023-08-16T23:55:15-04:00","updated_at":"2023-08-24T11:32:42-04:00","alt":"5","width":2960,"height":3700,"src":"\/\/oncept.nyc\/cdn\/shop\/files\/PANAMA-SIDE-RETRORED-min.jpg?v=1692891162","variant_ids":[41544633516237,41544633549005,41544633581773,41544633614541,41544633647309,41544633680077,41544633712845,41544633745613,41544633778381]},"available":true,"name":"PANAMA - RETRO RED \/ 6.5 \/ SOFT CALF LEATHER","public_title":"RETRO RED \/ 6.5 \/ SOFT CALF LEATHER","options":["RETRO RED","6.5","SOFT CALF LEATHER"],"price":27500,"weight":0,"compare_at_price":null,"inventory_management":"shopify","barcode":"840237320287","featured_media":{"alt":"5","id":24336081912013,"position":31,"preview_image":{"aspect_ratio":0.8,"height":3700,"width":2960,"src":"\/\/oncept.nyc\/cdn\/shop\/files\/PANAMA-SIDE-RETRORED-min.jpg?v=1692891162"}},"requires_selling_plan":false,"selling_plan_allocations":[]},{"id":41544633581773,"title":"RETRO RED \/ 7 \/ SOFT CALF LEATHER","option1":"RETRO RED","option2":"7","option3":"SOFT CALF LEATHER","sku":"840237320294","requires_shipping":true,"taxable":true,"featured_image":{"id":32042010509517,"product_id":7191160357069,"position":31,"created_at":"2023-08-16T23:55:15-04:00","updated_at":"2023-08-24T11:32:42-04:00","alt":"5","width":2960,"height":3700,"src":"\/\/oncept.nyc\/cdn\/shop\/files\/PANAMA-SIDE-RETRORED-min.jpg?v=1692891162","variant_ids":[41544633516237,41544633549005,41544633581773,41544633614541,41544633647309,41544633680077,41544633712845,41544633745613,41544633778381]},"available":true,"name":"PANAMA - RETRO RED \/ 7 \/ SOFT CALF LEATHER","public_title":"RETRO RED \/ 7 \/ SOFT CALF LEATHER","options":["RETRO RED","7","SOFT CALF LEATHER"],"price":27500,"weight":0,"compare_at_price":null,"inventory_management":"shopify","barcode":"840237320294","featured_media":{"alt":"5","id":24336081912013,"position":31,"preview_image":{"aspect_ratio":0.8,"height":3700,"width":2960,"src":"\/\/oncept.nyc\/cdn\/shop\/files\/PANAMA-SIDE-RETRORED-min.jpg?v=1692891162"}},"requires_selling_plan":false,"selling_plan_allocations":[]},{"id":41544633614541,"title":"RETRO RED \/ 7.5 \/ SOFT CALF LEATHER","option1":"RETRO RED","option2":"7.5","option3":"SOFT CALF LEATHER","sku":"840237320300","requires_shipping":true,"taxable":true,"featured_image":{"id":32042010509517,"product_id":7191160357069,"position":31,"created_at":"2023-08-16T23:55:15-04:00","updated_at":"2023-08-24T11:32:42-04:00","alt":"5","width":2960,"height":3700,"src":"\/\/oncept.nyc\/cdn\/shop\/files\/PANAMA-SIDE-RETRORED-min.jpg?v=1692891162","variant_ids":[41544633516237,41544633549005,41544633581773,41544633614541,41544633647309,41544633680077,41544633712845,41544633745613,41544633778381]},"available":true,"name":"PANAMA - RETRO RED \/ 7.5 \/ SOFT CALF LEATHER","public_title":"RETRO RED \/ 7.5 \/ SOFT CALF LEATHER","options":["RETRO RED","7.5","SOFT CALF LEATHER"],"price":27500,"weight":0,"compare_at_price":null,"inventory_management":"shopify","barcode":"840237320300","featured_media":{"alt":"5","id":24336081912013,"position":31,"preview_image":{"aspect_ratio":0.8,"height":3700,"width":2960,"src":"\/\/oncept.nyc\/cdn\/shop\/files\/PANAMA-SIDE-RETRORED-min.jpg?v=1692891162"}},"requires_selling_plan":false,"selling_plan_allocations":[]},{"id":41544633647309,"title":"RETRO RED \/ 8 \/ SOFT CALF LEATHER","option1":"RETRO RED","option2":"8","option3":"SOFT CALF LEATHER","sku":"840237320317","requires_shipping":true,"taxable":true,"featured_image":{"id":32042010509517,"product_id":7191160357069,"position":31,"created_at":"2023-08-16T23:55:15-04:00","updated_at":"2023-08-24T11:32:42-04:00","alt":"5","width":2960,"height":3700,"src":"\/\/oncept.nyc\/cdn\/shop\/files\/PANAMA-SIDE-RETRORED-min.jpg?v=1692891162","variant_ids":[41544633516237,41544633549005,41544633581773,41544633614541,41544633647309,41544633680077,41544633712845,41544633745613,41544633778381]},"available":true,"name":"PANAMA - RETRO RED \/ 8 \/ SOFT CALF LEATHER","public_title":"RETRO RED \/ 8 \/ SOFT CALF LEATHER","options":["RETRO RED","8","SOFT CALF LEATHER"],"price":27500,"weight":0,"compare_at_price":null,"inventory_management":"shopify","barcode":"840237320317","featured_media":{"alt":"5","id":24336081912013,"position":31,"preview_image":{"aspect_ratio":0.8,"height":3700,"width":2960,"src":"\/\/oncept.nyc\/cdn\/shop\/files\/PANAMA-SIDE-RETRORED-min.jpg?v=1692891162"}},"requires_selling_plan":false,"selling_plan_allocations":[]},{"id":41544633680077,"title":"RETRO RED \/ 8.5 \/ SOFT CALF LEATHER","option1":"RETRO RED","option2":"8.5","option3":"SOFT CALF LEATHER","sku":"840237320324","requires_shipping":true,"taxable":true,"featured_image":{"id":32042010509517,"product_id":7191160357069,"position":31,"created_at":"2023-08-16T23:55:15-04:00","updated_at":"2023-08-24T11:32:42-04:00","alt":"5","width":2960,"height":3700,"src":"\/\/oncept.nyc\/cdn\/shop\/files\/PANAMA-SIDE-RETRORED-min.jpg?v=1692891162","variant_ids":[41544633516237,41544633549005,41544633581773,41544633614541,41544633647309,41544633680077,41544633712845,41544633745613,41544633778381]},"available":true,"name":"PANAMA - RETRO RED \/ 8.5 \/ SOFT CALF LEATHER","public_title":"RETRO RED \/ 8.5 \/ SOFT CALF LEATHER","options":["RETRO RED","8.5","SOFT CALF LEATHER"],"price":27500,"weight":0,"compare_at_price":null,"inventory_management":"shopify","barcode":"840237320324","featured_media":{"alt":"5","id":24336081912013,"position":31,"preview_image":{"aspect_ratio":0.8,"height":3700,"width":2960,"src":"\/\/oncept.nyc\/cdn\/shop\/files\/PANAMA-SIDE-RETRORED-min.jpg?v=1692891162"}},"requires_selling_plan":false,"selling_plan_allocations":[]},{"id":41544633712845,"title":"RETRO RED \/ 9 \/ SOFT CALF LEATHER","option1":"RETRO RED","option2":"9","option3":"SOFT CALF LEATHER","sku":"840237320331","requires_shipping":true,"taxable":true,"featured_image":{"id":32042010509517,"product_id":7191160357069,"position":31,"created_at":"2023-08-16T23:55:15-04:00","updated_at":"2023-08-24T11:32:42-04:00","alt":"5","width":2960,"height":3700,"src":"\/\/oncept.nyc\/cdn\/shop\/files\/PANAMA-SIDE-RETRORED-min.jpg?v=1692891162","variant_ids":[41544633516237,41544633549005,41544633581773,41544633614541,41544633647309,41544633680077,41544633712845,41544633745613,41544633778381]},"available":true,"name":"PANAMA - RETRO RED \/ 9 \/ SOFT CALF LEATHER","public_title":"RETRO RED \/ 9 \/ SOFT CALF LEATHER","options":["RETRO RED","9","SOFT CALF LEATHER"],"price":27500,"weight":0,"compare_at_price":null,"inventory_management":"shopify","barcode":"840237320331","featured_media":{"alt":"5","id":24336081912013,"position":31,"preview_image":{"aspect_ratio":0.8,"height":3700,"width":2960,"src":"\/\/oncept.nyc\/cdn\/shop\/files\/PANAMA-SIDE-RETRORED-min.jpg?v=1692891162"}},"requires_selling_plan":false,"selling_plan_allocations":[]},{"id":41544633745613,"title":"RETRO RED \/ 9.5 \/ SOFT CALF LEATHER","option1":"RETRO RED","option2":"9.5","option3":"SOFT CALF LEATHER","sku":"840237320348","requires_shipping":true,"taxable":true,"featured_image":{"id":32042010509517,"product_id":7191160357069,"position":31,"created_at":"2023-08-16T23:55:15-04:00","updated_at":"2023-08-24T11:32:42-04:00","alt":"5","width":2960,"height":3700,"src":"\/\/oncept.nyc\/cdn\/shop\/files\/PANAMA-SIDE-RETRORED-min.jpg?v=1692891162","variant_ids":[41544633516237,41544633549005,41544633581773,41544633614541,41544633647309,41544633680077,41544633712845,41544633745613,41544633778381]},"available":true,"name":"PANAMA - RETRO RED \/ 9.5 \/ SOFT CALF LEATHER","public_title":"RETRO RED \/ 9.5 \/ SOFT CALF LEATHER","options":["RETRO RED","9.5","SOFT CALF LEATHER"],"price":27500,"weight":0,"compare_at_price":null,"inventory_management":"shopify","barcode":"840237320348","featured_media":{"alt":"5","id":24336081912013,"position":31,"preview_image":{"aspect_ratio":0.8,"height":3700,"width":2960,"src":"\/\/oncept.nyc\/cdn\/shop\/files\/PANAMA-SIDE-RETRORED-min.jpg?v=1692891162"}},"requires_selling_plan":false,"selling_plan_allocations":[]},{"id":41544633778381,"title":"RETRO RED \/ 10 \/ SOFT CALF LEATHER","option1":"RETRO RED","option2":"10","option3":"SOFT CALF LEATHER","sku":"840237320355","requires_shipping":true,"taxable":true,"featured_image":{"id":32042010509517,"product_id":7191160357069,"position":31,"created_at":"2023-08-16T23:55:15-04:00","updated_at":"2023-08-24T11:32:42-04:00","alt":"5","width":2960,"height":3700,"src":"\/\/oncept.nyc\/cdn\/shop\/files\/PANAMA-SIDE-RETRORED-min.jpg?v=1692891162","variant_ids":[41544633516237,41544633549005,41544633581773,41544633614541,41544633647309,41544633680077,41544633712845,41544633745613,41544633778381]},"available":true,"name":"PANAMA - RETRO RED \/ 10 \/ SOFT CALF LEATHER","public_title":"RETRO RED \/ 10 \/ SOFT CALF LEATHER","options":["RETRO RED","10","SOFT CALF LEATHER"],"price":27500,"weight":0,"compare_at_price":null,"inventory_management":"shopify","barcode":"840237320355","featured_media":{"alt":"5","id":24336081912013,"position":31,"preview_image":{"aspect_ratio":0.8,"height":3700,"width":2960,"src":"\/\/oncept.nyc\/cdn\/shop\/files\/PANAMA-SIDE-RETRORED-min.jpg?v=1692891162"}},"requires_selling_plan":false,"selling_plan_allocations":[]}],"images":["\/\/oncept.nyc\/cdn\/shop\/files\/PANAMA-SIDE-ORCHID-min.jpg?v=1692244697","\/\/oncept.nyc\/cdn\/shop\/files\/PANAMA-TOP-ORCHID-min.jpg?v=1692244697","\/\/oncept.nyc\/cdn\/shop\/files\/PANAMA-BK-ORCHID-min.jpg?v=1692244697","\/\/oncept.nyc\/cdn\/shop\/files\/PANAMA-CLOSEUP-ORCHID-min.jpg?v=1692244697","\/\/oncept.nyc\/cdn\/shop\/files\/PANAMA-OUTSOLE-RETROWHITE-min.jpg?v=1692244697","\/\/oncept.nyc\/cdn\/shop\/files\/Panamaorchidonfoot-min.jpg?v=1692891162","\/\/oncept.nyc\/cdn\/shop\/files\/PANAMA-SIDE-YELLOWMAIZE-min.jpg?v=1692891162","\/\/oncept.nyc\/cdn\/shop\/files\/PANAMA-TOP-YELLOWMAIZE-min.jpg?v=1692891162","\/\/oncept.nyc\/cdn\/shop\/files\/PANAMA-BK-YELLOWMAIZE-min.jpg?v=1692891162","\/\/oncept.nyc\/cdn\/shop\/files\/PANAMA-CLOSEUP-YELLOWMAIZE-min.jpg?v=1692891162","\/\/oncept.nyc\/cdn\/shop\/files\/PANAMA-OUTSOLE-ALLCOLORS-min.jpg?v=1693241991","\/\/oncept.nyc\/cdn\/shop\/files\/ONFOOT-PANAMA-YELLOWMAIZE-min.jpg?v=1693241998","\/\/oncept.nyc\/cdn\/shop\/files\/PANAMA-SIDE-VAPORBLUE-min.jpg?v=1693241998","\/\/oncept.nyc\/cdn\/shop\/files\/PANAMA-TOP-VAPORBLUE-min.jpg?v=1693241998","\/\/oncept.nyc\/cdn\/shop\/files\/PANAMA-BK-VAPORBLUE-min.jpg?v=1693241998","\/\/oncept.nyc\/cdn\/shop\/files\/PANAMA-CLOSEUP-VAPORBLUE-min.jpg?v=1693241998","\/\/oncept.nyc\/cdn\/shop\/files\/PANAMA-OUTSOLE-ALLCOLORS-min_22d6584d-f218-49a9-8d73-20d85bd126ba.jpg?v=1693241998","\/\/oncept.nyc\/cdn\/shop\/files\/ONFOOT-PANAMA-VAPORBLUE-min.jpg?v=1693241998","\/\/oncept.nyc\/cdn\/shop\/files\/PANAMA-SIDE.-INDIGO-min.jpg?v=1693241998","\/\/oncept.nyc\/cdn\/shop\/files\/PANAMA-TOP-INDIGO-min.jpg?v=1693241998","\/\/oncept.nyc\/cdn\/shop\/files\/PANAMA-BK-INDIGO-min.jpg?v=1693241998","\/\/oncept.nyc\/cdn\/shop\/files\/PANAMA-CLOSEUP-INDIGO-min.jpg?v=1693241998","\/\/oncept.nyc\/cdn\/shop\/files\/PANAMA-OUTSOLE-ALLCOLORS-min_88f67c4d-c35b-4620-9432-e86168fac6d4.jpg?v=1693241998","\/\/oncept.nyc\/cdn\/shop\/files\/ONFOOT-PANAMA-INDIGO-min.jpg?v=1693241998","\/\/oncept.nyc\/cdn\/shop\/files\/PANAMA-SIDE-RETROWHITE-min.jpg?v=1693241998","\/\/oncept.nyc\/cdn\/shop\/files\/PANAMA-TOP-RETROWHITE-min.jpg?v=1693241998","\/\/oncept.nyc\/cdn\/shop\/files\/PANAMA-BK-RETROWHITE-min.jpg?v=1693241998","\/\/oncept.nyc\/cdn\/shop\/files\/PANAMA-CLOSEUP-RETROWHITE-min.jpg?v=1693241998","\/\/oncept.nyc\/cdn\/shop\/files\/PANAMA-OUTSOLE-ALLCOLORS-min_807af24a-47b0-4777-ac9f-3a5ef7c105bd.jpg?v=1693241998","\/\/oncept.nyc\/cdn\/shop\/files\/ONFOOT-PANAMA-WHITECLOUD-min.jpg?v=1693241998","\/\/oncept.nyc\/cdn\/shop\/files\/PANAMA-SIDE-RETRORED-min.jpg?v=1692891162","\/\/oncept.nyc\/cdn\/shop\/files\/PANAMA-TOP-RETRORED-min.jpg?v=1692891162","\/\/oncept.nyc\/cdn\/shop\/files\/PANAMA-BK-RETRORED-min.jpg?v=1692891162","\/\/oncept.nyc\/cdn\/shop\/files\/PANAMA-CLOSEUP-RETRORED-min.jpg?v=1692891162","\/\/oncept.nyc\/cdn\/shop\/files\/PANAMA-OUTSOLE-ALLCOLORS-min_43a7cf5c-2c04-45e8-b2dc-3cefe79229b9.jpg?v=1692891162","\/\/oncept.nyc\/cdn\/shop\/files\/ONFOOT-PANAMA-RETORED-min_0bbfecfc-5402-4041-a0eb-b14e935cf7d2.jpg?v=1693231349"],"featured_image":"\/\/oncept.nyc\/cdn\/shop\/files\/PANAMA-SIDE-ORCHID-min.jpg?v=1692244697","options":["Color","Size","Material"],"media":[{"alt":"0","id":24336081944781,"position":1,"preview_image":{"aspect_ratio":0.8,"height":3700,"width":2960,"src":"\/\/oncept.nyc\/cdn\/shop\/files\/PANAMA-SIDE-ORCHID-min.jpg?v=1692244697"},"aspect_ratio":0.8,"height":3700,"media_type":"image","src":"\/\/oncept.nyc\/cdn\/shop\/files\/PANAMA-SIDE-ORCHID-min.jpg?v=1692244697","width":2960},{"alt":"0","id":24336082174157,"position":2,"preview_image":{"aspect_ratio":0.8,"height":3700,"width":2960,"src":"\/\/oncept.nyc\/cdn\/shop\/files\/PANAMA-TOP-ORCHID-min.jpg?v=1692244697"},"aspect_ratio":0.8,"height":3700,"media_type":"image","src":"\/\/oncept.nyc\/cdn\/shop\/files\/PANAMA-TOP-ORCHID-min.jpg?v=1692244697","width":2960},{"alt":"0","id":24336082403533,"position":3,"preview_image":{"aspect_ratio":0.8,"height":3700,"width":2960,"src":"\/\/oncept.nyc\/cdn\/shop\/files\/PANAMA-BK-ORCHID-min.jpg?v=1692244697"},"aspect_ratio":0.8,"height":3700,"media_type":"image","src":"\/\/oncept.nyc\/cdn\/shop\/files\/PANAMA-BK-ORCHID-min.jpg?v=1692244697","width":2960},{"alt":"0","id":24336082534605,"position":4,"preview_image":{"aspect_ratio":0.8,"height":3700,"width":2960,"src":"\/\/oncept.nyc\/cdn\/shop\/files\/PANAMA-CLOSEUP-ORCHID-min.jpg?v=1692244697"},"aspect_ratio":0.8,"height":3700,"media_type":"image","src":"\/\/oncept.nyc\/cdn\/shop\/files\/PANAMA-CLOSEUP-ORCHID-min.jpg?v=1692244697","width":2960},{"alt":"0","id":24336082698445,"position":5,"preview_image":{"aspect_ratio":0.8,"height":3700,"width":2960,"src":"\/\/oncept.nyc\/cdn\/shop\/files\/PANAMA-OUTSOLE-RETROWHITE-min.jpg?v=1692244697"},"aspect_ratio":0.8,"height":3700,"media_type":"image","src":"\/\/oncept.nyc\/cdn\/shop\/files\/PANAMA-OUTSOLE-RETROWHITE-min.jpg?v=1692244697","width":2960},{"alt":"0","id":24371541967053,"position":6,"preview_image":{"aspect_ratio":0.8,"height":1850,"width":1480,"src":"\/\/oncept.nyc\/cdn\/shop\/files\/Panamaorchidonfoot-min.jpg?v=1692891162"},"aspect_ratio":0.8,"height":1850,"media_type":"image","src":"\/\/oncept.nyc\/cdn\/shop\/files\/Panamaorchidonfoot-min.jpg?v=1692891162","width":1480},{"alt":"1","id":24336082043085,"position":7,"preview_image":{"aspect_ratio":0.8,"height":3700,"width":2960,"src":"\/\/oncept.nyc\/cdn\/shop\/files\/PANAMA-SIDE-YELLOWMAIZE-min.jpg?v=1692891162"},"aspect_ratio":0.8,"height":3700,"media_type":"image","src":"\/\/oncept.nyc\/cdn\/shop\/files\/PANAMA-SIDE-YELLOWMAIZE-min.jpg?v=1692891162","width":2960},{"alt":"1","id":24336082108621,"position":8,"preview_image":{"aspect_ratio":0.8,"height":3700,"width":2960,"src":"\/\/oncept.nyc\/cdn\/shop\/files\/PANAMA-TOP-YELLOWMAIZE-min.jpg?v=1692891162"},"aspect_ratio":0.8,"height":3700,"media_type":"image","src":"\/\/oncept.nyc\/cdn\/shop\/files\/PANAMA-TOP-YELLOWMAIZE-min.jpg?v=1692891162","width":2960},{"alt":"1","id":24336082370765,"position":9,"preview_image":{"aspect_ratio":0.8,"height":3700,"width":2960,"src":"\/\/oncept.nyc\/cdn\/shop\/files\/PANAMA-BK-YELLOWMAIZE-min.jpg?v=1692891162"},"aspect_ratio":0.8,"height":3700,"media_type":"image","src":"\/\/oncept.nyc\/cdn\/shop\/files\/PANAMA-BK-YELLOWMAIZE-min.jpg?v=1692891162","width":2960},{"alt":"1","id":24336082632909,"position":10,"preview_image":{"aspect_ratio":0.8,"height":3700,"width":2960,"src":"\/\/oncept.nyc\/cdn\/shop\/files\/PANAMA-CLOSEUP-YELLOWMAIZE-min.jpg?v=1692891162"},"aspect_ratio":0.8,"height":3700,"media_type":"image","src":"\/\/oncept.nyc\/cdn\/shop\/files\/PANAMA-CLOSEUP-YELLOWMAIZE-min.jpg?v=1692891162","width":2960},{"alt":"1","id":24336082731213,"position":11,"preview_image":{"aspect_ratio":0.8,"height":3700,"width":2960,"src":"\/\/oncept.nyc\/cdn\/shop\/files\/PANAMA-OUTSOLE-ALLCOLORS-min.jpg?v=1693241991"},"aspect_ratio":0.8,"height":3700,"media_type":"image","src":"\/\/oncept.nyc\/cdn\/shop\/files\/PANAMA-OUTSOLE-ALLCOLORS-min.jpg?v=1693241991","width":2960},{"alt":"1","id":24346723057869,"position":12,"preview_image":{"aspect_ratio":0.8,"height":3700,"width":2960,"src":"\/\/oncept.nyc\/cdn\/shop\/files\/ONFOOT-PANAMA-YELLOWMAIZE-min.jpg?v=1693241998"},"aspect_ratio":0.8,"height":3700,"media_type":"image","src":"\/\/oncept.nyc\/cdn\/shop\/files\/ONFOOT-PANAMA-YELLOWMAIZE-min.jpg?v=1693241998","width":2960},{"alt":"2","id":24336082075853,"position":13,"preview_image":{"aspect_ratio":0.8,"height":3700,"width":2960,"src":"\/\/oncept.nyc\/cdn\/shop\/files\/PANAMA-SIDE-VAPORBLUE-min.jpg?v=1693241998"},"aspect_ratio":0.8,"height":3700,"media_type":"image","src":"\/\/oncept.nyc\/cdn\/shop\/files\/PANAMA-SIDE-VAPORBLUE-min.jpg?v=1693241998","width":2960},{"alt":"2","id":24336082272461,"position":14,"preview_image":{"aspect_ratio":0.8,"height":3700,"width":2960,"src":"\/\/oncept.nyc\/cdn\/shop\/files\/PANAMA-TOP-VAPORBLUE-min.jpg?v=1693241998"},"aspect_ratio":0.8,"height":3700,"media_type":"image","src":"\/\/oncept.nyc\/cdn\/shop\/files\/PANAMA-TOP-VAPORBLUE-min.jpg?v=1693241998","width":2960},{"alt":"2","id":24336082469069,"position":15,"preview_image":{"aspect_ratio":0.8,"height":3700,"width":2960,"src":"\/\/oncept.nyc\/cdn\/shop\/files\/PANAMA-BK-VAPORBLUE-min.jpg?v=1693241998"},"aspect_ratio":0.8,"height":3700,"media_type":"image","src":"\/\/oncept.nyc\/cdn\/shop\/files\/PANAMA-BK-VAPORBLUE-min.jpg?v=1693241998","width":2960},{"alt":"2","id":24336082665677,"position":16,"preview_image":{"aspect_ratio":0.8,"height":3700,"width":2960,"src":"\/\/oncept.nyc\/cdn\/shop\/files\/PANAMA-CLOSEUP-VAPORBLUE-min.jpg?v=1693241998"},"aspect_ratio":0.8,"height":3700,"media_type":"image","src":"\/\/oncept.nyc\/cdn\/shop\/files\/PANAMA-CLOSEUP-VAPORBLUE-min.jpg?v=1693241998","width":2960},{"alt":"2","id":24336082960589,"position":17,"preview_image":{"aspect_ratio":0.8,"height":3700,"width":2960,"src":"\/\/oncept.nyc\/cdn\/shop\/files\/PANAMA-OUTSOLE-ALLCOLORS-min_22d6584d-f218-49a9-8d73-20d85bd126ba.jpg?v=1693241998"},"aspect_ratio":0.8,"height":3700,"media_type":"image","src":"\/\/oncept.nyc\/cdn\/shop\/files\/PANAMA-OUTSOLE-ALLCOLORS-min_22d6584d-f218-49a9-8d73-20d85bd126ba.jpg?v=1693241998","width":2960},{"alt":"2","id":24346723123405,"position":18,"preview_image":{"aspect_ratio":0.8,"height":3700,"width":2960,"src":"\/\/oncept.nyc\/cdn\/shop\/files\/ONFOOT-PANAMA-VAPORBLUE-min.jpg?v=1693241998"},"aspect_ratio":0.8,"height":3700,"media_type":"image","src":"\/\/oncept.nyc\/cdn\/shop\/files\/ONFOOT-PANAMA-VAPORBLUE-min.jpg?v=1693241998","width":2960},{"alt":"3","id":24336082010317,"position":19,"preview_image":{"aspect_ratio":0.8,"height":3700,"width":2960,"src":"\/\/oncept.nyc\/cdn\/shop\/files\/PANAMA-SIDE.-INDIGO-min.jpg?v=1693241998"},"aspect_ratio":0.8,"height":3700,"media_type":"image","src":"\/\/oncept.nyc\/cdn\/shop\/files\/PANAMA-SIDE.-INDIGO-min.jpg?v=1693241998","width":2960},{"alt":"3","id":24336082141389,"position":20,"preview_image":{"aspect_ratio":0.8,"height":3700,"width":2960,"src":"\/\/oncept.nyc\/cdn\/shop\/files\/PANAMA-TOP-INDIGO-min.jpg?v=1693241998"},"aspect_ratio":0.8,"height":3700,"media_type":"image","src":"\/\/oncept.nyc\/cdn\/shop\/files\/PANAMA-TOP-INDIGO-min.jpg?v=1693241998","width":2960},{"alt":"3","id":24336082436301,"position":21,"preview_image":{"aspect_ratio":0.8,"height":3700,"width":2960,"src":"\/\/oncept.nyc\/cdn\/shop\/files\/PANAMA-BK-INDIGO-min.jpg?v=1693241998"},"aspect_ratio":0.8,"height":3700,"media_type":"image","src":"\/\/oncept.nyc\/cdn\/shop\/files\/PANAMA-BK-INDIGO-min.jpg?v=1693241998","width":2960},{"alt":"3","id":24336082600141,"position":22,"preview_image":{"aspect_ratio":0.8,"height":3700,"width":2960,"src":"\/\/oncept.nyc\/cdn\/shop\/files\/PANAMA-CLOSEUP-INDIGO-min.jpg?v=1693241998"},"aspect_ratio":0.8,"height":3700,"media_type":"image","src":"\/\/oncept.nyc\/cdn\/shop\/files\/PANAMA-CLOSEUP-INDIGO-min.jpg?v=1693241998","width":2960},{"alt":"3","id":24336083026125,"position":23,"preview_image":{"aspect_ratio":0.8,"height":3700,"width":2960,"src":"\/\/oncept.nyc\/cdn\/shop\/files\/PANAMA-OUTSOLE-ALLCOLORS-min_88f67c4d-c35b-4620-9432-e86168fac6d4.jpg?v=1693241998"},"aspect_ratio":0.8,"height":3700,"media_type":"image","src":"\/\/oncept.nyc\/cdn\/shop\/files\/PANAMA-OUTSOLE-ALLCOLORS-min_88f67c4d-c35b-4620-9432-e86168fac6d4.jpg?v=1693241998","width":2960},{"alt":"3","id":24346723156173,"position":24,"preview_image":{"aspect_ratio":0.8,"height":3700,"width":2960,"src":"\/\/oncept.nyc\/cdn\/shop\/files\/ONFOOT-PANAMA-INDIGO-min.jpg?v=1693241998"},"aspect_ratio":0.8,"height":3700,"media_type":"image","src":"\/\/oncept.nyc\/cdn\/shop\/files\/ONFOOT-PANAMA-INDIGO-min.jpg?v=1693241998","width":2960},{"alt":"4","id":24336081977549,"position":25,"preview_image":{"aspect_ratio":0.8,"height":3700,"width":2960,"src":"\/\/oncept.nyc\/cdn\/shop\/files\/PANAMA-SIDE-RETROWHITE-min.jpg?v=1693241998"},"aspect_ratio":0.8,"height":3700,"media_type":"image","src":"\/\/oncept.nyc\/cdn\/shop\/files\/PANAMA-SIDE-RETROWHITE-min.jpg?v=1693241998","width":2960},{"alt":"4","id":24336082239693,"position":26,"preview_image":{"aspect_ratio":0.8,"height":3700,"width":2960,"src":"\/\/oncept.nyc\/cdn\/shop\/files\/PANAMA-TOP-RETROWHITE-min.jpg?v=1693241998"},"aspect_ratio":0.8,"height":3700,"media_type":"image","src":"\/\/oncept.nyc\/cdn\/shop\/files\/PANAMA-TOP-RETROWHITE-min.jpg?v=1693241998","width":2960},{"alt":"4","id":24336082305229,"position":27,"preview_image":{"aspect_ratio":0.8,"height":3700,"width":2960,"src":"\/\/oncept.nyc\/cdn\/shop\/files\/PANAMA-BK-RETROWHITE-min.jpg?v=1693241998"},"aspect_ratio":0.8,"height":3700,"media_type":"image","src":"\/\/oncept.nyc\/cdn\/shop\/files\/PANAMA-BK-RETROWHITE-min.jpg?v=1693241998","width":2960},{"alt":"4","id":24336082567373,"position":28,"preview_image":{"aspect_ratio":0.8,"height":3700,"width":2960,"src":"\/\/oncept.nyc\/cdn\/shop\/files\/PANAMA-CLOSEUP-RETROWHITE-min.jpg?v=1693241998"},"aspect_ratio":0.8,"height":3700,"media_type":"image","src":"\/\/oncept.nyc\/cdn\/shop\/files\/PANAMA-CLOSEUP-RETROWHITE-min.jpg?v=1693241998","width":2960},{"alt":"4","id":24336082993357,"position":29,"preview_image":{"aspect_ratio":0.8,"height":3700,"width":2960,"src":"\/\/oncept.nyc\/cdn\/shop\/files\/PANAMA-OUTSOLE-ALLCOLORS-min_807af24a-47b0-4777-ac9f-3a5ef7c105bd.jpg?v=1693241998"},"aspect_ratio":0.8,"height":3700,"media_type":"image","src":"\/\/oncept.nyc\/cdn\/shop\/files\/PANAMA-OUTSOLE-ALLCOLORS-min_807af24a-47b0-4777-ac9f-3a5ef7c105bd.jpg?v=1693241998","width":2960},{"alt":"4","id":24346723090637,"position":30,"preview_image":{"aspect_ratio":0.8,"height":3700,"width":2960,"src":"\/\/oncept.nyc\/cdn\/shop\/files\/ONFOOT-PANAMA-WHITECLOUD-min.jpg?v=1693241998"},"aspect_ratio":0.8,"height":3700,"media_type":"image","src":"\/\/oncept.nyc\/cdn\/shop\/files\/ONFOOT-PANAMA-WHITECLOUD-min.jpg?v=1693241998","width":2960},{"alt":"5","id":24336081912013,"position":31,"preview_image":{"aspect_ratio":0.8,"height":3700,"width":2960,"src":"\/\/oncept.nyc\/cdn\/shop\/files\/PANAMA-SIDE-RETRORED-min.jpg?v=1692891162"},"aspect_ratio":0.8,"height":3700,"media_type":"image","src":"\/\/oncept.nyc\/cdn\/shop\/files\/PANAMA-SIDE-RETRORED-min.jpg?v=1692891162","width":2960},{"alt":"5","id":24336082206925,"position":32,"preview_image":{"aspect_ratio":0.8,"height":3700,"width":2960,"src":"\/\/oncept.nyc\/cdn\/shop\/files\/PANAMA-TOP-RETRORED-min.jpg?v=1692891162"},"aspect_ratio":0.8,"height":3700,"media_type":"image","src":"\/\/oncept.nyc\/cdn\/shop\/files\/PANAMA-TOP-RETRORED-min.jpg?v=1692891162","width":2960},{"alt":"5","id":24336082337997,"position":33,"preview_image":{"aspect_ratio":0.8,"height":3700,"width":2960,"src":"\/\/oncept.nyc\/cdn\/shop\/files\/PANAMA-BK-RETRORED-min.jpg?v=1692891162"},"aspect_ratio":0.8,"height":3700,"media_type":"image","src":"\/\/oncept.nyc\/cdn\/shop\/files\/PANAMA-BK-RETRORED-min.jpg?v=1692891162","width":2960},{"alt":"5","id":24336082501837,"position":34,"preview_image":{"aspect_ratio":0.8,"height":3700,"width":2960,"src":"\/\/oncept.nyc\/cdn\/shop\/files\/PANAMA-CLOSEUP-RETRORED-min.jpg?v=1692891162"},"aspect_ratio":0.8,"height":3700,"media_type":"image","src":"\/\/oncept.nyc\/cdn\/shop\/files\/PANAMA-CLOSEUP-RETRORED-min.jpg?v=1692891162","width":2960},{"alt":"5","id":24336083222733,"position":35,"preview_image":{"aspect_ratio":0.8,"height":3700,"width":2960,"src":"\/\/oncept.nyc\/cdn\/shop\/files\/PANAMA-OUTSOLE-ALLCOLORS-min_43a7cf5c-2c04-45e8-b2dc-3cefe79229b9.jpg?v=1692891162"},"aspect_ratio":0.8,"height":3700,"media_type":"image","src":"\/\/oncept.nyc\/cdn\/shop\/files\/PANAMA-OUTSOLE-ALLCOLORS-min_43a7cf5c-2c04-45e8-b2dc-3cefe79229b9.jpg?v=1692891162","width":2960},{"alt":"5","id":24393738911949,"position":36,"preview_image":{"aspect_ratio":0.8,"height":3000,"width":2400,"src":"\/\/oncept.nyc\/cdn\/shop\/files\/ONFOOT-PANAMA-RETORED-min_0bbfecfc-5402-4041-a0eb-b14e935cf7d2.jpg?v=1693231349"},"aspect_ratio":0.8,"height":3000,"media_type":"image","src":"\/\/oncept.nyc\/cdn\/shop\/files\/ONFOOT-PANAMA-RETORED-min_0bbfecfc-5402-4041-a0eb-b14e935cf7d2.jpg?v=1693231349","width":2400}],"requires_selling_plan":false,"selling_plan_groups":[],"content":"\u003cp\u003e\u003cspan\u003eThe PANAMA stadium low top has arrived. Designed to take you from the turf to the street with effortless cool. We've updated this retro style with two–tone bottoms and ultra-soft lux leather for a timeless new look. Featuring six fresh colors, re–nylon spiral laces,\u003c\/span\u003e\u003cspan\u003e butter nubuk \u003c\/span\u003e\u003cspan\u003eand our signature re-speckled soles. \u003c\/span\u003e\u003c\/p\u003e\n\u003cbr style=\"font-weight: 400;\"\u003e"} { "options": [ { "title": "Color", "values": [ { "value": "ORCHID", "url": "/products/panama?variant=41539445424333" }, { "value": "YELLOW MAIZE", "url": "/products/panama?variant=41539445719245" }, { "value": "BLUE VAPOR", "url": "/products/panama?variant=41539446014157" }, { "value": "INDIGO", "url": "/products/panama?variant=41539446309069" }, { "value": "RETRO WHITE", "url": "/products/panama?variant=41539446603981" }, { "value": "RETRO RED", "url": "/products/panama?variant=41544633516237" } ] }, { "title": "Size", "values": [ { "value": "6", "url": "/products/panama?variant=41539445424333" }, { "value": "6.5", "url": "/products/panama?variant=41539445457101" }, { "value": "7", "url": "/products/panama?variant=41539445489869" }, { "value": "7.5", "url": "/products/panama?variant=41539445522637" }, { "value": "8", "url": "/products/panama?variant=41539445555405" }, { "value": "8.5", "url": "/products/panama?variant=41539445588173" }, { "value": "9", "url": "/products/panama?variant=41539445620941" }, { "value": "9.5", "url": "/products/panama?variant=41539445653709" }, { "value": "10", "url": "/products/panama?variant=41539445686477" } ] }, { "title": "Material", "values": [ { "value": "SOFT CALF LEATHER", "url": "/products/panama?variant=41539445424333" } ] } ] }
{ "desktopImg": "//oncept.nyc/cdn/shop/files/ONC-Size_Guide-220721-v2_4f753765-00f0-43de-a4e8-769673d6f443.png?v=1693310772", "mobileImg": "//oncept.nyc/cdn/shop/files/ONC-Size_Guide-220721-v12_62596961-cac9-488c-8395-409e383787ee.png?v=1693310784" }