[ ]
Re-Nylon ribbon
Re-Plastic hardware rings with adjustable straps
Recycled nylon sock
Bio-density molded sock made with recycled materials
Re-speckled bottoms
CARE
Outsole can be cleaned with a soft cloth and water
Use waterproof protection spray on upper
COMFORT
Refined groove design offers extreme flexibility
Molded removable sock footbed
We offer free express shipping, exchanges and returns on all US domestic orders
[ "Materials & Care" , "Fit & Comfort" , "Delivery & Returns" ]
Sustainable Style
It's all in the details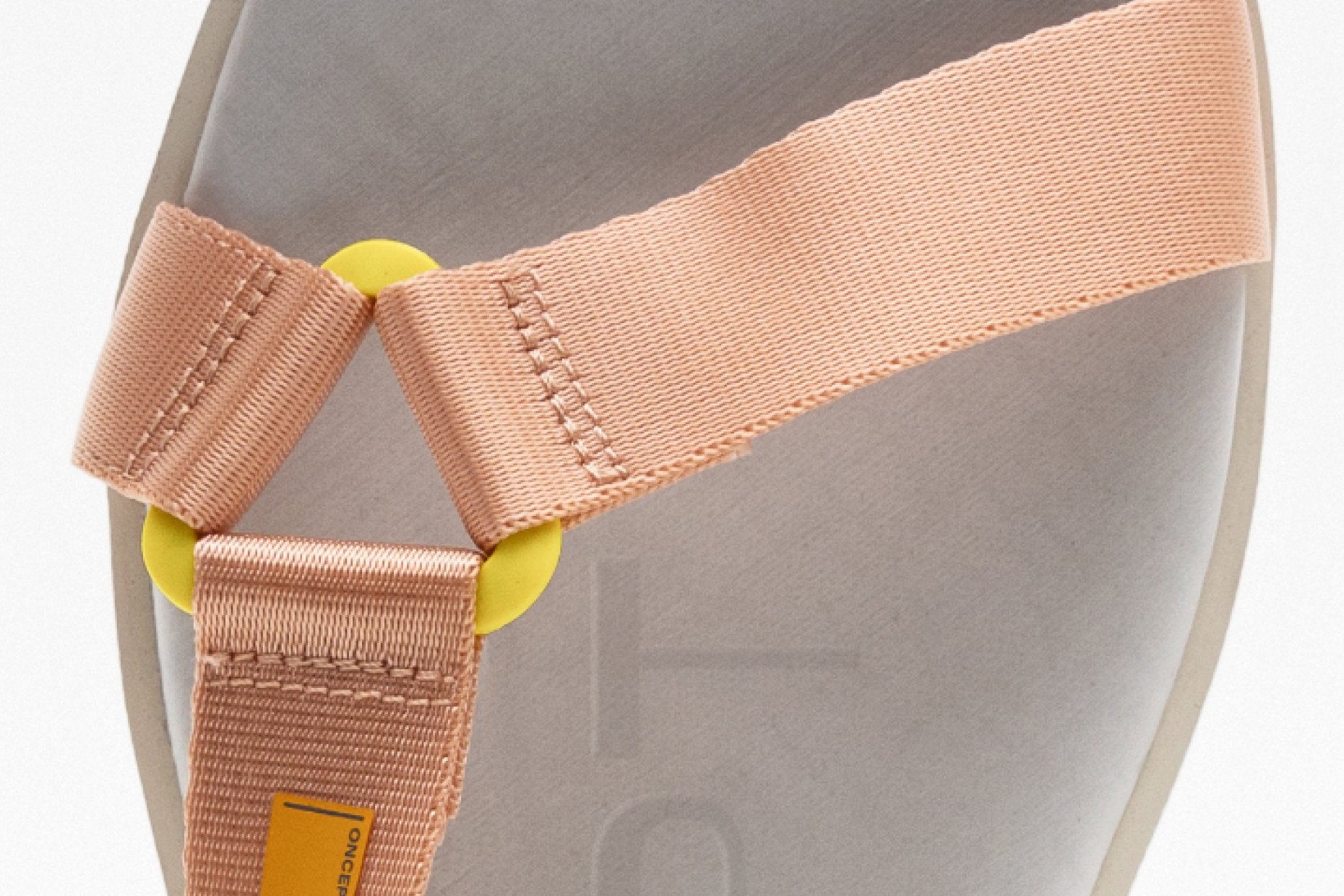 RE-PLASTIC HARDWARE
Our adjustable re-nylon hardware system uses custom recycled plastic triangle rings. The nylon straps utilize recycled velcro for a custom secure fit.
READ MORE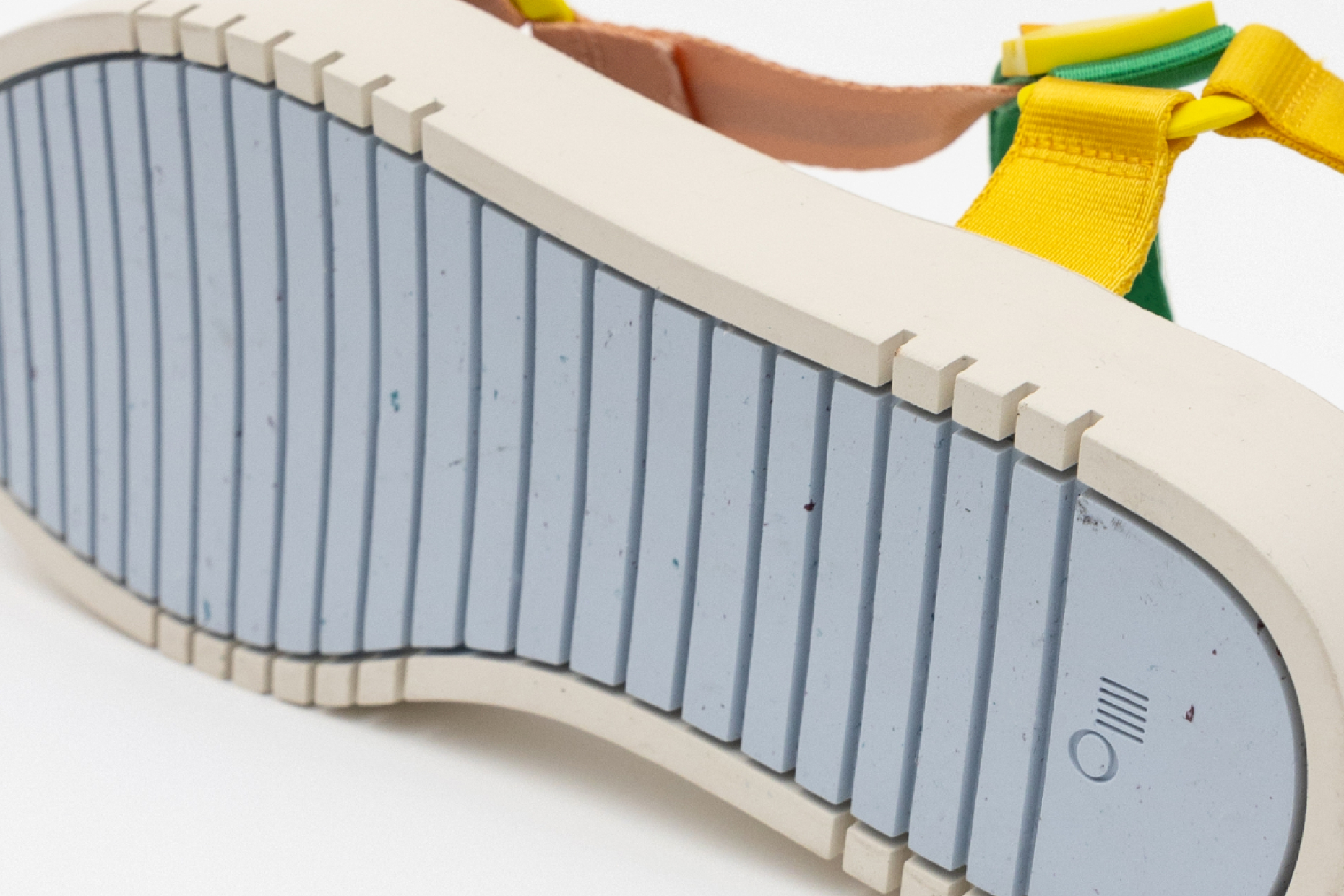 RE-SPECKLED RUBBER OUTSOLES
Recycled rubber midsole that uses leftover and excess rubber from the factory reducing waste and the use of new resources. This process keeps hundreds of tons of waste from landfills. You will notice the speckle in the bottom which gives it a signature look.
READ MORE
{"id":6759103922381,"title":"LAGUNA","handle":"laguna","description":"\u003cp\u003e\u003cmeta charset=\"utf-8\"\u003e\u003cspan data-mce-fragment=\"1\"\u003eEasy as 1-2-3 … the LAGUNA on-the-go sneaker is an essential wardrobe piece with ease to slip on. No hassle, no fuss, just great style!  \u003c\/span\u003eWith ultra-soft calf leather or re-nylon uppers, citrus orange details, and a re-speckled flex outsole, our two-tone molded bottom is sleek and comfortable. With style in mind, the rubber flex outsole is durable, while the upper is soft and packable, making this timeless sneaker ready for anything.\u003cbr\u003e\u003c\/p\u003e","published_at":"2022-02-24T17:30:01-05:00","created_at":"2021-09-09T14:29:44-04:00","vendor":"Oncept","type":"Footwear","tags":["SNEAKER","SPORT"],"price":25000,"price_min":25000,"price_max":25000,"available":true,"price_varies":false,"compare_at_price":null,"compare_at_price_min":0,"compare_at_price_max":0,"compare_at_price_varies":false,"variants":[{"id":40188334342349,"title":"LATTE \/ 6 \/ SOFT CALF LEATHER","option1":"LATTE","option2":"6","option3":"SOFT CALF LEATHER","sku":"840237307851","requires_shipping":true,"taxable":true,"featured_image":{"id":30632638251213,"product_id":6759103922381,"position":1,"created_at":"2022-08-26T13:35:04-04:00","updated_at":"2022-08-26T13:36:33-04:00","alt":"0","width":2960,"height":3700,"src":"\/\/oncept.nyc\/cdn\/shop\/products\/LAGUNA-SIDE-LATTE-min.jpg?v=1661535393","variant_ids":[40188334342349,40188334473421,40188334571725,40188334670029,40188334768333,40188334866637,40188334964941,40188335096013,40188335194317]},"available":true,"name":"LAGUNA - LATTE \/ 6 \/ SOFT CALF LEATHER","public_title":"LATTE \/ 6 \/ SOFT CALF LEATHER","options":["LATTE","6","SOFT CALF LEATHER"],"price":25000,"weight":0,"compare_at_price":null,"inventory_management":"shopify","barcode":"840237307851","featured_media":{"alt":"0","id":22913710457037,"position":1,"preview_image":{"aspect_ratio":0.8,"height":3700,"width":2960,"src":"\/\/oncept.nyc\/cdn\/shop\/products\/LAGUNA-SIDE-LATTE-min.jpg?v=1661535393"}},"requires_selling_plan":false,"selling_plan_allocations":[]},{"id":40188334473421,"title":"LATTE \/ 6.5 \/ SOFT CALF LEATHER","option1":"LATTE","option2":"6.5","option3":"SOFT CALF LEATHER","sku":"840237307868","requires_shipping":true,"taxable":true,"featured_image":{"id":30632638251213,"product_id":6759103922381,"position":1,"created_at":"2022-08-26T13:35:04-04:00","updated_at":"2022-08-26T13:36:33-04:00","alt":"0","width":2960,"height":3700,"src":"\/\/oncept.nyc\/cdn\/shop\/products\/LAGUNA-SIDE-LATTE-min.jpg?v=1661535393","variant_ids":[40188334342349,40188334473421,40188334571725,40188334670029,40188334768333,40188334866637,40188334964941,40188335096013,40188335194317]},"available":true,"name":"LAGUNA - LATTE \/ 6.5 \/ SOFT CALF LEATHER","public_title":"LATTE \/ 6.5 \/ SOFT CALF LEATHER","options":["LATTE","6.5","SOFT CALF LEATHER"],"price":25000,"weight":0,"compare_at_price":null,"inventory_management":"shopify","barcode":"840237307868","featured_media":{"alt":"0","id":22913710457037,"position":1,"preview_image":{"aspect_ratio":0.8,"height":3700,"width":2960,"src":"\/\/oncept.nyc\/cdn\/shop\/products\/LAGUNA-SIDE-LATTE-min.jpg?v=1661535393"}},"requires_selling_plan":false,"selling_plan_allocations":[]},{"id":40188334571725,"title":"LATTE \/ 7 \/ SOFT CALF LEATHER","option1":"LATTE","option2":"7","option3":"SOFT CALF LEATHER","sku":"840237307875","requires_shipping":true,"taxable":true,"featured_image":{"id":30632638251213,"product_id":6759103922381,"position":1,"created_at":"2022-08-26T13:35:04-04:00","updated_at":"2022-08-26T13:36:33-04:00","alt":"0","width":2960,"height":3700,"src":"\/\/oncept.nyc\/cdn\/shop\/products\/LAGUNA-SIDE-LATTE-min.jpg?v=1661535393","variant_ids":[40188334342349,40188334473421,40188334571725,40188334670029,40188334768333,40188334866637,40188334964941,40188335096013,40188335194317]},"available":false,"name":"LAGUNA - LATTE \/ 7 \/ SOFT CALF LEATHER","public_title":"LATTE \/ 7 \/ SOFT CALF LEATHER","options":["LATTE","7","SOFT CALF LEATHER"],"price":25000,"weight":0,"compare_at_price":null,"inventory_management":"shopify","barcode":"840237307875","featured_media":{"alt":"0","id":22913710457037,"position":1,"preview_image":{"aspect_ratio":0.8,"height":3700,"width":2960,"src":"\/\/oncept.nyc\/cdn\/shop\/products\/LAGUNA-SIDE-LATTE-min.jpg?v=1661535393"}},"requires_selling_plan":false,"selling_plan_allocations":[]},{"id":40188334670029,"title":"LATTE \/ 7.5 \/ SOFT CALF LEATHER","option1":"LATTE","option2":"7.5","option3":"SOFT CALF LEATHER","sku":"840237307882","requires_shipping":true,"taxable":true,"featured_image":{"id":30632638251213,"product_id":6759103922381,"position":1,"created_at":"2022-08-26T13:35:04-04:00","updated_at":"2022-08-26T13:36:33-04:00","alt":"0","width":2960,"height":3700,"src":"\/\/oncept.nyc\/cdn\/shop\/products\/LAGUNA-SIDE-LATTE-min.jpg?v=1661535393","variant_ids":[40188334342349,40188334473421,40188334571725,40188334670029,40188334768333,40188334866637,40188334964941,40188335096013,40188335194317]},"available":true,"name":"LAGUNA - LATTE \/ 7.5 \/ SOFT CALF LEATHER","public_title":"LATTE \/ 7.5 \/ SOFT CALF LEATHER","options":["LATTE","7.5","SOFT CALF LEATHER"],"price":25000,"weight":0,"compare_at_price":null,"inventory_management":"shopify","barcode":"840237307882","featured_media":{"alt":"0","id":22913710457037,"position":1,"preview_image":{"aspect_ratio":0.8,"height":3700,"width":2960,"src":"\/\/oncept.nyc\/cdn\/shop\/products\/LAGUNA-SIDE-LATTE-min.jpg?v=1661535393"}},"requires_selling_plan":false,"selling_plan_allocations":[]},{"id":40188334768333,"title":"LATTE \/ 8 \/ SOFT CALF LEATHER","option1":"LATTE","option2":"8","option3":"SOFT CALF LEATHER","sku":"840237307899","requires_shipping":true,"taxable":true,"featured_image":{"id":30632638251213,"product_id":6759103922381,"position":1,"created_at":"2022-08-26T13:35:04-04:00","updated_at":"2022-08-26T13:36:33-04:00","alt":"0","width":2960,"height":3700,"src":"\/\/oncept.nyc\/cdn\/shop\/products\/LAGUNA-SIDE-LATTE-min.jpg?v=1661535393","variant_ids":[40188334342349,40188334473421,40188334571725,40188334670029,40188334768333,40188334866637,40188334964941,40188335096013,40188335194317]},"available":false,"name":"LAGUNA - LATTE \/ 8 \/ SOFT CALF LEATHER","public_title":"LATTE \/ 8 \/ SOFT CALF LEATHER","options":["LATTE","8","SOFT CALF LEATHER"],"price":25000,"weight":0,"compare_at_price":null,"inventory_management":"shopify","barcode":"840237307899","featured_media":{"alt":"0","id":22913710457037,"position":1,"preview_image":{"aspect_ratio":0.8,"height":3700,"width":2960,"src":"\/\/oncept.nyc\/cdn\/shop\/products\/LAGUNA-SIDE-LATTE-min.jpg?v=1661535393"}},"requires_selling_plan":false,"selling_plan_allocations":[]},{"id":40188334866637,"title":"LATTE \/ 8.5 \/ SOFT CALF LEATHER","option1":"LATTE","option2":"8.5","option3":"SOFT CALF LEATHER","sku":"840237307905","requires_shipping":true,"taxable":true,"featured_image":{"id":30632638251213,"product_id":6759103922381,"position":1,"created_at":"2022-08-26T13:35:04-04:00","updated_at":"2022-08-26T13:36:33-04:00","alt":"0","width":2960,"height":3700,"src":"\/\/oncept.nyc\/cdn\/shop\/products\/LAGUNA-SIDE-LATTE-min.jpg?v=1661535393","variant_ids":[40188334342349,40188334473421,40188334571725,40188334670029,40188334768333,40188334866637,40188334964941,40188335096013,40188335194317]},"available":true,"name":"LAGUNA - LATTE \/ 8.5 \/ SOFT CALF LEATHER","public_title":"LATTE \/ 8.5 \/ SOFT CALF LEATHER","options":["LATTE","8.5","SOFT CALF LEATHER"],"price":25000,"weight":0,"compare_at_price":null,"inventory_management":"shopify","barcode":"840237307905","featured_media":{"alt":"0","id":22913710457037,"position":1,"preview_image":{"aspect_ratio":0.8,"height":3700,"width":2960,"src":"\/\/oncept.nyc\/cdn\/shop\/products\/LAGUNA-SIDE-LATTE-min.jpg?v=1661535393"}},"requires_selling_plan":false,"selling_plan_allocations":[]},{"id":40188334964941,"title":"LATTE \/ 9 \/ SOFT CALF LEATHER","option1":"LATTE","option2":"9","option3":"SOFT CALF LEATHER","sku":"840237307912","requires_shipping":true,"taxable":true,"featured_image":{"id":30632638251213,"product_id":6759103922381,"position":1,"created_at":"2022-08-26T13:35:04-04:00","updated_at":"2022-08-26T13:36:33-04:00","alt":"0","width":2960,"height":3700,"src":"\/\/oncept.nyc\/cdn\/shop\/products\/LAGUNA-SIDE-LATTE-min.jpg?v=1661535393","variant_ids":[40188334342349,40188334473421,40188334571725,40188334670029,40188334768333,40188334866637,40188334964941,40188335096013,40188335194317]},"available":true,"name":"LAGUNA - LATTE \/ 9 \/ SOFT CALF LEATHER","public_title":"LATTE \/ 9 \/ SOFT CALF LEATHER","options":["LATTE","9","SOFT CALF LEATHER"],"price":25000,"weight":0,"compare_at_price":null,"inventory_management":"shopify","barcode":"840237307912","featured_media":{"alt":"0","id":22913710457037,"position":1,"preview_image":{"aspect_ratio":0.8,"height":3700,"width":2960,"src":"\/\/oncept.nyc\/cdn\/shop\/products\/LAGUNA-SIDE-LATTE-min.jpg?v=1661535393"}},"requires_selling_plan":false,"selling_plan_allocations":[]},{"id":40188335096013,"title":"LATTE \/ 9.5 \/ SOFT CALF LEATHER","option1":"LATTE","option2":"9.5","option3":"SOFT CALF LEATHER","sku":"840237307929","requires_shipping":true,"taxable":true,"featured_image":{"id":30632638251213,"product_id":6759103922381,"position":1,"created_at":"2022-08-26T13:35:04-04:00","updated_at":"2022-08-26T13:36:33-04:00","alt":"0","width":2960,"height":3700,"src":"\/\/oncept.nyc\/cdn\/shop\/products\/LAGUNA-SIDE-LATTE-min.jpg?v=1661535393","variant_ids":[40188334342349,40188334473421,40188334571725,40188334670029,40188334768333,40188334866637,40188334964941,40188335096013,40188335194317]},"available":true,"name":"LAGUNA - LATTE \/ 9.5 \/ SOFT CALF LEATHER","public_title":"LATTE \/ 9.5 \/ SOFT CALF LEATHER","options":["LATTE","9.5","SOFT CALF LEATHER"],"price":25000,"weight":0,"compare_at_price":null,"inventory_management":"shopify","barcode":"840237307929","featured_media":{"alt":"0","id":22913710457037,"position":1,"preview_image":{"aspect_ratio":0.8,"height":3700,"width":2960,"src":"\/\/oncept.nyc\/cdn\/shop\/products\/LAGUNA-SIDE-LATTE-min.jpg?v=1661535393"}},"requires_selling_plan":false,"selling_plan_allocations":[]},{"id":40188335194317,"title":"LATTE \/ 10 \/ SOFT CALF LEATHER","option1":"LATTE","option2":"10","option3":"SOFT CALF LEATHER","sku":"840237307936","requires_shipping":true,"taxable":true,"featured_image":{"id":30632638251213,"product_id":6759103922381,"position":1,"created_at":"2022-08-26T13:35:04-04:00","updated_at":"2022-08-26T13:36:33-04:00","alt":"0","width":2960,"height":3700,"src":"\/\/oncept.nyc\/cdn\/shop\/products\/LAGUNA-SIDE-LATTE-min.jpg?v=1661535393","variant_ids":[40188334342349,40188334473421,40188334571725,40188334670029,40188334768333,40188334866637,40188334964941,40188335096013,40188335194317]},"available":true,"name":"LAGUNA - LATTE \/ 10 \/ SOFT CALF LEATHER","public_title":"LATTE \/ 10 \/ SOFT CALF LEATHER","options":["LATTE","10","SOFT CALF LEATHER"],"price":25000,"weight":0,"compare_at_price":null,"inventory_management":"shopify","barcode":"840237307936","featured_media":{"alt":"0","id":22913710457037,"position":1,"preview_image":{"aspect_ratio":0.8,"height":3700,"width":2960,"src":"\/\/oncept.nyc\/cdn\/shop\/products\/LAGUNA-SIDE-LATTE-min.jpg?v=1661535393"}},"requires_selling_plan":false,"selling_plan_allocations":[]},{"id":40188318023885,"title":"WHITE CLOUD \/ 6 \/ SOFT CALF LEATHER","option1":"WHITE CLOUD","option2":"6","option3":"SOFT CALF LEATHER","sku":"840237307653","requires_shipping":true,"taxable":true,"featured_image":{"id":30632638152909,"product_id":6759103922381,"position":6,"created_at":"2022-08-26T13:35:04-04:00","updated_at":"2022-08-26T13:36:33-04:00","alt":"1","width":2960,"height":3700,"src":"\/\/oncept.nyc\/cdn\/shop\/products\/LAGUNA-SIDE-WHITECLOUD-min.jpg?v=1661535393","variant_ids":[40188318023885,40188334407885,40188334506189,40188334604493,40188334702797,40188334801101,40188334899405,40188334997709,40188335128781]},"available":true,"name":"LAGUNA - WHITE CLOUD \/ 6 \/ SOFT CALF LEATHER","public_title":"WHITE CLOUD \/ 6 \/ SOFT CALF LEATHER","options":["WHITE CLOUD","6","SOFT CALF LEATHER"],"price":25000,"weight":0,"compare_at_price":null,"inventory_management":"shopify","barcode":"840237307653","featured_media":{"alt":"1","id":22913710588109,"position":6,"preview_image":{"aspect_ratio":0.8,"height":3700,"width":2960,"src":"\/\/oncept.nyc\/cdn\/shop\/products\/LAGUNA-SIDE-WHITECLOUD-min.jpg?v=1661535393"}},"requires_selling_plan":false,"selling_plan_allocations":[]},{"id":40188334407885,"title":"WHITE CLOUD \/ 6.5 \/ SOFT CALF LEATHER","option1":"WHITE CLOUD","option2":"6.5","option3":"SOFT CALF LEATHER","sku":"840237307660","requires_shipping":true,"taxable":true,"featured_image":{"id":30632638152909,"product_id":6759103922381,"position":6,"created_at":"2022-08-26T13:35:04-04:00","updated_at":"2022-08-26T13:36:33-04:00","alt":"1","width":2960,"height":3700,"src":"\/\/oncept.nyc\/cdn\/shop\/products\/LAGUNA-SIDE-WHITECLOUD-min.jpg?v=1661535393","variant_ids":[40188318023885,40188334407885,40188334506189,40188334604493,40188334702797,40188334801101,40188334899405,40188334997709,40188335128781]},"available":true,"name":"LAGUNA - WHITE CLOUD \/ 6.5 \/ SOFT CALF LEATHER","public_title":"WHITE CLOUD \/ 6.5 \/ SOFT CALF LEATHER","options":["WHITE CLOUD","6.5","SOFT CALF LEATHER"],"price":25000,"weight":0,"compare_at_price":null,"inventory_management":"shopify","barcode":"840237307660","featured_media":{"alt":"1","id":22913710588109,"position":6,"preview_image":{"aspect_ratio":0.8,"height":3700,"width":2960,"src":"\/\/oncept.nyc\/cdn\/shop\/products\/LAGUNA-SIDE-WHITECLOUD-min.jpg?v=1661535393"}},"requires_selling_plan":false,"selling_plan_allocations":[]},{"id":40188334506189,"title":"WHITE CLOUD \/ 7 \/ SOFT CALF LEATHER","option1":"WHITE CLOUD","option2":"7","option3":"SOFT CALF LEATHER","sku":"840237307677","requires_shipping":true,"taxable":true,"featured_image":{"id":30632638152909,"product_id":6759103922381,"position":6,"created_at":"2022-08-26T13:35:04-04:00","updated_at":"2022-08-26T13:36:33-04:00","alt":"1","width":2960,"height":3700,"src":"\/\/oncept.nyc\/cdn\/shop\/products\/LAGUNA-SIDE-WHITECLOUD-min.jpg?v=1661535393","variant_ids":[40188318023885,40188334407885,40188334506189,40188334604493,40188334702797,40188334801101,40188334899405,40188334997709,40188335128781]},"available":true,"name":"LAGUNA - WHITE CLOUD \/ 7 \/ SOFT CALF LEATHER","public_title":"WHITE CLOUD \/ 7 \/ SOFT CALF LEATHER","options":["WHITE CLOUD","7","SOFT CALF LEATHER"],"price":25000,"weight":0,"compare_at_price":null,"inventory_management":"shopify","barcode":"840237307677","featured_media":{"alt":"1","id":22913710588109,"position":6,"preview_image":{"aspect_ratio":0.8,"height":3700,"width":2960,"src":"\/\/oncept.nyc\/cdn\/shop\/products\/LAGUNA-SIDE-WHITECLOUD-min.jpg?v=1661535393"}},"requires_selling_plan":false,"selling_plan_allocations":[]},{"id":40188334604493,"title":"WHITE CLOUD \/ 7.5 \/ SOFT CALF LEATHER","option1":"WHITE CLOUD","option2":"7.5","option3":"SOFT CALF LEATHER","sku":"840237307684","requires_shipping":true,"taxable":true,"featured_image":{"id":30632638152909,"product_id":6759103922381,"position":6,"created_at":"2022-08-26T13:35:04-04:00","updated_at":"2022-08-26T13:36:33-04:00","alt":"1","width":2960,"height":3700,"src":"\/\/oncept.nyc\/cdn\/shop\/products\/LAGUNA-SIDE-WHITECLOUD-min.jpg?v=1661535393","variant_ids":[40188318023885,40188334407885,40188334506189,40188334604493,40188334702797,40188334801101,40188334899405,40188334997709,40188335128781]},"available":true,"name":"LAGUNA - WHITE CLOUD \/ 7.5 \/ SOFT CALF LEATHER","public_title":"WHITE CLOUD \/ 7.5 \/ SOFT CALF LEATHER","options":["WHITE CLOUD","7.5","SOFT CALF LEATHER"],"price":25000,"weight":0,"compare_at_price":null,"inventory_management":"shopify","barcode":"840237307684","featured_media":{"alt":"1","id":22913710588109,"position":6,"preview_image":{"aspect_ratio":0.8,"height":3700,"width":2960,"src":"\/\/oncept.nyc\/cdn\/shop\/products\/LAGUNA-SIDE-WHITECLOUD-min.jpg?v=1661535393"}},"requires_selling_plan":false,"selling_plan_allocations":[]},{"id":40188334702797,"title":"WHITE CLOUD \/ 8 \/ SOFT CALF LEATHER","option1":"WHITE CLOUD","option2":"8","option3":"SOFT CALF LEATHER","sku":"840237307691","requires_shipping":true,"taxable":true,"featured_image":{"id":30632638152909,"product_id":6759103922381,"position":6,"created_at":"2022-08-26T13:35:04-04:00","updated_at":"2022-08-26T13:36:33-04:00","alt":"1","width":2960,"height":3700,"src":"\/\/oncept.nyc\/cdn\/shop\/products\/LAGUNA-SIDE-WHITECLOUD-min.jpg?v=1661535393","variant_ids":[40188318023885,40188334407885,40188334506189,40188334604493,40188334702797,40188334801101,40188334899405,40188334997709,40188335128781]},"available":true,"name":"LAGUNA - WHITE CLOUD \/ 8 \/ SOFT CALF LEATHER","public_title":"WHITE CLOUD \/ 8 \/ SOFT CALF LEATHER","options":["WHITE CLOUD","8","SOFT CALF LEATHER"],"price":25000,"weight":0,"compare_at_price":null,"inventory_management":"shopify","barcode":"840237307691","featured_media":{"alt":"1","id":22913710588109,"position":6,"preview_image":{"aspect_ratio":0.8,"height":3700,"width":2960,"src":"\/\/oncept.nyc\/cdn\/shop\/products\/LAGUNA-SIDE-WHITECLOUD-min.jpg?v=1661535393"}},"requires_selling_plan":false,"selling_plan_allocations":[]},{"id":40188334801101,"title":"WHITE CLOUD \/ 8.5 \/ SOFT CALF LEATHER","option1":"WHITE CLOUD","option2":"8.5","option3":"SOFT CALF LEATHER","sku":"840237307707","requires_shipping":true,"taxable":true,"featured_image":{"id":30632638152909,"product_id":6759103922381,"position":6,"created_at":"2022-08-26T13:35:04-04:00","updated_at":"2022-08-26T13:36:33-04:00","alt":"1","width":2960,"height":3700,"src":"\/\/oncept.nyc\/cdn\/shop\/products\/LAGUNA-SIDE-WHITECLOUD-min.jpg?v=1661535393","variant_ids":[40188318023885,40188334407885,40188334506189,40188334604493,40188334702797,40188334801101,40188334899405,40188334997709,40188335128781]},"available":true,"name":"LAGUNA - WHITE CLOUD \/ 8.5 \/ SOFT CALF LEATHER","public_title":"WHITE CLOUD \/ 8.5 \/ SOFT CALF LEATHER","options":["WHITE CLOUD","8.5","SOFT CALF LEATHER"],"price":25000,"weight":0,"compare_at_price":null,"inventory_management":"shopify","barcode":"840237307707","featured_media":{"alt":"1","id":22913710588109,"position":6,"preview_image":{"aspect_ratio":0.8,"height":3700,"width":2960,"src":"\/\/oncept.nyc\/cdn\/shop\/products\/LAGUNA-SIDE-WHITECLOUD-min.jpg?v=1661535393"}},"requires_selling_plan":false,"selling_plan_allocations":[]},{"id":40188334899405,"title":"WHITE CLOUD \/ 9 \/ SOFT CALF LEATHER","option1":"WHITE CLOUD","option2":"9","option3":"SOFT CALF LEATHER","sku":"840237307714","requires_shipping":true,"taxable":true,"featured_image":{"id":30632638152909,"product_id":6759103922381,"position":6,"created_at":"2022-08-26T13:35:04-04:00","updated_at":"2022-08-26T13:36:33-04:00","alt":"1","width":2960,"height":3700,"src":"\/\/oncept.nyc\/cdn\/shop\/products\/LAGUNA-SIDE-WHITECLOUD-min.jpg?v=1661535393","variant_ids":[40188318023885,40188334407885,40188334506189,40188334604493,40188334702797,40188334801101,40188334899405,40188334997709,40188335128781]},"available":true,"name":"LAGUNA - WHITE CLOUD \/ 9 \/ SOFT CALF LEATHER","public_title":"WHITE CLOUD \/ 9 \/ SOFT CALF LEATHER","options":["WHITE CLOUD","9","SOFT CALF LEATHER"],"price":25000,"weight":0,"compare_at_price":null,"inventory_management":"shopify","barcode":"840237307714","featured_media":{"alt":"1","id":22913710588109,"position":6,"preview_image":{"aspect_ratio":0.8,"height":3700,"width":2960,"src":"\/\/oncept.nyc\/cdn\/shop\/products\/LAGUNA-SIDE-WHITECLOUD-min.jpg?v=1661535393"}},"requires_selling_plan":false,"selling_plan_allocations":[]},{"id":40188334997709,"title":"WHITE CLOUD \/ 9.5 \/ SOFT CALF LEATHER","option1":"WHITE CLOUD","option2":"9.5","option3":"SOFT CALF LEATHER","sku":"840237307721","requires_shipping":true,"taxable":true,"featured_image":{"id":30632638152909,"product_id":6759103922381,"position":6,"created_at":"2022-08-26T13:35:04-04:00","updated_at":"2022-08-26T13:36:33-04:00","alt":"1","width":2960,"height":3700,"src":"\/\/oncept.nyc\/cdn\/shop\/products\/LAGUNA-SIDE-WHITECLOUD-min.jpg?v=1661535393","variant_ids":[40188318023885,40188334407885,40188334506189,40188334604493,40188334702797,40188334801101,40188334899405,40188334997709,40188335128781]},"available":true,"name":"LAGUNA - WHITE CLOUD \/ 9.5 \/ SOFT CALF LEATHER","public_title":"WHITE CLOUD \/ 9.5 \/ SOFT CALF LEATHER","options":["WHITE CLOUD","9.5","SOFT CALF LEATHER"],"price":25000,"weight":0,"compare_at_price":null,"inventory_management":"shopify","barcode":"840237307721","featured_media":{"alt":"1","id":22913710588109,"position":6,"preview_image":{"aspect_ratio":0.8,"height":3700,"width":2960,"src":"\/\/oncept.nyc\/cdn\/shop\/products\/LAGUNA-SIDE-WHITECLOUD-min.jpg?v=1661535393"}},"requires_selling_plan":false,"selling_plan_allocations":[]},{"id":40188335128781,"title":"WHITE CLOUD \/ 10 \/ SOFT CALF LEATHER","option1":"WHITE CLOUD","option2":"10","option3":"SOFT CALF LEATHER","sku":"840237307738","requires_shipping":true,"taxable":true,"featured_image":{"id":30632638152909,"product_id":6759103922381,"position":6,"created_at":"2022-08-26T13:35:04-04:00","updated_at":"2022-08-26T13:36:33-04:00","alt":"1","width":2960,"height":3700,"src":"\/\/oncept.nyc\/cdn\/shop\/products\/LAGUNA-SIDE-WHITECLOUD-min.jpg?v=1661535393","variant_ids":[40188318023885,40188334407885,40188334506189,40188334604493,40188334702797,40188334801101,40188334899405,40188334997709,40188335128781]},"available":true,"name":"LAGUNA - WHITE CLOUD \/ 10 \/ SOFT CALF LEATHER","public_title":"WHITE CLOUD \/ 10 \/ SOFT CALF LEATHER","options":["WHITE CLOUD","10","SOFT CALF LEATHER"],"price":25000,"weight":0,"compare_at_price":null,"inventory_management":"shopify","barcode":"840237307738","featured_media":{"alt":"1","id":22913710588109,"position":6,"preview_image":{"aspect_ratio":0.8,"height":3700,"width":2960,"src":"\/\/oncept.nyc\/cdn\/shop\/products\/LAGUNA-SIDE-WHITECLOUD-min.jpg?v=1661535393"}},"requires_selling_plan":false,"selling_plan_allocations":[]},{"id":40188334309581,"title":"MOONSTONE \/ 6 \/ SOFT CALF LEATHER","option1":"MOONSTONE","option2":"6","option3":"SOFT CALF LEATHER","sku":"840237307752","requires_shipping":true,"taxable":true,"featured_image":{"id":30632638021837,"product_id":6759103922381,"position":11,"created_at":"2022-08-26T13:35:04-04:00","updated_at":"2022-09-06T10:49:57-04:00","alt":"2","width":2960,"height":3700,"src":"\/\/oncept.nyc\/cdn\/shop\/products\/LAGUNA-SIDE-MOONSTONE-min.jpg?v=1662475797","variant_ids":[40188334309581,40188334440653,40188334538957,40188334637261,40188334735565,40188334833869,40188334932173,40188335030477,40188335161549]},"available":true,"name":"LAGUNA - MOONSTONE \/ 6 \/ SOFT CALF LEATHER","public_title":"MOONSTONE \/ 6 \/ SOFT CALF LEATHER","options":["MOONSTONE","6","SOFT CALF LEATHER"],"price":25000,"weight":0,"compare_at_price":null,"inventory_management":"shopify","barcode":"840237307752","featured_media":{"alt":"2","id":22913710555341,"position":11,"preview_image":{"aspect_ratio":0.8,"height":3700,"width":2960,"src":"\/\/oncept.nyc\/cdn\/shop\/products\/LAGUNA-SIDE-MOONSTONE-min.jpg?v=1662475797"}},"requires_selling_plan":false,"selling_plan_allocations":[]},{"id":40188334440653,"title":"MOONSTONE \/ 6.5 \/ SOFT CALF LEATHER","option1":"MOONSTONE","option2":"6.5","option3":"SOFT CALF LEATHER","sku":"840237307769","requires_shipping":true,"taxable":true,"featured_image":{"id":30632638021837,"product_id":6759103922381,"position":11,"created_at":"2022-08-26T13:35:04-04:00","updated_at":"2022-09-06T10:49:57-04:00","alt":"2","width":2960,"height":3700,"src":"\/\/oncept.nyc\/cdn\/shop\/products\/LAGUNA-SIDE-MOONSTONE-min.jpg?v=1662475797","variant_ids":[40188334309581,40188334440653,40188334538957,40188334637261,40188334735565,40188334833869,40188334932173,40188335030477,40188335161549]},"available":true,"name":"LAGUNA - MOONSTONE \/ 6.5 \/ SOFT CALF LEATHER","public_title":"MOONSTONE \/ 6.5 \/ SOFT CALF LEATHER","options":["MOONSTONE","6.5","SOFT CALF LEATHER"],"price":25000,"weight":0,"compare_at_price":null,"inventory_management":"shopify","barcode":"840237307769","featured_media":{"alt":"2","id":22913710555341,"position":11,"preview_image":{"aspect_ratio":0.8,"height":3700,"width":2960,"src":"\/\/oncept.nyc\/cdn\/shop\/products\/LAGUNA-SIDE-MOONSTONE-min.jpg?v=1662475797"}},"requires_selling_plan":false,"selling_plan_allocations":[]},{"id":40188334538957,"title":"MOONSTONE \/ 7 \/ SOFT CALF LEATHER","option1":"MOONSTONE","option2":"7","option3":"SOFT CALF LEATHER","sku":"840237307776","requires_shipping":true,"taxable":true,"featured_image":{"id":30632638021837,"product_id":6759103922381,"position":11,"created_at":"2022-08-26T13:35:04-04:00","updated_at":"2022-09-06T10:49:57-04:00","alt":"2","width":2960,"height":3700,"src":"\/\/oncept.nyc\/cdn\/shop\/products\/LAGUNA-SIDE-MOONSTONE-min.jpg?v=1662475797","variant_ids":[40188334309581,40188334440653,40188334538957,40188334637261,40188334735565,40188334833869,40188334932173,40188335030477,40188335161549]},"available":false,"name":"LAGUNA - MOONSTONE \/ 7 \/ SOFT CALF LEATHER","public_title":"MOONSTONE \/ 7 \/ SOFT CALF LEATHER","options":["MOONSTONE","7","SOFT CALF LEATHER"],"price":25000,"weight":0,"compare_at_price":null,"inventory_management":"shopify","barcode":"840237307776","featured_media":{"alt":"2","id":22913710555341,"position":11,"preview_image":{"aspect_ratio":0.8,"height":3700,"width":2960,"src":"\/\/oncept.nyc\/cdn\/shop\/products\/LAGUNA-SIDE-MOONSTONE-min.jpg?v=1662475797"}},"requires_selling_plan":false,"selling_plan_allocations":[]},{"id":40188334637261,"title":"MOONSTONE \/ 7.5 \/ SOFT CALF LEATHER","option1":"MOONSTONE","option2":"7.5","option3":"SOFT CALF LEATHER","sku":"840237307783","requires_shipping":true,"taxable":true,"featured_image":{"id":30632638021837,"product_id":6759103922381,"position":11,"created_at":"2022-08-26T13:35:04-04:00","updated_at":"2022-09-06T10:49:57-04:00","alt":"2","width":2960,"height":3700,"src":"\/\/oncept.nyc\/cdn\/shop\/products\/LAGUNA-SIDE-MOONSTONE-min.jpg?v=1662475797","variant_ids":[40188334309581,40188334440653,40188334538957,40188334637261,40188334735565,40188334833869,40188334932173,40188335030477,40188335161549]},"available":true,"name":"LAGUNA - MOONSTONE \/ 7.5 \/ SOFT CALF LEATHER","public_title":"MOONSTONE \/ 7.5 \/ SOFT CALF LEATHER","options":["MOONSTONE","7.5","SOFT CALF LEATHER"],"price":25000,"weight":0,"compare_at_price":null,"inventory_management":"shopify","barcode":"840237307783","featured_media":{"alt":"2","id":22913710555341,"position":11,"preview_image":{"aspect_ratio":0.8,"height":3700,"width":2960,"src":"\/\/oncept.nyc\/cdn\/shop\/products\/LAGUNA-SIDE-MOONSTONE-min.jpg?v=1662475797"}},"requires_selling_plan":false,"selling_plan_allocations":[]},{"id":40188334735565,"title":"MOONSTONE \/ 8 \/ SOFT CALF LEATHER","option1":"MOONSTONE","option2":"8","option3":"SOFT CALF LEATHER","sku":"840237307790","requires_shipping":true,"taxable":true,"featured_image":{"id":30632638021837,"product_id":6759103922381,"position":11,"created_at":"2022-08-26T13:35:04-04:00","updated_at":"2022-09-06T10:49:57-04:00","alt":"2","width":2960,"height":3700,"src":"\/\/oncept.nyc\/cdn\/shop\/products\/LAGUNA-SIDE-MOONSTONE-min.jpg?v=1662475797","variant_ids":[40188334309581,40188334440653,40188334538957,40188334637261,40188334735565,40188334833869,40188334932173,40188335030477,40188335161549]},"available":true,"name":"LAGUNA - MOONSTONE \/ 8 \/ SOFT CALF LEATHER","public_title":"MOONSTONE \/ 8 \/ SOFT CALF LEATHER","options":["MOONSTONE","8","SOFT CALF LEATHER"],"price":25000,"weight":0,"compare_at_price":null,"inventory_management":"shopify","barcode":"840237307790","featured_media":{"alt":"2","id":22913710555341,"position":11,"preview_image":{"aspect_ratio":0.8,"height":3700,"width":2960,"src":"\/\/oncept.nyc\/cdn\/shop\/products\/LAGUNA-SIDE-MOONSTONE-min.jpg?v=1662475797"}},"requires_selling_plan":false,"selling_plan_allocations":[]},{"id":40188334833869,"title":"MOONSTONE \/ 8.5 \/ SOFT CALF LEATHER","option1":"MOONSTONE","option2":"8.5","option3":"SOFT CALF LEATHER","sku":"840237307806","requires_shipping":true,"taxable":true,"featured_image":{"id":30632638021837,"product_id":6759103922381,"position":11,"created_at":"2022-08-26T13:35:04-04:00","updated_at":"2022-09-06T10:49:57-04:00","alt":"2","width":2960,"height":3700,"src":"\/\/oncept.nyc\/cdn\/shop\/products\/LAGUNA-SIDE-MOONSTONE-min.jpg?v=1662475797","variant_ids":[40188334309581,40188334440653,40188334538957,40188334637261,40188334735565,40188334833869,40188334932173,40188335030477,40188335161549]},"available":true,"name":"LAGUNA - MOONSTONE \/ 8.5 \/ SOFT CALF LEATHER","public_title":"MOONSTONE \/ 8.5 \/ SOFT CALF LEATHER","options":["MOONSTONE","8.5","SOFT CALF LEATHER"],"price":25000,"weight":0,"compare_at_price":null,"inventory_management":"shopify","barcode":"840237307806","featured_media":{"alt":"2","id":22913710555341,"position":11,"preview_image":{"aspect_ratio":0.8,"height":3700,"width":2960,"src":"\/\/oncept.nyc\/cdn\/shop\/products\/LAGUNA-SIDE-MOONSTONE-min.jpg?v=1662475797"}},"requires_selling_plan":false,"selling_plan_allocations":[]},{"id":40188334932173,"title":"MOONSTONE \/ 9 \/ SOFT CALF LEATHER","option1":"MOONSTONE","option2":"9","option3":"SOFT CALF LEATHER","sku":"840237307813","requires_shipping":true,"taxable":true,"featured_image":{"id":30632638021837,"product_id":6759103922381,"position":11,"created_at":"2022-08-26T13:35:04-04:00","updated_at":"2022-09-06T10:49:57-04:00","alt":"2","width":2960,"height":3700,"src":"\/\/oncept.nyc\/cdn\/shop\/products\/LAGUNA-SIDE-MOONSTONE-min.jpg?v=1662475797","variant_ids":[40188334309581,40188334440653,40188334538957,40188334637261,40188334735565,40188334833869,40188334932173,40188335030477,40188335161549]},"available":true,"name":"LAGUNA - MOONSTONE \/ 9 \/ SOFT CALF LEATHER","public_title":"MOONSTONE \/ 9 \/ SOFT CALF LEATHER","options":["MOONSTONE","9","SOFT CALF LEATHER"],"price":25000,"weight":0,"compare_at_price":null,"inventory_management":"shopify","barcode":"840237307813","featured_media":{"alt":"2","id":22913710555341,"position":11,"preview_image":{"aspect_ratio":0.8,"height":3700,"width":2960,"src":"\/\/oncept.nyc\/cdn\/shop\/products\/LAGUNA-SIDE-MOONSTONE-min.jpg?v=1662475797"}},"requires_selling_plan":false,"selling_plan_allocations":[]},{"id":40188335030477,"title":"MOONSTONE \/ 9.5 \/ SOFT CALF LEATHER","option1":"MOONSTONE","option2":"9.5","option3":"SOFT CALF LEATHER","sku":"840237307820","requires_shipping":true,"taxable":true,"featured_image":{"id":30632638021837,"product_id":6759103922381,"position":11,"created_at":"2022-08-26T13:35:04-04:00","updated_at":"2022-09-06T10:49:57-04:00","alt":"2","width":2960,"height":3700,"src":"\/\/oncept.nyc\/cdn\/shop\/products\/LAGUNA-SIDE-MOONSTONE-min.jpg?v=1662475797","variant_ids":[40188334309581,40188334440653,40188334538957,40188334637261,40188334735565,40188334833869,40188334932173,40188335030477,40188335161549]},"available":true,"name":"LAGUNA - MOONSTONE \/ 9.5 \/ SOFT CALF LEATHER","public_title":"MOONSTONE \/ 9.5 \/ SOFT CALF LEATHER","options":["MOONSTONE","9.5","SOFT CALF LEATHER"],"price":25000,"weight":0,"compare_at_price":null,"inventory_management":"shopify","barcode":"840237307820","featured_media":{"alt":"2","id":22913710555341,"position":11,"preview_image":{"aspect_ratio":0.8,"height":3700,"width":2960,"src":"\/\/oncept.nyc\/cdn\/shop\/products\/LAGUNA-SIDE-MOONSTONE-min.jpg?v=1662475797"}},"requires_selling_plan":false,"selling_plan_allocations":[]},{"id":40188335161549,"title":"MOONSTONE \/ 10 \/ SOFT CALF LEATHER","option1":"MOONSTONE","option2":"10","option3":"SOFT CALF LEATHER","sku":"840237307837","requires_shipping":true,"taxable":true,"featured_image":{"id":30632638021837,"product_id":6759103922381,"position":11,"created_at":"2022-08-26T13:35:04-04:00","updated_at":"2022-09-06T10:49:57-04:00","alt":"2","width":2960,"height":3700,"src":"\/\/oncept.nyc\/cdn\/shop\/products\/LAGUNA-SIDE-MOONSTONE-min.jpg?v=1662475797","variant_ids":[40188334309581,40188334440653,40188334538957,40188334637261,40188334735565,40188334833869,40188334932173,40188335030477,40188335161549]},"available":true,"name":"LAGUNA - MOONSTONE \/ 10 \/ SOFT CALF LEATHER","public_title":"MOONSTONE \/ 10 \/ SOFT CALF LEATHER","options":["MOONSTONE","10","SOFT CALF LEATHER"],"price":25000,"weight":0,"compare_at_price":null,"inventory_management":"shopify","barcode":"840237307837","featured_media":{"alt":"2","id":22913710555341,"position":11,"preview_image":{"aspect_ratio":0.8,"height":3700,"width":2960,"src":"\/\/oncept.nyc\/cdn\/shop\/products\/LAGUNA-SIDE-MOONSTONE-min.jpg?v=1662475797"}},"requires_selling_plan":false,"selling_plan_allocations":[]}],"images":["\/\/oncept.nyc\/cdn\/shop\/products\/LAGUNA-SIDE-LATTE-min.jpg?v=1661535393","\/\/oncept.nyc\/cdn\/shop\/products\/LAGUNA-CLOSEUP-LATTE.jpg?v=1661535393","\/\/oncept.nyc\/cdn\/shop\/products\/LAGUNA-OUTSOLE-LATTE.jpg?v=1661535393","\/\/oncept.nyc\/cdn\/shop\/products\/LAGUNA-SOFTNESS-LATTE-min.jpg?v=1661535393","\/\/oncept.nyc\/cdn\/shop\/products\/LAGUNA-ONFOOT-LATTE-min.jpg?v=1661535393","\/\/oncept.nyc\/cdn\/shop\/products\/LAGUNA-SIDE-WHITECLOUD-min.jpg?v=1661535393","\/\/oncept.nyc\/cdn\/shop\/products\/LAGUNA-CLOSEUP-WHITECLOUD.jpg?v=1661535393","\/\/oncept.nyc\/cdn\/shop\/products\/LAGUNA-OUTSOLE-WHITECLOUD.jpg?v=1662475797","\/\/oncept.nyc\/cdn\/shop\/products\/LAGUNA-SOFTNESS-WHITECLOUD.jpg?v=1662475797","\/\/oncept.nyc\/cdn\/shop\/products\/Frame41-min.jpg?v=1662475797","\/\/oncept.nyc\/cdn\/shop\/products\/LAGUNA-SIDE-MOONSTONE-min.jpg?v=1662475797","\/\/oncept.nyc\/cdn\/shop\/products\/LAGUNA-CLOSEUP-MOONSTONE.jpg?v=1662475797","\/\/oncept.nyc\/cdn\/shop\/products\/LAGUNA-OUTSOLE-MOONSTONE.jpg?v=1662475797","\/\/oncept.nyc\/cdn\/shop\/products\/LAGUNA-SOFTNESS-MOONSTONE.jpg?v=1662475797","\/\/oncept.nyc\/cdn\/shop\/products\/LAGUANA-ONFOOT-MOONSTONE-min.jpg?v=1662475797"],"featured_image":"\/\/oncept.nyc\/cdn\/shop\/products\/LAGUNA-SIDE-LATTE-min.jpg?v=1661535393","options":["Color","Size","Material"],"media":[{"alt":"0","id":22913710457037,"position":1,"preview_image":{"aspect_ratio":0.8,"height":3700,"width":2960,"src":"\/\/oncept.nyc\/cdn\/shop\/products\/LAGUNA-SIDE-LATTE-min.jpg?v=1661535393"},"aspect_ratio":0.8,"height":3700,"media_type":"image","src":"\/\/oncept.nyc\/cdn\/shop\/products\/LAGUNA-SIDE-LATTE-min.jpg?v=1661535393","width":2960},{"alt":"0","id":22108859564237,"position":2,"preview_image":{"aspect_ratio":0.8,"height":1500,"width":1200,"src":"\/\/oncept.nyc\/cdn\/shop\/products\/LAGUNA-CLOSEUP-LATTE.jpg?v=1661535393"},"aspect_ratio":0.8,"height":1500,"media_type":"image","src":"\/\/oncept.nyc\/cdn\/shop\/products\/LAGUNA-CLOSEUP-LATTE.jpg?v=1661535393","width":1200},{"alt":"0","id":22108859760845,"position":3,"preview_image":{"aspect_ratio":0.8,"height":1500,"width":1200,"src":"\/\/oncept.nyc\/cdn\/shop\/products\/LAGUNA-OUTSOLE-LATTE.jpg?v=1661535393"},"aspect_ratio":0.8,"height":1500,"media_type":"image","src":"\/\/oncept.nyc\/cdn\/shop\/products\/LAGUNA-OUTSOLE-LATTE.jpg?v=1661535393","width":1200},{"alt":"0","id":22913710620877,"position":4,"preview_image":{"aspect_ratio":0.8,"height":3700,"width":2960,"src":"\/\/oncept.nyc\/cdn\/shop\/products\/LAGUNA-SOFTNESS-LATTE-min.jpg?v=1661535393"},"aspect_ratio":0.8,"height":3700,"media_type":"image","src":"\/\/oncept.nyc\/cdn\/shop\/products\/LAGUNA-SOFTNESS-LATTE-min.jpg?v=1661535393","width":2960},{"alt":"0","id":22913710358733,"position":5,"preview_image":{"aspect_ratio":0.8,"height":3700,"width":2960,"src":"\/\/oncept.nyc\/cdn\/shop\/products\/LAGUNA-ONFOOT-LATTE-min.jpg?v=1661535393"},"aspect_ratio":0.8,"height":3700,"media_type":"image","src":"\/\/oncept.nyc\/cdn\/shop\/products\/LAGUNA-ONFOOT-LATTE-min.jpg?v=1661535393","width":2960},{"alt":"1","id":22913710588109,"position":6,"preview_image":{"aspect_ratio":0.8,"height":3700,"width":2960,"src":"\/\/oncept.nyc\/cdn\/shop\/products\/LAGUNA-SIDE-WHITECLOUD-min.jpg?v=1661535393"},"aspect_ratio":0.8,"height":3700,"media_type":"image","src":"\/\/oncept.nyc\/cdn\/shop\/products\/LAGUNA-SIDE-WHITECLOUD-min.jpg?v=1661535393","width":2960},{"alt":"1","id":22108859695309,"position":7,"preview_image":{"aspect_ratio":0.8,"height":1500,"width":1200,"src":"\/\/oncept.nyc\/cdn\/shop\/products\/LAGUNA-CLOSEUP-WHITECLOUD.jpg?v=1661535393"},"aspect_ratio":0.8,"height":1500,"media_type":"image","src":"\/\/oncept.nyc\/cdn\/shop\/products\/LAGUNA-CLOSEUP-WHITECLOUD.jpg?v=1661535393","width":1200},{"alt":"1","id":22108859859149,"position":8,"preview_image":{"aspect_ratio":0.8,"height":1500,"width":1200,"src":"\/\/oncept.nyc\/cdn\/shop\/products\/LAGUNA-OUTSOLE-WHITECLOUD.jpg?v=1662475797"},"aspect_ratio":0.8,"height":1500,"media_type":"image","src":"\/\/oncept.nyc\/cdn\/shop\/products\/LAGUNA-OUTSOLE-WHITECLOUD.jpg?v=1662475797","width":1200},{"alt":"1","id":22108860186829,"position":9,"preview_image":{"aspect_ratio":0.8,"height":1500,"width":1200,"src":"\/\/oncept.nyc\/cdn\/shop\/products\/LAGUNA-SOFTNESS-WHITECLOUD.jpg?v=1662475797"},"aspect_ratio":0.8,"height":1500,"media_type":"image","src":"\/\/oncept.nyc\/cdn\/shop\/products\/LAGUNA-SOFTNESS-WHITECLOUD.jpg?v=1662475797","width":1200},{"alt":"1","id":22774692446413,"position":10,"preview_image":{"aspect_ratio":0.8,"height":3700,"width":2960,"src":"\/\/oncept.nyc\/cdn\/shop\/products\/Frame41-min.jpg?v=1662475797"},"aspect_ratio":0.8,"height":3700,"media_type":"image","src":"\/\/oncept.nyc\/cdn\/shop\/products\/Frame41-min.jpg?v=1662475797","width":2960},{"alt":"2","id":22913710555341,"position":11,"preview_image":{"aspect_ratio":0.8,"height":3700,"width":2960,"src":"\/\/oncept.nyc\/cdn\/shop\/products\/LAGUNA-SIDE-MOONSTONE-min.jpg?v=1662475797"},"aspect_ratio":0.8,"height":3700,"media_type":"image","src":"\/\/oncept.nyc\/cdn\/shop\/products\/LAGUNA-SIDE-MOONSTONE-min.jpg?v=1662475797","width":2960},{"alt":"2","id":22108859662541,"position":12,"preview_image":{"aspect_ratio":0.8,"height":1500,"width":1200,"src":"\/\/oncept.nyc\/cdn\/shop\/products\/LAGUNA-CLOSEUP-MOONSTONE.jpg?v=1662475797"},"aspect_ratio":0.8,"height":1500,"media_type":"image","src":"\/\/oncept.nyc\/cdn\/shop\/products\/LAGUNA-CLOSEUP-MOONSTONE.jpg?v=1662475797","width":1200},{"alt":"2","id":22108859826381,"position":13,"preview_image":{"aspect_ratio":0.8,"height":1500,"width":1200,"src":"\/\/oncept.nyc\/cdn\/shop\/products\/LAGUNA-OUTSOLE-MOONSTONE.jpg?v=1662475797"},"aspect_ratio":0.8,"height":1500,"media_type":"image","src":"\/\/oncept.nyc\/cdn\/shop\/products\/LAGUNA-OUTSOLE-MOONSTONE.jpg?v=1662475797","width":1200},{"alt":"2","id":22108860154061,"position":14,"preview_image":{"aspect_ratio":0.8,"height":1500,"width":1200,"src":"\/\/oncept.nyc\/cdn\/shop\/products\/LAGUNA-SOFTNESS-MOONSTONE.jpg?v=1662475797"},"aspect_ratio":0.8,"height":1500,"media_type":"image","src":"\/\/oncept.nyc\/cdn\/shop\/products\/LAGUNA-SOFTNESS-MOONSTONE.jpg?v=1662475797","width":1200},{"alt":"2","id":22913710325965,"position":15,"preview_image":{"aspect_ratio":0.8,"height":3700,"width":2960,"src":"\/\/oncept.nyc\/cdn\/shop\/products\/LAGUANA-ONFOOT-MOONSTONE-min.jpg?v=1662475797"},"aspect_ratio":0.8,"height":3700,"media_type":"image","src":"\/\/oncept.nyc\/cdn\/shop\/products\/LAGUANA-ONFOOT-MOONSTONE-min.jpg?v=1662475797","width":2960}],"requires_selling_plan":false,"selling_plan_groups":[],"content":"\u003cp\u003e\u003cmeta charset=\"utf-8\"\u003e\u003cspan data-mce-fragment=\"1\"\u003eEasy as 1-2-3 … the LAGUNA on-the-go sneaker is an essential wardrobe piece with ease to slip on. No hassle, no fuss, just great style!  \u003c\/span\u003eWith ultra-soft calf leather or re-nylon uppers, citrus orange details, and a re-speckled flex outsole, our two-tone molded bottom is sleek and comfortable. With style in mind, the rubber flex outsole is durable, while the upper is soft and packable, making this timeless sneaker ready for anything.\u003cbr\u003e\u003c\/p\u003e"} { "options": [ { "title": "Color", "values": [ { "value": "LATTE", "url": "/products/laguna?variant=40188334342349" }, { "value": "WHITE CLOUD", "url": "/products/laguna?variant=40188318023885" }, { "value": "MOONSTONE", "url": "/products/laguna?variant=40188334309581" } ] }, { "title": "Size", "values": [ { "value": "6", "url": "/products/laguna?variant=40188334342349" }, { "value": "6.5", "url": "/products/laguna?variant=40188334473421" }, { "value": "7", "url": "/products/laguna?variant=40188334571725" }, { "value": "7.5", "url": "/products/laguna?variant=40188334670029" }, { "value": "8", "url": "/products/laguna?variant=40188334768333" }, { "value": "8.5", "url": "/products/laguna?variant=40188334866637" }, { "value": "9", "url": "/products/laguna?variant=40188334964941" }, { "value": "9.5", "url": "/products/laguna?variant=40188335096013" }, { "value": "10", "url": "/products/laguna?variant=40188335194317" } ] }, { "title": "Material", "values": [ { "value": "SOFT CALF LEATHER", "url": "/products/laguna?variant=40188334342349" } ] } ] }
{"id":6768984129741,"title":"LONDON","handle":"london-1","description":"\u003cspan data-mce-fragment=\"1\"\u003eElevated and sporty, the LONDON is your seasonless sneaker. With ultra-soft calf leather, citrus orange details, and a re-speckled flex outsole, our two-tone molded bottom is sleek and comfortable. With style in mind, the rubber flex outsole is durable, while the upper is soft and packable, making this timeless sneaker ready for anything.\u003c\/span\u003e","published_at":"2022-03-03T01:33:42-05:00","created_at":"2021-09-18T12:54:41-04:00","vendor":"Oncept","type":"Footwear","tags":["SNEAKER","SPORT"],"price":27500,"price_min":27500,"price_max":27500,"available":true,"price_varies":false,"compare_at_price":null,"compare_at_price_min":0,"compare_at_price_max":0,"compare_at_price_varies":false,"variants":[{"id":40188335751373,"title":"WHITE - MINT \/ 6 \/ SOFT CALF LEATHER","option1":"WHITE - MINT","option2":"6","option3":"SOFT CALF LEATHER","sku":"840237306120","requires_shipping":true,"taxable":true,"featured_image":{"id":29836668076237,"product_id":6768984129741,"position":1,"created_at":"2022-02-24T11:39:07-05:00","updated_at":"2022-02-24T12:00:52-05:00","alt":"0","width":1200,"height":1500,"src":"\/\/oncept.nyc\/cdn\/shop\/products\/LONDON-SIDE-WHITE-MINT.jpg?v=1645722052","variant_ids":[40188335751373,40188335915213,40188336079053,40188336242893,40188336406733,40188336570573,40188336734413,40188336898253,40188337062093]},"available":true,"name":"LONDON - WHITE - MINT \/ 6 \/ SOFT CALF LEATHER","public_title":"WHITE - MINT \/ 6 \/ SOFT CALF LEATHER","options":["WHITE - MINT","6","SOFT CALF LEATHER"],"price":27500,"weight":0,"compare_at_price":null,"inventory_management":"shopify","barcode":"840237306120","featured_media":{"alt":"0","id":22108657549517,"position":1,"preview_image":{"aspect_ratio":0.8,"height":1500,"width":1200,"src":"\/\/oncept.nyc\/cdn\/shop\/products\/LONDON-SIDE-WHITE-MINT.jpg?v=1645722052"}},"requires_selling_plan":false,"selling_plan_allocations":[]},{"id":40188335915213,"title":"WHITE - MINT \/ 6.5 \/ SOFT CALF LEATHER","option1":"WHITE - MINT","option2":"6.5","option3":"SOFT CALF LEATHER","sku":"840237306137","requires_shipping":true,"taxable":true,"featured_image":{"id":29836668076237,"product_id":6768984129741,"position":1,"created_at":"2022-02-24T11:39:07-05:00","updated_at":"2022-02-24T12:00:52-05:00","alt":"0","width":1200,"height":1500,"src":"\/\/oncept.nyc\/cdn\/shop\/products\/LONDON-SIDE-WHITE-MINT.jpg?v=1645722052","variant_ids":[40188335751373,40188335915213,40188336079053,40188336242893,40188336406733,40188336570573,40188336734413,40188336898253,40188337062093]},"available":true,"name":"LONDON - WHITE - MINT \/ 6.5 \/ SOFT CALF LEATHER","public_title":"WHITE - MINT \/ 6.5 \/ SOFT CALF LEATHER","options":["WHITE - MINT","6.5","SOFT CALF LEATHER"],"price":27500,"weight":0,"compare_at_price":null,"inventory_management":"shopify","barcode":"840237306137","featured_media":{"alt":"0","id":22108657549517,"position":1,"preview_image":{"aspect_ratio":0.8,"height":1500,"width":1200,"src":"\/\/oncept.nyc\/cdn\/shop\/products\/LONDON-SIDE-WHITE-MINT.jpg?v=1645722052"}},"requires_selling_plan":false,"selling_plan_allocations":[]},{"id":40188336079053,"title":"WHITE - MINT \/ 7 \/ SOFT CALF LEATHER","option1":"WHITE - MINT","option2":"7","option3":"SOFT CALF LEATHER","sku":"840237306144","requires_shipping":true,"taxable":true,"featured_image":{"id":29836668076237,"product_id":6768984129741,"position":1,"created_at":"2022-02-24T11:39:07-05:00","updated_at":"2022-02-24T12:00:52-05:00","alt":"0","width":1200,"height":1500,"src":"\/\/oncept.nyc\/cdn\/shop\/products\/LONDON-SIDE-WHITE-MINT.jpg?v=1645722052","variant_ids":[40188335751373,40188335915213,40188336079053,40188336242893,40188336406733,40188336570573,40188336734413,40188336898253,40188337062093]},"available":true,"name":"LONDON - WHITE - MINT \/ 7 \/ SOFT CALF LEATHER","public_title":"WHITE - MINT \/ 7 \/ SOFT CALF LEATHER","options":["WHITE - MINT","7","SOFT CALF LEATHER"],"price":27500,"weight":0,"compare_at_price":null,"inventory_management":"shopify","barcode":"840237306144","featured_media":{"alt":"0","id":22108657549517,"position":1,"preview_image":{"aspect_ratio":0.8,"height":1500,"width":1200,"src":"\/\/oncept.nyc\/cdn\/shop\/products\/LONDON-SIDE-WHITE-MINT.jpg?v=1645722052"}},"requires_selling_plan":false,"selling_plan_allocations":[]},{"id":40188336242893,"title":"WHITE - MINT \/ 7.5 \/ SOFT CALF LEATHER","option1":"WHITE - MINT","option2":"7.5","option3":"SOFT CALF LEATHER","sku":"840237306151","requires_shipping":true,"taxable":true,"featured_image":{"id":29836668076237,"product_id":6768984129741,"position":1,"created_at":"2022-02-24T11:39:07-05:00","updated_at":"2022-02-24T12:00:52-05:00","alt":"0","width":1200,"height":1500,"src":"\/\/oncept.nyc\/cdn\/shop\/products\/LONDON-SIDE-WHITE-MINT.jpg?v=1645722052","variant_ids":[40188335751373,40188335915213,40188336079053,40188336242893,40188336406733,40188336570573,40188336734413,40188336898253,40188337062093]},"available":true,"name":"LONDON - WHITE - MINT \/ 7.5 \/ SOFT CALF LEATHER","public_title":"WHITE - MINT \/ 7.5 \/ SOFT CALF LEATHER","options":["WHITE - MINT","7.5","SOFT CALF LEATHER"],"price":27500,"weight":0,"compare_at_price":null,"inventory_management":"shopify","barcode":"840237306151","featured_media":{"alt":"0","id":22108657549517,"position":1,"preview_image":{"aspect_ratio":0.8,"height":1500,"width":1200,"src":"\/\/oncept.nyc\/cdn\/shop\/products\/LONDON-SIDE-WHITE-MINT.jpg?v=1645722052"}},"requires_selling_plan":false,"selling_plan_allocations":[]},{"id":40188336406733,"title":"WHITE - MINT \/ 8 \/ SOFT CALF LEATHER","option1":"WHITE - MINT","option2":"8","option3":"SOFT CALF LEATHER","sku":"840237306168","requires_shipping":true,"taxable":true,"featured_image":{"id":29836668076237,"product_id":6768984129741,"position":1,"created_at":"2022-02-24T11:39:07-05:00","updated_at":"2022-02-24T12:00:52-05:00","alt":"0","width":1200,"height":1500,"src":"\/\/oncept.nyc\/cdn\/shop\/products\/LONDON-SIDE-WHITE-MINT.jpg?v=1645722052","variant_ids":[40188335751373,40188335915213,40188336079053,40188336242893,40188336406733,40188336570573,40188336734413,40188336898253,40188337062093]},"available":true,"name":"LONDON - WHITE - MINT \/ 8 \/ SOFT CALF LEATHER","public_title":"WHITE - MINT \/ 8 \/ SOFT CALF LEATHER","options":["WHITE - MINT","8","SOFT CALF LEATHER"],"price":27500,"weight":0,"compare_at_price":null,"inventory_management":"shopify","barcode":"840237306168","featured_media":{"alt":"0","id":22108657549517,"position":1,"preview_image":{"aspect_ratio":0.8,"height":1500,"width":1200,"src":"\/\/oncept.nyc\/cdn\/shop\/products\/LONDON-SIDE-WHITE-MINT.jpg?v=1645722052"}},"requires_selling_plan":false,"selling_plan_allocations":[]},{"id":40188336570573,"title":"WHITE - MINT \/ 8.5 \/ SOFT CALF LEATHER","option1":"WHITE - MINT","option2":"8.5","option3":"SOFT CALF LEATHER","sku":"840237306175","requires_shipping":true,"taxable":true,"featured_image":{"id":29836668076237,"product_id":6768984129741,"position":1,"created_at":"2022-02-24T11:39:07-05:00","updated_at":"2022-02-24T12:00:52-05:00","alt":"0","width":1200,"height":1500,"src":"\/\/oncept.nyc\/cdn\/shop\/products\/LONDON-SIDE-WHITE-MINT.jpg?v=1645722052","variant_ids":[40188335751373,40188335915213,40188336079053,40188336242893,40188336406733,40188336570573,40188336734413,40188336898253,40188337062093]},"available":true,"name":"LONDON - WHITE - MINT \/ 8.5 \/ SOFT CALF LEATHER","public_title":"WHITE - MINT \/ 8.5 \/ SOFT CALF LEATHER","options":["WHITE - MINT","8.5","SOFT CALF LEATHER"],"price":27500,"weight":0,"compare_at_price":null,"inventory_management":"shopify","barcode":"840237306175","featured_media":{"alt":"0","id":22108657549517,"position":1,"preview_image":{"aspect_ratio":0.8,"height":1500,"width":1200,"src":"\/\/oncept.nyc\/cdn\/shop\/products\/LONDON-SIDE-WHITE-MINT.jpg?v=1645722052"}},"requires_selling_plan":false,"selling_plan_allocations":[]},{"id":40188336734413,"title":"WHITE - MINT \/ 9 \/ SOFT CALF LEATHER","option1":"WHITE - MINT","option2":"9","option3":"SOFT CALF LEATHER","sku":"840237306182","requires_shipping":true,"taxable":true,"featured_image":{"id":29836668076237,"product_id":6768984129741,"position":1,"created_at":"2022-02-24T11:39:07-05:00","updated_at":"2022-02-24T12:00:52-05:00","alt":"0","width":1200,"height":1500,"src":"\/\/oncept.nyc\/cdn\/shop\/products\/LONDON-SIDE-WHITE-MINT.jpg?v=1645722052","variant_ids":[40188335751373,40188335915213,40188336079053,40188336242893,40188336406733,40188336570573,40188336734413,40188336898253,40188337062093]},"available":true,"name":"LONDON - WHITE - MINT \/ 9 \/ SOFT CALF LEATHER","public_title":"WHITE - MINT \/ 9 \/ SOFT CALF LEATHER","options":["WHITE - MINT","9","SOFT CALF LEATHER"],"price":27500,"weight":0,"compare_at_price":null,"inventory_management":"shopify","barcode":"840237306182","featured_media":{"alt":"0","id":22108657549517,"position":1,"preview_image":{"aspect_ratio":0.8,"height":1500,"width":1200,"src":"\/\/oncept.nyc\/cdn\/shop\/products\/LONDON-SIDE-WHITE-MINT.jpg?v=1645722052"}},"requires_selling_plan":false,"selling_plan_allocations":[]},{"id":40188336898253,"title":"WHITE - MINT \/ 9.5 \/ SOFT CALF LEATHER","option1":"WHITE - MINT","option2":"9.5","option3":"SOFT CALF LEATHER","sku":"840237306199","requires_shipping":true,"taxable":true,"featured_image":{"id":29836668076237,"product_id":6768984129741,"position":1,"created_at":"2022-02-24T11:39:07-05:00","updated_at":"2022-02-24T12:00:52-05:00","alt":"0","width":1200,"height":1500,"src":"\/\/oncept.nyc\/cdn\/shop\/products\/LONDON-SIDE-WHITE-MINT.jpg?v=1645722052","variant_ids":[40188335751373,40188335915213,40188336079053,40188336242893,40188336406733,40188336570573,40188336734413,40188336898253,40188337062093]},"available":true,"name":"LONDON - WHITE - MINT \/ 9.5 \/ SOFT CALF LEATHER","public_title":"WHITE - MINT \/ 9.5 \/ SOFT CALF LEATHER","options":["WHITE - MINT","9.5","SOFT CALF LEATHER"],"price":27500,"weight":0,"compare_at_price":null,"inventory_management":"shopify","barcode":"840237306199","featured_media":{"alt":"0","id":22108657549517,"position":1,"preview_image":{"aspect_ratio":0.8,"height":1500,"width":1200,"src":"\/\/oncept.nyc\/cdn\/shop\/products\/LONDON-SIDE-WHITE-MINT.jpg?v=1645722052"}},"requires_selling_plan":false,"selling_plan_allocations":[]},{"id":40188337062093,"title":"WHITE - MINT \/ 10 \/ SOFT CALF LEATHER","option1":"WHITE - MINT","option2":"10","option3":"SOFT CALF LEATHER","sku":"840237306205","requires_shipping":true,"taxable":true,"featured_image":{"id":29836668076237,"product_id":6768984129741,"position":1,"created_at":"2022-02-24T11:39:07-05:00","updated_at":"2022-02-24T12:00:52-05:00","alt":"0","width":1200,"height":1500,"src":"\/\/oncept.nyc\/cdn\/shop\/products\/LONDON-SIDE-WHITE-MINT.jpg?v=1645722052","variant_ids":[40188335751373,40188335915213,40188336079053,40188336242893,40188336406733,40188336570573,40188336734413,40188336898253,40188337062093]},"available":true,"name":"LONDON - WHITE - MINT \/ 10 \/ SOFT CALF LEATHER","public_title":"WHITE - MINT \/ 10 \/ SOFT CALF LEATHER","options":["WHITE - MINT","10","SOFT CALF LEATHER"],"price":27500,"weight":0,"compare_at_price":null,"inventory_management":"shopify","barcode":"840237306205","featured_media":{"alt":"0","id":22108657549517,"position":1,"preview_image":{"aspect_ratio":0.8,"height":1500,"width":1200,"src":"\/\/oncept.nyc\/cdn\/shop\/products\/LONDON-SIDE-WHITE-MINT.jpg?v=1645722052"}},"requires_selling_plan":false,"selling_plan_allocations":[]},{"id":40188335784141,"title":"WHITE - BLUE MIST \/ 6 \/ SOFT CALF LEATHER","option1":"WHITE - BLUE MIST","option2":"6","option3":"SOFT CALF LEATHER","sku":"840237306038","requires_shipping":true,"taxable":true,"featured_image":{"id":29836668240077,"product_id":6768984129741,"position":7,"created_at":"2022-02-24T11:39:07-05:00","updated_at":"2022-02-24T12:05:35-05:00","alt":"1","width":1200,"height":1500,"src":"\/\/oncept.nyc\/cdn\/shop\/products\/LONDON-SIDE-WHITE-BLUEMIST.jpg?v=1645722335","variant_ids":[40188335784141,40188335947981,40188336111821,40188336275661,40188336439501,40188336603341,40188336767181,40188336931021,40188337094861]},"available":true,"name":"LONDON - WHITE - BLUE MIST \/ 6 \/ SOFT CALF LEATHER","public_title":"WHITE - BLUE MIST \/ 6 \/ SOFT CALF LEATHER","options":["WHITE - BLUE MIST","6","SOFT CALF LEATHER"],"price":27500,"weight":0,"compare_at_price":null,"inventory_management":"shopify","barcode":"840237306038","featured_media":{"alt":"1","id":22108657516749,"position":7,"preview_image":{"aspect_ratio":0.8,"height":1500,"width":1200,"src":"\/\/oncept.nyc\/cdn\/shop\/products\/LONDON-SIDE-WHITE-BLUEMIST.jpg?v=1645722335"}},"requires_selling_plan":false,"selling_plan_allocations":[]},{"id":40188335947981,"title":"WHITE - BLUE MIST \/ 6.5 \/ SOFT CALF LEATHER","option1":"WHITE - BLUE MIST","option2":"6.5","option3":"SOFT CALF LEATHER","sku":"840237306045","requires_shipping":true,"taxable":true,"featured_image":{"id":29836668240077,"product_id":6768984129741,"position":7,"created_at":"2022-02-24T11:39:07-05:00","updated_at":"2022-02-24T12:05:35-05:00","alt":"1","width":1200,"height":1500,"src":"\/\/oncept.nyc\/cdn\/shop\/products\/LONDON-SIDE-WHITE-BLUEMIST.jpg?v=1645722335","variant_ids":[40188335784141,40188335947981,40188336111821,40188336275661,40188336439501,40188336603341,40188336767181,40188336931021,40188337094861]},"available":true,"name":"LONDON - WHITE - BLUE MIST \/ 6.5 \/ SOFT CALF LEATHER","public_title":"WHITE - BLUE MIST \/ 6.5 \/ SOFT CALF LEATHER","options":["WHITE - BLUE MIST","6.5","SOFT CALF LEATHER"],"price":27500,"weight":0,"compare_at_price":null,"inventory_management":"shopify","barcode":"840237306045","featured_media":{"alt":"1","id":22108657516749,"position":7,"preview_image":{"aspect_ratio":0.8,"height":1500,"width":1200,"src":"\/\/oncept.nyc\/cdn\/shop\/products\/LONDON-SIDE-WHITE-BLUEMIST.jpg?v=1645722335"}},"requires_selling_plan":false,"selling_plan_allocations":[]},{"id":40188336111821,"title":"WHITE - BLUE MIST \/ 7 \/ SOFT CALF LEATHER","option1":"WHITE - BLUE MIST","option2":"7","option3":"SOFT CALF LEATHER","sku":"840237306052","requires_shipping":true,"taxable":true,"featured_image":{"id":29836668240077,"product_id":6768984129741,"position":7,"created_at":"2022-02-24T11:39:07-05:00","updated_at":"2022-02-24T12:05:35-05:00","alt":"1","width":1200,"height":1500,"src":"\/\/oncept.nyc\/cdn\/shop\/products\/LONDON-SIDE-WHITE-BLUEMIST.jpg?v=1645722335","variant_ids":[40188335784141,40188335947981,40188336111821,40188336275661,40188336439501,40188336603341,40188336767181,40188336931021,40188337094861]},"available":true,"name":"LONDON - WHITE - BLUE MIST \/ 7 \/ SOFT CALF LEATHER","public_title":"WHITE - BLUE MIST \/ 7 \/ SOFT CALF LEATHER","options":["WHITE - BLUE MIST","7","SOFT CALF LEATHER"],"price":27500,"weight":0,"compare_at_price":null,"inventory_management":"shopify","barcode":"840237306052","featured_media":{"alt":"1","id":22108657516749,"position":7,"preview_image":{"aspect_ratio":0.8,"height":1500,"width":1200,"src":"\/\/oncept.nyc\/cdn\/shop\/products\/LONDON-SIDE-WHITE-BLUEMIST.jpg?v=1645722335"}},"requires_selling_plan":false,"selling_plan_allocations":[]},{"id":40188336275661,"title":"WHITE - BLUE MIST \/ 7.5 \/ SOFT CALF LEATHER","option1":"WHITE - BLUE MIST","option2":"7.5","option3":"SOFT CALF LEATHER","sku":"840237306069","requires_shipping":true,"taxable":true,"featured_image":{"id":29836668240077,"product_id":6768984129741,"position":7,"created_at":"2022-02-24T11:39:07-05:00","updated_at":"2022-02-24T12:05:35-05:00","alt":"1","width":1200,"height":1500,"src":"\/\/oncept.nyc\/cdn\/shop\/products\/LONDON-SIDE-WHITE-BLUEMIST.jpg?v=1645722335","variant_ids":[40188335784141,40188335947981,40188336111821,40188336275661,40188336439501,40188336603341,40188336767181,40188336931021,40188337094861]},"available":true,"name":"LONDON - WHITE - BLUE MIST \/ 7.5 \/ SOFT CALF LEATHER","public_title":"WHITE - BLUE MIST \/ 7.5 \/ SOFT CALF LEATHER","options":["WHITE - BLUE MIST","7.5","SOFT CALF LEATHER"],"price":27500,"weight":0,"compare_at_price":null,"inventory_management":"shopify","barcode":"840237306069","featured_media":{"alt":"1","id":22108657516749,"position":7,"preview_image":{"aspect_ratio":0.8,"height":1500,"width":1200,"src":"\/\/oncept.nyc\/cdn\/shop\/products\/LONDON-SIDE-WHITE-BLUEMIST.jpg?v=1645722335"}},"requires_selling_plan":false,"selling_plan_allocations":[]},{"id":40188336439501,"title":"WHITE - BLUE MIST \/ 8 \/ SOFT CALF LEATHER","option1":"WHITE - BLUE MIST","option2":"8","option3":"SOFT CALF LEATHER","sku":"840237306076","requires_shipping":true,"taxable":true,"featured_image":{"id":29836668240077,"product_id":6768984129741,"position":7,"created_at":"2022-02-24T11:39:07-05:00","updated_at":"2022-02-24T12:05:35-05:00","alt":"1","width":1200,"height":1500,"src":"\/\/oncept.nyc\/cdn\/shop\/products\/LONDON-SIDE-WHITE-BLUEMIST.jpg?v=1645722335","variant_ids":[40188335784141,40188335947981,40188336111821,40188336275661,40188336439501,40188336603341,40188336767181,40188336931021,40188337094861]},"available":true,"name":"LONDON - WHITE - BLUE MIST \/ 8 \/ SOFT CALF LEATHER","public_title":"WHITE - BLUE MIST \/ 8 \/ SOFT CALF LEATHER","options":["WHITE - BLUE MIST","8","SOFT CALF LEATHER"],"price":27500,"weight":0,"compare_at_price":null,"inventory_management":"shopify","barcode":"840237306076","featured_media":{"alt":"1","id":22108657516749,"position":7,"preview_image":{"aspect_ratio":0.8,"height":1500,"width":1200,"src":"\/\/oncept.nyc\/cdn\/shop\/products\/LONDON-SIDE-WHITE-BLUEMIST.jpg?v=1645722335"}},"requires_selling_plan":false,"selling_plan_allocations":[]},{"id":40188336603341,"title":"WHITE - BLUE MIST \/ 8.5 \/ SOFT CALF LEATHER","option1":"WHITE - BLUE MIST","option2":"8.5","option3":"SOFT CALF LEATHER","sku":"840237306083","requires_shipping":true,"taxable":true,"featured_image":{"id":29836668240077,"product_id":6768984129741,"position":7,"created_at":"2022-02-24T11:39:07-05:00","updated_at":"2022-02-24T12:05:35-05:00","alt":"1","width":1200,"height":1500,"src":"\/\/oncept.nyc\/cdn\/shop\/products\/LONDON-SIDE-WHITE-BLUEMIST.jpg?v=1645722335","variant_ids":[40188335784141,40188335947981,40188336111821,40188336275661,40188336439501,40188336603341,40188336767181,40188336931021,40188337094861]},"available":true,"name":"LONDON - WHITE - BLUE MIST \/ 8.5 \/ SOFT CALF LEATHER","public_title":"WHITE - BLUE MIST \/ 8.5 \/ SOFT CALF LEATHER","options":["WHITE - BLUE MIST","8.5","SOFT CALF LEATHER"],"price":27500,"weight":0,"compare_at_price":null,"inventory_management":"shopify","barcode":"840237306083","featured_media":{"alt":"1","id":22108657516749,"position":7,"preview_image":{"aspect_ratio":0.8,"height":1500,"width":1200,"src":"\/\/oncept.nyc\/cdn\/shop\/products\/LONDON-SIDE-WHITE-BLUEMIST.jpg?v=1645722335"}},"requires_selling_plan":false,"selling_plan_allocations":[]},{"id":40188336767181,"title":"WHITE - BLUE MIST \/ 9 \/ SOFT CALF LEATHER","option1":"WHITE - BLUE MIST","option2":"9","option3":"SOFT CALF LEATHER","sku":"840237306090","requires_shipping":true,"taxable":true,"featured_image":{"id":29836668240077,"product_id":6768984129741,"position":7,"created_at":"2022-02-24T11:39:07-05:00","updated_at":"2022-02-24T12:05:35-05:00","alt":"1","width":1200,"height":1500,"src":"\/\/oncept.nyc\/cdn\/shop\/products\/LONDON-SIDE-WHITE-BLUEMIST.jpg?v=1645722335","variant_ids":[40188335784141,40188335947981,40188336111821,40188336275661,40188336439501,40188336603341,40188336767181,40188336931021,40188337094861]},"available":true,"name":"LONDON - WHITE - BLUE MIST \/ 9 \/ SOFT CALF LEATHER","public_title":"WHITE - BLUE MIST \/ 9 \/ SOFT CALF LEATHER","options":["WHITE - BLUE MIST","9","SOFT CALF LEATHER"],"price":27500,"weight":0,"compare_at_price":null,"inventory_management":"shopify","barcode":"840237306090","featured_media":{"alt":"1","id":22108657516749,"position":7,"preview_image":{"aspect_ratio":0.8,"height":1500,"width":1200,"src":"\/\/oncept.nyc\/cdn\/shop\/products\/LONDON-SIDE-WHITE-BLUEMIST.jpg?v=1645722335"}},"requires_selling_plan":false,"selling_plan_allocations":[]},{"id":40188336931021,"title":"WHITE - BLUE MIST \/ 9.5 \/ SOFT CALF LEATHER","option1":"WHITE - BLUE MIST","option2":"9.5","option3":"SOFT CALF LEATHER","sku":"840237306106","requires_shipping":true,"taxable":true,"featured_image":{"id":29836668240077,"product_id":6768984129741,"position":7,"created_at":"2022-02-24T11:39:07-05:00","updated_at":"2022-02-24T12:05:35-05:00","alt":"1","width":1200,"height":1500,"src":"\/\/oncept.nyc\/cdn\/shop\/products\/LONDON-SIDE-WHITE-BLUEMIST.jpg?v=1645722335","variant_ids":[40188335784141,40188335947981,40188336111821,40188336275661,40188336439501,40188336603341,40188336767181,40188336931021,40188337094861]},"available":true,"name":"LONDON - WHITE - BLUE MIST \/ 9.5 \/ SOFT CALF LEATHER","public_title":"WHITE - BLUE MIST \/ 9.5 \/ SOFT CALF LEATHER","options":["WHITE - BLUE MIST","9.5","SOFT CALF LEATHER"],"price":27500,"weight":0,"compare_at_price":null,"inventory_management":"shopify","barcode":"840237306106","featured_media":{"alt":"1","id":22108657516749,"position":7,"preview_image":{"aspect_ratio":0.8,"height":1500,"width":1200,"src":"\/\/oncept.nyc\/cdn\/shop\/products\/LONDON-SIDE-WHITE-BLUEMIST.jpg?v=1645722335"}},"requires_selling_plan":false,"selling_plan_allocations":[]},{"id":40188337094861,"title":"WHITE - BLUE MIST \/ 10 \/ SOFT CALF LEATHER","option1":"WHITE - BLUE MIST","option2":"10","option3":"SOFT CALF LEATHER","sku":"840237306113","requires_shipping":true,"taxable":true,"featured_image":{"id":29836668240077,"product_id":6768984129741,"position":7,"created_at":"2022-02-24T11:39:07-05:00","updated_at":"2022-02-24T12:05:35-05:00","alt":"1","width":1200,"height":1500,"src":"\/\/oncept.nyc\/cdn\/shop\/products\/LONDON-SIDE-WHITE-BLUEMIST.jpg?v=1645722335","variant_ids":[40188335784141,40188335947981,40188336111821,40188336275661,40188336439501,40188336603341,40188336767181,40188336931021,40188337094861]},"available":true,"name":"LONDON - WHITE - BLUE MIST \/ 10 \/ SOFT CALF LEATHER","public_title":"WHITE - BLUE MIST \/ 10 \/ SOFT CALF LEATHER","options":["WHITE - BLUE MIST","10","SOFT CALF LEATHER"],"price":27500,"weight":0,"compare_at_price":null,"inventory_management":"shopify","barcode":"840237306113","featured_media":{"alt":"1","id":22108657516749,"position":7,"preview_image":{"aspect_ratio":0.8,"height":1500,"width":1200,"src":"\/\/oncept.nyc\/cdn\/shop\/products\/LONDON-SIDE-WHITE-BLUEMIST.jpg?v=1645722335"}},"requires_selling_plan":false,"selling_plan_allocations":[]},{"id":40693734146253,"title":"WHITE CLOUD \/ 6 \/ SOFT CALF LEATHER","option1":"WHITE CLOUD","option2":"6","option3":"SOFT CALF LEATHER","sku":"840237301446","requires_shipping":true,"taxable":true,"featured_image":null,"available":true,"name":"LONDON - WHITE CLOUD \/ 6 \/ SOFT CALF LEATHER","public_title":"WHITE CLOUD \/ 6 \/ SOFT CALF LEATHER","options":["WHITE CLOUD","6","SOFT CALF LEATHER"],"price":27500,"weight":0,"compare_at_price":null,"inventory_management":"shopify","barcode":"840237301446","requires_selling_plan":false,"selling_plan_allocations":[]},{"id":40693734179021,"title":"WHITE CLOUD \/ 6.5 \/ SOFT CALF LEATHER","option1":"WHITE CLOUD","option2":"6.5","option3":"SOFT CALF LEATHER","sku":"840237301453","requires_shipping":true,"taxable":true,"featured_image":null,"available":true,"name":"LONDON - WHITE CLOUD \/ 6.5 \/ SOFT CALF LEATHER","public_title":"WHITE CLOUD \/ 6.5 \/ SOFT CALF LEATHER","options":["WHITE CLOUD","6.5","SOFT CALF LEATHER"],"price":27500,"weight":0,"compare_at_price":null,"inventory_management":"shopify","barcode":"840237301453","requires_selling_plan":false,"selling_plan_allocations":[]},{"id":40693734211789,"title":"WHITE CLOUD \/ 7 \/ SOFT CALF LEATHER","option1":"WHITE CLOUD","option2":"7","option3":"SOFT CALF LEATHER","sku":"840237301460","requires_shipping":true,"taxable":true,"featured_image":null,"available":true,"name":"LONDON - WHITE CLOUD \/ 7 \/ SOFT CALF LEATHER","public_title":"WHITE CLOUD \/ 7 \/ SOFT CALF LEATHER","options":["WHITE CLOUD","7","SOFT CALF LEATHER"],"price":27500,"weight":0,"compare_at_price":null,"inventory_management":"shopify","barcode":"840237301460","requires_selling_plan":false,"selling_plan_allocations":[]},{"id":40693734244557,"title":"WHITE CLOUD \/ 7.5 \/ SOFT CALF LEATHER","option1":"WHITE CLOUD","option2":"7.5","option3":"SOFT CALF LEATHER","sku":"840237301477","requires_shipping":true,"taxable":true,"featured_image":null,"available":true,"name":"LONDON - WHITE CLOUD \/ 7.5 \/ SOFT CALF LEATHER","public_title":"WHITE CLOUD \/ 7.5 \/ SOFT CALF LEATHER","options":["WHITE CLOUD","7.5","SOFT CALF LEATHER"],"price":27500,"weight":0,"compare_at_price":null,"inventory_management":"shopify","barcode":"840237301477","requires_selling_plan":false,"selling_plan_allocations":[]},{"id":40693734277325,"title":"WHITE CLOUD \/ 8 \/ SOFT CALF LEATHER","option1":"WHITE CLOUD","option2":"8","option3":"SOFT CALF LEATHER","sku":"840237301484","requires_shipping":true,"taxable":true,"featured_image":null,"available":true,"name":"LONDON - WHITE CLOUD \/ 8 \/ SOFT CALF LEATHER","public_title":"WHITE CLOUD \/ 8 \/ SOFT CALF LEATHER","options":["WHITE CLOUD","8","SOFT CALF LEATHER"],"price":27500,"weight":0,"compare_at_price":null,"inventory_management":"shopify","barcode":"840237301484","requires_selling_plan":false,"selling_plan_allocations":[]},{"id":40693734310093,"title":"WHITE CLOUD \/ 8.5 \/ SOFT CALF LEATHER","option1":"WHITE CLOUD","option2":"8.5","option3":"SOFT CALF LEATHER","sku":"840237301491","requires_shipping":true,"taxable":true,"featured_image":null,"available":true,"name":"LONDON - WHITE CLOUD \/ 8.5 \/ SOFT CALF LEATHER","public_title":"WHITE CLOUD \/ 8.5 \/ SOFT CALF LEATHER","options":["WHITE CLOUD","8.5","SOFT CALF LEATHER"],"price":27500,"weight":0,"compare_at_price":null,"inventory_management":"shopify","barcode":"840237301491","requires_selling_plan":false,"selling_plan_allocations":[]},{"id":40693734342861,"title":"WHITE CLOUD \/ 9 \/ SOFT CALF LEATHER","option1":"WHITE CLOUD","option2":"9","option3":"SOFT CALF LEATHER","sku":"840237301507","requires_shipping":true,"taxable":true,"featured_image":null,"available":true,"name":"LONDON - WHITE CLOUD \/ 9 \/ SOFT CALF LEATHER","public_title":"WHITE CLOUD \/ 9 \/ SOFT CALF LEATHER","options":["WHITE CLOUD","9","SOFT CALF LEATHER"],"price":27500,"weight":0,"compare_at_price":null,"inventory_management":"shopify","barcode":"840237301507","requires_selling_plan":false,"selling_plan_allocations":[]},{"id":40693734375629,"title":"WHITE CLOUD \/ 9.5 \/ SOFT CALF LEATHER","option1":"WHITE CLOUD","option2":"9.5","option3":"SOFT CALF LEATHER","sku":"840237301514","requires_shipping":true,"taxable":true,"featured_image":null,"available":true,"name":"LONDON - WHITE CLOUD \/ 9.5 \/ SOFT CALF LEATHER","public_title":"WHITE CLOUD \/ 9.5 \/ SOFT CALF LEATHER","options":["WHITE CLOUD","9.5","SOFT CALF LEATHER"],"price":27500,"weight":0,"compare_at_price":null,"inventory_management":"shopify","barcode":"840237301514","requires_selling_plan":false,"selling_plan_allocations":[]},{"id":40693734408397,"title":"WHITE CLOUD \/ 10 \/ SOFT CALF LEATHER","option1":"WHITE CLOUD","option2":"10","option3":"SOFT CALF LEATHER","sku":"840237301521","requires_shipping":true,"taxable":true,"featured_image":null,"available":true,"name":"LONDON - WHITE CLOUD \/ 10 \/ SOFT CALF LEATHER","public_title":"WHITE CLOUD \/ 10 \/ SOFT CALF LEATHER","options":["WHITE CLOUD","10","SOFT CALF LEATHER"],"price":27500,"weight":0,"compare_at_price":null,"inventory_management":"shopify","barcode":"840237301521","requires_selling_plan":false,"selling_plan_allocations":[]},{"id":40693735030989,"title":"MOONSTONE \/ 6 \/ SOFT CALF LEATHER","option1":"MOONSTONE","option2":"6","option3":"SOFT CALF LEATHER","sku":"840237301330","requires_shipping":true,"taxable":true,"featured_image":null,"available":true,"name":"LONDON - MOONSTONE \/ 6 \/ SOFT CALF LEATHER","public_title":"MOONSTONE \/ 6 \/ SOFT CALF LEATHER","options":["MOONSTONE","6","SOFT CALF LEATHER"],"price":27500,"weight":0,"compare_at_price":null,"inventory_management":"shopify","barcode":"840237301330","requires_selling_plan":false,"selling_plan_allocations":[]},{"id":40693735063757,"title":"MOONSTONE \/ 6.5 \/ SOFT CALF LEATHER","option1":"MOONSTONE","option2":"6.5","option3":"SOFT CALF LEATHER","sku":"840237301347","requires_shipping":true,"taxable":true,"featured_image":null,"available":true,"name":"LONDON - MOONSTONE \/ 6.5 \/ SOFT CALF LEATHER","public_title":"MOONSTONE \/ 6.5 \/ SOFT CALF LEATHER","options":["MOONSTONE","6.5","SOFT CALF LEATHER"],"price":27500,"weight":0,"compare_at_price":null,"inventory_management":"shopify","barcode":"840237301347","requires_selling_plan":false,"selling_plan_allocations":[]},{"id":40693735096525,"title":"MOONSTONE \/ 7 \/ SOFT CALF LEATHER","option1":"MOONSTONE","option2":"7","option3":"SOFT CALF LEATHER","sku":"840237301354","requires_shipping":true,"taxable":true,"featured_image":null,"available":true,"name":"LONDON - MOONSTONE \/ 7 \/ SOFT CALF LEATHER","public_title":"MOONSTONE \/ 7 \/ SOFT CALF LEATHER","options":["MOONSTONE","7","SOFT CALF LEATHER"],"price":27500,"weight":0,"compare_at_price":null,"inventory_management":"shopify","barcode":"840237301354","requires_selling_plan":false,"selling_plan_allocations":[]},{"id":40693735129293,"title":"MOONSTONE \/ 7.5 \/ SOFT CALF LEATHER","option1":"MOONSTONE","option2":"7.5","option3":"SOFT CALF LEATHER","sku":"840237301361","requires_shipping":true,"taxable":true,"featured_image":null,"available":true,"name":"LONDON - MOONSTONE \/ 7.5 \/ SOFT CALF LEATHER","public_title":"MOONSTONE \/ 7.5 \/ SOFT CALF LEATHER","options":["MOONSTONE","7.5","SOFT CALF LEATHER"],"price":27500,"weight":0,"compare_at_price":null,"inventory_management":"shopify","barcode":"840237301361","requires_selling_plan":false,"selling_plan_allocations":[]},{"id":40693735162061,"title":"MOONSTONE \/ 8 \/ SOFT CALF LEATHER","option1":"MOONSTONE","option2":"8","option3":"SOFT CALF LEATHER","sku":"840237301378","requires_shipping":true,"taxable":true,"featured_image":null,"available":true,"name":"LONDON - MOONSTONE \/ 8 \/ SOFT CALF LEATHER","public_title":"MOONSTONE \/ 8 \/ SOFT CALF LEATHER","options":["MOONSTONE","8","SOFT CALF LEATHER"],"price":27500,"weight":0,"compare_at_price":null,"inventory_management":"shopify","barcode":"840237301378","requires_selling_plan":false,"selling_plan_allocations":[]},{"id":40693735194829,"title":"MOONSTONE \/ 8.5 \/ SOFT CALF LEATHER","option1":"MOONSTONE","option2":"8.5","option3":"SOFT CALF LEATHER","sku":"840237301385","requires_shipping":true,"taxable":true,"featured_image":null,"available":true,"name":"LONDON - MOONSTONE \/ 8.5 \/ SOFT CALF LEATHER","public_title":"MOONSTONE \/ 8.5 \/ SOFT CALF LEATHER","options":["MOONSTONE","8.5","SOFT CALF LEATHER"],"price":27500,"weight":0,"compare_at_price":null,"inventory_management":"shopify","barcode":"840237301385","requires_selling_plan":false,"selling_plan_allocations":[]},{"id":40693735227597,"title":"MOONSTONE \/ 9 \/ SOFT CALF LEATHER","option1":"MOONSTONE","option2":"9","option3":"SOFT CALF LEATHER","sku":"840237301392","requires_shipping":true,"taxable":true,"featured_image":null,"available":true,"name":"LONDON - MOONSTONE \/ 9 \/ SOFT CALF LEATHER","public_title":"MOONSTONE \/ 9 \/ SOFT CALF LEATHER","options":["MOONSTONE","9","SOFT CALF LEATHER"],"price":27500,"weight":0,"compare_at_price":null,"inventory_management":"shopify","barcode":"840237301392","requires_selling_plan":false,"selling_plan_allocations":[]},{"id":40693735260365,"title":"MOONSTONE \/ 9.5 \/ SOFT CALF LEATHER","option1":"MOONSTONE","option2":"9.5","option3":"SOFT CALF LEATHER","sku":"840237301408","requires_shipping":true,"taxable":true,"featured_image":null,"available":true,"name":"LONDON - MOONSTONE \/ 9.5 \/ SOFT CALF LEATHER","public_title":"MOONSTONE \/ 9.5 \/ SOFT CALF LEATHER","options":["MOONSTONE","9.5","SOFT CALF LEATHER"],"price":27500,"weight":0,"compare_at_price":null,"inventory_management":"shopify","barcode":"840237301408","requires_selling_plan":false,"selling_plan_allocations":[]},{"id":40693735293133,"title":"MOONSTONE \/ 10 \/ SOFT CALF LEATHER","option1":"MOONSTONE","option2":"10","option3":"SOFT CALF LEATHER","sku":"840237301415","requires_shipping":true,"taxable":true,"featured_image":null,"available":true,"name":"LONDON - MOONSTONE \/ 10 \/ SOFT CALF LEATHER","public_title":"MOONSTONE \/ 10 \/ SOFT CALF LEATHER","options":["MOONSTONE","10","SOFT CALF LEATHER"],"price":27500,"weight":0,"compare_at_price":null,"inventory_management":"shopify","barcode":"840237301415","requires_selling_plan":false,"selling_plan_allocations":[]},{"id":40693735653581,"title":"LATTE \/ 6 \/ SOFT CALF LEATHER","option1":"LATTE","option2":"6","option3":"SOFT CALF LEATHER","sku":"840237301224","requires_shipping":true,"taxable":true,"featured_image":null,"available":true,"name":"LONDON - LATTE \/ 6 \/ SOFT CALF LEATHER","public_title":"LATTE \/ 6 \/ SOFT CALF LEATHER","options":["LATTE","6","SOFT CALF LEATHER"],"price":27500,"weight":0,"compare_at_price":null,"inventory_management":"shopify","barcode":"840237301224","requires_selling_plan":false,"selling_plan_allocations":[]},{"id":40693735686349,"title":"LATTE \/ 6.5 \/ SOFT CALF LEATHER","option1":"LATTE","option2":"6.5","option3":"SOFT CALF LEATHER","sku":"840237301231","requires_shipping":true,"taxable":true,"featured_image":null,"available":true,"name":"LONDON - LATTE \/ 6.5 \/ SOFT CALF LEATHER","public_title":"LATTE \/ 6.5 \/ SOFT CALF LEATHER","options":["LATTE","6.5","SOFT CALF LEATHER"],"price":27500,"weight":0,"compare_at_price":null,"inventory_management":"shopify","barcode":"840237301231","requires_selling_plan":false,"selling_plan_allocations":[]},{"id":40693735719117,"title":"LATTE \/ 7 \/ SOFT CALF LEATHER","option1":"LATTE","option2":"7","option3":"SOFT CALF LEATHER","sku":"840237301248","requires_shipping":true,"taxable":true,"featured_image":null,"available":true,"name":"LONDON - LATTE \/ 7 \/ SOFT CALF LEATHER","public_title":"LATTE \/ 7 \/ SOFT CALF LEATHER","options":["LATTE","7","SOFT CALF LEATHER"],"price":27500,"weight":0,"compare_at_price":null,"inventory_management":"shopify","barcode":"840237301248","requires_selling_plan":false,"selling_plan_allocations":[]},{"id":40693735751885,"title":"LATTE \/ 7.5 \/ SOFT CALF LEATHER","option1":"LATTE","option2":"7.5","option3":"SOFT CALF LEATHER","sku":"840237301255","requires_shipping":true,"taxable":true,"featured_image":null,"available":true,"name":"LONDON - LATTE \/ 7.5 \/ SOFT CALF LEATHER","public_title":"LATTE \/ 7.5 \/ SOFT CALF LEATHER","options":["LATTE","7.5","SOFT CALF LEATHER"],"price":27500,"weight":0,"compare_at_price":null,"inventory_management":"shopify","barcode":"840237301255","requires_selling_plan":false,"selling_plan_allocations":[]},{"id":40693735784653,"title":"LATTE \/ 8 \/ SOFT CALF LEATHER","option1":"LATTE","option2":"8","option3":"SOFT CALF LEATHER","sku":"840237301262","requires_shipping":true,"taxable":true,"featured_image":null,"available":true,"name":"LONDON - LATTE \/ 8 \/ SOFT CALF LEATHER","public_title":"LATTE \/ 8 \/ SOFT CALF LEATHER","options":["LATTE","8","SOFT CALF LEATHER"],"price":27500,"weight":0,"compare_at_price":null,"inventory_management":"shopify","barcode":"840237301262","requires_selling_plan":false,"selling_plan_allocations":[]},{"id":40693735850189,"title":"LATTE \/ 8.5 \/ SOFT CALF LEATHER","option1":"LATTE","option2":"8.5","option3":"SOFT CALF LEATHER","sku":"840237301279","requires_shipping":true,"taxable":true,"featured_image":null,"available":true,"name":"LONDON - LATTE \/ 8.5 \/ SOFT CALF LEATHER","public_title":"LATTE \/ 8.5 \/ SOFT CALF LEATHER","options":["LATTE","8.5","SOFT CALF LEATHER"],"price":27500,"weight":0,"compare_at_price":null,"inventory_management":"shopify","barcode":"840237301279","requires_selling_plan":false,"selling_plan_allocations":[]},{"id":40693735882957,"title":"LATTE \/ 9 \/ SOFT CALF LEATHER","option1":"LATTE","option2":"9","option3":"SOFT CALF LEATHER","sku":"840237301286","requires_shipping":true,"taxable":true,"featured_image":null,"available":true,"name":"LONDON - LATTE \/ 9 \/ SOFT CALF LEATHER","public_title":"LATTE \/ 9 \/ SOFT CALF LEATHER","options":["LATTE","9","SOFT CALF LEATHER"],"price":27500,"weight":0,"compare_at_price":null,"inventory_management":"shopify","barcode":"840237301286","requires_selling_plan":false,"selling_plan_allocations":[]},{"id":40693735915725,"title":"LATTE \/ 9.5 \/ SOFT CALF LEATHER","option1":"LATTE","option2":"9.5","option3":"SOFT CALF LEATHER","sku":"840237301293","requires_shipping":true,"taxable":true,"featured_image":null,"available":true,"name":"LONDON - LATTE \/ 9.5 \/ SOFT CALF LEATHER","public_title":"LATTE \/ 9.5 \/ SOFT CALF LEATHER","options":["LATTE","9.5","SOFT CALF LEATHER"],"price":27500,"weight":0,"compare_at_price":null,"inventory_management":"shopify","barcode":"840237301293","requires_selling_plan":false,"selling_plan_allocations":[]},{"id":40693735948493,"title":"LATTE \/ 10 \/ SOFT CALF LEATHER","option1":"LATTE","option2":"10","option3":"SOFT CALF LEATHER","sku":"840237301309","requires_shipping":true,"taxable":true,"featured_image":null,"available":true,"name":"LONDON - LATTE \/ 10 \/ SOFT CALF LEATHER","public_title":"LATTE \/ 10 \/ SOFT CALF LEATHER","options":["LATTE","10","SOFT CALF LEATHER"],"price":27500,"weight":0,"compare_at_price":null,"inventory_management":"shopify","barcode":"840237301309","requires_selling_plan":false,"selling_plan_allocations":[]}],"images":["\/\/oncept.nyc\/cdn\/shop\/products\/LONDON-SIDE-WHITE-MINT.jpg?v=1645722052","\/\/oncept.nyc\/cdn\/shop\/products\/LONDON-TOP-WHITE-MINT.jpg?v=1645722052","\/\/oncept.nyc\/cdn\/shop\/products\/LONDON-BACK-WHITE-MINT.jpg?v=1645722130","\/\/oncept.nyc\/cdn\/shop\/products\/LONDON-OUTSOLE-WHITE-MINT.jpg?v=1645722130","\/\/oncept.nyc\/cdn\/shop\/products\/LONDON-SOFTNESS-WHITE-MINT.jpg?v=1645722130","\/\/oncept.nyc\/cdn\/shop\/products\/LONDON-ONFOOT-WHITE-BLUEMIST.jpg?v=1645722335","\/\/oncept.nyc\/cdn\/shop\/products\/LONDON-SIDE-WHITE-BLUEMIST.jpg?v=1645722335","\/\/oncept.nyc\/cdn\/shop\/products\/LONDON-TOP-WHITE-BLUEMIST.jpg?v=1645722335","\/\/oncept.nyc\/cdn\/shop\/products\/LONDON-BACK-WHITE-BLUEMIST.jpg?v=1645722335","\/\/oncept.nyc\/cdn\/shop\/products\/LONDON-OUTSOLE-WHITE-BLUEMIST.jpg?v=1645722335","\/\/oncept.nyc\/cdn\/shop\/products\/LONDON-SOFTNESS-WHITE-BLUEMIST.jpg?v=1645722335","\/\/oncept.nyc\/cdn\/shop\/products\/LONDON-ONFOOT-WHITE-MINT.jpg?v=1645722335","\/\/oncept.nyc\/cdn\/shop\/products\/LONDON-SIDE-WHITECLOUD-min_9206ab27-399e-4580-935a-ccbcc994469f.jpg?v=1661535847","\/\/oncept.nyc\/cdn\/shop\/products\/LONDON-TOP-WHITECLOUD-min_c8d8067a-928e-4c74-94b9-41e87d169d85.jpg?v=1661535847","\/\/oncept.nyc\/cdn\/shop\/products\/LONDON-BACK-WHITECLOUD-min_307a3da8-309b-4f6f-ab6a-51754646caa5.jpg?v=1661535847","\/\/oncept.nyc\/cdn\/shop\/products\/LONDON-OUTSOLE-WHITECLOUD-min_deb6ae2c-02d3-4c2b-8bd4-dc31d4a9a88e.jpg?v=1661535847","\/\/oncept.nyc\/cdn\/shop\/products\/LONDON-SOFTNESS-WHOTECLOUD-min_02850ad6-204f-466d-abf5-b33f369fb4f4.jpg?v=1661535847","\/\/oncept.nyc\/cdn\/shop\/products\/LONDON-ONFOOT-WHITECLOUD-min_7fc34e21-dd37-4954-ba07-376f189717fd.jpg?v=1661535847","\/\/oncept.nyc\/cdn\/shop\/products\/LONDON-SIDE-MOONSTONE-min_d8788537-1afa-42f7-b885-5c2c815749fd.jpg?v=1661535847","\/\/oncept.nyc\/cdn\/shop\/products\/LONDON-TOP-MOONSTONE-min_07918fbf-9f4c-4042-8b81-dbe0e09c3adc.jpg?v=1661535847","\/\/oncept.nyc\/cdn\/shop\/products\/ONCEPT-LONDON-BACK-MOONSTONEGREY.jpg?v=1661535847","\/\/oncept.nyc\/cdn\/shop\/products\/LONDON-OUTSOLE-MOONSTONEjpg-min_d2d5776b-696d-4825-ab43-c3252edc1a90.jpg?v=1661535847","\/\/oncept.nyc\/cdn\/shop\/products\/LONDON-SOFTNESS-MOONSTONE-min_bae82fc7-fe7d-4710-8ef4-651ca5873564.jpg?v=1661535847","\/\/oncept.nyc\/cdn\/shop\/products\/ONCEPT-LONDON-ONFOOT-MOONSTONEGREY2.jpg?v=1693245507","\/\/oncept.nyc\/cdn\/shop\/products\/LONDON-SIDE-LATTE-min_ad9e4a68-70b6-4054-8410-43188ac52cd5.jpg?v=1693245507","\/\/oncept.nyc\/cdn\/shop\/products\/ONCEPT-LONDON-TOP-LATTE-min_c2009e59-74d0-4d25-98c4-e1dfb55efcf5.jpg?v=1693245507","\/\/oncept.nyc\/cdn\/shop\/products\/ONCEPT-LONDON-BACK-LATTE_1d1fad0e-278b-4486-8a33-cfe5a23aacc8.jpg?v=1661535847","\/\/oncept.nyc\/cdn\/shop\/products\/LONDON-OUTSOLE-LATTE-min_10f9fedd-71f9-498f-9230-4a8fab6b3393.jpg?v=1661535847","\/\/oncept.nyc\/cdn\/shop\/products\/LONDON-SOFTNESS-LATTE-min.jpg?v=1661535847"],"featured_image":"\/\/oncept.nyc\/cdn\/shop\/products\/LONDON-SIDE-WHITE-MINT.jpg?v=1645722052","options":["Color","Size","Material"],"media":[{"alt":"0","id":22108657549517,"position":1,"preview_image":{"aspect_ratio":0.8,"height":1500,"width":1200,"src":"\/\/oncept.nyc\/cdn\/shop\/products\/LONDON-SIDE-WHITE-MINT.jpg?v=1645722052"},"aspect_ratio":0.8,"height":1500,"media_type":"image","src":"\/\/oncept.nyc\/cdn\/shop\/products\/LONDON-SIDE-WHITE-MINT.jpg?v=1645722052","width":1200},{"alt":"0","id":22108657680589,"position":2,"preview_image":{"aspect_ratio":0.8,"height":1500,"width":1200,"src":"\/\/oncept.nyc\/cdn\/shop\/products\/LONDON-TOP-WHITE-MINT.jpg?v=1645722052"},"aspect_ratio":0.8,"height":1500,"media_type":"image","src":"\/\/oncept.nyc\/cdn\/shop\/products\/LONDON-TOP-WHITE-MINT.jpg?v=1645722052","width":1200},{"alt":"0","id":22108657418445,"position":3,"preview_image":{"aspect_ratio":0.8,"height":1500,"width":1200,"src":"\/\/oncept.nyc\/cdn\/shop\/products\/LONDON-BACK-WHITE-MINT.jpg?v=1645722130"},"aspect_ratio":0.8,"height":1500,"media_type":"image","src":"\/\/oncept.nyc\/cdn\/shop\/products\/LONDON-BACK-WHITE-MINT.jpg?v=1645722130","width":1200},{"alt":"0","id":22108657483981,"position":4,"preview_image":{"aspect_ratio":0.8,"height":1500,"width":1200,"src":"\/\/oncept.nyc\/cdn\/shop\/products\/LONDON-OUTSOLE-WHITE-MINT.jpg?v=1645722130"},"aspect_ratio":0.8,"height":1500,"media_type":"image","src":"\/\/oncept.nyc\/cdn\/shop\/products\/LONDON-OUTSOLE-WHITE-MINT.jpg?v=1645722130","width":1200},{"alt":"0","id":22108657615053,"position":5,"preview_image":{"aspect_ratio":0.8,"height":1500,"width":1200,"src":"\/\/oncept.nyc\/cdn\/shop\/products\/LONDON-SOFTNESS-WHITE-MINT.jpg?v=1645722130"},"aspect_ratio":0.8,"height":1500,"media_type":"image","src":"\/\/oncept.nyc\/cdn\/shop\/products\/LONDON-SOFTNESS-WHITE-MINT.jpg?v=1645722130","width":1200},{"alt":"0","id":22108665708749,"position":6,"preview_image":{"aspect_ratio":0.8,"height":925,"width":740,"src":"\/\/oncept.nyc\/cdn\/shop\/products\/LONDON-ONFOOT-WHITE-BLUEMIST.jpg?v=1645722335"},"aspect_ratio":0.8,"height":925,"media_type":"image","src":"\/\/oncept.nyc\/cdn\/shop\/products\/LONDON-ONFOOT-WHITE-BLUEMIST.jpg?v=1645722335","width":740},{"alt":"1","id":22108657516749,"position":7,"preview_image":{"aspect_ratio":0.8,"height":1500,"width":1200,"src":"\/\/oncept.nyc\/cdn\/shop\/products\/LONDON-SIDE-WHITE-BLUEMIST.jpg?v=1645722335"},"aspect_ratio":0.8,"height":1500,"media_type":"image","src":"\/\/oncept.nyc\/cdn\/shop\/products\/LONDON-SIDE-WHITE-BLUEMIST.jpg?v=1645722335","width":1200},{"alt":"1","id":22108657647821,"position":8,"preview_image":{"aspect_ratio":0.8,"height":1500,"width":1200,"src":"\/\/oncept.nyc\/cdn\/shop\/products\/LONDON-TOP-WHITE-BLUEMIST.jpg?v=1645722335"},"aspect_ratio":0.8,"height":1500,"media_type":"image","src":"\/\/oncept.nyc\/cdn\/shop\/products\/LONDON-TOP-WHITE-BLUEMIST.jpg?v=1645722335","width":1200},{"alt":"1","id":22108657385677,"position":9,"preview_image":{"aspect_ratio":0.8,"height":1500,"width":1200,"src":"\/\/oncept.nyc\/cdn\/shop\/products\/LONDON-BACK-WHITE-BLUEMIST.jpg?v=1645722335"},"aspect_ratio":0.8,"height":1500,"media_type":"image","src":"\/\/oncept.nyc\/cdn\/shop\/products\/LONDON-BACK-WHITE-BLUEMIST.jpg?v=1645722335","width":1200},{"alt":"1","id":22108657451213,"position":10,"preview_image":{"aspect_ratio":0.8,"height":1500,"width":1200,"src":"\/\/oncept.nyc\/cdn\/shop\/products\/LONDON-OUTSOLE-WHITE-BLUEMIST.jpg?v=1645722335"},"aspect_ratio":0.8,"height":1500,"media_type":"image","src":"\/\/oncept.nyc\/cdn\/shop\/products\/LONDON-OUTSOLE-WHITE-BLUEMIST.jpg?v=1645722335","width":1200},{"alt":"1","id":22108657582285,"position":11,"preview_image":{"aspect_ratio":0.8,"height":1500,"width":1200,"src":"\/\/oncept.nyc\/cdn\/shop\/products\/LONDON-SOFTNESS-WHITE-BLUEMIST.jpg?v=1645722335"},"aspect_ratio":0.8,"height":1500,"media_type":"image","src":"\/\/oncept.nyc\/cdn\/shop\/products\/LONDON-SOFTNESS-WHITE-BLUEMIST.jpg?v=1645722335","width":1200},{"alt":"1","id":22108665741517,"position":12,"preview_image":{"aspect_ratio":0.8,"height":925,"width":740,"src":"\/\/oncept.nyc\/cdn\/shop\/products\/LONDON-ONFOOT-WHITE-MINT.jpg?v=1645722335"},"aspect_ratio":0.8,"height":925,"media_type":"image","src":"\/\/oncept.nyc\/cdn\/shop\/products\/LONDON-ONFOOT-WHITE-MINT.jpg?v=1645722335","width":740},{"alt":"2","id":22913739129037,"position":13,"preview_image":{"aspect_ratio":0.8,"height":3700,"width":2960,"src":"\/\/oncept.nyc\/cdn\/shop\/products\/LONDON-SIDE-WHITECLOUD-min_9206ab27-399e-4580-935a-ccbcc994469f.jpg?v=1661535847"},"aspect_ratio":0.8,"height":3700,"media_type":"image","src":"\/\/oncept.nyc\/cdn\/shop\/products\/LONDON-SIDE-WHITECLOUD-min_9206ab27-399e-4580-935a-ccbcc994469f.jpg?v=1661535847","width":2960},{"alt":"2","id":22913739194573,"position":14,"preview_image":{"aspect_ratio":0.8,"height":3700,"width":2960,"src":"\/\/oncept.nyc\/cdn\/shop\/products\/LONDON-TOP-WHITECLOUD-min_c8d8067a-928e-4c74-94b9-41e87d169d85.jpg?v=1661535847"},"aspect_ratio":0.8,"height":3700,"media_type":"image","src":"\/\/oncept.nyc\/cdn\/shop\/products\/LONDON-TOP-WHITECLOUD-min_c8d8067a-928e-4c74-94b9-41e87d169d85.jpg?v=1661535847","width":2960},{"alt":"2","id":22913739030733,"position":15,"preview_image":{"aspect_ratio":0.8,"height":3700,"width":2960,"src":"\/\/oncept.nyc\/cdn\/shop\/products\/LONDON-BACK-WHITECLOUD-min_307a3da8-309b-4f6f-ab6a-51754646caa5.jpg?v=1661535847"},"aspect_ratio":0.8,"height":3700,"media_type":"image","src":"\/\/oncept.nyc\/cdn\/shop\/products\/LONDON-BACK-WHITECLOUD-min_307a3da8-309b-4f6f-ab6a-51754646caa5.jpg?v=1661535847","width":2960},{"alt":"2","id":22913739096269,"position":16,"preview_image":{"aspect_ratio":0.8,"height":3700,"width":2960,"src":"\/\/oncept.nyc\/cdn\/shop\/products\/LONDON-OUTSOLE-WHITECLOUD-min_deb6ae2c-02d3-4c2b-8bd4-dc31d4a9a88e.jpg?v=1661535847"},"aspect_ratio":0.8,"height":3700,"media_type":"image","src":"\/\/oncept.nyc\/cdn\/shop\/products\/LONDON-OUTSOLE-WHITECLOUD-min_deb6ae2c-02d3-4c2b-8bd4-dc31d4a9a88e.jpg?v=1661535847","width":2960},{"alt":"2","id":22913739161805,"position":17,"preview_image":{"aspect_ratio":0.8,"height":3700,"width":2960,"src":"\/\/oncept.nyc\/cdn\/shop\/products\/LONDON-SOFTNESS-WHOTECLOUD-min_02850ad6-204f-466d-abf5-b33f369fb4f4.jpg?v=1661535847"},"aspect_ratio":0.8,"height":3700,"media_type":"image","src":"\/\/oncept.nyc\/cdn\/shop\/products\/LONDON-SOFTNESS-WHOTECLOUD-min_02850ad6-204f-466d-abf5-b33f369fb4f4.jpg?v=1661535847","width":2960},{"alt":"2","id":22913739063501,"position":18,"preview_image":{"aspect_ratio":0.8,"height":3700,"width":2960,"src":"\/\/oncept.nyc\/cdn\/shop\/products\/LONDON-ONFOOT-WHITECLOUD-min_7fc34e21-dd37-4954-ba07-376f189717fd.jpg?v=1661535847"},"aspect_ratio":0.8,"height":3700,"media_type":"image","src":"\/\/oncept.nyc\/cdn\/shop\/products\/LONDON-ONFOOT-WHITECLOUD-min_7fc34e21-dd37-4954-ba07-376f189717fd.jpg?v=1661535847","width":2960},{"alt":"3","id":22913634861261,"position":19,"preview_image":{"aspect_ratio":0.8,"height":3700,"width":2960,"src":"\/\/oncept.nyc\/cdn\/shop\/products\/LONDON-SIDE-MOONSTONE-min_d8788537-1afa-42f7-b885-5c2c815749fd.jpg?v=1661535847"},"aspect_ratio":0.8,"height":3700,"media_type":"image","src":"\/\/oncept.nyc\/cdn\/shop\/products\/LONDON-SIDE-MOONSTONE-min_d8788537-1afa-42f7-b885-5c2c815749fd.jpg?v=1661535847","width":2960},{"alt":"3","id":22913634959565,"position":20,"preview_image":{"aspect_ratio":0.8,"height":3700,"width":2960,"src":"\/\/oncept.nyc\/cdn\/shop\/products\/LONDON-TOP-MOONSTONE-min_07918fbf-9f4c-4042-8b81-dbe0e09c3adc.jpg?v=1661535847"},"aspect_ratio":0.8,"height":3700,"media_type":"image","src":"\/\/oncept.nyc\/cdn\/shop\/products\/LONDON-TOP-MOONSTONE-min_07918fbf-9f4c-4042-8b81-dbe0e09c3adc.jpg?v=1661535847","width":2960},{"alt":"3","id":22108683665613,"position":21,"preview_image":{"aspect_ratio":0.801,"height":1723,"width":1380,"src":"\/\/oncept.nyc\/cdn\/shop\/products\/ONCEPT-LONDON-BACK-MOONSTONEGREY.jpg?v=1661535847"},"aspect_ratio":0.801,"height":1723,"media_type":"image","src":"\/\/oncept.nyc\/cdn\/shop\/products\/ONCEPT-LONDON-BACK-MOONSTONEGREY.jpg?v=1661535847","width":1380},{"alt":"3","id":22913634795725,"position":22,"preview_image":{"aspect_ratio":0.8,"height":3700,"width":2960,"src":"\/\/oncept.nyc\/cdn\/shop\/products\/LONDON-OUTSOLE-MOONSTONEjpg-min_d2d5776b-696d-4825-ab43-c3252edc1a90.jpg?v=1661535847"},"aspect_ratio":0.8,"height":3700,"media_type":"image","src":"\/\/oncept.nyc\/cdn\/shop\/products\/LONDON-OUTSOLE-MOONSTONEjpg-min_d2d5776b-696d-4825-ab43-c3252edc1a90.jpg?v=1661535847","width":2960},{"alt":"3","id":22913634926797,"position":23,"preview_image":{"aspect_ratio":0.8,"height":3700,"width":2960,"src":"\/\/oncept.nyc\/cdn\/shop\/products\/LONDON-SOFTNESS-MOONSTONE-min_bae82fc7-fe7d-4710-8ef4-651ca5873564.jpg?v=1661535847"},"aspect_ratio":0.8,"height":3700,"media_type":"image","src":"\/\/oncept.nyc\/cdn\/shop\/products\/LONDON-SOFTNESS-MOONSTONE-min_bae82fc7-fe7d-4710-8ef4-651ca5873564.jpg?v=1661535847","width":2960},{"alt":"3","id":22108683960525,"position":24,"preview_image":{"aspect_ratio":0.8,"height":1723,"width":1379,"src":"\/\/oncept.nyc\/cdn\/shop\/products\/ONCEPT-LONDON-ONFOOT-MOONSTONEGREY2.jpg?v=1693245507"},"aspect_ratio":0.8,"height":1723,"media_type":"image","src":"\/\/oncept.nyc\/cdn\/shop\/products\/ONCEPT-LONDON-ONFOOT-MOONSTONEGREY2.jpg?v=1693245507","width":1379},{"alt":"4","id":22913634828493,"position":25,"preview_image":{"aspect_ratio":0.8,"height":3700,"width":2960,"src":"\/\/oncept.nyc\/cdn\/shop\/products\/LONDON-SIDE-LATTE-min_ad9e4a68-70b6-4054-8410-43188ac52cd5.jpg?v=1693245507"},"aspect_ratio":0.8,"height":3700,"media_type":"image","src":"\/\/oncept.nyc\/cdn\/shop\/products\/LONDON-SIDE-LATTE-min_ad9e4a68-70b6-4054-8410-43188ac52cd5.jpg?v=1693245507","width":2960},{"alt":"4","id":22913634992333,"position":26,"preview_image":{"aspect_ratio":0.766,"height":3664,"width":2808,"src":"\/\/oncept.nyc\/cdn\/shop\/products\/ONCEPT-LONDON-TOP-LATTE-min_c2009e59-74d0-4d25-98c4-e1dfb55efcf5.jpg?v=1693245507"},"aspect_ratio":0.766,"height":3664,"media_type":"image","src":"\/\/oncept.nyc\/cdn\/shop\/products\/ONCEPT-LONDON-TOP-LATTE-min_c2009e59-74d0-4d25-98c4-e1dfb55efcf5.jpg?v=1693245507","width":2808},{"alt":"4","id":22108683731149,"position":27,"preview_image":{"aspect_ratio":0.8,"height":1723,"width":1379,"src":"\/\/oncept.nyc\/cdn\/shop\/products\/ONCEPT-LONDON-BACK-LATTE_1d1fad0e-278b-4486-8a33-cfe5a23aacc8.jpg?v=1661535847"},"aspect_ratio":0.8,"height":1723,"media_type":"image","src":"\/\/oncept.nyc\/cdn\/shop\/products\/ONCEPT-LONDON-BACK-LATTE_1d1fad0e-278b-4486-8a33-cfe5a23aacc8.jpg?v=1661535847","width":1379},{"alt":"4","id":22913634762957,"position":28,"preview_image":{"aspect_ratio":0.8,"height":3700,"width":2960,"src":"\/\/oncept.nyc\/cdn\/shop\/products\/LONDON-OUTSOLE-LATTE-min_10f9fedd-71f9-498f-9230-4a8fab6b3393.jpg?v=1661535847"},"aspect_ratio":0.8,"height":3700,"media_type":"image","src":"\/\/oncept.nyc\/cdn\/shop\/products\/LONDON-OUTSOLE-LATTE-min_10f9fedd-71f9-498f-9230-4a8fab6b3393.jpg?v=1661535847","width":2960},{"alt":"4","id":22913634894029,"position":29,"preview_image":{"aspect_ratio":0.8,"height":3700,"width":2960,"src":"\/\/oncept.nyc\/cdn\/shop\/products\/LONDON-SOFTNESS-LATTE-min.jpg?v=1661535847"},"aspect_ratio":0.8,"height":3700,"media_type":"image","src":"\/\/oncept.nyc\/cdn\/shop\/products\/LONDON-SOFTNESS-LATTE-min.jpg?v=1661535847","width":2960}],"requires_selling_plan":false,"selling_plan_groups":[],"content":"\u003cspan data-mce-fragment=\"1\"\u003eElevated and sporty, the LONDON is your seasonless sneaker. With ultra-soft calf leather, citrus orange details, and a re-speckled flex outsole, our two-tone molded bottom is sleek and comfortable. With style in mind, the rubber flex outsole is durable, while the upper is soft and packable, making this timeless sneaker ready for anything.\u003c\/span\u003e"} { "options": [ { "title": "Color", "values": [ { "value": "WHITE - MINT", "url": "/products/london-1?variant=40188335751373" }, { "value": "WHITE - BLUE MIST", "url": "/products/london-1?variant=40188335784141" }, { "value": "WHITE CLOUD", "url": "/products/london-1?variant=40693734146253" }, { "value": "MOONSTONE", "url": "/products/london-1?variant=40693735030989" }, { "value": "LATTE", "url": "/products/london-1?variant=40693735653581" } ] }, { "title": "Size", "values": [ { "value": "6", "url": "/products/london-1?variant=40188335751373" }, { "value": "6.5", "url": "/products/london-1?variant=40188335915213" }, { "value": "7", "url": "/products/london-1?variant=40188336079053" }, { "value": "7.5", "url": "/products/london-1?variant=40188336242893" }, { "value": "8", "url": "/products/london-1?variant=40188336406733" }, { "value": "8.5", "url": "/products/london-1?variant=40188336570573" }, { "value": "9", "url": "/products/london-1?variant=40188336734413" }, { "value": "9.5", "url": "/products/london-1?variant=40188336898253" }, { "value": "10", "url": "/products/london-1?variant=40188337062093" } ] }, { "title": "Material", "values": [ { "value": "SOFT CALF LEATHER", "url": "/products/london-1?variant=40188335751373" } ] } ] }
{"id":6759108051149,"title":"MONACO","handle":"monaco","description":"\u003cmeta charset=\"utf-8\"\u003e\u003cspan data-mce-fragment=\"1\"\u003eMONACO is the most coveted dress sandal of the season.  Barely-there chic that will take you from day to night in style and comfort.  Our signature bio based memory foam cushion system is designed for ultimate comfort.  Elite calf leather upper and Italian leather outsole round out this luxurious dress heel. \u003c\/span\u003e\u003cbr data-mce-fragment=\"1\"\u003e\u003cbr\u003e","published_at":"2022-03-03T01:37:11-05:00","created_at":"2021-09-09T14:40:02-04:00","vendor":"Oncept","type":"Footwear","tags":["DRESS","HEEL","sandal"],"price":30000,"price_min":30000,"price_max":30000,"available":true,"price_varies":false,"compare_at_price":null,"compare_at_price_min":0,"compare_at_price_max":0,"compare_at_price_varies":false,"variants":[{"id":40188104704205,"title":"OAK \/ 6 \/ ELITE CALF","option1":"OAK","option2":"6","option3":"ELITE CALF","sku":"840237306663","requires_shipping":true,"taxable":true,"featured_image":{"id":29839809413325,"product_id":6759108051149,"position":1,"created_at":"2022-02-25T11:41:59-05:00","updated_at":"2022-08-19T00:58:57-04:00","alt":"0","width":1480,"height":1850,"src":"\/\/oncept.nyc\/cdn\/shop\/products\/MONACO-SIDE-OAK.jpg?v=1660885137","variant_ids":[40188104704205,40188104868045,40188105031885,40188105195725,40188105359565,40188105523405,40188105687245,40188105883853,40188106014925]},"available":true,"name":"MONACO - OAK \/ 6 \/ ELITE CALF","public_title":"OAK \/ 6 \/ ELITE CALF","options":["OAK","6","ELITE CALF"],"price":30000,"weight":0,"compare_at_price":null,"inventory_management":"shopify","barcode":"840237306663","featured_media":{"alt":"0","id":22111857344717,"position":1,"preview_image":{"aspect_ratio":0.8,"height":1850,"width":1480,"src":"\/\/oncept.nyc\/cdn\/shop\/products\/MONACO-SIDE-OAK.jpg?v=1660885137"}},"requires_selling_plan":false,"selling_plan_allocations":[]},{"id":40188104868045,"title":"OAK \/ 6.5 \/ ELITE CALF","option1":"OAK","option2":"6.5","option3":"ELITE CALF","sku":"840237306670","requires_shipping":true,"taxable":true,"featured_image":{"id":29839809413325,"product_id":6759108051149,"position":1,"created_at":"2022-02-25T11:41:59-05:00","updated_at":"2022-08-19T00:58:57-04:00","alt":"0","width":1480,"height":1850,"src":"\/\/oncept.nyc\/cdn\/shop\/products\/MONACO-SIDE-OAK.jpg?v=1660885137","variant_ids":[40188104704205,40188104868045,40188105031885,40188105195725,40188105359565,40188105523405,40188105687245,40188105883853,40188106014925]},"available":true,"name":"MONACO - OAK \/ 6.5 \/ ELITE CALF","public_title":"OAK \/ 6.5 \/ ELITE CALF","options":["OAK","6.5","ELITE CALF"],"price":30000,"weight":0,"compare_at_price":null,"inventory_management":"shopify","barcode":"840237306670","featured_media":{"alt":"0","id":22111857344717,"position":1,"preview_image":{"aspect_ratio":0.8,"height":1850,"width":1480,"src":"\/\/oncept.nyc\/cdn\/shop\/products\/MONACO-SIDE-OAK.jpg?v=1660885137"}},"requires_selling_plan":false,"selling_plan_allocations":[]},{"id":40188105031885,"title":"OAK \/ 7 \/ ELITE CALF","option1":"OAK","option2":"7","option3":"ELITE CALF","sku":"840237306687","requires_shipping":true,"taxable":true,"featured_image":{"id":29839809413325,"product_id":6759108051149,"position":1,"created_at":"2022-02-25T11:41:59-05:00","updated_at":"2022-08-19T00:58:57-04:00","alt":"0","width":1480,"height":1850,"src":"\/\/oncept.nyc\/cdn\/shop\/products\/MONACO-SIDE-OAK.jpg?v=1660885137","variant_ids":[40188104704205,40188104868045,40188105031885,40188105195725,40188105359565,40188105523405,40188105687245,40188105883853,40188106014925]},"available":true,"name":"MONACO - OAK \/ 7 \/ ELITE CALF","public_title":"OAK \/ 7 \/ ELITE CALF","options":["OAK","7","ELITE CALF"],"price":30000,"weight":0,"compare_at_price":null,"inventory_management":"shopify","barcode":"840237306687","featured_media":{"alt":"0","id":22111857344717,"position":1,"preview_image":{"aspect_ratio":0.8,"height":1850,"width":1480,"src":"\/\/oncept.nyc\/cdn\/shop\/products\/MONACO-SIDE-OAK.jpg?v=1660885137"}},"requires_selling_plan":false,"selling_plan_allocations":[]},{"id":40188105195725,"title":"OAK \/ 7.5 \/ ELITE CALF","option1":"OAK","option2":"7.5","option3":"ELITE CALF","sku":"840237306694","requires_shipping":true,"taxable":true,"featured_image":{"id":29839809413325,"product_id":6759108051149,"position":1,"created_at":"2022-02-25T11:41:59-05:00","updated_at":"2022-08-19T00:58:57-04:00","alt":"0","width":1480,"height":1850,"src":"\/\/oncept.nyc\/cdn\/shop\/products\/MONACO-SIDE-OAK.jpg?v=1660885137","variant_ids":[40188104704205,40188104868045,40188105031885,40188105195725,40188105359565,40188105523405,40188105687245,40188105883853,40188106014925]},"available":true,"name":"MONACO - OAK \/ 7.5 \/ ELITE CALF","public_title":"OAK \/ 7.5 \/ ELITE CALF","options":["OAK","7.5","ELITE CALF"],"price":30000,"weight":0,"compare_at_price":null,"inventory_management":"shopify","barcode":"840237306694","featured_media":{"alt":"0","id":22111857344717,"position":1,"preview_image":{"aspect_ratio":0.8,"height":1850,"width":1480,"src":"\/\/oncept.nyc\/cdn\/shop\/products\/MONACO-SIDE-OAK.jpg?v=1660885137"}},"requires_selling_plan":false,"selling_plan_allocations":[]},{"id":40188105359565,"title":"OAK \/ 8 \/ ELITE CALF","option1":"OAK","option2":"8","option3":"ELITE CALF","sku":"840237306700","requires_shipping":true,"taxable":true,"featured_image":{"id":29839809413325,"product_id":6759108051149,"position":1,"created_at":"2022-02-25T11:41:59-05:00","updated_at":"2022-08-19T00:58:57-04:00","alt":"0","width":1480,"height":1850,"src":"\/\/oncept.nyc\/cdn\/shop\/products\/MONACO-SIDE-OAK.jpg?v=1660885137","variant_ids":[40188104704205,40188104868045,40188105031885,40188105195725,40188105359565,40188105523405,40188105687245,40188105883853,40188106014925]},"available":true,"name":"MONACO - OAK \/ 8 \/ ELITE CALF","public_title":"OAK \/ 8 \/ ELITE CALF","options":["OAK","8","ELITE CALF"],"price":30000,"weight":0,"compare_at_price":null,"inventory_management":"shopify","barcode":"840237306700","featured_media":{"alt":"0","id":22111857344717,"position":1,"preview_image":{"aspect_ratio":0.8,"height":1850,"width":1480,"src":"\/\/oncept.nyc\/cdn\/shop\/products\/MONACO-SIDE-OAK.jpg?v=1660885137"}},"requires_selling_plan":false,"selling_plan_allocations":[]},{"id":40188105523405,"title":"OAK \/ 8.5 \/ ELITE CALF","option1":"OAK","option2":"8.5","option3":"ELITE CALF","sku":"840237306717","requires_shipping":true,"taxable":true,"featured_image":{"id":29839809413325,"product_id":6759108051149,"position":1,"created_at":"2022-02-25T11:41:59-05:00","updated_at":"2022-08-19T00:58:57-04:00","alt":"0","width":1480,"height":1850,"src":"\/\/oncept.nyc\/cdn\/shop\/products\/MONACO-SIDE-OAK.jpg?v=1660885137","variant_ids":[40188104704205,40188104868045,40188105031885,40188105195725,40188105359565,40188105523405,40188105687245,40188105883853,40188106014925]},"available":true,"name":"MONACO - OAK \/ 8.5 \/ ELITE CALF","public_title":"OAK \/ 8.5 \/ ELITE CALF","options":["OAK","8.5","ELITE CALF"],"price":30000,"weight":0,"compare_at_price":null,"inventory_management":"shopify","barcode":"840237306717","featured_media":{"alt":"0","id":22111857344717,"position":1,"preview_image":{"aspect_ratio":0.8,"height":1850,"width":1480,"src":"\/\/oncept.nyc\/cdn\/shop\/products\/MONACO-SIDE-OAK.jpg?v=1660885137"}},"requires_selling_plan":false,"selling_plan_allocations":[]},{"id":40188105687245,"title":"OAK \/ 9 \/ ELITE CALF","option1":"OAK","option2":"9","option3":"ELITE CALF","sku":"840237306724","requires_shipping":true,"taxable":true,"featured_image":{"id":29839809413325,"product_id":6759108051149,"position":1,"created_at":"2022-02-25T11:41:59-05:00","updated_at":"2022-08-19T00:58:57-04:00","alt":"0","width":1480,"height":1850,"src":"\/\/oncept.nyc\/cdn\/shop\/products\/MONACO-SIDE-OAK.jpg?v=1660885137","variant_ids":[40188104704205,40188104868045,40188105031885,40188105195725,40188105359565,40188105523405,40188105687245,40188105883853,40188106014925]},"available":true,"name":"MONACO - OAK \/ 9 \/ ELITE CALF","public_title":"OAK \/ 9 \/ ELITE CALF","options":["OAK","9","ELITE CALF"],"price":30000,"weight":0,"compare_at_price":null,"inventory_management":"shopify","barcode":"840237306724","featured_media":{"alt":"0","id":22111857344717,"position":1,"preview_image":{"aspect_ratio":0.8,"height":1850,"width":1480,"src":"\/\/oncept.nyc\/cdn\/shop\/products\/MONACO-SIDE-OAK.jpg?v=1660885137"}},"requires_selling_plan":false,"selling_plan_allocations":[]},{"id":40188105883853,"title":"OAK \/ 9.5 \/ ELITE CALF","option1":"OAK","option2":"9.5","option3":"ELITE CALF","sku":"840237306731","requires_shipping":true,"taxable":true,"featured_image":{"id":29839809413325,"product_id":6759108051149,"position":1,"created_at":"2022-02-25T11:41:59-05:00","updated_at":"2022-08-19T00:58:57-04:00","alt":"0","width":1480,"height":1850,"src":"\/\/oncept.nyc\/cdn\/shop\/products\/MONACO-SIDE-OAK.jpg?v=1660885137","variant_ids":[40188104704205,40188104868045,40188105031885,40188105195725,40188105359565,40188105523405,40188105687245,40188105883853,40188106014925]},"available":true,"name":"MONACO - OAK \/ 9.5 \/ ELITE CALF","public_title":"OAK \/ 9.5 \/ ELITE CALF","options":["OAK","9.5","ELITE CALF"],"price":30000,"weight":0,"compare_at_price":null,"inventory_management":"shopify","barcode":"840237306731","featured_media":{"alt":"0","id":22111857344717,"position":1,"preview_image":{"aspect_ratio":0.8,"height":1850,"width":1480,"src":"\/\/oncept.nyc\/cdn\/shop\/products\/MONACO-SIDE-OAK.jpg?v=1660885137"}},"requires_selling_plan":false,"selling_plan_allocations":[]},{"id":40188106014925,"title":"OAK \/ 10 \/ ELITE CALF","option1":"OAK","option2":"10","option3":"ELITE CALF","sku":"840237306748","requires_shipping":true,"taxable":true,"featured_image":{"id":29839809413325,"product_id":6759108051149,"position":1,"created_at":"2022-02-25T11:41:59-05:00","updated_at":"2022-08-19T00:58:57-04:00","alt":"0","width":1480,"height":1850,"src":"\/\/oncept.nyc\/cdn\/shop\/products\/MONACO-SIDE-OAK.jpg?v=1660885137","variant_ids":[40188104704205,40188104868045,40188105031885,40188105195725,40188105359565,40188105523405,40188105687245,40188105883853,40188106014925]},"available":true,"name":"MONACO - OAK \/ 10 \/ ELITE CALF","public_title":"OAK \/ 10 \/ ELITE CALF","options":["OAK","10","ELITE CALF"],"price":30000,"weight":0,"compare_at_price":null,"inventory_management":"shopify","barcode":"840237306748","featured_media":{"alt":"0","id":22111857344717,"position":1,"preview_image":{"aspect_ratio":0.8,"height":1850,"width":1480,"src":"\/\/oncept.nyc\/cdn\/shop\/products\/MONACO-SIDE-OAK.jpg?v=1660885137"}},"requires_selling_plan":false,"selling_plan_allocations":[]},{"id":40188104671437,"title":"BLACK \/ 6 \/ ELITE CALF","option1":"BLACK","option2":"6","option3":"ELITE CALF","sku":"840237306755","requires_shipping":true,"taxable":true,"featured_image":{"id":29839809577165,"product_id":6759108051149,"position":7,"created_at":"2022-02-25T11:41:59-05:00","updated_at":"2022-08-19T00:58:57-04:00","alt":"1","width":1480,"height":1850,"src":"\/\/oncept.nyc\/cdn\/shop\/products\/MONACO-SIDE-BLACK.jpg?v=1660885137","variant_ids":[40188104671437,40188104835277,40188104999117,40188105162957,40188105326797,40188105490637,40188105654477,40188105851085,40188105982157]},"available":true,"name":"MONACO - BLACK \/ 6 \/ ELITE CALF","public_title":"BLACK \/ 6 \/ ELITE CALF","options":["BLACK","6","ELITE CALF"],"price":30000,"weight":0,"compare_at_price":null,"inventory_management":"shopify","barcode":"840237306755","featured_media":{"alt":"1","id":22111857279181,"position":7,"preview_image":{"aspect_ratio":0.8,"height":1850,"width":1480,"src":"\/\/oncept.nyc\/cdn\/shop\/products\/MONACO-SIDE-BLACK.jpg?v=1660885137"}},"requires_selling_plan":false,"selling_plan_allocations":[]},{"id":40188104835277,"title":"BLACK \/ 6.5 \/ ELITE CALF","option1":"BLACK","option2":"6.5","option3":"ELITE CALF","sku":"840237306762","requires_shipping":true,"taxable":true,"featured_image":{"id":29839809577165,"product_id":6759108051149,"position":7,"created_at":"2022-02-25T11:41:59-05:00","updated_at":"2022-08-19T00:58:57-04:00","alt":"1","width":1480,"height":1850,"src":"\/\/oncept.nyc\/cdn\/shop\/products\/MONACO-SIDE-BLACK.jpg?v=1660885137","variant_ids":[40188104671437,40188104835277,40188104999117,40188105162957,40188105326797,40188105490637,40188105654477,40188105851085,40188105982157]},"available":true,"name":"MONACO - BLACK \/ 6.5 \/ ELITE CALF","public_title":"BLACK \/ 6.5 \/ ELITE CALF","options":["BLACK","6.5","ELITE CALF"],"price":30000,"weight":0,"compare_at_price":null,"inventory_management":"shopify","barcode":"840237306762","featured_media":{"alt":"1","id":22111857279181,"position":7,"preview_image":{"aspect_ratio":0.8,"height":1850,"width":1480,"src":"\/\/oncept.nyc\/cdn\/shop\/products\/MONACO-SIDE-BLACK.jpg?v=1660885137"}},"requires_selling_plan":false,"selling_plan_allocations":[]},{"id":40188104999117,"title":"BLACK \/ 7 \/ ELITE CALF","option1":"BLACK","option2":"7","option3":"ELITE CALF","sku":"840237306779","requires_shipping":true,"taxable":true,"featured_image":{"id":29839809577165,"product_id":6759108051149,"position":7,"created_at":"2022-02-25T11:41:59-05:00","updated_at":"2022-08-19T00:58:57-04:00","alt":"1","width":1480,"height":1850,"src":"\/\/oncept.nyc\/cdn\/shop\/products\/MONACO-SIDE-BLACK.jpg?v=1660885137","variant_ids":[40188104671437,40188104835277,40188104999117,40188105162957,40188105326797,40188105490637,40188105654477,40188105851085,40188105982157]},"available":true,"name":"MONACO - BLACK \/ 7 \/ ELITE CALF","public_title":"BLACK \/ 7 \/ ELITE CALF","options":["BLACK","7","ELITE CALF"],"price":30000,"weight":0,"compare_at_price":null,"inventory_management":"shopify","barcode":"840237306779","featured_media":{"alt":"1","id":22111857279181,"position":7,"preview_image":{"aspect_ratio":0.8,"height":1850,"width":1480,"src":"\/\/oncept.nyc\/cdn\/shop\/products\/MONACO-SIDE-BLACK.jpg?v=1660885137"}},"requires_selling_plan":false,"selling_plan_allocations":[]},{"id":40188105162957,"title":"BLACK \/ 7.5 \/ ELITE CALF","option1":"BLACK","option2":"7.5","option3":"ELITE CALF","sku":"840237306786","requires_shipping":true,"taxable":true,"featured_image":{"id":29839809577165,"product_id":6759108051149,"position":7,"created_at":"2022-02-25T11:41:59-05:00","updated_at":"2022-08-19T00:58:57-04:00","alt":"1","width":1480,"height":1850,"src":"\/\/oncept.nyc\/cdn\/shop\/products\/MONACO-SIDE-BLACK.jpg?v=1660885137","variant_ids":[40188104671437,40188104835277,40188104999117,40188105162957,40188105326797,40188105490637,40188105654477,40188105851085,40188105982157]},"available":true,"name":"MONACO - BLACK \/ 7.5 \/ ELITE CALF","public_title":"BLACK \/ 7.5 \/ ELITE CALF","options":["BLACK","7.5","ELITE CALF"],"price":30000,"weight":0,"compare_at_price":null,"inventory_management":"shopify","barcode":"840237306786","featured_media":{"alt":"1","id":22111857279181,"position":7,"preview_image":{"aspect_ratio":0.8,"height":1850,"width":1480,"src":"\/\/oncept.nyc\/cdn\/shop\/products\/MONACO-SIDE-BLACK.jpg?v=1660885137"}},"requires_selling_plan":false,"selling_plan_allocations":[]},{"id":40188105326797,"title":"BLACK \/ 8 \/ ELITE CALF","option1":"BLACK","option2":"8","option3":"ELITE CALF","sku":"840237306793","requires_shipping":true,"taxable":true,"featured_image":{"id":29839809577165,"product_id":6759108051149,"position":7,"created_at":"2022-02-25T11:41:59-05:00","updated_at":"2022-08-19T00:58:57-04:00","alt":"1","width":1480,"height":1850,"src":"\/\/oncept.nyc\/cdn\/shop\/products\/MONACO-SIDE-BLACK.jpg?v=1660885137","variant_ids":[40188104671437,40188104835277,40188104999117,40188105162957,40188105326797,40188105490637,40188105654477,40188105851085,40188105982157]},"available":true,"name":"MONACO - BLACK \/ 8 \/ ELITE CALF","public_title":"BLACK \/ 8 \/ ELITE CALF","options":["BLACK","8","ELITE CALF"],"price":30000,"weight":0,"compare_at_price":null,"inventory_management":"shopify","barcode":"840237306793","featured_media":{"alt":"1","id":22111857279181,"position":7,"preview_image":{"aspect_ratio":0.8,"height":1850,"width":1480,"src":"\/\/oncept.nyc\/cdn\/shop\/products\/MONACO-SIDE-BLACK.jpg?v=1660885137"}},"requires_selling_plan":false,"selling_plan_allocations":[]},{"id":40188105490637,"title":"BLACK \/ 8.5 \/ ELITE CALF","option1":"BLACK","option2":"8.5","option3":"ELITE CALF","sku":"840237306809","requires_shipping":true,"taxable":true,"featured_image":{"id":29839809577165,"product_id":6759108051149,"position":7,"created_at":"2022-02-25T11:41:59-05:00","updated_at":"2022-08-19T00:58:57-04:00","alt":"1","width":1480,"height":1850,"src":"\/\/oncept.nyc\/cdn\/shop\/products\/MONACO-SIDE-BLACK.jpg?v=1660885137","variant_ids":[40188104671437,40188104835277,40188104999117,40188105162957,40188105326797,40188105490637,40188105654477,40188105851085,40188105982157]},"available":true,"name":"MONACO - BLACK \/ 8.5 \/ ELITE CALF","public_title":"BLACK \/ 8.5 \/ ELITE CALF","options":["BLACK","8.5","ELITE CALF"],"price":30000,"weight":0,"compare_at_price":null,"inventory_management":"shopify","barcode":"840237306809","featured_media":{"alt":"1","id":22111857279181,"position":7,"preview_image":{"aspect_ratio":0.8,"height":1850,"width":1480,"src":"\/\/oncept.nyc\/cdn\/shop\/products\/MONACO-SIDE-BLACK.jpg?v=1660885137"}},"requires_selling_plan":false,"selling_plan_allocations":[]},{"id":40188105654477,"title":"BLACK \/ 9 \/ ELITE CALF","option1":"BLACK","option2":"9","option3":"ELITE CALF","sku":"840237306816","requires_shipping":true,"taxable":true,"featured_image":{"id":29839809577165,"product_id":6759108051149,"position":7,"created_at":"2022-02-25T11:41:59-05:00","updated_at":"2022-08-19T00:58:57-04:00","alt":"1","width":1480,"height":1850,"src":"\/\/oncept.nyc\/cdn\/shop\/products\/MONACO-SIDE-BLACK.jpg?v=1660885137","variant_ids":[40188104671437,40188104835277,40188104999117,40188105162957,40188105326797,40188105490637,40188105654477,40188105851085,40188105982157]},"available":true,"name":"MONACO - BLACK \/ 9 \/ ELITE CALF","public_title":"BLACK \/ 9 \/ ELITE CALF","options":["BLACK","9","ELITE CALF"],"price":30000,"weight":0,"compare_at_price":null,"inventory_management":"shopify","barcode":"840237306816","featured_media":{"alt":"1","id":22111857279181,"position":7,"preview_image":{"aspect_ratio":0.8,"height":1850,"width":1480,"src":"\/\/oncept.nyc\/cdn\/shop\/products\/MONACO-SIDE-BLACK.jpg?v=1660885137"}},"requires_selling_plan":false,"selling_plan_allocations":[]},{"id":40188105851085,"title":"BLACK \/ 9.5 \/ ELITE CALF","option1":"BLACK","option2":"9.5","option3":"ELITE CALF","sku":"840237306823","requires_shipping":true,"taxable":true,"featured_image":{"id":29839809577165,"product_id":6759108051149,"position":7,"created_at":"2022-02-25T11:41:59-05:00","updated_at":"2022-08-19T00:58:57-04:00","alt":"1","width":1480,"height":1850,"src":"\/\/oncept.nyc\/cdn\/shop\/products\/MONACO-SIDE-BLACK.jpg?v=1660885137","variant_ids":[40188104671437,40188104835277,40188104999117,40188105162957,40188105326797,40188105490637,40188105654477,40188105851085,40188105982157]},"available":true,"name":"MONACO - BLACK \/ 9.5 \/ ELITE CALF","public_title":"BLACK \/ 9.5 \/ ELITE CALF","options":["BLACK","9.5","ELITE CALF"],"price":30000,"weight":0,"compare_at_price":null,"inventory_management":"shopify","barcode":"840237306823","featured_media":{"alt":"1","id":22111857279181,"position":7,"preview_image":{"aspect_ratio":0.8,"height":1850,"width":1480,"src":"\/\/oncept.nyc\/cdn\/shop\/products\/MONACO-SIDE-BLACK.jpg?v=1660885137"}},"requires_selling_plan":false,"selling_plan_allocations":[]},{"id":40188105982157,"title":"BLACK \/ 10 \/ ELITE CALF","option1":"BLACK","option2":"10","option3":"ELITE CALF","sku":"840237306830","requires_shipping":true,"taxable":true,"featured_image":{"id":29839809577165,"product_id":6759108051149,"position":7,"created_at":"2022-02-25T11:41:59-05:00","updated_at":"2022-08-19T00:58:57-04:00","alt":"1","width":1480,"height":1850,"src":"\/\/oncept.nyc\/cdn\/shop\/products\/MONACO-SIDE-BLACK.jpg?v=1660885137","variant_ids":[40188104671437,40188104835277,40188104999117,40188105162957,40188105326797,40188105490637,40188105654477,40188105851085,40188105982157]},"available":true,"name":"MONACO - BLACK \/ 10 \/ ELITE CALF","public_title":"BLACK \/ 10 \/ ELITE CALF","options":["BLACK","10","ELITE CALF"],"price":30000,"weight":0,"compare_at_price":null,"inventory_management":"shopify","barcode":"840237306830","featured_media":{"alt":"1","id":22111857279181,"position":7,"preview_image":{"aspect_ratio":0.8,"height":1850,"width":1480,"src":"\/\/oncept.nyc\/cdn\/shop\/products\/MONACO-SIDE-BLACK.jpg?v=1660885137"}},"requires_selling_plan":false,"selling_plan_allocations":[]},{"id":40188104736973,"title":"PRISM PINK \/ 6 \/ ELITE CALF","option1":"PRISM PINK","option2":"6","option3":"ELITE CALF","sku":"840237306939","requires_shipping":true,"taxable":true,"featured_image":{"id":29839809118413,"product_id":6759108051149,"position":13,"created_at":"2022-02-25T11:41:59-05:00","updated_at":"2022-08-26T13:17:39-04:00","alt":"2","width":1480,"height":1850,"src":"\/\/oncept.nyc\/cdn\/shop\/products\/MONACO-SIDE-PRISMPINK.jpg?v=1661534259","variant_ids":[40188104736973,40188104900813,40188105064653,40188105228493,40188105392333,40188105556173,40188105720013,40188105916621,40188106047693]},"available":true,"name":"MONACO - PRISM PINK \/ 6 \/ ELITE CALF","public_title":"PRISM PINK \/ 6 \/ ELITE CALF","options":["PRISM PINK","6","ELITE CALF"],"price":30000,"weight":0,"compare_at_price":null,"inventory_management":"shopify","barcode":"840237306939","featured_media":{"alt":"2","id":22111857377485,"position":13,"preview_image":{"aspect_ratio":0.8,"height":1850,"width":1480,"src":"\/\/oncept.nyc\/cdn\/shop\/products\/MONACO-SIDE-PRISMPINK.jpg?v=1661534259"}},"requires_selling_plan":false,"selling_plan_allocations":[]},{"id":40188104900813,"title":"PRISM PINK \/ 6.5 \/ ELITE CALF","option1":"PRISM PINK","option2":"6.5","option3":"ELITE CALF","sku":"840237306946","requires_shipping":true,"taxable":true,"featured_image":{"id":29839809118413,"product_id":6759108051149,"position":13,"created_at":"2022-02-25T11:41:59-05:00","updated_at":"2022-08-26T13:17:39-04:00","alt":"2","width":1480,"height":1850,"src":"\/\/oncept.nyc\/cdn\/shop\/products\/MONACO-SIDE-PRISMPINK.jpg?v=1661534259","variant_ids":[40188104736973,40188104900813,40188105064653,40188105228493,40188105392333,40188105556173,40188105720013,40188105916621,40188106047693]},"available":true,"name":"MONACO - PRISM PINK \/ 6.5 \/ ELITE CALF","public_title":"PRISM PINK \/ 6.5 \/ ELITE CALF","options":["PRISM PINK","6.5","ELITE CALF"],"price":30000,"weight":0,"compare_at_price":null,"inventory_management":"shopify","barcode":"840237306946","featured_media":{"alt":"2","id":22111857377485,"position":13,"preview_image":{"aspect_ratio":0.8,"height":1850,"width":1480,"src":"\/\/oncept.nyc\/cdn\/shop\/products\/MONACO-SIDE-PRISMPINK.jpg?v=1661534259"}},"requires_selling_plan":false,"selling_plan_allocations":[]},{"id":40188105064653,"title":"PRISM PINK \/ 7 \/ ELITE CALF","option1":"PRISM PINK","option2":"7","option3":"ELITE CALF","sku":"840237306953","requires_shipping":true,"taxable":true,"featured_image":{"id":29839809118413,"product_id":6759108051149,"position":13,"created_at":"2022-02-25T11:41:59-05:00","updated_at":"2022-08-26T13:17:39-04:00","alt":"2","width":1480,"height":1850,"src":"\/\/oncept.nyc\/cdn\/shop\/products\/MONACO-SIDE-PRISMPINK.jpg?v=1661534259","variant_ids":[40188104736973,40188104900813,40188105064653,40188105228493,40188105392333,40188105556173,40188105720013,40188105916621,40188106047693]},"available":true,"name":"MONACO - PRISM PINK \/ 7 \/ ELITE CALF","public_title":"PRISM PINK \/ 7 \/ ELITE CALF","options":["PRISM PINK","7","ELITE CALF"],"price":30000,"weight":0,"compare_at_price":null,"inventory_management":"shopify","barcode":"840237306953","featured_media":{"alt":"2","id":22111857377485,"position":13,"preview_image":{"aspect_ratio":0.8,"height":1850,"width":1480,"src":"\/\/oncept.nyc\/cdn\/shop\/products\/MONACO-SIDE-PRISMPINK.jpg?v=1661534259"}},"requires_selling_plan":false,"selling_plan_allocations":[]},{"id":40188105228493,"title":"PRISM PINK \/ 7.5 \/ ELITE CALF","option1":"PRISM PINK","option2":"7.5","option3":"ELITE CALF","sku":"840237306960","requires_shipping":true,"taxable":true,"featured_image":{"id":29839809118413,"product_id":6759108051149,"position":13,"created_at":"2022-02-25T11:41:59-05:00","updated_at":"2022-08-26T13:17:39-04:00","alt":"2","width":1480,"height":1850,"src":"\/\/oncept.nyc\/cdn\/shop\/products\/MONACO-SIDE-PRISMPINK.jpg?v=1661534259","variant_ids":[40188104736973,40188104900813,40188105064653,40188105228493,40188105392333,40188105556173,40188105720013,40188105916621,40188106047693]},"available":true,"name":"MONACO - PRISM PINK \/ 7.5 \/ ELITE CALF","public_title":"PRISM PINK \/ 7.5 \/ ELITE CALF","options":["PRISM PINK","7.5","ELITE CALF"],"price":30000,"weight":0,"compare_at_price":null,"inventory_management":"shopify","barcode":"840237306960","featured_media":{"alt":"2","id":22111857377485,"position":13,"preview_image":{"aspect_ratio":0.8,"height":1850,"width":1480,"src":"\/\/oncept.nyc\/cdn\/shop\/products\/MONACO-SIDE-PRISMPINK.jpg?v=1661534259"}},"requires_selling_plan":false,"selling_plan_allocations":[]},{"id":40188105392333,"title":"PRISM PINK \/ 8 \/ ELITE CALF","option1":"PRISM PINK","option2":"8","option3":"ELITE CALF","sku":"840237306977","requires_shipping":true,"taxable":true,"featured_image":{"id":29839809118413,"product_id":6759108051149,"position":13,"created_at":"2022-02-25T11:41:59-05:00","updated_at":"2022-08-26T13:17:39-04:00","alt":"2","width":1480,"height":1850,"src":"\/\/oncept.nyc\/cdn\/shop\/products\/MONACO-SIDE-PRISMPINK.jpg?v=1661534259","variant_ids":[40188104736973,40188104900813,40188105064653,40188105228493,40188105392333,40188105556173,40188105720013,40188105916621,40188106047693]},"available":true,"name":"MONACO - PRISM PINK \/ 8 \/ ELITE CALF","public_title":"PRISM PINK \/ 8 \/ ELITE CALF","options":["PRISM PINK","8","ELITE CALF"],"price":30000,"weight":0,"compare_at_price":null,"inventory_management":"shopify","barcode":"840237306977","featured_media":{"alt":"2","id":22111857377485,"position":13,"preview_image":{"aspect_ratio":0.8,"height":1850,"width":1480,"src":"\/\/oncept.nyc\/cdn\/shop\/products\/MONACO-SIDE-PRISMPINK.jpg?v=1661534259"}},"requires_selling_plan":false,"selling_plan_allocations":[]},{"id":40188105556173,"title":"PRISM PINK \/ 8.5 \/ ELITE CALF","option1":"PRISM PINK","option2":"8.5","option3":"ELITE CALF","sku":"840237306984","requires_shipping":true,"taxable":true,"featured_image":{"id":29839809118413,"product_id":6759108051149,"position":13,"created_at":"2022-02-25T11:41:59-05:00","updated_at":"2022-08-26T13:17:39-04:00","alt":"2","width":1480,"height":1850,"src":"\/\/oncept.nyc\/cdn\/shop\/products\/MONACO-SIDE-PRISMPINK.jpg?v=1661534259","variant_ids":[40188104736973,40188104900813,40188105064653,40188105228493,40188105392333,40188105556173,40188105720013,40188105916621,40188106047693]},"available":true,"name":"MONACO - PRISM PINK \/ 8.5 \/ ELITE CALF","public_title":"PRISM PINK \/ 8.5 \/ ELITE CALF","options":["PRISM PINK","8.5","ELITE CALF"],"price":30000,"weight":0,"compare_at_price":null,"inventory_management":"shopify","barcode":"840237306984","featured_media":{"alt":"2","id":22111857377485,"position":13,"preview_image":{"aspect_ratio":0.8,"height":1850,"width":1480,"src":"\/\/oncept.nyc\/cdn\/shop\/products\/MONACO-SIDE-PRISMPINK.jpg?v=1661534259"}},"requires_selling_plan":false,"selling_plan_allocations":[]},{"id":40188105720013,"title":"PRISM PINK \/ 9 \/ ELITE CALF","option1":"PRISM PINK","option2":"9","option3":"ELITE CALF","sku":"840237306991","requires_shipping":true,"taxable":true,"featured_image":{"id":29839809118413,"product_id":6759108051149,"position":13,"created_at":"2022-02-25T11:41:59-05:00","updated_at":"2022-08-26T13:17:39-04:00","alt":"2","width":1480,"height":1850,"src":"\/\/oncept.nyc\/cdn\/shop\/products\/MONACO-SIDE-PRISMPINK.jpg?v=1661534259","variant_ids":[40188104736973,40188104900813,40188105064653,40188105228493,40188105392333,40188105556173,40188105720013,40188105916621,40188106047693]},"available":true,"name":"MONACO - PRISM PINK \/ 9 \/ ELITE CALF","public_title":"PRISM PINK \/ 9 \/ ELITE CALF","options":["PRISM PINK","9","ELITE CALF"],"price":30000,"weight":0,"compare_at_price":null,"inventory_management":"shopify","barcode":"840237306991","featured_media":{"alt":"2","id":22111857377485,"position":13,"preview_image":{"aspect_ratio":0.8,"height":1850,"width":1480,"src":"\/\/oncept.nyc\/cdn\/shop\/products\/MONACO-SIDE-PRISMPINK.jpg?v=1661534259"}},"requires_selling_plan":false,"selling_plan_allocations":[]},{"id":40188105916621,"title":"PRISM PINK \/ 9.5 \/ ELITE CALF","option1":"PRISM PINK","option2":"9.5","option3":"ELITE CALF","sku":"840237307004","requires_shipping":true,"taxable":true,"featured_image":{"id":29839809118413,"product_id":6759108051149,"position":13,"created_at":"2022-02-25T11:41:59-05:00","updated_at":"2022-08-26T13:17:39-04:00","alt":"2","width":1480,"height":1850,"src":"\/\/oncept.nyc\/cdn\/shop\/products\/MONACO-SIDE-PRISMPINK.jpg?v=1661534259","variant_ids":[40188104736973,40188104900813,40188105064653,40188105228493,40188105392333,40188105556173,40188105720013,40188105916621,40188106047693]},"available":true,"name":"MONACO - PRISM PINK \/ 9.5 \/ ELITE CALF","public_title":"PRISM PINK \/ 9.5 \/ ELITE CALF","options":["PRISM PINK","9.5","ELITE CALF"],"price":30000,"weight":0,"compare_at_price":null,"inventory_management":"shopify","barcode":"840237307004","featured_media":{"alt":"2","id":22111857377485,"position":13,"preview_image":{"aspect_ratio":0.8,"height":1850,"width":1480,"src":"\/\/oncept.nyc\/cdn\/shop\/products\/MONACO-SIDE-PRISMPINK.jpg?v=1661534259"}},"requires_selling_plan":false,"selling_plan_allocations":[]},{"id":40188106047693,"title":"PRISM PINK \/ 10 \/ ELITE CALF","option1":"PRISM PINK","option2":"10","option3":"ELITE CALF","sku":"840237307011","requires_shipping":true,"taxable":true,"featured_image":{"id":29839809118413,"product_id":6759108051149,"position":13,"created_at":"2022-02-25T11:41:59-05:00","updated_at":"2022-08-26T13:17:39-04:00","alt":"2","width":1480,"height":1850,"src":"\/\/oncept.nyc\/cdn\/shop\/products\/MONACO-SIDE-PRISMPINK.jpg?v=1661534259","variant_ids":[40188104736973,40188104900813,40188105064653,40188105228493,40188105392333,40188105556173,40188105720013,40188105916621,40188106047693]},"available":true,"name":"MONACO - PRISM PINK \/ 10 \/ ELITE CALF","public_title":"PRISM PINK \/ 10 \/ ELITE CALF","options":["PRISM PINK","10","ELITE CALF"],"price":30000,"weight":0,"compare_at_price":null,"inventory_management":"shopify","barcode":"840237307011","featured_media":{"alt":"2","id":22111857377485,"position":13,"preview_image":{"aspect_ratio":0.8,"height":1850,"width":1480,"src":"\/\/oncept.nyc\/cdn\/shop\/products\/MONACO-SIDE-PRISMPINK.jpg?v=1661534259"}},"requires_selling_plan":false,"selling_plan_allocations":[]},{"id":40188104638669,"title":"WHITE CLOUD \/ 6 \/ ELITE CALF","option1":"WHITE CLOUD","option2":"6","option3":"ELITE CALF","sku":"840237306847","requires_shipping":true,"taxable":true,"featured_image":{"id":29839809872077,"product_id":6759108051149,"position":19,"created_at":"2022-02-25T11:41:59-05:00","updated_at":"2022-08-26T13:17:39-04:00","alt":"3","width":1480,"height":1850,"src":"\/\/oncept.nyc\/cdn\/shop\/products\/MONACO-SIDE-WHITECLOUD.jpg?v=1661534259","variant_ids":[40188104638669,40188104802509,40188104966349,40188105130189,40188105294029,40188105457869,40188105621709,40188105818317,40691529777357]},"available":true,"name":"MONACO - WHITE CLOUD \/ 6 \/ ELITE CALF","public_title":"WHITE CLOUD \/ 6 \/ ELITE CALF","options":["WHITE CLOUD","6","ELITE CALF"],"price":30000,"weight":0,"compare_at_price":null,"inventory_management":"shopify","barcode":"840237306847","featured_media":{"alt":"3","id":22111857410253,"position":19,"preview_image":{"aspect_ratio":0.8,"height":1850,"width":1480,"src":"\/\/oncept.nyc\/cdn\/shop\/products\/MONACO-SIDE-WHITECLOUD.jpg?v=1661534259"}},"requires_selling_plan":false,"selling_plan_allocations":[]},{"id":40188104802509,"title":"WHITE CLOUD \/ 6.5 \/ ELITE CALF","option1":"WHITE CLOUD","option2":"6.5","option3":"ELITE CALF","sku":"840237306854","requires_shipping":true,"taxable":true,"featured_image":{"id":29839809872077,"product_id":6759108051149,"position":19,"created_at":"2022-02-25T11:41:59-05:00","updated_at":"2022-08-26T13:17:39-04:00","alt":"3","width":1480,"height":1850,"src":"\/\/oncept.nyc\/cdn\/shop\/products\/MONACO-SIDE-WHITECLOUD.jpg?v=1661534259","variant_ids":[40188104638669,40188104802509,40188104966349,40188105130189,40188105294029,40188105457869,40188105621709,40188105818317,40691529777357]},"available":true,"name":"MONACO - WHITE CLOUD \/ 6.5 \/ ELITE CALF","public_title":"WHITE CLOUD \/ 6.5 \/ ELITE CALF","options":["WHITE CLOUD","6.5","ELITE CALF"],"price":30000,"weight":0,"compare_at_price":null,"inventory_management":"shopify","barcode":"840237306854","featured_media":{"alt":"3","id":22111857410253,"position":19,"preview_image":{"aspect_ratio":0.8,"height":1850,"width":1480,"src":"\/\/oncept.nyc\/cdn\/shop\/products\/MONACO-SIDE-WHITECLOUD.jpg?v=1661534259"}},"requires_selling_plan":false,"selling_plan_allocations":[]},{"id":40188104966349,"title":"WHITE CLOUD \/ 7 \/ ELITE CALF","option1":"WHITE CLOUD","option2":"7","option3":"ELITE CALF","sku":"840237306861","requires_shipping":true,"taxable":true,"featured_image":{"id":29839809872077,"product_id":6759108051149,"position":19,"created_at":"2022-02-25T11:41:59-05:00","updated_at":"2022-08-26T13:17:39-04:00","alt":"3","width":1480,"height":1850,"src":"\/\/oncept.nyc\/cdn\/shop\/products\/MONACO-SIDE-WHITECLOUD.jpg?v=1661534259","variant_ids":[40188104638669,40188104802509,40188104966349,40188105130189,40188105294029,40188105457869,40188105621709,40188105818317,40691529777357]},"available":true,"name":"MONACO - WHITE CLOUD \/ 7 \/ ELITE CALF","public_title":"WHITE CLOUD \/ 7 \/ ELITE CALF","options":["WHITE CLOUD","7","ELITE CALF"],"price":30000,"weight":0,"compare_at_price":null,"inventory_management":"shopify","barcode":"840237306861","featured_media":{"alt":"3","id":22111857410253,"position":19,"preview_image":{"aspect_ratio":0.8,"height":1850,"width":1480,"src":"\/\/oncept.nyc\/cdn\/shop\/products\/MONACO-SIDE-WHITECLOUD.jpg?v=1661534259"}},"requires_selling_plan":false,"selling_plan_allocations":[]},{"id":40188105130189,"title":"WHITE CLOUD \/ 7.5 \/ ELITE CALF","option1":"WHITE CLOUD","option2":"7.5","option3":"ELITE CALF","sku":"840237306878","requires_shipping":true,"taxable":true,"featured_image":{"id":29839809872077,"product_id":6759108051149,"position":19,"created_at":"2022-02-25T11:41:59-05:00","updated_at":"2022-08-26T13:17:39-04:00","alt":"3","width":1480,"height":1850,"src":"\/\/oncept.nyc\/cdn\/shop\/products\/MONACO-SIDE-WHITECLOUD.jpg?v=1661534259","variant_ids":[40188104638669,40188104802509,40188104966349,40188105130189,40188105294029,40188105457869,40188105621709,40188105818317,40691529777357]},"available":true,"name":"MONACO - WHITE CLOUD \/ 7.5 \/ ELITE CALF","public_title":"WHITE CLOUD \/ 7.5 \/ ELITE CALF","options":["WHITE CLOUD","7.5","ELITE CALF"],"price":30000,"weight":0,"compare_at_price":null,"inventory_management":"shopify","barcode":"840237306878","featured_media":{"alt":"3","id":22111857410253,"position":19,"preview_image":{"aspect_ratio":0.8,"height":1850,"width":1480,"src":"\/\/oncept.nyc\/cdn\/shop\/products\/MONACO-SIDE-WHITECLOUD.jpg?v=1661534259"}},"requires_selling_plan":false,"selling_plan_allocations":[]},{"id":40188105294029,"title":"WHITE CLOUD \/ 8 \/ ELITE CALF","option1":"WHITE CLOUD","option2":"8","option3":"ELITE CALF","sku":"840237306885","requires_shipping":true,"taxable":true,"featured_image":{"id":29839809872077,"product_id":6759108051149,"position":19,"created_at":"2022-02-25T11:41:59-05:00","updated_at":"2022-08-26T13:17:39-04:00","alt":"3","width":1480,"height":1850,"src":"\/\/oncept.nyc\/cdn\/shop\/products\/MONACO-SIDE-WHITECLOUD.jpg?v=1661534259","variant_ids":[40188104638669,40188104802509,40188104966349,40188105130189,40188105294029,40188105457869,40188105621709,40188105818317,40691529777357]},"available":true,"name":"MONACO - WHITE CLOUD \/ 8 \/ ELITE CALF","public_title":"WHITE CLOUD \/ 8 \/ ELITE CALF","options":["WHITE CLOUD","8","ELITE CALF"],"price":30000,"weight":0,"compare_at_price":null,"inventory_management":"shopify","barcode":"840237306885","featured_media":{"alt":"3","id":22111857410253,"position":19,"preview_image":{"aspect_ratio":0.8,"height":1850,"width":1480,"src":"\/\/oncept.nyc\/cdn\/shop\/products\/MONACO-SIDE-WHITECLOUD.jpg?v=1661534259"}},"requires_selling_plan":false,"selling_plan_allocations":[]},{"id":40188105457869,"title":"WHITE CLOUD \/ 8.5 \/ ELITE CALF","option1":"WHITE CLOUD","option2":"8.5","option3":"ELITE CALF","sku":"840237306892","requires_shipping":true,"taxable":true,"featured_image":{"id":29839809872077,"product_id":6759108051149,"position":19,"created_at":"2022-02-25T11:41:59-05:00","updated_at":"2022-08-26T13:17:39-04:00","alt":"3","width":1480,"height":1850,"src":"\/\/oncept.nyc\/cdn\/shop\/products\/MONACO-SIDE-WHITECLOUD.jpg?v=1661534259","variant_ids":[40188104638669,40188104802509,40188104966349,40188105130189,40188105294029,40188105457869,40188105621709,40188105818317,40691529777357]},"available":true,"name":"MONACO - WHITE CLOUD \/ 8.5 \/ ELITE CALF","public_title":"WHITE CLOUD \/ 8.5 \/ ELITE CALF","options":["WHITE CLOUD","8.5","ELITE CALF"],"price":30000,"weight":0,"compare_at_price":null,"inventory_management":"shopify","barcode":"840237306892","featured_media":{"alt":"3","id":22111857410253,"position":19,"preview_image":{"aspect_ratio":0.8,"height":1850,"width":1480,"src":"\/\/oncept.nyc\/cdn\/shop\/products\/MONACO-SIDE-WHITECLOUD.jpg?v=1661534259"}},"requires_selling_plan":false,"selling_plan_allocations":[]},{"id":40188105621709,"title":"WHITE CLOUD \/ 9 \/ ELITE CALF","option1":"WHITE CLOUD","option2":"9","option3":"ELITE CALF","sku":"840237306908","requires_shipping":true,"taxable":true,"featured_image":{"id":29839809872077,"product_id":6759108051149,"position":19,"created_at":"2022-02-25T11:41:59-05:00","updated_at":"2022-08-26T13:17:39-04:00","alt":"3","width":1480,"height":1850,"src":"\/\/oncept.nyc\/cdn\/shop\/products\/MONACO-SIDE-WHITECLOUD.jpg?v=1661534259","variant_ids":[40188104638669,40188104802509,40188104966349,40188105130189,40188105294029,40188105457869,40188105621709,40188105818317,40691529777357]},"available":true,"name":"MONACO - WHITE CLOUD \/ 9 \/ ELITE CALF","public_title":"WHITE CLOUD \/ 9 \/ ELITE CALF","options":["WHITE CLOUD","9","ELITE CALF"],"price":30000,"weight":0,"compare_at_price":null,"inventory_management":"shopify","barcode":"840237306908","featured_media":{"alt":"3","id":22111857410253,"position":19,"preview_image":{"aspect_ratio":0.8,"height":1850,"width":1480,"src":"\/\/oncept.nyc\/cdn\/shop\/products\/MONACO-SIDE-WHITECLOUD.jpg?v=1661534259"}},"requires_selling_plan":false,"selling_plan_allocations":[]},{"id":40188105818317,"title":"WHITE CLOUD \/ 9.5 \/ ELITE CALF","option1":"WHITE CLOUD","option2":"9.5","option3":"ELITE CALF","sku":"840237306915","requires_shipping":true,"taxable":true,"featured_image":{"id":29839809872077,"product_id":6759108051149,"position":19,"created_at":"2022-02-25T11:41:59-05:00","updated_at":"2022-08-26T13:17:39-04:00","alt":"3","width":1480,"height":1850,"src":"\/\/oncept.nyc\/cdn\/shop\/products\/MONACO-SIDE-WHITECLOUD.jpg?v=1661534259","variant_ids":[40188104638669,40188104802509,40188104966349,40188105130189,40188105294029,40188105457869,40188105621709,40188105818317,40691529777357]},"available":true,"name":"MONACO - WHITE CLOUD \/ 9.5 \/ ELITE CALF","public_title":"WHITE CLOUD \/ 9.5 \/ ELITE CALF","options":["WHITE CLOUD","9.5","ELITE CALF"],"price":30000,"weight":0,"compare_at_price":null,"inventory_management":"shopify","barcode":"840237306915","featured_media":{"alt":"3","id":22111857410253,"position":19,"preview_image":{"aspect_ratio":0.8,"height":1850,"width":1480,"src":"\/\/oncept.nyc\/cdn\/shop\/products\/MONACO-SIDE-WHITECLOUD.jpg?v=1661534259"}},"requires_selling_plan":false,"selling_plan_allocations":[]},{"id":40691529777357,"title":"WHITE CLOUD \/ 10 \/ ELITE CALF","option1":"WHITE CLOUD","option2":"10","option3":"ELITE CALF","sku":"840237306922","requires_shipping":true,"taxable":true,"featured_image":{"id":29839809872077,"product_id":6759108051149,"position":19,"created_at":"2022-02-25T11:41:59-05:00","updated_at":"2022-08-26T13:17:39-04:00","alt":"3","width":1480,"height":1850,"src":"\/\/oncept.nyc\/cdn\/shop\/products\/MONACO-SIDE-WHITECLOUD.jpg?v=1661534259","variant_ids":[40188104638669,40188104802509,40188104966349,40188105130189,40188105294029,40188105457869,40188105621709,40188105818317,40691529777357]},"available":true,"name":"MONACO - WHITE CLOUD \/ 10 \/ ELITE CALF","public_title":"WHITE CLOUD \/ 10 \/ ELITE CALF","options":["WHITE CLOUD","10","ELITE CALF"],"price":30000,"weight":0,"compare_at_price":null,"inventory_management":"shopify","barcode":"840237306922","featured_media":{"alt":"3","id":22111857410253,"position":19,"preview_image":{"aspect_ratio":0.8,"height":1850,"width":1480,"src":"\/\/oncept.nyc\/cdn\/shop\/products\/MONACO-SIDE-WHITECLOUD.jpg?v=1661534259"}},"requires_selling_plan":false,"selling_plan_allocations":[]},{"id":40324418765005,"title":"JADE \/ 6 \/ ELITE CALF","option1":"JADE","option2":"6","option3":"ELITE CALF","sku":"840237307110","requires_shipping":true,"taxable":true,"featured_image":{"id":29839809315021,"product_id":6759108051149,"position":25,"created_at":"2022-02-25T11:41:59-05:00","updated_at":"2022-08-26T13:17:39-04:00","alt":"4","width":1480,"height":1850,"src":"\/\/oncept.nyc\/cdn\/shop\/products\/MONACO-SIDE-JADE.jpg?v=1661534259","variant_ids":[40324418765005,40324418797773,40324418830541,40324418863309,40324418896077,40324418928845,40324418961613,40324418994381,40324419027149]},"available":true,"name":"MONACO - JADE \/ 6 \/ ELITE CALF","public_title":"JADE \/ 6 \/ ELITE CALF","options":["JADE","6","ELITE CALF"],"price":30000,"weight":0,"compare_at_price":null,"inventory_management":"shopify","barcode":"840237307110","featured_media":{"alt":"4","id":22111857311949,"position":25,"preview_image":{"aspect_ratio":0.8,"height":1850,"width":1480,"src":"\/\/oncept.nyc\/cdn\/shop\/products\/MONACO-SIDE-JADE.jpg?v=1661534259"}},"requires_selling_plan":false,"selling_plan_allocations":[]},{"id":40324418797773,"title":"JADE \/ 6.5 \/ ELITE CALF","option1":"JADE","option2":"6.5","option3":"ELITE CALF","sku":"840237307127","requires_shipping":true,"taxable":true,"featured_image":{"id":29839809315021,"product_id":6759108051149,"position":25,"created_at":"2022-02-25T11:41:59-05:00","updated_at":"2022-08-26T13:17:39-04:00","alt":"4","width":1480,"height":1850,"src":"\/\/oncept.nyc\/cdn\/shop\/products\/MONACO-SIDE-JADE.jpg?v=1661534259","variant_ids":[40324418765005,40324418797773,40324418830541,40324418863309,40324418896077,40324418928845,40324418961613,40324418994381,40324419027149]},"available":true,"name":"MONACO - JADE \/ 6.5 \/ ELITE CALF","public_title":"JADE \/ 6.5 \/ ELITE CALF","options":["JADE","6.5","ELITE CALF"],"price":30000,"weight":0,"compare_at_price":null,"inventory_management":"shopify","barcode":"840237307127","featured_media":{"alt":"4","id":22111857311949,"position":25,"preview_image":{"aspect_ratio":0.8,"height":1850,"width":1480,"src":"\/\/oncept.nyc\/cdn\/shop\/products\/MONACO-SIDE-JADE.jpg?v=1661534259"}},"requires_selling_plan":false,"selling_plan_allocations":[]},{"id":40324418830541,"title":"JADE \/ 7 \/ ELITE CALF","option1":"JADE","option2":"7","option3":"ELITE CALF","sku":"840237307134","requires_shipping":true,"taxable":true,"featured_image":{"id":29839809315021,"product_id":6759108051149,"position":25,"created_at":"2022-02-25T11:41:59-05:00","updated_at":"2022-08-26T13:17:39-04:00","alt":"4","width":1480,"height":1850,"src":"\/\/oncept.nyc\/cdn\/shop\/products\/MONACO-SIDE-JADE.jpg?v=1661534259","variant_ids":[40324418765005,40324418797773,40324418830541,40324418863309,40324418896077,40324418928845,40324418961613,40324418994381,40324419027149]},"available":true,"name":"MONACO - JADE \/ 7 \/ ELITE CALF","public_title":"JADE \/ 7 \/ ELITE CALF","options":["JADE","7","ELITE CALF"],"price":30000,"weight":0,"compare_at_price":null,"inventory_management":"shopify","barcode":"840237307134","featured_media":{"alt":"4","id":22111857311949,"position":25,"preview_image":{"aspect_ratio":0.8,"height":1850,"width":1480,"src":"\/\/oncept.nyc\/cdn\/shop\/products\/MONACO-SIDE-JADE.jpg?v=1661534259"}},"requires_selling_plan":false,"selling_plan_allocations":[]},{"id":40324418863309,"title":"JADE \/ 7.5 \/ ELITE CALF","option1":"JADE","option2":"7.5","option3":"ELITE CALF","sku":"840237307141","requires_shipping":true,"taxable":true,"featured_image":{"id":29839809315021,"product_id":6759108051149,"position":25,"created_at":"2022-02-25T11:41:59-05:00","updated_at":"2022-08-26T13:17:39-04:00","alt":"4","width":1480,"height":1850,"src":"\/\/oncept.nyc\/cdn\/shop\/products\/MONACO-SIDE-JADE.jpg?v=1661534259","variant_ids":[40324418765005,40324418797773,40324418830541,40324418863309,40324418896077,40324418928845,40324418961613,40324418994381,40324419027149]},"available":true,"name":"MONACO - JADE \/ 7.5 \/ ELITE CALF","public_title":"JADE \/ 7.5 \/ ELITE CALF","options":["JADE","7.5","ELITE CALF"],"price":30000,"weight":0,"compare_at_price":null,"inventory_management":"shopify","barcode":"840237307141","featured_media":{"alt":"4","id":22111857311949,"position":25,"preview_image":{"aspect_ratio":0.8,"height":1850,"width":1480,"src":"\/\/oncept.nyc\/cdn\/shop\/products\/MONACO-SIDE-JADE.jpg?v=1661534259"}},"requires_selling_plan":false,"selling_plan_allocations":[]},{"id":40324418896077,"title":"JADE \/ 8 \/ ELITE CALF","option1":"JADE","option2":"8","option3":"ELITE CALF","sku":"840237307158","requires_shipping":true,"taxable":true,"featured_image":{"id":29839809315021,"product_id":6759108051149,"position":25,"created_at":"2022-02-25T11:41:59-05:00","updated_at":"2022-08-26T13:17:39-04:00","alt":"4","width":1480,"height":1850,"src":"\/\/oncept.nyc\/cdn\/shop\/products\/MONACO-SIDE-JADE.jpg?v=1661534259","variant_ids":[40324418765005,40324418797773,40324418830541,40324418863309,40324418896077,40324418928845,40324418961613,40324418994381,40324419027149]},"available":true,"name":"MONACO - JADE \/ 8 \/ ELITE CALF","public_title":"JADE \/ 8 \/ ELITE CALF","options":["JADE","8","ELITE CALF"],"price":30000,"weight":0,"compare_at_price":null,"inventory_management":"shopify","barcode":"840237307158","featured_media":{"alt":"4","id":22111857311949,"position":25,"preview_image":{"aspect_ratio":0.8,"height":1850,"width":1480,"src":"\/\/oncept.nyc\/cdn\/shop\/products\/MONACO-SIDE-JADE.jpg?v=1661534259"}},"requires_selling_plan":false,"selling_plan_allocations":[]},{"id":40324418928845,"title":"JADE \/ 8.5 \/ ELITE CALF","option1":"JADE","option2":"8.5","option3":"ELITE CALF","sku":"840237307165","requires_shipping":true,"taxable":true,"featured_image":{"id":29839809315021,"product_id":6759108051149,"position":25,"created_at":"2022-02-25T11:41:59-05:00","updated_at":"2022-08-26T13:17:39-04:00","alt":"4","width":1480,"height":1850,"src":"\/\/oncept.nyc\/cdn\/shop\/products\/MONACO-SIDE-JADE.jpg?v=1661534259","variant_ids":[40324418765005,40324418797773,40324418830541,40324418863309,40324418896077,40324418928845,40324418961613,40324418994381,40324419027149]},"available":true,"name":"MONACO - JADE \/ 8.5 \/ ELITE CALF","public_title":"JADE \/ 8.5 \/ ELITE CALF","options":["JADE","8.5","ELITE CALF"],"price":30000,"weight":0,"compare_at_price":null,"inventory_management":"shopify","barcode":"840237307165","featured_media":{"alt":"4","id":22111857311949,"position":25,"preview_image":{"aspect_ratio":0.8,"height":1850,"width":1480,"src":"\/\/oncept.nyc\/cdn\/shop\/products\/MONACO-SIDE-JADE.jpg?v=1661534259"}},"requires_selling_plan":false,"selling_plan_allocations":[]},{"id":40324418961613,"title":"JADE \/ 9 \/ ELITE CALF","option1":"JADE","option2":"9","option3":"ELITE CALF","sku":"840237307172","requires_shipping":true,"taxable":true,"featured_image":{"id":29839809315021,"product_id":6759108051149,"position":25,"created_at":"2022-02-25T11:41:59-05:00","updated_at":"2022-08-26T13:17:39-04:00","alt":"4","width":1480,"height":1850,"src":"\/\/oncept.nyc\/cdn\/shop\/products\/MONACO-SIDE-JADE.jpg?v=1661534259","variant_ids":[40324418765005,40324418797773,40324418830541,40324418863309,40324418896077,40324418928845,40324418961613,40324418994381,40324419027149]},"available":true,"name":"MONACO - JADE \/ 9 \/ ELITE CALF","public_title":"JADE \/ 9 \/ ELITE CALF","options":["JADE","9","ELITE CALF"],"price":30000,"weight":0,"compare_at_price":null,"inventory_management":"shopify","barcode":"840237307172","featured_media":{"alt":"4","id":22111857311949,"position":25,"preview_image":{"aspect_ratio":0.8,"height":1850,"width":1480,"src":"\/\/oncept.nyc\/cdn\/shop\/products\/MONACO-SIDE-JADE.jpg?v=1661534259"}},"requires_selling_plan":false,"selling_plan_allocations":[]},{"id":40324418994381,"title":"JADE \/ 9.5 \/ ELITE CALF","option1":"JADE","option2":"9.5","option3":"ELITE CALF","sku":"840237307189","requires_shipping":true,"taxable":true,"featured_image":{"id":29839809315021,"product_id":6759108051149,"position":25,"created_at":"2022-02-25T11:41:59-05:00","updated_at":"2022-08-26T13:17:39-04:00","alt":"4","width":1480,"height":1850,"src":"\/\/oncept.nyc\/cdn\/shop\/products\/MONACO-SIDE-JADE.jpg?v=1661534259","variant_ids":[40324418765005,40324418797773,40324418830541,40324418863309,40324418896077,40324418928845,40324418961613,40324418994381,40324419027149]},"available":true,"name":"MONACO - JADE \/ 9.5 \/ ELITE CALF","public_title":"JADE \/ 9.5 \/ ELITE CALF","options":["JADE","9.5","ELITE CALF"],"price":30000,"weight":0,"compare_at_price":null,"inventory_management":"shopify","barcode":"840237307189","featured_media":{"alt":"4","id":22111857311949,"position":25,"preview_image":{"aspect_ratio":0.8,"height":1850,"width":1480,"src":"\/\/oncept.nyc\/cdn\/shop\/products\/MONACO-SIDE-JADE.jpg?v=1661534259"}},"requires_selling_plan":false,"selling_plan_allocations":[]},{"id":40324419027149,"title":"JADE \/ 10 \/ ELITE CALF","option1":"JADE","option2":"10","option3":"ELITE CALF","sku":"840237307196","requires_shipping":true,"taxable":true,"featured_image":{"id":29839809315021,"product_id":6759108051149,"position":25,"created_at":"2022-02-25T11:41:59-05:00","updated_at":"2022-08-26T13:17:39-04:00","alt":"4","width":1480,"height":1850,"src":"\/\/oncept.nyc\/cdn\/shop\/products\/MONACO-SIDE-JADE.jpg?v=1661534259","variant_ids":[40324418765005,40324418797773,40324418830541,40324418863309,40324418896077,40324418928845,40324418961613,40324418994381,40324419027149]},"available":true,"name":"MONACO - JADE \/ 10 \/ ELITE CALF","public_title":"JADE \/ 10 \/ ELITE CALF","options":["JADE","10","ELITE CALF"],"price":30000,"weight":0,"compare_at_price":null,"inventory_management":"shopify","barcode":"840237307196","featured_media":{"alt":"4","id":22111857311949,"position":25,"preview_image":{"aspect_ratio":0.8,"height":1850,"width":1480,"src":"\/\/oncept.nyc\/cdn\/shop\/products\/MONACO-SIDE-JADE.jpg?v=1661534259"}},"requires_selling_plan":false,"selling_plan_allocations":[]}],"images":["\/\/oncept.nyc\/cdn\/shop\/products\/MONACO-SIDE-OAK.jpg?v=1660885137","\/\/oncept.nyc\/cdn\/shop\/products\/MONACO-TOP-OAK.jpg?v=1660885137","\/\/oncept.nyc\/cdn\/shop\/products\/MONACO-BACK-OAK.jpg?v=1660885137","\/\/oncept.nyc\/cdn\/shop\/products\/MONACO-OUTSOLE-OAK.jpg?v=1660885137","\/\/oncept.nyc\/cdn\/shop\/products\/MONACO-SOFTNESS-OAK.jpg?v=1660885137","\/\/oncept.nyc\/cdn\/shop\/products\/MONACO-ONFOOT-OAK.jpg?v=1660885137","\/\/oncept.nyc\/cdn\/shop\/products\/MONACO-SIDE-BLACK.jpg?v=1660885137","\/\/oncept.nyc\/cdn\/shop\/products\/MONACO-TOP-BLACK.jpg?v=1660885137","\/\/oncept.nyc\/cdn\/shop\/products\/MONACO-BACK-BLACK.jpg?v=1660885137","\/\/oncept.nyc\/cdn\/shop\/products\/MONACO-OUTSOLE-BLACK.jpg?v=1660885137","\/\/oncept.nyc\/cdn\/shop\/products\/MONACO-SOFTNESS-BLACK.jpg?v=1660885137","\/\/oncept.nyc\/cdn\/shop\/products\/MONACO-ONFOOT-BLACK-min.jpg?v=1661534259","\/\/oncept.nyc\/cdn\/shop\/products\/MONACO-SIDE-PRISMPINK.jpg?v=1661534259","\/\/oncept.nyc\/cdn\/shop\/products\/MONACO-TOP-PRISMPINK.jpg?v=1661534259","\/\/oncept.nyc\/cdn\/shop\/products\/MONACO-BACK-PRISMPINK.jpg?v=1661534259","\/\/oncept.nyc\/cdn\/shop\/products\/MONACO-OUTSOLE-PRISMPINK.jpg?v=1661534259","\/\/oncept.nyc\/cdn\/shop\/products\/MONACO-SOFTNESS-PRISMPINK.jpg?v=1661534259","\/\/oncept.nyc\/cdn\/shop\/products\/MONACO-ONFOOT-PINKPRISM-min.jpg?v=1661534259","\/\/oncept.nyc\/cdn\/shop\/products\/MONACO-SIDE-WHITECLOUD.jpg?v=1661534259","\/\/oncept.nyc\/cdn\/shop\/products\/MONACO-TOP-WHITECLOUD.jpg?v=1661534259","\/\/oncept.nyc\/cdn\/shop\/products\/MONACO-BACK-WHITECLOUD.jpg?v=1661534259","\/\/oncept.nyc\/cdn\/shop\/products\/MONACO-OUTSOLE-WHITECLOUD.jpg?v=1661534259","\/\/oncept.nyc\/cdn\/shop\/products\/MONACO-SOFTNESS-WHITECLOUD.jpg?v=1661534259","\/\/oncept.nyc\/cdn\/shop\/products\/MONACO-ONFOOT-WHITECLOUD-min.jpg?v=1661534259","\/\/oncept.nyc\/cdn\/shop\/products\/MONACO-SIDE-JADE.jpg?v=1661534259","\/\/oncept.nyc\/cdn\/shop\/products\/MONACO-TOP-JADE.jpg?v=1661534259","\/\/oncept.nyc\/cdn\/shop\/products\/MONACO-BACK-JADE.jpg?v=1661534259","\/\/oncept.nyc\/cdn\/shop\/products\/MONACO-OUTSOLE-JADE.jpg?v=1661534259","\/\/oncept.nyc\/cdn\/shop\/products\/MONACO-ONFOOT-JADE-min.jpg?v=1661534259","\/\/oncept.nyc\/cdn\/shop\/products\/MONACO-SOFTNESS-JADE.jpg?v=1661534259"],"featured_image":"\/\/oncept.nyc\/cdn\/shop\/products\/MONACO-SIDE-OAK.jpg?v=1660885137","options":["Color","Size","Material"],"media":[{"alt":"0","id":22111857344717,"position":1,"preview_image":{"aspect_ratio":0.8,"height":1850,"width":1480,"src":"\/\/oncept.nyc\/cdn\/shop\/products\/MONACO-SIDE-OAK.jpg?v=1660885137"},"aspect_ratio":0.8,"height":1850,"media_type":"image","src":"\/\/oncept.nyc\/cdn\/shop\/products\/MONACO-SIDE-OAK.jpg?v=1660885137","width":1480},{"alt":"0","id":22111857672397,"position":2,"preview_image":{"aspect_ratio":0.8,"height":1850,"width":1480,"src":"\/\/oncept.nyc\/cdn\/shop\/products\/MONACO-TOP-OAK.jpg?v=1660885137"},"aspect_ratio":0.8,"height":1850,"media_type":"image","src":"\/\/oncept.nyc\/cdn\/shop\/products\/MONACO-TOP-OAK.jpg?v=1660885137","width":1480},{"alt":"0","id":22111857017037,"position":3,"preview_image":{"aspect_ratio":0.8,"height":1850,"width":1480,"src":"\/\/oncept.nyc\/cdn\/shop\/products\/MONACO-BACK-OAK.jpg?v=1660885137"},"aspect_ratio":0.8,"height":1850,"media_type":"image","src":"\/\/oncept.nyc\/cdn\/shop\/products\/MONACO-BACK-OAK.jpg?v=1660885137","width":1480},{"alt":"0","id":22111857180877,"position":4,"preview_image":{"aspect_ratio":0.8,"height":1850,"width":1480,"src":"\/\/oncept.nyc\/cdn\/shop\/products\/MONACO-OUTSOLE-OAK.jpg?v=1660885137"},"aspect_ratio":0.8,"height":1850,"media_type":"image","src":"\/\/oncept.nyc\/cdn\/shop\/products\/MONACO-OUTSOLE-OAK.jpg?v=1660885137","width":1480},{"alt":"0","id":22111857508557,"position":5,"preview_image":{"aspect_ratio":0.8,"height":1850,"width":1480,"src":"\/\/oncept.nyc\/cdn\/shop\/products\/MONACO-SOFTNESS-OAK.jpg?v=1660885137"},"aspect_ratio":0.8,"height":1850,"media_type":"image","src":"\/\/oncept.nyc\/cdn\/shop\/products\/MONACO-SOFTNESS-OAK.jpg?v=1660885137","width":1480},{"alt":"0","id":22109149167821,"position":6,"preview_image":{"aspect_ratio":0.8,"height":925,"width":740,"src":"\/\/oncept.nyc\/cdn\/shop\/products\/MONACO-ONFOOT-OAK.jpg?v=1660885137"},"aspect_ratio":0.8,"height":925,"media_type":"image","src":"\/\/oncept.nyc\/cdn\/shop\/products\/MONACO-ONFOOT-OAK.jpg?v=1660885137","width":740},{"alt":"1","id":22111857279181,"position":7,"preview_image":{"aspect_ratio":0.8,"height":1850,"width":1480,"src":"\/\/oncept.nyc\/cdn\/shop\/products\/MONACO-SIDE-BLACK.jpg?v=1660885137"},"aspect_ratio":0.8,"height":1850,"media_type":"image","src":"\/\/oncept.nyc\/cdn\/shop\/products\/MONACO-SIDE-BLACK.jpg?v=1660885137","width":1480},{"alt":"1","id":22111857606861,"position":8,"preview_image":{"aspect_ratio":0.8,"height":1850,"width":1480,"src":"\/\/oncept.nyc\/cdn\/shop\/products\/MONACO-TOP-BLACK.jpg?v=1660885137"},"aspect_ratio":0.8,"height":1850,"media_type":"image","src":"\/\/oncept.nyc\/cdn\/shop\/products\/MONACO-TOP-BLACK.jpg?v=1660885137","width":1480},{"alt":"1","id":22111856951501,"position":9,"preview_image":{"aspect_ratio":0.8,"height":1850,"width":1480,"src":"\/\/oncept.nyc\/cdn\/shop\/products\/MONACO-BACK-BLACK.jpg?v=1660885137"},"aspect_ratio":0.8,"height":1850,"media_type":"image","src":"\/\/oncept.nyc\/cdn\/shop\/products\/MONACO-BACK-BLACK.jpg?v=1660885137","width":1480},{"alt":"1","id":22111857115341,"position":10,"preview_image":{"aspect_ratio":0.8,"height":1850,"width":1480,"src":"\/\/oncept.nyc\/cdn\/shop\/products\/MONACO-OUTSOLE-BLACK.jpg?v=1660885137"},"aspect_ratio":0.8,"height":1850,"media_type":"image","src":"\/\/oncept.nyc\/cdn\/shop\/products\/MONACO-OUTSOLE-BLACK.jpg?v=1660885137","width":1480},{"alt":"1","id":22111857443021,"position":11,"preview_image":{"aspect_ratio":0.8,"height":1850,"width":1480,"src":"\/\/oncept.nyc\/cdn\/shop\/products\/MONACO-SOFTNESS-BLACK.jpg?v=1660885137"},"aspect_ratio":0.8,"height":1850,"media_type":"image","src":"\/\/oncept.nyc\/cdn\/shop\/products\/MONACO-SOFTNESS-BLACK.jpg?v=1660885137","width":1480},{"alt":"1","id":22913647018189,"position":12,"preview_image":{"aspect_ratio":0.8,"height":3700,"width":2960,"src":"\/\/oncept.nyc\/cdn\/shop\/products\/MONACO-ONFOOT-BLACK-min.jpg?v=1661534259"},"aspect_ratio":0.8,"height":3700,"media_type":"image","src":"\/\/oncept.nyc\/cdn\/shop\/products\/MONACO-ONFOOT-BLACK-min.jpg?v=1661534259","width":2960},{"alt":"2","id":22111857377485,"position":13,"preview_image":{"aspect_ratio":0.8,"height":1850,"width":1480,"src":"\/\/oncept.nyc\/cdn\/shop\/products\/MONACO-SIDE-PRISMPINK.jpg?v=1661534259"},"aspect_ratio":0.8,"height":1850,"media_type":"image","src":"\/\/oncept.nyc\/cdn\/shop\/products\/MONACO-SIDE-PRISMPINK.jpg?v=1661534259","width":1480},{"alt":"2","id":22111857705165,"position":14,"preview_image":{"aspect_ratio":0.8,"height":1850,"width":1480,"src":"\/\/oncept.nyc\/cdn\/shop\/products\/MONACO-TOP-PRISMPINK.jpg?v=1661534259"},"aspect_ratio":0.8,"height":1850,"media_type":"image","src":"\/\/oncept.nyc\/cdn\/shop\/products\/MONACO-TOP-PRISMPINK.jpg?v=1661534259","width":1480},{"alt":"2","id":22111857049805,"position":15,"preview_image":{"aspect_ratio":0.8,"height":1850,"width":1480,"src":"\/\/oncept.nyc\/cdn\/shop\/products\/MONACO-BACK-PRISMPINK.jpg?v=1661534259"},"aspect_ratio":0.8,"height":1850,"media_type":"image","src":"\/\/oncept.nyc\/cdn\/shop\/products\/MONACO-BACK-PRISMPINK.jpg?v=1661534259","width":1480},{"alt":"2","id":22111857213645,"position":16,"preview_image":{"aspect_ratio":0.8,"height":1850,"width":1480,"src":"\/\/oncept.nyc\/cdn\/shop\/products\/MONACO-OUTSOLE-PRISMPINK.jpg?v=1661534259"},"aspect_ratio":0.8,"height":1850,"media_type":"image","src":"\/\/oncept.nyc\/cdn\/shop\/products\/MONACO-OUTSOLE-PRISMPINK.jpg?v=1661534259","width":1480},{"alt":"2","id":22111857541325,"position":17,"preview_image":{"aspect_ratio":0.8,"height":1850,"width":1480,"src":"\/\/oncept.nyc\/cdn\/shop\/products\/MONACO-SOFTNESS-PRISMPINK.jpg?v=1661534259"},"aspect_ratio":0.8,"height":1850,"media_type":"image","src":"\/\/oncept.nyc\/cdn\/shop\/products\/MONACO-SOFTNESS-PRISMPINK.jpg?v=1661534259","width":1480},{"alt":"2","id":22913647083725,"position":18,"preview_image":{"aspect_ratio":0.8,"height":3700,"width":2960,"src":"\/\/oncept.nyc\/cdn\/shop\/products\/MONACO-ONFOOT-PINKPRISM-min.jpg?v=1661534259"},"aspect_ratio":0.8,"height":3700,"media_type":"image","src":"\/\/oncept.nyc\/cdn\/shop\/products\/MONACO-ONFOOT-PINKPRISM-min.jpg?v=1661534259","width":2960},{"alt":"3","id":22111857410253,"position":19,"preview_image":{"aspect_ratio":0.8,"height":1850,"width":1480,"src":"\/\/oncept.nyc\/cdn\/shop\/products\/MONACO-SIDE-WHITECLOUD.jpg?v=1661534259"},"aspect_ratio":0.8,"height":1850,"media_type":"image","src":"\/\/oncept.nyc\/cdn\/shop\/products\/MONACO-SIDE-WHITECLOUD.jpg?v=1661534259","width":1480},{"alt":"3","id":22111857737933,"position":20,"preview_image":{"aspect_ratio":0.8,"height":1850,"width":1480,"src":"\/\/oncept.nyc\/cdn\/shop\/products\/MONACO-TOP-WHITECLOUD.jpg?v=1661534259"},"aspect_ratio":0.8,"height":1850,"media_type":"image","src":"\/\/oncept.nyc\/cdn\/shop\/products\/MONACO-TOP-WHITECLOUD.jpg?v=1661534259","width":1480},{"alt":"3","id":22111857082573,"position":21,"preview_image":{"aspect_ratio":0.8,"height":1850,"width":1480,"src":"\/\/oncept.nyc\/cdn\/shop\/products\/MONACO-BACK-WHITECLOUD.jpg?v=1661534259"},"aspect_ratio":0.8,"height":1850,"media_type":"image","src":"\/\/oncept.nyc\/cdn\/shop\/products\/MONACO-BACK-WHITECLOUD.jpg?v=1661534259","width":1480},{"alt":"3","id":22111857246413,"position":22,"preview_image":{"aspect_ratio":0.8,"height":1850,"width":1480,"src":"\/\/oncept.nyc\/cdn\/shop\/products\/MONACO-OUTSOLE-WHITECLOUD.jpg?v=1661534259"},"aspect_ratio":0.8,"height":1850,"media_type":"image","src":"\/\/oncept.nyc\/cdn\/shop\/products\/MONACO-OUTSOLE-WHITECLOUD.jpg?v=1661534259","width":1480},{"alt":"3","id":22111857574093,"position":23,"preview_image":{"aspect_ratio":0.8,"height":1850,"width":1480,"src":"\/\/oncept.nyc\/cdn\/shop\/products\/MONACO-SOFTNESS-WHITECLOUD.jpg?v=1661534259"},"aspect_ratio":0.8,"height":1850,"media_type":"image","src":"\/\/oncept.nyc\/cdn\/shop\/products\/MONACO-SOFTNESS-WHITECLOUD.jpg?v=1661534259","width":1480},{"alt":"3","id":22913647116493,"position":24,"preview_image":{"aspect_ratio":0.8,"height":3700,"width":2960,"src":"\/\/oncept.nyc\/cdn\/shop\/products\/MONACO-ONFOOT-WHITECLOUD-min.jpg?v=1661534259"},"aspect_ratio":0.8,"height":3700,"media_type":"image","src":"\/\/oncept.nyc\/cdn\/shop\/products\/MONACO-ONFOOT-WHITECLOUD-min.jpg?v=1661534259","width":2960},{"alt":"4","id":22111857311949,"position":25,"preview_image":{"aspect_ratio":0.8,"height":1850,"width":1480,"src":"\/\/oncept.nyc\/cdn\/shop\/products\/MONACO-SIDE-JADE.jpg?v=1661534259"},"aspect_ratio":0.8,"height":1850,"media_type":"image","src":"\/\/oncept.nyc\/cdn\/shop\/products\/MONACO-SIDE-JADE.jpg?v=1661534259","width":1480},{"alt":"4","id":22111857639629,"position":26,"preview_image":{"aspect_ratio":0.8,"height":1850,"width":1480,"src":"\/\/oncept.nyc\/cdn\/shop\/products\/MONACO-TOP-JADE.jpg?v=1661534259"},"aspect_ratio":0.8,"height":1850,"media_type":"image","src":"\/\/oncept.nyc\/cdn\/shop\/products\/MONACO-TOP-JADE.jpg?v=1661534259","width":1480},{"alt":"4","id":22111856984269,"position":27,"preview_image":{"aspect_ratio":0.8,"height":1850,"width":1480,"src":"\/\/oncept.nyc\/cdn\/shop\/products\/MONACO-BACK-JADE.jpg?v=1661534259"},"aspect_ratio":0.8,"height":1850,"media_type":"image","src":"\/\/oncept.nyc\/cdn\/shop\/products\/MONACO-BACK-JADE.jpg?v=1661534259","width":1480},{"alt":"4","id":22111857148109,"position":28,"preview_image":{"aspect_ratio":0.8,"height":1850,"width":1480,"src":"\/\/oncept.nyc\/cdn\/shop\/products\/MONACO-OUTSOLE-JADE.jpg?v=1661534259"},"aspect_ratio":0.8,"height":1850,"media_type":"image","src":"\/\/oncept.nyc\/cdn\/shop\/products\/MONACO-OUTSOLE-JADE.jpg?v=1661534259","width":1480},{"alt":"4","id":22913647050957,"position":29,"preview_image":{"aspect_ratio":0.8,"height":3700,"width":2960,"src":"\/\/oncept.nyc\/cdn\/shop\/products\/MONACO-ONFOOT-JADE-min.jpg?v=1661534259"},"aspect_ratio":0.8,"height":3700,"media_type":"image","src":"\/\/oncept.nyc\/cdn\/shop\/products\/MONACO-ONFOOT-JADE-min.jpg?v=1661534259","width":2960},{"alt":"4","id":22111857475789,"position":30,"preview_image":{"aspect_ratio":0.8,"height":1850,"width":1480,"src":"\/\/oncept.nyc\/cdn\/shop\/products\/MONACO-SOFTNESS-JADE.jpg?v=1661534259"},"aspect_ratio":0.8,"height":1850,"media_type":"image","src":"\/\/oncept.nyc\/cdn\/shop\/products\/MONACO-SOFTNESS-JADE.jpg?v=1661534259","width":1480}],"requires_selling_plan":false,"selling_plan_groups":[],"content":"\u003cmeta charset=\"utf-8\"\u003e\u003cspan data-mce-fragment=\"1\"\u003eMONACO is the most coveted dress sandal of the season.  Barely-there chic that will take you from day to night in style and comfort.  Our signature bio based memory foam cushion system is designed for ultimate comfort.  Elite calf leather upper and Italian leather outsole round out this luxurious dress heel. \u003c\/span\u003e\u003cbr data-mce-fragment=\"1\"\u003e\u003cbr\u003e"} { "options": [ { "title": "Color", "values": [ { "value": "OAK", "url": "/products/monaco?variant=40188104704205" }, { "value": "BLACK", "url": "/products/monaco?variant=40188104671437" }, { "value": "PRISM PINK", "url": "/products/monaco?variant=40188104736973" }, { "value": "WHITE CLOUD", "url": "/products/monaco?variant=40188104638669" }, { "value": "JADE", "url": "/products/monaco?variant=40324418765005" } ] }, { "title": "Size", "values": [ { "value": "6", "url": "/products/monaco?variant=40188104704205" }, { "value": "6.5", "url": "/products/monaco?variant=40188104868045" }, { "value": "7", "url": "/products/monaco?variant=40188105031885" }, { "value": "7.5", "url": "/products/monaco?variant=40188105195725" }, { "value": "8", "url": "/products/monaco?variant=40188105359565" }, { "value": "8.5", "url": "/products/monaco?variant=40188105523405" }, { "value": "9", "url": "/products/monaco?variant=40188105687245" }, { "value": "9.5", "url": "/products/monaco?variant=40188105883853" }, { "value": "10", "url": "/products/monaco?variant=40188106014925" } ] }, { "title": "Material", "values": [ { "value": "ELITE CALF", "url": "/products/monaco?variant=40188104704205" } ] } ] }
{"id":6759176896717,"title":"CAPRI","handle":"capri","description":"\u003cp\u003eThe CAPRI our the Summer Toe Thong is ready for your much needed vacation.  Featuring an ultra light and flexible recycled EVA bottom it is the perfect sandal that is ready to pack and go.  Always elevated you will feel like you are walking on a bed of clouds.\u003c\/p\u003e\n\u003cp\u003e \u003c\/p\u003e","published_at":"2023-02-24T12:04:10-05:00","created_at":"2021-09-09T16:40:49-04:00","vendor":"Oncept","type":"Footwear","tags":["CASUAL","sandal","thong"],"price":25000,"price_min":25000,"price_max":25000,"available":true,"price_varies":false,"compare_at_price":null,"compare_at_price_min":0,"compare_at_price_max":0,"compare_at_price_varies":false,"variants":[{"id":40706613149901,"title":"OAK \/ 6 \/ ELITE CALF","option1":"OAK","option2":"6","option3":"ELITE CALF","sku":"840237308735","requires_shipping":true,"taxable":true,"featured_image":{"id":30632609972429,"product_id":6759176896717,"position":1,"created_at":"2022-08-26T13:28:23-04:00","updated_at":"2022-08-26T13:31:51-04:00","alt":"0","width":2960,"height":3700,"src":"\/\/oncept.nyc\/cdn\/shop\/products\/CAPRI-SIDE-OAK-min.jpg?v=1661535111","variant_ids":[40706613149901,40706613248205,40706613346509,40706613444813,40706613543117,40706613641421,40706613739725,40706613838029,40706613936333]},"available":true,"name":"CAPRI - OAK \/ 6 \/ ELITE CALF","public_title":"OAK \/ 6 \/ ELITE CALF","options":["OAK","6","ELITE CALF"],"price":25000,"weight":0,"compare_at_price":null,"inventory_management":"shopify","barcode":"840237308735","featured_media":{"alt":"0","id":22913681948877,"position":1,"preview_image":{"aspect_ratio":0.8,"height":3700,"width":2960,"src":"\/\/oncept.nyc\/cdn\/shop\/products\/CAPRI-SIDE-OAK-min.jpg?v=1661535111"}},"requires_selling_plan":false,"selling_plan_allocations":[]},{"id":40706613182669,"title":"OFF WHITE \/ 6 \/ ELITE CALF","option1":"OFF WHITE","option2":"6","option3":"ELITE CALF","sku":"840237308643","requires_shipping":true,"taxable":true,"featured_image":{"id":30632610332877,"product_id":6759176896717,"position":7,"created_at":"2022-08-26T13:28:23-04:00","updated_at":"2022-08-26T13:31:51-04:00","alt":"1","width":2960,"height":3700,"src":"\/\/oncept.nyc\/cdn\/shop\/products\/CAPRI-SIDE-IVORY-min.jpg?v=1661535111","variant_ids":[40706613182669,40706613280973,40706613379277,40706613477581,40706613575885,40706613674189,40706613772493,40706613870797,40706613969101]},"available":false,"name":"CAPRI - OFF WHITE \/ 6 \/ ELITE CALF","public_title":"OFF WHITE \/ 6 \/ ELITE CALF","options":["OFF WHITE","6","ELITE CALF"],"price":25000,"weight":0,"compare_at_price":null,"inventory_management":"shopify","barcode":"840237308643","featured_media":{"alt":"1","id":22913681916109,"position":7,"preview_image":{"aspect_ratio":0.8,"height":3700,"width":2960,"src":"\/\/oncept.nyc\/cdn\/shop\/products\/CAPRI-SIDE-IVORY-min.jpg?v=1661535111"}},"requires_selling_plan":false,"selling_plan_allocations":[]},{"id":40706613215437,"title":"BLACK \/ 6 \/ ELITE CALF","option1":"BLACK","option2":"6","option3":"ELITE CALF","sku":"840237308551","requires_shipping":true,"taxable":true,"featured_image":{"id":30632610201805,"product_id":6759176896717,"position":13,"created_at":"2022-08-26T13:28:23-04:00","updated_at":"2023-01-05T15:49:11-05:00","alt":"2","width":2960,"height":3700,"src":"\/\/oncept.nyc\/cdn\/shop\/products\/CAPRI-SIDE-BLACK-min.jpg?v=1672951751","variant_ids":[40706613215437,40706613313741,40706613412045,40706613510349,40706613608653,40706613706957,40706613805261,40706613903565,40706614001869]},"available":false,"name":"CAPRI - BLACK \/ 6 \/ ELITE CALF","public_title":"BLACK \/ 6 \/ ELITE CALF","options":["BLACK","6","ELITE CALF"],"price":25000,"weight":0,"compare_at_price":null,"inventory_management":"shopify","barcode":"840237308551","featured_media":{"alt":"2","id":22913681883341,"position":13,"preview_image":{"aspect_ratio":0.8,"height":3700,"width":2960,"src":"\/\/oncept.nyc\/cdn\/shop\/products\/CAPRI-SIDE-BLACK-min.jpg?v=1672951751"}},"requires_selling_plan":false,"selling_plan_allocations":[]},{"id":40706613248205,"title":"OAK \/ 6.5 \/ ELITE CALF","option1":"OAK","option2":"6.5","option3":"ELITE CALF","sku":"840237308742","requires_shipping":true,"taxable":true,"featured_image":{"id":30632609972429,"product_id":6759176896717,"position":1,"created_at":"2022-08-26T13:28:23-04:00","updated_at":"2022-08-26T13:31:51-04:00","alt":"0","width":2960,"height":3700,"src":"\/\/oncept.nyc\/cdn\/shop\/products\/CAPRI-SIDE-OAK-min.jpg?v=1661535111","variant_ids":[40706613149901,40706613248205,40706613346509,40706613444813,40706613543117,40706613641421,40706613739725,40706613838029,40706613936333]},"available":false,"name":"CAPRI - OAK \/ 6.5 \/ ELITE CALF","public_title":"OAK \/ 6.5 \/ ELITE CALF","options":["OAK","6.5","ELITE CALF"],"price":25000,"weight":0,"compare_at_price":null,"inventory_management":"shopify","barcode":"840237308742","featured_media":{"alt":"0","id":22913681948877,"position":1,"preview_image":{"aspect_ratio":0.8,"height":3700,"width":2960,"src":"\/\/oncept.nyc\/cdn\/shop\/products\/CAPRI-SIDE-OAK-min.jpg?v=1661535111"}},"requires_selling_plan":false,"selling_plan_allocations":[]},{"id":40706613280973,"title":"OFF WHITE \/ 6.5 \/ ELITE CALF","option1":"OFF WHITE","option2":"6.5","option3":"ELITE CALF","sku":"840237308650","requires_shipping":true,"taxable":true,"featured_image":{"id":30632610332877,"product_id":6759176896717,"position":7,"created_at":"2022-08-26T13:28:23-04:00","updated_at":"2022-08-26T13:31:51-04:00","alt":"1","width":2960,"height":3700,"src":"\/\/oncept.nyc\/cdn\/shop\/products\/CAPRI-SIDE-IVORY-min.jpg?v=1661535111","variant_ids":[40706613182669,40706613280973,40706613379277,40706613477581,40706613575885,40706613674189,40706613772493,40706613870797,40706613969101]},"available":false,"name":"CAPRI - OFF WHITE \/ 6.5 \/ ELITE CALF","public_title":"OFF WHITE \/ 6.5 \/ ELITE CALF","options":["OFF WHITE","6.5","ELITE CALF"],"price":25000,"weight":0,"compare_at_price":null,"inventory_management":"shopify","barcode":"840237308650","featured_media":{"alt":"1","id":22913681916109,"position":7,"preview_image":{"aspect_ratio":0.8,"height":3700,"width":2960,"src":"\/\/oncept.nyc\/cdn\/shop\/products\/CAPRI-SIDE-IVORY-min.jpg?v=1661535111"}},"requires_selling_plan":false,"selling_plan_allocations":[]},{"id":40706613313741,"title":"BLACK \/ 6.5 \/ ELITE CALF","option1":"BLACK","option2":"6.5","option3":"ELITE CALF","sku":"840237308568","requires_shipping":true,"taxable":true,"featured_image":{"id":30632610201805,"product_id":6759176896717,"position":13,"created_at":"2022-08-26T13:28:23-04:00","updated_at":"2023-01-05T15:49:11-05:00","alt":"2","width":2960,"height":3700,"src":"\/\/oncept.nyc\/cdn\/shop\/products\/CAPRI-SIDE-BLACK-min.jpg?v=1672951751","variant_ids":[40706613215437,40706613313741,40706613412045,40706613510349,40706613608653,40706613706957,40706613805261,40706613903565,40706614001869]},"available":false,"name":"CAPRI - BLACK \/ 6.5 \/ ELITE CALF","public_title":"BLACK \/ 6.5 \/ ELITE CALF","options":["BLACK","6.5","ELITE CALF"],"price":25000,"weight":0,"compare_at_price":null,"inventory_management":"shopify","barcode":"840237308568","featured_media":{"alt":"2","id":22913681883341,"position":13,"preview_image":{"aspect_ratio":0.8,"height":3700,"width":2960,"src":"\/\/oncept.nyc\/cdn\/shop\/products\/CAPRI-SIDE-BLACK-min.jpg?v=1672951751"}},"requires_selling_plan":false,"selling_plan_allocations":[]},{"id":40706613346509,"title":"OAK \/ 7 \/ ELITE CALF","option1":"OAK","option2":"7","option3":"ELITE CALF","sku":"840237308759","requires_shipping":true,"taxable":true,"featured_image":{"id":30632609972429,"product_id":6759176896717,"position":1,"created_at":"2022-08-26T13:28:23-04:00","updated_at":"2022-08-26T13:31:51-04:00","alt":"0","width":2960,"height":3700,"src":"\/\/oncept.nyc\/cdn\/shop\/products\/CAPRI-SIDE-OAK-min.jpg?v=1661535111","variant_ids":[40706613149901,40706613248205,40706613346509,40706613444813,40706613543117,40706613641421,40706613739725,40706613838029,40706613936333]},"available":false,"name":"CAPRI - OAK \/ 7 \/ ELITE CALF","public_title":"OAK \/ 7 \/ ELITE CALF","options":["OAK","7","ELITE CALF"],"price":25000,"weight":0,"compare_at_price":null,"inventory_management":"shopify","barcode":"840237308759","featured_media":{"alt":"0","id":22913681948877,"position":1,"preview_image":{"aspect_ratio":0.8,"height":3700,"width":2960,"src":"\/\/oncept.nyc\/cdn\/shop\/products\/CAPRI-SIDE-OAK-min.jpg?v=1661535111"}},"requires_selling_plan":false,"selling_plan_allocations":[]},{"id":40706613379277,"title":"OFF WHITE \/ 7 \/ ELITE CALF","option1":"OFF WHITE","option2":"7","option3":"ELITE CALF","sku":"840237308667","requires_shipping":true,"taxable":true,"featured_image":{"id":30632610332877,"product_id":6759176896717,"position":7,"created_at":"2022-08-26T13:28:23-04:00","updated_at":"2022-08-26T13:31:51-04:00","alt":"1","width":2960,"height":3700,"src":"\/\/oncept.nyc\/cdn\/shop\/products\/CAPRI-SIDE-IVORY-min.jpg?v=1661535111","variant_ids":[40706613182669,40706613280973,40706613379277,40706613477581,40706613575885,40706613674189,40706613772493,40706613870797,40706613969101]},"available":false,"name":"CAPRI - OFF WHITE \/ 7 \/ ELITE CALF","public_title":"OFF WHITE \/ 7 \/ ELITE CALF","options":["OFF WHITE","7","ELITE CALF"],"price":25000,"weight":0,"compare_at_price":null,"inventory_management":"shopify","barcode":"840237308667","featured_media":{"alt":"1","id":22913681916109,"position":7,"preview_image":{"aspect_ratio":0.8,"height":3700,"width":2960,"src":"\/\/oncept.nyc\/cdn\/shop\/products\/CAPRI-SIDE-IVORY-min.jpg?v=1661535111"}},"requires_selling_plan":false,"selling_plan_allocations":[]},{"id":40706613412045,"title":"BLACK \/ 7 \/ ELITE CALF","option1":"BLACK","option2":"7","option3":"ELITE CALF","sku":"840237308575","requires_shipping":true,"taxable":true,"featured_image":{"id":30632610201805,"product_id":6759176896717,"position":13,"created_at":"2022-08-26T13:28:23-04:00","updated_at":"2023-01-05T15:49:11-05:00","alt":"2","width":2960,"height":3700,"src":"\/\/oncept.nyc\/cdn\/shop\/products\/CAPRI-SIDE-BLACK-min.jpg?v=1672951751","variant_ids":[40706613215437,40706613313741,40706613412045,40706613510349,40706613608653,40706613706957,40706613805261,40706613903565,40706614001869]},"available":false,"name":"CAPRI - BLACK \/ 7 \/ ELITE CALF","public_title":"BLACK \/ 7 \/ ELITE CALF","options":["BLACK","7","ELITE CALF"],"price":25000,"weight":0,"compare_at_price":null,"inventory_management":"shopify","barcode":"840237308575","featured_media":{"alt":"2","id":22913681883341,"position":13,"preview_image":{"aspect_ratio":0.8,"height":3700,"width":2960,"src":"\/\/oncept.nyc\/cdn\/shop\/products\/CAPRI-SIDE-BLACK-min.jpg?v=1672951751"}},"requires_selling_plan":false,"selling_plan_allocations":[]},{"id":40706613444813,"title":"OAK \/ 7.5 \/ ELITE CALF","option1":"OAK","option2":"7.5","option3":"ELITE CALF","sku":"840237308766","requires_shipping":true,"taxable":true,"featured_image":{"id":30632609972429,"product_id":6759176896717,"position":1,"created_at":"2022-08-26T13:28:23-04:00","updated_at":"2022-08-26T13:31:51-04:00","alt":"0","width":2960,"height":3700,"src":"\/\/oncept.nyc\/cdn\/shop\/products\/CAPRI-SIDE-OAK-min.jpg?v=1661535111","variant_ids":[40706613149901,40706613248205,40706613346509,40706613444813,40706613543117,40706613641421,40706613739725,40706613838029,40706613936333]},"available":false,"name":"CAPRI - OAK \/ 7.5 \/ ELITE CALF","public_title":"OAK \/ 7.5 \/ ELITE CALF","options":["OAK","7.5","ELITE CALF"],"price":25000,"weight":0,"compare_at_price":null,"inventory_management":"shopify","barcode":"840237308766","featured_media":{"alt":"0","id":22913681948877,"position":1,"preview_image":{"aspect_ratio":0.8,"height":3700,"width":2960,"src":"\/\/oncept.nyc\/cdn\/shop\/products\/CAPRI-SIDE-OAK-min.jpg?v=1661535111"}},"requires_selling_plan":false,"selling_plan_allocations":[]},{"id":40706613477581,"title":"OFF WHITE \/ 7.5 \/ ELITE CALF","option1":"OFF WHITE","option2":"7.5","option3":"ELITE CALF","sku":"840237308674","requires_shipping":true,"taxable":true,"featured_image":{"id":30632610332877,"product_id":6759176896717,"position":7,"created_at":"2022-08-26T13:28:23-04:00","updated_at":"2022-08-26T13:31:51-04:00","alt":"1","width":2960,"height":3700,"src":"\/\/oncept.nyc\/cdn\/shop\/products\/CAPRI-SIDE-IVORY-min.jpg?v=1661535111","variant_ids":[40706613182669,40706613280973,40706613379277,40706613477581,40706613575885,40706613674189,40706613772493,40706613870797,40706613969101]},"available":false,"name":"CAPRI - OFF WHITE \/ 7.5 \/ ELITE CALF","public_title":"OFF WHITE \/ 7.5 \/ ELITE CALF","options":["OFF WHITE","7.5","ELITE CALF"],"price":25000,"weight":0,"compare_at_price":null,"inventory_management":"shopify","barcode":"840237308674","featured_media":{"alt":"1","id":22913681916109,"position":7,"preview_image":{"aspect_ratio":0.8,"height":3700,"width":2960,"src":"\/\/oncept.nyc\/cdn\/shop\/products\/CAPRI-SIDE-IVORY-min.jpg?v=1661535111"}},"requires_selling_plan":false,"selling_plan_allocations":[]},{"id":40706613510349,"title":"BLACK \/ 7.5 \/ ELITE CALF","option1":"BLACK","option2":"7.5","option3":"ELITE CALF","sku":"840237308582","requires_shipping":true,"taxable":true,"featured_image":{"id":30632610201805,"product_id":6759176896717,"position":13,"created_at":"2022-08-26T13:28:23-04:00","updated_at":"2023-01-05T15:49:11-05:00","alt":"2","width":2960,"height":3700,"src":"\/\/oncept.nyc\/cdn\/shop\/products\/CAPRI-SIDE-BLACK-min.jpg?v=1672951751","variant_ids":[40706613215437,40706613313741,40706613412045,40706613510349,40706613608653,40706613706957,40706613805261,40706613903565,40706614001869]},"available":true,"name":"CAPRI - BLACK \/ 7.5 \/ ELITE CALF","public_title":"BLACK \/ 7.5 \/ ELITE CALF","options":["BLACK","7.5","ELITE CALF"],"price":25000,"weight":0,"compare_at_price":null,"inventory_management":"shopify","barcode":"840237308582","featured_media":{"alt":"2","id":22913681883341,"position":13,"preview_image":{"aspect_ratio":0.8,"height":3700,"width":2960,"src":"\/\/oncept.nyc\/cdn\/shop\/products\/CAPRI-SIDE-BLACK-min.jpg?v=1672951751"}},"requires_selling_plan":false,"selling_plan_allocations":[]},{"id":40706613543117,"title":"OAK \/ 8 \/ ELITE CALF","option1":"OAK","option2":"8","option3":"ELITE CALF","sku":"840237308773","requires_shipping":true,"taxable":true,"featured_image":{"id":30632609972429,"product_id":6759176896717,"position":1,"created_at":"2022-08-26T13:28:23-04:00","updated_at":"2022-08-26T13:31:51-04:00","alt":"0","width":2960,"height":3700,"src":"\/\/oncept.nyc\/cdn\/shop\/products\/CAPRI-SIDE-OAK-min.jpg?v=1661535111","variant_ids":[40706613149901,40706613248205,40706613346509,40706613444813,40706613543117,40706613641421,40706613739725,40706613838029,40706613936333]},"available":false,"name":"CAPRI - OAK \/ 8 \/ ELITE CALF","public_title":"OAK \/ 8 \/ ELITE CALF","options":["OAK","8","ELITE CALF"],"price":25000,"weight":0,"compare_at_price":null,"inventory_management":"shopify","barcode":"840237308773","featured_media":{"alt":"0","id":22913681948877,"position":1,"preview_image":{"aspect_ratio":0.8,"height":3700,"width":2960,"src":"\/\/oncept.nyc\/cdn\/shop\/products\/CAPRI-SIDE-OAK-min.jpg?v=1661535111"}},"requires_selling_plan":false,"selling_plan_allocations":[]},{"id":40706613575885,"title":"OFF WHITE \/ 8 \/ ELITE CALF","option1":"OFF WHITE","option2":"8","option3":"ELITE CALF","sku":"840237308681","requires_shipping":true,"taxable":true,"featured_image":{"id":30632610332877,"product_id":6759176896717,"position":7,"created_at":"2022-08-26T13:28:23-04:00","updated_at":"2022-08-26T13:31:51-04:00","alt":"1","width":2960,"height":3700,"src":"\/\/oncept.nyc\/cdn\/shop\/products\/CAPRI-SIDE-IVORY-min.jpg?v=1661535111","variant_ids":[40706613182669,40706613280973,40706613379277,40706613477581,40706613575885,40706613674189,40706613772493,40706613870797,40706613969101]},"available":false,"name":"CAPRI - OFF WHITE \/ 8 \/ ELITE CALF","public_title":"OFF WHITE \/ 8 \/ ELITE CALF","options":["OFF WHITE","8","ELITE CALF"],"price":25000,"weight":0,"compare_at_price":null,"inventory_management":"shopify","barcode":"840237308681","featured_media":{"alt":"1","id":22913681916109,"position":7,"preview_image":{"aspect_ratio":0.8,"height":3700,"width":2960,"src":"\/\/oncept.nyc\/cdn\/shop\/products\/CAPRI-SIDE-IVORY-min.jpg?v=1661535111"}},"requires_selling_plan":false,"selling_plan_allocations":[]},{"id":40706613608653,"title":"BLACK \/ 8 \/ ELITE CALF","option1":"BLACK","option2":"8","option3":"ELITE CALF","sku":"840237308599","requires_shipping":true,"taxable":true,"featured_image":{"id":30632610201805,"product_id":6759176896717,"position":13,"created_at":"2022-08-26T13:28:23-04:00","updated_at":"2023-01-05T15:49:11-05:00","alt":"2","width":2960,"height":3700,"src":"\/\/oncept.nyc\/cdn\/shop\/products\/CAPRI-SIDE-BLACK-min.jpg?v=1672951751","variant_ids":[40706613215437,40706613313741,40706613412045,40706613510349,40706613608653,40706613706957,40706613805261,40706613903565,40706614001869]},"available":false,"name":"CAPRI - BLACK \/ 8 \/ ELITE CALF","public_title":"BLACK \/ 8 \/ ELITE CALF","options":["BLACK","8","ELITE CALF"],"price":25000,"weight":0,"compare_at_price":null,"inventory_management":"shopify","barcode":"840237308599","featured_media":{"alt":"2","id":22913681883341,"position":13,"preview_image":{"aspect_ratio":0.8,"height":3700,"width":2960,"src":"\/\/oncept.nyc\/cdn\/shop\/products\/CAPRI-SIDE-BLACK-min.jpg?v=1672951751"}},"requires_selling_plan":false,"selling_plan_allocations":[]},{"id":40706613641421,"title":"OAK \/ 8.5 \/ ELITE CALF","option1":"OAK","option2":"8.5","option3":"ELITE CALF","sku":"840237308780","requires_shipping":true,"taxable":true,"featured_image":{"id":30632609972429,"product_id":6759176896717,"position":1,"created_at":"2022-08-26T13:28:23-04:00","updated_at":"2022-08-26T13:31:51-04:00","alt":"0","width":2960,"height":3700,"src":"\/\/oncept.nyc\/cdn\/shop\/products\/CAPRI-SIDE-OAK-min.jpg?v=1661535111","variant_ids":[40706613149901,40706613248205,40706613346509,40706613444813,40706613543117,40706613641421,40706613739725,40706613838029,40706613936333]},"available":true,"name":"CAPRI - OAK \/ 8.5 \/ ELITE CALF","public_title":"OAK \/ 8.5 \/ ELITE CALF","options":["OAK","8.5","ELITE CALF"],"price":25000,"weight":0,"compare_at_price":null,"inventory_management":"shopify","barcode":"840237308780","featured_media":{"alt":"0","id":22913681948877,"position":1,"preview_image":{"aspect_ratio":0.8,"height":3700,"width":2960,"src":"\/\/oncept.nyc\/cdn\/shop\/products\/CAPRI-SIDE-OAK-min.jpg?v=1661535111"}},"requires_selling_plan":false,"selling_plan_allocations":[]},{"id":40706613674189,"title":"OFF WHITE \/ 8.5 \/ ELITE CALF","option1":"OFF WHITE","option2":"8.5","option3":"ELITE CALF","sku":"840237308698","requires_shipping":true,"taxable":true,"featured_image":{"id":30632610332877,"product_id":6759176896717,"position":7,"created_at":"2022-08-26T13:28:23-04:00","updated_at":"2022-08-26T13:31:51-04:00","alt":"1","width":2960,"height":3700,"src":"\/\/oncept.nyc\/cdn\/shop\/products\/CAPRI-SIDE-IVORY-min.jpg?v=1661535111","variant_ids":[40706613182669,40706613280973,40706613379277,40706613477581,40706613575885,40706613674189,40706613772493,40706613870797,40706613969101]},"available":true,"name":"CAPRI - OFF WHITE \/ 8.5 \/ ELITE CALF","public_title":"OFF WHITE \/ 8.5 \/ ELITE CALF","options":["OFF WHITE","8.5","ELITE CALF"],"price":25000,"weight":0,"compare_at_price":null,"inventory_management":"shopify","barcode":"840237308698","featured_media":{"alt":"1","id":22913681916109,"position":7,"preview_image":{"aspect_ratio":0.8,"height":3700,"width":2960,"src":"\/\/oncept.nyc\/cdn\/shop\/products\/CAPRI-SIDE-IVORY-min.jpg?v=1661535111"}},"requires_selling_plan":false,"selling_plan_allocations":[]},{"id":40706613706957,"title":"BLACK \/ 8.5 \/ ELITE CALF","option1":"BLACK","option2":"8.5","option3":"ELITE CALF","sku":"840237308605","requires_shipping":true,"taxable":true,"featured_image":{"id":30632610201805,"product_id":6759176896717,"position":13,"created_at":"2022-08-26T13:28:23-04:00","updated_at":"2023-01-05T15:49:11-05:00","alt":"2","width":2960,"height":3700,"src":"\/\/oncept.nyc\/cdn\/shop\/products\/CAPRI-SIDE-BLACK-min.jpg?v=1672951751","variant_ids":[40706613215437,40706613313741,40706613412045,40706613510349,40706613608653,40706613706957,40706613805261,40706613903565,40706614001869]},"available":true,"name":"CAPRI - BLACK \/ 8.5 \/ ELITE CALF","public_title":"BLACK \/ 8.5 \/ ELITE CALF","options":["BLACK","8.5","ELITE CALF"],"price":25000,"weight":0,"compare_at_price":null,"inventory_management":"shopify","barcode":"840237308605","featured_media":{"alt":"2","id":22913681883341,"position":13,"preview_image":{"aspect_ratio":0.8,"height":3700,"width":2960,"src":"\/\/oncept.nyc\/cdn\/shop\/products\/CAPRI-SIDE-BLACK-min.jpg?v=1672951751"}},"requires_selling_plan":false,"selling_plan_allocations":[]},{"id":40706613739725,"title":"OAK \/ 9 \/ ELITE CALF","option1":"OAK","option2":"9","option3":"ELITE CALF","sku":"840237308797","requires_shipping":true,"taxable":true,"featured_image":{"id":30632609972429,"product_id":6759176896717,"position":1,"created_at":"2022-08-26T13:28:23-04:00","updated_at":"2022-08-26T13:31:51-04:00","alt":"0","width":2960,"height":3700,"src":"\/\/oncept.nyc\/cdn\/shop\/products\/CAPRI-SIDE-OAK-min.jpg?v=1661535111","variant_ids":[40706613149901,40706613248205,40706613346509,40706613444813,40706613543117,40706613641421,40706613739725,40706613838029,40706613936333]},"available":false,"name":"CAPRI - OAK \/ 9 \/ ELITE CALF","public_title":"OAK \/ 9 \/ ELITE CALF","options":["OAK","9","ELITE CALF"],"price":25000,"weight":0,"compare_at_price":null,"inventory_management":"shopify","barcode":"840237308797","featured_media":{"alt":"0","id":22913681948877,"position":1,"preview_image":{"aspect_ratio":0.8,"height":3700,"width":2960,"src":"\/\/oncept.nyc\/cdn\/shop\/products\/CAPRI-SIDE-OAK-min.jpg?v=1661535111"}},"requires_selling_plan":false,"selling_plan_allocations":[]},{"id":40706613772493,"title":"OFF WHITE \/ 9 \/ ELITE CALF","option1":"OFF WHITE","option2":"9","option3":"ELITE CALF","sku":"840237308704","requires_shipping":true,"taxable":true,"featured_image":{"id":30632610332877,"product_id":6759176896717,"position":7,"created_at":"2022-08-26T13:28:23-04:00","updated_at":"2022-08-26T13:31:51-04:00","alt":"1","width":2960,"height":3700,"src":"\/\/oncept.nyc\/cdn\/shop\/products\/CAPRI-SIDE-IVORY-min.jpg?v=1661535111","variant_ids":[40706613182669,40706613280973,40706613379277,40706613477581,40706613575885,40706613674189,40706613772493,40706613870797,40706613969101]},"available":false,"name":"CAPRI - OFF WHITE \/ 9 \/ ELITE CALF","public_title":"OFF WHITE \/ 9 \/ ELITE CALF","options":["OFF WHITE","9","ELITE CALF"],"price":25000,"weight":0,"compare_at_price":null,"inventory_management":"shopify","barcode":"840237308704","featured_media":{"alt":"1","id":22913681916109,"position":7,"preview_image":{"aspect_ratio":0.8,"height":3700,"width":2960,"src":"\/\/oncept.nyc\/cdn\/shop\/products\/CAPRI-SIDE-IVORY-min.jpg?v=1661535111"}},"requires_selling_plan":false,"selling_plan_allocations":[]},{"id":40706613805261,"title":"BLACK \/ 9 \/ ELITE CALF","option1":"BLACK","option2":"9","option3":"ELITE CALF","sku":"840237308612","requires_shipping":true,"taxable":true,"featured_image":{"id":30632610201805,"product_id":6759176896717,"position":13,"created_at":"2022-08-26T13:28:23-04:00","updated_at":"2023-01-05T15:49:11-05:00","alt":"2","width":2960,"height":3700,"src":"\/\/oncept.nyc\/cdn\/shop\/products\/CAPRI-SIDE-BLACK-min.jpg?v=1672951751","variant_ids":[40706613215437,40706613313741,40706613412045,40706613510349,40706613608653,40706613706957,40706613805261,40706613903565,40706614001869]},"available":false,"name":"CAPRI - BLACK \/ 9 \/ ELITE CALF","public_title":"BLACK \/ 9 \/ ELITE CALF","options":["BLACK","9","ELITE CALF"],"price":25000,"weight":0,"compare_at_price":null,"inventory_management":"shopify","barcode":"840237308612","featured_media":{"alt":"2","id":22913681883341,"position":13,"preview_image":{"aspect_ratio":0.8,"height":3700,"width":2960,"src":"\/\/oncept.nyc\/cdn\/shop\/products\/CAPRI-SIDE-BLACK-min.jpg?v=1672951751"}},"requires_selling_plan":false,"selling_plan_allocations":[]},{"id":40706613838029,"title":"OAK \/ 9.5 \/ ELITE CALF","option1":"OAK","option2":"9.5","option3":"ELITE CALF","sku":"840237308803","requires_shipping":true,"taxable":true,"featured_image":{"id":30632609972429,"product_id":6759176896717,"position":1,"created_at":"2022-08-26T13:28:23-04:00","updated_at":"2022-08-26T13:31:51-04:00","alt":"0","width":2960,"height":3700,"src":"\/\/oncept.nyc\/cdn\/shop\/products\/CAPRI-SIDE-OAK-min.jpg?v=1661535111","variant_ids":[40706613149901,40706613248205,40706613346509,40706613444813,40706613543117,40706613641421,40706613739725,40706613838029,40706613936333]},"available":false,"name":"CAPRI - OAK \/ 9.5 \/ ELITE CALF","public_title":"OAK \/ 9.5 \/ ELITE CALF","options":["OAK","9.5","ELITE CALF"],"price":25000,"weight":0,"compare_at_price":null,"inventory_management":"shopify","barcode":"840237308803","featured_media":{"alt":"0","id":22913681948877,"position":1,"preview_image":{"aspect_ratio":0.8,"height":3700,"width":2960,"src":"\/\/oncept.nyc\/cdn\/shop\/products\/CAPRI-SIDE-OAK-min.jpg?v=1661535111"}},"requires_selling_plan":false,"selling_plan_allocations":[]},{"id":40706613870797,"title":"OFF WHITE \/ 9.5 \/ ELITE CALF","option1":"OFF WHITE","option2":"9.5","option3":"ELITE CALF","sku":"840237308711","requires_shipping":true,"taxable":true,"featured_image":{"id":30632610332877,"product_id":6759176896717,"position":7,"created_at":"2022-08-26T13:28:23-04:00","updated_at":"2022-08-26T13:31:51-04:00","alt":"1","width":2960,"height":3700,"src":"\/\/oncept.nyc\/cdn\/shop\/products\/CAPRI-SIDE-IVORY-min.jpg?v=1661535111","variant_ids":[40706613182669,40706613280973,40706613379277,40706613477581,40706613575885,40706613674189,40706613772493,40706613870797,40706613969101]},"available":false,"name":"CAPRI - OFF WHITE \/ 9.5 \/ ELITE CALF","public_title":"OFF WHITE \/ 9.5 \/ ELITE CALF","options":["OFF WHITE","9.5","ELITE CALF"],"price":25000,"weight":0,"compare_at_price":null,"inventory_management":"shopify","barcode":"840237308711","featured_media":{"alt":"1","id":22913681916109,"position":7,"preview_image":{"aspect_ratio":0.8,"height":3700,"width":2960,"src":"\/\/oncept.nyc\/cdn\/shop\/products\/CAPRI-SIDE-IVORY-min.jpg?v=1661535111"}},"requires_selling_plan":false,"selling_plan_allocations":[]},{"id":40706613903565,"title":"BLACK \/ 9.5 \/ ELITE CALF","option1":"BLACK","option2":"9.5","option3":"ELITE CALF","sku":"840237308629","requires_shipping":true,"taxable":true,"featured_image":{"id":30632610201805,"product_id":6759176896717,"position":13,"created_at":"2022-08-26T13:28:23-04:00","updated_at":"2023-01-05T15:49:11-05:00","alt":"2","width":2960,"height":3700,"src":"\/\/oncept.nyc\/cdn\/shop\/products\/CAPRI-SIDE-BLACK-min.jpg?v=1672951751","variant_ids":[40706613215437,40706613313741,40706613412045,40706613510349,40706613608653,40706613706957,40706613805261,40706613903565,40706614001869]},"available":false,"name":"CAPRI - BLACK \/ 9.5 \/ ELITE CALF","public_title":"BLACK \/ 9.5 \/ ELITE CALF","options":["BLACK","9.5","ELITE CALF"],"price":25000,"weight":0,"compare_at_price":null,"inventory_management":"shopify","barcode":"840237308629","featured_media":{"alt":"2","id":22913681883341,"position":13,"preview_image":{"aspect_ratio":0.8,"height":3700,"width":2960,"src":"\/\/oncept.nyc\/cdn\/shop\/products\/CAPRI-SIDE-BLACK-min.jpg?v=1672951751"}},"requires_selling_plan":false,"selling_plan_allocations":[]},{"id":40706613936333,"title":"OAK \/ 10 \/ ELITE CALF","option1":"OAK","option2":"10","option3":"ELITE CALF","sku":"840237308810","requires_shipping":true,"taxable":true,"featured_image":{"id":30632609972429,"product_id":6759176896717,"position":1,"created_at":"2022-08-26T13:28:23-04:00","updated_at":"2022-08-26T13:31:51-04:00","alt":"0","width":2960,"height":3700,"src":"\/\/oncept.nyc\/cdn\/shop\/products\/CAPRI-SIDE-OAK-min.jpg?v=1661535111","variant_ids":[40706613149901,40706613248205,40706613346509,40706613444813,40706613543117,40706613641421,40706613739725,40706613838029,40706613936333]},"available":false,"name":"CAPRI - OAK \/ 10 \/ ELITE CALF","public_title":"OAK \/ 10 \/ ELITE CALF","options":["OAK","10","ELITE CALF"],"price":25000,"weight":0,"compare_at_price":null,"inventory_management":"shopify","barcode":"840237308810","featured_media":{"alt":"0","id":22913681948877,"position":1,"preview_image":{"aspect_ratio":0.8,"height":3700,"width":2960,"src":"\/\/oncept.nyc\/cdn\/shop\/products\/CAPRI-SIDE-OAK-min.jpg?v=1661535111"}},"requires_selling_plan":false,"selling_plan_allocations":[]},{"id":40706613969101,"title":"OFF WHITE \/ 10 \/ ELITE CALF","option1":"OFF WHITE","option2":"10","option3":"ELITE CALF","sku":"840237308728","requires_shipping":true,"taxable":true,"featured_image":{"id":30632610332877,"product_id":6759176896717,"position":7,"created_at":"2022-08-26T13:28:23-04:00","updated_at":"2022-08-26T13:31:51-04:00","alt":"1","width":2960,"height":3700,"src":"\/\/oncept.nyc\/cdn\/shop\/products\/CAPRI-SIDE-IVORY-min.jpg?v=1661535111","variant_ids":[40706613182669,40706613280973,40706613379277,40706613477581,40706613575885,40706613674189,40706613772493,40706613870797,40706613969101]},"available":false,"name":"CAPRI - OFF WHITE \/ 10 \/ ELITE CALF","public_title":"OFF WHITE \/ 10 \/ ELITE CALF","options":["OFF WHITE","10","ELITE CALF"],"price":25000,"weight":0,"compare_at_price":null,"inventory_management":"shopify","barcode":"840237308728","featured_media":{"alt":"1","id":22913681916109,"position":7,"preview_image":{"aspect_ratio":0.8,"height":3700,"width":2960,"src":"\/\/oncept.nyc\/cdn\/shop\/products\/CAPRI-SIDE-IVORY-min.jpg?v=1661535111"}},"requires_selling_plan":false,"selling_plan_allocations":[]},{"id":40706614001869,"title":"BLACK \/ 10 \/ ELITE CALF","option1":"BLACK","option2":"10","option3":"ELITE CALF","sku":"840237308636","requires_shipping":true,"taxable":true,"featured_image":{"id":30632610201805,"product_id":6759176896717,"position":13,"created_at":"2022-08-26T13:28:23-04:00","updated_at":"2023-01-05T15:49:11-05:00","alt":"2","width":2960,"height":3700,"src":"\/\/oncept.nyc\/cdn\/shop\/products\/CAPRI-SIDE-BLACK-min.jpg?v=1672951751","variant_ids":[40706613215437,40706613313741,40706613412045,40706613510349,40706613608653,40706613706957,40706613805261,40706613903565,40706614001869]},"available":false,"name":"CAPRI - BLACK \/ 10 \/ ELITE CALF","public_title":"BLACK \/ 10 \/ ELITE CALF","options":["BLACK","10","ELITE CALF"],"price":25000,"weight":0,"compare_at_price":null,"inventory_management":"shopify","barcode":"840237308636","featured_media":{"alt":"2","id":22913681883341,"position":13,"preview_image":{"aspect_ratio":0.8,"height":3700,"width":2960,"src":"\/\/oncept.nyc\/cdn\/shop\/products\/CAPRI-SIDE-BLACK-min.jpg?v=1672951751"}},"requires_selling_plan":false,"selling_plan_allocations":[]}],"images":["\/\/oncept.nyc\/cdn\/shop\/products\/CAPRI-SIDE-OAK-min.jpg?v=1661535111","\/\/oncept.nyc\/cdn\/shop\/products\/CAPRI-TOP-OAK-min.jpg?v=1661535111","\/\/oncept.nyc\/cdn\/shop\/products\/CAPRI-BACK-OAK-min.jpg?v=1661535111","\/\/oncept.nyc\/cdn\/shop\/products\/CAPRI-OUTSOLE-OAK-min.jpg?v=1661535111","\/\/oncept.nyc\/cdn\/shop\/products\/CAPRI-SOFTNESS-OAK-min.jpg?v=1661535111","\/\/oncept.nyc\/cdn\/shop\/products\/CAPRI-ONFOOT-OAK-min.jpg?v=1661535111","\/\/oncept.nyc\/cdn\/shop\/products\/CAPRI-SIDE-IVORY-min.jpg?v=1661535111","\/\/oncept.nyc\/cdn\/shop\/products\/CAPRI-TOP-IVORY-min.jpg?v=1661535111","\/\/oncept.nyc\/cdn\/shop\/products\/CAPRI-SOFTNESS-IVORY-min.jpg?v=1661535111","\/\/oncept.nyc\/cdn\/shop\/products\/CAPRI-ONFOOT-IVORY-min.jpg?v=1661535111","\/\/oncept.nyc\/cdn\/shop\/products\/CAPRI-OUTSOLE-IVORY-min.jpg?v=1661535111","\/\/oncept.nyc\/cdn\/shop\/products\/CAPRI-BACK-IVORY-min.jpg?v=1661535111","\/\/oncept.nyc\/cdn\/shop\/products\/CAPRI-SIDE-BLACK-min.jpg?v=1672951751","\/\/oncept.nyc\/cdn\/shop\/products\/CAPRI-TOP-BLACK-min.jpg?v=1672951751","\/\/oncept.nyc\/cdn\/shop\/products\/CAPRI-BACK-BLACK-min.jpg?v=1661535111","\/\/oncept.nyc\/cdn\/shop\/products\/CAPRI-OUTSOLE-BLACK-min.jpg?v=1661535572","\/\/oncept.nyc\/cdn\/shop\/products\/CAPRI-SOFTNESS-BLACK-min.jpg?v=1661535572","\/\/oncept.nyc\/cdn\/shop\/products\/CAPRI-ONFOOT-BLACK-min.jpg?v=1661535572"],"featured_image":"\/\/oncept.nyc\/cdn\/shop\/products\/CAPRI-SIDE-OAK-min.jpg?v=1661535111","options":["Color","Size","Material"],"media":[{"alt":"0","id":22913681948877,"position":1,"preview_image":{"aspect_ratio":0.8,"height":3700,"width":2960,"src":"\/\/oncept.nyc\/cdn\/shop\/products\/CAPRI-SIDE-OAK-min.jpg?v=1661535111"},"aspect_ratio":0.8,"height":3700,"media_type":"image","src":"\/\/oncept.nyc\/cdn\/shop\/products\/CAPRI-SIDE-OAK-min.jpg?v=1661535111","width":2960},{"alt":"0","id":22913682145485,"position":2,"preview_image":{"aspect_ratio":0.8,"height":3700,"width":2960,"src":"\/\/oncept.nyc\/cdn\/shop\/products\/CAPRI-TOP-OAK-min.jpg?v=1661535111"},"aspect_ratio":0.8,"height":3700,"media_type":"image","src":"\/\/oncept.nyc\/cdn\/shop\/products\/CAPRI-TOP-OAK-min.jpg?v=1661535111","width":2960},{"alt":"0","id":22913681686733,"position":3,"preview_image":{"aspect_ratio":0.8,"height":3700,"width":2960,"src":"\/\/oncept.nyc\/cdn\/shop\/products\/CAPRI-BACK-OAK-min.jpg?v=1661535111"},"aspect_ratio":0.8,"height":3700,"media_type":"image","src":"\/\/oncept.nyc\/cdn\/shop\/products\/CAPRI-BACK-OAK-min.jpg?v=1661535111","width":2960},{"alt":"0","id":22913681850573,"position":4,"preview_image":{"aspect_ratio":0.8,"height":3700,"width":2960,"src":"\/\/oncept.nyc\/cdn\/shop\/products\/CAPRI-OUTSOLE-OAK-min.jpg?v=1661535111"},"aspect_ratio":0.8,"height":3700,"media_type":"image","src":"\/\/oncept.nyc\/cdn\/shop\/products\/CAPRI-OUTSOLE-OAK-min.jpg?v=1661535111","width":2960},{"alt":"0","id":22913682047181,"position":5,"preview_image":{"aspect_ratio":0.8,"height":3700,"width":2960,"src":"\/\/oncept.nyc\/cdn\/shop\/products\/CAPRI-SOFTNESS-OAK-min.jpg?v=1661535111"},"aspect_ratio":0.8,"height":3700,"media_type":"image","src":"\/\/oncept.nyc\/cdn\/shop\/products\/CAPRI-SOFTNESS-OAK-min.jpg?v=1661535111","width":2960},{"alt":"0","id":22913681785037,"position":6,"preview_image":{"aspect_ratio":0.8,"height":3700,"width":2960,"src":"\/\/oncept.nyc\/cdn\/shop\/products\/CAPRI-ONFOOT-OAK-min.jpg?v=1661535111"},"aspect_ratio":0.8,"height":3700,"media_type":"image","src":"\/\/oncept.nyc\/cdn\/shop\/products\/CAPRI-ONFOOT-OAK-min.jpg?v=1661535111","width":2960},{"alt":"1","id":22913681916109,"position":7,"preview_image":{"aspect_ratio":0.8,"height":3700,"width":2960,"src":"\/\/oncept.nyc\/cdn\/shop\/products\/CAPRI-SIDE-IVORY-min.jpg?v=1661535111"},"aspect_ratio":0.8,"height":3700,"media_type":"image","src":"\/\/oncept.nyc\/cdn\/shop\/products\/CAPRI-SIDE-IVORY-min.jpg?v=1661535111","width":2960},{"alt":"1","id":22913682112717,"position":8,"preview_image":{"aspect_ratio":0.8,"height":3700,"width":2960,"src":"\/\/oncept.nyc\/cdn\/shop\/products\/CAPRI-TOP-IVORY-min.jpg?v=1661535111"},"aspect_ratio":0.8,"height":3700,"media_type":"image","src":"\/\/oncept.nyc\/cdn\/shop\/products\/CAPRI-TOP-IVORY-min.jpg?v=1661535111","width":2960},{"alt":"1","id":22913682014413,"position":9,"preview_image":{"aspect_ratio":0.8,"height":3700,"width":2960,"src":"\/\/oncept.nyc\/cdn\/shop\/products\/CAPRI-SOFTNESS-IVORY-min.jpg?v=1661535111"},"aspect_ratio":0.8,"height":3700,"media_type":"image","src":"\/\/oncept.nyc\/cdn\/shop\/products\/CAPRI-SOFTNESS-IVORY-min.jpg?v=1661535111","width":2960},{"alt":"1","id":22913681752269,"position":10,"preview_image":{"aspect_ratio":0.8,"height":3700,"width":2960,"src":"\/\/oncept.nyc\/cdn\/shop\/products\/CAPRI-ONFOOT-IVORY-min.jpg?v=1661535111"},"aspect_ratio":0.8,"height":3700,"media_type":"image","src":"\/\/oncept.nyc\/cdn\/shop\/products\/CAPRI-ONFOOT-IVORY-min.jpg?v=1661535111","width":2960},{"alt":"1","id":22913681817805,"position":11,"preview_image":{"aspect_ratio":0.8,"height":3700,"width":2960,"src":"\/\/oncept.nyc\/cdn\/shop\/products\/CAPRI-OUTSOLE-IVORY-min.jpg?v=1661535111"},"aspect_ratio":0.8,"height":3700,"media_type":"image","src":"\/\/oncept.nyc\/cdn\/shop\/products\/CAPRI-OUTSOLE-IVORY-min.jpg?v=1661535111","width":2960},{"alt":"1","id":22913681653965,"position":12,"preview_image":{"aspect_ratio":0.8,"height":3700,"width":2960,"src":"\/\/oncept.nyc\/cdn\/shop\/products\/CAPRI-BACK-IVORY-min.jpg?v=1661535111"},"aspect_ratio":0.8,"height":3700,"media_type":"image","src":"\/\/oncept.nyc\/cdn\/shop\/products\/CAPRI-BACK-IVORY-min.jpg?v=1661535111","width":2960},{"alt":"2","id":22913681883341,"position":13,"preview_image":{"aspect_ratio":0.8,"height":3700,"width":2960,"src":"\/\/oncept.nyc\/cdn\/shop\/products\/CAPRI-SIDE-BLACK-min.jpg?v=1672951751"},"aspect_ratio":0.8,"height":3700,"media_type":"image","src":"\/\/oncept.nyc\/cdn\/shop\/products\/CAPRI-SIDE-BLACK-min.jpg?v=1672951751","width":2960},{"alt":"2","id":22913682079949,"position":14,"preview_image":{"aspect_ratio":0.8,"height":3700,"width":2960,"src":"\/\/oncept.nyc\/cdn\/shop\/products\/CAPRI-TOP-BLACK-min.jpg?v=1672951751"},"aspect_ratio":0.8,"height":3700,"media_type":"image","src":"\/\/oncept.nyc\/cdn\/shop\/products\/CAPRI-TOP-BLACK-min.jpg?v=1672951751","width":2960},{"alt":"2","id":22913681621197,"position":15,"preview_image":{"aspect_ratio":0.8,"height":3700,"width":2960,"src":"\/\/oncept.nyc\/cdn\/shop\/products\/CAPRI-BACK-BLACK-min.jpg?v=1661535111"},"aspect_ratio":0.8,"height":3700,"media_type":"image","src":"\/\/oncept.nyc\/cdn\/shop\/products\/CAPRI-BACK-BLACK-min.jpg?v=1661535111","width":2960},{"alt":"2","id":22913725890765,"position":16,"preview_image":{"aspect_ratio":0.8,"height":3700,"width":2960,"src":"\/\/oncept.nyc\/cdn\/shop\/products\/CAPRI-OUTSOLE-BLACK-min.jpg?v=1661535572"},"aspect_ratio":0.8,"height":3700,"media_type":"image","src":"\/\/oncept.nyc\/cdn\/shop\/products\/CAPRI-OUTSOLE-BLACK-min.jpg?v=1661535572","width":2960},{"alt":"2","id":22913681981645,"position":17,"preview_image":{"aspect_ratio":0.8,"height":3700,"width":2960,"src":"\/\/oncept.nyc\/cdn\/shop\/products\/CAPRI-SOFTNESS-BLACK-min.jpg?v=1661535572"},"aspect_ratio":0.8,"height":3700,"media_type":"image","src":"\/\/oncept.nyc\/cdn\/shop\/products\/CAPRI-SOFTNESS-BLACK-min.jpg?v=1661535572","width":2960},{"alt":"2","id":22913681719501,"position":18,"preview_image":{"aspect_ratio":0.8,"height":3700,"width":2960,"src":"\/\/oncept.nyc\/cdn\/shop\/products\/CAPRI-ONFOOT-BLACK-min.jpg?v=1661535572"},"aspect_ratio":0.8,"height":3700,"media_type":"image","src":"\/\/oncept.nyc\/cdn\/shop\/products\/CAPRI-ONFOOT-BLACK-min.jpg?v=1661535572","width":2960}],"requires_selling_plan":false,"selling_plan_groups":[],"content":"\u003cp\u003eThe CAPRI our the Summer Toe Thong is ready for your much needed vacation.  Featuring an ultra light and flexible recycled EVA bottom it is the perfect sandal that is ready to pack and go.  Always elevated you will feel like you are walking on a bed of clouds.\u003c\/p\u003e\n\u003cp\u003e \u003c\/p\u003e"} { "options": [ { "title": "Color", "values": [ { "value": "OAK", "url": "/products/capri?variant=40706613149901" }, { "value": "OFF WHITE", "url": "/products/capri?variant=40706613182669" }, { "value": "BLACK", "url": "/products/capri?variant=40706613215437" } ] }, { "title": "Size", "values": [ { "value": "6", "url": "/products/capri?variant=40706613149901" }, { "value": "6.5", "url": "/products/capri?variant=40706613248205" }, { "value": "7", "url": "/products/capri?variant=40706613346509" }, { "value": "7.5", "url": "/products/capri?variant=40706613444813" }, { "value": "8", "url": "/products/capri?variant=40706613543117" }, { "value": "8.5", "url": "/products/capri?variant=40706613641421" }, { "value": "9", "url": "/products/capri?variant=40706613739725" }, { "value": "9.5", "url": "/products/capri?variant=40706613838029" }, { "value": "10", "url": "/products/capri?variant=40706613936333" } ] }, { "title": "Material", "values": [ { "value": "ELITE CALF", "url": "/products/capri?variant=40706613149901" } ] } ] }
{ "desktopImg": "//oncept.nyc/cdn/shop/files/ONC-Size_Guide-220721-v2_4f753765-00f0-43de-a4e8-769673d6f443.png?v=1693310772", "mobileImg": "//oncept.nyc/cdn/shop/files/ONC-Size_Guide-220721-v12_62596961-cac9-488c-8395-409e383787ee.png?v=1693310784" }