[ ]
Genuine leather outsole imported from Italy
Recycled insole board
Ortholite bio based impressions sock padding wiht latex
100% genuine stretch napa leather
Recycled Lycra upper linings
CARE
Outsole can be cleaned with a soft cloth and water
Upper can be gently wipped with a damp cloth
Runs true to size
Heel height: 80mm / 3.25 inches
COMFORT
Leather outsole and scored insole for flexibility
Dual density & bio foam sock cushion
We offer free express shipping, exchanges and returns on all US domestic orders
[ "Material & Care" , "Fit & Comfort" , "Delivery & Returns" ]
Sustainable Style
It's all in the details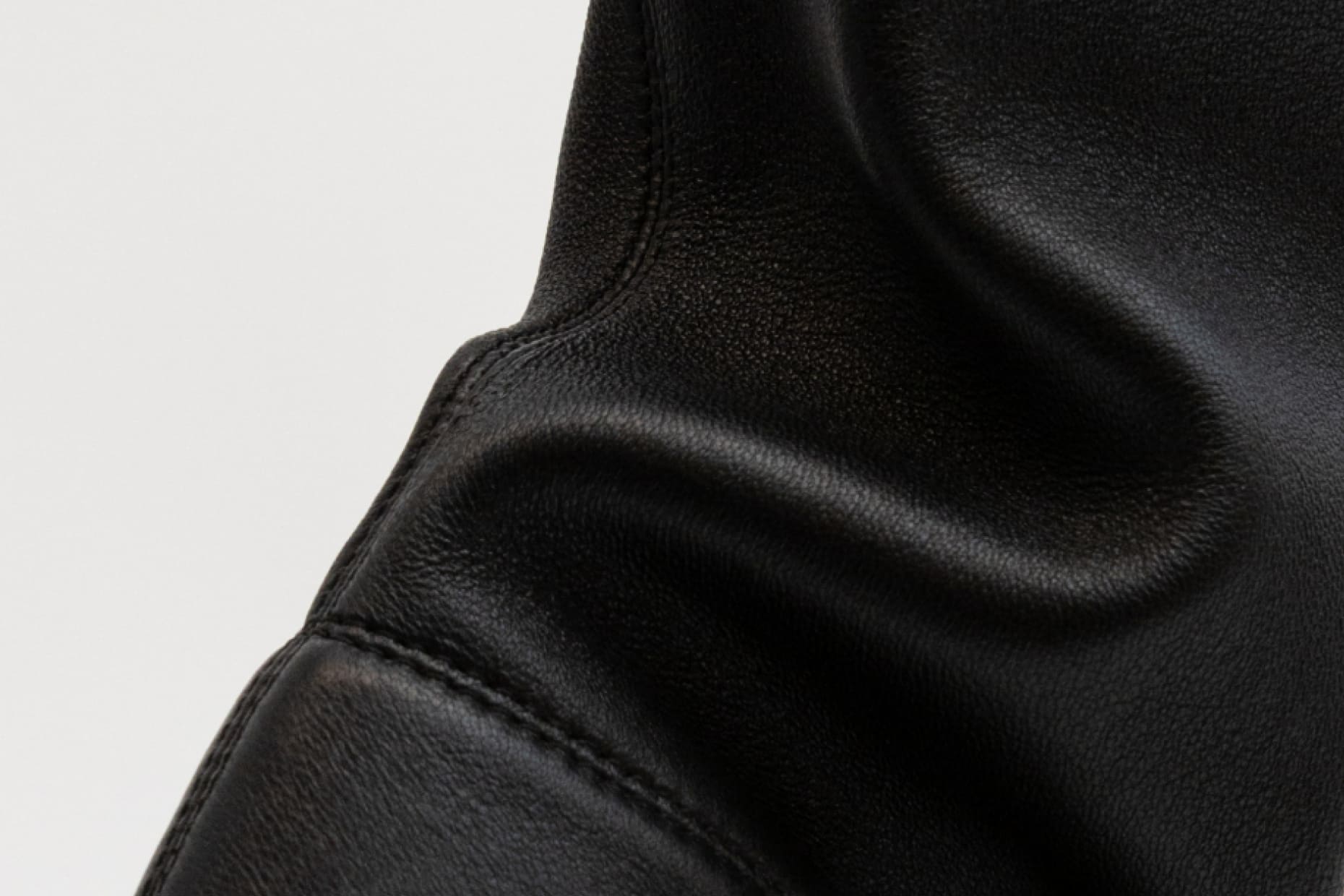 LWG CERTIFIED LEATHER
Our tumbled stretch calf leather upper is sourced from gold rated tanneries which guarantees that the leather is produced in accordance with environmental best practices.
READ MORE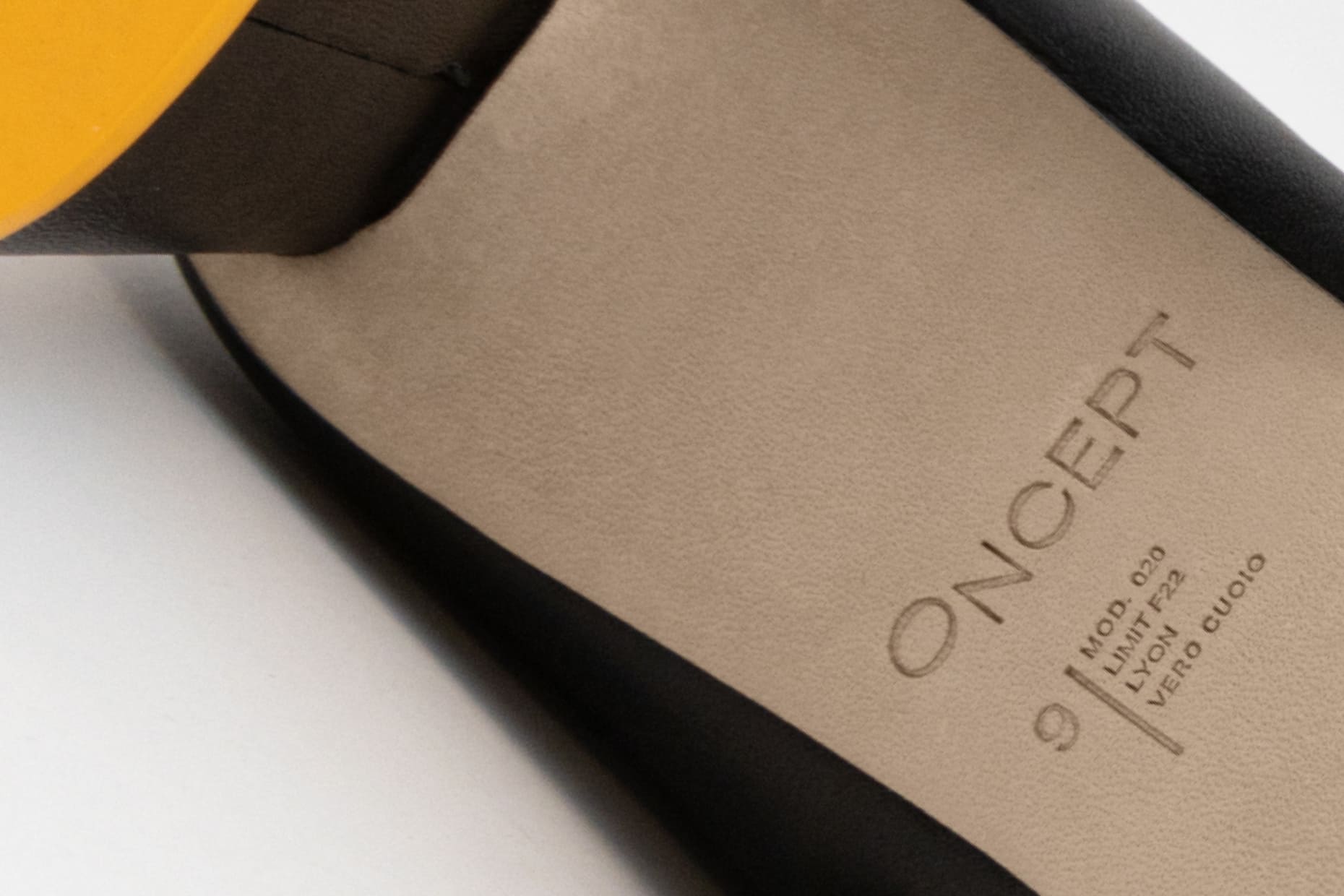 GENUINE LEATHER OUTSOLE
Our all natural leather outsole is import from Italy. Quality, comfort and flexibility are the key! We use a recycled insole board as an internal component which keeps the natural shape.
READ MORE
{"id":6650584400077,"title":"LIMA","handle":"lima","description":"\u003cp data-mce-fragment=\"1\"\u003e\u003cspan style=\"font-weight: 400;\" data-mce-fragment=\"1\" data-mce-style=\"font-weight: 400;\"\u003ePillow soft comfort and cocooning effects prepare you for the chill this Fall.  Step into our style LIMA that we call t\u003c\/span\u003ehe weekender, \u003cspan style=\"font-weight: 400;\" data-mce-fragment=\"1\" data-mce-style=\"font-weight: 400;\"\u003efor cozy adventures in the city or in nature. With ultra-soft water resistant recycled nylon and plush organic cotton fill--no detail was spared in creating this lux bootie.  Made on our signature two-tone molded bottom utilizing the same durable flex systems as the LONDON makes this bootie ready for anything.\u003c\/span\u003e\u003c\/p\u003e","published_at":"2021-07-12T13:42:51-04:00","created_at":"2021-06-22T03:41:55-04:00","vendor":"Oncept","type":"Footwear","tags":["BOOT","FLAT","SPORT","Verishop"],"price":35000,"price_min":35000,"price_max":35000,"available":true,"price_varies":false,"compare_at_price":null,"compare_at_price_min":0,"compare_at_price_max":0,"compare_at_price_varies":false,"variants":[{"id":39745132036301,"title":"BIRCH \/ 6 \/ RE-SPLASH NYLON","option1":"BIRCH","option2":"6","option3":"RE-SPLASH NYLON","sku":"840237303914","requires_shipping":true,"taxable":true,"featured_image":{"id":30506296770765,"product_id":6650584400077,"position":2,"created_at":"2022-08-04T11:39:30-04:00","updated_at":"2022-08-04T11:46:35-04:00","alt":"0","width":2960,"height":3700,"src":"https:\/\/cdn.shopify.com\/s\/files\/1\/0507\/5989\/3197\/products\/LIMA-SIDE-BIRCH-min.jpg?v=1659627995","variant_ids":[39745132036301,39745132069069,39745132101837,39745132134605,39745132167373,39745132200141,39745132232909,39745132265677,39745132298445]},"available":true,"name":"LIMA - BIRCH \/ 6 \/ RE-SPLASH NYLON","public_title":"BIRCH \/ 6 \/ RE-SPLASH NYLON","options":["BIRCH","6","RE-SPLASH NYLON"],"price":35000,"weight":0,"compare_at_price":null,"inventory_management":"shopify","barcode":"840237303914","featured_media":{"alt":"0","id":22786139717837,"position":2,"preview_image":{"aspect_ratio":0.8,"height":3700,"width":2960,"src":"https:\/\/cdn.shopify.com\/s\/files\/1\/0507\/5989\/3197\/products\/LIMA-SIDE-BIRCH-min.jpg?v=1659627995"}},"requires_selling_plan":false,"selling_plan_allocations":[],"quantity_rule":{"min":1,"max":null,"increment":1}},{"id":39745132069069,"title":"BIRCH \/ 6.5 \/ RE-SPLASH NYLON","option1":"BIRCH","option2":"6.5","option3":"RE-SPLASH NYLON","sku":"840237303921","requires_shipping":true,"taxable":true,"featured_image":{"id":30506296770765,"product_id":6650584400077,"position":2,"created_at":"2022-08-04T11:39:30-04:00","updated_at":"2022-08-04T11:46:35-04:00","alt":"0","width":2960,"height":3700,"src":"https:\/\/cdn.shopify.com\/s\/files\/1\/0507\/5989\/3197\/products\/LIMA-SIDE-BIRCH-min.jpg?v=1659627995","variant_ids":[39745132036301,39745132069069,39745132101837,39745132134605,39745132167373,39745132200141,39745132232909,39745132265677,39745132298445]},"available":true,"name":"LIMA - BIRCH \/ 6.5 \/ RE-SPLASH NYLON","public_title":"BIRCH \/ 6.5 \/ RE-SPLASH NYLON","options":["BIRCH","6.5","RE-SPLASH NYLON"],"price":35000,"weight":0,"compare_at_price":null,"inventory_management":"shopify","barcode":"840237303921","featured_media":{"alt":"0","id":22786139717837,"position":2,"preview_image":{"aspect_ratio":0.8,"height":3700,"width":2960,"src":"https:\/\/cdn.shopify.com\/s\/files\/1\/0507\/5989\/3197\/products\/LIMA-SIDE-BIRCH-min.jpg?v=1659627995"}},"requires_selling_plan":false,"selling_plan_allocations":[],"quantity_rule":{"min":1,"max":null,"increment":1}},{"id":39745132101837,"title":"BIRCH \/ 7 \/ RE-SPLASH NYLON","option1":"BIRCH","option2":"7","option3":"RE-SPLASH NYLON","sku":"840237303938","requires_shipping":true,"taxable":true,"featured_image":{"id":30506296770765,"product_id":6650584400077,"position":2,"created_at":"2022-08-04T11:39:30-04:00","updated_at":"2022-08-04T11:46:35-04:00","alt":"0","width":2960,"height":3700,"src":"https:\/\/cdn.shopify.com\/s\/files\/1\/0507\/5989\/3197\/products\/LIMA-SIDE-BIRCH-min.jpg?v=1659627995","variant_ids":[39745132036301,39745132069069,39745132101837,39745132134605,39745132167373,39745132200141,39745132232909,39745132265677,39745132298445]},"available":true,"name":"LIMA - BIRCH \/ 7 \/ RE-SPLASH NYLON","public_title":"BIRCH \/ 7 \/ RE-SPLASH NYLON","options":["BIRCH","7","RE-SPLASH NYLON"],"price":35000,"weight":0,"compare_at_price":null,"inventory_management":"shopify","barcode":"840237303938","featured_media":{"alt":"0","id":22786139717837,"position":2,"preview_image":{"aspect_ratio":0.8,"height":3700,"width":2960,"src":"https:\/\/cdn.shopify.com\/s\/files\/1\/0507\/5989\/3197\/products\/LIMA-SIDE-BIRCH-min.jpg?v=1659627995"}},"requires_selling_plan":false,"selling_plan_allocations":[],"quantity_rule":{"min":1,"max":null,"increment":1}},{"id":39745132134605,"title":"BIRCH \/ 7.5 \/ RE-SPLASH NYLON","option1":"BIRCH","option2":"7.5","option3":"RE-SPLASH NYLON","sku":"840237303945","requires_shipping":true,"taxable":true,"featured_image":{"id":30506296770765,"product_id":6650584400077,"position":2,"created_at":"2022-08-04T11:39:30-04:00","updated_at":"2022-08-04T11:46:35-04:00","alt":"0","width":2960,"height":3700,"src":"https:\/\/cdn.shopify.com\/s\/files\/1\/0507\/5989\/3197\/products\/LIMA-SIDE-BIRCH-min.jpg?v=1659627995","variant_ids":[39745132036301,39745132069069,39745132101837,39745132134605,39745132167373,39745132200141,39745132232909,39745132265677,39745132298445]},"available":true,"name":"LIMA - BIRCH \/ 7.5 \/ RE-SPLASH NYLON","public_title":"BIRCH \/ 7.5 \/ RE-SPLASH NYLON","options":["BIRCH","7.5","RE-SPLASH NYLON"],"price":35000,"weight":0,"compare_at_price":null,"inventory_management":"shopify","barcode":"840237303945","featured_media":{"alt":"0","id":22786139717837,"position":2,"preview_image":{"aspect_ratio":0.8,"height":3700,"width":2960,"src":"https:\/\/cdn.shopify.com\/s\/files\/1\/0507\/5989\/3197\/products\/LIMA-SIDE-BIRCH-min.jpg?v=1659627995"}},"requires_selling_plan":false,"selling_plan_allocations":[],"quantity_rule":{"min":1,"max":null,"increment":1}},{"id":39745132167373,"title":"BIRCH \/ 8 \/ RE-SPLASH NYLON","option1":"BIRCH","option2":"8","option3":"RE-SPLASH NYLON","sku":"840237303952","requires_shipping":true,"taxable":true,"featured_image":{"id":30506296770765,"product_id":6650584400077,"position":2,"created_at":"2022-08-04T11:39:30-04:00","updated_at":"2022-08-04T11:46:35-04:00","alt":"0","width":2960,"height":3700,"src":"https:\/\/cdn.shopify.com\/s\/files\/1\/0507\/5989\/3197\/products\/LIMA-SIDE-BIRCH-min.jpg?v=1659627995","variant_ids":[39745132036301,39745132069069,39745132101837,39745132134605,39745132167373,39745132200141,39745132232909,39745132265677,39745132298445]},"available":true,"name":"LIMA - BIRCH \/ 8 \/ RE-SPLASH NYLON","public_title":"BIRCH \/ 8 \/ RE-SPLASH NYLON","options":["BIRCH","8","RE-SPLASH NYLON"],"price":35000,"weight":0,"compare_at_price":null,"inventory_management":"shopify","barcode":"840237303952","featured_media":{"alt":"0","id":22786139717837,"position":2,"preview_image":{"aspect_ratio":0.8,"height":3700,"width":2960,"src":"https:\/\/cdn.shopify.com\/s\/files\/1\/0507\/5989\/3197\/products\/LIMA-SIDE-BIRCH-min.jpg?v=1659627995"}},"requires_selling_plan":false,"selling_plan_allocations":[],"quantity_rule":{"min":1,"max":null,"increment":1}},{"id":39745132200141,"title":"BIRCH \/ 8.5 \/ RE-SPLASH NYLON","option1":"BIRCH","option2":"8.5","option3":"RE-SPLASH NYLON","sku":"840237303969","requires_shipping":true,"taxable":true,"featured_image":{"id":30506296770765,"product_id":6650584400077,"position":2,"created_at":"2022-08-04T11:39:30-04:00","updated_at":"2022-08-04T11:46:35-04:00","alt":"0","width":2960,"height":3700,"src":"https:\/\/cdn.shopify.com\/s\/files\/1\/0507\/5989\/3197\/products\/LIMA-SIDE-BIRCH-min.jpg?v=1659627995","variant_ids":[39745132036301,39745132069069,39745132101837,39745132134605,39745132167373,39745132200141,39745132232909,39745132265677,39745132298445]},"available":true,"name":"LIMA - BIRCH \/ 8.5 \/ RE-SPLASH NYLON","public_title":"BIRCH \/ 8.5 \/ RE-SPLASH NYLON","options":["BIRCH","8.5","RE-SPLASH NYLON"],"price":35000,"weight":0,"compare_at_price":null,"inventory_management":"shopify","barcode":"840237303969","featured_media":{"alt":"0","id":22786139717837,"position":2,"preview_image":{"aspect_ratio":0.8,"height":3700,"width":2960,"src":"https:\/\/cdn.shopify.com\/s\/files\/1\/0507\/5989\/3197\/products\/LIMA-SIDE-BIRCH-min.jpg?v=1659627995"}},"requires_selling_plan":false,"selling_plan_allocations":[],"quantity_rule":{"min":1,"max":null,"increment":1}},{"id":39745132232909,"title":"BIRCH \/ 9 \/ RE-SPLASH NYLON","option1":"BIRCH","option2":"9","option3":"RE-SPLASH NYLON","sku":"840237303976","requires_shipping":true,"taxable":true,"featured_image":{"id":30506296770765,"product_id":6650584400077,"position":2,"created_at":"2022-08-04T11:39:30-04:00","updated_at":"2022-08-04T11:46:35-04:00","alt":"0","width":2960,"height":3700,"src":"https:\/\/cdn.shopify.com\/s\/files\/1\/0507\/5989\/3197\/products\/LIMA-SIDE-BIRCH-min.jpg?v=1659627995","variant_ids":[39745132036301,39745132069069,39745132101837,39745132134605,39745132167373,39745132200141,39745132232909,39745132265677,39745132298445]},"available":true,"name":"LIMA - BIRCH \/ 9 \/ RE-SPLASH NYLON","public_title":"BIRCH \/ 9 \/ RE-SPLASH NYLON","options":["BIRCH","9","RE-SPLASH NYLON"],"price":35000,"weight":0,"compare_at_price":null,"inventory_management":"shopify","barcode":"840237303976","featured_media":{"alt":"0","id":22786139717837,"position":2,"preview_image":{"aspect_ratio":0.8,"height":3700,"width":2960,"src":"https:\/\/cdn.shopify.com\/s\/files\/1\/0507\/5989\/3197\/products\/LIMA-SIDE-BIRCH-min.jpg?v=1659627995"}},"requires_selling_plan":false,"selling_plan_allocations":[],"quantity_rule":{"min":1,"max":null,"increment":1}},{"id":39745132265677,"title":"BIRCH \/ 9.5 \/ RE-SPLASH NYLON","option1":"BIRCH","option2":"9.5","option3":"RE-SPLASH NYLON","sku":"840237303983","requires_shipping":true,"taxable":true,"featured_image":{"id":30506296770765,"product_id":6650584400077,"position":2,"created_at":"2022-08-04T11:39:30-04:00","updated_at":"2022-08-04T11:46:35-04:00","alt":"0","width":2960,"height":3700,"src":"https:\/\/cdn.shopify.com\/s\/files\/1\/0507\/5989\/3197\/products\/LIMA-SIDE-BIRCH-min.jpg?v=1659627995","variant_ids":[39745132036301,39745132069069,39745132101837,39745132134605,39745132167373,39745132200141,39745132232909,39745132265677,39745132298445]},"available":false,"name":"LIMA - BIRCH \/ 9.5 \/ RE-SPLASH NYLON","public_title":"BIRCH \/ 9.5 \/ RE-SPLASH NYLON","options":["BIRCH","9.5","RE-SPLASH NYLON"],"price":35000,"weight":0,"compare_at_price":null,"inventory_management":"shopify","barcode":"840237303983","featured_media":{"alt":"0","id":22786139717837,"position":2,"preview_image":{"aspect_ratio":0.8,"height":3700,"width":2960,"src":"https:\/\/cdn.shopify.com\/s\/files\/1\/0507\/5989\/3197\/products\/LIMA-SIDE-BIRCH-min.jpg?v=1659627995"}},"requires_selling_plan":false,"selling_plan_allocations":[],"quantity_rule":{"min":1,"max":null,"increment":1}},{"id":39745132298445,"title":"BIRCH \/ 10 \/ RE-SPLASH NYLON","option1":"BIRCH","option2":"10","option3":"RE-SPLASH NYLON","sku":"840237303990","requires_shipping":true,"taxable":true,"featured_image":{"id":30506296770765,"product_id":6650584400077,"position":2,"created_at":"2022-08-04T11:39:30-04:00","updated_at":"2022-08-04T11:46:35-04:00","alt":"0","width":2960,"height":3700,"src":"https:\/\/cdn.shopify.com\/s\/files\/1\/0507\/5989\/3197\/products\/LIMA-SIDE-BIRCH-min.jpg?v=1659627995","variant_ids":[39745132036301,39745132069069,39745132101837,39745132134605,39745132167373,39745132200141,39745132232909,39745132265677,39745132298445]},"available":true,"name":"LIMA - BIRCH \/ 10 \/ RE-SPLASH NYLON","public_title":"BIRCH \/ 10 \/ RE-SPLASH NYLON","options":["BIRCH","10","RE-SPLASH NYLON"],"price":35000,"weight":0,"compare_at_price":null,"inventory_management":"shopify","barcode":"840237303990","featured_media":{"alt":"0","id":22786139717837,"position":2,"preview_image":{"aspect_ratio":0.8,"height":3700,"width":2960,"src":"https:\/\/cdn.shopify.com\/s\/files\/1\/0507\/5989\/3197\/products\/LIMA-SIDE-BIRCH-min.jpg?v=1659627995"}},"requires_selling_plan":false,"selling_plan_allocations":[],"quantity_rule":{"min":1,"max":null,"increment":1}},{"id":39878161531085,"title":"LILAC \/ 6 \/ RE-SPLASH NYLON","option1":"LILAC","option2":"6","option3":"RE-SPLASH NYLON","sku":"840237304119","requires_shipping":true,"taxable":true,"featured_image":{"id":28693295071437,"product_id":6650584400077,"position":1,"created_at":"2021-08-25T00:00:42-04:00","updated_at":"2022-08-04T11:44:38-04:00","alt":"1","width":1600,"height":2000,"src":"https:\/\/cdn.shopify.com\/s\/files\/1\/0507\/5989\/3197\/products\/LIMA_LILAC_SIDE_dcd5727a-5586-4476-8c65-6da321899753.jpg?v=1659627878","variant_ids":[39878161531085,39878162055373,39878162350285,39878162514125,39878162710733,39878162743501,39878162809037,39922110005453,39922111185101]},"available":true,"name":"LIMA - LILAC \/ 6 \/ RE-SPLASH NYLON","public_title":"LILAC \/ 6 \/ RE-SPLASH NYLON","options":["LILAC","6","RE-SPLASH NYLON"],"price":35000,"weight":0,"compare_at_price":null,"inventory_management":"shopify","barcode":"840237304119","featured_media":{"alt":"1","id":20948810072269,"position":1,"preview_image":{"aspect_ratio":0.8,"height":2000,"width":1600,"src":"https:\/\/cdn.shopify.com\/s\/files\/1\/0507\/5989\/3197\/products\/LIMA_LILAC_SIDE_dcd5727a-5586-4476-8c65-6da321899753.jpg?v=1659627878"}},"requires_selling_plan":false,"selling_plan_allocations":[],"quantity_rule":{"min":1,"max":null,"increment":1}},{"id":39878162055373,"title":"LILAC \/ 6.5 \/ RE-SPLASH NYLON","option1":"LILAC","option2":"6.5","option3":"RE-SPLASH NYLON","sku":"840237304126","requires_shipping":true,"taxable":true,"featured_image":{"id":28693295071437,"product_id":6650584400077,"position":1,"created_at":"2021-08-25T00:00:42-04:00","updated_at":"2022-08-04T11:44:38-04:00","alt":"1","width":1600,"height":2000,"src":"https:\/\/cdn.shopify.com\/s\/files\/1\/0507\/5989\/3197\/products\/LIMA_LILAC_SIDE_dcd5727a-5586-4476-8c65-6da321899753.jpg?v=1659627878","variant_ids":[39878161531085,39878162055373,39878162350285,39878162514125,39878162710733,39878162743501,39878162809037,39922110005453,39922111185101]},"available":false,"name":"LIMA - LILAC \/ 6.5 \/ RE-SPLASH NYLON","public_title":"LILAC \/ 6.5 \/ RE-SPLASH NYLON","options":["LILAC","6.5","RE-SPLASH NYLON"],"price":35000,"weight":0,"compare_at_price":null,"inventory_management":"shopify","barcode":"840237304126","featured_media":{"alt":"1","id":20948810072269,"position":1,"preview_image":{"aspect_ratio":0.8,"height":2000,"width":1600,"src":"https:\/\/cdn.shopify.com\/s\/files\/1\/0507\/5989\/3197\/products\/LIMA_LILAC_SIDE_dcd5727a-5586-4476-8c65-6da321899753.jpg?v=1659627878"}},"requires_selling_plan":false,"selling_plan_allocations":[],"quantity_rule":{"min":1,"max":null,"increment":1}},{"id":39878162350285,"title":"LILAC \/ 7 \/ RE-SPLASH NYLON","option1":"LILAC","option2":"7","option3":"RE-SPLASH NYLON","sku":"840237304133","requires_shipping":true,"taxable":true,"featured_image":{"id":28693295071437,"product_id":6650584400077,"position":1,"created_at":"2021-08-25T00:00:42-04:00","updated_at":"2022-08-04T11:44:38-04:00","alt":"1","width":1600,"height":2000,"src":"https:\/\/cdn.shopify.com\/s\/files\/1\/0507\/5989\/3197\/products\/LIMA_LILAC_SIDE_dcd5727a-5586-4476-8c65-6da321899753.jpg?v=1659627878","variant_ids":[39878161531085,39878162055373,39878162350285,39878162514125,39878162710733,39878162743501,39878162809037,39922110005453,39922111185101]},"available":false,"name":"LIMA - LILAC \/ 7 \/ RE-SPLASH NYLON","public_title":"LILAC \/ 7 \/ RE-SPLASH NYLON","options":["LILAC","7","RE-SPLASH NYLON"],"price":35000,"weight":0,"compare_at_price":null,"inventory_management":"shopify","barcode":"840237304133","featured_media":{"alt":"1","id":20948810072269,"position":1,"preview_image":{"aspect_ratio":0.8,"height":2000,"width":1600,"src":"https:\/\/cdn.shopify.com\/s\/files\/1\/0507\/5989\/3197\/products\/LIMA_LILAC_SIDE_dcd5727a-5586-4476-8c65-6da321899753.jpg?v=1659627878"}},"requires_selling_plan":false,"selling_plan_allocations":[],"quantity_rule":{"min":1,"max":null,"increment":1}},{"id":39878162514125,"title":"LILAC \/ 7.5 \/ RE-SPLASH NYLON","option1":"LILAC","option2":"7.5","option3":"RE-SPLASH NYLON","sku":"840237304140","requires_shipping":true,"taxable":true,"featured_image":{"id":28693295071437,"product_id":6650584400077,"position":1,"created_at":"2021-08-25T00:00:42-04:00","updated_at":"2022-08-04T11:44:38-04:00","alt":"1","width":1600,"height":2000,"src":"https:\/\/cdn.shopify.com\/s\/files\/1\/0507\/5989\/3197\/products\/LIMA_LILAC_SIDE_dcd5727a-5586-4476-8c65-6da321899753.jpg?v=1659627878","variant_ids":[39878161531085,39878162055373,39878162350285,39878162514125,39878162710733,39878162743501,39878162809037,39922110005453,39922111185101]},"available":false,"name":"LIMA - LILAC \/ 7.5 \/ RE-SPLASH NYLON","public_title":"LILAC \/ 7.5 \/ RE-SPLASH NYLON","options":["LILAC","7.5","RE-SPLASH NYLON"],"price":35000,"weight":0,"compare_at_price":null,"inventory_management":"shopify","barcode":"840237304140","featured_media":{"alt":"1","id":20948810072269,"position":1,"preview_image":{"aspect_ratio":0.8,"height":2000,"width":1600,"src":"https:\/\/cdn.shopify.com\/s\/files\/1\/0507\/5989\/3197\/products\/LIMA_LILAC_SIDE_dcd5727a-5586-4476-8c65-6da321899753.jpg?v=1659627878"}},"requires_selling_plan":false,"selling_plan_allocations":[],"quantity_rule":{"min":1,"max":null,"increment":1}},{"id":39878162710733,"title":"LILAC \/ 8 \/ RE-SPLASH NYLON","option1":"LILAC","option2":"8","option3":"RE-SPLASH NYLON","sku":"840237304157","requires_shipping":true,"taxable":true,"featured_image":{"id":28693295071437,"product_id":6650584400077,"position":1,"created_at":"2021-08-25T00:00:42-04:00","updated_at":"2022-08-04T11:44:38-04:00","alt":"1","width":1600,"height":2000,"src":"https:\/\/cdn.shopify.com\/s\/files\/1\/0507\/5989\/3197\/products\/LIMA_LILAC_SIDE_dcd5727a-5586-4476-8c65-6da321899753.jpg?v=1659627878","variant_ids":[39878161531085,39878162055373,39878162350285,39878162514125,39878162710733,39878162743501,39878162809037,39922110005453,39922111185101]},"available":false,"name":"LIMA - LILAC \/ 8 \/ RE-SPLASH NYLON","public_title":"LILAC \/ 8 \/ RE-SPLASH NYLON","options":["LILAC","8","RE-SPLASH NYLON"],"price":35000,"weight":0,"compare_at_price":null,"inventory_management":"shopify","barcode":"840237304157","featured_media":{"alt":"1","id":20948810072269,"position":1,"preview_image":{"aspect_ratio":0.8,"height":2000,"width":1600,"src":"https:\/\/cdn.shopify.com\/s\/files\/1\/0507\/5989\/3197\/products\/LIMA_LILAC_SIDE_dcd5727a-5586-4476-8c65-6da321899753.jpg?v=1659627878"}},"requires_selling_plan":false,"selling_plan_allocations":[],"quantity_rule":{"min":1,"max":null,"increment":1}},{"id":39878162743501,"title":"LILAC \/ 8.5 \/ RE-SPLASH NYLON","option1":"LILAC","option2":"8.5","option3":"RE-SPLASH NYLON","sku":"840237304164","requires_shipping":true,"taxable":true,"featured_image":{"id":28693295071437,"product_id":6650584400077,"position":1,"created_at":"2021-08-25T00:00:42-04:00","updated_at":"2022-08-04T11:44:38-04:00","alt":"1","width":1600,"height":2000,"src":"https:\/\/cdn.shopify.com\/s\/files\/1\/0507\/5989\/3197\/products\/LIMA_LILAC_SIDE_dcd5727a-5586-4476-8c65-6da321899753.jpg?v=1659627878","variant_ids":[39878161531085,39878162055373,39878162350285,39878162514125,39878162710733,39878162743501,39878162809037,39922110005453,39922111185101]},"available":false,"name":"LIMA - LILAC \/ 8.5 \/ RE-SPLASH NYLON","public_title":"LILAC \/ 8.5 \/ RE-SPLASH NYLON","options":["LILAC","8.5","RE-SPLASH NYLON"],"price":35000,"weight":0,"compare_at_price":null,"inventory_management":"shopify","barcode":"840237304164","featured_media":{"alt":"1","id":20948810072269,"position":1,"preview_image":{"aspect_ratio":0.8,"height":2000,"width":1600,"src":"https:\/\/cdn.shopify.com\/s\/files\/1\/0507\/5989\/3197\/products\/LIMA_LILAC_SIDE_dcd5727a-5586-4476-8c65-6da321899753.jpg?v=1659627878"}},"requires_selling_plan":false,"selling_plan_allocations":[],"quantity_rule":{"min":1,"max":null,"increment":1}},{"id":39922110005453,"title":"LILAC \/ 9 \/ RE-SPLASH NYLON","option1":"LILAC","option2":"9","option3":"RE-SPLASH NYLON","sku":"840237303600","requires_shipping":true,"taxable":true,"featured_image":{"id":28693295071437,"product_id":6650584400077,"position":1,"created_at":"2021-08-25T00:00:42-04:00","updated_at":"2022-08-04T11:44:38-04:00","alt":"1","width":1600,"height":2000,"src":"https:\/\/cdn.shopify.com\/s\/files\/1\/0507\/5989\/3197\/products\/LIMA_LILAC_SIDE_dcd5727a-5586-4476-8c65-6da321899753.jpg?v=1659627878","variant_ids":[39878161531085,39878162055373,39878162350285,39878162514125,39878162710733,39878162743501,39878162809037,39922110005453,39922111185101]},"available":false,"name":"LIMA - LILAC \/ 9 \/ RE-SPLASH NYLON","public_title":"LILAC \/ 9 \/ RE-SPLASH NYLON","options":["LILAC","9","RE-SPLASH NYLON"],"price":35000,"weight":0,"compare_at_price":null,"inventory_management":"shopify","barcode":"840237303600","featured_media":{"alt":"1","id":20948810072269,"position":1,"preview_image":{"aspect_ratio":0.8,"height":2000,"width":1600,"src":"https:\/\/cdn.shopify.com\/s\/files\/1\/0507\/5989\/3197\/products\/LIMA_LILAC_SIDE_dcd5727a-5586-4476-8c65-6da321899753.jpg?v=1659627878"}},"requires_selling_plan":false,"selling_plan_allocations":[],"quantity_rule":{"min":1,"max":null,"increment":1}},{"id":39922111185101,"title":"LILAC \/ 9.5 \/ RE-SPLASH NYLON","option1":"LILAC","option2":"9.5","option3":"RE-SPLASH NYLON","sku":"840237303709","requires_shipping":true,"taxable":true,"featured_image":{"id":28693295071437,"product_id":6650584400077,"position":1,"created_at":"2021-08-25T00:00:42-04:00","updated_at":"2022-08-04T11:44:38-04:00","alt":"1","width":1600,"height":2000,"src":"https:\/\/cdn.shopify.com\/s\/files\/1\/0507\/5989\/3197\/products\/LIMA_LILAC_SIDE_dcd5727a-5586-4476-8c65-6da321899753.jpg?v=1659627878","variant_ids":[39878161531085,39878162055373,39878162350285,39878162514125,39878162710733,39878162743501,39878162809037,39922110005453,39922111185101]},"available":false,"name":"LIMA - LILAC \/ 9.5 \/ RE-SPLASH NYLON","public_title":"LILAC \/ 9.5 \/ RE-SPLASH NYLON","options":["LILAC","9.5","RE-SPLASH NYLON"],"price":35000,"weight":0,"compare_at_price":null,"inventory_management":"shopify","barcode":"840237303709","featured_media":{"alt":"1","id":20948810072269,"position":1,"preview_image":{"aspect_ratio":0.8,"height":2000,"width":1600,"src":"https:\/\/cdn.shopify.com\/s\/files\/1\/0507\/5989\/3197\/products\/LIMA_LILAC_SIDE_dcd5727a-5586-4476-8c65-6da321899753.jpg?v=1659627878"}},"requires_selling_plan":false,"selling_plan_allocations":[],"quantity_rule":{"min":1,"max":null,"increment":1}},{"id":39878162809037,"title":"LILAC \/ 10 \/ RE-SPLASH NYLON","option1":"LILAC","option2":"10","option3":"RE-SPLASH NYLON","sku":"840237304171","requires_shipping":true,"taxable":true,"featured_image":{"id":28693295071437,"product_id":6650584400077,"position":1,"created_at":"2021-08-25T00:00:42-04:00","updated_at":"2022-08-04T11:44:38-04:00","alt":"1","width":1600,"height":2000,"src":"https:\/\/cdn.shopify.com\/s\/files\/1\/0507\/5989\/3197\/products\/LIMA_LILAC_SIDE_dcd5727a-5586-4476-8c65-6da321899753.jpg?v=1659627878","variant_ids":[39878161531085,39878162055373,39878162350285,39878162514125,39878162710733,39878162743501,39878162809037,39922110005453,39922111185101]},"available":true,"name":"LIMA - LILAC \/ 10 \/ RE-SPLASH NYLON","public_title":"LILAC \/ 10 \/ RE-SPLASH NYLON","options":["LILAC","10","RE-SPLASH NYLON"],"price":35000,"weight":0,"compare_at_price":null,"inventory_management":"shopify","barcode":"840237304171","featured_media":{"alt":"1","id":20948810072269,"position":1,"preview_image":{"aspect_ratio":0.8,"height":2000,"width":1600,"src":"https:\/\/cdn.shopify.com\/s\/files\/1\/0507\/5989\/3197\/products\/LIMA_LILAC_SIDE_dcd5727a-5586-4476-8c65-6da321899753.jpg?v=1659627878"}},"requires_selling_plan":false,"selling_plan_allocations":[],"quantity_rule":{"min":1,"max":null,"increment":1}},{"id":39745132363981,"title":"ALPINE \/ 6 \/ RE-SPLASH NYLON","option1":"ALPINE","option2":"6","option3":"RE-SPLASH NYLON","sku":"840237304010","requires_shipping":true,"taxable":true,"featured_image":{"id":28693294940365,"product_id":6650584400077,"position":3,"created_at":"2021-08-25T00:00:41-04:00","updated_at":"2022-08-04T11:46:35-04:00","alt":"2","width":1600,"height":2000,"src":"https:\/\/cdn.shopify.com\/s\/files\/1\/0507\/5989\/3197\/products\/LIMA_ALPINE_SIDE_8a877717-3868-4ed5-8ddb-6d15f50a0914.jpg?v=1659627995","variant_ids":[39745132363981,39745132396749,39745132429517,39745132462285,39745132495053,39745132527821,39745132560589,39745132593357,39745132626125]},"available":true,"name":"LIMA - ALPINE \/ 6 \/ RE-SPLASH NYLON","public_title":"ALPINE \/ 6 \/ RE-SPLASH NYLON","options":["ALPINE","6","RE-SPLASH NYLON"],"price":35000,"weight":0,"compare_at_price":null,"inventory_management":"shopify","barcode":"840237304010","featured_media":{"alt":"2","id":20948809973965,"position":3,"preview_image":{"aspect_ratio":0.8,"height":2000,"width":1600,"src":"https:\/\/cdn.shopify.com\/s\/files\/1\/0507\/5989\/3197\/products\/LIMA_ALPINE_SIDE_8a877717-3868-4ed5-8ddb-6d15f50a0914.jpg?v=1659627995"}},"requires_selling_plan":false,"selling_plan_allocations":[],"quantity_rule":{"min":1,"max":null,"increment":1}},{"id":39745132396749,"title":"ALPINE \/ 6.5 \/ RE-SPLASH NYLON","option1":"ALPINE","option2":"6.5","option3":"RE-SPLASH NYLON","sku":"840237304027","requires_shipping":true,"taxable":true,"featured_image":{"id":28693294940365,"product_id":6650584400077,"position":3,"created_at":"2021-08-25T00:00:41-04:00","updated_at":"2022-08-04T11:46:35-04:00","alt":"2","width":1600,"height":2000,"src":"https:\/\/cdn.shopify.com\/s\/files\/1\/0507\/5989\/3197\/products\/LIMA_ALPINE_SIDE_8a877717-3868-4ed5-8ddb-6d15f50a0914.jpg?v=1659627995","variant_ids":[39745132363981,39745132396749,39745132429517,39745132462285,39745132495053,39745132527821,39745132560589,39745132593357,39745132626125]},"available":true,"name":"LIMA - ALPINE \/ 6.5 \/ RE-SPLASH NYLON","public_title":"ALPINE \/ 6.5 \/ RE-SPLASH NYLON","options":["ALPINE","6.5","RE-SPLASH NYLON"],"price":35000,"weight":0,"compare_at_price":null,"inventory_management":"shopify","barcode":"840237304027","featured_media":{"alt":"2","id":20948809973965,"position":3,"preview_image":{"aspect_ratio":0.8,"height":2000,"width":1600,"src":"https:\/\/cdn.shopify.com\/s\/files\/1\/0507\/5989\/3197\/products\/LIMA_ALPINE_SIDE_8a877717-3868-4ed5-8ddb-6d15f50a0914.jpg?v=1659627995"}},"requires_selling_plan":false,"selling_plan_allocations":[],"quantity_rule":{"min":1,"max":null,"increment":1}},{"id":39745132429517,"title":"ALPINE \/ 7 \/ RE-SPLASH NYLON","option1":"ALPINE","option2":"7","option3":"RE-SPLASH NYLON","sku":"840237304034","requires_shipping":true,"taxable":true,"featured_image":{"id":28693294940365,"product_id":6650584400077,"position":3,"created_at":"2021-08-25T00:00:41-04:00","updated_at":"2022-08-04T11:46:35-04:00","alt":"2","width":1600,"height":2000,"src":"https:\/\/cdn.shopify.com\/s\/files\/1\/0507\/5989\/3197\/products\/LIMA_ALPINE_SIDE_8a877717-3868-4ed5-8ddb-6d15f50a0914.jpg?v=1659627995","variant_ids":[39745132363981,39745132396749,39745132429517,39745132462285,39745132495053,39745132527821,39745132560589,39745132593357,39745132626125]},"available":true,"name":"LIMA - ALPINE \/ 7 \/ RE-SPLASH NYLON","public_title":"ALPINE \/ 7 \/ RE-SPLASH NYLON","options":["ALPINE","7","RE-SPLASH NYLON"],"price":35000,"weight":0,"compare_at_price":null,"inventory_management":"shopify","barcode":"840237304034","featured_media":{"alt":"2","id":20948809973965,"position":3,"preview_image":{"aspect_ratio":0.8,"height":2000,"width":1600,"src":"https:\/\/cdn.shopify.com\/s\/files\/1\/0507\/5989\/3197\/products\/LIMA_ALPINE_SIDE_8a877717-3868-4ed5-8ddb-6d15f50a0914.jpg?v=1659627995"}},"requires_selling_plan":false,"selling_plan_allocations":[],"quantity_rule":{"min":1,"max":null,"increment":1}},{"id":39745132462285,"title":"ALPINE \/ 7.5 \/ RE-SPLASH NYLON","option1":"ALPINE","option2":"7.5","option3":"RE-SPLASH NYLON","sku":"840237304041","requires_shipping":true,"taxable":true,"featured_image":{"id":28693294940365,"product_id":6650584400077,"position":3,"created_at":"2021-08-25T00:00:41-04:00","updated_at":"2022-08-04T11:46:35-04:00","alt":"2","width":1600,"height":2000,"src":"https:\/\/cdn.shopify.com\/s\/files\/1\/0507\/5989\/3197\/products\/LIMA_ALPINE_SIDE_8a877717-3868-4ed5-8ddb-6d15f50a0914.jpg?v=1659627995","variant_ids":[39745132363981,39745132396749,39745132429517,39745132462285,39745132495053,39745132527821,39745132560589,39745132593357,39745132626125]},"available":true,"name":"LIMA - ALPINE \/ 7.5 \/ RE-SPLASH NYLON","public_title":"ALPINE \/ 7.5 \/ RE-SPLASH NYLON","options":["ALPINE","7.5","RE-SPLASH NYLON"],"price":35000,"weight":0,"compare_at_price":null,"inventory_management":"shopify","barcode":"840237304041","featured_media":{"alt":"2","id":20948809973965,"position":3,"preview_image":{"aspect_ratio":0.8,"height":2000,"width":1600,"src":"https:\/\/cdn.shopify.com\/s\/files\/1\/0507\/5989\/3197\/products\/LIMA_ALPINE_SIDE_8a877717-3868-4ed5-8ddb-6d15f50a0914.jpg?v=1659627995"}},"requires_selling_plan":false,"selling_plan_allocations":[],"quantity_rule":{"min":1,"max":null,"increment":1}},{"id":39745132495053,"title":"ALPINE \/ 8 \/ RE-SPLASH NYLON","option1":"ALPINE","option2":"8","option3":"RE-SPLASH NYLON","sku":"840237304058","requires_shipping":true,"taxable":true,"featured_image":{"id":28693294940365,"product_id":6650584400077,"position":3,"created_at":"2021-08-25T00:00:41-04:00","updated_at":"2022-08-04T11:46:35-04:00","alt":"2","width":1600,"height":2000,"src":"https:\/\/cdn.shopify.com\/s\/files\/1\/0507\/5989\/3197\/products\/LIMA_ALPINE_SIDE_8a877717-3868-4ed5-8ddb-6d15f50a0914.jpg?v=1659627995","variant_ids":[39745132363981,39745132396749,39745132429517,39745132462285,39745132495053,39745132527821,39745132560589,39745132593357,39745132626125]},"available":true,"name":"LIMA - ALPINE \/ 8 \/ RE-SPLASH NYLON","public_title":"ALPINE \/ 8 \/ RE-SPLASH NYLON","options":["ALPINE","8","RE-SPLASH NYLON"],"price":35000,"weight":0,"compare_at_price":null,"inventory_management":"shopify","barcode":"840237304058","featured_media":{"alt":"2","id":20948809973965,"position":3,"preview_image":{"aspect_ratio":0.8,"height":2000,"width":1600,"src":"https:\/\/cdn.shopify.com\/s\/files\/1\/0507\/5989\/3197\/products\/LIMA_ALPINE_SIDE_8a877717-3868-4ed5-8ddb-6d15f50a0914.jpg?v=1659627995"}},"requires_selling_plan":false,"selling_plan_allocations":[],"quantity_rule":{"min":1,"max":null,"increment":1}},{"id":39745132527821,"title":"ALPINE \/ 8.5 \/ RE-SPLASH NYLON","option1":"ALPINE","option2":"8.5","option3":"RE-SPLASH NYLON","sku":"840237304065","requires_shipping":true,"taxable":true,"featured_image":{"id":28693294940365,"product_id":6650584400077,"position":3,"created_at":"2021-08-25T00:00:41-04:00","updated_at":"2022-08-04T11:46:35-04:00","alt":"2","width":1600,"height":2000,"src":"https:\/\/cdn.shopify.com\/s\/files\/1\/0507\/5989\/3197\/products\/LIMA_ALPINE_SIDE_8a877717-3868-4ed5-8ddb-6d15f50a0914.jpg?v=1659627995","variant_ids":[39745132363981,39745132396749,39745132429517,39745132462285,39745132495053,39745132527821,39745132560589,39745132593357,39745132626125]},"available":true,"name":"LIMA - ALPINE \/ 8.5 \/ RE-SPLASH NYLON","public_title":"ALPINE \/ 8.5 \/ RE-SPLASH NYLON","options":["ALPINE","8.5","RE-SPLASH NYLON"],"price":35000,"weight":0,"compare_at_price":null,"inventory_management":"shopify","barcode":"840237304065","featured_media":{"alt":"2","id":20948809973965,"position":3,"preview_image":{"aspect_ratio":0.8,"height":2000,"width":1600,"src":"https:\/\/cdn.shopify.com\/s\/files\/1\/0507\/5989\/3197\/products\/LIMA_ALPINE_SIDE_8a877717-3868-4ed5-8ddb-6d15f50a0914.jpg?v=1659627995"}},"requires_selling_plan":false,"selling_plan_allocations":[],"quantity_rule":{"min":1,"max":null,"increment":1}},{"id":39745132560589,"title":"ALPINE \/ 9 \/ RE-SPLASH NYLON","option1":"ALPINE","option2":"9","option3":"RE-SPLASH NYLON","sku":"840237304072","requires_shipping":true,"taxable":true,"featured_image":{"id":28693294940365,"product_id":6650584400077,"position":3,"created_at":"2021-08-25T00:00:41-04:00","updated_at":"2022-08-04T11:46:35-04:00","alt":"2","width":1600,"height":2000,"src":"https:\/\/cdn.shopify.com\/s\/files\/1\/0507\/5989\/3197\/products\/LIMA_ALPINE_SIDE_8a877717-3868-4ed5-8ddb-6d15f50a0914.jpg?v=1659627995","variant_ids":[39745132363981,39745132396749,39745132429517,39745132462285,39745132495053,39745132527821,39745132560589,39745132593357,39745132626125]},"available":true,"name":"LIMA - ALPINE \/ 9 \/ RE-SPLASH NYLON","public_title":"ALPINE \/ 9 \/ RE-SPLASH NYLON","options":["ALPINE","9","RE-SPLASH NYLON"],"price":35000,"weight":0,"compare_at_price":null,"inventory_management":"shopify","barcode":"840237304072","featured_media":{"alt":"2","id":20948809973965,"position":3,"preview_image":{"aspect_ratio":0.8,"height":2000,"width":1600,"src":"https:\/\/cdn.shopify.com\/s\/files\/1\/0507\/5989\/3197\/products\/LIMA_ALPINE_SIDE_8a877717-3868-4ed5-8ddb-6d15f50a0914.jpg?v=1659627995"}},"requires_selling_plan":false,"selling_plan_allocations":[],"quantity_rule":{"min":1,"max":null,"increment":1}},{"id":39745132593357,"title":"ALPINE \/ 9.5 \/ RE-SPLASH NYLON","option1":"ALPINE","option2":"9.5","option3":"RE-SPLASH NYLON","sku":"840237304089","requires_shipping":true,"taxable":true,"featured_image":{"id":28693294940365,"product_id":6650584400077,"position":3,"created_at":"2021-08-25T00:00:41-04:00","updated_at":"2022-08-04T11:46:35-04:00","alt":"2","width":1600,"height":2000,"src":"https:\/\/cdn.shopify.com\/s\/files\/1\/0507\/5989\/3197\/products\/LIMA_ALPINE_SIDE_8a877717-3868-4ed5-8ddb-6d15f50a0914.jpg?v=1659627995","variant_ids":[39745132363981,39745132396749,39745132429517,39745132462285,39745132495053,39745132527821,39745132560589,39745132593357,39745132626125]},"available":true,"name":"LIMA - ALPINE \/ 9.5 \/ RE-SPLASH NYLON","public_title":"ALPINE \/ 9.5 \/ RE-SPLASH NYLON","options":["ALPINE","9.5","RE-SPLASH NYLON"],"price":35000,"weight":0,"compare_at_price":null,"inventory_management":"shopify","barcode":"840237304089","featured_media":{"alt":"2","id":20948809973965,"position":3,"preview_image":{"aspect_ratio":0.8,"height":2000,"width":1600,"src":"https:\/\/cdn.shopify.com\/s\/files\/1\/0507\/5989\/3197\/products\/LIMA_ALPINE_SIDE_8a877717-3868-4ed5-8ddb-6d15f50a0914.jpg?v=1659627995"}},"requires_selling_plan":false,"selling_plan_allocations":[],"quantity_rule":{"min":1,"max":null,"increment":1}},{"id":39745132626125,"title":"ALPINE \/ 10 \/ RE-SPLASH NYLON","option1":"ALPINE","option2":"10","option3":"RE-SPLASH NYLON","sku":"840237304096","requires_shipping":true,"taxable":true,"featured_image":{"id":28693294940365,"product_id":6650584400077,"position":3,"created_at":"2021-08-25T00:00:41-04:00","updated_at":"2022-08-04T11:46:35-04:00","alt":"2","width":1600,"height":2000,"src":"https:\/\/cdn.shopify.com\/s\/files\/1\/0507\/5989\/3197\/products\/LIMA_ALPINE_SIDE_8a877717-3868-4ed5-8ddb-6d15f50a0914.jpg?v=1659627995","variant_ids":[39745132363981,39745132396749,39745132429517,39745132462285,39745132495053,39745132527821,39745132560589,39745132593357,39745132626125]},"available":true,"name":"LIMA - ALPINE \/ 10 \/ RE-SPLASH NYLON","public_title":"ALPINE \/ 10 \/ RE-SPLASH NYLON","options":["ALPINE","10","RE-SPLASH NYLON"],"price":35000,"weight":0,"compare_at_price":null,"inventory_management":"shopify","barcode":"840237304096","featured_media":{"alt":"2","id":20948809973965,"position":3,"preview_image":{"aspect_ratio":0.8,"height":2000,"width":1600,"src":"https:\/\/cdn.shopify.com\/s\/files\/1\/0507\/5989\/3197\/products\/LIMA_ALPINE_SIDE_8a877717-3868-4ed5-8ddb-6d15f50a0914.jpg?v=1659627995"}},"requires_selling_plan":false,"selling_plan_allocations":[],"quantity_rule":{"min":1,"max":null,"increment":1}},{"id":39745131348173,"title":"BLACK \/ 6 \/ RE-SPLASH NYLON","option1":"BLACK","option2":"6","option3":"RE-SPLASH NYLON","sku":"840237303815","requires_shipping":true,"taxable":true,"featured_image":{"id":28693294973133,"product_id":6650584400077,"position":5,"created_at":"2021-08-25T00:00:41-04:00","updated_at":"2022-08-04T11:46:35-04:00","alt":"3","width":1600,"height":2000,"src":"https:\/\/cdn.shopify.com\/s\/files\/1\/0507\/5989\/3197\/products\/LIMA_BLACK_SIDE_ac6aa18c-9749-449a-b4e6-674e72089c9c.jpg?v=1659627995","variant_ids":[39745131348173,39745131380941,39745131413709,39745131446477,39745131479245,39745131512013,39745131544781,39745131577549,39745131643085]},"available":true,"name":"LIMA - BLACK \/ 6 \/ RE-SPLASH NYLON","public_title":"BLACK \/ 6 \/ RE-SPLASH NYLON","options":["BLACK","6","RE-SPLASH NYLON"],"price":35000,"weight":0,"compare_at_price":null,"inventory_management":"shopify","barcode":"840237303815","featured_media":{"alt":"3","id":20948810039501,"position":5,"preview_image":{"aspect_ratio":0.8,"height":2000,"width":1600,"src":"https:\/\/cdn.shopify.com\/s\/files\/1\/0507\/5989\/3197\/products\/LIMA_BLACK_SIDE_ac6aa18c-9749-449a-b4e6-674e72089c9c.jpg?v=1659627995"}},"requires_selling_plan":false,"selling_plan_allocations":[],"quantity_rule":{"min":1,"max":null,"increment":1}},{"id":39745131380941,"title":"BLACK \/ 6.5 \/ RE-SPLASH NYLON","option1":"BLACK","option2":"6.5","option3":"RE-SPLASH NYLON","sku":"840237303822","requires_shipping":true,"taxable":true,"featured_image":{"id":28693294973133,"product_id":6650584400077,"position":5,"created_at":"2021-08-25T00:00:41-04:00","updated_at":"2022-08-04T11:46:35-04:00","alt":"3","width":1600,"height":2000,"src":"https:\/\/cdn.shopify.com\/s\/files\/1\/0507\/5989\/3197\/products\/LIMA_BLACK_SIDE_ac6aa18c-9749-449a-b4e6-674e72089c9c.jpg?v=1659627995","variant_ids":[39745131348173,39745131380941,39745131413709,39745131446477,39745131479245,39745131512013,39745131544781,39745131577549,39745131643085]},"available":true,"name":"LIMA - BLACK \/ 6.5 \/ RE-SPLASH NYLON","public_title":"BLACK \/ 6.5 \/ RE-SPLASH NYLON","options":["BLACK","6.5","RE-SPLASH NYLON"],"price":35000,"weight":0,"compare_at_price":null,"inventory_management":"shopify","barcode":"840237303822","featured_media":{"alt":"3","id":20948810039501,"position":5,"preview_image":{"aspect_ratio":0.8,"height":2000,"width":1600,"src":"https:\/\/cdn.shopify.com\/s\/files\/1\/0507\/5989\/3197\/products\/LIMA_BLACK_SIDE_ac6aa18c-9749-449a-b4e6-674e72089c9c.jpg?v=1659627995"}},"requires_selling_plan":false,"selling_plan_allocations":[],"quantity_rule":{"min":1,"max":null,"increment":1}},{"id":39745131413709,"title":"BLACK \/ 7 \/ RE-SPLASH NYLON","option1":"BLACK","option2":"7","option3":"RE-SPLASH NYLON","sku":"840237303839","requires_shipping":true,"taxable":true,"featured_image":{"id":28693294973133,"product_id":6650584400077,"position":5,"created_at":"2021-08-25T00:00:41-04:00","updated_at":"2022-08-04T11:46:35-04:00","alt":"3","width":1600,"height":2000,"src":"https:\/\/cdn.shopify.com\/s\/files\/1\/0507\/5989\/3197\/products\/LIMA_BLACK_SIDE_ac6aa18c-9749-449a-b4e6-674e72089c9c.jpg?v=1659627995","variant_ids":[39745131348173,39745131380941,39745131413709,39745131446477,39745131479245,39745131512013,39745131544781,39745131577549,39745131643085]},"available":false,"name":"LIMA - BLACK \/ 7 \/ RE-SPLASH NYLON","public_title":"BLACK \/ 7 \/ RE-SPLASH NYLON","options":["BLACK","7","RE-SPLASH NYLON"],"price":35000,"weight":0,"compare_at_price":null,"inventory_management":"shopify","barcode":"840237303839","featured_media":{"alt":"3","id":20948810039501,"position":5,"preview_image":{"aspect_ratio":0.8,"height":2000,"width":1600,"src":"https:\/\/cdn.shopify.com\/s\/files\/1\/0507\/5989\/3197\/products\/LIMA_BLACK_SIDE_ac6aa18c-9749-449a-b4e6-674e72089c9c.jpg?v=1659627995"}},"requires_selling_plan":false,"selling_plan_allocations":[],"quantity_rule":{"min":1,"max":null,"increment":1}},{"id":39745131446477,"title":"BLACK \/ 7.5 \/ RE-SPLASH NYLON","option1":"BLACK","option2":"7.5","option3":"RE-SPLASH NYLON","sku":"840237303846","requires_shipping":true,"taxable":true,"featured_image":{"id":28693294973133,"product_id":6650584400077,"position":5,"created_at":"2021-08-25T00:00:41-04:00","updated_at":"2022-08-04T11:46:35-04:00","alt":"3","width":1600,"height":2000,"src":"https:\/\/cdn.shopify.com\/s\/files\/1\/0507\/5989\/3197\/products\/LIMA_BLACK_SIDE_ac6aa18c-9749-449a-b4e6-674e72089c9c.jpg?v=1659627995","variant_ids":[39745131348173,39745131380941,39745131413709,39745131446477,39745131479245,39745131512013,39745131544781,39745131577549,39745131643085]},"available":false,"name":"LIMA - BLACK \/ 7.5 \/ RE-SPLASH NYLON","public_title":"BLACK \/ 7.5 \/ RE-SPLASH NYLON","options":["BLACK","7.5","RE-SPLASH NYLON"],"price":35000,"weight":0,"compare_at_price":null,"inventory_management":"shopify","barcode":"840237303846","featured_media":{"alt":"3","id":20948810039501,"position":5,"preview_image":{"aspect_ratio":0.8,"height":2000,"width":1600,"src":"https:\/\/cdn.shopify.com\/s\/files\/1\/0507\/5989\/3197\/products\/LIMA_BLACK_SIDE_ac6aa18c-9749-449a-b4e6-674e72089c9c.jpg?v=1659627995"}},"requires_selling_plan":false,"selling_plan_allocations":[],"quantity_rule":{"min":1,"max":null,"increment":1}},{"id":39745131479245,"title":"BLACK \/ 8 \/ RE-SPLASH NYLON","option1":"BLACK","option2":"8","option3":"RE-SPLASH NYLON","sku":"840237303853","requires_shipping":true,"taxable":true,"featured_image":{"id":28693294973133,"product_id":6650584400077,"position":5,"created_at":"2021-08-25T00:00:41-04:00","updated_at":"2022-08-04T11:46:35-04:00","alt":"3","width":1600,"height":2000,"src":"https:\/\/cdn.shopify.com\/s\/files\/1\/0507\/5989\/3197\/products\/LIMA_BLACK_SIDE_ac6aa18c-9749-449a-b4e6-674e72089c9c.jpg?v=1659627995","variant_ids":[39745131348173,39745131380941,39745131413709,39745131446477,39745131479245,39745131512013,39745131544781,39745131577549,39745131643085]},"available":false,"name":"LIMA - BLACK \/ 8 \/ RE-SPLASH NYLON","public_title":"BLACK \/ 8 \/ RE-SPLASH NYLON","options":["BLACK","8","RE-SPLASH NYLON"],"price":35000,"weight":0,"compare_at_price":null,"inventory_management":"shopify","barcode":"840237303853","featured_media":{"alt":"3","id":20948810039501,"position":5,"preview_image":{"aspect_ratio":0.8,"height":2000,"width":1600,"src":"https:\/\/cdn.shopify.com\/s\/files\/1\/0507\/5989\/3197\/products\/LIMA_BLACK_SIDE_ac6aa18c-9749-449a-b4e6-674e72089c9c.jpg?v=1659627995"}},"requires_selling_plan":false,"selling_plan_allocations":[],"quantity_rule":{"min":1,"max":null,"increment":1}},{"id":39745131512013,"title":"BLACK \/ 8.5 \/ RE-SPLASH NYLON","option1":"BLACK","option2":"8.5","option3":"RE-SPLASH NYLON","sku":"840237303860","requires_shipping":true,"taxable":true,"featured_image":{"id":28693294973133,"product_id":6650584400077,"position":5,"created_at":"2021-08-25T00:00:41-04:00","updated_at":"2022-08-04T11:46:35-04:00","alt":"3","width":1600,"height":2000,"src":"https:\/\/cdn.shopify.com\/s\/files\/1\/0507\/5989\/3197\/products\/LIMA_BLACK_SIDE_ac6aa18c-9749-449a-b4e6-674e72089c9c.jpg?v=1659627995","variant_ids":[39745131348173,39745131380941,39745131413709,39745131446477,39745131479245,39745131512013,39745131544781,39745131577549,39745131643085]},"available":false,"name":"LIMA - BLACK \/ 8.5 \/ RE-SPLASH NYLON","public_title":"BLACK \/ 8.5 \/ RE-SPLASH NYLON","options":["BLACK","8.5","RE-SPLASH NYLON"],"price":35000,"weight":0,"compare_at_price":null,"inventory_management":"shopify","barcode":"840237303860","featured_media":{"alt":"3","id":20948810039501,"position":5,"preview_image":{"aspect_ratio":0.8,"height":2000,"width":1600,"src":"https:\/\/cdn.shopify.com\/s\/files\/1\/0507\/5989\/3197\/products\/LIMA_BLACK_SIDE_ac6aa18c-9749-449a-b4e6-674e72089c9c.jpg?v=1659627995"}},"requires_selling_plan":false,"selling_plan_allocations":[],"quantity_rule":{"min":1,"max":null,"increment":1}},{"id":39745131544781,"title":"BLACK \/ 9 \/ RE-SPLASH NYLON","option1":"BLACK","option2":"9","option3":"RE-SPLASH NYLON","sku":"840237303877","requires_shipping":true,"taxable":true,"featured_image":{"id":28693294973133,"product_id":6650584400077,"position":5,"created_at":"2021-08-25T00:00:41-04:00","updated_at":"2022-08-04T11:46:35-04:00","alt":"3","width":1600,"height":2000,"src":"https:\/\/cdn.shopify.com\/s\/files\/1\/0507\/5989\/3197\/products\/LIMA_BLACK_SIDE_ac6aa18c-9749-449a-b4e6-674e72089c9c.jpg?v=1659627995","variant_ids":[39745131348173,39745131380941,39745131413709,39745131446477,39745131479245,39745131512013,39745131544781,39745131577549,39745131643085]},"available":false,"name":"LIMA - BLACK \/ 9 \/ RE-SPLASH NYLON","public_title":"BLACK \/ 9 \/ RE-SPLASH NYLON","options":["BLACK","9","RE-SPLASH NYLON"],"price":35000,"weight":0,"compare_at_price":null,"inventory_management":"shopify","barcode":"840237303877","featured_media":{"alt":"3","id":20948810039501,"position":5,"preview_image":{"aspect_ratio":0.8,"height":2000,"width":1600,"src":"https:\/\/cdn.shopify.com\/s\/files\/1\/0507\/5989\/3197\/products\/LIMA_BLACK_SIDE_ac6aa18c-9749-449a-b4e6-674e72089c9c.jpg?v=1659627995"}},"requires_selling_plan":false,"selling_plan_allocations":[],"quantity_rule":{"min":1,"max":null,"increment":1}},{"id":39745131577549,"title":"BLACK \/ 9.5 \/ RE-SPLASH NYLON","option1":"BLACK","option2":"9.5","option3":"RE-SPLASH NYLON","sku":"840237303884","requires_shipping":true,"taxable":true,"featured_image":{"id":28693294973133,"product_id":6650584400077,"position":5,"created_at":"2021-08-25T00:00:41-04:00","updated_at":"2022-08-04T11:46:35-04:00","alt":"3","width":1600,"height":2000,"src":"https:\/\/cdn.shopify.com\/s\/files\/1\/0507\/5989\/3197\/products\/LIMA_BLACK_SIDE_ac6aa18c-9749-449a-b4e6-674e72089c9c.jpg?v=1659627995","variant_ids":[39745131348173,39745131380941,39745131413709,39745131446477,39745131479245,39745131512013,39745131544781,39745131577549,39745131643085]},"available":false,"name":"LIMA - BLACK \/ 9.5 \/ RE-SPLASH NYLON","public_title":"BLACK \/ 9.5 \/ RE-SPLASH NYLON","options":["BLACK","9.5","RE-SPLASH NYLON"],"price":35000,"weight":0,"compare_at_price":null,"inventory_management":"shopify","barcode":"840237303884","featured_media":{"alt":"3","id":20948810039501,"position":5,"preview_image":{"aspect_ratio":0.8,"height":2000,"width":1600,"src":"https:\/\/cdn.shopify.com\/s\/files\/1\/0507\/5989\/3197\/products\/LIMA_BLACK_SIDE_ac6aa18c-9749-449a-b4e6-674e72089c9c.jpg?v=1659627995"}},"requires_selling_plan":false,"selling_plan_allocations":[],"quantity_rule":{"min":1,"max":null,"increment":1}},{"id":39745131643085,"title":"BLACK \/ 10 \/ RE-SPLASH NYLON","option1":"BLACK","option2":"10","option3":"RE-SPLASH NYLON","sku":"840237303891","requires_shipping":true,"taxable":true,"featured_image":{"id":28693294973133,"product_id":6650584400077,"position":5,"created_at":"2021-08-25T00:00:41-04:00","updated_at":"2022-08-04T11:46:35-04:00","alt":"3","width":1600,"height":2000,"src":"https:\/\/cdn.shopify.com\/s\/files\/1\/0507\/5989\/3197\/products\/LIMA_BLACK_SIDE_ac6aa18c-9749-449a-b4e6-674e72089c9c.jpg?v=1659627995","variant_ids":[39745131348173,39745131380941,39745131413709,39745131446477,39745131479245,39745131512013,39745131544781,39745131577549,39745131643085]},"available":true,"name":"LIMA - BLACK \/ 10 \/ RE-SPLASH NYLON","public_title":"BLACK \/ 10 \/ RE-SPLASH NYLON","options":["BLACK","10","RE-SPLASH NYLON"],"price":35000,"weight":0,"compare_at_price":null,"inventory_management":"shopify","barcode":"840237303891","featured_media":{"alt":"3","id":20948810039501,"position":5,"preview_image":{"aspect_ratio":0.8,"height":2000,"width":1600,"src":"https:\/\/cdn.shopify.com\/s\/files\/1\/0507\/5989\/3197\/products\/LIMA_BLACK_SIDE_ac6aa18c-9749-449a-b4e6-674e72089c9c.jpg?v=1659627995"}},"requires_selling_plan":false,"selling_plan_allocations":[],"quantity_rule":{"min":1,"max":null,"increment":1}}],"images":["\/\/cdn.shopify.com\/s\/files\/1\/0507\/5989\/3197\/products\/LIMA_LILAC_SIDE_dcd5727a-5586-4476-8c65-6da321899753.jpg?v=1659627878","\/\/cdn.shopify.com\/s\/files\/1\/0507\/5989\/3197\/products\/LIMA-SIDE-BIRCH-min.jpg?v=1659627995","\/\/cdn.shopify.com\/s\/files\/1\/0507\/5989\/3197\/products\/LIMA_ALPINE_SIDE_8a877717-3868-4ed5-8ddb-6d15f50a0914.jpg?v=1659627995","\/\/cdn.shopify.com\/s\/files\/1\/0507\/5989\/3197\/products\/LIMA-TOP-BIRCH-min.jpg?v=1659627995","\/\/cdn.shopify.com\/s\/files\/1\/0507\/5989\/3197\/products\/LIMA_BLACK_SIDE_ac6aa18c-9749-449a-b4e6-674e72089c9c.jpg?v=1659627995","\/\/cdn.shopify.com\/s\/files\/1\/0507\/5989\/3197\/products\/LIMA-BACK-BIRCH-min.jpg?v=1659627995","\/\/cdn.shopify.com\/s\/files\/1\/0507\/5989\/3197\/products\/LIMA-OUTSOLE-BIRCH-min.jpg?v=1659627995","\/\/cdn.shopify.com\/s\/files\/1\/0507\/5989\/3197\/products\/LIMA-SOFT-BIRCH-min.jpg?v=1659627995","\/\/cdn.shopify.com\/s\/files\/1\/0507\/5989\/3197\/products\/LIMA-TOP-LILAC-min.jpg?v=1659627995","\/\/cdn.shopify.com\/s\/files\/1\/0507\/5989\/3197\/products\/LIMA-BACK-LILAC-min.jpg?v=1659627995","\/\/cdn.shopify.com\/s\/files\/1\/0507\/5989\/3197\/products\/LIMA-ONFOOT-BIRCH-min.jpg?v=1659627995","\/\/cdn.shopify.com\/s\/files\/1\/0507\/5989\/3197\/products\/LIMA-OUTSOLE-LILAC-min.jpg?v=1659627995","\/\/cdn.shopify.com\/s\/files\/1\/0507\/5989\/3197\/products\/LIMA-TOP-ALPINE-min.jpg?v=1659627995","\/\/cdn.shopify.com\/s\/files\/1\/0507\/5989\/3197\/products\/LIMA-BACK-ALPINE-min.jpg?v=1659627995","\/\/cdn.shopify.com\/s\/files\/1\/0507\/5989\/3197\/products\/LIMA-SOFT-LILAC-min.jpg?v=1659627995","\/\/cdn.shopify.com\/s\/files\/1\/0507\/5989\/3197\/products\/LIMA-ONFOOT-LILAC-min.jpg?v=1659627995","\/\/cdn.shopify.com\/s\/files\/1\/0507\/5989\/3197\/products\/LIMA-OUTSOLE-ALPINE-min.jpg?v=1659627995","\/\/cdn.shopify.com\/s\/files\/1\/0507\/5989\/3197\/products\/LIMA-SOFT-ALPINE-min.jpg?v=1659627995","\/\/cdn.shopify.com\/s\/files\/1\/0507\/5989\/3197\/products\/LIMA_BLACK_TOP_79649776-4649-43aa-976c-875ef5fa5a6d.jpg?v=1659627995","\/\/cdn.shopify.com\/s\/files\/1\/0507\/5989\/3197\/products\/LIMA-ONFOOT-ALPINE-min.jpg?v=1659627995","\/\/cdn.shopify.com\/s\/files\/1\/0507\/5989\/3197\/products\/LIMA-BACK-BLACK-min.jpg?v=1659627995","\/\/cdn.shopify.com\/s\/files\/1\/0507\/5989\/3197\/products\/LIMA-OUTSOLE-BLACK-min.jpg?v=1659627995","\/\/cdn.shopify.com\/s\/files\/1\/0507\/5989\/3197\/products\/LIMA-ONFOOT-BLACK-min.jpg?v=1659627995","\/\/cdn.shopify.com\/s\/files\/1\/0507\/5989\/3197\/products\/LIMA-SOFT-BLACK-min.jpg?v=1659627995"],"featured_image":"\/\/cdn.shopify.com\/s\/files\/1\/0507\/5989\/3197\/products\/LIMA_LILAC_SIDE_dcd5727a-5586-4476-8c65-6da321899753.jpg?v=1659627878","options":["Color","Size","Material"],"media":[{"alt":"1","id":20948810072269,"position":1,"preview_image":{"aspect_ratio":0.8,"height":2000,"width":1600,"src":"https:\/\/cdn.shopify.com\/s\/files\/1\/0507\/5989\/3197\/products\/LIMA_LILAC_SIDE_dcd5727a-5586-4476-8c65-6da321899753.jpg?v=1659627878"},"aspect_ratio":0.8,"height":2000,"media_type":"image","src":"https:\/\/cdn.shopify.com\/s\/files\/1\/0507\/5989\/3197\/products\/LIMA_LILAC_SIDE_dcd5727a-5586-4476-8c65-6da321899753.jpg?v=1659627878","width":1600},{"alt":"0","id":22786139717837,"position":2,"preview_image":{"aspect_ratio":0.8,"height":3700,"width":2960,"src":"https:\/\/cdn.shopify.com\/s\/files\/1\/0507\/5989\/3197\/products\/LIMA-SIDE-BIRCH-min.jpg?v=1659627995"},"aspect_ratio":0.8,"height":3700,"media_type":"image","src":"https:\/\/cdn.shopify.com\/s\/files\/1\/0507\/5989\/3197\/products\/LIMA-SIDE-BIRCH-min.jpg?v=1659627995","width":2960},{"alt":"2","id":20948809973965,"position":3,"preview_image":{"aspect_ratio":0.8,"height":2000,"width":1600,"src":"https:\/\/cdn.shopify.com\/s\/files\/1\/0507\/5989\/3197\/products\/LIMA_ALPINE_SIDE_8a877717-3868-4ed5-8ddb-6d15f50a0914.jpg?v=1659627995"},"aspect_ratio":0.8,"height":2000,"media_type":"image","src":"https:\/\/cdn.shopify.com\/s\/files\/1\/0507\/5989\/3197\/products\/LIMA_ALPINE_SIDE_8a877717-3868-4ed5-8ddb-6d15f50a0914.jpg?v=1659627995","width":1600},{"alt":"0","id":22786139783373,"position":4,"preview_image":{"aspect_ratio":0.8,"height":3700,"width":2960,"src":"https:\/\/cdn.shopify.com\/s\/files\/1\/0507\/5989\/3197\/products\/LIMA-TOP-BIRCH-min.jpg?v=1659627995"},"aspect_ratio":0.8,"height":3700,"media_type":"image","src":"https:\/\/cdn.shopify.com\/s\/files\/1\/0507\/5989\/3197\/products\/LIMA-TOP-BIRCH-min.jpg?v=1659627995","width":2960},{"alt":"3","id":20948810039501,"position":5,"preview_image":{"aspect_ratio":0.8,"height":2000,"width":1600,"src":"https:\/\/cdn.shopify.com\/s\/files\/1\/0507\/5989\/3197\/products\/LIMA_BLACK_SIDE_ac6aa18c-9749-449a-b4e6-674e72089c9c.jpg?v=1659627995"},"aspect_ratio":0.8,"height":2000,"media_type":"image","src":"https:\/\/cdn.shopify.com\/s\/files\/1\/0507\/5989\/3197\/products\/LIMA_BLACK_SIDE_ac6aa18c-9749-449a-b4e6-674e72089c9c.jpg?v=1659627995","width":1600},{"alt":"0","id":22786139619533,"position":6,"preview_image":{"aspect_ratio":0.8,"height":3700,"width":2960,"src":"https:\/\/cdn.shopify.com\/s\/files\/1\/0507\/5989\/3197\/products\/LIMA-BACK-BIRCH-min.jpg?v=1659627995"},"aspect_ratio":0.8,"height":3700,"media_type":"image","src":"https:\/\/cdn.shopify.com\/s\/files\/1\/0507\/5989\/3197\/products\/LIMA-BACK-BIRCH-min.jpg?v=1659627995","width":2960},{"alt":"0","id":22786139685069,"position":7,"preview_image":{"aspect_ratio":0.8,"height":3700,"width":2960,"src":"https:\/\/cdn.shopify.com\/s\/files\/1\/0507\/5989\/3197\/products\/LIMA-OUTSOLE-BIRCH-min.jpg?v=1659627995"},"aspect_ratio":0.8,"height":3700,"media_type":"image","src":"https:\/\/cdn.shopify.com\/s\/files\/1\/0507\/5989\/3197\/products\/LIMA-OUTSOLE-BIRCH-min.jpg?v=1659627995","width":2960},{"alt":"0","id":22786139750605,"position":8,"preview_image":{"aspect_ratio":0.8,"height":3700,"width":2960,"src":"https:\/\/cdn.shopify.com\/s\/files\/1\/0507\/5989\/3197\/products\/LIMA-SOFT-BIRCH-min.jpg?v=1659627995"},"aspect_ratio":0.8,"height":3700,"media_type":"image","src":"https:\/\/cdn.shopify.com\/s\/files\/1\/0507\/5989\/3197\/products\/LIMA-SOFT-BIRCH-min.jpg?v=1659627995","width":2960},{"alt":"1","id":22786156429517,"position":9,"preview_image":{"aspect_ratio":0.8,"height":3700,"width":2960,"src":"https:\/\/cdn.shopify.com\/s\/files\/1\/0507\/5989\/3197\/products\/LIMA-TOP-LILAC-min.jpg?v=1659627995"},"aspect_ratio":0.8,"height":3700,"media_type":"image","src":"https:\/\/cdn.shopify.com\/s\/files\/1\/0507\/5989\/3197\/products\/LIMA-TOP-LILAC-min.jpg?v=1659627995","width":2960},{"alt":"1","id":22786156298445,"position":10,"preview_image":{"aspect_ratio":0.8,"height":3700,"width":2960,"src":"https:\/\/cdn.shopify.com\/s\/files\/1\/0507\/5989\/3197\/products\/LIMA-BACK-LILAC-min.jpg?v=1659627995"},"aspect_ratio":0.8,"height":3700,"media_type":"image","src":"https:\/\/cdn.shopify.com\/s\/files\/1\/0507\/5989\/3197\/products\/LIMA-BACK-LILAC-min.jpg?v=1659627995","width":2960},{"alt":"0","id":22786139652301,"position":11,"preview_image":{"aspect_ratio":0.8,"height":3700,"width":2960,"src":"https:\/\/cdn.shopify.com\/s\/files\/1\/0507\/5989\/3197\/products\/LIMA-ONFOOT-BIRCH-min.jpg?v=1659627995"},"aspect_ratio":0.8,"height":3700,"media_type":"image","src":"https:\/\/cdn.shopify.com\/s\/files\/1\/0507\/5989\/3197\/products\/LIMA-ONFOOT-BIRCH-min.jpg?v=1659627995","width":2960},{"alt":"1","id":22786156363981,"position":12,"preview_image":{"aspect_ratio":0.8,"height":3700,"width":2960,"src":"https:\/\/cdn.shopify.com\/s\/files\/1\/0507\/5989\/3197\/products\/LIMA-OUTSOLE-LILAC-min.jpg?v=1659627995"},"aspect_ratio":0.8,"height":3700,"media_type":"image","src":"https:\/\/cdn.shopify.com\/s\/files\/1\/0507\/5989\/3197\/products\/LIMA-OUTSOLE-LILAC-min.jpg?v=1659627995","width":2960},{"alt":"2","id":22786112815309,"position":13,"preview_image":{"aspect_ratio":0.8,"height":3700,"width":2960,"src":"https:\/\/cdn.shopify.com\/s\/files\/1\/0507\/5989\/3197\/products\/LIMA-TOP-ALPINE-min.jpg?v=1659627995"},"aspect_ratio":0.8,"height":3700,"media_type":"image","src":"https:\/\/cdn.shopify.com\/s\/files\/1\/0507\/5989\/3197\/products\/LIMA-TOP-ALPINE-min.jpg?v=1659627995","width":2960},{"alt":"2","id":22786112684237,"position":14,"preview_image":{"aspect_ratio":0.8,"height":3700,"width":2960,"src":"https:\/\/cdn.shopify.com\/s\/files\/1\/0507\/5989\/3197\/products\/LIMA-BACK-ALPINE-min.jpg?v=1659627995"},"aspect_ratio":0.8,"height":3700,"media_type":"image","src":"https:\/\/cdn.shopify.com\/s\/files\/1\/0507\/5989\/3197\/products\/LIMA-BACK-ALPINE-min.jpg?v=1659627995","width":2960},{"alt":"1","id":22786156396749,"position":15,"preview_image":{"aspect_ratio":0.8,"height":3700,"width":2960,"src":"https:\/\/cdn.shopify.com\/s\/files\/1\/0507\/5989\/3197\/products\/LIMA-SOFT-LILAC-min.jpg?v=1659627995"},"aspect_ratio":0.8,"height":3700,"media_type":"image","src":"https:\/\/cdn.shopify.com\/s\/files\/1\/0507\/5989\/3197\/products\/LIMA-SOFT-LILAC-min.jpg?v=1659627995","width":2960},{"alt":"1","id":22786156331213,"position":16,"preview_image":{"aspect_ratio":0.8,"height":3700,"width":2960,"src":"https:\/\/cdn.shopify.com\/s\/files\/1\/0507\/5989\/3197\/products\/LIMA-ONFOOT-LILAC-min.jpg?v=1659627995"},"aspect_ratio":0.8,"height":3700,"media_type":"image","src":"https:\/\/cdn.shopify.com\/s\/files\/1\/0507\/5989\/3197\/products\/LIMA-ONFOOT-LILAC-min.jpg?v=1659627995","width":2960},{"alt":"2","id":22786112749773,"position":17,"preview_image":{"aspect_ratio":0.8,"height":3700,"width":2960,"src":"https:\/\/cdn.shopify.com\/s\/files\/1\/0507\/5989\/3197\/products\/LIMA-OUTSOLE-ALPINE-min.jpg?v=1659627995"},"aspect_ratio":0.8,"height":3700,"media_type":"image","src":"https:\/\/cdn.shopify.com\/s\/files\/1\/0507\/5989\/3197\/products\/LIMA-OUTSOLE-ALPINE-min.jpg?v=1659627995","width":2960},{"alt":"2","id":22786112782541,"position":18,"preview_image":{"aspect_ratio":0.8,"height":3700,"width":2960,"src":"https:\/\/cdn.shopify.com\/s\/files\/1\/0507\/5989\/3197\/products\/LIMA-SOFT-ALPINE-min.jpg?v=1659627995"},"aspect_ratio":0.8,"height":3700,"media_type":"image","src":"https:\/\/cdn.shopify.com\/s\/files\/1\/0507\/5989\/3197\/products\/LIMA-SOFT-ALPINE-min.jpg?v=1659627995","width":2960},{"alt":"3","id":20953029083341,"position":19,"preview_image":{"aspect_ratio":0.8,"height":2000,"width":1600,"src":"https:\/\/cdn.shopify.com\/s\/files\/1\/0507\/5989\/3197\/products\/LIMA_BLACK_TOP_79649776-4649-43aa-976c-875ef5fa5a6d.jpg?v=1659627995"},"aspect_ratio":0.8,"height":2000,"media_type":"image","src":"https:\/\/cdn.shopify.com\/s\/files\/1\/0507\/5989\/3197\/products\/LIMA_BLACK_TOP_79649776-4649-43aa-976c-875ef5fa5a6d.jpg?v=1659627995","width":1600},{"alt":"2","id":22786112717005,"position":20,"preview_image":{"aspect_ratio":0.8,"height":3700,"width":2960,"src":"https:\/\/cdn.shopify.com\/s\/files\/1\/0507\/5989\/3197\/products\/LIMA-ONFOOT-ALPINE-min.jpg?v=1659627995"},"aspect_ratio":0.8,"height":3700,"media_type":"image","src":"https:\/\/cdn.shopify.com\/s\/files\/1\/0507\/5989\/3197\/products\/LIMA-ONFOOT-ALPINE-min.jpg?v=1659627995","width":2960},{"alt":"3","id":22786164293837,"position":21,"preview_image":{"aspect_ratio":0.8,"height":3700,"width":2960,"src":"https:\/\/cdn.shopify.com\/s\/files\/1\/0507\/5989\/3197\/products\/LIMA-BACK-BLACK-min.jpg?v=1659627995"},"aspect_ratio":0.8,"height":3700,"media_type":"image","src":"https:\/\/cdn.shopify.com\/s\/files\/1\/0507\/5989\/3197\/products\/LIMA-BACK-BLACK-min.jpg?v=1659627995","width":2960},{"alt":"3","id":22786164359373,"position":22,"preview_image":{"aspect_ratio":0.8,"height":3700,"width":2960,"src":"https:\/\/cdn.shopify.com\/s\/files\/1\/0507\/5989\/3197\/products\/LIMA-OUTSOLE-BLACK-min.jpg?v=1659627995"},"aspect_ratio":0.8,"height":3700,"media_type":"image","src":"https:\/\/cdn.shopify.com\/s\/files\/1\/0507\/5989\/3197\/products\/LIMA-OUTSOLE-BLACK-min.jpg?v=1659627995","width":2960},{"alt":"3","id":22786164326605,"position":23,"preview_image":{"aspect_ratio":0.8,"height":3700,"width":2960,"src":"https:\/\/cdn.shopify.com\/s\/files\/1\/0507\/5989\/3197\/products\/LIMA-ONFOOT-BLACK-min.jpg?v=1659627995"},"aspect_ratio":0.8,"height":3700,"media_type":"image","src":"https:\/\/cdn.shopify.com\/s\/files\/1\/0507\/5989\/3197\/products\/LIMA-ONFOOT-BLACK-min.jpg?v=1659627995","width":2960},{"alt":"3","id":22786164392141,"position":24,"preview_image":{"aspect_ratio":0.8,"height":3700,"width":2960,"src":"https:\/\/cdn.shopify.com\/s\/files\/1\/0507\/5989\/3197\/products\/LIMA-SOFT-BLACK-min.jpg?v=1659627995"},"aspect_ratio":0.8,"height":3700,"media_type":"image","src":"https:\/\/cdn.shopify.com\/s\/files\/1\/0507\/5989\/3197\/products\/LIMA-SOFT-BLACK-min.jpg?v=1659627995","width":2960},{"alt":"video","id":20979670745293,"position":25,"preview_image":{"aspect_ratio":0.8,"height":1350,"width":1080,"src":"https:\/\/cdn.shopify.com\/s\/files\/1\/0507\/5989\/3197\/products\/d8881fcff64c406da9ff05c8b9f86db6.thumbnail.0000000.jpg?v=1630375856"},"aspect_ratio":0.8,"duration":7440,"media_type":"video","sources":[{"format":"mp4","height":480,"mime_type":"video\/mp4","url":"https:\/\/cdn.shopify.com\/videos\/c\/vp\/d8881fcff64c406da9ff05c8b9f86db6\/d8881fcff64c406da9ff05c8b9f86db6.SD-480p-1.2Mbps.mp4","width":384},{"format":"mp4","height":720,"mime_type":"video\/mp4","url":"https:\/\/cdn.shopify.com\/videos\/c\/vp\/d8881fcff64c406da9ff05c8b9f86db6\/d8881fcff64c406da9ff05c8b9f86db6.HD-720p-3.0Mbps.mp4","width":576},{"format":"mp4","height":1080,"mime_type":"video\/mp4","url":"https:\/\/cdn.shopify.com\/videos\/c\/vp\/d8881fcff64c406da9ff05c8b9f86db6\/d8881fcff64c406da9ff05c8b9f86db6.HD-1080p-4.8Mbps.mp4","width":864},{"format":"m3u8","height":1080,"mime_type":"application\/x-mpegURL","url":"https:\/\/cdn.shopify.com\/videos\/c\/vp\/d8881fcff64c406da9ff05c8b9f86db6\/d8881fcff64c406da9ff05c8b9f86db6.m3u8","width":864}]}],"requires_selling_plan":false,"selling_plan_groups":[],"content":"\u003cp data-mce-fragment=\"1\"\u003e\u003cspan style=\"font-weight: 400;\" data-mce-fragment=\"1\" data-mce-style=\"font-weight: 400;\"\u003ePillow soft comfort and cocooning effects prepare you for the chill this Fall.  Step into our style LIMA that we call t\u003c\/span\u003ehe weekender, \u003cspan style=\"font-weight: 400;\" data-mce-fragment=\"1\" data-mce-style=\"font-weight: 400;\"\u003efor cozy adventures in the city or in nature. With ultra-soft water resistant recycled nylon and plush organic cotton fill--no detail was spared in creating this lux bootie.  Made on our signature two-tone molded bottom utilizing the same durable flex systems as the LONDON makes this bootie ready for anything.\u003c\/span\u003e\u003c\/p\u003e"} { "options": [ { "title": "Color", "values": [ { "value": "BIRCH", "url": "/products/lima?variant=39745132036301" }, { "value": "LILAC", "url": "/products/lima?variant=39878161531085" }, { "value": "ALPINE", "url": "/products/lima?variant=39745132363981" }, { "value": "BLACK", "url": "/products/lima?variant=39745131348173" } ] }, { "title": "Size", "values": [ { "value": "6", "url": "/products/lima?variant=39745132036301" }, { "value": "6.5", "url": "/products/lima?variant=39745132069069" }, { "value": "7", "url": "/products/lima?variant=39745132101837" }, { "value": "7.5", "url": "/products/lima?variant=39745132134605" }, { "value": "8", "url": "/products/lima?variant=39745132167373" }, { "value": "8.5", "url": "/products/lima?variant=39745132200141" }, { "value": "9", "url": "/products/lima?variant=39745132232909" }, { "value": "9.5", "url": "/products/lima?variant=39745132265677" }, { "value": "10", "url": "/products/lima?variant=39745132298445" } ] }, { "title": "Material", "values": [ { "value": "RE-SPLASH NYLON", "url": "/products/lima?variant=39745132036301" } ] } ] }
{"id":6918032883917,"title":"NASHVILLE","handle":"nashville-1","description":"\u003cspan data-mce-fragment=\"1\" style=\"font-weight: 400;\" data-mce-style=\"font-weight: 400;\"\u003eThe NASHVILLE is your\u003cstrong\u003e \u003c\/strong\u003eessential \u003c\/span\u003eLBB\u003cspan data-mce-fragment=\"1\" style=\"font-weight: 400;\" data-mce-style=\"font-weight: 400;\"\u003e.  Step into comfort and style with the boot that you want to wear all day, everyday.  Made with the finest imported Italian calfskin upper, genuine leather linings for breathability and our finest Italian leather outsole this boot will just get better over time.  The extended welting is a modern western touch.  The inside zipper provides the perfect ankle fit making this boot ideal with jeans, trousers or your favorite dress.  Surely the NASHVILLE will be your go to Fall staple.\u003c\/span\u003e","published_at":"2022-08-16T23:41:05-04:00","created_at":"2022-02-12T15:11:24-05:00","vendor":"Oncept","type":"Footwear","tags":["BOOT","DRESS","HEEL","Verishop"],"price":45000,"price_min":45000,"price_max":45000,"available":true,"price_varies":false,"compare_at_price":null,"compare_at_price_min":0,"compare_at_price_max":0,"compare_at_price_varies":false,"variants":[{"id":40664681480397,"title":"BLACK \/ 6 \/ FATEO CALF","option1":"BLACK","option2":"6","option3":"FATEO CALF","sku":"840237303518","requires_shipping":true,"taxable":true,"featured_image":{"id":30570968252621,"product_id":6918032883917,"position":1,"created_at":"2022-08-16T23:36:59-04:00","updated_at":"2022-08-16T23:39:04-04:00","alt":"0","width":2960,"height":3700,"src":"https:\/\/cdn.shopify.com\/s\/files\/1\/0507\/5989\/3197\/products\/NASHVILLE-SIDE-BLACK-min_4a40f688-5446-49cb-a99a-cdbc97758713.jpg?v=1660707544","variant_ids":[40664681480397,40664681513165,40664681545933,40664681578701,40664681611469,40664681644237,40664681677005,40664681709773,40664681742541]},"available":true,"name":"NASHVILLE - BLACK \/ 6 \/ FATEO CALF","public_title":"BLACK \/ 6 \/ FATEO CALF","options":["BLACK","6","FATEO CALF"],"price":45000,"weight":0,"compare_at_price":null,"inventory_management":"shopify","barcode":"840237303518","featured_media":{"alt":"0","id":22851451093197,"position":1,"preview_image":{"aspect_ratio":0.8,"height":3700,"width":2960,"src":"https:\/\/cdn.shopify.com\/s\/files\/1\/0507\/5989\/3197\/products\/NASHVILLE-SIDE-BLACK-min_4a40f688-5446-49cb-a99a-cdbc97758713.jpg?v=1660707544"}},"requires_selling_plan":false,"selling_plan_allocations":[],"quantity_rule":{"min":1,"max":null,"increment":1}},{"id":40664681513165,"title":"BLACK \/ 6.5 \/ FATEO CALF","option1":"BLACK","option2":"6.5","option3":"FATEO CALF","sku":"840237303525","requires_shipping":true,"taxable":true,"featured_image":{"id":30570968252621,"product_id":6918032883917,"position":1,"created_at":"2022-08-16T23:36:59-04:00","updated_at":"2022-08-16T23:39:04-04:00","alt":"0","width":2960,"height":3700,"src":"https:\/\/cdn.shopify.com\/s\/files\/1\/0507\/5989\/3197\/products\/NASHVILLE-SIDE-BLACK-min_4a40f688-5446-49cb-a99a-cdbc97758713.jpg?v=1660707544","variant_ids":[40664681480397,40664681513165,40664681545933,40664681578701,40664681611469,40664681644237,40664681677005,40664681709773,40664681742541]},"available":false,"name":"NASHVILLE - BLACK \/ 6.5 \/ FATEO CALF","public_title":"BLACK \/ 6.5 \/ FATEO CALF","options":["BLACK","6.5","FATEO CALF"],"price":45000,"weight":0,"compare_at_price":null,"inventory_management":"shopify","barcode":"840237303525","featured_media":{"alt":"0","id":22851451093197,"position":1,"preview_image":{"aspect_ratio":0.8,"height":3700,"width":2960,"src":"https:\/\/cdn.shopify.com\/s\/files\/1\/0507\/5989\/3197\/products\/NASHVILLE-SIDE-BLACK-min_4a40f688-5446-49cb-a99a-cdbc97758713.jpg?v=1660707544"}},"requires_selling_plan":false,"selling_plan_allocations":[],"quantity_rule":{"min":1,"max":null,"increment":1}},{"id":40664681545933,"title":"BLACK \/ 7 \/ FATEO CALF","option1":"BLACK","option2":"7","option3":"FATEO CALF","sku":"840237303532","requires_shipping":true,"taxable":true,"featured_image":{"id":30570968252621,"product_id":6918032883917,"position":1,"created_at":"2022-08-16T23:36:59-04:00","updated_at":"2022-08-16T23:39:04-04:00","alt":"0","width":2960,"height":3700,"src":"https:\/\/cdn.shopify.com\/s\/files\/1\/0507\/5989\/3197\/products\/NASHVILLE-SIDE-BLACK-min_4a40f688-5446-49cb-a99a-cdbc97758713.jpg?v=1660707544","variant_ids":[40664681480397,40664681513165,40664681545933,40664681578701,40664681611469,40664681644237,40664681677005,40664681709773,40664681742541]},"available":true,"name":"NASHVILLE - BLACK \/ 7 \/ FATEO CALF","public_title":"BLACK \/ 7 \/ FATEO CALF","options":["BLACK","7","FATEO CALF"],"price":45000,"weight":0,"compare_at_price":null,"inventory_management":"shopify","barcode":"840237303532","featured_media":{"alt":"0","id":22851451093197,"position":1,"preview_image":{"aspect_ratio":0.8,"height":3700,"width":2960,"src":"https:\/\/cdn.shopify.com\/s\/files\/1\/0507\/5989\/3197\/products\/NASHVILLE-SIDE-BLACK-min_4a40f688-5446-49cb-a99a-cdbc97758713.jpg?v=1660707544"}},"requires_selling_plan":false,"selling_plan_allocations":[],"quantity_rule":{"min":1,"max":null,"increment":1}},{"id":40664681578701,"title":"BLACK \/ 7.5 \/ FATEO CALF","option1":"BLACK","option2":"7.5","option3":"FATEO CALF","sku":"840237303549","requires_shipping":true,"taxable":true,"featured_image":{"id":30570968252621,"product_id":6918032883917,"position":1,"created_at":"2022-08-16T23:36:59-04:00","updated_at":"2022-08-16T23:39:04-04:00","alt":"0","width":2960,"height":3700,"src":"https:\/\/cdn.shopify.com\/s\/files\/1\/0507\/5989\/3197\/products\/NASHVILLE-SIDE-BLACK-min_4a40f688-5446-49cb-a99a-cdbc97758713.jpg?v=1660707544","variant_ids":[40664681480397,40664681513165,40664681545933,40664681578701,40664681611469,40664681644237,40664681677005,40664681709773,40664681742541]},"available":true,"name":"NASHVILLE - BLACK \/ 7.5 \/ FATEO CALF","public_title":"BLACK \/ 7.5 \/ FATEO CALF","options":["BLACK","7.5","FATEO CALF"],"price":45000,"weight":0,"compare_at_price":null,"inventory_management":"shopify","barcode":"840237303549","featured_media":{"alt":"0","id":22851451093197,"position":1,"preview_image":{"aspect_ratio":0.8,"height":3700,"width":2960,"src":"https:\/\/cdn.shopify.com\/s\/files\/1\/0507\/5989\/3197\/products\/NASHVILLE-SIDE-BLACK-min_4a40f688-5446-49cb-a99a-cdbc97758713.jpg?v=1660707544"}},"requires_selling_plan":false,"selling_plan_allocations":[],"quantity_rule":{"min":1,"max":null,"increment":1}},{"id":40664681611469,"title":"BLACK \/ 8 \/ FATEO CALF","option1":"BLACK","option2":"8","option3":"FATEO CALF","sku":"840237303556","requires_shipping":true,"taxable":true,"featured_image":{"id":30570968252621,"product_id":6918032883917,"position":1,"created_at":"2022-08-16T23:36:59-04:00","updated_at":"2022-08-16T23:39:04-04:00","alt":"0","width":2960,"height":3700,"src":"https:\/\/cdn.shopify.com\/s\/files\/1\/0507\/5989\/3197\/products\/NASHVILLE-SIDE-BLACK-min_4a40f688-5446-49cb-a99a-cdbc97758713.jpg?v=1660707544","variant_ids":[40664681480397,40664681513165,40664681545933,40664681578701,40664681611469,40664681644237,40664681677005,40664681709773,40664681742541]},"available":true,"name":"NASHVILLE - BLACK \/ 8 \/ FATEO CALF","public_title":"BLACK \/ 8 \/ FATEO CALF","options":["BLACK","8","FATEO CALF"],"price":45000,"weight":0,"compare_at_price":null,"inventory_management":"shopify","barcode":"840237303556","featured_media":{"alt":"0","id":22851451093197,"position":1,"preview_image":{"aspect_ratio":0.8,"height":3700,"width":2960,"src":"https:\/\/cdn.shopify.com\/s\/files\/1\/0507\/5989\/3197\/products\/NASHVILLE-SIDE-BLACK-min_4a40f688-5446-49cb-a99a-cdbc97758713.jpg?v=1660707544"}},"requires_selling_plan":false,"selling_plan_allocations":[],"quantity_rule":{"min":1,"max":null,"increment":1}},{"id":40664681644237,"title":"BLACK \/ 8.5 \/ FATEO CALF","option1":"BLACK","option2":"8.5","option3":"FATEO CALF","sku":"840237303563","requires_shipping":true,"taxable":true,"featured_image":{"id":30570968252621,"product_id":6918032883917,"position":1,"created_at":"2022-08-16T23:36:59-04:00","updated_at":"2022-08-16T23:39:04-04:00","alt":"0","width":2960,"height":3700,"src":"https:\/\/cdn.shopify.com\/s\/files\/1\/0507\/5989\/3197\/products\/NASHVILLE-SIDE-BLACK-min_4a40f688-5446-49cb-a99a-cdbc97758713.jpg?v=1660707544","variant_ids":[40664681480397,40664681513165,40664681545933,40664681578701,40664681611469,40664681644237,40664681677005,40664681709773,40664681742541]},"available":false,"name":"NASHVILLE - BLACK \/ 8.5 \/ FATEO CALF","public_title":"BLACK \/ 8.5 \/ FATEO CALF","options":["BLACK","8.5","FATEO CALF"],"price":45000,"weight":0,"compare_at_price":null,"inventory_management":"shopify","barcode":"840237303563","featured_media":{"alt":"0","id":22851451093197,"position":1,"preview_image":{"aspect_ratio":0.8,"height":3700,"width":2960,"src":"https:\/\/cdn.shopify.com\/s\/files\/1\/0507\/5989\/3197\/products\/NASHVILLE-SIDE-BLACK-min_4a40f688-5446-49cb-a99a-cdbc97758713.jpg?v=1660707544"}},"requires_selling_plan":false,"selling_plan_allocations":[],"quantity_rule":{"min":1,"max":null,"increment":1}},{"id":40664681677005,"title":"BLACK \/ 9 \/ FATEO CALF","option1":"BLACK","option2":"9","option3":"FATEO CALF","sku":"840237303570","requires_shipping":true,"taxable":true,"featured_image":{"id":30570968252621,"product_id":6918032883917,"position":1,"created_at":"2022-08-16T23:36:59-04:00","updated_at":"2022-08-16T23:39:04-04:00","alt":"0","width":2960,"height":3700,"src":"https:\/\/cdn.shopify.com\/s\/files\/1\/0507\/5989\/3197\/products\/NASHVILLE-SIDE-BLACK-min_4a40f688-5446-49cb-a99a-cdbc97758713.jpg?v=1660707544","variant_ids":[40664681480397,40664681513165,40664681545933,40664681578701,40664681611469,40664681644237,40664681677005,40664681709773,40664681742541]},"available":true,"name":"NASHVILLE - BLACK \/ 9 \/ FATEO CALF","public_title":"BLACK \/ 9 \/ FATEO CALF","options":["BLACK","9","FATEO CALF"],"price":45000,"weight":0,"compare_at_price":null,"inventory_management":"shopify","barcode":"840237303570","featured_media":{"alt":"0","id":22851451093197,"position":1,"preview_image":{"aspect_ratio":0.8,"height":3700,"width":2960,"src":"https:\/\/cdn.shopify.com\/s\/files\/1\/0507\/5989\/3197\/products\/NASHVILLE-SIDE-BLACK-min_4a40f688-5446-49cb-a99a-cdbc97758713.jpg?v=1660707544"}},"requires_selling_plan":false,"selling_plan_allocations":[],"quantity_rule":{"min":1,"max":null,"increment":1}},{"id":40664681709773,"title":"BLACK \/ 9.5 \/ FATEO CALF","option1":"BLACK","option2":"9.5","option3":"FATEO CALF","sku":"840237303587","requires_shipping":true,"taxable":true,"featured_image":{"id":30570968252621,"product_id":6918032883917,"position":1,"created_at":"2022-08-16T23:36:59-04:00","updated_at":"2022-08-16T23:39:04-04:00","alt":"0","width":2960,"height":3700,"src":"https:\/\/cdn.shopify.com\/s\/files\/1\/0507\/5989\/3197\/products\/NASHVILLE-SIDE-BLACK-min_4a40f688-5446-49cb-a99a-cdbc97758713.jpg?v=1660707544","variant_ids":[40664681480397,40664681513165,40664681545933,40664681578701,40664681611469,40664681644237,40664681677005,40664681709773,40664681742541]},"available":true,"name":"NASHVILLE - BLACK \/ 9.5 \/ FATEO CALF","public_title":"BLACK \/ 9.5 \/ FATEO CALF","options":["BLACK","9.5","FATEO CALF"],"price":45000,"weight":0,"compare_at_price":null,"inventory_management":"shopify","barcode":"840237303587","featured_media":{"alt":"0","id":22851451093197,"position":1,"preview_image":{"aspect_ratio":0.8,"height":3700,"width":2960,"src":"https:\/\/cdn.shopify.com\/s\/files\/1\/0507\/5989\/3197\/products\/NASHVILLE-SIDE-BLACK-min_4a40f688-5446-49cb-a99a-cdbc97758713.jpg?v=1660707544"}},"requires_selling_plan":false,"selling_plan_allocations":[],"quantity_rule":{"min":1,"max":null,"increment":1}},{"id":40664681742541,"title":"BLACK \/ 10 \/ FATEO CALF","option1":"BLACK","option2":"10","option3":"FATEO CALF","sku":"840237303594","requires_shipping":true,"taxable":true,"featured_image":{"id":30570968252621,"product_id":6918032883917,"position":1,"created_at":"2022-08-16T23:36:59-04:00","updated_at":"2022-08-16T23:39:04-04:00","alt":"0","width":2960,"height":3700,"src":"https:\/\/cdn.shopify.com\/s\/files\/1\/0507\/5989\/3197\/products\/NASHVILLE-SIDE-BLACK-min_4a40f688-5446-49cb-a99a-cdbc97758713.jpg?v=1660707544","variant_ids":[40664681480397,40664681513165,40664681545933,40664681578701,40664681611469,40664681644237,40664681677005,40664681709773,40664681742541]},"available":true,"name":"NASHVILLE - BLACK \/ 10 \/ FATEO CALF","public_title":"BLACK \/ 10 \/ FATEO CALF","options":["BLACK","10","FATEO CALF"],"price":45000,"weight":0,"compare_at_price":null,"inventory_management":"shopify","barcode":null,"featured_media":{"alt":"0","id":22851451093197,"position":1,"preview_image":{"aspect_ratio":0.8,"height":3700,"width":2960,"src":"https:\/\/cdn.shopify.com\/s\/files\/1\/0507\/5989\/3197\/products\/NASHVILLE-SIDE-BLACK-min_4a40f688-5446-49cb-a99a-cdbc97758713.jpg?v=1660707544"}},"requires_selling_plan":false,"selling_plan_allocations":[],"quantity_rule":{"min":1,"max":null,"increment":1}},{"id":40664697995469,"title":"AUTUMN MOSS \/ 6 \/ FATEO CALF","option1":"AUTUMN MOSS","option2":"6","option3":"FATEO CALF","sku":"840237311254","requires_shipping":true,"taxable":true,"featured_image":{"id":30570961436877,"product_id":6918032883917,"position":7,"created_at":"2022-08-16T23:35:32-04:00","updated_at":"2022-08-19T22:44:12-04:00","alt":"1","width":2960,"height":3700,"src":"https:\/\/cdn.shopify.com\/s\/files\/1\/0507\/5989\/3197\/products\/NASHVILLE-SIDE-MOSS-min.jpg?v=1660963452","variant_ids":[40664697995469,40664698028237,40664698061005,40664698093773,40664698126541,40664698192077,40664698224845,40664698257613,40664698290381]},"available":true,"name":"NASHVILLE - AUTUMN MOSS \/ 6 \/ FATEO CALF","public_title":"AUTUMN MOSS \/ 6 \/ FATEO CALF","options":["AUTUMN MOSS","6","FATEO CALF"],"price":45000,"weight":0,"compare_at_price":null,"inventory_management":"shopify","barcode":"840237311254","featured_media":{"alt":"1","id":22851444015309,"position":7,"preview_image":{"aspect_ratio":0.8,"height":3700,"width":2960,"src":"https:\/\/cdn.shopify.com\/s\/files\/1\/0507\/5989\/3197\/products\/NASHVILLE-SIDE-MOSS-min.jpg?v=1660963452"}},"requires_selling_plan":false,"selling_plan_allocations":[],"quantity_rule":{"min":1,"max":null,"increment":1}},{"id":40664698028237,"title":"AUTUMN MOSS \/ 6.5 \/ FATEO CALF","option1":"AUTUMN MOSS","option2":"6.5","option3":"FATEO CALF","sku":"840237311261","requires_shipping":true,"taxable":true,"featured_image":{"id":30570961436877,"product_id":6918032883917,"position":7,"created_at":"2022-08-16T23:35:32-04:00","updated_at":"2022-08-19T22:44:12-04:00","alt":"1","width":2960,"height":3700,"src":"https:\/\/cdn.shopify.com\/s\/files\/1\/0507\/5989\/3197\/products\/NASHVILLE-SIDE-MOSS-min.jpg?v=1660963452","variant_ids":[40664697995469,40664698028237,40664698061005,40664698093773,40664698126541,40664698192077,40664698224845,40664698257613,40664698290381]},"available":true,"name":"NASHVILLE - AUTUMN MOSS \/ 6.5 \/ FATEO CALF","public_title":"AUTUMN MOSS \/ 6.5 \/ FATEO CALF","options":["AUTUMN MOSS","6.5","FATEO CALF"],"price":45000,"weight":0,"compare_at_price":null,"inventory_management":"shopify","barcode":"840237311261","featured_media":{"alt":"1","id":22851444015309,"position":7,"preview_image":{"aspect_ratio":0.8,"height":3700,"width":2960,"src":"https:\/\/cdn.shopify.com\/s\/files\/1\/0507\/5989\/3197\/products\/NASHVILLE-SIDE-MOSS-min.jpg?v=1660963452"}},"requires_selling_plan":false,"selling_plan_allocations":[],"quantity_rule":{"min":1,"max":null,"increment":1}},{"id":40664698061005,"title":"AUTUMN MOSS \/ 7 \/ FATEO CALF","option1":"AUTUMN MOSS","option2":"7","option3":"FATEO CALF","sku":"840237311278","requires_shipping":true,"taxable":true,"featured_image":{"id":30570961436877,"product_id":6918032883917,"position":7,"created_at":"2022-08-16T23:35:32-04:00","updated_at":"2022-08-19T22:44:12-04:00","alt":"1","width":2960,"height":3700,"src":"https:\/\/cdn.shopify.com\/s\/files\/1\/0507\/5989\/3197\/products\/NASHVILLE-SIDE-MOSS-min.jpg?v=1660963452","variant_ids":[40664697995469,40664698028237,40664698061005,40664698093773,40664698126541,40664698192077,40664698224845,40664698257613,40664698290381]},"available":true,"name":"NASHVILLE - AUTUMN MOSS \/ 7 \/ FATEO CALF","public_title":"AUTUMN MOSS \/ 7 \/ FATEO CALF","options":["AUTUMN MOSS","7","FATEO CALF"],"price":45000,"weight":0,"compare_at_price":null,"inventory_management":"shopify","barcode":"840237311278","featured_media":{"alt":"1","id":22851444015309,"position":7,"preview_image":{"aspect_ratio":0.8,"height":3700,"width":2960,"src":"https:\/\/cdn.shopify.com\/s\/files\/1\/0507\/5989\/3197\/products\/NASHVILLE-SIDE-MOSS-min.jpg?v=1660963452"}},"requires_selling_plan":false,"selling_plan_allocations":[],"quantity_rule":{"min":1,"max":null,"increment":1}},{"id":40664698093773,"title":"AUTUMN MOSS \/ 7.5 \/ FATEO CALF","option1":"AUTUMN MOSS","option2":"7.5","option3":"FATEO CALF","sku":"840237311285","requires_shipping":true,"taxable":true,"featured_image":{"id":30570961436877,"product_id":6918032883917,"position":7,"created_at":"2022-08-16T23:35:32-04:00","updated_at":"2022-08-19T22:44:12-04:00","alt":"1","width":2960,"height":3700,"src":"https:\/\/cdn.shopify.com\/s\/files\/1\/0507\/5989\/3197\/products\/NASHVILLE-SIDE-MOSS-min.jpg?v=1660963452","variant_ids":[40664697995469,40664698028237,40664698061005,40664698093773,40664698126541,40664698192077,40664698224845,40664698257613,40664698290381]},"available":false,"name":"NASHVILLE - AUTUMN MOSS \/ 7.5 \/ FATEO CALF","public_title":"AUTUMN MOSS \/ 7.5 \/ FATEO CALF","options":["AUTUMN MOSS","7.5","FATEO CALF"],"price":45000,"weight":0,"compare_at_price":null,"inventory_management":"shopify","barcode":"840237311285","featured_media":{"alt":"1","id":22851444015309,"position":7,"preview_image":{"aspect_ratio":0.8,"height":3700,"width":2960,"src":"https:\/\/cdn.shopify.com\/s\/files\/1\/0507\/5989\/3197\/products\/NASHVILLE-SIDE-MOSS-min.jpg?v=1660963452"}},"requires_selling_plan":false,"selling_plan_allocations":[],"quantity_rule":{"min":1,"max":null,"increment":1}},{"id":40664698126541,"title":"AUTUMN MOSS \/ 8 \/ FATEO CALF","option1":"AUTUMN MOSS","option2":"8","option3":"FATEO CALF","sku":"840237311292","requires_shipping":true,"taxable":true,"featured_image":{"id":30570961436877,"product_id":6918032883917,"position":7,"created_at":"2022-08-16T23:35:32-04:00","updated_at":"2022-08-19T22:44:12-04:00","alt":"1","width":2960,"height":3700,"src":"https:\/\/cdn.shopify.com\/s\/files\/1\/0507\/5989\/3197\/products\/NASHVILLE-SIDE-MOSS-min.jpg?v=1660963452","variant_ids":[40664697995469,40664698028237,40664698061005,40664698093773,40664698126541,40664698192077,40664698224845,40664698257613,40664698290381]},"available":true,"name":"NASHVILLE - AUTUMN MOSS \/ 8 \/ FATEO CALF","public_title":"AUTUMN MOSS \/ 8 \/ FATEO CALF","options":["AUTUMN MOSS","8","FATEO CALF"],"price":45000,"weight":0,"compare_at_price":null,"inventory_management":"shopify","barcode":"840237311292","featured_media":{"alt":"1","id":22851444015309,"position":7,"preview_image":{"aspect_ratio":0.8,"height":3700,"width":2960,"src":"https:\/\/cdn.shopify.com\/s\/files\/1\/0507\/5989\/3197\/products\/NASHVILLE-SIDE-MOSS-min.jpg?v=1660963452"}},"requires_selling_plan":false,"selling_plan_allocations":[],"quantity_rule":{"min":1,"max":null,"increment":1}},{"id":40664698192077,"title":"AUTUMN MOSS \/ 8.5 \/ FATEO CALF","option1":"AUTUMN MOSS","option2":"8.5","option3":"FATEO CALF","sku":"840237311308","requires_shipping":true,"taxable":true,"featured_image":{"id":30570961436877,"product_id":6918032883917,"position":7,"created_at":"2022-08-16T23:35:32-04:00","updated_at":"2022-08-19T22:44:12-04:00","alt":"1","width":2960,"height":3700,"src":"https:\/\/cdn.shopify.com\/s\/files\/1\/0507\/5989\/3197\/products\/NASHVILLE-SIDE-MOSS-min.jpg?v=1660963452","variant_ids":[40664697995469,40664698028237,40664698061005,40664698093773,40664698126541,40664698192077,40664698224845,40664698257613,40664698290381]},"available":true,"name":"NASHVILLE - AUTUMN MOSS \/ 8.5 \/ FATEO CALF","public_title":"AUTUMN MOSS \/ 8.5 \/ FATEO CALF","options":["AUTUMN MOSS","8.5","FATEO CALF"],"price":45000,"weight":0,"compare_at_price":null,"inventory_management":"shopify","barcode":"840237311308","featured_media":{"alt":"1","id":22851444015309,"position":7,"preview_image":{"aspect_ratio":0.8,"height":3700,"width":2960,"src":"https:\/\/cdn.shopify.com\/s\/files\/1\/0507\/5989\/3197\/products\/NASHVILLE-SIDE-MOSS-min.jpg?v=1660963452"}},"requires_selling_plan":false,"selling_plan_allocations":[],"quantity_rule":{"min":1,"max":null,"increment":1}},{"id":40664698224845,"title":"AUTUMN MOSS \/ 9 \/ FATEO CALF","option1":"AUTUMN MOSS","option2":"9","option3":"FATEO CALF","sku":"840237311315","requires_shipping":true,"taxable":true,"featured_image":{"id":30570961436877,"product_id":6918032883917,"position":7,"created_at":"2022-08-16T23:35:32-04:00","updated_at":"2022-08-19T22:44:12-04:00","alt":"1","width":2960,"height":3700,"src":"https:\/\/cdn.shopify.com\/s\/files\/1\/0507\/5989\/3197\/products\/NASHVILLE-SIDE-MOSS-min.jpg?v=1660963452","variant_ids":[40664697995469,40664698028237,40664698061005,40664698093773,40664698126541,40664698192077,40664698224845,40664698257613,40664698290381]},"available":true,"name":"NASHVILLE - AUTUMN MOSS \/ 9 \/ FATEO CALF","public_title":"AUTUMN MOSS \/ 9 \/ FATEO CALF","options":["AUTUMN MOSS","9","FATEO CALF"],"price":45000,"weight":0,"compare_at_price":null,"inventory_management":"shopify","barcode":"840237311315","featured_media":{"alt":"1","id":22851444015309,"position":7,"preview_image":{"aspect_ratio":0.8,"height":3700,"width":2960,"src":"https:\/\/cdn.shopify.com\/s\/files\/1\/0507\/5989\/3197\/products\/NASHVILLE-SIDE-MOSS-min.jpg?v=1660963452"}},"requires_selling_plan":false,"selling_plan_allocations":[],"quantity_rule":{"min":1,"max":null,"increment":1}},{"id":40664698257613,"title":"AUTUMN MOSS \/ 9.5 \/ FATEO CALF","option1":"AUTUMN MOSS","option2":"9.5","option3":"FATEO CALF","sku":"840237311322","requires_shipping":true,"taxable":true,"featured_image":{"id":30570961436877,"product_id":6918032883917,"position":7,"created_at":"2022-08-16T23:35:32-04:00","updated_at":"2022-08-19T22:44:12-04:00","alt":"1","width":2960,"height":3700,"src":"https:\/\/cdn.shopify.com\/s\/files\/1\/0507\/5989\/3197\/products\/NASHVILLE-SIDE-MOSS-min.jpg?v=1660963452","variant_ids":[40664697995469,40664698028237,40664698061005,40664698093773,40664698126541,40664698192077,40664698224845,40664698257613,40664698290381]},"available":true,"name":"NASHVILLE - AUTUMN MOSS \/ 9.5 \/ FATEO CALF","public_title":"AUTUMN MOSS \/ 9.5 \/ FATEO CALF","options":["AUTUMN MOSS","9.5","FATEO CALF"],"price":45000,"weight":0,"compare_at_price":null,"inventory_management":"shopify","barcode":"840237311322","featured_media":{"alt":"1","id":22851444015309,"position":7,"preview_image":{"aspect_ratio":0.8,"height":3700,"width":2960,"src":"https:\/\/cdn.shopify.com\/s\/files\/1\/0507\/5989\/3197\/products\/NASHVILLE-SIDE-MOSS-min.jpg?v=1660963452"}},"requires_selling_plan":false,"selling_plan_allocations":[],"quantity_rule":{"min":1,"max":null,"increment":1}},{"id":40664698290381,"title":"AUTUMN MOSS \/ 10 \/ FATEO CALF","option1":"AUTUMN MOSS","option2":"10","option3":"FATEO CALF","sku":"840237311339","requires_shipping":true,"taxable":true,"featured_image":{"id":30570961436877,"product_id":6918032883917,"position":7,"created_at":"2022-08-16T23:35:32-04:00","updated_at":"2022-08-19T22:44:12-04:00","alt":"1","width":2960,"height":3700,"src":"https:\/\/cdn.shopify.com\/s\/files\/1\/0507\/5989\/3197\/products\/NASHVILLE-SIDE-MOSS-min.jpg?v=1660963452","variant_ids":[40664697995469,40664698028237,40664698061005,40664698093773,40664698126541,40664698192077,40664698224845,40664698257613,40664698290381]},"available":true,"name":"NASHVILLE - AUTUMN MOSS \/ 10 \/ FATEO CALF","public_title":"AUTUMN MOSS \/ 10 \/ FATEO CALF","options":["AUTUMN MOSS","10","FATEO CALF"],"price":45000,"weight":0,"compare_at_price":null,"inventory_management":"shopify","barcode":"840237311339","featured_media":{"alt":"1","id":22851444015309,"position":7,"preview_image":{"aspect_ratio":0.8,"height":3700,"width":2960,"src":"https:\/\/cdn.shopify.com\/s\/files\/1\/0507\/5989\/3197\/products\/NASHVILLE-SIDE-MOSS-min.jpg?v=1660963452"}},"requires_selling_plan":false,"selling_plan_allocations":[],"quantity_rule":{"min":1,"max":null,"increment":1}},{"id":40664697569485,"title":"BEACH \/ 6 \/ FATEO CALF","option1":"BEACH","option2":"6","option3":"FATEO CALF","sku":"840237311162","requires_shipping":true,"taxable":true,"featured_image":{"id":30570961404109,"product_id":6918032883917,"position":13,"created_at":"2022-08-16T23:35:32-04:00","updated_at":"2022-08-23T10:28:50-04:00","alt":"2","width":2960,"height":3700,"src":"https:\/\/cdn.shopify.com\/s\/files\/1\/0507\/5989\/3197\/products\/NASHVILLE-SIDE-BEACH-min.jpg?v=1661264930","variant_ids":[40664697569485,40664697602253,40664697635021,40664697667789,40664697700557,40664697733325,40664697766093,40664697798861,40664697831629]},"available":true,"name":"NASHVILLE - BEACH \/ 6 \/ FATEO CALF","public_title":"BEACH \/ 6 \/ FATEO CALF","options":["BEACH","6","FATEO CALF"],"price":45000,"weight":0,"compare_at_price":null,"inventory_management":"shopify","barcode":"840237311162","featured_media":{"alt":"2","id":22851443982541,"position":13,"preview_image":{"aspect_ratio":0.8,"height":3700,"width":2960,"src":"https:\/\/cdn.shopify.com\/s\/files\/1\/0507\/5989\/3197\/products\/NASHVILLE-SIDE-BEACH-min.jpg?v=1661264930"}},"requires_selling_plan":false,"selling_plan_allocations":[],"quantity_rule":{"min":1,"max":null,"increment":1}},{"id":40664697602253,"title":"BEACH \/ 6.5 \/ FATEO CALF","option1":"BEACH","option2":"6.5","option3":"FATEO CALF","sku":"840237311179","requires_shipping":true,"taxable":true,"featured_image":{"id":30570961404109,"product_id":6918032883917,"position":13,"created_at":"2022-08-16T23:35:32-04:00","updated_at":"2022-08-23T10:28:50-04:00","alt":"2","width":2960,"height":3700,"src":"https:\/\/cdn.shopify.com\/s\/files\/1\/0507\/5989\/3197\/products\/NASHVILLE-SIDE-BEACH-min.jpg?v=1661264930","variant_ids":[40664697569485,40664697602253,40664697635021,40664697667789,40664697700557,40664697733325,40664697766093,40664697798861,40664697831629]},"available":true,"name":"NASHVILLE - BEACH \/ 6.5 \/ FATEO CALF","public_title":"BEACH \/ 6.5 \/ FATEO CALF","options":["BEACH","6.5","FATEO CALF"],"price":45000,"weight":0,"compare_at_price":null,"inventory_management":"shopify","barcode":"840237311179","featured_media":{"alt":"2","id":22851443982541,"position":13,"preview_image":{"aspect_ratio":0.8,"height":3700,"width":2960,"src":"https:\/\/cdn.shopify.com\/s\/files\/1\/0507\/5989\/3197\/products\/NASHVILLE-SIDE-BEACH-min.jpg?v=1661264930"}},"requires_selling_plan":false,"selling_plan_allocations":[],"quantity_rule":{"min":1,"max":null,"increment":1}},{"id":40664697635021,"title":"BEACH \/ 7 \/ FATEO CALF","option1":"BEACH","option2":"7","option3":"FATEO CALF","sku":"840237311186","requires_shipping":true,"taxable":true,"featured_image":{"id":30570961404109,"product_id":6918032883917,"position":13,"created_at":"2022-08-16T23:35:32-04:00","updated_at":"2022-08-23T10:28:50-04:00","alt":"2","width":2960,"height":3700,"src":"https:\/\/cdn.shopify.com\/s\/files\/1\/0507\/5989\/3197\/products\/NASHVILLE-SIDE-BEACH-min.jpg?v=1661264930","variant_ids":[40664697569485,40664697602253,40664697635021,40664697667789,40664697700557,40664697733325,40664697766093,40664697798861,40664697831629]},"available":true,"name":"NASHVILLE - BEACH \/ 7 \/ FATEO CALF","public_title":"BEACH \/ 7 \/ FATEO CALF","options":["BEACH","7","FATEO CALF"],"price":45000,"weight":0,"compare_at_price":null,"inventory_management":"shopify","barcode":"840237311186","featured_media":{"alt":"2","id":22851443982541,"position":13,"preview_image":{"aspect_ratio":0.8,"height":3700,"width":2960,"src":"https:\/\/cdn.shopify.com\/s\/files\/1\/0507\/5989\/3197\/products\/NASHVILLE-SIDE-BEACH-min.jpg?v=1661264930"}},"requires_selling_plan":false,"selling_plan_allocations":[],"quantity_rule":{"min":1,"max":null,"increment":1}},{"id":40664697667789,"title":"BEACH \/ 7.5 \/ FATEO CALF","option1":"BEACH","option2":"7.5","option3":"FATEO CALF","sku":"840237311193","requires_shipping":true,"taxable":true,"featured_image":{"id":30570961404109,"product_id":6918032883917,"position":13,"created_at":"2022-08-16T23:35:32-04:00","updated_at":"2022-08-23T10:28:50-04:00","alt":"2","width":2960,"height":3700,"src":"https:\/\/cdn.shopify.com\/s\/files\/1\/0507\/5989\/3197\/products\/NASHVILLE-SIDE-BEACH-min.jpg?v=1661264930","variant_ids":[40664697569485,40664697602253,40664697635021,40664697667789,40664697700557,40664697733325,40664697766093,40664697798861,40664697831629]},"available":false,"name":"NASHVILLE - BEACH \/ 7.5 \/ FATEO CALF","public_title":"BEACH \/ 7.5 \/ FATEO CALF","options":["BEACH","7.5","FATEO CALF"],"price":45000,"weight":0,"compare_at_price":null,"inventory_management":"shopify","barcode":"840237311193","featured_media":{"alt":"2","id":22851443982541,"position":13,"preview_image":{"aspect_ratio":0.8,"height":3700,"width":2960,"src":"https:\/\/cdn.shopify.com\/s\/files\/1\/0507\/5989\/3197\/products\/NASHVILLE-SIDE-BEACH-min.jpg?v=1661264930"}},"requires_selling_plan":false,"selling_plan_allocations":[],"quantity_rule":{"min":1,"max":null,"increment":1}},{"id":40664697700557,"title":"BEACH \/ 8 \/ FATEO CALF","option1":"BEACH","option2":"8","option3":"FATEO CALF","sku":"840237311209","requires_shipping":true,"taxable":true,"featured_image":{"id":30570961404109,"product_id":6918032883917,"position":13,"created_at":"2022-08-16T23:35:32-04:00","updated_at":"2022-08-23T10:28:50-04:00","alt":"2","width":2960,"height":3700,"src":"https:\/\/cdn.shopify.com\/s\/files\/1\/0507\/5989\/3197\/products\/NASHVILLE-SIDE-BEACH-min.jpg?v=1661264930","variant_ids":[40664697569485,40664697602253,40664697635021,40664697667789,40664697700557,40664697733325,40664697766093,40664697798861,40664697831629]},"available":true,"name":"NASHVILLE - BEACH \/ 8 \/ FATEO CALF","public_title":"BEACH \/ 8 \/ FATEO CALF","options":["BEACH","8","FATEO CALF"],"price":45000,"weight":0,"compare_at_price":null,"inventory_management":"shopify","barcode":"840237311209","featured_media":{"alt":"2","id":22851443982541,"position":13,"preview_image":{"aspect_ratio":0.8,"height":3700,"width":2960,"src":"https:\/\/cdn.shopify.com\/s\/files\/1\/0507\/5989\/3197\/products\/NASHVILLE-SIDE-BEACH-min.jpg?v=1661264930"}},"requires_selling_plan":false,"selling_plan_allocations":[],"quantity_rule":{"min":1,"max":null,"increment":1}},{"id":40664697733325,"title":"BEACH \/ 8.5 \/ FATEO CALF","option1":"BEACH","option2":"8.5","option3":"FATEO CALF","sku":"840237311216","requires_shipping":true,"taxable":true,"featured_image":{"id":30570961404109,"product_id":6918032883917,"position":13,"created_at":"2022-08-16T23:35:32-04:00","updated_at":"2022-08-23T10:28:50-04:00","alt":"2","width":2960,"height":3700,"src":"https:\/\/cdn.shopify.com\/s\/files\/1\/0507\/5989\/3197\/products\/NASHVILLE-SIDE-BEACH-min.jpg?v=1661264930","variant_ids":[40664697569485,40664697602253,40664697635021,40664697667789,40664697700557,40664697733325,40664697766093,40664697798861,40664697831629]},"available":false,"name":"NASHVILLE - BEACH \/ 8.5 \/ FATEO CALF","public_title":"BEACH \/ 8.5 \/ FATEO CALF","options":["BEACH","8.5","FATEO CALF"],"price":45000,"weight":0,"compare_at_price":null,"inventory_management":"shopify","barcode":"840237311216","featured_media":{"alt":"2","id":22851443982541,"position":13,"preview_image":{"aspect_ratio":0.8,"height":3700,"width":2960,"src":"https:\/\/cdn.shopify.com\/s\/files\/1\/0507\/5989\/3197\/products\/NASHVILLE-SIDE-BEACH-min.jpg?v=1661264930"}},"requires_selling_plan":false,"selling_plan_allocations":[],"quantity_rule":{"min":1,"max":null,"increment":1}},{"id":40664697766093,"title":"BEACH \/ 9 \/ FATEO CALF","option1":"BEACH","option2":"9","option3":"FATEO CALF","sku":"840237311223","requires_shipping":true,"taxable":true,"featured_image":{"id":30570961404109,"product_id":6918032883917,"position":13,"created_at":"2022-08-16T23:35:32-04:00","updated_at":"2022-08-23T10:28:50-04:00","alt":"2","width":2960,"height":3700,"src":"https:\/\/cdn.shopify.com\/s\/files\/1\/0507\/5989\/3197\/products\/NASHVILLE-SIDE-BEACH-min.jpg?v=1661264930","variant_ids":[40664697569485,40664697602253,40664697635021,40664697667789,40664697700557,40664697733325,40664697766093,40664697798861,40664697831629]},"available":true,"name":"NASHVILLE - BEACH \/ 9 \/ FATEO CALF","public_title":"BEACH \/ 9 \/ FATEO CALF","options":["BEACH","9","FATEO CALF"],"price":45000,"weight":0,"compare_at_price":null,"inventory_management":"shopify","barcode":"840237311223","featured_media":{"alt":"2","id":22851443982541,"position":13,"preview_image":{"aspect_ratio":0.8,"height":3700,"width":2960,"src":"https:\/\/cdn.shopify.com\/s\/files\/1\/0507\/5989\/3197\/products\/NASHVILLE-SIDE-BEACH-min.jpg?v=1661264930"}},"requires_selling_plan":false,"selling_plan_allocations":[],"quantity_rule":{"min":1,"max":null,"increment":1}},{"id":40664697798861,"title":"BEACH \/ 9.5 \/ FATEO CALF","option1":"BEACH","option2":"9.5","option3":"FATEO CALF","sku":"840237311230","requires_shipping":true,"taxable":true,"featured_image":{"id":30570961404109,"product_id":6918032883917,"position":13,"created_at":"2022-08-16T23:35:32-04:00","updated_at":"2022-08-23T10:28:50-04:00","alt":"2","width":2960,"height":3700,"src":"https:\/\/cdn.shopify.com\/s\/files\/1\/0507\/5989\/3197\/products\/NASHVILLE-SIDE-BEACH-min.jpg?v=1661264930","variant_ids":[40664697569485,40664697602253,40664697635021,40664697667789,40664697700557,40664697733325,40664697766093,40664697798861,40664697831629]},"available":false,"name":"NASHVILLE - BEACH \/ 9.5 \/ FATEO CALF","public_title":"BEACH \/ 9.5 \/ FATEO CALF","options":["BEACH","9.5","FATEO CALF"],"price":45000,"weight":0,"compare_at_price":null,"inventory_management":"shopify","barcode":"840237311230","featured_media":{"alt":"2","id":22851443982541,"position":13,"preview_image":{"aspect_ratio":0.8,"height":3700,"width":2960,"src":"https:\/\/cdn.shopify.com\/s\/files\/1\/0507\/5989\/3197\/products\/NASHVILLE-SIDE-BEACH-min.jpg?v=1661264930"}},"requires_selling_plan":false,"selling_plan_allocations":[],"quantity_rule":{"min":1,"max":null,"increment":1}},{"id":40664697831629,"title":"BEACH \/ 10 \/ FATEO CALF","option1":"BEACH","option2":"10","option3":"FATEO CALF","sku":"840237311247","requires_shipping":true,"taxable":true,"featured_image":{"id":30570961404109,"product_id":6918032883917,"position":13,"created_at":"2022-08-16T23:35:32-04:00","updated_at":"2022-08-23T10:28:50-04:00","alt":"2","width":2960,"height":3700,"src":"https:\/\/cdn.shopify.com\/s\/files\/1\/0507\/5989\/3197\/products\/NASHVILLE-SIDE-BEACH-min.jpg?v=1661264930","variant_ids":[40664697569485,40664697602253,40664697635021,40664697667789,40664697700557,40664697733325,40664697766093,40664697798861,40664697831629]},"available":true,"name":"NASHVILLE - BEACH \/ 10 \/ FATEO CALF","public_title":"BEACH \/ 10 \/ FATEO CALF","options":["BEACH","10","FATEO CALF"],"price":45000,"weight":0,"compare_at_price":null,"inventory_management":"shopify","barcode":"840237311247","featured_media":{"alt":"2","id":22851443982541,"position":13,"preview_image":{"aspect_ratio":0.8,"height":3700,"width":2960,"src":"https:\/\/cdn.shopify.com\/s\/files\/1\/0507\/5989\/3197\/products\/NASHVILLE-SIDE-BEACH-min.jpg?v=1661264930"}},"requires_selling_plan":false,"selling_plan_allocations":[],"quantity_rule":{"min":1,"max":null,"increment":1}}],"images":["\/\/cdn.shopify.com\/s\/files\/1\/0507\/5989\/3197\/products\/NASHVILLE-SIDE-BLACK-min_4a40f688-5446-49cb-a99a-cdbc97758713.jpg?v=1660707544","\/\/cdn.shopify.com\/s\/files\/1\/0507\/5989\/3197\/products\/NASHVILLE-TOP-BLACK-min_e35e399e-fe67-402c-a86b-d364c24d89c2.jpg?v=1660707544","\/\/cdn.shopify.com\/s\/files\/1\/0507\/5989\/3197\/products\/NASHVILLE-BACK-BLACK-min_a01baab5-aa76-412c-a155-927daefe743a.jpg?v=1660707544","\/\/cdn.shopify.com\/s\/files\/1\/0507\/5989\/3197\/products\/NASHVILLE-OUTSOLE-BLACK-min_1b13de52-445c-4af9-bb70-3226d63215dd.jpg?v=1660707544","\/\/cdn.shopify.com\/s\/files\/1\/0507\/5989\/3197\/products\/NASHVILLE-SOFT-BLACK-min_e232be39-2958-41dd-b210-5fd8c6f7ac22.jpg?v=1660707544","\/\/cdn.shopify.com\/s\/files\/1\/0507\/5989\/3197\/products\/NASHVILLE-ONFOOT-BLACK.jpg?v=1660963452","\/\/cdn.shopify.com\/s\/files\/1\/0507\/5989\/3197\/products\/NASHVILLE-SIDE-MOSS-min.jpg?v=1660963452","\/\/cdn.shopify.com\/s\/files\/1\/0507\/5989\/3197\/products\/NASHVILLE-TOP-MOSS-min.jpg?v=1660963452","\/\/cdn.shopify.com\/s\/files\/1\/0507\/5989\/3197\/products\/NASHVILLE-BACK-ALPINE-min.jpg?v=1660963452","\/\/cdn.shopify.com\/s\/files\/1\/0507\/5989\/3197\/products\/NASHVILLE-OUTSOLE-ALPINE-min_c34b3fc4-f4ef-4547-9ae9-2f1af17745c8.jpg?v=1661264930","\/\/cdn.shopify.com\/s\/files\/1\/0507\/5989\/3197\/products\/NASHVILLE-SOFT-MOSS-min.jpg?v=1661264930","\/\/cdn.shopify.com\/s\/files\/1\/0507\/5989\/3197\/products\/NASHVILLE-ALPINE-ONFOOT-min.jpg?v=1661264930","\/\/cdn.shopify.com\/s\/files\/1\/0507\/5989\/3197\/products\/NASHVILLE-SIDE-BEACH-min.jpg?v=1661264930","\/\/cdn.shopify.com\/s\/files\/1\/0507\/5989\/3197\/products\/NASHVILLE-TOP-BEACH-min.jpg?v=1661264930","\/\/cdn.shopify.com\/s\/files\/1\/0507\/5989\/3197\/products\/NASHVILLE-BACK-SANDDOLLAR-min.jpg?v=1661274749","\/\/cdn.shopify.com\/s\/files\/1\/0507\/5989\/3197\/products\/NASHVILLE-OUTSOLE-ALPINE-min.jpg?v=1661274749","\/\/cdn.shopify.com\/s\/files\/1\/0507\/5989\/3197\/products\/NASHVILLE-SOFT-BEACH-min.jpg?v=1661274759","\/\/cdn.shopify.com\/s\/files\/1\/0507\/5989\/3197\/products\/NASHVILLE-BEACH-ONFOOT-min.jpg?v=1661274759"],"featured_image":"\/\/cdn.shopify.com\/s\/files\/1\/0507\/5989\/3197\/products\/NASHVILLE-SIDE-BLACK-min_4a40f688-5446-49cb-a99a-cdbc97758713.jpg?v=1660707544","options":["Color","Size","Material"],"media":[{"alt":"0","id":22851451093197,"position":1,"preview_image":{"aspect_ratio":0.8,"height":3700,"width":2960,"src":"https:\/\/cdn.shopify.com\/s\/files\/1\/0507\/5989\/3197\/products\/NASHVILLE-SIDE-BLACK-min_4a40f688-5446-49cb-a99a-cdbc97758713.jpg?v=1660707544"},"aspect_ratio":0.8,"height":3700,"media_type":"image","src":"https:\/\/cdn.shopify.com\/s\/files\/1\/0507\/5989\/3197\/products\/NASHVILLE-SIDE-BLACK-min_4a40f688-5446-49cb-a99a-cdbc97758713.jpg?v=1660707544","width":2960},{"alt":"0","id":22851451158733,"position":2,"preview_image":{"aspect_ratio":0.8,"height":3700,"width":2960,"src":"https:\/\/cdn.shopify.com\/s\/files\/1\/0507\/5989\/3197\/products\/NASHVILLE-TOP-BLACK-min_e35e399e-fe67-402c-a86b-d364c24d89c2.jpg?v=1660707544"},"aspect_ratio":0.8,"height":3700,"media_type":"image","src":"https:\/\/cdn.shopify.com\/s\/files\/1\/0507\/5989\/3197\/products\/NASHVILLE-TOP-BLACK-min_e35e399e-fe67-402c-a86b-d364c24d89c2.jpg?v=1660707544","width":2960},{"alt":"0","id":22851450994893,"position":3,"preview_image":{"aspect_ratio":0.8,"height":3700,"width":2960,"src":"https:\/\/cdn.shopify.com\/s\/files\/1\/0507\/5989\/3197\/products\/NASHVILLE-BACK-BLACK-min_a01baab5-aa76-412c-a155-927daefe743a.jpg?v=1660707544"},"aspect_ratio":0.8,"height":3700,"media_type":"image","src":"https:\/\/cdn.shopify.com\/s\/files\/1\/0507\/5989\/3197\/products\/NASHVILLE-BACK-BLACK-min_a01baab5-aa76-412c-a155-927daefe743a.jpg?v=1660707544","width":2960},{"alt":"0","id":22851451060429,"position":4,"preview_image":{"aspect_ratio":0.8,"height":3700,"width":2960,"src":"https:\/\/cdn.shopify.com\/s\/files\/1\/0507\/5989\/3197\/products\/NASHVILLE-OUTSOLE-BLACK-min_1b13de52-445c-4af9-bb70-3226d63215dd.jpg?v=1660707544"},"aspect_ratio":0.8,"height":3700,"media_type":"image","src":"https:\/\/cdn.shopify.com\/s\/files\/1\/0507\/5989\/3197\/products\/NASHVILLE-OUTSOLE-BLACK-min_1b13de52-445c-4af9-bb70-3226d63215dd.jpg?v=1660707544","width":2960},{"alt":"0","id":22851451125965,"position":5,"preview_image":{"aspect_ratio":0.8,"height":3700,"width":2960,"src":"https:\/\/cdn.shopify.com\/s\/files\/1\/0507\/5989\/3197\/products\/NASHVILLE-SOFT-BLACK-min_e232be39-2958-41dd-b210-5fd8c6f7ac22.jpg?v=1660707544"},"aspect_ratio":0.8,"height":3700,"media_type":"image","src":"https:\/\/cdn.shopify.com\/s\/files\/1\/0507\/5989\/3197\/products\/NASHVILLE-SOFT-BLACK-min_e232be39-2958-41dd-b210-5fd8c6f7ac22.jpg?v=1660707544","width":2960},{"alt":"0","id":22871600267469,"position":6,"preview_image":{"aspect_ratio":0.8,"height":3700,"width":2960,"src":"https:\/\/cdn.shopify.com\/s\/files\/1\/0507\/5989\/3197\/products\/NASHVILLE-ONFOOT-BLACK.jpg?v=1660963452"},"aspect_ratio":0.8,"height":3700,"media_type":"image","src":"https:\/\/cdn.shopify.com\/s\/files\/1\/0507\/5989\/3197\/products\/NASHVILLE-ONFOOT-BLACK.jpg?v=1660963452","width":2960},{"alt":"1","id":22851444015309,"position":7,"preview_image":{"aspect_ratio":0.8,"height":3700,"width":2960,"src":"https:\/\/cdn.shopify.com\/s\/files\/1\/0507\/5989\/3197\/products\/NASHVILLE-SIDE-MOSS-min.jpg?v=1660963452"},"aspect_ratio":0.8,"height":3700,"media_type":"image","src":"https:\/\/cdn.shopify.com\/s\/files\/1\/0507\/5989\/3197\/products\/NASHVILLE-SIDE-MOSS-min.jpg?v=1660963452","width":2960},{"alt":"1","id":22851444146381,"position":8,"preview_image":{"aspect_ratio":0.8,"height":3700,"width":2960,"src":"https:\/\/cdn.shopify.com\/s\/files\/1\/0507\/5989\/3197\/products\/NASHVILLE-TOP-MOSS-min.jpg?v=1660963452"},"aspect_ratio":0.8,"height":3700,"media_type":"image","src":"https:\/\/cdn.shopify.com\/s\/files\/1\/0507\/5989\/3197\/products\/NASHVILLE-TOP-MOSS-min.jpg?v=1660963452","width":2960},{"alt":"1","id":22862849474765,"position":9,"preview_image":{"aspect_ratio":0.8,"height":3700,"width":2960,"src":"https:\/\/cdn.shopify.com\/s\/files\/1\/0507\/5989\/3197\/products\/NASHVILLE-BACK-ALPINE-min.jpg?v=1660963452"},"aspect_ratio":0.8,"height":3700,"media_type":"image","src":"https:\/\/cdn.shopify.com\/s\/files\/1\/0507\/5989\/3197\/products\/NASHVILLE-BACK-ALPINE-min.jpg?v=1660963452","width":2960},{"alt":"1","id":22887941308621,"position":10,"preview_image":{"aspect_ratio":0.8,"height":3700,"width":2960,"src":"https:\/\/cdn.shopify.com\/s\/files\/1\/0507\/5989\/3197\/products\/NASHVILLE-OUTSOLE-ALPINE-min_c34b3fc4-f4ef-4547-9ae9-2f1af17745c8.jpg?v=1661264930"},"aspect_ratio":0.8,"height":3700,"media_type":"image","src":"https:\/\/cdn.shopify.com\/s\/files\/1\/0507\/5989\/3197\/products\/NASHVILLE-OUTSOLE-ALPINE-min_c34b3fc4-f4ef-4547-9ae9-2f1af17745c8.jpg?v=1661264930","width":2960},{"alt":"1","id":22851444080845,"position":11,"preview_image":{"aspect_ratio":0.8,"height":3700,"width":2960,"src":"https:\/\/cdn.shopify.com\/s\/files\/1\/0507\/5989\/3197\/products\/NASHVILLE-SOFT-MOSS-min.jpg?v=1661264930"},"aspect_ratio":0.8,"height":3700,"media_type":"image","src":"https:\/\/cdn.shopify.com\/s\/files\/1\/0507\/5989\/3197\/products\/NASHVILLE-SOFT-MOSS-min.jpg?v=1661264930","width":2960},{"alt":"1","id":22862855733453,"position":12,"preview_image":{"aspect_ratio":0.8,"height":3700,"width":2960,"src":"https:\/\/cdn.shopify.com\/s\/files\/1\/0507\/5989\/3197\/products\/NASHVILLE-ALPINE-ONFOOT-min.jpg?v=1661264930"},"aspect_ratio":0.8,"height":3700,"media_type":"image","src":"https:\/\/cdn.shopify.com\/s\/files\/1\/0507\/5989\/3197\/products\/NASHVILLE-ALPINE-ONFOOT-min.jpg?v=1661264930","width":2960},{"alt":"2","id":22851443982541,"position":13,"preview_image":{"aspect_ratio":0.8,"height":3700,"width":2960,"src":"https:\/\/cdn.shopify.com\/s\/files\/1\/0507\/5989\/3197\/products\/NASHVILLE-SIDE-BEACH-min.jpg?v=1661264930"},"aspect_ratio":0.8,"height":3700,"media_type":"image","src":"https:\/\/cdn.shopify.com\/s\/files\/1\/0507\/5989\/3197\/products\/NASHVILLE-SIDE-BEACH-min.jpg?v=1661264930","width":2960},{"alt":"2","id":22851444113613,"position":14,"preview_image":{"aspect_ratio":0.8,"height":3700,"width":2960,"src":"https:\/\/cdn.shopify.com\/s\/files\/1\/0507\/5989\/3197\/products\/NASHVILLE-TOP-BEACH-min.jpg?v=1661264930"},"aspect_ratio":0.8,"height":3700,"media_type":"image","src":"https:\/\/cdn.shopify.com\/s\/files\/1\/0507\/5989\/3197\/products\/NASHVILLE-TOP-BEACH-min.jpg?v=1661264930","width":2960},{"alt":"2","id":22862849507533,"position":15,"preview_image":{"aspect_ratio":0.8,"height":3700,"width":2960,"src":"https:\/\/cdn.shopify.com\/s\/files\/1\/0507\/5989\/3197\/products\/NASHVILLE-BACK-SANDDOLLAR-min.jpg?v=1661274749"},"aspect_ratio":0.8,"height":3700,"media_type":"image","src":"https:\/\/cdn.shopify.com\/s\/files\/1\/0507\/5989\/3197\/products\/NASHVILLE-BACK-SANDDOLLAR-min.jpg?v=1661274749","width":2960},{"alt":"2","id":22887940128973,"position":16,"preview_image":{"aspect_ratio":0.8,"height":3700,"width":2960,"src":"https:\/\/cdn.shopify.com\/s\/files\/1\/0507\/5989\/3197\/products\/NASHVILLE-OUTSOLE-ALPINE-min.jpg?v=1661274749"},"aspect_ratio":0.8,"height":3700,"media_type":"image","src":"https:\/\/cdn.shopify.com\/s\/files\/1\/0507\/5989\/3197\/products\/NASHVILLE-OUTSOLE-ALPINE-min.jpg?v=1661274749","width":2960},{"alt":"2","id":22851444048077,"position":17,"preview_image":{"aspect_ratio":0.8,"height":3700,"width":2960,"src":"https:\/\/cdn.shopify.com\/s\/files\/1\/0507\/5989\/3197\/products\/NASHVILLE-SOFT-BEACH-min.jpg?v=1661274759"},"aspect_ratio":0.8,"height":3700,"media_type":"image","src":"https:\/\/cdn.shopify.com\/s\/files\/1\/0507\/5989\/3197\/products\/NASHVILLE-SOFT-BEACH-min.jpg?v=1661274759","width":2960},{"alt":"2","id":22862855766221,"position":18,"preview_image":{"aspect_ratio":0.8,"height":3700,"width":2960,"src":"https:\/\/cdn.shopify.com\/s\/files\/1\/0507\/5989\/3197\/products\/NASHVILLE-BEACH-ONFOOT-min.jpg?v=1661274759"},"aspect_ratio":0.8,"height":3700,"media_type":"image","src":"https:\/\/cdn.shopify.com\/s\/files\/1\/0507\/5989\/3197\/products\/NASHVILLE-BEACH-ONFOOT-min.jpg?v=1661274759","width":2960},{"alt":"video","id":22888835940557,"position":19,"preview_image":{"aspect_ratio":0.8,"height":1350,"width":1080,"src":"https:\/\/cdn.shopify.com\/s\/files\/1\/0507\/5989\/3197\/products\/bd5188905c2e4701993851f83916b51b.thumbnail.0000000000.jpg?v=1661272052"},"aspect_ratio":0.8,"duration":9220,"media_type":"video","sources":[{"format":"mp4","height":480,"mime_type":"video\/mp4","url":"https:\/\/cdn.shopify.com\/videos\/c\/vp\/bd5188905c2e4701993851f83916b51b\/bd5188905c2e4701993851f83916b51b.SD-480p-1.2Mbps-8910371.mp4","width":384},{"format":"mp4","height":1080,"mime_type":"video\/mp4","url":"https:\/\/cdn.shopify.com\/videos\/c\/vp\/bd5188905c2e4701993851f83916b51b\/bd5188905c2e4701993851f83916b51b.HD-1080p-4.8Mbps-8910371.mp4","width":864},{"format":"mp4","height":720,"mime_type":"video\/mp4","url":"https:\/\/cdn.shopify.com\/videos\/c\/vp\/bd5188905c2e4701993851f83916b51b\/bd5188905c2e4701993851f83916b51b.HD-720p-3.0Mbps-8910371.mp4","width":576},{"format":"m3u8","height":1080,"mime_type":"application\/x-mpegURL","url":"https:\/\/cdn.shopify.com\/videos\/c\/vp\/bd5188905c2e4701993851f83916b51b\/bd5188905c2e4701993851f83916b51b.m3u8","width":864}]}],"requires_selling_plan":false,"selling_plan_groups":[],"content":"\u003cspan data-mce-fragment=\"1\" style=\"font-weight: 400;\" data-mce-style=\"font-weight: 400;\"\u003eThe NASHVILLE is your\u003cstrong\u003e \u003c\/strong\u003eessential \u003c\/span\u003eLBB\u003cspan data-mce-fragment=\"1\" style=\"font-weight: 400;\" data-mce-style=\"font-weight: 400;\"\u003e.  Step into comfort and style with the boot that you want to wear all day, everyday.  Made with the finest imported Italian calfskin upper, genuine leather linings for breathability and our finest Italian leather outsole this boot will just get better over time.  The extended welting is a modern western touch.  The inside zipper provides the perfect ankle fit making this boot ideal with jeans, trousers or your favorite dress.  Surely the NASHVILLE will be your go to Fall staple.\u003c\/span\u003e"} { "options": [ { "title": "Color", "values": [ { "value": "BLACK", "url": "/products/nashville-1?variant=40664681480397" }, { "value": "AUTUMN MOSS", "url": "/products/nashville-1?variant=40664697995469" }, { "value": "BEACH", "url": "/products/nashville-1?variant=40664697569485" } ] }, { "title": "Size", "values": [ { "value": "6", "url": "/products/nashville-1?variant=40664681480397" }, { "value": "6.5", "url": "/products/nashville-1?variant=40664681513165" }, { "value": "7", "url": "/products/nashville-1?variant=40664681545933" }, { "value": "7.5", "url": "/products/nashville-1?variant=40664681578701" }, { "value": "8", "url": "/products/nashville-1?variant=40664681611469" }, { "value": "8.5", "url": "/products/nashville-1?variant=40664681644237" }, { "value": "9", "url": "/products/nashville-1?variant=40664681677005" }, { "value": "9.5", "url": "/products/nashville-1?variant=40664681709773" }, { "value": "10", "url": "/products/nashville-1?variant=40664681742541" } ] }, { "title": "Material", "values": [ { "value": "FATEO CALF", "url": "/products/nashville-1?variant=40664681480397" } ] } ] }
{"id":6759108051149,"title":"MONACO","handle":"monaco","description":"\u003cmeta charset=\"utf-8\"\u003e\u003cspan data-mce-fragment=\"1\"\u003eMONACO is the most coveted dress sandal of the season.  Barely-there chic that will take you from day to night in style and comfort.  Our signature bio based memory foam cushion system is designed for ultimate comfort.  Elite calf leather upper and Italian leather outsole round out this luxurious dress heel. \u003c\/span\u003e\u003cbr data-mce-fragment=\"1\"\u003e\u003cbr\u003e","published_at":"2022-03-03T01:37:11-05:00","created_at":"2021-09-09T14:40:02-04:00","vendor":"Oncept","type":"Footwear","tags":["DRESS","HEEL","sandal","Verishop"],"price":30000,"price_min":30000,"price_max":30000,"available":true,"price_varies":false,"compare_at_price":null,"compare_at_price_min":0,"compare_at_price_max":0,"compare_at_price_varies":false,"variants":[{"id":40188104704205,"title":"OAK \/ 6 \/ ELITE CALF","option1":"OAK","option2":"6","option3":"ELITE CALF","sku":"840237306663","requires_shipping":true,"taxable":true,"featured_image":{"id":29839809413325,"product_id":6759108051149,"position":1,"created_at":"2022-02-25T11:41:59-05:00","updated_at":"2022-08-19T00:58:57-04:00","alt":"0","width":1480,"height":1850,"src":"https:\/\/cdn.shopify.com\/s\/files\/1\/0507\/5989\/3197\/products\/MONACO-SIDE-OAK.jpg?v=1660885137","variant_ids":[40188104704205,40188104868045,40188105031885,40188105195725,40188105359565,40188105523405,40188105687245,40188105883853,40188106014925]},"available":true,"name":"MONACO - OAK \/ 6 \/ ELITE CALF","public_title":"OAK \/ 6 \/ ELITE CALF","options":["OAK","6","ELITE CALF"],"price":30000,"weight":0,"compare_at_price":null,"inventory_management":"shopify","barcode":"840237306663","featured_media":{"alt":"0","id":22111857344717,"position":1,"preview_image":{"aspect_ratio":0.8,"height":1850,"width":1480,"src":"https:\/\/cdn.shopify.com\/s\/files\/1\/0507\/5989\/3197\/products\/MONACO-SIDE-OAK.jpg?v=1660885137"}},"requires_selling_plan":false,"selling_plan_allocations":[],"quantity_rule":{"min":1,"max":null,"increment":1}},{"id":40188104868045,"title":"OAK \/ 6.5 \/ ELITE CALF","option1":"OAK","option2":"6.5","option3":"ELITE CALF","sku":"840237306670","requires_shipping":true,"taxable":true,"featured_image":{"id":29839809413325,"product_id":6759108051149,"position":1,"created_at":"2022-02-25T11:41:59-05:00","updated_at":"2022-08-19T00:58:57-04:00","alt":"0","width":1480,"height":1850,"src":"https:\/\/cdn.shopify.com\/s\/files\/1\/0507\/5989\/3197\/products\/MONACO-SIDE-OAK.jpg?v=1660885137","variant_ids":[40188104704205,40188104868045,40188105031885,40188105195725,40188105359565,40188105523405,40188105687245,40188105883853,40188106014925]},"available":true,"name":"MONACO - OAK \/ 6.5 \/ ELITE CALF","public_title":"OAK \/ 6.5 \/ ELITE CALF","options":["OAK","6.5","ELITE CALF"],"price":30000,"weight":0,"compare_at_price":null,"inventory_management":"shopify","barcode":"840237306670","featured_media":{"alt":"0","id":22111857344717,"position":1,"preview_image":{"aspect_ratio":0.8,"height":1850,"width":1480,"src":"https:\/\/cdn.shopify.com\/s\/files\/1\/0507\/5989\/3197\/products\/MONACO-SIDE-OAK.jpg?v=1660885137"}},"requires_selling_plan":false,"selling_plan_allocations":[],"quantity_rule":{"min":1,"max":null,"increment":1}},{"id":40188105031885,"title":"OAK \/ 7 \/ ELITE CALF","option1":"OAK","option2":"7","option3":"ELITE CALF","sku":"840237306687","requires_shipping":true,"taxable":true,"featured_image":{"id":29839809413325,"product_id":6759108051149,"position":1,"created_at":"2022-02-25T11:41:59-05:00","updated_at":"2022-08-19T00:58:57-04:00","alt":"0","width":1480,"height":1850,"src":"https:\/\/cdn.shopify.com\/s\/files\/1\/0507\/5989\/3197\/products\/MONACO-SIDE-OAK.jpg?v=1660885137","variant_ids":[40188104704205,40188104868045,40188105031885,40188105195725,40188105359565,40188105523405,40188105687245,40188105883853,40188106014925]},"available":true,"name":"MONACO - OAK \/ 7 \/ ELITE CALF","public_title":"OAK \/ 7 \/ ELITE CALF","options":["OAK","7","ELITE CALF"],"price":30000,"weight":0,"compare_at_price":null,"inventory_management":"shopify","barcode":"840237306687","featured_media":{"alt":"0","id":22111857344717,"position":1,"preview_image":{"aspect_ratio":0.8,"height":1850,"width":1480,"src":"https:\/\/cdn.shopify.com\/s\/files\/1\/0507\/5989\/3197\/products\/MONACO-SIDE-OAK.jpg?v=1660885137"}},"requires_selling_plan":false,"selling_plan_allocations":[],"quantity_rule":{"min":1,"max":null,"increment":1}},{"id":40188105195725,"title":"OAK \/ 7.5 \/ ELITE CALF","option1":"OAK","option2":"7.5","option3":"ELITE CALF","sku":"840237306694","requires_shipping":true,"taxable":true,"featured_image":{"id":29839809413325,"product_id":6759108051149,"position":1,"created_at":"2022-02-25T11:41:59-05:00","updated_at":"2022-08-19T00:58:57-04:00","alt":"0","width":1480,"height":1850,"src":"https:\/\/cdn.shopify.com\/s\/files\/1\/0507\/5989\/3197\/products\/MONACO-SIDE-OAK.jpg?v=1660885137","variant_ids":[40188104704205,40188104868045,40188105031885,40188105195725,40188105359565,40188105523405,40188105687245,40188105883853,40188106014925]},"available":true,"name":"MONACO - OAK \/ 7.5 \/ ELITE CALF","public_title":"OAK \/ 7.5 \/ ELITE CALF","options":["OAK","7.5","ELITE CALF"],"price":30000,"weight":0,"compare_at_price":null,"inventory_management":"shopify","barcode":"840237306694","featured_media":{"alt":"0","id":22111857344717,"position":1,"preview_image":{"aspect_ratio":0.8,"height":1850,"width":1480,"src":"https:\/\/cdn.shopify.com\/s\/files\/1\/0507\/5989\/3197\/products\/MONACO-SIDE-OAK.jpg?v=1660885137"}},"requires_selling_plan":false,"selling_plan_allocations":[],"quantity_rule":{"min":1,"max":null,"increment":1}},{"id":40188105359565,"title":"OAK \/ 8 \/ ELITE CALF","option1":"OAK","option2":"8","option3":"ELITE CALF","sku":"840237306700","requires_shipping":true,"taxable":true,"featured_image":{"id":29839809413325,"product_id":6759108051149,"position":1,"created_at":"2022-02-25T11:41:59-05:00","updated_at":"2022-08-19T00:58:57-04:00","alt":"0","width":1480,"height":1850,"src":"https:\/\/cdn.shopify.com\/s\/files\/1\/0507\/5989\/3197\/products\/MONACO-SIDE-OAK.jpg?v=1660885137","variant_ids":[40188104704205,40188104868045,40188105031885,40188105195725,40188105359565,40188105523405,40188105687245,40188105883853,40188106014925]},"available":true,"name":"MONACO - OAK \/ 8 \/ ELITE CALF","public_title":"OAK \/ 8 \/ ELITE CALF","options":["OAK","8","ELITE CALF"],"price":30000,"weight":0,"compare_at_price":null,"inventory_management":"shopify","barcode":"840237306700","featured_media":{"alt":"0","id":22111857344717,"position":1,"preview_image":{"aspect_ratio":0.8,"height":1850,"width":1480,"src":"https:\/\/cdn.shopify.com\/s\/files\/1\/0507\/5989\/3197\/products\/MONACO-SIDE-OAK.jpg?v=1660885137"}},"requires_selling_plan":false,"selling_plan_allocations":[],"quantity_rule":{"min":1,"max":null,"increment":1}},{"id":40188105523405,"title":"OAK \/ 8.5 \/ ELITE CALF","option1":"OAK","option2":"8.5","option3":"ELITE CALF","sku":"840237306717","requires_shipping":true,"taxable":true,"featured_image":{"id":29839809413325,"product_id":6759108051149,"position":1,"created_at":"2022-02-25T11:41:59-05:00","updated_at":"2022-08-19T00:58:57-04:00","alt":"0","width":1480,"height":1850,"src":"https:\/\/cdn.shopify.com\/s\/files\/1\/0507\/5989\/3197\/products\/MONACO-SIDE-OAK.jpg?v=1660885137","variant_ids":[40188104704205,40188104868045,40188105031885,40188105195725,40188105359565,40188105523405,40188105687245,40188105883853,40188106014925]},"available":true,"name":"MONACO - OAK \/ 8.5 \/ ELITE CALF","public_title":"OAK \/ 8.5 \/ ELITE CALF","options":["OAK","8.5","ELITE CALF"],"price":30000,"weight":0,"compare_at_price":null,"inventory_management":"shopify","barcode":"840237306717","featured_media":{"alt":"0","id":22111857344717,"position":1,"preview_image":{"aspect_ratio":0.8,"height":1850,"width":1480,"src":"https:\/\/cdn.shopify.com\/s\/files\/1\/0507\/5989\/3197\/products\/MONACO-SIDE-OAK.jpg?v=1660885137"}},"requires_selling_plan":false,"selling_plan_allocations":[],"quantity_rule":{"min":1,"max":null,"increment":1}},{"id":40188105687245,"title":"OAK \/ 9 \/ ELITE CALF","option1":"OAK","option2":"9","option3":"ELITE CALF","sku":"840237306724","requires_shipping":true,"taxable":true,"featured_image":{"id":29839809413325,"product_id":6759108051149,"position":1,"created_at":"2022-02-25T11:41:59-05:00","updated_at":"2022-08-19T00:58:57-04:00","alt":"0","width":1480,"height":1850,"src":"https:\/\/cdn.shopify.com\/s\/files\/1\/0507\/5989\/3197\/products\/MONACO-SIDE-OAK.jpg?v=1660885137","variant_ids":[40188104704205,40188104868045,40188105031885,40188105195725,40188105359565,40188105523405,40188105687245,40188105883853,40188106014925]},"available":true,"name":"MONACO - OAK \/ 9 \/ ELITE CALF","public_title":"OAK \/ 9 \/ ELITE CALF","options":["OAK","9","ELITE CALF"],"price":30000,"weight":0,"compare_at_price":null,"inventory_management":"shopify","barcode":"840237306724","featured_media":{"alt":"0","id":22111857344717,"position":1,"preview_image":{"aspect_ratio":0.8,"height":1850,"width":1480,"src":"https:\/\/cdn.shopify.com\/s\/files\/1\/0507\/5989\/3197\/products\/MONACO-SIDE-OAK.jpg?v=1660885137"}},"requires_selling_plan":false,"selling_plan_allocations":[],"quantity_rule":{"min":1,"max":null,"increment":1}},{"id":40188105883853,"title":"OAK \/ 9.5 \/ ELITE CALF","option1":"OAK","option2":"9.5","option3":"ELITE CALF","sku":"840237306731","requires_shipping":true,"taxable":true,"featured_image":{"id":29839809413325,"product_id":6759108051149,"position":1,"created_at":"2022-02-25T11:41:59-05:00","updated_at":"2022-08-19T00:58:57-04:00","alt":"0","width":1480,"height":1850,"src":"https:\/\/cdn.shopify.com\/s\/files\/1\/0507\/5989\/3197\/products\/MONACO-SIDE-OAK.jpg?v=1660885137","variant_ids":[40188104704205,40188104868045,40188105031885,40188105195725,40188105359565,40188105523405,40188105687245,40188105883853,40188106014925]},"available":true,"name":"MONACO - OAK \/ 9.5 \/ ELITE CALF","public_title":"OAK \/ 9.5 \/ ELITE CALF","options":["OAK","9.5","ELITE CALF"],"price":30000,"weight":0,"compare_at_price":null,"inventory_management":"shopify","barcode":"840237306731","featured_media":{"alt":"0","id":22111857344717,"position":1,"preview_image":{"aspect_ratio":0.8,"height":1850,"width":1480,"src":"https:\/\/cdn.shopify.com\/s\/files\/1\/0507\/5989\/3197\/products\/MONACO-SIDE-OAK.jpg?v=1660885137"}},"requires_selling_plan":false,"selling_plan_allocations":[],"quantity_rule":{"min":1,"max":null,"increment":1}},{"id":40188106014925,"title":"OAK \/ 10 \/ ELITE CALF","option1":"OAK","option2":"10","option3":"ELITE CALF","sku":"840237306748","requires_shipping":true,"taxable":true,"featured_image":{"id":29839809413325,"product_id":6759108051149,"position":1,"created_at":"2022-02-25T11:41:59-05:00","updated_at":"2022-08-19T00:58:57-04:00","alt":"0","width":1480,"height":1850,"src":"https:\/\/cdn.shopify.com\/s\/files\/1\/0507\/5989\/3197\/products\/MONACO-SIDE-OAK.jpg?v=1660885137","variant_ids":[40188104704205,40188104868045,40188105031885,40188105195725,40188105359565,40188105523405,40188105687245,40188105883853,40188106014925]},"available":true,"name":"MONACO - OAK \/ 10 \/ ELITE CALF","public_title":"OAK \/ 10 \/ ELITE CALF","options":["OAK","10","ELITE CALF"],"price":30000,"weight":0,"compare_at_price":null,"inventory_management":"shopify","barcode":"840237306748","featured_media":{"alt":"0","id":22111857344717,"position":1,"preview_image":{"aspect_ratio":0.8,"height":1850,"width":1480,"src":"https:\/\/cdn.shopify.com\/s\/files\/1\/0507\/5989\/3197\/products\/MONACO-SIDE-OAK.jpg?v=1660885137"}},"requires_selling_plan":false,"selling_plan_allocations":[],"quantity_rule":{"min":1,"max":null,"increment":1}},{"id":40188104671437,"title":"BLACK \/ 6 \/ ELITE CALF","option1":"BLACK","option2":"6","option3":"ELITE CALF","sku":"840237306755","requires_shipping":true,"taxable":true,"featured_image":{"id":29839809577165,"product_id":6759108051149,"position":7,"created_at":"2022-02-25T11:41:59-05:00","updated_at":"2022-08-19T00:58:57-04:00","alt":"1","width":1480,"height":1850,"src":"https:\/\/cdn.shopify.com\/s\/files\/1\/0507\/5989\/3197\/products\/MONACO-SIDE-BLACK.jpg?v=1660885137","variant_ids":[40188104671437,40188104835277,40188104999117,40188105162957,40188105326797,40188105490637,40188105654477,40188105851085,40188105982157]},"available":true,"name":"MONACO - BLACK \/ 6 \/ ELITE CALF","public_title":"BLACK \/ 6 \/ ELITE CALF","options":["BLACK","6","ELITE CALF"],"price":30000,"weight":0,"compare_at_price":null,"inventory_management":"shopify","barcode":"840237306755","featured_media":{"alt":"1","id":22111857279181,"position":7,"preview_image":{"aspect_ratio":0.8,"height":1850,"width":1480,"src":"https:\/\/cdn.shopify.com\/s\/files\/1\/0507\/5989\/3197\/products\/MONACO-SIDE-BLACK.jpg?v=1660885137"}},"requires_selling_plan":false,"selling_plan_allocations":[],"quantity_rule":{"min":1,"max":null,"increment":1}},{"id":40188104835277,"title":"BLACK \/ 6.5 \/ ELITE CALF","option1":"BLACK","option2":"6.5","option3":"ELITE CALF","sku":"840237306762","requires_shipping":true,"taxable":true,"featured_image":{"id":29839809577165,"product_id":6759108051149,"position":7,"created_at":"2022-02-25T11:41:59-05:00","updated_at":"2022-08-19T00:58:57-04:00","alt":"1","width":1480,"height":1850,"src":"https:\/\/cdn.shopify.com\/s\/files\/1\/0507\/5989\/3197\/products\/MONACO-SIDE-BLACK.jpg?v=1660885137","variant_ids":[40188104671437,40188104835277,40188104999117,40188105162957,40188105326797,40188105490637,40188105654477,40188105851085,40188105982157]},"available":true,"name":"MONACO - BLACK \/ 6.5 \/ ELITE CALF","public_title":"BLACK \/ 6.5 \/ ELITE CALF","options":["BLACK","6.5","ELITE CALF"],"price":30000,"weight":0,"compare_at_price":null,"inventory_management":"shopify","barcode":"840237306762","featured_media":{"alt":"1","id":22111857279181,"position":7,"preview_image":{"aspect_ratio":0.8,"height":1850,"width":1480,"src":"https:\/\/cdn.shopify.com\/s\/files\/1\/0507\/5989\/3197\/products\/MONACO-SIDE-BLACK.jpg?v=1660885137"}},"requires_selling_plan":false,"selling_plan_allocations":[],"quantity_rule":{"min":1,"max":null,"increment":1}},{"id":40188104999117,"title":"BLACK \/ 7 \/ ELITE CALF","option1":"BLACK","option2":"7","option3":"ELITE CALF","sku":"840237306779","requires_shipping":true,"taxable":true,"featured_image":{"id":29839809577165,"product_id":6759108051149,"position":7,"created_at":"2022-02-25T11:41:59-05:00","updated_at":"2022-08-19T00:58:57-04:00","alt":"1","width":1480,"height":1850,"src":"https:\/\/cdn.shopify.com\/s\/files\/1\/0507\/5989\/3197\/products\/MONACO-SIDE-BLACK.jpg?v=1660885137","variant_ids":[40188104671437,40188104835277,40188104999117,40188105162957,40188105326797,40188105490637,40188105654477,40188105851085,40188105982157]},"available":true,"name":"MONACO - BLACK \/ 7 \/ ELITE CALF","public_title":"BLACK \/ 7 \/ ELITE CALF","options":["BLACK","7","ELITE CALF"],"price":30000,"weight":0,"compare_at_price":null,"inventory_management":"shopify","barcode":"840237306779","featured_media":{"alt":"1","id":22111857279181,"position":7,"preview_image":{"aspect_ratio":0.8,"height":1850,"width":1480,"src":"https:\/\/cdn.shopify.com\/s\/files\/1\/0507\/5989\/3197\/products\/MONACO-SIDE-BLACK.jpg?v=1660885137"}},"requires_selling_plan":false,"selling_plan_allocations":[],"quantity_rule":{"min":1,"max":null,"increment":1}},{"id":40188105162957,"title":"BLACK \/ 7.5 \/ ELITE CALF","option1":"BLACK","option2":"7.5","option3":"ELITE CALF","sku":"840237306786","requires_shipping":true,"taxable":true,"featured_image":{"id":29839809577165,"product_id":6759108051149,"position":7,"created_at":"2022-02-25T11:41:59-05:00","updated_at":"2022-08-19T00:58:57-04:00","alt":"1","width":1480,"height":1850,"src":"https:\/\/cdn.shopify.com\/s\/files\/1\/0507\/5989\/3197\/products\/MONACO-SIDE-BLACK.jpg?v=1660885137","variant_ids":[40188104671437,40188104835277,40188104999117,40188105162957,40188105326797,40188105490637,40188105654477,40188105851085,40188105982157]},"available":true,"name":"MONACO - BLACK \/ 7.5 \/ ELITE CALF","public_title":"BLACK \/ 7.5 \/ ELITE CALF","options":["BLACK","7.5","ELITE CALF"],"price":30000,"weight":0,"compare_at_price":null,"inventory_management":"shopify","barcode":"840237306786","featured_media":{"alt":"1","id":22111857279181,"position":7,"preview_image":{"aspect_ratio":0.8,"height":1850,"width":1480,"src":"https:\/\/cdn.shopify.com\/s\/files\/1\/0507\/5989\/3197\/products\/MONACO-SIDE-BLACK.jpg?v=1660885137"}},"requires_selling_plan":false,"selling_plan_allocations":[],"quantity_rule":{"min":1,"max":null,"increment":1}},{"id":40188105326797,"title":"BLACK \/ 8 \/ ELITE CALF","option1":"BLACK","option2":"8","option3":"ELITE CALF","sku":"840237306793","requires_shipping":true,"taxable":true,"featured_image":{"id":29839809577165,"product_id":6759108051149,"position":7,"created_at":"2022-02-25T11:41:59-05:00","updated_at":"2022-08-19T00:58:57-04:00","alt":"1","width":1480,"height":1850,"src":"https:\/\/cdn.shopify.com\/s\/files\/1\/0507\/5989\/3197\/products\/MONACO-SIDE-BLACK.jpg?v=1660885137","variant_ids":[40188104671437,40188104835277,40188104999117,40188105162957,40188105326797,40188105490637,40188105654477,40188105851085,40188105982157]},"available":true,"name":"MONACO - BLACK \/ 8 \/ ELITE CALF","public_title":"BLACK \/ 8 \/ ELITE CALF","options":["BLACK","8","ELITE CALF"],"price":30000,"weight":0,"compare_at_price":null,"inventory_management":"shopify","barcode":"840237306793","featured_media":{"alt":"1","id":22111857279181,"position":7,"preview_image":{"aspect_ratio":0.8,"height":1850,"width":1480,"src":"https:\/\/cdn.shopify.com\/s\/files\/1\/0507\/5989\/3197\/products\/MONACO-SIDE-BLACK.jpg?v=1660885137"}},"requires_selling_plan":false,"selling_plan_allocations":[],"quantity_rule":{"min":1,"max":null,"increment":1}},{"id":40188105490637,"title":"BLACK \/ 8.5 \/ ELITE CALF","option1":"BLACK","option2":"8.5","option3":"ELITE CALF","sku":"840237306809","requires_shipping":true,"taxable":true,"featured_image":{"id":29839809577165,"product_id":6759108051149,"position":7,"created_at":"2022-02-25T11:41:59-05:00","updated_at":"2022-08-19T00:58:57-04:00","alt":"1","width":1480,"height":1850,"src":"https:\/\/cdn.shopify.com\/s\/files\/1\/0507\/5989\/3197\/products\/MONACO-SIDE-BLACK.jpg?v=1660885137","variant_ids":[40188104671437,40188104835277,40188104999117,40188105162957,40188105326797,40188105490637,40188105654477,40188105851085,40188105982157]},"available":true,"name":"MONACO - BLACK \/ 8.5 \/ ELITE CALF","public_title":"BLACK \/ 8.5 \/ ELITE CALF","options":["BLACK","8.5","ELITE CALF"],"price":30000,"weight":0,"compare_at_price":null,"inventory_management":"shopify","barcode":"840237306809","featured_media":{"alt":"1","id":22111857279181,"position":7,"preview_image":{"aspect_ratio":0.8,"height":1850,"width":1480,"src":"https:\/\/cdn.shopify.com\/s\/files\/1\/0507\/5989\/3197\/products\/MONACO-SIDE-BLACK.jpg?v=1660885137"}},"requires_selling_plan":false,"selling_plan_allocations":[],"quantity_rule":{"min":1,"max":null,"increment":1}},{"id":40188105654477,"title":"BLACK \/ 9 \/ ELITE CALF","option1":"BLACK","option2":"9","option3":"ELITE CALF","sku":"840237306816","requires_shipping":true,"taxable":true,"featured_image":{"id":29839809577165,"product_id":6759108051149,"position":7,"created_at":"2022-02-25T11:41:59-05:00","updated_at":"2022-08-19T00:58:57-04:00","alt":"1","width":1480,"height":1850,"src":"https:\/\/cdn.shopify.com\/s\/files\/1\/0507\/5989\/3197\/products\/MONACO-SIDE-BLACK.jpg?v=1660885137","variant_ids":[40188104671437,40188104835277,40188104999117,40188105162957,40188105326797,40188105490637,40188105654477,40188105851085,40188105982157]},"available":true,"name":"MONACO - BLACK \/ 9 \/ ELITE CALF","public_title":"BLACK \/ 9 \/ ELITE CALF","options":["BLACK","9","ELITE CALF"],"price":30000,"weight":0,"compare_at_price":null,"inventory_management":"shopify","barcode":"840237306816","featured_media":{"alt":"1","id":22111857279181,"position":7,"preview_image":{"aspect_ratio":0.8,"height":1850,"width":1480,"src":"https:\/\/cdn.shopify.com\/s\/files\/1\/0507\/5989\/3197\/products\/MONACO-SIDE-BLACK.jpg?v=1660885137"}},"requires_selling_plan":false,"selling_plan_allocations":[],"quantity_rule":{"min":1,"max":null,"increment":1}},{"id":40188105851085,"title":"BLACK \/ 9.5 \/ ELITE CALF","option1":"BLACK","option2":"9.5","option3":"ELITE CALF","sku":"840237306823","requires_shipping":true,"taxable":true,"featured_image":{"id":29839809577165,"product_id":6759108051149,"position":7,"created_at":"2022-02-25T11:41:59-05:00","updated_at":"2022-08-19T00:58:57-04:00","alt":"1","width":1480,"height":1850,"src":"https:\/\/cdn.shopify.com\/s\/files\/1\/0507\/5989\/3197\/products\/MONACO-SIDE-BLACK.jpg?v=1660885137","variant_ids":[40188104671437,40188104835277,40188104999117,40188105162957,40188105326797,40188105490637,40188105654477,40188105851085,40188105982157]},"available":true,"name":"MONACO - BLACK \/ 9.5 \/ ELITE CALF","public_title":"BLACK \/ 9.5 \/ ELITE CALF","options":["BLACK","9.5","ELITE CALF"],"price":30000,"weight":0,"compare_at_price":null,"inventory_management":"shopify","barcode":"840237306823","featured_media":{"alt":"1","id":22111857279181,"position":7,"preview_image":{"aspect_ratio":0.8,"height":1850,"width":1480,"src":"https:\/\/cdn.shopify.com\/s\/files\/1\/0507\/5989\/3197\/products\/MONACO-SIDE-BLACK.jpg?v=1660885137"}},"requires_selling_plan":false,"selling_plan_allocations":[],"quantity_rule":{"min":1,"max":null,"increment":1}},{"id":40188105982157,"title":"BLACK \/ 10 \/ ELITE CALF","option1":"BLACK","option2":"10","option3":"ELITE CALF","sku":"840237306830","requires_shipping":true,"taxable":true,"featured_image":{"id":29839809577165,"product_id":6759108051149,"position":7,"created_at":"2022-02-25T11:41:59-05:00","updated_at":"2022-08-19T00:58:57-04:00","alt":"1","width":1480,"height":1850,"src":"https:\/\/cdn.shopify.com\/s\/files\/1\/0507\/5989\/3197\/products\/MONACO-SIDE-BLACK.jpg?v=1660885137","variant_ids":[40188104671437,40188104835277,40188104999117,40188105162957,40188105326797,40188105490637,40188105654477,40188105851085,40188105982157]},"available":true,"name":"MONACO - BLACK \/ 10 \/ ELITE CALF","public_title":"BLACK \/ 10 \/ ELITE CALF","options":["BLACK","10","ELITE CALF"],"price":30000,"weight":0,"compare_at_price":null,"inventory_management":"shopify","barcode":"840237306830","featured_media":{"alt":"1","id":22111857279181,"position":7,"preview_image":{"aspect_ratio":0.8,"height":1850,"width":1480,"src":"https:\/\/cdn.shopify.com\/s\/files\/1\/0507\/5989\/3197\/products\/MONACO-SIDE-BLACK.jpg?v=1660885137"}},"requires_selling_plan":false,"selling_plan_allocations":[],"quantity_rule":{"min":1,"max":null,"increment":1}},{"id":40188104736973,"title":"PRISM PINK \/ 6 \/ ELITE CALF","option1":"PRISM PINK","option2":"6","option3":"ELITE CALF","sku":"840237306939","requires_shipping":true,"taxable":true,"featured_image":{"id":29839809118413,"product_id":6759108051149,"position":13,"created_at":"2022-02-25T11:41:59-05:00","updated_at":"2022-08-26T13:17:39-04:00","alt":"2","width":1480,"height":1850,"src":"https:\/\/cdn.shopify.com\/s\/files\/1\/0507\/5989\/3197\/products\/MONACO-SIDE-PRISMPINK.jpg?v=1661534259","variant_ids":[40188104736973,40188104900813,40188105064653,40188105228493,40188105392333,40188105556173,40188105720013,40188105916621,40188106047693]},"available":true,"name":"MONACO - PRISM PINK \/ 6 \/ ELITE CALF","public_title":"PRISM PINK \/ 6 \/ ELITE CALF","options":["PRISM PINK","6","ELITE CALF"],"price":30000,"weight":0,"compare_at_price":null,"inventory_management":"shopify","barcode":"840237306939","featured_media":{"alt":"2","id":22111857377485,"position":13,"preview_image":{"aspect_ratio":0.8,"height":1850,"width":1480,"src":"https:\/\/cdn.shopify.com\/s\/files\/1\/0507\/5989\/3197\/products\/MONACO-SIDE-PRISMPINK.jpg?v=1661534259"}},"requires_selling_plan":false,"selling_plan_allocations":[],"quantity_rule":{"min":1,"max":null,"increment":1}},{"id":40188104900813,"title":"PRISM PINK \/ 6.5 \/ ELITE CALF","option1":"PRISM PINK","option2":"6.5","option3":"ELITE CALF","sku":"840237306946","requires_shipping":true,"taxable":true,"featured_image":{"id":29839809118413,"product_id":6759108051149,"position":13,"created_at":"2022-02-25T11:41:59-05:00","updated_at":"2022-08-26T13:17:39-04:00","alt":"2","width":1480,"height":1850,"src":"https:\/\/cdn.shopify.com\/s\/files\/1\/0507\/5989\/3197\/products\/MONACO-SIDE-PRISMPINK.jpg?v=1661534259","variant_ids":[40188104736973,40188104900813,40188105064653,40188105228493,40188105392333,40188105556173,40188105720013,40188105916621,40188106047693]},"available":true,"name":"MONACO - PRISM PINK \/ 6.5 \/ ELITE CALF","public_title":"PRISM PINK \/ 6.5 \/ ELITE CALF","options":["PRISM PINK","6.5","ELITE CALF"],"price":30000,"weight":0,"compare_at_price":null,"inventory_management":"shopify","barcode":"840237306946","featured_media":{"alt":"2","id":22111857377485,"position":13,"preview_image":{"aspect_ratio":0.8,"height":1850,"width":1480,"src":"https:\/\/cdn.shopify.com\/s\/files\/1\/0507\/5989\/3197\/products\/MONACO-SIDE-PRISMPINK.jpg?v=1661534259"}},"requires_selling_plan":false,"selling_plan_allocations":[],"quantity_rule":{"min":1,"max":null,"increment":1}},{"id":40188105064653,"title":"PRISM PINK \/ 7 \/ ELITE CALF","option1":"PRISM PINK","option2":"7","option3":"ELITE CALF","sku":"840237306953","requires_shipping":true,"taxable":true,"featured_image":{"id":29839809118413,"product_id":6759108051149,"position":13,"created_at":"2022-02-25T11:41:59-05:00","updated_at":"2022-08-26T13:17:39-04:00","alt":"2","width":1480,"height":1850,"src":"https:\/\/cdn.shopify.com\/s\/files\/1\/0507\/5989\/3197\/products\/MONACO-SIDE-PRISMPINK.jpg?v=1661534259","variant_ids":[40188104736973,40188104900813,40188105064653,40188105228493,40188105392333,40188105556173,40188105720013,40188105916621,40188106047693]},"available":true,"name":"MONACO - PRISM PINK \/ 7 \/ ELITE CALF","public_title":"PRISM PINK \/ 7 \/ ELITE CALF","options":["PRISM PINK","7","ELITE CALF"],"price":30000,"weight":0,"compare_at_price":null,"inventory_management":"shopify","barcode":"840237306953","featured_media":{"alt":"2","id":22111857377485,"position":13,"preview_image":{"aspect_ratio":0.8,"height":1850,"width":1480,"src":"https:\/\/cdn.shopify.com\/s\/files\/1\/0507\/5989\/3197\/products\/MONACO-SIDE-PRISMPINK.jpg?v=1661534259"}},"requires_selling_plan":false,"selling_plan_allocations":[],"quantity_rule":{"min":1,"max":null,"increment":1}},{"id":40188105228493,"title":"PRISM PINK \/ 7.5 \/ ELITE CALF","option1":"PRISM PINK","option2":"7.5","option3":"ELITE CALF","sku":"840237306960","requires_shipping":true,"taxable":true,"featured_image":{"id":29839809118413,"product_id":6759108051149,"position":13,"created_at":"2022-02-25T11:41:59-05:00","updated_at":"2022-08-26T13:17:39-04:00","alt":"2","width":1480,"height":1850,"src":"https:\/\/cdn.shopify.com\/s\/files\/1\/0507\/5989\/3197\/products\/MONACO-SIDE-PRISMPINK.jpg?v=1661534259","variant_ids":[40188104736973,40188104900813,40188105064653,40188105228493,40188105392333,40188105556173,40188105720013,40188105916621,40188106047693]},"available":true,"name":"MONACO - PRISM PINK \/ 7.5 \/ ELITE CALF","public_title":"PRISM PINK \/ 7.5 \/ ELITE CALF","options":["PRISM PINK","7.5","ELITE CALF"],"price":30000,"weight":0,"compare_at_price":null,"inventory_management":"shopify","barcode":"840237306960","featured_media":{"alt":"2","id":22111857377485,"position":13,"preview_image":{"aspect_ratio":0.8,"height":1850,"width":1480,"src":"https:\/\/cdn.shopify.com\/s\/files\/1\/0507\/5989\/3197\/products\/MONACO-SIDE-PRISMPINK.jpg?v=1661534259"}},"requires_selling_plan":false,"selling_plan_allocations":[],"quantity_rule":{"min":1,"max":null,"increment":1}},{"id":40188105392333,"title":"PRISM PINK \/ 8 \/ ELITE CALF","option1":"PRISM PINK","option2":"8","option3":"ELITE CALF","sku":"840237306977","requires_shipping":true,"taxable":true,"featured_image":{"id":29839809118413,"product_id":6759108051149,"position":13,"created_at":"2022-02-25T11:41:59-05:00","updated_at":"2022-08-26T13:17:39-04:00","alt":"2","width":1480,"height":1850,"src":"https:\/\/cdn.shopify.com\/s\/files\/1\/0507\/5989\/3197\/products\/MONACO-SIDE-PRISMPINK.jpg?v=1661534259","variant_ids":[40188104736973,40188104900813,40188105064653,40188105228493,40188105392333,40188105556173,40188105720013,40188105916621,40188106047693]},"available":true,"name":"MONACO - PRISM PINK \/ 8 \/ ELITE CALF","public_title":"PRISM PINK \/ 8 \/ ELITE CALF","options":["PRISM PINK","8","ELITE CALF"],"price":30000,"weight":0,"compare_at_price":null,"inventory_management":"shopify","barcode":"840237306977","featured_media":{"alt":"2","id":22111857377485,"position":13,"preview_image":{"aspect_ratio":0.8,"height":1850,"width":1480,"src":"https:\/\/cdn.shopify.com\/s\/files\/1\/0507\/5989\/3197\/products\/MONACO-SIDE-PRISMPINK.jpg?v=1661534259"}},"requires_selling_plan":false,"selling_plan_allocations":[],"quantity_rule":{"min":1,"max":null,"increment":1}},{"id":40188105556173,"title":"PRISM PINK \/ 8.5 \/ ELITE CALF","option1":"PRISM PINK","option2":"8.5","option3":"ELITE CALF","sku":"840237306984","requires_shipping":true,"taxable":true,"featured_image":{"id":29839809118413,"product_id":6759108051149,"position":13,"created_at":"2022-02-25T11:41:59-05:00","updated_at":"2022-08-26T13:17:39-04:00","alt":"2","width":1480,"height":1850,"src":"https:\/\/cdn.shopify.com\/s\/files\/1\/0507\/5989\/3197\/products\/MONACO-SIDE-PRISMPINK.jpg?v=1661534259","variant_ids":[40188104736973,40188104900813,40188105064653,40188105228493,40188105392333,40188105556173,40188105720013,40188105916621,40188106047693]},"available":true,"name":"MONACO - PRISM PINK \/ 8.5 \/ ELITE CALF","public_title":"PRISM PINK \/ 8.5 \/ ELITE CALF","options":["PRISM PINK","8.5","ELITE CALF"],"price":30000,"weight":0,"compare_at_price":null,"inventory_management":"shopify","barcode":"840237306984","featured_media":{"alt":"2","id":22111857377485,"position":13,"preview_image":{"aspect_ratio":0.8,"height":1850,"width":1480,"src":"https:\/\/cdn.shopify.com\/s\/files\/1\/0507\/5989\/3197\/products\/MONACO-SIDE-PRISMPINK.jpg?v=1661534259"}},"requires_selling_plan":false,"selling_plan_allocations":[],"quantity_rule":{"min":1,"max":null,"increment":1}},{"id":40188105720013,"title":"PRISM PINK \/ 9 \/ ELITE CALF","option1":"PRISM PINK","option2":"9","option3":"ELITE CALF","sku":"840237306991","requires_shipping":true,"taxable":true,"featured_image":{"id":29839809118413,"product_id":6759108051149,"position":13,"created_at":"2022-02-25T11:41:59-05:00","updated_at":"2022-08-26T13:17:39-04:00","alt":"2","width":1480,"height":1850,"src":"https:\/\/cdn.shopify.com\/s\/files\/1\/0507\/5989\/3197\/products\/MONACO-SIDE-PRISMPINK.jpg?v=1661534259","variant_ids":[40188104736973,40188104900813,40188105064653,40188105228493,40188105392333,40188105556173,40188105720013,40188105916621,40188106047693]},"available":true,"name":"MONACO - PRISM PINK \/ 9 \/ ELITE CALF","public_title":"PRISM PINK \/ 9 \/ ELITE CALF","options":["PRISM PINK","9","ELITE CALF"],"price":30000,"weight":0,"compare_at_price":null,"inventory_management":"shopify","barcode":"840237306991","featured_media":{"alt":"2","id":22111857377485,"position":13,"preview_image":{"aspect_ratio":0.8,"height":1850,"width":1480,"src":"https:\/\/cdn.shopify.com\/s\/files\/1\/0507\/5989\/3197\/products\/MONACO-SIDE-PRISMPINK.jpg?v=1661534259"}},"requires_selling_plan":false,"selling_plan_allocations":[],"quantity_rule":{"min":1,"max":null,"increment":1}},{"id":40188105916621,"title":"PRISM PINK \/ 9.5 \/ ELITE CALF","option1":"PRISM PINK","option2":"9.5","option3":"ELITE CALF","sku":"840237307004","requires_shipping":true,"taxable":true,"featured_image":{"id":29839809118413,"product_id":6759108051149,"position":13,"created_at":"2022-02-25T11:41:59-05:00","updated_at":"2022-08-26T13:17:39-04:00","alt":"2","width":1480,"height":1850,"src":"https:\/\/cdn.shopify.com\/s\/files\/1\/0507\/5989\/3197\/products\/MONACO-SIDE-PRISMPINK.jpg?v=1661534259","variant_ids":[40188104736973,40188104900813,40188105064653,40188105228493,40188105392333,40188105556173,40188105720013,40188105916621,40188106047693]},"available":true,"name":"MONACO - PRISM PINK \/ 9.5 \/ ELITE CALF","public_title":"PRISM PINK \/ 9.5 \/ ELITE CALF","options":["PRISM PINK","9.5","ELITE CALF"],"price":30000,"weight":0,"compare_at_price":null,"inventory_management":"shopify","barcode":"840237307004","featured_media":{"alt":"2","id":22111857377485,"position":13,"preview_image":{"aspect_ratio":0.8,"height":1850,"width":1480,"src":"https:\/\/cdn.shopify.com\/s\/files\/1\/0507\/5989\/3197\/products\/MONACO-SIDE-PRISMPINK.jpg?v=1661534259"}},"requires_selling_plan":false,"selling_plan_allocations":[],"quantity_rule":{"min":1,"max":null,"increment":1}},{"id":40188106047693,"title":"PRISM PINK \/ 10 \/ ELITE CALF","option1":"PRISM PINK","option2":"10","option3":"ELITE CALF","sku":"840237307011","requires_shipping":true,"taxable":true,"featured_image":{"id":29839809118413,"product_id":6759108051149,"position":13,"created_at":"2022-02-25T11:41:59-05:00","updated_at":"2022-08-26T13:17:39-04:00","alt":"2","width":1480,"height":1850,"src":"https:\/\/cdn.shopify.com\/s\/files\/1\/0507\/5989\/3197\/products\/MONACO-SIDE-PRISMPINK.jpg?v=1661534259","variant_ids":[40188104736973,40188104900813,40188105064653,40188105228493,40188105392333,40188105556173,40188105720013,40188105916621,40188106047693]},"available":true,"name":"MONACO - PRISM PINK \/ 10 \/ ELITE CALF","public_title":"PRISM PINK \/ 10 \/ ELITE CALF","options":["PRISM PINK","10","ELITE CALF"],"price":30000,"weight":0,"compare_at_price":null,"inventory_management":"shopify","barcode":"840237307011","featured_media":{"alt":"2","id":22111857377485,"position":13,"preview_image":{"aspect_ratio":0.8,"height":1850,"width":1480,"src":"https:\/\/cdn.shopify.com\/s\/files\/1\/0507\/5989\/3197\/products\/MONACO-SIDE-PRISMPINK.jpg?v=1661534259"}},"requires_selling_plan":false,"selling_plan_allocations":[],"quantity_rule":{"min":1,"max":null,"increment":1}},{"id":40188104638669,"title":"WHITE CLOUD \/ 6 \/ ELITE CALF","option1":"WHITE CLOUD","option2":"6","option3":"ELITE CALF","sku":"840237306847","requires_shipping":true,"taxable":true,"featured_image":{"id":29839809872077,"product_id":6759108051149,"position":19,"created_at":"2022-02-25T11:41:59-05:00","updated_at":"2022-08-26T13:17:39-04:00","alt":"3","width":1480,"height":1850,"src":"https:\/\/cdn.shopify.com\/s\/files\/1\/0507\/5989\/3197\/products\/MONACO-SIDE-WHITECLOUD.jpg?v=1661534259","variant_ids":[40188104638669,40188104802509,40188104966349,40188105130189,40188105294029,40188105457869,40188105621709,40188105818317,40691529777357]},"available":true,"name":"MONACO - WHITE CLOUD \/ 6 \/ ELITE CALF","public_title":"WHITE CLOUD \/ 6 \/ ELITE CALF","options":["WHITE CLOUD","6","ELITE CALF"],"price":30000,"weight":0,"compare_at_price":null,"inventory_management":"shopify","barcode":"840237306847","featured_media":{"alt":"3","id":22111857410253,"position":19,"preview_image":{"aspect_ratio":0.8,"height":1850,"width":1480,"src":"https:\/\/cdn.shopify.com\/s\/files\/1\/0507\/5989\/3197\/products\/MONACO-SIDE-WHITECLOUD.jpg?v=1661534259"}},"requires_selling_plan":false,"selling_plan_allocations":[],"quantity_rule":{"min":1,"max":null,"increment":1}},{"id":40188104802509,"title":"WHITE CLOUD \/ 6.5 \/ ELITE CALF","option1":"WHITE CLOUD","option2":"6.5","option3":"ELITE CALF","sku":"840237306854","requires_shipping":true,"taxable":true,"featured_image":{"id":29839809872077,"product_id":6759108051149,"position":19,"created_at":"2022-02-25T11:41:59-05:00","updated_at":"2022-08-26T13:17:39-04:00","alt":"3","width":1480,"height":1850,"src":"https:\/\/cdn.shopify.com\/s\/files\/1\/0507\/5989\/3197\/products\/MONACO-SIDE-WHITECLOUD.jpg?v=1661534259","variant_ids":[40188104638669,40188104802509,40188104966349,40188105130189,40188105294029,40188105457869,40188105621709,40188105818317,40691529777357]},"available":true,"name":"MONACO - WHITE CLOUD \/ 6.5 \/ ELITE CALF","public_title":"WHITE CLOUD \/ 6.5 \/ ELITE CALF","options":["WHITE CLOUD","6.5","ELITE CALF"],"price":30000,"weight":0,"compare_at_price":null,"inventory_management":"shopify","barcode":"840237306854","featured_media":{"alt":"3","id":22111857410253,"position":19,"preview_image":{"aspect_ratio":0.8,"height":1850,"width":1480,"src":"https:\/\/cdn.shopify.com\/s\/files\/1\/0507\/5989\/3197\/products\/MONACO-SIDE-WHITECLOUD.jpg?v=1661534259"}},"requires_selling_plan":false,"selling_plan_allocations":[],"quantity_rule":{"min":1,"max":null,"increment":1}},{"id":40188104966349,"title":"WHITE CLOUD \/ 7 \/ ELITE CALF","option1":"WHITE CLOUD","option2":"7","option3":"ELITE CALF","sku":"840237306861","requires_shipping":true,"taxable":true,"featured_image":{"id":29839809872077,"product_id":6759108051149,"position":19,"created_at":"2022-02-25T11:41:59-05:00","updated_at":"2022-08-26T13:17:39-04:00","alt":"3","width":1480,"height":1850,"src":"https:\/\/cdn.shopify.com\/s\/files\/1\/0507\/5989\/3197\/products\/MONACO-SIDE-WHITECLOUD.jpg?v=1661534259","variant_ids":[40188104638669,40188104802509,40188104966349,40188105130189,40188105294029,40188105457869,40188105621709,40188105818317,40691529777357]},"available":true,"name":"MONACO - WHITE CLOUD \/ 7 \/ ELITE CALF","public_title":"WHITE CLOUD \/ 7 \/ ELITE CALF","options":["WHITE CLOUD","7","ELITE CALF"],"price":30000,"weight":0,"compare_at_price":null,"inventory_management":"shopify","barcode":"840237306861","featured_media":{"alt":"3","id":22111857410253,"position":19,"preview_image":{"aspect_ratio":0.8,"height":1850,"width":1480,"src":"https:\/\/cdn.shopify.com\/s\/files\/1\/0507\/5989\/3197\/products\/MONACO-SIDE-WHITECLOUD.jpg?v=1661534259"}},"requires_selling_plan":false,"selling_plan_allocations":[],"quantity_rule":{"min":1,"max":null,"increment":1}},{"id":40188105130189,"title":"WHITE CLOUD \/ 7.5 \/ ELITE CALF","option1":"WHITE CLOUD","option2":"7.5","option3":"ELITE CALF","sku":"840237306878","requires_shipping":true,"taxable":true,"featured_image":{"id":29839809872077,"product_id":6759108051149,"position":19,"created_at":"2022-02-25T11:41:59-05:00","updated_at":"2022-08-26T13:17:39-04:00","alt":"3","width":1480,"height":1850,"src":"https:\/\/cdn.shopify.com\/s\/files\/1\/0507\/5989\/3197\/products\/MONACO-SIDE-WHITECLOUD.jpg?v=1661534259","variant_ids":[40188104638669,40188104802509,40188104966349,40188105130189,40188105294029,40188105457869,40188105621709,40188105818317,40691529777357]},"available":true,"name":"MONACO - WHITE CLOUD \/ 7.5 \/ ELITE CALF","public_title":"WHITE CLOUD \/ 7.5 \/ ELITE CALF","options":["WHITE CLOUD","7.5","ELITE CALF"],"price":30000,"weight":0,"compare_at_price":null,"inventory_management":"shopify","barcode":"840237306878","featured_media":{"alt":"3","id":22111857410253,"position":19,"preview_image":{"aspect_ratio":0.8,"height":1850,"width":1480,"src":"https:\/\/cdn.shopify.com\/s\/files\/1\/0507\/5989\/3197\/products\/MONACO-SIDE-WHITECLOUD.jpg?v=1661534259"}},"requires_selling_plan":false,"selling_plan_allocations":[],"quantity_rule":{"min":1,"max":null,"increment":1}},{"id":40188105294029,"title":"WHITE CLOUD \/ 8 \/ ELITE CALF","option1":"WHITE CLOUD","option2":"8","option3":"ELITE CALF","sku":"840237306885","requires_shipping":true,"taxable":true,"featured_image":{"id":29839809872077,"product_id":6759108051149,"position":19,"created_at":"2022-02-25T11:41:59-05:00","updated_at":"2022-08-26T13:17:39-04:00","alt":"3","width":1480,"height":1850,"src":"https:\/\/cdn.shopify.com\/s\/files\/1\/0507\/5989\/3197\/products\/MONACO-SIDE-WHITECLOUD.jpg?v=1661534259","variant_ids":[40188104638669,40188104802509,40188104966349,40188105130189,40188105294029,40188105457869,40188105621709,40188105818317,40691529777357]},"available":true,"name":"MONACO - WHITE CLOUD \/ 8 \/ ELITE CALF","public_title":"WHITE CLOUD \/ 8 \/ ELITE CALF","options":["WHITE CLOUD","8","ELITE CALF"],"price":30000,"weight":0,"compare_at_price":null,"inventory_management":"shopify","barcode":"840237306885","featured_media":{"alt":"3","id":22111857410253,"position":19,"preview_image":{"aspect_ratio":0.8,"height":1850,"width":1480,"src":"https:\/\/cdn.shopify.com\/s\/files\/1\/0507\/5989\/3197\/products\/MONACO-SIDE-WHITECLOUD.jpg?v=1661534259"}},"requires_selling_plan":false,"selling_plan_allocations":[],"quantity_rule":{"min":1,"max":null,"increment":1}},{"id":40188105457869,"title":"WHITE CLOUD \/ 8.5 \/ ELITE CALF","option1":"WHITE CLOUD","option2":"8.5","option3":"ELITE CALF","sku":"840237306892","requires_shipping":true,"taxable":true,"featured_image":{"id":29839809872077,"product_id":6759108051149,"position":19,"created_at":"2022-02-25T11:41:59-05:00","updated_at":"2022-08-26T13:17:39-04:00","alt":"3","width":1480,"height":1850,"src":"https:\/\/cdn.shopify.com\/s\/files\/1\/0507\/5989\/3197\/products\/MONACO-SIDE-WHITECLOUD.jpg?v=1661534259","variant_ids":[40188104638669,40188104802509,40188104966349,40188105130189,40188105294029,40188105457869,40188105621709,40188105818317,40691529777357]},"available":true,"name":"MONACO - WHITE CLOUD \/ 8.5 \/ ELITE CALF","public_title":"WHITE CLOUD \/ 8.5 \/ ELITE CALF","options":["WHITE CLOUD","8.5","ELITE CALF"],"price":30000,"weight":0,"compare_at_price":null,"inventory_management":"shopify","barcode":"840237306892","featured_media":{"alt":"3","id":22111857410253,"position":19,"preview_image":{"aspect_ratio":0.8,"height":1850,"width":1480,"src":"https:\/\/cdn.shopify.com\/s\/files\/1\/0507\/5989\/3197\/products\/MONACO-SIDE-WHITECLOUD.jpg?v=1661534259"}},"requires_selling_plan":false,"selling_plan_allocations":[],"quantity_rule":{"min":1,"max":null,"increment":1}},{"id":40188105621709,"title":"WHITE CLOUD \/ 9 \/ ELITE CALF","option1":"WHITE CLOUD","option2":"9","option3":"ELITE CALF","sku":"840237306908","requires_shipping":true,"taxable":true,"featured_image":{"id":29839809872077,"product_id":6759108051149,"position":19,"created_at":"2022-02-25T11:41:59-05:00","updated_at":"2022-08-26T13:17:39-04:00","alt":"3","width":1480,"height":1850,"src":"https:\/\/cdn.shopify.com\/s\/files\/1\/0507\/5989\/3197\/products\/MONACO-SIDE-WHITECLOUD.jpg?v=1661534259","variant_ids":[40188104638669,40188104802509,40188104966349,40188105130189,40188105294029,40188105457869,40188105621709,40188105818317,40691529777357]},"available":true,"name":"MONACO - WHITE CLOUD \/ 9 \/ ELITE CALF","public_title":"WHITE CLOUD \/ 9 \/ ELITE CALF","options":["WHITE CLOUD","9","ELITE CALF"],"price":30000,"weight":0,"compare_at_price":null,"inventory_management":"shopify","barcode":"840237306908","featured_media":{"alt":"3","id":22111857410253,"position":19,"preview_image":{"aspect_ratio":0.8,"height":1850,"width":1480,"src":"https:\/\/cdn.shopify.com\/s\/files\/1\/0507\/5989\/3197\/products\/MONACO-SIDE-WHITECLOUD.jpg?v=1661534259"}},"requires_selling_plan":false,"selling_plan_allocations":[],"quantity_rule":{"min":1,"max":null,"increment":1}},{"id":40188105818317,"title":"WHITE CLOUD \/ 9.5 \/ ELITE CALF","option1":"WHITE CLOUD","option2":"9.5","option3":"ELITE CALF","sku":"840237306915","requires_shipping":true,"taxable":true,"featured_image":{"id":29839809872077,"product_id":6759108051149,"position":19,"created_at":"2022-02-25T11:41:59-05:00","updated_at":"2022-08-26T13:17:39-04:00","alt":"3","width":1480,"height":1850,"src":"https:\/\/cdn.shopify.com\/s\/files\/1\/0507\/5989\/3197\/products\/MONACO-SIDE-WHITECLOUD.jpg?v=1661534259","variant_ids":[40188104638669,40188104802509,40188104966349,40188105130189,40188105294029,40188105457869,40188105621709,40188105818317,40691529777357]},"available":true,"name":"MONACO - WHITE CLOUD \/ 9.5 \/ ELITE CALF","public_title":"WHITE CLOUD \/ 9.5 \/ ELITE CALF","options":["WHITE CLOUD","9.5","ELITE CALF"],"price":30000,"weight":0,"compare_at_price":null,"inventory_management":"shopify","barcode":"840237306915","featured_media":{"alt":"3","id":22111857410253,"position":19,"preview_image":{"aspect_ratio":0.8,"height":1850,"width":1480,"src":"https:\/\/cdn.shopify.com\/s\/files\/1\/0507\/5989\/3197\/products\/MONACO-SIDE-WHITECLOUD.jpg?v=1661534259"}},"requires_selling_plan":false,"selling_plan_allocations":[],"quantity_rule":{"min":1,"max":null,"increment":1}},{"id":40691529777357,"title":"WHITE CLOUD \/ 10 \/ ELITE CALF","option1":"WHITE CLOUD","option2":"10","option3":"ELITE CALF","sku":"840237306922","requires_shipping":true,"taxable":true,"featured_image":{"id":29839809872077,"product_id":6759108051149,"position":19,"created_at":"2022-02-25T11:41:59-05:00","updated_at":"2022-08-26T13:17:39-04:00","alt":"3","width":1480,"height":1850,"src":"https:\/\/cdn.shopify.com\/s\/files\/1\/0507\/5989\/3197\/products\/MONACO-SIDE-WHITECLOUD.jpg?v=1661534259","variant_ids":[40188104638669,40188104802509,40188104966349,40188105130189,40188105294029,40188105457869,40188105621709,40188105818317,40691529777357]},"available":true,"name":"MONACO - WHITE CLOUD \/ 10 \/ ELITE CALF","public_title":"WHITE CLOUD \/ 10 \/ ELITE CALF","options":["WHITE CLOUD","10","ELITE CALF"],"price":30000,"weight":0,"compare_at_price":null,"inventory_management":"shopify","barcode":"840237306922","featured_media":{"alt":"3","id":22111857410253,"position":19,"preview_image":{"aspect_ratio":0.8,"height":1850,"width":1480,"src":"https:\/\/cdn.shopify.com\/s\/files\/1\/0507\/5989\/3197\/products\/MONACO-SIDE-WHITECLOUD.jpg?v=1661534259"}},"requires_selling_plan":false,"selling_plan_allocations":[],"quantity_rule":{"min":1,"max":null,"increment":1}},{"id":40324418765005,"title":"JADE \/ 6 \/ ELITE CALF","option1":"JADE","option2":"6","option3":"ELITE CALF","sku":"840237307110","requires_shipping":true,"taxable":true,"featured_image":{"id":29839809315021,"product_id":6759108051149,"position":25,"created_at":"2022-02-25T11:41:59-05:00","updated_at":"2022-08-26T13:17:39-04:00","alt":"4","width":1480,"height":1850,"src":"https:\/\/cdn.shopify.com\/s\/files\/1\/0507\/5989\/3197\/products\/MONACO-SIDE-JADE.jpg?v=1661534259","variant_ids":[40324418765005,40324418797773,40324418830541,40324418863309,40324418896077,40324418928845,40324418961613,40324418994381,40324419027149]},"available":true,"name":"MONACO - JADE \/ 6 \/ ELITE CALF","public_title":"JADE \/ 6 \/ ELITE CALF","options":["JADE","6","ELITE CALF"],"price":30000,"weight":0,"compare_at_price":null,"inventory_management":"shopify","barcode":"840237307110","featured_media":{"alt":"4","id":22111857311949,"position":25,"preview_image":{"aspect_ratio":0.8,"height":1850,"width":1480,"src":"https:\/\/cdn.shopify.com\/s\/files\/1\/0507\/5989\/3197\/products\/MONACO-SIDE-JADE.jpg?v=1661534259"}},"requires_selling_plan":false,"selling_plan_allocations":[],"quantity_rule":{"min":1,"max":null,"increment":1}},{"id":40324418797773,"title":"JADE \/ 6.5 \/ ELITE CALF","option1":"JADE","option2":"6.5","option3":"ELITE CALF","sku":"840237307127","requires_shipping":true,"taxable":true,"featured_image":{"id":29839809315021,"product_id":6759108051149,"position":25,"created_at":"2022-02-25T11:41:59-05:00","updated_at":"2022-08-26T13:17:39-04:00","alt":"4","width":1480,"height":1850,"src":"https:\/\/cdn.shopify.com\/s\/files\/1\/0507\/5989\/3197\/products\/MONACO-SIDE-JADE.jpg?v=1661534259","variant_ids":[40324418765005,40324418797773,40324418830541,40324418863309,40324418896077,40324418928845,40324418961613,40324418994381,40324419027149]},"available":true,"name":"MONACO - JADE \/ 6.5 \/ ELITE CALF","public_title":"JADE \/ 6.5 \/ ELITE CALF","options":["JADE","6.5","ELITE CALF"],"price":30000,"weight":0,"compare_at_price":null,"inventory_management":"shopify","barcode":"840237307127","featured_media":{"alt":"4","id":22111857311949,"position":25,"preview_image":{"aspect_ratio":0.8,"height":1850,"width":1480,"src":"https:\/\/cdn.shopify.com\/s\/files\/1\/0507\/5989\/3197\/products\/MONACO-SIDE-JADE.jpg?v=1661534259"}},"requires_selling_plan":false,"selling_plan_allocations":[],"quantity_rule":{"min":1,"max":null,"increment":1}},{"id":40324418830541,"title":"JADE \/ 7 \/ ELITE CALF","option1":"JADE","option2":"7","option3":"ELITE CALF","sku":"840237307134","requires_shipping":true,"taxable":true,"featured_image":{"id":29839809315021,"product_id":6759108051149,"position":25,"created_at":"2022-02-25T11:41:59-05:00","updated_at":"2022-08-26T13:17:39-04:00","alt":"4","width":1480,"height":1850,"src":"https:\/\/cdn.shopify.com\/s\/files\/1\/0507\/5989\/3197\/products\/MONACO-SIDE-JADE.jpg?v=1661534259","variant_ids":[40324418765005,40324418797773,40324418830541,40324418863309,40324418896077,40324418928845,40324418961613,40324418994381,40324419027149]},"available":true,"name":"MONACO - JADE \/ 7 \/ ELITE CALF","public_title":"JADE \/ 7 \/ ELITE CALF","options":["JADE","7","ELITE CALF"],"price":30000,"weight":0,"compare_at_price":null,"inventory_management":"shopify","barcode":"840237307134","featured_media":{"alt":"4","id":22111857311949,"position":25,"preview_image":{"aspect_ratio":0.8,"height":1850,"width":1480,"src":"https:\/\/cdn.shopify.com\/s\/files\/1\/0507\/5989\/3197\/products\/MONACO-SIDE-JADE.jpg?v=1661534259"}},"requires_selling_plan":false,"selling_plan_allocations":[],"quantity_rule":{"min":1,"max":null,"increment":1}},{"id":40324418863309,"title":"JADE \/ 7.5 \/ ELITE CALF","option1":"JADE","option2":"7.5","option3":"ELITE CALF","sku":"840237307141","requires_shipping":true,"taxable":true,"featured_image":{"id":29839809315021,"product_id":6759108051149,"position":25,"created_at":"2022-02-25T11:41:59-05:00","updated_at":"2022-08-26T13:17:39-04:00","alt":"4","width":1480,"height":1850,"src":"https:\/\/cdn.shopify.com\/s\/files\/1\/0507\/5989\/3197\/products\/MONACO-SIDE-JADE.jpg?v=1661534259","variant_ids":[40324418765005,40324418797773,40324418830541,40324418863309,40324418896077,40324418928845,40324418961613,40324418994381,40324419027149]},"available":true,"name":"MONACO - JADE \/ 7.5 \/ ELITE CALF","public_title":"JADE \/ 7.5 \/ ELITE CALF","options":["JADE","7.5","ELITE CALF"],"price":30000,"weight":0,"compare_at_price":null,"inventory_management":"shopify","barcode":"840237307141","featured_media":{"alt":"4","id":22111857311949,"position":25,"preview_image":{"aspect_ratio":0.8,"height":1850,"width":1480,"src":"https:\/\/cdn.shopify.com\/s\/files\/1\/0507\/5989\/3197\/products\/MONACO-SIDE-JADE.jpg?v=1661534259"}},"requires_selling_plan":false,"selling_plan_allocations":[],"quantity_rule":{"min":1,"max":null,"increment":1}},{"id":40324418896077,"title":"JADE \/ 8 \/ ELITE CALF","option1":"JADE","option2":"8","option3":"ELITE CALF","sku":"840237307158","requires_shipping":true,"taxable":true,"featured_image":{"id":29839809315021,"product_id":6759108051149,"position":25,"created_at":"2022-02-25T11:41:59-05:00","updated_at":"2022-08-26T13:17:39-04:00","alt":"4","width":1480,"height":1850,"src":"https:\/\/cdn.shopify.com\/s\/files\/1\/0507\/5989\/3197\/products\/MONACO-SIDE-JADE.jpg?v=1661534259","variant_ids":[40324418765005,40324418797773,40324418830541,40324418863309,40324418896077,40324418928845,40324418961613,40324418994381,40324419027149]},"available":true,"name":"MONACO - JADE \/ 8 \/ ELITE CALF","public_title":"JADE \/ 8 \/ ELITE CALF","options":["JADE","8","ELITE CALF"],"price":30000,"weight":0,"compare_at_price":null,"inventory_management":"shopify","barcode":"840237307158","featured_media":{"alt":"4","id":22111857311949,"position":25,"preview_image":{"aspect_ratio":0.8,"height":1850,"width":1480,"src":"https:\/\/cdn.shopify.com\/s\/files\/1\/0507\/5989\/3197\/products\/MONACO-SIDE-JADE.jpg?v=1661534259"}},"requires_selling_plan":false,"selling_plan_allocations":[],"quantity_rule":{"min":1,"max":null,"increment":1}},{"id":40324418928845,"title":"JADE \/ 8.5 \/ ELITE CALF","option1":"JADE","option2":"8.5","option3":"ELITE CALF","sku":"840237307165","requires_shipping":true,"taxable":true,"featured_image":{"id":29839809315021,"product_id":6759108051149,"position":25,"created_at":"2022-02-25T11:41:59-05:00","updated_at":"2022-08-26T13:17:39-04:00","alt":"4","width":1480,"height":1850,"src":"https:\/\/cdn.shopify.com\/s\/files\/1\/0507\/5989\/3197\/products\/MONACO-SIDE-JADE.jpg?v=1661534259","variant_ids":[40324418765005,40324418797773,40324418830541,40324418863309,40324418896077,40324418928845,40324418961613,40324418994381,40324419027149]},"available":true,"name":"MONACO - JADE \/ 8.5 \/ ELITE CALF","public_title":"JADE \/ 8.5 \/ ELITE CALF","options":["JADE","8.5","ELITE CALF"],"price":30000,"weight":0,"compare_at_price":null,"inventory_management":"shopify","barcode":"840237307165","featured_media":{"alt":"4","id":22111857311949,"position":25,"preview_image":{"aspect_ratio":0.8,"height":1850,"width":1480,"src":"https:\/\/cdn.shopify.com\/s\/files\/1\/0507\/5989\/3197\/products\/MONACO-SIDE-JADE.jpg?v=1661534259"}},"requires_selling_plan":false,"selling_plan_allocations":[],"quantity_rule":{"min":1,"max":null,"increment":1}},{"id":40324418961613,"title":"JADE \/ 9 \/ ELITE CALF","option1":"JADE","option2":"9","option3":"ELITE CALF","sku":"840237307172","requires_shipping":true,"taxable":true,"featured_image":{"id":29839809315021,"product_id":6759108051149,"position":25,"created_at":"2022-02-25T11:41:59-05:00","updated_at":"2022-08-26T13:17:39-04:00","alt":"4","width":1480,"height":1850,"src":"https:\/\/cdn.shopify.com\/s\/files\/1\/0507\/5989\/3197\/products\/MONACO-SIDE-JADE.jpg?v=1661534259","variant_ids":[40324418765005,40324418797773,40324418830541,40324418863309,40324418896077,40324418928845,40324418961613,40324418994381,40324419027149]},"available":true,"name":"MONACO - JADE \/ 9 \/ ELITE CALF","public_title":"JADE \/ 9 \/ ELITE CALF","options":["JADE","9","ELITE CALF"],"price":30000,"weight":0,"compare_at_price":null,"inventory_management":"shopify","barcode":"840237307172","featured_media":{"alt":"4","id":22111857311949,"position":25,"preview_image":{"aspect_ratio":0.8,"height":1850,"width":1480,"src":"https:\/\/cdn.shopify.com\/s\/files\/1\/0507\/5989\/3197\/products\/MONACO-SIDE-JADE.jpg?v=1661534259"}},"requires_selling_plan":false,"selling_plan_allocations":[],"quantity_rule":{"min":1,"max":null,"increment":1}},{"id":40324418994381,"title":"JADE \/ 9.5 \/ ELITE CALF","option1":"JADE","option2":"9.5","option3":"ELITE CALF","sku":"840237307189","requires_shipping":true,"taxable":true,"featured_image":{"id":29839809315021,"product_id":6759108051149,"position":25,"created_at":"2022-02-25T11:41:59-05:00","updated_at":"2022-08-26T13:17:39-04:00","alt":"4","width":1480,"height":1850,"src":"https:\/\/cdn.shopify.com\/s\/files\/1\/0507\/5989\/3197\/products\/MONACO-SIDE-JADE.jpg?v=1661534259","variant_ids":[40324418765005,40324418797773,40324418830541,40324418863309,40324418896077,40324418928845,40324418961613,40324418994381,40324419027149]},"available":true,"name":"MONACO - JADE \/ 9.5 \/ ELITE CALF","public_title":"JADE \/ 9.5 \/ ELITE CALF","options":["JADE","9.5","ELITE CALF"],"price":30000,"weight":0,"compare_at_price":null,"inventory_management":"shopify","barcode":"840237307189","featured_media":{"alt":"4","id":22111857311949,"position":25,"preview_image":{"aspect_ratio":0.8,"height":1850,"width":1480,"src":"https:\/\/cdn.shopify.com\/s\/files\/1\/0507\/5989\/3197\/products\/MONACO-SIDE-JADE.jpg?v=1661534259"}},"requires_selling_plan":false,"selling_plan_allocations":[],"quantity_rule":{"min":1,"max":null,"increment":1}},{"id":40324419027149,"title":"JADE \/ 10 \/ ELITE CALF","option1":"JADE","option2":"10","option3":"ELITE CALF","sku":"840237307196","requires_shipping":true,"taxable":true,"featured_image":{"id":29839809315021,"product_id":6759108051149,"position":25,"created_at":"2022-02-25T11:41:59-05:00","updated_at":"2022-08-26T13:17:39-04:00","alt":"4","width":1480,"height":1850,"src":"https:\/\/cdn.shopify.com\/s\/files\/1\/0507\/5989\/3197\/products\/MONACO-SIDE-JADE.jpg?v=1661534259","variant_ids":[40324418765005,40324418797773,40324418830541,40324418863309,40324418896077,40324418928845,40324418961613,40324418994381,40324419027149]},"available":true,"name":"MONACO - JADE \/ 10 \/ ELITE CALF","public_title":"JADE \/ 10 \/ ELITE CALF","options":["JADE","10","ELITE CALF"],"price":30000,"weight":0,"compare_at_price":null,"inventory_management":"shopify","barcode":"840237307196","featured_media":{"alt":"4","id":22111857311949,"position":25,"preview_image":{"aspect_ratio":0.8,"height":1850,"width":1480,"src":"https:\/\/cdn.shopify.com\/s\/files\/1\/0507\/5989\/3197\/products\/MONACO-SIDE-JADE.jpg?v=1661534259"}},"requires_selling_plan":false,"selling_plan_allocations":[],"quantity_rule":{"min":1,"max":null,"increment":1}}],"images":["\/\/cdn.shopify.com\/s\/files\/1\/0507\/5989\/3197\/products\/MONACO-SIDE-OAK.jpg?v=1660885137","\/\/cdn.shopify.com\/s\/files\/1\/0507\/5989\/3197\/products\/MONACO-TOP-OAK.jpg?v=1660885137","\/\/cdn.shopify.com\/s\/files\/1\/0507\/5989\/3197\/products\/MONACO-BACK-OAK.jpg?v=1660885137","\/\/cdn.shopify.com\/s\/files\/1\/0507\/5989\/3197\/products\/MONACO-OUTSOLE-OAK.jpg?v=1660885137","\/\/cdn.shopify.com\/s\/files\/1\/0507\/5989\/3197\/products\/MONACO-SOFTNESS-OAK.jpg?v=1660885137","\/\/cdn.shopify.com\/s\/files\/1\/0507\/5989\/3197\/products\/MONACO-ONFOOT-OAK.jpg?v=1660885137","\/\/cdn.shopify.com\/s\/files\/1\/0507\/5989\/3197\/products\/MONACO-SIDE-BLACK.jpg?v=1660885137","\/\/cdn.shopify.com\/s\/files\/1\/0507\/5989\/3197\/products\/MONACO-TOP-BLACK.jpg?v=1660885137","\/\/cdn.shopify.com\/s\/files\/1\/0507\/5989\/3197\/products\/MONACO-BACK-BLACK.jpg?v=1660885137","\/\/cdn.shopify.com\/s\/files\/1\/0507\/5989\/3197\/products\/MONACO-OUTSOLE-BLACK.jpg?v=1660885137","\/\/cdn.shopify.com\/s\/files\/1\/0507\/5989\/3197\/products\/MONACO-SOFTNESS-BLACK.jpg?v=1660885137","\/\/cdn.shopify.com\/s\/files\/1\/0507\/5989\/3197\/products\/MONACO-ONFOOT-BLACK-min.jpg?v=1661534259","\/\/cdn.shopify.com\/s\/files\/1\/0507\/5989\/3197\/products\/MONACO-SIDE-PRISMPINK.jpg?v=1661534259","\/\/cdn.shopify.com\/s\/files\/1\/0507\/5989\/3197\/products\/MONACO-TOP-PRISMPINK.jpg?v=1661534259","\/\/cdn.shopify.com\/s\/files\/1\/0507\/5989\/3197\/products\/MONACO-BACK-PRISMPINK.jpg?v=1661534259","\/\/cdn.shopify.com\/s\/files\/1\/0507\/5989\/3197\/products\/MONACO-OUTSOLE-PRISMPINK.jpg?v=1661534259","\/\/cdn.shopify.com\/s\/files\/1\/0507\/5989\/3197\/products\/MONACO-SOFTNESS-PRISMPINK.jpg?v=1661534259","\/\/cdn.shopify.com\/s\/files\/1\/0507\/5989\/3197\/products\/MONACO-ONFOOT-PINKPRISM-min.jpg?v=1661534259","\/\/cdn.shopify.com\/s\/files\/1\/0507\/5989\/3197\/products\/MONACO-SIDE-WHITECLOUD.jpg?v=1661534259","\/\/cdn.shopify.com\/s\/files\/1\/0507\/5989\/3197\/products\/MONACO-TOP-WHITECLOUD.jpg?v=1661534259","\/\/cdn.shopify.com\/s\/files\/1\/0507\/5989\/3197\/products\/MONACO-BACK-WHITECLOUD.jpg?v=1661534259","\/\/cdn.shopify.com\/s\/files\/1\/0507\/5989\/3197\/products\/MONACO-OUTSOLE-WHITECLOUD.jpg?v=1661534259","\/\/cdn.shopify.com\/s\/files\/1\/0507\/5989\/3197\/products\/MONACO-SOFTNESS-WHITECLOUD.jpg?v=1661534259","\/\/cdn.shopify.com\/s\/files\/1\/0507\/5989\/3197\/products\/MONACO-ONFOOT-WHITECLOUD-min.jpg?v=1661534259","\/\/cdn.shopify.com\/s\/files\/1\/0507\/5989\/3197\/products\/MONACO-SIDE-JADE.jpg?v=1661534259","\/\/cdn.shopify.com\/s\/files\/1\/0507\/5989\/3197\/products\/MONACO-TOP-JADE.jpg?v=1661534259","\/\/cdn.shopify.com\/s\/files\/1\/0507\/5989\/3197\/products\/MONACO-BACK-JADE.jpg?v=1661534259","\/\/cdn.shopify.com\/s\/files\/1\/0507\/5989\/3197\/products\/MONACO-OUTSOLE-JADE.jpg?v=1661534259","\/\/cdn.shopify.com\/s\/files\/1\/0507\/5989\/3197\/products\/MONACO-ONFOOT-JADE-min.jpg?v=1661534259","\/\/cdn.shopify.com\/s\/files\/1\/0507\/5989\/3197\/products\/MONACO-SOFTNESS-JADE.jpg?v=1661534259"],"featured_image":"\/\/cdn.shopify.com\/s\/files\/1\/0507\/5989\/3197\/products\/MONACO-SIDE-OAK.jpg?v=1660885137","options":["Color","Size","Material"],"media":[{"alt":"0","id":22111857344717,"position":1,"preview_image":{"aspect_ratio":0.8,"height":1850,"width":1480,"src":"https:\/\/cdn.shopify.com\/s\/files\/1\/0507\/5989\/3197\/products\/MONACO-SIDE-OAK.jpg?v=1660885137"},"aspect_ratio":0.8,"height":1850,"media_type":"image","src":"https:\/\/cdn.shopify.com\/s\/files\/1\/0507\/5989\/3197\/products\/MONACO-SIDE-OAK.jpg?v=1660885137","width":1480},{"alt":"0","id":22111857672397,"position":2,"preview_image":{"aspect_ratio":0.8,"height":1850,"width":1480,"src":"https:\/\/cdn.shopify.com\/s\/files\/1\/0507\/5989\/3197\/products\/MONACO-TOP-OAK.jpg?v=1660885137"},"aspect_ratio":0.8,"height":1850,"media_type":"image","src":"https:\/\/cdn.shopify.com\/s\/files\/1\/0507\/5989\/3197\/products\/MONACO-TOP-OAK.jpg?v=1660885137","width":1480},{"alt":"0","id":22111857017037,"position":3,"preview_image":{"aspect_ratio":0.8,"height":1850,"width":1480,"src":"https:\/\/cdn.shopify.com\/s\/files\/1\/0507\/5989\/3197\/products\/MONACO-BACK-OAK.jpg?v=1660885137"},"aspect_ratio":0.8,"height":1850,"media_type":"image","src":"https:\/\/cdn.shopify.com\/s\/files\/1\/0507\/5989\/3197\/products\/MONACO-BACK-OAK.jpg?v=1660885137","width":1480},{"alt":"0","id":22111857180877,"position":4,"preview_image":{"aspect_ratio":0.8,"height":1850,"width":1480,"src":"https:\/\/cdn.shopify.com\/s\/files\/1\/0507\/5989\/3197\/products\/MONACO-OUTSOLE-OAK.jpg?v=1660885137"},"aspect_ratio":0.8,"height":1850,"media_type":"image","src":"https:\/\/cdn.shopify.com\/s\/files\/1\/0507\/5989\/3197\/products\/MONACO-OUTSOLE-OAK.jpg?v=1660885137","width":1480},{"alt":"0","id":22111857508557,"position":5,"preview_image":{"aspect_ratio":0.8,"height":1850,"width":1480,"src":"https:\/\/cdn.shopify.com\/s\/files\/1\/0507\/5989\/3197\/products\/MONACO-SOFTNESS-OAK.jpg?v=1660885137"},"aspect_ratio":0.8,"height":1850,"media_type":"image","src":"https:\/\/cdn.shopify.com\/s\/files\/1\/0507\/5989\/3197\/products\/MONACO-SOFTNESS-OAK.jpg?v=1660885137","width":1480},{"alt":"0","id":22109149167821,"position":6,"preview_image":{"aspect_ratio":0.8,"height":925,"width":740,"src":"https:\/\/cdn.shopify.com\/s\/files\/1\/0507\/5989\/3197\/products\/MONACO-ONFOOT-OAK.jpg?v=1660885137"},"aspect_ratio":0.8,"height":925,"media_type":"image","src":"https:\/\/cdn.shopify.com\/s\/files\/1\/0507\/5989\/3197\/products\/MONACO-ONFOOT-OAK.jpg?v=1660885137","width":740},{"alt":"1","id":22111857279181,"position":7,"preview_image":{"aspect_ratio":0.8,"height":1850,"width":1480,"src":"https:\/\/cdn.shopify.com\/s\/files\/1\/0507\/5989\/3197\/products\/MONACO-SIDE-BLACK.jpg?v=1660885137"},"aspect_ratio":0.8,"height":1850,"media_type":"image","src":"https:\/\/cdn.shopify.com\/s\/files\/1\/0507\/5989\/3197\/products\/MONACO-SIDE-BLACK.jpg?v=1660885137","width":1480},{"alt":"1","id":22111857606861,"position":8,"preview_image":{"aspect_ratio":0.8,"height":1850,"width":1480,"src":"https:\/\/cdn.shopify.com\/s\/files\/1\/0507\/5989\/3197\/products\/MONACO-TOP-BLACK.jpg?v=1660885137"},"aspect_ratio":0.8,"height":1850,"media_type":"image","src":"https:\/\/cdn.shopify.com\/s\/files\/1\/0507\/5989\/3197\/products\/MONACO-TOP-BLACK.jpg?v=1660885137","width":1480},{"alt":"1","id":22111856951501,"position":9,"preview_image":{"aspect_ratio":0.8,"height":1850,"width":1480,"src":"https:\/\/cdn.shopify.com\/s\/files\/1\/0507\/5989\/3197\/products\/MONACO-BACK-BLACK.jpg?v=1660885137"},"aspect_ratio":0.8,"height":1850,"media_type":"image","src":"https:\/\/cdn.shopify.com\/s\/files\/1\/0507\/5989\/3197\/products\/MONACO-BACK-BLACK.jpg?v=1660885137","width":1480},{"alt":"1","id":22111857115341,"position":10,"preview_image":{"aspect_ratio":0.8,"height":1850,"width":1480,"src":"https:\/\/cdn.shopify.com\/s\/files\/1\/0507\/5989\/3197\/products\/MONACO-OUTSOLE-BLACK.jpg?v=1660885137"},"aspect_ratio":0.8,"height":1850,"media_type":"image","src":"https:\/\/cdn.shopify.com\/s\/files\/1\/0507\/5989\/3197\/products\/MONACO-OUTSOLE-BLACK.jpg?v=1660885137","width":1480},{"alt":"1","id":22111857443021,"position":11,"preview_image":{"aspect_ratio":0.8,"height":1850,"width":1480,"src":"https:\/\/cdn.shopify.com\/s\/files\/1\/0507\/5989\/3197\/products\/MONACO-SOFTNESS-BLACK.jpg?v=1660885137"},"aspect_ratio":0.8,"height":1850,"media_type":"image","src":"https:\/\/cdn.shopify.com\/s\/files\/1\/0507\/5989\/3197\/products\/MONACO-SOFTNESS-BLACK.jpg?v=1660885137","width":1480},{"alt":"1","id":22913647018189,"position":12,"preview_image":{"aspect_ratio":0.8,"height":3700,"width":2960,"src":"https:\/\/cdn.shopify.com\/s\/files\/1\/0507\/5989\/3197\/products\/MONACO-ONFOOT-BLACK-min.jpg?v=1661534259"},"aspect_ratio":0.8,"height":3700,"media_type":"image","src":"https:\/\/cdn.shopify.com\/s\/files\/1\/0507\/5989\/3197\/products\/MONACO-ONFOOT-BLACK-min.jpg?v=1661534259","width":2960},{"alt":"2","id":22111857377485,"position":13,"preview_image":{"aspect_ratio":0.8,"height":1850,"width":1480,"src":"https:\/\/cdn.shopify.com\/s\/files\/1\/0507\/5989\/3197\/products\/MONACO-SIDE-PRISMPINK.jpg?v=1661534259"},"aspect_ratio":0.8,"height":1850,"media_type":"image","src":"https:\/\/cdn.shopify.com\/s\/files\/1\/0507\/5989\/3197\/products\/MONACO-SIDE-PRISMPINK.jpg?v=1661534259","width":1480},{"alt":"2","id":22111857705165,"position":14,"preview_image":{"aspect_ratio":0.8,"height":1850,"width":1480,"src":"https:\/\/cdn.shopify.com\/s\/files\/1\/0507\/5989\/3197\/products\/MONACO-TOP-PRISMPINK.jpg?v=1661534259"},"aspect_ratio":0.8,"height":1850,"media_type":"image","src":"https:\/\/cdn.shopify.com\/s\/files\/1\/0507\/5989\/3197\/products\/MONACO-TOP-PRISMPINK.jpg?v=1661534259","width":1480},{"alt":"2","id":22111857049805,"position":15,"preview_image":{"aspect_ratio":0.8,"height":1850,"width":1480,"src":"https:\/\/cdn.shopify.com\/s\/files\/1\/0507\/5989\/3197\/products\/MONACO-BACK-PRISMPINK.jpg?v=1661534259"},"aspect_ratio":0.8,"height":1850,"media_type":"image","src":"https:\/\/cdn.shopify.com\/s\/files\/1\/0507\/5989\/3197\/products\/MONACO-BACK-PRISMPINK.jpg?v=1661534259","width":1480},{"alt":"2","id":22111857213645,"position":16,"preview_image":{"aspect_ratio":0.8,"height":1850,"width":1480,"src":"https:\/\/cdn.shopify.com\/s\/files\/1\/0507\/5989\/3197\/products\/MONACO-OUTSOLE-PRISMPINK.jpg?v=1661534259"},"aspect_ratio":0.8,"height":1850,"media_type":"image","src":"https:\/\/cdn.shopify.com\/s\/files\/1\/0507\/5989\/3197\/products\/MONACO-OUTSOLE-PRISMPINK.jpg?v=1661534259","width":1480},{"alt":"2","id":22111857541325,"position":17,"preview_image":{"aspect_ratio":0.8,"height":1850,"width":1480,"src":"https:\/\/cdn.shopify.com\/s\/files\/1\/0507\/5989\/3197\/products\/MONACO-SOFTNESS-PRISMPINK.jpg?v=1661534259"},"aspect_ratio":0.8,"height":1850,"media_type":"image","src":"https:\/\/cdn.shopify.com\/s\/files\/1\/0507\/5989\/3197\/products\/MONACO-SOFTNESS-PRISMPINK.jpg?v=1661534259","width":1480},{"alt":"2","id":22913647083725,"position":18,"preview_image":{"aspect_ratio":0.8,"height":3700,"width":2960,"src":"https:\/\/cdn.shopify.com\/s\/files\/1\/0507\/5989\/3197\/products\/MONACO-ONFOOT-PINKPRISM-min.jpg?v=1661534259"},"aspect_ratio":0.8,"height":3700,"media_type":"image","src":"https:\/\/cdn.shopify.com\/s\/files\/1\/0507\/5989\/3197\/products\/MONACO-ONFOOT-PINKPRISM-min.jpg?v=1661534259","width":2960},{"alt":"3","id":22111857410253,"position":19,"preview_image":{"aspect_ratio":0.8,"height":1850,"width":1480,"src":"https:\/\/cdn.shopify.com\/s\/files\/1\/0507\/5989\/3197\/products\/MONACO-SIDE-WHITECLOUD.jpg?v=1661534259"},"aspect_ratio":0.8,"height":1850,"media_type":"image","src":"https:\/\/cdn.shopify.com\/s\/files\/1\/0507\/5989\/3197\/products\/MONACO-SIDE-WHITECLOUD.jpg?v=1661534259","width":1480},{"alt":"3","id":22111857737933,"position":20,"preview_image":{"aspect_ratio":0.8,"height":1850,"width":1480,"src":"https:\/\/cdn.shopify.com\/s\/files\/1\/0507\/5989\/3197\/products\/MONACO-TOP-WHITECLOUD.jpg?v=1661534259"},"aspect_ratio":0.8,"height":1850,"media_type":"image","src":"https:\/\/cdn.shopify.com\/s\/files\/1\/0507\/5989\/3197\/products\/MONACO-TOP-WHITECLOUD.jpg?v=1661534259","width":1480},{"alt":"3","id":22111857082573,"position":21,"preview_image":{"aspect_ratio":0.8,"height":1850,"width":1480,"src":"https:\/\/cdn.shopify.com\/s\/files\/1\/0507\/5989\/3197\/products\/MONACO-BACK-WHITECLOUD.jpg?v=1661534259"},"aspect_ratio":0.8,"height":1850,"media_type":"image","src":"https:\/\/cdn.shopify.com\/s\/files\/1\/0507\/5989\/3197\/products\/MONACO-BACK-WHITECLOUD.jpg?v=1661534259","width":1480},{"alt":"3","id":22111857246413,"position":22,"preview_image":{"aspect_ratio":0.8,"height":1850,"width":1480,"src":"https:\/\/cdn.shopify.com\/s\/files\/1\/0507\/5989\/3197\/products\/MONACO-OUTSOLE-WHITECLOUD.jpg?v=1661534259"},"aspect_ratio":0.8,"height":1850,"media_type":"image","src":"https:\/\/cdn.shopify.com\/s\/files\/1\/0507\/5989\/3197\/products\/MONACO-OUTSOLE-WHITECLOUD.jpg?v=1661534259","width":1480},{"alt":"3","id":22111857574093,"position":23,"preview_image":{"aspect_ratio":0.8,"height":1850,"width":1480,"src":"https:\/\/cdn.shopify.com\/s\/files\/1\/0507\/5989\/3197\/products\/MONACO-SOFTNESS-WHITECLOUD.jpg?v=1661534259"},"aspect_ratio":0.8,"height":1850,"media_type":"image","src":"https:\/\/cdn.shopify.com\/s\/files\/1\/0507\/5989\/3197\/products\/MONACO-SOFTNESS-WHITECLOUD.jpg?v=1661534259","width":1480},{"alt":"3","id":22913647116493,"position":24,"preview_image":{"aspect_ratio":0.8,"height":3700,"width":2960,"src":"https:\/\/cdn.shopify.com\/s\/files\/1\/0507\/5989\/3197\/products\/MONACO-ONFOOT-WHITECLOUD-min.jpg?v=1661534259"},"aspect_ratio":0.8,"height":3700,"media_type":"image","src":"https:\/\/cdn.shopify.com\/s\/files\/1\/0507\/5989\/3197\/products\/MONACO-ONFOOT-WHITECLOUD-min.jpg?v=1661534259","width":2960},{"alt":"4","id":22111857311949,"position":25,"preview_image":{"aspect_ratio":0.8,"height":1850,"width":1480,"src":"https:\/\/cdn.shopify.com\/s\/files\/1\/0507\/5989\/3197\/products\/MONACO-SIDE-JADE.jpg?v=1661534259"},"aspect_ratio":0.8,"height":1850,"media_type":"image","src":"https:\/\/cdn.shopify.com\/s\/files\/1\/0507\/5989\/3197\/products\/MONACO-SIDE-JADE.jpg?v=1661534259","width":1480},{"alt":"4","id":22111857639629,"position":26,"preview_image":{"aspect_ratio":0.8,"height":1850,"width":1480,"src":"https:\/\/cdn.shopify.com\/s\/files\/1\/0507\/5989\/3197\/products\/MONACO-TOP-JADE.jpg?v=1661534259"},"aspect_ratio":0.8,"height":1850,"media_type":"image","src":"https:\/\/cdn.shopify.com\/s\/files\/1\/0507\/5989\/3197\/products\/MONACO-TOP-JADE.jpg?v=1661534259","width":1480},{"alt":"4","id":22111856984269,"position":27,"preview_image":{"aspect_ratio":0.8,"height":1850,"width":1480,"src":"https:\/\/cdn.shopify.com\/s\/files\/1\/0507\/5989\/3197\/products\/MONACO-BACK-JADE.jpg?v=1661534259"},"aspect_ratio":0.8,"height":1850,"media_type":"image","src":"https:\/\/cdn.shopify.com\/s\/files\/1\/0507\/5989\/3197\/products\/MONACO-BACK-JADE.jpg?v=1661534259","width":1480},{"alt":"4","id":22111857148109,"position":28,"preview_image":{"aspect_ratio":0.8,"height":1850,"width":1480,"src":"https:\/\/cdn.shopify.com\/s\/files\/1\/0507\/5989\/3197\/products\/MONACO-OUTSOLE-JADE.jpg?v=1661534259"},"aspect_ratio":0.8,"height":1850,"media_type":"image","src":"https:\/\/cdn.shopify.com\/s\/files\/1\/0507\/5989\/3197\/products\/MONACO-OUTSOLE-JADE.jpg?v=1661534259","width":1480},{"alt":"4","id":22913647050957,"position":29,"preview_image":{"aspect_ratio":0.8,"height":3700,"width":2960,"src":"https:\/\/cdn.shopify.com\/s\/files\/1\/0507\/5989\/3197\/products\/MONACO-ONFOOT-JADE-min.jpg?v=1661534259"},"aspect_ratio":0.8,"height":3700,"media_type":"image","src":"https:\/\/cdn.shopify.com\/s\/files\/1\/0507\/5989\/3197\/products\/MONACO-ONFOOT-JADE-min.jpg?v=1661534259","width":2960},{"alt":"4","id":22111857475789,"position":30,"preview_image":{"aspect_ratio":0.8,"height":1850,"width":1480,"src":"https:\/\/cdn.shopify.com\/s\/files\/1\/0507\/5989\/3197\/products\/MONACO-SOFTNESS-JADE.jpg?v=1661534259"},"aspect_ratio":0.8,"height":1850,"media_type":"image","src":"https:\/\/cdn.shopify.com\/s\/files\/1\/0507\/5989\/3197\/products\/MONACO-SOFTNESS-JADE.jpg?v=1661534259","width":1480}],"requires_selling_plan":false,"selling_plan_groups":[],"content":"\u003cmeta charset=\"utf-8\"\u003e\u003cspan data-mce-fragment=\"1\"\u003eMONACO is the most coveted dress sandal of the season.  Barely-there chic that will take you from day to night in style and comfort.  Our signature bio based memory foam cushion system is designed for ultimate comfort.  Elite calf leather upper and Italian leather outsole round out this luxurious dress heel. \u003c\/span\u003e\u003cbr data-mce-fragment=\"1\"\u003e\u003cbr\u003e"} { "options": [ { "title": "Color", "values": [ { "value": "OAK", "url": "/products/monaco?variant=40188104704205" }, { "value": "BLACK", "url": "/products/monaco?variant=40188104671437" }, { "value": "PRISM PINK", "url": "/products/monaco?variant=40188104736973" }, { "value": "WHITE CLOUD", "url": "/products/monaco?variant=40188104638669" }, { "value": "JADE", "url": "/products/monaco?variant=40324418765005" } ] }, { "title": "Size", "values": [ { "value": "6", "url": "/products/monaco?variant=40188104704205" }, { "value": "6.5", "url": "/products/monaco?variant=40188104868045" }, { "value": "7", "url": "/products/monaco?variant=40188105031885" }, { "value": "7.5", "url": "/products/monaco?variant=40188105195725" }, { "value": "8", "url": "/products/monaco?variant=40188105359565" }, { "value": "8.5", "url": "/products/monaco?variant=40188105523405" }, { "value": "9", "url": "/products/monaco?variant=40188105687245" }, { "value": "9.5", "url": "/products/monaco?variant=40188105883853" }, { "value": "10", "url": "/products/monaco?variant=40188106014925" } ] }, { "title": "Material", "values": [ { "value": "ELITE CALF", "url": "/products/monaco?variant=40188104704205" } ] } ] }
{"id":6918039404749,"title":"SEOUL","handle":"seoul-1","description":"\u003cspan style=\"font-weight: 400;\"\u003eThis lux style is our e\u003c\/span\u003elevated loafer for the Fall season.  Lightweight and designed with signature technical features make the SEOUL a must have style this year.  Made with pop color re-speckled EVA flex bottoms and hand stitched detailing.  Water resistant re-rubber mud guard detail offers protection from the elements while highlighting the latest trend.  Get elevated\u003cspan style=\"font-weight: 400;\"\u003e in style and height in the SEOUL.\u003c\/span\u003e","published_at":"2022-08-17T00:36:26-04:00","created_at":"2022-02-12T15:30:34-05:00","vendor":"Oncept","type":"Footwear","tags":["CASUAL","FLAT","MOC"],"price":27500,"price_min":27500,"price_max":27500,"available":true,"price_varies":false,"compare_at_price":null,"compare_at_price_min":0,"compare_at_price_max":0,"compare_at_price_varies":false,"variants":[{"id":40664732598477,"title":"SILVER MOSS \/ 6 \/ ELITE CALF","option1":"SILVER MOSS","option2":"6","option3":"ELITE CALF","sku":"840237309459","requires_shipping":true,"taxable":true,"featured_image":{"id":30571244912845,"product_id":6918039404749,"position":1,"created_at":"2022-08-17T00:33:36-04:00","updated_at":"2022-08-17T00:34:23-04:00","alt":"0","width":2960,"height":3700,"src":"https:\/\/cdn.shopify.com\/s\/files\/1\/0507\/5989\/3197\/products\/SEOUL-SIDE-MOSS-min.jpg?v=1660710863","variant_ids":[40664732598477,40664732631245,40664732664013,40664732729549,40664732762317,40664732795085,40664732827853,40664732893389,40664733253837]},"available":true,"name":"SEOUL - SILVER MOSS \/ 6 \/ ELITE CALF","public_title":"SILVER MOSS \/ 6 \/ ELITE CALF","options":["SILVER MOSS","6","ELITE CALF"],"price":27500,"weight":0,"compare_at_price":null,"inventory_management":"shopify","barcode":"840237309459","featured_media":{"alt":"0","id":22851729588429,"position":1,"preview_image":{"aspect_ratio":0.8,"height":3700,"width":2960,"src":"https:\/\/cdn.shopify.com\/s\/files\/1\/0507\/5989\/3197\/products\/SEOUL-SIDE-MOSS-min.jpg?v=1660710863"}},"requires_selling_plan":false,"selling_plan_allocations":[],"quantity_rule":{"min":1,"max":null,"increment":1}},{"id":40664732631245,"title":"SILVER MOSS \/ 6.5 \/ ELITE CALF","option1":"SILVER MOSS","option2":"6.5","option3":"ELITE CALF","sku":"840237309466","requires_shipping":true,"taxable":true,"featured_image":{"id":30571244912845,"product_id":6918039404749,"position":1,"created_at":"2022-08-17T00:33:36-04:00","updated_at":"2022-08-17T00:34:23-04:00","alt":"0","width":2960,"height":3700,"src":"https:\/\/cdn.shopify.com\/s\/files\/1\/0507\/5989\/3197\/products\/SEOUL-SIDE-MOSS-min.jpg?v=1660710863","variant_ids":[40664732598477,40664732631245,40664732664013,40664732729549,40664732762317,40664732795085,40664732827853,40664732893389,40664733253837]},"available":true,"name":"SEOUL - SILVER MOSS \/ 6.5 \/ ELITE CALF","public_title":"SILVER MOSS \/ 6.5 \/ ELITE CALF","options":["SILVER MOSS","6.5","ELITE CALF"],"price":27500,"weight":0,"compare_at_price":null,"inventory_management":"shopify","barcode":"840237309466","featured_media":{"alt":"0","id":22851729588429,"position":1,"preview_image":{"aspect_ratio":0.8,"height":3700,"width":2960,"src":"https:\/\/cdn.shopify.com\/s\/files\/1\/0507\/5989\/3197\/products\/SEOUL-SIDE-MOSS-min.jpg?v=1660710863"}},"requires_selling_plan":false,"selling_plan_allocations":[],"quantity_rule":{"min":1,"max":null,"increment":1}},{"id":40664732664013,"title":"SILVER MOSS \/ 7 \/ ELITE CALF","option1":"SILVER MOSS","option2":"7","option3":"ELITE CALF","sku":"840237309473","requires_shipping":true,"taxable":true,"featured_image":{"id":30571244912845,"product_id":6918039404749,"position":1,"created_at":"2022-08-17T00:33:36-04:00","updated_at":"2022-08-17T00:34:23-04:00","alt":"0","width":2960,"height":3700,"src":"https:\/\/cdn.shopify.com\/s\/files\/1\/0507\/5989\/3197\/products\/SEOUL-SIDE-MOSS-min.jpg?v=1660710863","variant_ids":[40664732598477,40664732631245,40664732664013,40664732729549,40664732762317,40664732795085,40664732827853,40664732893389,40664733253837]},"available":true,"name":"SEOUL - SILVER MOSS \/ 7 \/ ELITE CALF","public_title":"SILVER MOSS \/ 7 \/ ELITE CALF","options":["SILVER MOSS","7","ELITE CALF"],"price":27500,"weight":0,"compare_at_price":null,"inventory_management":"shopify","barcode":"840237309473","featured_media":{"alt":"0","id":22851729588429,"position":1,"preview_image":{"aspect_ratio":0.8,"height":3700,"width":2960,"src":"https:\/\/cdn.shopify.com\/s\/files\/1\/0507\/5989\/3197\/products\/SEOUL-SIDE-MOSS-min.jpg?v=1660710863"}},"requires_selling_plan":false,"selling_plan_allocations":[],"quantity_rule":{"min":1,"max":null,"increment":1}},{"id":40664732729549,"title":"SILVER MOSS \/ 7.5 \/ ELITE CALF","option1":"SILVER MOSS","option2":"7.5","option3":"ELITE CALF","sku":"840237309480","requires_shipping":true,"taxable":true,"featured_image":{"id":30571244912845,"product_id":6918039404749,"position":1,"created_at":"2022-08-17T00:33:36-04:00","updated_at":"2022-08-17T00:34:23-04:00","alt":"0","width":2960,"height":3700,"src":"https:\/\/cdn.shopify.com\/s\/files\/1\/0507\/5989\/3197\/products\/SEOUL-SIDE-MOSS-min.jpg?v=1660710863","variant_ids":[40664732598477,40664732631245,40664732664013,40664732729549,40664732762317,40664732795085,40664732827853,40664732893389,40664733253837]},"available":true,"name":"SEOUL - SILVER MOSS \/ 7.5 \/ ELITE CALF","public_title":"SILVER MOSS \/ 7.5 \/ ELITE CALF","options":["SILVER MOSS","7.5","ELITE CALF"],"price":27500,"weight":0,"compare_at_price":null,"inventory_management":"shopify","barcode":"840237309480","featured_media":{"alt":"0","id":22851729588429,"position":1,"preview_image":{"aspect_ratio":0.8,"height":3700,"width":2960,"src":"https:\/\/cdn.shopify.com\/s\/files\/1\/0507\/5989\/3197\/products\/SEOUL-SIDE-MOSS-min.jpg?v=1660710863"}},"requires_selling_plan":false,"selling_plan_allocations":[],"quantity_rule":{"min":1,"max":null,"increment":1}},{"id":40664732762317,"title":"SILVER MOSS \/ 8 \/ ELITE CALF","option1":"SILVER MOSS","option2":"8","option3":"ELITE CALF","sku":"840237309497","requires_shipping":true,"taxable":true,"featured_image":{"id":30571244912845,"product_id":6918039404749,"position":1,"created_at":"2022-08-17T00:33:36-04:00","updated_at":"2022-08-17T00:34:23-04:00","alt":"0","width":2960,"height":3700,"src":"https:\/\/cdn.shopify.com\/s\/files\/1\/0507\/5989\/3197\/products\/SEOUL-SIDE-MOSS-min.jpg?v=1660710863","variant_ids":[40664732598477,40664732631245,40664732664013,40664732729549,40664732762317,40664732795085,40664732827853,40664732893389,40664733253837]},"available":true,"name":"SEOUL - SILVER MOSS \/ 8 \/ ELITE CALF","public_title":"SILVER MOSS \/ 8 \/ ELITE CALF","options":["SILVER MOSS","8","ELITE CALF"],"price":27500,"weight":0,"compare_at_price":null,"inventory_management":"shopify","barcode":"840237309497","featured_media":{"alt":"0","id":22851729588429,"position":1,"preview_image":{"aspect_ratio":0.8,"height":3700,"width":2960,"src":"https:\/\/cdn.shopify.com\/s\/files\/1\/0507\/5989\/3197\/products\/SEOUL-SIDE-MOSS-min.jpg?v=1660710863"}},"requires_selling_plan":false,"selling_plan_allocations":[],"quantity_rule":{"min":1,"max":null,"increment":1}},{"id":40664732795085,"title":"SILVER MOSS \/ 8.5 \/ ELITE CALF","option1":"SILVER MOSS","option2":"8.5","option3":"ELITE CALF","sku":"840237309503","requires_shipping":true,"taxable":true,"featured_image":{"id":30571244912845,"product_id":6918039404749,"position":1,"created_at":"2022-08-17T00:33:36-04:00","updated_at":"2022-08-17T00:34:23-04:00","alt":"0","width":2960,"height":3700,"src":"https:\/\/cdn.shopify.com\/s\/files\/1\/0507\/5989\/3197\/products\/SEOUL-SIDE-MOSS-min.jpg?v=1660710863","variant_ids":[40664732598477,40664732631245,40664732664013,40664732729549,40664732762317,40664732795085,40664732827853,40664732893389,40664733253837]},"available":true,"name":"SEOUL - SILVER MOSS \/ 8.5 \/ ELITE CALF","public_title":"SILVER MOSS \/ 8.5 \/ ELITE CALF","options":["SILVER MOSS","8.5","ELITE CALF"],"price":27500,"weight":0,"compare_at_price":null,"inventory_management":"shopify","barcode":"840237309503","featured_media":{"alt":"0","id":22851729588429,"position":1,"preview_image":{"aspect_ratio":0.8,"height":3700,"width":2960,"src":"https:\/\/cdn.shopify.com\/s\/files\/1\/0507\/5989\/3197\/products\/SEOUL-SIDE-MOSS-min.jpg?v=1660710863"}},"requires_selling_plan":false,"selling_plan_allocations":[],"quantity_rule":{"min":1,"max":null,"increment":1}},{"id":40664732827853,"title":"SILVER MOSS \/ 9 \/ ELITE CALF","option1":"SILVER MOSS","option2":"9","option3":"ELITE CALF","sku":"840237309510","requires_shipping":true,"taxable":true,"featured_image":{"id":30571244912845,"product_id":6918039404749,"position":1,"created_at":"2022-08-17T00:33:36-04:00","updated_at":"2022-08-17T00:34:23-04:00","alt":"0","width":2960,"height":3700,"src":"https:\/\/cdn.shopify.com\/s\/files\/1\/0507\/5989\/3197\/products\/SEOUL-SIDE-MOSS-min.jpg?v=1660710863","variant_ids":[40664732598477,40664732631245,40664732664013,40664732729549,40664732762317,40664732795085,40664732827853,40664732893389,40664733253837]},"available":true,"name":"SEOUL - SILVER MOSS \/ 9 \/ ELITE CALF","public_title":"SILVER MOSS \/ 9 \/ ELITE CALF","options":["SILVER MOSS","9","ELITE CALF"],"price":27500,"weight":0,"compare_at_price":null,"inventory_management":"shopify","barcode":"840237309510","featured_media":{"alt":"0","id":22851729588429,"position":1,"preview_image":{"aspect_ratio":0.8,"height":3700,"width":2960,"src":"https:\/\/cdn.shopify.com\/s\/files\/1\/0507\/5989\/3197\/products\/SEOUL-SIDE-MOSS-min.jpg?v=1660710863"}},"requires_selling_plan":false,"selling_plan_allocations":[],"quantity_rule":{"min":1,"max":null,"increment":1}},{"id":40664732893389,"title":"SILVER MOSS \/ 9.5 \/ ELITE CALF","option1":"SILVER MOSS","option2":"9.5","option3":"ELITE CALF","sku":"840237309527","requires_shipping":true,"taxable":true,"featured_image":{"id":30571244912845,"product_id":6918039404749,"position":1,"created_at":"2022-08-17T00:33:36-04:00","updated_at":"2022-08-17T00:34:23-04:00","alt":"0","width":2960,"height":3700,"src":"https:\/\/cdn.shopify.com\/s\/files\/1\/0507\/5989\/3197\/products\/SEOUL-SIDE-MOSS-min.jpg?v=1660710863","variant_ids":[40664732598477,40664732631245,40664732664013,40664732729549,40664732762317,40664732795085,40664732827853,40664732893389,40664733253837]},"available":true,"name":"SEOUL - SILVER MOSS \/ 9.5 \/ ELITE CALF","public_title":"SILVER MOSS \/ 9.5 \/ ELITE CALF","options":["SILVER MOSS","9.5","ELITE CALF"],"price":27500,"weight":0,"compare_at_price":null,"inventory_management":"shopify","barcode":"840237309527","featured_media":{"alt":"0","id":22851729588429,"position":1,"preview_image":{"aspect_ratio":0.8,"height":3700,"width":2960,"src":"https:\/\/cdn.shopify.com\/s\/files\/1\/0507\/5989\/3197\/products\/SEOUL-SIDE-MOSS-min.jpg?v=1660710863"}},"requires_selling_plan":false,"selling_plan_allocations":[],"quantity_rule":{"min":1,"max":null,"increment":1}},{"id":40664733253837,"title":"SILVER MOSS \/ 10 \/ ELITE CALF","option1":"SILVER MOSS","option2":"10","option3":"ELITE CALF","sku":"840237309534","requires_shipping":true,"taxable":true,"featured_image":{"id":30571244912845,"product_id":6918039404749,"position":1,"created_at":"2022-08-17T00:33:36-04:00","updated_at":"2022-08-17T00:34:23-04:00","alt":"0","width":2960,"height":3700,"src":"https:\/\/cdn.shopify.com\/s\/files\/1\/0507\/5989\/3197\/products\/SEOUL-SIDE-MOSS-min.jpg?v=1660710863","variant_ids":[40664732598477,40664732631245,40664732664013,40664732729549,40664732762317,40664732795085,40664732827853,40664732893389,40664733253837]},"available":true,"name":"SEOUL - SILVER MOSS \/ 10 \/ ELITE CALF","public_title":"SILVER MOSS \/ 10 \/ ELITE CALF","options":["SILVER MOSS","10","ELITE CALF"],"price":27500,"weight":0,"compare_at_price":null,"inventory_management":"shopify","barcode":"840237309534","featured_media":{"alt":"0","id":22851729588429,"position":1,"preview_image":{"aspect_ratio":0.8,"height":3700,"width":2960,"src":"https:\/\/cdn.shopify.com\/s\/files\/1\/0507\/5989\/3197\/products\/SEOUL-SIDE-MOSS-min.jpg?v=1660710863"}},"requires_selling_plan":false,"selling_plan_allocations":[],"quantity_rule":{"min":1,"max":null,"increment":1}},{"id":40664727388365,"title":"BLACK - CITRUS ORANGE \/ 6 \/ ELITE CALF","option1":"BLACK - CITRUS ORANGE","option2":"6","option3":"ELITE CALF","sku":"840237309091","requires_shipping":true,"taxable":true,"featured_image":{"id":29780067811533,"product_id":6918039404749,"position":7,"created_at":"2022-02-12T15:31:12-05:00","updated_at":"2022-08-18T15:38:51-04:00","alt":"1","width":1600,"height":2000,"src":"https:\/\/cdn.shopify.com\/s\/files\/1\/0507\/5989\/3197\/products\/SEOUL_ORANGE_SIDE_3b841bdc-1e17-41e3-860f-80aca79518d0.jpg?v=1660851531","variant_ids":[40664727388365,40664727421133,40664727453901,40664727486669,40664727519437,40664727552205,40664727584973,40664727617741,40664727650509]},"available":true,"name":"SEOUL - BLACK - CITRUS ORANGE \/ 6 \/ ELITE CALF","public_title":"BLACK - CITRUS ORANGE \/ 6 \/ ELITE CALF","options":["BLACK - CITRUS ORANGE","6","ELITE CALF"],"price":27500,"weight":0,"compare_at_price":null,"inventory_management":"shopify","barcode":"840237309091","featured_media":{"alt":"1","id":22050773139661,"position":7,"preview_image":{"aspect_ratio":0.8,"height":2000,"width":1600,"src":"https:\/\/cdn.shopify.com\/s\/files\/1\/0507\/5989\/3197\/products\/SEOUL_ORANGE_SIDE_3b841bdc-1e17-41e3-860f-80aca79518d0.jpg?v=1660851531"}},"requires_selling_plan":false,"selling_plan_allocations":[],"quantity_rule":{"min":1,"max":null,"increment":1}},{"id":40664727421133,"title":"BLACK - CITRUS ORANGE \/ 6.5 \/ ELITE CALF","option1":"BLACK - CITRUS ORANGE","option2":"6.5","option3":"ELITE CALF","sku":"840237309107","requires_shipping":true,"taxable":true,"featured_image":{"id":29780067811533,"product_id":6918039404749,"position":7,"created_at":"2022-02-12T15:31:12-05:00","updated_at":"2022-08-18T15:38:51-04:00","alt":"1","width":1600,"height":2000,"src":"https:\/\/cdn.shopify.com\/s\/files\/1\/0507\/5989\/3197\/products\/SEOUL_ORANGE_SIDE_3b841bdc-1e17-41e3-860f-80aca79518d0.jpg?v=1660851531","variant_ids":[40664727388365,40664727421133,40664727453901,40664727486669,40664727519437,40664727552205,40664727584973,40664727617741,40664727650509]},"available":true,"name":"SEOUL - BLACK - CITRUS ORANGE \/ 6.5 \/ ELITE CALF","public_title":"BLACK - CITRUS ORANGE \/ 6.5 \/ ELITE CALF","options":["BLACK - CITRUS ORANGE","6.5","ELITE CALF"],"price":27500,"weight":0,"compare_at_price":null,"inventory_management":"shopify","barcode":"840237309107","featured_media":{"alt":"1","id":22050773139661,"position":7,"preview_image":{"aspect_ratio":0.8,"height":2000,"width":1600,"src":"https:\/\/cdn.shopify.com\/s\/files\/1\/0507\/5989\/3197\/products\/SEOUL_ORANGE_SIDE_3b841bdc-1e17-41e3-860f-80aca79518d0.jpg?v=1660851531"}},"requires_selling_plan":false,"selling_plan_allocations":[],"quantity_rule":{"min":1,"max":null,"increment":1}},{"id":40664727453901,"title":"BLACK - CITRUS ORANGE \/ 7 \/ ELITE CALF","option1":"BLACK - CITRUS ORANGE","option2":"7","option3":"ELITE CALF","sku":"840237309114","requires_shipping":true,"taxable":true,"featured_image":{"id":29780067811533,"product_id":6918039404749,"position":7,"created_at":"2022-02-12T15:31:12-05:00","updated_at":"2022-08-18T15:38:51-04:00","alt":"1","width":1600,"height":2000,"src":"https:\/\/cdn.shopify.com\/s\/files\/1\/0507\/5989\/3197\/products\/SEOUL_ORANGE_SIDE_3b841bdc-1e17-41e3-860f-80aca79518d0.jpg?v=1660851531","variant_ids":[40664727388365,40664727421133,40664727453901,40664727486669,40664727519437,40664727552205,40664727584973,40664727617741,40664727650509]},"available":true,"name":"SEOUL - BLACK - CITRUS ORANGE \/ 7 \/ ELITE CALF","public_title":"BLACK - CITRUS ORANGE \/ 7 \/ ELITE CALF","options":["BLACK - CITRUS ORANGE","7","ELITE CALF"],"price":27500,"weight":0,"compare_at_price":null,"inventory_management":"shopify","barcode":"840237309114","featured_media":{"alt":"1","id":22050773139661,"position":7,"preview_image":{"aspect_ratio":0.8,"height":2000,"width":1600,"src":"https:\/\/cdn.shopify.com\/s\/files\/1\/0507\/5989\/3197\/products\/SEOUL_ORANGE_SIDE_3b841bdc-1e17-41e3-860f-80aca79518d0.jpg?v=1660851531"}},"requires_selling_plan":false,"selling_plan_allocations":[],"quantity_rule":{"min":1,"max":null,"increment":1}},{"id":40664727486669,"title":"BLACK - CITRUS ORANGE \/ 7.5 \/ ELITE CALF","option1":"BLACK - CITRUS ORANGE","option2":"7.5","option3":"ELITE CALF","sku":"840237309121","requires_shipping":true,"taxable":true,"featured_image":{"id":29780067811533,"product_id":6918039404749,"position":7,"created_at":"2022-02-12T15:31:12-05:00","updated_at":"2022-08-18T15:38:51-04:00","alt":"1","width":1600,"height":2000,"src":"https:\/\/cdn.shopify.com\/s\/files\/1\/0507\/5989\/3197\/products\/SEOUL_ORANGE_SIDE_3b841bdc-1e17-41e3-860f-80aca79518d0.jpg?v=1660851531","variant_ids":[40664727388365,40664727421133,40664727453901,40664727486669,40664727519437,40664727552205,40664727584973,40664727617741,40664727650509]},"available":true,"name":"SEOUL - BLACK - CITRUS ORANGE \/ 7.5 \/ ELITE CALF","public_title":"BLACK - CITRUS ORANGE \/ 7.5 \/ ELITE CALF","options":["BLACK - CITRUS ORANGE","7.5","ELITE CALF"],"price":27500,"weight":0,"compare_at_price":null,"inventory_management":"shopify","barcode":"840237309121","featured_media":{"alt":"1","id":22050773139661,"position":7,"preview_image":{"aspect_ratio":0.8,"height":2000,"width":1600,"src":"https:\/\/cdn.shopify.com\/s\/files\/1\/0507\/5989\/3197\/products\/SEOUL_ORANGE_SIDE_3b841bdc-1e17-41e3-860f-80aca79518d0.jpg?v=1660851531"}},"requires_selling_plan":false,"selling_plan_allocations":[],"quantity_rule":{"min":1,"max":null,"increment":1}},{"id":40664727519437,"title":"BLACK - CITRUS ORANGE \/ 8 \/ ELITE CALF","option1":"BLACK - CITRUS ORANGE","option2":"8","option3":"ELITE CALF","sku":"840237309138","requires_shipping":true,"taxable":true,"featured_image":{"id":29780067811533,"product_id":6918039404749,"position":7,"created_at":"2022-02-12T15:31:12-05:00","updated_at":"2022-08-18T15:38:51-04:00","alt":"1","width":1600,"height":2000,"src":"https:\/\/cdn.shopify.com\/s\/files\/1\/0507\/5989\/3197\/products\/SEOUL_ORANGE_SIDE_3b841bdc-1e17-41e3-860f-80aca79518d0.jpg?v=1660851531","variant_ids":[40664727388365,40664727421133,40664727453901,40664727486669,40664727519437,40664727552205,40664727584973,40664727617741,40664727650509]},"available":true,"name":"SEOUL - BLACK - CITRUS ORANGE \/ 8 \/ ELITE CALF","public_title":"BLACK - CITRUS ORANGE \/ 8 \/ ELITE CALF","options":["BLACK - CITRUS ORANGE","8","ELITE CALF"],"price":27500,"weight":0,"compare_at_price":null,"inventory_management":"shopify","barcode":"840237309138","featured_media":{"alt":"1","id":22050773139661,"position":7,"preview_image":{"aspect_ratio":0.8,"height":2000,"width":1600,"src":"https:\/\/cdn.shopify.com\/s\/files\/1\/0507\/5989\/3197\/products\/SEOUL_ORANGE_SIDE_3b841bdc-1e17-41e3-860f-80aca79518d0.jpg?v=1660851531"}},"requires_selling_plan":false,"selling_plan_allocations":[],"quantity_rule":{"min":1,"max":null,"increment":1}},{"id":40664727552205,"title":"BLACK - CITRUS ORANGE \/ 8.5 \/ ELITE CALF","option1":"BLACK - CITRUS ORANGE","option2":"8.5","option3":"ELITE CALF","sku":"840237309145","requires_shipping":true,"taxable":true,"featured_image":{"id":29780067811533,"product_id":6918039404749,"position":7,"created_at":"2022-02-12T15:31:12-05:00","updated_at":"2022-08-18T15:38:51-04:00","alt":"1","width":1600,"height":2000,"src":"https:\/\/cdn.shopify.com\/s\/files\/1\/0507\/5989\/3197\/products\/SEOUL_ORANGE_SIDE_3b841bdc-1e17-41e3-860f-80aca79518d0.jpg?v=1660851531","variant_ids":[40664727388365,40664727421133,40664727453901,40664727486669,40664727519437,40664727552205,40664727584973,40664727617741,40664727650509]},"available":true,"name":"SEOUL - BLACK - CITRUS ORANGE \/ 8.5 \/ ELITE CALF","public_title":"BLACK - CITRUS ORANGE \/ 8.5 \/ ELITE CALF","options":["BLACK - CITRUS ORANGE","8.5","ELITE CALF"],"price":27500,"weight":0,"compare_at_price":null,"inventory_management":"shopify","barcode":"840237309145","featured_media":{"alt":"1","id":22050773139661,"position":7,"preview_image":{"aspect_ratio":0.8,"height":2000,"width":1600,"src":"https:\/\/cdn.shopify.com\/s\/files\/1\/0507\/5989\/3197\/products\/SEOUL_ORANGE_SIDE_3b841bdc-1e17-41e3-860f-80aca79518d0.jpg?v=1660851531"}},"requires_selling_plan":false,"selling_plan_allocations":[],"quantity_rule":{"min":1,"max":null,"increment":1}},{"id":40664727584973,"title":"BLACK - CITRUS ORANGE \/ 9 \/ ELITE CALF","option1":"BLACK - CITRUS ORANGE","option2":"9","option3":"ELITE CALF","sku":"840237309152","requires_shipping":true,"taxable":true,"featured_image":{"id":29780067811533,"product_id":6918039404749,"position":7,"created_at":"2022-02-12T15:31:12-05:00","updated_at":"2022-08-18T15:38:51-04:00","alt":"1","width":1600,"height":2000,"src":"https:\/\/cdn.shopify.com\/s\/files\/1\/0507\/5989\/3197\/products\/SEOUL_ORANGE_SIDE_3b841bdc-1e17-41e3-860f-80aca79518d0.jpg?v=1660851531","variant_ids":[40664727388365,40664727421133,40664727453901,40664727486669,40664727519437,40664727552205,40664727584973,40664727617741,40664727650509]},"available":true,"name":"SEOUL - BLACK - CITRUS ORANGE \/ 9 \/ ELITE CALF","public_title":"BLACK - CITRUS ORANGE \/ 9 \/ ELITE CALF","options":["BLACK - CITRUS ORANGE","9","ELITE CALF"],"price":27500,"weight":0,"compare_at_price":null,"inventory_management":"shopify","barcode":"840237309152","featured_media":{"alt":"1","id":22050773139661,"position":7,"preview_image":{"aspect_ratio":0.8,"height":2000,"width":1600,"src":"https:\/\/cdn.shopify.com\/s\/files\/1\/0507\/5989\/3197\/products\/SEOUL_ORANGE_SIDE_3b841bdc-1e17-41e3-860f-80aca79518d0.jpg?v=1660851531"}},"requires_selling_plan":false,"selling_plan_allocations":[],"quantity_rule":{"min":1,"max":null,"increment":1}},{"id":40664727617741,"title":"BLACK - CITRUS ORANGE \/ 9.5 \/ ELITE CALF","option1":"BLACK - CITRUS ORANGE","option2":"9.5","option3":"ELITE CALF","sku":"840237309169","requires_shipping":true,"taxable":true,"featured_image":{"id":29780067811533,"product_id":6918039404749,"position":7,"created_at":"2022-02-12T15:31:12-05:00","updated_at":"2022-08-18T15:38:51-04:00","alt":"1","width":1600,"height":2000,"src":"https:\/\/cdn.shopify.com\/s\/files\/1\/0507\/5989\/3197\/products\/SEOUL_ORANGE_SIDE_3b841bdc-1e17-41e3-860f-80aca79518d0.jpg?v=1660851531","variant_ids":[40664727388365,40664727421133,40664727453901,40664727486669,40664727519437,40664727552205,40664727584973,40664727617741,40664727650509]},"available":true,"name":"SEOUL - BLACK - CITRUS ORANGE \/ 9.5 \/ ELITE CALF","public_title":"BLACK - CITRUS ORANGE \/ 9.5 \/ ELITE CALF","options":["BLACK - CITRUS ORANGE","9.5","ELITE CALF"],"price":27500,"weight":0,"compare_at_price":null,"inventory_management":"shopify","barcode":"840237309169","featured_media":{"alt":"1","id":22050773139661,"position":7,"preview_image":{"aspect_ratio":0.8,"height":2000,"width":1600,"src":"https:\/\/cdn.shopify.com\/s\/files\/1\/0507\/5989\/3197\/products\/SEOUL_ORANGE_SIDE_3b841bdc-1e17-41e3-860f-80aca79518d0.jpg?v=1660851531"}},"requires_selling_plan":false,"selling_plan_allocations":[],"quantity_rule":{"min":1,"max":null,"increment":1}},{"id":40664727650509,"title":"BLACK - CITRUS ORANGE \/ 10 \/ ELITE CALF","option1":"BLACK - CITRUS ORANGE","option2":"10","option3":"ELITE CALF","sku":"840237309176","requires_shipping":true,"taxable":true,"featured_image":{"id":29780067811533,"product_id":6918039404749,"position":7,"created_at":"2022-02-12T15:31:12-05:00","updated_at":"2022-08-18T15:38:51-04:00","alt":"1","width":1600,"height":2000,"src":"https:\/\/cdn.shopify.com\/s\/files\/1\/0507\/5989\/3197\/products\/SEOUL_ORANGE_SIDE_3b841bdc-1e17-41e3-860f-80aca79518d0.jpg?v=1660851531","variant_ids":[40664727388365,40664727421133,40664727453901,40664727486669,40664727519437,40664727552205,40664727584973,40664727617741,40664727650509]},"available":true,"name":"SEOUL - BLACK - CITRUS ORANGE \/ 10 \/ ELITE CALF","public_title":"BLACK - CITRUS ORANGE \/ 10 \/ ELITE CALF","options":["BLACK - CITRUS ORANGE","10","ELITE CALF"],"price":27500,"weight":0,"compare_at_price":null,"inventory_management":"shopify","barcode":"840237309176","featured_media":{"alt":"1","id":22050773139661,"position":7,"preview_image":{"aspect_ratio":0.8,"height":2000,"width":1600,"src":"https:\/\/cdn.shopify.com\/s\/files\/1\/0507\/5989\/3197\/products\/SEOUL_ORANGE_SIDE_3b841bdc-1e17-41e3-860f-80aca79518d0.jpg?v=1660851531"}},"requires_selling_plan":false,"selling_plan_allocations":[],"quantity_rule":{"min":1,"max":null,"increment":1}},{"id":40664727683277,"title":"BIRCH \/ 6 \/ ELITE CALF","option1":"BIRCH","option2":"6","option3":"ELITE CALF","sku":"840237309008","requires_shipping":true,"taxable":true,"featured_image":{"id":29780068008141,"product_id":6918039404749,"position":13,"created_at":"2022-02-12T15:31:13-05:00","updated_at":"2022-08-18T15:38:51-04:00","alt":"2","width":1600,"height":2000,"src":"https:\/\/cdn.shopify.com\/s\/files\/1\/0507\/5989\/3197\/products\/SEOUL_BIRCH_SIDE_b0d0f5e3-3e8b-42e2-b71e-5e4b144a7316.jpg?v=1660851531","variant_ids":[40664727683277,40664727716045,40664727748813,40664727781581,40664727814349,40664727847117,40664727879885,40664727945421,40664727978189]},"available":true,"name":"SEOUL - BIRCH \/ 6 \/ ELITE CALF","public_title":"BIRCH \/ 6 \/ ELITE CALF","options":["BIRCH","6","ELITE CALF"],"price":27500,"weight":0,"compare_at_price":null,"inventory_management":"shopify","barcode":"840237309008","featured_media":{"alt":"2","id":22050773336269,"position":13,"preview_image":{"aspect_ratio":0.8,"height":2000,"width":1600,"src":"https:\/\/cdn.shopify.com\/s\/files\/1\/0507\/5989\/3197\/products\/SEOUL_BIRCH_SIDE_b0d0f5e3-3e8b-42e2-b71e-5e4b144a7316.jpg?v=1660851531"}},"requires_selling_plan":false,"selling_plan_allocations":[],"quantity_rule":{"min":1,"max":null,"increment":1}},{"id":41038267220173,"title":"OAK - CITRUS ORANGE \/ 6 \/ ELITE CALF","option1":"OAK - CITRUS ORANGE","option2":"6","option3":"ELITE CALF","sku":"840237308919","requires_shipping":true,"taxable":true,"featured_image":{"id":30591066669261,"product_id":6918039404749,"position":19,"created_at":"2022-08-19T23:24:59-04:00","updated_at":"2022-08-19T23:30:21-04:00","alt":"3","width":2960,"height":3700,"src":"https:\/\/cdn.shopify.com\/s\/files\/1\/0507\/5989\/3197\/products\/SEOUL-SIDE-OAK2.jpg?v=1660966221","variant_ids":[41038267220173,41038267252941,41038267285709,41038267318477,41038267351245,41038267384013,41038267416781,41038267449549,41038267482317]},"available":true,"name":"SEOUL - OAK - CITRUS ORANGE \/ 6 \/ ELITE CALF","public_title":"OAK - CITRUS ORANGE \/ 6 \/ ELITE CALF","options":["OAK - CITRUS ORANGE","6","ELITE CALF"],"price":27500,"weight":0,"compare_at_price":null,"inventory_management":"shopify","barcode":"840237308919","featured_media":{"alt":"3","id":22871726293197,"position":19,"preview_image":{"aspect_ratio":0.8,"height":3700,"width":2960,"src":"https:\/\/cdn.shopify.com\/s\/files\/1\/0507\/5989\/3197\/products\/SEOUL-SIDE-OAK2.jpg?v=1660966221"}},"requires_selling_plan":false,"selling_plan_allocations":[],"quantity_rule":{"min":1,"max":null,"increment":1}},{"id":40664727716045,"title":"BIRCH \/ 6.5 \/ ELITE CALF","option1":"BIRCH","option2":"6.5","option3":"ELITE CALF","sku":"840237309015","requires_shipping":true,"taxable":true,"featured_image":{"id":29780068008141,"product_id":6918039404749,"position":13,"created_at":"2022-02-12T15:31:13-05:00","updated_at":"2022-08-18T15:38:51-04:00","alt":"2","width":1600,"height":2000,"src":"https:\/\/cdn.shopify.com\/s\/files\/1\/0507\/5989\/3197\/products\/SEOUL_BIRCH_SIDE_b0d0f5e3-3e8b-42e2-b71e-5e4b144a7316.jpg?v=1660851531","variant_ids":[40664727683277,40664727716045,40664727748813,40664727781581,40664727814349,40664727847117,40664727879885,40664727945421,40664727978189]},"available":true,"name":"SEOUL - BIRCH \/ 6.5 \/ ELITE CALF","public_title":"BIRCH \/ 6.5 \/ ELITE CALF","options":["BIRCH","6.5","ELITE CALF"],"price":27500,"weight":0,"compare_at_price":null,"inventory_management":"shopify","barcode":"840237309015","featured_media":{"alt":"2","id":22050773336269,"position":13,"preview_image":{"aspect_ratio":0.8,"height":2000,"width":1600,"src":"https:\/\/cdn.shopify.com\/s\/files\/1\/0507\/5989\/3197\/products\/SEOUL_BIRCH_SIDE_b0d0f5e3-3e8b-42e2-b71e-5e4b144a7316.jpg?v=1660851531"}},"requires_selling_plan":false,"selling_plan_allocations":[],"quantity_rule":{"min":1,"max":null,"increment":1}},{"id":41038267252941,"title":"OAK - CITRUS ORANGE \/ 6.5 \/ ELITE CALF","option1":"OAK - CITRUS ORANGE","option2":"6.5","option3":"ELITE CALF","sku":"840237308926","requires_shipping":true,"taxable":true,"featured_image":{"id":30591066669261,"product_id":6918039404749,"position":19,"created_at":"2022-08-19T23:24:59-04:00","updated_at":"2022-08-19T23:30:21-04:00","alt":"3","width":2960,"height":3700,"src":"https:\/\/cdn.shopify.com\/s\/files\/1\/0507\/5989\/3197\/products\/SEOUL-SIDE-OAK2.jpg?v=1660966221","variant_ids":[41038267220173,41038267252941,41038267285709,41038267318477,41038267351245,41038267384013,41038267416781,41038267449549,41038267482317]},"available":true,"name":"SEOUL - OAK - CITRUS ORANGE \/ 6.5 \/ ELITE CALF","public_title":"OAK - CITRUS ORANGE \/ 6.5 \/ ELITE CALF","options":["OAK - CITRUS ORANGE","6.5","ELITE CALF"],"price":27500,"weight":0,"compare_at_price":null,"inventory_management":"shopify","barcode":"840237308926","featured_media":{"alt":"3","id":22871726293197,"position":19,"preview_image":{"aspect_ratio":0.8,"height":3700,"width":2960,"src":"https:\/\/cdn.shopify.com\/s\/files\/1\/0507\/5989\/3197\/products\/SEOUL-SIDE-OAK2.jpg?v=1660966221"}},"requires_selling_plan":false,"selling_plan_allocations":[],"quantity_rule":{"min":1,"max":null,"increment":1}},{"id":40664727748813,"title":"BIRCH \/ 7 \/ ELITE CALF","option1":"BIRCH","option2":"7","option3":"ELITE CALF","sku":"840237309022","requires_shipping":true,"taxable":true,"featured_image":{"id":29780068008141,"product_id":6918039404749,"position":13,"created_at":"2022-02-12T15:31:13-05:00","updated_at":"2022-08-18T15:38:51-04:00","alt":"2","width":1600,"height":2000,"src":"https:\/\/cdn.shopify.com\/s\/files\/1\/0507\/5989\/3197\/products\/SEOUL_BIRCH_SIDE_b0d0f5e3-3e8b-42e2-b71e-5e4b144a7316.jpg?v=1660851531","variant_ids":[40664727683277,40664727716045,40664727748813,40664727781581,40664727814349,40664727847117,40664727879885,40664727945421,40664727978189]},"available":true,"name":"SEOUL - BIRCH \/ 7 \/ ELITE CALF","public_title":"BIRCH \/ 7 \/ ELITE CALF","options":["BIRCH","7","ELITE CALF"],"price":27500,"weight":0,"compare_at_price":null,"inventory_management":"shopify","barcode":"840237309022","featured_media":{"alt":"2","id":22050773336269,"position":13,"preview_image":{"aspect_ratio":0.8,"height":2000,"width":1600,"src":"https:\/\/cdn.shopify.com\/s\/files\/1\/0507\/5989\/3197\/products\/SEOUL_BIRCH_SIDE_b0d0f5e3-3e8b-42e2-b71e-5e4b144a7316.jpg?v=1660851531"}},"requires_selling_plan":false,"selling_plan_allocations":[],"quantity_rule":{"min":1,"max":null,"increment":1}},{"id":41038267285709,"title":"OAK - CITRUS ORANGE \/ 7 \/ ELITE CALF","option1":"OAK - CITRUS ORANGE","option2":"7","option3":"ELITE CALF","sku":"840237308933","requires_shipping":true,"taxable":true,"featured_image":{"id":30591066669261,"product_id":6918039404749,"position":19,"created_at":"2022-08-19T23:24:59-04:00","updated_at":"2022-08-19T23:30:21-04:00","alt":"3","width":2960,"height":3700,"src":"https:\/\/cdn.shopify.com\/s\/files\/1\/0507\/5989\/3197\/products\/SEOUL-SIDE-OAK2.jpg?v=1660966221","variant_ids":[41038267220173,41038267252941,41038267285709,41038267318477,41038267351245,41038267384013,41038267416781,41038267449549,41038267482317]},"available":true,"name":"SEOUL - OAK - CITRUS ORANGE \/ 7 \/ ELITE CALF","public_title":"OAK - CITRUS ORANGE \/ 7 \/ ELITE CALF","options":["OAK - CITRUS ORANGE","7","ELITE CALF"],"price":27500,"weight":0,"compare_at_price":null,"inventory_management":"shopify","barcode":"840237308933","featured_media":{"alt":"3","id":22871726293197,"position":19,"preview_image":{"aspect_ratio":0.8,"height":3700,"width":2960,"src":"https:\/\/cdn.shopify.com\/s\/files\/1\/0507\/5989\/3197\/products\/SEOUL-SIDE-OAK2.jpg?v=1660966221"}},"requires_selling_plan":false,"selling_plan_allocations":[],"quantity_rule":{"min":1,"max":null,"increment":1}},{"id":40664727781581,"title":"BIRCH \/ 7.5 \/ ELITE CALF","option1":"BIRCH","option2":"7.5","option3":"ELITE CALF","sku":"840237309039","requires_shipping":true,"taxable":true,"featured_image":{"id":29780068008141,"product_id":6918039404749,"position":13,"created_at":"2022-02-12T15:31:13-05:00","updated_at":"2022-08-18T15:38:51-04:00","alt":"2","width":1600,"height":2000,"src":"https:\/\/cdn.shopify.com\/s\/files\/1\/0507\/5989\/3197\/products\/SEOUL_BIRCH_SIDE_b0d0f5e3-3e8b-42e2-b71e-5e4b144a7316.jpg?v=1660851531","variant_ids":[40664727683277,40664727716045,40664727748813,40664727781581,40664727814349,40664727847117,40664727879885,40664727945421,40664727978189]},"available":true,"name":"SEOUL - BIRCH \/ 7.5 \/ ELITE CALF","public_title":"BIRCH \/ 7.5 \/ ELITE CALF","options":["BIRCH","7.5","ELITE CALF"],"price":27500,"weight":0,"compare_at_price":null,"inventory_management":"shopify","barcode":"840237309039","featured_media":{"alt":"2","id":22050773336269,"position":13,"preview_image":{"aspect_ratio":0.8,"height":2000,"width":1600,"src":"https:\/\/cdn.shopify.com\/s\/files\/1\/0507\/5989\/3197\/products\/SEOUL_BIRCH_SIDE_b0d0f5e3-3e8b-42e2-b71e-5e4b144a7316.jpg?v=1660851531"}},"requires_selling_plan":false,"selling_plan_allocations":[],"quantity_rule":{"min":1,"max":null,"increment":1}},{"id":41038267318477,"title":"OAK - CITRUS ORANGE \/ 7.5 \/ ELITE CALF","option1":"OAK - CITRUS ORANGE","option2":"7.5","option3":"ELITE CALF","sku":"840237308940","requires_shipping":true,"taxable":true,"featured_image":{"id":30591066669261,"product_id":6918039404749,"position":19,"created_at":"2022-08-19T23:24:59-04:00","updated_at":"2022-08-19T23:30:21-04:00","alt":"3","width":2960,"height":3700,"src":"https:\/\/cdn.shopify.com\/s\/files\/1\/0507\/5989\/3197\/products\/SEOUL-SIDE-OAK2.jpg?v=1660966221","variant_ids":[41038267220173,41038267252941,41038267285709,41038267318477,41038267351245,41038267384013,41038267416781,41038267449549,41038267482317]},"available":true,"name":"SEOUL - OAK - CITRUS ORANGE \/ 7.5 \/ ELITE CALF","public_title":"OAK - CITRUS ORANGE \/ 7.5 \/ ELITE CALF","options":["OAK - CITRUS ORANGE","7.5","ELITE CALF"],"price":27500,"weight":0,"compare_at_price":null,"inventory_management":"shopify","barcode":"840237308940","featured_media":{"alt":"3","id":22871726293197,"position":19,"preview_image":{"aspect_ratio":0.8,"height":3700,"width":2960,"src":"https:\/\/cdn.shopify.com\/s\/files\/1\/0507\/5989\/3197\/products\/SEOUL-SIDE-OAK2.jpg?v=1660966221"}},"requires_selling_plan":false,"selling_plan_allocations":[],"quantity_rule":{"min":1,"max":null,"increment":1}},{"id":40664727814349,"title":"BIRCH \/ 8 \/ ELITE CALF","option1":"BIRCH","option2":"8","option3":"ELITE CALF","sku":"840237309046","requires_shipping":true,"taxable":true,"featured_image":{"id":29780068008141,"product_id":6918039404749,"position":13,"created_at":"2022-02-12T15:31:13-05:00","updated_at":"2022-08-18T15:38:51-04:00","alt":"2","width":1600,"height":2000,"src":"https:\/\/cdn.shopify.com\/s\/files\/1\/0507\/5989\/3197\/products\/SEOUL_BIRCH_SIDE_b0d0f5e3-3e8b-42e2-b71e-5e4b144a7316.jpg?v=1660851531","variant_ids":[40664727683277,40664727716045,40664727748813,40664727781581,40664727814349,40664727847117,40664727879885,40664727945421,40664727978189]},"available":true,"name":"SEOUL - BIRCH \/ 8 \/ ELITE CALF","public_title":"BIRCH \/ 8 \/ ELITE CALF","options":["BIRCH","8","ELITE CALF"],"price":27500,"weight":0,"compare_at_price":null,"inventory_management":"shopify","barcode":"840237309046","featured_media":{"alt":"2","id":22050773336269,"position":13,"preview_image":{"aspect_ratio":0.8,"height":2000,"width":1600,"src":"https:\/\/cdn.shopify.com\/s\/files\/1\/0507\/5989\/3197\/products\/SEOUL_BIRCH_SIDE_b0d0f5e3-3e8b-42e2-b71e-5e4b144a7316.jpg?v=1660851531"}},"requires_selling_plan":false,"selling_plan_allocations":[],"quantity_rule":{"min":1,"max":null,"increment":1}},{"id":41038267351245,"title":"OAK - CITRUS ORANGE \/ 8 \/ ELITE CALF","option1":"OAK - CITRUS ORANGE","option2":"8","option3":"ELITE CALF","sku":"840237308957","requires_shipping":true,"taxable":true,"featured_image":{"id":30591066669261,"product_id":6918039404749,"position":19,"created_at":"2022-08-19T23:24:59-04:00","updated_at":"2022-08-19T23:30:21-04:00","alt":"3","width":2960,"height":3700,"src":"https:\/\/cdn.shopify.com\/s\/files\/1\/0507\/5989\/3197\/products\/SEOUL-SIDE-OAK2.jpg?v=1660966221","variant_ids":[41038267220173,41038267252941,41038267285709,41038267318477,41038267351245,41038267384013,41038267416781,41038267449549,41038267482317]},"available":true,"name":"SEOUL - OAK - CITRUS ORANGE \/ 8 \/ ELITE CALF","public_title":"OAK - CITRUS ORANGE \/ 8 \/ ELITE CALF","options":["OAK - CITRUS ORANGE","8","ELITE CALF"],"price":27500,"weight":0,"compare_at_price":null,"inventory_management":"shopify","barcode":"840237308957","featured_media":{"alt":"3","id":22871726293197,"position":19,"preview_image":{"aspect_ratio":0.8,"height":3700,"width":2960,"src":"https:\/\/cdn.shopify.com\/s\/files\/1\/0507\/5989\/3197\/products\/SEOUL-SIDE-OAK2.jpg?v=1660966221"}},"requires_selling_plan":false,"selling_plan_allocations":[],"quantity_rule":{"min":1,"max":null,"increment":1}},{"id":40664727847117,"title":"BIRCH \/ 8.5 \/ ELITE CALF","option1":"BIRCH","option2":"8.5","option3":"ELITE CALF","sku":"840237309053","requires_shipping":true,"taxable":true,"featured_image":{"id":29780068008141,"product_id":6918039404749,"position":13,"created_at":"2022-02-12T15:31:13-05:00","updated_at":"2022-08-18T15:38:51-04:00","alt":"2","width":1600,"height":2000,"src":"https:\/\/cdn.shopify.com\/s\/files\/1\/0507\/5989\/3197\/products\/SEOUL_BIRCH_SIDE_b0d0f5e3-3e8b-42e2-b71e-5e4b144a7316.jpg?v=1660851531","variant_ids":[40664727683277,40664727716045,40664727748813,40664727781581,40664727814349,40664727847117,40664727879885,40664727945421,40664727978189]},"available":true,"name":"SEOUL - BIRCH \/ 8.5 \/ ELITE CALF","public_title":"BIRCH \/ 8.5 \/ ELITE CALF","options":["BIRCH","8.5","ELITE CALF"],"price":27500,"weight":0,"compare_at_price":null,"inventory_management":"shopify","barcode":"840237309053","featured_media":{"alt":"2","id":22050773336269,"position":13,"preview_image":{"aspect_ratio":0.8,"height":2000,"width":1600,"src":"https:\/\/cdn.shopify.com\/s\/files\/1\/0507\/5989\/3197\/products\/SEOUL_BIRCH_SIDE_b0d0f5e3-3e8b-42e2-b71e-5e4b144a7316.jpg?v=1660851531"}},"requires_selling_plan":false,"selling_plan_allocations":[],"quantity_rule":{"min":1,"max":null,"increment":1}},{"id":41038267384013,"title":"OAK - CITRUS ORANGE \/ 8.5 \/ ELITE CALF","option1":"OAK - CITRUS ORANGE","option2":"8.5","option3":"ELITE CALF","sku":"840237308964","requires_shipping":true,"taxable":true,"featured_image":{"id":30591066669261,"product_id":6918039404749,"position":19,"created_at":"2022-08-19T23:24:59-04:00","updated_at":"2022-08-19T23:30:21-04:00","alt":"3","width":2960,"height":3700,"src":"https:\/\/cdn.shopify.com\/s\/files\/1\/0507\/5989\/3197\/products\/SEOUL-SIDE-OAK2.jpg?v=1660966221","variant_ids":[41038267220173,41038267252941,41038267285709,41038267318477,41038267351245,41038267384013,41038267416781,41038267449549,41038267482317]},"available":true,"name":"SEOUL - OAK - CITRUS ORANGE \/ 8.5 \/ ELITE CALF","public_title":"OAK - CITRUS ORANGE \/ 8.5 \/ ELITE CALF","options":["OAK - CITRUS ORANGE","8.5","ELITE CALF"],"price":27500,"weight":0,"compare_at_price":null,"inventory_management":"shopify","barcode":"840237308964","featured_media":{"alt":"3","id":22871726293197,"position":19,"preview_image":{"aspect_ratio":0.8,"height":3700,"width":2960,"src":"https:\/\/cdn.shopify.com\/s\/files\/1\/0507\/5989\/3197\/products\/SEOUL-SIDE-OAK2.jpg?v=1660966221"}},"requires_selling_plan":false,"selling_plan_allocations":[],"quantity_rule":{"min":1,"max":null,"increment":1}},{"id":40664727879885,"title":"BIRCH \/ 9 \/ ELITE CALF","option1":"BIRCH","option2":"9","option3":"ELITE CALF","sku":"840237309060","requires_shipping":true,"taxable":true,"featured_image":{"id":29780068008141,"product_id":6918039404749,"position":13,"created_at":"2022-02-12T15:31:13-05:00","updated_at":"2022-08-18T15:38:51-04:00","alt":"2","width":1600,"height":2000,"src":"https:\/\/cdn.shopify.com\/s\/files\/1\/0507\/5989\/3197\/products\/SEOUL_BIRCH_SIDE_b0d0f5e3-3e8b-42e2-b71e-5e4b144a7316.jpg?v=1660851531","variant_ids":[40664727683277,40664727716045,40664727748813,40664727781581,40664727814349,40664727847117,40664727879885,40664727945421,40664727978189]},"available":true,"name":"SEOUL - BIRCH \/ 9 \/ ELITE CALF","public_title":"BIRCH \/ 9 \/ ELITE CALF","options":["BIRCH","9","ELITE CALF"],"price":27500,"weight":0,"compare_at_price":null,"inventory_management":"shopify","barcode":"840237309060","featured_media":{"alt":"2","id":22050773336269,"position":13,"preview_image":{"aspect_ratio":0.8,"height":2000,"width":1600,"src":"https:\/\/cdn.shopify.com\/s\/files\/1\/0507\/5989\/3197\/products\/SEOUL_BIRCH_SIDE_b0d0f5e3-3e8b-42e2-b71e-5e4b144a7316.jpg?v=1660851531"}},"requires_selling_plan":false,"selling_plan_allocations":[],"quantity_rule":{"min":1,"max":null,"increment":1}},{"id":41038267416781,"title":"OAK - CITRUS ORANGE \/ 9 \/ ELITE CALF","option1":"OAK - CITRUS ORANGE","option2":"9","option3":"ELITE CALF","sku":"840237308971","requires_shipping":true,"taxable":true,"featured_image":{"id":30591066669261,"product_id":6918039404749,"position":19,"created_at":"2022-08-19T23:24:59-04:00","updated_at":"2022-08-19T23:30:21-04:00","alt":"3","width":2960,"height":3700,"src":"https:\/\/cdn.shopify.com\/s\/files\/1\/0507\/5989\/3197\/products\/SEOUL-SIDE-OAK2.jpg?v=1660966221","variant_ids":[41038267220173,41038267252941,41038267285709,41038267318477,41038267351245,41038267384013,41038267416781,41038267449549,41038267482317]},"available":true,"name":"SEOUL - OAK - CITRUS ORANGE \/ 9 \/ ELITE CALF","public_title":"OAK - CITRUS ORANGE \/ 9 \/ ELITE CALF","options":["OAK - CITRUS ORANGE","9","ELITE CALF"],"price":27500,"weight":0,"compare_at_price":null,"inventory_management":"shopify","barcode":"840237308971","featured_media":{"alt":"3","id":22871726293197,"position":19,"preview_image":{"aspect_ratio":0.8,"height":3700,"width":2960,"src":"https:\/\/cdn.shopify.com\/s\/files\/1\/0507\/5989\/3197\/products\/SEOUL-SIDE-OAK2.jpg?v=1660966221"}},"requires_selling_plan":false,"selling_plan_allocations":[],"quantity_rule":{"min":1,"max":null,"increment":1}},{"id":40664727945421,"title":"BIRCH \/ 9.5 \/ ELITE CALF","option1":"BIRCH","option2":"9.5","option3":"ELITE CALF","sku":"840237309077","requires_shipping":true,"taxable":true,"featured_image":{"id":29780068008141,"product_id":6918039404749,"position":13,"created_at":"2022-02-12T15:31:13-05:00","updated_at":"2022-08-18T15:38:51-04:00","alt":"2","width":1600,"height":2000,"src":"https:\/\/cdn.shopify.com\/s\/files\/1\/0507\/5989\/3197\/products\/SEOUL_BIRCH_SIDE_b0d0f5e3-3e8b-42e2-b71e-5e4b144a7316.jpg?v=1660851531","variant_ids":[40664727683277,40664727716045,40664727748813,40664727781581,40664727814349,40664727847117,40664727879885,40664727945421,40664727978189]},"available":true,"name":"SEOUL - BIRCH \/ 9.5 \/ ELITE CALF","public_title":"BIRCH \/ 9.5 \/ ELITE CALF","options":["BIRCH","9.5","ELITE CALF"],"price":27500,"weight":0,"compare_at_price":null,"inventory_management":"shopify","barcode":"840237309077","featured_media":{"alt":"2","id":22050773336269,"position":13,"preview_image":{"aspect_ratio":0.8,"height":2000,"width":1600,"src":"https:\/\/cdn.shopify.com\/s\/files\/1\/0507\/5989\/3197\/products\/SEOUL_BIRCH_SIDE_b0d0f5e3-3e8b-42e2-b71e-5e4b144a7316.jpg?v=1660851531"}},"requires_selling_plan":false,"selling_plan_allocations":[],"quantity_rule":{"min":1,"max":null,"increment":1}},{"id":41038267449549,"title":"OAK - CITRUS ORANGE \/ 9.5 \/ ELITE CALF","option1":"OAK - CITRUS ORANGE","option2":"9.5","option3":"ELITE CALF","sku":"840237308988","requires_shipping":true,"taxable":true,"featured_image":{"id":30591066669261,"product_id":6918039404749,"position":19,"created_at":"2022-08-19T23:24:59-04:00","updated_at":"2022-08-19T23:30:21-04:00","alt":"3","width":2960,"height":3700,"src":"https:\/\/cdn.shopify.com\/s\/files\/1\/0507\/5989\/3197\/products\/SEOUL-SIDE-OAK2.jpg?v=1660966221","variant_ids":[41038267220173,41038267252941,41038267285709,41038267318477,41038267351245,41038267384013,41038267416781,41038267449549,41038267482317]},"available":true,"name":"SEOUL - OAK - CITRUS ORANGE \/ 9.5 \/ ELITE CALF","public_title":"OAK - CITRUS ORANGE \/ 9.5 \/ ELITE CALF","options":["OAK - CITRUS ORANGE","9.5","ELITE CALF"],"price":27500,"weight":0,"compare_at_price":null,"inventory_management":"shopify","barcode":"840237308988","featured_media":{"alt":"3","id":22871726293197,"position":19,"preview_image":{"aspect_ratio":0.8,"height":3700,"width":2960,"src":"https:\/\/cdn.shopify.com\/s\/files\/1\/0507\/5989\/3197\/products\/SEOUL-SIDE-OAK2.jpg?v=1660966221"}},"requires_selling_plan":false,"selling_plan_allocations":[],"quantity_rule":{"min":1,"max":null,"increment":1}},{"id":40664727978189,"title":"BIRCH \/ 10 \/ ELITE CALF","option1":"BIRCH","option2":"10","option3":"ELITE CALF","sku":"840237309084","requires_shipping":true,"taxable":true,"featured_image":{"id":29780068008141,"product_id":6918039404749,"position":13,"created_at":"2022-02-12T15:31:13-05:00","updated_at":"2022-08-18T15:38:51-04:00","alt":"2","width":1600,"height":2000,"src":"https:\/\/cdn.shopify.com\/s\/files\/1\/0507\/5989\/3197\/products\/SEOUL_BIRCH_SIDE_b0d0f5e3-3e8b-42e2-b71e-5e4b144a7316.jpg?v=1660851531","variant_ids":[40664727683277,40664727716045,40664727748813,40664727781581,40664727814349,40664727847117,40664727879885,40664727945421,40664727978189]},"available":true,"name":"SEOUL - BIRCH \/ 10 \/ ELITE CALF","public_title":"BIRCH \/ 10 \/ ELITE CALF","options":["BIRCH","10","ELITE CALF"],"price":27500,"weight":0,"compare_at_price":null,"inventory_management":"shopify","barcode":"840237309084","featured_media":{"alt":"2","id":22050773336269,"position":13,"preview_image":{"aspect_ratio":0.8,"height":2000,"width":1600,"src":"https:\/\/cdn.shopify.com\/s\/files\/1\/0507\/5989\/3197\/products\/SEOUL_BIRCH_SIDE_b0d0f5e3-3e8b-42e2-b71e-5e4b144a7316.jpg?v=1660851531"}},"requires_selling_plan":false,"selling_plan_allocations":[],"quantity_rule":{"min":1,"max":null,"increment":1}},{"id":41038267482317,"title":"OAK - CITRUS ORANGE \/ 10 \/ ELITE CALF","option1":"OAK - CITRUS ORANGE","option2":"10","option3":"ELITE CALF","sku":"840237308995","requires_shipping":true,"taxable":true,"featured_image":{"id":30591066669261,"product_id":6918039404749,"position":19,"created_at":"2022-08-19T23:24:59-04:00","updated_at":"2022-08-19T23:30:21-04:00","alt":"3","width":2960,"height":3700,"src":"https:\/\/cdn.shopify.com\/s\/files\/1\/0507\/5989\/3197\/products\/SEOUL-SIDE-OAK2.jpg?v=1660966221","variant_ids":[41038267220173,41038267252941,41038267285709,41038267318477,41038267351245,41038267384013,41038267416781,41038267449549,41038267482317]},"available":true,"name":"SEOUL - OAK - CITRUS ORANGE \/ 10 \/ ELITE CALF","public_title":"OAK - CITRUS ORANGE \/ 10 \/ ELITE CALF","options":["OAK - CITRUS ORANGE","10","ELITE CALF"],"price":27500,"weight":0,"compare_at_price":null,"inventory_management":"shopify","barcode":"840237308995","featured_media":{"alt":"3","id":22871726293197,"position":19,"preview_image":{"aspect_ratio":0.8,"height":3700,"width":2960,"src":"https:\/\/cdn.shopify.com\/s\/files\/1\/0507\/5989\/3197\/products\/SEOUL-SIDE-OAK2.jpg?v=1660966221"}},"requires_selling_plan":false,"selling_plan_allocations":[],"quantity_rule":{"min":1,"max":null,"increment":1}}],"images":["\/\/cdn.shopify.com\/s\/files\/1\/0507\/5989\/3197\/products\/SEOUL-SIDE-MOSS-min.jpg?v=1660710863","\/\/cdn.shopify.com\/s\/files\/1\/0507\/5989\/3197\/products\/SEOUL-TOP-MOSS-min.jpg?v=1660710863","\/\/cdn.shopify.com\/s\/files\/1\/0507\/5989\/3197\/products\/SEOUL-BACK-MOSS-min.jpg?v=1660710863","\/\/cdn.shopify.com\/s\/files\/1\/0507\/5989\/3197\/products\/SEOUL-OUTSOLE-MOSS-min.jpg?v=1660710863","\/\/cdn.shopify.com\/s\/files\/1\/0507\/5989\/3197\/products\/SEOUL-SOFT-MOSS-min.jpg?v=1660710863","\/\/cdn.shopify.com\/s\/files\/1\/0507\/5989\/3197\/products\/SEOUL-SILVERMOSS--ONFOOT-min.jpg?v=1660851531","\/\/cdn.shopify.com\/s\/files\/1\/0507\/5989\/3197\/products\/SEOUL_ORANGE_SIDE_3b841bdc-1e17-41e3-860f-80aca79518d0.jpg?v=1660851531","\/\/cdn.shopify.com\/s\/files\/1\/0507\/5989\/3197\/products\/SEOUL_ORANGE_TOP_c43d1c00-97c5-439d-81e2-1808112b8a49.jpg?v=1660851531","\/\/cdn.shopify.com\/s\/files\/1\/0507\/5989\/3197\/products\/SEOUL_ORANGE_BACK_ec9194b3-b1ac-49ce-8e53-8d5a4085aaea.jpg?v=1660851531","\/\/cdn.shopify.com\/s\/files\/1\/0507\/5989\/3197\/products\/SEOUL_ORANGE_OUTSOLE_24f8d14c-106a-4b28-92a4-be594cfc2e9e.jpg?v=1660851531","\/\/cdn.shopify.com\/s\/files\/1\/0507\/5989\/3197\/products\/SEOUL_ORANGE_SOFTNESS_b8aa1da2-e370-4a80-b6af-bb0d0c7fce97.jpg?v=1660851531","\/\/cdn.shopify.com\/s\/files\/1\/0507\/5989\/3197\/products\/SEOUL_ORANGE_ONFOOT_afbfac05-a12e-4bba-a8c1-f744a06f0f1f.jpg?v=1660851531","\/\/cdn.shopify.com\/s\/files\/1\/0507\/5989\/3197\/products\/SEOUL_BIRCH_SIDE_b0d0f5e3-3e8b-42e2-b71e-5e4b144a7316.jpg?v=1660851531","\/\/cdn.shopify.com\/s\/files\/1\/0507\/5989\/3197\/products\/SEOUL_BIRCH_TOP_29c7e02e-1971-419f-bb93-69fbc588f696.jpg?v=1660851531","\/\/cdn.shopify.com\/s\/files\/1\/0507\/5989\/3197\/products\/SEOUL_BIRCH_BACK_bd99c25a-0cfb-4850-834a-1233f5884a5d.jpg?v=1660851531","\/\/cdn.shopify.com\/s\/files\/1\/0507\/5989\/3197\/products\/SEOUL_BIRCH_OUTSOLE_93400391-f0ef-4b12-b185-03e1f2072432.jpg?v=1660851531","\/\/cdn.shopify.com\/s\/files\/1\/0507\/5989\/3197\/products\/SEOUL_BIRCH_SOFTNESS_3d56cd61-d6f0-4226-b76c-f65d931080e9.jpg?v=1660851531","\/\/cdn.shopify.com\/s\/files\/1\/0507\/5989\/3197\/products\/SEOUL_BIRCH_ONFOOT_73819c34-7b20-496d-bc96-14f16b40dbb1.jpg?v=1660851531","\/\/cdn.shopify.com\/s\/files\/1\/0507\/5989\/3197\/products\/SEOUL-SIDE-OAK2.jpg?v=1660966221","\/\/cdn.shopify.com\/s\/files\/1\/0507\/5989\/3197\/products\/SEOUL-TOP-OAK2.jpg?v=1660966221","\/\/cdn.shopify.com\/s\/files\/1\/0507\/5989\/3197\/products\/SEOUL-BACK-SEOUL.jpg?v=1660966221","\/\/cdn.shopify.com\/s\/files\/1\/0507\/5989\/3197\/products\/SEOUL-OUTSOLE-OAK2-3.jpg?v=1660966221","\/\/cdn.shopify.com\/s\/files\/1\/0507\/5989\/3197\/products\/SEOUL-SOFTNESS-OAK.jpg?v=1660966221","\/\/cdn.shopify.com\/s\/files\/1\/0507\/5989\/3197\/products\/SEOUL-ONFOOT-OAK.jpg?v=1660966221"],"featured_image":"\/\/cdn.shopify.com\/s\/files\/1\/0507\/5989\/3197\/products\/SEOUL-SIDE-MOSS-min.jpg?v=1660710863","options":["Color","Size","Material"],"media":[{"alt":"0","id":22851729588429,"position":1,"preview_image":{"aspect_ratio":0.8,"height":3700,"width":2960,"src":"https:\/\/cdn.shopify.com\/s\/files\/1\/0507\/5989\/3197\/products\/SEOUL-SIDE-MOSS-min.jpg?v=1660710863"},"aspect_ratio":0.8,"height":3700,"media_type":"image","src":"https:\/\/cdn.shopify.com\/s\/files\/1\/0507\/5989\/3197\/products\/SEOUL-SIDE-MOSS-min.jpg?v=1660710863","width":2960},{"alt":"0","id":22851729653965,"position":2,"preview_image":{"aspect_ratio":0.8,"height":3700,"width":2960,"src":"https:\/\/cdn.shopify.com\/s\/files\/1\/0507\/5989\/3197\/products\/SEOUL-TOP-MOSS-min.jpg?v=1660710863"},"aspect_ratio":0.8,"height":3700,"media_type":"image","src":"https:\/\/cdn.shopify.com\/s\/files\/1\/0507\/5989\/3197\/products\/SEOUL-TOP-MOSS-min.jpg?v=1660710863","width":2960},{"alt":"0","id":22851729522893,"position":3,"preview_image":{"aspect_ratio":0.8,"height":3700,"width":2960,"src":"https:\/\/cdn.shopify.com\/s\/files\/1\/0507\/5989\/3197\/products\/SEOUL-BACK-MOSS-min.jpg?v=1660710863"},"aspect_ratio":0.8,"height":3700,"media_type":"image","src":"https:\/\/cdn.shopify.com\/s\/files\/1\/0507\/5989\/3197\/products\/SEOUL-BACK-MOSS-min.jpg?v=1660710863","width":2960},{"alt":"0","id":22851729555661,"position":4,"preview_image":{"aspect_ratio":0.8,"height":3700,"width":2960,"src":"https:\/\/cdn.shopify.com\/s\/files\/1\/0507\/5989\/3197\/products\/SEOUL-OUTSOLE-MOSS-min.jpg?v=1660710863"},"aspect_ratio":0.8,"height":3700,"media_type":"image","src":"https:\/\/cdn.shopify.com\/s\/files\/1\/0507\/5989\/3197\/products\/SEOUL-OUTSOLE-MOSS-min.jpg?v=1660710863","width":2960},{"alt":"0","id":22851729621197,"position":5,"preview_image":{"aspect_ratio":0.8,"height":3700,"width":2960,"src":"https:\/\/cdn.shopify.com\/s\/files\/1\/0507\/5989\/3197\/products\/SEOUL-SOFT-MOSS-min.jpg?v=1660710863"},"aspect_ratio":0.8,"height":3700,"media_type":"image","src":"https:\/\/cdn.shopify.com\/s\/files\/1\/0507\/5989\/3197\/products\/SEOUL-SOFT-MOSS-min.jpg?v=1660710863","width":2960},{"alt":"0","id":22862912553165,"position":6,"preview_image":{"aspect_ratio":0.8,"height":3700,"width":2960,"src":"https:\/\/cdn.shopify.com\/s\/files\/1\/0507\/5989\/3197\/products\/SEOUL-SILVERMOSS--ONFOOT-min.jpg?v=1660851531"},"aspect_ratio":0.8,"height":3700,"media_type":"image","src":"https:\/\/cdn.shopify.com\/s\/files\/1\/0507\/5989\/3197\/products\/SEOUL-SILVERMOSS--ONFOOT-min.jpg?v=1660851531","width":2960},{"alt":"1","id":22050773139661,"position":7,"preview_image":{"aspect_ratio":0.8,"height":2000,"width":1600,"src":"https:\/\/cdn.shopify.com\/s\/files\/1\/0507\/5989\/3197\/products\/SEOUL_ORANGE_SIDE_3b841bdc-1e17-41e3-860f-80aca79518d0.jpg?v=1660851531"},"aspect_ratio":0.8,"height":2000,"media_type":"image","src":"https:\/\/cdn.shopify.com\/s\/files\/1\/0507\/5989\/3197\/products\/SEOUL_ORANGE_SIDE_3b841bdc-1e17-41e3-860f-80aca79518d0.jpg?v=1660851531","width":1600},{"alt":"1","id":22050773172429,"position":8,"preview_image":{"aspect_ratio":0.8,"height":2000,"width":1600,"src":"https:\/\/cdn.shopify.com\/s\/files\/1\/0507\/5989\/3197\/products\/SEOUL_ORANGE_TOP_c43d1c00-97c5-439d-81e2-1808112b8a49.jpg?v=1660851531"},"aspect_ratio":0.8,"height":2000,"media_type":"image","src":"https:\/\/cdn.shopify.com\/s\/files\/1\/0507\/5989\/3197\/products\/SEOUL_ORANGE_TOP_c43d1c00-97c5-439d-81e2-1808112b8a49.jpg?v=1660851531","width":1600},{"alt":"1","id":22050773205197,"position":9,"preview_image":{"aspect_ratio":0.8,"height":2000,"width":1600,"src":"https:\/\/cdn.shopify.com\/s\/files\/1\/0507\/5989\/3197\/products\/SEOUL_ORANGE_BACK_ec9194b3-b1ac-49ce-8e53-8d5a4085aaea.jpg?v=1660851531"},"aspect_ratio":0.8,"height":2000,"media_type":"image","src":"https:\/\/cdn.shopify.com\/s\/files\/1\/0507\/5989\/3197\/products\/SEOUL_ORANGE_BACK_ec9194b3-b1ac-49ce-8e53-8d5a4085aaea.jpg?v=1660851531","width":1600},{"alt":"1","id":22050773237965,"position":10,"preview_image":{"aspect_ratio":0.8,"height":2000,"width":1600,"src":"https:\/\/cdn.shopify.com\/s\/files\/1\/0507\/5989\/3197\/products\/SEOUL_ORANGE_OUTSOLE_24f8d14c-106a-4b28-92a4-be594cfc2e9e.jpg?v=1660851531"},"aspect_ratio":0.8,"height":2000,"media_type":"image","src":"https:\/\/cdn.shopify.com\/s\/files\/1\/0507\/5989\/3197\/products\/SEOUL_ORANGE_OUTSOLE_24f8d14c-106a-4b28-92a4-be594cfc2e9e.jpg?v=1660851531","width":1600},{"alt":"1","id":22050773270733,"position":11,"preview_image":{"aspect_ratio":0.8,"height":2000,"width":1600,"src":"https:\/\/cdn.shopify.com\/s\/files\/1\/0507\/5989\/3197\/products\/SEOUL_ORANGE_SOFTNESS_b8aa1da2-e370-4a80-b6af-bb0d0c7fce97.jpg?v=1660851531"},"aspect_ratio":0.8,"height":2000,"media_type":"image","src":"https:\/\/cdn.shopify.com\/s\/files\/1\/0507\/5989\/3197\/products\/SEOUL_ORANGE_SOFTNESS_b8aa1da2-e370-4a80-b6af-bb0d0c7fce97.jpg?v=1660851531","width":1600},{"alt":"1","id":22050773303501,"position":12,"preview_image":{"aspect_ratio":0.8,"height":2000,"width":1600,"src":"https:\/\/cdn.shopify.com\/s\/files\/1\/0507\/5989\/3197\/products\/SEOUL_ORANGE_ONFOOT_afbfac05-a12e-4bba-a8c1-f744a06f0f1f.jpg?v=1660851531"},"aspect_ratio":0.8,"height":2000,"media_type":"image","src":"https:\/\/cdn.shopify.com\/s\/files\/1\/0507\/5989\/3197\/products\/SEOUL_ORANGE_ONFOOT_afbfac05-a12e-4bba-a8c1-f744a06f0f1f.jpg?v=1660851531","width":1600},{"alt":"2","id":22050773336269,"position":13,"preview_image":{"aspect_ratio":0.8,"height":2000,"width":1600,"src":"https:\/\/cdn.shopify.com\/s\/files\/1\/0507\/5989\/3197\/products\/SEOUL_BIRCH_SIDE_b0d0f5e3-3e8b-42e2-b71e-5e4b144a7316.jpg?v=1660851531"},"aspect_ratio":0.8,"height":2000,"media_type":"image","src":"https:\/\/cdn.shopify.com\/s\/files\/1\/0507\/5989\/3197\/products\/SEOUL_BIRCH_SIDE_b0d0f5e3-3e8b-42e2-b71e-5e4b144a7316.jpg?v=1660851531","width":1600},{"alt":"2","id":22050773369037,"position":14,"preview_image":{"aspect_ratio":0.8,"height":2000,"width":1600,"src":"https:\/\/cdn.shopify.com\/s\/files\/1\/0507\/5989\/3197\/products\/SEOUL_BIRCH_TOP_29c7e02e-1971-419f-bb93-69fbc588f696.jpg?v=1660851531"},"aspect_ratio":0.8,"height":2000,"media_type":"image","src":"https:\/\/cdn.shopify.com\/s\/files\/1\/0507\/5989\/3197\/products\/SEOUL_BIRCH_TOP_29c7e02e-1971-419f-bb93-69fbc588f696.jpg?v=1660851531","width":1600},{"alt":"2","id":22050773401805,"position":15,"preview_image":{"aspect_ratio":0.8,"height":2000,"width":1600,"src":"https:\/\/cdn.shopify.com\/s\/files\/1\/0507\/5989\/3197\/products\/SEOUL_BIRCH_BACK_bd99c25a-0cfb-4850-834a-1233f5884a5d.jpg?v=1660851531"},"aspect_ratio":0.8,"height":2000,"media_type":"image","src":"https:\/\/cdn.shopify.com\/s\/files\/1\/0507\/5989\/3197\/products\/SEOUL_BIRCH_BACK_bd99c25a-0cfb-4850-834a-1233f5884a5d.jpg?v=1660851531","width":1600},{"alt":"2","id":22050773434573,"position":16,"preview_image":{"aspect_ratio":0.8,"height":2000,"width":1600,"src":"https:\/\/cdn.shopify.com\/s\/files\/1\/0507\/5989\/3197\/products\/SEOUL_BIRCH_OUTSOLE_93400391-f0ef-4b12-b185-03e1f2072432.jpg?v=1660851531"},"aspect_ratio":0.8,"height":2000,"media_type":"image","src":"https:\/\/cdn.shopify.com\/s\/files\/1\/0507\/5989\/3197\/products\/SEOUL_BIRCH_OUTSOLE_93400391-f0ef-4b12-b185-03e1f2072432.jpg?v=1660851531","width":1600},{"alt":"2","id":22050773467341,"position":17,"preview_image":{"aspect_ratio":0.8,"height":2000,"width":1600,"src":"https:\/\/cdn.shopify.com\/s\/files\/1\/0507\/5989\/3197\/products\/SEOUL_BIRCH_SOFTNESS_3d56cd61-d6f0-4226-b76c-f65d931080e9.jpg?v=1660851531"},"aspect_ratio":0.8,"height":2000,"media_type":"image","src":"https:\/\/cdn.shopify.com\/s\/files\/1\/0507\/5989\/3197\/products\/SEOUL_BIRCH_SOFTNESS_3d56cd61-d6f0-4226-b76c-f65d931080e9.jpg?v=1660851531","width":1600},{"alt":"2","id":22050773500109,"position":18,"preview_image":{"aspect_ratio":0.8,"height":2000,"width":1600,"src":"https:\/\/cdn.shopify.com\/s\/files\/1\/0507\/5989\/3197\/products\/SEOUL_BIRCH_ONFOOT_73819c34-7b20-496d-bc96-14f16b40dbb1.jpg?v=1660851531"},"aspect_ratio":0.8,"height":2000,"media_type":"image","src":"https:\/\/cdn.shopify.com\/s\/files\/1\/0507\/5989\/3197\/products\/SEOUL_BIRCH_ONFOOT_73819c34-7b20-496d-bc96-14f16b40dbb1.jpg?v=1660851531","width":1600},{"alt":"3","id":22871726293197,"position":19,"preview_image":{"aspect_ratio":0.8,"height":3700,"width":2960,"src":"https:\/\/cdn.shopify.com\/s\/files\/1\/0507\/5989\/3197\/products\/SEOUL-SIDE-OAK2.jpg?v=1660966221"},"aspect_ratio":0.8,"height":3700,"media_type":"image","src":"https:\/\/cdn.shopify.com\/s\/files\/1\/0507\/5989\/3197\/products\/SEOUL-SIDE-OAK2.jpg?v=1660966221","width":2960},{"alt":"3","id":22871726358733,"position":20,"preview_image":{"aspect_ratio":0.8,"height":3700,"width":2960,"src":"https:\/\/cdn.shopify.com\/s\/files\/1\/0507\/5989\/3197\/products\/SEOUL-TOP-OAK2.jpg?v=1660966221"},"aspect_ratio":0.8,"height":3700,"media_type":"image","src":"https:\/\/cdn.shopify.com\/s\/files\/1\/0507\/5989\/3197\/products\/SEOUL-TOP-OAK2.jpg?v=1660966221","width":2960},{"alt":"3","id":22871726325965,"position":21,"preview_image":{"aspect_ratio":0.8,"height":3700,"width":2960,"src":"https:\/\/cdn.shopify.com\/s\/files\/1\/0507\/5989\/3197\/products\/SEOUL-BACK-SEOUL.jpg?v=1660966221"},"aspect_ratio":0.8,"height":3700,"media_type":"image","src":"https:\/\/cdn.shopify.com\/s\/files\/1\/0507\/5989\/3197\/products\/SEOUL-BACK-SEOUL.jpg?v=1660966221","width":2960},{"alt":"3","id":22871742185677,"position":22,"preview_image":{"aspect_ratio":0.8,"height":3700,"width":2960,"src":"https:\/\/cdn.shopify.com\/s\/files\/1\/0507\/5989\/3197\/products\/SEOUL-OUTSOLE-OAK2-3.jpg?v=1660966221"},"aspect_ratio":0.8,"height":3700,"media_type":"image","src":"https:\/\/cdn.shopify.com\/s\/files\/1\/0507\/5989\/3197\/products\/SEOUL-OUTSOLE-OAK2-3.jpg?v=1660966221","width":2960},{"alt":"3","id":22871682613453,"position":23,"preview_image":{"aspect_ratio":0.8,"height":3700,"width":2960,"src":"https:\/\/cdn.shopify.com\/s\/files\/1\/0507\/5989\/3197\/products\/SEOUL-SOFTNESS-OAK.jpg?v=1660966221"},"aspect_ratio":0.8,"height":3700,"media_type":"image","src":"https:\/\/cdn.shopify.com\/s\/files\/1\/0507\/5989\/3197\/products\/SEOUL-SOFTNESS-OAK.jpg?v=1660966221","width":2960},{"alt":"3","id":22871682580685,"position":24,"preview_image":{"aspect_ratio":0.8,"height":3700,"width":2960,"src":"https:\/\/cdn.shopify.com\/s\/files\/1\/0507\/5989\/3197\/products\/SEOUL-ONFOOT-OAK.jpg?v=1660966221"},"aspect_ratio":0.8,"height":3700,"media_type":"image","src":"https:\/\/cdn.shopify.com\/s\/files\/1\/0507\/5989\/3197\/products\/SEOUL-ONFOOT-OAK.jpg?v=1660966221","width":2960},{"alt":"video","id":22888830533837,"position":25,"preview_image":{"aspect_ratio":0.8,"height":1350,"width":1080,"src":"https:\/\/cdn.shopify.com\/s\/files\/1\/0507\/5989\/3197\/products\/3514e284fe764c3c86726db184f28e74.thumbnail.0000000000.jpg?v=1661272001"},"aspect_ratio":0.8,"duration":11710,"media_type":"video","sources":[{"format":"mp4","height":480,"mime_type":"video\/mp4","url":"https:\/\/cdn.shopify.com\/videos\/c\/vp\/3514e284fe764c3c86726db184f28e74\/3514e284fe764c3c86726db184f28e74.SD-480p-1.0Mbps-8910349.mp4","width":384},{"format":"mp4","height":1080,"mime_type":"video\/mp4","url":"https:\/\/cdn.shopify.com\/videos\/c\/vp\/3514e284fe764c3c86726db184f28e74\/3514e284fe764c3c86726db184f28e74.HD-1080p-3.3Mbps-8910349.mp4","width":864},{"format":"mp4","height":720,"mime_type":"video\/mp4","url":"https:\/\/cdn.shopify.com\/videos\/c\/vp\/3514e284fe764c3c86726db184f28e74\/3514e284fe764c3c86726db184f28e74.HD-720p-2.1Mbps-8910349.mp4","width":576},{"format":"m3u8","height":1080,"mime_type":"application\/x-mpegURL","url":"https:\/\/cdn.shopify.com\/videos\/c\/vp\/3514e284fe764c3c86726db184f28e74\/3514e284fe764c3c86726db184f28e74.m3u8","width":864}]}],"requires_selling_plan":false,"selling_plan_groups":[],"content":"\u003cspan style=\"font-weight: 400;\"\u003eThis lux style is our e\u003c\/span\u003elevated loafer for the Fall season.  Lightweight and designed with signature technical features make the SEOUL a must have style this year.  Made with pop color re-speckled EVA flex bottoms and hand stitched detailing.  Water resistant re-rubber mud guard detail offers protection from the elements while highlighting the latest trend.  Get elevated\u003cspan style=\"font-weight: 400;\"\u003e in style and height in the SEOUL.\u003c\/span\u003e"} { "options": [ { "title": "Color", "values": [ { "value": "SILVER MOSS", "url": "/products/seoul-1?variant=40664732598477" }, { "value": "BLACK - CITRUS ORANGE", "url": "/products/seoul-1?variant=40664727388365" }, { "value": "BIRCH", "url": "/products/seoul-1?variant=40664727683277" }, { "value": "OAK - CITRUS ORANGE", "url": "/products/seoul-1?variant=41038267220173" } ] }, { "title": "Size", "values": [ { "value": "6", "url": "/products/seoul-1?variant=40664732598477" }, { "value": "6.5", "url": "/products/seoul-1?variant=40664732631245" }, { "value": "7", "url": "/products/seoul-1?variant=40664732664013" }, { "value": "7.5", "url": "/products/seoul-1?variant=40664732729549" }, { "value": "8", "url": "/products/seoul-1?variant=40664732762317" }, { "value": "8.5", "url": "/products/seoul-1?variant=40664732795085" }, { "value": "9", "url": "/products/seoul-1?variant=40664732827853" }, { "value": "9.5", "url": "/products/seoul-1?variant=40664732893389" }, { "value": "10", "url": "/products/seoul-1?variant=40664733253837" } ] }, { "title": "Material", "values": [ { "value": "ELITE CALF", "url": "/products/seoul-1?variant=40664732598477" } ] } ] }