[ ]
Re-Speckled rubber EVA unit bottom
Sargent re-elastic
Ortholite Impressions bio based foam with latex sock padding
Recycled insole board
Re-Rubber mud guard
100% post consumer nylon zipper
CARE
Outsole can be cleaned with a soft cloth and water
Upper can be gently wipped with a damp cloth
Runs true to size
Heel height: 65mm / 2.5 inches
COMFORT
Refined groove design offers extreme flexibility
Molded removable sock footbed
We offer free express shipping, exchanges and returns on all US domestic orders
[ "Material & Care" , "Fit & Comfort" , "Delivery & Returns" ]
Sustainable Style
It's all in the details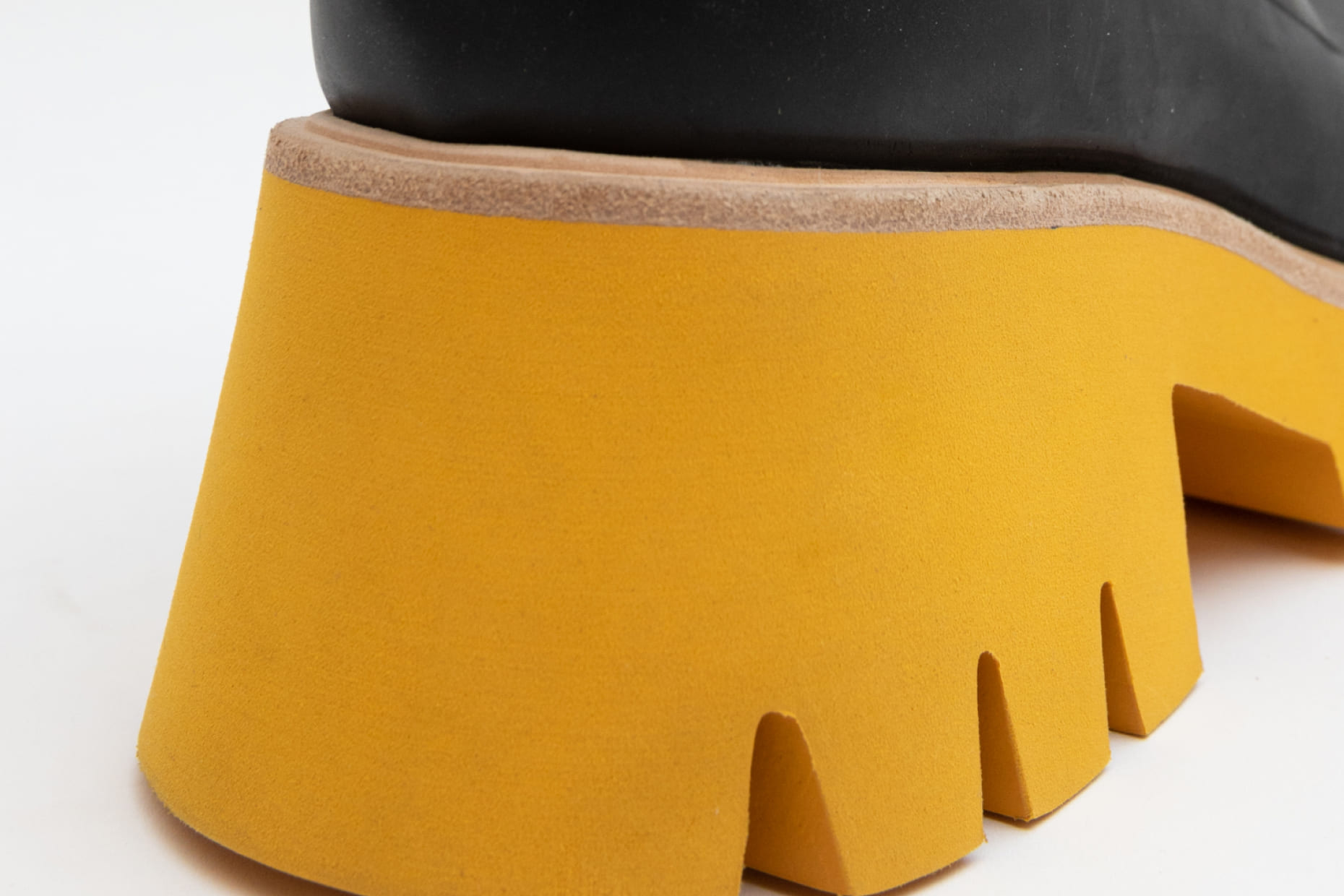 RE-SPECKLED RUBBER EVA
Recycled rubber EVA mold that uses leftover and excess rubber to make this bottom - it reduces waste and the use of new resources. You will notice the speckle and small air bubbles in the bottom which gives it a signature look.
READ MORE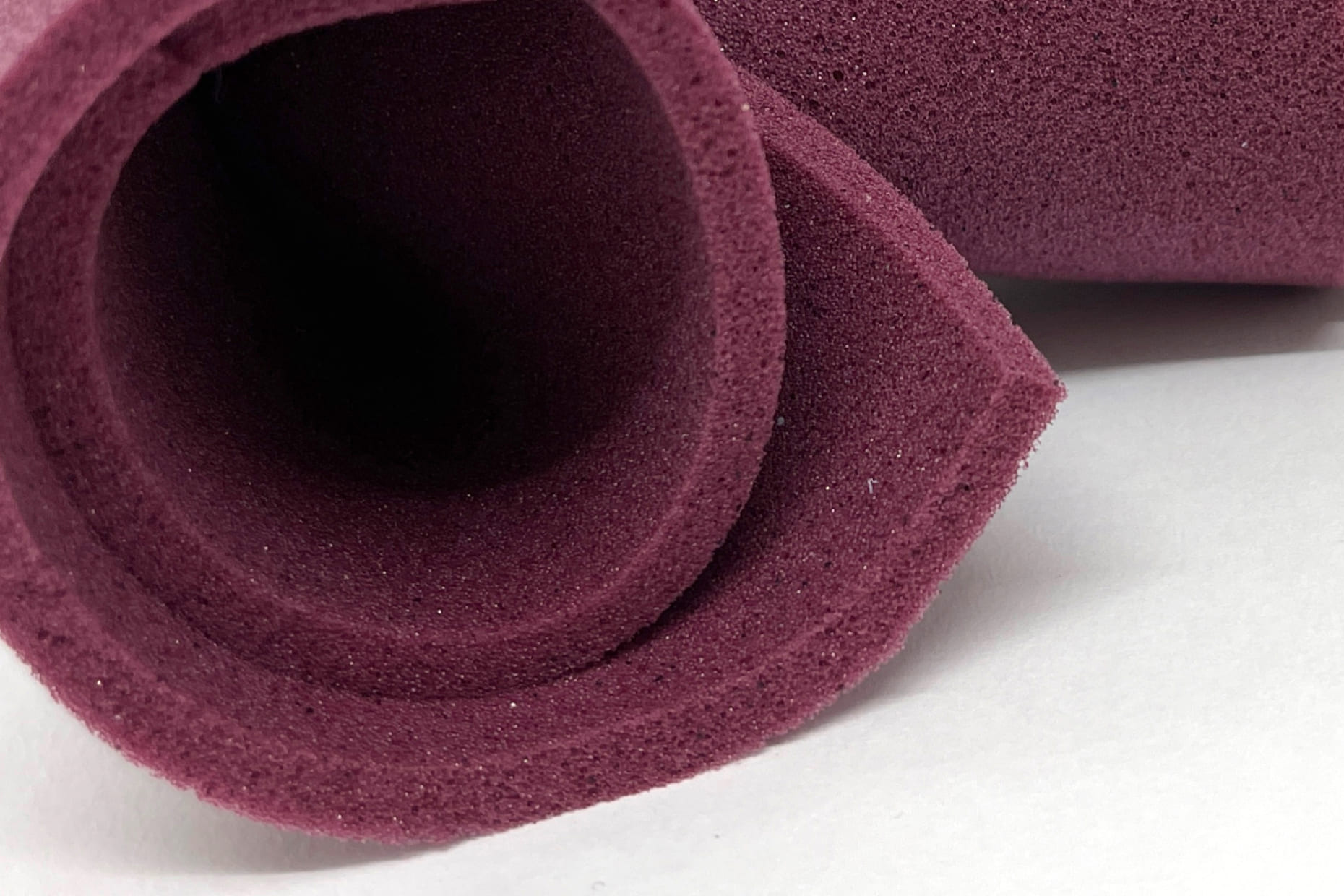 BIO BASED MEMORY FOAM
Utilizing Ortholite ® Bio Base memory foam made from castor oil and recycled rubber, the plant based oil not only provides amazing comfort but reduces the impact to the environment. The renewable product uses less water to produce and does not compete with other plant life.
READ MORE
{"id":6759177715917,"title":"SEOUL","handle":"seoul-2","description":"\u003cmeta charset=\"utf-8\"\u003e\u003cspan data-mce-fragment=\"1\"\u003eThis lux style is our e\u003c\/span\u003e\u003cspan data-mce-fragment=\"1\"\u003elevated loafer for all seasons.  Lightweight and designed with signature technical features make the SEOUL a must have style this year.  Made with pop color re-speckled EVA flex bottoms and hand stitched detailing.  Water resistant re-rubber mud guard detail offers protection from the elements while highlighting the latest trend.  Get elevated\u003c\/span\u003e\u003cspan data-mce-fragment=\"1\"\u003e in style and height in the SEOUL.\u003c\/span\u003e","published_at":"2022-02-25T10:30:11-05:00","created_at":"2021-09-09T16:41:39-04:00","vendor":"onceptnyc","type":"Footwear","tags":["CASUAL","FLAT","MOC"],"price":27500,"price_min":27500,"price_max":27500,"available":true,"price_varies":false,"compare_at_price":null,"compare_at_price_min":0,"compare_at_price_max":0,"compare_at_price_varies":false,"variants":[{"id":40324562157773,"title":"OAK - CITRUS ORANGE \/ 6 \/ ELITE CALF","option1":"OAK - CITRUS ORANGE","option2":"6","option3":"ELITE CALF","sku":"840237308919","requires_shipping":true,"taxable":true,"featured_image":{"id":30567814201549,"product_id":6759177715917,"position":1,"created_at":"2022-08-16T13:16:23-04:00","updated_at":"2022-08-16T13:24:17-04:00","alt":"0","width":2960,"height":3700,"src":"\/\/oncept.nyc\/cdn\/shop\/products\/SEOUL-SIDE-OAK-min.jpg?v=1660670657","variant_ids":[40324562157773,40324562256077,40324562288845,40324562321613,40324562354381,40324562387149,40324562419917,40324562452685,40324562485453]},"available":true,"name":"SEOUL - OAK - CITRUS ORANGE \/ 6 \/ ELITE CALF","public_title":"OAK - CITRUS ORANGE \/ 6 \/ ELITE CALF","options":["OAK - CITRUS ORANGE","6","ELITE CALF"],"price":27500,"weight":0,"compare_at_price":null,"inventory_management":"shopify","barcode":"840237308919","featured_media":{"alt":"0","id":22848274759885,"position":1,"preview_image":{"aspect_ratio":0.8,"height":3700,"width":2960,"src":"\/\/oncept.nyc\/cdn\/shop\/products\/SEOUL-SIDE-OAK-min.jpg?v=1660670657"}},"requires_selling_plan":false,"selling_plan_allocations":[]},{"id":40324562256077,"title":"OAK - CITRUS ORANGE \/ 6.5 \/ ELITE CALF","option1":"OAK - CITRUS ORANGE","option2":"6.5","option3":"ELITE CALF","sku":"840237308926","requires_shipping":true,"taxable":true,"featured_image":{"id":30567814201549,"product_id":6759177715917,"position":1,"created_at":"2022-08-16T13:16:23-04:00","updated_at":"2022-08-16T13:24:17-04:00","alt":"0","width":2960,"height":3700,"src":"\/\/oncept.nyc\/cdn\/shop\/products\/SEOUL-SIDE-OAK-min.jpg?v=1660670657","variant_ids":[40324562157773,40324562256077,40324562288845,40324562321613,40324562354381,40324562387149,40324562419917,40324562452685,40324562485453]},"available":true,"name":"SEOUL - OAK - CITRUS ORANGE \/ 6.5 \/ ELITE CALF","public_title":"OAK - CITRUS ORANGE \/ 6.5 \/ ELITE CALF","options":["OAK - CITRUS ORANGE","6.5","ELITE CALF"],"price":27500,"weight":0,"compare_at_price":null,"inventory_management":"shopify","barcode":"840237308926","featured_media":{"alt":"0","id":22848274759885,"position":1,"preview_image":{"aspect_ratio":0.8,"height":3700,"width":2960,"src":"\/\/oncept.nyc\/cdn\/shop\/products\/SEOUL-SIDE-OAK-min.jpg?v=1660670657"}},"requires_selling_plan":false,"selling_plan_allocations":[]},{"id":40324562288845,"title":"OAK - CITRUS ORANGE \/ 7 \/ ELITE CALF","option1":"OAK - CITRUS ORANGE","option2":"7","option3":"ELITE CALF","sku":"840237308933","requires_shipping":true,"taxable":true,"featured_image":{"id":30567814201549,"product_id":6759177715917,"position":1,"created_at":"2022-08-16T13:16:23-04:00","updated_at":"2022-08-16T13:24:17-04:00","alt":"0","width":2960,"height":3700,"src":"\/\/oncept.nyc\/cdn\/shop\/products\/SEOUL-SIDE-OAK-min.jpg?v=1660670657","variant_ids":[40324562157773,40324562256077,40324562288845,40324562321613,40324562354381,40324562387149,40324562419917,40324562452685,40324562485453]},"available":true,"name":"SEOUL - OAK - CITRUS ORANGE \/ 7 \/ ELITE CALF","public_title":"OAK - CITRUS ORANGE \/ 7 \/ ELITE CALF","options":["OAK - CITRUS ORANGE","7","ELITE CALF"],"price":27500,"weight":0,"compare_at_price":null,"inventory_management":"shopify","barcode":"840237308933","featured_media":{"alt":"0","id":22848274759885,"position":1,"preview_image":{"aspect_ratio":0.8,"height":3700,"width":2960,"src":"\/\/oncept.nyc\/cdn\/shop\/products\/SEOUL-SIDE-OAK-min.jpg?v=1660670657"}},"requires_selling_plan":false,"selling_plan_allocations":[]},{"id":40324562321613,"title":"OAK - CITRUS ORANGE \/ 7.5 \/ ELITE CALF","option1":"OAK - CITRUS ORANGE","option2":"7.5","option3":"ELITE CALF","sku":"840237308940","requires_shipping":true,"taxable":true,"featured_image":{"id":30567814201549,"product_id":6759177715917,"position":1,"created_at":"2022-08-16T13:16:23-04:00","updated_at":"2022-08-16T13:24:17-04:00","alt":"0","width":2960,"height":3700,"src":"\/\/oncept.nyc\/cdn\/shop\/products\/SEOUL-SIDE-OAK-min.jpg?v=1660670657","variant_ids":[40324562157773,40324562256077,40324562288845,40324562321613,40324562354381,40324562387149,40324562419917,40324562452685,40324562485453]},"available":true,"name":"SEOUL - OAK - CITRUS ORANGE \/ 7.5 \/ ELITE CALF","public_title":"OAK - CITRUS ORANGE \/ 7.5 \/ ELITE CALF","options":["OAK - CITRUS ORANGE","7.5","ELITE CALF"],"price":27500,"weight":0,"compare_at_price":null,"inventory_management":"shopify","barcode":"840237308940","featured_media":{"alt":"0","id":22848274759885,"position":1,"preview_image":{"aspect_ratio":0.8,"height":3700,"width":2960,"src":"\/\/oncept.nyc\/cdn\/shop\/products\/SEOUL-SIDE-OAK-min.jpg?v=1660670657"}},"requires_selling_plan":false,"selling_plan_allocations":[]},{"id":40324562354381,"title":"OAK - CITRUS ORANGE \/ 8 \/ ELITE CALF","option1":"OAK - CITRUS ORANGE","option2":"8","option3":"ELITE CALF","sku":"840237308957","requires_shipping":true,"taxable":true,"featured_image":{"id":30567814201549,"product_id":6759177715917,"position":1,"created_at":"2022-08-16T13:16:23-04:00","updated_at":"2022-08-16T13:24:17-04:00","alt":"0","width":2960,"height":3700,"src":"\/\/oncept.nyc\/cdn\/shop\/products\/SEOUL-SIDE-OAK-min.jpg?v=1660670657","variant_ids":[40324562157773,40324562256077,40324562288845,40324562321613,40324562354381,40324562387149,40324562419917,40324562452685,40324562485453]},"available":true,"name":"SEOUL - OAK - CITRUS ORANGE \/ 8 \/ ELITE CALF","public_title":"OAK - CITRUS ORANGE \/ 8 \/ ELITE CALF","options":["OAK - CITRUS ORANGE","8","ELITE CALF"],"price":27500,"weight":0,"compare_at_price":null,"inventory_management":"shopify","barcode":"840237308957","featured_media":{"alt":"0","id":22848274759885,"position":1,"preview_image":{"aspect_ratio":0.8,"height":3700,"width":2960,"src":"\/\/oncept.nyc\/cdn\/shop\/products\/SEOUL-SIDE-OAK-min.jpg?v=1660670657"}},"requires_selling_plan":false,"selling_plan_allocations":[]},{"id":40324562387149,"title":"OAK - CITRUS ORANGE \/ 8.5 \/ ELITE CALF","option1":"OAK - CITRUS ORANGE","option2":"8.5","option3":"ELITE CALF","sku":"840237308964","requires_shipping":true,"taxable":true,"featured_image":{"id":30567814201549,"product_id":6759177715917,"position":1,"created_at":"2022-08-16T13:16:23-04:00","updated_at":"2022-08-16T13:24:17-04:00","alt":"0","width":2960,"height":3700,"src":"\/\/oncept.nyc\/cdn\/shop\/products\/SEOUL-SIDE-OAK-min.jpg?v=1660670657","variant_ids":[40324562157773,40324562256077,40324562288845,40324562321613,40324562354381,40324562387149,40324562419917,40324562452685,40324562485453]},"available":true,"name":"SEOUL - OAK - CITRUS ORANGE \/ 8.5 \/ ELITE CALF","public_title":"OAK - CITRUS ORANGE \/ 8.5 \/ ELITE CALF","options":["OAK - CITRUS ORANGE","8.5","ELITE CALF"],"price":27500,"weight":0,"compare_at_price":null,"inventory_management":"shopify","barcode":"840237308964","featured_media":{"alt":"0","id":22848274759885,"position":1,"preview_image":{"aspect_ratio":0.8,"height":3700,"width":2960,"src":"\/\/oncept.nyc\/cdn\/shop\/products\/SEOUL-SIDE-OAK-min.jpg?v=1660670657"}},"requires_selling_plan":false,"selling_plan_allocations":[]},{"id":40324562419917,"title":"OAK - CITRUS ORANGE \/ 9 \/ ELITE CALF","option1":"OAK - CITRUS ORANGE","option2":"9","option3":"ELITE CALF","sku":"840237308971","requires_shipping":true,"taxable":true,"featured_image":{"id":30567814201549,"product_id":6759177715917,"position":1,"created_at":"2022-08-16T13:16:23-04:00","updated_at":"2022-08-16T13:24:17-04:00","alt":"0","width":2960,"height":3700,"src":"\/\/oncept.nyc\/cdn\/shop\/products\/SEOUL-SIDE-OAK-min.jpg?v=1660670657","variant_ids":[40324562157773,40324562256077,40324562288845,40324562321613,40324562354381,40324562387149,40324562419917,40324562452685,40324562485453]},"available":true,"name":"SEOUL - OAK - CITRUS ORANGE \/ 9 \/ ELITE CALF","public_title":"OAK - CITRUS ORANGE \/ 9 \/ ELITE CALF","options":["OAK - CITRUS ORANGE","9","ELITE CALF"],"price":27500,"weight":0,"compare_at_price":null,"inventory_management":"shopify","barcode":"840237308971","featured_media":{"alt":"0","id":22848274759885,"position":1,"preview_image":{"aspect_ratio":0.8,"height":3700,"width":2960,"src":"\/\/oncept.nyc\/cdn\/shop\/products\/SEOUL-SIDE-OAK-min.jpg?v=1660670657"}},"requires_selling_plan":false,"selling_plan_allocations":[]},{"id":40324562452685,"title":"OAK - CITRUS ORANGE \/ 9.5 \/ ELITE CALF","option1":"OAK - CITRUS ORANGE","option2":"9.5","option3":"ELITE CALF","sku":"840237308988","requires_shipping":true,"taxable":true,"featured_image":{"id":30567814201549,"product_id":6759177715917,"position":1,"created_at":"2022-08-16T13:16:23-04:00","updated_at":"2022-08-16T13:24:17-04:00","alt":"0","width":2960,"height":3700,"src":"\/\/oncept.nyc\/cdn\/shop\/products\/SEOUL-SIDE-OAK-min.jpg?v=1660670657","variant_ids":[40324562157773,40324562256077,40324562288845,40324562321613,40324562354381,40324562387149,40324562419917,40324562452685,40324562485453]},"available":true,"name":"SEOUL - OAK - CITRUS ORANGE \/ 9.5 \/ ELITE CALF","public_title":"OAK - CITRUS ORANGE \/ 9.5 \/ ELITE CALF","options":["OAK - CITRUS ORANGE","9.5","ELITE CALF"],"price":27500,"weight":0,"compare_at_price":null,"inventory_management":"shopify","barcode":"840237308988","featured_media":{"alt":"0","id":22848274759885,"position":1,"preview_image":{"aspect_ratio":0.8,"height":3700,"width":2960,"src":"\/\/oncept.nyc\/cdn\/shop\/products\/SEOUL-SIDE-OAK-min.jpg?v=1660670657"}},"requires_selling_plan":false,"selling_plan_allocations":[]},{"id":40324562485453,"title":"OAK - CITRUS ORANGE \/ 10 \/ ELITE CALF","option1":"OAK - CITRUS ORANGE","option2":"10","option3":"ELITE CALF","sku":"840237308995","requires_shipping":true,"taxable":true,"featured_image":{"id":30567814201549,"product_id":6759177715917,"position":1,"created_at":"2022-08-16T13:16:23-04:00","updated_at":"2022-08-16T13:24:17-04:00","alt":"0","width":2960,"height":3700,"src":"\/\/oncept.nyc\/cdn\/shop\/products\/SEOUL-SIDE-OAK-min.jpg?v=1660670657","variant_ids":[40324562157773,40324562256077,40324562288845,40324562321613,40324562354381,40324562387149,40324562419917,40324562452685,40324562485453]},"available":true,"name":"SEOUL - OAK - CITRUS ORANGE \/ 10 \/ ELITE CALF","public_title":"OAK - CITRUS ORANGE \/ 10 \/ ELITE CALF","options":["OAK - CITRUS ORANGE","10","ELITE CALF"],"price":27500,"weight":0,"compare_at_price":null,"inventory_management":"shopify","barcode":"840237308995","featured_media":{"alt":"0","id":22848274759885,"position":1,"preview_image":{"aspect_ratio":0.8,"height":3700,"width":2960,"src":"\/\/oncept.nyc\/cdn\/shop\/products\/SEOUL-SIDE-OAK-min.jpg?v=1660670657"}},"requires_selling_plan":false,"selling_plan_allocations":[]},{"id":40324560126157,"title":"BIRCH \/ 6 \/ ELITE CALF","option1":"BIRCH","option2":"6","option3":"ELITE CALF","sku":"840237309008","requires_shipping":true,"taxable":true,"featured_image":{"id":30567840219341,"product_id":6759177715917,"position":13,"created_at":"2022-08-16T13:20:13-04:00","updated_at":"2023-09-11T10:50:38-04:00","alt":"2","width":2960,"height":3700,"src":"\/\/oncept.nyc\/cdn\/shop\/products\/SEOUL-SIDE-BIRCH-min.jpg?v=1694443838","variant_ids":[40324560126157,40324560158925,40324560355533,40324560388301,40324560421069,40324560453837,40324560486605,40324560519373,40324560552141]},"available":true,"name":"SEOUL - BIRCH \/ 6 \/ ELITE CALF","public_title":"BIRCH \/ 6 \/ ELITE CALF","options":["BIRCH","6","ELITE CALF"],"price":27500,"weight":0,"compare_at_price":null,"inventory_management":"shopify","barcode":"840237309008","featured_media":{"alt":"2","id":22848300515533,"position":13,"preview_image":{"aspect_ratio":0.8,"height":3700,"width":2960,"src":"\/\/oncept.nyc\/cdn\/shop\/products\/SEOUL-SIDE-BIRCH-min.jpg?v=1694443838"}},"requires_selling_plan":false,"selling_plan_allocations":[]},{"id":40324560158925,"title":"BIRCH \/ 6.5 \/ ELITE CALF","option1":"BIRCH","option2":"6.5","option3":"ELITE CALF","sku":"840237309015","requires_shipping":true,"taxable":true,"featured_image":{"id":30567840219341,"product_id":6759177715917,"position":13,"created_at":"2022-08-16T13:20:13-04:00","updated_at":"2023-09-11T10:50:38-04:00","alt":"2","width":2960,"height":3700,"src":"\/\/oncept.nyc\/cdn\/shop\/products\/SEOUL-SIDE-BIRCH-min.jpg?v=1694443838","variant_ids":[40324560126157,40324560158925,40324560355533,40324560388301,40324560421069,40324560453837,40324560486605,40324560519373,40324560552141]},"available":false,"name":"SEOUL - BIRCH \/ 6.5 \/ ELITE CALF","public_title":"BIRCH \/ 6.5 \/ ELITE CALF","options":["BIRCH","6.5","ELITE CALF"],"price":27500,"weight":0,"compare_at_price":null,"inventory_management":"shopify","barcode":"840237309015","featured_media":{"alt":"2","id":22848300515533,"position":13,"preview_image":{"aspect_ratio":0.8,"height":3700,"width":2960,"src":"\/\/oncept.nyc\/cdn\/shop\/products\/SEOUL-SIDE-BIRCH-min.jpg?v=1694443838"}},"requires_selling_plan":false,"selling_plan_allocations":[]},{"id":40324560355533,"title":"BIRCH \/ 7 \/ ELITE CALF","option1":"BIRCH","option2":"7","option3":"ELITE CALF","sku":"840237309022","requires_shipping":true,"taxable":true,"featured_image":{"id":30567840219341,"product_id":6759177715917,"position":13,"created_at":"2022-08-16T13:20:13-04:00","updated_at":"2023-09-11T10:50:38-04:00","alt":"2","width":2960,"height":3700,"src":"\/\/oncept.nyc\/cdn\/shop\/products\/SEOUL-SIDE-BIRCH-min.jpg?v=1694443838","variant_ids":[40324560126157,40324560158925,40324560355533,40324560388301,40324560421069,40324560453837,40324560486605,40324560519373,40324560552141]},"available":false,"name":"SEOUL - BIRCH \/ 7 \/ ELITE CALF","public_title":"BIRCH \/ 7 \/ ELITE CALF","options":["BIRCH","7","ELITE CALF"],"price":27500,"weight":0,"compare_at_price":null,"inventory_management":"shopify","barcode":"840237309022","featured_media":{"alt":"2","id":22848300515533,"position":13,"preview_image":{"aspect_ratio":0.8,"height":3700,"width":2960,"src":"\/\/oncept.nyc\/cdn\/shop\/products\/SEOUL-SIDE-BIRCH-min.jpg?v=1694443838"}},"requires_selling_plan":false,"selling_plan_allocations":[]},{"id":40324560388301,"title":"BIRCH \/ 7.5 \/ ELITE CALF","option1":"BIRCH","option2":"7.5","option3":"ELITE CALF","sku":"840237309039","requires_shipping":true,"taxable":true,"featured_image":{"id":30567840219341,"product_id":6759177715917,"position":13,"created_at":"2022-08-16T13:20:13-04:00","updated_at":"2023-09-11T10:50:38-04:00","alt":"2","width":2960,"height":3700,"src":"\/\/oncept.nyc\/cdn\/shop\/products\/SEOUL-SIDE-BIRCH-min.jpg?v=1694443838","variant_ids":[40324560126157,40324560158925,40324560355533,40324560388301,40324560421069,40324560453837,40324560486605,40324560519373,40324560552141]},"available":false,"name":"SEOUL - BIRCH \/ 7.5 \/ ELITE CALF","public_title":"BIRCH \/ 7.5 \/ ELITE CALF","options":["BIRCH","7.5","ELITE CALF"],"price":27500,"weight":0,"compare_at_price":null,"inventory_management":"shopify","barcode":"840237309039","featured_media":{"alt":"2","id":22848300515533,"position":13,"preview_image":{"aspect_ratio":0.8,"height":3700,"width":2960,"src":"\/\/oncept.nyc\/cdn\/shop\/products\/SEOUL-SIDE-BIRCH-min.jpg?v=1694443838"}},"requires_selling_plan":false,"selling_plan_allocations":[]},{"id":40324560421069,"title":"BIRCH \/ 8 \/ ELITE CALF","option1":"BIRCH","option2":"8","option3":"ELITE CALF","sku":"840237309046","requires_shipping":true,"taxable":true,"featured_image":{"id":30567840219341,"product_id":6759177715917,"position":13,"created_at":"2022-08-16T13:20:13-04:00","updated_at":"2023-09-11T10:50:38-04:00","alt":"2","width":2960,"height":3700,"src":"\/\/oncept.nyc\/cdn\/shop\/products\/SEOUL-SIDE-BIRCH-min.jpg?v=1694443838","variant_ids":[40324560126157,40324560158925,40324560355533,40324560388301,40324560421069,40324560453837,40324560486605,40324560519373,40324560552141]},"available":false,"name":"SEOUL - BIRCH \/ 8 \/ ELITE CALF","public_title":"BIRCH \/ 8 \/ ELITE CALF","options":["BIRCH","8","ELITE CALF"],"price":27500,"weight":0,"compare_at_price":null,"inventory_management":"shopify","barcode":"840237309046","featured_media":{"alt":"2","id":22848300515533,"position":13,"preview_image":{"aspect_ratio":0.8,"height":3700,"width":2960,"src":"\/\/oncept.nyc\/cdn\/shop\/products\/SEOUL-SIDE-BIRCH-min.jpg?v=1694443838"}},"requires_selling_plan":false,"selling_plan_allocations":[]},{"id":40324560453837,"title":"BIRCH \/ 8.5 \/ ELITE CALF","option1":"BIRCH","option2":"8.5","option3":"ELITE CALF","sku":"840237309053","requires_shipping":true,"taxable":true,"featured_image":{"id":30567840219341,"product_id":6759177715917,"position":13,"created_at":"2022-08-16T13:20:13-04:00","updated_at":"2023-09-11T10:50:38-04:00","alt":"2","width":2960,"height":3700,"src":"\/\/oncept.nyc\/cdn\/shop\/products\/SEOUL-SIDE-BIRCH-min.jpg?v=1694443838","variant_ids":[40324560126157,40324560158925,40324560355533,40324560388301,40324560421069,40324560453837,40324560486605,40324560519373,40324560552141]},"available":true,"name":"SEOUL - BIRCH \/ 8.5 \/ ELITE CALF","public_title":"BIRCH \/ 8.5 \/ ELITE CALF","options":["BIRCH","8.5","ELITE CALF"],"price":27500,"weight":0,"compare_at_price":null,"inventory_management":"shopify","barcode":"840237309053","featured_media":{"alt":"2","id":22848300515533,"position":13,"preview_image":{"aspect_ratio":0.8,"height":3700,"width":2960,"src":"\/\/oncept.nyc\/cdn\/shop\/products\/SEOUL-SIDE-BIRCH-min.jpg?v=1694443838"}},"requires_selling_plan":false,"selling_plan_allocations":[]},{"id":40324560486605,"title":"BIRCH \/ 9 \/ ELITE CALF","option1":"BIRCH","option2":"9","option3":"ELITE CALF","sku":"840237309060","requires_shipping":true,"taxable":true,"featured_image":{"id":30567840219341,"product_id":6759177715917,"position":13,"created_at":"2022-08-16T13:20:13-04:00","updated_at":"2023-09-11T10:50:38-04:00","alt":"2","width":2960,"height":3700,"src":"\/\/oncept.nyc\/cdn\/shop\/products\/SEOUL-SIDE-BIRCH-min.jpg?v=1694443838","variant_ids":[40324560126157,40324560158925,40324560355533,40324560388301,40324560421069,40324560453837,40324560486605,40324560519373,40324560552141]},"available":true,"name":"SEOUL - BIRCH \/ 9 \/ ELITE CALF","public_title":"BIRCH \/ 9 \/ ELITE CALF","options":["BIRCH","9","ELITE CALF"],"price":27500,"weight":0,"compare_at_price":null,"inventory_management":"shopify","barcode":"840237309060","featured_media":{"alt":"2","id":22848300515533,"position":13,"preview_image":{"aspect_ratio":0.8,"height":3700,"width":2960,"src":"\/\/oncept.nyc\/cdn\/shop\/products\/SEOUL-SIDE-BIRCH-min.jpg?v=1694443838"}},"requires_selling_plan":false,"selling_plan_allocations":[]},{"id":40324560519373,"title":"BIRCH \/ 9.5 \/ ELITE CALF","option1":"BIRCH","option2":"9.5","option3":"ELITE CALF","sku":"840237309077","requires_shipping":true,"taxable":true,"featured_image":{"id":30567840219341,"product_id":6759177715917,"position":13,"created_at":"2022-08-16T13:20:13-04:00","updated_at":"2023-09-11T10:50:38-04:00","alt":"2","width":2960,"height":3700,"src":"\/\/oncept.nyc\/cdn\/shop\/products\/SEOUL-SIDE-BIRCH-min.jpg?v=1694443838","variant_ids":[40324560126157,40324560158925,40324560355533,40324560388301,40324560421069,40324560453837,40324560486605,40324560519373,40324560552141]},"available":true,"name":"SEOUL - BIRCH \/ 9.5 \/ ELITE CALF","public_title":"BIRCH \/ 9.5 \/ ELITE CALF","options":["BIRCH","9.5","ELITE CALF"],"price":27500,"weight":0,"compare_at_price":null,"inventory_management":"shopify","barcode":"840237309077","featured_media":{"alt":"2","id":22848300515533,"position":13,"preview_image":{"aspect_ratio":0.8,"height":3700,"width":2960,"src":"\/\/oncept.nyc\/cdn\/shop\/products\/SEOUL-SIDE-BIRCH-min.jpg?v=1694443838"}},"requires_selling_plan":false,"selling_plan_allocations":[]},{"id":40324560552141,"title":"BIRCH \/ 10 \/ ELITE CALF","option1":"BIRCH","option2":"10","option3":"ELITE CALF","sku":"840237309084","requires_shipping":true,"taxable":true,"featured_image":{"id":30567840219341,"product_id":6759177715917,"position":13,"created_at":"2022-08-16T13:20:13-04:00","updated_at":"2023-09-11T10:50:38-04:00","alt":"2","width":2960,"height":3700,"src":"\/\/oncept.nyc\/cdn\/shop\/products\/SEOUL-SIDE-BIRCH-min.jpg?v=1694443838","variant_ids":[40324560126157,40324560158925,40324560355533,40324560388301,40324560421069,40324560453837,40324560486605,40324560519373,40324560552141]},"available":true,"name":"SEOUL - BIRCH \/ 10 \/ ELITE CALF","public_title":"BIRCH \/ 10 \/ ELITE CALF","options":["BIRCH","10","ELITE CALF"],"price":27500,"weight":0,"compare_at_price":null,"inventory_management":"shopify","barcode":"840237309084","featured_media":{"alt":"2","id":22848300515533,"position":13,"preview_image":{"aspect_ratio":0.8,"height":3700,"width":2960,"src":"\/\/oncept.nyc\/cdn\/shop\/products\/SEOUL-SIDE-BIRCH-min.jpg?v=1694443838"}},"requires_selling_plan":false,"selling_plan_allocations":[]},{"id":40324555669709,"title":"BLACK - CITRUS ORANGE \/ 6 \/ ELITE CALF","option1":"BLACK - CITRUS ORANGE","option2":"6","option3":"ELITE CALF","sku":"840237309091","requires_shipping":true,"taxable":true,"featured_image":{"id":30567847854285,"product_id":6759177715917,"position":7,"created_at":"2022-08-16T13:21:33-04:00","updated_at":"2023-09-11T10:50:38-04:00","alt":"1","width":2960,"height":3700,"src":"\/\/oncept.nyc\/cdn\/shop\/products\/SEOUL-SIDE-BLACKCITRUS-min.jpg?v=1694443838","variant_ids":[40324555669709,40324555735245,40324555800781,40324555866317,40324555931853,40324555997389,40324556062925,40324556128461,40324556193997]},"available":true,"name":"SEOUL - BLACK - CITRUS ORANGE \/ 6 \/ ELITE CALF","public_title":"BLACK - CITRUS ORANGE \/ 6 \/ ELITE CALF","options":["BLACK - CITRUS ORANGE","6","ELITE CALF"],"price":27500,"weight":0,"compare_at_price":null,"inventory_management":"shopify","barcode":"840237309091","featured_media":{"alt":"1","id":22848308543693,"position":7,"preview_image":{"aspect_ratio":0.8,"height":3700,"width":2960,"src":"\/\/oncept.nyc\/cdn\/shop\/products\/SEOUL-SIDE-BLACKCITRUS-min.jpg?v=1694443838"}},"requires_selling_plan":false,"selling_plan_allocations":[]},{"id":40324555735245,"title":"BLACK - CITRUS ORANGE \/ 6.5 \/ ELITE CALF","option1":"BLACK - CITRUS ORANGE","option2":"6.5","option3":"ELITE CALF","sku":"840237309107","requires_shipping":true,"taxable":true,"featured_image":{"id":30567847854285,"product_id":6759177715917,"position":7,"created_at":"2022-08-16T13:21:33-04:00","updated_at":"2023-09-11T10:50:38-04:00","alt":"1","width":2960,"height":3700,"src":"\/\/oncept.nyc\/cdn\/shop\/products\/SEOUL-SIDE-BLACKCITRUS-min.jpg?v=1694443838","variant_ids":[40324555669709,40324555735245,40324555800781,40324555866317,40324555931853,40324555997389,40324556062925,40324556128461,40324556193997]},"available":true,"name":"SEOUL - BLACK - CITRUS ORANGE \/ 6.5 \/ ELITE CALF","public_title":"BLACK - CITRUS ORANGE \/ 6.5 \/ ELITE CALF","options":["BLACK - CITRUS ORANGE","6.5","ELITE CALF"],"price":27500,"weight":0,"compare_at_price":null,"inventory_management":"shopify","barcode":"840237309107","featured_media":{"alt":"1","id":22848308543693,"position":7,"preview_image":{"aspect_ratio":0.8,"height":3700,"width":2960,"src":"\/\/oncept.nyc\/cdn\/shop\/products\/SEOUL-SIDE-BLACKCITRUS-min.jpg?v=1694443838"}},"requires_selling_plan":false,"selling_plan_allocations":[]},{"id":40324555800781,"title":"BLACK - CITRUS ORANGE \/ 7 \/ ELITE CALF","option1":"BLACK - CITRUS ORANGE","option2":"7","option3":"ELITE CALF","sku":"840237309114","requires_shipping":true,"taxable":true,"featured_image":{"id":30567847854285,"product_id":6759177715917,"position":7,"created_at":"2022-08-16T13:21:33-04:00","updated_at":"2023-09-11T10:50:38-04:00","alt":"1","width":2960,"height":3700,"src":"\/\/oncept.nyc\/cdn\/shop\/products\/SEOUL-SIDE-BLACKCITRUS-min.jpg?v=1694443838","variant_ids":[40324555669709,40324555735245,40324555800781,40324555866317,40324555931853,40324555997389,40324556062925,40324556128461,40324556193997]},"available":true,"name":"SEOUL - BLACK - CITRUS ORANGE \/ 7 \/ ELITE CALF","public_title":"BLACK - CITRUS ORANGE \/ 7 \/ ELITE CALF","options":["BLACK - CITRUS ORANGE","7","ELITE CALF"],"price":27500,"weight":0,"compare_at_price":null,"inventory_management":"shopify","barcode":"840237309114","featured_media":{"alt":"1","id":22848308543693,"position":7,"preview_image":{"aspect_ratio":0.8,"height":3700,"width":2960,"src":"\/\/oncept.nyc\/cdn\/shop\/products\/SEOUL-SIDE-BLACKCITRUS-min.jpg?v=1694443838"}},"requires_selling_plan":false,"selling_plan_allocations":[]},{"id":40324555866317,"title":"BLACK - CITRUS ORANGE \/ 7.5 \/ ELITE CALF","option1":"BLACK - CITRUS ORANGE","option2":"7.5","option3":"ELITE CALF","sku":"840237309121","requires_shipping":true,"taxable":true,"featured_image":{"id":30567847854285,"product_id":6759177715917,"position":7,"created_at":"2022-08-16T13:21:33-04:00","updated_at":"2023-09-11T10:50:38-04:00","alt":"1","width":2960,"height":3700,"src":"\/\/oncept.nyc\/cdn\/shop\/products\/SEOUL-SIDE-BLACKCITRUS-min.jpg?v=1694443838","variant_ids":[40324555669709,40324555735245,40324555800781,40324555866317,40324555931853,40324555997389,40324556062925,40324556128461,40324556193997]},"available":true,"name":"SEOUL - BLACK - CITRUS ORANGE \/ 7.5 \/ ELITE CALF","public_title":"BLACK - CITRUS ORANGE \/ 7.5 \/ ELITE CALF","options":["BLACK - CITRUS ORANGE","7.5","ELITE CALF"],"price":27500,"weight":0,"compare_at_price":null,"inventory_management":"shopify","barcode":"840237309121","featured_media":{"alt":"1","id":22848308543693,"position":7,"preview_image":{"aspect_ratio":0.8,"height":3700,"width":2960,"src":"\/\/oncept.nyc\/cdn\/shop\/products\/SEOUL-SIDE-BLACKCITRUS-min.jpg?v=1694443838"}},"requires_selling_plan":false,"selling_plan_allocations":[]},{"id":40324555931853,"title":"BLACK - CITRUS ORANGE \/ 8 \/ ELITE CALF","option1":"BLACK - CITRUS ORANGE","option2":"8","option3":"ELITE CALF","sku":"840237309138","requires_shipping":true,"taxable":true,"featured_image":{"id":30567847854285,"product_id":6759177715917,"position":7,"created_at":"2022-08-16T13:21:33-04:00","updated_at":"2023-09-11T10:50:38-04:00","alt":"1","width":2960,"height":3700,"src":"\/\/oncept.nyc\/cdn\/shop\/products\/SEOUL-SIDE-BLACKCITRUS-min.jpg?v=1694443838","variant_ids":[40324555669709,40324555735245,40324555800781,40324555866317,40324555931853,40324555997389,40324556062925,40324556128461,40324556193997]},"available":true,"name":"SEOUL - BLACK - CITRUS ORANGE \/ 8 \/ ELITE CALF","public_title":"BLACK - CITRUS ORANGE \/ 8 \/ ELITE CALF","options":["BLACK - CITRUS ORANGE","8","ELITE CALF"],"price":27500,"weight":0,"compare_at_price":null,"inventory_management":"shopify","barcode":"840237309138","featured_media":{"alt":"1","id":22848308543693,"position":7,"preview_image":{"aspect_ratio":0.8,"height":3700,"width":2960,"src":"\/\/oncept.nyc\/cdn\/shop\/products\/SEOUL-SIDE-BLACKCITRUS-min.jpg?v=1694443838"}},"requires_selling_plan":false,"selling_plan_allocations":[]},{"id":40324555997389,"title":"BLACK - CITRUS ORANGE \/ 8.5 \/ ELITE CALF","option1":"BLACK - CITRUS ORANGE","option2":"8.5","option3":"ELITE CALF","sku":"840237309145","requires_shipping":true,"taxable":true,"featured_image":{"id":30567847854285,"product_id":6759177715917,"position":7,"created_at":"2022-08-16T13:21:33-04:00","updated_at":"2023-09-11T10:50:38-04:00","alt":"1","width":2960,"height":3700,"src":"\/\/oncept.nyc\/cdn\/shop\/products\/SEOUL-SIDE-BLACKCITRUS-min.jpg?v=1694443838","variant_ids":[40324555669709,40324555735245,40324555800781,40324555866317,40324555931853,40324555997389,40324556062925,40324556128461,40324556193997]},"available":true,"name":"SEOUL - BLACK - CITRUS ORANGE \/ 8.5 \/ ELITE CALF","public_title":"BLACK - CITRUS ORANGE \/ 8.5 \/ ELITE CALF","options":["BLACK - CITRUS ORANGE","8.5","ELITE CALF"],"price":27500,"weight":0,"compare_at_price":null,"inventory_management":"shopify","barcode":"840237309145","featured_media":{"alt":"1","id":22848308543693,"position":7,"preview_image":{"aspect_ratio":0.8,"height":3700,"width":2960,"src":"\/\/oncept.nyc\/cdn\/shop\/products\/SEOUL-SIDE-BLACKCITRUS-min.jpg?v=1694443838"}},"requires_selling_plan":false,"selling_plan_allocations":[]},{"id":40324556062925,"title":"BLACK - CITRUS ORANGE \/ 9 \/ ELITE CALF","option1":"BLACK - CITRUS ORANGE","option2":"9","option3":"ELITE CALF","sku":"840237309152","requires_shipping":true,"taxable":true,"featured_image":{"id":30567847854285,"product_id":6759177715917,"position":7,"created_at":"2022-08-16T13:21:33-04:00","updated_at":"2023-09-11T10:50:38-04:00","alt":"1","width":2960,"height":3700,"src":"\/\/oncept.nyc\/cdn\/shop\/products\/SEOUL-SIDE-BLACKCITRUS-min.jpg?v=1694443838","variant_ids":[40324555669709,40324555735245,40324555800781,40324555866317,40324555931853,40324555997389,40324556062925,40324556128461,40324556193997]},"available":true,"name":"SEOUL - BLACK - CITRUS ORANGE \/ 9 \/ ELITE CALF","public_title":"BLACK - CITRUS ORANGE \/ 9 \/ ELITE CALF","options":["BLACK - CITRUS ORANGE","9","ELITE CALF"],"price":27500,"weight":0,"compare_at_price":null,"inventory_management":"shopify","barcode":"840237309152","featured_media":{"alt":"1","id":22848308543693,"position":7,"preview_image":{"aspect_ratio":0.8,"height":3700,"width":2960,"src":"\/\/oncept.nyc\/cdn\/shop\/products\/SEOUL-SIDE-BLACKCITRUS-min.jpg?v=1694443838"}},"requires_selling_plan":false,"selling_plan_allocations":[]},{"id":40324556128461,"title":"BLACK - CITRUS ORANGE \/ 9.5 \/ ELITE CALF","option1":"BLACK - CITRUS ORANGE","option2":"9.5","option3":"ELITE CALF","sku":"840237309169","requires_shipping":true,"taxable":true,"featured_image":{"id":30567847854285,"product_id":6759177715917,"position":7,"created_at":"2022-08-16T13:21:33-04:00","updated_at":"2023-09-11T10:50:38-04:00","alt":"1","width":2960,"height":3700,"src":"\/\/oncept.nyc\/cdn\/shop\/products\/SEOUL-SIDE-BLACKCITRUS-min.jpg?v=1694443838","variant_ids":[40324555669709,40324555735245,40324555800781,40324555866317,40324555931853,40324555997389,40324556062925,40324556128461,40324556193997]},"available":true,"name":"SEOUL - BLACK - CITRUS ORANGE \/ 9.5 \/ ELITE CALF","public_title":"BLACK - CITRUS ORANGE \/ 9.5 \/ ELITE CALF","options":["BLACK - CITRUS ORANGE","9.5","ELITE CALF"],"price":27500,"weight":0,"compare_at_price":null,"inventory_management":"shopify","barcode":"840237309169","featured_media":{"alt":"1","id":22848308543693,"position":7,"preview_image":{"aspect_ratio":0.8,"height":3700,"width":2960,"src":"\/\/oncept.nyc\/cdn\/shop\/products\/SEOUL-SIDE-BLACKCITRUS-min.jpg?v=1694443838"}},"requires_selling_plan":false,"selling_plan_allocations":[]},{"id":40324556193997,"title":"BLACK - CITRUS ORANGE \/ 10 \/ ELITE CALF","option1":"BLACK - CITRUS ORANGE","option2":"10","option3":"ELITE CALF","sku":"840237309176","requires_shipping":true,"taxable":true,"featured_image":{"id":30567847854285,"product_id":6759177715917,"position":7,"created_at":"2022-08-16T13:21:33-04:00","updated_at":"2023-09-11T10:50:38-04:00","alt":"1","width":2960,"height":3700,"src":"\/\/oncept.nyc\/cdn\/shop\/products\/SEOUL-SIDE-BLACKCITRUS-min.jpg?v=1694443838","variant_ids":[40324555669709,40324555735245,40324555800781,40324555866317,40324555931853,40324555997389,40324556062925,40324556128461,40324556193997]},"available":true,"name":"SEOUL - BLACK - CITRUS ORANGE \/ 10 \/ ELITE CALF","public_title":"BLACK - CITRUS ORANGE \/ 10 \/ ELITE CALF","options":["BLACK - CITRUS ORANGE","10","ELITE CALF"],"price":27500,"weight":0,"compare_at_price":null,"inventory_management":"shopify","barcode":"840237309176","featured_media":{"alt":"1","id":22848308543693,"position":7,"preview_image":{"aspect_ratio":0.8,"height":3700,"width":2960,"src":"\/\/oncept.nyc\/cdn\/shop\/products\/SEOUL-SIDE-BLACKCITRUS-min.jpg?v=1694443838"}},"requires_selling_plan":false,"selling_plan_allocations":[]}],"images":["\/\/oncept.nyc\/cdn\/shop\/products\/SEOUL-SIDE-OAK-min.jpg?v=1660670657","\/\/oncept.nyc\/cdn\/shop\/products\/SEOUL-TOP-OAK-min.jpg?v=1660670684","\/\/oncept.nyc\/cdn\/shop\/products\/SEOUL-BACK-OAK-min.jpg?v=1660670684","\/\/oncept.nyc\/cdn\/shop\/products\/SEOUL-OUTSOLE-OAK-min.jpg?v=1660670684","\/\/oncept.nyc\/cdn\/shop\/products\/SEOUL-SOFTNESS-OAK-min.jpg?v=1660670689","\/\/oncept.nyc\/cdn\/shop\/products\/SEOUL-OAK-ONFOOT.jpg?v=1660670689","\/\/oncept.nyc\/cdn\/shop\/products\/SEOUL-SIDE-BLACKCITRUS-min.jpg?v=1694443838","\/\/oncept.nyc\/cdn\/shop\/products\/SEOUL-TOP-BLACKCITRUS-min.jpg?v=1694443838","\/\/oncept.nyc\/cdn\/shop\/products\/SEOUL-BACK-BLACKCITRUS-min.jpg?v=1694443838","\/\/oncept.nyc\/cdn\/shop\/products\/SEOUL-OUTSOLE-BLACKCITRUS-min.jpg?v=1694443838","\/\/oncept.nyc\/cdn\/shop\/products\/SEOUL-SOFTNESS-BLACKCITRUS-min.jpg?v=1694443838","\/\/oncept.nyc\/cdn\/shop\/products\/SEOUL_ORANGE_ONFOOT_3928281f-7afa-44db-a9cb-e84b1b185531.jpg?v=1694443838","\/\/oncept.nyc\/cdn\/shop\/products\/SEOUL-SIDE-BIRCH-min.jpg?v=1694443838","\/\/oncept.nyc\/cdn\/shop\/products\/SEOUL-TOP-BIRCH-min.jpg?v=1694443838","\/\/oncept.nyc\/cdn\/shop\/products\/SEOUL-BACK-BIRCH-min.jpg?v=1694443838","\/\/oncept.nyc\/cdn\/shop\/products\/SEOUL-OUTSOLE-BIRCH-min.jpg?v=1694443838","\/\/oncept.nyc\/cdn\/shop\/products\/SEOUL-SOFT-BIRCH-min.jpg?v=1694443838","\/\/oncept.nyc\/cdn\/shop\/products\/SEOUL-ONFOOT-BIRCH-min.jpg?v=1694443838"],"featured_image":"\/\/oncept.nyc\/cdn\/shop\/products\/SEOUL-SIDE-OAK-min.jpg?v=1660670657","options":["Color","Size","Material"],"media":[{"alt":"0","id":22848274759885,"position":1,"preview_image":{"aspect_ratio":0.8,"height":3700,"width":2960,"src":"\/\/oncept.nyc\/cdn\/shop\/products\/SEOUL-SIDE-OAK-min.jpg?v=1660670657"},"aspect_ratio":0.8,"height":3700,"media_type":"image","src":"\/\/oncept.nyc\/cdn\/shop\/products\/SEOUL-SIDE-OAK-min.jpg?v=1660670657","width":2960},{"alt":"0","id":22848274825421,"position":2,"preview_image":{"aspect_ratio":0.8,"height":3700,"width":2960,"src":"\/\/oncept.nyc\/cdn\/shop\/products\/SEOUL-TOP-OAK-min.jpg?v=1660670684"},"aspect_ratio":0.8,"height":3700,"media_type":"image","src":"\/\/oncept.nyc\/cdn\/shop\/products\/SEOUL-TOP-OAK-min.jpg?v=1660670684","width":2960},{"alt":"0","id":22848274694349,"position":3,"preview_image":{"aspect_ratio":0.8,"height":3700,"width":2960,"src":"\/\/oncept.nyc\/cdn\/shop\/products\/SEOUL-BACK-OAK-min.jpg?v=1660670684"},"aspect_ratio":0.8,"height":3700,"media_type":"image","src":"\/\/oncept.nyc\/cdn\/shop\/products\/SEOUL-BACK-OAK-min.jpg?v=1660670684","width":2960},{"alt":"0","id":22848274727117,"position":4,"preview_image":{"aspect_ratio":0.8,"height":3700,"width":2960,"src":"\/\/oncept.nyc\/cdn\/shop\/products\/SEOUL-OUTSOLE-OAK-min.jpg?v=1660670684"},"aspect_ratio":0.8,"height":3700,"media_type":"image","src":"\/\/oncept.nyc\/cdn\/shop\/products\/SEOUL-OUTSOLE-OAK-min.jpg?v=1660670684","width":2960},{"alt":"0","id":22848274792653,"position":5,"preview_image":{"aspect_ratio":0.8,"height":3700,"width":2960,"src":"\/\/oncept.nyc\/cdn\/shop\/products\/SEOUL-SOFTNESS-OAK-min.jpg?v=1660670689"},"aspect_ratio":0.8,"height":3700,"media_type":"image","src":"\/\/oncept.nyc\/cdn\/shop\/products\/SEOUL-SOFTNESS-OAK-min.jpg?v=1660670689","width":2960},{"alt":"0","id":22108504719565,"position":6,"preview_image":{"aspect_ratio":0.8,"height":925,"width":740,"src":"\/\/oncept.nyc\/cdn\/shop\/products\/SEOUL-OAK-ONFOOT.jpg?v=1660670689"},"aspect_ratio":0.8,"height":925,"media_type":"image","src":"\/\/oncept.nyc\/cdn\/shop\/products\/SEOUL-OAK-ONFOOT.jpg?v=1660670689","width":740},{"alt":"1","id":22848308543693,"position":7,"preview_image":{"aspect_ratio":0.8,"height":3700,"width":2960,"src":"\/\/oncept.nyc\/cdn\/shop\/products\/SEOUL-SIDE-BLACKCITRUS-min.jpg?v=1694443838"},"aspect_ratio":0.8,"height":3700,"media_type":"image","src":"\/\/oncept.nyc\/cdn\/shop\/products\/SEOUL-SIDE-BLACKCITRUS-min.jpg?v=1694443838","width":2960},{"alt":"1","id":22848308641997,"position":8,"preview_image":{"aspect_ratio":0.8,"height":3700,"width":2960,"src":"\/\/oncept.nyc\/cdn\/shop\/products\/SEOUL-TOP-BLACKCITRUS-min.jpg?v=1694443838"},"aspect_ratio":0.8,"height":3700,"media_type":"image","src":"\/\/oncept.nyc\/cdn\/shop\/products\/SEOUL-TOP-BLACKCITRUS-min.jpg?v=1694443838","width":2960},{"alt":"1","id":22848308478157,"position":9,"preview_image":{"aspect_ratio":0.8,"height":3700,"width":2960,"src":"\/\/oncept.nyc\/cdn\/shop\/products\/SEOUL-BACK-BLACKCITRUS-min.jpg?v=1694443838"},"aspect_ratio":0.8,"height":3700,"media_type":"image","src":"\/\/oncept.nyc\/cdn\/shop\/products\/SEOUL-BACK-BLACKCITRUS-min.jpg?v=1694443838","width":2960},{"alt":"1","id":22848308510925,"position":10,"preview_image":{"aspect_ratio":0.8,"height":3700,"width":2960,"src":"\/\/oncept.nyc\/cdn\/shop\/products\/SEOUL-OUTSOLE-BLACKCITRUS-min.jpg?v=1694443838"},"aspect_ratio":0.8,"height":3700,"media_type":"image","src":"\/\/oncept.nyc\/cdn\/shop\/products\/SEOUL-OUTSOLE-BLACKCITRUS-min.jpg?v=1694443838","width":2960},{"alt":"1","id":22848308609229,"position":11,"preview_image":{"aspect_ratio":0.8,"height":3700,"width":2960,"src":"\/\/oncept.nyc\/cdn\/shop\/products\/SEOUL-SOFTNESS-BLACKCITRUS-min.jpg?v=1694443838"},"aspect_ratio":0.8,"height":3700,"media_type":"image","src":"\/\/oncept.nyc\/cdn\/shop\/products\/SEOUL-SOFTNESS-BLACKCITRUS-min.jpg?v=1694443838","width":2960},{"alt":"1","id":22108495544525,"position":12,"preview_image":{"aspect_ratio":0.8,"height":2000,"width":1600,"src":"\/\/oncept.nyc\/cdn\/shop\/products\/SEOUL_ORANGE_ONFOOT_3928281f-7afa-44db-a9cb-e84b1b185531.jpg?v=1694443838"},"aspect_ratio":0.8,"height":2000,"media_type":"image","src":"\/\/oncept.nyc\/cdn\/shop\/products\/SEOUL_ORANGE_ONFOOT_3928281f-7afa-44db-a9cb-e84b1b185531.jpg?v=1694443838","width":1600},{"alt":"2","id":22848300515533,"position":13,"preview_image":{"aspect_ratio":0.8,"height":3700,"width":2960,"src":"\/\/oncept.nyc\/cdn\/shop\/products\/SEOUL-SIDE-BIRCH-min.jpg?v=1694443838"},"aspect_ratio":0.8,"height":3700,"media_type":"image","src":"\/\/oncept.nyc\/cdn\/shop\/products\/SEOUL-SIDE-BIRCH-min.jpg?v=1694443838","width":2960},{"alt":"2","id":22848300581069,"position":14,"preview_image":{"aspect_ratio":0.8,"height":3700,"width":2960,"src":"\/\/oncept.nyc\/cdn\/shop\/products\/SEOUL-TOP-BIRCH-min.jpg?v=1694443838"},"aspect_ratio":0.8,"height":3700,"media_type":"image","src":"\/\/oncept.nyc\/cdn\/shop\/products\/SEOUL-TOP-BIRCH-min.jpg?v=1694443838","width":2960},{"alt":"2","id":22848300417229,"position":15,"preview_image":{"aspect_ratio":0.8,"height":3700,"width":2960,"src":"\/\/oncept.nyc\/cdn\/shop\/products\/SEOUL-BACK-BIRCH-min.jpg?v=1694443838"},"aspect_ratio":0.8,"height":3700,"media_type":"image","src":"\/\/oncept.nyc\/cdn\/shop\/products\/SEOUL-BACK-BIRCH-min.jpg?v=1694443838","width":2960},{"alt":"2","id":22848300482765,"position":16,"preview_image":{"aspect_ratio":0.8,"height":3700,"width":2960,"src":"\/\/oncept.nyc\/cdn\/shop\/products\/SEOUL-OUTSOLE-BIRCH-min.jpg?v=1694443838"},"aspect_ratio":0.8,"height":3700,"media_type":"image","src":"\/\/oncept.nyc\/cdn\/shop\/products\/SEOUL-OUTSOLE-BIRCH-min.jpg?v=1694443838","width":2960},{"alt":"2","id":22848300548301,"position":17,"preview_image":{"aspect_ratio":0.8,"height":3700,"width":2960,"src":"\/\/oncept.nyc\/cdn\/shop\/products\/SEOUL-SOFT-BIRCH-min.jpg?v=1694443838"},"aspect_ratio":0.8,"height":3700,"media_type":"image","src":"\/\/oncept.nyc\/cdn\/shop\/products\/SEOUL-SOFT-BIRCH-min.jpg?v=1694443838","width":2960},{"alt":"2","id":22848300449997,"position":18,"preview_image":{"aspect_ratio":0.8,"height":3700,"width":2960,"src":"\/\/oncept.nyc\/cdn\/shop\/products\/SEOUL-ONFOOT-BIRCH-min.jpg?v=1694443838"},"aspect_ratio":0.8,"height":3700,"media_type":"image","src":"\/\/oncept.nyc\/cdn\/shop\/products\/SEOUL-ONFOOT-BIRCH-min.jpg?v=1694443838","width":2960}],"requires_selling_plan":false,"selling_plan_groups":[],"content":"\u003cmeta charset=\"utf-8\"\u003e\u003cspan data-mce-fragment=\"1\"\u003eThis lux style is our e\u003c\/span\u003e\u003cspan data-mce-fragment=\"1\"\u003elevated loafer for all seasons.  Lightweight and designed with signature technical features make the SEOUL a must have style this year.  Made with pop color re-speckled EVA flex bottoms and hand stitched detailing.  Water resistant re-rubber mud guard detail offers protection from the elements while highlighting the latest trend.  Get elevated\u003c\/span\u003e\u003cspan data-mce-fragment=\"1\"\u003e in style and height in the SEOUL.\u003c\/span\u003e"} { "options": [ { "title": "Color", "values": [ { "value": "OAK - CITRUS ORANGE", "url": "/products/seoul-2?variant=40324562157773" }, { "value": "BIRCH", "url": "/products/seoul-2?variant=40324560126157" }, { "value": "BLACK - CITRUS ORANGE", "url": "/products/seoul-2?variant=40324555669709" } ] }, { "title": "Size", "values": [ { "value": "6", "url": "/products/seoul-2?variant=40324562157773" }, { "value": "6.5", "url": "/products/seoul-2?variant=40324562256077" }, { "value": "7", "url": "/products/seoul-2?variant=40324562288845" }, { "value": "7.5", "url": "/products/seoul-2?variant=40324562321613" }, { "value": "8", "url": "/products/seoul-2?variant=40324562354381" }, { "value": "8.5", "url": "/products/seoul-2?variant=40324562387149" }, { "value": "9", "url": "/products/seoul-2?variant=40324562419917" }, { "value": "9.5", "url": "/products/seoul-2?variant=40324562452685" }, { "value": "10", "url": "/products/seoul-2?variant=40324562485453" } ] }, { "title": "Material", "values": [ { "value": "ELITE CALF", "url": "/products/seoul-2?variant=40324562157773" } ] } ] }
{"id":6650570440909,"title":"NASHVILLE","handle":"nashville","description":"\u003cspan data-mce-fragment=\"1\" style=\"font-weight: 400;\" data-mce-style=\"font-weight: 400;\"\u003eThe NASHVILLE is your\u003cstrong\u003e \u003c\/strong\u003eessential \u003c\/span\u003eLBB\u003cspan data-mce-fragment=\"1\" style=\"font-weight: 400;\" data-mce-style=\"font-weight: 400;\"\u003e.  Step into comfort and style with the boot that you want to wear all day, everyday.  Made with the finest imported Italian calfskin upper, genuine leather linings for breathability and our finest Italian leather outsole this boot will just get better over time.  The extended welting is a modern western touch.  The inside zipper provides the perfect ankle fit making this boot ideal with jeans, trousers or your favorite dress.  Surely the NASHVILLE will be your go to Fall staple.\u003c\/span\u003e","published_at":"2021-07-12T13:41:26-04:00","created_at":"2021-06-22T03:30:05-04:00","vendor":"Oncept","type":"Footwear","tags":["BOOT","DRESS","HEEL"],"price":45000,"price_min":45000,"price_max":45000,"available":true,"price_varies":false,"compare_at_price":null,"compare_at_price_min":0,"compare_at_price_max":0,"compare_at_price_varies":false,"variants":[{"id":39745082982605,"title":"BLACK \/ 6 \/ FATEO CALF","option1":"BLACK","option2":"6","option3":"FATEO CALF","sku":"840237303518","requires_shipping":true,"taxable":true,"featured_image":null,"available":true,"name":"NASHVILLE - BLACK \/ 6 \/ FATEO CALF","public_title":"BLACK \/ 6 \/ FATEO CALF","options":["BLACK","6","FATEO CALF"],"price":45000,"weight":0,"compare_at_price":null,"inventory_management":"shopify","barcode":"840237303518","requires_selling_plan":false,"selling_plan_allocations":[]},{"id":39745083048141,"title":"BLACK \/ 6.5 \/ FATEO CALF","option1":"BLACK","option2":"6.5","option3":"FATEO CALF","sku":"840237303525","requires_shipping":true,"taxable":true,"featured_image":null,"available":true,"name":"NASHVILLE - BLACK \/ 6.5 \/ FATEO CALF","public_title":"BLACK \/ 6.5 \/ FATEO CALF","options":["BLACK","6.5","FATEO CALF"],"price":45000,"weight":0,"compare_at_price":null,"inventory_management":"shopify","barcode":"840237303525","requires_selling_plan":false,"selling_plan_allocations":[]},{"id":39745083113677,"title":"BLACK \/ 7 \/ FATEO CALF","option1":"BLACK","option2":"7","option3":"FATEO CALF","sku":"840237303532","requires_shipping":true,"taxable":true,"featured_image":null,"available":true,"name":"NASHVILLE - BLACK \/ 7 \/ FATEO CALF","public_title":"BLACK \/ 7 \/ FATEO CALF","options":["BLACK","7","FATEO CALF"],"price":45000,"weight":0,"compare_at_price":null,"inventory_management":"shopify","barcode":"840237303532","requires_selling_plan":false,"selling_plan_allocations":[]},{"id":39745083179213,"title":"BLACK \/ 7.5 \/ FATEO CALF","option1":"BLACK","option2":"7.5","option3":"FATEO CALF","sku":"840237303549","requires_shipping":true,"taxable":true,"featured_image":null,"available":true,"name":"NASHVILLE - BLACK \/ 7.5 \/ FATEO CALF","public_title":"BLACK \/ 7.5 \/ FATEO CALF","options":["BLACK","7.5","FATEO CALF"],"price":45000,"weight":0,"compare_at_price":null,"inventory_management":"shopify","barcode":"840237303549","requires_selling_plan":false,"selling_plan_allocations":[]},{"id":39745083244749,"title":"BLACK \/ 8 \/ FATEO CALF","option1":"BLACK","option2":"8","option3":"FATEO CALF","sku":"840237303556","requires_shipping":true,"taxable":true,"featured_image":null,"available":true,"name":"NASHVILLE - BLACK \/ 8 \/ FATEO CALF","public_title":"BLACK \/ 8 \/ FATEO CALF","options":["BLACK","8","FATEO CALF"],"price":45000,"weight":0,"compare_at_price":null,"inventory_management":"shopify","barcode":"840237303556","requires_selling_plan":false,"selling_plan_allocations":[]},{"id":39745083310285,"title":"BLACK \/ 8.5 \/ FATEO CALF","option1":"BLACK","option2":"8.5","option3":"FATEO CALF","sku":"840237303563","requires_shipping":true,"taxable":true,"featured_image":null,"available":true,"name":"NASHVILLE - BLACK \/ 8.5 \/ FATEO CALF","public_title":"BLACK \/ 8.5 \/ FATEO CALF","options":["BLACK","8.5","FATEO CALF"],"price":45000,"weight":0,"compare_at_price":null,"inventory_management":"shopify","barcode":"840237303563","requires_selling_plan":false,"selling_plan_allocations":[]},{"id":39745083408589,"title":"BLACK \/ 9 \/ FATEO CALF","option1":"BLACK","option2":"9","option3":"FATEO CALF","sku":"840237303570","requires_shipping":true,"taxable":true,"featured_image":null,"available":true,"name":"NASHVILLE - BLACK \/ 9 \/ FATEO CALF","public_title":"BLACK \/ 9 \/ FATEO CALF","options":["BLACK","9","FATEO CALF"],"price":45000,"weight":0,"compare_at_price":null,"inventory_management":"shopify","barcode":"840237303570","requires_selling_plan":false,"selling_plan_allocations":[]},{"id":39745083474125,"title":"BLACK \/ 9.5 \/ FATEO CALF","option1":"BLACK","option2":"9.5","option3":"FATEO CALF","sku":"840237303587","requires_shipping":true,"taxable":true,"featured_image":null,"available":true,"name":"NASHVILLE - BLACK \/ 9.5 \/ FATEO CALF","public_title":"BLACK \/ 9.5 \/ FATEO CALF","options":["BLACK","9.5","FATEO CALF"],"price":45000,"weight":0,"compare_at_price":null,"inventory_management":"shopify","barcode":"840237303587","requires_selling_plan":false,"selling_plan_allocations":[]},{"id":39745083539661,"title":"BLACK \/ 10 \/ FATEO CALF","option1":"BLACK","option2":"10","option3":"FATEO CALF","sku":"840237303594","requires_shipping":true,"taxable":true,"featured_image":null,"available":true,"name":"NASHVILLE - BLACK \/ 10 \/ FATEO CALF","public_title":"BLACK \/ 10 \/ FATEO CALF","options":["BLACK","10","FATEO CALF"],"price":45000,"weight":0,"compare_at_price":null,"inventory_management":"shopify","barcode":"840237303594","requires_selling_plan":false,"selling_plan_allocations":[]}],"images":["\/\/oncept.nyc\/cdn\/shop\/products\/NASHVILLE-SIDE-BLACK-min.jpg?v=1660680692","\/\/oncept.nyc\/cdn\/shop\/products\/NASHVILLE-TOP-BLACK-min.jpg?v=1660680692","\/\/oncept.nyc\/cdn\/shop\/products\/NASHVILLE-BACK-BLACK-min.jpg?v=1660680692","\/\/oncept.nyc\/cdn\/shop\/products\/NASHVILLE-SOFT-BLACK-min.jpg?v=1660680692","\/\/oncept.nyc\/cdn\/shop\/products\/NASHVILLE-OUTSOLE-BLACK-min.jpg?v=1660680692","\/\/oncept.nyc\/cdn\/shop\/products\/NASHVILLE-ONFOOT-BLACK-min.jpg?v=1660680692"],"featured_image":"\/\/oncept.nyc\/cdn\/shop\/products\/NASHVILLE-SIDE-BLACK-min.jpg?v=1660680692","options":["Color","Size","Material"],"media":[{"alt":"0","id":22849383760077,"position":1,"preview_image":{"aspect_ratio":0.8,"height":3700,"width":2960,"src":"\/\/oncept.nyc\/cdn\/shop\/products\/NASHVILLE-SIDE-BLACK-min.jpg?v=1660680692"},"aspect_ratio":0.8,"height":3700,"media_type":"image","src":"\/\/oncept.nyc\/cdn\/shop\/products\/NASHVILLE-SIDE-BLACK-min.jpg?v=1660680692","width":2960},{"alt":"0","id":22849383858381,"position":2,"preview_image":{"aspect_ratio":0.8,"height":3700,"width":2960,"src":"\/\/oncept.nyc\/cdn\/shop\/products\/NASHVILLE-TOP-BLACK-min.jpg?v=1660680692"},"aspect_ratio":0.8,"height":3700,"media_type":"image","src":"\/\/oncept.nyc\/cdn\/shop\/products\/NASHVILLE-TOP-BLACK-min.jpg?v=1660680692","width":2960},{"alt":"0","id":22849383661773,"position":3,"preview_image":{"aspect_ratio":0.8,"height":3700,"width":2960,"src":"\/\/oncept.nyc\/cdn\/shop\/products\/NASHVILLE-BACK-BLACK-min.jpg?v=1660680692"},"aspect_ratio":0.8,"height":3700,"media_type":"image","src":"\/\/oncept.nyc\/cdn\/shop\/products\/NASHVILLE-BACK-BLACK-min.jpg?v=1660680692","width":2960},{"alt":"0","id":22849383825613,"position":4,"preview_image":{"aspect_ratio":0.8,"height":3700,"width":2960,"src":"\/\/oncept.nyc\/cdn\/shop\/products\/NASHVILLE-SOFT-BLACK-min.jpg?v=1660680692"},"aspect_ratio":0.8,"height":3700,"media_type":"image","src":"\/\/oncept.nyc\/cdn\/shop\/products\/NASHVILLE-SOFT-BLACK-min.jpg?v=1660680692","width":2960},{"alt":"0","id":22849383727309,"position":5,"preview_image":{"aspect_ratio":0.8,"height":3700,"width":2960,"src":"\/\/oncept.nyc\/cdn\/shop\/products\/NASHVILLE-OUTSOLE-BLACK-min.jpg?v=1660680692"},"aspect_ratio":0.8,"height":3700,"media_type":"image","src":"\/\/oncept.nyc\/cdn\/shop\/products\/NASHVILLE-OUTSOLE-BLACK-min.jpg?v=1660680692","width":2960},{"alt":"0","id":22849383694541,"position":6,"preview_image":{"aspect_ratio":0.8,"height":3700,"width":2960,"src":"\/\/oncept.nyc\/cdn\/shop\/products\/NASHVILLE-ONFOOT-BLACK-min.jpg?v=1660680692"},"aspect_ratio":0.8,"height":3700,"media_type":"image","src":"\/\/oncept.nyc\/cdn\/shop\/products\/NASHVILLE-ONFOOT-BLACK-min.jpg?v=1660680692","width":2960},{"alt":"video","id":20979702759629,"position":7,"preview_image":{"aspect_ratio":0.8,"height":1350,"width":1080,"src":"\/\/oncept.nyc\/cdn\/shop\/products\/c377c19fabb44d18856927cd0f455d4d.thumbnail.0000000.jpg?v=1630376066"},"aspect_ratio":0.8,"duration":9175,"media_type":"video","sources":[{"format":"mp4","height":480,"mime_type":"video\/mp4","url":"https:\/\/cdn.shopify.com\/videos\/c\/vp\/c377c19fabb44d18856927cd0f455d4d\/c377c19fabb44d18856927cd0f455d4d.SD-480p-1.2Mbps.mp4","width":384},{"format":"mp4","height":720,"mime_type":"video\/mp4","url":"https:\/\/cdn.shopify.com\/videos\/c\/vp\/c377c19fabb44d18856927cd0f455d4d\/c377c19fabb44d18856927cd0f455d4d.HD-720p-3.0Mbps.mp4","width":576},{"format":"mp4","height":1080,"mime_type":"video\/mp4","url":"https:\/\/cdn.shopify.com\/videos\/c\/vp\/c377c19fabb44d18856927cd0f455d4d\/c377c19fabb44d18856927cd0f455d4d.HD-1080p-4.8Mbps.mp4","width":864},{"format":"m3u8","height":1080,"mime_type":"application\/x-mpegURL","url":"https:\/\/cdn.shopify.com\/videos\/c\/vp\/c377c19fabb44d18856927cd0f455d4d\/c377c19fabb44d18856927cd0f455d4d.m3u8","width":864}]}],"requires_selling_plan":false,"selling_plan_groups":[],"content":"\u003cspan data-mce-fragment=\"1\" style=\"font-weight: 400;\" data-mce-style=\"font-weight: 400;\"\u003eThe NASHVILLE is your\u003cstrong\u003e \u003c\/strong\u003eessential \u003c\/span\u003eLBB\u003cspan data-mce-fragment=\"1\" style=\"font-weight: 400;\" data-mce-style=\"font-weight: 400;\"\u003e.  Step into comfort and style with the boot that you want to wear all day, everyday.  Made with the finest imported Italian calfskin upper, genuine leather linings for breathability and our finest Italian leather outsole this boot will just get better over time.  The extended welting is a modern western touch.  The inside zipper provides the perfect ankle fit making this boot ideal with jeans, trousers or your favorite dress.  Surely the NASHVILLE will be your go to Fall staple.\u003c\/span\u003e"} { "options": [ { "title": "Color", "values": [ { "value": "BLACK", "url": "/products/nashville?variant=39745082982605" } ] }, { "title": "Size", "values": [ { "value": "6", "url": "/products/nashville?variant=39745082982605" }, { "value": "6.5", "url": "/products/nashville?variant=39745083048141" }, { "value": "7", "url": "/products/nashville?variant=39745083113677" }, { "value": "7.5", "url": "/products/nashville?variant=39745083179213" }, { "value": "8", "url": "/products/nashville?variant=39745083244749" }, { "value": "8.5", "url": "/products/nashville?variant=39745083310285" }, { "value": "9", "url": "/products/nashville?variant=39745083408589" }, { "value": "9.5", "url": "/products/nashville?variant=39745083474125" }, { "value": "10", "url": "/products/nashville?variant=39745083539661" } ] }, { "title": "Material", "values": [ { "value": "FATEO CALF", "url": "/products/nashville?variant=39745082982605" } ] } ] }
{"id":6916347494605,"title":"LYON","handle":"lyon","description":"\u003cp data-mce-fragment=\"1\"\u003e\u003cspan style=\"font-weight: 400;\"\u003eMeet the Lyon, a modern dress boot with a sleek silhouette and ultra-luxe detailing. We designed this chic style to fit like a second skin, while ensuring comfort so you can wear it all-day and night, with ease. Featuring a clean square toe, stretchy soft leather, signature Citrus Orange details for smart pops of color, and a bio-based foam cushion that feels like you're walking on clouds. \u003c\/span\u003e\u003c\/p\u003e","published_at":"2022-08-16T23:30:30-04:00","created_at":"2022-02-09T14:17:48-05:00","vendor":"Oncept","type":"Footwear","tags":["BOOT","DRESS","HEEL"],"price":45000,"price_min":45000,"price_max":45000,"available":true,"price_varies":false,"compare_at_price":null,"compare_at_price_min":0,"compare_at_price_max":0,"compare_at_price_varies":false,"variants":[{"id":40657838604493,"title":"PURE WHITE \/ 6 \/ SOFT CALF LEATHER","option1":"PURE WHITE","option2":"6","option3":"SOFT CALF LEATHER","sku":"840237310714","requires_shipping":true,"taxable":true,"featured_image":{"id":30590943494349,"product_id":6916347494605,"position":1,"created_at":"2022-08-19T22:44:46-04:00","updated_at":"2022-08-20T01:04:36-04:00","alt":"0","width":2960,"height":3700,"src":"\/\/oncept.nyc\/cdn\/shop\/products\/LYON-SIDE-PUREWHITE.jpg?v=1660971876","variant_ids":[40657838604493,40657838735565,40657838866637,40657838997709,40657839128781,40657839259853,40657839390925,40657839521997,40657839653069]},"available":true,"name":"LYON - PURE WHITE \/ 6 \/ SOFT CALF LEATHER","public_title":"PURE WHITE \/ 6 \/ SOFT CALF LEATHER","options":["PURE WHITE","6","SOFT CALF LEATHER"],"price":45000,"weight":0,"compare_at_price":null,"inventory_management":"shopify","barcode":"840237310714","featured_media":{"alt":"0","id":22871602233549,"position":1,"preview_image":{"aspect_ratio":0.8,"height":3700,"width":2960,"src":"\/\/oncept.nyc\/cdn\/shop\/products\/LYON-SIDE-PUREWHITE.jpg?v=1660971876"}},"requires_selling_plan":false,"selling_plan_allocations":[]},{"id":40657838735565,"title":"PURE WHITE \/ 6.5 \/ SOFT CALF LEATHER","option1":"PURE WHITE","option2":"6.5","option3":"SOFT CALF LEATHER","sku":"840237310721","requires_shipping":true,"taxable":true,"featured_image":{"id":30590943494349,"product_id":6916347494605,"position":1,"created_at":"2022-08-19T22:44:46-04:00","updated_at":"2022-08-20T01:04:36-04:00","alt":"0","width":2960,"height":3700,"src":"\/\/oncept.nyc\/cdn\/shop\/products\/LYON-SIDE-PUREWHITE.jpg?v=1660971876","variant_ids":[40657838604493,40657838735565,40657838866637,40657838997709,40657839128781,40657839259853,40657839390925,40657839521997,40657839653069]},"available":true,"name":"LYON - PURE WHITE \/ 6.5 \/ SOFT CALF LEATHER","public_title":"PURE WHITE \/ 6.5 \/ SOFT CALF LEATHER","options":["PURE WHITE","6.5","SOFT CALF LEATHER"],"price":45000,"weight":0,"compare_at_price":null,"inventory_management":"shopify","barcode":"840237310721","featured_media":{"alt":"0","id":22871602233549,"position":1,"preview_image":{"aspect_ratio":0.8,"height":3700,"width":2960,"src":"\/\/oncept.nyc\/cdn\/shop\/products\/LYON-SIDE-PUREWHITE.jpg?v=1660971876"}},"requires_selling_plan":false,"selling_plan_allocations":[]},{"id":40657838866637,"title":"PURE WHITE \/ 7 \/ SOFT CALF LEATHER","option1":"PURE WHITE","option2":"7","option3":"SOFT CALF LEATHER","sku":"840237310738","requires_shipping":true,"taxable":true,"featured_image":{"id":30590943494349,"product_id":6916347494605,"position":1,"created_at":"2022-08-19T22:44:46-04:00","updated_at":"2022-08-20T01:04:36-04:00","alt":"0","width":2960,"height":3700,"src":"\/\/oncept.nyc\/cdn\/shop\/products\/LYON-SIDE-PUREWHITE.jpg?v=1660971876","variant_ids":[40657838604493,40657838735565,40657838866637,40657838997709,40657839128781,40657839259853,40657839390925,40657839521997,40657839653069]},"available":true,"name":"LYON - PURE WHITE \/ 7 \/ SOFT CALF LEATHER","public_title":"PURE WHITE \/ 7 \/ SOFT CALF LEATHER","options":["PURE WHITE","7","SOFT CALF LEATHER"],"price":45000,"weight":0,"compare_at_price":null,"inventory_management":"shopify","barcode":"840237310738","featured_media":{"alt":"0","id":22871602233549,"position":1,"preview_image":{"aspect_ratio":0.8,"height":3700,"width":2960,"src":"\/\/oncept.nyc\/cdn\/shop\/products\/LYON-SIDE-PUREWHITE.jpg?v=1660971876"}},"requires_selling_plan":false,"selling_plan_allocations":[]},{"id":40657838997709,"title":"PURE WHITE \/ 7.5 \/ SOFT CALF LEATHER","option1":"PURE WHITE","option2":"7.5","option3":"SOFT CALF LEATHER","sku":"840237310745","requires_shipping":true,"taxable":true,"featured_image":{"id":30590943494349,"product_id":6916347494605,"position":1,"created_at":"2022-08-19T22:44:46-04:00","updated_at":"2022-08-20T01:04:36-04:00","alt":"0","width":2960,"height":3700,"src":"\/\/oncept.nyc\/cdn\/shop\/products\/LYON-SIDE-PUREWHITE.jpg?v=1660971876","variant_ids":[40657838604493,40657838735565,40657838866637,40657838997709,40657839128781,40657839259853,40657839390925,40657839521997,40657839653069]},"available":true,"name":"LYON - PURE WHITE \/ 7.5 \/ SOFT CALF LEATHER","public_title":"PURE WHITE \/ 7.5 \/ SOFT CALF LEATHER","options":["PURE WHITE","7.5","SOFT CALF LEATHER"],"price":45000,"weight":0,"compare_at_price":null,"inventory_management":"shopify","barcode":"840237310745","featured_media":{"alt":"0","id":22871602233549,"position":1,"preview_image":{"aspect_ratio":0.8,"height":3700,"width":2960,"src":"\/\/oncept.nyc\/cdn\/shop\/products\/LYON-SIDE-PUREWHITE.jpg?v=1660971876"}},"requires_selling_plan":false,"selling_plan_allocations":[]},{"id":40657839128781,"title":"PURE WHITE \/ 8 \/ SOFT CALF LEATHER","option1":"PURE WHITE","option2":"8","option3":"SOFT CALF LEATHER","sku":"840237310752","requires_shipping":true,"taxable":true,"featured_image":{"id":30590943494349,"product_id":6916347494605,"position":1,"created_at":"2022-08-19T22:44:46-04:00","updated_at":"2022-08-20T01:04:36-04:00","alt":"0","width":2960,"height":3700,"src":"\/\/oncept.nyc\/cdn\/shop\/products\/LYON-SIDE-PUREWHITE.jpg?v=1660971876","variant_ids":[40657838604493,40657838735565,40657838866637,40657838997709,40657839128781,40657839259853,40657839390925,40657839521997,40657839653069]},"available":true,"name":"LYON - PURE WHITE \/ 8 \/ SOFT CALF LEATHER","public_title":"PURE WHITE \/ 8 \/ SOFT CALF LEATHER","options":["PURE WHITE","8","SOFT CALF LEATHER"],"price":45000,"weight":0,"compare_at_price":null,"inventory_management":"shopify","barcode":"840237310752","featured_media":{"alt":"0","id":22871602233549,"position":1,"preview_image":{"aspect_ratio":0.8,"height":3700,"width":2960,"src":"\/\/oncept.nyc\/cdn\/shop\/products\/LYON-SIDE-PUREWHITE.jpg?v=1660971876"}},"requires_selling_plan":false,"selling_plan_allocations":[]},{"id":40657839259853,"title":"PURE WHITE \/ 8.5 \/ SOFT CALF LEATHER","option1":"PURE WHITE","option2":"8.5","option3":"SOFT CALF LEATHER","sku":"840237310769","requires_shipping":true,"taxable":true,"featured_image":{"id":30590943494349,"product_id":6916347494605,"position":1,"created_at":"2022-08-19T22:44:46-04:00","updated_at":"2022-08-20T01:04:36-04:00","alt":"0","width":2960,"height":3700,"src":"\/\/oncept.nyc\/cdn\/shop\/products\/LYON-SIDE-PUREWHITE.jpg?v=1660971876","variant_ids":[40657838604493,40657838735565,40657838866637,40657838997709,40657839128781,40657839259853,40657839390925,40657839521997,40657839653069]},"available":true,"name":"LYON - PURE WHITE \/ 8.5 \/ SOFT CALF LEATHER","public_title":"PURE WHITE \/ 8.5 \/ SOFT CALF LEATHER","options":["PURE WHITE","8.5","SOFT CALF LEATHER"],"price":45000,"weight":0,"compare_at_price":null,"inventory_management":"shopify","barcode":"840237310769","featured_media":{"alt":"0","id":22871602233549,"position":1,"preview_image":{"aspect_ratio":0.8,"height":3700,"width":2960,"src":"\/\/oncept.nyc\/cdn\/shop\/products\/LYON-SIDE-PUREWHITE.jpg?v=1660971876"}},"requires_selling_plan":false,"selling_plan_allocations":[]},{"id":40657839390925,"title":"PURE WHITE \/ 9 \/ SOFT CALF LEATHER","option1":"PURE WHITE","option2":"9","option3":"SOFT CALF LEATHER","sku":"840237310776","requires_shipping":true,"taxable":true,"featured_image":{"id":30590943494349,"product_id":6916347494605,"position":1,"created_at":"2022-08-19T22:44:46-04:00","updated_at":"2022-08-20T01:04:36-04:00","alt":"0","width":2960,"height":3700,"src":"\/\/oncept.nyc\/cdn\/shop\/products\/LYON-SIDE-PUREWHITE.jpg?v=1660971876","variant_ids":[40657838604493,40657838735565,40657838866637,40657838997709,40657839128781,40657839259853,40657839390925,40657839521997,40657839653069]},"available":true,"name":"LYON - PURE WHITE \/ 9 \/ SOFT CALF LEATHER","public_title":"PURE WHITE \/ 9 \/ SOFT CALF LEATHER","options":["PURE WHITE","9","SOFT CALF LEATHER"],"price":45000,"weight":0,"compare_at_price":null,"inventory_management":"shopify","barcode":"840237310776","featured_media":{"alt":"0","id":22871602233549,"position":1,"preview_image":{"aspect_ratio":0.8,"height":3700,"width":2960,"src":"\/\/oncept.nyc\/cdn\/shop\/products\/LYON-SIDE-PUREWHITE.jpg?v=1660971876"}},"requires_selling_plan":false,"selling_plan_allocations":[]},{"id":40657839521997,"title":"PURE WHITE \/ 9.5 \/ SOFT CALF LEATHER","option1":"PURE WHITE","option2":"9.5","option3":"SOFT CALF LEATHER","sku":"840237310783","requires_shipping":true,"taxable":true,"featured_image":{"id":30590943494349,"product_id":6916347494605,"position":1,"created_at":"2022-08-19T22:44:46-04:00","updated_at":"2022-08-20T01:04:36-04:00","alt":"0","width":2960,"height":3700,"src":"\/\/oncept.nyc\/cdn\/shop\/products\/LYON-SIDE-PUREWHITE.jpg?v=1660971876","variant_ids":[40657838604493,40657838735565,40657838866637,40657838997709,40657839128781,40657839259853,40657839390925,40657839521997,40657839653069]},"available":true,"name":"LYON - PURE WHITE \/ 9.5 \/ SOFT CALF LEATHER","public_title":"PURE WHITE \/ 9.5 \/ SOFT CALF LEATHER","options":["PURE WHITE","9.5","SOFT CALF LEATHER"],"price":45000,"weight":0,"compare_at_price":null,"inventory_management":"shopify","barcode":"840237310783","featured_media":{"alt":"0","id":22871602233549,"position":1,"preview_image":{"aspect_ratio":0.8,"height":3700,"width":2960,"src":"\/\/oncept.nyc\/cdn\/shop\/products\/LYON-SIDE-PUREWHITE.jpg?v=1660971876"}},"requires_selling_plan":false,"selling_plan_allocations":[]},{"id":40657839653069,"title":"PURE WHITE \/ 10 \/ SOFT CALF LEATHER","option1":"PURE WHITE","option2":"10","option3":"SOFT CALF LEATHER","sku":"840237310790","requires_shipping":true,"taxable":true,"featured_image":{"id":30590943494349,"product_id":6916347494605,"position":1,"created_at":"2022-08-19T22:44:46-04:00","updated_at":"2022-08-20T01:04:36-04:00","alt":"0","width":2960,"height":3700,"src":"\/\/oncept.nyc\/cdn\/shop\/products\/LYON-SIDE-PUREWHITE.jpg?v=1660971876","variant_ids":[40657838604493,40657838735565,40657838866637,40657838997709,40657839128781,40657839259853,40657839390925,40657839521997,40657839653069]},"available":true,"name":"LYON - PURE WHITE \/ 10 \/ SOFT CALF LEATHER","public_title":"PURE WHITE \/ 10 \/ SOFT CALF LEATHER","options":["PURE WHITE","10","SOFT CALF LEATHER"],"price":45000,"weight":0,"compare_at_price":null,"inventory_management":"shopify","barcode":"840237310790","featured_media":{"alt":"0","id":22871602233549,"position":1,"preview_image":{"aspect_ratio":0.8,"height":3700,"width":2960,"src":"\/\/oncept.nyc\/cdn\/shop\/products\/LYON-SIDE-PUREWHITE.jpg?v=1660971876"}},"requires_selling_plan":false,"selling_plan_allocations":[]},{"id":40657838538957,"title":"BLACK \/ 6 \/ SOFT CALF LEATHER","option1":"BLACK","option2":"6","option3":"SOFT CALF LEATHER","sku":"840237310622","requires_shipping":true,"taxable":true,"featured_image":{"id":30590943297741,"product_id":6916347494605,"position":7,"created_at":"2022-08-19T22:44:46-04:00","updated_at":"2022-08-20T01:04:36-04:00","alt":"1","width":2960,"height":3700,"src":"\/\/oncept.nyc\/cdn\/shop\/products\/LYON-SIDE-BLACK.jpg?v=1660971876","variant_ids":[40657838538957,40657838670029,40657838801101,40657838932173,40657839063245,40657839194317,40657839325389,40657839456461,40657839587533]},"available":true,"name":"LYON - BLACK \/ 6 \/ SOFT CALF LEATHER","public_title":"BLACK \/ 6 \/ SOFT CALF LEATHER","options":["BLACK","6","SOFT CALF LEATHER"],"price":45000,"weight":0,"compare_at_price":null,"inventory_management":"shopify","barcode":"840237310622","featured_media":{"alt":"1","id":22871602200781,"position":7,"preview_image":{"aspect_ratio":0.8,"height":3700,"width":2960,"src":"\/\/oncept.nyc\/cdn\/shop\/products\/LYON-SIDE-BLACK.jpg?v=1660971876"}},"requires_selling_plan":false,"selling_plan_allocations":[]},{"id":40657838670029,"title":"BLACK \/ 6.5 \/ SOFT CALF LEATHER","option1":"BLACK","option2":"6.5","option3":"SOFT CALF LEATHER","sku":"840237310639","requires_shipping":true,"taxable":true,"featured_image":{"id":30590943297741,"product_id":6916347494605,"position":7,"created_at":"2022-08-19T22:44:46-04:00","updated_at":"2022-08-20T01:04:36-04:00","alt":"1","width":2960,"height":3700,"src":"\/\/oncept.nyc\/cdn\/shop\/products\/LYON-SIDE-BLACK.jpg?v=1660971876","variant_ids":[40657838538957,40657838670029,40657838801101,40657838932173,40657839063245,40657839194317,40657839325389,40657839456461,40657839587533]},"available":true,"name":"LYON - BLACK \/ 6.5 \/ SOFT CALF LEATHER","public_title":"BLACK \/ 6.5 \/ SOFT CALF LEATHER","options":["BLACK","6.5","SOFT CALF LEATHER"],"price":45000,"weight":0,"compare_at_price":null,"inventory_management":"shopify","barcode":"840237310639","featured_media":{"alt":"1","id":22871602200781,"position":7,"preview_image":{"aspect_ratio":0.8,"height":3700,"width":2960,"src":"\/\/oncept.nyc\/cdn\/shop\/products\/LYON-SIDE-BLACK.jpg?v=1660971876"}},"requires_selling_plan":false,"selling_plan_allocations":[]},{"id":40657838801101,"title":"BLACK \/ 7 \/ SOFT CALF LEATHER","option1":"BLACK","option2":"7","option3":"SOFT CALF LEATHER","sku":"840237310646","requires_shipping":true,"taxable":true,"featured_image":{"id":30590943297741,"product_id":6916347494605,"position":7,"created_at":"2022-08-19T22:44:46-04:00","updated_at":"2022-08-20T01:04:36-04:00","alt":"1","width":2960,"height":3700,"src":"\/\/oncept.nyc\/cdn\/shop\/products\/LYON-SIDE-BLACK.jpg?v=1660971876","variant_ids":[40657838538957,40657838670029,40657838801101,40657838932173,40657839063245,40657839194317,40657839325389,40657839456461,40657839587533]},"available":true,"name":"LYON - BLACK \/ 7 \/ SOFT CALF LEATHER","public_title":"BLACK \/ 7 \/ SOFT CALF LEATHER","options":["BLACK","7","SOFT CALF LEATHER"],"price":45000,"weight":0,"compare_at_price":null,"inventory_management":"shopify","barcode":"840237310646","featured_media":{"alt":"1","id":22871602200781,"position":7,"preview_image":{"aspect_ratio":0.8,"height":3700,"width":2960,"src":"\/\/oncept.nyc\/cdn\/shop\/products\/LYON-SIDE-BLACK.jpg?v=1660971876"}},"requires_selling_plan":false,"selling_plan_allocations":[]},{"id":40657838932173,"title":"BLACK \/ 7.5 \/ SOFT CALF LEATHER","option1":"BLACK","option2":"7.5","option3":"SOFT CALF LEATHER","sku":"840237310653","requires_shipping":true,"taxable":true,"featured_image":{"id":30590943297741,"product_id":6916347494605,"position":7,"created_at":"2022-08-19T22:44:46-04:00","updated_at":"2022-08-20T01:04:36-04:00","alt":"1","width":2960,"height":3700,"src":"\/\/oncept.nyc\/cdn\/shop\/products\/LYON-SIDE-BLACK.jpg?v=1660971876","variant_ids":[40657838538957,40657838670029,40657838801101,40657838932173,40657839063245,40657839194317,40657839325389,40657839456461,40657839587533]},"available":false,"name":"LYON - BLACK \/ 7.5 \/ SOFT CALF LEATHER","public_title":"BLACK \/ 7.5 \/ SOFT CALF LEATHER","options":["BLACK","7.5","SOFT CALF LEATHER"],"price":45000,"weight":0,"compare_at_price":null,"inventory_management":"shopify","barcode":"840237310653","featured_media":{"alt":"1","id":22871602200781,"position":7,"preview_image":{"aspect_ratio":0.8,"height":3700,"width":2960,"src":"\/\/oncept.nyc\/cdn\/shop\/products\/LYON-SIDE-BLACK.jpg?v=1660971876"}},"requires_selling_plan":false,"selling_plan_allocations":[]},{"id":40657839063245,"title":"BLACK \/ 8 \/ SOFT CALF LEATHER","option1":"BLACK","option2":"8","option3":"SOFT CALF LEATHER","sku":"840237310660","requires_shipping":true,"taxable":true,"featured_image":{"id":30590943297741,"product_id":6916347494605,"position":7,"created_at":"2022-08-19T22:44:46-04:00","updated_at":"2022-08-20T01:04:36-04:00","alt":"1","width":2960,"height":3700,"src":"\/\/oncept.nyc\/cdn\/shop\/products\/LYON-SIDE-BLACK.jpg?v=1660971876","variant_ids":[40657838538957,40657838670029,40657838801101,40657838932173,40657839063245,40657839194317,40657839325389,40657839456461,40657839587533]},"available":true,"name":"LYON - BLACK \/ 8 \/ SOFT CALF LEATHER","public_title":"BLACK \/ 8 \/ SOFT CALF LEATHER","options":["BLACK","8","SOFT CALF LEATHER"],"price":45000,"weight":0,"compare_at_price":null,"inventory_management":"shopify","barcode":"840237310660","featured_media":{"alt":"1","id":22871602200781,"position":7,"preview_image":{"aspect_ratio":0.8,"height":3700,"width":2960,"src":"\/\/oncept.nyc\/cdn\/shop\/products\/LYON-SIDE-BLACK.jpg?v=1660971876"}},"requires_selling_plan":false,"selling_plan_allocations":[]},{"id":40657839194317,"title":"BLACK \/ 8.5 \/ SOFT CALF LEATHER","option1":"BLACK","option2":"8.5","option3":"SOFT CALF LEATHER","sku":"840237310677","requires_shipping":true,"taxable":true,"featured_image":{"id":30590943297741,"product_id":6916347494605,"position":7,"created_at":"2022-08-19T22:44:46-04:00","updated_at":"2022-08-20T01:04:36-04:00","alt":"1","width":2960,"height":3700,"src":"\/\/oncept.nyc\/cdn\/shop\/products\/LYON-SIDE-BLACK.jpg?v=1660971876","variant_ids":[40657838538957,40657838670029,40657838801101,40657838932173,40657839063245,40657839194317,40657839325389,40657839456461,40657839587533]},"available":false,"name":"LYON - BLACK \/ 8.5 \/ SOFT CALF LEATHER","public_title":"BLACK \/ 8.5 \/ SOFT CALF LEATHER","options":["BLACK","8.5","SOFT CALF LEATHER"],"price":45000,"weight":0,"compare_at_price":null,"inventory_management":"shopify","barcode":"840237310677","featured_media":{"alt":"1","id":22871602200781,"position":7,"preview_image":{"aspect_ratio":0.8,"height":3700,"width":2960,"src":"\/\/oncept.nyc\/cdn\/shop\/products\/LYON-SIDE-BLACK.jpg?v=1660971876"}},"requires_selling_plan":false,"selling_plan_allocations":[]},{"id":40657839325389,"title":"BLACK \/ 9 \/ SOFT CALF LEATHER","option1":"BLACK","option2":"9","option3":"SOFT CALF LEATHER","sku":"840237310684","requires_shipping":true,"taxable":true,"featured_image":{"id":30590943297741,"product_id":6916347494605,"position":7,"created_at":"2022-08-19T22:44:46-04:00","updated_at":"2022-08-20T01:04:36-04:00","alt":"1","width":2960,"height":3700,"src":"\/\/oncept.nyc\/cdn\/shop\/products\/LYON-SIDE-BLACK.jpg?v=1660971876","variant_ids":[40657838538957,40657838670029,40657838801101,40657838932173,40657839063245,40657839194317,40657839325389,40657839456461,40657839587533]},"available":true,"name":"LYON - BLACK \/ 9 \/ SOFT CALF LEATHER","public_title":"BLACK \/ 9 \/ SOFT CALF LEATHER","options":["BLACK","9","SOFT CALF LEATHER"],"price":45000,"weight":0,"compare_at_price":null,"inventory_management":"shopify","barcode":"840237310684","featured_media":{"alt":"1","id":22871602200781,"position":7,"preview_image":{"aspect_ratio":0.8,"height":3700,"width":2960,"src":"\/\/oncept.nyc\/cdn\/shop\/products\/LYON-SIDE-BLACK.jpg?v=1660971876"}},"requires_selling_plan":false,"selling_plan_allocations":[]},{"id":40657839456461,"title":"BLACK \/ 9.5 \/ SOFT CALF LEATHER","option1":"BLACK","option2":"9.5","option3":"SOFT CALF LEATHER","sku":"840237310691","requires_shipping":true,"taxable":true,"featured_image":{"id":30590943297741,"product_id":6916347494605,"position":7,"created_at":"2022-08-19T22:44:46-04:00","updated_at":"2022-08-20T01:04:36-04:00","alt":"1","width":2960,"height":3700,"src":"\/\/oncept.nyc\/cdn\/shop\/products\/LYON-SIDE-BLACK.jpg?v=1660971876","variant_ids":[40657838538957,40657838670029,40657838801101,40657838932173,40657839063245,40657839194317,40657839325389,40657839456461,40657839587533]},"available":true,"name":"LYON - BLACK \/ 9.5 \/ SOFT CALF LEATHER","public_title":"BLACK \/ 9.5 \/ SOFT CALF LEATHER","options":["BLACK","9.5","SOFT CALF LEATHER"],"price":45000,"weight":0,"compare_at_price":null,"inventory_management":"shopify","barcode":"840237310691","featured_media":{"alt":"1","id":22871602200781,"position":7,"preview_image":{"aspect_ratio":0.8,"height":3700,"width":2960,"src":"\/\/oncept.nyc\/cdn\/shop\/products\/LYON-SIDE-BLACK.jpg?v=1660971876"}},"requires_selling_plan":false,"selling_plan_allocations":[]},{"id":40657839587533,"title":"BLACK \/ 10 \/ SOFT CALF LEATHER","option1":"BLACK","option2":"10","option3":"SOFT CALF LEATHER","sku":"840237310707","requires_shipping":true,"taxable":true,"featured_image":{"id":30590943297741,"product_id":6916347494605,"position":7,"created_at":"2022-08-19T22:44:46-04:00","updated_at":"2022-08-20T01:04:36-04:00","alt":"1","width":2960,"height":3700,"src":"\/\/oncept.nyc\/cdn\/shop\/products\/LYON-SIDE-BLACK.jpg?v=1660971876","variant_ids":[40657838538957,40657838670029,40657838801101,40657838932173,40657839063245,40657839194317,40657839325389,40657839456461,40657839587533]},"available":true,"name":"LYON - BLACK \/ 10 \/ SOFT CALF LEATHER","public_title":"BLACK \/ 10 \/ SOFT CALF LEATHER","options":["BLACK","10","SOFT CALF LEATHER"],"price":45000,"weight":0,"compare_at_price":null,"inventory_management":"shopify","barcode":"840237310707","featured_media":{"alt":"1","id":22871602200781,"position":7,"preview_image":{"aspect_ratio":0.8,"height":3700,"width":2960,"src":"\/\/oncept.nyc\/cdn\/shop\/products\/LYON-SIDE-BLACK.jpg?v=1660971876"}},"requires_selling_plan":false,"selling_plan_allocations":[]}],"images":["\/\/oncept.nyc\/cdn\/shop\/products\/LYON-SIDE-PUREWHITE.jpg?v=1660971876","\/\/oncept.nyc\/cdn\/shop\/products\/LYON-TOP-PUREWHITE-min_24f9571b-1d04-4f9c-b391-26ad17c22c2b.jpg?v=1660971876","\/\/oncept.nyc\/cdn\/shop\/products\/LYON-BACK-PUREWHITE-min_9baceb0b-bcb5-4bf8-a7dd-3db80a954c3b.jpg?v=1660971876","\/\/oncept.nyc\/cdn\/shop\/products\/LYON-OUTSOLE-PUREWHITE.jpg?v=1660971876","\/\/oncept.nyc\/cdn\/shop\/products\/LYON-SOFT-PUREWHITE-min_b4c963ed-8f91-4ceb-be6a-ff42812afcf5.jpg?v=1660971876","\/\/oncept.nyc\/cdn\/shop\/products\/LYON-PUREWHITE-ONFOOT-min.jpg?v=1660971876","\/\/oncept.nyc\/cdn\/shop\/products\/LYON-SIDE-BLACK.jpg?v=1660971876","\/\/oncept.nyc\/cdn\/shop\/products\/LYON-TOP-BLACK-min_1ee7b208-bb13-4fa6-b76e-26ae1d210b2d.jpg?v=1660963574","\/\/oncept.nyc\/cdn\/shop\/products\/LYON-BACK-BLACK-min_f41f9201-0616-4b51-afaf-6efb3eae131a.jpg?v=1660963574","\/\/oncept.nyc\/cdn\/shop\/products\/LYON-OUTSOLE-BLACK.jpg?v=1660963574","\/\/oncept.nyc\/cdn\/shop\/products\/LYON-SOFT-BLACK-min.jpg?v=1660963574","\/\/oncept.nyc\/cdn\/shop\/products\/LYON-BLACK-ONFOOT-min.jpg?v=1660963574"],"featured_image":"\/\/oncept.nyc\/cdn\/shop\/products\/LYON-SIDE-PUREWHITE.jpg?v=1660971876","options":["Color","Size","Material"],"media":[{"alt":"0","id":22871602233549,"position":1,"preview_image":{"aspect_ratio":0.8,"height":3700,"width":2960,"src":"\/\/oncept.nyc\/cdn\/shop\/products\/LYON-SIDE-PUREWHITE.jpg?v=1660971876"},"aspect_ratio":0.8,"height":3700,"media_type":"image","src":"\/\/oncept.nyc\/cdn\/shop\/products\/LYON-SIDE-PUREWHITE.jpg?v=1660971876","width":2960},{"alt":"0","id":22871602331853,"position":2,"preview_image":{"aspect_ratio":0.8,"height":3700,"width":2960,"src":"\/\/oncept.nyc\/cdn\/shop\/products\/LYON-TOP-PUREWHITE-min_24f9571b-1d04-4f9c-b391-26ad17c22c2b.jpg?v=1660971876"},"aspect_ratio":0.8,"height":3700,"media_type":"image","src":"\/\/oncept.nyc\/cdn\/shop\/products\/LYON-TOP-PUREWHITE-min_24f9571b-1d04-4f9c-b391-26ad17c22c2b.jpg?v=1660971876","width":2960},{"alt":"0","id":22871602102477,"position":3,"preview_image":{"aspect_ratio":0.8,"height":3700,"width":2960,"src":"\/\/oncept.nyc\/cdn\/shop\/products\/LYON-BACK-PUREWHITE-min_9baceb0b-bcb5-4bf8-a7dd-3db80a954c3b.jpg?v=1660971876"},"aspect_ratio":0.8,"height":3700,"media_type":"image","src":"\/\/oncept.nyc\/cdn\/shop\/products\/LYON-BACK-PUREWHITE-min_9baceb0b-bcb5-4bf8-a7dd-3db80a954c3b.jpg?v=1660971876","width":2960},{"alt":"0","id":22871602168013,"position":4,"preview_image":{"aspect_ratio":0.8,"height":3700,"width":2960,"src":"\/\/oncept.nyc\/cdn\/shop\/products\/LYON-OUTSOLE-PUREWHITE.jpg?v=1660971876"},"aspect_ratio":0.8,"height":3700,"media_type":"image","src":"\/\/oncept.nyc\/cdn\/shop\/products\/LYON-OUTSOLE-PUREWHITE.jpg?v=1660971876","width":2960},{"alt":"0","id":22871602266317,"position":5,"preview_image":{"aspect_ratio":0.8,"height":3700,"width":2960,"src":"\/\/oncept.nyc\/cdn\/shop\/products\/LYON-SOFT-PUREWHITE-min_b4c963ed-8f91-4ceb-be6a-ff42812afcf5.jpg?v=1660971876"},"aspect_ratio":0.8,"height":3700,"media_type":"image","src":"\/\/oncept.nyc\/cdn\/shop\/products\/LYON-SOFT-PUREWHITE-min_b4c963ed-8f91-4ceb-be6a-ff42812afcf5.jpg?v=1660971876","width":2960},{"alt":"0","id":22862926741709,"position":6,"preview_image":{"aspect_ratio":0.8,"height":3700,"width":2960,"src":"\/\/oncept.nyc\/cdn\/shop\/products\/LYON-PUREWHITE-ONFOOT-min.jpg?v=1660971876"},"aspect_ratio":0.8,"height":3700,"media_type":"image","src":"\/\/oncept.nyc\/cdn\/shop\/products\/LYON-PUREWHITE-ONFOOT-min.jpg?v=1660971876","width":2960},{"alt":"1","id":22871602200781,"position":7,"preview_image":{"aspect_ratio":0.8,"height":3700,"width":2960,"src":"\/\/oncept.nyc\/cdn\/shop\/products\/LYON-SIDE-BLACK.jpg?v=1660971876"},"aspect_ratio":0.8,"height":3700,"media_type":"image","src":"\/\/oncept.nyc\/cdn\/shop\/products\/LYON-SIDE-BLACK.jpg?v=1660971876","width":2960},{"alt":"1","id":22871602299085,"position":8,"preview_image":{"aspect_ratio":0.8,"height":3700,"width":2960,"src":"\/\/oncept.nyc\/cdn\/shop\/products\/LYON-TOP-BLACK-min_1ee7b208-bb13-4fa6-b76e-26ae1d210b2d.jpg?v=1660963574"},"aspect_ratio":0.8,"height":3700,"media_type":"image","src":"\/\/oncept.nyc\/cdn\/shop\/products\/LYON-TOP-BLACK-min_1ee7b208-bb13-4fa6-b76e-26ae1d210b2d.jpg?v=1660963574","width":2960},{"alt":"1","id":22871602069709,"position":9,"preview_image":{"aspect_ratio":0.8,"height":3700,"width":2960,"src":"\/\/oncept.nyc\/cdn\/shop\/products\/LYON-BACK-BLACK-min_f41f9201-0616-4b51-afaf-6efb3eae131a.jpg?v=1660963574"},"aspect_ratio":0.8,"height":3700,"media_type":"image","src":"\/\/oncept.nyc\/cdn\/shop\/products\/LYON-BACK-BLACK-min_f41f9201-0616-4b51-afaf-6efb3eae131a.jpg?v=1660963574","width":2960},{"alt":"1","id":22871602135245,"position":10,"preview_image":{"aspect_ratio":0.8,"height":3700,"width":2960,"src":"\/\/oncept.nyc\/cdn\/shop\/products\/LYON-OUTSOLE-BLACK.jpg?v=1660963574"},"aspect_ratio":0.8,"height":3700,"media_type":"image","src":"\/\/oncept.nyc\/cdn\/shop\/products\/LYON-OUTSOLE-BLACK.jpg?v=1660963574","width":2960},{"alt":"1","id":22851364520141,"position":11,"preview_image":{"aspect_ratio":0.8,"height":3700,"width":2960,"src":"\/\/oncept.nyc\/cdn\/shop\/products\/LYON-SOFT-BLACK-min.jpg?v=1660963574"},"aspect_ratio":0.8,"height":3700,"media_type":"image","src":"\/\/oncept.nyc\/cdn\/shop\/products\/LYON-SOFT-BLACK-min.jpg?v=1660963574","width":2960},{"alt":"1","id":22862926708941,"position":12,"preview_image":{"aspect_ratio":0.8,"height":3700,"width":2960,"src":"\/\/oncept.nyc\/cdn\/shop\/products\/LYON-BLACK-ONFOOT-min.jpg?v=1660963574"},"aspect_ratio":0.8,"height":3700,"media_type":"image","src":"\/\/oncept.nyc\/cdn\/shop\/products\/LYON-BLACK-ONFOOT-min.jpg?v=1660963574","width":2960},{"alt":"video","id":22884288921805,"position":13,"preview_image":{"aspect_ratio":0.8,"height":1350,"width":1080,"src":"\/\/oncept.nyc\/cdn\/shop\/products\/e1cbde0b57c04c24bee20f62a1ca7967.thumbnail.0000000000.jpg?v=1661211945"},"aspect_ratio":0.8,"duration":9410,"media_type":"video","sources":[{"format":"mp4","height":480,"mime_type":"video\/mp4","url":"https:\/\/cdn.shopify.com\/videos\/c\/vp\/e1cbde0b57c04c24bee20f62a1ca7967\/e1cbde0b57c04c24bee20f62a1ca7967.SD-480p-1.2Mbps-8897081.mp4","width":384},{"format":"mp4","height":1080,"mime_type":"video\/mp4","url":"https:\/\/cdn.shopify.com\/videos\/c\/vp\/e1cbde0b57c04c24bee20f62a1ca7967\/e1cbde0b57c04c24bee20f62a1ca7967.HD-1080p-4.8Mbps-8897081.mp4","width":864},{"format":"mp4","height":720,"mime_type":"video\/mp4","url":"https:\/\/cdn.shopify.com\/videos\/c\/vp\/e1cbde0b57c04c24bee20f62a1ca7967\/e1cbde0b57c04c24bee20f62a1ca7967.HD-720p-3.0Mbps-8897081.mp4","width":576},{"format":"m3u8","height":1080,"mime_type":"application\/x-mpegURL","url":"https:\/\/cdn.shopify.com\/videos\/c\/vp\/e1cbde0b57c04c24bee20f62a1ca7967\/e1cbde0b57c04c24bee20f62a1ca7967.m3u8","width":864}]}],"requires_selling_plan":false,"selling_plan_groups":[],"content":"\u003cp data-mce-fragment=\"1\"\u003e\u003cspan style=\"font-weight: 400;\"\u003eMeet the Lyon, a modern dress boot with a sleek silhouette and ultra-luxe detailing. We designed this chic style to fit like a second skin, while ensuring comfort so you can wear it all-day and night, with ease. Featuring a clean square toe, stretchy soft leather, signature Citrus Orange details for smart pops of color, and a bio-based foam cushion that feels like you're walking on clouds. \u003c\/span\u003e\u003c\/p\u003e"} { "options": [ { "title": "Color", "values": [ { "value": "PURE WHITE", "url": "/products/lyon?variant=40657838604493" }, { "value": "BLACK", "url": "/products/lyon?variant=40657838538957" } ] }, { "title": "Size", "values": [ { "value": "6", "url": "/products/lyon?variant=40657838604493" }, { "value": "6.5", "url": "/products/lyon?variant=40657838735565" }, { "value": "7", "url": "/products/lyon?variant=40657838866637" }, { "value": "7.5", "url": "/products/lyon?variant=40657838997709" }, { "value": "8", "url": "/products/lyon?variant=40657839128781" }, { "value": "8.5", "url": "/products/lyon?variant=40657839259853" }, { "value": "9", "url": "/products/lyon?variant=40657839390925" }, { "value": "9.5", "url": "/products/lyon?variant=40657839521997" }, { "value": "10", "url": "/products/lyon?variant=40657839653069" } ] }, { "title": "Material", "values": [ { "value": "SOFT CALF LEATHER", "url": "/products/lyon?variant=40657838604493" } ] } ] }
{"id":6759116898509,"title":"LOS ANGELES","handle":"los-angeles","description":"\u003cmeta charset=\"utf-8\"\u003e\u003cspan data-mce-fragment=\"1\"\u003eMeet the LOS ANGELES, our mid-top year round sneaker. A fresh classic take on sport for the modern day.  \u003cmeta charset=\"utf-8\"\u003eWith ultra-soft calf leather or re-nylon uppers, citrus orange details, and a re-speckled flex outsole, our two-tone molded bottom is sleek and comfortable. With style in mind, the rubber flex outsole is durable, while the upper is soft and packable, always ready for your effortless style.\u003c\/span\u003e","published_at":"2022-02-24T17:30:03-05:00","created_at":"2021-09-09T15:01:03-04:00","vendor":"Oncept","type":"Footwear","tags":["FLAT","SNEAKER","SPORT"],"price":30000,"price_min":30000,"price_max":30000,"available":true,"price_varies":false,"compare_at_price":null,"compare_at_price_min":0,"compare_at_price_max":0,"compare_at_price_varies":false,"variants":[{"id":40188163129549,"title":"WHITE CLOUD \/ 6 \/ SOFT CALF LEATHER","option1":"WHITE CLOUD","option2":"6","option3":"SOFT CALF LEATHER","sku":"840237306304","requires_shipping":true,"taxable":true,"featured_image":{"id":30632677179597,"product_id":6759116898509,"position":1,"created_at":"2022-08-26T13:46:47-04:00","updated_at":"2022-08-26T13:47:13-04:00","alt":"0","width":2960,"height":3700,"src":"\/\/oncept.nyc\/cdn\/shop\/products\/LOSANGELES-SIDE-WHITECLOUD-min.jpg?v=1661536033","variant_ids":[40188163129549,40188163293389,40188163457229,40188163621069,40188163784909,40188163948749,40188164112589,40188164276429,40188164440269]},"available":true,"name":"LOS ANGELES - WHITE CLOUD \/ 6 \/ SOFT CALF LEATHER","public_title":"WHITE CLOUD \/ 6 \/ SOFT CALF LEATHER","options":["WHITE CLOUD","6","SOFT CALF LEATHER"],"price":30000,"weight":0,"compare_at_price":null,"inventory_management":"shopify","barcode":"840237306304","featured_media":{"alt":"0","id":22913750073549,"position":1,"preview_image":{"aspect_ratio":0.8,"height":3700,"width":2960,"src":"\/\/oncept.nyc\/cdn\/shop\/products\/LOSANGELES-SIDE-WHITECLOUD-min.jpg?v=1661536033"}},"requires_selling_plan":false,"selling_plan_allocations":[]},{"id":40188163293389,"title":"WHITE CLOUD \/ 6.5 \/ SOFT CALF LEATHER","option1":"WHITE CLOUD","option2":"6.5","option3":"SOFT CALF LEATHER","sku":"840237306311","requires_shipping":true,"taxable":true,"featured_image":{"id":30632677179597,"product_id":6759116898509,"position":1,"created_at":"2022-08-26T13:46:47-04:00","updated_at":"2022-08-26T13:47:13-04:00","alt":"0","width":2960,"height":3700,"src":"\/\/oncept.nyc\/cdn\/shop\/products\/LOSANGELES-SIDE-WHITECLOUD-min.jpg?v=1661536033","variant_ids":[40188163129549,40188163293389,40188163457229,40188163621069,40188163784909,40188163948749,40188164112589,40188164276429,40188164440269]},"available":true,"name":"LOS ANGELES - WHITE CLOUD \/ 6.5 \/ SOFT CALF LEATHER","public_title":"WHITE CLOUD \/ 6.5 \/ SOFT CALF LEATHER","options":["WHITE CLOUD","6.5","SOFT CALF LEATHER"],"price":30000,"weight":0,"compare_at_price":null,"inventory_management":"shopify","barcode":"840237306311","featured_media":{"alt":"0","id":22913750073549,"position":1,"preview_image":{"aspect_ratio":0.8,"height":3700,"width":2960,"src":"\/\/oncept.nyc\/cdn\/shop\/products\/LOSANGELES-SIDE-WHITECLOUD-min.jpg?v=1661536033"}},"requires_selling_plan":false,"selling_plan_allocations":[]},{"id":40188163457229,"title":"WHITE CLOUD \/ 7 \/ SOFT CALF LEATHER","option1":"WHITE CLOUD","option2":"7","option3":"SOFT CALF LEATHER","sku":"840237306328","requires_shipping":true,"taxable":true,"featured_image":{"id":30632677179597,"product_id":6759116898509,"position":1,"created_at":"2022-08-26T13:46:47-04:00","updated_at":"2022-08-26T13:47:13-04:00","alt":"0","width":2960,"height":3700,"src":"\/\/oncept.nyc\/cdn\/shop\/products\/LOSANGELES-SIDE-WHITECLOUD-min.jpg?v=1661536033","variant_ids":[40188163129549,40188163293389,40188163457229,40188163621069,40188163784909,40188163948749,40188164112589,40188164276429,40188164440269]},"available":true,"name":"LOS ANGELES - WHITE CLOUD \/ 7 \/ SOFT CALF LEATHER","public_title":"WHITE CLOUD \/ 7 \/ SOFT CALF LEATHER","options":["WHITE CLOUD","7","SOFT CALF LEATHER"],"price":30000,"weight":0,"compare_at_price":null,"inventory_management":"shopify","barcode":"840237306328","featured_media":{"alt":"0","id":22913750073549,"position":1,"preview_image":{"aspect_ratio":0.8,"height":3700,"width":2960,"src":"\/\/oncept.nyc\/cdn\/shop\/products\/LOSANGELES-SIDE-WHITECLOUD-min.jpg?v=1661536033"}},"requires_selling_plan":false,"selling_plan_allocations":[]},{"id":40188163621069,"title":"WHITE CLOUD \/ 7.5 \/ SOFT CALF LEATHER","option1":"WHITE CLOUD","option2":"7.5","option3":"SOFT CALF LEATHER","sku":"840237306335","requires_shipping":true,"taxable":true,"featured_image":{"id":30632677179597,"product_id":6759116898509,"position":1,"created_at":"2022-08-26T13:46:47-04:00","updated_at":"2022-08-26T13:47:13-04:00","alt":"0","width":2960,"height":3700,"src":"\/\/oncept.nyc\/cdn\/shop\/products\/LOSANGELES-SIDE-WHITECLOUD-min.jpg?v=1661536033","variant_ids":[40188163129549,40188163293389,40188163457229,40188163621069,40188163784909,40188163948749,40188164112589,40188164276429,40188164440269]},"available":true,"name":"LOS ANGELES - WHITE CLOUD \/ 7.5 \/ SOFT CALF LEATHER","public_title":"WHITE CLOUD \/ 7.5 \/ SOFT CALF LEATHER","options":["WHITE CLOUD","7.5","SOFT CALF LEATHER"],"price":30000,"weight":0,"compare_at_price":null,"inventory_management":"shopify","barcode":"840237306335","featured_media":{"alt":"0","id":22913750073549,"position":1,"preview_image":{"aspect_ratio":0.8,"height":3700,"width":2960,"src":"\/\/oncept.nyc\/cdn\/shop\/products\/LOSANGELES-SIDE-WHITECLOUD-min.jpg?v=1661536033"}},"requires_selling_plan":false,"selling_plan_allocations":[]},{"id":40188163784909,"title":"WHITE CLOUD \/ 8 \/ SOFT CALF LEATHER","option1":"WHITE CLOUD","option2":"8","option3":"SOFT CALF LEATHER","sku":"840237306342","requires_shipping":true,"taxable":true,"featured_image":{"id":30632677179597,"product_id":6759116898509,"position":1,"created_at":"2022-08-26T13:46:47-04:00","updated_at":"2022-08-26T13:47:13-04:00","alt":"0","width":2960,"height":3700,"src":"\/\/oncept.nyc\/cdn\/shop\/products\/LOSANGELES-SIDE-WHITECLOUD-min.jpg?v=1661536033","variant_ids":[40188163129549,40188163293389,40188163457229,40188163621069,40188163784909,40188163948749,40188164112589,40188164276429,40188164440269]},"available":false,"name":"LOS ANGELES - WHITE CLOUD \/ 8 \/ SOFT CALF LEATHER","public_title":"WHITE CLOUD \/ 8 \/ SOFT CALF LEATHER","options":["WHITE CLOUD","8","SOFT CALF LEATHER"],"price":30000,"weight":0,"compare_at_price":null,"inventory_management":"shopify","barcode":"840237306342","featured_media":{"alt":"0","id":22913750073549,"position":1,"preview_image":{"aspect_ratio":0.8,"height":3700,"width":2960,"src":"\/\/oncept.nyc\/cdn\/shop\/products\/LOSANGELES-SIDE-WHITECLOUD-min.jpg?v=1661536033"}},"requires_selling_plan":false,"selling_plan_allocations":[]},{"id":40188163948749,"title":"WHITE CLOUD \/ 8.5 \/ SOFT CALF LEATHER","option1":"WHITE CLOUD","option2":"8.5","option3":"SOFT CALF LEATHER","sku":"840237306359","requires_shipping":true,"taxable":true,"featured_image":{"id":30632677179597,"product_id":6759116898509,"position":1,"created_at":"2022-08-26T13:46:47-04:00","updated_at":"2022-08-26T13:47:13-04:00","alt":"0","width":2960,"height":3700,"src":"\/\/oncept.nyc\/cdn\/shop\/products\/LOSANGELES-SIDE-WHITECLOUD-min.jpg?v=1661536033","variant_ids":[40188163129549,40188163293389,40188163457229,40188163621069,40188163784909,40188163948749,40188164112589,40188164276429,40188164440269]},"available":true,"name":"LOS ANGELES - WHITE CLOUD \/ 8.5 \/ SOFT CALF LEATHER","public_title":"WHITE CLOUD \/ 8.5 \/ SOFT CALF LEATHER","options":["WHITE CLOUD","8.5","SOFT CALF LEATHER"],"price":30000,"weight":0,"compare_at_price":null,"inventory_management":"shopify","barcode":"840237306359","featured_media":{"alt":"0","id":22913750073549,"position":1,"preview_image":{"aspect_ratio":0.8,"height":3700,"width":2960,"src":"\/\/oncept.nyc\/cdn\/shop\/products\/LOSANGELES-SIDE-WHITECLOUD-min.jpg?v=1661536033"}},"requires_selling_plan":false,"selling_plan_allocations":[]},{"id":40188164112589,"title":"WHITE CLOUD \/ 9 \/ SOFT CALF LEATHER","option1":"WHITE CLOUD","option2":"9","option3":"SOFT CALF LEATHER","sku":"840237306366","requires_shipping":true,"taxable":true,"featured_image":{"id":30632677179597,"product_id":6759116898509,"position":1,"created_at":"2022-08-26T13:46:47-04:00","updated_at":"2022-08-26T13:47:13-04:00","alt":"0","width":2960,"height":3700,"src":"\/\/oncept.nyc\/cdn\/shop\/products\/LOSANGELES-SIDE-WHITECLOUD-min.jpg?v=1661536033","variant_ids":[40188163129549,40188163293389,40188163457229,40188163621069,40188163784909,40188163948749,40188164112589,40188164276429,40188164440269]},"available":true,"name":"LOS ANGELES - WHITE CLOUD \/ 9 \/ SOFT CALF LEATHER","public_title":"WHITE CLOUD \/ 9 \/ SOFT CALF LEATHER","options":["WHITE CLOUD","9","SOFT CALF LEATHER"],"price":30000,"weight":0,"compare_at_price":null,"inventory_management":"shopify","barcode":"840237306366","featured_media":{"alt":"0","id":22913750073549,"position":1,"preview_image":{"aspect_ratio":0.8,"height":3700,"width":2960,"src":"\/\/oncept.nyc\/cdn\/shop\/products\/LOSANGELES-SIDE-WHITECLOUD-min.jpg?v=1661536033"}},"requires_selling_plan":false,"selling_plan_allocations":[]},{"id":40188164276429,"title":"WHITE CLOUD \/ 9.5 \/ SOFT CALF LEATHER","option1":"WHITE CLOUD","option2":"9.5","option3":"SOFT CALF LEATHER","sku":"840237306373","requires_shipping":true,"taxable":true,"featured_image":{"id":30632677179597,"product_id":6759116898509,"position":1,"created_at":"2022-08-26T13:46:47-04:00","updated_at":"2022-08-26T13:47:13-04:00","alt":"0","width":2960,"height":3700,"src":"\/\/oncept.nyc\/cdn\/shop\/products\/LOSANGELES-SIDE-WHITECLOUD-min.jpg?v=1661536033","variant_ids":[40188163129549,40188163293389,40188163457229,40188163621069,40188163784909,40188163948749,40188164112589,40188164276429,40188164440269]},"available":true,"name":"LOS ANGELES - WHITE CLOUD \/ 9.5 \/ SOFT CALF LEATHER","public_title":"WHITE CLOUD \/ 9.5 \/ SOFT CALF LEATHER","options":["WHITE CLOUD","9.5","SOFT CALF LEATHER"],"price":30000,"weight":0,"compare_at_price":null,"inventory_management":"shopify","barcode":"840237306373","featured_media":{"alt":"0","id":22913750073549,"position":1,"preview_image":{"aspect_ratio":0.8,"height":3700,"width":2960,"src":"\/\/oncept.nyc\/cdn\/shop\/products\/LOSANGELES-SIDE-WHITECLOUD-min.jpg?v=1661536033"}},"requires_selling_plan":false,"selling_plan_allocations":[]},{"id":40188164440269,"title":"WHITE CLOUD \/ 10 \/ SOFT CALF LEATHER","option1":"WHITE CLOUD","option2":"10","option3":"SOFT CALF LEATHER","sku":"840237306380","requires_shipping":true,"taxable":true,"featured_image":{"id":30632677179597,"product_id":6759116898509,"position":1,"created_at":"2022-08-26T13:46:47-04:00","updated_at":"2022-08-26T13:47:13-04:00","alt":"0","width":2960,"height":3700,"src":"\/\/oncept.nyc\/cdn\/shop\/products\/LOSANGELES-SIDE-WHITECLOUD-min.jpg?v=1661536033","variant_ids":[40188163129549,40188163293389,40188163457229,40188163621069,40188163784909,40188163948749,40188164112589,40188164276429,40188164440269]},"available":true,"name":"LOS ANGELES - WHITE CLOUD \/ 10 \/ SOFT CALF LEATHER","public_title":"WHITE CLOUD \/ 10 \/ SOFT CALF LEATHER","options":["WHITE CLOUD","10","SOFT CALF LEATHER"],"price":30000,"weight":0,"compare_at_price":null,"inventory_management":"shopify","barcode":"840237306380","featured_media":{"alt":"0","id":22913750073549,"position":1,"preview_image":{"aspect_ratio":0.8,"height":3700,"width":2960,"src":"\/\/oncept.nyc\/cdn\/shop\/products\/LOSANGELES-SIDE-WHITECLOUD-min.jpg?v=1661536033"}},"requires_selling_plan":false,"selling_plan_allocations":[]},{"id":40188163162317,"title":"PINK PRISM \/ 6 \/ NYLON","option1":"PINK PRISM","option2":"6","option3":"NYLON","sku":"840237306397","requires_shipping":true,"taxable":true,"featured_image":{"id":30632677572813,"product_id":6759116898509,"position":7,"created_at":"2022-08-26T13:46:47-04:00","updated_at":"2022-08-26T13:47:13-04:00","alt":"1","width":2960,"height":3700,"src":"\/\/oncept.nyc\/cdn\/shop\/products\/LOSANGELES-SIDE-PRISMPINK-min.jpg?v=1661536033","variant_ids":[40188163162317,40188163326157,40188163489997,40188163653837,40188163817677,40188163981517,40188164145357,40188164309197,40188164473037]},"available":true,"name":"LOS ANGELES - PINK PRISM \/ 6 \/ NYLON","public_title":"PINK PRISM \/ 6 \/ NYLON","options":["PINK PRISM","6","NYLON"],"price":30000,"weight":0,"compare_at_price":null,"inventory_management":"shopify","barcode":"840237306397","featured_media":{"alt":"1","id":22913750040781,"position":7,"preview_image":{"aspect_ratio":0.8,"height":3700,"width":2960,"src":"\/\/oncept.nyc\/cdn\/shop\/products\/LOSANGELES-SIDE-PRISMPINK-min.jpg?v=1661536033"}},"requires_selling_plan":false,"selling_plan_allocations":[]},{"id":40188163326157,"title":"PINK PRISM \/ 6.5 \/ NYLON","option1":"PINK PRISM","option2":"6.5","option3":"NYLON","sku":"840237306403","requires_shipping":true,"taxable":true,"featured_image":{"id":30632677572813,"product_id":6759116898509,"position":7,"created_at":"2022-08-26T13:46:47-04:00","updated_at":"2022-08-26T13:47:13-04:00","alt":"1","width":2960,"height":3700,"src":"\/\/oncept.nyc\/cdn\/shop\/products\/LOSANGELES-SIDE-PRISMPINK-min.jpg?v=1661536033","variant_ids":[40188163162317,40188163326157,40188163489997,40188163653837,40188163817677,40188163981517,40188164145357,40188164309197,40188164473037]},"available":false,"name":"LOS ANGELES - PINK PRISM \/ 6.5 \/ NYLON","public_title":"PINK PRISM \/ 6.5 \/ NYLON","options":["PINK PRISM","6.5","NYLON"],"price":30000,"weight":0,"compare_at_price":null,"inventory_management":"shopify","barcode":"840237306403","featured_media":{"alt":"1","id":22913750040781,"position":7,"preview_image":{"aspect_ratio":0.8,"height":3700,"width":2960,"src":"\/\/oncept.nyc\/cdn\/shop\/products\/LOSANGELES-SIDE-PRISMPINK-min.jpg?v=1661536033"}},"requires_selling_plan":false,"selling_plan_allocations":[]},{"id":40188163489997,"title":"PINK PRISM \/ 7 \/ NYLON","option1":"PINK PRISM","option2":"7","option3":"NYLON","sku":"840237306410","requires_shipping":true,"taxable":true,"featured_image":{"id":30632677572813,"product_id":6759116898509,"position":7,"created_at":"2022-08-26T13:46:47-04:00","updated_at":"2022-08-26T13:47:13-04:00","alt":"1","width":2960,"height":3700,"src":"\/\/oncept.nyc\/cdn\/shop\/products\/LOSANGELES-SIDE-PRISMPINK-min.jpg?v=1661536033","variant_ids":[40188163162317,40188163326157,40188163489997,40188163653837,40188163817677,40188163981517,40188164145357,40188164309197,40188164473037]},"available":true,"name":"LOS ANGELES - PINK PRISM \/ 7 \/ NYLON","public_title":"PINK PRISM \/ 7 \/ NYLON","options":["PINK PRISM","7","NYLON"],"price":30000,"weight":0,"compare_at_price":null,"inventory_management":"shopify","barcode":"840237306410","featured_media":{"alt":"1","id":22913750040781,"position":7,"preview_image":{"aspect_ratio":0.8,"height":3700,"width":2960,"src":"\/\/oncept.nyc\/cdn\/shop\/products\/LOSANGELES-SIDE-PRISMPINK-min.jpg?v=1661536033"}},"requires_selling_plan":false,"selling_plan_allocations":[]},{"id":40188163653837,"title":"PINK PRISM \/ 7.5 \/ NYLON","option1":"PINK PRISM","option2":"7.5","option3":"NYLON","sku":"840237306427","requires_shipping":true,"taxable":true,"featured_image":{"id":30632677572813,"product_id":6759116898509,"position":7,"created_at":"2022-08-26T13:46:47-04:00","updated_at":"2022-08-26T13:47:13-04:00","alt":"1","width":2960,"height":3700,"src":"\/\/oncept.nyc\/cdn\/shop\/products\/LOSANGELES-SIDE-PRISMPINK-min.jpg?v=1661536033","variant_ids":[40188163162317,40188163326157,40188163489997,40188163653837,40188163817677,40188163981517,40188164145357,40188164309197,40188164473037]},"available":true,"name":"LOS ANGELES - PINK PRISM \/ 7.5 \/ NYLON","public_title":"PINK PRISM \/ 7.5 \/ NYLON","options":["PINK PRISM","7.5","NYLON"],"price":30000,"weight":0,"compare_at_price":null,"inventory_management":"shopify","barcode":"840237306427","featured_media":{"alt":"1","id":22913750040781,"position":7,"preview_image":{"aspect_ratio":0.8,"height":3700,"width":2960,"src":"\/\/oncept.nyc\/cdn\/shop\/products\/LOSANGELES-SIDE-PRISMPINK-min.jpg?v=1661536033"}},"requires_selling_plan":false,"selling_plan_allocations":[]},{"id":40188163817677,"title":"PINK PRISM \/ 8 \/ NYLON","option1":"PINK PRISM","option2":"8","option3":"NYLON","sku":"840237306434","requires_shipping":true,"taxable":true,"featured_image":{"id":30632677572813,"product_id":6759116898509,"position":7,"created_at":"2022-08-26T13:46:47-04:00","updated_at":"2022-08-26T13:47:13-04:00","alt":"1","width":2960,"height":3700,"src":"\/\/oncept.nyc\/cdn\/shop\/products\/LOSANGELES-SIDE-PRISMPINK-min.jpg?v=1661536033","variant_ids":[40188163162317,40188163326157,40188163489997,40188163653837,40188163817677,40188163981517,40188164145357,40188164309197,40188164473037]},"available":true,"name":"LOS ANGELES - PINK PRISM \/ 8 \/ NYLON","public_title":"PINK PRISM \/ 8 \/ NYLON","options":["PINK PRISM","8","NYLON"],"price":30000,"weight":0,"compare_at_price":null,"inventory_management":"shopify","barcode":"840237306434","featured_media":{"alt":"1","id":22913750040781,"position":7,"preview_image":{"aspect_ratio":0.8,"height":3700,"width":2960,"src":"\/\/oncept.nyc\/cdn\/shop\/products\/LOSANGELES-SIDE-PRISMPINK-min.jpg?v=1661536033"}},"requires_selling_plan":false,"selling_plan_allocations":[]},{"id":40188163981517,"title":"PINK PRISM \/ 8.5 \/ NYLON","option1":"PINK PRISM","option2":"8.5","option3":"NYLON","sku":"840237306441","requires_shipping":true,"taxable":true,"featured_image":{"id":30632677572813,"product_id":6759116898509,"position":7,"created_at":"2022-08-26T13:46:47-04:00","updated_at":"2022-08-26T13:47:13-04:00","alt":"1","width":2960,"height":3700,"src":"\/\/oncept.nyc\/cdn\/shop\/products\/LOSANGELES-SIDE-PRISMPINK-min.jpg?v=1661536033","variant_ids":[40188163162317,40188163326157,40188163489997,40188163653837,40188163817677,40188163981517,40188164145357,40188164309197,40188164473037]},"available":true,"name":"LOS ANGELES - PINK PRISM \/ 8.5 \/ NYLON","public_title":"PINK PRISM \/ 8.5 \/ NYLON","options":["PINK PRISM","8.5","NYLON"],"price":30000,"weight":0,"compare_at_price":null,"inventory_management":"shopify","barcode":"840237306441","featured_media":{"alt":"1","id":22913750040781,"position":7,"preview_image":{"aspect_ratio":0.8,"height":3700,"width":2960,"src":"\/\/oncept.nyc\/cdn\/shop\/products\/LOSANGELES-SIDE-PRISMPINK-min.jpg?v=1661536033"}},"requires_selling_plan":false,"selling_plan_allocations":[]},{"id":40188164145357,"title":"PINK PRISM \/ 9 \/ NYLON","option1":"PINK PRISM","option2":"9","option3":"NYLON","sku":"840237306458","requires_shipping":true,"taxable":true,"featured_image":{"id":30632677572813,"product_id":6759116898509,"position":7,"created_at":"2022-08-26T13:46:47-04:00","updated_at":"2022-08-26T13:47:13-04:00","alt":"1","width":2960,"height":3700,"src":"\/\/oncept.nyc\/cdn\/shop\/products\/LOSANGELES-SIDE-PRISMPINK-min.jpg?v=1661536033","variant_ids":[40188163162317,40188163326157,40188163489997,40188163653837,40188163817677,40188163981517,40188164145357,40188164309197,40188164473037]},"available":true,"name":"LOS ANGELES - PINK PRISM \/ 9 \/ NYLON","public_title":"PINK PRISM \/ 9 \/ NYLON","options":["PINK PRISM","9","NYLON"],"price":30000,"weight":0,"compare_at_price":null,"inventory_management":"shopify","barcode":"840237306458","featured_media":{"alt":"1","id":22913750040781,"position":7,"preview_image":{"aspect_ratio":0.8,"height":3700,"width":2960,"src":"\/\/oncept.nyc\/cdn\/shop\/products\/LOSANGELES-SIDE-PRISMPINK-min.jpg?v=1661536033"}},"requires_selling_plan":false,"selling_plan_allocations":[]},{"id":40188164309197,"title":"PINK PRISM \/ 9.5 \/ NYLON","option1":"PINK PRISM","option2":"9.5","option3":"NYLON","sku":"840237306465","requires_shipping":true,"taxable":true,"featured_image":{"id":30632677572813,"product_id":6759116898509,"position":7,"created_at":"2022-08-26T13:46:47-04:00","updated_at":"2022-08-26T13:47:13-04:00","alt":"1","width":2960,"height":3700,"src":"\/\/oncept.nyc\/cdn\/shop\/products\/LOSANGELES-SIDE-PRISMPINK-min.jpg?v=1661536033","variant_ids":[40188163162317,40188163326157,40188163489997,40188163653837,40188163817677,40188163981517,40188164145357,40188164309197,40188164473037]},"available":true,"name":"LOS ANGELES - PINK PRISM \/ 9.5 \/ NYLON","public_title":"PINK PRISM \/ 9.5 \/ NYLON","options":["PINK PRISM","9.5","NYLON"],"price":30000,"weight":0,"compare_at_price":null,"inventory_management":"shopify","barcode":"840237306465","featured_media":{"alt":"1","id":22913750040781,"position":7,"preview_image":{"aspect_ratio":0.8,"height":3700,"width":2960,"src":"\/\/oncept.nyc\/cdn\/shop\/products\/LOSANGELES-SIDE-PRISMPINK-min.jpg?v=1661536033"}},"requires_selling_plan":false,"selling_plan_allocations":[]},{"id":40188164473037,"title":"PINK PRISM \/ 10 \/ NYLON","option1":"PINK PRISM","option2":"10","option3":"NYLON","sku":"840237306472","requires_shipping":true,"taxable":true,"featured_image":{"id":30632677572813,"product_id":6759116898509,"position":7,"created_at":"2022-08-26T13:46:47-04:00","updated_at":"2022-08-26T13:47:13-04:00","alt":"1","width":2960,"height":3700,"src":"\/\/oncept.nyc\/cdn\/shop\/products\/LOSANGELES-SIDE-PRISMPINK-min.jpg?v=1661536033","variant_ids":[40188163162317,40188163326157,40188163489997,40188163653837,40188163817677,40188163981517,40188164145357,40188164309197,40188164473037]},"available":true,"name":"LOS ANGELES - PINK PRISM \/ 10 \/ NYLON","public_title":"PINK PRISM \/ 10 \/ NYLON","options":["PINK PRISM","10","NYLON"],"price":30000,"weight":0,"compare_at_price":null,"inventory_management":"shopify","barcode":"840237306472","featured_media":{"alt":"1","id":22913750040781,"position":7,"preview_image":{"aspect_ratio":0.8,"height":3700,"width":2960,"src":"\/\/oncept.nyc\/cdn\/shop\/products\/LOSANGELES-SIDE-PRISMPINK-min.jpg?v=1661536033"}},"requires_selling_plan":false,"selling_plan_allocations":[]},{"id":40188163195085,"title":"PALE LIME \/ 6 \/ NYLON","option1":"PALE LIME","option2":"6","option3":"NYLON","sku":"840237306489","requires_shipping":true,"taxable":true,"featured_image":{"id":30632677212365,"product_id":6759116898509,"position":14,"created_at":"2022-08-26T13:46:47-04:00","updated_at":"2022-08-26T13:47:13-04:00","alt":"2","width":2960,"height":3700,"src":"\/\/oncept.nyc\/cdn\/shop\/products\/LOSANGELES-SIDE-PALELIME-min.jpg?v=1661536033","variant_ids":[40188163195085,40188163358925,40188163522765,40188163686605,40188163850445,40188164014285,40188164178125,40188164341965,40188164505805]},"available":true,"name":"LOS ANGELES - PALE LIME \/ 6 \/ NYLON","public_title":"PALE LIME \/ 6 \/ NYLON","options":["PALE LIME","6","NYLON"],"price":30000,"weight":0,"compare_at_price":null,"inventory_management":"shopify","barcode":"840237306489","featured_media":{"alt":"2","id":22913750008013,"position":14,"preview_image":{"aspect_ratio":0.8,"height":3700,"width":2960,"src":"\/\/oncept.nyc\/cdn\/shop\/products\/LOSANGELES-SIDE-PALELIME-min.jpg?v=1661536033"}},"requires_selling_plan":false,"selling_plan_allocations":[]},{"id":40188163358925,"title":"PALE LIME \/ 6.5 \/ NYLON","option1":"PALE LIME","option2":"6.5","option3":"NYLON","sku":"840237306496","requires_shipping":true,"taxable":true,"featured_image":{"id":30632677212365,"product_id":6759116898509,"position":14,"created_at":"2022-08-26T13:46:47-04:00","updated_at":"2022-08-26T13:47:13-04:00","alt":"2","width":2960,"height":3700,"src":"\/\/oncept.nyc\/cdn\/shop\/products\/LOSANGELES-SIDE-PALELIME-min.jpg?v=1661536033","variant_ids":[40188163195085,40188163358925,40188163522765,40188163686605,40188163850445,40188164014285,40188164178125,40188164341965,40188164505805]},"available":true,"name":"LOS ANGELES - PALE LIME \/ 6.5 \/ NYLON","public_title":"PALE LIME \/ 6.5 \/ NYLON","options":["PALE LIME","6.5","NYLON"],"price":30000,"weight":0,"compare_at_price":null,"inventory_management":"shopify","barcode":"840237306496","featured_media":{"alt":"2","id":22913750008013,"position":14,"preview_image":{"aspect_ratio":0.8,"height":3700,"width":2960,"src":"\/\/oncept.nyc\/cdn\/shop\/products\/LOSANGELES-SIDE-PALELIME-min.jpg?v=1661536033"}},"requires_selling_plan":false,"selling_plan_allocations":[]},{"id":40188163522765,"title":"PALE LIME \/ 7 \/ NYLON","option1":"PALE LIME","option2":"7","option3":"NYLON","sku":"840237306502","requires_shipping":true,"taxable":true,"featured_image":{"id":30632677212365,"product_id":6759116898509,"position":14,"created_at":"2022-08-26T13:46:47-04:00","updated_at":"2022-08-26T13:47:13-04:00","alt":"2","width":2960,"height":3700,"src":"\/\/oncept.nyc\/cdn\/shop\/products\/LOSANGELES-SIDE-PALELIME-min.jpg?v=1661536033","variant_ids":[40188163195085,40188163358925,40188163522765,40188163686605,40188163850445,40188164014285,40188164178125,40188164341965,40188164505805]},"available":true,"name":"LOS ANGELES - PALE LIME \/ 7 \/ NYLON","public_title":"PALE LIME \/ 7 \/ NYLON","options":["PALE LIME","7","NYLON"],"price":30000,"weight":0,"compare_at_price":null,"inventory_management":"shopify","barcode":"840237306502","featured_media":{"alt":"2","id":22913750008013,"position":14,"preview_image":{"aspect_ratio":0.8,"height":3700,"width":2960,"src":"\/\/oncept.nyc\/cdn\/shop\/products\/LOSANGELES-SIDE-PALELIME-min.jpg?v=1661536033"}},"requires_selling_plan":false,"selling_plan_allocations":[]},{"id":40188163686605,"title":"PALE LIME \/ 7.5 \/ NYLON","option1":"PALE LIME","option2":"7.5","option3":"NYLON","sku":"840237306519","requires_shipping":true,"taxable":true,"featured_image":{"id":30632677212365,"product_id":6759116898509,"position":14,"created_at":"2022-08-26T13:46:47-04:00","updated_at":"2022-08-26T13:47:13-04:00","alt":"2","width":2960,"height":3700,"src":"\/\/oncept.nyc\/cdn\/shop\/products\/LOSANGELES-SIDE-PALELIME-min.jpg?v=1661536033","variant_ids":[40188163195085,40188163358925,40188163522765,40188163686605,40188163850445,40188164014285,40188164178125,40188164341965,40188164505805]},"available":true,"name":"LOS ANGELES - PALE LIME \/ 7.5 \/ NYLON","public_title":"PALE LIME \/ 7.5 \/ NYLON","options":["PALE LIME","7.5","NYLON"],"price":30000,"weight":0,"compare_at_price":null,"inventory_management":"shopify","barcode":"840237306519","featured_media":{"alt":"2","id":22913750008013,"position":14,"preview_image":{"aspect_ratio":0.8,"height":3700,"width":2960,"src":"\/\/oncept.nyc\/cdn\/shop\/products\/LOSANGELES-SIDE-PALELIME-min.jpg?v=1661536033"}},"requires_selling_plan":false,"selling_plan_allocations":[]},{"id":40188163850445,"title":"PALE LIME \/ 8 \/ NYLON","option1":"PALE LIME","option2":"8","option3":"NYLON","sku":"840237306526","requires_shipping":true,"taxable":true,"featured_image":{"id":30632677212365,"product_id":6759116898509,"position":14,"created_at":"2022-08-26T13:46:47-04:00","updated_at":"2022-08-26T13:47:13-04:00","alt":"2","width":2960,"height":3700,"src":"\/\/oncept.nyc\/cdn\/shop\/products\/LOSANGELES-SIDE-PALELIME-min.jpg?v=1661536033","variant_ids":[40188163195085,40188163358925,40188163522765,40188163686605,40188163850445,40188164014285,40188164178125,40188164341965,40188164505805]},"available":true,"name":"LOS ANGELES - PALE LIME \/ 8 \/ NYLON","public_title":"PALE LIME \/ 8 \/ NYLON","options":["PALE LIME","8","NYLON"],"price":30000,"weight":0,"compare_at_price":null,"inventory_management":"shopify","barcode":"840237306526","featured_media":{"alt":"2","id":22913750008013,"position":14,"preview_image":{"aspect_ratio":0.8,"height":3700,"width":2960,"src":"\/\/oncept.nyc\/cdn\/shop\/products\/LOSANGELES-SIDE-PALELIME-min.jpg?v=1661536033"}},"requires_selling_plan":false,"selling_plan_allocations":[]},{"id":40188164014285,"title":"PALE LIME \/ 8.5 \/ NYLON","option1":"PALE LIME","option2":"8.5","option3":"NYLON","sku":"840237306533","requires_shipping":true,"taxable":true,"featured_image":{"id":30632677212365,"product_id":6759116898509,"position":14,"created_at":"2022-08-26T13:46:47-04:00","updated_at":"2022-08-26T13:47:13-04:00","alt":"2","width":2960,"height":3700,"src":"\/\/oncept.nyc\/cdn\/shop\/products\/LOSANGELES-SIDE-PALELIME-min.jpg?v=1661536033","variant_ids":[40188163195085,40188163358925,40188163522765,40188163686605,40188163850445,40188164014285,40188164178125,40188164341965,40188164505805]},"available":true,"name":"LOS ANGELES - PALE LIME \/ 8.5 \/ NYLON","public_title":"PALE LIME \/ 8.5 \/ NYLON","options":["PALE LIME","8.5","NYLON"],"price":30000,"weight":0,"compare_at_price":null,"inventory_management":"shopify","barcode":"840237306533","featured_media":{"alt":"2","id":22913750008013,"position":14,"preview_image":{"aspect_ratio":0.8,"height":3700,"width":2960,"src":"\/\/oncept.nyc\/cdn\/shop\/products\/LOSANGELES-SIDE-PALELIME-min.jpg?v=1661536033"}},"requires_selling_plan":false,"selling_plan_allocations":[]},{"id":40188164178125,"title":"PALE LIME \/ 9 \/ NYLON","option1":"PALE LIME","option2":"9","option3":"NYLON","sku":"840237306540","requires_shipping":true,"taxable":true,"featured_image":{"id":30632677212365,"product_id":6759116898509,"position":14,"created_at":"2022-08-26T13:46:47-04:00","updated_at":"2022-08-26T13:47:13-04:00","alt":"2","width":2960,"height":3700,"src":"\/\/oncept.nyc\/cdn\/shop\/products\/LOSANGELES-SIDE-PALELIME-min.jpg?v=1661536033","variant_ids":[40188163195085,40188163358925,40188163522765,40188163686605,40188163850445,40188164014285,40188164178125,40188164341965,40188164505805]},"available":true,"name":"LOS ANGELES - PALE LIME \/ 9 \/ NYLON","public_title":"PALE LIME \/ 9 \/ NYLON","options":["PALE LIME","9","NYLON"],"price":30000,"weight":0,"compare_at_price":null,"inventory_management":"shopify","barcode":"840237306540","featured_media":{"alt":"2","id":22913750008013,"position":14,"preview_image":{"aspect_ratio":0.8,"height":3700,"width":2960,"src":"\/\/oncept.nyc\/cdn\/shop\/products\/LOSANGELES-SIDE-PALELIME-min.jpg?v=1661536033"}},"requires_selling_plan":false,"selling_plan_allocations":[]},{"id":40188164341965,"title":"PALE LIME \/ 9.5 \/ NYLON","option1":"PALE LIME","option2":"9.5","option3":"NYLON","sku":"840237306557","requires_shipping":true,"taxable":true,"featured_image":{"id":30632677212365,"product_id":6759116898509,"position":14,"created_at":"2022-08-26T13:46:47-04:00","updated_at":"2022-08-26T13:47:13-04:00","alt":"2","width":2960,"height":3700,"src":"\/\/oncept.nyc\/cdn\/shop\/products\/LOSANGELES-SIDE-PALELIME-min.jpg?v=1661536033","variant_ids":[40188163195085,40188163358925,40188163522765,40188163686605,40188163850445,40188164014285,40188164178125,40188164341965,40188164505805]},"available":false,"name":"LOS ANGELES - PALE LIME \/ 9.5 \/ NYLON","public_title":"PALE LIME \/ 9.5 \/ NYLON","options":["PALE LIME","9.5","NYLON"],"price":30000,"weight":0,"compare_at_price":null,"inventory_management":"shopify","barcode":"840237306557","featured_media":{"alt":"2","id":22913750008013,"position":14,"preview_image":{"aspect_ratio":0.8,"height":3700,"width":2960,"src":"\/\/oncept.nyc\/cdn\/shop\/products\/LOSANGELES-SIDE-PALELIME-min.jpg?v=1661536033"}},"requires_selling_plan":false,"selling_plan_allocations":[]},{"id":40188164505805,"title":"PALE LIME \/ 10 \/ NYLON","option1":"PALE LIME","option2":"10","option3":"NYLON","sku":"840237306564","requires_shipping":true,"taxable":true,"featured_image":{"id":30632677212365,"product_id":6759116898509,"position":14,"created_at":"2022-08-26T13:46:47-04:00","updated_at":"2022-08-26T13:47:13-04:00","alt":"2","width":2960,"height":3700,"src":"\/\/oncept.nyc\/cdn\/shop\/products\/LOSANGELES-SIDE-PALELIME-min.jpg?v=1661536033","variant_ids":[40188163195085,40188163358925,40188163522765,40188163686605,40188163850445,40188164014285,40188164178125,40188164341965,40188164505805]},"available":true,"name":"LOS ANGELES - PALE LIME \/ 10 \/ NYLON","public_title":"PALE LIME \/ 10 \/ NYLON","options":["PALE LIME","10","NYLON"],"price":30000,"weight":0,"compare_at_price":null,"inventory_management":"shopify","barcode":"840237306564","featured_media":{"alt":"2","id":22913750008013,"position":14,"preview_image":{"aspect_ratio":0.8,"height":3700,"width":2960,"src":"\/\/oncept.nyc\/cdn\/shop\/products\/LOSANGELES-SIDE-PALELIME-min.jpg?v=1661536033"}},"requires_selling_plan":false,"selling_plan_allocations":[]}],"images":["\/\/oncept.nyc\/cdn\/shop\/products\/LOSANGELES-SIDE-WHITECLOUD-min.jpg?v=1661536033","\/\/oncept.nyc\/cdn\/shop\/products\/LOSANGELES-TOP-WHITECLOUD.jpg?v=1661536033","\/\/oncept.nyc\/cdn\/shop\/products\/LOSANGLES-BACK-WHITECLOUD.jpg?v=1661536033","\/\/oncept.nyc\/cdn\/shop\/products\/LOSANGLES-OUTSOLE-WHITECLOUD.jpg?v=1661536033","\/\/oncept.nyc\/cdn\/shop\/products\/LOSANGLES-SOFTNESS-WHITECLOUD.jpg?v=1661536033","\/\/oncept.nyc\/cdn\/shop\/products\/LOSANGELES-ONFOOT-WHITECLOUD.jpg?v=1661536033","\/\/oncept.nyc\/cdn\/shop\/products\/LOSANGELES-SIDE-PRISMPINK-min.jpg?v=1661536033","\/\/oncept.nyc\/cdn\/shop\/products\/LOSANGELES-TOP-PRISMPINK.jpg?v=1661536033","\/\/oncept.nyc\/cdn\/shop\/products\/LOSANGLES-BACK-PRISMPINK-min.jpg?v=1661536033","\/\/oncept.nyc\/cdn\/shop\/products\/LOSANGLES-OUTSOLE-PRISMPINK-min.jpg?v=1661536033","\/\/oncept.nyc\/cdn\/shop\/products\/LOSANGLES-OUTSOLE-PRISMPINK.jpg?v=1677092048","\/\/oncept.nyc\/cdn\/shop\/products\/LOSANGLES-SOFTNESS-PRISMPINK.jpg?v=1677092048","\/\/oncept.nyc\/cdn\/shop\/products\/LOSANGELES-ONFOOT-PINKPRISIM-min.jpg?v=1677092048","\/\/oncept.nyc\/cdn\/shop\/products\/LOSANGELES-SIDE-PALELIME-min.jpg?v=1661536033","\/\/oncept.nyc\/cdn\/shop\/products\/LOSANGELES-TOP-PALELIME.jpg?v=1661536033","\/\/oncept.nyc\/cdn\/shop\/products\/LOSANGLES-BACK-PALELIME.jpg?v=1661536033","\/\/oncept.nyc\/cdn\/shop\/products\/LOSANGLES-OUTSOLE-PALELIME.jpg?v=1661536033","\/\/oncept.nyc\/cdn\/shop\/products\/LOSANGLES-SOFTNESS-PALELIME.jpg?v=1661536033","\/\/oncept.nyc\/cdn\/shop\/products\/LOSANGELES-ONFOOT-PALELIME-min.jpg?v=1661536033"],"featured_image":"\/\/oncept.nyc\/cdn\/shop\/products\/LOSANGELES-SIDE-WHITECLOUD-min.jpg?v=1661536033","options":["Color","Size","Material"],"media":[{"alt":"0","id":22913750073549,"position":1,"preview_image":{"aspect_ratio":0.8,"height":3700,"width":2960,"src":"\/\/oncept.nyc\/cdn\/shop\/products\/LOSANGELES-SIDE-WHITECLOUD-min.jpg?v=1661536033"},"aspect_ratio":0.8,"height":3700,"media_type":"image","src":"\/\/oncept.nyc\/cdn\/shop\/products\/LOSANGELES-SIDE-WHITECLOUD-min.jpg?v=1661536033","width":2960},{"alt":"0","id":22108911042765,"position":2,"preview_image":{"aspect_ratio":0.8,"height":1500,"width":1200,"src":"\/\/oncept.nyc\/cdn\/shop\/products\/LOSANGELES-TOP-WHITECLOUD.jpg?v=1661536033"},"aspect_ratio":0.8,"height":1500,"media_type":"image","src":"\/\/oncept.nyc\/cdn\/shop\/products\/LOSANGELES-TOP-WHITECLOUD.jpg?v=1661536033","width":1200},{"alt":"0","id":22108911141069,"position":3,"preview_image":{"aspect_ratio":0.8,"height":1500,"width":1200,"src":"\/\/oncept.nyc\/cdn\/shop\/products\/LOSANGLES-BACK-WHITECLOUD.jpg?v=1661536033"},"aspect_ratio":0.8,"height":1500,"media_type":"image","src":"\/\/oncept.nyc\/cdn\/shop\/products\/LOSANGLES-BACK-WHITECLOUD.jpg?v=1661536033","width":1200},{"alt":"0","id":22108911239373,"position":4,"preview_image":{"aspect_ratio":0.8,"height":1500,"width":1200,"src":"\/\/oncept.nyc\/cdn\/shop\/products\/LOSANGLES-OUTSOLE-WHITECLOUD.jpg?v=1661536033"},"aspect_ratio":0.8,"height":1500,"media_type":"image","src":"\/\/oncept.nyc\/cdn\/shop\/products\/LOSANGLES-OUTSOLE-WHITECLOUD.jpg?v=1661536033","width":1200},{"alt":"0","id":22108911337677,"position":5,"preview_image":{"aspect_ratio":0.8,"height":1500,"width":1200,"src":"\/\/oncept.nyc\/cdn\/shop\/products\/LOSANGLES-SOFTNESS-WHITECLOUD.jpg?v=1661536033"},"aspect_ratio":0.8,"height":1500,"media_type":"image","src":"\/\/oncept.nyc\/cdn\/shop\/products\/LOSANGLES-SOFTNESS-WHITECLOUD.jpg?v=1661536033","width":1200},{"alt":"0","id":22108910846157,"position":6,"preview_image":{"aspect_ratio":0.8,"height":1500,"width":1200,"src":"\/\/oncept.nyc\/cdn\/shop\/products\/LOSANGELES-ONFOOT-WHITECLOUD.jpg?v=1661536033"},"aspect_ratio":0.8,"height":1500,"media_type":"image","src":"\/\/oncept.nyc\/cdn\/shop\/products\/LOSANGELES-ONFOOT-WHITECLOUD.jpg?v=1661536033","width":1200},{"alt":"1","id":22913750040781,"position":7,"preview_image":{"aspect_ratio":0.8,"height":3700,"width":2960,"src":"\/\/oncept.nyc\/cdn\/shop\/products\/LOSANGELES-SIDE-PRISMPINK-min.jpg?v=1661536033"},"aspect_ratio":0.8,"height":3700,"media_type":"image","src":"\/\/oncept.nyc\/cdn\/shop\/products\/LOSANGELES-SIDE-PRISMPINK-min.jpg?v=1661536033","width":2960},{"alt":"1","id":22108911009997,"position":8,"preview_image":{"aspect_ratio":0.8,"height":1500,"width":1200,"src":"\/\/oncept.nyc\/cdn\/shop\/products\/LOSANGELES-TOP-PRISMPINK.jpg?v=1661536033"},"aspect_ratio":0.8,"height":1500,"media_type":"image","src":"\/\/oncept.nyc\/cdn\/shop\/products\/LOSANGELES-TOP-PRISMPINK.jpg?v=1661536033","width":1200},{"alt":"1","id":22913750106317,"position":9,"preview_image":{"aspect_ratio":0.8,"height":3700,"width":2960,"src":"\/\/oncept.nyc\/cdn\/shop\/products\/LOSANGLES-BACK-PRISMPINK-min.jpg?v=1661536033"},"aspect_ratio":0.8,"height":3700,"media_type":"image","src":"\/\/oncept.nyc\/cdn\/shop\/products\/LOSANGLES-BACK-PRISMPINK-min.jpg?v=1661536033","width":2960},{"alt":"1","id":22913750139085,"position":10,"preview_image":{"aspect_ratio":0.8,"height":3700,"width":2960,"src":"\/\/oncept.nyc\/cdn\/shop\/products\/LOSANGLES-OUTSOLE-PRISMPINK-min.jpg?v=1661536033"},"aspect_ratio":0.8,"height":3700,"media_type":"image","src":"\/\/oncept.nyc\/cdn\/shop\/products\/LOSANGLES-OUTSOLE-PRISMPINK-min.jpg?v=1661536033","width":2960},{"alt":"1","id":22108911206605,"position":11,"preview_image":{"aspect_ratio":0.8,"height":1500,"width":1200,"src":"\/\/oncept.nyc\/cdn\/shop\/products\/LOSANGLES-OUTSOLE-PRISMPINK.jpg?v=1677092048"},"aspect_ratio":0.8,"height":1500,"media_type":"image","src":"\/\/oncept.nyc\/cdn\/shop\/products\/LOSANGLES-OUTSOLE-PRISMPINK.jpg?v=1677092048","width":1200},{"alt":"1","id":22108911304909,"position":12,"preview_image":{"aspect_ratio":0.8,"height":1500,"width":1200,"src":"\/\/oncept.nyc\/cdn\/shop\/products\/LOSANGLES-SOFTNESS-PRISMPINK.jpg?v=1677092048"},"aspect_ratio":0.8,"height":1500,"media_type":"image","src":"\/\/oncept.nyc\/cdn\/shop\/products\/LOSANGLES-SOFTNESS-PRISMPINK.jpg?v=1677092048","width":1200},{"alt":"1","id":22913749975245,"position":13,"preview_image":{"aspect_ratio":0.8,"height":3608,"width":2887,"src":"\/\/oncept.nyc\/cdn\/shop\/products\/LOSANGELES-ONFOOT-PINKPRISIM-min.jpg?v=1677092048"},"aspect_ratio":0.8,"height":3608,"media_type":"image","src":"\/\/oncept.nyc\/cdn\/shop\/products\/LOSANGELES-ONFOOT-PINKPRISIM-min.jpg?v=1677092048","width":2887},{"alt":"2","id":22913750008013,"position":14,"preview_image":{"aspect_ratio":0.8,"height":3700,"width":2960,"src":"\/\/oncept.nyc\/cdn\/shop\/products\/LOSANGELES-SIDE-PALELIME-min.jpg?v=1661536033"},"aspect_ratio":0.8,"height":3700,"media_type":"image","src":"\/\/oncept.nyc\/cdn\/shop\/products\/LOSANGELES-SIDE-PALELIME-min.jpg?v=1661536033","width":2960},{"alt":"2","id":22108910977229,"position":15,"preview_image":{"aspect_ratio":0.8,"height":1500,"width":1200,"src":"\/\/oncept.nyc\/cdn\/shop\/products\/LOSANGELES-TOP-PALELIME.jpg?v=1661536033"},"aspect_ratio":0.8,"height":1500,"media_type":"image","src":"\/\/oncept.nyc\/cdn\/shop\/products\/LOSANGELES-TOP-PALELIME.jpg?v=1661536033","width":1200},{"alt":"2","id":22108911075533,"position":16,"preview_image":{"aspect_ratio":0.8,"height":1500,"width":1200,"src":"\/\/oncept.nyc\/cdn\/shop\/products\/LOSANGLES-BACK-PALELIME.jpg?v=1661536033"},"aspect_ratio":0.8,"height":1500,"media_type":"image","src":"\/\/oncept.nyc\/cdn\/shop\/products\/LOSANGLES-BACK-PALELIME.jpg?v=1661536033","width":1200},{"alt":"2","id":22108911173837,"position":17,"preview_image":{"aspect_ratio":0.8,"height":1500,"width":1200,"src":"\/\/oncept.nyc\/cdn\/shop\/products\/LOSANGLES-OUTSOLE-PALELIME.jpg?v=1661536033"},"aspect_ratio":0.8,"height":1500,"media_type":"image","src":"\/\/oncept.nyc\/cdn\/shop\/products\/LOSANGLES-OUTSOLE-PALELIME.jpg?v=1661536033","width":1200},{"alt":"2","id":22108911272141,"position":18,"preview_image":{"aspect_ratio":0.8,"height":1500,"width":1200,"src":"\/\/oncept.nyc\/cdn\/shop\/products\/LOSANGLES-SOFTNESS-PALELIME.jpg?v=1661536033"},"aspect_ratio":0.8,"height":1500,"media_type":"image","src":"\/\/oncept.nyc\/cdn\/shop\/products\/LOSANGLES-SOFTNESS-PALELIME.jpg?v=1661536033","width":1200},{"alt":"2","id":22913749942477,"position":19,"preview_image":{"aspect_ratio":0.8,"height":3608,"width":2887,"src":"\/\/oncept.nyc\/cdn\/shop\/products\/LOSANGELES-ONFOOT-PALELIME-min.jpg?v=1661536033"},"aspect_ratio":0.8,"height":3608,"media_type":"image","src":"\/\/oncept.nyc\/cdn\/shop\/products\/LOSANGELES-ONFOOT-PALELIME-min.jpg?v=1661536033","width":2887}],"requires_selling_plan":false,"selling_plan_groups":[],"content":"\u003cmeta charset=\"utf-8\"\u003e\u003cspan data-mce-fragment=\"1\"\u003eMeet the LOS ANGELES, our mid-top year round sneaker. A fresh classic take on sport for the modern day.  \u003cmeta charset=\"utf-8\"\u003eWith ultra-soft calf leather or re-nylon uppers, citrus orange details, and a re-speckled flex outsole, our two-tone molded bottom is sleek and comfortable. With style in mind, the rubber flex outsole is durable, while the upper is soft and packable, always ready for your effortless style.\u003c\/span\u003e"} { "options": [ { "title": "Color", "values": [ { "value": "WHITE CLOUD", "url": "/products/los-angeles?variant=40188163129549" }, { "value": "PINK PRISM", "url": "/products/los-angeles?variant=40188163162317" }, { "value": "PALE LIME", "url": "/products/los-angeles?variant=40188163195085" } ] }, { "title": "Size", "values": [ { "value": "6", "url": "/products/los-angeles?variant=40188163129549" }, { "value": "6.5", "url": "/products/los-angeles?variant=40188163293389" }, { "value": "7", "url": "/products/los-angeles?variant=40188163457229" }, { "value": "7.5", "url": "/products/los-angeles?variant=40188163621069" }, { "value": "8", "url": "/products/los-angeles?variant=40188163784909" }, { "value": "8.5", "url": "/products/los-angeles?variant=40188163948749" }, { "value": "9", "url": "/products/los-angeles?variant=40188164112589" }, { "value": "9.5", "url": "/products/los-angeles?variant=40188164276429" }, { "value": "10", "url": "/products/los-angeles?variant=40188164440269" } ] }, { "title": "Material", "values": [ { "value": "SOFT CALF LEATHER", "url": "/products/los-angeles?variant=40188163129549" }, { "value": "NYLON", "url": "/products/los-angeles?variant=40188163162317" } ] } ] }
{ "desktopImg": "//oncept.nyc/cdn/shop/files/ONC-Size_Guide-220721-v2_4f753765-00f0-43de-a4e8-769673d6f443.png?v=1693310772", "mobileImg": "//oncept.nyc/cdn/shop/files/ONC-Size_Guide-220721-v12_62596961-cac9-488c-8395-409e383787ee.png?v=1693310784" }