[ ]
Re-Splash nylon upper, chrome free suede + foulard calf
Tencel® pulp based twill lining + leather sock
Bio-density recycled molded footbed
Re-speckled EVA bottoms
Saturn Re-Nylon laces
Water resistant
CARE
Outsole can be cleaned with a soft cloth and water
Upper can be gently wiped with a damp cloth
COMFORT
Refined groove design offers extreme flexibility
Molded removable sock footbed
We offer free express shipping, exchanges and returns on all US domestic orders
[ "Material & Care" , "Fit & Comfort" , "Delivery & Returns" ]
Sustainable Style
It's all in the details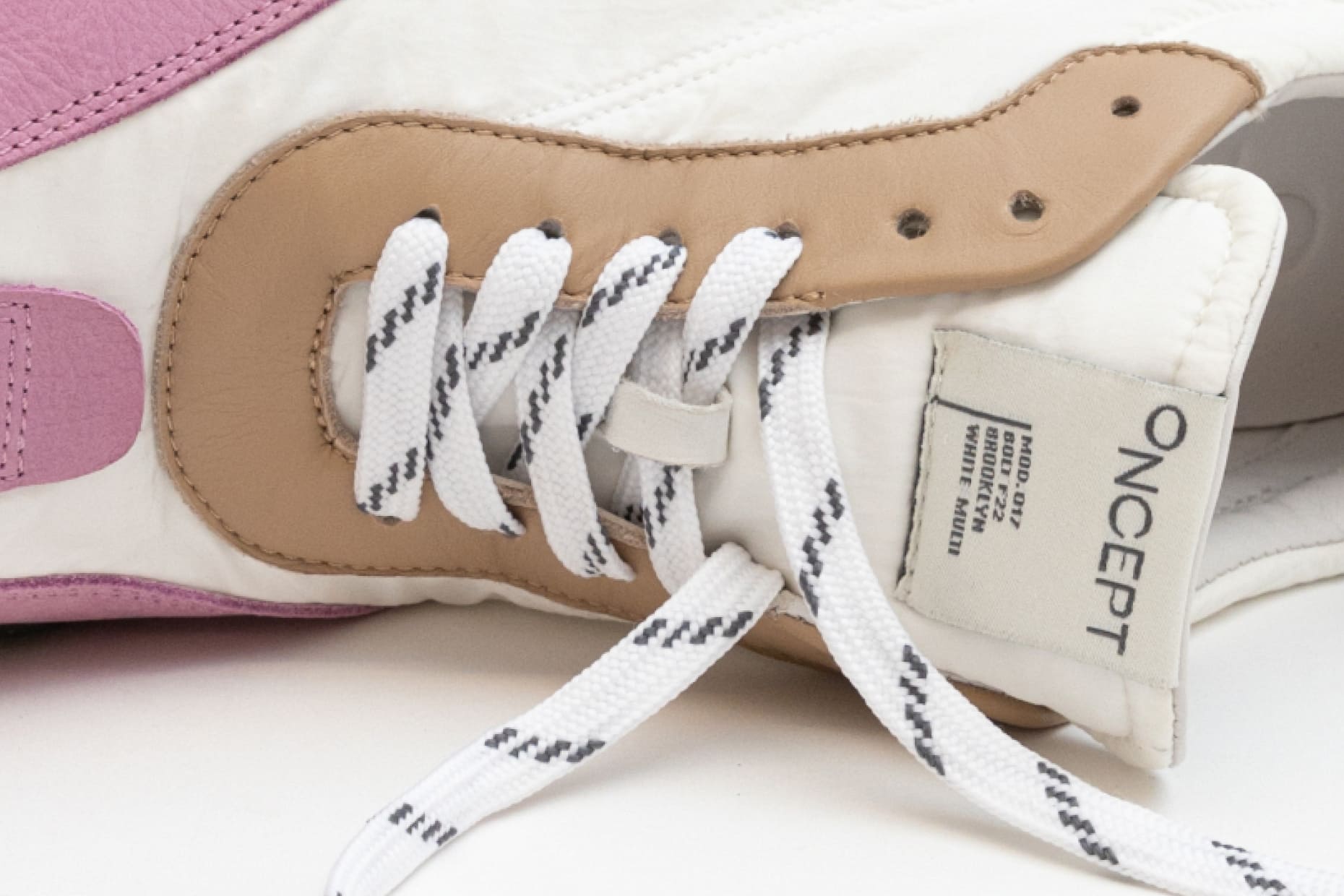 ECO COMPONENTS
We use a host of sustainable components in the making of the TOKYO. Tensel ® pulp based twill, recycled nylon, bio-density molded foam footbed, organic cotton laces and recycled sport tags all work in conjunction to make this our most sustainable style yet.
READ MORE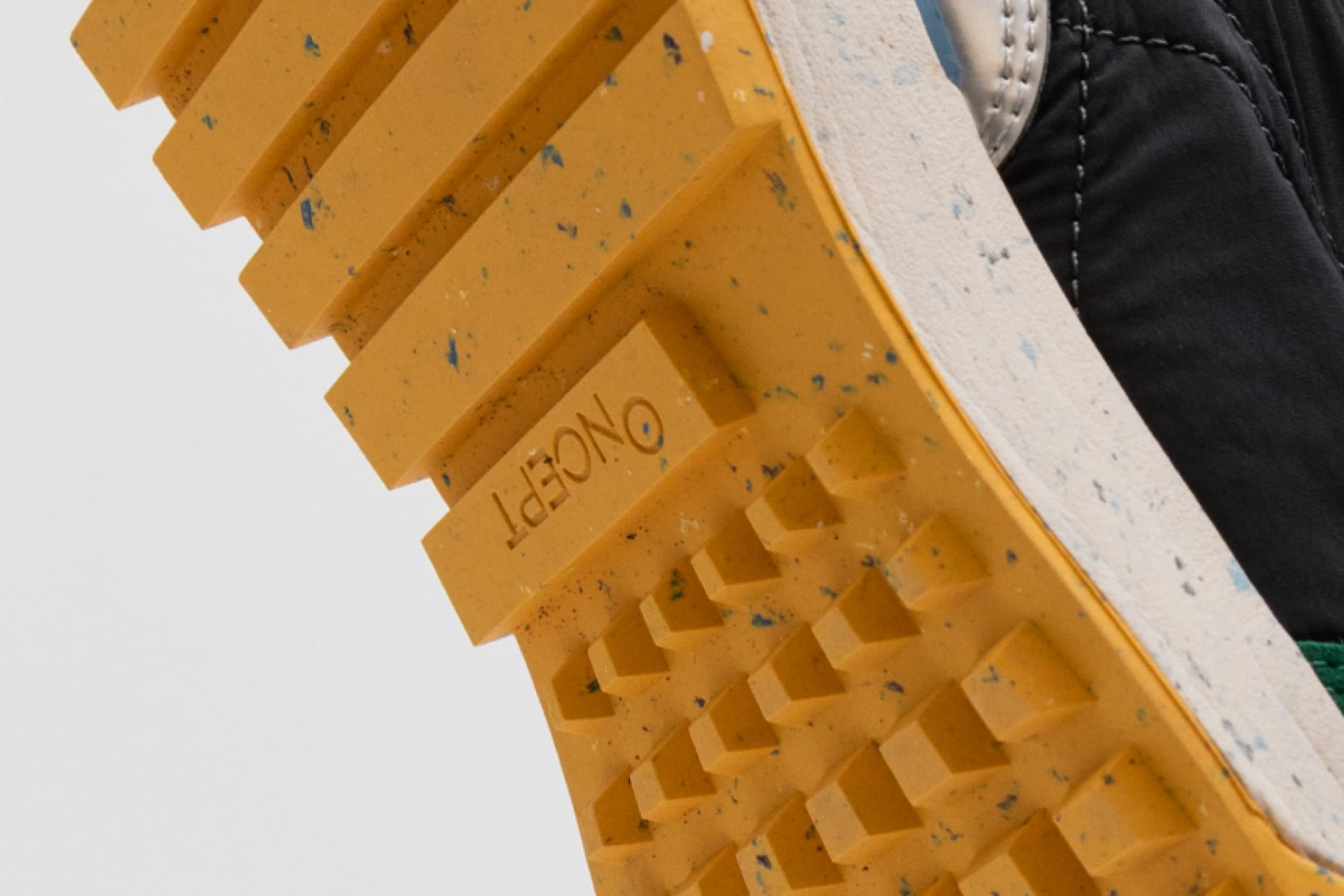 RE-SPECKLED RUBBER OUTSOLES
Recycled rubber midsole that uses leftover and excess rubber from the factory reducing waste and the use of new resources. This process keeps hundreds of tons of waste from landfills. You will notice the speckle in the bottom which gives it a signature look.
READ MORE
{"id":6916323967181,"title":"BOSTON","handle":"boston","description":"\u003cspan style=\"font-weight: 400;\" data-mce-fragment=\"1\" data-mce-style=\"font-weight: 400;\"\u003eMeet the Boston, our geo-hiker for all-terrains and all-seasons. We looked to the trail for inspiration, pulling elements from classic hiking boots, while modernizing the style with a fresh palette and smart detailing. Featuring speed lacing, a weatherproof \u003c\/span\u003e\u003cspan style=\"font-weight: 400;\" data-mce-fragment=\"1\" data-mce-style=\"font-weight: 400;\"\u003ere\u003c\/span\u003e\u003cspan style=\"font-weight: 400;\" data-mce-fragment=\"1\" data-mce-style=\"font-weight: 400;\"\u003e-rubber \u003c\/span\u003e\u003cspan style=\"font-weight: 400;\" data-mce-fragment=\"1\" data-mce-style=\"font-weight: 400;\"\u003emudguard\u003c\/span\u003e\u003cspan style=\"font-weight: 400;\" data-mce-fragment=\"1\" data-mce-style=\"font-weight: 400;\"\u003e, re-nylon and a retro re-speckled sole. \u003c\/span\u003e","published_at":"2022-08-16T15:52:57-04:00","created_at":"2022-02-09T14:04:22-05:00","vendor":"Oncept","type":"Footwear","tags":["BOOT","CASUAL","HIKER","SPORT"],"price":37500,"price_min":37500,"price_max":37500,"available":true,"price_varies":false,"compare_at_price":null,"compare_at_price_min":0,"compare_at_price_max":0,"compare_at_price_varies":false,"variants":[{"id":40657744593101,"title":"THUNDER MOUNTAIN \/ 6 \/ SOFT CALF LEATHER","option1":"THUNDER MOUNTAIN","option2":"6","option3":"SOFT CALF LEATHER","sku":"840237309992","requires_shipping":true,"taxable":true,"featured_image":{"id":30570818404557,"product_id":6916323967181,"position":1,"created_at":"2022-08-16T23:10:49-04:00","updated_at":"2022-08-16T23:12:41-04:00","alt":"0","width":2960,"height":3700,"src":"\/\/oncept.nyc\/cdn\/shop\/products\/BOSTON-SIDE-THUNDERMOUNTAIN-min.jpg?v=1660705961","variant_ids":[40657744593101,40657744789709,40657744986317,40657745182925,40657745379533,40657745576141,40657745772749,40657745969357,40657746165965]},"available":true,"name":"BOSTON - THUNDER MOUNTAIN \/ 6 \/ SOFT CALF LEATHER","public_title":"THUNDER MOUNTAIN \/ 6 \/ SOFT CALF LEATHER","options":["THUNDER MOUNTAIN","6","SOFT CALF LEATHER"],"price":37500,"weight":0,"compare_at_price":null,"inventory_management":"shopify","barcode":"840237309992","featured_media":{"alt":"0","id":22851300360397,"position":1,"preview_image":{"aspect_ratio":0.8,"height":3700,"width":2960,"src":"\/\/oncept.nyc\/cdn\/shop\/products\/BOSTON-SIDE-THUNDERMOUNTAIN-min.jpg?v=1660705961"}},"requires_selling_plan":false,"selling_plan_allocations":[]},{"id":40657744789709,"title":"THUNDER MOUNTAIN \/ 6.5 \/ SOFT CALF LEATHER","option1":"THUNDER MOUNTAIN","option2":"6.5","option3":"SOFT CALF LEATHER","sku":"840237310004","requires_shipping":true,"taxable":true,"featured_image":{"id":30570818404557,"product_id":6916323967181,"position":1,"created_at":"2022-08-16T23:10:49-04:00","updated_at":"2022-08-16T23:12:41-04:00","alt":"0","width":2960,"height":3700,"src":"\/\/oncept.nyc\/cdn\/shop\/products\/BOSTON-SIDE-THUNDERMOUNTAIN-min.jpg?v=1660705961","variant_ids":[40657744593101,40657744789709,40657744986317,40657745182925,40657745379533,40657745576141,40657745772749,40657745969357,40657746165965]},"available":true,"name":"BOSTON - THUNDER MOUNTAIN \/ 6.5 \/ SOFT CALF LEATHER","public_title":"THUNDER MOUNTAIN \/ 6.5 \/ SOFT CALF LEATHER","options":["THUNDER MOUNTAIN","6.5","SOFT CALF LEATHER"],"price":37500,"weight":0,"compare_at_price":null,"inventory_management":"shopify","barcode":"840237310004","featured_media":{"alt":"0","id":22851300360397,"position":1,"preview_image":{"aspect_ratio":0.8,"height":3700,"width":2960,"src":"\/\/oncept.nyc\/cdn\/shop\/products\/BOSTON-SIDE-THUNDERMOUNTAIN-min.jpg?v=1660705961"}},"requires_selling_plan":false,"selling_plan_allocations":[]},{"id":40657744986317,"title":"THUNDER MOUNTAIN \/ 7 \/ SOFT CALF LEATHER","option1":"THUNDER MOUNTAIN","option2":"7","option3":"SOFT CALF LEATHER","sku":"840237310011","requires_shipping":true,"taxable":true,"featured_image":{"id":30570818404557,"product_id":6916323967181,"position":1,"created_at":"2022-08-16T23:10:49-04:00","updated_at":"2022-08-16T23:12:41-04:00","alt":"0","width":2960,"height":3700,"src":"\/\/oncept.nyc\/cdn\/shop\/products\/BOSTON-SIDE-THUNDERMOUNTAIN-min.jpg?v=1660705961","variant_ids":[40657744593101,40657744789709,40657744986317,40657745182925,40657745379533,40657745576141,40657745772749,40657745969357,40657746165965]},"available":true,"name":"BOSTON - THUNDER MOUNTAIN \/ 7 \/ SOFT CALF LEATHER","public_title":"THUNDER MOUNTAIN \/ 7 \/ SOFT CALF LEATHER","options":["THUNDER MOUNTAIN","7","SOFT CALF LEATHER"],"price":37500,"weight":0,"compare_at_price":null,"inventory_management":"shopify","barcode":"840237310011","featured_media":{"alt":"0","id":22851300360397,"position":1,"preview_image":{"aspect_ratio":0.8,"height":3700,"width":2960,"src":"\/\/oncept.nyc\/cdn\/shop\/products\/BOSTON-SIDE-THUNDERMOUNTAIN-min.jpg?v=1660705961"}},"requires_selling_plan":false,"selling_plan_allocations":[]},{"id":40657745182925,"title":"THUNDER MOUNTAIN \/ 7.5 \/ SOFT CALF LEATHER","option1":"THUNDER MOUNTAIN","option2":"7.5","option3":"SOFT CALF LEATHER","sku":"840237310028","requires_shipping":true,"taxable":true,"featured_image":{"id":30570818404557,"product_id":6916323967181,"position":1,"created_at":"2022-08-16T23:10:49-04:00","updated_at":"2022-08-16T23:12:41-04:00","alt":"0","width":2960,"height":3700,"src":"\/\/oncept.nyc\/cdn\/shop\/products\/BOSTON-SIDE-THUNDERMOUNTAIN-min.jpg?v=1660705961","variant_ids":[40657744593101,40657744789709,40657744986317,40657745182925,40657745379533,40657745576141,40657745772749,40657745969357,40657746165965]},"available":true,"name":"BOSTON - THUNDER MOUNTAIN \/ 7.5 \/ SOFT CALF LEATHER","public_title":"THUNDER MOUNTAIN \/ 7.5 \/ SOFT CALF LEATHER","options":["THUNDER MOUNTAIN","7.5","SOFT CALF LEATHER"],"price":37500,"weight":0,"compare_at_price":null,"inventory_management":"shopify","barcode":"840237310028","featured_media":{"alt":"0","id":22851300360397,"position":1,"preview_image":{"aspect_ratio":0.8,"height":3700,"width":2960,"src":"\/\/oncept.nyc\/cdn\/shop\/products\/BOSTON-SIDE-THUNDERMOUNTAIN-min.jpg?v=1660705961"}},"requires_selling_plan":false,"selling_plan_allocations":[]},{"id":40657745379533,"title":"THUNDER MOUNTAIN \/ 8 \/ SOFT CALF LEATHER","option1":"THUNDER MOUNTAIN","option2":"8","option3":"SOFT CALF LEATHER","sku":"840237310035","requires_shipping":true,"taxable":true,"featured_image":{"id":30570818404557,"product_id":6916323967181,"position":1,"created_at":"2022-08-16T23:10:49-04:00","updated_at":"2022-08-16T23:12:41-04:00","alt":"0","width":2960,"height":3700,"src":"\/\/oncept.nyc\/cdn\/shop\/products\/BOSTON-SIDE-THUNDERMOUNTAIN-min.jpg?v=1660705961","variant_ids":[40657744593101,40657744789709,40657744986317,40657745182925,40657745379533,40657745576141,40657745772749,40657745969357,40657746165965]},"available":true,"name":"BOSTON - THUNDER MOUNTAIN \/ 8 \/ SOFT CALF LEATHER","public_title":"THUNDER MOUNTAIN \/ 8 \/ SOFT CALF LEATHER","options":["THUNDER MOUNTAIN","8","SOFT CALF LEATHER"],"price":37500,"weight":0,"compare_at_price":null,"inventory_management":"shopify","barcode":"840237310035","featured_media":{"alt":"0","id":22851300360397,"position":1,"preview_image":{"aspect_ratio":0.8,"height":3700,"width":2960,"src":"\/\/oncept.nyc\/cdn\/shop\/products\/BOSTON-SIDE-THUNDERMOUNTAIN-min.jpg?v=1660705961"}},"requires_selling_plan":false,"selling_plan_allocations":[]},{"id":40657745576141,"title":"THUNDER MOUNTAIN \/ 8.5 \/ SOFT CALF LEATHER","option1":"THUNDER MOUNTAIN","option2":"8.5","option3":"SOFT CALF LEATHER","sku":"840237310042","requires_shipping":true,"taxable":true,"featured_image":{"id":30570818404557,"product_id":6916323967181,"position":1,"created_at":"2022-08-16T23:10:49-04:00","updated_at":"2022-08-16T23:12:41-04:00","alt":"0","width":2960,"height":3700,"src":"\/\/oncept.nyc\/cdn\/shop\/products\/BOSTON-SIDE-THUNDERMOUNTAIN-min.jpg?v=1660705961","variant_ids":[40657744593101,40657744789709,40657744986317,40657745182925,40657745379533,40657745576141,40657745772749,40657745969357,40657746165965]},"available":true,"name":"BOSTON - THUNDER MOUNTAIN \/ 8.5 \/ SOFT CALF LEATHER","public_title":"THUNDER MOUNTAIN \/ 8.5 \/ SOFT CALF LEATHER","options":["THUNDER MOUNTAIN","8.5","SOFT CALF LEATHER"],"price":37500,"weight":0,"compare_at_price":null,"inventory_management":"shopify","barcode":"840237310042","featured_media":{"alt":"0","id":22851300360397,"position":1,"preview_image":{"aspect_ratio":0.8,"height":3700,"width":2960,"src":"\/\/oncept.nyc\/cdn\/shop\/products\/BOSTON-SIDE-THUNDERMOUNTAIN-min.jpg?v=1660705961"}},"requires_selling_plan":false,"selling_plan_allocations":[]},{"id":40657745772749,"title":"THUNDER MOUNTAIN \/ 9 \/ SOFT CALF LEATHER","option1":"THUNDER MOUNTAIN","option2":"9","option3":"SOFT CALF LEATHER","sku":"840237310059","requires_shipping":true,"taxable":true,"featured_image":{"id":30570818404557,"product_id":6916323967181,"position":1,"created_at":"2022-08-16T23:10:49-04:00","updated_at":"2022-08-16T23:12:41-04:00","alt":"0","width":2960,"height":3700,"src":"\/\/oncept.nyc\/cdn\/shop\/products\/BOSTON-SIDE-THUNDERMOUNTAIN-min.jpg?v=1660705961","variant_ids":[40657744593101,40657744789709,40657744986317,40657745182925,40657745379533,40657745576141,40657745772749,40657745969357,40657746165965]},"available":true,"name":"BOSTON - THUNDER MOUNTAIN \/ 9 \/ SOFT CALF LEATHER","public_title":"THUNDER MOUNTAIN \/ 9 \/ SOFT CALF LEATHER","options":["THUNDER MOUNTAIN","9","SOFT CALF LEATHER"],"price":37500,"weight":0,"compare_at_price":null,"inventory_management":"shopify","barcode":"840237310059","featured_media":{"alt":"0","id":22851300360397,"position":1,"preview_image":{"aspect_ratio":0.8,"height":3700,"width":2960,"src":"\/\/oncept.nyc\/cdn\/shop\/products\/BOSTON-SIDE-THUNDERMOUNTAIN-min.jpg?v=1660705961"}},"requires_selling_plan":false,"selling_plan_allocations":[]},{"id":40657745969357,"title":"THUNDER MOUNTAIN \/ 9.5 \/ SOFT CALF LEATHER","option1":"THUNDER MOUNTAIN","option2":"9.5","option3":"SOFT CALF LEATHER","sku":"840237310066","requires_shipping":true,"taxable":true,"featured_image":{"id":30570818404557,"product_id":6916323967181,"position":1,"created_at":"2022-08-16T23:10:49-04:00","updated_at":"2022-08-16T23:12:41-04:00","alt":"0","width":2960,"height":3700,"src":"\/\/oncept.nyc\/cdn\/shop\/products\/BOSTON-SIDE-THUNDERMOUNTAIN-min.jpg?v=1660705961","variant_ids":[40657744593101,40657744789709,40657744986317,40657745182925,40657745379533,40657745576141,40657745772749,40657745969357,40657746165965]},"available":true,"name":"BOSTON - THUNDER MOUNTAIN \/ 9.5 \/ SOFT CALF LEATHER","public_title":"THUNDER MOUNTAIN \/ 9.5 \/ SOFT CALF LEATHER","options":["THUNDER MOUNTAIN","9.5","SOFT CALF LEATHER"],"price":37500,"weight":0,"compare_at_price":null,"inventory_management":"shopify","barcode":"840237310066","featured_media":{"alt":"0","id":22851300360397,"position":1,"preview_image":{"aspect_ratio":0.8,"height":3700,"width":2960,"src":"\/\/oncept.nyc\/cdn\/shop\/products\/BOSTON-SIDE-THUNDERMOUNTAIN-min.jpg?v=1660705961"}},"requires_selling_plan":false,"selling_plan_allocations":[]},{"id":40657746165965,"title":"THUNDER MOUNTAIN \/ 10 \/ SOFT CALF LEATHER","option1":"THUNDER MOUNTAIN","option2":"10","option3":"SOFT CALF LEATHER","sku":"840237310073","requires_shipping":true,"taxable":true,"featured_image":{"id":30570818404557,"product_id":6916323967181,"position":1,"created_at":"2022-08-16T23:10:49-04:00","updated_at":"2022-08-16T23:12:41-04:00","alt":"0","width":2960,"height":3700,"src":"\/\/oncept.nyc\/cdn\/shop\/products\/BOSTON-SIDE-THUNDERMOUNTAIN-min.jpg?v=1660705961","variant_ids":[40657744593101,40657744789709,40657744986317,40657745182925,40657745379533,40657745576141,40657745772749,40657745969357,40657746165965]},"available":true,"name":"BOSTON - THUNDER MOUNTAIN \/ 10 \/ SOFT CALF LEATHER","public_title":"THUNDER MOUNTAIN \/ 10 \/ SOFT CALF LEATHER","options":["THUNDER MOUNTAIN","10","SOFT CALF LEATHER"],"price":37500,"weight":0,"compare_at_price":null,"inventory_management":"shopify","barcode":"840237310073","featured_media":{"alt":"0","id":22851300360397,"position":1,"preview_image":{"aspect_ratio":0.8,"height":3700,"width":2960,"src":"\/\/oncept.nyc\/cdn\/shop\/products\/BOSTON-SIDE-THUNDERMOUNTAIN-min.jpg?v=1660705961"}},"requires_selling_plan":false,"selling_plan_allocations":[]},{"id":40657744527565,"title":"WHITE MULTI \/ 6 \/ SOFT CALF LEATHER","option1":"WHITE MULTI","option2":"6","option3":"SOFT CALF LEATHER","sku":"840237309909","requires_shipping":true,"taxable":true,"featured_image":{"id":30570818306253,"product_id":6916323967181,"position":7,"created_at":"2022-08-16T23:10:49-04:00","updated_at":"2022-08-18T15:49:39-04:00","alt":"1","width":2960,"height":3700,"src":"\/\/oncept.nyc\/cdn\/shop\/products\/BOSTON-SIDE-WHITEMULTI-min.jpg?v=1660852179","variant_ids":[40657744527565,40657744724173,40657744920781,40657745117389,40657745313997,40657745510605,40657745707213,40657745903821,40657746100429]},"available":true,"name":"BOSTON - WHITE MULTI \/ 6 \/ SOFT CALF LEATHER","public_title":"WHITE MULTI \/ 6 \/ SOFT CALF LEATHER","options":["WHITE MULTI","6","SOFT CALF LEATHER"],"price":37500,"weight":0,"compare_at_price":null,"inventory_management":"shopify","barcode":"840237309909","featured_media":{"alt":"1","id":22851300393165,"position":7,"preview_image":{"aspect_ratio":0.8,"height":3700,"width":2960,"src":"\/\/oncept.nyc\/cdn\/shop\/products\/BOSTON-SIDE-WHITEMULTI-min.jpg?v=1660852179"}},"requires_selling_plan":false,"selling_plan_allocations":[]},{"id":40657744724173,"title":"WHITE MULTI \/ 6.5 \/ SOFT CALF LEATHER","option1":"WHITE MULTI","option2":"6.5","option3":"SOFT CALF LEATHER","sku":"840237309916","requires_shipping":true,"taxable":true,"featured_image":{"id":30570818306253,"product_id":6916323967181,"position":7,"created_at":"2022-08-16T23:10:49-04:00","updated_at":"2022-08-18T15:49:39-04:00","alt":"1","width":2960,"height":3700,"src":"\/\/oncept.nyc\/cdn\/shop\/products\/BOSTON-SIDE-WHITEMULTI-min.jpg?v=1660852179","variant_ids":[40657744527565,40657744724173,40657744920781,40657745117389,40657745313997,40657745510605,40657745707213,40657745903821,40657746100429]},"available":true,"name":"BOSTON - WHITE MULTI \/ 6.5 \/ SOFT CALF LEATHER","public_title":"WHITE MULTI \/ 6.5 \/ SOFT CALF LEATHER","options":["WHITE MULTI","6.5","SOFT CALF LEATHER"],"price":37500,"weight":0,"compare_at_price":null,"inventory_management":"shopify","barcode":"840237309916","featured_media":{"alt":"1","id":22851300393165,"position":7,"preview_image":{"aspect_ratio":0.8,"height":3700,"width":2960,"src":"\/\/oncept.nyc\/cdn\/shop\/products\/BOSTON-SIDE-WHITEMULTI-min.jpg?v=1660852179"}},"requires_selling_plan":false,"selling_plan_allocations":[]},{"id":40657744920781,"title":"WHITE MULTI \/ 7 \/ SOFT CALF LEATHER","option1":"WHITE MULTI","option2":"7","option3":"SOFT CALF LEATHER","sku":"840237309923","requires_shipping":true,"taxable":true,"featured_image":{"id":30570818306253,"product_id":6916323967181,"position":7,"created_at":"2022-08-16T23:10:49-04:00","updated_at":"2022-08-18T15:49:39-04:00","alt":"1","width":2960,"height":3700,"src":"\/\/oncept.nyc\/cdn\/shop\/products\/BOSTON-SIDE-WHITEMULTI-min.jpg?v=1660852179","variant_ids":[40657744527565,40657744724173,40657744920781,40657745117389,40657745313997,40657745510605,40657745707213,40657745903821,40657746100429]},"available":true,"name":"BOSTON - WHITE MULTI \/ 7 \/ SOFT CALF LEATHER","public_title":"WHITE MULTI \/ 7 \/ SOFT CALF LEATHER","options":["WHITE MULTI","7","SOFT CALF LEATHER"],"price":37500,"weight":0,"compare_at_price":null,"inventory_management":"shopify","barcode":"840237309923","featured_media":{"alt":"1","id":22851300393165,"position":7,"preview_image":{"aspect_ratio":0.8,"height":3700,"width":2960,"src":"\/\/oncept.nyc\/cdn\/shop\/products\/BOSTON-SIDE-WHITEMULTI-min.jpg?v=1660852179"}},"requires_selling_plan":false,"selling_plan_allocations":[]},{"id":40657745117389,"title":"WHITE MULTI \/ 7.5 \/ SOFT CALF LEATHER","option1":"WHITE MULTI","option2":"7.5","option3":"SOFT CALF LEATHER","sku":"840237309930","requires_shipping":true,"taxable":true,"featured_image":{"id":30570818306253,"product_id":6916323967181,"position":7,"created_at":"2022-08-16T23:10:49-04:00","updated_at":"2022-08-18T15:49:39-04:00","alt":"1","width":2960,"height":3700,"src":"\/\/oncept.nyc\/cdn\/shop\/products\/BOSTON-SIDE-WHITEMULTI-min.jpg?v=1660852179","variant_ids":[40657744527565,40657744724173,40657744920781,40657745117389,40657745313997,40657745510605,40657745707213,40657745903821,40657746100429]},"available":true,"name":"BOSTON - WHITE MULTI \/ 7.5 \/ SOFT CALF LEATHER","public_title":"WHITE MULTI \/ 7.5 \/ SOFT CALF LEATHER","options":["WHITE MULTI","7.5","SOFT CALF LEATHER"],"price":37500,"weight":0,"compare_at_price":null,"inventory_management":"shopify","barcode":"840237309930","featured_media":{"alt":"1","id":22851300393165,"position":7,"preview_image":{"aspect_ratio":0.8,"height":3700,"width":2960,"src":"\/\/oncept.nyc\/cdn\/shop\/products\/BOSTON-SIDE-WHITEMULTI-min.jpg?v=1660852179"}},"requires_selling_plan":false,"selling_plan_allocations":[]},{"id":40657745313997,"title":"WHITE MULTI \/ 8 \/ SOFT CALF LEATHER","option1":"WHITE MULTI","option2":"8","option3":"SOFT CALF LEATHER","sku":"840237309947","requires_shipping":true,"taxable":true,"featured_image":{"id":30570818306253,"product_id":6916323967181,"position":7,"created_at":"2022-08-16T23:10:49-04:00","updated_at":"2022-08-18T15:49:39-04:00","alt":"1","width":2960,"height":3700,"src":"\/\/oncept.nyc\/cdn\/shop\/products\/BOSTON-SIDE-WHITEMULTI-min.jpg?v=1660852179","variant_ids":[40657744527565,40657744724173,40657744920781,40657745117389,40657745313997,40657745510605,40657745707213,40657745903821,40657746100429]},"available":true,"name":"BOSTON - WHITE MULTI \/ 8 \/ SOFT CALF LEATHER","public_title":"WHITE MULTI \/ 8 \/ SOFT CALF LEATHER","options":["WHITE MULTI","8","SOFT CALF LEATHER"],"price":37500,"weight":0,"compare_at_price":null,"inventory_management":"shopify","barcode":"840237309947","featured_media":{"alt":"1","id":22851300393165,"position":7,"preview_image":{"aspect_ratio":0.8,"height":3700,"width":2960,"src":"\/\/oncept.nyc\/cdn\/shop\/products\/BOSTON-SIDE-WHITEMULTI-min.jpg?v=1660852179"}},"requires_selling_plan":false,"selling_plan_allocations":[]},{"id":40657745510605,"title":"WHITE MULTI \/ 8.5 \/ SOFT CALF LEATHER","option1":"WHITE MULTI","option2":"8.5","option3":"SOFT CALF LEATHER","sku":"840237309954","requires_shipping":true,"taxable":true,"featured_image":{"id":30570818306253,"product_id":6916323967181,"position":7,"created_at":"2022-08-16T23:10:49-04:00","updated_at":"2022-08-18T15:49:39-04:00","alt":"1","width":2960,"height":3700,"src":"\/\/oncept.nyc\/cdn\/shop\/products\/BOSTON-SIDE-WHITEMULTI-min.jpg?v=1660852179","variant_ids":[40657744527565,40657744724173,40657744920781,40657745117389,40657745313997,40657745510605,40657745707213,40657745903821,40657746100429]},"available":true,"name":"BOSTON - WHITE MULTI \/ 8.5 \/ SOFT CALF LEATHER","public_title":"WHITE MULTI \/ 8.5 \/ SOFT CALF LEATHER","options":["WHITE MULTI","8.5","SOFT CALF LEATHER"],"price":37500,"weight":0,"compare_at_price":null,"inventory_management":"shopify","barcode":"840237309954","featured_media":{"alt":"1","id":22851300393165,"position":7,"preview_image":{"aspect_ratio":0.8,"height":3700,"width":2960,"src":"\/\/oncept.nyc\/cdn\/shop\/products\/BOSTON-SIDE-WHITEMULTI-min.jpg?v=1660852179"}},"requires_selling_plan":false,"selling_plan_allocations":[]},{"id":40657745707213,"title":"WHITE MULTI \/ 9 \/ SOFT CALF LEATHER","option1":"WHITE MULTI","option2":"9","option3":"SOFT CALF LEATHER","sku":"840237309961","requires_shipping":true,"taxable":true,"featured_image":{"id":30570818306253,"product_id":6916323967181,"position":7,"created_at":"2022-08-16T23:10:49-04:00","updated_at":"2022-08-18T15:49:39-04:00","alt":"1","width":2960,"height":3700,"src":"\/\/oncept.nyc\/cdn\/shop\/products\/BOSTON-SIDE-WHITEMULTI-min.jpg?v=1660852179","variant_ids":[40657744527565,40657744724173,40657744920781,40657745117389,40657745313997,40657745510605,40657745707213,40657745903821,40657746100429]},"available":true,"name":"BOSTON - WHITE MULTI \/ 9 \/ SOFT CALF LEATHER","public_title":"WHITE MULTI \/ 9 \/ SOFT CALF LEATHER","options":["WHITE MULTI","9","SOFT CALF LEATHER"],"price":37500,"weight":0,"compare_at_price":null,"inventory_management":"shopify","barcode":"840237309961","featured_media":{"alt":"1","id":22851300393165,"position":7,"preview_image":{"aspect_ratio":0.8,"height":3700,"width":2960,"src":"\/\/oncept.nyc\/cdn\/shop\/products\/BOSTON-SIDE-WHITEMULTI-min.jpg?v=1660852179"}},"requires_selling_plan":false,"selling_plan_allocations":[]},{"id":40657745903821,"title":"WHITE MULTI \/ 9.5 \/ SOFT CALF LEATHER","option1":"WHITE MULTI","option2":"9.5","option3":"SOFT CALF LEATHER","sku":"840237309978","requires_shipping":true,"taxable":true,"featured_image":{"id":30570818306253,"product_id":6916323967181,"position":7,"created_at":"2022-08-16T23:10:49-04:00","updated_at":"2022-08-18T15:49:39-04:00","alt":"1","width":2960,"height":3700,"src":"\/\/oncept.nyc\/cdn\/shop\/products\/BOSTON-SIDE-WHITEMULTI-min.jpg?v=1660852179","variant_ids":[40657744527565,40657744724173,40657744920781,40657745117389,40657745313997,40657745510605,40657745707213,40657745903821,40657746100429]},"available":true,"name":"BOSTON - WHITE MULTI \/ 9.5 \/ SOFT CALF LEATHER","public_title":"WHITE MULTI \/ 9.5 \/ SOFT CALF LEATHER","options":["WHITE MULTI","9.5","SOFT CALF LEATHER"],"price":37500,"weight":0,"compare_at_price":null,"inventory_management":"shopify","barcode":"840237309978","featured_media":{"alt":"1","id":22851300393165,"position":7,"preview_image":{"aspect_ratio":0.8,"height":3700,"width":2960,"src":"\/\/oncept.nyc\/cdn\/shop\/products\/BOSTON-SIDE-WHITEMULTI-min.jpg?v=1660852179"}},"requires_selling_plan":false,"selling_plan_allocations":[]},{"id":40657746100429,"title":"WHITE MULTI \/ 10 \/ SOFT CALF LEATHER","option1":"WHITE MULTI","option2":"10","option3":"SOFT CALF LEATHER","sku":"840237309985","requires_shipping":true,"taxable":true,"featured_image":{"id":30570818306253,"product_id":6916323967181,"position":7,"created_at":"2022-08-16T23:10:49-04:00","updated_at":"2022-08-18T15:49:39-04:00","alt":"1","width":2960,"height":3700,"src":"\/\/oncept.nyc\/cdn\/shop\/products\/BOSTON-SIDE-WHITEMULTI-min.jpg?v=1660852179","variant_ids":[40657744527565,40657744724173,40657744920781,40657745117389,40657745313997,40657745510605,40657745707213,40657745903821,40657746100429]},"available":true,"name":"BOSTON - WHITE MULTI \/ 10 \/ SOFT CALF LEATHER","public_title":"WHITE MULTI \/ 10 \/ SOFT CALF LEATHER","options":["WHITE MULTI","10","SOFT CALF LEATHER"],"price":37500,"weight":0,"compare_at_price":null,"inventory_management":"shopify","barcode":"840237309985","featured_media":{"alt":"1","id":22851300393165,"position":7,"preview_image":{"aspect_ratio":0.8,"height":3700,"width":2960,"src":"\/\/oncept.nyc\/cdn\/shop\/products\/BOSTON-SIDE-WHITEMULTI-min.jpg?v=1660852179"}},"requires_selling_plan":false,"selling_plan_allocations":[]}],"images":["\/\/oncept.nyc\/cdn\/shop\/products\/BOSTON-SIDE-THUNDERMOUNTAIN-min.jpg?v=1660705961","\/\/oncept.nyc\/cdn\/shop\/products\/BOSTON-TOP-THUNDERMOUNTAIN-min.jpg?v=1660705961","\/\/oncept.nyc\/cdn\/shop\/products\/BOSTON-BACK-THUNDERMOUNTAIN-min.jpg?v=1660705961","\/\/oncept.nyc\/cdn\/shop\/products\/BOSTON-OUTSOLE-THUNDERMOUNTAIN-min.jpg?v=1660705961","\/\/oncept.nyc\/cdn\/shop\/products\/BOSTON-SOFT-THUNDERMOUNTAIN-min.jpg?v=1660705961","\/\/oncept.nyc\/cdn\/shop\/products\/BOSTON-THUNDERMOUNTAIN-ONFOOT-min.jpg?v=1660852179","\/\/oncept.nyc\/cdn\/shop\/products\/BOSTON-SIDE-WHITEMULTI-min.jpg?v=1660852179","\/\/oncept.nyc\/cdn\/shop\/products\/BOSTON-TOP-WHITEMULTI-min.jpg?v=1660852179","\/\/oncept.nyc\/cdn\/shop\/products\/BOSTON-BACK-WHITEMULTI-min.jpg?v=1660852179","\/\/oncept.nyc\/cdn\/shop\/products\/BOSTON-OUTSOLE-WHITEMULTI-min.jpg?v=1660852179","\/\/oncept.nyc\/cdn\/shop\/products\/BOSTON-SOFT-WHITEMULTI-min.jpg?v=1660852179","\/\/oncept.nyc\/cdn\/shop\/products\/BOSTON-WHITEMULTI-ONFOOT-min.jpg?v=1660852179"],"featured_image":"\/\/oncept.nyc\/cdn\/shop\/products\/BOSTON-SIDE-THUNDERMOUNTAIN-min.jpg?v=1660705961","options":["Color","Size","Material"],"media":[{"alt":"0","id":22851300360397,"position":1,"preview_image":{"aspect_ratio":0.8,"height":3700,"width":2960,"src":"\/\/oncept.nyc\/cdn\/shop\/products\/BOSTON-SIDE-THUNDERMOUNTAIN-min.jpg?v=1660705961"},"aspect_ratio":0.8,"height":3700,"media_type":"image","src":"\/\/oncept.nyc\/cdn\/shop\/products\/BOSTON-SIDE-THUNDERMOUNTAIN-min.jpg?v=1660705961","width":2960},{"alt":"0","id":22851300491469,"position":2,"preview_image":{"aspect_ratio":0.8,"height":3700,"width":2960,"src":"\/\/oncept.nyc\/cdn\/shop\/products\/BOSTON-TOP-THUNDERMOUNTAIN-min.jpg?v=1660705961"},"aspect_ratio":0.8,"height":3700,"media_type":"image","src":"\/\/oncept.nyc\/cdn\/shop\/products\/BOSTON-TOP-THUNDERMOUNTAIN-min.jpg?v=1660705961","width":2960},{"alt":"0","id":22851300229325,"position":3,"preview_image":{"aspect_ratio":0.8,"height":3700,"width":2960,"src":"\/\/oncept.nyc\/cdn\/shop\/products\/BOSTON-BACK-THUNDERMOUNTAIN-min.jpg?v=1660705961"},"aspect_ratio":0.8,"height":3700,"media_type":"image","src":"\/\/oncept.nyc\/cdn\/shop\/products\/BOSTON-BACK-THUNDERMOUNTAIN-min.jpg?v=1660705961","width":2960},{"alt":"0","id":22851300294861,"position":4,"preview_image":{"aspect_ratio":0.8,"height":3700,"width":2960,"src":"\/\/oncept.nyc\/cdn\/shop\/products\/BOSTON-OUTSOLE-THUNDERMOUNTAIN-min.jpg?v=1660705961"},"aspect_ratio":0.8,"height":3700,"media_type":"image","src":"\/\/oncept.nyc\/cdn\/shop\/products\/BOSTON-OUTSOLE-THUNDERMOUNTAIN-min.jpg?v=1660705961","width":2960},{"alt":"0","id":22851300425933,"position":5,"preview_image":{"aspect_ratio":0.8,"height":3700,"width":2960,"src":"\/\/oncept.nyc\/cdn\/shop\/products\/BOSTON-SOFT-THUNDERMOUNTAIN-min.jpg?v=1660705961"},"aspect_ratio":0.8,"height":3700,"media_type":"image","src":"\/\/oncept.nyc\/cdn\/shop\/products\/BOSTON-SOFT-THUNDERMOUNTAIN-min.jpg?v=1660705961","width":2960},{"alt":"0","id":22862956560589,"position":6,"preview_image":{"aspect_ratio":0.8,"height":3700,"width":2960,"src":"\/\/oncept.nyc\/cdn\/shop\/products\/BOSTON-THUNDERMOUNTAIN-ONFOOT-min.jpg?v=1660852179"},"aspect_ratio":0.8,"height":3700,"media_type":"image","src":"\/\/oncept.nyc\/cdn\/shop\/products\/BOSTON-THUNDERMOUNTAIN-ONFOOT-min.jpg?v=1660852179","width":2960},{"alt":"1","id":22851300393165,"position":7,"preview_image":{"aspect_ratio":0.8,"height":3700,"width":2960,"src":"\/\/oncept.nyc\/cdn\/shop\/products\/BOSTON-SIDE-WHITEMULTI-min.jpg?v=1660852179"},"aspect_ratio":0.8,"height":3700,"media_type":"image","src":"\/\/oncept.nyc\/cdn\/shop\/products\/BOSTON-SIDE-WHITEMULTI-min.jpg?v=1660852179","width":2960},{"alt":"1","id":22851300524237,"position":8,"preview_image":{"aspect_ratio":0.8,"height":3700,"width":2960,"src":"\/\/oncept.nyc\/cdn\/shop\/products\/BOSTON-TOP-WHITEMULTI-min.jpg?v=1660852179"},"aspect_ratio":0.8,"height":3700,"media_type":"image","src":"\/\/oncept.nyc\/cdn\/shop\/products\/BOSTON-TOP-WHITEMULTI-min.jpg?v=1660852179","width":2960},{"alt":"1","id":22851300262093,"position":9,"preview_image":{"aspect_ratio":0.8,"height":3700,"width":2960,"src":"\/\/oncept.nyc\/cdn\/shop\/products\/BOSTON-BACK-WHITEMULTI-min.jpg?v=1660852179"},"aspect_ratio":0.8,"height":3700,"media_type":"image","src":"\/\/oncept.nyc\/cdn\/shop\/products\/BOSTON-BACK-WHITEMULTI-min.jpg?v=1660852179","width":2960},{"alt":"1","id":22851300327629,"position":10,"preview_image":{"aspect_ratio":0.8,"height":3700,"width":2960,"src":"\/\/oncept.nyc\/cdn\/shop\/products\/BOSTON-OUTSOLE-WHITEMULTI-min.jpg?v=1660852179"},"aspect_ratio":0.8,"height":3700,"media_type":"image","src":"\/\/oncept.nyc\/cdn\/shop\/products\/BOSTON-OUTSOLE-WHITEMULTI-min.jpg?v=1660852179","width":2960},{"alt":"1","id":22851300458701,"position":11,"preview_image":{"aspect_ratio":0.8,"height":3700,"width":2960,"src":"\/\/oncept.nyc\/cdn\/shop\/products\/BOSTON-SOFT-WHITEMULTI-min.jpg?v=1660852179"},"aspect_ratio":0.8,"height":3700,"media_type":"image","src":"\/\/oncept.nyc\/cdn\/shop\/products\/BOSTON-SOFT-WHITEMULTI-min.jpg?v=1660852179","width":2960},{"alt":"1","id":22862956593357,"position":12,"preview_image":{"aspect_ratio":0.8,"height":3700,"width":2960,"src":"\/\/oncept.nyc\/cdn\/shop\/products\/BOSTON-WHITEMULTI-ONFOOT-min.jpg?v=1660852179"},"aspect_ratio":0.8,"height":3700,"media_type":"image","src":"\/\/oncept.nyc\/cdn\/shop\/products\/BOSTON-WHITEMULTI-ONFOOT-min.jpg?v=1660852179","width":2960},{"alt":"video","id":22884279025869,"position":13,"preview_image":{"aspect_ratio":0.8,"height":1350,"width":1080,"src":"\/\/oncept.nyc\/cdn\/shop\/products\/0c5cb8acdcb147f1a90968c573b32744.thumbnail.0000000000.jpg?v=1661211679"},"aspect_ratio":0.8,"duration":13710,"media_type":"video","sources":[{"format":"mp4","height":480,"mime_type":"video\/mp4","url":"https:\/\/cdn.shopify.com\/videos\/c\/vp\/0c5cb8acdcb147f1a90968c573b32744\/0c5cb8acdcb147f1a90968c573b32744.SD-480p-0.9Mbps-8897028.mp4","width":384},{"format":"mp4","height":1080,"mime_type":"video\/mp4","url":"https:\/\/cdn.shopify.com\/videos\/c\/vp\/0c5cb8acdcb147f1a90968c573b32744\/0c5cb8acdcb147f1a90968c573b32744.HD-1080p-2.5Mbps-8897028.mp4","width":864},{"format":"mp4","height":720,"mime_type":"video\/mp4","url":"https:\/\/cdn.shopify.com\/videos\/c\/vp\/0c5cb8acdcb147f1a90968c573b32744\/0c5cb8acdcb147f1a90968c573b32744.HD-720p-1.6Mbps-8897028.mp4","width":576},{"format":"m3u8","height":1080,"mime_type":"application\/x-mpegURL","url":"https:\/\/cdn.shopify.com\/videos\/c\/vp\/0c5cb8acdcb147f1a90968c573b32744\/0c5cb8acdcb147f1a90968c573b32744.m3u8","width":864}]}],"requires_selling_plan":false,"selling_plan_groups":[],"content":"\u003cspan style=\"font-weight: 400;\" data-mce-fragment=\"1\" data-mce-style=\"font-weight: 400;\"\u003eMeet the Boston, our geo-hiker for all-terrains and all-seasons. We looked to the trail for inspiration, pulling elements from classic hiking boots, while modernizing the style with a fresh palette and smart detailing. Featuring speed lacing, a weatherproof \u003c\/span\u003e\u003cspan style=\"font-weight: 400;\" data-mce-fragment=\"1\" data-mce-style=\"font-weight: 400;\"\u003ere\u003c\/span\u003e\u003cspan style=\"font-weight: 400;\" data-mce-fragment=\"1\" data-mce-style=\"font-weight: 400;\"\u003e-rubber \u003c\/span\u003e\u003cspan style=\"font-weight: 400;\" data-mce-fragment=\"1\" data-mce-style=\"font-weight: 400;\"\u003emudguard\u003c\/span\u003e\u003cspan style=\"font-weight: 400;\" data-mce-fragment=\"1\" data-mce-style=\"font-weight: 400;\"\u003e, re-nylon and a retro re-speckled sole. \u003c\/span\u003e"} { "options": [ { "title": "Color", "values": [ { "value": "THUNDER MOUNTAIN", "url": "/products/boston?variant=40657744593101" }, { "value": "WHITE MULTI", "url": "/products/boston?variant=40657744527565" } ] }, { "title": "Size", "values": [ { "value": "6", "url": "/products/boston?variant=40657744593101" }, { "value": "6.5", "url": "/products/boston?variant=40657744789709" }, { "value": "7", "url": "/products/boston?variant=40657744986317" }, { "value": "7.5", "url": "/products/boston?variant=40657745182925" }, { "value": "8", "url": "/products/boston?variant=40657745379533" }, { "value": "8.5", "url": "/products/boston?variant=40657745576141" }, { "value": "9", "url": "/products/boston?variant=40657745772749" }, { "value": "9.5", "url": "/products/boston?variant=40657745969357" }, { "value": "10", "url": "/products/boston?variant=40657746165965" } ] }, { "title": "Material", "values": [ { "value": "SOFT CALF LEATHER", "url": "/products/boston?variant=40657744593101" } ] } ] }
{"id":6913412301005,"title":"PHOENIX","handle":"phoenix","description":"\u003cp\u003e\u003cspan style=\"font-weight: 400;\"\u003eMeet the Phoenix, the courtside sneaker designed to take you from the sidewalk to the street with effortless cool. We've updated this retro style of the early '90's with sleek lines and ultra-soft material for a timeless new look. Featuring five modern colorways, organic cotton laces,\u003c\/span\u003e\u003cspan style=\"font-weight: 400;\"\u003e luxe butter leather \u003c\/span\u003e\u003cspan style=\"font-weight: 400;\"\u003eand our signature re-speckled soles. \u003c\/span\u003e\u003c\/p\u003e\n\u003cbr style=\"font-weight: 400;\"\u003e","published_at":"2022-08-17T10:40:00-04:00","created_at":"2022-02-07T17:04:01-05:00","vendor":"Oncept","type":"Footwear","tags":["CASUAL","SNEAKER","SPORT"],"price":27500,"price_min":27500,"price_max":27500,"available":true,"price_varies":false,"compare_at_price":null,"compare_at_price_min":0,"compare_at_price_max":0,"compare_at_price_varies":false,"variants":[{"id":40649707716813,"title":"RETRO RED \/ 6 \/ SOFT CALF LEATHER","option1":"RETRO RED","option2":"6","option3":"SOFT CALF LEATHER","sku":"840237311636","requires_shipping":true,"taxable":true,"featured_image":{"id":30576856727757,"product_id":6913412301005,"position":1,"created_at":"2022-08-17T18:32:43-04:00","updated_at":"2023-02-07T11:07:50-05:00","alt":"0","width":2960,"height":3700,"src":"\/\/oncept.nyc\/cdn\/shop\/products\/PHOENIX-SIDE-RETRORED-min.jpg?v=1675786070","variant_ids":[40649707716813,40649707880653,40649708044493,40649708208333,40649708372173,40649708536013,40649708699853,40649708863693,40649709027533]},"available":true,"name":"PHOENIX - RETRO RED \/ 6 \/ SOFT CALF LEATHER","public_title":"RETRO RED \/ 6 \/ SOFT CALF LEATHER","options":["RETRO RED","6","SOFT CALF LEATHER"],"price":27500,"weight":0,"compare_at_price":null,"inventory_management":"shopify","barcode":"840237311636","featured_media":{"alt":"0","id":22857390653645,"position":1,"preview_image":{"aspect_ratio":0.8,"height":3700,"width":2960,"src":"\/\/oncept.nyc\/cdn\/shop\/products\/PHOENIX-SIDE-RETRORED-min.jpg?v=1675786070"}},"requires_selling_plan":false,"selling_plan_allocations":[]},{"id":40649707880653,"title":"RETRO RED \/ 6.5 \/ SOFT CALF LEATHER","option1":"RETRO RED","option2":"6.5","option3":"SOFT CALF LEATHER","sku":"840237311643","requires_shipping":true,"taxable":true,"featured_image":{"id":30576856727757,"product_id":6913412301005,"position":1,"created_at":"2022-08-17T18:32:43-04:00","updated_at":"2023-02-07T11:07:50-05:00","alt":"0","width":2960,"height":3700,"src":"\/\/oncept.nyc\/cdn\/shop\/products\/PHOENIX-SIDE-RETRORED-min.jpg?v=1675786070","variant_ids":[40649707716813,40649707880653,40649708044493,40649708208333,40649708372173,40649708536013,40649708699853,40649708863693,40649709027533]},"available":true,"name":"PHOENIX - RETRO RED \/ 6.5 \/ SOFT CALF LEATHER","public_title":"RETRO RED \/ 6.5 \/ SOFT CALF LEATHER","options":["RETRO RED","6.5","SOFT CALF LEATHER"],"price":27500,"weight":0,"compare_at_price":null,"inventory_management":"shopify","barcode":"840237311643","featured_media":{"alt":"0","id":22857390653645,"position":1,"preview_image":{"aspect_ratio":0.8,"height":3700,"width":2960,"src":"\/\/oncept.nyc\/cdn\/shop\/products\/PHOENIX-SIDE-RETRORED-min.jpg?v=1675786070"}},"requires_selling_plan":false,"selling_plan_allocations":[]},{"id":40649708044493,"title":"RETRO RED \/ 7 \/ SOFT CALF LEATHER","option1":"RETRO RED","option2":"7","option3":"SOFT CALF LEATHER","sku":"840237311650","requires_shipping":true,"taxable":true,"featured_image":{"id":30576856727757,"product_id":6913412301005,"position":1,"created_at":"2022-08-17T18:32:43-04:00","updated_at":"2023-02-07T11:07:50-05:00","alt":"0","width":2960,"height":3700,"src":"\/\/oncept.nyc\/cdn\/shop\/products\/PHOENIX-SIDE-RETRORED-min.jpg?v=1675786070","variant_ids":[40649707716813,40649707880653,40649708044493,40649708208333,40649708372173,40649708536013,40649708699853,40649708863693,40649709027533]},"available":true,"name":"PHOENIX - RETRO RED \/ 7 \/ SOFT CALF LEATHER","public_title":"RETRO RED \/ 7 \/ SOFT CALF LEATHER","options":["RETRO RED","7","SOFT CALF LEATHER"],"price":27500,"weight":0,"compare_at_price":null,"inventory_management":"shopify","barcode":"840237311650","featured_media":{"alt":"0","id":22857390653645,"position":1,"preview_image":{"aspect_ratio":0.8,"height":3700,"width":2960,"src":"\/\/oncept.nyc\/cdn\/shop\/products\/PHOENIX-SIDE-RETRORED-min.jpg?v=1675786070"}},"requires_selling_plan":false,"selling_plan_allocations":[]},{"id":40649708208333,"title":"RETRO RED \/ 7.5 \/ SOFT CALF LEATHER","option1":"RETRO RED","option2":"7.5","option3":"SOFT CALF LEATHER","sku":"840237311667","requires_shipping":true,"taxable":true,"featured_image":{"id":30576856727757,"product_id":6913412301005,"position":1,"created_at":"2022-08-17T18:32:43-04:00","updated_at":"2023-02-07T11:07:50-05:00","alt":"0","width":2960,"height":3700,"src":"\/\/oncept.nyc\/cdn\/shop\/products\/PHOENIX-SIDE-RETRORED-min.jpg?v=1675786070","variant_ids":[40649707716813,40649707880653,40649708044493,40649708208333,40649708372173,40649708536013,40649708699853,40649708863693,40649709027533]},"available":true,"name":"PHOENIX - RETRO RED \/ 7.5 \/ SOFT CALF LEATHER","public_title":"RETRO RED \/ 7.5 \/ SOFT CALF LEATHER","options":["RETRO RED","7.5","SOFT CALF LEATHER"],"price":27500,"weight":0,"compare_at_price":null,"inventory_management":"shopify","barcode":"840237311667","featured_media":{"alt":"0","id":22857390653645,"position":1,"preview_image":{"aspect_ratio":0.8,"height":3700,"width":2960,"src":"\/\/oncept.nyc\/cdn\/shop\/products\/PHOENIX-SIDE-RETRORED-min.jpg?v=1675786070"}},"requires_selling_plan":false,"selling_plan_allocations":[]},{"id":40649708372173,"title":"RETRO RED \/ 8 \/ SOFT CALF LEATHER","option1":"RETRO RED","option2":"8","option3":"SOFT CALF LEATHER","sku":"840237311674","requires_shipping":true,"taxable":true,"featured_image":{"id":30576856727757,"product_id":6913412301005,"position":1,"created_at":"2022-08-17T18:32:43-04:00","updated_at":"2023-02-07T11:07:50-05:00","alt":"0","width":2960,"height":3700,"src":"\/\/oncept.nyc\/cdn\/shop\/products\/PHOENIX-SIDE-RETRORED-min.jpg?v=1675786070","variant_ids":[40649707716813,40649707880653,40649708044493,40649708208333,40649708372173,40649708536013,40649708699853,40649708863693,40649709027533]},"available":true,"name":"PHOENIX - RETRO RED \/ 8 \/ SOFT CALF LEATHER","public_title":"RETRO RED \/ 8 \/ SOFT CALF LEATHER","options":["RETRO RED","8","SOFT CALF LEATHER"],"price":27500,"weight":0,"compare_at_price":null,"inventory_management":"shopify","barcode":"840237311674","featured_media":{"alt":"0","id":22857390653645,"position":1,"preview_image":{"aspect_ratio":0.8,"height":3700,"width":2960,"src":"\/\/oncept.nyc\/cdn\/shop\/products\/PHOENIX-SIDE-RETRORED-min.jpg?v=1675786070"}},"requires_selling_plan":false,"selling_plan_allocations":[]},{"id":40649708536013,"title":"RETRO RED \/ 8.5 \/ SOFT CALF LEATHER","option1":"RETRO RED","option2":"8.5","option3":"SOFT CALF LEATHER","sku":"840237311681","requires_shipping":true,"taxable":true,"featured_image":{"id":30576856727757,"product_id":6913412301005,"position":1,"created_at":"2022-08-17T18:32:43-04:00","updated_at":"2023-02-07T11:07:50-05:00","alt":"0","width":2960,"height":3700,"src":"\/\/oncept.nyc\/cdn\/shop\/products\/PHOENIX-SIDE-RETRORED-min.jpg?v=1675786070","variant_ids":[40649707716813,40649707880653,40649708044493,40649708208333,40649708372173,40649708536013,40649708699853,40649708863693,40649709027533]},"available":true,"name":"PHOENIX - RETRO RED \/ 8.5 \/ SOFT CALF LEATHER","public_title":"RETRO RED \/ 8.5 \/ SOFT CALF LEATHER","options":["RETRO RED","8.5","SOFT CALF LEATHER"],"price":27500,"weight":0,"compare_at_price":null,"inventory_management":"shopify","barcode":"840237311681","featured_media":{"alt":"0","id":22857390653645,"position":1,"preview_image":{"aspect_ratio":0.8,"height":3700,"width":2960,"src":"\/\/oncept.nyc\/cdn\/shop\/products\/PHOENIX-SIDE-RETRORED-min.jpg?v=1675786070"}},"requires_selling_plan":false,"selling_plan_allocations":[]},{"id":40649708699853,"title":"RETRO RED \/ 9 \/ SOFT CALF LEATHER","option1":"RETRO RED","option2":"9","option3":"SOFT CALF LEATHER","sku":"840237311698","requires_shipping":true,"taxable":true,"featured_image":{"id":30576856727757,"product_id":6913412301005,"position":1,"created_at":"2022-08-17T18:32:43-04:00","updated_at":"2023-02-07T11:07:50-05:00","alt":"0","width":2960,"height":3700,"src":"\/\/oncept.nyc\/cdn\/shop\/products\/PHOENIX-SIDE-RETRORED-min.jpg?v=1675786070","variant_ids":[40649707716813,40649707880653,40649708044493,40649708208333,40649708372173,40649708536013,40649708699853,40649708863693,40649709027533]},"available":true,"name":"PHOENIX - RETRO RED \/ 9 \/ SOFT CALF LEATHER","public_title":"RETRO RED \/ 9 \/ SOFT CALF LEATHER","options":["RETRO RED","9","SOFT CALF LEATHER"],"price":27500,"weight":0,"compare_at_price":null,"inventory_management":"shopify","barcode":"840237311698","featured_media":{"alt":"0","id":22857390653645,"position":1,"preview_image":{"aspect_ratio":0.8,"height":3700,"width":2960,"src":"\/\/oncept.nyc\/cdn\/shop\/products\/PHOENIX-SIDE-RETRORED-min.jpg?v=1675786070"}},"requires_selling_plan":false,"selling_plan_allocations":[]},{"id":40649708863693,"title":"RETRO RED \/ 9.5 \/ SOFT CALF LEATHER","option1":"RETRO RED","option2":"9.5","option3":"SOFT CALF LEATHER","sku":"840237311704","requires_shipping":true,"taxable":true,"featured_image":{"id":30576856727757,"product_id":6913412301005,"position":1,"created_at":"2022-08-17T18:32:43-04:00","updated_at":"2023-02-07T11:07:50-05:00","alt":"0","width":2960,"height":3700,"src":"\/\/oncept.nyc\/cdn\/shop\/products\/PHOENIX-SIDE-RETRORED-min.jpg?v=1675786070","variant_ids":[40649707716813,40649707880653,40649708044493,40649708208333,40649708372173,40649708536013,40649708699853,40649708863693,40649709027533]},"available":true,"name":"PHOENIX - RETRO RED \/ 9.5 \/ SOFT CALF LEATHER","public_title":"RETRO RED \/ 9.5 \/ SOFT CALF LEATHER","options":["RETRO RED","9.5","SOFT CALF LEATHER"],"price":27500,"weight":0,"compare_at_price":null,"inventory_management":"shopify","barcode":"840237311704","featured_media":{"alt":"0","id":22857390653645,"position":1,"preview_image":{"aspect_ratio":0.8,"height":3700,"width":2960,"src":"\/\/oncept.nyc\/cdn\/shop\/products\/PHOENIX-SIDE-RETRORED-min.jpg?v=1675786070"}},"requires_selling_plan":false,"selling_plan_allocations":[]},{"id":40649709027533,"title":"RETRO RED \/ 10 \/ SOFT CALF LEATHER","option1":"RETRO RED","option2":"10","option3":"SOFT CALF LEATHER","sku":"840237311711","requires_shipping":true,"taxable":true,"featured_image":{"id":30576856727757,"product_id":6913412301005,"position":1,"created_at":"2022-08-17T18:32:43-04:00","updated_at":"2023-02-07T11:07:50-05:00","alt":"0","width":2960,"height":3700,"src":"\/\/oncept.nyc\/cdn\/shop\/products\/PHOENIX-SIDE-RETRORED-min.jpg?v=1675786070","variant_ids":[40649707716813,40649707880653,40649708044493,40649708208333,40649708372173,40649708536013,40649708699853,40649708863693,40649709027533]},"available":true,"name":"PHOENIX - RETRO RED \/ 10 \/ SOFT CALF LEATHER","public_title":"RETRO RED \/ 10 \/ SOFT CALF LEATHER","options":["RETRO RED","10","SOFT CALF LEATHER"],"price":27500,"weight":0,"compare_at_price":null,"inventory_management":"shopify","barcode":"840237311711","featured_media":{"alt":"0","id":22857390653645,"position":1,"preview_image":{"aspect_ratio":0.8,"height":3700,"width":2960,"src":"\/\/oncept.nyc\/cdn\/shop\/products\/PHOENIX-SIDE-RETRORED-min.jpg?v=1675786070"}},"requires_selling_plan":false,"selling_plan_allocations":[]},{"id":40649707749581,"title":"GREEN FIELDS \/ 6 \/ SOFT CALF LEATHER","option1":"GREEN FIELDS","option2":"6","option3":"SOFT CALF LEATHER","sku":"840237310899","requires_shipping":true,"taxable":true,"featured_image":{"id":30576856891597,"product_id":6913412301005,"position":7,"created_at":"2022-08-17T18:32:43-04:00","updated_at":"2023-02-07T11:07:50-05:00","alt":"1","width":2960,"height":3700,"src":"\/\/oncept.nyc\/cdn\/shop\/products\/PHOENIX-SIDE-FIELDGREENS-min.jpg?v=1675786070","variant_ids":[40649707749581,40649707913421,40649708077261,40649708241101,40649708404941,40649708568781,40649708732621,40649708896461,40649709060301]},"available":true,"name":"PHOENIX - GREEN FIELDS \/ 6 \/ SOFT CALF LEATHER","public_title":"GREEN FIELDS \/ 6 \/ SOFT CALF LEATHER","options":["GREEN FIELDS","6","SOFT CALF LEATHER"],"price":27500,"weight":0,"compare_at_price":null,"inventory_management":"shopify","barcode":"840237310899","featured_media":{"alt":"1","id":22857390588109,"position":7,"preview_image":{"aspect_ratio":0.8,"height":3700,"width":2960,"src":"\/\/oncept.nyc\/cdn\/shop\/products\/PHOENIX-SIDE-FIELDGREENS-min.jpg?v=1675786070"}},"requires_selling_plan":false,"selling_plan_allocations":[]},{"id":40649707913421,"title":"GREEN FIELDS \/ 6.5 \/ SOFT CALF LEATHER","option1":"GREEN FIELDS","option2":"6.5","option3":"SOFT CALF LEATHER","sku":"840237310905","requires_shipping":true,"taxable":true,"featured_image":{"id":30576856891597,"product_id":6913412301005,"position":7,"created_at":"2022-08-17T18:32:43-04:00","updated_at":"2023-02-07T11:07:50-05:00","alt":"1","width":2960,"height":3700,"src":"\/\/oncept.nyc\/cdn\/shop\/products\/PHOENIX-SIDE-FIELDGREENS-min.jpg?v=1675786070","variant_ids":[40649707749581,40649707913421,40649708077261,40649708241101,40649708404941,40649708568781,40649708732621,40649708896461,40649709060301]},"available":true,"name":"PHOENIX - GREEN FIELDS \/ 6.5 \/ SOFT CALF LEATHER","public_title":"GREEN FIELDS \/ 6.5 \/ SOFT CALF LEATHER","options":["GREEN FIELDS","6.5","SOFT CALF LEATHER"],"price":27500,"weight":0,"compare_at_price":null,"inventory_management":"shopify","barcode":"840237310905","featured_media":{"alt":"1","id":22857390588109,"position":7,"preview_image":{"aspect_ratio":0.8,"height":3700,"width":2960,"src":"\/\/oncept.nyc\/cdn\/shop\/products\/PHOENIX-SIDE-FIELDGREENS-min.jpg?v=1675786070"}},"requires_selling_plan":false,"selling_plan_allocations":[]},{"id":40649708077261,"title":"GREEN FIELDS \/ 7 \/ SOFT CALF LEATHER","option1":"GREEN FIELDS","option2":"7","option3":"SOFT CALF LEATHER","sku":"840237310912","requires_shipping":true,"taxable":true,"featured_image":{"id":30576856891597,"product_id":6913412301005,"position":7,"created_at":"2022-08-17T18:32:43-04:00","updated_at":"2023-02-07T11:07:50-05:00","alt":"1","width":2960,"height":3700,"src":"\/\/oncept.nyc\/cdn\/shop\/products\/PHOENIX-SIDE-FIELDGREENS-min.jpg?v=1675786070","variant_ids":[40649707749581,40649707913421,40649708077261,40649708241101,40649708404941,40649708568781,40649708732621,40649708896461,40649709060301]},"available":true,"name":"PHOENIX - GREEN FIELDS \/ 7 \/ SOFT CALF LEATHER","public_title":"GREEN FIELDS \/ 7 \/ SOFT CALF LEATHER","options":["GREEN FIELDS","7","SOFT CALF LEATHER"],"price":27500,"weight":0,"compare_at_price":null,"inventory_management":"shopify","barcode":"840237310912","featured_media":{"alt":"1","id":22857390588109,"position":7,"preview_image":{"aspect_ratio":0.8,"height":3700,"width":2960,"src":"\/\/oncept.nyc\/cdn\/shop\/products\/PHOENIX-SIDE-FIELDGREENS-min.jpg?v=1675786070"}},"requires_selling_plan":false,"selling_plan_allocations":[]},{"id":40649708241101,"title":"GREEN FIELDS \/ 7.5 \/ SOFT CALF LEATHER","option1":"GREEN FIELDS","option2":"7.5","option3":"SOFT CALF LEATHER","sku":"840237310929","requires_shipping":true,"taxable":true,"featured_image":{"id":30576856891597,"product_id":6913412301005,"position":7,"created_at":"2022-08-17T18:32:43-04:00","updated_at":"2023-02-07T11:07:50-05:00","alt":"1","width":2960,"height":3700,"src":"\/\/oncept.nyc\/cdn\/shop\/products\/PHOENIX-SIDE-FIELDGREENS-min.jpg?v=1675786070","variant_ids":[40649707749581,40649707913421,40649708077261,40649708241101,40649708404941,40649708568781,40649708732621,40649708896461,40649709060301]},"available":true,"name":"PHOENIX - GREEN FIELDS \/ 7.5 \/ SOFT CALF LEATHER","public_title":"GREEN FIELDS \/ 7.5 \/ SOFT CALF LEATHER","options":["GREEN FIELDS","7.5","SOFT CALF LEATHER"],"price":27500,"weight":0,"compare_at_price":null,"inventory_management":"shopify","barcode":"840237310929","featured_media":{"alt":"1","id":22857390588109,"position":7,"preview_image":{"aspect_ratio":0.8,"height":3700,"width":2960,"src":"\/\/oncept.nyc\/cdn\/shop\/products\/PHOENIX-SIDE-FIELDGREENS-min.jpg?v=1675786070"}},"requires_selling_plan":false,"selling_plan_allocations":[]},{"id":40649708404941,"title":"GREEN FIELDS \/ 8 \/ SOFT CALF LEATHER","option1":"GREEN FIELDS","option2":"8","option3":"SOFT CALF LEATHER","sku":"840237310936","requires_shipping":true,"taxable":true,"featured_image":{"id":30576856891597,"product_id":6913412301005,"position":7,"created_at":"2022-08-17T18:32:43-04:00","updated_at":"2023-02-07T11:07:50-05:00","alt":"1","width":2960,"height":3700,"src":"\/\/oncept.nyc\/cdn\/shop\/products\/PHOENIX-SIDE-FIELDGREENS-min.jpg?v=1675786070","variant_ids":[40649707749581,40649707913421,40649708077261,40649708241101,40649708404941,40649708568781,40649708732621,40649708896461,40649709060301]},"available":true,"name":"PHOENIX - GREEN FIELDS \/ 8 \/ SOFT CALF LEATHER","public_title":"GREEN FIELDS \/ 8 \/ SOFT CALF LEATHER","options":["GREEN FIELDS","8","SOFT CALF LEATHER"],"price":27500,"weight":0,"compare_at_price":null,"inventory_management":"shopify","barcode":"840237310936","featured_media":{"alt":"1","id":22857390588109,"position":7,"preview_image":{"aspect_ratio":0.8,"height":3700,"width":2960,"src":"\/\/oncept.nyc\/cdn\/shop\/products\/PHOENIX-SIDE-FIELDGREENS-min.jpg?v=1675786070"}},"requires_selling_plan":false,"selling_plan_allocations":[]},{"id":40649708568781,"title":"GREEN FIELDS \/ 8.5 \/ SOFT CALF LEATHER","option1":"GREEN FIELDS","option2":"8.5","option3":"SOFT CALF LEATHER","sku":"840237310943","requires_shipping":true,"taxable":true,"featured_image":{"id":30576856891597,"product_id":6913412301005,"position":7,"created_at":"2022-08-17T18:32:43-04:00","updated_at":"2023-02-07T11:07:50-05:00","alt":"1","width":2960,"height":3700,"src":"\/\/oncept.nyc\/cdn\/shop\/products\/PHOENIX-SIDE-FIELDGREENS-min.jpg?v=1675786070","variant_ids":[40649707749581,40649707913421,40649708077261,40649708241101,40649708404941,40649708568781,40649708732621,40649708896461,40649709060301]},"available":true,"name":"PHOENIX - GREEN FIELDS \/ 8.5 \/ SOFT CALF LEATHER","public_title":"GREEN FIELDS \/ 8.5 \/ SOFT CALF LEATHER","options":["GREEN FIELDS","8.5","SOFT CALF LEATHER"],"price":27500,"weight":0,"compare_at_price":null,"inventory_management":"shopify","barcode":"840237310943","featured_media":{"alt":"1","id":22857390588109,"position":7,"preview_image":{"aspect_ratio":0.8,"height":3700,"width":2960,"src":"\/\/oncept.nyc\/cdn\/shop\/products\/PHOENIX-SIDE-FIELDGREENS-min.jpg?v=1675786070"}},"requires_selling_plan":false,"selling_plan_allocations":[]},{"id":40649708732621,"title":"GREEN FIELDS \/ 9 \/ SOFT CALF LEATHER","option1":"GREEN FIELDS","option2":"9","option3":"SOFT CALF LEATHER","sku":"840237310950","requires_shipping":true,"taxable":true,"featured_image":{"id":30576856891597,"product_id":6913412301005,"position":7,"created_at":"2022-08-17T18:32:43-04:00","updated_at":"2023-02-07T11:07:50-05:00","alt":"1","width":2960,"height":3700,"src":"\/\/oncept.nyc\/cdn\/shop\/products\/PHOENIX-SIDE-FIELDGREENS-min.jpg?v=1675786070","variant_ids":[40649707749581,40649707913421,40649708077261,40649708241101,40649708404941,40649708568781,40649708732621,40649708896461,40649709060301]},"available":true,"name":"PHOENIX - GREEN FIELDS \/ 9 \/ SOFT CALF LEATHER","public_title":"GREEN FIELDS \/ 9 \/ SOFT CALF LEATHER","options":["GREEN FIELDS","9","SOFT CALF LEATHER"],"price":27500,"weight":0,"compare_at_price":null,"inventory_management":"shopify","barcode":"840237310950","featured_media":{"alt":"1","id":22857390588109,"position":7,"preview_image":{"aspect_ratio":0.8,"height":3700,"width":2960,"src":"\/\/oncept.nyc\/cdn\/shop\/products\/PHOENIX-SIDE-FIELDGREENS-min.jpg?v=1675786070"}},"requires_selling_plan":false,"selling_plan_allocations":[]},{"id":40649708896461,"title":"GREEN FIELDS \/ 9.5 \/ SOFT CALF LEATHER","option1":"GREEN FIELDS","option2":"9.5","option3":"SOFT CALF LEATHER","sku":"840237310967","requires_shipping":true,"taxable":true,"featured_image":{"id":30576856891597,"product_id":6913412301005,"position":7,"created_at":"2022-08-17T18:32:43-04:00","updated_at":"2023-02-07T11:07:50-05:00","alt":"1","width":2960,"height":3700,"src":"\/\/oncept.nyc\/cdn\/shop\/products\/PHOENIX-SIDE-FIELDGREENS-min.jpg?v=1675786070","variant_ids":[40649707749581,40649707913421,40649708077261,40649708241101,40649708404941,40649708568781,40649708732621,40649708896461,40649709060301]},"available":true,"name":"PHOENIX - GREEN FIELDS \/ 9.5 \/ SOFT CALF LEATHER","public_title":"GREEN FIELDS \/ 9.5 \/ SOFT CALF LEATHER","options":["GREEN FIELDS","9.5","SOFT CALF LEATHER"],"price":27500,"weight":0,"compare_at_price":null,"inventory_management":"shopify","barcode":"840237310967","featured_media":{"alt":"1","id":22857390588109,"position":7,"preview_image":{"aspect_ratio":0.8,"height":3700,"width":2960,"src":"\/\/oncept.nyc\/cdn\/shop\/products\/PHOENIX-SIDE-FIELDGREENS-min.jpg?v=1675786070"}},"requires_selling_plan":false,"selling_plan_allocations":[]},{"id":40649709060301,"title":"GREEN FIELDS \/ 10 \/ SOFT CALF LEATHER","option1":"GREEN FIELDS","option2":"10","option3":"SOFT CALF LEATHER","sku":"840237310974","requires_shipping":true,"taxable":true,"featured_image":{"id":30576856891597,"product_id":6913412301005,"position":7,"created_at":"2022-08-17T18:32:43-04:00","updated_at":"2023-02-07T11:07:50-05:00","alt":"1","width":2960,"height":3700,"src":"\/\/oncept.nyc\/cdn\/shop\/products\/PHOENIX-SIDE-FIELDGREENS-min.jpg?v=1675786070","variant_ids":[40649707749581,40649707913421,40649708077261,40649708241101,40649708404941,40649708568781,40649708732621,40649708896461,40649709060301]},"available":true,"name":"PHOENIX - GREEN FIELDS \/ 10 \/ SOFT CALF LEATHER","public_title":"GREEN FIELDS \/ 10 \/ SOFT CALF LEATHER","options":["GREEN FIELDS","10","SOFT CALF LEATHER"],"price":27500,"weight":0,"compare_at_price":null,"inventory_management":"shopify","barcode":"840237310974","featured_media":{"alt":"1","id":22857390588109,"position":7,"preview_image":{"aspect_ratio":0.8,"height":3700,"width":2960,"src":"\/\/oncept.nyc\/cdn\/shop\/products\/PHOENIX-SIDE-FIELDGREENS-min.jpg?v=1675786070"}},"requires_selling_plan":false,"selling_plan_allocations":[]},{"id":40649707782349,"title":"OAK MULTI \/ 6 \/ SOFT CALF LEATHER","option1":"OAK MULTI","option2":"6","option3":"SOFT CALF LEATHER","sku":"840237310981","requires_shipping":true,"taxable":true,"featured_image":{"id":30576857088205,"product_id":6913412301005,"position":13,"created_at":"2022-08-17T18:32:43-04:00","updated_at":"2022-11-14T23:24:48-05:00","alt":"2","width":2960,"height":3700,"src":"\/\/oncept.nyc\/cdn\/shop\/products\/PHOENIX-SIDE-OAK-min.jpg?v=1668486288","variant_ids":[40649707782349,40649707946189,40649708110029,40649708273869,40649708437709,40649708601549,40649708765389,40649708929229,40649709093069]},"available":true,"name":"PHOENIX - OAK MULTI \/ 6 \/ SOFT CALF LEATHER","public_title":"OAK MULTI \/ 6 \/ SOFT CALF LEATHER","options":["OAK MULTI","6","SOFT CALF LEATHER"],"price":27500,"weight":0,"compare_at_price":null,"inventory_management":"shopify","barcode":"840237310981","featured_media":{"alt":"2","id":22857390620877,"position":13,"preview_image":{"aspect_ratio":0.8,"height":3700,"width":2960,"src":"\/\/oncept.nyc\/cdn\/shop\/products\/PHOENIX-SIDE-OAK-min.jpg?v=1668486288"}},"requires_selling_plan":false,"selling_plan_allocations":[]},{"id":40649707946189,"title":"OAK MULTI \/ 6.5 \/ SOFT CALF LEATHER","option1":"OAK MULTI","option2":"6.5","option3":"SOFT CALF LEATHER","sku":"840237310998","requires_shipping":true,"taxable":true,"featured_image":{"id":30576857088205,"product_id":6913412301005,"position":13,"created_at":"2022-08-17T18:32:43-04:00","updated_at":"2022-11-14T23:24:48-05:00","alt":"2","width":2960,"height":3700,"src":"\/\/oncept.nyc\/cdn\/shop\/products\/PHOENIX-SIDE-OAK-min.jpg?v=1668486288","variant_ids":[40649707782349,40649707946189,40649708110029,40649708273869,40649708437709,40649708601549,40649708765389,40649708929229,40649709093069]},"available":false,"name":"PHOENIX - OAK MULTI \/ 6.5 \/ SOFT CALF LEATHER","public_title":"OAK MULTI \/ 6.5 \/ SOFT CALF LEATHER","options":["OAK MULTI","6.5","SOFT CALF LEATHER"],"price":27500,"weight":0,"compare_at_price":null,"inventory_management":"shopify","barcode":"840237310998","featured_media":{"alt":"2","id":22857390620877,"position":13,"preview_image":{"aspect_ratio":0.8,"height":3700,"width":2960,"src":"\/\/oncept.nyc\/cdn\/shop\/products\/PHOENIX-SIDE-OAK-min.jpg?v=1668486288"}},"requires_selling_plan":false,"selling_plan_allocations":[]},{"id":40649708110029,"title":"OAK MULTI \/ 7 \/ SOFT CALF LEATHER","option1":"OAK MULTI","option2":"7","option3":"SOFT CALF LEATHER","sku":"840237311001","requires_shipping":true,"taxable":true,"featured_image":{"id":30576857088205,"product_id":6913412301005,"position":13,"created_at":"2022-08-17T18:32:43-04:00","updated_at":"2022-11-14T23:24:48-05:00","alt":"2","width":2960,"height":3700,"src":"\/\/oncept.nyc\/cdn\/shop\/products\/PHOENIX-SIDE-OAK-min.jpg?v=1668486288","variant_ids":[40649707782349,40649707946189,40649708110029,40649708273869,40649708437709,40649708601549,40649708765389,40649708929229,40649709093069]},"available":false,"name":"PHOENIX - OAK MULTI \/ 7 \/ SOFT CALF LEATHER","public_title":"OAK MULTI \/ 7 \/ SOFT CALF LEATHER","options":["OAK MULTI","7","SOFT CALF LEATHER"],"price":27500,"weight":0,"compare_at_price":null,"inventory_management":"shopify","barcode":"840237311001","featured_media":{"alt":"2","id":22857390620877,"position":13,"preview_image":{"aspect_ratio":0.8,"height":3700,"width":2960,"src":"\/\/oncept.nyc\/cdn\/shop\/products\/PHOENIX-SIDE-OAK-min.jpg?v=1668486288"}},"requires_selling_plan":false,"selling_plan_allocations":[]},{"id":40649708273869,"title":"OAK MULTI \/ 7.5 \/ SOFT CALF LEATHER","option1":"OAK MULTI","option2":"7.5","option3":"SOFT CALF LEATHER","sku":"840237311018","requires_shipping":true,"taxable":true,"featured_image":{"id":30576857088205,"product_id":6913412301005,"position":13,"created_at":"2022-08-17T18:32:43-04:00","updated_at":"2022-11-14T23:24:48-05:00","alt":"2","width":2960,"height":3700,"src":"\/\/oncept.nyc\/cdn\/shop\/products\/PHOENIX-SIDE-OAK-min.jpg?v=1668486288","variant_ids":[40649707782349,40649707946189,40649708110029,40649708273869,40649708437709,40649708601549,40649708765389,40649708929229,40649709093069]},"available":false,"name":"PHOENIX - OAK MULTI \/ 7.5 \/ SOFT CALF LEATHER","public_title":"OAK MULTI \/ 7.5 \/ SOFT CALF LEATHER","options":["OAK MULTI","7.5","SOFT CALF LEATHER"],"price":27500,"weight":0,"compare_at_price":null,"inventory_management":"shopify","barcode":"840237311018","featured_media":{"alt":"2","id":22857390620877,"position":13,"preview_image":{"aspect_ratio":0.8,"height":3700,"width":2960,"src":"\/\/oncept.nyc\/cdn\/shop\/products\/PHOENIX-SIDE-OAK-min.jpg?v=1668486288"}},"requires_selling_plan":false,"selling_plan_allocations":[]},{"id":40649708437709,"title":"OAK MULTI \/ 8 \/ SOFT CALF LEATHER","option1":"OAK MULTI","option2":"8","option3":"SOFT CALF LEATHER","sku":"840237311025","requires_shipping":true,"taxable":true,"featured_image":{"id":30576857088205,"product_id":6913412301005,"position":13,"created_at":"2022-08-17T18:32:43-04:00","updated_at":"2022-11-14T23:24:48-05:00","alt":"2","width":2960,"height":3700,"src":"\/\/oncept.nyc\/cdn\/shop\/products\/PHOENIX-SIDE-OAK-min.jpg?v=1668486288","variant_ids":[40649707782349,40649707946189,40649708110029,40649708273869,40649708437709,40649708601549,40649708765389,40649708929229,40649709093069]},"available":false,"name":"PHOENIX - OAK MULTI \/ 8 \/ SOFT CALF LEATHER","public_title":"OAK MULTI \/ 8 \/ SOFT CALF LEATHER","options":["OAK MULTI","8","SOFT CALF LEATHER"],"price":27500,"weight":0,"compare_at_price":null,"inventory_management":"shopify","barcode":"840237311025","featured_media":{"alt":"2","id":22857390620877,"position":13,"preview_image":{"aspect_ratio":0.8,"height":3700,"width":2960,"src":"\/\/oncept.nyc\/cdn\/shop\/products\/PHOENIX-SIDE-OAK-min.jpg?v=1668486288"}},"requires_selling_plan":false,"selling_plan_allocations":[]},{"id":40649708601549,"title":"OAK MULTI \/ 8.5 \/ SOFT CALF LEATHER","option1":"OAK MULTI","option2":"8.5","option3":"SOFT CALF LEATHER","sku":"840237311032","requires_shipping":true,"taxable":true,"featured_image":{"id":30576857088205,"product_id":6913412301005,"position":13,"created_at":"2022-08-17T18:32:43-04:00","updated_at":"2022-11-14T23:24:48-05:00","alt":"2","width":2960,"height":3700,"src":"\/\/oncept.nyc\/cdn\/shop\/products\/PHOENIX-SIDE-OAK-min.jpg?v=1668486288","variant_ids":[40649707782349,40649707946189,40649708110029,40649708273869,40649708437709,40649708601549,40649708765389,40649708929229,40649709093069]},"available":false,"name":"PHOENIX - OAK MULTI \/ 8.5 \/ SOFT CALF LEATHER","public_title":"OAK MULTI \/ 8.5 \/ SOFT CALF LEATHER","options":["OAK MULTI","8.5","SOFT CALF LEATHER"],"price":27500,"weight":0,"compare_at_price":null,"inventory_management":"shopify","barcode":"840237311032","featured_media":{"alt":"2","id":22857390620877,"position":13,"preview_image":{"aspect_ratio":0.8,"height":3700,"width":2960,"src":"\/\/oncept.nyc\/cdn\/shop\/products\/PHOENIX-SIDE-OAK-min.jpg?v=1668486288"}},"requires_selling_plan":false,"selling_plan_allocations":[]},{"id":40649708765389,"title":"OAK MULTI \/ 9 \/ SOFT CALF LEATHER","option1":"OAK MULTI","option2":"9","option3":"SOFT CALF LEATHER","sku":"840237311049","requires_shipping":true,"taxable":true,"featured_image":{"id":30576857088205,"product_id":6913412301005,"position":13,"created_at":"2022-08-17T18:32:43-04:00","updated_at":"2022-11-14T23:24:48-05:00","alt":"2","width":2960,"height":3700,"src":"\/\/oncept.nyc\/cdn\/shop\/products\/PHOENIX-SIDE-OAK-min.jpg?v=1668486288","variant_ids":[40649707782349,40649707946189,40649708110029,40649708273869,40649708437709,40649708601549,40649708765389,40649708929229,40649709093069]},"available":false,"name":"PHOENIX - OAK MULTI \/ 9 \/ SOFT CALF LEATHER","public_title":"OAK MULTI \/ 9 \/ SOFT CALF LEATHER","options":["OAK MULTI","9","SOFT CALF LEATHER"],"price":27500,"weight":0,"compare_at_price":null,"inventory_management":"shopify","barcode":"840237311049","featured_media":{"alt":"2","id":22857390620877,"position":13,"preview_image":{"aspect_ratio":0.8,"height":3700,"width":2960,"src":"\/\/oncept.nyc\/cdn\/shop\/products\/PHOENIX-SIDE-OAK-min.jpg?v=1668486288"}},"requires_selling_plan":false,"selling_plan_allocations":[]},{"id":40649708929229,"title":"OAK MULTI \/ 9.5 \/ SOFT CALF LEATHER","option1":"OAK MULTI","option2":"9.5","option3":"SOFT CALF LEATHER","sku":"840237311056","requires_shipping":true,"taxable":true,"featured_image":{"id":30576857088205,"product_id":6913412301005,"position":13,"created_at":"2022-08-17T18:32:43-04:00","updated_at":"2022-11-14T23:24:48-05:00","alt":"2","width":2960,"height":3700,"src":"\/\/oncept.nyc\/cdn\/shop\/products\/PHOENIX-SIDE-OAK-min.jpg?v=1668486288","variant_ids":[40649707782349,40649707946189,40649708110029,40649708273869,40649708437709,40649708601549,40649708765389,40649708929229,40649709093069]},"available":false,"name":"PHOENIX - OAK MULTI \/ 9.5 \/ SOFT CALF LEATHER","public_title":"OAK MULTI \/ 9.5 \/ SOFT CALF LEATHER","options":["OAK MULTI","9.5","SOFT CALF LEATHER"],"price":27500,"weight":0,"compare_at_price":null,"inventory_management":"shopify","barcode":"840237311056","featured_media":{"alt":"2","id":22857390620877,"position":13,"preview_image":{"aspect_ratio":0.8,"height":3700,"width":2960,"src":"\/\/oncept.nyc\/cdn\/shop\/products\/PHOENIX-SIDE-OAK-min.jpg?v=1668486288"}},"requires_selling_plan":false,"selling_plan_allocations":[]},{"id":40649709093069,"title":"OAK MULTI \/ 10 \/ SOFT CALF LEATHER","option1":"OAK MULTI","option2":"10","option3":"SOFT CALF LEATHER","sku":"840237311063","requires_shipping":true,"taxable":true,"featured_image":{"id":30576857088205,"product_id":6913412301005,"position":13,"created_at":"2022-08-17T18:32:43-04:00","updated_at":"2022-11-14T23:24:48-05:00","alt":"2","width":2960,"height":3700,"src":"\/\/oncept.nyc\/cdn\/shop\/products\/PHOENIX-SIDE-OAK-min.jpg?v=1668486288","variant_ids":[40649707782349,40649707946189,40649708110029,40649708273869,40649708437709,40649708601549,40649708765389,40649708929229,40649709093069]},"available":false,"name":"PHOENIX - OAK MULTI \/ 10 \/ SOFT CALF LEATHER","public_title":"OAK MULTI \/ 10 \/ SOFT CALF LEATHER","options":["OAK MULTI","10","SOFT CALF LEATHER"],"price":27500,"weight":0,"compare_at_price":null,"inventory_management":"shopify","barcode":"840237311063","featured_media":{"alt":"2","id":22857390620877,"position":13,"preview_image":{"aspect_ratio":0.8,"height":3700,"width":2960,"src":"\/\/oncept.nyc\/cdn\/shop\/products\/PHOENIX-SIDE-OAK-min.jpg?v=1668486288"}},"requires_selling_plan":false,"selling_plan_allocations":[]},{"id":40649707815117,"title":"STORM GREY \/ 6 \/ SOFT CALF LEATHER","option1":"STORM GREY","option2":"6","option3":"SOFT CALF LEATHER","sku":"840237311070","requires_shipping":true,"taxable":true,"featured_image":{"id":30576856170701,"product_id":6913412301005,"position":19,"created_at":"2022-08-17T18:32:43-04:00","updated_at":"2022-11-14T23:24:48-05:00","alt":"3","width":2960,"height":3700,"src":"\/\/oncept.nyc\/cdn\/shop\/products\/PHOENIX-SIDE-ANTRACITE-min.jpg?v=1668486288","variant_ids":[40649707815117,40649707978957,40649708142797,40649708306637,40649708470477,40649708634317,40649708798157,40649708961997,40649709125837]},"available":true,"name":"PHOENIX - STORM GREY \/ 6 \/ SOFT CALF LEATHER","public_title":"STORM GREY \/ 6 \/ SOFT CALF LEATHER","options":["STORM GREY","6","SOFT CALF LEATHER"],"price":27500,"weight":0,"compare_at_price":null,"inventory_management":"shopify","barcode":"840237311070","featured_media":{"alt":"3","id":22857390555341,"position":19,"preview_image":{"aspect_ratio":0.8,"height":3700,"width":2960,"src":"\/\/oncept.nyc\/cdn\/shop\/products\/PHOENIX-SIDE-ANTRACITE-min.jpg?v=1668486288"}},"requires_selling_plan":false,"selling_plan_allocations":[]},{"id":40649707978957,"title":"STORM GREY \/ 6.5 \/ SOFT CALF LEATHER","option1":"STORM GREY","option2":"6.5","option3":"SOFT CALF LEATHER","sku":"840237311087","requires_shipping":true,"taxable":true,"featured_image":{"id":30576856170701,"product_id":6913412301005,"position":19,"created_at":"2022-08-17T18:32:43-04:00","updated_at":"2022-11-14T23:24:48-05:00","alt":"3","width":2960,"height":3700,"src":"\/\/oncept.nyc\/cdn\/shop\/products\/PHOENIX-SIDE-ANTRACITE-min.jpg?v=1668486288","variant_ids":[40649707815117,40649707978957,40649708142797,40649708306637,40649708470477,40649708634317,40649708798157,40649708961997,40649709125837]},"available":true,"name":"PHOENIX - STORM GREY \/ 6.5 \/ SOFT CALF LEATHER","public_title":"STORM GREY \/ 6.5 \/ SOFT CALF LEATHER","options":["STORM GREY","6.5","SOFT CALF LEATHER"],"price":27500,"weight":0,"compare_at_price":null,"inventory_management":"shopify","barcode":"840237311087","featured_media":{"alt":"3","id":22857390555341,"position":19,"preview_image":{"aspect_ratio":0.8,"height":3700,"width":2960,"src":"\/\/oncept.nyc\/cdn\/shop\/products\/PHOENIX-SIDE-ANTRACITE-min.jpg?v=1668486288"}},"requires_selling_plan":false,"selling_plan_allocations":[]},{"id":40649708142797,"title":"STORM GREY \/ 7 \/ SOFT CALF LEATHER","option1":"STORM GREY","option2":"7","option3":"SOFT CALF LEATHER","sku":"840237311094","requires_shipping":true,"taxable":true,"featured_image":{"id":30576856170701,"product_id":6913412301005,"position":19,"created_at":"2022-08-17T18:32:43-04:00","updated_at":"2022-11-14T23:24:48-05:00","alt":"3","width":2960,"height":3700,"src":"\/\/oncept.nyc\/cdn\/shop\/products\/PHOENIX-SIDE-ANTRACITE-min.jpg?v=1668486288","variant_ids":[40649707815117,40649707978957,40649708142797,40649708306637,40649708470477,40649708634317,40649708798157,40649708961997,40649709125837]},"available":true,"name":"PHOENIX - STORM GREY \/ 7 \/ SOFT CALF LEATHER","public_title":"STORM GREY \/ 7 \/ SOFT CALF LEATHER","options":["STORM GREY","7","SOFT CALF LEATHER"],"price":27500,"weight":0,"compare_at_price":null,"inventory_management":"shopify","barcode":"840237311094","featured_media":{"alt":"3","id":22857390555341,"position":19,"preview_image":{"aspect_ratio":0.8,"height":3700,"width":2960,"src":"\/\/oncept.nyc\/cdn\/shop\/products\/PHOENIX-SIDE-ANTRACITE-min.jpg?v=1668486288"}},"requires_selling_plan":false,"selling_plan_allocations":[]},{"id":40649708306637,"title":"STORM GREY \/ 7.5 \/ SOFT CALF LEATHER","option1":"STORM GREY","option2":"7.5","option3":"SOFT CALF LEATHER","sku":"840237311100","requires_shipping":true,"taxable":true,"featured_image":{"id":30576856170701,"product_id":6913412301005,"position":19,"created_at":"2022-08-17T18:32:43-04:00","updated_at":"2022-11-14T23:24:48-05:00","alt":"3","width":2960,"height":3700,"src":"\/\/oncept.nyc\/cdn\/shop\/products\/PHOENIX-SIDE-ANTRACITE-min.jpg?v=1668486288","variant_ids":[40649707815117,40649707978957,40649708142797,40649708306637,40649708470477,40649708634317,40649708798157,40649708961997,40649709125837]},"available":true,"name":"PHOENIX - STORM GREY \/ 7.5 \/ SOFT CALF LEATHER","public_title":"STORM GREY \/ 7.5 \/ SOFT CALF LEATHER","options":["STORM GREY","7.5","SOFT CALF LEATHER"],"price":27500,"weight":0,"compare_at_price":null,"inventory_management":"shopify","barcode":"840237311100","featured_media":{"alt":"3","id":22857390555341,"position":19,"preview_image":{"aspect_ratio":0.8,"height":3700,"width":2960,"src":"\/\/oncept.nyc\/cdn\/shop\/products\/PHOENIX-SIDE-ANTRACITE-min.jpg?v=1668486288"}},"requires_selling_plan":false,"selling_plan_allocations":[]},{"id":40649708470477,"title":"STORM GREY \/ 8 \/ SOFT CALF LEATHER","option1":"STORM GREY","option2":"8","option3":"SOFT CALF LEATHER","sku":"840237311117","requires_shipping":true,"taxable":true,"featured_image":{"id":30576856170701,"product_id":6913412301005,"position":19,"created_at":"2022-08-17T18:32:43-04:00","updated_at":"2022-11-14T23:24:48-05:00","alt":"3","width":2960,"height":3700,"src":"\/\/oncept.nyc\/cdn\/shop\/products\/PHOENIX-SIDE-ANTRACITE-min.jpg?v=1668486288","variant_ids":[40649707815117,40649707978957,40649708142797,40649708306637,40649708470477,40649708634317,40649708798157,40649708961997,40649709125837]},"available":true,"name":"PHOENIX - STORM GREY \/ 8 \/ SOFT CALF LEATHER","public_title":"STORM GREY \/ 8 \/ SOFT CALF LEATHER","options":["STORM GREY","8","SOFT CALF LEATHER"],"price":27500,"weight":0,"compare_at_price":null,"inventory_management":"shopify","barcode":"840237311117","featured_media":{"alt":"3","id":22857390555341,"position":19,"preview_image":{"aspect_ratio":0.8,"height":3700,"width":2960,"src":"\/\/oncept.nyc\/cdn\/shop\/products\/PHOENIX-SIDE-ANTRACITE-min.jpg?v=1668486288"}},"requires_selling_plan":false,"selling_plan_allocations":[]},{"id":40649708634317,"title":"STORM GREY \/ 8.5 \/ SOFT CALF LEATHER","option1":"STORM GREY","option2":"8.5","option3":"SOFT CALF LEATHER","sku":"840237311124","requires_shipping":true,"taxable":true,"featured_image":{"id":30576856170701,"product_id":6913412301005,"position":19,"created_at":"2022-08-17T18:32:43-04:00","updated_at":"2022-11-14T23:24:48-05:00","alt":"3","width":2960,"height":3700,"src":"\/\/oncept.nyc\/cdn\/shop\/products\/PHOENIX-SIDE-ANTRACITE-min.jpg?v=1668486288","variant_ids":[40649707815117,40649707978957,40649708142797,40649708306637,40649708470477,40649708634317,40649708798157,40649708961997,40649709125837]},"available":true,"name":"PHOENIX - STORM GREY \/ 8.5 \/ SOFT CALF LEATHER","public_title":"STORM GREY \/ 8.5 \/ SOFT CALF LEATHER","options":["STORM GREY","8.5","SOFT CALF LEATHER"],"price":27500,"weight":0,"compare_at_price":null,"inventory_management":"shopify","barcode":"840237311124","featured_media":{"alt":"3","id":22857390555341,"position":19,"preview_image":{"aspect_ratio":0.8,"height":3700,"width":2960,"src":"\/\/oncept.nyc\/cdn\/shop\/products\/PHOENIX-SIDE-ANTRACITE-min.jpg?v=1668486288"}},"requires_selling_plan":false,"selling_plan_allocations":[]},{"id":40649708798157,"title":"STORM GREY \/ 9 \/ SOFT CALF LEATHER","option1":"STORM GREY","option2":"9","option3":"SOFT CALF LEATHER","sku":"840237311131","requires_shipping":true,"taxable":true,"featured_image":{"id":30576856170701,"product_id":6913412301005,"position":19,"created_at":"2022-08-17T18:32:43-04:00","updated_at":"2022-11-14T23:24:48-05:00","alt":"3","width":2960,"height":3700,"src":"\/\/oncept.nyc\/cdn\/shop\/products\/PHOENIX-SIDE-ANTRACITE-min.jpg?v=1668486288","variant_ids":[40649707815117,40649707978957,40649708142797,40649708306637,40649708470477,40649708634317,40649708798157,40649708961997,40649709125837]},"available":true,"name":"PHOENIX - STORM GREY \/ 9 \/ SOFT CALF LEATHER","public_title":"STORM GREY \/ 9 \/ SOFT CALF LEATHER","options":["STORM GREY","9","SOFT CALF LEATHER"],"price":27500,"weight":0,"compare_at_price":null,"inventory_management":"shopify","barcode":"840237311131","featured_media":{"alt":"3","id":22857390555341,"position":19,"preview_image":{"aspect_ratio":0.8,"height":3700,"width":2960,"src":"\/\/oncept.nyc\/cdn\/shop\/products\/PHOENIX-SIDE-ANTRACITE-min.jpg?v=1668486288"}},"requires_selling_plan":false,"selling_plan_allocations":[]},{"id":40649708961997,"title":"STORM GREY \/ 9.5 \/ SOFT CALF LEATHER","option1":"STORM GREY","option2":"9.5","option3":"SOFT CALF LEATHER","sku":"840237311148","requires_shipping":true,"taxable":true,"featured_image":{"id":30576856170701,"product_id":6913412301005,"position":19,"created_at":"2022-08-17T18:32:43-04:00","updated_at":"2022-11-14T23:24:48-05:00","alt":"3","width":2960,"height":3700,"src":"\/\/oncept.nyc\/cdn\/shop\/products\/PHOENIX-SIDE-ANTRACITE-min.jpg?v=1668486288","variant_ids":[40649707815117,40649707978957,40649708142797,40649708306637,40649708470477,40649708634317,40649708798157,40649708961997,40649709125837]},"available":true,"name":"PHOENIX - STORM GREY \/ 9.5 \/ SOFT CALF LEATHER","public_title":"STORM GREY \/ 9.5 \/ SOFT CALF LEATHER","options":["STORM GREY","9.5","SOFT CALF LEATHER"],"price":27500,"weight":0,"compare_at_price":null,"inventory_management":"shopify","barcode":"840237311148","featured_media":{"alt":"3","id":22857390555341,"position":19,"preview_image":{"aspect_ratio":0.8,"height":3700,"width":2960,"src":"\/\/oncept.nyc\/cdn\/shop\/products\/PHOENIX-SIDE-ANTRACITE-min.jpg?v=1668486288"}},"requires_selling_plan":false,"selling_plan_allocations":[]},{"id":40649709125837,"title":"STORM GREY \/ 10 \/ SOFT CALF LEATHER","option1":"STORM GREY","option2":"10","option3":"SOFT CALF LEATHER","sku":"840237311155","requires_shipping":true,"taxable":true,"featured_image":{"id":30576856170701,"product_id":6913412301005,"position":19,"created_at":"2022-08-17T18:32:43-04:00","updated_at":"2022-11-14T23:24:48-05:00","alt":"3","width":2960,"height":3700,"src":"\/\/oncept.nyc\/cdn\/shop\/products\/PHOENIX-SIDE-ANTRACITE-min.jpg?v=1668486288","variant_ids":[40649707815117,40649707978957,40649708142797,40649708306637,40649708470477,40649708634317,40649708798157,40649708961997,40649709125837]},"available":true,"name":"PHOENIX - STORM GREY \/ 10 \/ SOFT CALF LEATHER","public_title":"STORM GREY \/ 10 \/ SOFT CALF LEATHER","options":["STORM GREY","10","SOFT CALF LEATHER"],"price":27500,"weight":0,"compare_at_price":null,"inventory_management":"shopify","barcode":"840237311155","featured_media":{"alt":"3","id":22857390555341,"position":19,"preview_image":{"aspect_ratio":0.8,"height":3700,"width":2960,"src":"\/\/oncept.nyc\/cdn\/shop\/products\/PHOENIX-SIDE-ANTRACITE-min.jpg?v=1668486288"}},"requires_selling_plan":false,"selling_plan_allocations":[]},{"id":40649707684045,"title":"WHITE CLOUD \/ 6 \/ SOFT CALF LEATHER","option1":"WHITE CLOUD","option2":"6","option3":"SOFT CALF LEATHER","sku":"840237310806","requires_shipping":true,"taxable":true,"featured_image":{"id":30576856826061,"product_id":6913412301005,"position":25,"created_at":"2022-08-17T18:32:43-04:00","updated_at":"2022-08-23T11:08:58-04:00","alt":"4","width":2960,"height":3700,"src":"\/\/oncept.nyc\/cdn\/shop\/products\/PHOENIX-SIDE-WHITECLOUD-min.jpg?v=1661267338","variant_ids":[40649707684045,40649707847885,40649708011725,40649708175565,40649708339405,40649708503245,40649708667085,40649708830925,40649708994765]},"available":true,"name":"PHOENIX - WHITE CLOUD \/ 6 \/ SOFT CALF LEATHER","public_title":"WHITE CLOUD \/ 6 \/ SOFT CALF LEATHER","options":["WHITE CLOUD","6","SOFT CALF LEATHER"],"price":27500,"weight":0,"compare_at_price":null,"inventory_management":"shopify","barcode":"840237310806","featured_media":{"alt":"4","id":22857390686413,"position":25,"preview_image":{"aspect_ratio":0.8,"height":3700,"width":2960,"src":"\/\/oncept.nyc\/cdn\/shop\/products\/PHOENIX-SIDE-WHITECLOUD-min.jpg?v=1661267338"}},"requires_selling_plan":false,"selling_plan_allocations":[]},{"id":40649707847885,"title":"WHITE CLOUD \/ 6.5 \/ SOFT CALF LEATHER","option1":"WHITE CLOUD","option2":"6.5","option3":"SOFT CALF LEATHER","sku":"840237310813","requires_shipping":true,"taxable":true,"featured_image":{"id":30576856826061,"product_id":6913412301005,"position":25,"created_at":"2022-08-17T18:32:43-04:00","updated_at":"2022-08-23T11:08:58-04:00","alt":"4","width":2960,"height":3700,"src":"\/\/oncept.nyc\/cdn\/shop\/products\/PHOENIX-SIDE-WHITECLOUD-min.jpg?v=1661267338","variant_ids":[40649707684045,40649707847885,40649708011725,40649708175565,40649708339405,40649708503245,40649708667085,40649708830925,40649708994765]},"available":true,"name":"PHOENIX - WHITE CLOUD \/ 6.5 \/ SOFT CALF LEATHER","public_title":"WHITE CLOUD \/ 6.5 \/ SOFT CALF LEATHER","options":["WHITE CLOUD","6.5","SOFT CALF LEATHER"],"price":27500,"weight":0,"compare_at_price":null,"inventory_management":"shopify","barcode":"840237310813","featured_media":{"alt":"4","id":22857390686413,"position":25,"preview_image":{"aspect_ratio":0.8,"height":3700,"width":2960,"src":"\/\/oncept.nyc\/cdn\/shop\/products\/PHOENIX-SIDE-WHITECLOUD-min.jpg?v=1661267338"}},"requires_selling_plan":false,"selling_plan_allocations":[]},{"id":40649708011725,"title":"WHITE CLOUD \/ 7 \/ SOFT CALF LEATHER","option1":"WHITE CLOUD","option2":"7","option3":"SOFT CALF LEATHER","sku":"840237310820","requires_shipping":true,"taxable":true,"featured_image":{"id":30576856826061,"product_id":6913412301005,"position":25,"created_at":"2022-08-17T18:32:43-04:00","updated_at":"2022-08-23T11:08:58-04:00","alt":"4","width":2960,"height":3700,"src":"\/\/oncept.nyc\/cdn\/shop\/products\/PHOENIX-SIDE-WHITECLOUD-min.jpg?v=1661267338","variant_ids":[40649707684045,40649707847885,40649708011725,40649708175565,40649708339405,40649708503245,40649708667085,40649708830925,40649708994765]},"available":true,"name":"PHOENIX - WHITE CLOUD \/ 7 \/ SOFT CALF LEATHER","public_title":"WHITE CLOUD \/ 7 \/ SOFT CALF LEATHER","options":["WHITE CLOUD","7","SOFT CALF LEATHER"],"price":27500,"weight":0,"compare_at_price":null,"inventory_management":"shopify","barcode":"840237310820","featured_media":{"alt":"4","id":22857390686413,"position":25,"preview_image":{"aspect_ratio":0.8,"height":3700,"width":2960,"src":"\/\/oncept.nyc\/cdn\/shop\/products\/PHOENIX-SIDE-WHITECLOUD-min.jpg?v=1661267338"}},"requires_selling_plan":false,"selling_plan_allocations":[]},{"id":40649708175565,"title":"WHITE CLOUD \/ 7.5 \/ SOFT CALF LEATHER","option1":"WHITE CLOUD","option2":"7.5","option3":"SOFT CALF LEATHER","sku":"840237310837","requires_shipping":true,"taxable":true,"featured_image":{"id":30576856826061,"product_id":6913412301005,"position":25,"created_at":"2022-08-17T18:32:43-04:00","updated_at":"2022-08-23T11:08:58-04:00","alt":"4","width":2960,"height":3700,"src":"\/\/oncept.nyc\/cdn\/shop\/products\/PHOENIX-SIDE-WHITECLOUD-min.jpg?v=1661267338","variant_ids":[40649707684045,40649707847885,40649708011725,40649708175565,40649708339405,40649708503245,40649708667085,40649708830925,40649708994765]},"available":true,"name":"PHOENIX - WHITE CLOUD \/ 7.5 \/ SOFT CALF LEATHER","public_title":"WHITE CLOUD \/ 7.5 \/ SOFT CALF LEATHER","options":["WHITE CLOUD","7.5","SOFT CALF LEATHER"],"price":27500,"weight":0,"compare_at_price":null,"inventory_management":"shopify","barcode":"840237310837","featured_media":{"alt":"4","id":22857390686413,"position":25,"preview_image":{"aspect_ratio":0.8,"height":3700,"width":2960,"src":"\/\/oncept.nyc\/cdn\/shop\/products\/PHOENIX-SIDE-WHITECLOUD-min.jpg?v=1661267338"}},"requires_selling_plan":false,"selling_plan_allocations":[]},{"id":40649708339405,"title":"WHITE CLOUD \/ 8 \/ SOFT CALF LEATHER","option1":"WHITE CLOUD","option2":"8","option3":"SOFT CALF LEATHER","sku":"840237310844","requires_shipping":true,"taxable":true,"featured_image":{"id":30576856826061,"product_id":6913412301005,"position":25,"created_at":"2022-08-17T18:32:43-04:00","updated_at":"2022-08-23T11:08:58-04:00","alt":"4","width":2960,"height":3700,"src":"\/\/oncept.nyc\/cdn\/shop\/products\/PHOENIX-SIDE-WHITECLOUD-min.jpg?v=1661267338","variant_ids":[40649707684045,40649707847885,40649708011725,40649708175565,40649708339405,40649708503245,40649708667085,40649708830925,40649708994765]},"available":true,"name":"PHOENIX - WHITE CLOUD \/ 8 \/ SOFT CALF LEATHER","public_title":"WHITE CLOUD \/ 8 \/ SOFT CALF LEATHER","options":["WHITE CLOUD","8","SOFT CALF LEATHER"],"price":27500,"weight":0,"compare_at_price":null,"inventory_management":"shopify","barcode":"840237310844","featured_media":{"alt":"4","id":22857390686413,"position":25,"preview_image":{"aspect_ratio":0.8,"height":3700,"width":2960,"src":"\/\/oncept.nyc\/cdn\/shop\/products\/PHOENIX-SIDE-WHITECLOUD-min.jpg?v=1661267338"}},"requires_selling_plan":false,"selling_plan_allocations":[]},{"id":40649708503245,"title":"WHITE CLOUD \/ 8.5 \/ SOFT CALF LEATHER","option1":"WHITE CLOUD","option2":"8.5","option3":"SOFT CALF LEATHER","sku":"840237310851","requires_shipping":true,"taxable":true,"featured_image":{"id":30576856826061,"product_id":6913412301005,"position":25,"created_at":"2022-08-17T18:32:43-04:00","updated_at":"2022-08-23T11:08:58-04:00","alt":"4","width":2960,"height":3700,"src":"\/\/oncept.nyc\/cdn\/shop\/products\/PHOENIX-SIDE-WHITECLOUD-min.jpg?v=1661267338","variant_ids":[40649707684045,40649707847885,40649708011725,40649708175565,40649708339405,40649708503245,40649708667085,40649708830925,40649708994765]},"available":true,"name":"PHOENIX - WHITE CLOUD \/ 8.5 \/ SOFT CALF LEATHER","public_title":"WHITE CLOUD \/ 8.5 \/ SOFT CALF LEATHER","options":["WHITE CLOUD","8.5","SOFT CALF LEATHER"],"price":27500,"weight":0,"compare_at_price":null,"inventory_management":"shopify","barcode":"840237310851","featured_media":{"alt":"4","id":22857390686413,"position":25,"preview_image":{"aspect_ratio":0.8,"height":3700,"width":2960,"src":"\/\/oncept.nyc\/cdn\/shop\/products\/PHOENIX-SIDE-WHITECLOUD-min.jpg?v=1661267338"}},"requires_selling_plan":false,"selling_plan_allocations":[]},{"id":40649708667085,"title":"WHITE CLOUD \/ 9 \/ SOFT CALF LEATHER","option1":"WHITE CLOUD","option2":"9","option3":"SOFT CALF LEATHER","sku":"840237310868","requires_shipping":true,"taxable":true,"featured_image":{"id":30576856826061,"product_id":6913412301005,"position":25,"created_at":"2022-08-17T18:32:43-04:00","updated_at":"2022-08-23T11:08:58-04:00","alt":"4","width":2960,"height":3700,"src":"\/\/oncept.nyc\/cdn\/shop\/products\/PHOENIX-SIDE-WHITECLOUD-min.jpg?v=1661267338","variant_ids":[40649707684045,40649707847885,40649708011725,40649708175565,40649708339405,40649708503245,40649708667085,40649708830925,40649708994765]},"available":true,"name":"PHOENIX - WHITE CLOUD \/ 9 \/ SOFT CALF LEATHER","public_title":"WHITE CLOUD \/ 9 \/ SOFT CALF LEATHER","options":["WHITE CLOUD","9","SOFT CALF LEATHER"],"price":27500,"weight":0,"compare_at_price":null,"inventory_management":"shopify","barcode":"840237310868","featured_media":{"alt":"4","id":22857390686413,"position":25,"preview_image":{"aspect_ratio":0.8,"height":3700,"width":2960,"src":"\/\/oncept.nyc\/cdn\/shop\/products\/PHOENIX-SIDE-WHITECLOUD-min.jpg?v=1661267338"}},"requires_selling_plan":false,"selling_plan_allocations":[]},{"id":40649708830925,"title":"WHITE CLOUD \/ 9.5 \/ SOFT CALF LEATHER","option1":"WHITE CLOUD","option2":"9.5","option3":"SOFT CALF LEATHER","sku":"840237310875","requires_shipping":true,"taxable":true,"featured_image":{"id":30576856826061,"product_id":6913412301005,"position":25,"created_at":"2022-08-17T18:32:43-04:00","updated_at":"2022-08-23T11:08:58-04:00","alt":"4","width":2960,"height":3700,"src":"\/\/oncept.nyc\/cdn\/shop\/products\/PHOENIX-SIDE-WHITECLOUD-min.jpg?v=1661267338","variant_ids":[40649707684045,40649707847885,40649708011725,40649708175565,40649708339405,40649708503245,40649708667085,40649708830925,40649708994765]},"available":true,"name":"PHOENIX - WHITE CLOUD \/ 9.5 \/ SOFT CALF LEATHER","public_title":"WHITE CLOUD \/ 9.5 \/ SOFT CALF LEATHER","options":["WHITE CLOUD","9.5","SOFT CALF LEATHER"],"price":27500,"weight":0,"compare_at_price":null,"inventory_management":"shopify","barcode":"840237310875","featured_media":{"alt":"4","id":22857390686413,"position":25,"preview_image":{"aspect_ratio":0.8,"height":3700,"width":2960,"src":"\/\/oncept.nyc\/cdn\/shop\/products\/PHOENIX-SIDE-WHITECLOUD-min.jpg?v=1661267338"}},"requires_selling_plan":false,"selling_plan_allocations":[]},{"id":40649708994765,"title":"WHITE CLOUD \/ 10 \/ SOFT CALF LEATHER","option1":"WHITE CLOUD","option2":"10","option3":"SOFT CALF LEATHER","sku":"840237310882","requires_shipping":true,"taxable":true,"featured_image":{"id":30576856826061,"product_id":6913412301005,"position":25,"created_at":"2022-08-17T18:32:43-04:00","updated_at":"2022-08-23T11:08:58-04:00","alt":"4","width":2960,"height":3700,"src":"\/\/oncept.nyc\/cdn\/shop\/products\/PHOENIX-SIDE-WHITECLOUD-min.jpg?v=1661267338","variant_ids":[40649707684045,40649707847885,40649708011725,40649708175565,40649708339405,40649708503245,40649708667085,40649708830925,40649708994765]},"available":true,"name":"PHOENIX - WHITE CLOUD \/ 10 \/ SOFT CALF LEATHER","public_title":"WHITE CLOUD \/ 10 \/ SOFT CALF LEATHER","options":["WHITE CLOUD","10","SOFT CALF LEATHER"],"price":27500,"weight":0,"compare_at_price":null,"inventory_management":"shopify","barcode":"840237310882","featured_media":{"alt":"4","id":22857390686413,"position":25,"preview_image":{"aspect_ratio":0.8,"height":3700,"width":2960,"src":"\/\/oncept.nyc\/cdn\/shop\/products\/PHOENIX-SIDE-WHITECLOUD-min.jpg?v=1661267338"}},"requires_selling_plan":false,"selling_plan_allocations":[]}],"images":["\/\/oncept.nyc\/cdn\/shop\/products\/PHOENIX-SIDE-RETRORED-min.jpg?v=1675786070","\/\/oncept.nyc\/cdn\/shop\/products\/PHOENIX-TOP-RETRORED-min.jpg?v=1675786070","\/\/oncept.nyc\/cdn\/shop\/products\/PHOENIX-BACK-RETRORED-min.jpg?v=1675786070","\/\/oncept.nyc\/cdn\/shop\/products\/PHOENIX-OUTSOLE-RETRORED-min.jpg?v=1675786070","\/\/oncept.nyc\/cdn\/shop\/products\/PHOENIX-SOFT-RETRORED_1_-min.jpg?v=1675786070","\/\/oncept.nyc\/cdn\/shop\/products\/PHOENIX-RETRORED-ONFOOT-min.jpg?v=1675786070","\/\/oncept.nyc\/cdn\/shop\/products\/PHOENIX-SIDE-FIELDGREENS-min.jpg?v=1675786070","\/\/oncept.nyc\/cdn\/shop\/products\/PHOENIX-TOP-FIELDGREENS-min.jpg?v=1675786070","\/\/oncept.nyc\/cdn\/shop\/products\/PHOENIX-BACK-FIELDGREENS-min.jpg?v=1675786070","\/\/oncept.nyc\/cdn\/shop\/products\/PHOENIX-OUTSOLE-OAK-min.jpg?v=1675786070","\/\/oncept.nyc\/cdn\/shop\/products\/PHOENIX-SOFT-FIELDGREENS-min.jpg?v=1675786070","\/\/oncept.nyc\/cdn\/shop\/products\/PHOENIX-GREENFIELDS-ONFOOT-min.jpg?v=1675786070","\/\/oncept.nyc\/cdn\/shop\/products\/PHOENIX-SIDE-OAK-min.jpg?v=1668486288","\/\/oncept.nyc\/cdn\/shop\/products\/PHOENIX-TOP-OAK-min.jpg?v=1668486288","\/\/oncept.nyc\/cdn\/shop\/products\/PHOENIX-BACK-OAK-min.jpg?v=1668486288","\/\/oncept.nyc\/cdn\/shop\/products\/PHOENIX-OUTSOLE-FIELDGREENS-min.jpg?v=1668486288","\/\/oncept.nyc\/cdn\/shop\/products\/PHOENIX-SOFT-OAK-min.jpg?v=1668486288","\/\/oncept.nyc\/cdn\/shop\/products\/PHOENIX-OAK-ON-FOOT-min.jpg?v=1668486288","\/\/oncept.nyc\/cdn\/shop\/products\/PHOENIX-SIDE-ANTRACITE-min.jpg?v=1668486288","\/\/oncept.nyc\/cdn\/shop\/products\/PHOENIX-TOP-ANTHRACITE-min.jpg?v=1668486288","\/\/oncept.nyc\/cdn\/shop\/products\/PHOENIX-BACK-ANTHRACITE-min.jpg?v=1668486288","\/\/oncept.nyc\/cdn\/shop\/products\/PHOENIX-OUTSOLE-ANTHRACITE-min.jpg?v=1668486288","\/\/oncept.nyc\/cdn\/shop\/products\/PHOENIX-SOFT-ANTHRACITE-min.jpg?v=1668486288","\/\/oncept.nyc\/cdn\/shop\/products\/PHOENIX-ANTRACITE-ONFOOT-min.jpg?v=1668486288","\/\/oncept.nyc\/cdn\/shop\/products\/PHOENIX-SIDE-WHITECLOUD-min.jpg?v=1661267338","\/\/oncept.nyc\/cdn\/shop\/products\/PHOENIX-TOP-WHITECLOUD-min.jpg?v=1661267338","\/\/oncept.nyc\/cdn\/shop\/products\/PHOENIX-BACK-WHITECLOUD-min.jpg?v=1661267338","\/\/oncept.nyc\/cdn\/shop\/products\/PHOENIX-OUTSOLE-WHITECLOUD-min.jpg?v=1661267338","\/\/oncept.nyc\/cdn\/shop\/products\/PHOENIX-SOFT-WHITECLOUD-min.jpg?v=1661267338","\/\/oncept.nyc\/cdn\/shop\/products\/PHOENIX-WHITECLOUD-ONFOOT-min.jpg?v=1661267338"],"featured_image":"\/\/oncept.nyc\/cdn\/shop\/products\/PHOENIX-SIDE-RETRORED-min.jpg?v=1675786070","options":["Color","Size","Material"],"media":[{"alt":"0","id":22857390653645,"position":1,"preview_image":{"aspect_ratio":0.8,"height":3700,"width":2960,"src":"\/\/oncept.nyc\/cdn\/shop\/products\/PHOENIX-SIDE-RETRORED-min.jpg?v=1675786070"},"aspect_ratio":0.8,"height":3700,"media_type":"image","src":"\/\/oncept.nyc\/cdn\/shop\/products\/PHOENIX-SIDE-RETRORED-min.jpg?v=1675786070","width":2960},{"alt":"0","id":22857390981325,"position":2,"preview_image":{"aspect_ratio":0.8,"height":3700,"width":2960,"src":"\/\/oncept.nyc\/cdn\/shop\/products\/PHOENIX-TOP-RETRORED-min.jpg?v=1675786070"},"aspect_ratio":0.8,"height":3700,"media_type":"image","src":"\/\/oncept.nyc\/cdn\/shop\/products\/PHOENIX-TOP-RETRORED-min.jpg?v=1675786070","width":2960},{"alt":"0","id":22857390325965,"position":3,"preview_image":{"aspect_ratio":0.8,"height":3700,"width":2960,"src":"\/\/oncept.nyc\/cdn\/shop\/products\/PHOENIX-BACK-RETRORED-min.jpg?v=1675786070"},"aspect_ratio":0.8,"height":3700,"media_type":"image","src":"\/\/oncept.nyc\/cdn\/shop\/products\/PHOENIX-BACK-RETRORED-min.jpg?v=1675786070","width":2960},{"alt":"0","id":22857390489805,"position":4,"preview_image":{"aspect_ratio":0.8,"height":3700,"width":2960,"src":"\/\/oncept.nyc\/cdn\/shop\/products\/PHOENIX-OUTSOLE-RETRORED-min.jpg?v=1675786070"},"aspect_ratio":0.8,"height":3700,"media_type":"image","src":"\/\/oncept.nyc\/cdn\/shop\/products\/PHOENIX-OUTSOLE-RETRORED-min.jpg?v=1675786070","width":2960},{"alt":"0","id":22888188182733,"position":5,"preview_image":{"aspect_ratio":0.8,"height":3700,"width":2960,"src":"\/\/oncept.nyc\/cdn\/shop\/products\/PHOENIX-SOFT-RETRORED_1_-min.jpg?v=1675786070"},"aspect_ratio":0.8,"height":3700,"media_type":"image","src":"\/\/oncept.nyc\/cdn\/shop\/products\/PHOENIX-SOFT-RETRORED_1_-min.jpg?v=1675786070","width":2960},{"alt":"0","id":22862919532749,"position":6,"preview_image":{"aspect_ratio":0.8,"height":3700,"width":2960,"src":"\/\/oncept.nyc\/cdn\/shop\/products\/PHOENIX-RETRORED-ONFOOT-min.jpg?v=1675786070"},"aspect_ratio":0.8,"height":3700,"media_type":"image","src":"\/\/oncept.nyc\/cdn\/shop\/products\/PHOENIX-RETRORED-ONFOOT-min.jpg?v=1675786070","width":2960},{"alt":"1","id":22857390588109,"position":7,"preview_image":{"aspect_ratio":0.8,"height":3700,"width":2960,"src":"\/\/oncept.nyc\/cdn\/shop\/products\/PHOENIX-SIDE-FIELDGREENS-min.jpg?v=1675786070"},"aspect_ratio":0.8,"height":3700,"media_type":"image","src":"\/\/oncept.nyc\/cdn\/shop\/products\/PHOENIX-SIDE-FIELDGREENS-min.jpg?v=1675786070","width":2960},{"alt":"1","id":22857390915789,"position":8,"preview_image":{"aspect_ratio":0.8,"height":3700,"width":2960,"src":"\/\/oncept.nyc\/cdn\/shop\/products\/PHOENIX-TOP-FIELDGREENS-min.jpg?v=1675786070"},"aspect_ratio":0.8,"height":3700,"media_type":"image","src":"\/\/oncept.nyc\/cdn\/shop\/products\/PHOENIX-TOP-FIELDGREENS-min.jpg?v=1675786070","width":2960},{"alt":"1","id":22857390260429,"position":9,"preview_image":{"aspect_ratio":0.8,"height":3700,"width":2960,"src":"\/\/oncept.nyc\/cdn\/shop\/products\/PHOENIX-BACK-FIELDGREENS-min.jpg?v=1675786070"},"aspect_ratio":0.8,"height":3700,"media_type":"image","src":"\/\/oncept.nyc\/cdn\/shop\/products\/PHOENIX-BACK-FIELDGREENS-min.jpg?v=1675786070","width":2960},{"alt":"1","id":22857390457037,"position":10,"preview_image":{"aspect_ratio":0.8,"height":3700,"width":2960,"src":"\/\/oncept.nyc\/cdn\/shop\/products\/PHOENIX-OUTSOLE-OAK-min.jpg?v=1675786070"},"aspect_ratio":0.8,"height":3700,"media_type":"image","src":"\/\/oncept.nyc\/cdn\/shop\/products\/PHOENIX-OUTSOLE-OAK-min.jpg?v=1675786070","width":2960},{"alt":"1","id":22857390751949,"position":11,"preview_image":{"aspect_ratio":0.8,"height":3700,"width":2960,"src":"\/\/oncept.nyc\/cdn\/shop\/products\/PHOENIX-SOFT-FIELDGREENS-min.jpg?v=1675786070"},"aspect_ratio":0.8,"height":3700,"media_type":"image","src":"\/\/oncept.nyc\/cdn\/shop\/products\/PHOENIX-SOFT-FIELDGREENS-min.jpg?v=1675786070","width":2960},{"alt":"1","id":22862919467213,"position":12,"preview_image":{"aspect_ratio":0.8,"height":3700,"width":2960,"src":"\/\/oncept.nyc\/cdn\/shop\/products\/PHOENIX-GREENFIELDS-ONFOOT-min.jpg?v=1675786070"},"aspect_ratio":0.8,"height":3700,"media_type":"image","src":"\/\/oncept.nyc\/cdn\/shop\/products\/PHOENIX-GREENFIELDS-ONFOOT-min.jpg?v=1675786070","width":2960},{"alt":"2","id":22857390620877,"position":13,"preview_image":{"aspect_ratio":0.8,"height":3700,"width":2960,"src":"\/\/oncept.nyc\/cdn\/shop\/products\/PHOENIX-SIDE-OAK-min.jpg?v=1668486288"},"aspect_ratio":0.8,"height":3700,"media_type":"image","src":"\/\/oncept.nyc\/cdn\/shop\/products\/PHOENIX-SIDE-OAK-min.jpg?v=1668486288","width":2960},{"alt":"2","id":22857390948557,"position":14,"preview_image":{"aspect_ratio":0.8,"height":3700,"width":2960,"src":"\/\/oncept.nyc\/cdn\/shop\/products\/PHOENIX-TOP-OAK-min.jpg?v=1668486288"},"aspect_ratio":0.8,"height":3700,"media_type":"image","src":"\/\/oncept.nyc\/cdn\/shop\/products\/PHOENIX-TOP-OAK-min.jpg?v=1668486288","width":2960},{"alt":"2","id":22857390293197,"position":15,"preview_image":{"aspect_ratio":0.8,"height":3700,"width":2960,"src":"\/\/oncept.nyc\/cdn\/shop\/products\/PHOENIX-BACK-OAK-min.jpg?v=1668486288"},"aspect_ratio":0.8,"height":3700,"media_type":"image","src":"\/\/oncept.nyc\/cdn\/shop\/products\/PHOENIX-BACK-OAK-min.jpg?v=1668486288","width":2960},{"alt":"2","id":22857390424269,"position":16,"preview_image":{"aspect_ratio":0.8,"height":3700,"width":2960,"src":"\/\/oncept.nyc\/cdn\/shop\/products\/PHOENIX-OUTSOLE-FIELDGREENS-min.jpg?v=1668486288"},"aspect_ratio":0.8,"height":3700,"media_type":"image","src":"\/\/oncept.nyc\/cdn\/shop\/products\/PHOENIX-OUTSOLE-FIELDGREENS-min.jpg?v=1668486288","width":2960},{"alt":"2","id":22857390784717,"position":17,"preview_image":{"aspect_ratio":0.8,"height":3700,"width":2960,"src":"\/\/oncept.nyc\/cdn\/shop\/products\/PHOENIX-SOFT-OAK-min.jpg?v=1668486288"},"aspect_ratio":0.8,"height":3700,"media_type":"image","src":"\/\/oncept.nyc\/cdn\/shop\/products\/PHOENIX-SOFT-OAK-min.jpg?v=1668486288","width":2960},{"alt":"2","id":22862919499981,"position":18,"preview_image":{"aspect_ratio":0.8,"height":3700,"width":2960,"src":"\/\/oncept.nyc\/cdn\/shop\/products\/PHOENIX-OAK-ON-FOOT-min.jpg?v=1668486288"},"aspect_ratio":0.8,"height":3700,"media_type":"image","src":"\/\/oncept.nyc\/cdn\/shop\/products\/PHOENIX-OAK-ON-FOOT-min.jpg?v=1668486288","width":2960},{"alt":"3","id":22857390555341,"position":19,"preview_image":{"aspect_ratio":0.8,"height":3700,"width":2960,"src":"\/\/oncept.nyc\/cdn\/shop\/products\/PHOENIX-SIDE-ANTRACITE-min.jpg?v=1668486288"},"aspect_ratio":0.8,"height":3700,"media_type":"image","src":"\/\/oncept.nyc\/cdn\/shop\/products\/PHOENIX-SIDE-ANTRACITE-min.jpg?v=1668486288","width":2960},{"alt":"3","id":22857390883021,"position":20,"preview_image":{"aspect_ratio":0.8,"height":3700,"width":2960,"src":"\/\/oncept.nyc\/cdn\/shop\/products\/PHOENIX-TOP-ANTHRACITE-min.jpg?v=1668486288"},"aspect_ratio":0.8,"height":3700,"media_type":"image","src":"\/\/oncept.nyc\/cdn\/shop\/products\/PHOENIX-TOP-ANTHRACITE-min.jpg?v=1668486288","width":2960},{"alt":"3","id":22857390194893,"position":21,"preview_image":{"aspect_ratio":0.8,"height":3700,"width":2960,"src":"\/\/oncept.nyc\/cdn\/shop\/products\/PHOENIX-BACK-ANTHRACITE-min.jpg?v=1668486288"},"aspect_ratio":0.8,"height":3700,"media_type":"image","src":"\/\/oncept.nyc\/cdn\/shop\/products\/PHOENIX-BACK-ANTHRACITE-min.jpg?v=1668486288","width":2960},{"alt":"3","id":22857390391501,"position":22,"preview_image":{"aspect_ratio":0.8,"height":3700,"width":2960,"src":"\/\/oncept.nyc\/cdn\/shop\/products\/PHOENIX-OUTSOLE-ANTHRACITE-min.jpg?v=1668486288"},"aspect_ratio":0.8,"height":3700,"media_type":"image","src":"\/\/oncept.nyc\/cdn\/shop\/products\/PHOENIX-OUTSOLE-ANTHRACITE-min.jpg?v=1668486288","width":2960},{"alt":"3","id":22857390719181,"position":23,"preview_image":{"aspect_ratio":0.8,"height":3700,"width":2960,"src":"\/\/oncept.nyc\/cdn\/shop\/products\/PHOENIX-SOFT-ANTHRACITE-min.jpg?v=1668486288"},"aspect_ratio":0.8,"height":3700,"media_type":"image","src":"\/\/oncept.nyc\/cdn\/shop\/products\/PHOENIX-SOFT-ANTHRACITE-min.jpg?v=1668486288","width":2960},{"alt":"3","id":22862919434445,"position":24,"preview_image":{"aspect_ratio":0.8,"height":3700,"width":2960,"src":"\/\/oncept.nyc\/cdn\/shop\/products\/PHOENIX-ANTRACITE-ONFOOT-min.jpg?v=1668486288"},"aspect_ratio":0.8,"height":3700,"media_type":"image","src":"\/\/oncept.nyc\/cdn\/shop\/products\/PHOENIX-ANTRACITE-ONFOOT-min.jpg?v=1668486288","width":2960},{"alt":"4","id":22857390686413,"position":25,"preview_image":{"aspect_ratio":0.8,"height":3700,"width":2960,"src":"\/\/oncept.nyc\/cdn\/shop\/products\/PHOENIX-SIDE-WHITECLOUD-min.jpg?v=1661267338"},"aspect_ratio":0.8,"height":3700,"media_type":"image","src":"\/\/oncept.nyc\/cdn\/shop\/products\/PHOENIX-SIDE-WHITECLOUD-min.jpg?v=1661267338","width":2960},{"alt":"4","id":22857391014093,"position":26,"preview_image":{"aspect_ratio":0.8,"height":3700,"width":2960,"src":"\/\/oncept.nyc\/cdn\/shop\/products\/PHOENIX-TOP-WHITECLOUD-min.jpg?v=1661267338"},"aspect_ratio":0.8,"height":3700,"media_type":"image","src":"\/\/oncept.nyc\/cdn\/shop\/products\/PHOENIX-TOP-WHITECLOUD-min.jpg?v=1661267338","width":2960},{"alt":"4","id":22857390358733,"position":27,"preview_image":{"aspect_ratio":0.8,"height":3700,"width":2960,"src":"\/\/oncept.nyc\/cdn\/shop\/products\/PHOENIX-BACK-WHITECLOUD-min.jpg?v=1661267338"},"aspect_ratio":0.8,"height":3700,"media_type":"image","src":"\/\/oncept.nyc\/cdn\/shop\/products\/PHOENIX-BACK-WHITECLOUD-min.jpg?v=1661267338","width":2960},{"alt":"4","id":22857390522573,"position":28,"preview_image":{"aspect_ratio":0.8,"height":3700,"width":2960,"src":"\/\/oncept.nyc\/cdn\/shop\/products\/PHOENIX-OUTSOLE-WHITECLOUD-min.jpg?v=1661267338"},"aspect_ratio":0.8,"height":3700,"media_type":"image","src":"\/\/oncept.nyc\/cdn\/shop\/products\/PHOENIX-OUTSOLE-WHITECLOUD-min.jpg?v=1661267338","width":2960},{"alt":"4","id":22857390850253,"position":29,"preview_image":{"aspect_ratio":0.8,"height":3700,"width":2960,"src":"\/\/oncept.nyc\/cdn\/shop\/products\/PHOENIX-SOFT-WHITECLOUD-min.jpg?v=1661267338"},"aspect_ratio":0.8,"height":3700,"media_type":"image","src":"\/\/oncept.nyc\/cdn\/shop\/products\/PHOENIX-SOFT-WHITECLOUD-min.jpg?v=1661267338","width":2960},{"alt":"4","id":22862919565517,"position":30,"preview_image":{"aspect_ratio":0.8,"height":3700,"width":2960,"src":"\/\/oncept.nyc\/cdn\/shop\/products\/PHOENIX-WHITECLOUD-ONFOOT-min.jpg?v=1661267338"},"aspect_ratio":0.8,"height":3700,"media_type":"image","src":"\/\/oncept.nyc\/cdn\/shop\/products\/PHOENIX-WHITECLOUD-ONFOOT-min.jpg?v=1661267338","width":2960},{"alt":"video","id":22884295082189,"position":31,"preview_image":{"aspect_ratio":0.8,"height":1350,"width":1080,"src":"\/\/oncept.nyc\/cdn\/shop\/products\/1419ddd71e904484af48223cfb6f47b5.thumbnail.0000000000.jpg?v=1661212089"},"aspect_ratio":0.8,"duration":12610,"media_type":"video","sources":[{"format":"mp4","height":480,"mime_type":"video\/mp4","url":"https:\/\/cdn.shopify.com\/videos\/c\/vp\/1419ddd71e904484af48223cfb6f47b5\/1419ddd71e904484af48223cfb6f47b5.SD-480p-1.0Mbps-8897099.mp4","width":384},{"format":"mp4","height":1080,"mime_type":"video\/mp4","url":"https:\/\/cdn.shopify.com\/videos\/c\/vp\/1419ddd71e904484af48223cfb6f47b5\/1419ddd71e904484af48223cfb6f47b5.HD-1080p-3.3Mbps-8897099.mp4","width":864},{"format":"mp4","height":720,"mime_type":"video\/mp4","url":"https:\/\/cdn.shopify.com\/videos\/c\/vp\/1419ddd71e904484af48223cfb6f47b5\/1419ddd71e904484af48223cfb6f47b5.HD-720p-2.1Mbps-8897099.mp4","width":576},{"format":"m3u8","height":1080,"mime_type":"application\/x-mpegURL","url":"https:\/\/cdn.shopify.com\/videos\/c\/vp\/1419ddd71e904484af48223cfb6f47b5\/1419ddd71e904484af48223cfb6f47b5.m3u8","width":864}]}],"requires_selling_plan":false,"selling_plan_groups":[],"content":"\u003cp\u003e\u003cspan style=\"font-weight: 400;\"\u003eMeet the Phoenix, the courtside sneaker designed to take you from the sidewalk to the street with effortless cool. We've updated this retro style of the early '90's with sleek lines and ultra-soft material for a timeless new look. Featuring five modern colorways, organic cotton laces,\u003c\/span\u003e\u003cspan style=\"font-weight: 400;\"\u003e luxe butter leather \u003c\/span\u003e\u003cspan style=\"font-weight: 400;\"\u003eand our signature re-speckled soles. \u003c\/span\u003e\u003c\/p\u003e\n\u003cbr style=\"font-weight: 400;\"\u003e"} { "options": [ { "title": "Color", "values": [ { "value": "RETRO RED", "url": "/products/phoenix?variant=40649707716813" }, { "value": "GREEN FIELDS", "url": "/products/phoenix?variant=40649707749581" }, { "value": "OAK MULTI", "url": "/products/phoenix?variant=40649707782349" }, { "value": "STORM GREY", "url": "/products/phoenix?variant=40649707815117" }, { "value": "WHITE CLOUD", "url": "/products/phoenix?variant=40649707684045" } ] }, { "title": "Size", "values": [ { "value": "6", "url": "/products/phoenix?variant=40649707716813" }, { "value": "6.5", "url": "/products/phoenix?variant=40649707880653" }, { "value": "7", "url": "/products/phoenix?variant=40649708044493" }, { "value": "7.5", "url": "/products/phoenix?variant=40649708208333" }, { "value": "8", "url": "/products/phoenix?variant=40649708372173" }, { "value": "8.5", "url": "/products/phoenix?variant=40649708536013" }, { "value": "9", "url": "/products/phoenix?variant=40649708699853" }, { "value": "9.5", "url": "/products/phoenix?variant=40649708863693" }, { "value": "10", "url": "/products/phoenix?variant=40649709027533" } ] }, { "title": "Material", "values": [ { "value": "SOFT CALF LEATHER", "url": "/products/phoenix?variant=40649707716813" } ] } ] }
var product_title = "BROOKLYN"; var product_variants = [{"id":40658317803725,"title":"STORM GREY MULTI \/ 6 \/ SOFT CALF LEATHER","option1":"STORM GREY MULTI","option2":"6","option3":"SOFT CALF LEATHER","sku":"840237310264","requires_shipping":true,"taxable":true,"featured_image":{"id":30571008655565,"product_id":6916517724365,"position":1,"created_at":"2022-08-16T23:45:48-04:00","updated_at":"2023-02-07T11:11:58-05:00","alt":"0","width":2960,"height":3700,"src":"\/\/oncept.nyc\/cdn\/shop\/products\/BROOKLYN-SIDE-STORMGREYMULTI-min.jpg?v=1675786318","variant_ids":[40658317803725,40658317902029,40658318033101,40658318131405,40658318229709,40658318328013,40658318426317,40658318524621,40658318622925]},"available":true,"name":"BROOKLYN - STORM GREY MULTI \/ 6 \/ SOFT CALF LEATHER","public_title":"STORM GREY MULTI \/ 6 \/ SOFT CALF LEATHER","options":["STORM GREY MULTI","6","SOFT CALF LEATHER"],"price":30000,"weight":0,"compare_at_price":null,"inventory_management":"shopify","barcode":"840237310264","featured_media":{"alt":"0","id":22851491528909,"position":1,"preview_image":{"aspect_ratio":0.8,"height":3700,"width":2960,"src":"\/\/oncept.nyc\/cdn\/shop\/products\/BROOKLYN-SIDE-STORMGREYMULTI-min.jpg?v=1675786318"}},"requires_selling_plan":false,"selling_plan_allocations":[]},{"id":40658317902029,"title":"STORM GREY MULTI \/ 6.5 \/ SOFT CALF LEATHER","option1":"STORM GREY MULTI","option2":"6.5","option3":"SOFT CALF LEATHER","sku":"840237310271","requires_shipping":true,"taxable":true,"featured_image":{"id":30571008655565,"product_id":6916517724365,"position":1,"created_at":"2022-08-16T23:45:48-04:00","updated_at":"2023-02-07T11:11:58-05:00","alt":"0","width":2960,"height":3700,"src":"\/\/oncept.nyc\/cdn\/shop\/products\/BROOKLYN-SIDE-STORMGREYMULTI-min.jpg?v=1675786318","variant_ids":[40658317803725,40658317902029,40658318033101,40658318131405,40658318229709,40658318328013,40658318426317,40658318524621,40658318622925]},"available":true,"name":"BROOKLYN - STORM GREY MULTI \/ 6.5 \/ SOFT CALF LEATHER","public_title":"STORM GREY MULTI \/ 6.5 \/ SOFT CALF LEATHER","options":["STORM GREY MULTI","6.5","SOFT CALF LEATHER"],"price":30000,"weight":0,"compare_at_price":null,"inventory_management":"shopify","barcode":"840237310271","featured_media":{"alt":"0","id":22851491528909,"position":1,"preview_image":{"aspect_ratio":0.8,"height":3700,"width":2960,"src":"\/\/oncept.nyc\/cdn\/shop\/products\/BROOKLYN-SIDE-STORMGREYMULTI-min.jpg?v=1675786318"}},"requires_selling_plan":false,"selling_plan_allocations":[]},{"id":40658318033101,"title":"STORM GREY MULTI \/ 7 \/ SOFT CALF LEATHER","option1":"STORM GREY MULTI","option2":"7","option3":"SOFT CALF LEATHER","sku":"840237310288","requires_shipping":true,"taxable":true,"featured_image":{"id":30571008655565,"product_id":6916517724365,"position":1,"created_at":"2022-08-16T23:45:48-04:00","updated_at":"2023-02-07T11:11:58-05:00","alt":"0","width":2960,"height":3700,"src":"\/\/oncept.nyc\/cdn\/shop\/products\/BROOKLYN-SIDE-STORMGREYMULTI-min.jpg?v=1675786318","variant_ids":[40658317803725,40658317902029,40658318033101,40658318131405,40658318229709,40658318328013,40658318426317,40658318524621,40658318622925]},"available":true,"name":"BROOKLYN - STORM GREY MULTI \/ 7 \/ SOFT CALF LEATHER","public_title":"STORM GREY MULTI \/ 7 \/ SOFT CALF LEATHER","options":["STORM GREY MULTI","7","SOFT CALF LEATHER"],"price":30000,"weight":0,"compare_at_price":null,"inventory_management":"shopify","barcode":"840237310288","featured_media":{"alt":"0","id":22851491528909,"position":1,"preview_image":{"aspect_ratio":0.8,"height":3700,"width":2960,"src":"\/\/oncept.nyc\/cdn\/shop\/products\/BROOKLYN-SIDE-STORMGREYMULTI-min.jpg?v=1675786318"}},"requires_selling_plan":false,"selling_plan_allocations":[]},{"id":40658318131405,"title":"STORM GREY MULTI \/ 7.5 \/ SOFT CALF LEATHER","option1":"STORM GREY MULTI","option2":"7.5","option3":"SOFT CALF LEATHER","sku":"840237310295","requires_shipping":true,"taxable":true,"featured_image":{"id":30571008655565,"product_id":6916517724365,"position":1,"created_at":"2022-08-16T23:45:48-04:00","updated_at":"2023-02-07T11:11:58-05:00","alt":"0","width":2960,"height":3700,"src":"\/\/oncept.nyc\/cdn\/shop\/products\/BROOKLYN-SIDE-STORMGREYMULTI-min.jpg?v=1675786318","variant_ids":[40658317803725,40658317902029,40658318033101,40658318131405,40658318229709,40658318328013,40658318426317,40658318524621,40658318622925]},"available":true,"name":"BROOKLYN - STORM GREY MULTI \/ 7.5 \/ SOFT CALF LEATHER","public_title":"STORM GREY MULTI \/ 7.5 \/ SOFT CALF LEATHER","options":["STORM GREY MULTI","7.5","SOFT CALF LEATHER"],"price":30000,"weight":0,"compare_at_price":null,"inventory_management":"shopify","barcode":"840237310295","featured_media":{"alt":"0","id":22851491528909,"position":1,"preview_image":{"aspect_ratio":0.8,"height":3700,"width":2960,"src":"\/\/oncept.nyc\/cdn\/shop\/products\/BROOKLYN-SIDE-STORMGREYMULTI-min.jpg?v=1675786318"}},"requires_selling_plan":false,"selling_plan_allocations":[]},{"id":40658318229709,"title":"STORM GREY MULTI \/ 8 \/ SOFT CALF LEATHER","option1":"STORM GREY MULTI","option2":"8","option3":"SOFT CALF LEATHER","sku":"840237310301","requires_shipping":true,"taxable":true,"featured_image":{"id":30571008655565,"product_id":6916517724365,"position":1,"created_at":"2022-08-16T23:45:48-04:00","updated_at":"2023-02-07T11:11:58-05:00","alt":"0","width":2960,"height":3700,"src":"\/\/oncept.nyc\/cdn\/shop\/products\/BROOKLYN-SIDE-STORMGREYMULTI-min.jpg?v=1675786318","variant_ids":[40658317803725,40658317902029,40658318033101,40658318131405,40658318229709,40658318328013,40658318426317,40658318524621,40658318622925]},"available":true,"name":"BROOKLYN - STORM GREY MULTI \/ 8 \/ SOFT CALF LEATHER","public_title":"STORM GREY MULTI \/ 8 \/ SOFT CALF LEATHER","options":["STORM GREY MULTI","8","SOFT CALF LEATHER"],"price":30000,"weight":0,"compare_at_price":null,"inventory_management":"shopify","barcode":"840237310301","featured_media":{"alt":"0","id":22851491528909,"position":1,"preview_image":{"aspect_ratio":0.8,"height":3700,"width":2960,"src":"\/\/oncept.nyc\/cdn\/shop\/products\/BROOKLYN-SIDE-STORMGREYMULTI-min.jpg?v=1675786318"}},"requires_selling_plan":false,"selling_plan_allocations":[]},{"id":40658318328013,"title":"STORM GREY MULTI \/ 8.5 \/ SOFT CALF LEATHER","option1":"STORM GREY MULTI","option2":"8.5","option3":"SOFT CALF LEATHER","sku":"840237310318","requires_shipping":true,"taxable":true,"featured_image":{"id":30571008655565,"product_id":6916517724365,"position":1,"created_at":"2022-08-16T23:45:48-04:00","updated_at":"2023-02-07T11:11:58-05:00","alt":"0","width":2960,"height":3700,"src":"\/\/oncept.nyc\/cdn\/shop\/products\/BROOKLYN-SIDE-STORMGREYMULTI-min.jpg?v=1675786318","variant_ids":[40658317803725,40658317902029,40658318033101,40658318131405,40658318229709,40658318328013,40658318426317,40658318524621,40658318622925]},"available":true,"name":"BROOKLYN - STORM GREY MULTI \/ 8.5 \/ SOFT CALF LEATHER","public_title":"STORM GREY MULTI \/ 8.5 \/ SOFT CALF LEATHER","options":["STORM GREY MULTI","8.5","SOFT CALF LEATHER"],"price":30000,"weight":0,"compare_at_price":null,"inventory_management":"shopify","barcode":"840237310318","featured_media":{"alt":"0","id":22851491528909,"position":1,"preview_image":{"aspect_ratio":0.8,"height":3700,"width":2960,"src":"\/\/oncept.nyc\/cdn\/shop\/products\/BROOKLYN-SIDE-STORMGREYMULTI-min.jpg?v=1675786318"}},"requires_selling_plan":false,"selling_plan_allocations":[]},{"id":40658318426317,"title":"STORM GREY MULTI \/ 9 \/ SOFT CALF LEATHER","option1":"STORM GREY MULTI","option2":"9","option3":"SOFT CALF LEATHER","sku":"840237310325","requires_shipping":true,"taxable":true,"featured_image":{"id":30571008655565,"product_id":6916517724365,"position":1,"created_at":"2022-08-16T23:45:48-04:00","updated_at":"2023-02-07T11:11:58-05:00","alt":"0","width":2960,"height":3700,"src":"\/\/oncept.nyc\/cdn\/shop\/products\/BROOKLYN-SIDE-STORMGREYMULTI-min.jpg?v=1675786318","variant_ids":[40658317803725,40658317902029,40658318033101,40658318131405,40658318229709,40658318328013,40658318426317,40658318524621,40658318622925]},"available":true,"name":"BROOKLYN - STORM GREY MULTI \/ 9 \/ SOFT CALF LEATHER","public_title":"STORM GREY MULTI \/ 9 \/ SOFT CALF LEATHER","options":["STORM GREY MULTI","9","SOFT CALF LEATHER"],"price":30000,"weight":0,"compare_at_price":null,"inventory_management":"shopify","barcode":"840237310325","featured_media":{"alt":"0","id":22851491528909,"position":1,"preview_image":{"aspect_ratio":0.8,"height":3700,"width":2960,"src":"\/\/oncept.nyc\/cdn\/shop\/products\/BROOKLYN-SIDE-STORMGREYMULTI-min.jpg?v=1675786318"}},"requires_selling_plan":false,"selling_plan_allocations":[]},{"id":40658318524621,"title":"STORM GREY MULTI \/ 9.5 \/ SOFT CALF LEATHER","option1":"STORM GREY MULTI","option2":"9.5","option3":"SOFT CALF LEATHER","sku":"840237310332","requires_shipping":true,"taxable":true,"featured_image":{"id":30571008655565,"product_id":6916517724365,"position":1,"created_at":"2022-08-16T23:45:48-04:00","updated_at":"2023-02-07T11:11:58-05:00","alt":"0","width":2960,"height":3700,"src":"\/\/oncept.nyc\/cdn\/shop\/products\/BROOKLYN-SIDE-STORMGREYMULTI-min.jpg?v=1675786318","variant_ids":[40658317803725,40658317902029,40658318033101,40658318131405,40658318229709,40658318328013,40658318426317,40658318524621,40658318622925]},"available":true,"name":"BROOKLYN - STORM GREY MULTI \/ 9.5 \/ SOFT CALF LEATHER","public_title":"STORM GREY MULTI \/ 9.5 \/ SOFT CALF LEATHER","options":["STORM GREY MULTI","9.5","SOFT CALF LEATHER"],"price":30000,"weight":0,"compare_at_price":null,"inventory_management":"shopify","barcode":"840237310332","featured_media":{"alt":"0","id":22851491528909,"position":1,"preview_image":{"aspect_ratio":0.8,"height":3700,"width":2960,"src":"\/\/oncept.nyc\/cdn\/shop\/products\/BROOKLYN-SIDE-STORMGREYMULTI-min.jpg?v=1675786318"}},"requires_selling_plan":false,"selling_plan_allocations":[]},{"id":40658318622925,"title":"STORM GREY MULTI \/ 10 \/ SOFT CALF LEATHER","option1":"STORM GREY MULTI","option2":"10","option3":"SOFT CALF LEATHER","sku":"840237310349","requires_shipping":true,"taxable":true,"featured_image":{"id":30571008655565,"product_id":6916517724365,"position":1,"created_at":"2022-08-16T23:45:48-04:00","updated_at":"2023-02-07T11:11:58-05:00","alt":"0","width":2960,"height":3700,"src":"\/\/oncept.nyc\/cdn\/shop\/products\/BROOKLYN-SIDE-STORMGREYMULTI-min.jpg?v=1675786318","variant_ids":[40658317803725,40658317902029,40658318033101,40658318131405,40658318229709,40658318328013,40658318426317,40658318524621,40658318622925]},"available":true,"name":"BROOKLYN - STORM GREY MULTI \/ 10 \/ SOFT CALF LEATHER","public_title":"STORM GREY MULTI \/ 10 \/ SOFT CALF LEATHER","options":["STORM GREY MULTI","10","SOFT CALF LEATHER"],"price":30000,"weight":0,"compare_at_price":null,"inventory_management":"shopify","barcode":"840237310349","featured_media":{"alt":"0","id":22851491528909,"position":1,"preview_image":{"aspect_ratio":0.8,"height":3700,"width":2960,"src":"\/\/oncept.nyc\/cdn\/shop\/products\/BROOKLYN-SIDE-STORMGREYMULTI-min.jpg?v=1675786318"}},"requires_selling_plan":false,"selling_plan_allocations":[]},{"id":40658317770957,"title":"WHITE MULTI \/ 6 \/ SOFT CALF LEATHER","option1":"WHITE MULTI","option2":"6","option3":"SOFT CALF LEATHER","sku":"840237310172","requires_shipping":true,"taxable":true,"featured_image":{"id":30571008950477,"product_id":6916517724365,"position":7,"created_at":"2022-08-16T23:45:48-04:00","updated_at":"2023-02-07T11:11:58-05:00","alt":"1","width":2960,"height":3700,"src":"\/\/oncept.nyc\/cdn\/shop\/products\/BROOKLYN-SIDE-WHITEMULTI-min.jpg?v=1675786318","variant_ids":[40658317770957,40658317869261,40658318000333,40658318098637,40658318196941,40658318295245,40658318393549,40658318491853,40658318590157]},"available":true,"name":"BROOKLYN - WHITE MULTI \/ 6 \/ SOFT CALF LEATHER","public_title":"WHITE MULTI \/ 6 \/ SOFT CALF LEATHER","options":["WHITE MULTI","6","SOFT CALF LEATHER"],"price":30000,"weight":0,"compare_at_price":null,"inventory_management":"shopify","barcode":"840237310172","featured_media":{"alt":"1","id":22851491594445,"position":7,"preview_image":{"aspect_ratio":0.8,"height":3700,"width":2960,"src":"\/\/oncept.nyc\/cdn\/shop\/products\/BROOKLYN-SIDE-WHITEMULTI-min.jpg?v=1675786318"}},"requires_selling_plan":false,"selling_plan_allocations":[]},{"id":40658317869261,"title":"WHITE MULTI \/ 6.5 \/ SOFT CALF LEATHER","option1":"WHITE MULTI","option2":"6.5","option3":"SOFT CALF LEATHER","sku":"840237310189","requires_shipping":true,"taxable":true,"featured_image":{"id":30571008950477,"product_id":6916517724365,"position":7,"created_at":"2022-08-16T23:45:48-04:00","updated_at":"2023-02-07T11:11:58-05:00","alt":"1","width":2960,"height":3700,"src":"\/\/oncept.nyc\/cdn\/shop\/products\/BROOKLYN-SIDE-WHITEMULTI-min.jpg?v=1675786318","variant_ids":[40658317770957,40658317869261,40658318000333,40658318098637,40658318196941,40658318295245,40658318393549,40658318491853,40658318590157]},"available":true,"name":"BROOKLYN - WHITE MULTI \/ 6.5 \/ SOFT CALF LEATHER","public_title":"WHITE MULTI \/ 6.5 \/ SOFT CALF LEATHER","options":["WHITE MULTI","6.5","SOFT CALF LEATHER"],"price":30000,"weight":0,"compare_at_price":null,"inventory_management":"shopify","barcode":"840237310189","featured_media":{"alt":"1","id":22851491594445,"position":7,"preview_image":{"aspect_ratio":0.8,"height":3700,"width":2960,"src":"\/\/oncept.nyc\/cdn\/shop\/products\/BROOKLYN-SIDE-WHITEMULTI-min.jpg?v=1675786318"}},"requires_selling_plan":false,"selling_plan_allocations":[]},{"id":40658318000333,"title":"WHITE MULTI \/ 7 \/ SOFT CALF LEATHER","option1":"WHITE MULTI","option2":"7","option3":"SOFT CALF LEATHER","sku":"840237310196","requires_shipping":true,"taxable":true,"featured_image":{"id":30571008950477,"product_id":6916517724365,"position":7,"created_at":"2022-08-16T23:45:48-04:00","updated_at":"2023-02-07T11:11:58-05:00","alt":"1","width":2960,"height":3700,"src":"\/\/oncept.nyc\/cdn\/shop\/products\/BROOKLYN-SIDE-WHITEMULTI-min.jpg?v=1675786318","variant_ids":[40658317770957,40658317869261,40658318000333,40658318098637,40658318196941,40658318295245,40658318393549,40658318491853,40658318590157]},"available":true,"name":"BROOKLYN - WHITE MULTI \/ 7 \/ SOFT CALF LEATHER","public_title":"WHITE MULTI \/ 7 \/ SOFT CALF LEATHER","options":["WHITE MULTI","7","SOFT CALF LEATHER"],"price":30000,"weight":0,"compare_at_price":null,"inventory_management":"shopify","barcode":"840237310196","featured_media":{"alt":"1","id":22851491594445,"position":7,"preview_image":{"aspect_ratio":0.8,"height":3700,"width":2960,"src":"\/\/oncept.nyc\/cdn\/shop\/products\/BROOKLYN-SIDE-WHITEMULTI-min.jpg?v=1675786318"}},"requires_selling_plan":false,"selling_plan_allocations":[]},{"id":40658318098637,"title":"WHITE MULTI \/ 7.5 \/ SOFT CALF LEATHER","option1":"WHITE MULTI","option2":"7.5","option3":"SOFT CALF LEATHER","sku":"840237310202","requires_shipping":true,"taxable":true,"featured_image":{"id":30571008950477,"product_id":6916517724365,"position":7,"created_at":"2022-08-16T23:45:48-04:00","updated_at":"2023-02-07T11:11:58-05:00","alt":"1","width":2960,"height":3700,"src":"\/\/oncept.nyc\/cdn\/shop\/products\/BROOKLYN-SIDE-WHITEMULTI-min.jpg?v=1675786318","variant_ids":[40658317770957,40658317869261,40658318000333,40658318098637,40658318196941,40658318295245,40658318393549,40658318491853,40658318590157]},"available":true,"name":"BROOKLYN - WHITE MULTI \/ 7.5 \/ SOFT CALF LEATHER","public_title":"WHITE MULTI \/ 7.5 \/ SOFT CALF LEATHER","options":["WHITE MULTI","7.5","SOFT CALF LEATHER"],"price":30000,"weight":0,"compare_at_price":null,"inventory_management":"shopify","barcode":"840237310202","featured_media":{"alt":"1","id":22851491594445,"position":7,"preview_image":{"aspect_ratio":0.8,"height":3700,"width":2960,"src":"\/\/oncept.nyc\/cdn\/shop\/products\/BROOKLYN-SIDE-WHITEMULTI-min.jpg?v=1675786318"}},"requires_selling_plan":false,"selling_plan_allocations":[]},{"id":40658318196941,"title":"WHITE MULTI \/ 8 \/ SOFT CALF LEATHER","option1":"WHITE MULTI","option2":"8","option3":"SOFT CALF LEATHER","sku":"840237310219","requires_shipping":true,"taxable":true,"featured_image":{"id":30571008950477,"product_id":6916517724365,"position":7,"created_at":"2022-08-16T23:45:48-04:00","updated_at":"2023-02-07T11:11:58-05:00","alt":"1","width":2960,"height":3700,"src":"\/\/oncept.nyc\/cdn\/shop\/products\/BROOKLYN-SIDE-WHITEMULTI-min.jpg?v=1675786318","variant_ids":[40658317770957,40658317869261,40658318000333,40658318098637,40658318196941,40658318295245,40658318393549,40658318491853,40658318590157]},"available":true,"name":"BROOKLYN - WHITE MULTI \/ 8 \/ SOFT CALF LEATHER","public_title":"WHITE MULTI \/ 8 \/ SOFT CALF LEATHER","options":["WHITE MULTI","8","SOFT CALF LEATHER"],"price":30000,"weight":0,"compare_at_price":null,"inventory_management":"shopify","barcode":"840237310219","featured_media":{"alt":"1","id":22851491594445,"position":7,"preview_image":{"aspect_ratio":0.8,"height":3700,"width":2960,"src":"\/\/oncept.nyc\/cdn\/shop\/products\/BROOKLYN-SIDE-WHITEMULTI-min.jpg?v=1675786318"}},"requires_selling_plan":false,"selling_plan_allocations":[]},{"id":40658318295245,"title":"WHITE MULTI \/ 8.5 \/ SOFT CALF LEATHER","option1":"WHITE MULTI","option2":"8.5","option3":"SOFT CALF LEATHER","sku":"840237310226","requires_shipping":true,"taxable":true,"featured_image":{"id":30571008950477,"product_id":6916517724365,"position":7,"created_at":"2022-08-16T23:45:48-04:00","updated_at":"2023-02-07T11:11:58-05:00","alt":"1","width":2960,"height":3700,"src":"\/\/oncept.nyc\/cdn\/shop\/products\/BROOKLYN-SIDE-WHITEMULTI-min.jpg?v=1675786318","variant_ids":[40658317770957,40658317869261,40658318000333,40658318098637,40658318196941,40658318295245,40658318393549,40658318491853,40658318590157]},"available":true,"name":"BROOKLYN - WHITE MULTI \/ 8.5 \/ SOFT CALF LEATHER","public_title":"WHITE MULTI \/ 8.5 \/ SOFT CALF LEATHER","options":["WHITE MULTI","8.5","SOFT CALF LEATHER"],"price":30000,"weight":0,"compare_at_price":null,"inventory_management":"shopify","barcode":"840237310226","featured_media":{"alt":"1","id":22851491594445,"position":7,"preview_image":{"aspect_ratio":0.8,"height":3700,"width":2960,"src":"\/\/oncept.nyc\/cdn\/shop\/products\/BROOKLYN-SIDE-WHITEMULTI-min.jpg?v=1675786318"}},"requires_selling_plan":false,"selling_plan_allocations":[]},{"id":40658318393549,"title":"WHITE MULTI \/ 9 \/ SOFT CALF LEATHER","option1":"WHITE MULTI","option2":"9","option3":"SOFT CALF LEATHER","sku":"840237310233","requires_shipping":true,"taxable":true,"featured_image":{"id":30571008950477,"product_id":6916517724365,"position":7,"created_at":"2022-08-16T23:45:48-04:00","updated_at":"2023-02-07T11:11:58-05:00","alt":"1","width":2960,"height":3700,"src":"\/\/oncept.nyc\/cdn\/shop\/products\/BROOKLYN-SIDE-WHITEMULTI-min.jpg?v=1675786318","variant_ids":[40658317770957,40658317869261,40658318000333,40658318098637,40658318196941,40658318295245,40658318393549,40658318491853,40658318590157]},"available":true,"name":"BROOKLYN - WHITE MULTI \/ 9 \/ SOFT CALF LEATHER","public_title":"WHITE MULTI \/ 9 \/ SOFT CALF LEATHER","options":["WHITE MULTI","9","SOFT CALF LEATHER"],"price":30000,"weight":0,"compare_at_price":null,"inventory_management":"shopify","barcode":"840237310233","featured_media":{"alt":"1","id":22851491594445,"position":7,"preview_image":{"aspect_ratio":0.8,"height":3700,"width":2960,"src":"\/\/oncept.nyc\/cdn\/shop\/products\/BROOKLYN-SIDE-WHITEMULTI-min.jpg?v=1675786318"}},"requires_selling_plan":false,"selling_plan_allocations":[]},{"id":40658318491853,"title":"WHITE MULTI \/ 9.5 \/ SOFT CALF LEATHER","option1":"WHITE MULTI","option2":"9.5","option3":"SOFT CALF LEATHER","sku":"840237310240","requires_shipping":true,"taxable":true,"featured_image":{"id":30571008950477,"product_id":6916517724365,"position":7,"created_at":"2022-08-16T23:45:48-04:00","updated_at":"2023-02-07T11:11:58-05:00","alt":"1","width":2960,"height":3700,"src":"\/\/oncept.nyc\/cdn\/shop\/products\/BROOKLYN-SIDE-WHITEMULTI-min.jpg?v=1675786318","variant_ids":[40658317770957,40658317869261,40658318000333,40658318098637,40658318196941,40658318295245,40658318393549,40658318491853,40658318590157]},"available":true,"name":"BROOKLYN - WHITE MULTI \/ 9.5 \/ SOFT CALF LEATHER","public_title":"WHITE MULTI \/ 9.5 \/ SOFT CALF LEATHER","options":["WHITE MULTI","9.5","SOFT CALF LEATHER"],"price":30000,"weight":0,"compare_at_price":null,"inventory_management":"shopify","barcode":"840237310240","featured_media":{"alt":"1","id":22851491594445,"position":7,"preview_image":{"aspect_ratio":0.8,"height":3700,"width":2960,"src":"\/\/oncept.nyc\/cdn\/shop\/products\/BROOKLYN-SIDE-WHITEMULTI-min.jpg?v=1675786318"}},"requires_selling_plan":false,"selling_plan_allocations":[]},{"id":40658318590157,"title":"WHITE MULTI \/ 10 \/ SOFT CALF LEATHER","option1":"WHITE MULTI","option2":"10","option3":"SOFT CALF LEATHER","sku":"840237310257","requires_shipping":true,"taxable":true,"featured_image":{"id":30571008950477,"product_id":6916517724365,"position":7,"created_at":"2022-08-16T23:45:48-04:00","updated_at":"2023-02-07T11:11:58-05:00","alt":"1","width":2960,"height":3700,"src":"\/\/oncept.nyc\/cdn\/shop\/products\/BROOKLYN-SIDE-WHITEMULTI-min.jpg?v=1675786318","variant_ids":[40658317770957,40658317869261,40658318000333,40658318098637,40658318196941,40658318295245,40658318393549,40658318491853,40658318590157]},"available":true,"name":"BROOKLYN - WHITE MULTI \/ 10 \/ SOFT CALF LEATHER","public_title":"WHITE MULTI \/ 10 \/ SOFT CALF LEATHER","options":["WHITE MULTI","10","SOFT CALF LEATHER"],"price":30000,"weight":0,"compare_at_price":null,"inventory_management":"shopify","barcode":"840237310257","featured_media":{"alt":"1","id":22851491594445,"position":7,"preview_image":{"aspect_ratio":0.8,"height":3700,"width":2960,"src":"\/\/oncept.nyc\/cdn\/shop\/products\/BROOKLYN-SIDE-WHITEMULTI-min.jpg?v=1675786318"}},"requires_selling_plan":false,"selling_plan_allocations":[]},{"id":40658317738189,"title":"WHITE CLOUD \/ 6 \/ SOFT CALF LEATHER","option1":"WHITE CLOUD","option2":"6","option3":"SOFT CALF LEATHER","sku":"840237310080","requires_shipping":true,"taxable":true,"featured_image":{"id":30571008557261,"product_id":6916517724365,"position":13,"created_at":"2022-08-16T23:45:48-04:00","updated_at":"2022-08-23T11:12:34-04:00","alt":"2","width":2960,"height":3700,"src":"\/\/oncept.nyc\/cdn\/shop\/products\/BROOKLYN-SIDE-WHITECLOUD-min.jpg?v=1661267554","variant_ids":[40658317738189,40658317836493,40658317934797,40658318065869,40658318164173,40658318262477,40658318360781,40658318459085,40658318557389]},"available":true,"name":"BROOKLYN - WHITE CLOUD \/ 6 \/ SOFT CALF LEATHER","public_title":"WHITE CLOUD \/ 6 \/ SOFT CALF LEATHER","options":["WHITE CLOUD","6","SOFT CALF LEATHER"],"price":30000,"weight":0,"compare_at_price":null,"inventory_management":"shopify","barcode":"840237310080","featured_media":{"alt":"2","id":22851491561677,"position":13,"preview_image":{"aspect_ratio":0.8,"height":3700,"width":2960,"src":"\/\/oncept.nyc\/cdn\/shop\/products\/BROOKLYN-SIDE-WHITECLOUD-min.jpg?v=1661267554"}},"requires_selling_plan":false,"selling_plan_allocations":[]},{"id":40658317836493,"title":"WHITE CLOUD \/ 6.5 \/ SOFT CALF LEATHER","option1":"WHITE CLOUD","option2":"6.5","option3":"SOFT CALF LEATHER","sku":"840237310097","requires_shipping":true,"taxable":true,"featured_image":{"id":30571008557261,"product_id":6916517724365,"position":13,"created_at":"2022-08-16T23:45:48-04:00","updated_at":"2022-08-23T11:12:34-04:00","alt":"2","width":2960,"height":3700,"src":"\/\/oncept.nyc\/cdn\/shop\/products\/BROOKLYN-SIDE-WHITECLOUD-min.jpg?v=1661267554","variant_ids":[40658317738189,40658317836493,40658317934797,40658318065869,40658318164173,40658318262477,40658318360781,40658318459085,40658318557389]},"available":true,"name":"BROOKLYN - WHITE CLOUD \/ 6.5 \/ SOFT CALF LEATHER","public_title":"WHITE CLOUD \/ 6.5 \/ SOFT CALF LEATHER","options":["WHITE CLOUD","6.5","SOFT CALF LEATHER"],"price":30000,"weight":0,"compare_at_price":null,"inventory_management":"shopify","barcode":"840237310097","featured_media":{"alt":"2","id":22851491561677,"position":13,"preview_image":{"aspect_ratio":0.8,"height":3700,"width":2960,"src":"\/\/oncept.nyc\/cdn\/shop\/products\/BROOKLYN-SIDE-WHITECLOUD-min.jpg?v=1661267554"}},"requires_selling_plan":false,"selling_plan_allocations":[]},{"id":40658317934797,"title":"WHITE CLOUD \/ 7 \/ SOFT CALF LEATHER","option1":"WHITE CLOUD","option2":"7","option3":"SOFT CALF LEATHER","sku":"840237310103","requires_shipping":true,"taxable":true,"featured_image":{"id":30571008557261,"product_id":6916517724365,"position":13,"created_at":"2022-08-16T23:45:48-04:00","updated_at":"2022-08-23T11:12:34-04:00","alt":"2","width":2960,"height":3700,"src":"\/\/oncept.nyc\/cdn\/shop\/products\/BROOKLYN-SIDE-WHITECLOUD-min.jpg?v=1661267554","variant_ids":[40658317738189,40658317836493,40658317934797,40658318065869,40658318164173,40658318262477,40658318360781,40658318459085,40658318557389]},"available":true,"name":"BROOKLYN - WHITE CLOUD \/ 7 \/ SOFT CALF LEATHER","public_title":"WHITE CLOUD \/ 7 \/ SOFT CALF LEATHER","options":["WHITE CLOUD","7","SOFT CALF LEATHER"],"price":30000,"weight":0,"compare_at_price":null,"inventory_management":"shopify","barcode":"840237310103","featured_media":{"alt":"2","id":22851491561677,"position":13,"preview_image":{"aspect_ratio":0.8,"height":3700,"width":2960,"src":"\/\/oncept.nyc\/cdn\/shop\/products\/BROOKLYN-SIDE-WHITECLOUD-min.jpg?v=1661267554"}},"requires_selling_plan":false,"selling_plan_allocations":[]},{"id":40658318065869,"title":"WHITE CLOUD \/ 7.5 \/ SOFT CALF LEATHER","option1":"WHITE CLOUD","option2":"7.5","option3":"SOFT CALF LEATHER","sku":"840237310110","requires_shipping":true,"taxable":true,"featured_image":{"id":30571008557261,"product_id":6916517724365,"position":13,"created_at":"2022-08-16T23:45:48-04:00","updated_at":"2022-08-23T11:12:34-04:00","alt":"2","width":2960,"height":3700,"src":"\/\/oncept.nyc\/cdn\/shop\/products\/BROOKLYN-SIDE-WHITECLOUD-min.jpg?v=1661267554","variant_ids":[40658317738189,40658317836493,40658317934797,40658318065869,40658318164173,40658318262477,40658318360781,40658318459085,40658318557389]},"available":true,"name":"BROOKLYN - WHITE CLOUD \/ 7.5 \/ SOFT CALF LEATHER","public_title":"WHITE CLOUD \/ 7.5 \/ SOFT CALF LEATHER","options":["WHITE CLOUD","7.5","SOFT CALF LEATHER"],"price":30000,"weight":0,"compare_at_price":null,"inventory_management":"shopify","barcode":"840237310110","featured_media":{"alt":"2","id":22851491561677,"position":13,"preview_image":{"aspect_ratio":0.8,"height":3700,"width":2960,"src":"\/\/oncept.nyc\/cdn\/shop\/products\/BROOKLYN-SIDE-WHITECLOUD-min.jpg?v=1661267554"}},"requires_selling_plan":false,"selling_plan_allocations":[]},{"id":40658318164173,"title":"WHITE CLOUD \/ 8 \/ SOFT CALF LEATHER","option1":"WHITE CLOUD","option2":"8","option3":"SOFT CALF LEATHER","sku":"840237310127","requires_shipping":true,"taxable":true,"featured_image":{"id":30571008557261,"product_id":6916517724365,"position":13,"created_at":"2022-08-16T23:45:48-04:00","updated_at":"2022-08-23T11:12:34-04:00","alt":"2","width":2960,"height":3700,"src":"\/\/oncept.nyc\/cdn\/shop\/products\/BROOKLYN-SIDE-WHITECLOUD-min.jpg?v=1661267554","variant_ids":[40658317738189,40658317836493,40658317934797,40658318065869,40658318164173,40658318262477,40658318360781,40658318459085,40658318557389]},"available":true,"name":"BROOKLYN - WHITE CLOUD \/ 8 \/ SOFT CALF LEATHER","public_title":"WHITE CLOUD \/ 8 \/ SOFT CALF LEATHER","options":["WHITE CLOUD","8","SOFT CALF LEATHER"],"price":30000,"weight":0,"compare_at_price":null,"inventory_management":"shopify","barcode":"840237310127","featured_media":{"alt":"2","id":22851491561677,"position":13,"preview_image":{"aspect_ratio":0.8,"height":3700,"width":2960,"src":"\/\/oncept.nyc\/cdn\/shop\/products\/BROOKLYN-SIDE-WHITECLOUD-min.jpg?v=1661267554"}},"requires_selling_plan":false,"selling_plan_allocations":[]},{"id":40658318262477,"title":"WHITE CLOUD \/ 8.5 \/ SOFT CALF LEATHER","option1":"WHITE CLOUD","option2":"8.5","option3":"SOFT CALF LEATHER","sku":"840237310134","requires_shipping":true,"taxable":true,"featured_image":{"id":30571008557261,"product_id":6916517724365,"position":13,"created_at":"2022-08-16T23:45:48-04:00","updated_at":"2022-08-23T11:12:34-04:00","alt":"2","width":2960,"height":3700,"src":"\/\/oncept.nyc\/cdn\/shop\/products\/BROOKLYN-SIDE-WHITECLOUD-min.jpg?v=1661267554","variant_ids":[40658317738189,40658317836493,40658317934797,40658318065869,40658318164173,40658318262477,40658318360781,40658318459085,40658318557389]},"available":true,"name":"BROOKLYN - WHITE CLOUD \/ 8.5 \/ SOFT CALF LEATHER","public_title":"WHITE CLOUD \/ 8.5 \/ SOFT CALF LEATHER","options":["WHITE CLOUD","8.5","SOFT CALF LEATHER"],"price":30000,"weight":0,"compare_at_price":null,"inventory_management":"shopify","barcode":"840237310134","featured_media":{"alt":"2","id":22851491561677,"position":13,"preview_image":{"aspect_ratio":0.8,"height":3700,"width":2960,"src":"\/\/oncept.nyc\/cdn\/shop\/products\/BROOKLYN-SIDE-WHITECLOUD-min.jpg?v=1661267554"}},"requires_selling_plan":false,"selling_plan_allocations":[]},{"id":40658318360781,"title":"WHITE CLOUD \/ 9 \/ SOFT CALF LEATHER","option1":"WHITE CLOUD","option2":"9","option3":"SOFT CALF LEATHER","sku":"840237310141","requires_shipping":true,"taxable":true,"featured_image":{"id":30571008557261,"product_id":6916517724365,"position":13,"created_at":"2022-08-16T23:45:48-04:00","updated_at":"2022-08-23T11:12:34-04:00","alt":"2","width":2960,"height":3700,"src":"\/\/oncept.nyc\/cdn\/shop\/products\/BROOKLYN-SIDE-WHITECLOUD-min.jpg?v=1661267554","variant_ids":[40658317738189,40658317836493,40658317934797,40658318065869,40658318164173,40658318262477,40658318360781,40658318459085,40658318557389]},"available":true,"name":"BROOKLYN - WHITE CLOUD \/ 9 \/ SOFT CALF LEATHER","public_title":"WHITE CLOUD \/ 9 \/ SOFT CALF LEATHER","options":["WHITE CLOUD","9","SOFT CALF LEATHER"],"price":30000,"weight":0,"compare_at_price":null,"inventory_management":"shopify","barcode":"840237310141","featured_media":{"alt":"2","id":22851491561677,"position":13,"preview_image":{"aspect_ratio":0.8,"height":3700,"width":2960,"src":"\/\/oncept.nyc\/cdn\/shop\/products\/BROOKLYN-SIDE-WHITECLOUD-min.jpg?v=1661267554"}},"requires_selling_plan":false,"selling_plan_allocations":[]},{"id":40658318459085,"title":"WHITE CLOUD \/ 9.5 \/ SOFT CALF LEATHER","option1":"WHITE CLOUD","option2":"9.5","option3":"SOFT CALF LEATHER","sku":"840237310158","requires_shipping":true,"taxable":true,"featured_image":{"id":30571008557261,"product_id":6916517724365,"position":13,"created_at":"2022-08-16T23:45:48-04:00","updated_at":"2022-08-23T11:12:34-04:00","alt":"2","width":2960,"height":3700,"src":"\/\/oncept.nyc\/cdn\/shop\/products\/BROOKLYN-SIDE-WHITECLOUD-min.jpg?v=1661267554","variant_ids":[40658317738189,40658317836493,40658317934797,40658318065869,40658318164173,40658318262477,40658318360781,40658318459085,40658318557389]},"available":true,"name":"BROOKLYN - WHITE CLOUD \/ 9.5 \/ SOFT CALF LEATHER","public_title":"WHITE CLOUD \/ 9.5 \/ SOFT CALF LEATHER","options":["WHITE CLOUD","9.5","SOFT CALF LEATHER"],"price":30000,"weight":0,"compare_at_price":null,"inventory_management":"shopify","barcode":"840237310158","featured_media":{"alt":"2","id":22851491561677,"position":13,"preview_image":{"aspect_ratio":0.8,"height":3700,"width":2960,"src":"\/\/oncept.nyc\/cdn\/shop\/products\/BROOKLYN-SIDE-WHITECLOUD-min.jpg?v=1661267554"}},"requires_selling_plan":false,"selling_plan_allocations":[]},{"id":40658318557389,"title":"WHITE CLOUD \/ 10 \/ SOFT CALF LEATHER","option1":"WHITE CLOUD","option2":"10","option3":"SOFT CALF LEATHER","sku":"840237310165","requires_shipping":true,"taxable":true,"featured_image":{"id":30571008557261,"product_id":6916517724365,"position":13,"created_at":"2022-08-16T23:45:48-04:00","updated_at":"2022-08-23T11:12:34-04:00","alt":"2","width":2960,"height":3700,"src":"\/\/oncept.nyc\/cdn\/shop\/products\/BROOKLYN-SIDE-WHITECLOUD-min.jpg?v=1661267554","variant_ids":[40658317738189,40658317836493,40658317934797,40658318065869,40658318164173,40658318262477,40658318360781,40658318459085,40658318557389]},"available":true,"name":"BROOKLYN - WHITE CLOUD \/ 10 \/ SOFT CALF LEATHER","public_title":"WHITE CLOUD \/ 10 \/ SOFT CALF LEATHER","options":["WHITE CLOUD","10","SOFT CALF LEATHER"],"price":30000,"weight":0,"compare_at_price":null,"inventory_management":"shopify","barcode":"840237310165","featured_media":{"alt":"2","id":22851491561677,"position":13,"preview_image":{"aspect_ratio":0.8,"height":3700,"width":2960,"src":"\/\/oncept.nyc\/cdn\/shop\/products\/BROOKLYN-SIDE-WHITECLOUD-min.jpg?v=1661267554"}},"requires_selling_plan":false,"selling_plan_allocations":[]}]; var product_options = ["Color","Size","Material"]; var size_option_titles = ['Taglia', 'Size', 'Misura']; var size_option_index = -1; var sizes_in_stock = {}; // var product_brand = "Oncept"; var product_brand = "oncept"; var product_model = product_title; for (var i = 0; i < product_options.length; i++) { var found = false; for (var y = 0; y < size_option_titles.length; y++) { if (product_options[i] === size_option_titles[y]) { found = true; swatch_index = i size_option_index = 'option'+(++i) break; } } if (found) break; } for (var i = 0; i < product_variants.length; i++) { var size = product_variants[i][size_option_index] var stock = product_variants[i].available ? 1 : 0 if (sizes_in_stock.hasOwnProperty(size)) { if (sizes_in_stock[size] < stock) { sizes_in_stock[size] = stock } } else { sizes_in_stock[size] = stock } } function wait_for_jquery(method) { if (window.jQuery) { method(); } else { setTimeout(function() { wait_for_jquery(method) }, 50); } } function waitForElements(method) { let size_selector = document.querySelectorAll('.flex.w-full.flex-wrap')[1]; if (size_selector && window.EasySize) { method(); } else { console.log('still waiting') setTimeout(function() { waitForElements(method) }, 50); } } var easysize_attributes = { "shop_id": "97a1d9a934", "placeholder": ".sizes", "size_selector": ".sizes", "order_button_id": '.button[role="Add to Cart"]', "product_type": "Footwear", "product_model": product_model, "product_brand": product_brand, "product_gender": "f", "product_id": "6916517724365", "user_id": " -1 ", "image_url": "https://oncept.nyc/cdn/shop/products/BROOKLYN-SIDE-STORMGREYMULTI-min_large.jpg?v=1675786318", "size_update_function": function(size) { var size_element = Array.from(document.querySelectorAll('.sizes .tile')) .filter(function(val) { return val.innerText === size })[0]; if (size_element) { size_element.click(); return true; } return false; }, "loaded": function() { let easysize_button = document.getElementById('easysize_button'); if (easysize_button) { easysize_button.style.display = 'none'; } }, "sizes_in_stock": sizes_in_stock }; waitForElements(function() { console.log("Wait for elements"); if (window.ESStarted) { return; } let size_selector = document.querySelectorAll('.flex.w-full.flex-wrap')[1]; if (!size_selector.className.includes('sizes')) { size_selector.className += ' sizes'; } var easy_size = new EasySize(easysize_attributes); easysize_attributes['placeholder'] = '.sizes'; easysize_attributes['size_selector'] = '.sizes'; easy_size.start(); console.log("ES started" ) window.ESStarted = true; let fit = document.querySelector('.easysize'); if (!fit) { return; } else { fit.style.cursor = 'pointer'; fit.addEventListener('click', function() { document.getElementById('easysize_button').click(); }) } }); wait_for_jquery(function() { jQuery('.sizes .tile').on('click', function() { easy_size.sizeChangedTo($(this).attr('innerText')); }); });
{ "desktopImg": "//oncept.nyc/cdn/shop/files/ONC-Size_Guide-220721-v2_4f753765-00f0-43de-a4e8-769673d6f443.png?v=1693310772", "mobileImg": "//oncept.nyc/cdn/shop/files/ONC-Size_Guide-220721-v12_62596961-cac9-488c-8395-409e383787ee.png?v=1693310784" }